Archives
now browsing by author
Not sure what a 302 redirect is or when to use them? Are you curious about the impact on your SEO efforts?
I've got good news: 302 redirects are actually pretty simple. At its core, a 302 redirect is a way to tell search engines and users that a page has moved temporarily and to direct them to a new page for a short period.
Simple enough, right?
The problem is using the wrong redirect can significantly impact SEO and user experience. This is why getting the redirect right is crucial to your overall digital marketing strategy.
So what's the difference between the types of redirects, and when should you use a 302? Here's what you need to know.
What's the Difference Between a 302 Redirect and 301 Redirect?
A 302 redirect is an HTTP response status code that tells search engines a page has moved, but only temporarily. It then directs users (and search engines) to the new, temporary page.
A 301 redirect is a server-side HTTP response status code that tells users and search engines a page has permanently moved, and it won't be coming back.
For users, there's little difference between the two types of redirects. They get sent to a new (hopefully more useful) page regardless of the redirect type.
The core difference between a 302 redirect and a 301 redirect is the amount of time the redirect is in place, but a 302 also leaves something important behind: link equity and page rank.
When you use a 302 redirect, the original page usually maintains its Google ranking, so it shouldn't impact your SEO efforts. However, a 301 redirect causes the original page to lose ranking and can cause it to be deindexed by search engines.
According to Google, the main reasons to use a 301 (permanent) redirect are:
You've changed domains
People access your site through multiple URLs
You are merging two websites or pages
You might also use a 301 redirect when switching from HTTP to HTTPS or when you merge two related pages. Any time you move a page and have no intentions of bringing it back, use a 301.
When you use a 301 redirect, the original page is no longer considered by Google, which is the main reason you want to ensure you use the correct type of redirect.
Say you've spent years establishing a pillar content page to rank for a key term in your industry. You decide to take the page down for a few days to redesign and update the page. If you use a 301 redirect, Google thinks the page is gone forever and removes the page from indexing.
Ouch.
Use a 302 and Google knows the page is coming back.
The type of redirect you use severely impacts your SEO, so make sure you always use the correct type for the situation.
Four Reasons to Use a 302 Redirect
So, what are the exact benefits of using a 302 redirect? Not all redirects are created equal, and using the wrong redirect can have a severe impact on your site's SEO, as we've already covered.
Remember, a 301 redirect is permanent. You are telling Google and users that the page is gone and will never return. If the change is not permanent, you'll want to use a 302 redirect.
Here are a few benefits of using a 302 over a 301 redirect.
302 Redirects Improve UX
Few things are more frustrating than clicking on a link and not finding the content you expect. It's enough to send most users back to the search results (and to a competitor).
A 302 redirect makes sure users and search engines always find the content they are looking for. For example, if a product is temporarily out of stock, you might use a 302 redirect to send customers to a related product page or a page letting them know when the product is likely to be back in stock. You might also use a 302 to send users to related content while you redesign a pillar content page.
302 Redirects Are Temporary
Unlike 301 pages, 302 redirects are temporary, which means you can switch back at any time. This provides a lot of flexibility for site owners. For example, you could temporarily send site users to a related page while you redesign a landing page.
Because the switch is temporary, Google won't remove the page from search results or otherwise devalue the page in its ranking.
302 Redirects Shouldn't Hurt Your SEO
A 302 redirect tells Google (and all other search engines) that the move is temporary and preserves the page's ranking and link equity. As a result, implementing the redirect shouldn't impact your SEO. That means all your hard work won't be in vain!
When the page no longer needs to be redirected, simply remove the redirect, and your SEO shouldn't be affected.
302 Redirects Are Easier to Implement
Creating a 301 redirect requires access to your server, which means most digital marketers and site owners have to enlist the help of a developer to implement a 301 redirect. 302 redirects, however, can be created relatively easily using meta tags or a WordPress plugin. That means you can quickly implement them and easily take them down.
Note: Do not use 302 redirects when permanently moving a page just because they are easier. If a page move is permanent, always use a 301 redirect. Depending on your site, 301 redirects might be easy enough to create. If you aren't sure where to start, head to your host's knowledge base or look for a WordPress plugin.
When Should You Use a 302 Redirect?
Remember, the core difference between 301 and 302 redirects is the permanency of the move. If you are moving a page for a short time, you'll want to use a 302 redirect to preserve the original page's integrity (and ranking).
Let's look at a few examples of when you'd want to use a 302.
When a Page Is Moved Temporarily
A 302 redirect makes no practical difference for users. They still get sent to the new page regardless. For search engines, however, the temporary nature of the switch is crucial.
Essentially, you are telling search engines, "Hey, don't worry about this page right now; the other page will be back soon."
If you are confident the move is temporary, 302 is the way to go. For example, you might move a page temporarily because:
You are updating the page, but the new page isn't live yet
You're looking to get feedback about a new page before moving permanently
You're running a time-sensitive promotion and want to redirect visitors to the page for a short time
When a Page Is Under Development
Another reason to use a temporary redirect is when a page (or website) is under development. Extensive redesigns might require taking your site offline, which can be frustrating for users and confusing for search engines.
Rather than leaving users hanging, a temporary redirect lets them know the page or site will be back very soon.
In this situation, you might send users to an email sign-up page or to offer a countdown clock so they know when the site will be back. Here's an example of a countdown page from Themeforest with a countdown clock: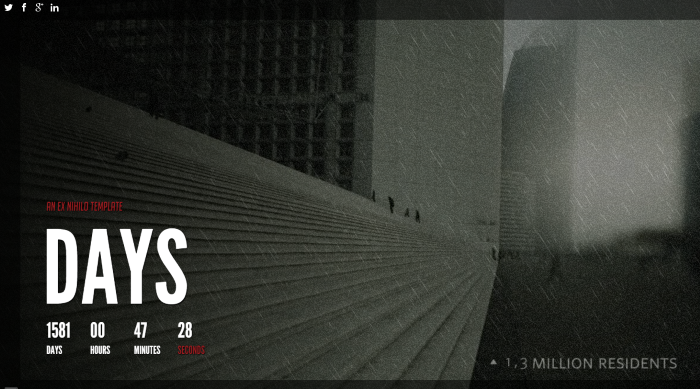 The page also offers links to social media accounts to help build a social media presence.
When the Content Is Inactive or the Page Broken
You might also use a 302 redirect when a page is broken or inactive. You don't want users to land on a blank page (or get a 404 error), so a temporary redirect may be the way to go. Remember, only use a 302 if you plan to bring the page back.
For example, the content might be inactive because you run a semi-annual sign-up period for a membership site or you have a landing page for a recurring webinar that's currently unavailable. A 302 should ensure the site maintains its SEO ranking and is ready to go when you want to reactivate the page.
When a Product Is Unavailable
Think about the last time you tried to order an item online, only to find out the product was no longer in stock. You were so close to having that item in your hands, only to find out it's gone, and you have no idea when it might be available again.
It's frustrating, and you're likely to head to a competitor to complete your purchase. This is why stockouts (when a product is out of stock or unavailable) can hurt overall revenue and impact brand trust.
The reality is, items will sometimes go out of stock. It's just part of doing business. A manufacturer might run out, or the supply chain might otherwise be impacted by something out of your control.
While you might not always be able to control stockouts, you can use redirects to preserve user experience. For example, you might use a 302 redirect to send users to a waitlist page, like this one:
You could also send users to a related product (just be sure to let them know!). When the product is back in stock, you can reactivate the original page and preserve all that SEO you worked so hard for.
When A/B Testing Content or Design
Whether you are in e-commerce, the service industry, or run a local business, A/B testing is crucial to your bottom line. A/B testing allows you to test two different versions of the same page to see which version drives conversions, sales, or any other behavior you want users to take.
For example, I used A/B testing to figure out which CTAs to use in the sidebar of my website.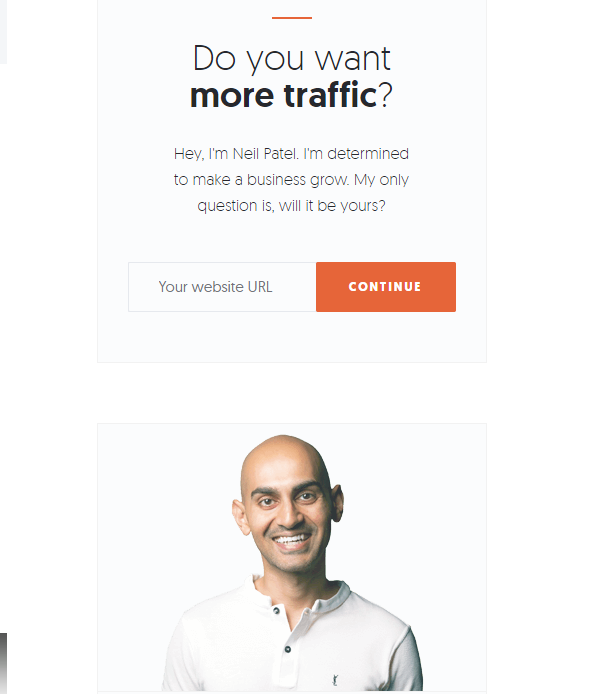 It turns out, the orange button converted much better than other colors.
Here's another example of the power of A/B testing: WallMonkeys, a company offering wall decals and murals, increased conversions by 550% by using A/B testing to figure out what site users were more likely to respond to.
So where do 302 redirects come into play?
Well, you don't want to permanently redirect your page because you might find out the original page was the best! Instead, use a 302 redirect to temporarily send a portion of your users to the adjusted page without losing your ranking. When the test is over, you can remove the redirect and go right back to normal.
If you are struggling with A/B testing, check out this guide for creating a winning A/B testing strategy.
To Redirect to the Desktop or Mobile Version of Your Site
If you aren't already offering a mobile-friendly website, it is past time to do so. Seriously. Google moved to mobile-first indexing in the summer of 2019.
Your site should already work well on both mobile and desktop, but there are some reasons why you might still have a mobile version of a website.
For example, a banking app might offer a streamlined version of their website for mobile users, or they might find most mobile users are looking for a branch location. A 302 can send those users to the most useful page. You might also use a streamlined navigation bar for mobile and allow desktop users to access the complete version.
In both cases, a 302 redirect ensures every user lands on the site most useful to them.
Conclusion
Redirects can get confusing: 301s, 302s, plus 404 errors for when pages are broken.
Navigating these can be a pain if you are not a developer or a technical SEO expert. Hopefully, I've helped you better understand when and why you'd want to use 302 redirects on your site.
Here's the TL;DR version: 302 redirects are temporary and generally preserve the SEO of the original page. 301 pages are permanent and tell search engines to disregard the old page in favor of the new page.
Now that you understand the difference, make sure to implement the right one on your site.
Have you used a temporary redirect before? What challenges did you face?
The post The Most Important Reasons to Use a 302 Redirect appeared first on Neil Patel.
Your Business Needs Corporate Credit
Corporate credit is credit in a company's name. It doesn't tie to an entrepreneur's personal credit, not even when the owner is a sole proprietor and the sole employee of the business.
Consequently, an entrepreneur's business and consumer credit scores can be very different.
The Advantages
Because company credit is independent from individual, it helps to protect an entrepreneur's personal assets, in case of litigation or business bankruptcy.
Also, with two distinct credit scores, a business owner can get two separate cards from the same vendor. This effectively doubles purchasing power.
Another benefit is that even startups can do this. Going to a bank for a business loan can be a recipe for frustration. But building business credit, when done right, is a plan for success.
Consumer credit scores are dependent on payments but also additional considerations like credit usage percentages.
But for corporate credit, the scores actually merely depend on whether a small business pays its debts on a timely basis.
The Process of Building Corporate Credit
Building small business credit is a process, and it does not happen without effort. A company needs to actively work to establish small business credit.
That being said, it can be done easily and quickly, and it is much quicker than establishing individual credit scores.
Merchants are a big aspect of this process.
Undertaking the steps out of sequence will lead to repetitive rejections. Nobody can start at the top with business credit. For example, you can't start with retail or cash credit from your bank. If you do, you'll get a denial 100% of the time.
Corporate Credit and Fundability
A small business has to be fundable to lenders and merchants.
Therefore, a small business will need a professional-looking web site and e-mail address. And it needs to have site hosting bought from a vendor like GoDaddy.
Plus, business phone and fax numbers ought to have a listing on ListYourself.net.
Likewise, the company telephone number should be toll-free (800 exchange or comparable).
A business will also need a bank account dedicated only to it, and it must have all of the licenses essential for operation.
Licenses
These licenses all must be in the perfect, correct name of the business. And they need to have the same company address and phone numbers.
So keep in mind, that this means not just state licenses, but potentially also city licenses.
Learn more here and get started toward building business credit attached to your company's EIN and not your SSN.
Working with the IRS
Visit the IRS website and acquire an EIN for the business. They're totally free. Select a business entity such as corporation, LLC, etc.
A small business can get started as a sole proprietor. But they will more than likely wish to change to a sort of corporation or an LLC.
This is in order to limit risk. And it will take full advantage of tax benefits.
A business entity will matter when it pertains to taxes and liability in the event of litigation. A sole proprietorship means the owner is it when it comes to liability and taxes. No one else is responsible.
Sole Proprietors Take Note
If you run a small business as a sole proprietor, be sure to incorporate.
If you do not, then your personal name is the same as the business name. Consequently, you can end up being directly responsible for all company financial obligations.
Also, according to the Internal Revenue Service, using this arrangement there is a 1 in 7 possibility of an IRS audit. There is a 1 in 50 chance for corporations! Steer clear of confusion and considerably lower the chances of an Internal Revenue Service audit as well.
Beginning the Corporate Credit Reporting Process
Start at the D&B website and get a totally free D-U-N-S number. A D-U-N-S number is how D&B gets a company in their system, to generate a PAYDEX score. If there is no D-U-N-S number, then there is no record and no PAYDEX score.
Once in D&B's system, search Equifax and Experian's sites for the company. You can do this at www.creditsuite.com/reports. If there is a record with them, check it for correctness and completeness. If there are no records with them, go to the next step in the process.
In this manner, Experian and Equifax will have activity to report on.
Vendor Credit Tier
First you ought to build trade lines that report. This is also called the vendor credit tier. Then you'll have an established credit profile, and you'll get a corporate credit score.
And with an established business credit profile and score you can begin to get credit in the retail and cash credit tiers.
These kinds of accounts tend to be for the things bought all the time, like marketing materials, shipping boxes, outdoor work wear, ink and toner, and office furniture.
But to start with, what is trade credit? These trade lines are credit issuers who will give you preliminary credit when you have none now. Terms are typically Net 30, versus revolving.
Therefore, if you get approval for $1,000 in vendor credit and use all of it, you must pay that money back in a set term, like within 30 days on a Net 30 account.
Details
Net 30 accounts must be paid in full within 30 days. 60 accounts have to be paid completely within 60 days. In comparison with revolving accounts, you have a set time when you must pay back what you borrowed or the credit you made use of.
To kick off your business credit profile properly, you should get approval for vendor accounts that report to the business credit reporting agencies. Once that's done, you can then make use of the credit.
Then repay what you used, and the account is on report to Dun & Bradstreet, Experian, or Equifax.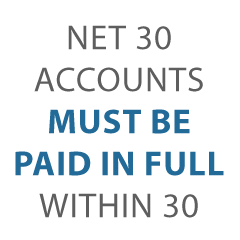 Vendor Credit Tier – It Makes Sense
Not every vendor can help like true starter credit can. These are merchants that will grant an approval with a minimum of effort. You also want them to be reporting to one or more of the big three CRAs: Dun & Bradstreet, Equifax, and Experian.
You want 5 to 8 of these to move onto the next step, which is the retail credit tier. But you may need to apply more than one time to these vendors. So, this is to demonstrate you are trustworthy and will pay punctually. Here are some stellar choices from us: https://www.creditsuite.com/blog/5-vendor-accounts-that-build-your-business-credit/
Accounts That Don't Report
Non-Reporting Trade Accounts can also be helpful. You do want trade accounts to report to at the very least one of the CRAs. Still, a trade account which does not report can nonetheless be of some worth.
You can always ask non-reporting accounts for trade references. And credit accounts of any sort will help you to better even out business expenditures, thereby making financial planning easier. These are providers like PayPal Credit, T-Mobile, and Best Buy.
Retail Credit Tier
Get 5 to 8 or more vendor trade accounts reporting to at least one of the CRAs. And then progress to the retail credit tier. These are service providers which include Office Depot and Staples.
Only use your SSN and date of birth on these applications for verification purposes. For credit checks and guarantees, use the business's EIN on these credit applications.
One such example is Lowe's. They report to D&B, Equifax and Business Experian. They want to see a D-U-N-S and a PAYDEX score of 78 or higher.
Fleet Credit Tier
Are there 8 to 10 accounts reporting? Then move to the fleet credit tier. These are service providers like BP and Conoco. Use this credit to buy fuel, and to repair, and maintain vehicles. Only use your SSN and date of birth on these applications for verification purposes. For credit checks and guarantees, make certain to apply using the business's EIN.
One such example is Shell. They report to D&B and Business Experian. They need to see a PAYDEX Score of 78 or higher and a 411 business phone listing.
Shell may claim they want a certain amount of time in business or profits. But if you already have adequate vendor accounts, that won't be necessary. And you can still get approval.
Learn more here and get started toward building business credit attached to your company's EIN and not your SSN.
Cash Credit Tier
Have you been responsibly managing the credit you've gotten up to this point? Then move onto the cash credit tier. These are companies like Visa and MasterCard. Just use your Social Security Number and date of birth on these applications for verification purposes. For credit checks and guarantees, use your EIN instead.
One such example is the Fuelman MasterCard. They report to D&B and Equifax Business. They need to see a PAYDEX Score of 78 or higher. And they also want you to have 10 trade lines reporting on your D&B report.
Plus, they want to see a $10,000 high credit limit reporting on your D&B report (other account reporting).
Additionally, they want you to have an established company.
These are companies such as Walmart and Dell, and also Home Depot, BP, and Racetrac. These are frequently MasterCard credit cards. If you have 14 trade accounts reporting, then these are attainable.
Learn more here and get started toward building business credit attached to your company's EIN and not your SSN.
Monitor Your Corporate Credit
Know what is happening with your credit. Make sure it is being reported and address any inaccuracies as soon as possible. Get in the practice of taking a look at credit reports. Dig into the particulars, not just the scores.
We can help you monitor business credit at Experian and D&B for 90% less than it would cost you at the CRAs. See: www.creditsuite.com/monitoring.
At Equifax, you can monitor your account at: www.equifax.com/business/business-credit-monitor-small-business. Equifax costs about $19.99.
Update Your Records
Update the data if there are mistakes or the details is incomplete. At D&B, go here: https://iupdate.dnb.com/iUpdate/viewiUpdateHome.htm. For Experian, go here: www.experian.com/small-business/business-credit-information.jsp. So for Equifax, go here: www.equifax.com/business/small-business.
Fix Your Corporate Credit
So, what's all this monitoring for? It's to dispute any mistakes in your records. Mistakes in your credit report(s) can be fixed. But the CRAs normally want you to dispute in a particular way.
Get your business's PAYDEX report at: www.dnb.com/about-us/our-data.html. Get your company's Experian report at: www.businesscreditfacts.com/pdp.aspx?pg=SearchForm. And get your Equifax business credit report at: www.equifax.com/business/credit-information.
Disputes
Disputing credit report mistakes commonly means you send a paper letter with copies of any proof of payment with it. These are documents like receipts and cancelled checks. Never send the original copies. Always send copies and keep the original copies.
Fixing credit report errors also means you precisely itemize any charges you contest. Make your dispute letter as clear as possible. Be specific about the problems with your report. Use certified mail so that you will have proof that you mailed in your dispute.
Dispute your or your company's Equifax report by following the directions here: www.equifax.com/small-business-faqs/#Dispute-FAQs.
You can dispute errors on your or your business's Experian report by following the instructions here: www.experian.com/small-business/business-credit-information.jsp.
And D&B's PAYDEX Customer Service phone number is here: www.dandb.com/glossary/paydex.
A Word about Corporate Credit Building
Always use credit smartly! Never borrow more than what you can pay off. Monitor balances and deadlines for repayments. Paying off punctually and fully will do more to increase corporate credit scores than just about anything else.
Establishing company credit pays. Great business credit scores help a business get loans. Your loan provider knows the small business can pay its financial obligations. They recognize the business is for real.
The company's EIN connects to high scores and loan providers won't feel the need to require a personal guarantee.
Takeaways
Corporate credit is an asset which can help your company in years to come. We can help you get started toward growing corporate credit.
The post Colossal Corporate Credit appeared first on Credit Suite.
Outfit Your Customers To Build Your Brand Obtaining lead generations for any type of kind of service or advertising and marketing technique is really costly– also a lot more so is brand name structure. When you are encountered with a choice as to brand name structure or obtaining even more leads, you ought to go …