Archives
now browsing by author
What is a Commercial Loan for Real Estate Financing? 
Commercial real estate (CRE) is income-producing property with just business (rather than residential) purposes. Examples include retail malls, professional offices such as for dentists, office buildings and complexes, and auto dealerships. Financing, including the acquisition, development, and construction of these properties, often comes from commercial real estate loans. These are mortgages secured by liens on the commercial property. So this is a commercial loan for real estate financing.
What is a Commercial Loan for Real Estate All About? 
Commercial real estate loans are often made to business entities. 
These include developers, corporations, limited partnerships, and funds and trusts. These entities are often formed for the specific purpose of owning commercial real estate.
But such a business entity may not have a financial track record or any credit rating. In that case the lender may require the principals or owners of the entity to guarantee the loan. 
Hence a person (or group of people) puts their property on the line. In case of loan default, the lender can recover from them.
If the lender does not require this type of guarantee, and the property is the only means of recovery in the event of loan default, this debt is a non-recourse loan. It means the lender has no recourse against anyone or anything other than the property.
What are Typical Commercial Loan Terms for Real Estate?
Unlike residential loans, terms for commercial lending typically range from 5 years (or less) to 20 years. The amortization period is often longer than the term of the loan. 
Amortization is an accounting technique. Its use is to periodically lower the book value of a loan or intangible asset over a set period of time.
A lender, for example, might make a commercial loan for a term of eight years, with an amortization period of 30 years. Here, the investor would make payments for eight years, of an amount based on the loan being paid off over 30 years. 
Then one final balloon payment of the entire remaining balance on the loan follows.
The length of the loan term and the amortization period affect the rate the lender charges. Depending on the investor's credit strength, these terms may be negotiable. 
But in general, the longer the loan repayment schedule, the higher the interest rate.
Learn business loan secrets and get money for your business.
What are Loan-to-Value Ratios in a Commercial Loan for Real Estate? 
LTV is a calculation measuring the value of a loan against the value of the property. A lender calculates LTV by dividing the amount of the loan by the lesser of the property's appraised value, or its purchase price. For example, the LTV for a $80,000 loan on a $100,000 property would be 80% ($80,000 ÷ $100,000 = 0.8, or 80%).
Borrowers with lower LTVs will qualify for more favorable financing rates than those with higher LTVs. This because they have more equity (i.e., a stake) in the property. It works out to be less risk from the lender's perspective.
Commercial loan LTVs tend to fall into the 65% to 80% range. While some loans may be made at higher LTVs, they are less common. The specific LTV will often depend upon the loan category
What is Debt-Service Coverage Ratio? 
DSCR compares a property's annual net operating income (NOI), to its annual mortgage debt service. This includes principal and interest. It measures the property's ability to service its debt. You calculate it by dividing the NOI by the annual debt service.
For example, a property with $150,000 in NOI and $100,000 in annual mortgage debt service, would have a DSCR of 1.5 ($150,000 ÷ $100,000 = 1.5). The ratio helps lenders determine maximum loan size. That has a basis in the cash flow generated by the property.
What Does it Mean to Have a DSCR of Less than One?
A DSCR of less than 1 means a negative cash flow. For example, a DSCR of .93, means there is only enough NOI to cover 93% of annual debt service. In general, commercial lenders look for DSCRs of at least 1.25. This is to ensure adequate cash flow.
A lower DSCR may be okay for loans with shorter amortization periods, and/or properties with stable cash flows. Higher ratios may be required for properties with volatile cash flows. These include, for example, hotels. This is because hotels do not have long-term (i.e., more predictable) tenant leases, which other types of commercial real estate have.
What Sorts of Interest Rates and Fees Do You Typical Pay with Commercial Real Estate Financing? 
Interest rates on commercial loans tend to be higher than on residential loans. Commercial real estate loans also often involve fees adding to the overall cost of the loan. These include appraisal, legal, loan application, loan origination, and/or survey fees.
Some costs must be paid up front before loan approval or rejection. Others apply annually. A commercial real estate loan may have restrictions on prepayment. The intention is to preserve the lender's anticipated yield on a loan. 
If investors settle the debt before the loan's maturity date, chances are good they will have to pay prepayment penalties. See investopedia.com/articles/personal-finance/100314/commercial-real-estate-loans.asp.
Learn business loan secrets and get money for your business.
What are Some Types of Commercial Real Estate Loans? 
You can invest in real estate with an SBA 7(a) loan, or an SBA 504 loan. Conventional bank loans are another option, as are hard money loans. Joint venture loans allow parties to share the risk and returns from commercial property investment, without having to formally enter into a real estate partnership.
You can get a commercial mortgage from Freddie Mac, or Fannie Mae. You can try credit unions, or even life insurance companies. Another option is HUD. See stacksource.com/commercial-mortgage-rates.
You can try an online marketplace loan, AKA a soft money loan. Here, interest rates are still higher than conventional bank loans. But they are lower than loans from hard money lenders. For the most part, online marketplaces match borrowers with shorter-term loans. These run from six months to a few years. See fortunebuilders.com/commercial-real-estate-financing-basics.
What Do Most Lenders Look for When Checking if You Qualify for Commercial Loan for Real Estate Financing? 
This depends on the lender and the type of financing. What they check can include available collateral, borrower creditworthiness, and certain financial ratios dependent on characteristics of the property. 
Borrowers may have to provide several years of financial statements and income tax returns. Lenders may also want to see financial statements indicating cash flow for the property to be financed. See reonomy.com/blog/post/commercial-real-estate-financing.
Check Out a Commercial Loan for Real Estate Financing from Credit Suite
Did you know Credit Suite offers commercial real estate financing? It ranges from $100,000 – $20,000,000. You can use this financing for refinancing a property, even if you are doing a cash-out refinance. Maximum LTV is 70%.
Loan-to-values range from 55 – 65%, depending on the purpose of the loan. Plus your clients can also get SBA loans. Renovations get loan to value of up to 60%.
Credit Suite has funding programs available including conventional property financing, money for investment properties and hard money loans, bridge loans and loans for the purchase of commercial real estate.
Get Commercial Real Estate Financing for All Types of Buildings! 
Credit Suite offers financing for many different, even unique property types. Get funding for offices, industrial offices (this includes general or medical/dental), industrial facilities, light manufacturing buildings, and self-storage facilities.
With our commercial real estate financing, you can also get funding for mixed use properties, commercial condos, auto dealerships, light auto services, and day cares.
And you can even get funding for assisted living facilities, entertainment venues, multi-family properties, retail warehouses, and more.
Learn business loan secrets and get money for your business.
Check Out Details on Credit Suite's Commercial Loan for Real Estate Financing Program
Approval amounts go up to $20,000,000. Bad credit is okay. Use the real estate as collateral. You will need to provide bank statements. A commercial real estate loan is a big step, let's take it together.
A Commercial Loan for Real Estate Financing: Takeaways
Commercial real estate financing is for buying properties used solely for commercial purposes. Loan terms tend to be shorter than with residential loans. Plus there are added fees such as an appraisal of the property. You can get a commercial real estate loan from the SBA, HUD, conventional lenders, etc. Credit Suite offers a commercial loan for real estate financing for up to $20,000,000. Check out our terms.
The post Commercial Loan for Real Estate Financing appeared first on Credit Suite.
COVID-19 turned the economy on its head. Now, with things starting to open back up, businesses are wondering if they are even going to be able to make it.  Most are starting to see they need to have business credit if they don't already. But, is there a quick way to build business credit before it's too late? 
Find Out How To Get Funds Fast While Utilizing this Quick Way to Build Business Credit
The truth is, you can't snap your fingers. It's a process, and you have to work through it.  However, knowing why you need business credit and how to work that process helps.  While it may not be a quick way to build business credit in the terms of a great score magically appearing overnight,  it is definitely quicker than not following the process at all. 
Check out our best webinar with its trustworthy list of seven vendors to help you build business credit, even in a recession.
Quick Way to Build Business Credit: Business Credit vs Personal Credit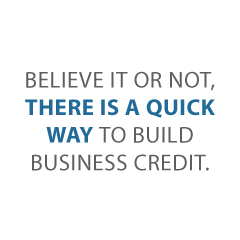 The simplest way to explain it is that business credit is like your personal credit, but it is in the name of your business.  That's not to say there are no other differences, but that is the gist. Basically, if you do things right, you have a totally separate business credit report that is in the name of your business, not your name personally. Your personal accounts do not show up on this report, and your business accounts, that are on this report, do not show up on your personal credit report. 
Business credit reports come from Dun & Bradstreet, Experian Business, and Equifax Business.  When there is a problem with your business credit, it does not affect your ability to get funding based on your personal credit.  Conversely, problems on your personal credit do not affect your ability to get funding for your business based solely on your business credit.  
Quick Way to Build Business Credit: Why Is Business Credit Necessary?
Business credit is necessary for a number of reasons.  The most obvious is to help you get funding for your business.  However, it also helps protect your personal credit.  If your business accounts are reporting to your personal credit report, you are going to see some debt-credit ratio issues.  This is the ratio of your debt in relation to your available credit.  Since business expenses are generally higher than personal expenses, you're likely to run balances at or near your limits consistently, which will have a negative affect on your personal credit score. 
Business credit typically makes you eligible for higher limit cards that are better suited for large business expenditures.  It also keeps these large expenditures off your personal cards and personal credit report. 
Quick Way to Build Business Credit: There Are No Magic Beans
So, now you understand why you need business credit, but you need to know how to build it in a crazy economy, and fast. The thing is, there are no magic beans when it comes to a quick way to build business credit. Remember what I said.  A great business credit score will not appear magically overnight like a beanstalk. You do have to actually work all the way through the process.  However, there are a few shortcuts you can try once your business is set up properly.  More on how to do that later.
Quick Way to Build Business Credit: How to Make it Faster
Okay, so let's assume for a minute that you already have your business set up in a way that it is a separate entity from yourself.  This is how you get accounts reporting to your business credit report rather than your personal report. If you've done that, there are a few things you can do to get the ball rolling, and give it a little push even. 
Ask Current Vendors for Credit
The first step is to ask those vendors with which you already have a relationship to extend credit.  Since you are already working with them, they may be more willing to do so without requiring a credit check.  Be sure to ask if they will report payments to the business credit reporting agencies. If they will not, then it won't matter if they give you credit or not.  Accounts not reported do not help build your credit score. 
Ask Utilities to Report
You already pay things like rent, telephone, internet, electricity, and water bills on a regular basis.  You can ask providers to report those payments to the business credit reporting agencies.  They do not have to do it. However, they might, and it can only help build your score faster. 
Establish Tradelines With Starter Vendors
After those two things, the next step is to open tradelines with starter vendors.  These are vendors that offer net 30 invoices without any type of credit check, and then they will report your payments on those invoices to the business credit reporting agencies.  
The kicker is starter vendors do not usually market themselves as such.  This makes them a little hard to find without some expert guidance. As a general rule, you need to have 3 to 5 vendor tradelines reporting to get a good solid start to your business credit score.  Here are a few of the easiest to get started with.
Check out our best webinar with its trustworthy list of seven vendors to help you build business credit, even in a recession.
Crown Office Supplies 
Crown Office Supplies offers paper and other office supplies. They report to all three of the major business credit reporting agencies, which of course include D & B, Experian, and Equifax. It can be hard to find vendors which report to Equifax, so getting credit with Crown is a good move.
To qualify, you will need to be an entity in good standing with Secretary of State and an EIN number with IRS. A business address that matches everywhere (both online and offline), a D-U-N-S number, a business license (if applicable), as well as a business bank account are all necessary. Your business must be at least 60 days old. There is also a membership fee of $99 annually upon approval.
Uline
Uline sells shipping, packing, and industrial supplies.  They report to Dun & Bradstreet as well.  This means, you guessed it,  you have to have a D-U-N-S number. 
In addition, they ask for 2 references and a bank reference. The first few orders might need to be paid in advance to get approval for Net 30 terms.
Grainger Industrial Supply 
Grainger sells power tools, pumps, hardware and other things. In addition, they can handle maintenance of your auto fleet. You need a business license and EIN to quality, as well as a D-U-N-S number.
After you pay on several tradeline accounts that report for a while, you should have a solid foundation to start applying for other types of business credit.  Store cards are the easiest to get first and continue building your score.  Next are fleet cards, and then finally, the regular cards that are not limited by where they can be used or what they can be used to purchase. 
Quick Way to Build Business Credit: What to Do In the Meantime? 
So, let's say you start this process, but you need funds right now. What can you do?  The credit line hybrid may be just the answer.  You can get approval with personal credit that is lower than what most traditional lenders require, and if you are set up properly it will report to the business credit reporting agencies and help build your business credit even faster.  
It allows you to fund your business without putting up collateral, and you only pay back what you use.  
Credit Line Hybrid: Qualifications? 
What does it take to qualify? I'm going to tell you, but don't stop reading if you don't meet all of the requirements.  There are ways around some of them.
First, your personal credit score should be at least 685.  Also, you can't have any liens, judgments, bankruptcies or late payments.  Furthermore, in the past 6 months you should have less than 5 credit inquiries, and you should have less than a 45% balance on all business and personal credit cards.  It is preferred that you already have established business credit, but not necessarily required.
Are you thinking there is no way you qualify? Stop thinking that.  If you do not meet all of the requirements, you can take on a credit partner that does.  Many business owners work with a friend or relative to fund their business.  If a relative or a friend meets all of these requirements, they can partner with you to allow you access funding, but you still get the benefits.  
Quick Way to Build Business Credit: Credit Line Hybrid Benefits
There are many benefits to using a credit line hybrid.  First, it is unsecured, meaning you do not have to have any collateral to put up.  Next, you don't have to provide any bank statements or financials.  
Even better, typical approval is up to 5x that of the highest credit limit on the personal credit report, and often you can get interest rates as low as 0% for the first few months.  This allows you to put that savings back into your business. 
The process is pretty fast, especially with a qualified expert to walk you through it.  Also, with the approval for multiple credit cards, competition is created.  This makes it easier, and likely even if you handle the credit responsibly, that you can get interest rates lowered and limits raised every few months. 
The credit line hybrid is a fast way to get cash while working on a quick way to build business credit. 
Quick Way to Build Business Credit: What's This About Setting Up?
Remember how I said earlier all of this only works if your business is set up properly.  That's because unless your business is set up to be an entity separate from you as the owner that is fundable all on its own, your accounts will report to your personal credit.  There will be no separate business credit.   How do you accomplish this separation? 
Separate Contact Information
The first step is to make sure your business has its own phone number, fax number, and address.   That doesn't mean you have to get a separate phone line, or even a separate location.  You do not even have to have a fax machine.  You can get a business number that will ring to your personal phone and a virtual address online quickly and easily. 
Apply for an EIN
The next thing you need to do is get an EIN for your business.  This is an identifying number for your business that works in a way similar to how your SSN works for you personally.  You can get one for free from the IRS.
You Have to Incorporate
Incorporating your business as an LLC, S-corp, or corporation is necessary to fundability.  It lends credence to your business as one that is legitimate and offers some protection from liability. It also solidifies your business as a separate entity from yourself. 
Business Bank Account
You have to open a separate, dedicated business bank account.  There are a few reasons for this.  First, it will help you keep track of business finances.  It will also help you keep them separate from personal finances for tax purposes. The big one for building business credit is, you got it, it separates your business from you as the owner.
Check out our best webinar with its trustworthy list of seven vendors to help you build business credit, even in a recession.
Licenses
If a business does not have all the necessary licenses it needs to run, red flags are going to fly up all over the place.  Do the research you need to do to ensure you have all of the licenses necessary to legitimately run your business at the federal, state, and local levels. 
Website
These days, you do not exist if you do not have a website.  However, having a poorly put together website can be even worse.  It is the first impression you make on a lot of people.  Spend the time and money necessary to ensure your website is professionally designed and works well.  Pay for hosting too. Don't use a free hosting service.  Furthermore, your business needs a dedicated business email address.  Make sure it has the same URL as your website.  Don't use a free service such as Yahoo or Gmail. 
D-U-N-S Number
Lastly, you have to have a D-U-N-S Number.  It's imperative.  Dun & Bradstreet is hands down the largest and most commonly used business credit reporting agency. You cannot have a score with them if you do not have a D-U-N-S number.  It's free on their website. 
Remember Business Credit Is Just One Piece of Fundability
There is so much more to fundability than business credit.  It is a tangled web indeed.  If you are looking for a quick way to build business credit, keep this in mind.   Furthermore, if your business isn't set up properly, nothing else you do to build fundability or business credit will matter. Get that done today.
The post Here's a Quick Way to Build Business Credit appeared first on Credit Suite.
Disclosure: This content is reader-supported, which means if you click on some of our links that we may earn a commission.
Unorganized support teams are a nightmare for everyone involved.
From two agents wasting time on the same request to customers or employees sitting around for hours waiting on an answer, things can get really hectic without the right tools and software. And it could even damage your reputation forever.
You don't want that and I don't want that for you, either.
However, choosing the best help desk software for your team isn't an easy task. There are hundreds, if not thousands, of options to choose from.
So to help make your life a bit easier, I looked at dozens of the top options on the market and narrowed it down to my top six recommendations.
From small customer support teams to IT services and mobile field support, this guide covers it all. By the end of this post, you'll know exactly which help desk software is right for you, regardless of your situation.
The Top 6 Options For Help Desk Software
How to Choose The Best Help Desk Software For You
Before we dive into my top recommendations, let's talk about what makes these tools great and what to look for when deciding which help desk software is right for you and your team.
There are tons of options to choose from, so don't forget to keep these considerations in mind as you go through the process.
Your use cases
Help desk software exists for a number of reasons, like internal employee support and external customer support. Furthermore, different tools include varying features depending on your use cases.
So, it's essential to consider how you plan to use the software before making a decision.
Number of agents
How many support agents do you have? Most help desk software charge by the agent, so you need to have a good idea of the number of seats you need.
Some providers also impose agent limits on specific plans, so you'll have to upgrade to a higher tier if you need to add more agents to your account. This upgrade can be extremely pricey, especially if you're not expecting it.
So, make sure to choose a plan that offers a bit of breathing room as you grow.
Ticket management
Tickets help you organize, route, and store help desk inquiries. So, you should make sure your software includes basic ticket management systems to help make the process faster and easier.
Furthermore, some software includes ticketing features for a wide variety of support channels, including email, live chat, social media, instant messaging, SMS, and more.
An efficient ticketing system is crucial, from automatic ticket creation and organization to smart routing and everything in between.
However, some of the options on this list limit the number of tickets you can create daily or monthly, which may be too limiting for large teams. And you may be better off choosing an unlimited plan instead.
So, keep this in mind as you make your final decision.
Support channels
What channels do you use to provide support?
Internal support teams may use instant messaging, live chat, or email while customer service teams may utilize social media, SMS, and phone calls.
Regardless of the channels you use, it's crucial to implement software that handles everything you need.
If you already have systems in place, make sure the help desk software you choose plays well. And if you don't, consider where your customers/employees hang out and the communication methods they're most comfortable with.
Furthermore, you should also think about internal communication tools. One agent may need to pass an inquiry on to someone else, or they may need help answering someone's questions.
So, it's important to think about how your agents communicate with each other and how you plan to share information from one department to another, as well.
Other features
The best help desk software includes a variety of helpful features beyond ticketing and communication. And it's essential to consider which features you need to streamline and optimize your support systems.
Some typical features and extras include:
Knowledgebase and self-service support
Escalation levels to the right people
Automated workflow creation
Open API integrations
Internal chat software
Cross-department collaboration
Client and contact management
Analytic dashboards
Role-based access
Ticket sorting
Time tracking
It's also crucial to consider the specific features you need for your use cases.
Internal teams need different things than customer support teams, so keep this in mind as you go through the decision-making process.
Analytics and reporting
Data helps managers and owners understand how your service agents perform and what your customers are asking. Advanced ticket tagging and categorization can also help with the latter.
From there, you can optimize your support process and work on building a self-service knowledge base or in-depth how-to guides to quickly and efficiently answer common questions.
This frees up agents and gives them more time to handle less-common requests.
Furthermore, reports and data visualization help display information in a way that's easy to understand. This can give you a birds-eye view of your support system and may even help you know how to better serve your team and customers.
The Different Types of Help Desk Software
There are several different types of help desk software. The best type for you depends on various factors, including the size of your business, your budget, customization, and security requirements.
Cloud or web-based — this is the most common type, and it's often referred to as a SaaS tool because the user pays a monthly subscription to continue using the software.
Furthermore, everything is stored on the cloud or the provider's server, so the user doesn't need additional infrastructure or dedicated IT. Plus, the vendor is in charge of managing and maintaining the software, making it an easy and affordable option for businesses of all sizes.
All of the recommendations on this list offer a cloud or web-based solution.
On-premise — unlike cloud or web-based software, on-premise systems are installed on the user's servers. Typically, the end-user purchases a license for the software and they're in charge of management and maintenance.
While they're harder to install and manage regularly, they tend to be more secure and customizable. So, it's an excellent option for high-security industries and anyone interested in a hyper-customized solution.
However, this means a dedicated team is required to update and maintain the infrastructure.
Enterprise-grade — these are built specifically for extremely large businesses. They come with a ton of hyper-customizable features and solutions to suit the needs of enterprise businesses with massive budgets.
Enterprise help desk software comes in all shapes and sizes, from single-location businesses to international conglomerates operating worldwide.
For most users, this type of software is 100% overkill.
Open-source — this type of software is best for developers or companies with knowledgeable IT departments because you get access to its source code. This means you can modify how the software works to meet your unique requirements.
Essentially, it's a more affordable way to get a highly customizable solution, as long as you have the skills and know-how to make it work for you.
#1 – Freshdesk Review — The best help desk software for small to midsize businesses
If manual email and social media customer service are becoming too much for your team to manage, Freshdesk is a great way to ease the burden.
Its ticketing system is straightforward to use, and it comes with numerous helpful features.
Plus, it's incredibly affordable, and there's a limited free forever plan with unlimited agents to try it out before you invest a single penny.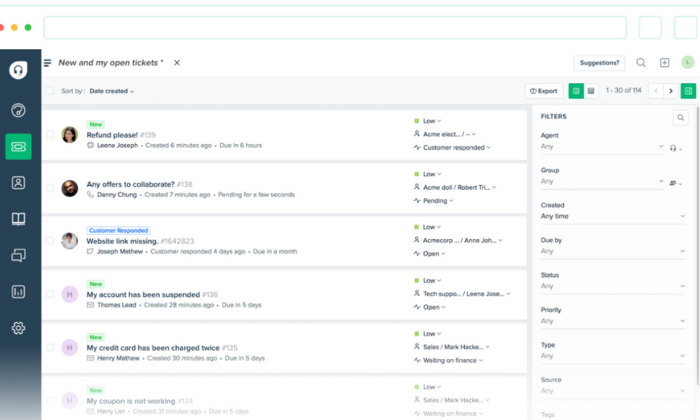 With Freshdesk, you can streamline conversations across channels in one place, create contextual conversations with anyone, automate repetitive processes to save time, automatically share solution articles, and easily monitor your team's performance.
Furthermore, you also get access to countless support features, including:
Multi-channel team inbox
Agent collision detection
Custom ticket statuses
Scenario automations
Canned responses
Shared ownership and huddles
Linked tickets
Time tracking
Scheduling dashboard
Event and time-based automations
AI-powered chatbots
Knowledge base capabilities
On top of that, they also offer several educational courses and a fully-staffed customer support team to help you and your team get the most out of your new software.
Freshdesk has five different help desk plans to choose from, including:
Sprout — Free with limited features
Blossom — $15/agent per month
Garden — $35/agent per month
Estate — $49/agent per month
Forest — $99/agent per month
You can start with the free plan to try it out, but I highly recommend upgrading to a paid plan when you can justify it to gain access to more of their advanced features.
Each plan comes with a free 21-day trial to test the waters before making your final decision.
#2 – Hubspot Review — The best all-in-one customer service CRM
If you need a full-blown customer relationship management (CRM) tool to go along with your help desk software, Hubspot is a smart choice.
And the best part? You can get everything you need to get started for free.
With their free Service Hub, you get ticketing, meeting scheduling, reporting, a team inbox, live chat + chatbots, email templates, and team email connections.
So, it includes everything you need to start optimizing your customer support process.
But you also get several other features like tasks and activities, email tracking, contact website activity, contact management, custom fields, and more.
While Hubspot's free plan is excellent, their paid plans offer a fantastic suite of amazing features you can use to improve your entire support system further.
Each pricing tier adds more advanced features, but their most affordable plan ($40 per month for two users) includes:
Eight hours of VoIP calling and recording
Conversational bots to create and route tickets
Simple open and close automations plus internal notifications
1,000 canned responses for frequently asked questions
Up to 1,000 email templates
Ten reporting dashboards
1,000 documents
Conversation routing
Two ticket pipelines
Up to five currencies
So, it's quite a step up from Hubspot's free plan. However, if you meet those limits, you have to upgrade to a higher-tiered plan. The next tier starts at $320/month, so it's quite pricey.
Alternatively, you can opt for their Starter Growth Suite, which includes the starter plan for Hubspot CRM, the Marketing Hub, the Sales Hub, and all the service features above.
It starts at $50 per month, so it's a super affordable way to get access to a ton of different marketing, sales, and CRM features if you need access to all of them.
Note: this is special COVID-19 pricing with regular rates starting at $112.50 per month.
#3 – Zoho Desk Review — The best help desk software for fast-growth businesses
Zoho provides countless business tools to businesses of all sizes in every industry you can imagine.
All of their software is fantastic, and their help desk software is no exception.
From affordable plans at every level and a robust free plan to incredible support features, you can rest assured that Zoho Desk has the ability to scale alongside you as your business grows.
At its core, Zoho Desk is a multi-channel ticketing system. So, you get top-of-the-line ticketing features that let you organize and streamline support inquiries, whether they're coming from email, social media, live chat, phone, or an online form.
And as your business grows, the need for a self-service knowledge base increases. With Zoho Desk, you can quickly turn support requests into knowledgebase articles in just a few clicks to continuously grow your database.
On top of that, you also get access to a wide variety of features designed to help improve and consolidate your support processes. Some of the most popular features include:
Zia, an AI-powered digital assistant
Help center tools to design and create your knowledge base
Several ticket views and automatic ticket organization/prioritization
Advanced response editor with canned snippets
Visual process automation builder
Customization via APIs and built-in integrations
Dashboard headquarters for analytics and reporting
Custom field options for web forms
With that said, it's important to note that lower-tiered plans don't include every feature. So, be sure to look through each plan's features before choosing one.
And keep in mind that you may have to upgrade to a higher plan to get what you need.
Zoho Desk plans include:
Free — For up to three agents with email ticketing and limited features
Standard — $12/agent per month with social channels, workflows, and dashboards
Professional — $20/agent per month with BPM, time tracking, and ticket sharing
Enterprise — $35/agent per month with Zia, live chat, and advanced customization
Sign up for a free trial to see which plan is right for you and your team today.
#4 – Freshservice Review — The best for IT service management
If you're looking for a better way to handle IT support, Freshservice is one of the top options on the market. Like Freshdesk, it's a Freshworks product, so you have a massive brand behind the software.
However, it's built specifically for IT teams, rather than customer service.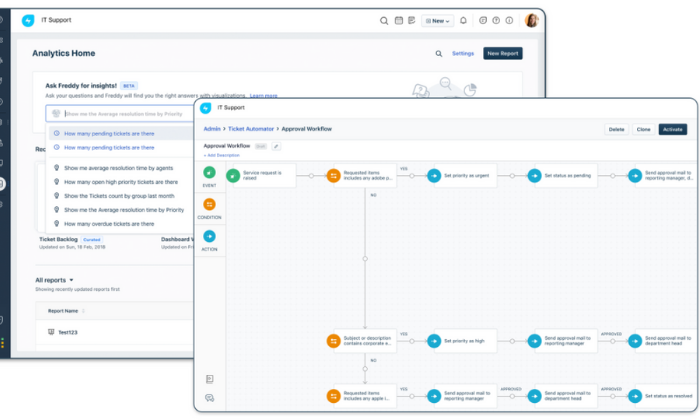 With more people working from home, strong IT support is more critical than ever before. And you may even see an influx of inquiries coming through as people adjust.
Which… is where Freshservice comes in and saves the day. They offer everything you need, including multi-channel support, hardware and software records, contract management, and a top-rated mobile app for iOS and Android.
Furthermore, you can automate agent assignments and approval workflows to help streamline the process. Plus, you also get access to powerful features like:
Incident, knowledge, and SLA management
A user-friendly service catalog
Self-service portal and knowledgebase
Internal contextual collaboration
Problem, change, and release management
Project dashboards and analytical reports
Asset and inventory management
Lifecycle management
Asset auto-discovery
Interactive visualizations
And you can easily integrate any Freshworks software with Freshservice, along with tons of other third-party software integrations as well.
So, it's an excellent choice if you already use or plan on using any of their other business tools.
Freshservice offers four different plans to choose from, including:
Blossom — $19/agent per month with essential features
Garden — $49/agent per month for growing teams
Estate — $79/agent per month for large teams
Forest — $99/agent per month for enterprises
These prices indicate annual pans paid in advance. They also offer monthly plans for a higher fee, except for the Forest plan.
Try Freshservice free for 21 days to see if it's right for you!
#5 – Happyfox Review — The best for mobile and field support teams
Field agents have a unique set of challenges vs. support teams in the office or one set location. As such, you need a specialized tool that adapts to meet your needs.
Happyfox is a field service software designed to help you track agents, schedule work, and leverage real-time communications with a fully-featured mobile interface for seamless use on the move.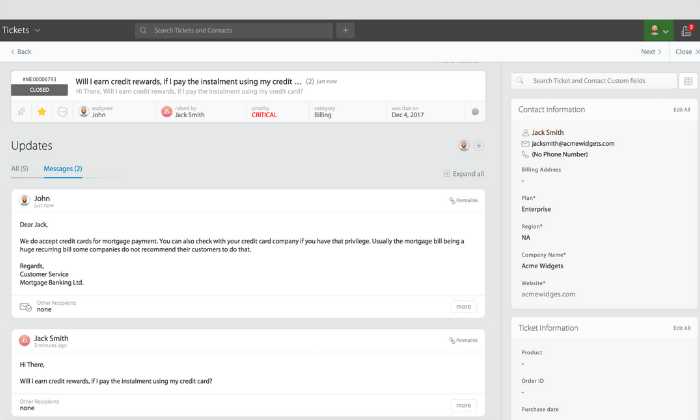 When agents are continuously traveling from one job to the next, they must have an easy way to share and track status information from one agent to the next.
And the good news is that Happyfox does just that, with a wide range of features like:
Ticket ques, statuses, and categories
Multi-channel ticketing capabilities
Ticket threads and attachments
Canned actions and responses
Searchable and customizable knowledgebase
Agent collision detection
Built-in asset management
Auto-assignments and smart rules
Simultaneous routing rules
SMS support
And dozens of other helpful features specifically for mobile teams.
Unlike the other options on this list, Happyfox doesn't display their pricing online. But they offer standard per agent pricing and special packages for unlimited agents, making it suitable for field service teams of all sizes.
For agent-based pricing, they offer four plans with varying feature sets.
And each plan automatically includes SSL security, unlimited tickets, smart rules, knowledgebase capabilities, multilingual support, rich text formatting, and mobile applications.
However, their unlimited agent plans cap the number of tickets you can have in a year. So, you have to decide which option makes the most sense for your situation.
Schedule a live demo to see if Happyfox is right for you and your team today!
#6 – Cayzu Review — The most affordable help desk software
If you're looking for a budget-friendly cloud-based help desk software, Cayzu is exceptionally affordable with paid plans starting at $4 per agent per month.
It's also straightforward to use. With that said, it's not the most feature-rich option, but you sacrifice some of the advanced features for an incredibly affordable price.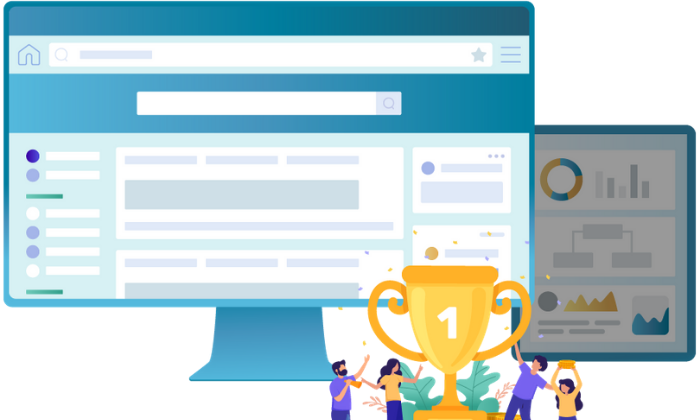 At just $4 per month, you get access to all the essential features you need, including:
Secure data protection
Automatic backups
A mobile application
Unlimited customer support
Ticketing system
Canned responses
Knowledgebase capabilities
Email ticket creation
Multi-language support
Open APIs and rest APIs
Support widget
Or you can upgrade to one of the higher plans for just a few dollars ($9 per agent per month) and get time tracking, assignment rules, basic automations, due dates, custom SSL certificates, and more.
And they also offer a freedom plan (up to 70 agents) if you're interested in an easy way to get all of their features. It starts at $469 per month, but it's probably overkill for most users.
Plus, over 20,000+ companies (including Verizon, Yahoo, and PBS) trust Cayzu with their help desk needs. So, you're not alone and you're in good company when you sign up.
Sign up for a free trial to see if Cayzu's right for you today!
Wrapping things up
Freshdesk, Hubspot, and Zoho Desk are my top recommendations for most users. They all offer numerous powerful features at affordable prices for businesses of all sizes.
However, they're not perfect for everyone. Different situations call for different solutions.
So, don't forget to use the criteria we talked about as you sort through choosing the best help desk software for you, your team, and your customers.
What's your go-to help desk software?
The post The Best Help Desk Software (In-Depth Review) appeared first on Neil Patel.