Archives
now browsing by author
Instagram SEO is important for businesses and brand owners who are thinking about getting more eyes and more engagement on their Instagram posts. How can you optimize search for the posts you create?
Initially, searching was limited to hashtags or user accounts. A later feature to Instagram is searching by interest, not just by hashtags or user accounts. Here's the announcement from Adam Mosseri, head of Instagram, with a snapshot of how you can use this feature.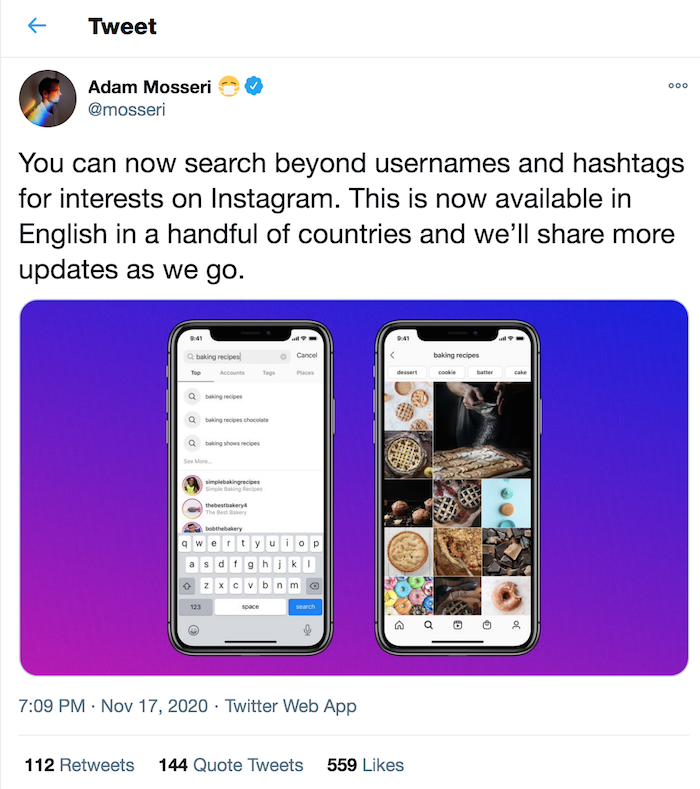 Being able to search by interest broadens your opportunities as a consumer of Instagram, allowing you to dive in and explore topics of interest without the limitations of specific hashtags. Users can search for topics or by interest, just as you would on Google.
How can you create content on Instagram that is optimized for users who are searching by interest?
Using Instagram's Searching by Interest
Initially, to search for something on Instagram, users were limited to searching for hashtags or searching for account names. When you would type something into the search bar, a drop-down menu would appear with options for hashtags that accounts have used in their posts or in account names themselves.
This is relatively limiting. Imagine that you wanted to search for inspiration for a project, or vacation photo ideas, or architecture, or any number of other ideas. Maybe you want to see how people are using a product, integrating a new trend, or wearing a certain kind of outfit. You could only find these things if you knew the hashtag that consumers were all using.
Herein lies the problem: What about the posts where they forgot to use the hashtag? Or what if you don't know about a specific hashtag and are missing out on lots of posts?
Search by interest broadens your search horizons by allowing you to scout, in essence, the entire content of an Instagram post.
Now when you type in a topic of interest, the results come up with a wider range of posts.
Also, Instagram shows you other related topics and keeps you clicking, scrolling, and exploring more.
Instagram SEO Benefits for Businesses
This is great news for your business if you are using Instagram to get the word out about your brand. Here are just a few reasons you should be glad for the feature:
A wider and bigger audience is going to be able to find your content, simply by searching.
Potential customers, who are actively looking for what you promote, are going to be able to find you faster.
You don't need to feel limited by finding all the right hashtags every time or copying what your competition is doing, allowing you to be more creative and on-brand in your content.
You can do competitive research more efficiently, learning more about what others in your space are doing on Instagram, and setting yourself apart.
You can build community with those in your space, by finding and connecting with other brands and other audiences who share your passions and outlooks.
How to Use Search By Interest on Instagram
Using the feature itself is a pretty straightforward process. In short, start searching. But let's take a look at how you can get the most out of this feature, both as a user and a marketer.
User Interaction
To start, find the magnifying glass icon on your desktop interface or mobile app. That's where you'll type in your topic of interest. Let's look at how it works.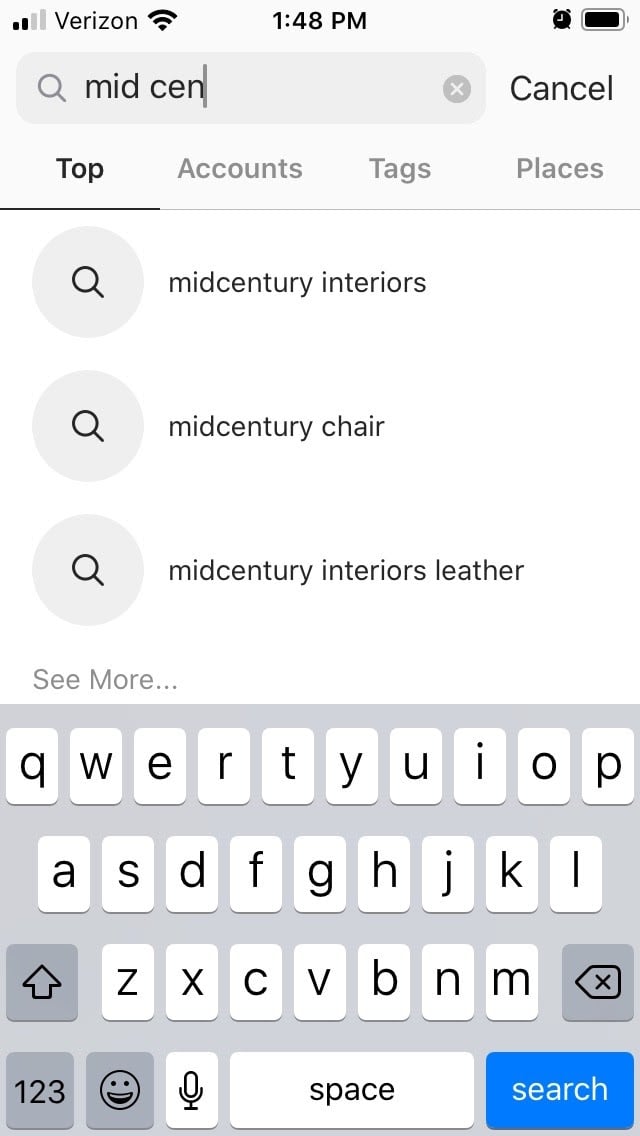 Now the fun begins. You can start clicking around to find more ideas.
You can click on more ideas and dive down that rabbit hole, where Instagram and Instagram content creators hope you'll stay for a while.
How Marketers Can Use Search by Interest
With that rabbit hole in mind, let's talk about how you can be using this feature for your own marketing needs. Your goals on Instagram likely include the following:
Attract new customers, through photos and copy.
Encourage potential customers to follow your content.
Educate and inspire
Drive them to your website or shop so they become customers
Keep customers engaged so they refer or return.
Instagram SEO helps with all those things because people who are already searching for what you're creating and selling can find you more easily. But how do you make the most of it? It's all about making sure you're writing keywords and key phrases that your customers are looking for.
So, now it's not just about making sure you've included every possible hashtag that they may search for or click on, but also creating content in your post that includes those keywords.
Here are some examples from our searches above. You'll notice in the copy the natural use of the key phrases we searched for.
Why Should You Care About Instagram SEO?
Now that we've talked about this feature that explodes the opportunities available with Instagram SEO, let's get into why Instagram SEO is so important in the first place.
What Is Instagram SEO?
Spelled out, it's Instagram Search Engine Optimization. That little magnifying glass signifies the powerful search engine that allows users to actually seek out specific posts that they are looking for. That search engine uses data and algorithms to show the users' posts they are likely to be interested in.
Optimization is the driver of your success with search. By optimizing your Instagram posts, you are seeking to ensure that you have included the words, phrases, hashtags, and so on that will feed into that algorithm and show your content to interested searchers.
It's about doing what you can to get to the top of those searches and be seen by a maximum number of people.
Why Is Instagram SEO Important?
Why should you even worry about Instagram SEO? Well, it's really about optimizing everything you do. As you go through the time and effort to create your Instagram posts, you want to make sure that you're getting the most engagement and ROI on each of them.
With over one billion users on Instagram, many of whom are Generation Z or millennials, it's a very popular place for marketers. You want to stand out among the competition and have your content be seen.
Instagram SEO vs. Search Engine SEO
When you think of SEO, the first thing that comes to mind is probably website SEO and optimizing that space for search engines, such as Google or Bing. That is the most common usage when we're throwing around the word SEO.
However, when you think about it, SEO can mean any kind of search engine optimization, whether it's a juggernaut like Google or Instagram or another smaller, although no less significant, platform.
Here's something to remember though. Search engines like Google search all websites, including social media platforms. That means that when people are searching for the kinds of things you are posting about, Google may crawl your social media pages too and pull results from there.
When you are creating content to be optimized to Instagram's search features, you may also want to think about how Google is analyzing that content, to get better traffic, whether customers are using the internal search on Instagram or Google.
Best Practices for Improving Your Instagram SEO
Let's talk a little bit about how to improve your Instagram SEO, especially with this "search by interest" feature in mind. This really all comes down to what you're posting, what you're writing in your post, and how you go about using Instagram as a business.
Be Consistent
As we mentioned above, Google crawls Instagram and other social media sites like any other website. This is especially true for profiles or usernames. When people search for your brand on Google, your social media pages are likely to come up. So make sure that your username mirrors your brand name closely.
Here's an example, using Google to search for fiddle leaf figs on Instagram. Of course, to get Instagram in the top results, we had to use the word "Instagram" in the search, but it shows you the power of having your top keyword in your username and bio.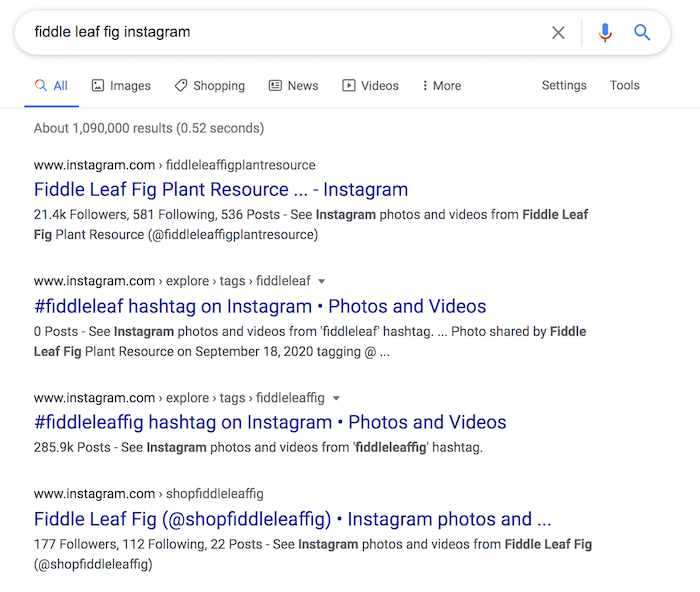 Be On Brand
Remember what your ideal clients are searching for. Make sure those top keywords are in your bio and description, and in your captions. You can use them naturally, in your sentences, but make sure the most important ones are near the top of your captions.
Also, don't neglect hashtags. Yes, this feature is opening the world of Instagram to more keyword usage, but hashtags are still a big player in Instagram SEO. Use relevant keywords that your customer base is interacting with, and use them often.
Be Thorough in Your Captions
According to an article from Later, which referenced data directly from Facebook and Instagram, the company uses similar keywords and key phrases to identify which accounts are related to one another. This is important for Instagram's Explore feature, which pulls in new posts and accounts that may be of interest to you, based on posts and accounts you have interacted with in the past.
Thinking about this as a marketer, you want to make sure that your captions, as well as your username and bio, contain the keywords and phrases that would connect your account with similar ones, such as your competition. This way, when Instagram users are interacting with their content, yours will also show up in their Explore fields.
Needless to say, you need to be thorough and relevant in your captions. If you sell fiddle leaf figs, as we mentioned above, you need to make sure that fiddle leaf fig is in all of your posts, even if the photo is about something only related to fiddle leaf figs or your brand.
For instance, if you are posting a sale announcement or a holiday greeting, make sure you are still getting that keyword in there. While you're at it, make sure your photos are always on brand, too. Everything should be about fiddle leaf figs in the end.
Be a Real Person
All the tips and tricks aside, search engines are constantly working to be more human. And the more human you can be, the better. Some of the best tips for social media SEO include just being authentic, natural, and just showing up a lot. Keep the "social" in social media and be kind. The quickest way to get hidden or pushed down the algorithm is to just have poor etiquette on these types of platforms.
Tools to Improve Your Instagram SEO
To really up your Instagram SEO game, you may want to explore the number of Instagram analytics tools and other programs that can help you learn how your Instagram strategy is working. Here are just a few to get you started.
Iconosquare: A powerful scheduling tool that provides real-time analytics on how your content is promoting, as well as competitor and industry data to help you post well.
Hashtags for Likes: A tool to research and uncover the best hashtags for your content.
Plann: Integrating design tools like Canva, this tool lets you create, post, and monitor all in one place so you can keep an eye on how your Instagram strategy is working.
Conclusion
It's true: SEO is a key part of your entire content strategy. They are interrelated and critical in our ever-growing digital world, and that doesn't stop with your website and your blog. Instagram SEO and all other social media platforms you are using consistently should also be part of this equation.
This "search by interest" feature certainly makes it easier, opening a world of possibilities as users can now find your content based on your whole caption, not just your hashtags, but now the onus is on you to make sure that you are taking full advantage of those captions.
How are you planning to create captions that are more searchable for your customer base?
The post A Guide to Instagram SEO With Search by Interest appeared first on Neil Patel.
Hi Everyone
I'd like to show you a short video case study which Chris Cantell made recently – showing just how insanely powerful for ranking is this one thing:
Relevance!
Chris and I have been teaching the importance of making your page hyper relevant for a couple of year now, in our webinars.  Importance which, as you will see from this video, cannot be underestimated.
In short, if you have the right relevance, you will outrank even massive authority competing sites!!!
…as you'll see in the video.
How is it that we know how to make our pages relevant?
You see, we've studied Google's patents.  This information comes right out of one of their patent applications.
Patent information is publicly available, and gives us deep insight right into the heart of the Google algorithm.
The rest of the industry is finally beginning to talk about this.
They seem to have named it by the curious acronym "TF IDF" (which stands for term frequency-inverse document frequency – it's a name that speaks of the inclusion of relevant terms, words and phrases, in your page).
Fortunately, those of you who have followed us for a while or seen our webinars know exactly how to achieve relevance, and those of you in SEO Breakthrough have our relevant keyword master tool to automate the process of harvesting these relevant words and phrases from the internet!
Anyway, have a look at this video, it's very informative.  I think you'll be blown away by the comparison between these sites:
All the best
John Pearce and Chris Cantell
The post Beat Your Competitors Rankings with One Change appeared first on SEO BreakThrough.
The post Beat Your Competitors Rankings with One Change appeared first on Getting Your Business Started Off To The Right Start.
Today's going to be fun.
I'm going to make a bet with you that if you follow the 3 steps below, and you really follow them, you can get 10,000 visitors from Google.
I promise it won't be hard, but it will take time.
And if you follow my steps and don't get the results, hit me up and I will personally help you with your marketing.
All I ask is you do it for 3 months straight. You may not get to 10,000 visitors from Google in 3 months as some niches are really tiny, but most of you should get there or be well on your way.
Again, if you prove to me that you followed everything below and you don't achieve the results, you can get in touch and I will personally help you with your marketing for free.
Ready?
Step #1: Finding the right keywords
If you pick the wrong keywords, you'll find yourself with little to no traffic and, even worse, you'll find yourself with little to no sales.
So, before we get you on your way to more search traffic,
let's find you the right keywords.
I want you to head to Ubersuggest and type in your
competitor's domain name.
Now, I want you to click on the "Keywords" navigational
option in the sidebar.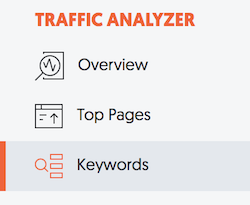 This report will show you all of the keywords that your competition is ranking for.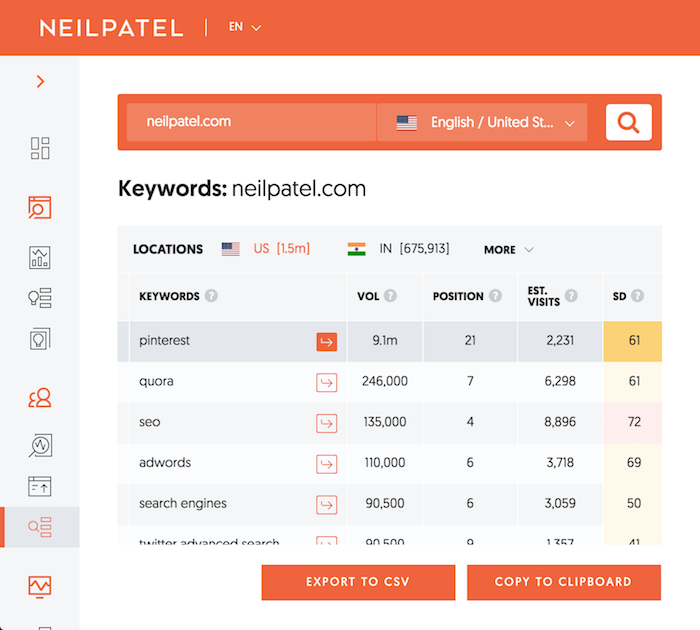 If you don't see a list of thousands of keywords, that means you didn't type in a big enough competitor. And if you don't know who a big competitor is, just do a Google search for any major term related to your industry. The sites at the top are your major competitors.
I want you to go through the list of keywords and look for all of the keywords that are related to your business and have an SEO Difficulty (SD) score of 40 or less. The higher the number, the harder the keyword is to rank for. The lower the number, the easier it is to rank for.
In addition to an SD score of 40 or lower, I want you to look for keywords that have a volume of 500 or more.
Volume means the number of people that search for the keyword on a monthly basis. The higher the number, the more potential visitors that term will drive once you rank for it.
Next up, I want you to click on "Top Pages" in the
navigation.
This will bring you to a report that looks like this: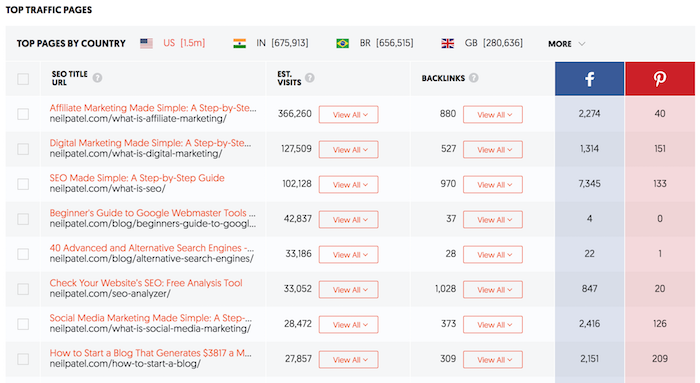 This report shows you the most popular pages on your
competitor's site.
Now, under the Est. Visits (Estimated Visits) column, I want you to click on "view all" for the first few results.
Every time you do that it shows you all of the keywords that
drive traffic to that page.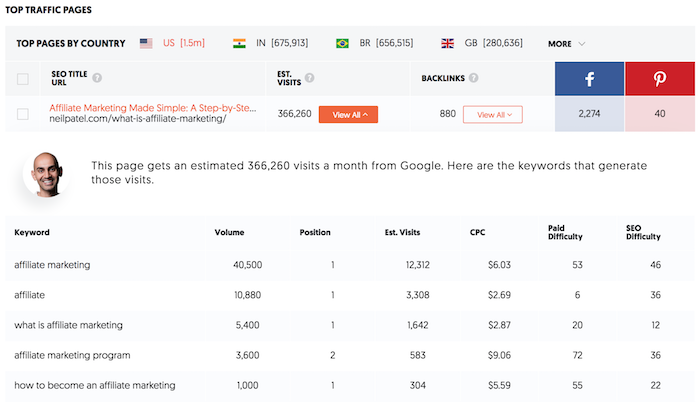 Just like you did with the keywords report, I want you to look at the keywords that have an SD of 40 or lower and a volume of 500 or more.
The one difference though, is that I want you to check out some of the URLs on the Top Pages report.
Click on over to the site so you can see the type of content they are writing. This is important because it will give you an idea of the types of content that Google likes to rank.
When you create similar pages (I will teach you how to do this shortly), it will allow you to get similar results to your competition over time.
Now that you have a handful of keywords, I want you to expand the list and find other related keywords.
In the navigation menu, click on "Keyword Ideas."
When you type in one of the keywords you are thinking of going after in this report, it will give you a big list of other similar keywords.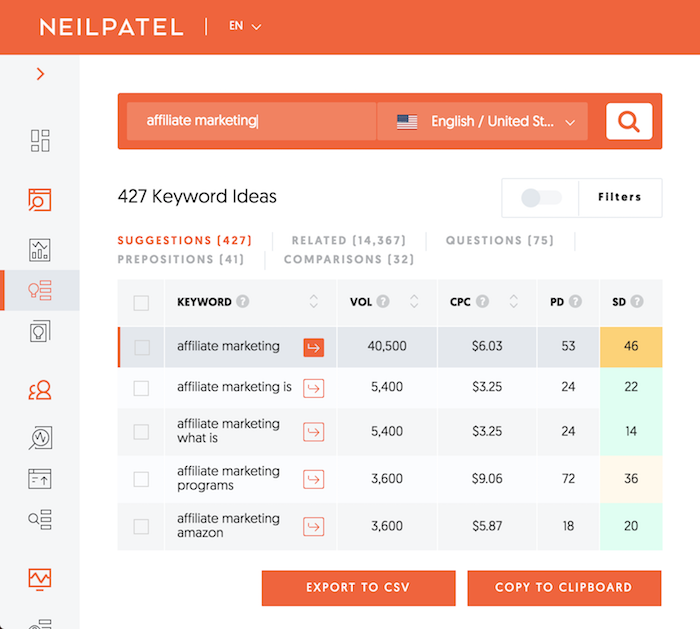 This is important because it will show you all of the
closely related terms.
For example, let's say you came up with a list of keywords of a handful of keywords, such as:
Dog food
Cat food
Dog bed
How to clean your cat
What do birds eat
You can't just take all of those keywords and write one article and shove all the keywords in because they aren't similar to each other. Someone looking for "dog beds" is probably not interested in reading about what birds eat.
So by typing in a keyword into the Keyword Ideas report, it will show you all of the other similar keywords that you can include in a single article.
When you are on the Keyword Ideas report you'll notice some tabs: Suggestions, Related, Questions, Prepositions, and Comparisons.
I want you to go through each of those tabs. They will show you a different group of similar keywords that you may be able to include in your article (we will go over how to write the article in step 2).
Just take a look at the Questions tab:
You can see the keywords are drastically different than the Related tab:
Again, you'll want to look for all keywords that have an SD score of 40 or lower. But this report looks for keywords that have a volume above 200.
I know 200 may seem like a small number, but if you find 100
good keywords that all have a volume of 200 or more, that adds up to 20,000
potential visitors per month. Or better yet, 240,000 per year.
Now it's rare that you are going to get all of those people
to come to your site, but you can get a portion of them. Even 10% would add up…
especially if you did this with a handful of articles.
Your goal should be to have a list of at least 100 keywords that are very similar. You'll want to do this at least five times. For example, remember that list of five keywords I mentioned above wasn't too similar to each other…
Dog food
Cat food
Dog bed
How to clean your cat
What do birds eat
You'll want to make sure that for each main keyword you use the Keyword Ideas report to find another 100 that can accompany each keyword.
Step #2: Write content
At this point, you should have a list of keywords. If your list of keywords isn't at least 100 keywords per group, go back to step 1 and keep at it.
It's not that hard to get to 100 similar keywords that you can include in one article. It just takes some time to continually search and find them.
In general, as a rule of thumb, I can find 100 keywords in
less than 8 minutes. It may take you a bit longer than me at first, but once
you get the hang of it, it'll be easy.
With your newly found keywords, I want you to write an article.
All you have to do is follow this tutorial step-by-step to write your first article.
Or, if you prefer a video tutorial, watch this:
As for your keywords, naturally place them into the article when it makes sense.
What you'll quickly learn is that you probably won't be able
to "naturally" include all 100 keywords within your article. And that's fine.
The last thing you want to do is stuff in keywords because you aren't writing this article for just search engines, you are writing it for people… and the secondary benefit is that search engines will rank it because it contains the right keywords.
Before you make your article live on your site, I want you
to keep a few things in mind:
Keep your URLs short – Google prefers shorter URLs.
Include your main keyword in your headline – by having your main keyword in your headline, you'll be more likely to rank higher.
Include your three main keywords in your meta tags – whether it is your title tag or meta description, include at least three main keywords in them. You won't fit as many in your title tag, and that's fine, but you should be able to within your meta description tag.
There are a lot of other things you can do to optimize your articles for SEO, but my goal is to keep this simple. Again, if you just follow these three steps, you'll hit the 10,000-visitor mark.
So, for now, let's just keep things simple and once you hit
your goal, then you can get into the advanced stuff.
Step #3: Promoting your content
Writing content is only half the battle. Even if you include the right keywords in your article, if you don't promote, it's unlikely that it would be read or rank on Google.
So how do you make sure your content is read and ranks well?
Well, first you need to get social shares, and second, you need to get backlinks.
Yes, search engines don't necessarily rank pages higher when
they get more Facebook shares or tweets, but the more eyeballs that see your
page the more likely you are to get backlinks.
And the more backlinks you get, generally, the higher you will rank.
So here's how you get social shares…
First, I want you to go to Twitter and search for keywords related
to your article.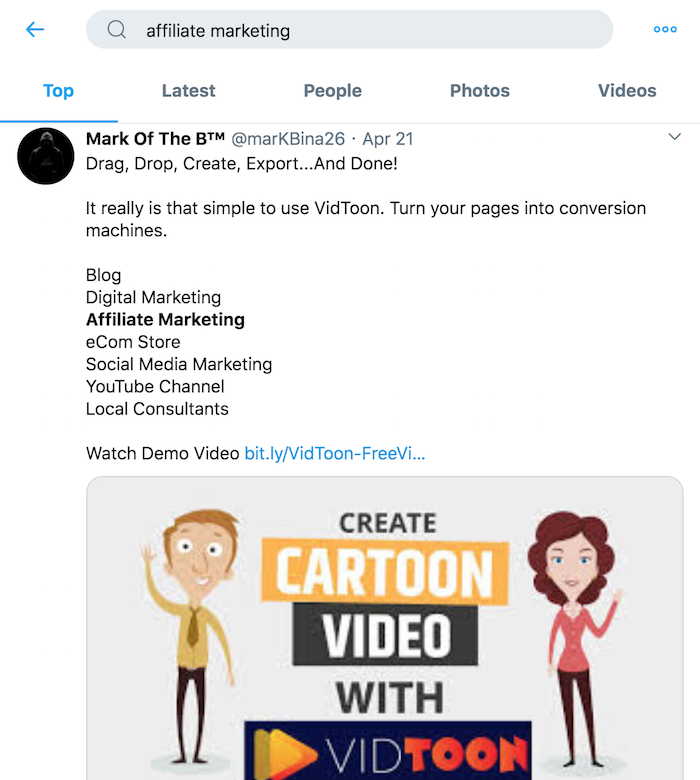 As you scroll down, you'll see thousands of people tweeting about stuff related to your keywords. Some of them will just be general updates but look for the members sharing articles.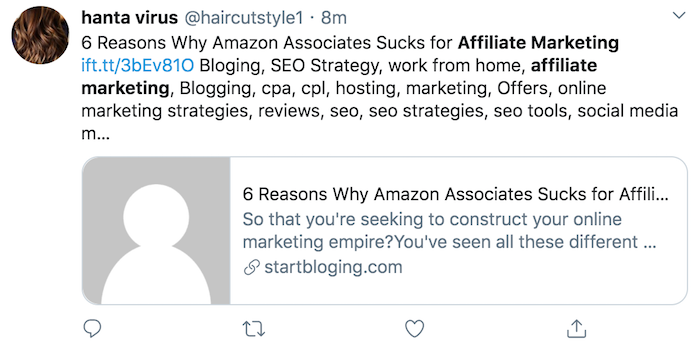 And…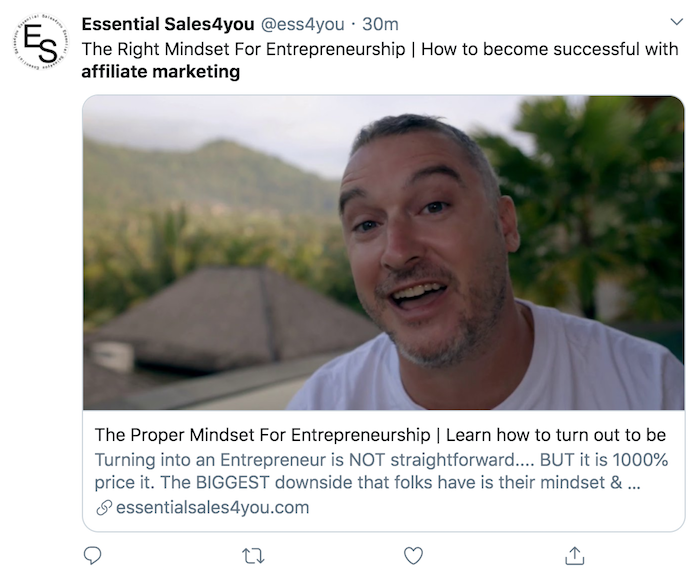 Now what I want you to do is click on their profile and see if they mention their contact information or their website. If they mention their email you are good to go. If they mention their website, head to it, and try to find their contact information.
You won't be able to find everyone's contact information,
but for the people you do, I want you to send them this email:
Subject: [insert the keyword you searched for on Twitter]

Hey [insert their first name],

I saw that you tweeted out [insert the title of the article they tweeted]. I actually have an article that I recently released on that subject.

But mine covers [talk about what your article covers and how it is unique].

[insert link to your article]

If you like it, feel free to share it.

Cheers,

[insert your name]

PS: Let me know if you want me to share anything for you on Twitter or any other social network.
What you'll find is a large percentage of the people will be willing to share your content because they already are sharing related content and, of course, you offered to share their content, which helps out too.
If you send out 30 to 40 emails like this, you'll start
getting traction on the social web.
Now that you have social shares, it's time to build backlinks. Instead of giving you tons of link building methods as there are many that work, I am just going to start you off with one that works very well.
I want you to head back to the Keyword Ideas report on
Ubersuggest.
Once you get there, type in some of the keywords that you are trying to go after.
On the right side of the report, you'll see a list of sites that rank and the number of backlinks that each of the ranking URLs has.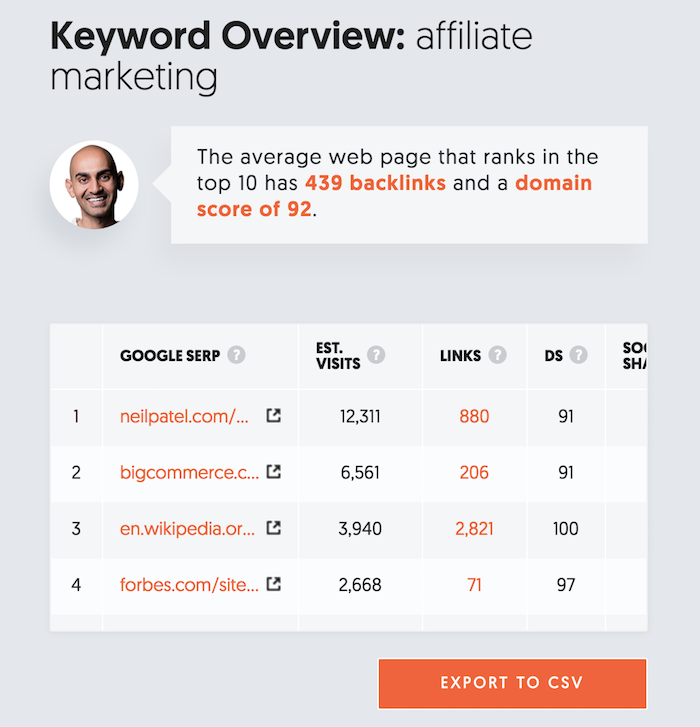 Click on the "Links" number. For each result, it will take you to the Backlinks report, which looks something like this: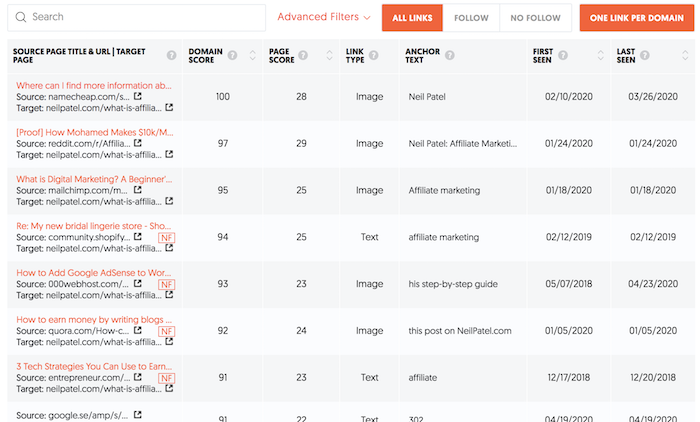 This will give you a list of all the sites linking to your
competitor's article.
I want you to go to each of those URLs, find the site owner's contact information, and shoot them an email that looks like this:
Subject: [name of their website]

Hey [insert their name],

I noticed something off with your website.

You linked to [insert your competitor that they linked to] on this page [insert the page on their site that they are linking to them from].

Now you may not see anything wrong with that, but the article you linked to isn't helping out your website readers that much because it doesn't cover:

[insert a few bullet points on how your article is better and different]

You should check out [insert your article] because it will provide a better experience for your readers.

If you enjoyed it, feel free to link to it.

Cheers,

[insert your name]

PS: If I can ever do anything to help you out, please let me know.
I want you to send out 100 of those emails for each article
you write.
Conclusion
Yes, it takes work to get 10,000 visitors but once you do it you'll continually generate traffic and, more importantly, sales.
To achieve 10,000 visitors, I want you to do the steps above five times. In other words, you will be writing five pieces of new content following the steps above.
It's actually not that bad because you can just do 1 a week.
So, within 5 weeks you would have done your job.
So, are you going to accept the challenge? If you do everything and don't see the results over time, you can hit me up and I'll help.
The post 3 Simple Steps to Get Your First 10,000 Visitors from Google appeared first on Neil Patel.