Archives
now browsing by author
First, with COVID-19 in the picture, you are likely in survival mode. If your business has been affected by the pandemic, you need to sign up for the SBA Paycheck Protection Plan, a Disaster loan, or both.  Do it now, because funds are limited and the application process takes time.  This will help your business keep going while you figure out the next steps for whatever the future holds for our economy, including recession business finance.
Everything You Need to Know About Recession Business Finance

During a recession, everything changes.  There is less spending, less lending, and less cash moving period.  Lenders are tighter with what they are willing to dole out, and that leaves many business owners wondering what to do about business funding. It makes recession business finance exceptionally tricky. 
Some sources of funding that may work well during the good times are not reasonable to count on for recession business finance purposes.  It is important to know what options are available and which ones will work best during harder economic times. Recession business finance can be a bit more difficult to navigate.
There are not as many options for recession business finance as there are for business funding during good economic times.  Of the available options, the ones that will work best for you depends on a number of factors. You have to know more about each before you can make an educated decision. It is necessary to know the differences between them, what the qualifications are, and if you even have access to them before you can begin to think about making a decision.
We break it down for you here in our ultimate guide to recession business finance so you can make the best decision possible during the hard times of a recession.
Are Traditional Business Loans an Option for Recession Business Finance?
These are the loans that you go to the bank to get.  As a business, your business credit score can help you get some types of funding even if your personal score isn't awesome.  That isn't necessarily the case with this type of funding.
With a traditional lender term loan, you are almost always going to have to give a personal guarantee.  That means they will check your personal credit.  If it isn't in order, you will likely not get approval.
What does it mean to have your credit score in order? If you have a personal credit score of at least 750 you are in pretty good shape. Sometimes you can get approval with a score of 700+, but the terms will not be as favorable.
If you have really great business credit, your lender might be more inclined to offer a little more flexibility. However, your personal credit score will still weigh heavily on the terms and interest rate.
Of all of the available business funding types, this is the hardest to get. It is usually worth the trouble though if possible, because it often has the best rates and terms.
Term loans are not easy to get, and during a recession, it is even harder.  Unless you have stellar personal and business credit with an already established, successful business, this is a long shot when it comes to recession business finance.
Check out how our reliable process will help your business get the best business credit cards, even during a recession.
SBA Loans
These are government secured term loans offered through traditional banks. The Small Business Administration, or SBA, works with lenders to offer small businesses funding solutions that they may not be able to get based on their own credit history. Because of the government guarantee, lenders are able to relax a little on the personal credit score requirements.
In fact, it is possible to get an SBA micro-loan with a personal credit score between 620 and 640. These are very small loans, up to $50,000.  They may require personal collateral as well.
The trade-off with SBA loans is that the application progress is lengthy. There is a ton of red tape connected with these types of loans.
During a recession however, the government works hard to build the economy.  In light of this, SBA loans may still be a viable option.
Business Line of Credit for Recession Business Finance
This is basically the traditional lender's version of a business credit card. The credit is revolving, meaning you only pay back what you use, just like a credit card. Rates are typically much better that a credit card.  The application and approval process, however, is more similar to that of a traditional term loan.
If you need revolving credit and can qualify for a term loan, this is the best option. It is great for bridging cash gaps and covering short term expenses without the high credit card interest rates. If you already have this in place before a recession hits, even better!
There are no cash back rewards or loyalty points though.  That makes some business owners prefer business credit cards in some cases, despite higher interest rates.
Since this is basically a revolving traditional loan, it could be as difficult to come by during a recession as a term loan from a traditional lender may be.
When you apply for financing from traditional lenders, they will always ask for certain information.  This is regardless of whether you are applying for a line of credit, an SBA loan, or a traditional term loan.  You will need to provide, at a minimum:
A complete, professional business plan if you are a startup

Complete company financial statements or tax returns for recent years

A list of owners or officers

Personal financial information, including bank account balances and credit history
While this list is not exhaustive, it is a good start for what you need to have together before you begin the application process if you plan to pursue this type of recession business finance. 
Credit Line Hybrid
A credit line hybrid is basically revolving, unsecured financing.  It allows you to fund your business without putting up collateral, and you only pay back what you use.
What are the Qualifications?
How hard is it to qualify?  Not as hard as you may think.  You do need good personal credit.  That is, your personal credit score should be at least 685.  In addition, you can't have any liens, judgments, bankruptcies or late payments.  Also, in the past 6 months, you should have less than 5 credit inquiries, and you should have less than a 45% balance on all business and personal credit cards.  It's also preferred that you have established business credit as well as personal credit.
If you do not meet all of the requirements, all is not lost. You can take on a credit partner that meets each of these requirements.  Many business owners work with a friend or relative to fund their business. If a relative or a friend meets all of these requirements, they can partner with you to allow you to tap into their credit to access funding.
What are the Benefits?
There are many benefits to using a credit line hybrid.  First, it is unsecured, meaning you do not have to have any collateral to put up.  Next, the funding is "no-doc." This means you do not have to provide any bank statements or financials.
Not only that, but typically approval is up to 5x that of the highest credit limit on the personal credit report. Additionally, often you can get interest rates as low as 0% for the first few months, allowing you to put that savings back into your business.
The process is pretty fast, especially with a qualified expert to walk you through it.  One other benefit is this. With the approval for multiple credit cards, competition is created.  This makes it easier, and likely even if you handle the credit responsibly, that you can get interest rates lowered and limits raised every few months.
Invoice Factoring
An established business with accounts receivable can look to invoice factoring as a source of recession business finance. This is where the lender buys your outstanding invoices at a premium, and then collects the full amount themselves. You get cash right away, without waiting for your customers to pay the invoices.
For those businesses already up and running enough to have accounts receivable, this can be a viable option during a recession.  If your customers cannot pay or are paying slowly due to the economic downturn, you can still get the funds you need to run your business, although not at full value of what you would get if your customer paid you.
The cash comes fast, which is also a bonus.  Since the lender collects the funds directly from the customer, this can be a really good recession business finance option.
Because this type of funding is based on receivables, it is still a viable option if your business has them.  The only problem is, during a recession, sales could go down.  This would reduce the amount of funds you have available to you.
If you accept credit cards, you may be able to get a merchant cash advance.  It is similar to invoice factoring, but instead of buying your open invoices, the lender advances cash based on expected credit card sales. 
Break with Tradition: Look to Non-Traditional Lenders for Recession Business Finance
These are lenders other than traditional banks and credit unions that offer terms loans.  Usually they operate online.  Occasionally they will have a brick and mortar location as well.  The difference between these and traditional lenders is that the loans have looser approval requirements and a much faster application process. Most often you can simply apply online, get approval in as little as 24 hours, and the funds are in your account within 24 to 48 hours after approval.
They are an option if your personal credit isn't terrible and you need funding fast. In times of recession, these guys are a go-to source as they specialize in lending to those that may have trouble with traditional lenders.
There has been an explosion of non-traditional lenders onto the scene in recent years.  Some are better than others.  Be sure to research each one thoroughly.  Check them out on the Better Business Bureau website and read online reviews to get a good start. 
Grants: The Recession Business Finance Miracle
While there are not a lot of these out there, grants are a super source of recession business finance if you can get one. They are usually offered by professional organizations. There are some government grants available also. Competition can be fierce, but they are definitely worth a shot if you think you may qualify.
Requirements vary from grant to grant and most are only awarded to a certain number of recipients. More opportunities are available if you fall into one of the following categories.
· Women owned business

 

· Minority owned business

· Businesses run by veterans

· Businesses in low income areas
There are also some corporations that offer grants in a contest format that do not require much other than that you meet the corporation's definition of a small business and win the contest.
Check out how our reliable process will help your business get the best business credit cards, even during a recession.
Interested in a Government Small Business Grant?

 

Start Here
Federal government small business grants run through the Small Business Administration, but they are rarely awarded directly to a business. Instead, they award the grant to local non-profits or governments to disburse to small businesses in their communities. To find these, check with local economic development agencies and governmental entities to find out what available business funding types they have.
Another place to look is the local Small Business Development Center, or SBDC. These offer support to local small businesses and are generally related to a local college, university, or economic development center.
As a general rule, they do not offer grants themselves.  They can, however, point you in the right direction. They know where the money is, who qualifies, and how to start the application process. These agencies also offer many other services to small businesses, making them a great resource regardless.
Corporate grants are another great option if you live in an area where they are available. Companies like FedEx and LendingTree have grant contests each year.
Grants are a great possibility at any stage of business.  They shouldn't be counted on too heavily however.  Funds are limited and competition is fierce.  A backup plan is definitely necessary if you are planning to use the funds for a specific purpose.
Business Credit Cards: Can They Work as Recession Business Finance?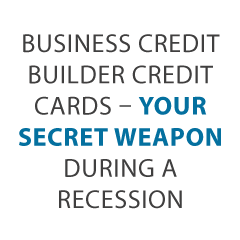 Credit cards as a whole get a bad reputation, but in lieu of another option, they can actually do the trick quite nicely. They are more readily even with a credit score that isn't awesome, but the lower the credit score the higher the interest rate. Also, there are limits on how low they will go with a credit score.
However, this is one of the available business funding types that most of the general public are eligible for at any given time. They do a credit check, but your credit doesn't have to be as high as it would be to gain approval for a traditional loan.
The downside of business credit cards is that they typically have a high interest rate. The upside is that many of them offer rewards in the form of cash or points that can be helpful.
Credit cards are plentiful even during hard economic times.  It may be harder to get approval if the recession has hit your credit score hard, but there are ways to fix that. 
Apply for business credit cards with your business name and EIN to get them without a personal credit check.  If you do not yet have a business credit score, you need to get one.  Find more about how to establish and build business credit here.
Best Uses for Each Type of Recession Business Finance
Which type of recession business finance you should use in any given situation depends on many variables. The biggest piece of the puzzles is which types of funding you are eligible to receive. However, there really is more to it than that. Assuming you are eligible for all types of financing, here are some other factors to consider.
Startup During a Recession
In the startup phase, there are a couple of things to think about when determining which funding types might work best. 
If you fall into one of those categories that make grants an option, that is the best first stop. Grants are free and clear. That money is yours, without repayment, to use in your business. They typically do not rely on success of the business or the credit worthiness of the owner. The business or proposed business only has to meet the requirements set forth to apply, and then win the grant.
Traditional term loans are a good idea for the startup phase also, if you qualify. The interest rates and terms are generally more favorable than other types of financing for those that meet the credit requirements. They are less of an option during a recession however. 
If you do not meet the credit requirements for traditional term loans, then non-traditional lenders are the next best option. They may have higher interest rates, but they do the trick. Plus, they can help build your business credit score if you make your payments on time.  That, in turn, makes you more eligible for other types of recession business finance.
While not impossible, it is not usually a good idea to start a business using credit cards if it can be avoided.  Of course, invoice factoring is not an option here as you have to already be in business to have the invoices necessary.
Check out how our reliable process will help your business get the best business credit cards, even during a recession.
Growth During a Recession
There are several different aspects of growth that can benefit from various types of business funding.
Inventory Increase
If you see the potential for higher demand and need to increase inventory to accommodate, a revolving credit line is going to work best.
If already in place, these are instantly available to meet the cash needs that a large inventory purchase creates. They also allow for taking advantage of special pricing when available, which can be huge during a recession.
A business line-of-credit works well due to the lower interest rate, but business credit cards will work in this situation also. In fact, if they have really great rewards attached to them, they could even be the better option. It can't hurt to have both available if you have that luxury so that you have choices.
If available, grants work well for growth projects during a recession also.
Recession Business Finance for Equipment Purchase and Repair
For large equipment, it is best to use traditional term loans of some sort if possible. This is simply because they are typically longer-term loans for larger amounts.  Lower interest rates and favorable repayment terms are key.  However, we all know that isn't always possible. Other types of recession business finance can be used if necessary.
Grants may be an option if there is not a time crunch. If time is of the essence, it is possible to purchase equipment on credit cards, but you could run in to problems with cost versus credit limit.
Recession Time Expansion
Expanding during a recession can be tricky, if not downright risky.  However, if you want to add on to your current building or add an additional location, term loan financing is the best option. Whether it needs to come from a traditional or non-traditional lender will depend on your specific situation.
Recession Business Finance for Working Capital
Working capital is the cash you have available to run your business. Everything from payroll to repairs, maintenance, seasonal cash gaps, and emergencies are all things working capital covers.
Working capital can come from various sources. There are working capital loans available, but lines- of-credit and business credit cards can work in these situations as well. Unless you already have a working capital loan before the need arises, it is likely you are going to need to access business credit cards or some form of non-traditional financing for this.
In a pinch to cover a cash gap, a merchant cash advance or invoice factoring can work well.
Recession Business Finance Can Be a Delicate Dance: The More You Know About Each Option the Better
It doesn't matter what type of business you own or whether or not you need funding at this moment. If you own a business you need to know what the available business funding types are, which ones you currently qualify for, and how to qualify for those that are not currently available to you.
You also need to know which types of funding work best in various situations. Once you know these things, you can make an informed decision about how to best fund your business during the recession.
The post Your Ultimate Get Started Guide to Recession Business Finance appeared first on Credit Suite.
Are you supporting work place mental health at your business? We show you how to make your workplace friendlier for mental health. Plus, nine more awesome tips to close the deals while treating your employees right.
The Hottest and Most Brilliant Business Tips for YOU – Support Work Place Mental Health and More
Our research ninjas at Credit Suite smuggled out ten amazing business tips for you! Be fierce and score in business with the best tips around the web. You can use them today and see fast results. You can take that to the bank – these are foolproof! Starting better supporting work place mental health for your employees and more.
Stop making stupid decisions and start powering up your business. Demolish your business nightmares and start celebrating as your business fulfills its promise.
And these brilliant business tips are all here for free! So, settle in and scoop up these tantalizing goodies before your competition does!
#10. Be Real!
Our first jaw-dropping tip is all about building an authentic Instagram audience. Entrepreneur says your aim should be to create a community, and not just a bunch of followers. But the tip we loved was the first one – and it leads directly into the one about a community.
Follow Hashtags to Instagram Glory
Now, the truth is, you can do this on Twitter and Facebook as well. Although, note that on Facebook there's less of a culture of using hashtags on posts, replies, notes, etc. People use hashtags to cull the tsunami of information they get every day on social media. It's easier to read enough content to fill, say, an hour, versus 24 hours. Heck, it's not possible to keep up with everything anyway.
This takes advantage of a truth for everyone. We all curate our social media feeds, or we let algorithms do that work for us. Because none of see everything. It's physically impossible.
This means your ideal audience is doing so as well. The posts they click on and react to are fueling the algorithm. They're essentially telling the algorithm what interests them. So, let's say you have a dry cleaning establishment. People might not be taking about it too much on Instagram. But for those who are, they're probably using hashtags like #drycleaning and #drycleaner. They may even be using hashtags like #laundry and #delicatefabric or #lookinggood.
As you find these people, engage with them. This means commenting on photos and maybe sending a personal message. But be mindful of the fact that not everyone likes personal messages. And, you probably shouldn't lead with one. 'Cause that's just creepy.
#9. Soften Your Sales for Success
The next awesome tip is about how to use soft selling in your sales efforts. Mail Shake notes that soft selling doesn't mean passive selling. You are still trying to sell, after all. 
Personalization
We have been beating this drum for quite a while, and so have many of the articles we've been reading lately. Because of technology, personalization is possible on a grander scale than ever before.
As a result, we loved their comparison between hard and soft selling. For hard sales, you get the prospect's contact information. But there's no specifics on that. Whereas for soft sales, it comes from personal contact, such as networking, social media engagement, or inbound marketing. 
We are all on the lookout for scams. What sounds more like a scam to you? Is it someone calling you out of the blue with a sales offer, or someone you know, at least a little, making that same offer?
In the next tip, we'll cover building trust.

If you are as passionate about succeeding in business as we are, please help us spread the word about how to take the plunge and save time and money – and your sanity! Support work place mental health and treat your employees and customers right – plus nine other great tips this week.
#8. Build Trust Brick by Brick in Current Relationships
Our following life-changing tip concerns building trust in extant relationships. LinkedIn lays it all out for us. Of course, we are talking about this in the context of sales. But this could work for your not-so-commercial relationships, too.
Don't believe us? Then try this tip on for size.
Treat Your Customers as if They Were Prospects
Essentially, as in life, don't take people for granted!
Kind of a good idea no matter what, eh? 
Checking in on existing customers is a great way to build trust and to set the stage for, perhaps, renewals or even upsells. And, let's face it, you've spent a ton of time courting a prospect and converting them to a customer. Abandoning them once the check is cashed is the very antithesis of that. 
And how should your customers feel if the only times you contact them are when it comes to getting your hands on some more of their cold, hard cash?
How would you feel?
#7. Perfect That Elevator Pitch for Investors
For our next sensational tip, we looked at avoiding errors in your first meeting with investors. Startup Professionals says that there are eight errors which you should be doing your best to avoid.
Actually, this is good advice for any sort of an elevator pitch, such as when you're bucking for a new job. We encourage you to read the article and see for yourself. Hence, we'll concentrate on one tip.
Stop. Talking. So. Fast.
Did you know that the attention span for elevator pitches is just 30 – 60 seconds? And that means about 150 – 250 words.
Any more than that, and you're just overloading your potential investor. This means two things are in order. One, practice, practice, practice so you don't lose words to um, uh, and er. And two, consult a thesaurus and find better, more descriptive words if you need them.  This doesn't mean $100 words. Rather, it means being succinct, so long as you can be understood.
That means instead of saying "our product is between blue and green", you say, "our product is teal". It's not just faster and more succinct. It's also more confident-sounding.
https://creditsuite.wistia.com/medias/94z8msbn94 
#6. Empower Your Employees with Productivity Software
This tip is so cool, and it works! The SBA tells us all about productivity software to empower your employees. That's a great way to support work place mental health, eh?
Our favorite tip had to do with showing big goals to your entire team. We loved that because it gathers all of the trees into a forest. That means it's time for a true story.
Your Work Matters
Way back when – as in, the 90s – your intrepid blog writer worked as a data analyst for the Legal Department of a large insurance company. This company routinely spent millions of dollars every year on outside counsel. Their list of law firms topped 3,000 firms.
And so, I was asked to do two things – figure out if a firm is being paid fairly and determine if we can let a firm go and get another to pick up the slack.
This meant gathering a ton of supporting information from local offices. It also meant putting together a system for deciding 'fairness'. Now, this is before much of the internet (we didn't have access, anyway) existed, so there was no looking up salaries online. 
With no information on the big picture, I never learned just how much money the company saved because they ended up with a workable system to decide how much to pay their outside counsel.  With no information on the overarching reason for my task, I felt purposeless.
And, you guessed it, I finished the project and left shortly thereafter.
Employees want to have a sense of purpose. Showing them what their work is leading to can do that.
#5. Take the Time to Support Work Place Mental Health at Your Business
Grab this mind-blowing tip while it's hot! 
Support work place mental health – it's the right thing to do.
Entrepreneurs' Organization says work place mental health is not a subject everyone is comfortable with. But they should be.
Now, keep in mind that the article does not suggest that managers or entrepreneurs need to become therapists. In fact, one of their tips is to bring in a work place mental health counselor. This can be someone accessed remotely.
But here's the tip we really liked and think should be explored in some depth.
Give Your Managers Training
 This is not necessarily to be able to tell if someone has a mental health issue. It's more to train your management to be more sensitive to the employees who report to them. This means praising people publicly when they do well. And it also means kindly addressing problems early, and in private.
If your employees feel comfortable talking to you about their work performance, then they just might feel comfortable talking to you about their work place mental health. And if you are a sensitive manager who pays attention to your employees, then you may notice when they are feeling off.
Depression Isn't Just Feeling Down
We would be remiss if we didn't touch upon this. And it wasn't covered in the article, but it's still vital. There are a number of memes flying around which claim that depression in particular is just an instance of temporary sadness or even inattention. As if counting your blessings could cure a serotonin imbalance!
So, keep in mind that an employee suffering from depression might not, to you, look ill. They may be holding it together as well as they can during business hours. But then at home, it all comes out. 
And, the corollary to this is also true. An employee who's down – particularly if there's a readily identifiable cause – isn't necessarily a person with mental health issues. That doesn't mean you can't offer counseling services, of course. Divorce, death, miscarriage, estrangement from family – these can all make people feel bad, of course. 
Supporting workplace mental health means accounting for that, too.
In short, be kind, for everyone you know is fighting a battle you know nothing about.

If you are as passionate about succeeding in business as we are, please help us spread the word about how to take the plunge and save time and money – and your sanity! Support work place mental health and treat your employees and customers right – plus nine other great tips this week.
#4. Hello, My Name is Email
Check out this spectacular tip, all about how to successfully introduce yourself over email. HubSpot notes that there's an actual formula to writing an email to someone you don't know – at all.
This is an excellent article, and we strongly encourage you to read it through to the end. It truly is that good.
So, instead we're going to concentrate on one of their steps.
Make Your First Line About Them
How many times have you received an unsolicited email that started with – my name is ___? Or it started with – I'm writing to you because ___. You may have sent emails like that. Your intrepid blog writer sure has (oops, sorry).
But it's an email. The sender's name is already on there. And it isn't, then the sender can add their name in their signature line, and they should. 
Rather, try opening with a line like – I see that you won the __ prize recently. Or, I just saw your post about __ on ___. Here's another: I've never learned so much from one piece of content.
Then, segue into why you're writing – and it should be related to your opener. By definition, that means it needs to be related to the recipient. Here's an idea:
I've never learned so much from one piece of content. To that end, I would love to get your quote for a similar article I'm writing.
By the way, this approach could work for anything from sending a resume to contacting someone's dating profile… 
#3. Where Do You Want to Go Today?
It's not your imagination: this winning tip can help you create a vision board. Score tells us that vision boards are a way to see where you want your life to go. And that can be for either your personal or professional life. 
This article concentrates more on vision boards for a personal life. But there's no reason why it can't be adapted for professional use.
Consider the Future
For a personal vision board, it might be representations of a place you'd like to live or visit. Or it may be images of fitness or other goals. For professional goals, it could be visuals of success – for you or the business.
What does this spell, in terms of images? It could be a corner office or a picture of a second location. Or it could be an image of a lot of employees.
So, Where Do You Want Your Business to Go?
What are your business's goals? If you own a trucking company, maybe you want to be the premier provider in Utah. Or maybe you want to hire more drivers or get more trucks. It could be that you have a company you'd like to snag as a client.
Having a visual representation of success can be inspiring to a lot of people. Why not decorate your workplace with a vision board? Talk about supporting workplace mental health, too. Because when you take others' ideas into consideration, then they can feel a lot less isolated. That might make a difference for someone.
#2. Are You Meeting 401(k) Standards in Your Business?
Our second to last unbeatable tip can give you a new perspective on making sure you meet 401(k) standards in your business. Effortless HR reveals all about this essential part of benefits handling.
Our fave tip was about having what is essentially a form of insurance. It's actually an ERISA fidelity bond. The bond has to be equal to the lesser of $500,000 or 10% of the total investment accounts that you hold. This insurance bond protects your business if errors are found in your management of the 401(k) plan. 
Did you know you needed that in order to offer a 401(k) to your employees? 
#1. Master the Clock
We saved the best for last. For our favorite remarkable tip, we focused on improving time management. Under 30 CEO says better managing your time means you're that much more likely to achieve your goals. 
We've seen some of these tips before, to spend your leisure time on leisure, and to stop multitasking. Another tip we've already seen is to leverage your commute for minor work tasks (which is technically multitasking).
And while this tip is also something we've seen before; we'd like to showcase it anyway because we think everyone should do.
Banish Distractions
Quartz says the average smartphone user gets 63.5 notifications per day. We think this figure is grossly understated.
Of course, this isn't the only source of distractions out there. But it's one over which we all have some control. Do you honestly need to know every time someone has commented on a topic you answered in a forum? Or can you wait for a daily digest? Maybe you can skip the notification 100% and just visit that forum whenever you feel like it.
Yes, we all want to know when our appointments are. And we need to know if family are ill or otherwise need us. But do we really need to immediately know how many people liked a tweet?
Go into your apps and any sites you visit, and fiddle with the notification settings. See what works for you. You'll probably find you don't need to know everything, all the time, ASAP.
Take back your life.
So, which one of our brilliant business tips was your favorite? And which one will you be implementing now? 

If you are as passionate about succeeding in business as we are, please help us spread the word about how to take the plunge and save time and money – and your sanity! Support work place mental health and treat your employees and customers right – plus nine other great tips this week.
The post Support Work Place Mental Health and More –10 Brilliant Business Tips of the Week appeared first on Credit Suite.