Archives
now browsing by author
In these modern times of digital transformation, it may seem like most digital marketing strategies are designed for online businesses.
So are there any digital marketing strategies for brick-and-mortar businesses?
Yes, there are, and one of the most effective ones is hyperlocal marketing.
What is Hyperlocal Marketing?
As the name suggests, hyperlocal marketing is a marketing strategy that focuses on reaching customers in your vicinity. It is targeted to motivated people who are ready to buy your products.
The main goal of hyperlocal marketing is to increase foot traffic to your business. This is achieved by strategically placing the right ads in front of the right people at the right time.
It could also serve the purpose of raising brand awareness in your specific locale.
Several factors are considered, with the main one being your prospect's location.
Hence the name hyperlocal marketing.
Advantages of Hyperlocal Marketing
Many businesses are adopting hyperlocal marketing for the tremendous results it brings. It has many advantages over other marketing methods for both online and offline businesses. Here are the top five:
Bring in Hot Hyperlocal Leads
Because it is a very niche marketing technique, hyperlocal marketing has the advantage of bringing in leads that are ready to make a purchase. That's because most of the people targeted by hyperlocal ad campaigns are already looking for the product or service you offer.
Take, for example, someone looking for a coffee shop. They'll search for a coffee shop "near me," and if they are in your vicinity, your coffee shop will be recommended to them by search engines. Or, they'll be served one of your ads on their social media timelines.
Even if they're not actively looking for a coffee shop, you can send out push notifications alerting people in your vicinity of a special you're running.
Don't Require Huge Ad Spend
Because you don't have to run regional or nationwide campaigns, your ad spend can be kept at a bare minimum.
You also save on your advertising budget because you're targeting a hyper-specific audience. This has the effect of reducing your cost per target while increasing your return on ad spend (ROAS).
Easy to Set Up and Run
Again, the niche nature of hyperlocal ad campaigns makes it easy to set up and run. It's also easier to create personalized ads, resulting in higher conversion rates.
Easy to Measure Performance
When it comes to measuring performance, it's easy to track as you can tell where your foot traffic is coming from.
Help Build Relationships with Customers
One of the biggest keys to growing a business is to build relationships with your customers.
Executed well, hyperlocal marketing will help people in your geographic area know that they can depend on you when they need a product or service you offer. As a result, most will turn into repeat customers. Better yet, they can end up being your brand ambassadors.
Hyperlocal Ads Work in Real-Time
A big advantage of hyperlocal marketing is that it works in real-time. This ability increases conversion rates as it offers prospects deals on products or services they're actively looking for.
With all these advantages, you can't afford to ignore hyperlocal marketing.
How Does Hyperlocal Advertising Work?
Thanks to technology, marketers can pinpoint the exact locations of their prospects. This can be done through:
IP addresses
GPS
Wi-Fi
Bluetooth signals
Knowing a prospect's location is crucial to running hyperlocal ad campaigns as it allows you to narrow down your audience to a specific area. Most ad platforms, like Google and Facebook, give you the option of targeting a particular locality, making it easy for you to create your hyperlocal ad campaigns.
Once you've determined your target area, you can then set triggers that will deploy your ads.
Examples of triggers can include:
Search queries
Search history
Behavioral activity (places your prospects have recently visited)
Depending on your campaign, your hyperlocal ads could be in the form of text messages, app notifications, email alerts, ads on search engine results pages (SERPs), and more. It could even be a combination. These are sent to the prospects' mobile device when they enter your selected boundary and perform an action that sets off your triggers.
Fundamentals to Get Right Before Launching Hyperlocal Ad Campaigns
Now you know what hyperlocal marketing is, and you also see why it's so essential to your marketing strategy.
Let's look at some fundamentals you must get right before creating your hyperlocal ad campaigns that drive results.
Optimize Your Google My Business Page
One of your first stops as you lay the foundation for your hyperlocal ad campaigns is your Google My Business (GMB) listing.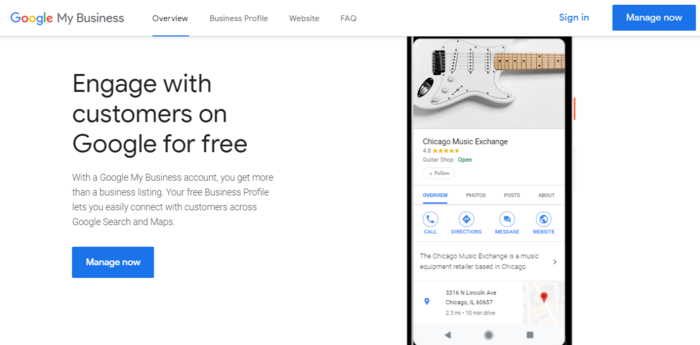 GMB is a free tool from Google that enables businesses to manage their online presence on Google search results. It's especially useful for brick-and-mortar businesses as it helps Google users find businesses near them.
You must optimize your GMB listing as Google uses three main criteria when serving users with GMB listings:
Relevance. For your business to be deemed relevant, it must match a searcher's query.
Prominence. This has to do with whether or not your business is reliable enough to recommend to users.
Proximity. Is your business close enough to the user to recommend?
If you can optimize for these three, you'll stand a better chance of success with your hyperlocal ad campaigns.
So how do you optimize your GMB listing?
Optimizing for GMB Relevance
Create detailed keyword-focused business descriptions
Choose the right category that describes your business
Set your workdays and operating hours
Optimizing for GMB Prominence
Optimizing for GMB Proximity
While it's virtually impossible to influence a searcher's proximity to your business, there are a few best practices you can follow to improve your chances of Google serving your GMB listing in search results.
One such best practice is to create separate landing pages for each of your locations if you have more than one business location.
Another tip is to leverage famous landmarks near you. Including these in your business description will help your business show up when users search using that landmark as a reference. Here's an arbitrary example: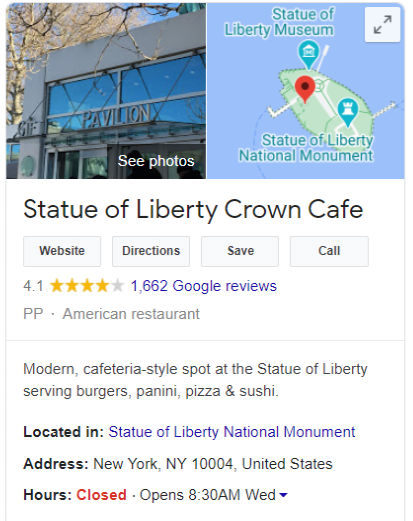 With your GMB listing optimized, we can now move on to other fundamental elements you need to get right if your hyperlocal ad campaigns are to give you a healthy ROAS.
Ensure Your Local Search and Mobile Optimization is On Point
Local SEO plays a huge role in the effectiveness of your hyperlocal ad campaigns.
Research by Google shows that "near me" searches on mobile have increased by over 500% over the last few years.
A few tips to help you with this include:
Create hyperlocal content (using location-specific keywords)
Feature your location in some of your URLs
Create location-specific metadata
Focus on long-tail keywords
Include contact info on your website
Besides optimizing for local SEO you must make sure your website is mobile-friendly.
Most local searches are performed on mobile devices, and if your website doesn't display correctly on mobile devices, you stand a chance of losing your prospects. With hyperlocal marketing, a positive online user experience (UX) can help drive your offline conversions.
If your brand can rank high for local search queries, it is easier for you to win at hyperlocal marketing. So, invest in ranking for your local search terms, and make sure to give your prospects a positive UX online, too.
Tips for Creating Hyperlocal Ad Campaigns That Drive Results
Ready to create hyperlocal ad campaigns that drive results?
Let's take a look at a few tips that will help you reach your marketing goals.
Use the Right Keywords For Hyperlocal Campaigns
Keywords play a critical role in the success of ad campaigns. For your hyperlocal ad campaigns to be effective, you must focus on location-based keywords. This is where tools like Ubersuggest come in handy.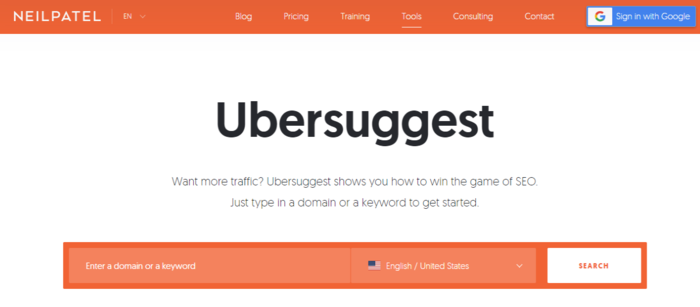 However, stopping at the right keywords to target is only half the battle, as keyword research is concerned.
You must also consider negative keywords.
These are keywords where you don't want your ad to appear. That's because negative keywords serve no purpose in helping you reach your goals. However, they can be dangerous as they could drive your ad spend up.
Tap Into the Local Culture
When creating the copy for your hyperlocal ads, tap into the local culture.
In short, leverage local stereotypes and incorporate local lingo if possible.
This will add a touch of personalization to your ad campaigns. As a result, your prospects will feel safe following your ad to your location.
Tapping into the local culture will also help your brand become acceptable as a relevant part of the community.
This can increase brand loyalty.
Ride on the Back of Your Competitors
When setting up your hyperlocal ad campaigns, your biggest help can come from the most unlikely source.
Yes, I mean your competitors.
How can they help you?
Easy.
Run campaigns in the vicinity of their locations.
Of course, for this strategy to work, you must be able to prove why you're the better option. You can do this by pitching your unique value proposition (UVP) or by offering an incentive.
One of the best examples of this strategy is Burger King's WhopperDetour campaign. Burger King drove traffic to their stores by offering app users Whopper sandwiches for a mere penny as long as they were in the vicinity (within 600 feet) of a McDonald's.
The best thing about this strategy is that your ads will go out to people ready to make a purchase. Converting them into paying customers becomes a piece of cake.
Target Events Near You
People love events.
They love the excitement building up to an event that they're planning on attending.
You can leverage that excitement by creating hyperlocal ad campaigns targeted at said events.
Not only will this help you get your target audience's attention, but it will also help you leverage the excitement created by the event.
And every marketer knows that the happier a person is, the easier it is to sell to them.
Another advantage of targeting events is that they attract people from areas outside your location. This element helps increase your brand awareness beyond your geographical area.
Marry Hyperlocal Marketing With Out-of-Home Advertising
Considered the oldest form of hyperlocal marketing, out-of-home (OOH) advertising leverages display ads placed physically in the vicinity of your business. Examples of OOH include billboards and other forms of signage that can be used to grab attention and convey a marketing message to your audience.
While it may be old-school, OOH has moved with the times and is now digital. With the use of digital signage, you can continue your online hyperlocal marketing campaigns offline. This makes for a better customer journey that has higher chances of conversions.
Conclusion
Hyperlocal marketing is a great way to drive traffic to your brick-and-mortar business. Especially in this day and age when competition for customers is stiff, you need to up your game to achieve your marketing goals.
And hyperlocal marketing could just be the shot in the arm that your business needs.
While it may seem counterintuitive to market to a smaller target group, going hyperlocal has the advantage of improving your lead quality.
As a result, you reduce your cost per lead (CPL) while increasing your ROAS.
Now that's definitely a win in any marketing playbook.
If you've run hyperlocal ad campaigns before, what was your experience with them like?
The post How to Create Hyperlocal Ad Campaigns appeared first on Neil Patel.
Does your company manage Google Ads for third parties, and do you maintain some success with the pay-per-click (PPC) platform? If so, you may want to become a Google Partner, the search giant's members-only club.
Joining the Google Partners program can provide you with immense benefits, such as specialized training, invitations to exciting events, and focused instruction to help you boost your Google Ads performance.
You already know Google Ads work. They convert 50% better than organic traffic, and most businesses earn double their ad spend, making advertising on Google highly effective and a no brainer.
Almost anyone can use Google's PPC system to advertise on Google and grow their business (with the right budget and know-how).
Only a select few applicants become Google Partners and earn the world's most popular search engine's endorsement and other significant benefits.
Here's what to know about becoming a Google partner.
Google Partner Members Get to Display a Google Badge
The definition of prestige on the search engine's paid advertising platform is a Google Partner badge. Displaying the badge on your site shows that you've passed Google Ads product certification exams. It also tells customers you possess in-depth product knowledge, making you a Google PPC superstar.

Find the Google Partner Specialties That Interest You
As a Google Partner, you have the option of specializing in one or more Google Ads product areas. These include Search Advertising; Video Advertising, Display Advertising, and Shopping Advertising.
Let's run through them one by one.
Search: By passing this certification course, you highlight your ability to create and optimize ads that perform well on Google search. That means they're prominently displayed and receive clicks with buyer intent. And if you need to, you're able to advise others on keyword strategy and budget planning because you're a search engine master.
Video: This certification indicates your expertise in implementing and optimizing YouTube ad campaigns.
Display: This certification area gives you the means to create compelling visual ads that snag the attention of customers on two million sites and 650,000 apps in Google's combined networks.
Shopping: As a Shopping Advertising Google Partner, you know how to place products on Google Search and set up your Merchant Center inventory. You also know how to create winning Google Shopping campaigns. Keep in mind: this certification is not available in all languages. See the Google Ads Help Center to learn more.
How Do You Join the Google Partners Program?
Applying to become a Google Partner is free, and anyone can try to join the program. Google gives you all the information you need to pass the exams and flourish in your chosen certification area. Whether or not you pass the certification exams is up to you.
What Are the Benefits of Becoming a Google Partner?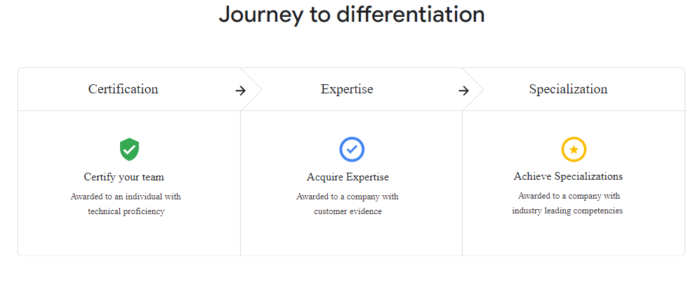 Google wants you to pass the exams and be successful in your Google Ads endeavors. To help you out, Google gives you access to a range of essential benefits, including education, support, expanded reach, and other rewards.
Education to Succeed
Google has pulled out all the stops to ensure you get the best Google Ad education possible. Skillshop learning courses help you develop and hone your skills, while certifications are provided to prove your knowledge. Google also makes available a host of valuable case studies, access to like-minded professionals, and much more on Think with Google and Google Trends.
Valuable Support
Google's product support is available to help you by giving you access to relevant advice and a range of resources, including Google Ads Recommendations and Google Ads Help Center.
Expanded Reach
With Google Connect, you can display your thought leadership and host co-branded events. You can even onboard new clients or pitch potential ones with Google Ads promotional offers.
Business Acceleration
Google's Acceleration program is a specialized online education system designed to help you boost your skills and business growth.
Bonus Rewards
By taking part in the Google Partners Rewards program, you get a chance to expand your knowledge by engaging in a series of quarterly challenges designed to help you gain new clients, optimize campaigns, or obtain certification. You even get access to seasonal insights, pitch decks, product advice, and a suite of other exciting rewards. You also have a chance to win prizes.
How Do You Qualify to Become a Google Partner?
The first thing you'll need to do is pass the required Google Ads certification courses for your specialty areas. You must also meet the spend requirement across your managed accounts.
Finally, you must demonstrate performance by consistently delivering strong client and company growth. In other words, you must become an active and exemplary Google Ads user.
What Are the Partner Badge Requirements?
Once you've become a Google Partner and have demonstrated your expertise in Google Ads, you can be considered for a Partner Badge. You'll need to meet a few additional requirements to apply.
Growth
You must consistently show advancing ad revenue and growth, as well as an expanding customer base.
Ad Spend
You must meet a 90-day ad spend requirement of $10,000 across your managed accounts. This sends a message to Partners that your company has a healthy level of activity. Google Partners will evaluate your account based on your manager account during an 18-month period.
Certification
Your company needs one user certified in Google Ads who has admin or standard access to the Google Ads manager account. It can also be any account linked to your manager account.
Google Badge Requirement Changes
Be prepared for a new set of rules to qualify for a Partner Badge. Many of the basic rules will still apply, but you won't be required to adopt all the recommendations or achieve a 100% optimization score to earn a badge.
Going forward, you must achieve a 70% optimization score to qualify. Google introduced this optimization score to help users understand what was working and what wasn't, and how to fix elements that weren't performing.
Pay close attention to any suggestions Google gives you, as advertisers who increase their optimization scores by 10 points see a 10% conversion boost, on average.
New Ad Spend Requirements
To qualify for a Google Badge in 2020, your Google Ad spend must be at least $10,000 in 90 days. In 2021, this requirement will change to a $20,000 ad spend over 90 days, across your managed accounts, to prove your company maintains healthy advertising activity.
Certification
This year, In 2020, your company needs a user to certify in Google Ads or have standard access to the Google Ads manager account. In 2021, half of your eligible users will have to obtain certifications from Skillshop. As a partner, you'll need to demonstrate your proficiency consistently.
Premier Badge Requirements
To meet the requirements for a Premier Partner Badge, you must deliver strong Google Ads revenue and growth, meet a higher ad spend across your managed accounts, and have two or more users in your company who are certified in Google Ads (or who have admin or standard status on your organization's Google Ads manager account).
In 2021, once your company has succeeded in earning a Google Partners Badge, you have an opportunity to be chosen for Premier status. The program will grant Premier status to the top 3% of participating companies each calendar year. The companies are selected based on annual ad spend, client growth, client retention, and other information. The evaluation process is conducted annually and may exclude some markets.
Get Listed as a Google Partner on the Marketing Platform Directory
When you become certified as a Google Ads Partner, you'll be listed in the Marketing Platform Directory. Your listing will include your business name, a short description of your organization, partner type, and the product certifications you possess.
There are two types of marketing platform partners: Certified Companies and Sales Partners.
Certified Company
This descriptor means you're educated about Google Marketing Platform products. You're able to use your expertise to offer quality services to your customers, whether you're consulting, training, implementing Google products, or offering technical support.
Sales Partner
Certified Companies that help Google sell products are known as Sales Partners. Becoming one gives you access to special perks such as customer management tools, sales opportunities, and co-marketing opportunities.
How to Obtain Company Certification
Know the Rules
Familiarize yourself with Google's Partners Terms and Conditions. It is essential to read the document when you get time. You have a lot invested in Google Ads. The better you know the rules of the game, the more successful you can be at it.
Initial Requirements
Google will ask for your company's size and structure, the services you provide, and pricing practices. You'll be judged on your track record of client satisfaction and your consistent Google Ad investments' success.
The reason for this level of scrutiny is that Google wants to work with forward-driven companies that maintain a healthy ad budget and use it wisely.
Google vets you for Partner certification by scouring the web for clear documentation that proves client engagement, planning processes, frameworks, and templates. Google wants to know your clients can rely on you for complex solutions and receive pleasing results.
Lastly, your website should be populated with useful content that clearly describes your offerings.
Product Expertise Requirements
Certification rules stipulate you must have at least five local, full-time experts working with Google Marketing Platform products. Each must have passed an associated certification exam.
Google considers your team's size, expertise, and rate of certification. The company notes that it does make exceptions for smaller companies who have difficulty meeting this particular requirement.
You'll also need to submit a comprehensive review of each product you offer. The review is meant to represent advanced work that shows strategic planning and optimization toward your organization's goals.
The review will also display your ability to go beyond basic or standard implementations and use and demonstrate your client's goal through statistics and testimonials.
Google essentially wants a case study that proves you can walk the walk.
How Do You Check Your Partner Status?
You applied for the Partners Program, and you've been waiting, but haven't received a response. Take action and check the status of your certification. If you don't receive certification, keep trying and using the resources Google gives you. Do that, and you're sure to become a Google Partner before long.
Conclusion
Being vouched for by Google and having a Google Badge to show for it are just two of the benefits of becoming a Google Partner.
Being a Google partner also gives you access to easily consumable courses. Google gives you everything you need to maintain a Google Ads campaign and keep it growing far into the future.
And when customers see your Google Badge, watch out. That may be all they need to choose you for the successful future of their Google Ad campaigns.
Have you tried joining the Google Partners Program? What was your experience?
The post Become a Google Partner and Join the Google Ads Inner Circle appeared first on Neil Patel.
What To Look For In Business Credit Cards
When developing an organisations credit scores the initial action is generally to obtain a service credit rating card. It is great to understand the distinction in between individual and also organisation credit report cards, as well as what to look for in a company credit score card.
Recognizing the distinction in between organisation as well as individual credit history is the initial action to obtaining a service credit scores card. What this implies is your service name will certainly simply obtain included to your individual credit score record and also this card will certainly report to your individual credit score. The company credit scores companies are: Dun & Bradstreet, Experian Business, Equifax Business, Business Credit USA.
Beginning a service credit rating report a service credit score card can aid your service with various other points. You can track your company acquisitions conveniently as well as have a wonderful in-depth document of whatever you pay or get on your debt card in your regular monthly declarations.
Various other points to look for in a company credit rating card are comparable to what you would certainly look for in an individual credit report card. You ought to additionally take into consideration just how you will certainly utilize it and also any kind of advantages supplied by the debt card firm.
To obtain the most out of a service credit score card you need to constantly make certain it is reporting to the service debt companies and also is different from your individual credit history document. Looking for an organisation credit report card is a whole lot like looking for any type of various other credit history card, however it is crucial to remember it is for service not individual usage.
It is excellent to recognize the distinction in between individual as well as service credit rating cards, as well as what to look for in an organisation credit report card. The service credit rating firms are: Dun & Bradstreet, Experian Business, Equifax Business, Business Credit USA. Beginning a service credit rating report a service debt card can assist your organisation with various other points. To obtain the most out of an organisation credit scores card you must constantly make certain it is reporting to the organisation credit rating companies as well as is different from your individual credit history document. Looking for a service credit rating card is a great deal like looking for any type of various other credit report card, yet it is essential to remember it is for organisation not individual usage.
The post What To Look For In Business Credit Cards appeared first on PRO BUSINESS CONSULTING FIRM.
The post What To Look For In Business Credit Cards appeared first on Buy It At A Bargain – Deals And Reviews.