Archives
now browsing by author
There are some obvious benefits of working from home.  There are also some not so obvious disadvantages.  The key is make the most of the benefits of working from home and figure out how to work around the disadvantages. 
How to Ensure the Benefits of Working from Home Outweigh the Disadvantages
Many do not realize there are ways to fund your work at home business without using your personal credit.  In fact, many would consider difficulty finding funding a formidable disadvantage of working from home running a business.
The truth is, you most definitely can enjoy the benefits of working from home and not have to fund the whole endeavor using your personal credit. You can build business credit even while running a home-based business.
Credit Line Hybrid Financing: Get up to $150,000 in financing so your business can thrive.
Advantages of Working from Home
What are the advantages of running your business out of your home? It's a hard question to answer.  The problem is, what is a benefit to some is a disadvantage for others.  Some love the isolation, others miss working with people.  Production increases for some people for various reasons. Others struggle to stay focused when working from home. 
The close proximity of food is fabulous for some. You can save money and time by simply eating what is in your fridge. Others find it hard to stop eating when working from home. This makes it hard to maintain a healthy weight. Along the same lines, some find it easier to exercise working from home, while others need the commute to or from the office to encourage them to stop by the gym.
That said, one clear advantage of running your business from your house is that you save money.  Overhead costs are much lower. You save on building costs. Time and money spent commuting is almost nonexistent. Clothing costs are significantly less as well. Even so, business funding is always a necessity.
Disadvantages of Working from Home
Aside from those already mentioned above that are actually an advantage for some, there are some other clear disadvantages of working from home. First and foremost, it can be difficult to get home based business loans, or even home based business grants.  That doesn't mean funding a home-based business is impossible. You just have to know what to do to make even a home based business  more fundable. 
How to Increase the Fundability of a Home-Based Business
The number one best way to increase the fundability of your home-based business is to talk to a business credit expert. A consultation like this can be priceless. It's true, you can take the work from home tips about funding that we are about to offer and execute many of them yourself. However, it will take you twice as long.  Furthermore, you may very well miss something.
A business credit expert can help you assess the current fundability of your business. Then, they can walk you through the steps to help you fill in any fundability gaps. Finally, they have relationships with lenders to help ensure you get the best funding possible for your business now.
Credit Line Hybrid Financing: Get up to $150,000 in financing so your business can thrive.
They not only help you start the processes necessary to ensure you are eligible for funding in the future, but also help you find the best funding for your home based business right now. 
Is Your Home Based Business Set Up to Be Fundable? 
This is likely the number one issue with the fundability of a business run out of your home.  Most home business owners set their business up as a sole proprietorship. They use their personal contact information. Typically they do not incorporate, and some do not even open a business bank account. 
This seems like the easiest, fastest way to do things.  It's no wonder it is the standard. Still, it is probably the number one reason for the work at home disadvantage of having trouble getting funding.  Setting up as a sole proprietor can be detrimental to fundability.  For a lender to see your business as a separate, fundability entity apart from you as the owner, you need to do things differently. 
Best Home Based Business Loans 
Fundability, in the simplest terms, is the ability of your business to get funding.  If your business is not seen as fundable, then lenders will not help you fund it. Home based business loans will be out of the question. 
Not all loans are created equal when it comes to getting money for your home based business however.  Some work better than others. Here are some of our top picks for work from home business loans. 
Credit Line Hybrid
With the Credit Line Hybrid, you can usually get a loan of 5x the amount of your highest revolving credit limit account, up to $150,000. Honestly, this is more than what you could get on your own when applying for credit cards. Furthermore, you can get cash out on this program.
Also, there is no impact on your personal credit with this type of financing. You need a 680+ credit score, but if you don't meet that you can take on a credit partner who does. A lot of business owners use the good credit of friends or family to help them get the funding they need. 
The best part is, not only does this not affect your personal credit score, it can help build your business credit score if your business is set up properly as mentioned above.
Credit Line Hybrid Financing: Get up to $150,000 in financing so your business can thrive.
401K Financing
Y
our existing
401(k)
or IRA can help fund your business as well. The funds work as collateral for business financing. As a result, your personal credit score isn't really an issue. This program uses IRS proven strategies. You will pay no tax penalties, and you still earn interest on your 401(k).  Even better, rates are low, and this option usually has a quick closing and funding process.  
SBA 7 (a) Loan
This is the SBA's most popular program. The SBA offers federally funded term loans up to $5 million. The funds can be used for expansion, purchasing equipment, working capital and more. Banks, credit unions, and other specialized institutions in partnership with the SBA process these loans and disburse the funds.
Credit Suite business credit experts can help you with these types of funding and more! 
Funding Doesn't Have to Be a Disadvantage of Working from Home
Arguably, business funding is one of the greatest work from home challenges.  It can be such a challenge in fact, that it can seem to overshadow many, if not all, of the work from home benefits.  With the right expert to walk you through the process, you can be sure that at least this one challenge can be overcome, and the benefits of working from home can tip the scale.  You'll have to keep yourself out of the refrigerator though.
The post Make the Benefits of Working From Home Outweigh the Disadvantages appeared first on Credit Suite.
Music can be a game-changer for creating online visual content for your brand. But where can you find music available for commercial use?
More specifically, where can you get it for free?
Before we dive into the resources available, let's talk about commercial use.
When you're wondering whether something counts as commercial use, think about whether you're using it for your business. If what you're creating is for your brand in any way, then it's probably for commercial use.
For use directly connected to making a profit, it's almost definitely commercial.
If you're getting the word out or are marketing your business without directly making money on the content, it's still best to err on the side of caution and treat it as commercial.
Using someone's music or art without express permission can result in a cease and desist—or worse.
Free Music for Commercial Use Resources
Free music for commercial use does exist—even on reputable websites. Whether you're looking for instrumental pieces to play in the background of your next explainer video or you need some hot sounds for your social media campaigns, there are lots of great resources to choose from.
How Can I Use Free Music for Commercial Use?
Music can be a great addition to online marketing efforts—but how you can use the music depends on the owner of the tunes. We will talk about the variances below, but be sure to do your research on the site you are interested in downloading music from to be sure you're within their parameters in your use.
Just because music is free doesn't mean there won't be attribution requirements. Think of attribution as your nod to this music's creators or distributors. Check carefully to see how each site requires credit for the song— this is often with a link in your video description or caption.
In addition, free does not necessarily mean unlimited use. For instance, some places may allow for remixing or adding lyrics, while others may not. Check the licensing agreements on each website.
Is There Really "Free" Music for Commercial Use Available?
Sometimes free music for commercial use is entirely free. Other times, you need to pay a subscription fee to access some or all of the content.
The subscription often opens more opportunities for use or may give you a more extensive library to choose from.
Others have genuinely free music, but usage may still be limited–so be sure to look at the fine print.
Royalty-Free Vs. Free Music for Commercial Use
As you're looking for free music for commercial use, remember "free" isn't the same as "royalty-free."
Royalty-free means you aren't obligated to pay a royalty fee to the music's creators. But, use is still restricted to certain formats, amounts of usage, etc.
Bensound
Billed as royalty-free music, the songs on Bensound are free to download—with a few stipulations.
If you want to go with the free option, click the black download button on the music you choose. When the window pops up giving you a choice between free and subscription, click the button again. This downloads an Mp3 file.
You can use the file in various audio and video projects, with licensing stipulations outlined on the Bensound website. For instance, you can use them in your videos with a link giving the Bensound website credit. However, you can't use the music in podcasts or audiobooks, register it as your own, or remix the music.
You can browse by genre, with tons of options to choose from. Or, you can search by keyword. When you find a song that interests you, click to find out more. This will take you to a page with information about the composer, a description, keywords, and more.
Bensound offers both free and paid subscription options. Free downloads are limited to a smaller library of music than subscriptions.
The standard subscription allows for limited usage, including online videos or music in your bar or restaurant.
Meanwhile, the extended subscription allows broader use, such as for movies, stage productions, and local tv and radio advertising. National tv and radio advertising usage comes with an additional fee.
Bensound has specific rules for how the music can and can't be used. They don't allow you to remix or add lyrics to any music you use, whether you download them for free or with a subscription.
In addition, you can't use them for international tv or radio advertising, in podcasts or audiobooks, in meditation projects, or resell them as music-only projects.
Audionautix
Audionautix is a passion project by founder Jason Shaw. He wanted to provide a way for people to grab great music for their projects—even commercial ones—without getting caught up in copyright issues. The website primarily hosts music created by Jason himself, full of music from a range of genres.
You can search by features like mood, genre, tempo, style, and more.
When you find something that interests you, click "Listen Now" to hear it. If you want to hear more like it, you can click on relevant tags to check out other similar songs.
When you're ready to download, click the "Download Mp3" button.
While the music is free to download, including for commercial use, attribution is required.
Free Music Archive
Free Music Archive was put together by WMFU, a radio station in New York and New Jersey, to provide original music to creators on the internet. Its creation stems from the belief that copyright laws can be outdated, stymying digital creativity.
They believe providing a place for music creators to share their music with creative commons licensing helps musicians be heard by a wider audience while also assisting other creatives in enhancing their work.
Like other free music for commercial use websites, you can browse by various genres. You can also click individual artists' links to see more from them or scroll to the bottom to the "List of Artists" link to see all available creators.
To hear a song or piece, click the play button. To download a recording, click the download icon (an arrow button pointing downward). When you click that button, a small pop-up window will appear with information about the song as well as licensing information.
The website uses creative commons licensing definitions, so be sure to check out the icons in the pop-up for information about how you're allowed to use the music.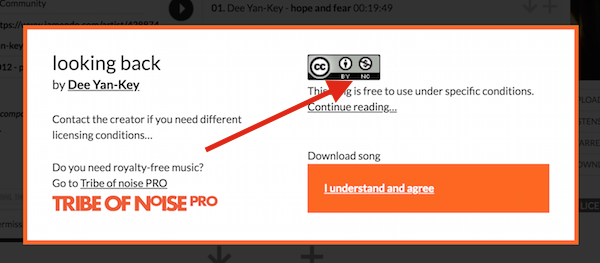 The one thing you'll want to look for is this dollar sign with a line through it. This means you can't use this free music for commercial use.
If you don't see that icon, you're clear to use it for commercial purposes. You can click for more information about each creative commons use.
MusOpen
If you're looking for free music for commercial use that's in the public domain, give MusOpen a try. MusOpen is a non-profit group focused on music education and getting more music into the hands, or rather the ears, of the public.
By focusing on music in the public domain, they provide access to pieces with expired copyrights, making these songs available for redistribution or reuse, including commercial use.
You can browse for songs based on unique categories like romantic, happy, sad, relaxing, energetic, or fun. You can also search by composer, instrument, or time period.
As you browse, you can listen to each piece and see licensing information next to each one. Look for the ones without the dollar symbol with the line through it—that symbol denotes it's not for commercial use. The ones without this symbol can be used for commercial purposes with proper attribution.

To start downloading songs, you need to create an account.
DL Sounds
DL Sounds is based in the Netherlands and run by a group that produces original music for creators worldwide to use in their multimedia projects. Because their music is made by them and isn't available anywhere else, they can provide fresh music for digital projects.
In addition to songs, they have sound effects and loops, which are short, repeating sections.
You can search in the search bar or go to the music tab to explore all the songs, browsing by genre, mood, file type, or even beats per minute.
Most of the music on DL Sounds is only available via subscription. They offer a one- or three-month subscription with unlimited downloads.
However, they also provide some free music for commercial use as well. Look for the "free" icon on the bottom right of a song's visual, shown below: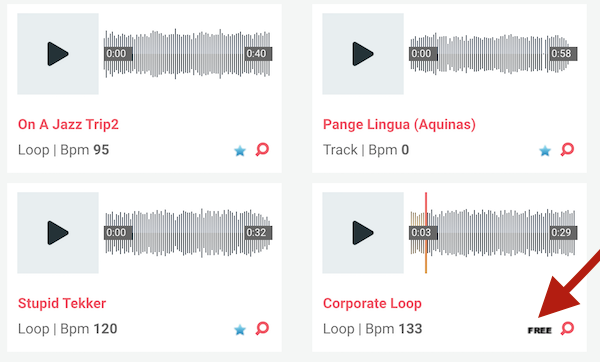 Conclusion
Once you find free music for commercial use, your creative ideas could indeed become a reality. Your ideas are only limited by each website's licensing agreements and attribution requirements.
Using the resources above, you could find inspiration in the original tracks, public domain choices, and more as you start thinking about the videos and other marketing projects you want to create. From how-to videos to quick social media posts, your marketing efforts can be enhanced by all this music.
Which piece of free music is inspiring you to create something new?
The post 5 Free Music For Commercial Use Resources appeared first on Neil Patel.