Archives
now browsing by author
Instagram, Facebook, and Snapchat tend to dominate the social media marketing discussion. Pinterest, it seems, is tired of being underestimated.
They've recently launched a new feature that has the opportunity to change the world of Pinterest marketing. So, what is it, and what do you need to know about the latest Pinterest feature?
Whether you're a seasoned Pinterest veteran or new to the social media platform, Pinterest Story Pins offer an exciting opportunity to interact with your audience and gain more exposure for your brand.
Story Pins allow you to offer more value to your followers, inspire action, and, more importantly, drive traffic to your website.
This new feature will soon be commonplace on the platform, so here are some tips to help you get the most out of Pinterest Story Pins.
What Are Pinterest Story Pins?
Story Pins are the latest feature from Pinterest that allows brands to create the "inspirational" content your followers want. As opposed to a regular pin, which is just the one image or video with a description and link, Story Pins allow you to incorporate multiple pages of images, videos, text, and links.
Made up of between five and 20 slides, Pinterest Story Pins give you the chance to tell a story and engage your audience in much greater depth. Unlike Instagram and Facebook stories, they don't expire after a set period of time.
Story Pins also allow users to publish unique content directly in Pinterest, rather than just distribute content published elsewhere.
This provides the perfect platform to showcase content that's longer and more in-depth than your regular pins and leads people to your website content.
Here's an example of a Story Pin for a luggage review:
They can also be used for travel guides, like this one from Edinburgh Insider Guide:
For businesses, Story Pins represent an excellent opportunity to showcase expertise and engage people with valuable content.
With the ability to include more multimedia, more text, and more links, you can grab people's attention, get them engaged, and then get them clicking to your website.
Who Can Use Pinterest Story Pins?
Pinterest Story Pins are still gradually rolling out, so it's not available in all countries yet.
Many creators in the US were invited to get an early look at the Story Pin feature, but if you don't have access yet, you can submit a request on the Pinterest website.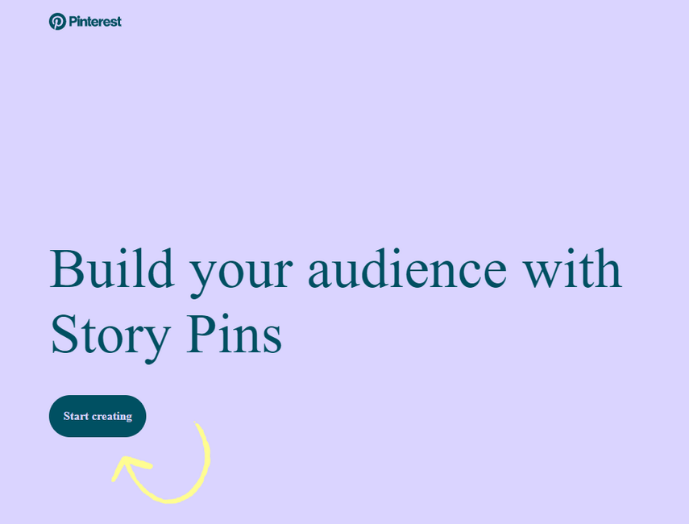 The request takes a few seconds to fill out, and you will find out if you can get access to Pinterest Story Pins in five to seven working days.
Early access will allow you to look at this exciting new feature and understand how it can work for your business before everyone else starts seeing the benefits, so it's well worth the effort.
Once you've been granted access to Story Pins on Pinterest, then you're free to get your creative juices flowing and see just what great content you can fit into 20 pages!
How to Prepare Your Business for the Rollout of Pinterest Story Pins
While you're waiting to hear back from your request to unlock the Story Pins feature, there are plenty of things you can be doing to get ready. Story Pins might be a new feature to Pinterest, but at the end of the day, it's still Pinterest, so you have a good idea of what works and what doesn't.
Before you jump headfirst into Story Pins for Pinterest, make sure you've got a clear plan of how you will use them. Here's how to get started.
Understand Your Audience
Pinterest allows you to reach a vast audience, but this is only valuable if you're reaching the right people with the right message. If you're going to engage the right people, you need to understand what your audience looks like, and what kind of content they want.
If you have an established business, you already have access to a massive audience data, so make the most of your analytics. Use your Pinterest analytics, other social analytics, and your website data to better understand your audience and the content they're looking for.
Before you get started with your Pinterest Story Pins, make sure you can answer these six questions about your audience:
Who are they?
What are their greatest difficulties/problems/desires?
Where do they find the information they need?
What are the benefits of your product for them?
What negatively draws their attention?
Who do they trust?
Get Your Multimedia Ready
With Story Pins, Pinterest actively encourages fresh new content, so give them what they're looking for by getting all your images and videos ready. Low-quality multimedia doesn't do well on Pinterest (or any social platform,) so make sure you're investing in high-quality photos and videos.
Keep your audience in mind when you're shooting your images and video and giving them something that will inspire them into action.
You've got so much freedom now that you can use up to 20 slides, so use your creativity to make your new Story Pins stand out.
Make Use of Pinterest Analytics
Pinterest has ramped up their analytics in recent years, and you can find extremely helpful insights here. Story Pins might be a new feature, but the things that made your old pins successful in the past are still working today.
Use Pinterest Analytics to find out which pins have been successful for you in the past.
To view analytics, sign in to your Pinterest Business account, and click on Analytics.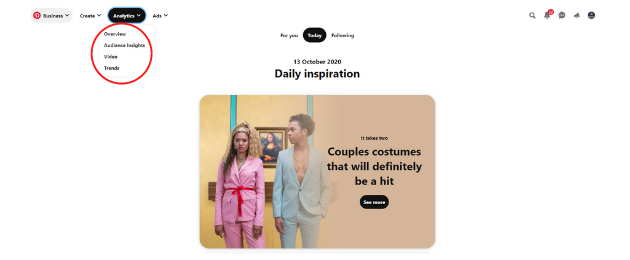 From there, you'll be able to see which Pins get the most views and engagement.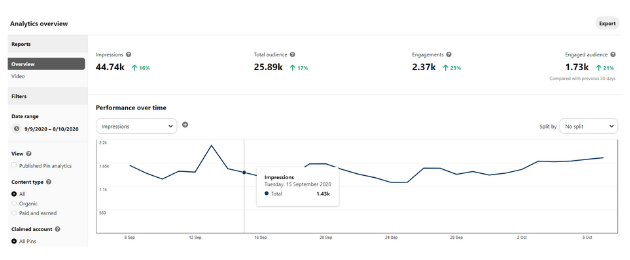 Once you see what Pins are most popular, think of ways to successfully transition them into Story Pins. For example, can you turn a DIY post into a Story Pin with detailed instructions?
This is a great way to expand on some of your most popular content and give it a chance to reach a broader audience.
It might be your first time using Pinterest Story Pins, but you can make sure you hit the ground running by leveraging content that is already working well.
Why Should Your Business Use Pinterest Story Pins?
Pinterest Story Pins are still in their infancy, which means there's not a great deal of data to act upon at the moment.
However, similar features have been a huge hit on other social media platforms such as Facebook and Instagram, with millions of active daily users. Pinterest has put a lot of effort into creating its own version.
This suggests Pinterest will push the story feature (like Instagram did) and ensure Story Pins get a lot of attention.
Aside from the fact that Pinterest is invested in Story Pins — they've been trialing them in different markets for over a year now — these new pins seem to have plenty of business benefits.
With regular pins, you don't have much time to earn someone's click – your image, video, or a short piece of text have to do all the hard work for you. However, with a story pin, you've got so much to keep your audience engaged with.
You can also include multiple links, which gives you a much better chance of driving your audience to your website. From here, you control the customer journey, and you're in an excellent position to achieve your goals.
Long story short: You want to get clicks to your website, and to do this, you need to engage your followers with valuable content; Story Pins are an excellent opportunity to do this.
When Should You Use Pinterest Story Pins?
Regular Pinterest pins are ideal for traditional Pinterest content like recipes and DIY tips. However, Story Pins are a brilliant resource for "how-to guides," which you can do in any niche.
For example, a story on "How to Create Perfect Pinterest Story Pins" is ideal, with videos and text showing the steps to create engaging Story Pins.
This is an excellent opportunity to rework some of your blog posts and turn them into easy to consume social posts. If you've got how-to guides, recipes, list posts, longer DIY guides, travel tips, or even detailed reviews, then you have the makings of a great Pinterest Story Pin.
You're still going to want to produce regular pins, with short, snappy, actionable messages, but use Story Pins to go into more detail.
Story Pins are like a bridge between your regular pins and your full-blown content, and it's a great way to push your audience over to your website to consume more content.
How to Create a Pinterest Story Pin
You're all ready for Pinterest Story Pins, you've narrowed down your audience, got your creatives ready, and you've just been granted access, so how do you create your first story pin?
From your Pinterest business account, you can create Story Pins on desktop or mobile.
Create Pinterest Story Pins On Desktop
Click the Create button in the top left-hand corner and select Create Story Pin.
Add up to 20 images or videos.
Design your pages. You can change the layout, add text overlay, adjust/resize your image, and add more pages.
Add extra text to help inspire your audience.
Select your story pin title, choose which board you're going to pin to, and add tags to help people find your pin.
Click publish.
Create Pinterest Story Pins On Mobile
Click the + button at the bottom of the screen and select Story Pin.
Decide what your pin is about; choose from "recipe," "crafts + DIY," or "something else."
Select your photos and videos from your library.
Get creative with your design by selecting your cover photo, resizing images, and adding text overlay to bring your Story Pin to life.
Add the finishing touches by coming up with a title for your Story Pin, choosing which board to pin to, adding extra details, and making your story pin discoverable with tags.
Click publish.
What Makes a Successful Pinterest Story Pin?
A successful Pinterest Story Pin is all about engagement. Pinterest stories give you the ability to hold people's attention for longer, giving you more time to inspire them to take the action you want them to take.
Your Pinterest analytics will give you a lot of insights into how your Story Pins are performing, but so can your website. You want your pins to do well on Pinterest and get lots of impressions and link clicks, but we can track this further and see how people interact with our website when they come from Pinterest.
If you're creating amazing Story Pins that inspire people with your message, it should result in people clicking to your site and spending a good amount of time engaging with the content.
Track this in your Google Analytics by going to Acquisitions, then Social Channels, and Clicking on Pinterest.
Through a combination of your Pinterest analytics and your website data, you can get a good feel for how well your new Story Pins are performing.
Tips on Creating Pinterest Story Pins
The big aim with Story Pins is engagement, but how exactly can you go about achieving this? You have the opportunity to grab people's attention and hold it, but there are several things your Story Pins need to accomplish this:
Have high-quality visuals
Draw people in with catchy titles
Deliver on people's expectations
Go more in-depth than the average pin
Supplement visuals with helpful text
Ooze creativity
Inspire action
You're telling a story through your Story Pins, and like any good story, there are lots of different aspects that need to come together. By combining great visuals with catchy titles, informative text, and plenty of creativity, your pins are going to stand out and encourage your audience to take the actions you want them to take.
Conclusion
Pinterest Story Pins are a great new feature to help businesses engage better with their target audience. Although the new feature is still rolling out, you can request access and get ahead of the competition.
With Story Pins, you have another way to grab people's attention and get them engaging with your content. In many ways, they're even more effective at doing this than regular pins, so make sure you're taking advantage of it.
Pinterest is the latest social media platform to bring out a story feature, and the chances are this format is very much here to stay. Story pins will become a big part of the Pinterest platform, so you might as well start mastering them now by giving your followers the fantastic, in-depth content they're looking for.
Have you started to use Pinterest Story Pins yet?
The post How Pinterest Story Pins Can Improve Your Marketing appeared first on Neil Patel.
Starting a Business in Wyoming
A new business in Wyoming is not out of reach. So have you been wondering: how do I start a new business in Wyoming? And more importantly, can I do so no matter what the economic conditions are? Can I start a new business in Wyoming during a recession?
New Business in Wyoming: Pros and Cons
Business Insider named Wyoming as the top state to start a new business in, per an article published in 2016. And this is for the whole nation. Why? The sales tax rate is low. Also, they do not even have any corporate income tax, individual income tax, or gross receipts tax. There is also a thriving startup scene. Wyoming is fourth in the nation for startup companies.
Slight Dip
But in 2019, Fit Small Business named Wyoming its number three best state to start a new business in. Keep in mind, of course, that the methods used by Fit Small Business and Business Insider are not the same.
Start a New Business in Wyoming – Top Wyoming Industries
The biggest industries in Wyoming are energy and mining. Both of them have traditionally been strong there. However, the state's growth and corresponding investment and economic development efforts by its government are increasing economic diversification.
Hence there are more opportunities for Wyoming business owners in all manner of different industries.
Per Wyoming Department of Labor Force Trends, the biggest industries in Wyoming are natural resources and also mining. More top Wyoming industries are construction, educational services, and manufacturing. Yet more Wyoming top industries are public administration and tourism (leisure and hospitality). Technology-related industries are also tops in Wyoming.
Start a New Business in Wyoming – Wyoming Business Ideas
Smart business owners can find new opportunities. Work with the bigger industries in the state. Offer goods or services such as trucking for any industry. Another idea is the development and also distribution of safety equipment. More ideas are food service, and also computer support in areas such as programming and data.
Here is how to start a new business in Wyoming.
Start a New Business in Wyoming – Wyoming New Business Secretary of State Requirements
Register a Business Name
Search for a business name on the Wyoming Secretary of State's website.
Corporations
Wyoming corporation names must be unique. The name cannot be in use by another corporation registered in the state of Wyoming. Before filing to incorporate, search online records as well as other registers and catalogs to determine if a name is available. Search a database of registered Wyoming corporations here: Wyoming Secretary of State website.
Corporate Name Reservations
Corporate name reservations are not required to incorporate a business in Wyoming. There is no form to reserve a corporate name available on the official website of the Wyoming Secretary of State.
For questions about reserving a name for a corporation before they file to incorporate, contact the office of the Wyoming Secretary of State.
Registered Agents
A Wyoming corporation owner must choose a registered agent who will act as an agent for service of process for the corporation. A registered agent will receive all tax forms and also legal documents for the corporation.
The business owner can choose an adult resident of Wyoming. Or they can opt for a corporation in Wyoming, or a corporate services company as a registered agent. There is a list of corporate services companies that provide registered agent services at Register a Wyoming Corporation on the Wyoming Secretary of State website.
Business Permits and Licenses
The State of Wyoming Economic Development Agency keeps a rather handy PDF guide. It even includes contact information and license types.
Local Permits and Licenses
Check with your local municipality, city or county office or website. See if there may be any local licensing or permit requirements.
For example, in Cheyenne you will need to go to the Licensing and Permitting page on the city of Cheyenne website.
Start a New Business in Wyoming – Business Registration
The Wyoming Secretary of State has a New Business Entry Wizard. It lets you file everything electronically.
Tax Registration
The Wyoming Department of Revenue keeps a list of all the taxes for which you should register.
Virtual Offices
Alliance offers Wyoming virtual business office space in Casper only. For Cheyenne and Laramie, and other parts of the state, try Regus. Another idea is to ask local business owners. Also try computer user groups for help in this area. Other options may be virtual business office space in nearby states. These are Montana to the north and Idaho and Utah to the west. Utah is also to the south. Another state south of Wyoming is Colorado. Also, Nebraska and South Dakota are to the east.
Set Up Credit for a New Business in Wyoming
Company credit is credit in a small business's name. It doesn't tie to an entrepreneur's individual credit, not even when the owner is a sole proprietor and the sole employee of the company.
Accordingly, a business owner's business and personal credit scores can be very different.
The Benefits
Since company credit is separate from consumer, it helps to safeguard an entrepreneur's personal assets, in case of legal action or business bankruptcy.
Also, with two distinct credit scores, a business owner can get two separate cards from the same merchant. This effectively doubles purchasing power.
Another advantage is that even start-ups can do this. Visiting a bank for a business loan can be a recipe for disappointment. But building business credit, when done correctly, is a plan for success.
Personal credit scores are dependent on payments but also additional factors like credit utilization percentages.
But for business credit, the scores actually merely depend on if a business pays its debts on a timely basis.
Learn more here and get started toward building business credit attached to your company's EIN and not your SSN.
The Process
Establishing small business credit is a process, and it does not occur without effort. A company must actively work to build company credit.
Nonetheless, it can be done readily and quickly, and it is much faster than establishing individual credit scores.
Vendors are a big part of this process.
Undertaking the steps out of sequence will cause repetitive rejections. No one can start at the top with small business credit. For instance, you can't start with retail or cash credit from your bank. If you do, you'll get a denial 100% of the time.
Business Fundability
A small business has to be fundable to credit issuers and merchants.
For this reason, a business will need a professional-looking website and email address. And it needs to have website hosting bought from a company like GoDaddy.
And also, business phone and fax numbers ought to have a listing on 411.com.
Additionally, the business telephone number should be toll-free (800 exchange or comparable).
A business will also need a bank account dedicated strictly to it, and it needs to have every one of the licenses necessary for running.
Learn more here and get started toward building business credit attached to your company's EIN and not your SSN.
Dealing with the IRS
Visit the Internal Revenue Service web site and get an EIN for the small business. They're totally free. Choose a business entity like corporation, LLC, etc.
A company can get started as a sole proprietor. But they will probably want to change to a type of corporation or an LLC.
This is in order to lessen risk. And it will make best use of tax benefits.
A business entity will matter when it pertains to tax obligations and liability in the event of a lawsuit. A sole proprietorship means the business owner is it when it comes to liability and taxes. No one else is responsible.
Sole Proprietors Take Note
If you operate a business as a sole proprietor, then at the very least be sure to file for a DBA. This is 'doing business as' status.
If you do not, then your personal name is the same as the business name. Therefore, you can end up being personally responsible for all business financial obligations.
Also, per the IRS, using this arrangement there is a 1 in 7 possibility of an IRS audit. There is a 1 in 50 probability for corporations! Prevent confusion and noticeably lower the odds of an Internal Revenue Service audit simultaneously.
Starting Off the Business Credit Reporting Process
Begin at the D&B website and get a totally free D-U-N-S number. A D-U-N-S number is how D&B gets a business into their system, to generate a PAYDEX score. If there is no D-U-N-S number, then there is no record and no PAYDEX score.
Once in D&B's system, search Equifax and Experian's web sites for the business. You can do this at www.creditsuite.com/reports. If there is a record with them, check it for correctness and completeness. If there are no records with them, go to the next step in the process.
By doing this, Experian and Equifax will have activity to report on.
Vendor Credit Tier
First you ought to establish trade lines that report. This is also referred to as the vendor credit tier. Then you'll have an established credit profile, and you'll get a business credit score.
And with an established business credit profile and score you can start to get credit in the retail and cash credit tiers.
These types of accounts tend to be for the things bought all the time, like marketing materials, shipping boxes, outdoor work wear, ink and toner, and office furniture.
But first off, what is trade credit? These trade lines are credit issuers who will give you starter credit when you have none now. Terms are oftentimes Net 30, instead of revolving.
Hence, if you get an approval for $1,000 in vendor credit and use all of it, you must pay that money back in a set term, like within 30 days on a Net 30 account.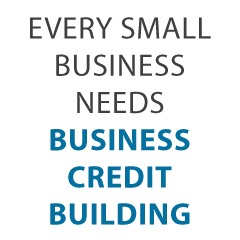 Details
Net 30 accounts must be paid in full within 30 days. 60 accounts have to be paid completely within 60 days. Unlike with revolving accounts, you have a set time when you have to pay back what you borrowed or the credit you used.
To launch your business credit profile the right way, you should get approval for vendor accounts that report to the business credit reporting agencies. Once that's done, you can then use the credit.
Then repay what you used, and the account is on report to Dun & Bradstreet, Experian, or Equifax.
Vendor Credit Tier – It Helps
Not every vendor can help like true starter credit can. These are vendors that will grant an approval with nominal effort. You also want them to be reporting to one or more of the big three CRAs: Dun & Bradstreet, Equifax, and Experian.
You want 5 to 8 of these to move onto the next step, which is the retail credit tier. But you may need to apply more than one time to these vendors. So, this is to confirm you are reliable and will pay punctually.
Retail Credit Tier
Once there are 5 to 8 or more vendor trade accounts reporting to at least one of the CRAs, then progress to the retail credit tier. These are businesses such as Office Depot and Staples.
Only use your Social Security Number and date of birth on these applications for verification purposes. For credit checks and guarantees, use the small business's EIN on these credit applications.
One example is Lowe's. They report to D&B, Equifax and Business Experian. They want to see a D-U-N-S and a PAYDEX score of 78 or more.
Fleet Credit Tier
Are there 8 to 10 accounts reporting? Then move onto the fleet credit tier. These are companies such as BP and Conoco. Use this credit to purchase fuel, and to fix, and maintain vehicles. Just use your Social Security Number and date of birth on these applications for verification purposes. For credit checks and guarantees, make sure to apply using the company's EIN.
One such example is Shell. They report to D&B and Business Experian. They want to see a PAYDEX Score of 78 or better and a 411 business phone listing.
Shell might say they want a specific amount of time in business or profits. But if you already have sufficient vendor accounts, that won't be necessary. And you can still get approval.
Learn more here and get started toward building business credit attached to your company's EIN and not your SSN.
Cash Credit Tier
Have you been sensibly managing the credit you've gotten up to this point? Then move onto the cash credit tier. These are companies such as Visa and MasterCard. Only use your Social Security Number and date of birth on these applications for verification purposes. For credit checks and guarantees, use your EIN instead.
One such example is the Fuelman MasterCard. They report to D&B and Equifax Business. They need to see a PAYDEX Score of 78 or more. And they also want you to have 10 trade lines reporting on your D&B report.
Plus, they want to see a $10,000 high credit limit reporting on your D&B report (other account reporting).
Additionally, they want you to have an established company.
These are companies such as Walmart and Dell, and also Home Depot, BP, and Racetrac. These are usually MasterCard credit cards. If you have 14 trade accounts reporting, then these are doable.
Monitor Your Business Credit
Know what is happening with your credit. Make sure it is being reported and attend to any errors as soon as possible. Get in the practice of taking a look at credit reports and digging into the particulars, and not just the scores.
We can help you monitor business credit at Experian and D&B for only $24/month. Update the information if there are errors or the relevant information is incomplete.
Challenging Errors
So, what's all this monitoring for? It's to challenge any inaccuracies in your records. Mistakes in your credit report(s) can be taken care of. But the CRAs typically want you to dispute in a particular way.
Disputing credit report mistakes generally means you send a paper letter with copies of any proofs of payment with it. These are documents like receipts and cancelled checks. Never mail the original copies. Always send copies and keep the originals.
Disputing credit report inaccuracies also means you specifically spell out any charges you dispute. Make your dispute letter as clear as possible. Be specific about the issues with your report. Use certified mail so that you will have proof that you sent in your dispute.
A Word about Building Business Credit
Always use credit responsibly! Never borrow beyond what you can pay off. Keep an eye on balances and deadlines for repayments. Paying on time and fully will do more to elevate business credit scores than nearly anything else.
Building small business credit pays. Good business credit scores help a business get loans. Your lender knows the business can pay its debts. They know the company is bona fide. The business's EIN links to high scores, and creditors won't feel the need to demand a personal guarantee.
Business credit is an asset which can help with opening a new business in Wyoming for years to come.
Learn more here and get started toward opening a new business in Wyoming.
Want to start a new business someplace else in America? Then check out our handy guide to starting a business in any state in the country.
The post How to Set Up a New Business in Wyoming appeared first on Credit Suite.