Archives
now browsing by author
LinkedIn's 690 million members include 180 million senior-level influencers, 63 million decision-makers and 10 million C-level executives.
Hence, there are a lot of influential people on LinkedIn that have hiring power and purchase power. Whatever you hope to achieve from using the network, you'll want to make a good impression.
Your headline is the first thing that people see aside from your profile picture. It's how decision-makers will find you. It's how you get people to notice you and what will make them want to visit your profile to learn more. Thus, it's safe to say your headline is pretty important.
So, I thought I'd share my top tips for creating an effective headline with you. But, first, let's look at the basics:
What is Your LinkedIn Headline?
Your headline is the tagline that appears under your name on LinkedIn and at the top of your profile page. The headline used to be limited to 120 characters. But, here's some good news, LinkedIn extended the headline to 220 characters in 2020. So, you have a little more space to sell yourself, share your vision or whatever it is you'd like to express via your headline.
What Makes a Winning LinkedIn Headline
There are some important criteria for creating an impactful headline. The best LinkedIn headlines do the following:
Make Use of Keywords
Keywords aren't the only thing your headline should include. But they are key to helping the right people find your profile. Keywords can include your job title, skills and areas you specialize in. Place keywords towards the beginning of your headline and then expand with further information.
Express Your Value
Expressing you or your company's value means sharing more than the tasks you carry out. Your headline should be driven by the benefits of the services you provide and the kind of results you achieve. For example, rather than saying you do tax planning, you'd say you help businesses to save money.
Are Unique
A winning LinkedIn headline is one that stands out from the crowd. Think about how many people do the exact same job as you or offer similar services. You can give yourself a competitive edge and encourage more people to visit your profile by making your headline different.
Help You Meet Your Goals
You need to think carefully about why you're on LinkedIn and what you hope to achieve. This should inform what you include in your headline (and the rest of your profile). If you're not sure about what you can accomplish on LinkedIn or how to go about it, you may wish to speak with a social media consultant.
Now let's look in more detail at exactly how you can create a winning headline:
1. Get Inspiration
By default, LinkedIn uses your job title and employer as your headline. What a snooze fest. If you want to do better, the first step is to get inspired.
Search for people in your field or who have similar roles to you. Take a look at how they've formulated their headlines. See what appeals to you and what doesn't. Of course, you shouldn't just nab somebody else's headline. But, doing this will help you come up with ideas for how you want your headline to appear.
Also, pay attention to those who appear at the top of the search results for your industry. What keywords do they use? Note these keywords as they likely contribute to why these pros are doing so well in the search results.
2. Ask Yourself These Questions
When you decide to upgrade your LinkedIn headline to maximize its impact, it's a good idea to have a little brainstorming sesh. Here are some questions that will guide you when you're coming up with ideas:
How would you describe yourself to a new colleague if you only had five seconds?
What makes you different from others with the same job title?
Why should users click on your profile?
What are your most in-demand skills?
What are your biggest accomplishments?
What makes you unique?
3. Choose the Right Keywords
Include relevant keywords in your headline so that you appear in more search results.
To do this, you'll first need to think about who you want to find your profile on LinkedIn. A recruiter? A potential lead? Influencers you hope to connect with? And so on…
This will guide you in figuring out the right keywords to use. For example, you may include your specific skills or specialisms to get found by recruiters with the most relevant job opportunities.
In this example, we don't just have a "developer", nor do we just have a "chatbot developer", the user goes even more specific with the terms "Facebook Messenger Marketing" and "Automation Practitioner":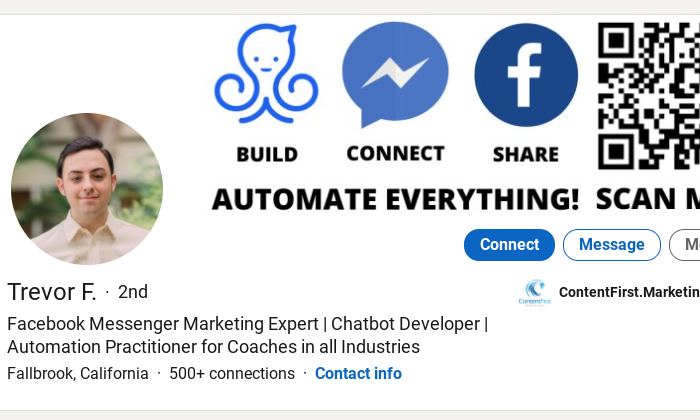 Whereas, if you're using LinkedIn to network and boost your authority, you may want to use broader terms. Your job role might be "Artworker" but in order to be found by more people, it'd be a very good idea to include the term "Graphic Design".
4. Include Your Unique Selling Proposition
Keywords alone aren't enticing enough to get users to visit your profile. State the value that you provide by doing what you do, in particular something that makes you stand out from the crowd.
There's a simple formula you can use to express this: I help X do Y by doing Z. Here's an example from an accounting consultant: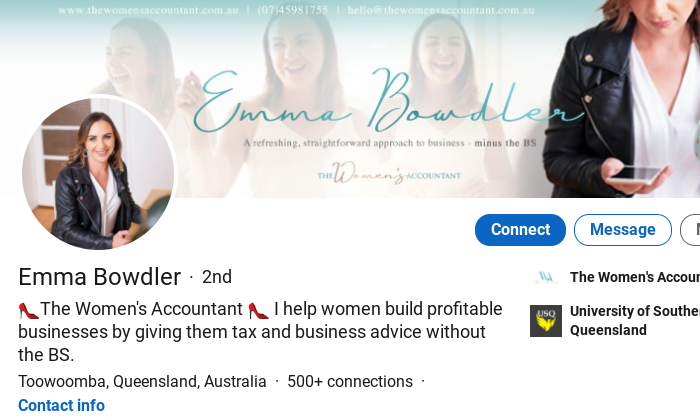 When she says "I help women build profitable businesses", she outlines the beneficial results of her work, not just the tasks that she performs. You should do something similar.
You can also use data to drive your point home. Here an email marketer shares the average results he achieves: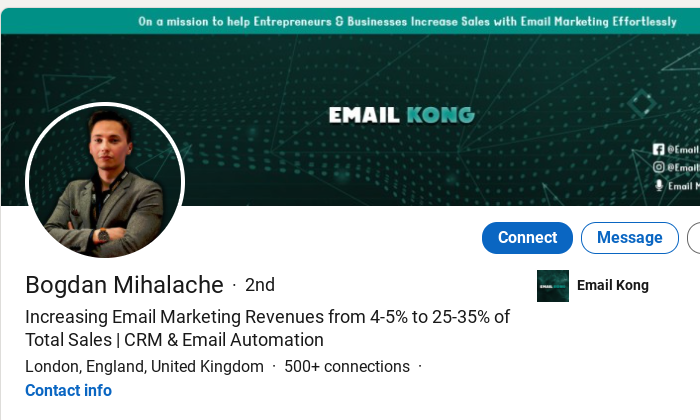 There are tons of relevant data points you could include to prove your value, such as the number of customers you've helped achieve a particular outcome or the results of an impressive case study.
5. Share Your Achievements/Credentials
When you make self-aggrandizing claims on LinkedIn, people will either think you're arrogant or full of it. Instead, you should go by the old adage, "Show don't tell". Show that you're great at what you do via your achievements or credentials.
What's your most impressive achievement? Have you won an award perhaps? Been featured on top media outlets? Sold a bunch of books? Grew a well-known company? Those are the kind of things you'll want to share.
This professional shares the fact that he's been a LinkedIn Top Voice honoree four times and sprinkles in some serious social proof by mentioning his work with Mark Cuban: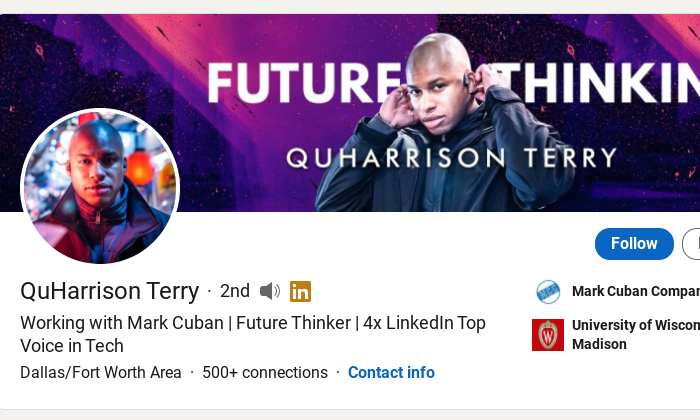 Furthermore, certain credentials that are recognized by people in your industry will give you clout. For example, in the marketing world it's good to be Google-certified, like this pro: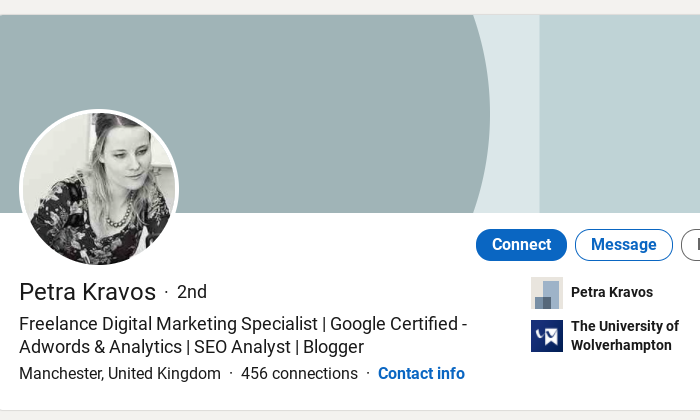 Share credentials relevant to your position to show that you're not just messing around, you really know what you're doing.
6. Use Natural Language
Keep your headline free of jargon, particularly if you're using LinkedIn for sales or lead generation. If a prospect doesn't understand what you're selling, you won't have much luck.
Similarly, make your job title clear and simple unless you're seeking a specific job role. Again, users you want to connect with may not understand what you do. Even if you think the term "Business Development Manager" is clear, trust me, simplifying it to "Sales Manager" is much more transparent.
Also, avoid buzzwords. After a time, every Tom, Dick and Harry will be using the same trendy terminology to describe their services. Thus, your words become meaningless.
And saying that you're a "Guru", "Ninja" or "Wizard" is a bit cheesy and old-fashioned. It won't help you in the search results either. When was the last time you searched for a ninja on LinkedIn or anywhere for that matter?
Try to use simple, everyday language to explain your role or value proposition. Here's an excellent example from a marketing professional: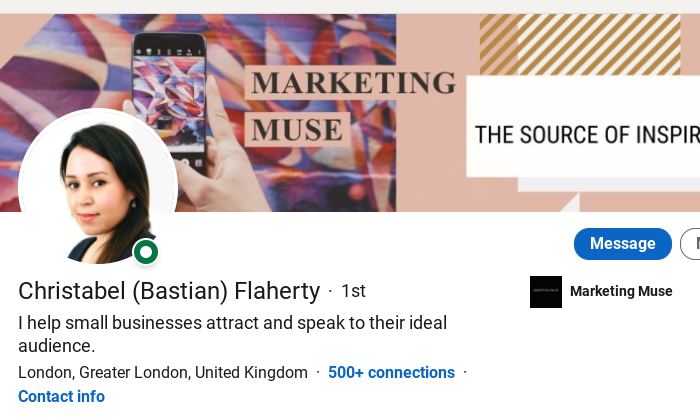 Her target audience, small businesses, may not be familiar with or fully understand industry terms so she offers a straightforward, benefit-driven value proposition.
7. Don't Put "Unemployed"
Even if you're currently looking for a job, you shouldn't put "Unemployed", "Seeking New Opportunities" or similar in your headline.
The thing is, recruiters or companies aren't searching for the term "Unemployed" on LinkedIn. You only get a couple hundred characters for your headline, so it would be better to utilize that space for keywords that they are likely to search for, and your experience, specialisms, credentials etc.
You can show that you're looking for work on your profile instead. At the top of your profile, you'll see a section that says, "Show recruiters you're open to work".
Simply, fill in details about the type of role you're looking for and the location. You can even change the settings so that your current employers won't see that you're seeking work.
8. Share Your Mission
Maybe you're not looking to promote yourself. Perhaps, you're in the process of growing a startup or maybe you or your company are trying to achieve a wider goal that you want people to know about.
If this sounds like you, then you should definitely share your vision in your headline. In this example, the professional shares what he does "mass transit" but also why he does it "to reduce our carbon footprint and create a more connected community":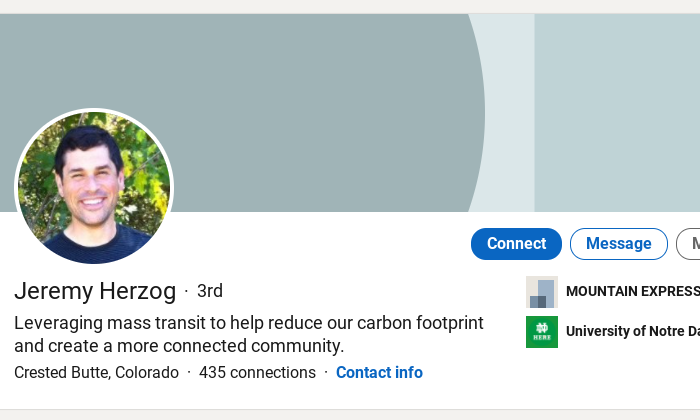 You could use a similar formula. Start with the what and then go into the why. If you're unsure about how to phrase your goals, you can always take inspiration from your company's mission statement.
9. Show Your Personality
Like with any other social media platform, users skim through their LinkedIn feed, groups and even search results at speed. So, you need a headline that's going to make somebody stop and take notice.
Get creative and use your headline to express your personality. Not only will it make you stand out but it'll also make your profile memorable.
Here's an example from an SEO manager with a quirky sense of humor:
Don't worry, though. You don't have to be the Kevin Hart of LinkedIn. There are other ways to express your personality via your headline. Perhaps, you want to project positive vibes or enthusiasm.
You could even share a little personal tidbit about yourself. Maybe you do PR during the day and rule at Settlers of Catan by night… This kind of thing will also help start conversations between you and new connections.
10. Keep Your Headline Updated
It's easy to set and forget your headline. But to get the most from it you need to keep it up to date.
Firstly, be sure to add new skills, achievements, career developments and so on when they arise. Your skillset will develop over time and your headline should reflect this.
Moreover, you may wish to test the impact of your headline and update it accordingly. When you make an alteration, keep an eye on the number of people who have viewed your profile.
With LinkedIn Premium, you can also see who has viewed your profile. Therefore, you can discover if your headline is attracting who you want to attract or your target audience.
Conclusion
You can use your LinkedIn headline to get noticed by influential professionals and encourage more people to visit your profile. A winning headline combines relevant keywords and your unique value proposition.
Don't forget to think carefully about who you hope to attract with your headline. And don't be afraid to sell yourself as long as it doesn't come across as too boastful.
Take the first step towards creating a great LinkedIn headline. Do some research to see what works well in your industry and brainstorm ideas for your own headline.
The post 10 Tips For Writing a Winning LinkedIn Headline appeared first on Neil Patel.
Are you looking for a merchant cash advance bad credit notwithstanding? A merchant cash advance is a way to get money for your business quickly. You do so by borrowing against your future credit card sales. Because your personal credit score does not matter, you really can get a merchant cash advance bad credit or any kind of credit.
What is the Best Way to Get a Merchant Cash Advance Bad Credit or Not?
One thing about a merchant cash advance bad credit is that it is probably not going to be helpful during an economic downturn. They may even be impossible to get during a recession. But in a better economy, they are a proven way to fund a business and keep your doors open.
How Do These Loans Work?
These loans use your past and current credit card history to determine how much financing you can get approval for.
Money is advanced to you. The amount has a basis in how much you process each month in credit card transactions.
How Do You Pay a Merchant Cash Advance Bad Credit Back?
A small portion of each future credit card sale goes towards paying back the merchant advance loan. It does not interfere with your cash and check receipts.
There are no fixed repayment amounts or terms for merchant cash and capital. So this gives flexibility to your business if you are having a slow month.
One of the best benefits of merchant advances is you can get money in your bank account. So you can get it as soon as 24 hours after approval.
Why is a Merchant Cash Advance Bad Credit So Great?
The chief benefit of a merchant cash advance bad credit is you do not have to have good credit to qualify.  These loans leverage your positive credit card processing history to get you approval, not your credit scores.
There are some credit score restrictions, but in most cases, you can get approval with even below average personal credit scores.
And there is no personal guarantee necessary. Plus, no collateral is necessary.

Demolish your funding problems with 27 killer ways to get cash for your business.
How Much Can You Get from a Merchant Cash Advance Bad Credit or Not?
You can get merchant loans for up to $150,000.  How much you process in credit card transactions each month will determine how much you will get approval for.
So, every business has its strengths and weaknesses.
Do you use credit cards as a payment source for your clients? If so, then a merchant advance can be the perfect way for you to get a lot of money in a short period of time.
These loans are available for businesses that process as low as $3,500 monthly in credit card transactions.  So the more you process, the higher advance loan you will get approval for.
What Are the Fees for a Merchant Cash Advance Bad Credit?
So there are no application fees and there are no out of pocket costs for merchant cash advance relief.
And you can use the funds for payroll, marketing, or to increase business inventory. Get a loan to pay taxes, pay rent, or for advertising. So, try a loan to order supplies and equipment. Or you can expand your business and open an additional location. Or you can use the funds for working capital.
An Alternative to a Merchant Cash Advance Bad Credit or Not – Building Business Credit
Company credit is credit in a small business's name. It doesn't link to an entrepreneur's personal credit, not even if the owner is a sole proprietor and the only employee of the company.
As a result, an entrepreneur's business and personal credit scores can be quite different.
The Benefits
Because small business credit is distinct from consumer, it helps to protect a business owner's personal assets, in the event of litigation or business bankruptcy.
Also, with two distinct credit scores, a business owner can get two different cards from the same vendor. This effectively doubles buying power.
Another benefit is that even startup businesses can do this. Visiting a bank for a business loan can be a recipe for frustration. But building company credit, when done right, is a plan for success.
Consumer credit scores depend upon payments but also additional considerations like credit usage percentages.
But for business credit, the scores actually merely hinge on if a company pays its debts on time.
The Process
Establishing small business credit is a process. It does not happen automatically. A business needs to proactively work to establish small business credit.
Yet, it can be done readily and quickly, and it is much speedier than developing consumer credit scores.
Merchants are a big component of this process.
Doing the steps out of order leads to repetitive rejections. No one can start at the top with small business credit. For example, you can't start with retail or cash credit from your bank. If you do, you'll get a rejection 100% of the time.

Demolish your funding problems with 27 killer ways to get cash for your business.
Company Fundability
A small business needs to be fundable to loan providers and vendors.
That's why, a business needs a professional-looking website and e-mail address. And it needs to have site hosting bought from a vendor like GoDaddy.
Also, business phone and fax numbers need to have a listing on 411. You can do that here: http://www.listyourself.net.
In addition, the business telephone number should be toll-free (800 exchange or comparable).
A business also needs a bank account devoted solely to it, and it must have all of the licenses necessary for operating.
Licenses
These licenses all have to be in the perfect, appropriate name of the business. And they must have the same small business address and phone numbers.
So note, that this means not just state licenses, but potentially also city licenses.
The IRS
Visit the IRS web site and get an EIN for the business. They're free of charge. Pick a business entity like corporation, LLC, etc.
A business may begin as a sole proprietor. But they absolutely need to switch to a sort of corporation or an LLC.
This is to minimize risk. And it will make best use of tax benefits.
A business entity matters when it concerns taxes and liability in case of litigation. A sole proprietorship means the entrepreneur is it when it comes to liability and taxes. No one else is responsible.
The best thing to do is to incorporate. You should only look at a DBA as an interim step on the way to incorporation.
Setting off the Business Credit Reporting Process
Begin at the D&B website and get a cost-free D-U-N-S number. A D-U-N-S number is how D&B gets a company into their system, to produce a PAYDEX score. If there is no D-U-N-S number, then there is no record and no PAYDEX score.
Once in D&B's system, search Equifax and Experian's sites for the small business. You can do this at www.creditsuite.com/reports. If there is a record with them, check it for correctness and completeness. If there are no records with them, go to the next step in the process.
In this way, Experian and Equifax have activity to report on.
Starter Vendor Credit
First you should build tradelines that report. Then you'll have an established credit profile, and you'll get a business credit score.
And with an established business credit profile and score you can start to get credit for numerous purposes, and from all sorts of places.
These sorts of accounts have the tendency to be for things bought all the time, like marketing materials, shipping boxes, outdoor work wear, ink and toner, and office furniture.
But to start with, what is trade credit? These trade lines are credit issuers who give you starter credit when you have none now. Terms are generally Net 30, rather than revolving.
Hence, if you get an approval for $1,000 in vendor credit and use all of it, you must pay that money back in a set term, like within 30 days on a Net 30 account.
Details
Net 30 accounts need to be paid in full within 30 days. 60 accounts need to be paid fully within 60 days. In comparison with revolving accounts, you have a set time when you must pay back what you borrowed or the credit you made use of.
To kick off your business credit profile the proper way, you ought to get approval for vendor accounts that report to the business credit reporting bureaus. When that's done, you can then use the credit.
Then pay back what you used, and the account is on report to Dun & Bradstreet, Experian, or Equifax.
Vendor Credit – It Helps
Not every vendor can help in the same way true starter credit can. These are vendors that grant approval with a minimum of effort. You also need them to be reporting to one or more of the big three CRAs: Dun & Bradstreet, Equifax, and Experian.
As you get starter credit, you can also start to get credit from retailers. This is to continue to confirm you are trustworthy and pay on time. Here are some stellar choices from us: https://www.creditsuite.com/blog/5-vendor-accounts-that-build-your-business-credit/
Store Credit
Store credit comes from a variety of retail businesses.
You must use your Social Security Number and date of birth on these applications for verification purposes. For credit checks and guarantees, use the company's EIN on these credit applications.
Fleet Credit
Fleet credit is from service providers where you can purchase fuel, and repair and take care of vehicles. You must use your Social Security Number and date of birth on these applications for verification purposes. For credit checks and guarantees, make certain to apply using the company's EIN.
Cash Credit
These are companies such as Visa and MasterCard. You must use your Social Security Number and date of birth on these applications for verification purposes. For credit checks and guarantees, use your EIN instead.
These are typically MasterCard credit cards.
Monitor Your Business Credit
Know what is happening with your credit. Make certain it is being reported and address any mistakes as soon as possible. Get in the habit of taking a look at credit reports. Dig into the specifics, not just the scores.
We can help you monitor business credit at Experian and D&B for 90% less than it would cost you at the CRAs.
At Equifax, you can monitor your account at: www.equifax.com/business/business-credit-monitor-small-business.

Demolish your funding problems with 27 killer ways to get cash for your business.
Fix Your Business Credit
So, what's all this monitoring for? It's to challenge any inaccuracies in your records. Mistakes in your credit report(s) can be corrected. But the CRAs usually want you to dispute in a particular way.
Disputes
Disputing credit report inaccuracies usually means you send a paper letter with copies of any proof of payment with it. These are documents like receipts and cancelled checks. Never send the original copies. Always mail copies and retain the original copies.
Fixing credit report errors also means you precisely spell out any charges you challenge. Make your dispute letter as understandable as possible. Be specific about the problems with your report. Use certified mail to have proof that you sent in your dispute.
A Word about Building Business Credit versus Merchant Cash Advances
Always use credit smartly! Never borrow beyond what you can pay off. Monitor balances and deadlines for repayments. Paying on time and in full does more to raise business credit scores than pretty much anything else.
Establishing company credit pays. Great business credit scores help a company get loans. Your lender knows the business can pay its debts. They know the small business is authentic.
The business's EIN connects to high scores and loan providers won't feel the need to demand a personal guarantee.
Takeaways for Getting a Merchant Cash Advance Bad Credit No Problem
Merchant cash advances are a creative way to leverage future sales. They can help your business get past a financial hurdle. And don't forget about building company credit! Because even when business cash advances are hard to get, you can build business credit. And your merchant cash advance bad credit could even be enhanced by business credit.
The post Get a Merchant Cash Advance Bad Credit No Problem appeared first on Credit Suite.