Archives
now browsing by author
Cloud computing has taken over in recent years, and it offers many opportunities for businesses and users. The terminology can be a little complex though, and like with many IT-related things, there are lots of acronyms that get thrown around.
IaaS is one acronym you might have seen, but what does it mean, and how can it affect your e-commerce store?
Along with PaaS and SaaS, these acronyms describe the different ways businesses can use cloud technology, and choosing the right one for your e-commerce store can make a big difference.
What IaaS Means for Your Website
If you're creating a website today, there's a good chance it's going to be hosted in the cloud. Very few companies maintain their own servers; instead, they rely on third-party companies to take care of many elements of their online presence.
The distinction between IaaS (Infrastructure as a Service), PaaS (Platform as a Service), and SaaS (Software as a Service) is crucial because it dictates what level of control you have over your website.
For some businesses, particularly those with large, complex e-commerce sites, infrastructure as a service will likely be the best option because it allows for greater flexibility and control.
Every day, more and more businesses move their infrastructure to the cloud, and it's important they understand how best to use it to get the best results. IaaS, SaaS, and PaaS are simply ways of describing how you use the cloud—and each business will do this slightly differently.
Today, 90% of businesses use the cloud. According to some estimates, cloud data centers will soon process 94% of workloads.
This means it's vitally crucial for businesses to understand what they're investing in and how they can make the most of cloud computing.
Cloud Computing: IaaS Vs. SaaS Vs. PaaS Vs. Serverless Computing
When it comes to cloud computing, it can seem like you're constantly being bombarded by acronyms. Actually, IaaS, SaaS, and PaaS are useful distinctions that can help you run your e-commerce store more efficiently.
Cloud computing is all about allowing you to take care of the bits you're good at and leaving the rest to professionals. Each business has different skill sets, so they're going to use the cloud in different ways.
For example, in a bootstrapped business, the owner might be building the entire website with limited funds. In this case, they might only want to focus on the basics of creating a functional, appealing store and leave aspects such as runtime, servers, and storage to an external company.
On the other hand, a big multinational business may have a host of developers and IT professionals capable of handling more complex functions.
IaaS, SaaS, PaaS, and Serverless Computing give businesses the flexibility to control different parts of the cloud.
IaaS
IaaS is the cloud-based alternative to maintaining on-site infrastructure. Whereas in the past, businesses would have had their own data centers. Today, it can be much more efficient to utilize the cloud.
Maintaining your own IT infrastructure can be costly, and most businesses don't have the skills to do this without an external company's help. With IaaS, businesses don't need to maintain their infrastructure. Instead, they pay to use a third-party's servers, networking technology, storage, and data center space.
For businesses running e-commerce sites, this means they don't have to worry about the highly technical aspects of running a web application and they don't have to invest in expensive infrastructure. Instead, they pay for access to infrastructure through the cloud through companies like AWS, IBM, and Rackspace.
While things like storage and networking are taken care of by the third party, this option still leaves you in charge of the following aspects:
applications
data
runtime
middleware
O/S
This is important for larger businesses because it gives them much more control over how they run their site, while still offering a scalable, cost-effective solution.
PaaS
Like IaaS, PaaS leaves key components such as physical compute, network, storage, and virtualization to the provider. However, with PaaS, you also outsource runtime, middleware, and O/S.
As the name suggests, PaaS gives you the platform to develop, run, and manage applications without having to take care of the infrastructure behind it.
While this means you have less to worry about, and need fewer technical skills, it also means you have less control over how you run your e-commerce site than with IaaS.
Whichever service you choose, there is a tradeoff between convenience and control. With PaaS, you're getting something of a middle ground between IaaS and SaaS. While much of the service is managed, you're still in control of applications and data, which can be valuable for certain businesses.
This makes PaaS providers such as Magento Commerce Cloud and Bluehost particularly popular with developers, as it provides everything they need to create new applications without having to invest in expensive infrastructure and operating platforms.
Instead, they pay for what they need, allowing them to focus more on building the applications.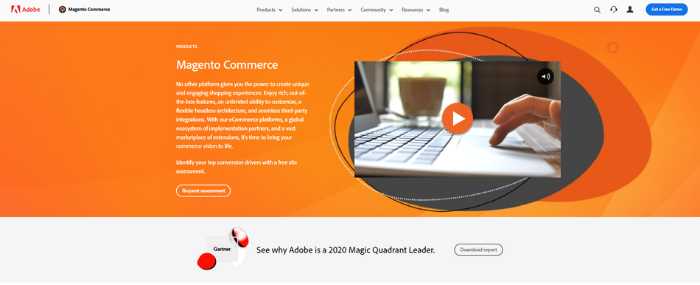 Serverless Computing
Businesses are constantly searching for the most efficient ways to use the cloud, and another option is serverless computing.
Serverless computing is very similar to PaaS, but has a few slight differences.
One of the main differences between serverless computing and PaaS is that serverless is event-driven. You pay only for what you use, whereas with PaaS, you pay a monthly fee and have a limit to what you can use.
Serverless computing automatically scales with your business, but you'll give up some control. It does allow you to be extremely flexible though, saving on costs while still getting excellent performance.
This is an ideal option for fast-growing e-commerce sites or those creating viral content that may cause a massive traffic spike.
SaaS
For many people, SaaS is the quickest and easiest way to set up an e-commerce store. Using providers like Shopify, you use third-party platforms and apps to quickly create a functional store.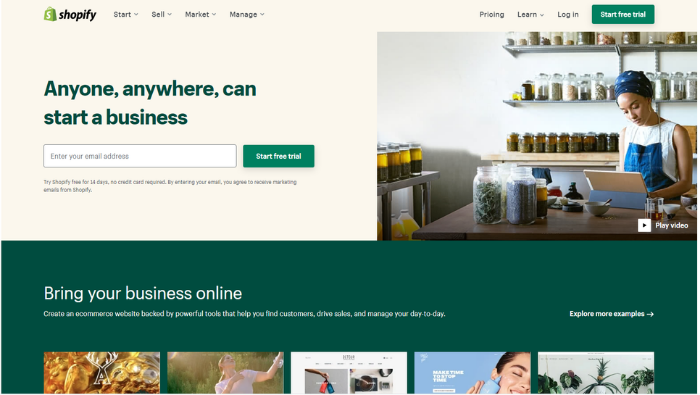 Everything is taken care of for you, and all you need to do is upload your own products and create your marketing content.
The obvious benefit of this is convenience. Not everybody who wants to create an e-commerce store has IT expertise and SaaS means they don't have to. Rather than focusing on networking and hosting, they simply have to focus on building out their website and creating the content that's going to help them sell.
SaaS applications are very common across the internet. Not only are there lots of SaaS applications that help people run their e-commerce stores but software such as Microsoft 365, Google Cloud, and HubSpot are all examples of SaaS.
The downside for e-commerce stores that run on SaaS is that they're limited in what they can do. If you have a Shopify store, then you have to work within the limitations set by that third party. When you run your store through IaaS or PaaS, there are fewer limitations, giving you greater control over your store.
How Can IaaS Affect Your E-commerce Site?
Cloud computing has made it much more accessible to create an e-commerce site. No longer do you have to invest in expensive hardware and instead, you can pay for access to infrastructure as and when you need it.
This has opened up e-commerce to a wide variety of people. With SaaS, it's not necessary to have IT skills to create a competitive store. However, with the ease of creating and managing a store through SaaS comes limitations.
Many businesses possess the skills to handle the more technical aspects of running an e-commerce site, and they want to be able to make the most of those skills without building their infrastructure. IaaS is the perfect option for these businesses as it allows them to strike a profitable balance.
These businesses can use infrastructure as and when they need it, scaling as their business grows and shrinks.
With IaaS, you have maximum control over your e-commerce store, allowing you to make the most of your creative and IT skills without building the infrastructure yourself.
How to Use IaaS for Your E-commerce Company
One of the most important things when choosing between IaaS, PaaS, and SaaS is understanding the skills and resources available to you. If you don't have people with experience in building and developing web applications, then IaaS isn't going to be the best option for you, and it might be better to look at a SaaS option.
If you're confident you can create and maintain a high-level store through IaaS, then the next step is understanding your needs. There are lots of different IaaS providers out there, and many different packages to choose from.
Each business is different, and will have different requirements. When choosing a provider, consider the following questions:
What level of access and customization do you need?
How flexible can the provider be?
How will the provider deal with changing regulations?
How much is it going to cost you?
What level of security is offered?
The whole idea of "as a service" is that you pay for the parts you need, freeing you up to take care of the bits you can handle. To get the most out of this concept, you need to have a clear picture of where your skills lie, and how your provider can take care of the rest.
IaaS Tools
When choosing an IaaS package, you must take the time to get the one that best fits your business needs. There are lots of different options out there, and choosing the right tools can make all the difference to your business:
Amazon EC2
Google Compute Engine
Digital Ocean Droplets
Hostwinds
Alibaba Elastic Compute Service
IBM Cloud Private
IONOS Cloud
Azure Linux Virtual Machines
Rackspace Technology
Openstack
As you can see, there are lots of different options out there, and this is just a small sample. The important thing is making sure you get the services your business needs without paying for resources you don't.
It might take a little extra research to unlock the true power of IaaS for your business, but it's certainly worth it in the long run.
Conclusion
There are many different ways to run an e-commerce store, and how you use the cloud is a key consideration when setting up or expanding your store.
Maintaining onsite infrastructure can be expensive and time-consuming, and with modern cloud products, there isn't much need for it.
The bigger question is: what do you need from the cloud?
For large-scale e-commerce sites, with tons of resources at their disposal, infrastructure as a service is often the best way to go. This provides greater control over your site than PaaS or SaaS options and is a cost-effective way to scale your business.
When you utilize the cloud well, it can help you maximize your store's profitability, so it's essential to make the right choice.
How does your e-commerce store use the cloud?
Disclosure: This content is reader-supported, which means if you click on some of our links that we may earn a commission. Human resources can be a tough department to manage. From hiring to onboarding, employee scheduling, and HR compliance, there are dozens of responsibilities being juggled. What if an employee wants to view an old …
The post Best HR Software first appeared on Online Web Store Site.
The post Best HR Software appeared first on ROI Credit Builders.
The post Best HR Software appeared first on Business Marketplace Product Reviews.
The post Best HR Software appeared first on #1 SEO FOR SMALL BUSINESSES.
The post Best HR Software appeared first on Buy It At A Bargain – Deals And Reviews.
First, to be clear, minority small business grants, and any grants for that matter, are totally free money that you do not have to pay back.  As such, those awarding grants typically do not consider your ability to repay a grant in the selection process. That doesn't mean that fundability doesn't matter though.  It does. 
Your Level of Fundability Can Affect Your Ability to Win Grants, and Winning Minority Small Business Grants Can Help You Build Fundability 
How does this work?  How does the fundability of your business affect your ability to get grants, and how can getting small business grants help you build fundability? Think about it.  Of course, the main thing that grantors are looking for is a business that can be successful. That means having a winning business idea. That being the case, applicants focus on that piece.  They present a fabulous pitch and a winning business plan, then they execute a flawless presentation and hope those that make the decisions love it.  
Check out our best webinar with its trustworthy list of seven vendors to help you build business credit. 
However, if the competition is a close one, and there are any red flags out there on any applicant, it could mean the difference between winning, and not.  Winning is important, because grants can be a great option for supplementing your funding.
The Bare Minimum: Do I Need Fundability to Get Minority Small Business Grants? 
Most likely, those offering grants are not going to check credit.  They probably do not even really care about your personal financials.  Those pieces of fundability are not likely to come into play. You can find out more about those and the other parts of the fundability puzzle here.  
However, the foundation of fundability needs to be in place.  This is what can make a difference when it comes to winning minority small business grants. What is a foundation of fundability and why does it matter?  It matters because it is what sets your business apart as legitimate. These are the things that separate your business from yourself, and it shows that you have all of your proverbial ducks in a row.  It may never come into play, but if it does, you want to be ready. What are the building blocks of the foundation of fundability? 
Contact Information
The first step in setting up a foundation of fundability is to ensure your business has its own phone number, fax number, and address.   Now don't panic. That doesn't mean you have to get a separate phone line, or even a separate location. You can still run your business from your home or on your computer if that is what you are doing.  You do not even have to have a fax machine.  
In fact, you can get a business phone number and fax number pretty easily that will work over the internet instead of phone lines.  In addition, the phone number will forward to any phone you want it too so you can simply use your personal cell phone or landline if you want.  Whenever someone calls your business number it will ring straight to you. 
Faxes can be sent to an online fax service, if anyone ever happens to actually fax you.  This part may seem outdated, but it does help your business appear legitimate to lenders. 
You can use a virtual office for a business address. How do you get a virtual office?  What is that? It's not what you may think. This is a business that offers a physical address for a fee, and sometimes they even offer mail service and life receptionist services.  In addition, there are some that offer meeting spaces for those times you may need to meet a client or customer in person. 
EIN
The next thing you need to do is get an EIN for your business.  This is an identifying number for your business that works in a way similar to how your SSN works for you personally.  Some business owners use their SSN for their business. This is what a lot of sole proprietorships and partnerships do. However, it really doesn't look professional to lenders, and it can cause your personal and business credit to get all mixed up.  When you are looking to increase fundability, you need to apply for and use an EIN. You can get one for free from the IRS.
Incorporate
This is the most important step in fundability thus far.  Incorporating your business as an LLC, S-corp, or corporation is necessary to fundability.  It lends credence to your business as one that is legitimate. It also offers some protection from liability. 
Which option you choose does not matter as much for fundability as it does for you budget and needs for liability protection.  The best thing to do is talk to your attorney or a tax professional. What is going to happen is that you are going to lose the time in business that you have.  When you incorporate, you become a new entity. You basically have to start over. You'll also lose any positive payment history you may have accumulated. 
This is why you have to incorporate as soon as possible.  Not only is it necessary for fundability and for building business credit, but so is time in business.  The longer you have been in business the more fundable you appear to be. That starts on the date of incorporation, regardless of when you actually started doing business. 
Check out our best webinar with its trustworthy list of seven vendors to help you build business credit. 
Business Bank Account
You have to open a separate, dedicated business bank account.  There are a few reasons for this. First, it will help you keep track of business finances.  It will also help when it comes time to do taxes by keeping your personal finances separate from your business finances.. 
There's more to it however.  There are several types of funding that are not available  without a business bank account. Many lenders and credit cards want to see a business account with a minimum average balance.  In addition, you a merchant account is not an option without a business account at a bank. That means, you cannot take credit cards payments.  Studies show that consumers usually spend more when credit card payment is available.
Licenses
For a business to be legitimate, it has to have all of the necessary licenses it needs to run.  If it doesn't, warning lights are going to flash all over the place. Research what you need to do to ensure you have all of the licenses necessary to legitimately run your business at the federal, state, and local levels. 
Website
In these times, you do not exist if you do not have a website.  Having a poorly put together website can be even worse though. It is the first impression you make on most.  As a result, if it appears to be unprofessional, your business will look bad before the customer even gives it a chance. 
Spend the time and money necessary to ensure your website is professionally designed and works well.  Pay for hosting too. Don't use a free hosting service. Along these same lines, your business needs a dedicated business email address.  Make sure it has the same URL as your Website. Don't use a free service such as Yahoo or Gmail. 
If you are a new business applying for minority small business grants to help get you off of you feet, you may not be ready for all of this yet.  Much of it can be does at square one however, and it is infinitely easier to do so. For example, just go ahead and get a business number and address and use it on your grant applications.  Get a professional website, or at least a prototype, up and running so you have something to show. It could make all the difference.
How Can Minority Small Business Grants Help Build Fundability?
It's pretty easy to see how fundability can affect your ability to get minority small business grants.  How is the reverse true though? How can minority small business grants help you build fundability, especially when you don't have to pay them back so there are no payments to report to business credit. 
Here's how.  When you get minority small business grants, you have free money to grow and expand your business.  This can help you be more profitable without the debt typically associated with growth. This, in turn, makes it easier to pay back any debt you do have to get in the process of starting and running a business, which will help to build fundability.  
The only question now is, where do you get minority small business grants?  Many private and government agencies offer them, including some corporations.  Some are offered annually, while others are available for one time only. It would be impossible to list all available grants, but here are a few to start with.  Remember to do your research, as all of them have different eligibility requirements and application processes. 
Options for Minority Small Business Grants
If you qualify, there are many grant options available.  There are not as many specifically for minorities, but there are some.  Here is just a sample of what is out there. 
First Nations Development Institute Grants
With a mission to offer grants that help Alaska Natives, Native Hawaiians, and Native Americans, this group is at the top of the list.  They also offer assistance in the application process.
Not only that, but there are a wide range of other opportunities from the First Nations Development Institute. Get on the mailing list to receive information about new opportunities as they become available.
National Black MBA Association Scale-Up Pitch Challenge
Also known as NBMBAA, the Scale-Up Pitch Challenge has cash prizes ranging from $1,000 to $50,000.  The associate states its purpose is to help newer businesses that have an African founder that maintains equal ownership.  
A business must be a member of the NBMBAA to compete.  There is a $10 monthly membership fee. After that, there is an online application.   If chosen, you must submit a three-minute pitch. Then, finalists go on to compete at the NBMBAA annual conference.
Non-Minority Specific Options
There are grants options that can work well even though they are not exclusively for minorities. Some examples include the following.
FedEx Small Business Grant
This grant is the company's way of working to strengthen small business innovation.  There are 10 grants the company awards each year. They range from $15,000 to $50,000, and if you're a minority owned business with a cutting-edge product, this could be the grant for you.
A business must use the FedEx website to submit entries. There are a few questions to answer about your business.  In addition, there is a requirement for an elevator pitch about what makes your business special.  Also, you have to explain how you would use the grant funds. A 90 second video submission is optional.
NASE Growth Grants
The National Association for the Self-Employed (NASE) has small business Growth Grants of up to $4,000. They are for micro-businesses, and proceeds can be used for a number of things including marketing, advertising, expansion, and even to hire employees.  Anyone can apply, but you do have to be an NASE member. Membership fees vary based on the level of membership you choose. 
Check out our best webinar with its trustworthy list of seven vendors to help you build business credit. 
USDA Value Added Producer Grant
The USDA's Value-Added Producer Grant (VAPG) program offers grants for small businesses.  It includes minority owned business. Grants range up to $250,000. These grants are designed specifically to help agricultural producers with activities that add value to their products. As a result, grants are open to those in rural areas.  They must be operating as one of the following: 
Cooperative

Farmer

Rancher

an independent agricultural producer

or an agricultural producer group 
Minority Small Business Loans and Fundability: It Goes Both Ways
While neither directly affects the other, the two do affect each other indirectly.  Having a strong, fundable foundation can help the pendulum swing your way when it comes time to make a grant decision.  By the same token, if you win a grant, the funds could help you build strong fundability if used properly. The two together make a winning team for your business. 
The post How Fundability and Minority Small Business Grants Can Build Off Each Other appeared first on Credit Suite.