Archives
now browsing by author
There are two billion transactions made on eBay every day, and most consumers spend only around eight minutes on the site to make those purchases.
That's a vast untapped market if you're not on the site yet.
But, if your focus is on SEO for traditional search engines, you may be hesitant to try this site. However, you're in luck, as eBay is more-or-less a hyper-focused search engine.

That said, eBay SEO isn't identical to Google SEO. That's why, to drive sales on eBay, you must master eBay SEO.
How Does eBay's Search Engine Work?
Cassini isn't quite like Google because eBay users are often coming to buy rather than browse.
As a result, Cassini and eBay try to make the process of finding items, learning about them, and deciding to bid or buy as efficient as possible. While keyword relevance plays a huge role, Cassini also focuses on other factors:
User Convenience: Users need to immediately know what they're looking at, why they should buy it, and what will occur after purchasing. They shouldn't have to dig for any information.
Bang for Their Buck: Prices, including shipping and handling, need to be reasonable for the items sold.
Buyer Satisfaction: Put bluntly, eBay and Cassini care much more about the buyers than the sellers. They need to see you have good reviews and positive interactions with customers.
Why Should You Improve Your eBay SEO?
If you want to make money on eBay, you need to master eBay SEO. Showing up earlier on search engine results pages (SERPs) means more people will see your listing, and the more who see your listing, the more potential customers you have.
10 Tips for Mastering eBay SEO
Becoming a top seller on eBay works differently from other search engines, including many shopping platforms. Below are 10 tips for conquering the world of eBay SEO.
Use Effective Keywords in eBay Listings
Keywords are where eBay and other search engines are the most similar, as keywords are integral to online sales regardless of which site you're on.
Ensure your keywords tell consumers precisely what they're looking at. Use these keywords in both your title and description.
It's not enough to tell your potential customers you're selling, say, watches. You want to figure out what keywords they're using to find your exact item.
This is why you need to do keyword research, including discovering what people are looking for in general and on eBay specifically.
With keyword research tools like Ubersuggest, keyword research for consumers can be a breeze.
If we're looking at watches, Ubersuggest can discover keywords people are using when shopping for them: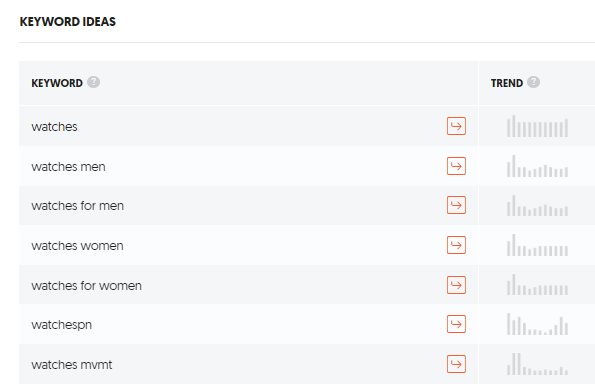 If you want to make eBay a significant part of your business, look into Terapeak. If you're a Basic, Premium, Anchor, or Enterprise store subscriber, you have free access to this. If you're a Starter Store member or independent seller, it's $12 per month if paying annually.
With Terapeak, you can access eBay-exclusive assistance and information, including:
Help with optimizing your listings
Details about what your competitors are doing
Market research trends
Assistance with selling unusual, used, and rarely-sold items
Research about what to do if you want to sell internationally
Tips to improve listings for unsold items
If you search for "watches" on Terapeak, you can narrow your search to fit your eBay listing. After you hit "Research," you'll see examples of actual listings and prices: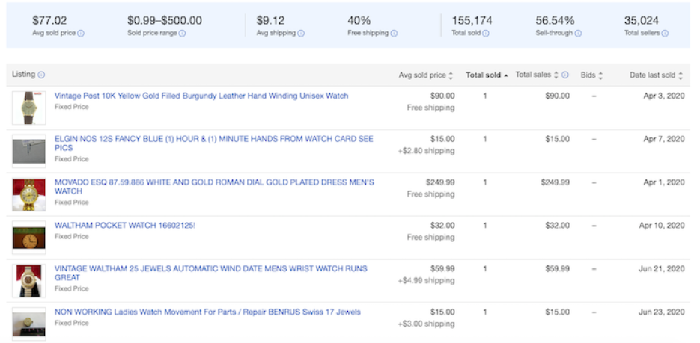 Make Your eBay Listing Title Pop
Your eBay product listing title is a crucial aspect of performing well on the site's SERPs.
If a user searches for "watch" on eBay, they'll initially see sponsored listings, but they'll quickly come across organic listings. Here is one of the earlier organic results for watches:

Well-written titles make your products easier to discover by eBay's algorithm and consumers. These titles are:
Keyword-focused. Make it easy for people who are scrolling to know what you're selling. Don't stuff your keyword in there unnecessarily, though—you only need it to appear once.
Engaging. Don't just put words together as a title describing your product. Make it engaging and easy to read.
Concise. You only have 80 characters to create your title. Keep your title as short as possible without losing its meaning.
It's not uncommon to see listings that go against these recommendations. For instance, the title above could have said something like, "Watch Men New Invicta Watch Scuba Chronograph Stainless Steel Black Dial Watch!!" Everything is there, and the keyword appears a few times—but which title would you click on?
Write Detailed but Concise eBay Listing Descriptions
eBay listings need to be both detailed and to-the-point. To write these, you need to:
Incorporate keywords. Place keywords naturally in your description to make it easy for customers to find your product.
Highlight the benefits. Show customers what they'll benefit from your product. Don't just highlight the specifications—those are in your item details and identifiers anyway.
Be honest. If you sell used items, don't try to cover up any damage. Consumers don't appreciate getting things that aren't in the condition they expected, and this could result in poor reviews and returns—which eBay doesn't like.
Keep it short and simple. Long, complicated descriptions may put customers off.
Write your descriptions for people first. With search engines becoming more advanced, keyword stuffing doesn't work anymore.
Never use invisible text. Not only does this make you look out-of-touch with current SEO trends, but it violates eBay's rules and could get you shut down.
Incorporate Clear and Effective Product Images
All search engines, eBay's included, prioritize good user experience (UX). That's why you must use high-quality images in your product listings.
If you look back at the title example above, think: If you hadn't been told we were looking at the title, would your eyes have gone to the title or the image first?
If possible, hire a professional photographer for your images. But, if you don't have access to a pro, you can take your own photos and still get clicks.
Best practices for taking your own eBay listing photos include:
Neutral backgrounds
Good lighting
Clear images showing all details
No bells and whistles like thumbnails, collages, or borders
Don't hide damage if your items have any. In fact, consider highlighting it in one of the additional photos in your listing, so your customer knows what to expect. You can have up to 12 pictures on an item's page.
Make Your eBay Listings Accessible
Accessibility is a critical component of SEO. Accessibility means making your store easy to use for shoppers who are visually impaired or otherwise struggle with reading text.
Because search engines want to offer a positive UX for all users, they favor pages designed with accessibility in mind. That's why you must pay attention to your eBay store's accessibility.
To make your store accessible:
Use image alt tags. Image alt tags should clearly and briefly describe your visuals so screen readers can tell visually impaired users what's on the screen. Include your keywords in your image alt text for better discoverability.
Use text effectively. Write your descriptions succinctly, using a reasonably-sized font, short sentences and paragraphs, and colors that are easy to read (such as black font on a white background instead of yellow font on a white background).
Use correct grammar and spelling. Not only could poor grammar and spelling make some users click away out of pure annoyance, but misspelled words can be challenging for folks using screen readers, and poor grammar can make things unnecessarily confusing.
Use the Correct eBay Item Category
Choosing the correct category for your eBay listing is essential. eBay will suggest a category for you—for instance, it may automatically select "wristwatch" if you type in "watch" for your listing. But, if you're selling a pocket watch, this will confuse buyers and the Cassini algorithm if you don't fix it.
You can add a second category if you think your item would do well in more than one. This costs a bit of money but may be worth it. For instance, if I'm selling a wristwatch from 1945, I could select the following:

This way, I appeal to people searching for wristwatches and people looking for vintage watches.
Fill Out Item Details and eBay's Unique Identifiers
In addition to writing a description, add item details using eBay's dropdowns and checkboxes. These help eBay figure out what you're selling.
Use as many unique product identifiers as possible. According to eBay, unique product identifiers help the algorithm match product listings to queries faster. They also help your products get greater visibility.
eBay recently began requiring certain product identifiers on specific types of items. For this mandate to apply, the products must be new or manufacturer refurbished—though you can (and should) include the information for items outside these parameters if you have it. The required identifiers are:
Brand
Manufacturer Part Number (MPN)
Global Trade Item Number (GTIN)
This Invicta watch above has a ton of product identifiers:

The UPC is the GTIN; the model is the MPN.
While adding unique product identifiers may seem like a pain, it goes a long way in boosting your eBay SEO. Plus, they keep you from having to type every little thing out in your product description. Some crossover is fine, of course.
Provide Stellar Customer Service
Store ratings and customer complaints heavily factor into how high you rank in eBay's SERPs.
The first step in providing excellent customer service is to frontload information. Be very clear about shipping, returns, and product information in your listings. This includes letting them know your hours of operation (i.e., when you're able to respond to messages) and the days on which you ship. Your customers should have zero surprises in store.
If a customer or potential customer contacts you with questions, answer quickly. Further, if you're getting the same question multiple times, update your listing so it's answered within the description.
Handle complaints and concerns with your best "customer service face" on. When issues arise, you can still earn a positive review if you handle things quickly and politely.
While eBay is more customer-focused than seller-focused, they won't leave you hanging if you have an issue. Their Seller Help team can assist you with troublesome buyers, returns, and more.
Just like with any other site that has reviews, actively encourage your customers to write them—though you can't do this in your listings or offer free stuff or money in exchange for a good review.
Open an eBay Store Account
Every eBay seller needs an account, but not everyone needs a store account. There are tons of individual sellers on the site, trying to empty their houses of unneeded items or selling things at a small scale. But, if you're using this as a major revenue source, get a store account.
If you used eBay a while back, you might remember having an "About Me" page that allowed you to give consumers a ton of information. eBay eliminated that in 2014. Nowadays, the information you can provide customers on your store description is pretty limited. Let's look at the store page for Adidas: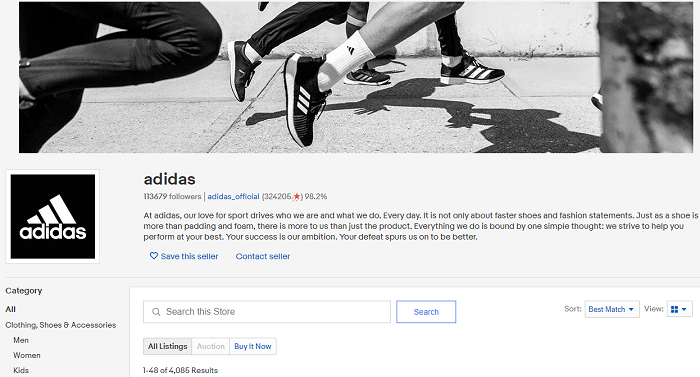 An image, logo, and brief description—that's all you can include. You'll notice they don't have a link to the official Adidas site. eBay doesn't allow external links except in limited cases, and this never includes links to other stores. You can't even have a website typed out but un-clickable (on your store or in a listing) or as your username.
However, a store page may be worth the money if you sell at a high volume. eBay Store subscribers get:
Free listings and discounted fees on sales
A traffic boost
Listing optimization tools
Easy "out of office" capabilities
Terapeak access at no cost
Promotions Manager access
Business services discounts
Subscriptions vary in prices ($4.85/month for Starter through $2,999.95 per month for Enterprise subscriptions) and perks.
Spring for Promoted eBay Listings
If you want to ensure you appear early in SERPs, you can pay for promoted listings.
When I searched for "Watch," 14 out of 50 listings on page one of the results were sponsored. Somewhat uniquely, they were sprinkled throughout, making them appear more like standard items. Sponsored listings also appeared on subsequent pages.
Promoted listings' visibility is an average of 36% higher than standard listings. And these aren't pay per click—you aren't charged until a purchase is made.
Successful (or unsuccessful) promoted campaigns can affect your overall rankings in the long run.
Conclusion
One of the best ways to drive sales on eBay is to make your products more visible than those of your competitors.
That's why you must employ these eBay SEO tips.
Whether you're planning on launching your store or already have one, pay attention to search engine optimization, and your sales could soar.
Which eBay SEO tips have you used to improve your rankings?
The post 10 eBay SEO Tips to Drive Sales appeared first on Neil Patel.
The long predicted impending recession is here.  Now it's time to figure out how to survive.  Equity crowdfunding recession investing could be a viable option.
How Equity Crowdfunding Recession Investing Could Be Your Ticket Out
I am sure you are thinking, "Your ticket out of what?" The answer is, "Your ticket out of the recession."  Everyone hopes to escape unharmed, and few will. Even if you get out with a few bumps and bruises, equity crowdfunding recession investing can offer just enough padding to help you avoid any broken bones.  
The number of US banks has been decreasing slowly for a quarter of a century, as is seen from consolidation in the market.  Also, deregulation in the 1990s decreased barriers to interstate banking. See: https://www.fundera.com/blog/happened-americas-small-businesses-financial-crisis-six-years-start-crisis-look-back-10-charts.
Too many assets in larger financial institutions is a problem for local business owners. Big banks are less likely to make small loans. During recessions, financial institutions end up being more cautious with financing.
In short, recessions are a fact of life, and when that time comes, as it now had, banks hold on to their money much more tightly.  This is why equity crowdfunding recession investing is not only a legitimate option, but maybe even a necessary option.
Hit the jackpot and weather any recession with our best webinar and its trustworthy list of seven vendors who can help you build business credit. 
Why Crowdfunding?
Crowdfunding has become all the rage and it's no wonder. It's pretty much free money that you don't have to repay, and you can get these funds without having to give up any ownership or control over your startup company. In addition, there is less hassle than with traditional financing.
Real Estate crowdfunding is different from startup crowdfunding.  It's the same general idea, but there are a few tweaks for the industry.  You need to know more about real estate investing first however, before you can start to think about equity crowdfunding recession investing. 
Types of Real Estate Investments
There are a couple of different types of real estate investments.  Which one works best for you will be an individual decision, but when it comes to equity crowdfunding recession investing, here is what you need to know about each. 
Residential Real Estate
There are two types of residential real estate investments. You can invest in property to re-sell for a profit, or you can invest in rental property. 
Property for resale typically refers to house flipping, which is tricky. You have to find a home in a location that will sell. There has to be a balance between the work that needs doing and the resale price. A lot of things have to fall into place. Still, many people make a successful living flipping houses. 
Rental investments include either single family homes, apartment buildings, or duplexes. Improvements may be necessary depending on the situation. It is important to be sure any improvements actually add value however. There is a point where you will not be able to get the cost of improvements back through rental income. 
Commercial Real Estate
These are commercial real estate investors that purchase property for commercial use. These are the people building shopping centers, strip malls, and buildings for businesses. Most often they are companies rather than individuals.
The companies still need funding for their real estate projects. Thanks to the JOBS Act of 2012, they have a new way of getting that funding. It not only helps them, but it also lets individuals enjoy the benefits of commercial real estate investing. It may not sound like much, but previous to this it was very difficult for individuals to break into commercial real estate investing.  The problem was the high cost. What is this awesome new dream come true you ask? That would be equity crowdfunding for real estate investors. 
How to Choose Your Real Estate Investments
Hit the jackpot and weather any recession with our best webinar and its trustworthy list of seven vendors who can help you build business credit. 
Location Not Only Matters, it is VITAL
You have to consider the location of the property when making your investment decision. Flipping a house that is in an area no one is buying in is not a good idea. Even the most amazing house in the world won't sell if it is in a bad area.  Locations high in crime, in the floodplain, or some other less than desirable area are not good ideas. Even if it does sell, the price will likely have to be so low you see a loss.
Be Consistent
To make real estate investing work for you, find your niche and stick to it. If you are going to flip houses, flip houses. If you are going to be a landlord, do that. Commercial property investment your thing? Stick with it. 
It is almost always impossible to do everything, and it is impossible to do everything well. Pick one area of real estate investment and stick to it. 
Know Your Options
While equity crowdfunding recession investing is a legitimate option, you can't know if it is right for you without knowing all the options.
What are your funding options? You can self-fund, which isn't possible for most. In the past, the only other option was financing. There are plenty of real estate lending products available from various sources. 
Thanks to the JOBS ACT of 2012 however, there is now a new possibility on the list. That is equity crowdfunding recession investing for real estate. 
How Does Equity Crowdfunding Recession Investing for Real Estate Work?
To understand how this funding option works, you need to understand how crowdfunding itself works. With the JOBS Act of 2012, small businesses gained relief from a lot of requirements in place by the SEC. These requirements held many businesses back. 
The official title is "Jump Start Our Businesses Act of 2012." By design, it relieves small businesses of many of the strict requirements put forth by the SEC. President Obama signed it on April 5, 2012.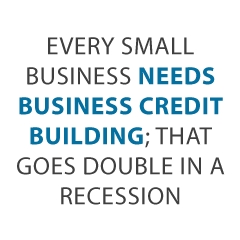 It releases some restrictions on raising capital, including allowing small businesses to go public with less than $1,000,000 in annual revenue. It also increases the validity of crowdfunding for both startup and real estate investing.
 The Act allows for open investing options that do not require investors to register with the SEC. This is true as long as they meet certain guidelines. Thus, crowdfunding platforms were born. For entrepreneurs looking to "kick start" their business idea, you now see sites such as Kickstarter and Indiegogo. 
These sites allow individuals to post a business idea and accept investments.  These can go as low as $5 and as high as, well, the sky 's the limit. In return, investors receive some sort of reward. It may be a some of the profits, a free product, or any number of things. It is often a reflection of the level of investment. Today there are tons of crowdfunding platforms all over the internet. 
Equity Crowdfunding Recession Investing for Real Estate
Though similar to crowdfunding for small businesses, it isn't exactly the same. There isn't a need for perks or rewards for investing usually.  Additionally, there isn't usually a lot of campaigning. Most of those that list on real estate crowdfunding sites are commercial real estate businesses. They are seeking funding for their projects.  Investors choose the ones that they feel will offer the greatest returns for their budget.
Anyone can invest in a commercial real estate portfolio.  It is similar to investing in a stock market portfolio. Then they can enjoy the returns without actually buying an entire piece of commercial property. 
This is how commercial real estate investors can raise equity and avoid a loan. At the same time, individuals can enjoy the benefits of commercial real estate investing for as little as $500. 
Top Sites to Find Equity Crowdfunding Recession Investing for Real Estate
There are many sites that offer equity crowdfunding for real estate investors, even in a recession. These are just a few. It will take some research to figure out which one will work best. When deciding, be sure to take into account ease of use and the lowest possible investment level.  If they do not offer an investment option that will fit your budget, there is no need to waste your time.  
Crowdstreet
 The options and training with Crowdstreet are what make it top notch. You can choose from portfolio or direct investing.  It is easy to make decisions with confidence because they offer a lot of training material for investors.
 The lowest investment for portfolios are $25,000, but the minimum for direct investing varies.  
RealCrowd
The best part about RealCrowd is that you can browse offerings before you sign up. The information includes minimum investment and average returns. This allows for a lot of the decision making to happen before you even log in. You can know before you even create an account if this site is for you, or not. 
Fundrise
Fundrise is a great starter site to break into the world of equity crowdfunding for real estate investors. The number one advantage of this site is that the minimum investment is $500. They also have lower fees than many other sites. 
 There are a lot more sites that have a wide range of options and advantages. It would definitely be worth it to take some time to look at them and see which one will work best for you. This is true whether you are a company seeking funds or an individual looking to invest. 
Remember, individual crowdfunding sites can change terms and details without notice.  Be sure to go to the site directly for the most up-to-the-minute information.
Equity Crowdfunding Recession Investing Offers Plenty of Benefits
On the property owner's side, there are many benefits. The top one is the ability to raise funds without debt. This is the same reason crowdfunding is a popular way to fund a small business startup. It isn't free money. There are fees and profit sharing involved, but it is often substantially cheaper than debt.
For individual investors, it is a great alternative option to stock market investing. The returns are typically larger and more consistent. The minimum investment can be very manageable. Those sites that have a higher minimum investment are options for investors looking to cash out current investments or retirement funds. They can try out a new option. 
More Equity Crowdfunding Recession Investing Tips
Be Honest
Always be honest. Lying and cheating never pays. Much of real estate investing depends on referrals. You will not get referrals if you do not practice integrity in your business. 
 If you are a landlord, be a good one. If you build commercial property, don't cut corners. The same thing applies if you are flipping houses. Do not accept bad work to save money. Make sure your contractors do the best work they can so that buyers, investors, and renters get what they pay for. 
Keep Up with the Industry
Ignorance is not an excuse. Continue to educate yourself on real estate market trends, housing trends, and more. 
Hit the jackpot and weather any recession with our best webinar and its trustworthy list of seven vendors who can help you build business credit. 
Do Market Research
Speaking of the market, you need to know it inside and out at all times. You should be intimate with it. Read articles, watch videos, and do whatever you can to keep up with  your corner of the market. 
A Legitimate Option
Equity crowdfunding recession investing can open up a whole new world for many. Pretty much anyone can earn a nice passive income. Real estate investors have an alternative funding option, and it is often more manageable than financing. 
If there is a gap, there are plenty of other options still available. Many lenders offer real estate investment loan products with credit score requirements as low as 600. Interest rates vary, and due to the nature of the industry, terms are typically 13 months to two years. 
 If you are looking for financing to supplement your equity crowdfunding recession investing, be sure to shop around, the same as you would shop around for a crowdfunding site. Do your research so you can choose the best option or combination of options for your needs.
The post Equity Crowdfunding: Recession Investing is a Legitimate Option appeared first on Credit Suite.