Archives
now browsing by author
The world of business loan companies is full of predatory lenders.  If you are desperate for business funding, it can be easy to take the bait and fall into their trap. You need to know how to tell predators from legit creditors, especially if you need to veer away from traditional financing.  You may think you know what to look for, but there are some predatory secrets that a lot of business owners are not privy to. 
How to Avoid Predatory Lenders When Looking for Business Loan Companies
It can be helpful to work with a business credit expert. Not only can they steer you toward responsible lenders, but they can also help you choose the type of funding that will work best for your needs.  A good one will help you build business credit at the same time.
Still, you need to know the signs of a predatory lender for yourself.  If you do not, you will not even be able to tell if you are working with a good business credit expert, or not.  
Signs of a Predatory Lender
Can you tell the difference between legit creditors and predatory lenders? 
According to Investopedia:
"Predatory lending benefits the lender and ignores or hinders the borrower's ability to repay a debt. These lending tactics often try to take advantage of a borrower's lack of understanding concerning loans, terms, or financial literacy."
Predatory lending when it comes to business loans is becoming an increasingly prevalent problem
How do you keep yourself from wading off into shark infested waters?

Find out why so many companies use our proven methods to get business loans. 
Avoid Business Loan Companies That Focus on Monthly Payment Rather Than Actual Loan Amount
They may insist on one large payment at the end of the term with only interest payments being made each month until that point. This is known as a balloon payment. In business lending, this can be useful if you are waiting on large sums of money at the end of the contract to repay the loan, so it isn't necessarily a deal breaker. However, you do need to know that your payments are only paying interest and not reducing principal.
Recognize if this is really the type of loan that you need. Lenders should always be willing to disclose your total loan amount and terms. You should not have to beg for this or search for it. Lenders that focus only on the payment may be sketchy.
There are many things they can do to make a monthly payment lower, like extending the loan period, adding a large payment at the end (a balloon payment), or making adjustments to loan terms. All of these things can make your monthly payments look low, while in reality you are getting stuck with a bad loan. 
Note that while a balloon payment should be an automatic deal breaker, insistence on a balloon payment is an extra red flag. 
Good Business Loan Companies Will Not Add Unnecessary Extras Without Your Knowledge
Another common practice of predatory lenders is adding extras onto the loan. These are usually things the borrower does not need. Furthermore, the borrower will not even know they are there. The most common "extra" seems to be insurance products that do not offer any benefit.
Business Loan Companies and Confessions of Judgement
New York plays a unique role in the world of predatory lending. Understanding this can help you understand if you are about to become the prey. It all comes down to a confession of judgement. If a borrower signs a confession of judgement, they are basically agreeing to lose in a court battle if there is a dispute about repayment.  Many cash-advance companies, which make up a large faction of predatory lenders, have their borrowers sign one of these.
New York state law is friendly to this type of contract. Regardless of where a loan takes place, it may include a "New York confession of judgement." 
This could also mean you are agreeing that any lawsuits will be handled in New York state. That could greatly increase expenses if you do not live near there.  If you see one of these in your loan documents, do not sign it.  It is of no benefit to you. It only benefits the lender.

Find out why so many companies use our proven methods to get business loans. 
Don't Accept Punishment for Early Payment
Prepayment penalties should definitely be a red flag.  Early payment is good, period.  Even though the lender may lose some interest, they should not be too opposed to early repayment. By itself, it should not be the reason you do not take a loan. But it should make you continue with caution and look for other red flags. 
Good Business Loan Companies Do Not Have to Seek the Weak 
Business loan companies that specifically seek out underserved populations, such as minorities and immigrants, and those with bad credit should be considered carefully. This may include contacting business owners that fit into these types of categories directly, or targeting them with marketing campaigns designed for them specifically.  If the focus is meant to make them think they are getting a great deal because they are in an underserved market, it could be sketchy.  While there are programs designed to help serve underserved populations, if something seems too good to be true, it likely is.
In fact, those that fall into these categories are more likely than others to fall prey, according to a 2015 Center for Responsible Lending Report.
A Good Business Loan Company Will Not Start With a Bad Deal
Some predatory lenders will try to earn trust by admitting they are offering a bad deal, then promising to fix it in the future. They claim they will allow for a refinance that will be a better option. Don't fall for it. A bad deal is a bad deal.  Just walk away. 
Loan Flipping is a Classic Move for Predatory Business Loan Companies
This  is not the same as house flipping. Flipping a house can be very profitable. Loan flipping is actually a classic predatory lending tactic. When a predatory lender sees that you are struggling, they will offer a refinance. However, you end up paying points and fees again.  As a result, before it is over, you end up owing more than your original loan. Sometimes you may end up owing even more than your collateral is worth. It is a vicious cycle, and it can bury you quickly.

Find out why so many companies use our proven methods to get business loans. 
The Responsible Business Lending Coalition
This is a network of nonprofit and for-profit lenders, investors, and small business advocates. They have a common commitment to innovation in the small business lending industry. They also have serious concerns about the increase of irresponsible small business lending. 
In 2015 they drafted the Small Business Owners Bill of Rights.  When searching for a small business lender, look for those that have signed this.  There are many members of the Small Business Lending Coalition.
Here are a few examples: 
What is the Easiest Way to Avoid Predatory Business Loan Companies? 
Look for help when you can find it. Working with a company that specializes in helping small businesses find the funds they need can help you avoid predatory lenders. For example, Credit Suite works only with reputable lenders. With our Credit Line Hybrid and many other products, we connect businesses with lenders that we know to be safe to work with.  Not only that, but we help you assess your fundablity at the same time, and work with you to figure out how to best fill in your business's fundability weaknesses. If business credit is an issue, we can help you build that too!  The time to take action is now, before you look for business loan companies. Don't take the chance of falling prey.
The post How to Recognize Predatory Practices in Business Loan Companies, and How to Get Help appeared first on Credit Suite.
Getting a loan to buy and existing business is a somewhat different animal than getting a regular business loan.  There are plenty of options, but it can take some careful consideration and research to figure out which option will work best for you.  What's your best option for a business loan to buy a business? 
How to Get a Business Loan to Buy a Business Regardless of Credit
It's also important to know that, even if your credit isn't the best, you can still get a business loan to buy a business.  It may not be the traditional term loan you probably expect, but you can most likely still get the fund you need. Sometimes, it takes combining a couple of options to get the best funding for your specific needs. 
Business Loan to Buy a Business: Traditional Loans
Traditional loans are a decent first stop when you are trying to figure out how to get a loan to buy a business. If you have good personal credit, you'll have no problem here.  Furthermore, if your credit is good, you will get the best interest rates and loan terms from a traditional loan. 

Credit Line Hybrid Financing: Get up to $150,000 in financing so your business can thrive.
Collateral-based Loans
These are loans that are secured by some asset that you own.  Rates are lower, and your personal credit doesn't have as much of an impact. The bank is taking on less risk due to the fact they can take possession of the asset if you default.  The business you are purchasing can be used as collateral for the loan. However, there are other, outside of the box options, that you can use if needed.  We'll talk about this more later. 
Guarantor Loans
Here's another idea if you do not have or want to use assets as security for a loan, but your personal credit score isn't quite up to par. Ask a friend or family member who has these kinds of assets or a good credit score. They may let you leverage their asset in exchange for a percent of your business. They usually want less of a percent of your company than a venture capitalist would.  
If you are going to get help from friends and family to buy a business, asking them to sign on as a guarantor may be a better option than borrowing from them directly.  That can cause a lot of drama. 
SBA Loans
Qualified borrowers may be eligible for SBA loans.  These are loans guaranteed by the federal government. Yet, funds are distributed through banks. The application process is more involved. However, interest rates are often better.  Typically, minimum credit score requirements are lower than what banks would offer without the government guarantee as well. 
7(a) Loans
This program offers federally funded term loans up to $5 million. Banks, credit unions, and other specialized institutions, in partnership with the SBA, process these loans and disburse the funds. 
The minimum credit score to qualify is 680.  There is also a required down payment of at least 10% for the purchase of a business, commercial real estate, or equipment. The minimum time in business is 2 years. In the case of startups, business experience equivalent to two years will suffice. 
504 Loans
These loans are also available up to $5 million.  Terms range from 10 to 20 years. Funding can take from 30 to 90 days. They require a minimum credit score of 680.  The asset you are financing is the collateral for the loan. In addition, there is a down payment requirement of 10%.  This can increase to 15% for a new business. 
There is also a 2 years in business requirement, or management must have equivalent experience if the business is a startup.

Credit Line Hybrid Financing: Get up to $150,000 in financing so your business can thrive.
Business Loan to Buy a Business: Alternative Lenders
Alternative lenders are lenders that are not traditional banks or credit unions.  These are typically private or peer-to-peer lenders that operate online, though not all operate online. They work better than banks for some because they will usually use other information besides credit score.  As a result, they will often approve loans to borrowers with a lower minimum credit score if they meet other criteria. 
These other criteria could include annual revenue, time in business, average balance in business bank account, and more. 
One popular online lender that works well for funding to buy a business is Lending Club. You can get a quote in less than 5 minutes, and funds are available in as little as 48 hours if approved. There are no prepayment penalties. Loans go up to $300,000 and you need a minimum credit score of 620.  Of course, details like this change frequently, so be sure to check with any lender directly for the most up-to-date information on rates and fees. 
Lending Club is only one option. There are many out there, but you have to be careful.  There are some great lenders, but there are also some predatory lenders in this industry. It can be hard to tell the difference. To ensure you are working with a reputable lender, consider working with a business credit expert. They can help you find the best lender with the best products for your needs. They can also help you figure out what you can improve to get the best rates and terms possible.  This may include building business credit, or improving fundability some other way. 
Business Loan to Buy a Business: Rollover for Business Startups
This is a form of collateralized business loan to buy a business that uses your existing 401(k) or IRA.  This program uses IRS proven strategies. You will pay no tax penalties, and you still earn interest on your 401(k). Rates are low, and this option usually has a quick closing and funding process as well. 
Credit Suite offers excellent options for this type of 401(k) financing.  You can get up to  100% of current retirement
account value that's "rollable" from a previous employer.  Terms can be up to 5 years, and rates as low as 5.25% (Prime + 2) + $1995 rolled in lender fee. 
There are no credit requirements. If bad credit is blocking you from getting the funding you need to buy a business, this is your chance. 
For the retirement account to qualify, you must no longer be contributing, no longer be employed by the issuing company, and you must have a minimum of $35,000 in the account. Typically all that is required is a copy of the retirement account statement. 
Business Loan to Buy a Business: Seller Financing
If you have trouble getting all the funding you need to purchase a business,  you may be able to get help from the seller. Some sellers are willing to help buyers by bridging the gap with seller financing. Sometimes a seller will sell a business solely on seller financing.  
Typically in these transactions, you pay at least one-third of the sale price up front. Then, the buyer makes payments for the rest directly to the seller, plus interest.  Sometimes, a bank may be willing to lend this lesser amount, the amount of the down payment only, when they will not lend the entire selling price.  
The reason for this is twofold. First, the lower amount means less risk for the bank.  However, banks also see that if a seller is willing to finance, then they have faith that the business will continue to produce a profit into the future.  This is seen as a positive. 

Credit Line Hybrid Financing: Get up to $150,000 in financing so your business can thrive.
Using the Credit Line Hybrid to Help Fund a Business Purchase
That said, here is another option to get funding to buy a business.  The Credit Line Hybrid offers no-doc, unsecured business financing.  You can get  up to $150,000.  In some circumstances,  interest rates can be as low 0% for a limited amount of time. This can be used as some or all of the down payment required for an SBA loan or  seller financing.  The interest rate could be substantially lower than using a bank loan.  Furthermore, you can take on a credit partner.  This is helpful  if you do not meet the 680 minimum credit score or some of the other requirements.   Even better, the Credit Line Hybrid reports to the business credit reporting agencies. That means you build business credit and fund your business purchase at the same time. A business credit expert can walk you through the process. 
Business Loan to Buy a Business: Heloc and HEL
Borrowers who have a minimum credit score of at least 620 and at least 20% equity in their home can usually get a home equity  loan (HEL) or home equity line of credit (HELOC). You can use funds from this type of loan to buy a business, but your house will be on the line.  If you have the option of 401(k) financing or seller financing combined with the Credit Line Hybrid, that may be better.  
You Can Get a Business Loan to Buy a Business Even With Bad Credit
If  you  have great credit you probably are not worried about how to get a business loan to buy a business. However, if your credit is less than desirable, you have probably been wondering how you could ever make it work.  The fact is, there are options, and Credit Suite can help.
The post 5 Ways to Get a Business Loan to Buy a Business appeared first on Credit Suite.
Do you know about establishing corporate credit during a recession? And what about for a startup? As a brand-new company, by definition, you have no or little commercial credit history, so it can be hard. When you ask: What is the credit score of a new company? The answer is– it's usually not so great. But don't worry! Here are some ideas which will work – even as COVID-19 keeps changing our economy.
The good news is, business credit does not rely upon financial institutions. Or economies, or viruses.
Every Entrepreneur Needs to Know About Establishing Corporate Credit
Corporate credit is credit in a corporation's name. It doesn't attach to an owner's individual credit, not even when the owner is a sole proprietor and the sole employee of the corporation. 
As a result, a business owner's business and consumer credit scores can be very different.
The Advantages When Establishing Corporate Credit
Because corporate credit is distinct from personal, it helps to secure an entrepreneur's personal assets, in case of litigation or corporate insolvency.
Also, with two separate credit scores, a business owner can get two different cards from the same merchant. This effectively doubles purchasing power.
Another benefit is that even startups can do this. Heading to a bank for a business loan can be a recipe for frustration. But establishing corporate credit, when done right, is a plan for success.
Personal credit scores depend on payments but also other elements like credit usage percentages. 
But for corporate credit, the scores truly only hinge on if a company pays its bills in a timely manner.
The Process
It's a process  when you're establishing corporate credit. It does not occur automatically. An entrepreneur must actively work on establishing corporate credit during a recession or any type of economic conditions.
Having said that, it can be done easily and quickly, and it is much more rapid than establishing consumer credit scores. 
Merchants are a big component of this process.
Doing the steps out of sequence results in repetitive denials. Nobody can start at the top with corporate credit. For instance, you can't start with retail or cash credit from your bank. If you do, you'll get a rejection 100% of the time.
Corporate Fundability
A corporation must be fundable to credit issuers and vendors. 
Hence, a corporation needs a professional-looking web site and email address. And it needs to have website hosting bought from a merchant such as GoDaddy. 
Also, company phone and fax numbers should have a listing on 411. You can do that here: http://www.listyourself.net. 
Likewise, the company telephone number should be toll-free (800 exchange or the like).
A corporation also needs a bank account devoted only to it, and it needs to have all of the licenses necessary for operating. 
Licenses
These licenses all have to be in the identical, accurate name of the corporation. And they need to have the same company address and telephone numbers. 
So note, that this means not just state licenses, but possibly also city licenses.

Learn more here and get started with establishing corporate credit. Get money even in a recession! 
Working with the Internal Revenue Service
Visit the IRS website and get an EIN for the business. They're free. Choose the type of corporation which works best, i.e. LLC, C-corp, or S-corp. 
A corporate business entity is best to limit risk. And it will make the best use of tax benefits.
A business entity matters when it involves tax obligations and liability in case of litigation.
Establishing Corporate Credit by Starting the Reporting Process
Start at the D&B web site and get a free D-U-N-S number. A D-U-N-S number is how D&B gets any business in their system, to generate a PAYDEX score. If there is no D-U-N-S number, then there is no record and no PAYDEX score.
Once in D&B's system, search Equifax and Experian's sites for the business. You can do this at www.creditsuite.com/reports. If there is a record with them, check it for accuracy and completeness. If there are no records with them, go to the next step in the process. 
This way, Experian and Equifax have something to report on.
Vendor Credit
First you should establish trade lines that report. This is also called vendor credit. Then you'll have an established credit profile, and you'll get a corporate credit score. 
And with an established corporate credit profile and score you can begin to acquire retail and cash credit.
These sorts of accounts often tend to be for the things bought all the time, like marketing materials, shipping boxes, outdoor work wear, ink and toner, and office furniture.
But first of all, what is trade credit? These trade lines are credit issuers who give you starter credit when you have none now. Terms are often Net 30, versus revolving. 
Hence, if you get approval for $1,000 in vendor credit and use all of it, you need to pay that money back in a set term, such as within 30 days on a Net 30 account.
Details
Net 30 accounts need to be paid in full within 30 days. 60 accounts need to be paid fully within 60 days. Compared to with revolving accounts, you have a set time when you must pay back what you borrowed or the credit you used. 
To begin your corporate credit profile the right way, you ought to get approval for vendor accounts that report to the business credit reporting agencies. As soon as that's done, you can then make use of the credit. 
Then pay back what you used, and the account is on report to Dun & Bradstreet, Experian, or Equifax.
Vendor Credit – It Helps
Not every vendor can help in the same way true starter credit can. These are merchants that grant an approval with nominal effort. You also want them to be reporting to one or more of the big three CRAs: Dun & Bradstreet, Equifax, and Experian.
You want 3 of these to move onto the next step, which is retail credit. Here are some stellar choices from us: https://www.creditsuite.com/blog/5-vendor-accounts-that-build-your-business-credit/ 
 Accounts That Don't Report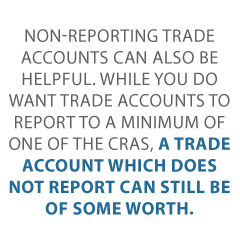 Non-reporting trade accounts can also be helpful. While you do want trade accounts to report to a minimum of one of the CRAs, a trade account which does not report can still be of some worth. 
You can always ask non-reporting accounts for trade references. Also credit accounts of any sort ought to help you to better even out business expenditures, consequently making budgeting simpler. These are providers like PayPal Credit, T-Mobile, and Best Buy.
In particular, during a recession, it can only help you more, the faster you build corporate credit. Adding trade references will help to speed along the process.
Retail Credit
Once there are 3 or more vendor trade accounts reporting to at least one of the CRAs, then move onto retail credit. These are companies like Office Depot and Staples. 
Just use your Social Security Number and date of birth on these applications for verification purposes. For credit checks and guarantees, use the business's EIN on these credit applications.
Fleet Credit
Are there more accounts reporting? Then progress to fleet credit. These are businesses such as BP and Conoco. Use this credit to buy fuel, and to repair, and take care of vehicles. Only use your SSN and date of birth on these applications for verification purposes. For credit checks and guarantees, make certain to apply using the company's EIN.

Learn more here and get started with establishing corporate credit. Get money even in a recession!
Cash Credit
Have you been responsibly handling the credit you've up to this point? Then move to more universal cash credit. These are businesses such as Visa and MasterCard. Just use your SSN and date of birth on these applications for verification purposes. For credit checks and guarantees, use your EIN instead.
These are usually MasterCard credit cards. If you have more trade accounts reporting, then these are in reach.

Learn more here and get started with establishing corporate credit. Get money even in a recession!
Monitor Your Corporate Credit
Know what is happening with your credit. Make certain it is being reported and address any errors as soon as possible. Get in the habit of taking a look at credit reports. Dig into the particulars, not just the scores.
We can help you monitor corporate credit at Experian and D&B for 90% less than it would cost you at the CRAs.
At Equifax, you can monitor your account at: www.equifax.com/business/business-credit-monitor-small-business.

Update Your Record
Update the details if there are mistakes or the details is incomplete. At D&B, you can do this at: https://iupdate.dnb.com/iUpdate/viewiUpdateHome.htm. For Experian, go here: www.experian.com/small-business/business-credit-information.jsp. So for Equifax, go here: www.equifax.com/business/small-business.
Fix Your Corporate Credit
So, what's all this monitoring for? It's to challenge any problems in your records. Errors in your credit report(s) can be taken care of. But the CRAs normally want you to dispute in a particular way.
Get your business's PAYDEX report at: www.dnb.com/about-us/our-data.html. Get your company's Experian report at: www.businesscreditfacts.com/pdp.aspx?pg=SearchForm. And get your Equifax corporate credit report at: www.equifax.com/business/credit-information.
Disputes
Disputing credit report mistakes typically means you send a paper letter with duplicates of any proofs of payment with it. These are documents like receipts and cancelled checks. Never send the original copies. Always send copies and keep the originals.
Fixing credit report errors also means you specifically detail any charges you dispute. Make your dispute letter as understandable as possible. Be specific about the problems with your report. Use certified mail to have proof that you sent in your dispute.
Dispute your or your company's Equifax report by following the instructions here: www.equifax.com/small-business-faqs/#Dispute-FAQs. 
You can dispute inaccuracies on your or your business's Experian report by following the directions here: www.experian.com/small-business/business-credit-information.jsp. 
And D&B's PAYDEX Customer Service telephone number is here: www.dandb.com/glossary/paydex.
A Word about Establishing Corporate Credit
Always use credit sensibly! Never borrow beyond what you can pay off. Keep an eye on balances and deadlines for payments. Paying on schedule and fully does more to boost corporate credit scores than just about anything else.
Growing corporate credit pays. Good corporate credit scores help you get loans. Your lender knows the company can pay its financial obligations. They understand the corporation is authentic. 
The corporate EIN attaches to high scores and lending institutions won't feel the need to require a personal guarantee.
Takeaways for Establishing Corporate Credit in a Recession
Corporate credit is an asset which can help your corporation for many years to come.
The post Establishing Corporate Credit in a Recession appeared first on Credit Suite.