Archives
now browsing by author
It may seem that trying to establish business credit in a recession is too little too late. It is definitely better to have strong business credit before a recession hits.  However, if you are in the middle of hard economic times and trying to figure out how to survive and even thrive, all is not necessarily lost.  
Also, business credit is a huge part of fundability.  Strong fundability will benefit your business not only now, but long after the recession is over.  
Establish Business Credit in a Recession: Survival Skills and Tips to Ensure You are Make it Off of Recession Island Alive
Becoming a business owner during a recession can feel much like being dropped into an episode of a survival reality show.  Add in the COVID-19 pandemic and the illusion becomes even closer to reality. Everyone is struggling to hang on. The competition is fierce.  You can only hope you will not be voted off. If you do not already have strong business credit in place, you may think the situation is hopeless.  Yet, it is possible to establish business credit in a recession. It just may take a little more patience and creativity. Truly, nothing breeds creativity like hard times.
Whether you need it immediately or not, it is vitally important to have separate credit for your business.  This is regardless of your current situation. The need is even more pressing during a recession. 
The first step to establishing business credit in a recession is to set up your business as a separate entity from yourself.  Even if you have stellar personal credit, you do not want it tied up with your business. The reverse is true as well. 
If your personal credit goes south due to recession issues, you do not want your business to suffer.  On the flip side, if your business struggles, you want your personal credit protected as much as possible.  
Hit the jackpot and weather any recession with our best webinar and its trustworthy list of seven vendors who can help you build business credit.
Why Establish Business Credit in a Recession?
If you have found yourself on recession island without business credit, you may wonder how it could possibly help to establish it now.  Here's the thing. No business credit is the same as bad business credit. There is no time like the present. If you do it right, establishing and building business credit during a recession can only help you.  
Business credit can help you access funding to get you through the hard times.  If you need to cover a cash gap brought on by slow-paying customers, business credit can open up options for that.  If you want to purchase inventory in bulk to take advantage of special pricing, business credit can help with that as well.  
These are just two examples of how having strong business credit during a recession can help your business survive.  It's best to have a strong credit score in place before a recession hits. However, if you do not, you can establish business credit in a recession with these tips.
Separate from the Pack: Get Incorporated
While alliances are often formed on survival reality shows, the truth remains that you cannot trust anyone but yourself.  This is especially true in the beginning. Your business needs to stand on its own. 
The first step to separating your business from yourself and your personal credit is to incorporate.   While easiest done on the front end when you first start your business, it is never too late.
 You have a few options.
C Corp

– This is the most definitive separation, but it is also the most complicated and expensive.  Before choosing this option, be certain there are reasons other than establishing business credit that it needs to be done.  If it isn't necessary for some other reason, there are other, less complicated, and less costly options. 

S Corp

– This option basically offers the same separation as the C Corp, but taxes are paid at the personal level, rather than requiring the business to be taxed as well, resulting in double taxation.  It is also cheaper than incorporating as a C Corp. If you aren't required to file as a C corp, this is a good alternative. 

LLC

– forming a

Limited Liability Corporation

results in less liability, thus the name, and offers enough separation to serve the purpose of establishing business credit.  If you are not required to be a C Corp or S Corp, this is the easiest and most cost-effective way to create the separation of business and personal credit needed. 
Throw off Your Old Self: Get Rid of the SSN
Apply for an EIN and stop using your Social Security Number as the identifying number for your business.  Your SSN is tied to you, personally. It is virtually guaranteed that anything connected to it credit-wise will end up on your personal credit reports.  
In fact, if you follow the other steps for establishing business credit and skip this one, it could end up on both reports.  You don't want that. 
The process for applying for an EIN is easy.  The IRS has an online form. As soon as all the information is verified you receive your number.  Typically, this happens almost immediately. 
Separate but Equal: Do Not Mingle Personal and Business Finances
Do not buy into the falsehood that you can run your business expenses through the same bank account as your personal expenses.  When you want to establish business credit in a recession or at any other time, your business needs its own account. Separate finances are vital to separate credit.  
You have to separate expenses for tax purposes anyway.  Having a separate business banking account will only make it easier. 
Hit the jackpot and weather any recession with our best webinar and its trustworthy list of seven vendors who can help you build business credit.
Know Who You Report To: Get a Free DUNS Number
Dun and Bradstreet is the most widely used business credit reporting agency.  They issue each business on file a 9-digit D-U-N-S number.  The application is easy and free.  Once you have that number, you will be even closer to establishing credit for your business separate from your own. 
Be Easily Accessible: Set Up Separate Business Contact Information
Your business needs its own phone number.  It should be an 800 number or from some other toll-free exchange.  This way, when you apply for credit, you can enter contact information that is separate from your personal information.  When information is reported to agencies, sometimes the phone number is an identifying factor. If you and your business share a number, that just decreases the level of separation. 
The same is true for a separate business address, email address, and website.  Your business address should not be the same as your home address.  The business email address should contain the website URL. Do not use a free service such as Yahoo or Gmail. 
Make sure your website is professionally presented and put together.  A poorly put together website or broken links can do more damage than you may imagine.
Be sure you get your business phone number and address listed in the directories under the business name. 
Form Preliminary Alliances: Start with the Vendor Credit 
After you separate your business from yourself, it is time for the next step to establish business credit in a recession.  Do business with starter vendors that will extend invoices with net30 terms. Then, when you pay, they will report the payment to the business credit reporting agencies.  As a bonus, if you are finding yourself short on necessities due to the COVID-19 outbreak, these vendors may have what you need. Toilet paper, paper towels, and cleaning products are all available through some starter vendors. 
Typically, these vendors issue net terms without regard to either your personal or business credit score.  This makes them the perfect way to begin building your business credit score. While there are a lot of these types of vendors out there, some are better to start with than others.  
You want to start with those that offer products you will use in the daily course of business.  They also need to have minimal requirements for net30 terms. Though they do not check credit, some do have minimum time in business or annual revenue requirements.  Others only require that you make a few initial purchases before they will extend net terms.
Three of the most common starter vendors that work great at the beginning of the process include: 
Quill

– offers office and cleaning supplies

Uline

– sells packing supplies

Grainger

– supplies for working outside including tools
Keep Building: Apply for Business Credit Cards 
Continuing to build business credit is the next step after you establish business credit in a recession.  Once you have your name, EIN, separate contact information, and 5 to 7 starter vendors reporting to the credit agencies, you can apply for credit from certain retailers. This step includes specific stores that issue credit to be used only in their stores or on their website.
Shoot for the highest limit, lowest interest, and most rewards options possible.  Perks like cash back and travel points can pay off. 
If you only qualify for a $200 limit and a higher-end interest rate, in the beginning, that is fine.  You may not be able to get the best rate with a business that has a shorter credit history. This is especially true during a recession. However,  if you pay consistently and on time, things should change quickly. 
After you have several store accounts reporting, you can apply for fleet cards.  These include cards from companies such as Shell and Fuelman that you can only use to pay for gasoline and automobile repairs. 
Once you have several accounts reporting from all three of these types of cards, you can apply for credit that isn't restricted by retailer or purchase type.  These include well-known credit cards such as Visa and Mastercard that offer higher limits, lower rates, and better rewards. 
Look for Friends in Unlikely Places: Open Talks with Your Utility Providers
Sometimes utility companies are willing to report payments to credit agencies.  However, you almost always have to ask. The worst they can do is refuse. If they do, no harm no foul.  If they agree, you will only establish your business credit faster. 
Remember, if you are having trouble making utility payments right now due to reduced income related to coronavirus, you should probably wait to do this.  Instead, talk to the utilities about what options they are offering in these circumstances. Some are not counting missed payments against customers for a couple of months.  You have to discuss this with them however, do not assume anything. 
Talk to them all, including telephone, electric, gas, and even internet.  Before you do this, be certain that all of these utilities are in your company name under your separate business contact information. 
Handle Your Business: Make Payments on Time
Of course, the most important part of establishing business credit is making on-time payments.  If this doesn't happen, then you will not like the credit you establish. It's equally important whether you are trying to establish business credit in a recession or in a strong economic climate.  Admittedly, it can be much harder during a recession, especially one induced by a global pandemic. Be sure you take advantage of all the resources available to help you stay current. 
Planning is an important part of this.  Do not overspend, and try not to use credit that you cannot pay back in a timely manner. It doesn't have to be paid off all at once.  You need to make payments to build credit, but be sure you can actually make the payments.
Hit the jackpot and weather any recession with our best webinar and its trustworthy list of seven vendors who can help you build business credit.
You Can Establish Business Credit in a Recession
If you follow these steps, it is possible to establish business credit in a recession.  For new businesses, it can fall into place easily in the normal course of creating a business.  If you have been around a while, it may require some backtracking. A recession may mean it takes longer, but it is more than doable if you follow the steps and trust the process. 
The post Survival of the Fittest: The Essential Guide to Establish Business Credit in a Recession appeared first on Credit Suite.
Please read the whole post as I have a few surprises for everyone and it affects all member types.
A month or so ago, I blogged about the future of Ubersuggest and how there will still be free plans along with paid ones.
But as you probably noticed, the free plan wasn't as generous as you were hoping for.
And with Coronavirus growing at a rapid pace and affecting so many people and businesses, I thought I would do my part and help small businesses out.
Because if I help you grow a bit more without spending money, hopefully, you won't have to lay off any people and, ideally, you will even be able to hire a few more people.
So today, I have made Ubersuggest "more free" and over the next week, it will become even more free.
What does that mean? Let me break it down for you…
You'll have full access to historical data
First off, anytime you want to view graphs on historical data, you no longer have to pay.
For example, if you want to see how popular a keyword was over the last 12 months, all you have to do is type it in and you'll see the data.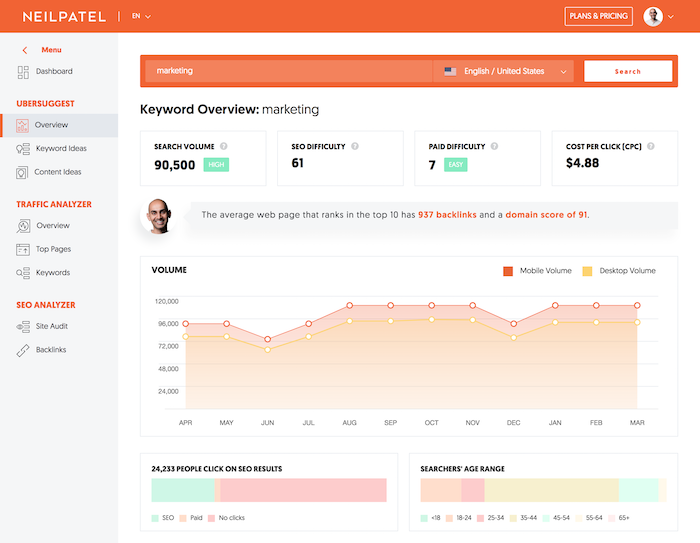 If you aren't logged in, you only see 3 months' worth of data (this is to help stop scrapers and reduce server expenses), but once you log in, which again is free, you'll see historical data.
The same goes for traffic estimates. Anytime you look up a competitor, you'll be able to see their search traffic over the last 12 months as well as how many keywords each site is ranking for during that time period.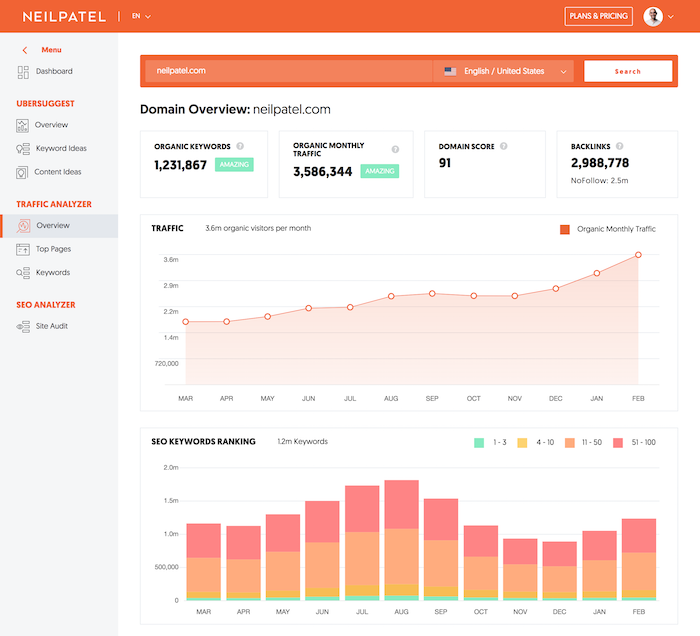 As for backlinks, there is a historical link graph and a new
and lost link graph.
Currently, it is blocked off for only paid members, but in the next 7 days I WILL BE OPENING IT UP FOR FREE.
Sorry for the delay, but it takes my developers a bit of time to make this change.
So, within the next week, this will also be available for
free.
You also have access to more keywords
Have you performed keyword research recently?
If you haven't tried, look up a domain and go to the "keywords" navigation item…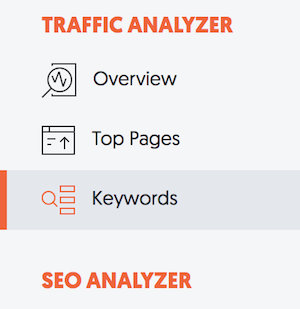 Once you land on that report, you will see a really long
list of keywords. 🙂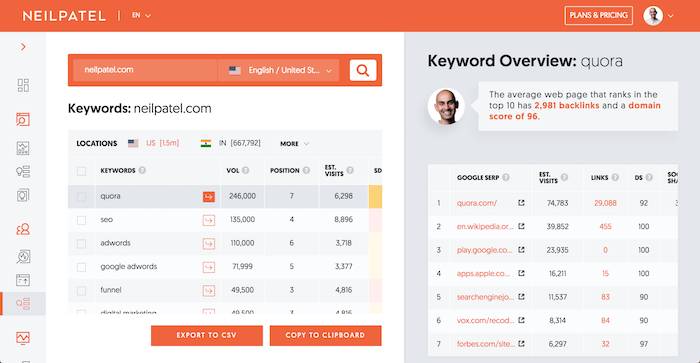 If you aren't logged in, you'll be asked to do so, and this is also free. The reason being is this helps stops scrapers and reduces server costs.
The same goes for the keyword ideas report. This report
gives you more keyword suggestions once you enter in a keyword.
In the navigation menu bar, click on "keyword ideas."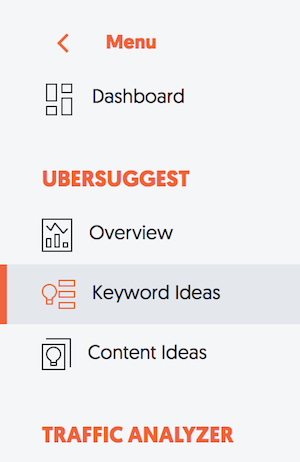 Enter in a keyword and you'll be given a list of other
related terms.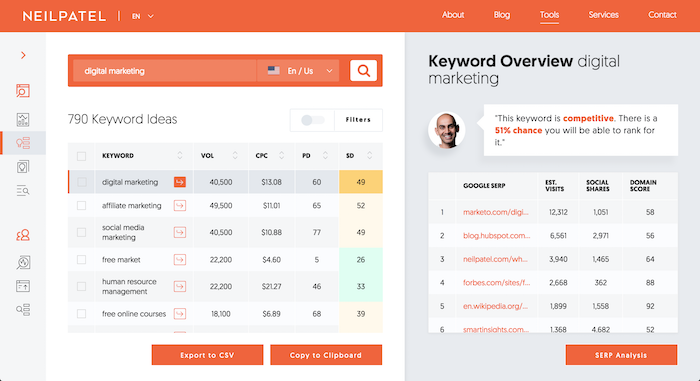 Again, you may be asked to log in, which is free, but that is to reduce scrapers on our end to save on server costs.
More content ideas and top pages
Over the next 7 days, we are also going to make the content
ideas report and the top pages a bit more generous.
We will probably provide four times more results for free on these two reports.
So when you are looking for ideas for your next blog post, you'll see more recommendations.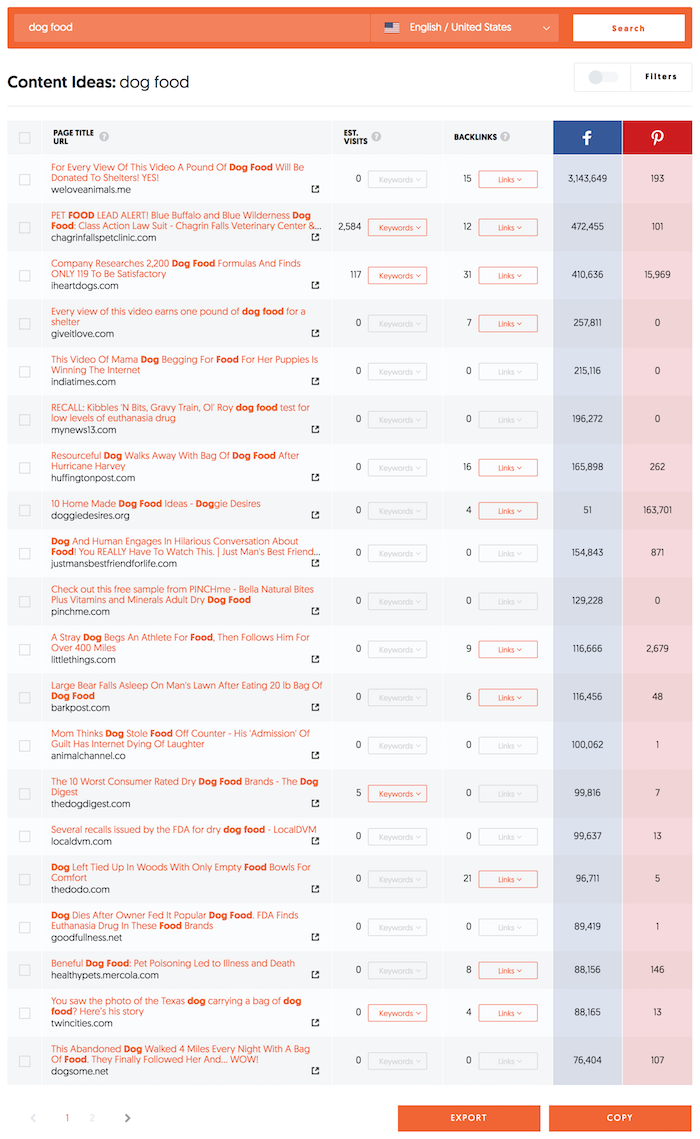 Or if you are looking up a competitor to see which pages drive them the most traffic, you'll want to go to the "top pages" report. In the navigation, click on "top pages."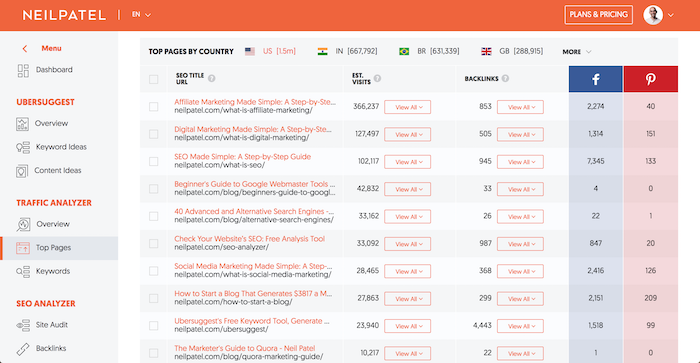 At the moment, you can see some for free, but again in the next week, you will be able to see roughly four times more without having to pay for it.
The changes with the content ideas report and the top pages may be rolled out sooner but by next Tuesday at the latest, they will be ready.
There's also more good news
My goal with Ubersuggest isn't to make money. It is honestly
to break even as my costs are so high. It's well over $200,000 a month. 🙁
These changes will probably make it take 12 months for me to break even instead of 6 months… but hey, that's life. It's the least I can do with all of the businesses out there struggling due to the Coronavirus and all of the people getting sick.
As paid members, you will still get access to more data, be able to create more projects, and crawl more pages to find SEO errors.
But I am going to sweeten the deal for you over the next 30
days as I am adding some stuff that is going to really help you grow your
traffic.
Here's what I am thinking:
Bi-weekly training – every month, my team and I will be holding 2 group calls to help you grow your traffic. The first call will go over an SEO tactic that you need to implement and I will break down how you can do so. The second monthly call will be a QA where anyone can ask me and my team questions and we will answer them. And if you are wondering if I am going to be on the calls, I will. With my busy schedule, I probably will miss some, but I will be on many of the calls training you myself.
Weekly action plan – I'm currently working on an SEO action plan. As a paid member, I will be giving you 12 things to implement (one each week for 12 weeks) to grow your SEO traffic. If you implement them, you'll get more traffic. I know many of you are busy business owners, so I am trying to make things easy and help you get the most traffic with the least amount of work.
On-demand help and support – we are adding live chat to Ubersuggest and the NeilPatel.com site. That way you can talk with my team of SEO experts, ask any questions related to your site or marketing, and we will help you. That way you can get customized one-on-one advice. This is what you'll really need to grow.
Ultimate SEO course – I'm working on an SEO course that teaches you everything about SEO. It's looking like it will be over 20 hours of video training material as well as worksheets, cheat sheets, and templates for you to use to make it easier for you to get results.
Private Facebook group – we have a pretty decent size community, so why not leverage it to help each other grow? We will be creating a private Facebook group or Slack group (not sure which one), were we all help each other grow our traffic.
You'll start seeing this stuff rolled out within 30 days as well as the Chrome extension which is in the final round of testing.
I also have some cool new features that we are close to
adding that I know you will be excited for. 😉
Conclusion
Over the next 30 days, if you are a paid member, you'll be
getting even more.
And if you are strapped for cash, no worries. I am making the free plan even more generous, as you can see above. Just give Ubersuggest a try and you'll see it is already "more free."
My goal has never been to make money with this tool. It's to help small and medium business owners succeed.
I know times are tough right now but try to stay safe by staying indoors more often and practicing social distancing.
So, what do you think about the new Ubersuggest Free plan?
The post Ubersuggest is Now More Free appeared first on Neil Patel.