Archives
now browsing by author
Disclosure: This content is reader-supported, which means if you click on some of our links that we may earn a commission.
In the fight to stay organized, healthcare professionals have an uphill battle.
Billing is more complicated than the human genome.
Government regulations add extra steps to every task.
Decisions are time-sensitive.
Small mistakes can have serious consequences.
On top of all of this, everyone's busy. There's no extra time to search for a patient record or reorder an incorrect prescription.
The best electronic medical records (EMR) systems can simplify a lot of the complex challenges today's providers face.
They are not a silver bullet by any means, but finding a product that works for your practice will make you more efficient today and better prepared for tomorrow.
Here are the top EMR systems that are helping practices improve care, reduce burnout, and make every day less stressful for everyone who walks in the door.
The Top Four Options for EMR Systems
The Different Types of EMR Systems
Not so long ago, EMR systems were the tool for turning paper charts into digital resources. They made patient data easier to access and track.
People still need these functions, but today you are going to see very few standalone EMR systems. Instead, you will find EMR systems will come as part of a larger electronic health records (EHR) system.
EMR vs EHR Systems
Here's the key difference between the two:
Electronic medical records are a digitized version of a patient's chart.
Electronic health records include information from all doctors involved with a patient's care.
With EMR systems, people within the organization could access a patient's chart. With EHR systems, on the other hand, medical records can be shared between multiple providers, labs, and insurers.
This ability to share complete EHRs is critical in today's healthcare environment.
You may already know the reasons why EMR systems are being phased out in favor of EHRs. I'm not going to go in-depth here, though you can certainly read about it if digging into healthcare legislation blows your hair back (see specifically the HITECH Act).
Suffice it to say, new laws and changes in technology have made EHR systems essential.
This can be confusing though.
Many providers still need to digitize and organize the work of their office. EMR systems are perfect for that, and so there's still a lot of online search for the term.
And because people are asking the internet for EMR systems, you'll see vendors offering "EMR systems" and directing you to their EHR, or calling their products EMR/EHR solutions.
Some vendors seem to use EHR and EMR interchangeably. Likely, they will continue to do so as long as people are searching for EMRs.
For all the haziness and craziness of the situation, providers who need an EMR system today are really just looking at two major product categories:
EHR systems
Practice management suites
Let's go through both of these so you can figure out which one is going to help you get your practice to where it needs to be.
I'm still going to talk about EMR systems, but just know that it is going to come as part of a solution with a different name.
Electronic Health Records Systems
EHR systems include everything providers need from traditional EMR systems to take their practice online. They can digitize charts, connect them to schedules, and keep each patient visit as efficient as possible.
For practices looking to go paperless, these products can be extremely helpful. They will help you turn file cabinets into searchable digital drives. This saves so much time for doctors, nurses, and staff who can quickly access everything they need from any device.
In addition to tracking patient records, EHR systems help with:
Billing
Insurance
E-prescribing
Lab work and tests
In this sense, an EHR "follows the patient," giving all parties involved with a patient's care the information they need to keep the process moving forward.
Most often, you will find EHR software offered as one part of a complete array of tools for managing a practice. Vendors like Kareo and athenahealth offer stand-alone EHR systems, which can be a great starting point for making the transition online.
Practice Management Suites
A practice management suite is designed to centralize all of the administrative, clinical, financial, and legal processes within a single platform.
In addition to EMR/EHR capabilities, they include:
Advanced reporting
Patient engagement
Revenue cycle management
Telehealth
As robust as these solutions are, they are not just for large organizations. In fact, these products work really well in the small practice setting.
With limited staff, solo providers simply don't have the time to manage 7 or 8 different tools to interact with each patient. Practice management suites are highly customizable, allowing providers to unify and trim down their workflow to its essential elements.
Small practices also benefit from the rich reporting features.
Dashboards and data visualization tools help providers understand trends in clinical data. This can help practices decrease wait times, improve patient engagement, hit regulatory goals, and better manage risk.
How to Choose the Best EMR System for You
The right EMR system provides support for overburdened staff by streamlining critical administrative tasks.
The wrong EMR system can make things worse.
According to a study from the American Medical Association, the average family physician spends 86 minutes per day doing administrative tasks after they leave work.
This so-called "pajama time" has become an awful reality for every physician stuck using a well-intentioned but poorly-performing EMR system.
And it's not just doctors who are affected by this. Nurses, staff, pharmacists, and—most of all—patients suffer the consequences of inefficient systems.
Just knowing which solutions are popular is not enough. Sometimes a good system is implemented poorly or deployed in a place where it doesn't fit.
So, how do you pick an EMR system that actually benefits employees and patients?
There's no easy answer, but by following these three steps you can start to hone in on the right product.
Understand the features you really need
There are an astonishing number of features included with every EMR solution. Most individuals will never use the majority of them.
It's not surprising, given that these systems are built to work for different types of doctors in a wide variety of clinical settings.
Go into your search with a list of must-have features and functionality. Every product is going to come with digitized charts and patient tracking, but what does that mean for your practice?
In other words, which system has the features that will help receptionists, nurses, doctors, and patients get from A to B? How will each set of features map to your actual patient flows?
A to B is an over-simplification, but also not. One of the most common complaints about EMR systems is that they take too long to accomplish routine tasks.
Ordering a prescription or procedure shouldn't require scrolling through hundreds of irrelevant options. If a solution includes e-prescribing, ensure that it can be customized to actually save time.
The more A to B tasks your EMR system streamlines, the more time all staff have to spend engaging with patients.
Consider a specialty option
A welcome trend is the growing number of EMR systems tailor-made for specialty practices.
I like these because they solve two problems associated with traditional, general-use EMRs.
One, providers get exactly the tools they need instead of a platform freighted with unnecessary features.
Two, each feature has the appropriate depth for the specialty in question. Laser settings are automatically recorded on charts for dermatologists. Orthopedic surgeons can share large-file imaging results with ease.
Instead of workflows and templates designed for the "textbook clinic," these products meet the specific needs of today's specialists.
Prepare for integration and implementation
It's much easier to deploy an EMR system that integrates with the billing, imaging, and other platforms you use.
Some EMRs centralize those responsibilities within a single platform. If that's the route you go, what's it going to be like to move everything from multiple platforms?
The transition from paper to EMR or from one EMR to another is taxing under any circumstances. If the pieces of the puzzle don't fit together, it can be even worse.
To make the best of a difficult challenge, find a vendor who is willing to help bring data from your existing platform to theirs as part of the deployment.
I definitely recommend reading reviews from actual customers about the kind of service they receive during and after implementation. If you are supposed to get a dedicated service rep, how dedicated are they?
It's also not 100% on the vendor. What kind of in-house IT support will make everyone's life easier? Under-budget for this at your own risk.
Upskilling a few "super-user" staff members who can fix issues on the spot will go a long way towards smoothing out the daily frustrations of moving to a new system.
#1 – CareCloud — Best for Growing Specialty Practices
CareCloud is a practice management suite that gives doctors more time to spend with their patients and more resources to invest in their practice.
It unifies the tools providers need to manage every step of the patient relationship in their specific setting. Users can customize charts, reuse order sets, and share content with their colleagues.
The decision support features are quite advanced. This cuts down on the potential for medical errors by immediately flagging issues like dangerous drug combinations and dietary restrictions.
In addition to delivering real-time information at the point of care, quality chart data translates into rich reporting in CareCloud.
Track the performance indicators that matter most, get an instant snapshot of where things stand, and keep an eye on how they evolve.
The EMR and revenue cycle management features work really well together. Providers can use what they discover to improve the quality of patient care and better steward a small practice over financial and regulatory hurdles.
One of the reasons CareCloud works so well is that they offer 24 specialty specific solutions. These deliver tremendous out-of-the-box functionality to providers who would otherwise be stuck configuring their system.
For pain management, physical therapy, podiatry, proctology, pulmonology—and that's just the p's—clinicians and physicians can get to work on CareCloud right away.
Some of the highlights of CareCloud include:
E-prescribing
Real-time patient flows
Patient portal
Drag-and-drop scheduling
Quality initiative reporting
Mobile app
In addition, they make a lot of additional tools available to speciality practices through their Content Store. Find solutions for insurance, billing, scheduling, and record-keeping that are built by other providers in your specific field.
You'll have to get in touch with CareCloud for pricing, whether you want to use Charts—their EHR module—or the entire practice management platform.
It's a great option for speciality practices that are looking to grow. CareCloud will streamline every process—from insurance to patient handoffs—because it has everything a specialist needs with none of the bloat.
#2 – athenahealth — Best for Switching to a New System
athenahealth consistently develops trusted healthcare software for hospital systems, small private practices, and everything in between.
They offer a full practice management suite, athenaOne, which provides EHR, billing, patient engagement, population health, care coordination, and epocrates, a best-in-class mobile app.
Alternatively, providers can use athenaClinicals, the EHR component of athenaOne. Their products work well with many other options on the market, so practices don't have to migrate all their systems at once.
This makes it a great option for practices that see EMR/EHR a key step in the gradual process of future-proofing their entire practice.
One of the biggest draws of athenaClinicals is how easy it is to navigate. It's a really intelligent platform that is continually auto populating patient data and prioritizing important information.
A lot of the platform's recommendations come from trends it picks up on in your network, like routine processes and orders. If patients being seen for one treatment are often prescribed a certain medication, it will be right there without any search required.
Stop struggling with ever-changing procedure codes and insurance protocols. athenahealth monitors federal quality programs and makes best practices available immediately.
Some of the other standout features include:
Secure voice, text, and email reminders
Patient portal
Decision support
Rich reporting
Mobile app
App marketplace
Even though the user interface is great, there is a learning curve because the platform is so deep. In other words, the control that makes athenahealth such a great long-term solution requires a little getting used to in the short term.
I think it's worth it, because it's the last tool staff will ever have to learn.
The platform has proven itself capable of handling the most challenging healthcare IT environments.
Never switch again.
The cost of athenahealth's integrated suite is based on a percentage of monthly collections. The idea is that they partner with your practice instead of locking you in a contract and charging for upgrades.
They do well if you do well. Many companies report that the increased efficiency with billing and collections offsets the costs almost entirely, to say nothing of its impact across the practice.
athena's customer support has a solid reputation and they have a lot of experience helping clients move their data over securely.
If you are stuck on paper or with a system that's not getting it done, athenahealth will do what it takes to make you their next satisfied member.
#3 – SimplePractice — Best for Health and Wellness Providers
SimplePractice is an affordable practice management suite that's delivering value to therapists, dieticians, social workers, and other providers in the mental health and wellness space.
It's a great price for small clinics and private practices that want to centralize charts, notes, appointments, insurance, and billing in one intuitive platform.
There's a patient portal, so both sides benefit from the accessibility. Clients can upload documents and even book their own appointments (on your terms, of course).
Speaking of accessible, SimplePractice empowers providers to meet with their clients, regardless of where they are coming from, or ability to come in.
Every consultation can be managed securely online, thanks to features like paperless intakes, online booking, and HIPAA-compliant telehealth solutions.
Not every community has the local resources in place to serve those who need care. And even when patients have a nearby office, taking time to come in for appointments can still pose problems.
SimplePractice can help providers stay in touch with clients, no matter how busy or far away they are.
It's great for an entire practice, but focusing in on the EMR features, SimplePractice comes with:
Template library
Diagnosis and treatment plans
Searchable ICD-10 codes
Secure text messaging
Appointment reminders
Superbills
Mobile App
There's also customizable patient intake forms and surveys, which allow providers to ask questions in the right way. They can be sensitive, specific, and leave enough room for people to share their thoughts.
They offer plans for solo practices starting at $39/month.
Group practice rates start at $98/month for 2 clinicians. Each additional user costs $39/month.
Features like telehealth and billing are extra charges, as they are with other platforms. On SimplePractice, however, the added costs are transparent—$10/month per user for telehealth and electronic claim filing starts at 25¢ per claim.
Practices that don't need these features, or use something else, aren't stuck paying, and those that need them have a predictable cost at the end of the month.
Predictable, affordable, and complete. That's SimplePractice. Try it free for 30 days.
Their Switching Team will help you import everything and live support is included with every plan.
#4 – Kareo — Best for Independent Practices
Kareo is an all-in-one solution for practice management that's designed to meet the particular needs of an independent practice.
This is their focus. You never have to worry about competing with massive hospitals for their attention.
Kareo isn't hospital software that's been pared down. The platform is a simple set of three integrated modules: Clinical, Billing, and Engage.
There aren't a million components to get the complete system and, more importantly, each part works fine on its own.
If a company just needs a dependable EHR, for example, Kareo Clinical has everything they need.
Charts are easy to read with space for notes. They feel simple, despite the wealth of information you can add. Kareo is optimized for all screen sizes, letting providers prescribe a medication or create a bill in minutes from any device.
The e-prescribing features save providers time and patients money. With Kareo's integrated prescription discounts, doctors can compare prices and find savings for their patients.
They have a lot of great templates and forms that can be customized quickly, plus "same-as-last-time" features that streamline routine documentation.
Other helpful tools include:
Patient portal
Customizable dashboards
Secure messaging
Decision support
Rich reporting
App marketplace
Kareo flowsheets are one of the most useful reporting features, showing doctors a patient's key vitals and lab results over time. This makes it easier to analyze progress and track several aspects of a patient's health at once.
None of these great features take long to master. There are self-service online resources like Kareo University, which many users find helpful.
But you are not on your own. After you sign up, they provide a free Kareo success coach for the first 60 days who will help with transferring and digitizing files.
Their customer support is available via phone, email, and chat to answer all those insurance billing questions.
For independent practices that want an efficient, simple way to manage medical records, Kareo Clinical is going to overperform.
Summary
Providing quality care is hard.
That's the root of the problem when it comes to finding a workable EMR system. Often, people put off switching to a better system because it's such a pain.
Kareo and athenahealth do a lot to make the process easier. Independent practices should opt for Kareo because it's built to fit their needs. For everyone else, athenahealth is a dependable long-term solution no matter how their practice evolves over time.
Looking at speciality practices, CareCloud is going to be the easiest to get up and running. So much of the backend organization has been done already. Templates and forms are ready to go and you don't have to sort through irrelevant options.
For those working in the health and wellness space, SimplePractice is a perfect platform. It's got competitive, predictable pricing and a rich set of features designed to nurture the most sensitive patient relationships.
The post Best EMR Systems appeared first on Neil Patel.
It's a recession phase. You may have a new small business, or are now connected because you invested in one. Or maybe you have suddenly become an owner or a manager. No matter what, here is why you need to separate your commercial and consumer credit. This is especially vital during any recession phase. And yes, that includes during the coronavirus pandemic.
Separate Your Commercial and Consumer Credit and Protect Your Personal Assets During a Recession Phase
Small business credit is credit in a small business's name. It doesn't link to an owner's personal credit, not even if the owner is a sole proprietor and the sole employee of the small business. 
Consequently, an entrepreneur's business and personal credit scores can be very different.
The Advantages When You Separate Your Commercial and Consumer Credit
Given that business credit is distinct from personal, it helps to secure a small business owner's personal assets, in case of litigation or business insolvency. This truly matters most during a recession phase.
Also, with two distinct credit scores, a small business owner can get two different cards from the same vendor. This effectively doubles buying power.
Another benefit is that even new ventures can do this. Going to a bank for a business loan can be a recipe for disappointment. But building business credit, when done properly, is a plan for success.
Consumer credit scores depend on payments but also various other factors like credit use percentages. 
But for business credit, the scores truly merely hinge on if a small business pays its debts on time.
Separate Your Commercial and Consumer Credit: The Recession Phase Process
Building small business credit is a process. It does not occur without effort. A company has to proactively work to build business credit. 
However, it can be done readily and quickly, and it is much faster than developing personal credit scores. 
Vendors are a big component of this process.
Undertaking the steps out of sequence leads to repetitive denials. No one can start at the top with company credit. For instance, you can't start with retail or cash credit from your bank. If you do, you'll get a denial 100% of the time.
Separate Your Commercial and Consumer Credit and Build Small Business Fundability Even in a Recession Phase
A company needs to be fundable to lending institutions and vendors. 
Therefore, a small business needs a professional-looking website and email address. And it needs to have website hosting from a supplier such as GoDaddy. 
In addition, company telephone and fax numbers must have a listing on 411. You can do that here: http://www.listyourself.net. 
Additionally, the company phone number should be toll-free (800 exchange or similar).
A company also needs a bank account dedicated purely to it, and it has to have all of the licenses essential for operating. 
Licenses
These licenses all have to be in the particular, appropriate name of the small business. And they must have the same small business address and phone numbers. 
So keep in mind, that this means not just state licenses, but possibly also city licenses.

Learn more here and get started with building small business credit with your company's EIN and not your SSN. Get money even in a recession!
Separate Your Commercial and Consumer Credit  by Dealing with the Internal Revenue Service During a Recession Phase
Visit the Internal Revenue Service web site and get an EIN for the small business. They're free of charge. Pick a business entity like corporation, LLC, etc.
A small business may begin as a sole proprietor. But they absolutely need to switch to a type of corporation or an LLC.
This is to decrease risk. And it will maximize tax benefits.
A business entity matters when it involves taxes and liability in case of litigation. A sole proprietorship means the business owner is it when it comes to liability and taxes. No one else is responsible.
The best thing to do is to incorporate. You should only look at a DBA as an interim step on the way to incorporation.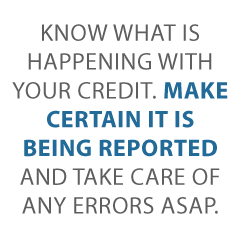 Separate Your Commercial and Consumer Credit and Start Off the Business Credit Reporting Process During a Recession Phase
Begin at the D&B web site and get a cost-free D-U-N-S number. A D-U-N-S number is how D&B gets a business in their system, to produce a PAYDEX score. If there is no D-U-N-S number, then there is no record and no PAYDEX score.
Once in D&B's system, search Equifax and Experian's websites for the small business. You can do this at www.creditsuite.com/reports. If there is a record with them, check it for accuracy and completeness. If there are no records with them, go to the next step in the process. 
In this way, Experian and Equifax have something to report on.
Starter Vendor Credit
First you need to build tradelines that report. Then you'll have an established credit profile, and you'll get a business credit score.
And with an established business credit profile and score you can start to get credit for numerous purposes, and from all sorts of places.
These sorts of accounts have the tendency to be for things bought all the time, like marketing materials, shipping boxes, outdoor workwear, ink and toner, and office furniture.
But first off, what is trade credit? These trade lines are credit issuers who give you starter credit when you have none now. Terms are in most cases Net 30, versus revolving.
So, if you get an approval for $1,000 in vendor credit and use all of it, you must pay that money back in a set term, like within 30 days on a Net 30 account.
Details
Net 30 accounts have to be paid in full within 30 days. 60 accounts must be paid completely within 60 days. Compared to revolving accounts, you have a set time when you have to pay back what you borrowed or the credit you used.
To begin your business credit profile properly, you ought to get approval for vendor accounts that report to the business credit reporting bureaus. As soon as that's done, you can then use the credit.
Then pay back what you used, and the account is on report to Dun & Bradstreet, Experian, or Equifax.
Vendor Credit – It Helps
Not every vendor can help in the same way true starter credit can. These are vendors that grant approval with marginal effort. You also need them to be reporting to one or more of the big three CRAs: Dun & Bradstreet, Equifax, and Experian.
As you get starter credit, you can also start to get credit from retailers. This is to continue to confirm you are trustworthy and pay on time. Here are some stellar choices from us: https://www.creditsuite.com/blog/5-vendor-accounts-that-build-your-business-credit/
Uline
Uline is a true starter vendor. You can find them online at www.uline.com. They offer shipping, packing, and industrial supplies, and they report to Dun & Bradstreet and Experian. You MUST have a D-U-N-S number and an EIN before starting with them. They will ask for your company bank information. Your business address must be uniform everywhere. You need for an order to be $50 or more before they'll report it. Your first few orders may need to be prepaid initially so your business can get approval for Net 30 terms.
How to apply with them:
Add an item to your shopping cart
Go to checkout
Select to Open an Account
Select to be invoiced
Crown Office Supplies
Crown Office Supplies is an additional true starter vendor. You can find them online at https://crownofficesupplies.com. They sell a variety of office supplies and take helping clients seriously. They state, "just starting your business, or maybe have an existing business, but you have a question regarding office supplies… we are here to help!" And they report to Dun and Bradstreet, Experian, and Equifax.
There is a $99.00 yearly fee, though they do report that fee to the business credit reporting bureaus. For other purchases to report, the purchase needs to be at least $30.00. Terms are Net 30.
Here's how to qualify:
Your business entity must be in good standing with the applicable Secretary of State
You must have an EIN and a D-U-N-S number
Business address (it has to match everywhere)
Business license (if applicable)
A corporate bank account
Business must be at least 60 days old
Membership fee is $99 per year upon approval
Apply online.
Grainger Industrial Supply
Grainger Industrial Supply is also a true starter vendor. You can find them online at www.grainger.com. They sell hardware, power tools, pumps and more. They also do fleet maintenance. And they report to D&B. You must have a business license, EIN, and a D-U-N-S number.
To qualify, you need the following:
A business license (if applicable)
An EIN number
A company address matching everywhere
A company bank account
A D-U-N-S number from Dun & Bradstreet
Your corporate entity must be in good standing with the applicable Secretary of State. If your business doesn't have established credit, they will require additional documents. So, these are items like accounts payable, income statement, balance sheets, and the like.
Apply online or over the phone.
Accounts That Don't Report
Non-reporting trade accounts can also be helpful, even in a recession phase. While you do want trade accounts to report to at least one of the CRAs, a trade account which does not report can still be of some value.
You can always ask non-reporting accounts for trade references. And also credit accounts of any sort ought to help you to better even out business expenses, thus making budgeting easier. These are providers like PayPal Credit, T-Mobile, and Best Buy.
Store Credit
Store credit comes from a variety of retail companies.
You must use your Social Security Number and date of birth on these applications for verification purposes. For credit checks and guarantees, use the business's EIN on these credit applications.
Fleet Credit
Fleet credit is from companies where you can purchase fuel, and repair and take care of vehicles. You must use your SSN and date of birth on these applications for verification purposes. For credit checks and guarantees, make sure to apply using the small business's EIN.

Learn more here and get started with building small business credit with your company's EIN and not your SSN. Get money even in a recession!
Cash Credit
These are businesses like Visa and MasterCard. You must use your Social Security Number and date of birth on these applications for verification purposes. For credit checks and guarantees, use your EIN instead.
These are often MasterCard credit cards.
Separate Your Commercial and Consumer Credit and Monitor Your Business Credit
Know what is happening with your credit. Make certain it is being reported and take care of any errors ASAP. Get in the practice of taking a look at credit reports. Dig into the particulars, not just the scores.
We can help you monitor business credit at Experian and D&B for 90% less than it would cost you at the business credit reporting agencies. See: www.creditsuite.com/monitoring.
At Equifax, you can monitor your account at: www.equifax.com/business/business-credit-monitor-small-business.
Update Your Record
Update the information if there are errors or the information is incomplete. At D&B, you can do this at: https://iupdate.dnb.com/iUpdate/viewiUpdateHome.htm . For Experian, go here: www.experian.com/small-business/business-credit-information.jsp . So for Equifax, go here: www.equifax.com/business/small-business.

Learn more here and get started with building small business credit with your company's EIN and not your SSN. Get money even in a recession!
Separate Your Commercial and Consumer Credit and Fix Your Business Credit During a Recession Phase
So, what's all this monitoring for? It's to contest any mistakes in your records. Mistakes in your credit report(s) can be fixed. But the CRAs often want you to dispute in a particular way.
Get your company's PAYDEX report at: www.dnb.com/about-us/our-data.html. Get your company's Experian report at: www.businesscreditfacts.com/pdp.aspx?pg=SearchForm. And get your Equifax business credit report at: www.equifax.com/business/credit-information.
Disputes
Disputing credit report inaccuracies typically means you send a paper letter with duplicates of any proof of payment with it. These are documents like receipts and cancelled checks. Never send the originals. Always send copies and keep the originals.
Fixing credit report errors also means you specifically detail any charges you challenge. Make your dispute letter as clear as possible. Be specific about the issues with your report. Use certified mail to have proof that you mailed in your dispute.
Dispute your or your business's Equifax report by following the directions here: www.equifax.com/small-business-faqs/#Dispute-FAQs.
You can dispute errors on your or your business's Experian report by following the instructions here: www.experian.com/small-business/business-credit-information.jsp.
And D&B's PAYDEX Customer Service telephone number is here: www.dandb.com/glossary/paydex.
A Word about How to Separate Your Commercial and Consumer Credit During a Recession Phase
Always use credit smartly! Don't borrow beyond what you can pay off. Keep track of balances and deadlines for repayments. Paying punctually and in full does more to raise business credit scores than pretty much anything else.
Growing company credit pays off. Good business credit scores help a business get loans. Your loan provider knows the business can pay its debts. They understand the business is authentic.
The business's EIN attaches to high scores and lenders won't feel the need to ask for a personal guarantee. This is particularly helpful during a recession phase.
Separate Your Commercial and Consumer Credit in a Recession Phase: Takeaways
Business credit is an asset which can help your company for many years to come. Learn more here and get started toward building company credit. The COVID-19 situation will not last forever!
The post Separate Commercial and Consumer Credit in a Recession Phase appeared first on Credit Suite.