Archives
now browsing by author
Minority owned business loans are probably different than you think.  Sometimes they are just like they sound, loans for minority business owners. Other times, they are just loans for everyone that work well for minority business owners as well. 
Minority Owned Business Loans Do Not All Look the Same 
Sometimes you can be so busy looking for minority owned business loans specifically that you miss the great options that will work but are not for minorities only.  In a way, these loans are undercover. They are available to more business owners than just minorities. However, they work really well with the challenges that are unique to minority business owners. Here are just a few examples. 
Loans from The Small Business Administration
The Small Business Administration specializes in helping all small businesses. They offer a number of products and resources through SBA programs, not just minority owned business loans.  For the most part, the SBA does not lend money directly. They work through partner financial institutions to guarantee SBA government loans. As a result, they are able to leave the administration of the loans and disbursement of funds to those who do it on a regular basis. That is, lenders and non-profits that are in the communities where the businesses exist. 
SBA 7(a) Loans & 8(a) Business Development Program
These loans are open to all small business owners.  However, if a minority business owner takes part in the SBA Business Development program, they increase their chance of getting this type of loan.  
Honestly, about 80% of SBA loan applications from Hispanic and African Americans are for $150,000 or less.  This is according to the SBA itself.  Surprisingly, these smaller loans seem to be harder to get. Honestly, this is probably because lenders don't make as much money from them.
In fact, the SBA got rid of the fee for loans that are less $150,000 to help with this.

Check out our best webinar with its trustworthy list of seven vendors to help you build business credit. 
SBA Community Advantage Loans
These are to meet the needs of small businesses in neglected markets. That includes minorities. The goal is to get local lenders to increase loans up to $250,000.  This is done by backing up to 85% of the loan amount. The hope is that this helps small business owners who might not be able to get traditional financing. 
SBA Microloan Program
First, loans through this program go up to $50,000.  Secondly, funds come from a third-party lender.  Usually, this consists of nonprofit organizations in the community. Often, they also offer other types of assistance to business owners along with the loan. 
Minority Owned Business Loans: Non-SBA Loans
There are private lenders that offer loans that will meet the needs of minority business owners also, but they are not specifically minority owned business loans.  One such example is Accion.
Accion U.S. Network
Accion offers loans in all states.  Funds are available to the following: 
minorities 

veterans

women

those with disabilities

and low to medium income business owners 
Typically, loan amounts start at $200,000 and go up to $300,000. Also, Accion can put owners in contact with others to help build a network of support.
Comparatively, the minimum credit score for these loans is 575.  In addition, you cannot be 30 days late on paying any accounts.  Finally, you will not qualify if you have late rent or mortgage payments over the past 12 months.
Minority Owned Business Loans That Don't Wear a Mask
In contrast to the above loans that anyone can apply for, some minority owned business loans are exactly what you expect.  They are designed specifically for those in minority groups to aid in overcoming the unique challenges they face in obtaining business funding. 
Union Bank Business Diversity Lending Program
This program from Union Bank offers business loans for minority business owners. Indeed, this one is specifically for minorities. In fact, to qualify, you must be Hispanic, American Indian, Latino, Asian, Alaskan Native, African American, Native Hawaiian, or other Pacific Islander.    
Furthermore, a business that makes up to $20 million could qualify for a loan of $2.5 million.  However, you must be in business for at least 2 years.  Likewise, the business must be at least 51% minority owned.
The National African American Small Business Loan Fund
This is a partnership between JP Morgan Chase and the Valley Economic Development Centers .  It serves small businesses with minority owners that are in low income or medium income communities.  However, only those in New York, Los Angeles, and Chicago are eligible.  
Business Center for New Americans
Presently, The Business Center for New Americans offers minority business loans of $5,000 to $50,000.  They work with immigrants, refugees, women, and other minority entrepreneurs.  The goal is to help minority business owners who have not been able to get traditional financing.  
Camino Financial 
Camino Financial is a lender that operates all online.  They offer minority owned business loans. Conveniently, their entire application process is online.  Microloans range from $5,000 to $50,000.  Additionally, they offer small business loans between $10,000 to $400,000. 
Build Business Credit to Increase Your Chances of Approval with Any Loan
Business credit is a huge piece of overall fundability.  The business credit building process is the same for everyone, minority or not.  When you work through the process, you increase your fundability. That in turn, increases your chances of being able to get funding of all types in the future.  How do you build business credit? 
It Starts with the Foundation
When you set up your business, you need it to have a foundation that will help build fundability and separate it from you as the owner.  Even if you are already in operation, you can take the steps necessary to do this. However, the sooner the better, for a number of reasons. What does it take to build a foundation of fundability? 
Separate contact information
Your business needs its own phone number and address. 
This is free on the IRS website. 
All necessary and appropriate licenses
If you are not properly licensed to do what you do, lenders will not take you seriously.  This step is necessary to being a legitimate business. 
There are many reasons for this.  However, for business credit building the big thing is it further separates your business from you as the owner. 
This is free to get on the Dun & Bradstreet website.  You cannot have a business credit profile with D&B without one. 
Like incorporating, there are many reasons for this.  The main one for building credit building however, is that it further solidifies your business as an entity separate from you the owner. 
This one surprises a lot of people.  These days, if you don't have an online presence you might as well not even exist.  However, a poorly put together online presence is just as bad. Pay for professional design and hosting.  It's worth it.

Check out our best webinar with its trustworthy list of seven vendors to help you build business credit. 
These things are not only necessary for overall fundability, but they are also the first step in the business credit building process, and it is a process.  It takes time, and you have to start at the beginning.  
The Business Credit Building Process
Even though most lenders will still take personal credit into account, separate business credit allows them to judge your business on its own merits.  If they can see that, despite some personal credit issues, business credit is just fine, it may sway them if they are wavering on approving funding. 
In addition, business credit opens up new funding doors that are not available to individuals, which in turn can only help you run and grow your business. 
You Need Accounts Reporting to Your Business Credit Report
The key to this is to get accounts in your business's name that do not really take your personal credit into account.  It may feel like it is impossible, but it isn't. There are a few ways to do it. 
First, vendors you already have a relationship with may be willing to extend credit without a credit check.  If that isn't happening, they might be willing to offer net 30 terms on invoices.  The worst that can happen is they say no.  If they say yes, ask them to report the payments to the business credit agencies. 
Utilities might also report accounts to your business credit.  You already pay utilities, rent, and internet each month.  Ask those providers to report your payments to the business credit reporting agencies.  Make sure your accounts are set up in your business name with your business contact information.  Worst case scenario is that they say no.  It never hurts to ask.
Starter Vendors in the Vendor Credit Tier to Help Build Business Credit
This is the business credit building secret that many business owners are unaware of. We call them starter vendors. These are part of the vendor credit tier.  They are certain companies that will extend Net terms in your business name without a credit check.  After you pay, they will report those payments to the business credit report agencies (CRAs). 
Since they do not check your credit score, it doesn't matter that you do not have one.  Of course, they do have other ways of reducing risk.  They vary by vendor. Below, we have listed a few of these starter vendors to give you an idea of what you are looking for.  
Crown Office Supplies
Crown Office Supplies is a true starter vendor. They sell a variety of office supplies and take helping clients seriously. They say, "just starting your business, or maybe have an existing business, but you have a question regarding office supplies… we are here to help!" And they report to Dun and Bradstreet, Experian, and Equifax.
There is a $99.00 annual fee, though they do report that fee to the business credit reporting bureaus. For other purchases to report, the purchase must be at least $30.00. Terms are Net 30.
Grainger Industrial Supply
Grainger sells power tools, pumps, hardware and more. In addition, they can handle maintenance of your auto fleet. You need a business license and EIN to quality, as well as a D-U-N-S number.
You can apply by fax or over the phone. If you need less than $1,000 in credit, you only need a business license for approval. For over $1,000, you will need trade and bank references.  
If you are just starting out and do not have references, the $1,000 is plenty to get you started building your business credit. 
Behalf.com
Behalf is a way of getting paid through an app.  However, they also offer funding. The more you have your customers pay you through Behalf, the more likely Behalf is to offer you favorable terms when it comes to funding.  
Funding can be through purchase financing or a virtual Mastercard option. Terms run from Net 30 to 180 days, and they report to Dun & Bradstreet, Experian, and Equifax. The fact that they report to all the major credit reporting agencies makes them an extremely valuable tool in building business credit.

Check out our best webinar with its trustworthy list of seven vendors to help you build business credit. 
Then What? 
After you have enough of these types of accounts reporting payments to your business credit report, you should have a strong enough score to move on to the next tier. We call this the retail credit tier.  They offer more traditional credit.  These are credit cards for use at specific stores such as Office Depot or Lowes.  This is also sometimes referred to as store credit. 
After you have several of these store credit accounts reporting, you can apply for cards in the fleet credit tier.  These are gas cards with companies such as Shell and Fuelman.  They can be used for fuel and auto repair and maintenance only. 
Lastly, with accounts reporting from all previous tiers, you should have a score strong enough to apply for cards from what we call the cash credit tier.  Of course, that is only if you have been making payments consistently on time. 
These are traditional credit cards that are not connected to a certain store or type of purchase.  They can be used for anything and everything.  In addition, they often have better interest rates and nice rewards programs. 
Building Business Credit Can Open the Door to Many More Funding Options
Looking for and applying to minority owned business loans is a completely viable option.  However, do not limit yourself. Take a look at other loan possibilities that you may not even realize you qualify for.  At the same time, start working through the business credit building process. Then, you'll have many more funding options available in the future.  The more funding available to you, the faster and stronger you can grow your business.
The post Under Cover: Sometimes Minority Owned Business Loans are In Disguise appeared first on Credit Suite.
When you log into Google Analytics, what do you look at?
Chances are you see something like the image above that shows you how many people are currently on your blog.
Well, that was easy to guess because that's the report Google Analytics gives you once you log in. 😉
But which reports do you look at on a regular basis?
I bet you look at two main reports…
The "Audience Overview" report and the "Acquisition Overview" report.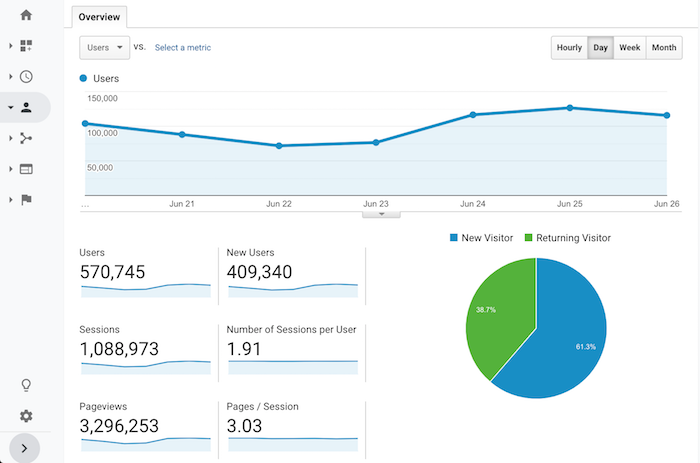 Sure, every once in a while, you may dive into your top pages or the specific organic keywords that drive your traffic. But even if you do that, what are you actually doing with the data?
Nothing, right?
Don't beat yourself up over it because most content marketers just look at reports and numbers and do little to nothing with the data.
If you want to figure out how to grow your blog and, more importantly, your revenue from your blog, there are 7 reports that you need to start looking at on a regular basis.
Here they are and here is how you use them…
Report #1: Cohort Analysis
What do you think is easier to accomplish… get new visitors to your blog or getting your visitors to come back?
It's easier to get people to come back to your blog, yet everyone focuses on new visitors.
I bet less than 99% of your blog readers turn into customers or revenue, so why not focus on getting those people back and eventually converting them?
Before we get into how to get people back to your blog, let's look at how many people are returning to your blog.
Within the Google Analytics navigation, click on "Audience" and then "Cohort Analysis".
Once you land on that report, you'll see a graph that looks similar to this: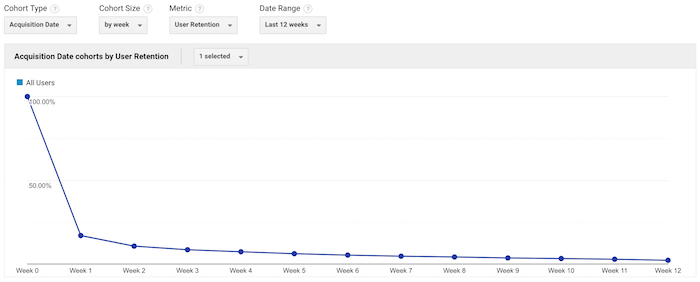 Under the "Cohort Size" drop-down menu, select "by week". Under "Date Range", select "Last 12 weeks".
Once the data loads, you'll see a table that looks something like this: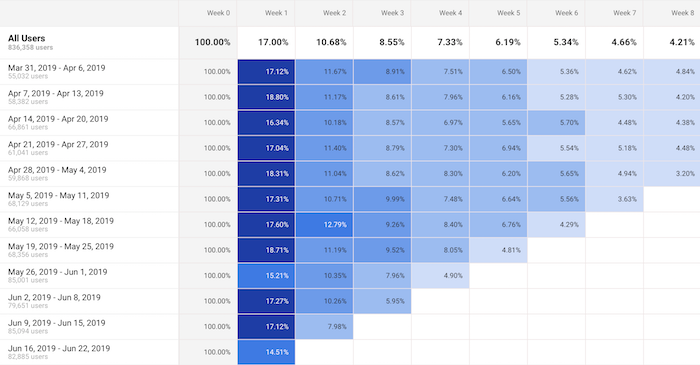 What this table shows is the percentage of your visitors that come back each week.
On the very left it will always show 100%. Then in the columns to the right, you'll see week 1, week 2, week 3, etc.
This shows the percentage of people who come back to your blog each and every week after their first visit.
For example, if this week you had 100 people visit your blog and in the week 1 column, it shows 17%. That means of the initial 100 people, 17 came back. Under week 2 if you see 8%, that means of the initial 100 people, 8 people came back in week 2.
Naturally, this number will keep getting smaller, but the goal is to get people back as often as possible. That increases trust, social shares, potential people linking to you, and it even increases the odds that the visitor will convert into a customer.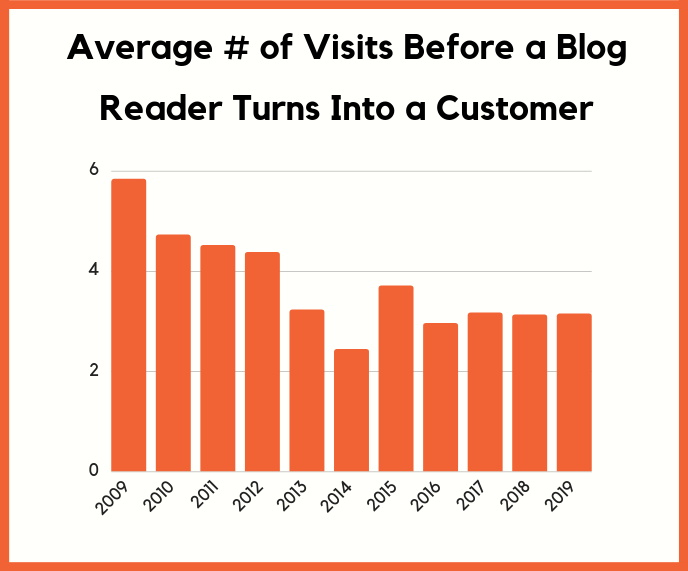 The average blog reader needs to come back 3.15 times before they turn into a customer. That means that you need to retain readers.
Just think of it this way: If you get thousands of new people to your blog each and every single day but none of them ever come back, what do you think is going to happen to your sales?
Chances are, not much.
You need to look at your Cohort Report and continually try to improve the numbers and get people coming back.
So the real question is, how do you get people to come back?
There are 2 simple ways you can do this:
Start collecting emails – through free tools like Hello Bar, you can turn your blog readers into email subscribers. Then as you publish more content, you can send an email blast and get people back to your blog.
Push notifications – by using tools like Subscribers, people can subscribe to your blog through their browser. Then every time you release a new blog post, you can send out a push and people will come back to your blog.
These 2 strategies are simple and they work. Just look at how many people I continually get back to my blog through emails and push notifications.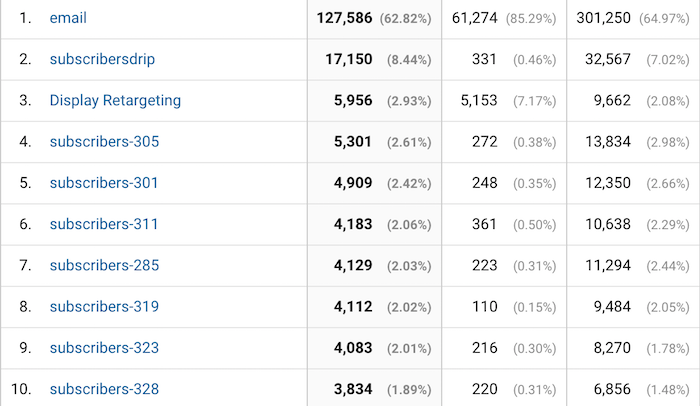 Report #2: Benchmarking
Ever wonder how you are doing compared to your competition?
Sure, you can use tools like Ubersuggest, type in your competitors URL, and see all of the search terms they are generating traffic from.
But what if you want more? Such as knowing what percentage of traffic your competitors are getting from each channel. What's your bounce rate, average session duration, or even pageviews per channel?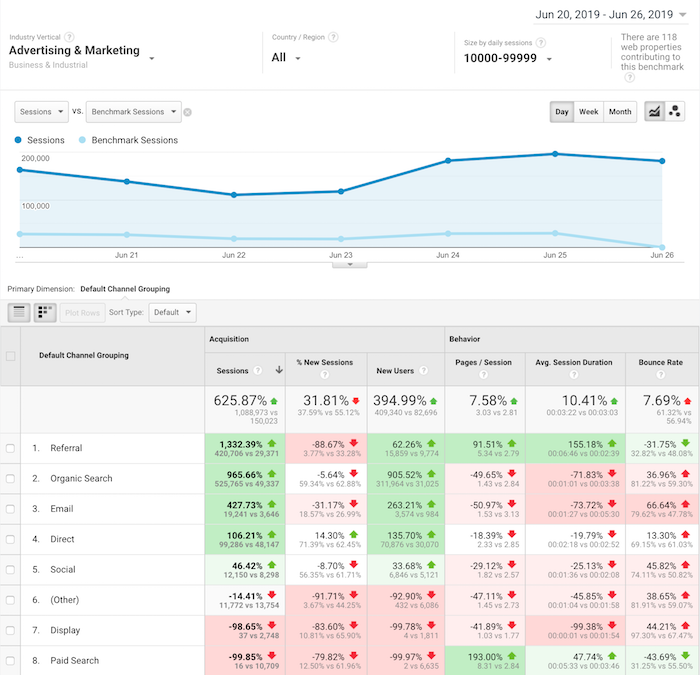 Within Google Analytics navigation, click on "Audiences" then "Benchmarking" then "Channels".
Once you do that, you'll see a report that looks like the one above.
Although you won't have specific data on a competing URL, Google Analytics will show you how you stack up to everyone else within your industry.
I love this report because it shows you where to focus your time.
If all of your competitors get way more social traffic or email traffic, it means that's probably the lowest hanging fruit for you to go after.
On the flipside, if you have 10 times more search traffic than your competition, you'll want to focus your efforts on where you are losing as that is what'll probably drive your biggest gains.
The other reason you'll want to look at the Benchmarking Report is that marketers tend to focus their efforts on channels that drive the most financial gain.
So, if all of your competition is generating the majority of their traffic from a specific channel, you can bet that channel is probably responsible for a good portion of their revenue, which means you should focus on it too.
Report #3: Location, location, location
Have you noticed that my blog is available in a handful of languages?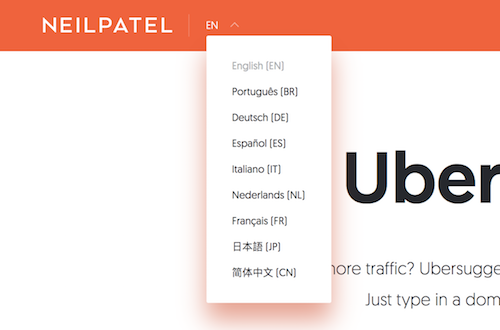 Well, there is a reason for that.
I continually look at the location report. To get to it, click on "Audience" then "Geo" and then "Location".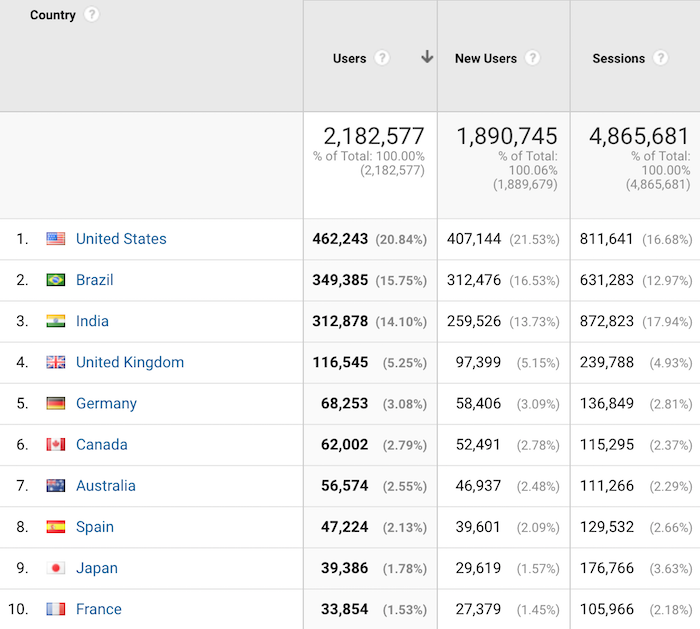 This report will tell you where the biggest growth opportunities are for your blog.
Now with your blog, you'll naturally see the most popular countries being the ones where their primary language is the one you use on your blog.
For example, if you write in English, then countries like the United Kingdom and the United States will be some of your top countries.
What I want you to do with this report is look at the countries that are growing in popularity but the majority of their population speak a different language than what you are blogging on.
For me, Brazil was one of those countries. Eventually, I translated my content into Portuguese and now Brazil is the second most popular region where I get traffic from.
This strategy has helped me get from 1 million visitors a month to over 4 million. If you want step-by-step instructions on how to expand your blog content internationally, follow this guide.
Report #4: Assisted conversions
Have you heard marketers talk about how blog readers don't convert into customers?
It's actually the opposite.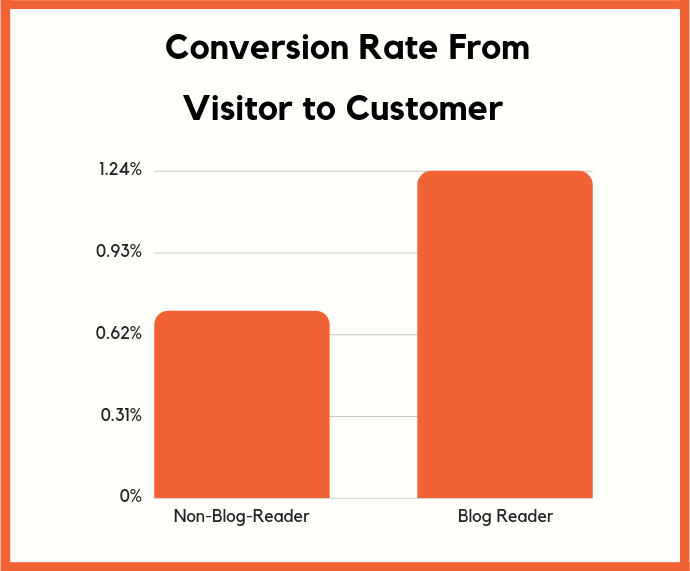 Those visitors may not directly convert into a customer, but over time they will.
But hey, if you have a boss or you are spending your own money on content marketing, you're not going to trust some stats and charts that you can read around the web. Especially if they only talk about long-term returns when you are spending money today.
You want hard facts. In other words, if you can't experience it yourself, you won't believe it.
That's why I love the Assisted Conversions Report in Google Analytics.
In the navigation bar click on "Conversions" then "Multi-Channel Funnels" and then "Assisted Conversions".
It'll load up a report that looks like this: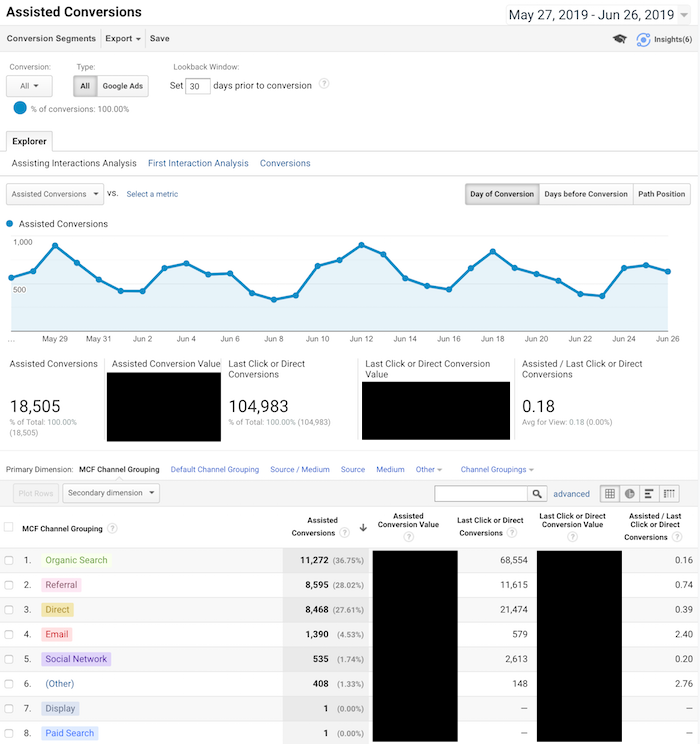 This report shows you all of the channels that help drive conversions. They weren't the final channel in which someone came from but they did visit your blog from one of these channels.
In other words, if they didn't visit or even find your blog from one of these sources, they may not have converted at all.
Now when your boss asks you if content marketing is worth it, you can show the Assisted Conversions Report to show how much revenue your blog helps drive.
The other beautiful part about this report is that it tells you where to focus your marketing efforts. You want to focus your efforts on all channels that drive conversions, both first and last touch.
Report #5: Users flow
What's the number one action you want your blog readers to take?
I learned this concept from Facebook. One of the ways they grew so fast is they figured out the most important action that they want people to take and then they focused most of their efforts on that.
For you, it could be someone buying a product.
For me, it's collecting a lead and that starts with a URL.
But I found that people interact with my blog differently based on the country they are coming from.
In other words, if I show the same page to a United States visitor and from someone in India or even the United Kingdom, they interact differently.
How did I figure that out?
I ran some heatmap tests, but, beyond that, I used the Users Flow Report in Google Analytics.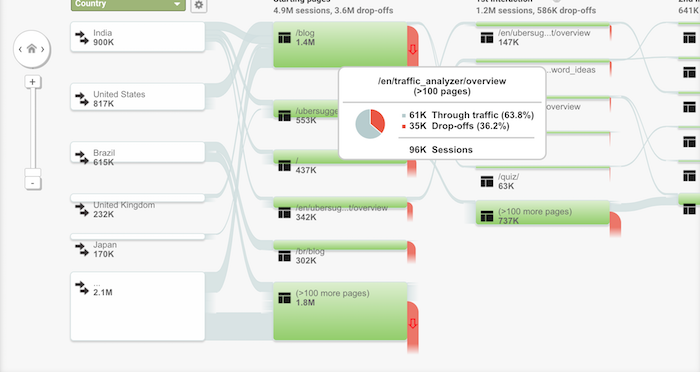 In your navigation click on "Audience" and then "Users Flow".
Within the report, it will break down how people from each country interact with your blog and the flow they take.
I then used it to adjust certain pages on my blog. For example, here is the homepage that people in the United States see:
And here is the homepage that people from the United Kingdom see: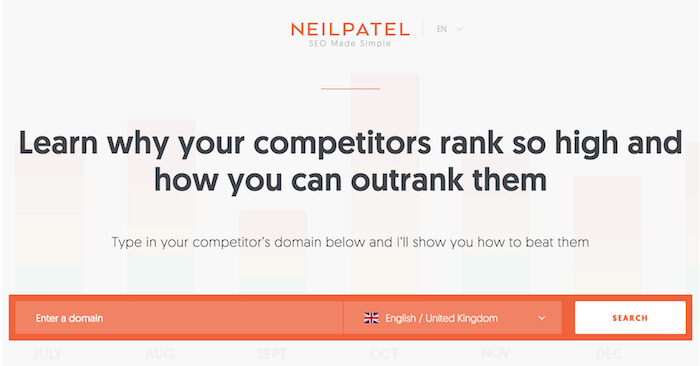 The United Kingdom homepage is much shorter and doesn't contain as much content and that's helped me improve my conversions there.
And of course, in the United States, my audience prefers something else, hence the homepages are different.
The Users Flow Report is a great way to see how you should adjust your site based on each geographical region.
Report #6: Device overlap
Blog content can be read anywhere and on any device. From desktop devices to tablets to even mobile phones.
The way you know you have a loyal audience isn't just by seeing how many of your readers continually come back, but how often are they reading your blog from multiple devices.
For example, you ideally want people to read your blog from their iPhone and laptop.
The more ways you can get people to consume your content, the stronger brand loyalty you'll build, which will increase conversion.
Within the navigation, click on "Audience" then "Cross Device" and then "Device Overlap".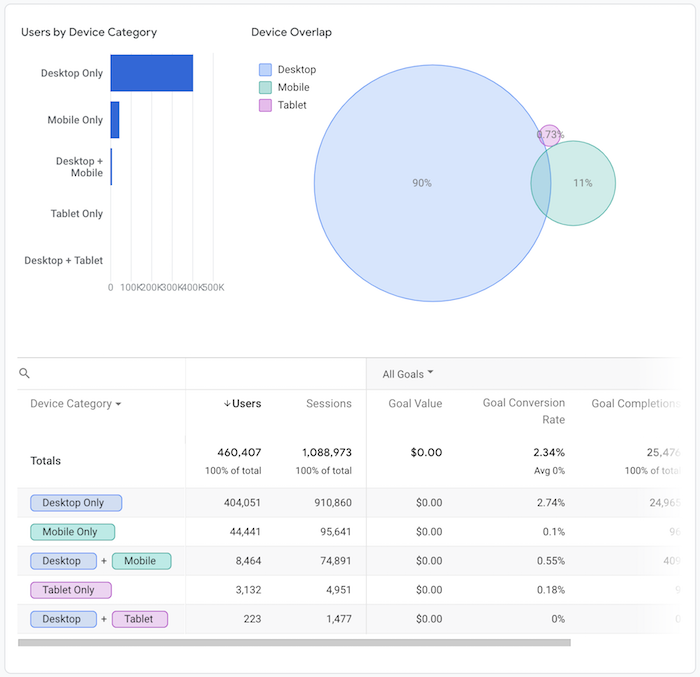 I'm in the B2B sector so my mobile traffic isn't as high as most industries but it is climbing over time.
And what I've been doing is continually improving my mobile load times as well as my mobile experience to improve my adoption rates.
I'm also working on a mobile app.
By doing all of these things, people can consume content from NeilPatel.com anywhere, which builds stickiness, brand loyalty, and then causes more assisted conversions.
A good rule of thumb is if you can get the overlap to be over 6%, you'll have a very sticky audience that is much easier to convert.
That's at least what I can see with all of the Google Analytics accounts I have access to.
Report #7: User Explorer
To really understand what makes your blog readers tick, you need to get inside their mind and figure out what their goals are and how you can help them achieve each of those goals.
A great way to do this is through the User Explorer Report.
Click on "Audience" and then "User Explorer". You'll see a screen that looks like this: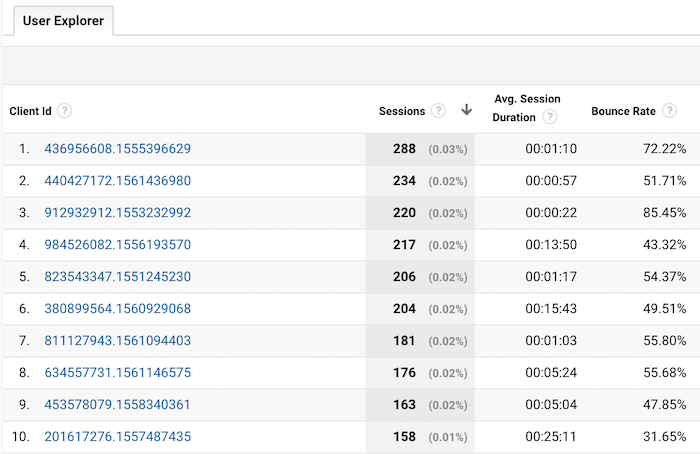 This shows you every user who visits your site and what they did. You can click on a client id to drill down and see what actions each user performed on your blog.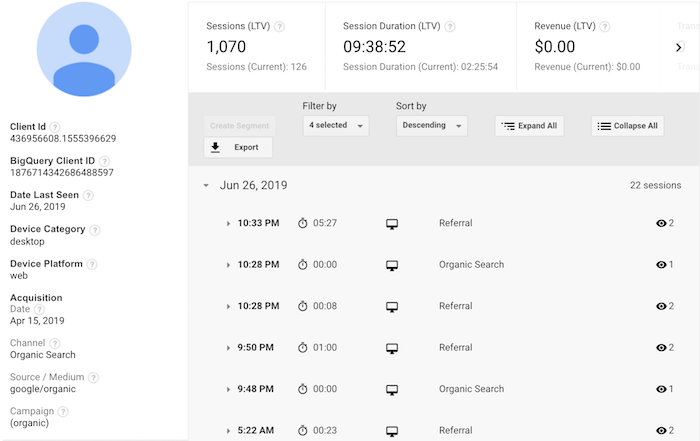 From there, you can click on a time to see exactly what they did each time they visited: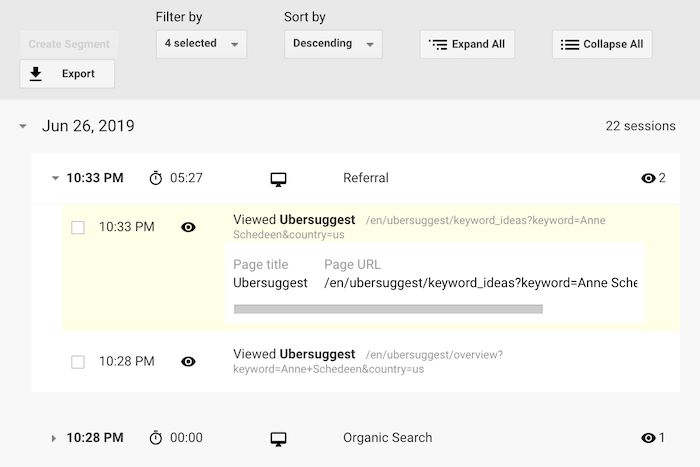 What I like to do with this report is to see how the most popular users engage with my blog. What are they reading? What pages are they spending the majority of their time on? What makes them continually come back? How did they first learn about my blog?
By comparing the most popular blog readers with the least popular, I am typically able to find patterns. For example, my most loyal blog readers typically find my site through organic traffic and then subscribe to my email list.
Then they keep coming back, but the key is to get them to opt into my email list.
That's why I am so aggressive with my email captures. I know some people don't like it, but I've found it to work well.
So I focus a lot of my efforts on building up my organic traffic over referral traffic and then collecting emails.
Look at the patterns that get your most popular users to keep coming back and then adjust your blog flow so that you can create that pattern more often.
Conclusion
Yes, you should look at your visitor count. But staring at that number doesn't do much.
The 7 reports I describe above, on the other hand, will help you boost your brand loyalty, your repeat visits, and your revenue.
I know it can be overwhelming, so that's why I tried to keep it to just 7 reports. And if you can continually improve your numbers in each of those reports, your blog will continually grow and eventually thrive.
So what Google Analytics reports do you look at on a regular basis?
The post 7 Google Analytics Reports That Show How Your Blog is Really Performing appeared first on Neil Patel.