Archives
now browsing by author
With roughly 350,000 new tweets appearing on the platform every minute, building engagement via Twitter can feel like an uphill struggle.
To increase engagement on the platform, Twitter rolled out voice tweets, which let users share snippets of audio to their profile.
Learn more about voice tweet options and how it's transforming the ways digital marketers can use Twitter to their best advantage.
What Is a Voice Tweet?
Voice Tweets allow you to record your voice as an audio clip and send it in a tweet. Here's a rundown of how it works.
You can record up to 140 seconds of audio.
If you need longer, that's OK. Keep talking, and a new voice tweet starts recording automatically.
Click or tap the "done" button to finish recording.
Send your voice tweet(s) from the composer screen, just like you'd send out regular tweets.
Twitter uses your current profile picture as the placeholder image for the audio. Users click on this image to hear the audio attachment.
Users can then listen to what you've got to say and engage in their preferred way, whether it's typing out a reply, sharing your message, or clicking through to your website. Think of voice tweets as your opportunity to stand up and make sure you're heard among a sea of 280-character tweets.
There's one thing to bear in mind before you start voice tweeting, though. The picture attached to a voice tweet won't change, even if you later change your profile picture.
Ensure you're happy with your photo before you start voice tweeting. This keeps your messaging consistent and makes it easier for users to find you again in the future.
Can Everyone Use Voice Tweets?
Not yet, no. It's only available through the OS app for Twitter, but if you're running Android or desktop Twitter, don't worry. Voice tweets are coming your way.

You can't quote or reply to tweets using voice yet. It's only available for original tweets.
If you have a lot to say, you'll need more than one thread. Threads are limited to 25 voice tweets.
Need more space than 25 tweets? You might be better off making a short YouTube video and linking to it through a tweet.
Voice tweet transcripts aren't available yet, either, but Twitter plans on rolling out this feature to ensure more people can enjoy voice tweets going forward.
Can you use voice tweets for DMs? Not right now, though if voice tweets prove popular, we can probably expect a rollout in the future.
15 Ways to Use Voice Tweets
Ready to use voice tweets but not sure how to get started? Here are 15 ways you can use the Twitter voice feature and tips for creating effective voice tweets.
1. Improve Brand Personality
How would you describe your business in three words? I ask because these three words are key to defining your brand's personality.
Your brand personality matters. It defines how people perceive your company, and it influences which words come to mind when someone describes your business.
Can voice tweets help you build the right personality online? Yes, because it all comes down to authenticity. Eighty-six percent of customers opt for companies with an honest, upfront, and authentic identity, and voice tweets instantly make your brand feel more real and sincere.
Here's how to improve your brand personality using voice tweets.
Appoint one or two team members to record voice tweets. Ensure their tone matches your goals. For example, if you're a B2B company, choose an eloquent speaker.
Review your voice tweet engagement. Are people sharing your tweets or responding to them? If not, consider reevaluating what you're tweeting.
How do you want people to describe your brand? Use voice tweets to reinforce this message.
2. Advertise Your Business
If you don't use Twitter, you're missing out on a significant marketing opportunity.
Twitter has over 330 million active users and counting. That's a massive number of people logging in every day, and there's no limit on who you can reach if you target your ads effectively.
Once they follow a brand on Twitter, around 50 percent of users complete a purchase.
Since you don't pay anything to tweet, it's free advertising.
Here are some suggestions for incorporating voice tweets into your strategy.
You need to make your point quickly, so keep messages short and simple.
Include sound effects or slogans to reinforce your brand message. There's no need to limit yourself!
Finish with a call-to-action (CTA) e.g., directing users to your website.
Want to upgrade your Twitter profile? Consider "pinning" a tweet to the top of your page. With one click, users can instantly discover your brand and build a connection to your business.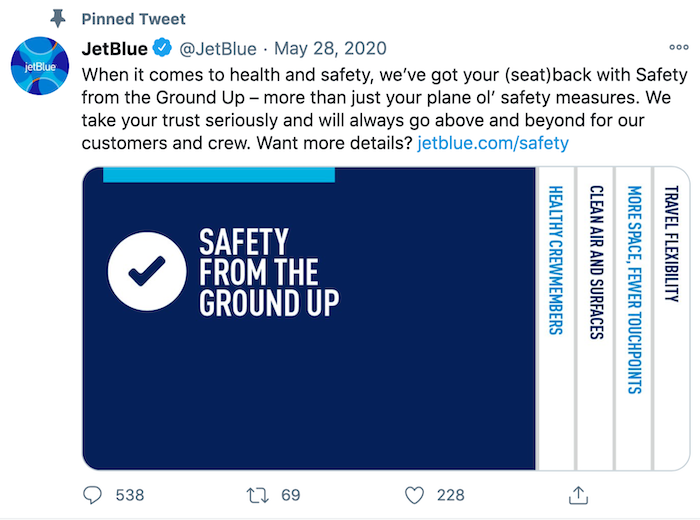 3. Promote Your Product
Roughly 54 percent of millennials turn to social media platforms for product research, so voice tweets provide a great opportunity to shout about your core products.
How do you get the most from promotional tweets? Well, it's not just about your actual voice. It comes back to your brand's voice, too, which is why it's so important to build a clear, unique, and consistent personality.
Take MoonPie, for example. They're successful on Twitter thanks to their distinctive quirky, witty vibe.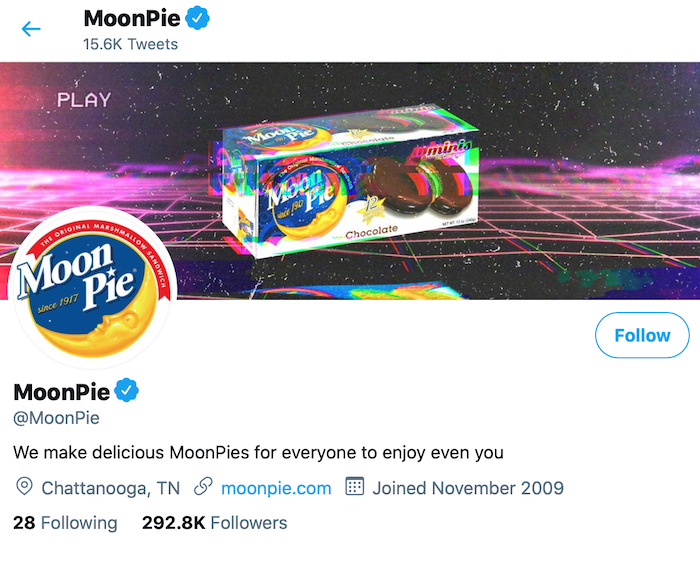 Their tweets catch your attention because they're unexpected. For example, tweets like this one would translate equally well into a promotional voice tweet because it's funny and understated:

Take a lesson from MoonPie. Avoid sounding like every other promotional tweet on the platform by building a distinctive voice, and watch your product engagement grow as a result.
A final tip. You can also use voice tweets to promote underselling products and services by linking to them in the same thread!
4. Reveal New Features or Products
Marketers already rely on Twitter to launch their new products and services. However, good marketers know how important it is to stand out from the noise and find new ways to attract attention.
Again, voice tweets can definitely help you out here, because they're an opportunity to showcase what's unique about you and your product.
Consider using voice tweets alongside other media, like YouTube videos, to boost the overall user experience. Users are over 80 percent more likely to buy a product after watching a video, so it's always worth including video tools in your marketing strategy.
Also, according to Hubspot, it's best to tweet between 8 a.m. and 10 a.m., then between 6 p.m. and 9 p.m. These are "peak" hours, which means there's a better chance you'll generate some user engagement than if you voice tweet at, say, midnight.
5. Announce Brand Giveaways
What's not to love about free stuff? Everyone loves a good giveaway, so consider using the power of the voice tweet to shout out your latest contest.
Once you've picked the prize, here's how to talk it up on Twitter.
Set a giveaway goal. Are you aiming for more followers, or are you focused on growing your subscriber list?
Turn your goal into a CTA. For example, maybe users must retweet your giveaway tweet to enter, or they get extra entries if they follow you on another social media platform, too. It all depends on your goal.
6. Interact With Customers
Did you know that 64 percent of customers expect companies to interact with them on social media? Personalize the user experience and answer via voice tweets.
If you make individual users feel like they matter to your company, they're more likely to choose you over competitors.
Here's an example of an engaging post you could turn into a voice tweet.

7. Act as Customer Service
Dealing with customer service queries? Over 70 percent of users expect companies to respond within an hour. Here's how to use voice tweets to help.
Give your customer service the personal touch by including someone's name in the reply.
If you're only online during certain hours, pin a voice tweet to the top of your profile with a rundown of how quickly you can respond to messages and where else customers can turn to in the meantime.
8. Clarify Company Policies
Although you have 140 seconds to play with, voice tweets should be short, sharp, and memorable. In other words, they're an excellent tool for quickly clarifying company policies.
Reinforce key policies through voice tweets e.g., shipping policies, customer service hours.
Include links to more detailed social media posts or pages on your website.
9. Answer FAQs
If voice tweets work for company policies, they work for FAQs, too.
Run a series of voice tweets answering 10-15 FAQs in the one thread.
Pin the thread to the top of your Twitter page so it's easy for people to find.
End the conversation with another CTA inviting people to respond with questions you'll answer in the same thread.
10. Increase Customer Loyalty
I'll keep this one short and sweet.
All those questions you answer? Those replies you send? They add up. In time, they build trust in your brand, and customer loyalty grows as a result.
Put simply, your voice can really grow your business over time.
11. Invite Customer Feedback
Why not invite customers to share feedback via voice tweet? You can retweet or quote positive reviews and share them with your followers.
Voice tweets "humanize" product and service reviews for your target audience, which may increase conversion rates in the long run.
Do you use customer feedback to improve your products or launch new lines? Tell them! You'll likely boost engagement this way.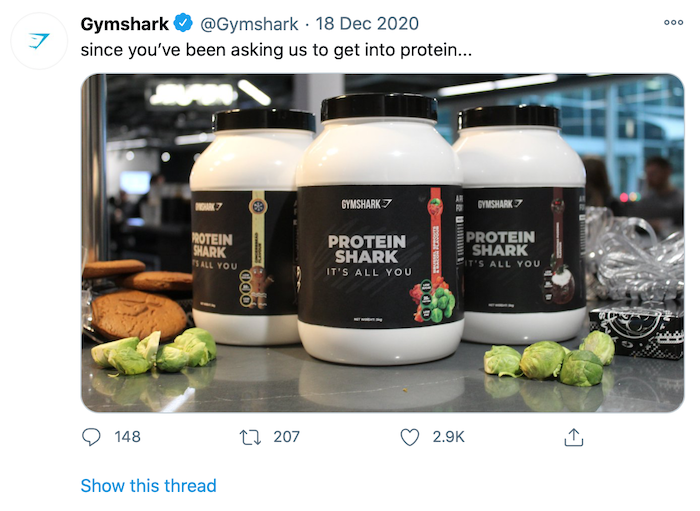 12. Share Stories
There's power in storytelling. Here's why you should use voice tweets to build your brand, increase engagement, and even grow your follower count.
Great stories encourage sharing, liking, and retweeting, which boosts your followers and brand exposure.
Stories are an opportunity to stand up for what you believe in and showcase matters to you as a company. This may impress users and encourage them to check out your page.
13. Collaborate With Influencers
Influencers are, well, influential. Users typically respond well to them. With that in mind, why not hire a social media influencer to "take over" your Twitter feed for the day? They might, for example:
Engage with followers
Talk about giveaways
Run contests
Send them your product and ask for voice feedback. Just make sure you choose an influencer with the same "vibe" as your brand!
14. Entertain Audience
At least 60 percent of social media users want entertaining content, which is why it's so important to bring your tweets to life. Voice tweets can, of course, help you do this.
Choose a speaker with a dynamic and engaging voice.
Focus on short, surprising anecdotes. Remember, there's no need to use the 140-second limit for each voice tweet.
Pop-Tarts hits the right note here. Could this post work equally well as a voice tweet? I think so.

15. Humanize Your Brand
What's the No. 1 way to build a rapport with your followers? Humanize your brand. Use your voice to show users the real people behind your company.
Voice tweets add another dimension to your brand's identity.
Talking allows you to showcase your passion, expertise, and creativity online.
If you answer questions or interact via voice tweet, you instantly make your followers feel valued.
Voice tweets help users feel like they're engaging with more than just a machine. This personal touch could be why people choose your brand over another similar company.
Conclusion
It's absolutely still worth using Twitter for digital marketing, and voice tweets make it a whole lot easier to define your brand and find your audience.
Before you start tweeting, choose a strong, distinctive profile picture and decide your brand voice. Once you've got this part down, use voice tweets to encourage engagement and humanize your business across social media.
Need help optimizing your social media platforms? Check out my consulting services to see how I can help.
Have you used voice tweets yet? How are users engaging with them?
The post 15 Ways to Use Voice Tweets appeared first on Neil Patel.
Disclosure: This content is reader-supported, which means if you click on some of our links that we may earn a commission.
Web hosting comes in all different shapes and sizes. As a whole, these plans can be segmented into four main categories—shared, VPS, cloud, and dedicated.
Shared hosting is essentially the entry-level web hosting category.
It's ideal for new websites and smaller websites that don't have a ton of traffic just yet. Since shared hosting is the first tier of hosting options, it's always the most cost-effective way to host your website.
For those of you starting a new website from scratch, shared hosting will be the best option 99% of the time. These are the top hosting companies for shared plans:
The Top 6 Options For Shared Hosting Companies
How to Choose the Best Shared Hosting Company For You
As you're shopping around and evaluating different shared hosting companies, there are certain factors that you need to keep an eye out for. Make sure you take the following elements into consideration:
Speed
With shared web hosting, your site will be sharing server resources with other websites on the same server (that's where the name "shared" comes from).
This ultimately impacts the performance of your website, including the site speed. Your site won't be as fast as it would if you were on a VPS (virtual private server) or dedicated hosting plan. But that's fine; most new websites don't need top-of-the-line performance.
With that said, some web hosting providers are faster than others. If your loading times are too slow, it will cause visitors to bounce and ultimately create a negative experience for people on your website.
Uptime
Uptime is another crucial factor to consider when discussing site performance. If people can't access your site, it's going to be detrimental to your success.
Generally speaking, some downtime is bound to happen. Certain providers will guarantee uptime rates, like 99.9%, but those typically come with all different types of contingencies. For example, planned outages wouldn't qualify for the guarantee.
Read some reviews from current customers to see if they are experiencing outages and downtime.
Traffic
Make sure you choose a plan within the shared hosting category that can accommodate the traffic you're expecting.
For example, some plans won't be able to accommodate more than 10,000 monthly visits. You might need to choose a tier that supports 25,000 or 50,000 monthly visitors. Once you get beyond these numbers (and it will probably take a while), then it might be time to consider moving away from shared hosting to a VPS or cloud hosting plan.
But for not, there are plenty of shared hosting providers out there offering plans to accommodate the traffic for new websites.
Security
At a minimum, your web hosting provider should be giving you a free SSL certificate.
But beyond that, some providers will go the extra mile to help protect your website from things like malware, brute force attacks, and more. So keep an eye out for packages and promotions that will protect your website from malicious attacks.
Some hosts will include these extras in your plan, while others will charge you extra to add-on a security package.
Limitations
The vast majority of shared hosting plans will have some restrictions for your bandwidth and storage.
Your bandwidth essentially restricts the amount of data that gets transferred from your site at any given moment. The more traffic you have, the more bandwidth you'll need to accommodate that traffic.
This is especially true for websites with lots of videos, images, or dynamic content (all of these require additional bandwidth).
Although many hosts will advertise unmetered or unlimited bandwidth, that's really never actually the case. So double-check your contract before making a commitment.
Storage can also be referred to as disk space. This is the amount of space your website can occupy on the shared server. Images, videos, files, databases, scripts, code, and more all eat into your disk space limits.
Similar to bandwidth, be wary of hosts promoting unlimited disk space—that doesn't actually exist.
Support
If you're new to the world of web hosting, you're going to have some questions. It might not be today or next week, but eventually, you'll need assistance.
Make sure you choose a web hosting provider that will be there to help you out. This is crucial in times when your site goes down, or you need a time-sensitive reply. If your site crashes on Friday afternoon, waiting until Monday at 9:00 AM EST isn't really a viable option.
The best web hosting providers offer 24/7/365 support.
The Different Types of Shared Hosting Companies
Earlier I mentioned the different types of web hosting (shared, VPS, cloud, and dedicated). But there are further segmentations within the shared hosting category itself. Before we dive into the company reviews, I want to quickly explain the differences between the following shared hosting types:
Linux Hosting
Generally speaking, Linux servers are the default option for shared hosting. Unless you're super technical and need to run specific applications at the server level, you shouldn't have to think twice about this— Linux servers will be just fine.
Windows Hosting
Some hosting providers let you choose your OS. So if you don't want a Linux server, you might have the option to select a Windows server instead. This is really only necessary if you're running custom server-side applications written in .NET or SQL servers—both of these need a windows hosting plan. But the vast majority of you don't need to worry about this.
WordPress Hosting
As the name implies, WordPress hosting is designed specifically for WordPress websites. These plans will include features like one-click WordPress installations, automatic WordPress updates, security optimized for WordPress, and more.
If you're running a WordPress site, it's definitely a good idea to consider WordPress hosting. But with that said, you can still host your WordPress site without a WordPress-specific plan.
Managed Web Hosting
Managed hosting will be a bit more expensive than traditional shared plans. That's because managed providers allow you to stay hands-off.
If you don't want to worry about security, backups, updates, and other technical aspects of hosting your website, a managed hosting provider can handle all of these things for you. You'll pay a little extra, but you really won't have to do anything beyond running the site itself. Everything behind the scenes will be managed for you.
Domain Registrars
Lots of domain registrars also double as web hosting providers. Avoid these.
There are certain instances when you can bundle web hosting and domain registration, but I'd only recommend that from a hosting provider. You should never get web hosting from a domain registrar—period.
Website Builders
Similar to domain registrars, lots of website builders also offer web hosting plans. Again, stay away from these. Even if you're using a site builder to create your website, you should still get your hosting plan from a traditional hosting company.
#1 – Bluehost — The Best Shared Hosting For WordPress
More than two million sites worldwide are powered by Bluehost. This is one of the most popular and reputable shared hosting solutions on the market today.
I also like Bluehost because they've been on WordPress' list of recommended web hosts for 15+ years.
In addition to the WordPress hosting plans, there are plenty of other great reasons to choose Bluehost. Here's why they rank so high on my list:
Free SSL certificate included with your shared plan
Free domain name for the first year
One-click WordPress installation
24/7 customer support
30-day money-back guarantee
$200 in marketing credits
Bluehost makes it easy for your site to scale as well. As the site grows and you need more resources, upgrading your plan accordingly is a breeze. They also advanced extras like Cloudflare CDN, domain privacy & protection, spam protection, SiteLock, CodeGuard, and multi-server management.
Plans start as low as $3.95 per month.
#2 – A2 Hosting Review — The Best Hosting Company For Speed
A2 Hosting is another well-known name in the web hosting world. If you want fast loading times and outstanding performance on a shared plan, this will be a top choice to consider.
Certain plans come with turbo boost servers that are up to 20x faster than traditional shared plans. Here's a closer look at those plans:
Sites of all sizes can rely on A2 Hosting for optimized performance. Other top features, benefits, and highlights of the shared plans included:
Free and simple site migrations
Free automated backups
99.9% uptime guarantee
Speed and performance optimized for WordPress
Free SSL certificate
Guru support available 24/7/365
A2 Hosting is a great option for new websites, as well as existing websites looking to switch hosting providers. They offer WordPress hosting as well.
You can sign up for A2 Hosting risk-free. All plans are backed by a 30-day money-back guarantee.
#3 – TMDHosting — The Best Fully Managed Plans
If you're looking for a hands-off hosting solution, I highly recommend TMDHosting.
While this might not be the most recognizable name in the industry, these managed shared hosting plans are second to none.
For new websites and existing websites alike, TMDHosting has solutions to accommodate your needs. Let's take a closer look at the noteworthy highlights from this hosting company:
24/7/365 premium support
Global data centers
Military-grade security
Optimized for open-source platforms (WordPress, OpenCart, Drupal, PrestaShop, etc.)
Free application installation with 1,300+ apps
Free components installation
Free template installation
Up to 16x faster page loading speeds
Live malware protection
Free domain
Linux and Windows servers available
Free daily backups
99.999% uptime guarantee
As you can see, managed plans from TMDHosting definitely come packed with features and benefits. If you're migrating over from another host, TMDHosting will transfer your site files and databases for free. They'll also compensate you for unused months on your other contract.
Shared hosting starts at just $2.95 per month. All plans are backed by a 60-day money-back guarantee.
#4 – Hostinger Review — Best Cheap Shared Hosting Plans
If you're on a tight budget and don't want to spend a fortune on web hosting, you should definitely check out Hostinger.
With shared plans starting at just $0.99 per month, this is roughly 25% of the price compared to entry-level plans from other providers.
Even at such a low introductory rate, you really aren't sacrificing too much quality with a shared plan from Hostinger. Aside from the rock-bottom pricing, there are still plenty of reasons why Hostinger ranks so high on my list:
24/7/365 live chat support
Automatic one-click WordPress installations
Strong uptimes rates and loading speeds
Easy to set up whether you're creating a new site or migrating an existing site
Free SSL certificate
Simple, intuitive, and user-friendly control panel
Flexible and built to scale
It's worth noting that you'll need to lock-in a 48-month contract to get the lowest possible rate. Since you have to pay for this contract upfront and in-full, it's actually going to cost you more than just $1 today.
Hostinger offers a 30-day money-back guarantee, so you can sign up risk-free.
#5 – DreamHost Review — The Best Shared Hosting Features
DreamHost is one of the most reliable and reputable hosting solutions on the market today. They offer a wide range of hosting solutions, including feature-rich shared plans.
Plans start as low as $2.59 per month.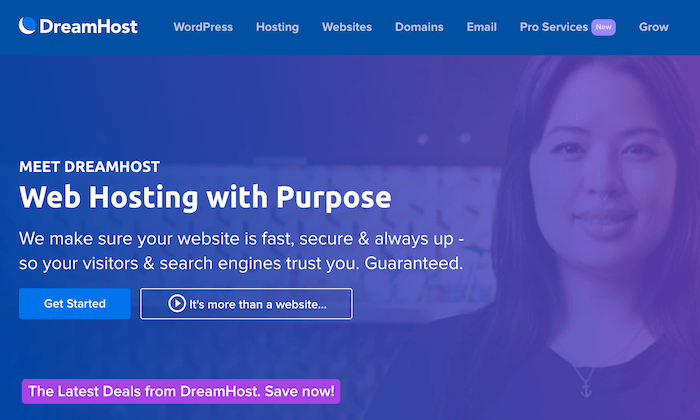 Why should you consider DreamHost? Let's take a closer look to see what these shared plans have to offer.
24/7 support
WordPress hosting
Free domain name
Fast SSD storage and email hosting
Anti-spam protection and free WHOIS privacy
100% uptime guarantee
One-click WordPress installs
Unlimited traffic
Automated WordPress migrations
Automated backups
Some of the advanced features include canned CGI scripts, Crontab access, full Unix Shell, unlimited SFTP users, unlimited MySQL databases, and more. So if you're a developer or a technical user, these will definitely come in handy.
It's no surprise that 1.5+ million websites rely on DreamHost for web hosting. All plans are backed by an industry-leading 97-day guarantee.
#6 – GreenGeeks Review — Best Eco-Friendly Hosting Company
GreenGeeks is a bit unique compared to some of the other providers on our list. It's definitely not the most popular or most recognized name in the hosting world.
But as the name implies, this provider offers eco-friendly hosting, which is extremely important in today's day and age.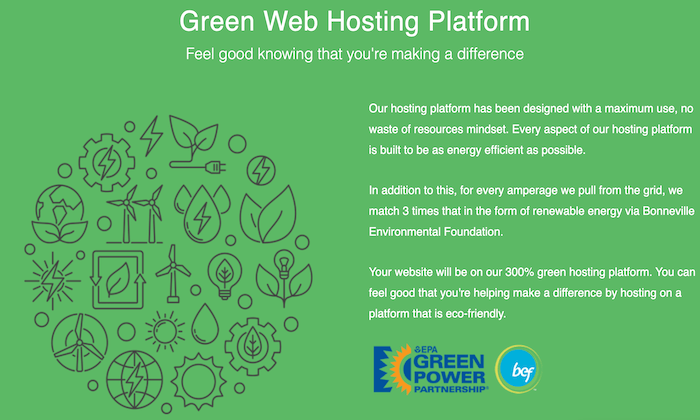 If you want to limit your carbon footprint and help protect the environment, GreenGeeks will be the best option for you to consider. Aside from this unique differentiator, here are some other reasons why 45,000+ websites rely on GreenGeeks:
Free nightly backups
Free SSL certificate
Free domain for first year
Free CDN
Unlimited email accounts
LSCache included with plans
Free site transfers
24/7 tech support (chat, ticket, or phone)
Developer-friendly tools and features
Real-time security scanning and proactive server monitoring
Built for speed and scalability
When you sign up for a GreenGeeks shared hosting plan, you can sleep well at night knowing that your site is stable and you're making a difference in the world. Plans start at $2.95 per month, and they're backed by a 30-day money-back guarantee.
Summary
Every website needs a hosting plan to be live on the Internet.
If you're starting a new site from scratch or currently running a small website, shared hosting will be the best option for you. But which hosting company is the best?
Use the recommended providers and buying guide explained above to find the best shared plan for your website.
The post Best Shared Hosting Companies appeared first on Neil Patel.