Archives
now browsing by author
Disclosure: This content is reader-supported, which means if you click on some of our links that we may earn a commission.
A business credit card is much more than just a convenient payment method; it's a way for you to earn rewards and benefits for your company.
The best business credit cards offer features like purchase protection, membership rewards, travel insurance, and some even pay you cash.
Your next big purchase could result in a free flight, a free night in a hotel, or even a few hundred dollars back into your pocket. You can't get these types of benefits if you're using checks or ACH transfers for business purchases—credit cards are the only way to access these perks.
But all business credit cards are not created equally. Navigating the waters and trying to find the best option for your business can be tough, especially with hundreds of choices to consider.
Which one is the best? It's tough to name just one, but I've narrowed down the top five that I can recommend with conviction.
The Top 5 Options For Business Credit Cards
How to Choose the Best Business Credit Card For You
Not every business has the same needs when it comes to purchasing. It's important to find a card that's designed to reward you the most for your spending habits. So as you're shopping around and evaluating different cards, keep these considerations in mind:
Credit Score
The very best business credit cards typically require a minimum credit score to apply. If you have a new business and haven't established a long history of business credit quite yet, it could be tough to get these cards.
The business owner's credit score is also a factor that needs to be taken into consideration here. If your personal score is high, then you should be able to get these cards, even if your business is new.
For those of you with poor business credit and a low personal credit score, you might have to apply for a secured credit card until you can boost your score.
Never apply for cards if you don't meet the minimum qualification terms. If the credit company pulls a hard credit check and rejects your application, it could lower your score even more.
Type of Rewards
Nearly every business credit card offers some type of membership rewards. These can come in the form of cash back, points, travel perks, and more.
Which type of rewards do you want? There's really no right or wrong answer here.
Some businesses prefer cash back because it's easier to understand. Others like to accumulate points and then redeem those points for other types of benefits.
Membership Fees
How much will the business credit card cost you?
Generally speaking, the higher the annual fee, the better the rewards. But with that said, most businesses won't necessarily need rewards that justify an expensive yearly fee.
There are plenty of great free business credit cards to consider. Other cards might cost up to $600, while the majority fall somewhere in between.
My rule of thumb is this—only pay an annual fee if you can justify it with the rewards that you're actually going to use.
Spending Categories
It's common for business credit cards to offer better rewards in certain spending categories. Examples include food, gas, or travel.
Let's say a card offers you 5% cash back in the travel category (flights, hotels, Uber, etc.). That's great; but if you only travel for work once per year, it might not be enough of a reason to get that card.
But if you have a fleet of 20 vehicles on the road and all of your drivers will have an employee card, it makes sense to have a card that rewards you for gas purchases.
Bonus Offer
This shouldn't make or break your decision. But most business credit cards will offer you a significant bonus for signing up.
For example, if you spend $10,000 in the first three months using a new credit card, you could get 100,000 points—or something along those lines.
This can be a great opportunity to rack up points, cash back, or get other benefits. I wouldn't go out of my way to buy things that I don't need. But if you have a big purchase coming up, consider putting it on your new card so you can redeem the bonus offer.
Just understand that this is a marketing strategy the card companies use to entice new sign-ups. So don't let an appealing bonus offer distract you from the annual fees or other factors in your cardmember agreement.
The Different Types of Business Credit Cards
Before we get into the reviews of my favorite business credit cards, I want to quickly explain the different types of cards that you can choose from.
Cash Back Rewards Cards
Cards that offer cash back are pretty straightforward. Depending on the card, you can get a certain percentage of your card spending credited back to your account at the end of each month. This is usually applied automatically.
Some cards offer a fixed cash back percentage on all purchases, such as 2% or 3%. Others will have higher percentages on specific categories, like 3% on gas, 2% on travel, 1% on everything else.
You might even find cards that change the cash back percentage based on your annual spending, such as 4% cash back on the first $50,000 spent in a calendar year, and 2% on everything after.
Points Rewards Cards
A business credit card that rewards you with points is a little bit more complex. But these can be extremely advantageous if you know how to use them properly.
Unlike cash back rewards, you'll need to manually redeem your points to get the benefits. You could potentially save your points for one big purchase and get something for free, or use them periodically to get discounts every month.
In some cases, you might even be able to redeem your points for cash back as well.
Airline Affiliate Credit Cards
Certain credit cards are associated with specific airlines. Your perks will be even better when you travel with that airline.
For example, you might get free checked bags, lounge access, double rewards points on all purchases through that airline, and complimentary upgrades. These cards make sense for those of you who travel frequently and are loyal to a particular airline.
Just make sure that the airline has a hub in your closest airport and flies to the places you frequently travel for work; otherwise, it won't be worth it.
Hotel Affiliate Credit Cards
Similar to the airline credit cards, a hotel affiliate card will give you extra rewards for being loyal to a certain hotel chain. You might even get rewarded with one or two free nights every year, included with your membership fee.
These types of cards are perfect for people who frequently travel for work. It's common for hotel rewards cards to offer benefits like free wi-fi, free breakfast, and free upgrades. Depending on the card, you might automatically qualify for a membership status with that hotel as well.
Employee Credit Cards
Some business credit cards will allow you to get extra cards for your staff. Most do this for free (because they want to encourage spending), but others might charge a small fee.
If you want to distribute cards to your employees, look for a business credit card that will give you some control over that spending. I'm sure you trust your staff, but you don't want them to run wild and spend erratically. So you can potentially set spending limits on those employee cards as a way to control how those cards get used.
Secured Business Credit Cards
If you have poor credit or no credit, you might have trouble qualifying for a traditional credit card. But secured business credit cards are an excellent way for you to build credit. Here's how they work.
You'll deposit money into an account, and that amount essentially becomes your credit limit.
If you fail to make your payments, then the card company can just take the funds from that account. But by making on-time payments every month, you can build your credit and ultimately apply for a regular credit card, without having to secure it with a deposit.
The Blue Business Plus card from American Express is perfect for those of you who want a great business credit card with no annual fee.
You can apply online and get a decision in as little as 30 seconds.
Earn 2x points on your first $50,000 in purchases every year; then unlimited 1x points on everything after—no category restrictions.
Free employee cards and rewards points based on employee spending
Up to $300 in statement credits for Dell, DocuSign, and FedEx
Expanded buying power for purchases above your spending limit
Vendor pay features by Bill.com
Set up account alerts
Manage everything directly from the Amex mobile app
Expense management tools, year-end summary, and online statements
American Express has the best customer service team in the industry, which is another great perk of this card.
For those of you who prefer cash back instead of rewards points, the Amex Blue Business Cash card is essentially the same thing (with 2% and 1% cash back). So that's another option to consider with no annual fee. 
If you travel frequently but don't want a card that's associated with just one hotel or one airline, Chase Ink Business Business Preferred will be a top choice for you to consider. 
New cardmembers will get 100,000 bonus points (worth about $1,250 towards travel) after spending $15,000 within the first three months of opening a new account.
Here's an overview of why I like this card so much:
Earn 3x points on first $150,000 on travel, shipping, internet, cable, phone, and advertising purchases each year
Earn 25% more when you redeem travel purchases through Chase Ultimate Rewards
Free employee cards with the ability to set individual spending limits
No foreign transaction fees
Travel protection and purchase coverage
Fraud protection and personalized account alerts
For business owners and employees that frequently travel for work, the Chase Ink Business Preferred card is an excellent choice.
This card has a $95 annual fee. You can apply online to get started.
#3 – Brex Mastercard Corporate Review — The Best Business Credit Card For Startups
The Brex Mastercard Corporate card is a bit unique compared to other options on our list. This card is branded as "the first corporate card for startups."
In simple terms, the card aims to provide smaller companies and startups with rewards similar to cards designed for larger corporations.
The business Mastercard from Brex is a popular choice for tech startups. Here are some noteworthy highlights:
No hidden fees or personal guarantees
Apply in 5 minutes, and a virtual card gets activated upon approval
Credits on services like AWS
7x points on remote collaboration tools (Slack, Zoom, GoToMeeting, Gong, etc.)
3x points on food delivery (UberEats, Grubhub, DoorDash, etc.)
2x points on recurring software (Salesforce, Slack, GitHub, etc.)
1x points on all other purchases
You can redeem your points for travel, miles, or statement credits.
While the card is made for startups, you need to have a high cash bank balance to qualify. You'll need at least $50k in the bank to be considered, along with other qualifications.
If you travel frequently you're loyal to Hilton's extensive portfolio of hotels, look no further than the Hilton Honors Amex Business card.
For a limited time, new cardmembers can earn 130,000 Hilton Honors bonus points after spending $3,000 in eligible purchases within the first three months of opening a new account.
Once approved, you'll automatically qualify for Hilton Honors Gold status. This comes with perks like an 80% bonus on all base points, complimentary room upgrades, and more.
Here's a quick look at some of the other top features and benefits associated with this card:
Free weekend night reward (after spending $15,000 in a year)
Second free weekend night reward (after spending $60,000 in a year)
10 complimentary visits to 1,200+ airport lounges each year
Hilton Honors Diamond status after $40,000 in purchases
No foreign transaction fees
12x points earned on per dollar spent on Hilton hotels
6x points earned per dollar spent on gas, telephone services, shipping, restaurants, flights, and car rentals
3x points earned per dollar spent on all other purchases
This card can be yours for the low cost of just $95 per year. That price is easily justifiable if you travel frequently.
As I mentioned earlier, not everyone will qualify for business credit cards with the best rewards. If you have poor credit, you'll need to build that credit before you can apply for certain cards.
For those of you who fall into this category, I strongly recommend the Capital One Spark Classic card. 
Even if you've recently defaulted on a loan or have a limited credit history, you should be able to qualify for this card. Here's an overview of its benefits:
No annual fee
Unlimited cash back on all purchases
Free employee cards (with ability to track employee spending while earning rewards)
Zero fraud liability
Automatic fraud alerts via text, email, or phone
Ability to pick your own monthly due date
Automatic payments so you don't have to worry about forgetting
No foreign transaction fees
Roadside assistance for auto emergencies (like jumps, tows, and tire changing)
Free extended warranty and protection on eligible purchases
When it comes to cards with no annual fee for businesses with bad credit, you won't find a better option than the Spark Classic card from Capital One.
Summary
Before you apply for a business credit card, make you follow the methodology and buying guide that I explained earlier.
When it comes to finding the best option for your business, I strongly recommend the cards reviewed in this guide. Regardless of your situation, I'm confident that one of those options will suit your needs.
The post Best Business Credit Cards appeared first on Neil Patel.
No Faxing Cash Advance Loans– Understanding Late Fees And Interest Rates
Cash loan lendings obtain cash in your hands in an issue of hrs for those monetary emergency situations. Without any faxing of papers, the application procedure takes much less than 5 mins. As well as without credit score check, authorizations occur in no time at all.
To discover the most effective offer on a cash advance, recognize late costs as well as rate of interest. Ask regarding them prior to authorizing up with a lending institution.
Exactly How Cash Advance Companies Charge Their Fees
Cash loan car loans are made for an issue of weeks, so lending institutions bill a level cost instead of a rates of interest. The majority of lending institutions upload their charges as a lot to obtain a hundred bucks. Typically, funding costs have to do with 15% or $15 for each $100 obtained.
If you can not pay back the funding, after that simply the funding cost is due. For an additional funding cost, your lending term can be expanded.
The Trap Of Late Fees
If there are no funds readily available, you will certainly be billed a huge late charge. It is really simple to rack up over a hundred bucks in late charges.
You will not be able to obtain a cash advance car loan if you have exceptional checks. Cash money breakthrough business are ready to renegotiate your finance terms prior to they are late. Prior to your settlement schedules, make setups with your lending institution if you lack funds.
And afterwards There Are Interest Rates
The majority of payday advance loan lending institutions upload a rates of interest in conformity with government legislation. This price is the APR, or what the finance would certainly set you back for a whole year. While this number can aid you make contrasts in between various sorts of credit ratings, it isn't the level charge number for a 2 week car loan.
APR prices, funding costs, as well as late fees differ with various loan providers. You can conserve on your own cash by investigating costs. Lenders need to reveal funding prices prior to you authorize an agreement, so request them prior to using.
Money development finances are created for an issue of weeks, so lending institutions bill a level charge instead than a passion price. If you can not settle the funding, after that simply the funding cost is due. For an additional funding cost, your funding term can be prolonged. While this number can assist you make contrasts in between various kinds of credit histories, it isn't the level cost number for a 2 week lending.
APR prices, funding charges, as well as late fees differ with various loan providers.
The post No Faxing Cash Advance Loans– Understanding Late Fees And Interest Rates appeared first on ROI Credit Builders.
The post No Faxing Cash Advance Loans– Understanding Late Fees And Interest Rates appeared first on #1 SEO FOR SMALL BUSINESSES.
The post No Faxing Cash Advance Loans– Understanding Late Fees And Interest Rates appeared first on Buy It At A Bargain – Deals And Reviews.
Every business needs strong business credit.  Make it a goal in this new year to learn how to start business credit, and how to keep it strong so you can grow your business into more than you ever imagined. 
Learn How to Start Business Credit, and How to Keep It Strong
The new year is full of promise.  We make resolutions, set goals, and determine to stick with it all, until  what was once a resolution becomes a habit. Then, a few weeks later in most cases, we are back to the way things were.  We are eating the same, slipping into old habits, and nothing is really any different. Sometimes though, one or two things stick.  
Learning how to start business credit really can be one of those things that sticks if you use or process and support system along the way.
In most cases, you can't access the funding your business needs without credit.  As a business owner, you not only have to worry about your personal credit, but you also have to pay attention to the credit rating of your business.
Whether you are new to business ownership or you already run an established business, you need to know how to start business credit building.  It is vitally important to have separate credit for your business. 
Check out our best webinar with its trustworthy list of seven vendors to help you build business credit.
How to Start Business Credit in the New Year: Establish Your Business as a Fundable Entity Separate from Yourself
To do this, you need to establish your business as separate from yourself.  Even if you have stellar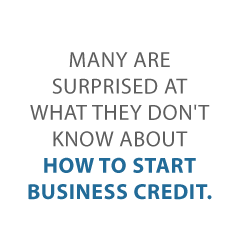 personal credit, you don't want it messing with your business credit.  The reverse is true as well.
If something unfortunate happens on the personal credit side, you do not want your business to suffer.  On the flip side, if your business struggles and its credit suffers, you want your personal credit protected as much as possible.  
Business credit doesn't build on its own however.. It takes some work to set things up right. It's not  hard, but it does take some effort. 
The first step is to make sure your business has an address and phone number that is different from what you use personally.  You can use VoIP phone services and virtual business address options to keep from having to get a whole new phone line or buy a building if you are running your business from home.  
You Have to Incorporate
Next, you have to incorporate.  There are a few options.
This is the most definitive separation, but it is also the most complicated and expensive.  Before choosing this option, be certain there are reasons other than starting business credit.  If it isn't necessary for some other reason, there are other, less complicated, and less costly options. 
 This option basically offers the same separation as the C Corp, but you pay taxes at the personal level.  This is in contrast to the C Corp model where you pay on both the personal level and corporate level resulting in double taxation.  It is also cheaper than incorporating as a C Corp. If it isn't necessary to file as a C corp, this is a good alternative. 
Forming a Limited Liability Corporation results in less liability, thus the name, and offers enough separation to serve the purpose of starting business credit.  If you are not required to be a C Corp or S Corp, this is the easiest and most cost-effective way to create the separation of business and personal credit needed. 
Stop Using Your SSN to Apply for Business Credit
You may think you cannot do this.  After all, doesn't every credit application ask for an SSN?  You need to apply for an EIN. Your SSN connects to you, personally, and it is pretty much a given that anything connected to it credit wise will end up on your personal credit reports.  
No matter what you do to separate your business, if you apply with your SSN it's likely going to hit your personal credit report.
The process of applying for and EIN is easy.  The IRS has an online form, and as soon as they verify the information, you receive your number.  It typically happens almost immediately. 
You Need a D-U-N-S Number
Dun and Bradstreet (D&B) is the largest and most commonly used business credit reporting agency (CRA).  They issue a 9-digit DUNS number to each credit file. Application is easy and free, and once you have that number, you will be even closer to establishing credit for your business separate from your own. 
Check out our best webinar with its trustworthy list of seven vendors to help you build business credit.
Keep Expenses Separate
If you are using the same bank account for business and personal expenses, stop. For starting business credit, you need a separate business bank account.  Some vendors and credit cards want to see a dedicated business account with a minimum balance before approval. It will also help to have the expenses already separate come tax time.
How to Start Business Credit in the New Year: Establish Credit Lines with Vendors
There are two ways to go about this.  Typically, a combination of the two is the best bet for starting business credit quickly.  First, if you are already working with any vendors, ask them about opening a credit line. Since you already have a relationship with them, they may be more willing to do so without checking your credit.  If they agree, be sure the account is in your business name and lists your business information, not your personal information. Then, ask if they will report payments to the business credit reporting agencies. 
Either way, you will also need to start working with starter vendors.  This is a vital step in starting business credit. You cannot skip it. What are starter vendors?  These are vendors in the vendor credit tier that will offer net terms on invoices without checking credit.  Then, they will report those payments to the business CRAs. If you can get accounts with existing vendors also, you will build a strong credit score faster, but you still need to work with starter vendors. 
Sometimes utility companies are willing to report payments to credit agencies also.  You almost always have to ask though. The worst they can do is say no. If they do, you haven't really lost anything.  If they say they will, starting business credit will only go faster. 
Talk to everyone, including telephone, electric, gas, and even internet.  Make sure they are in your company name with your company's contact information first however. 
How to Start Business Credit in the New Year: Get Business Credit Card Accounts
Once you have your name, EIN, and separate contact information, you need to use it to apply for business credit cards.  This has to be done in order as well. The vendor credit tier is actually the bottom of 4 different credit tiers. The other three are made up of varying levels of business credit cards.  When starting business credit, after the vendor credit tier, you can step up to the retail credit tier. 
These are the cards that are issued by specific stores and can only be used at the stores that issue them.  For example, a card issued by Office Depot that can only be used for purchases from Office Depot would be in this tier.
Once you get enough cards in the retail credit tier, you can apply for cards in the fleet credit tier.  Those are the cards that can only be used for fuel and automobile maintenance and repairs. A couple of examples of companies that issue these types of cards are Fuelman and WEX.
After that comes the cash credit tier.  Those are the standard cards you can use anywhere for anything.  They typically have higher limits and lower interest rates. Once you qualify for these cards, all that is left is to keep your business credit strong.
How to Start Business Credit in the New Year: Maintain Your Business Credit
There is no point in starting business credit if you are not going to keep it going strong.  You have to make your payments on time and handle it responsibly. Planning plays a big role in this.  Do not overspend, and try not to use credit that you cannot pay back in a timely manner. You don't have to pay it off all at once.  You need to make payments to build credit anyway, but be sure you can make the payments.
In addition to handling credit responsibly, you need to monitor your credit reports.  Even if you are just beginning to establish business credit, go ahead and get a copy of your business credit report. There may not be anything on there, but you need to know when changes are made.  This original report will give you a baseline.
Check out our best webinar with its trustworthy list of seven vendors to help you build business credit.
We can help you monitor your business credit for a fraction of what it costs with the credit reporting agencies.  Go here to find out more. 
What to do If you Find a Problem
Each CRA has a different process for dealing with problems on your report.  You will have to find out from each one what their process is for reporting mistakes.  However, the standard is that you mark the mistake on the report and send them a copy. Also, provide the correct information along with any back up documentation.  Documentation may include proof of payment such as receipts, copies of bank statements, proof of change of address, and more. Send it all certified mail, and always send copies of documentation, not originals.
Remember mistakes can include things other than payment information.  Make certain you clear off anything that should be on your personal credit report, and vice versa.  Keep an eye on information that may need to be updated as well, such as phone number and address.
Is it Too Late to Worry About How to Start Business Credit?
The short answer is, nope.  While the process of separating your business from yourself as the owner is definitely easiest handled in the original set up process, it can be done at any time.  If you are already up and running it will take you some extra time and expense to change any marking materials and directories that already list your personal contact information.  It can also take some time to go through the incorporation process. It's worth it though.
How to Start Business Credit: A Word About Online Presence
While having an online presence doesn't really affect your business credit score, a poor online presence, these days isn't very conducive to success.  In fact, so many people head to the internet first these days, if you don't have a website you might as well not even exist. The thing is, you need to have a professional website.  You don't want something that is just thrown together. 
This isn't just for your potential customers, but also for potential lenders.  You never know what type of research a lender may do other than pulling a credit report.  If they see a poorly executed website, it will look unprofessional. That will not bode well for your approval chances.  Be sure you have a business email with the same URL as the website also. You shouldn't use your personal email address any more than your personal phone or mailing address. 
How to Start Business Credit in the New Year: Set Your Goals and Stick to Them
The best way to stick with it and keep working toward your goals is to have a solid support system.  That is exactly what CreditSuite is. We can help you with every step of the process from finding starter vendors that will get your business credit score rolling to monitoring your credit so you know where you stand.  Building business credit isn't hard, but it is definitely a process that requires intentionality and dedication. Let this year be the year you take the plunge and gain access to all the business funding you need to successfully run and grow your business.   
The post Start the New Year Off with a Bang: How to Start Business Credit in 2020 appeared first on Credit Suite.