Archives
now browsing by author
You how they say everything in life is connected?  It's true.  One thing affects another and another and another and before you know it, all the dominos have fallen.  The same is true of the connection between getting a business loan, credit score, and fundability.
When it Comes to a Business Loan, Credit Score and Fundability Both Count
Most people only think about credit score when it comes to their ability to get a business loan.  The truth, however, is much bigger than that.  Credit score is important, but only in so much as it is a part of the bigger picture of fundability.
Business Loan Credit Score and Fundability: Understanding Fundability
What is fundability?  In short, it is the overall ability of a business to repay debt, as viewed by lenders.  If a lender sees your business as one that is fundable, they believe that you will be able to handle and repay the debt that they extend in a timely manner.  Your business is seen as one that will profitable for them to lender to.
The thing that few business owners understand is, there is so much more to fundability than credit score.  Lenders look at a number of things to determine whether or not they will approve a loan application. It's true, when it comes to a business loan, credit score counts a lot.  It's not everything though.
Check out our trustworthy list of seven vendors to help you build business credit.
How Business Credit Affects Fundability
To really understand the business loan credit score and fundability connection, it helps to think of fundability like a puzzle. Business credit is just one piece.  It's a little more complicated than that however.  It is a very, very large piece, right in the middle, and it is made of little pieces all its own.  It's like a puzzle within a puzzle.
So yes, though many other things affect fundability, when it comes to a business loan, credit score is hugely important.  This means it is vital to understand how to build business credit.
Establish Business Credit
Before you can build business credit, you have to first establish your business as a separate entity from you as the owner. This is a vital step in getting your business loan credit score where it needs to be.  It is all in how your business is set up.
Separate Contact Information
Your business needs it own phone number and address.  This doesn't mean you need a separate building.  You do not even need a different phone.  You can get a phone number that works over the internet and will forward to the phone you are already using.  For an address, you can use a virtual office.  Some of these will even offer meeting spaces to hold face-to-face meetings.
EIN
The next thing you need to do is get an EIN for your business.  This is an identifying number for your business that works in a way similar to how your SSN works for you personally.  Some business owners used their SSN for their business. This is what a lot of sole proprietorships and partnerships do.  However, it really doesn't look professional to lenders, and it can cause your personal and business credit to get all mixed up.  When you are looking to increase fundability, you need to apply for and use an EIN.  You can get one for free from the IRS.
Incorporate
This is the most important step in fundability thus far.  Incorporating your business as an LLC, S-corp, or corporation is necessary to fundability.  It lends credence to your business as one that is legitimate. It also offers some protection from liability.
Which option you choose does not matter as much for fundability as it does for your budget and needs for liability protection.  The best thing to do is talk to your attorney or a tax professional.  What is going to happen is that you are going to lose the time in business that you have.  When you incorporate, you become a new entity.  You basically have to start over.  You'll also lose any positive payment history you may have accumulated as well.
This is why you have to incorporate as soon as possible.  Not only is it necessary for fundability and for building business credit, but so is time in business.  The longer you have been in business the more fundable you appear to be.  That starts on the date of incorporation, regardless of when you actually started doing business.
Business Bank Account
You have to open a separate, dedicated business bank account.  There are a few reasons for this.  First, it will help you keep track of business finances.  It will also help you keep them separate from personal finances for tax purposes.
There's more to it however.  There are several types of funding you cannot get without a business bank account.  Many lenders and credit cards want to see one with a minimum average balance.  In addition, you cannot get a merchant account without a business account at a bank. That means, you cannot take credit card payments.  Studies show consumers tend to spend more when they can pay by credit card.
Check out our trustworthy list of seven vendors to help you build business credit.
Building Business Credit
To build business credit, you have to get accounts reporting.  This is how you get a business loan credit score that is strong. As you may imagine, getting someone to extend credit without first having strong credit can be quite difficult.  There are a few options however.  For example, you can talk to any vendors you may already be working with and ask if they will extend credit.  Since you already have a relationship with them, they may be willing.  Ask also if they will report your payments to the business credit reporting agencies.  Then, your score will start to grow.
You can also talk to those service providers you already pay monthly like landlords, utilities, and phone and internet providers.  They do not have to, but if you ask they may report your monthly payment to the business credit agencies.  This can only help you build credit faster.
Credit Line Hybrid
This is a type of unsecured business credit financing. That means there is no need for collateral.  Now, they will check your personal credit score, and it is best if you have established business credit.  However, you can still use this to build business credit, even if you do not have good personal credit or business credit.
If you do not qualify, you can take on a credit partner who does qualify.  Because the credit line hybrid will be in the business name, the payments will be reported to the business credit reporting agencies, and your business credit score will start to grow.
Vendor Credit
This is probably the easiest and fastest way to begin building business credit.  However, do not be fooled into thing that just because it is easier and faster than the other options that it is either easy, or fast.  All good things take time and effort and building business credit is no different.
Vendor credit comes from certain starter vendors that will offer net terms on invoices without a credit check. Of course, they will require other information to ensure they reduce their risk as much as possible.  They may want to see a certain average balance in a business bank account, or they might want to see you have been in business for a minimum amount of time.
However, once approved for net invoicing, they will report your invoice payments to the business credit reporting agency and you will be off to the races.  As your score grows, you will be able to qualify for more and more accounts with various creditors.  As long as you handle the credit responsibly, your score will continue to grow strong.
Business Loan Credit Score and Fundability: What Else Affects Fundability
Remember, business credit is only one piece of fundability, albeit a relatively large piece.  What else affects fundability?
Licenses
For a business to be legitimate it has to have all of the necessary licenses it needs to run.  If it doesn't, red flags are going to fly up all over the place.
Website
These days, you do not exist if you do not have a website.  However, having a poorly put together website can be even worse.  It is the first impression you make on many, and if it appears to be unprofessional it will not bode well for you with consumers or potential lenders.
Other Business Data Agencies
In addition to the business credit reporting agencies that directly calculate and issue credit reports, there are other business data agencies that affect those reports indirectly.  Two examples of this are LexisNexis and The Small Business Finance Exchange. While you may not be able to access or change the data the agencies have on your business, you can ensure that any new information they receive is positive.  Enough positive information can help counteract any negative information from the past.
Identification Numbers
In addition to the EIN, there are identifying numbers that go along with your business credit reports.  Some of them are simply assigned by the agency, like the Experian BIN.  One, however, you have to apply to get.  It is absolutely necessary that you do this.
Dun & Bradstreet is the largest and most commonly used business credit reporting agency.  Every credit file in their database has a D-U-N-S number.  To get a D-U-N-S number, you have to apply for one through the D&B website.
Business Information
It may seem like a no brainer that all of your business information should be the same everywhere you use it.  However, when you start changing things by adding a business phone number and address or incorporating, you may find that things slip through the cracks.
This is a problem. Tons of loan applications are turned down each year because of fraud concerns.  When things don't match up, lenders get nervous.  Maybe your business licenses have your personal address but now you have a business address.  Perhaps some of your credit accounts have a slightly different name or a different phone number listed than what is on your loan application. Do your insurances all have the correct information?  If you use an ampersand in one place, you can't change it to the word "and" in another.  Everything has to be exactly the same everywhere.
Financial Statements
Both your personal and business tax returns need to be in order.  Not only that, but you need to be paying your taxes, both business and personal.
Business Financials
It is best to have an accounting professional prepare regular financial statements for your business. Having an accountant's name on financial statements lends credence to the legitimacy of your business. If you cannot afford this monthly or quarterly, at least have professional statements prepared annually. Then, they are at the ready whenever you need to apply for a loan.
Personal Financials
Often tax returns for the previous three years will be enough.  Get a tax professional to prepare them.   This is the bare minimum you will need.  Other information lenders may ask for include check stubs and bank statements, among other things.
Bureaus
In addition to FICO reporting personal credit, you have ChexSystems.  In the simplest terms, this keeps up with bad check activity and makes a difference when it comes to your bank score.  If you have too many bad checks, you will not be able to open a bank account.  That will cause serious fundability issues.
Personal Credit History
Your personal credit score from Experian, Equifax, and Transunion all make a difference.  You have to have your personal credit in order because it will definitely affect the fundability of your business.  The best way to get a strong personal credit score or improve a weak one is to make payments consistently on time.
Application Process
You probably never considered this point.  Many don't.  For example, think about the timing of your application.  Is your business currently fundable?  If not, do some work first to change that.  Next, make sure that your business name, business address, and ownership status are all verifiable.  Lenders will check into it.  Then, make sure you choose the right lending product for your business and your needs.  Do you need a traditional loan or a line of credit?  Would a working capital loan or expansion loan work best for your needs?  Choosing the right product to apply for can make all the difference.
Business Loan Credit Score and Fundability: It's Not Too Late, Start Now
Wherever you stand with business loan, credit score, and fundability, its never to late to make a change.  Taking all of this into account, get started now so you can ensure the best chance for your business to get the funding it needs.
Check out our trustworthy list of seven vendors to help you build business credit.
The post The Business Loan Credit Score and Fundability Connection appeared first on Credit Suite.
Making a personal connection can be an effective way to increase sales, but the cost of personally reaching out to each customer is prohibitive.
In addition to it being costly, phone calls are also time-consuming. Most sales reps handle a high volume of calls, many of which don't even reach a human on the other end of the line. Cold calling can also lead to burnout within your sales teams as they face repeated rejections or unanswered calls.
You need a better solution.
Ringless voicemails help boost outbound marketing efforts by delivering pre-recorded messages directly to voicemail boxes—without you or your customer having to pick up the phone.
Ringless voicemails can speed up your sales process, scale your outreach, and give your sales team more time to invest in qualified leads.
What Are Ringless Voicemails?
Ringless voicemails are audio messages sent directly to voicemail inboxes—without the telephone ringing first. You pre-record the messages and use software to directly drop those voicemails into users' voicemail boxes.
You may have also heard these called ringless voicemail drops, voice broadcasting, or direct-to-voicemail messages.
Ringless voicemails are a direct marketing strategy that can increase the volume of customers you reach while keeping the outreach cost low. Instead of manually dialing each customer, you send a pre-recorded message to thousands of contacts all at once.
In most cases, messages can be sent at once or in batches at scheduled times.
5 Ways to Use Ringless Voicemail in Your Business
Nobody wants irrelevant sales blasts, but many people do welcome reminders, follow-ups, and other actions to support their experience with a company. In these cases, reaching a large volume of people makes sense.
Here are a few times that ringless voicemails might make sense:
Thank new subscribers who have signed up for your newsletter
Welcome new members to your subscription service or private group
Update virtual conference attendees of schedule changes
Connect with your best customers by sending a holiday greeting
Reward your top clients with a promotional offer or coupon code
Remember to focus on relevance. Customers who find your messages helpful are unlikely to block ringless voicemails from reaching their inbox.
Are Ringless Voicemails Legal?
Ringless voicemails are legal in most areas but can be a bit controversial, as can any high volume sales outreach. Make sure you stay compliant with local and federal regulations. You'll also need to be mindful of do-not-call lists and timezone restrictions.
These are essential questions to ask when selecting a service provider for ringless voicemails. A company representative should walk you through how to stay in compliance with the Telephone Consumer Protection Act (TCPA), state and federal regulations, and local laws in other countries if you are activating global campaigns.
How to Use Ringless Voicemails to Promote Your Brand
People don't rely on salespeople the way they used to. In fact, 57 percent of salespeople agree buyers are less dependent on sales during the decision-making process compared to a few years ago.
Once you consider all the ways you'd like to reach out to engage your customers, you'll likely find plenty of outreach opportunities where ringless technology could make a difference in your business.
Benefits of Ringless Voicemails
When you keep your customer's experience in mind and offer them additional service, support, or welcoming, you're likely to see positive results such as:
Most people don't answer unknown numbers, but they do check voicemails.
Your customers can listen to your message at a convenient time for them.
Customers can listen to a message more than once or refer back to it later.
You can engage customers without them feeling pressured or on the spot.
Save time by scaling your outreach to reach more people.
Add these to your email and direct sales marketing to boost conversion rates.
Cut the costs of your marketing outreach dramatically.
Help reduce sales rep burnout from rejection and negative interactions.
Give your sales team more time to devote to interested leads who call back.
What types of industries can benefit from this technology? Try ringless voicemail for real estate updates, automotive maintenance reminders, nonprofit outreach, and appointment reminders for personal services such as fitness centers, massage therapy, or hair salons.
Now that you understand the benefits, here are a few ways to use ringless voicemail to grow your business.
Ringless Voicemail Software
Ringless voicemail software allows you to leave or "drop" voicemail messages with server-to-server communication. Different platforms offer varied pricing plans, usually based on the volume of messages you send. Each company has its own platform to record messages, upload contact lists, monitor campaigns, access data, and reach out for support.
So, which company offers the best ringless voicemail software?
It depends on how many messages you want to send per month, where your target audience is located, and what features you need. The software platforms below all send messages to both mobile devices and landlines, though geographical coverage varies.
Slybroadcast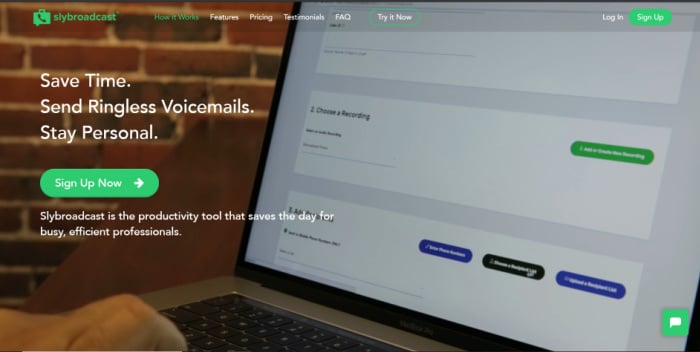 Slybroadcast calls itself a productivity tool and is used by over 3 million people, reaching customers in the US and Canada. You can send messages immediately via its platform, either at once, in batches, or at scheduled times.
The company app lets you record messages, send new campaigns, monitor status all from your cell phone. Other features include customizing Caller ID and integrations to increase automation.
Pay as you go plans range from $10 for 100 message deliveries to $400 for 10,000 message deliveries. Monthly delivery plans lower costs, ranging from $8 for 100 deliveries to $500/mo for 13,000 deliveries.
Call Loop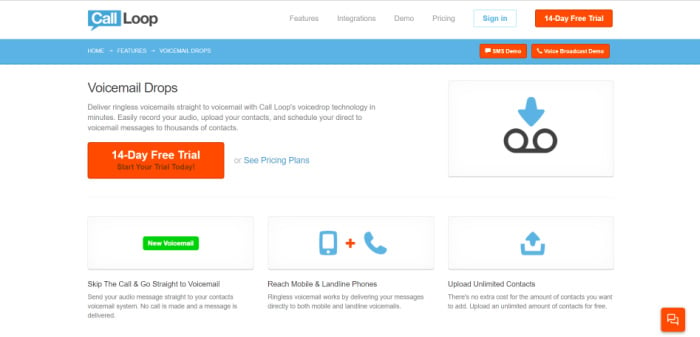 Call Loop offers analytics, reporting, and integrations to improve automation. You can send personalized or bulk SMS, ringless voicemail drops, text to join or win promotions, and other alerts.
Call Loop assures customers its service is TCPA compliant, noting the Federal Communications Commission (FCC) defines ringless voicemail as an "Enhanced Information Service."
Call Loop offers a 14-day free trial to new customers. Monthly plans range from $29/mo for 250 message credits to $99/mo for 2250 message credits to start. Bronze, silver, gold levels offer more volume at $199-499 per month for 4500-11,000 messages. An enterprise-level plan provides custom solutions for larger clients, and additional messages can be added to any plan.
Drop Cowboy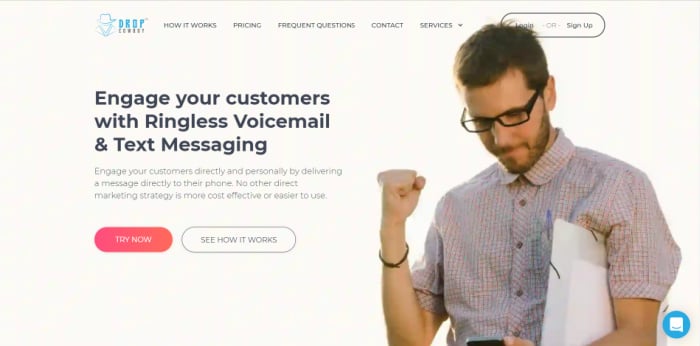 Drop Cowboy calls itself the ultimate contact engagement tool and says it achieves some of the industry's highest conversion rates. The report response rates between 5 to 20 percent range for both ringless voicemail and online texting.
Additional features include missed call alerts, tiny links to shorten links in your text messages, and IVR or interactive voice response to field incoming calls and directing them to the appropriate contacts on your team. Drop Cowboy also offers international message delivery to more than 80 countries outside the US, including the UK, Canada, and Australia, for your global campaigns.
Drop Cowboy also offers a free service to explore the software before committing to a paid plan. Prices range from 9.9 cents per message with no monthly commitment, to plans ranging from $20 to $4000 per month for between 500 to 333,333 messages per month. If you send more than 1 million messages per month, the company provides custom plans.
CDYNE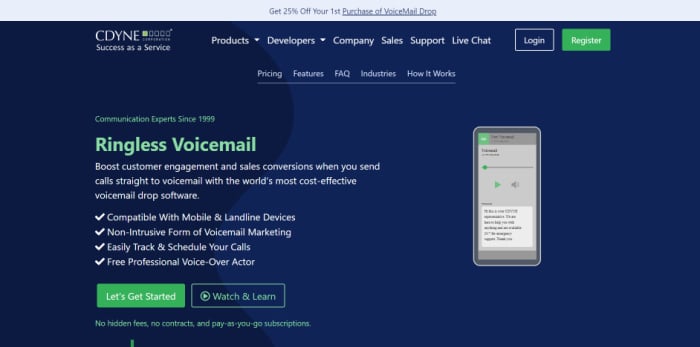 CDYNE calls itself the world's most cost-effective voicemail drop software. Additional features include customer support via live chat, phone, or email, and a free professional voice over actor to ensure smooth and confident delivery of your brand message.
It claims to have a 92 percent open rate and a 96 percent listen-to rate. It also offers to check your contact list against the National Do-Not-Call (DNC) Registry, keeping you compliant with policies and laws. Pricing is available by email.
Stratics Networks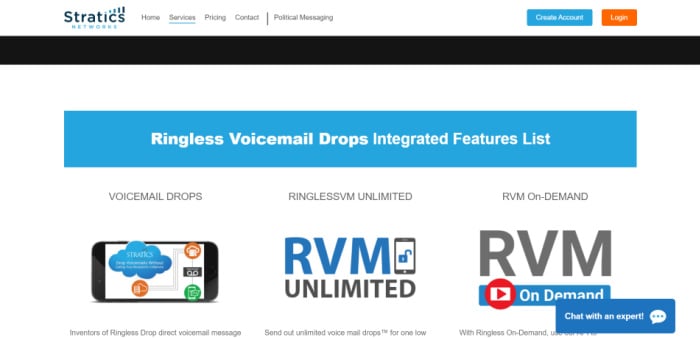 Stratics Networks offers ringless voicemail and text messages in Canada and the US. It also provides full reporting, including a recording of every voicemail left for recipients for accountability and compliance purposes. The company will work with you to ensure TCPA compliance and offers local timezone dialing protection.
Stratics Networks offers a flat monthly rate determined by message delivery speed. It does not bill per message or delivered voice drop, instead offering you unlimited messages per month.
Pricing is available when you set up an account, including standard and PRO plans. It provides a ten-day trial, and if you are not satisfied within the trial period, it will refund the remainder of the month upon request.
Texts vs. Ringless Voicemail
Ringless voicemail and texts or short messaging services (SMS) are designed to engage your customers by contacting them at times that are convenient for them. However, they serve different purposes.
When you are still building relationships and want marketing outreach to feel personal, use voicemail to show the warm welcome your customer could experience in person. If you want to send out information to an existing client base, and especially if you're sharing a link or coupon code, explore text and SMS options.
The good news is, you don't always have to choose. You can send a voicemail and later a text with links or information your customer would appreciate in writing. Many platforms make it easy to build workflows so you can combine features in the most effective way for your business.
What You Should Say in Your Ringless Voicemails
To make the most of ringless voicemails, script out your message in advance, making sure it's crisp, clear, and aligns with your brand messaging. If the platform you select doesn't offer a voice-over service, you may want to practice a few times to make sure you're happy with the final recording.
Ensure the message's content is general enough to be helpful but personal enough to feel like it was just for them. Check with your chosen platform on length, but most customers are unlikely to listen to a voicemail longer than a minute. Short and direct is best.
Ensure your messages abide by rules and regulations in your area, then get started!
While most sales teams have used telephone marketing over the years, many haven't spent time updating their sales process. In many cases, they may have still struggled to tap the power of the phone call in sales. It's likely time for a refresh of these skills anyway!
Conclusion
Ringless voicemail marketing is a powerful tool if you're looking for high volume outreach with a personal touch. There are definite benefits to scaling up your customer engagement with low-cost options like ringless voicemail. Just think how often you could engage your customers if it cost a fraction of your current outreach strategy.
Getting creative with your marketing can help keep your business competitive and thriving. With the right digital marketing support, you can stay ahead of changing trends and stay focused on running your business.
How would you use ringless voicemails to connect with your customers?
The post 5 Ways to Use Ringless Voicemail appeared first on Neil Patel.