Archives
now browsing by author
The COVID-19 pandemic and the likely resulting recession has most small business owners scrambling for ways to fund their business.  First, be sure you take advantage of all that is offered by the Federal government and your state government, including the Paycheck Protection Plan, or PPP.
How to Run a Successful Crowdfunding Campaign in a Recession
Crowdfunding in a recession may or may not work.  It will be harder to run a successful campaign for sure.  In the best of times, crowdfunding can be hit or miss, so it doesn't take a lot of imagination to realize it can be worse during a recession.  We can show you how to help yours become one of the top recession crowdfunding campaigns so you can stay afloat during hard economic times.
To become one of the top recession crowdfunding campaigns, you first need to understand what makes any crowdfunding campaign successful.  That's what we are attempting to help you to do here.  We have found taken a look at some of history's most successful campaign, and dissected them to figure out what the secret was to their success.
Of course, in a recession people generally have less disposable income.  You can still run top recession crowdfunding campaigns, but it may be harder. The formula holds however. The characteristics of a top campaign remain the same, recession or not.
In both, a healthy dose of luck is needed.  That's the element that is outside of anyone's control.  So focus on what you can control.  The first step is understanding exactly what crowdfunding is.
Top Recession Crowdfunding Campaigns: What is Crowdfunding?
It's actually pretty cool. Crowdfunding sites allow you to pitch your business to thousands of micro investors. Anyone who wants a piece of the action can buy a piece of the proverbial pie.
Investors pledge amounts on a broad spectrum depending on the campaign and the platform in use. They may give $5, $80, $150, or even over $500. Generally speaking, investors can pitch in however much they like.
Though not always necessary, most entrepreneurs offer rewards to investors for their generosity. Typically, this comes in the form of the product the business will be selling. Different levels of giving result in different rewards. For example, a $50 gift may get you product A, while a $100 gift will get you an upgraded version of product A.

Hit the jackpot and weather any recession with our best webinar and its trustworthy list of seven vendors who can help you build business credit.
Where Do You Start to Launch Top Recession Crowdfunding Campaigns?
There are many crowdfunding sites, but the most popular are Kickstarter and Indiegogo. While the platforms are similar, there are some very large differences. The most obvious is the timing in which you receive the funds from investors.
With Kickstarter, you have to reach your preset goal before you can receive the funds. If you set a goal to raise $12,000, investments have to reach that amount before you get your hands on any of the money.
Indiegogo, on the other hand, lets you choose if you want to receive funds as they come in or wait until you reach your goal. In addition, they have the option for InDemand, which lets you continue to raise funds after your initial campaign is over, without technically starting a new campaign.
Indiegogo also has a flexible funding option for those who may need it.
Each have warranted amazing results for many entrepreneurs. To make the choice for yourself, you need to evaluate who your audience is, and which platform will best reach them.
How Successful Can A Crowdfunding Campaign Really Be?
It can be quite successful actually. While it certainly isn't the norm, these top campaigns far exceeded their fundraising goals.
Pebble Smart Watch
Pebble actually has several of the top 10 campaigns ever on Kickstarter. Their 2nd campaign is the highest funded campaign to date, reaching over $20,000,000. That's not too shabby for a goal of only $500,000. They blew it out of the water!
Are they still successful? Well, yeah, but not in the way you may think. They actually sold to FitBit. I call that success, but they no longer exist as their own company.
FlowHive
This one is not one that most would expect to explode onto the scene the way it did. The FlowHive Indiegogo campaign definitely generated some major buzz. The idea was to find a way to get the honey from bees without harming the bees.
Traditionally, hives are simply broken open to obtain the honey. This process can kill the bees. FlowHive developed a fake hive of sorts, made from reusable plastic. Bees make honey in it, and the honey flows through a spout out into the world. The bees are safe and fresh honey is ours for the taking.
Apparently, beekeeping is a growing interest. This campaign raised $14,000,000. Though they won't disclose exact numbers, the bees at the top claim they are still buzzing along nicely.
CoolestCooler
The CoolestCooler was a Kickstarter campaign that came in at over $13.000,000 raised. The cooler boasted bluetooth and a blender among other super cool gadgets. Investors received a cooler for their donation toward the cause.
This one did run into some trouble when it wasn't able to deliver investment rewards as quickly as promised, and there was actually a lawsuit. In the end, everything worked out and everyone got their rewards.
The cool gang at CoolestCooler says they are glad to put that behind them and get back to work. You can still buy one today, and it is definitely cool.
Kingdom Death Monster 1.5
Yeah, you read that right. What do you say to that? Well, apparently a lot of people said yes. They said yes to the tune of $12,000,000 on Kickstarter.
It's a board game, if you are wondering. It did take a while to get the ball rolling, but investors finally got their copy. After production stopped resale values went upwards of $1,000. A later campaign promising updated material did just as well. Seems like a lot people love horror games.

Hit the jackpot and weather any recession with our best webinar and its trustworthy list of seven vendors who can help you build business credit.
BauBox Travel Jacket
This jacket was set to be hot with 10 different go-go gadget like design elements like a drink holder and a neck pillow. They raised over $11,000,000 across 2 campaigns. While it had a bumpy start, including the jacket being available on retail sites before investors even got theirs, it is still selling today.
What Makes a Successful Crowdfunding Campaign?
There is never a guarantee, but there are a few things that most campaigns that reach epic status have in common. These things don't guarantee success, but they can usually help you get over any bumps in the road if you also have a great business idea and everything else in place.
Without further ado, here are our best tips for how to become one of the top recession crowdfunding campaigns:
Research
You can't go in blind.  You have got to know what you are getting into. This is a risk, and research is your protection.  It's like you are jumping out of a plane, and research is your parachute.
Make sure you can meet demand. Know your market. Find out how much you actually need before you set your goal. Many a well-meaning entrepreneur has kicked off a campaign only to find the demand isn't there or their goal fell short of what they actually needed to get started.
Show Them Something Real
If you are selling a product, have a sample to show investors. This is key to becoming one of the top recession crowdfunding campaigns. People are much more likely to jump onboard if they can actually see the ship. This one is so important that Kickstarter actually requires you to have a prototype to show investors.
Crowdfunding Platforms are not One Size Fits All
Once you know who your target audience is, you can decide if you would be best served by Kickstarter, Indiegogo, or some other, lesser known yet equally successful platform. If your audience doesn't frequent the platform you are on, it won't matter how great your idea or product is. They will never see it.
Do Not Be Afraid to Offer Incentives
But be sure you can deliver. Be fearless. Don't hold back. I mean, don't give away the company either, but if someone one is going to help you get started, they deserve something pretty epic for their trouble. Don't you think?  Go beyond a thank you note and be generous with what you offer as a reward for their support.
Goal Setting is Vital
Setting attainable goals is absolutely necessary to becoming one of the top recession crowdfunding campaigns. Make sure you crunch the numbers with actual facts before you set a fundraising goal.  Be
certain you have production facilities on the line that can meet the timeline goals. Never set random goals with no clue what it will take to reach them or if they are even realistic to reach.
Be Extra with Marketing Materials
You can't just throw something together. Videos need to be professionally edited. Social media needs to be specifically geared toward your audience. This means you, of course, need to know your audience well.  Are they preppy?  Cheesy?  Hippy?  Play to what they love.
All marketing has to be relatable to your core audience.
Does Being One of the Top Recession Crowdfunding Campaigns Guarantee Success?
No, it doesn't. If you don't have the other pieces of the puzzle in place, it doesn't matter how much you raise, you won't be able to make a go of it. Meeting your crowdfunding goals certainly helps however.
Just be sure you can meet expectations. If you make promises to investors, keep them. Get your arms around how long it will take to deliver and don't promise anything any sooner than you can actually handle, taking the recession into account.
If there are problems, address them like a professional. Communication with investors goes a long way.

Hit the jackpot and weather any recession with our best webinar and its trustworthy list of seven vendors who can help you build business credit.
Have a Back Up Plan
Now, what if you do everything right and it still isn't enough? This is where having solid business credit comes in. If you need to bridge the gap between your crowdfunding funds and capital needs, a good old-fashioned working capital loan or even business credit cards can get you there.
How to Get Business Credit
Start working on your business credit in conjunction with your crowdfunding campaign, if you haven't already.  It is never too early.  The first steps are the easiest.  You need to get separate contact information for your business.  This includes an address and a phone number that are not your own.  It also means getting a separate business bank account and using it for all business-related transactions.
Make certain your phone number is toll free, and list it along with your business address under the business name in the directories.
You also need a professional business website and dedicated email address.  The email address should have the same URL as the website.  Do not use a free service such as Yahoo or Gmail.
In addition to these simple things, there are a few other steps that will help further separate your business from yourself.  These include formally incorporating, obtaining an EIN, and applying for a DUNS number.
When it comes to incorporating, you can choose from a corporation, an S-corp, or a limited liability corporation.  They vary in cost and the amount of liability protection they offer, but they all serve the purpose of separating your business so you can build business credit equally.
You can obtain an EIN for free on the IRS website, and the DUNS number is free through the Dun & Bradstreet website.
What's Next?
Work with starter vendors in the vendor credit tier.  These are vendors that will offer net 30 invoice terms without a credit check, and then they will report your payments to the credit agencies.  If you have laid the groundwork by establishing your business as separate from yourself and getting the necessary identifying numbers, you will now be well on your way to building business credit.
Top Recession Crowdfunding Campaigns are Possible
They really are, but they are not always enough.  Follow these tips and you may meet all your crowdfunding goals.  Start building business credit now though, so that if it isn't enough, you will have something to fall back on.  Funding a business is never easy, and a recession makes it even harder.  Still, it is possible if you know where to start and where to go.
The post Top Recession Crowdfunding Campaigns: How to Push Your Recession Crowdfunding to the Top appeared first on Credit Suite.
Asking questions can be scary.  It makes us feel vulnerable.  Some feel it's a sign of weakness.  The truth is, you don't know what you don't know.  What you don't know, really can hurt you, and the only way to get in the know, is to ask.  Here are some things you need to know about capital loans. 
Your Questions About Capital Loans Answered
This type of loan is a mainstay in the business lending world.  However, if you are new to running your own business, you may be confused by some of the terms commonly thrown around. 
What Are Capital Loans? What Even is
Capital
?
In the simplest terms, capital refers to the assets of the business that go on the balance sheet. So, capital loans are loans for funds that are to be used to either start a business or be reinvested in a business.  This could be for expansion, improvements, and more. Basically, this is money you would spend on those things that go under long-term assets on the balance sheet.  It's money that is to be reinvested in the business, or used to buy an existing business or start a new business. 
What is Working Capital?
Working capital is money you use to run your business from day to day.  It is still money that is reinvested in the business, but it isn't used on long-term assets.  Rather, the funds go toward the daily ins and outs of running a business, like payroll, utilities expense, and more.

Credit Line Hybrid Financing: Get up to $150,000 in financing so your business can thrive.
Which Do I Need? Capital Loans vs. Working Capital? 
Now that you understand the difference, you may be asking yourself which you need.  Do you need capital loans or working capital? I imagine the gears are turning in your head right now trying to figure it out.  If you want startup capital, or if you need to invest in something big, you need capital loans. If you need funds to handle regular expenses, that means you need working capital. Sometimes this is easy to determine, but sometimes it isn't so cut and dry. 
Where Can I Get Capital Loans If I Have Bad Credit? 
That depends on how bad your credit is. If it's above 680, Small Business Administration loan programs may be an option. Try these to start: 
SBA Options
Here are some options The Small Business Administration offers for capital loans and working capital. 
7(a) Loans
This is arguably the most popular of the SBA loan programs out there. Mainly, this is because it offers federally funded term loans up to $5 million.  The funds can be used for a number of things including expansion, purchasing equipment, working capital and more. Banks, credit unions, and other specialized institutions, in partnership with the SBA, process these loans and disburse the funds. 
The minimum credit score to qualify is 680.  That's not exactly a bad credit score, but is it less than what you need to get most traditional loans without an SBA guarantee.  Also, there is a required down payment of at least 10% for the purchase of a business, commercial real estate, or equipment. Lastly, the minimum time in business is 2 years. In the case of startups, business experience equivalent to two years will do the trick. 
Funds are available for a wide variety of projects, including capital projects. 
504 Loans
These loans are available up to $5 million.  They can be used to buy machinery, facilities, or land. These are all capital projects. Private sector lenders or nonprofits process and disburse these loans. They especially work well for commercial real estate purchases.
Terms for 504 Loans range from 10 to 20 years.  Unfortunately, funding can take from 30 to 90 days. They require a minimum credit score of 680, and collateral is the asset the loan is financing. Furthermore, there is a down payment requirement of 10%, which can increase to 15% for a new business.
Also, you be in business for at least 2 years, or management must have equivalent experience if the business is a startup.
SBA CAPLine
There are 4 distinct CAPLine programs offered by the SBA.  They differ mostly in the expenses they can fund. These CAPLInes are designed to help businesses meet short-term or cyclical working capital needs.  Each of them goes up to $5 million. Furthermore, the interest rate for each ranges from 7% to 10%. Again, funding can take 45 to 90 days.
The four different programs are:
This is financing for businesses preparing for a seasonal increase in sales. 
Financing for businesses that need funding to fill a contract. 
Financing for businesses taking on a real estate or construction project.
Financing for businesses that are struggling with a short-term slump in sales.
The minimum credit score to qualify for these is also 680. However, there is no minimum time in business requirement unless you are getting a seasonal CAPLine. You have to be in business at least one year to get that one.
Capital Loans and Private Lenders
Private lenders are another option for capital loans and working capital if your credit isn't the best. 
Upstart
Upstart is an innovative online lender.  The company itself questions the ability of financial information and FICO on their own to determine the true risk of lending to a specific borrower.  Instead, they choose to use a combination of artificial intelligence (AI) and machine learning to gather alternative data.  They then use this data to help them make credit decisions.
This alternative data can include such things as mobile phone bills, rent, deposits, withdrawals, and even other information less directly tied to finances.  The software they use learns and improves on its own. You can use their online quote tool to play with different amounts and terms to see the various interest rate possibilities.  Typically, business loans are available ranging from $1,000 to $50,000.  
To be eligible for a loan with Upstart, you must meet the following qualifications:
Credit score of 620+

No bankruptcies or negative public records

No delinquent accounts

Meet debt to income standards (they only note they will check this ratio, not what their standards are.)

Have fewer than 6 inquiries in the past 6 months on your credit report, not including those related to student loans, vehicle loans, or mortgages
Fora Financial
Founded in 2008 by college roommates, online lender Fora Financial now funds more than $1.3 million in working capital around the United States. There is no minimum credit score, and there is an early repayment discount if you qualify.
The minimum loan amount is $5,000 and the maximum is $500,000. The business must be at least 6 months in operation and the monthly revenue has to be $12,000 or more. There can be no open bankruptcies.
Lending Club
Popular online lender Lending Club offers term loans. Business loans from $5,000 to $300,000. The loan terms are 1 to 5 years.  You can get a quote in less than 5 minutes. Funds are available in as little as 48 hours if approved. There are no prepayment penalties.  Annual Revenue must be $75,000 or more, and you must be in business for at least 2 years. Also, a personal FICO score of at least 620 is necessary.
Quarter Spot
Quarter Spot is an online lender that offers short term loans. $5,000 to $150,000 is available. 
Your company must have annual revenue of $200,000 or more, and there is no fee to apply.
The minimum time in business is 12 months. There is a required minimum average bank balance of $20,000, and you have to show a minimum of $16,000 in monthly sales.  The borrower must own at least 50% of the business as well.
OnDeck 
OnDeck offers short term loans and lines of credit. For short term loans, amounts are available from $5,000 to $250,000 with terms of 3 to 24 months.

Credit Line Hybrid Financing: Get up to $150,000 in financing so your business can thrive.
You must have annual revenue of $100,000 or more. In addition, your personal FICO Score has to be 600 or better. In addition, there is a time in business requirement of at least 3 years. 
Kiva 
Kiva is an online lender that is a little different. For example, the interest rate is 0%, so even though you have to pay it back it is absolutely free money. They don't even check your credit. However, there is one catch.  You have to get at least 5 family members or friends to throw some money in the pot as well. In addition, you have to pitch in a $25 loan to another business on the platform.
Are There Other Ways to Fund Capital? 
Yes, there are.  One of the newest options out there today is the credit line hybrid. A credit line hybrid is basically revolving, unsecured financing.  It allows you to fund your business without putting up collateral, and you only pay back what you use.  
Who Qualifies for a Credit Line Hybrid?
You do need good personal credit.  Your personal credit score should be at least 685. This is lower than what is required for many traditional loans, especially for the lower interest rate options.
In addition, you can't have any liens, judgments, bankruptcies or late payments.  Furthermore, in the past 6 months you should have less than 5 credit inquiries, and you should have less than a 45% balance on all business and personal credit cards.  It's also preferred that you have established business credit as well as personal credit.
If you do not meet all of the requirements, don't sweat it. You can take on a credit partner that meets each of these requirements.  Many business owners work with a friend or relative to fund their business.  If a relative or a friend meets all of these requirements, they can partner with you to allow you to tap into their credit to access funding. 
What Makes a Credit Line Hybrid so Great?
There are many benefits to using a credit line hybrid.  First, it is unsecured, meaning you do not have to have any collateral to put up.  Next, the funding is "no-doc."  This means you do not have to provide any bank statements or financials.  
Not only that, but typically approval is up to 5x that of the highest credit limit on the personal credit report. Additionally, often you can get interest rates as low as 0% for the first few months, allowing you to put that savings back into your business. 
The process is quick, especially with an expert guide to walk you through it.  One other benefit is, with the approval for multiple credit cards, competition is created.  This makes it easier, and likely even if you handle the credit responsibly, that you can get interest rates lowered and limits raised every few months. 
A credit line hybrid can work well as either a straight capital loan or for working capital.  Once you have it, you can use it as needed for whatever opportunities come your way.
Am I Eligible for Capital Loans Right Now?
There is more to eligibility than credit score.  The key to eligibility for capital loans is to have overall fundability. What's that? In short, it's the ability of your business to get funding.  It encompasses so many things however, it can be hard to get your arms around. 
One thing that doesn't change is, the first step in having a fundable business is in how you set that business up.  For example, you shouldn't use your own phone number and address.  Your business needs a separate phone number and address.  You also need to get an EIN to use on credit applications rather than using your SSN to apply for credit.

Credit Line Hybrid Financing: Get up to $150,000 in financing so your business can thrive.
A separate, dedicated bank account is another must when it comes to fundability.  Even more important, you must incorporate. That's non-negotiable.  It is necessary to separate your business from yourself personally and it helps your business gain more credibility with lenders as one that is legitimate.  This is just a taste of what can affect fundability.  There is so much more. 
Capital Loans: Now You Know
Sometimes, you don't know what you don't know.  Maybe some of these are questions you never thought to ask.  Applying for loans can be daunting, especially when you feel like you will never qualify.  These options for capital loans can help, and in the meantime, work on fundability.  With strong fundability, your business will never be without the funding it needs to survive and thrive.
The post Everything You Wanted to Know About Capital Loans and Were Too Embarrassed to Ask appeared first on Credit Suite.
Are you a startup? Do you have a temporary cash shortage you need to cover?  Is your credit not so great, or do you need cash to purchase in bulk? Whatever is going on rest assured, there is pretty much a business loan for every situation. Yes, you can even get a business loan now. Pandemic or no pandemic, you can get business money.
Sometimes a Business Loan Is Not What You Need
Even if, somehow, there isn't a business loan in the traditional sense to help, there are still options.  Sometimes, a traditional business loan isn't even the right answer. Something else might actually be better. 
Going on the assumption that most folks understand what a standard term loan from a traditional lender is, we are going to discuss alternatives to this solution.  After all, if you don't know what's out there, you'll never know what might work best for you.
Business Loans and Other Options for Startup
When it comes to starting a business, you can get a business loan if you qualify.  There are other options too though.
Check out our best webinar with its trustworthy list of seven vendors to help you build business credit.
Investors
You probably know what investors are.  Finding traditional investors for your business involves a number of things.  First, you have to find investors with deep enough pockets that are willing to hear your pitch.  Then, you have to actually create a pitch, and hope they like it.  
Then there are angel investors.  They work a little differently.  Angels are usually more informal than other investors. They can be people you know. They can be people you connect with through networking or other means. Even your mom can be an angel investor.
Crowdfunding
While the average person that wants to start a business needs funding, it is not always possible to find one or two large investors. With crowdfunding, you can access a lot of investors to fund your business $5 and $10 at the time. 
There are many crowdfunding sites.  Still, the most popular are Kickstarter and Indiegogo. They are similar to each other.  However, there are some major differences as well. The most obvious is the timing of when you get the money that others give your company.
Kickstarter requires you to set a goal first.  You do not receive your funds until you reach your goal. For example, if you set a goal of $5,000 when you start your campaign, you will not receive any money that investors offer up until you reach that $5,000. 
Indiegogo requires a goal as well.  However, they offer the option to receive funds as you go. In addition, they have an option called InDemand. This program lets you keep raising funds even after your original campaign is over.  That means you do not have to start a whole new campaign. It's more like an extension. 
There are other crowdfunding sites out there also. Different ones work better for certain businesses and vendors. To figure out which one might work best for your needs, you'll have to do some research. Keep in mind your type of business and the specific business each one appeals too. 
Crowdfunding is a good starting point for a new business.  Yet, don't put all your eggs in this basket. You need a backup plan.  Only a small percentage of campaigns are successful.  Furthermore, take into account the state of the economy before you rely too heavily on crowdfunding.  If it isn't strong, people will not be as likely to invest. 
Business Loans and Other Options for Getting Back on Your Feet
If you are struggling for a season to keep things going, these options could help.  Remember though, none of them are a permanent solution. To be successful your business has to eventually support itself.  Be sure to use the time these funds may buy you to figure out the problem and how to fix it. 
Non-Traditional Business Loans
These are business loans from companies other than banks.  Typically, they are referred to as private lenders or alternative lenders.  A lot of them have popped up in the past decade as starting your own business has become more popular.  A need for financing options from somewhere other than traditional banks has encouraged this growth. 
There are a few benefits to using private business loans over traditional loans.  The first is that they often have more flexible credit score minimums.  Even though they still rely on your personal credit, they will usually accept a score much lower than what traditional lenders require. Another benefit is that they will sometimes report to the business credit reporting agencies.  As a result, they can help build or improve business credit if you pay them responsibly. 
The tradeoff is that private business loans tend to have higher interest rates and less favorable terms.  However, the ability to get funding and the potential increase in business credit score can make it well worth it. 
Business Credit Cards
Credit cards often get a bad rap all around.  It's no wonder. If you are irresponsible, they can cause a lot of problems.  However, if you handle them properly, they can be an amazing business tool. The thing is, using them to get back on your feet does propose a new set of potential issues.  Since most of them come with fairly high interest rates, you need to be especially diligent to find and solve the issues that cause you to need this additional funding. 
Grants
While there are not a lot out there, grants are probably more common that you think. Usually, these are offered by professional organizations. There are some government grants available as well. Competition can be tough, but they are definitely worth trying for if you think you may qualify. 
Requirements vary from grant to grant.  Most are only awarded to a certain number of recipients.  If you fit into one of these basic categories however, they are worth considering. 
Businesses in low income areas
There are also some corporations that offer grants in the form of contests.   These usually don't require much other than that you meet the corporation's definition of a small business and win the contest. For example, FedEx offers such a context each year. 
Check out our best webinar with its trustworthy list of seven vendors to help you build business credit. 
Business Loans and Other Options for Bridging Cash Gaps
Sometimes you aren't really down on your luck.  You may just have a cash gap that is obviously temporary. Seasonal businesses see this on a regular basis. Another situation that may cause this is that you have some large invoices that just do not get pain fast enough.  These things can easily be handled with some of the following tools. 
Lines of Credit
The most basic definition of a line of credit is that it is a revolving line of credit, similar to a credit card. You have a limit, but you have access to funds at all times.  You only make payments on the portion you use each month. 
For example, if you have a $10,000 line of credit, you can use however much of those funds you need each month for whatever you want.  That is, unless your lender issues some sort of restriction. Access is most typically granted through checks or a card connected to the line of credit account.
Invoice Factoring
If you are an established business with accounts receivable, invoice factoring is one of the available business funding types that you have access to. This is where the lender buys your outstanding invoices at a premium, and then collects the full amount themselves. You get cash without waiting for your customers to pay the invoices.
This is a good option if you need cash fast.  It's also good if you don't qualify for other available funding types. The interest rate varies based on the age of the receivables.
Merchant Cash Advance
If you accept credit cards, you may be able to get a merchant cash advance.  This is similar to invoice factoring, but instead of buying your open invoices, the lender advances cash based on average expected credit card sales.  
Business Credit Cards
Credit cards can help in this instance as well, and they work a lot better here.  In the case of a temporary cash gap, you know the money is coming. Using credit to cover a gap temporarily, and maybe collecting some rewards while you do so, isn't terrible.  This is also useful in the discount inventory situation. If you can get a great deal on bulk inventory, you can use a credit card to take advantage and buy at the lower cost. In theory, when you sell this lower cost inventory, you will actually increase your profit.
Open the Door to Any Type of Business Loan and Other Options by Building Great Fundability
Fundability is the ability of your business to get the funding it needs.  Highly fundable businesses are able to get business loans quickly and easily.  The thing is, few businesses start out fundable. There are many, many factors that affect the fundability of a business.  This includes details ranging from something as simple as your business address to things as complicated as liens on your personal record from years ago.  
Each and every aspect of fundability is important, and you need to know where you stand with each one.  However, one specific piece of the fundability puzzle that is often neglected is business credit. This neglect typically stems from the fact that so few business owners really understand what it is. Many are under the belief that business credit is just debt that is in the business name.  That isn't really the case however. 
About Business Credit
Credit cards and loans with your business name on them are still going on your personal credit report unless you take some very specific steps to build separate business credit.  First, you have to set up your business to be a separate entity from yourself. Coincidently, this setup process is also what needs to happen to begin building strong business fundability.
Check out our best webinar with its trustworthy list of seven vendors to help you build business credit. 
Set Up Your Business to Be Fundable
To set up your business to be fundable you need to ensure you have the following: 
Separate contact information including phone number, address, and email

EIN

D-U-N-S number

Separate bank account

Business Website
In addition, you absolutely have to incorporate.  You can choose to be an LLC, S-corp, or corporation, but you must choose one.  Any of them work when it comes to separating business from owner, so talk to your attorney or tax specialist about which option will work best for your business's other needs. 
How to Build Business Credit to Strengthen Fundability
Once you are all set up, you can start to get accounts reporting to your business credit report. You can ask vendors that you already work with if they will extend credit and report payments.  They don't have to, but they might.  
You can also ask those companies you already pay monthly, like utilities and rent, to report your payments.  Again, they do not have to, but they may.
Another secret to getting accounts reporting is to work with starter vendors. These are certain vendors that will extend net invoices without a credit check, and then report your payments to the business credit reporting agencies. When you get enough of these reporting, your score will be strong enough to apply for store cards like those offered by Best Buy or Office Depot.  
After you get enough of those store cards and make on time payments, you'll be able to get fleet cards like those offered by Shell and Fuelman.  After more of those cards are reporting on-time payments, you should be able to get approval for any business cards out there. For example, those standard credit cards that are not tied to where or what you purchase will be an option.  These are the credit cards that can really help bridge a cash gap or, as a last resort, help you get back on your feet.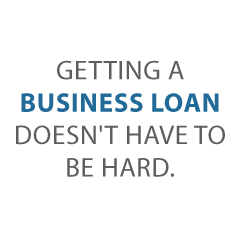 Get a Business Loan – Conclusion
Getting a business loan doesn't have to be hard.  There are options to cover any situation that may come up.  The problem is being eligible for the loans that best fit your needs.  You need to be aware of non-financing options and which situations they are best suited for as well.  Then, if your work to build business credit makes your fundability stronger, you can be sure that eventually you will be able to get funding to fit any situation that may come up.
The post A Business Loan for Every Situation appeared first on Credit Suite.