Archives
now browsing by author
Disclosure: This content is reader-supported, which means if you click on some of our links that we may earn a commission.
Think back to the last time you saw one of those giant, clunky fax machines sitting around.
It's probably been a while, right? While that old-school hardware is undoubtedly outdated, faxing isn't dead by any means.
It's actually very much alive. But thankfully, we have better technology.
The best online fax services make sending secure communications via fax a breeze for individuals and businesses of all sizes with no ugly, expensive, or finicky hardware required.
However, there are dozens of providers to choose from, which is why making the right choice is often more challenging than actually using the service. So to help make your decision easier, I narrowed it down to my top six recommendations—and reviewed them.
The top 6 options for online fax services
How to choose the best online fax service for you
There are dozens of online fax service providers to choose from. This makes it challenging to know which one's perfect for your business, especially if you're not quite sure what to look for.
All of the options on this list are excellent. However, they may not work for everyone.
So, don't forget to use the following factors as you go through the decision-making process to help you narrow things down and find the perfect fit.
Number of users
As a business, you probably need multiple user accounts. Different services have different pricing plans, so it's essential to consider the number of accounts you need.
Some options may limit the number of users with no way around it. Others may offer extra user accounts with an additional monthly fee. So, this plays a massive role in how much you can expect to pay every month.
With that said, most smaller businesses won't have problems with account limitations.
But large corporations with multiple departments who need faxing capabilities may run into problems with low-limit plans.
Cloud-storage integrations
Most businesses rely on cloud storage tools. Whether you depend on Microsoft 365 or Google's G Suite, your employees probably use these tools daily to create and archive documents.
So, it's important to consider these integrations if you and your team need to store documents you send or receive via online fax.
This can help streamline your document management processes.
Page limits
Most providers charge an extra fee if you go over the number of pages your plan includes. So, you need to consider your business's needs when it comes to monthly fax volume.
A lot of providers place low limits on this to encourage you to upgrade to a better plan.
So it's critical to choose a plan that offers enough pages per month along with a fair page overage fee (just in case). However, online fax services with unlimited plans are a better option for businesses that expect to send and receive high volumes every month.
Document archiving
If you're using an online fax service to send and automatically digitize documents, it should come with document archiving as well. This can significantly streamline and automate your document management processes.
Some online fax services provide online databases so users can easily store faxed documents. However, some don't, and others don't provide archiving features at all. Without this, you have to print, scan, and store everything by hand.
Which… can be an incredibly time-consuming process.
So, pay close attention to this as you decide, especially if it's something you need now or may need in the future.
Industry-specific use
There are lots of different all-purpose online fax services out there. However, sometimes particular providers are more suited to specific industries.
Healthcare is an excellent example of this because you're dealing with sensitive information and legal regulations regarding how you handle it. So, you need a service that's secure and compliant with those requirements.
However, healthcare isn't the only industry like this. As such, it's critical to consider your industry's requirements and regulations before making your final decision.
The different types of online fax services
Not all online fax services are the same.
So, before we dive into the reviews, let's talk about the different types of online fax services so you know exactly what to look for as you go through the process.
Web or cloud-based services
The most common online fax services are cloud or browser-based. All you have to do to get started is create an account, and you're ready to go.
Web-based fax services are known for high-quality faxes as well as ease of use.
And they often offer a wide range of cloud-based integrations with platforms like G Suite and Dropbox, making life easier if you want to archive your communications on the cloud.
Mobile fax services
Mobile fax services allow users to fax directly from their smartphones. Essentially, mobile faxing is as convenient and as easy as snapping a photo.
Plus, you don't have to wait until you're at your computer or rely on team members sitting in front of a desktop to send and receive communications.
Some providers may also support desktop or web-based use, while others are exclusively mobile.
So, keep this in mind as you decide which provider is best for you and your team.
#1 – mFax Review – Best online fax services for multiple users
mFax is one of the most flexible and adaptable online fax services for businesses with numerous team members. Their flexible monthly plans allow up to 50 individuals to use the service.
Operating as cloud software, there's no need to install or download any programs. And you can easily access the mFax interface from any web browser on any device.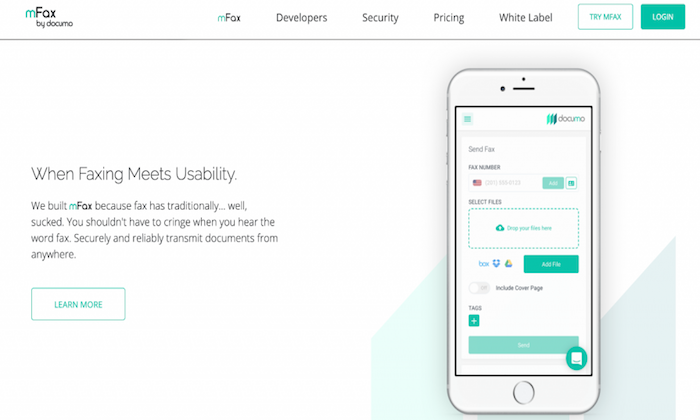 With an easy-to-use interface and intuitive setup, it's an excellent option for those looking to get started with their first online fax service.
mFax comes with various features and benefits, including:
Automatic cloud storage for sent and received faxes
Works from any device
Send and receive faxes from email
Multi-layered encryption for documents in transit and rest
Plans for small businesses and large enterprises
Easy to create and manage users and set account-level permissions
Print to Fax driver allows you to send a fax from a desktop to print
mFax also has a beta version of international outbound fax for 24 countries. So, you're not limited to one particular country.
Plans start at $7 per month for one user, making it super affordable for businesses of all sizes. Plus, you can try mFax for free or sign up for a product demo to learn more about it.
#2 – RingCentral Fax Review – Best all-in-one online fax service
RingCentral Fax is another popular online fax service. With a solid feature list, flexible user numbers, and robust security suite, it's my #1 all-in-one online fax service recommendation.
Their unique fax scheduling feature makes it easy to send faxes for future delivery. This is particularly useful if you need to send international faxes to users in other timezones or have employees who don't work standard operating hours.
On top of that, you also get access to a ton of powerful features and benefits, including:
Groups of up to 50 email addresses to send faxes in one message
Choose from toll-free or local fax numbers
IOS and Android mobile applications
Up to 200 faxes in an online account
Create an electronic signature and add it to documents
View received and sent faxes online via a web browser
Securely transmit faxes over an encrypted internet connection
Send and receive faxes from any device
Block faxes without a caller ID
RingCentral Fax is a great all-around option for small and large businesses who won't mind the slightly limited online fax storage (you can always store them elsewhere).
Plans start at $17.99 a month, and there's an unlimited plan for just $24.99 a month.
#3 – HelloFax Review – Best online fax services for cloud-storage integration
HelloFax is the best online fax service for integrated cloud storage.
The service seamlessly syncs with G Suite, OneDrive, Dropbox, and Box. Users can also access their faxes directly on the HelloFax's service from any web browser on any device.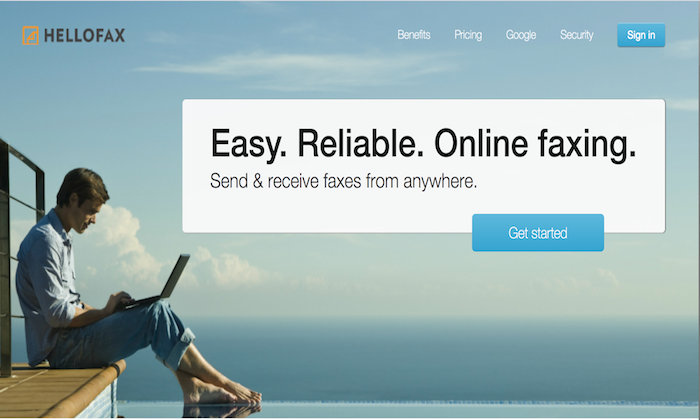 Plus, it's super easy to use. Faxes arrive directly to inboxes as a PDF where they are easily viewable, downloadable, and shareable.
There's also unlimited storage for businesses that prefer not to use other cloud storage providers for their faxes.
With HelloFax, you can:
Send up to five pages for free by signing up
Quickly fax to previously entered fax numbers
Additional faxes that go over the monthly limit are just 5 cents per page
Send faxes by email
Add and remove users at no extra cost
Send faxes to multiple recipients
Receive faxes with a paid plan
Sign in using your Google credentials
Despite having cloud integration with multiple platforms, HelloFax still offers unlimited storage, which is excellent for businesses planning on sending or receiving high-volume communications.
There's a free plan for up to 5 faxes per month, so you can try it free before you invest. However, most businesses need more than that, and you'll need to upgrade once you reach that limit.
But their paid plans are affordable, starting at $9.99 per month.
#4 – SRFax Review – Most secure online fax services
SRFax is a great option for businesses that have high-security concerns. Transferring information over the internet always comes with the risk of interception.
And for specific industries like healthcare, security is even more paramount.
Healthcare providers rely on faxing to transfer sensitive patient data. So, the fax services they use must comply with the Health Insurance Portability and Accountability Act (HIPAA).
SRFax provides multiple layers of data encryption while maintaining a user-friendly interface, making it an excellent choice for high-security industries.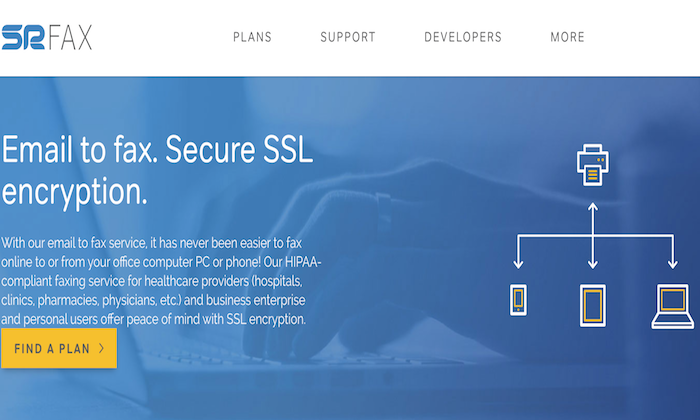 In addition to HIPAA compliant fax services, SRFax has multiple tiers and plans suited to all security levels and sizes of businesses.
They also offer a variety of features and benefits to make your life easier, including:
2048-bit SSL Certification, 2048-bit RSA public keys, and PGP encryption
24-hour customer support hotline
Plans come with unlimited authorized email addresses
Automatically download incoming faxes
Send faxes through an email account
Intuitive dashboard for viewing existing faxes, sending faxes, and changing settings
Send faxes through the online dashboard
For any company that prioritizes high-level security, SRFax is an excellent choice.
Pricing is affordable, with monthly plans starting at $3.29 per month. Or you can sign up for a non-healthcare specific 60-day trial to test it out before you commit.
#5 – FaxBurner Review – Best mobile online faxing service
FaxBurner stands out from other online fax services for its well-designed, user-friendly IOS and Android apps. With FaxBurner, sending faxes is as easy as taking a picture, and you can receive them straight into your inbox.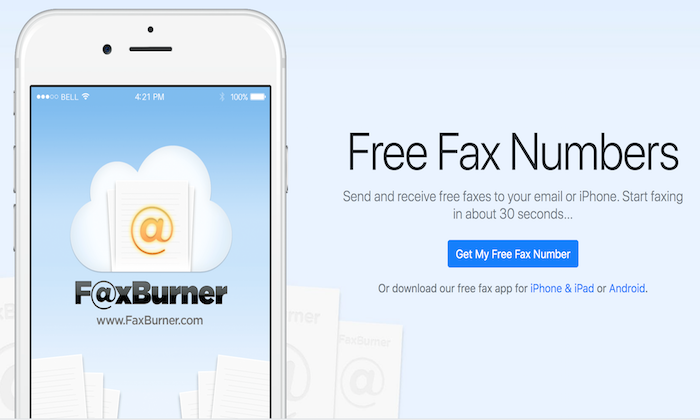 Set up is quick and easy. Plus, the platform gives users a temporary fax number that expires after 24 hours without upgrading to a paid plan.
On top of that, you also get various features and benefits, including:
No unprofessional looking ads or watermarks on free faxes
Digitally document signatures
Create cover letters within the app
Integration with cloud storage apps like DropBox
Email to fax option
Phone scanning capabilities
For users who need the convenience and flexibility of a mobile-first fax application, FaxBurner is my number top recommendation.
Free packages provide up to 25 inbound faxes and five outbound faxes a month. And their paid plans start at just $12.95 a month, making it incredibly affordable for most users.
#6 – Biscom 123 Review — Most affordable online faxing services
If your business is just looking to send the occasional fax, Biscom 123 is an incredibly affordable option. As a leading telecommunications enterprise, Biscom makes online faxing simple for both businesses and individuals with a straightforward interface.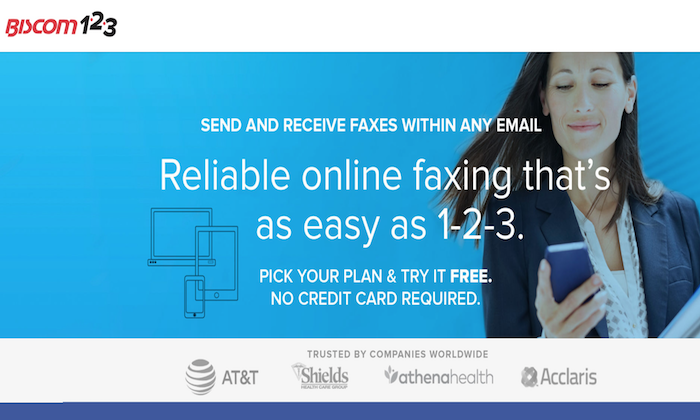 You can also try it free for 30 days to see if it's a good fit for your business, with no credit card required. However, it doesn't maintain archival records of your communications. So, keep that in mind.
Depending on your faxing needs, Biscom 123 offers various plans that allow you to send up to 300 pages with support for multiple team members.
Plus, you can also:
Easily add up to four users in addition to the primary account holder
Send email faxes in just a few clicks
Fax from Android and IOS mobile applications
Integrate with Google Drive
Send multiple file formats and rich text formats for text faxes
Saves inbound PDF files in your email inbox
No limitation on file size or number of documents
Pricing starts at $7.99 per month. This entry-level plan includes 30 pages per month with a charge of 7 cents per additional page. So, it certainly won't break the bank.
Summary
mFax and RingCentral are my top choices for most users. They're incredibly affordable and accessible for most businesses. Plus, they come with a ton of features to make your life easier.
However, that doesn't mean they're suitable for everyone in every situation.
So, don't forget to consider the factors we talked about and take advantage of free trials as you go through the process of picking the best online fax services for you and your team.
What company do you use to send online faxes?
The post Best Online Fax Services appeared first on Neil Patel.
It's been roughly a month now since the Coronavirus started to flip our lives upside down.
From having to practice social distancing and getting used to life without the outdoors to continually washing our hands and wearing masks and seeing loved ones and friends getting sick, the Coronavirus is something none of us expected.
Even our businesses are suffering. Just look at the Coronavirus marketing stats I shared a few weeks ago. The results are devastating.
It's why I decided to change Ubersuggest and make it more free to help small businesses out.
Since then a lot has changed and there are new opportunities that have come around when it comes to your online business and marketing activities.
Opportunity #1: Help others selflessly
My ad agency has thousands of clients around the world. We lost a ton, but we still have enough to see trends in what's happening.
When I saw businesses starting to lose a lot of money, I decided to give more of Ubersuggest's premium features for free. That means it would take me much longer to break even, but that isn't something I am worried about right now.
Take look at the image below… you'll see something interesting.
The chart breaks down how many free-trial signups Ubersuggest has received throughout the past month.
Keep in mind, new customers means free trials… a large portion of free-trial users doesn't convert into paying customers but still, the more trials you get in theory, the more paid customers you will eventually get.
As you can see, the chart is declining. That's because I opened up more of Ubersuggest's paid features and made them free.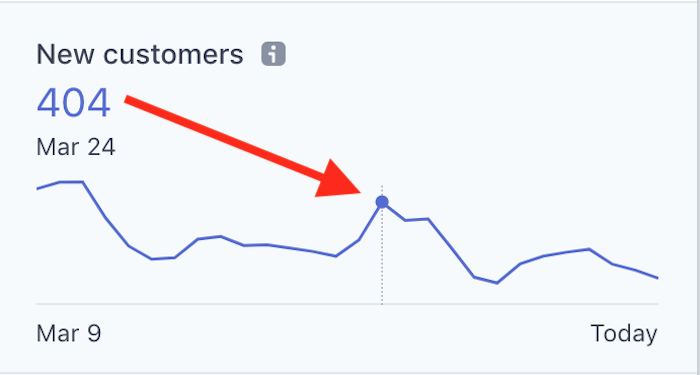 What's interesting is you (and other community members) helped support me.
The moment I blogged about more features being opened up for
free, many of you decided to purchase a paid subscription.
I received dozens of emails from the marketing community thanking me and letting me know that they appreciate everything that I was doing AND they purchased a paid plan to help me out.
Now granted, in general signups are down, but that's what happens when you decide to give away more for free. I didn't do it because I am trying to leverage Coronavirus or look good, instead, I am just trying to help people out just like I've been lucky enough to have had people help me out during my times of need.
But here is what's interesting… my traffic started to go up
on Ubersuggest the moment I
told everyone that I am giving more away for free.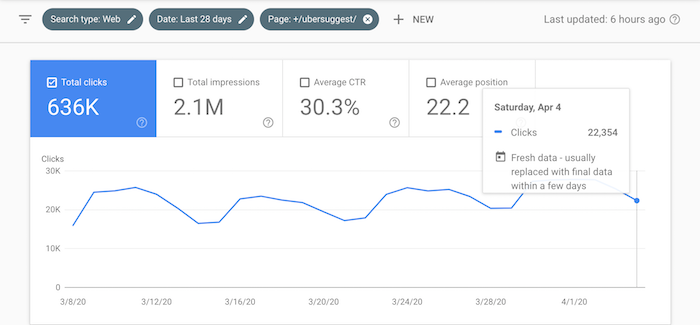 I'm not the only one who experienced this.
Eric Siu decided to give away a course that teaches people how to start a marketing agency for free (he normally charges $1,497) and a bit more than 250 people have taken Eric up on his offer.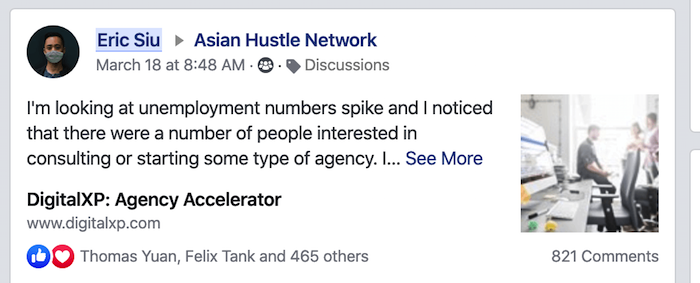 This has led Eric to gain more social media fans and it's
given him an opportunity to do a webinar about his product/services to a new
audience of 50,000 people.
Similar to me, Eric wasn't trying to do this to gain
anything, he is just trying to help people out.
I also know someone in the health space who did something similar and one person in the employment space.
They all saw the indirect benefits of helping people out.
In all cases that I have seen, the result is more traffic.
With your website and business, consider what you can give away for free. Anything you can do to help people out is appreciated, especially during this difficult time. You'll also find that it will drive you more visitors, which is a nice indirect benefit.
Opportunity #2: Paid ads are really, really cheap
The latest trend we are seeing is that paid ads are becoming cheaper.
It makes sense because the way these big ad networks make money is through an auction system. They need small businesses to drive up the cost per click (CPC) for ads so that way the big, billion-dollar corporations have to spend more money on ads.
If you don't have as many small businesses advertising (like we are experiencing now) there isn't as much competition for the inventory, so the cost per click decrease.
But the virus has been causing us to spend more time online, so much so that companies like Netflix have had to reduce their streaming quality to help.
In other words, traffic on the web is up and there are fewer advertisers. This means ads are cheaper.
Now we are also seeing conversions rates dropping in certain
industries, but nowhere near at the same rate as the CPCs.
When we average things out per industry and globally, we are seeing paid ads producing a much higher ROI than before the Coronavirus hit. Just look at the chart below.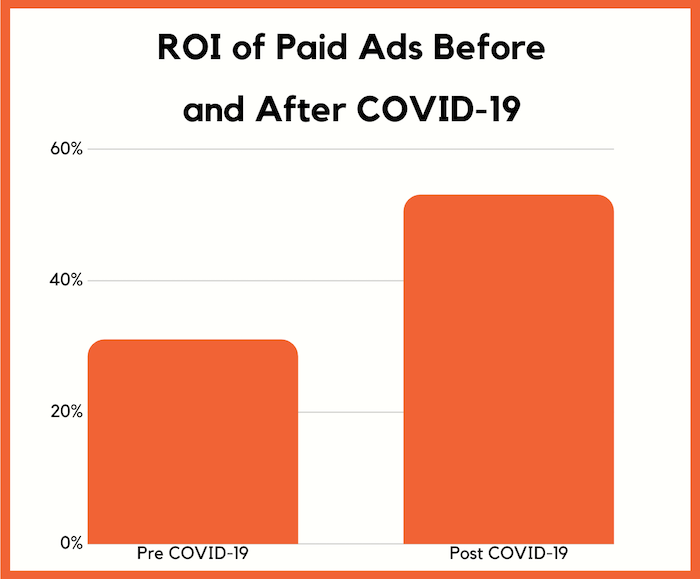 Our clients, in general, have seen their ROI go from 31% to 53%. That's a 71% increase in ROI.
If you haven't tried paid ads yet, you should consider it. If you do, consider ramping up as there is more excess inventory than there has been in years.
Opportunity #3: Conversions are down, but there's a
solution
For many industries, conversion rates are down. Here's a
quick snapshot of what it looked like right after the first big week in the
United States.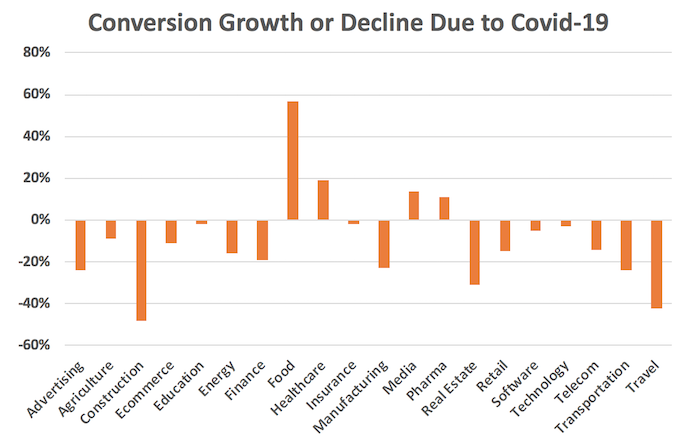 Since then, things have changed. For some industries, it has gotten better, but for others like travel, it's still terrible and will be for a while. Delta Airlines is currently burning $60 million a day.
But we found a solution that has boosted conversion rates by 12% on average.
If you are a store selling something online, consider offering payment plans through services like Affirm.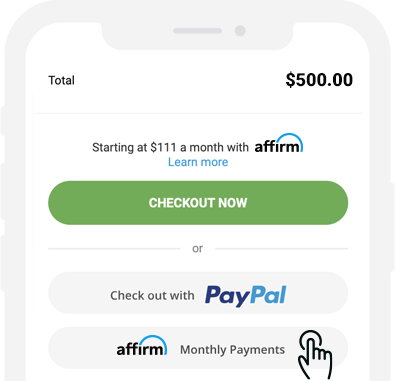 Payment plans reduce the financial burden your customers
will face in the short run.
And you don't have to be an e-commerce company to leverage payment plans. If you are selling consulting services, you can accept money over a period of a year.
If you are selling ebooks or digital courses, you can also
have a monthly installment plan.
When I sold digital products on NeilPatel.com, I found that roughly 19% of people opted in for my payment plan.
It's an easy way to boost your conversion rates, especially in a time where many people are looking to reduce their cash spend in the short term.
Opportunity #4: Offer educational based training
If you are looking for a good opportunity, consider selling
your audience educational based courses.
With unemployment
numbers reaching all-time highs, more people than ever are looking for new
opportunities.
Many of these opportunities are in fields like high-tech
that not everyone has experience in.
And, of course, going back to school can be expensive and is time-consuming. Plus, let's face it… you can probably learn more applicable knowledge on YouTube than sitting in a college class for 4 years (at least for most professions).
So, where do people go to learn? Any online education
website offering very specific, niche advice and courses.
Whether that is Udemy or you are selling your own courses, people are looking for help.
If you don't know how to sell online courses in mass quantity, follow this. I break it down step by step and even give you the templates you need to be successful. It's the same ones I used to reach over $381,722 a month in sales.
Opportunity #5: Geography diversification
COVID-19 is a global issue. But it is affecting some
countries worse than others.
For example, South Korea has had better luck controlling the spread of the virus compared to many other countries.
And countries like the United States and Italy have exploded
in daily cases.
With over 84,000 new cases a day and growing quickly, the spread of the virus or the slowdown of the virus can affect your traffic drastically.
For that reason, you should consider diversifying the
regions you get your traffic from.
Through international SEO, you can quickly gain more traffic and be less reliant on one country's economy.
For example, here is my traffic swing for my SEO traffic in
the United States over the last few months.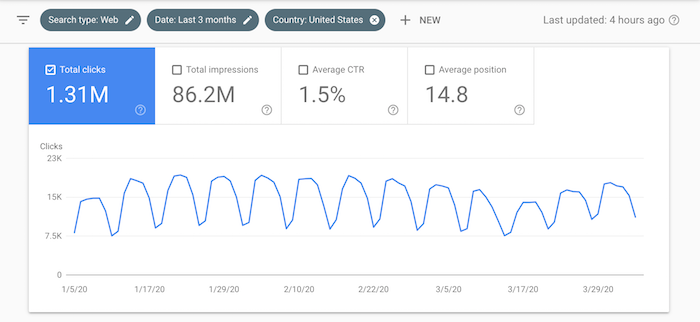 The US traffic is slowly starting to climb back. It's still not back to where it was during my all-time highs, but it's not as low as when the Coronavirus first hit the United States.
On the flip side, our traffic in Brazil has been going through the roof.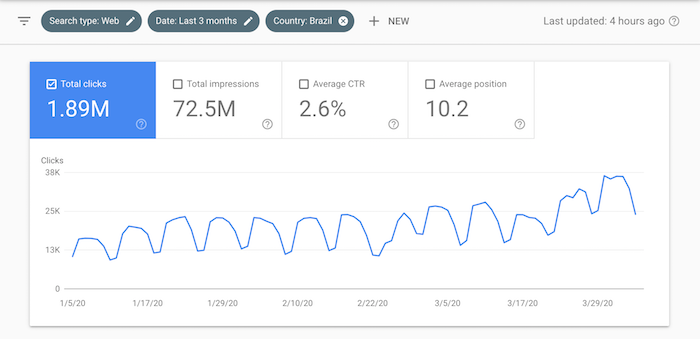 We haven't changed our strategy, it's not algorithm related… we haven't produced more content than usual… we've just seen an increase.
We are also starting to see a nice increase in India.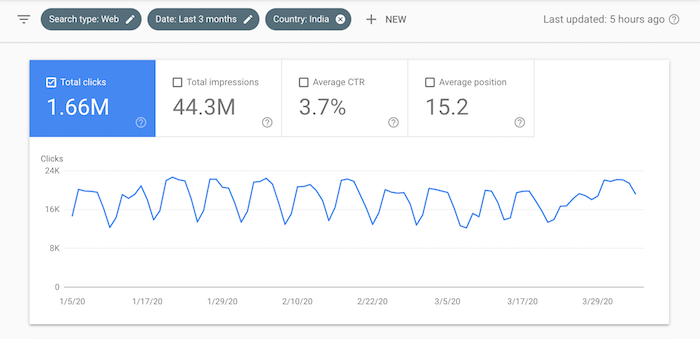 By translating your content for other regions and leveraging international SEO, you can quickly grow your traffic.
Sure, it may take 6 months to a year to start seeing results in the United States, but that isn't the case with regions like Brazil where there isn't as much competition.
If you want to achieve similar results to me, follow my global SEO strategy.
It works well… just look at the images above.
Conclusion
Sadly, the next few months are going to get worse. The daily
count of new Coronavirus victims is growing.
From a personal standpoint, all you can do is stay indoors and practice social distancing.
But from a marketing, business, and career perspective, you can make a change.
You should have more time now (sadly), so use it to your
advantage. Put in the effort so you can grow, that way you'll come out of the
Coronavirus stronger.
So which one of the above opportunities are you going to implement first?
The post How to Adapt Your Marketing During the Coronavirus (COVID-19) appeared first on Neil Patel.
The take care of solitary lending institution regulation and also the solitary lending institution listing
The solitary loan provider guideline might come right into conversation and also transform it all …
The single lender solitary lending institution policy everybody wants everyone desires rid obtain. Much more exactly, the solitary lending institution guideline states that if an individual has actually obtained loan even more than as soon as from the exact same loan provider, that loan provider is the just one qualified to combine his finance.
As there are lots of on the internet sources which supply details regarding the solitary loan provider guideline, trainee financing combination websites are coming to be extremely preferred.
To attempt and also get rid of the solitary lending institution regulation regulation, individuals can call their congressperson as well as inform them directly exactly how they really feel around this issue.
It is crystal clear that the basic propensity is for individuals to state no to the solitary lending institution regulation, as well as yes to the opportunity to pick from the range of deals on the market, not simply a loan provider that has actually obtained the system to back him up.
Also if the Senate does accept the costs for this adjustment, the solitary lending institution policy will certainly not be gotten rid of till July the 1st Everybody hopes for the finest as the removal of the solitary lending institution guideline would certainly lead to much better future point of views.
No question investing in education and learning is the finest selection to make as well as, without the solitary loan provider policy still on, individuals would certainly have far better options to make.
Once more, every person is motivated to evaluate some Internet web pages and also see the several methods an individual's payment to the ballot versus the solitary loan provider policy can make a distinction.
Also if we are speaking about a pupil– previous, future or existing– or a typical resident with no ramification in college task, it does not set you back anything to provide an assisting hand as well as simply go over the issue of removing the solitary lending institution guideline finally from the system. As soon as the solitary loan provider regulation issue is taken care of, pupils will certainly have much less to fret about and also the number pundit will with any luck expand.
One more essential variable to take treatment of (when examining a prospective loan provider from the solitary loan provider listing) is to confirm the loan providers' organization credibility (if they pay financial institutions on time).
By taking an appearance at a solitary lending institution listing you will certainly be able to validate if a particular lending institution takes sufficient time to figure out, with each other with the customer, every little information so that the trainee will certainly have the possibility to manage paying all his financial obligations.
When the solitary loan provider listing will certainly be evaluated (after the solitary loan provider regulation is eliminated) some significant distinctions will certainly be seen.
In conclusion, as any kind of crucial legislation influences people, the altering of the solitary lending institution guideline will certainly have a smaller sized or lighter result on everybody.
Because you can not make money off the solitary loan provider listing yet, the basic suggestions is to remain concentrated on the information, specifically if on the marketplace for trainee car loans, to stay clear of any type of incorrect choices you could make.
The solitary lending institution policy might come right into conversation and also transform it all …
The single lender solitary loan provider guideline everybody wants everyone desires rid obtain. Much more specifically, the solitary lending institution guideline claims that if an individual has actually obtained cash even more than when from the very same loan provider, that loan provider is the just one qualified to combine his lending.
Also if the Senate does authorize the costs for this modification, the solitary lending institution regulation will certainly not be gotten rid of up until July the 1st Everybody hopes for the ideal as the removal of the solitary loan provider regulation would certainly lead to much better future viewpoints.
An additional essential variable to take treatment of (when evaluating a possible loan provider from the solitary loan provider checklist) is to validate the lending institutions' organization track records (if they pay financial institutions on time). When the solitary loan provider listing will certainly be assessed (after the solitary loan provider guideline is eliminated) some severe distinctions will certainly be seen.
The post The manage solitary loan provider policy and also the solitary lending institution listing appeared first on ROI Credit Builders.