Archives
now browsing by author
Disclosure: This content is reader-supported, which means if you click on some of our links that we may earn a commission.
A content management system—CMS for short—gives you the ability to publish content on the Internet.
These systems make it possible for everyday users to build websites and post content without having to write code or learn programming languages. Without a CMS, you'd have to write web pages using JavaScript, CSS, and HTML.
There are tons of different content management systems available on the market today. So naming just one as the definitive "best overall" option is impractical.
With that said, there are definitely CMS platforms that are better than others, depending on your specific use cases and unique scenarios. This guide will help you choose the best content management system for your website.
Here are my top picks:
The Top 6 Options For Content Management Systems
How to Choose the Best Content Management System For You
There are specific elements that you need to consider as you're shopping around and evaluating various CMS platforms. Use the following factors as a buying guide to help narrow down your options and choose the best option for your site:
Usability
The primary factor that you need to consider is the usability of a CMS. What will you be using it for? Who specifically will be using it?
Marketers and writers might be creating the content, but those people may not have the skills to manage it online, format it, and write lines of code. If this sounds like your scenario, make sure the CMS is easy enough for non-technical users to manage.
Look for solutions with a WYSIWYG (what you see is what you get) editor, drag-and-drop building tools, simple publishing features, and the ability to embed third-party content or add rich media.
The type of website you're creating will also fall into this category. For example, blogs, ecommerce sites, and portfolio sites won't have the same needs.
Security
Security should always be a top concern when you're looking at CMS software.
Some platforms will have built-in safeguards and security features to fight off malicious attacks and hackers. Other tools rely on third-party plugins and extensions for security. Generally speaking, popular and open-source CMS platforms are more vulnerable to attacks. You'll have to install your own security plugins to adequately keep your site safe.
But these platforms typically have an extensive marketplace with a plethora of plugins—so it shouldn't be too difficult, even though it requires an extra step.
SEO
The best content management systems will come standard with features and tools to boost your SEO efforts.
Examples include XML site maps, meta descriptions, custom permalink structures, alt text, title tags, etc. In addition to these out-of-the-box SEO features, you should consider using CMS software that will let you add third-party plugins or extensions to better serve and enhance your SEO strategy.
Support
Find out what type of technical support is provided by the CMS platform you're using.
What happens if you have a question, run into a problem, or need help? Will you be stuck to figure it out on your own? Or can you seek assistance from a support agent?
If you're using an open-source CMS, you probably won't have the luxury of dedicated support. You'll have to rely on tutorials, self-help articles, and forums. But if you're using a site builder or SaaS CMS, you can usually expect 24/7 support.
Custom Capabilities
Some CMS software will restrict what you can do with your website.
For many people, this is a non-issue. But for those of you looking for complete customization with no restrictions, you'll have to go with an open-source CMS system.
These platforms let you customize everything using the HTML code of your site. So it's a great choice for developers and tech-savvy users. With that said, even non-technical users can benefit from customization by leveraging third-party plugins or extensions.
If you can't find a custom function from a feature marketplace, you'll need to have a developer build one for you. Make sure your CMS is compatible with this level of customization if you plan to go this route.
The Different Types of Content Management Systems
CMS platforms come in all different shapes and sizes. Before we dive into the reviews for my top picks, I want to quickly explain the different options you'll come across as you're shopping around. Understanding the differences between these systems will make it much easier to find the best CMS for your website.
Open Source CMS
An open-source content management system can be for any purpose. Anyone can use these without a license. These platforms can be fully customized without the need to request special permission.
An open-source CMS will be cheaper than other platforms that require subscriptions. Developers and users who want full custom capabilities without restrictions will benefit from using an open-source CMS.
It's usually fairly easy to optimize your content for search engines with open source CMS platforms. Adding plugins and other extensions to extend the functionality is fairly simple as well.
Website Builders
Site builders are great for beginners. They make it possible for non-technical users to build a website without writing code or dealing with the backend requirements.
These will usually have drag-and-drop or WYSIWYG editors.
Website builders are easy to use and allow you to publish content quickly on the web. But they are a bit restrictive in terms of what you can customize. You'll eventually run into limitations with site builders.
For many people, that's fine. If you don't need to create anything complex, a website builder should be more than suitable for your needs.
Ecommerce Platforms
As the name implies, ecommerce CMS platforms are built specifically for online stores.
These platforms come out of the box with everything you need to manage your ecommerce content. You can still run an online store using an open-source CMS or website builder with ecommerce capabilities. However, if you're starting a new ecommerce site from scratch and don't want to do a ton of heavy-lifting, look for an ecommerce-specific CMS.
Proprietary CMS
A proprietary CMS will require a license to use.
In short, this means that someone else owns the rights that CMS. You'll need their permission to use it. Even if you obtain a license, you probably won't be able to duplicate the CMS. You might also encounter restrictions related to what you can customize and alter within that license. Some proprietary CMS platforms will offer developer licenses for these scenarios.
If you're using a proprietary CMS to build your website and decide to move it somewhere else down the road, you could run into some serious problems. Some sites only work if they stay within the proprietary CMS that they were built with. So use caution if you go this route.
SaaS CMS
SaaS (software as a service) CMS are typically cloud-hosted subscription-based tools. Many of these tools come with CMS, tech support, and web hosting, all from a single provider.
The rates are usually offered on a per-site or per-user basis. Pricing is also based on storage levels, bandwidth, and support level. These systems can be offered as fully managed or partially managed solutions. The best option for you will depend on if you want to manage updates, security, backups, and other customizations on your own.
#1 – Wix Review — The Best CMS For Building New Websites
Wix is one of the easiest website builders available on the market today. Its simplicity makes it a popular choice for non-technical users who want to create a website from scratch.
I like Wix because it offers an intuitive drag-and-drop building tool. So you can add elements to your site and manage your content without writing a single line of code.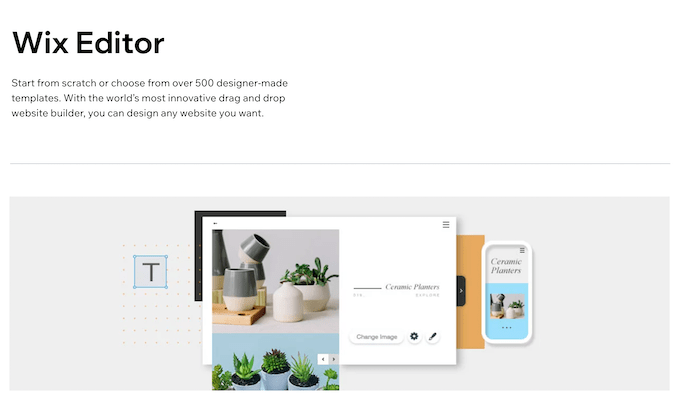 Aside from Wix being an excellent choice for beginners, here's a quick overview of the other highlights that make this CMS stand out from the crowd:
500+ free templates
Optimized for SEO and mobile
Create password protected membership pages
Contact management tools for subscriber lists
Ecommerce capability with product pages, payment acceptance, and store management
Bookings and calendar management
Blog management tools with multiple writers and contributors
Photography, video, and media management tools
Free hosting and free SSL certificate
Overall, Wix's content management system is extremely versatile. It's trusted by restaurants, musicians, online stores, small businesses, bloggers, and sites in virtually every industry.
The platform is free to use with a Wix subdomain, but that's not really practical for most users. Premium plans start at just $14 per month. Signup now.
#2 – Squarespace Review — Best CMS For Creative Professionals
Squarespace is an all-in-one website builder. But unlike other similar CMS platforms on the market, Squarespace has a unique differentiator—beautiful designs.  
The award-winning templates offered by Squarespace are second to none. These can be fully customized to fit your site's needs.
These modern designs make Squarespace a popular content management choice for creative professionals, musicians, artists, and portfolio sites. Let's take a closer look at some of the other noteworthy highlights available with this CMS:
Free domain for the first year
Intuitive website builder
Free logo making tool
Ecommerce and blogging capabilities
Third-party extensions for expanding functionality
Built-in marketing tools
SEO tools and mobile optimized
24/7 customer support
Squarespace plans start at $12 per month. If you're looking for a simple way to manage your portfolio site, this will be a top content management system to consider. 
#3 – Shopify Review — The Best CMS For Ecommerce Sites
If you're starting an online store and need an ecommerce-specific CMS, look no further than Shopify.
Businesses of all shapes and sizes have been using Shopify to sell online. Whether you're building a new site from scratch or switching from your existing CMS, Shopify can accommodate your needs.
Let's take a closer look and see why Shopify's CMS platform ranks so high on my list:
Manage products and sell from your site, social media, and online marketplaces
Built-in marketing tools
Simple dashboard to manage products, orders, payments, and shipping
4,100+ apps to add features and functionality to your site
Free SSL certificate
Unlimited products
24/7 support
Shopify even has a marketplace of experts for hire. So if you need assistance with SEO or getting your store setup, you can find a qualified expert directly within the platform.
Another reason to consider Shopify as your CMS platform is because it's built to scale. Plans start at $29 per month, and you can try it free for 14 days.
#4 – WordPress Review — The World's Most Popular CMS
WordPress powers 38% of the Internet, making it the most popular content management system on the planet.
The platform supports everything from small personal blogs to some of the biggest news websites in the world.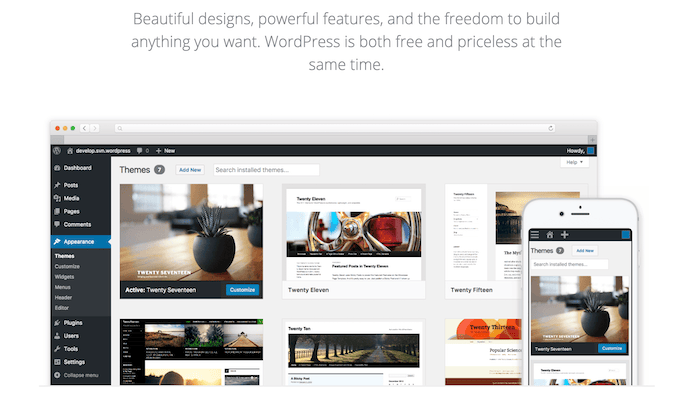 As a free and open-source CMS, WordPress is virtually limitless. You'll have total control over every aspect of your site, with no restrictions on customizations. This makes WordPress a popular choice for developers and tech-savvy users.
But even non-technical users can take advantage of WordPress. It has an extensive library of 57,000+ plugins, which makes it easy to add functionality to your site.
Other top features include:
Fully customizable designs
Mobile responsive content
SEO friendly
Powerful media management tools
High performance and easy to access
The downside of using a free and open-source CMS is that you don't have dedicated support. But WordPress has an extensive network of developers, content creators, and site owners who are active on community forums.
You'll also have to get your web hosting plan and domain registration on your own from third-parties.
#5 – Drupal Review — The Best WordPress Alternative CMS
Drupal is another free and open-source content management system.
If you need multiple page templates and content types, Drupal is a viable alternative to WordPress. It's also more equipped to handle advanced user permissions.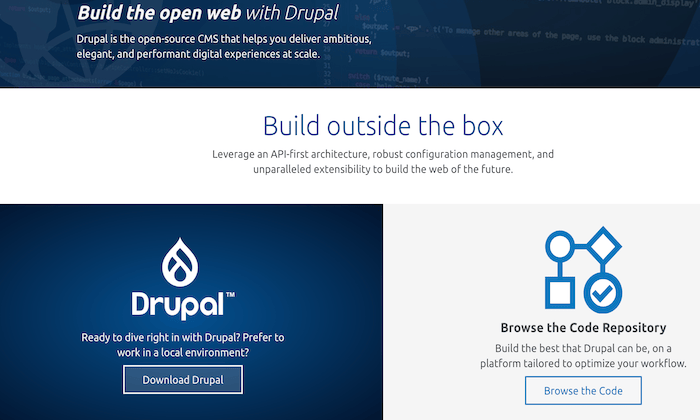 Drupal is a popular choice for developers, marketers, and agencies alike. It's used to manage content across a wide range of industries, including healthcare, ecommerce, retail, FinTech, travel, media, government, and more.
Some of the top features and noteworthy highlights include:
Content authoring
Content as a service
Marketing automation
Robust security
High performance, scalability, and accessibility
Advanced personalizations
So if you're looking for open-source functionality but don't like WordPress, I'd go with Drupal for content management.
#6 – TYPO3 Review — The Best Enterprise CMS
TYPO3 isn't the most well-recognized name in the CMS space. But it's not for everyone.
It's another free and open-source platform (like WordPress and Drupal), but it's branded as an "enterprise-class CMS." Global leaders like Mercedes-Benz and Sony rely on TYPO3 for content management.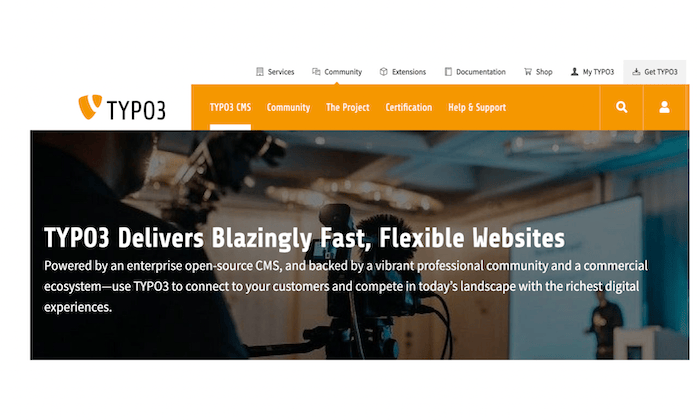 In addition to being used by large corporations, TYPO3 is actually a popular choice for European-based websites. Here are some of the reasons why this CMS platform made my list:
Ability to support corporate environments
Fully scalable multi-site management
Multilingual installations
Easy to set up on your existing infrastructure
High speed and performance
The average user will likely lean towards WordPress or Drupal. But global organizations with complex content management needs should consider an alternative like TYPO3.
Summary
With so many CMS systems available on the market today, there are really only six that I can recommend with conviction.
Personally, I use WordPress. But there are plenty of other viable options to consider based on your personal needs.
Just refer to the buying guide and reviews outlined in this post to find the best content management system for you.
The post Best Content Management Systems appeared first on Neil Patel.
The Top Secrets You Need to Know About Experian Business Credit
When talking about business credit, Dun & Bradstreet gets the most attention.  Experian and Equifax still carry plenty of weight however.  It would be dangerous to ignore them.  In fact, Experian has a few secrets you may not know about.  It's time to bring those secrets to light.  Let's uncover the mystery that is Experian business credit.
Experian keeps business credit profiles on 99.9% of all United States companies. In addition, it boasts the credit industry's most broad data on small and mid-sized businesses. In fact, your business is probably already listed on Experian. The mystery is, what exactly does that mean?  What do they have on you, and where do they get their information?
According to Experian, all their information stems from third party sourcing. You cannot add anything to your profile. Of course, you can check your profile and let them know about any inaccuracies.  However, you cannot add anything to it.  As a result, you have to know what that report is telling lenders about you and your business.  You need to know where the information comes from, and what you can do about it.
Keep your business protected with our professional business credit monitoring.
What Makes Experian Business Credit Different?
The great thing about business credit is that it is separate from your personal credit.  Even if you have bad personal credit, you can still get financing for your business.  That is, if your business credit is in order.
Experian business credit plays a little differently however.  While your business credit score is still all its own, they add a business owner profile.  Experian's Business Owner Link automatically connects the credit history of over 5 million business owners to their business credit history.
This makes it easier for your creditors to get access to your personal credit information.  In the eyes of the creditor, this is important for determining your overall creditworthiness.  If you are being turned down by lenders for business financing and your business credit is ok, that could by why.  Your personal credit history could be to blame.
What Do You Need to Know about Experian Business Credit Scores?
The first thing you need to know is this.  There isn't just one score.  In contrast, there are a number of reports and scores.  Lenders can choose to use any or all of them. Each one tells them something different.  It takes all the scores put together to get a complete credit picture, but not all lenders look at all scores.
Intelliscore Plus
Quite simply, the Intelliscore Plus credit score shows credit risk based on statistics.  It is a highly predictive score.  As such, its main purpose is to assist users in making well informed credit decisions.
The Intelliscore scores range from 1 to 100.  The higher your score, the lower your risk class. The opposite is true as well. The lower your score, the higher your risk class.
Score Range Risk Class
76 — 100 Low
51 — 752 Low — Medium
26 — 503 Medium
11 — 254 High — Medium
1 — 105 High
How Does Experian Credit Calculate the Intelliscore Plus Score?
One of the things Intelliscore is most known for is the identification of key factors that can indicate how likely a business is to pay their debt.  There are over 800 commercial and owner variables used to calculate an Intelliscore Plus credit score.  They can be broken down like this:
This is just your current payment status. It's how many times accounts have become delinquent.  It also shows how many accounts are currently delinquent, as well as your overall trade balance.
This one shows how many times your accounts have been sent to collections.  It also notes the number of liens and judgments you may have, as well as any bankruptcies related to your business or personal accounts.
Frequency can also incorporate information regarding your payment patterns. Were you regularly slow or late with payment? Did you decrease the number of late payments over time? That affects your score.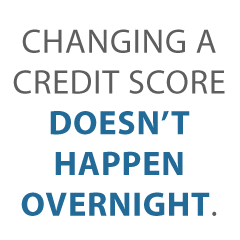 This specific factor focuses on how you make use of credit. For example, how much of your available credit are you using right now? Do you have a high ratio of late balances when compared with your credit limits?
Of course, if you are a new business owner, a lot of this information will not exist yet. Intelliscore Plus handles this by using a "blended model" to identify your score. That means that they take your personal consumer credit score into account when determining your business's credit score.
The Experian Financial Stability Risk Score (FSR)
FSR predicts the potential of a business going bankrupt or not paying its debts.  The score identifies the highest risk businesses by making use of payment and public records. These records include all of the following and more.
High use of credit lines
severely late payments
tax liens
judgments
collection accounts
risk industries
length of time in business
Experian's Blended Score
This is a one-page report that provides a summary of the business and its owner.  A combined business-owner credit scoring model is more comprehensive than a business or consumer only model.  Blended scores have been found to outperform consumer or business alone by 10 – 20%.
Credit Monitoring with Experian Business Credit
Experian sells a number of products which can be used to monitor your business's credit.
Business Credit Advantage Plan
This option is $149 per month and incorporates mobile-friendly alerts and score improvement recommendations.
Profile Plus Report
This report is $49.95 and includes in-depth financial payment details.  It also offers predictive information on payment behavior.
Credit Score Report
A cheaper option at $39.95, it contains details on the company, credit information, and a summary of financial payment information.
Keep your business protected with our professional business credit monitoring.
Valuation Report
This report costs $99. It presents the market value of your small business and features key performance indicators. It also displays your company's fair market value.
Premium Corporate Profiles
Experian also sells premium corporate profiles. These are enhanced profiles that contain added information.  For instance, sales figures, size, contact details, products and operations, credit summary, any Uniform Commercial Code (UCC) filings will show up here.  This report also includes fictitious business names and payment and collections history.
You can also subscribe to business credit alerts through Experian's Business Credit Advantage program.  This is a self-monitoring service that offers limitless access to your company's business credit report and score. It allows business owners to proactively manage small business credit. Alerts are sent when:
– Company address changes
– Business credit score changes
– Credit inquiries show up
– Newly-opened credit tradelines are added
– Any USS filings open
– Collection filings open
– Any public record filings pop up.  This includes liens, bankruptcies, and judgments.
It's important to note however, you can monitor your business credit reports at http://creditsuite.com/monitoring for much less than what you can with Experian directly.  This way, you can keep tabs on your information with Dun & Bradstreet at the same time.
How Can I Improve my Score with Experian Business Credit?
There it is, the big question. Once you uncover the mystery of the Experian credit score, then what?  You understand what it is.  You know how they arrive at it.  Still, how can you change it if it is affecting your ability to get financing for your business?  Are you just stuck?
The answer is no.  It isn't really that simple though.  Changing a credit score doesn't happen overnight. There are ways to give your score a little boost however.  Eventually that bad score will be a thing of the past.
Make Current Payments Consistently and On Time
As we just discussed, your payment patterns and history are vital to your overall credit score. Overtime, paying your bills promptly will only help you. If your score is low due to payment history, this will absolutely take time.  You have to start somewhere though, right?.
Correct Mistakes
Get a copy of your credit report from Experian and look over it for mistakes.  Send a request for correction in writing.  Be sure to send copies of supporting documents for each mistake that you find.
Watch the Debt-to-Credit Ratio
This is the amount of debt you have in relation to how much credit you have available.  Say you have $100,000 in available credit.  If your balance across all accounts is $99,000, that is a high debt-to-credit ratio.  This will negatively impact your score.  You have to use your credit, and you need to carry a balance.  Otherwise, how would you have payments being reported?  Just try to keep this ratio as low as possible.
Opening new accounts may help, as it will raise your available credit amount.  However, the average age of accounts also carries some weight, and new accounts lower that number.  You will have to find the balance.
Work with Starter Vendors
Working with starter vendors is a way to get more positive payment history recorded. As a result, your score will start going up.  Starter vendors are those vendors in the vendor credit tier.  They offer net 30 invoice terms and report payments to the business credit reporting agencies.  Often, they will even do this without a credit check.  Due to that fact, you can get an account with them despite having a bad credit score.  Note that not all starter vendors report to Experian, so you will need to ask.  Go here to find out more about starter vendors and the vendor credit tier.
Ask Non-Reporting Accounts to Report
Some accounts that you make regular payments on do not report to credit agencies.  They typically are not required to.  However, there is no harm is asking them to report your payments to Experian and the other agencies.  Those reporting payments can definitely improve your credit score.  Therefore, consider asking your landlord, utilities, and telephone companies to report the payments you make to them.
Don't Forget About Your Personal Credit
While it's true that personal credit and business credit are totally separate, we have shown that with Experian business credit, personal credit does carry some weight. As a result, be sure you stay on top of your personal expenses.  Avoid unneeded credit inquiries, and refrain from compromising your personal credit for business demands.
Keep your business protected with our professional business credit monitoring.
Now You Know the Secrets
What's the greatest secret we've uncovered here?  There are really two.  First, Dun & Bradstreet is not the only player in the business credit game. While they may be the largest and most commonly used business credit reporting agency, there is nothing to prevent lenders from using a different one.  Many lenders use Experian.
The second secret uncovered is that your personal credit information definitely counts for something.  At least, this is true with Experian business credit.  When lenders pull a business credit report from Experian, they have access to the owner's information as well.  Due to this, if your personal credit is good, it can only help you. In contrast, bad personal could haunt you despite good business credit.
Experian Business Credit Uncovered: What Now?
The moral of the story?  Everything counts.  Don't sacrifice your personal credit to build business credit. Rather, keep them both as positive as possible.  Most "tricks" don't work.  There is no substitute for using credit wisely.  Purchase only things you need. Take on only what payments you can handle, and make payments on-time. Remember also, they have access to other information.  That could either help you, or harm you.  Start now being aware of what is out there on your business, and work hard to balance out any negative information with positive actions.
There is no time like now to start.  First, figure out what is on your report.  Take a look at your personal credit report as well.  You can get a free copy of it each year.  Take a look and be sure to report any inaccuracies on it.  Once you have a solid understanding of what your Experian report says, and where that information came from, you can form a plan.  If things do not look good, make the necessary changes.  Pay on time, do business with starter vendors, and ask non-reporting accounts to report.  However, if everything looks fine, continue as you are and keep it that way.  After all, you must be doing something right.
The post Experian Business Credit Uncovered appeared first on Credit Suite.
Where to Get Your Online Finance Degree
An online money level is a fantastic choice for people that desire to go to university, however for whatever factor like an on the internet discussion forum as opposed to a conventional class. No issue why you desire an online financing level, there are lots of choices out there for you to pick from.
The online financing level is an incredibly popular significant, as well as a result of this mostly all of the on the internet colleges provide the online financing level.
The online financing level is not just readily available in bachelors, however likewise in masters and also in some situations PhD. No issue if you desire simply a bachelor's online financing level or desire to obtain an online financing level at ever before degree, the option is absolutely your own.
Spending for your online money level is not as tough as it was in the past, either, since currently you can obtain trainee financing as well as pick various layaway plan for your online money level. Spending for your online money level has actually never ever been simpler.
You will certainly require to make a decision precisely what you are looking for in the college where you will certainly get your online financing level. The factor for this is due to the fact that there are many on-line college alternatives that vary in certification, appeal and also price, that you will certainly require to figure out which ones use the most effective online money level for your spending plan.
Make certain, nonetheless, prior to you start examining for your online money level that you recognize your college is recognized and also has numerous effective grads with their online money level.
The post Where to Get Your Online Finance Degree appeared first on ROI Credit Builders.