Archives
now browsing by author
You might think that seeking investors during a recession is pointless. However, if you plan your pitch project the right way, you may just land the investors you need during these troubling times. 
How to Create a Pitch Project that Gets You the Funding You Need
Not surprisingly, angel investors and venture capitalists are always looking for the next big thing.  Similarly, entrepreneurs are looking for the money.  So, how do the two collide?  First, you have to have a pitch deck that investors can't resist. They watch hundreds of presentations, and you need to make yours stand out. 
What makes the difference in a pitch that's taken and one that is forgotten? It varies,  but there are some general things that make a potential business stand out among the rest.  
Check out our best webinar with its trustworthy list of seven vendors to help you build business credit, even in a recession. 
Pitch Project: What's a Pitch?  
Of course, there are no guarantees.  It's possible your business will not be able to find the right investors regardless.  However, if you handle the pitch project right, you have a much better chance. The pitch is the first impression investors get of your business, and you need to be sure it is done right.  What is it though?  It's a fancy word for a PowerPoint presentation, frankly.  Still, there is so much more.  It is everything you give investors to convince them they want a piece of the pie you're baking. 
A quick search will turn up a ton of pitch deck examples that can give you some ideas.
Pitch Project: What's the Point? 
Honestly, the end goal is to get funding for your business.  However, the immediate goal you should have in mind when starting your pitch project is to get you to the next meeting.  Investment decisions are rarely made after the first meeting.  A pitch deck can get them interested, but there is much more that goes into an actual investment decision than interest. 
That said, if you don't make an amazing impression with your pitch deck, you won't even get that far.  
Pitch Project: What Should You Include?
There is room for creativity. But, some general information is necessary to any presentation.  
Overview
This is one of our number one secrets.  Not everyone will recommend this slide, but we believe it is essential for a couple of reasons.  
This is a quick four or five bullet point summary of what the rest of the pitch deck explains.  It answers the questions of what the company is, what you do, how you do it, and why you need to do it.  This is important because it is the first slide potential investors will see after the cover.  It will help investors decide whether they want to keep going. 
It's just a sample, but it's designed to encourage them to view the rest of the presentation.  In addition, if you happen to catch them when they do not have a lot of time, this slide makes sure they get all the information they really need right at the beginning.  This could allow them to make a decision as to whether to meet you in person and discuss things further even if they can't finish the slides. 
Business Vision or Mission Statement
Don't skip this.  It should be a crisp, concise statement that does just what it says.  It is there to let potential investors know what the vision or mission of the business is.  You can talk about either what you want to become or what you intend to be.  Some examples of mission statements from companies you may be familiar with include: 
Don't let this slide become a barrier.  A strong mission statement is the cornerstone of your presentation and an essential part of any pitch project. 
Meet the Team
This is where you introduce yourself and your team. Don't skip it.  Include not only names, but also what each person contributes to the company.  There should be pictures as well.  Investors need to see who they are investing in.  It makes a difference.
Check out our best webinar with its trustworthy list of seven vendors to help you build business credit, even in a recession. 
What Problem Does Your Business Solve? 
For a business to work, it needs to provide a solution to a problem.  This is where you explain what that problem is that your business plans to solve.  What need will your business fill? 
How Your Business Will Solve That Problem?
Right after you state the problem, you need to tell them how your business will provide the solution to that problem.  Go into details.  Use statistics and tell them how your product or service will actually make a difference.  
What Are You Actually Selling?
Introduce your specific product or service and explain how it solves the stated problem.  What makes it different from other options that may already be available?  Have a prototype available if possible. If you cannot, then pictures are vital.  If the product is still in development, use drawings. 
Of course, if what you offer is a service it will be a little trickier.  Do what you can to offer an example of what it is you offer and how it works.  Diagrams, charts, screenshots if it is an online service, or whatever else you can come up with. Here is a great place to get creative.
Market Research 
First, use this slide to define your market.  Who exactly is it that will be using your product?  Who is it that will benefit from your business? What is the dollar market size? 
Include graphs and charts that show how your company will be reaching the defined market. 
 Current Customers
If you are a business that has early customers, this is a slide that can be very powerful.  For example, if you are offering a food or beverage product and some local grocers are already selling it in their stores, you would say so here. 
Usually this has recognizable logos of well-known customers rather than just a list.  
Of course, if your customers aren't so well-known, or they are individuals, then names and testimonies can work as well. 
Discuss Proprietary Technology
If you have proprietary technology, definitely highlight that.  If it is still in development, use diagrams, graphs, and photographs to show the progress.  Bring an example if you can.  
Be sure to include any proprietary rights such as patents and copyrights. 
Admit Competition
Do not ignore or underestimate your competition.  Lay it all out.  Furthermore, be sure to address the following: 
Who your competitors are 

How your business is different

How you give your business a competitive advantage 
Also, research competitors thoroughly.  Make sure you can answer questions about competition from potential investors.  If you cannot answer the questions knowledgeably, they may conclude you actually do not adequately understand your market. 
Previous Success
This is sometimes called a traction slide.  If you have good stuff to put here, it can make a lasting impression.  Truly, a great traction slide can be exactly what wins this for you.  Include any of these that may apply. 
Early sales

Website traffic

App downloads

Growth metrics

Partnerships

Praise from the press

Testimonials 
If you have any of these things available to report, do it.  
Describe Your Business Model
Explain how the business makes money.  Also, talk about if and how a customer retains value long-term. Remember, it's also important to note what your pricing plan looks like. During a recession, this part is more important than ever.  This is how your business will survive trouble waters.  If they are going to invest, they need to see that it can make it through hard economic times.
Spread the Word 
Outline your marketing plan.  Investors want to see  how you are going to get the word out.  Additionally, you need to define what marketing platforms and channels you plan to use, such as television, radio, social media, prints, etc.  
If you are already marketing through any of these channels, what have the results been like?  For example, has one particular channel been more successful than the others?  What is the cost to get a customer at this point?  Compare and contrast that cost with the estimated lifetime value of a customer. 
Financial Information 
Investors may love your business idea.  They may be on board with how it will work.  Yet, without the financials to show the business will be profitable over time, it will not matter. Generally, they will want to see the following: 
Three- to five-year financial projections- this is basically a guess based on current numbers and trends as to how the company will do financially over the next 3 to 5 years. 

Unit economics

Burn rate- how much money the company will lose, and how quickly, in the startup phase. 

Annual recurring revenue

Total revenue and expenses

Complete current financials if available and applicable.

Key assumptions used to determine projections. 
Check out our best webinar with its trustworthy list of seven vendors to help you build business credit, even in a recession. 
Make the Request
Near the end is the slide is where you tell potential investors exactly what you are looking for.  How much money are you trying to raise?  You can use a range.  It does not have to be a specific dollar amount.  You will also need to tell them how long you think that amount of financing will last, and what milestones you think you will be able to reach with that funding.
Then, detail how you plan to use the funds.  Will you use them as working capital, for product development, or to hire new employees? This is where you show investors how their money will go to work for the business.
If you already have existing investors, tell them. Highlight any that may be well-known. 
Other Hot Tips to Make Your Pitch Project Pop
How do you make you pitch project one they will never forget? 
Make it Look Good 
Use interesting fonts, mix up letter sizes, and add pictures.  Make the most of color and design to ensure it is easy on the eyes.  Keep in mind however, that it should maintain an air of professionalism.  There is a fine line between interesting and gaudy.  Also, you don't want to distract them from the point.  You may need to hire a professional designer to prepare your pitch deck PowerPoint slides.
Don't Complicate Things
Send the presentation in PDF format to prospective investors.  Do not make them use a DropBox or Google Docs link.  That is an extra step that they may not mind, but why take the risk?  Just make it easy. 
Cut the Fluff
It really shouldn't be more than 15 to 20 slides.  After that, you may begin to lose their attention.  You can always add more when you meet in person or add an appendix. Along these same lines, do not get too wordy on the slides.  They will not read pages and pages, they want to be able to skim and get the information they need to make a decision as quickly as possible.  Concise, sharp bullet points are best. 
Do Not Date It
It's not necessary, and if you forget to change it will look bad. This is especially true if you have been at it for a while.  Investors will know how long you have been trying to raise funds. 
Give Competition Due Attention
Do not underestimate the competition.  In contrast, take them seriously.  Whatever you do, don't trash talk or belittle them.  Just do your research, understand them, and know how your product can gain the advantage. 
Don't Overuse Acronyms
Of course, you want them to understand what you are talking about.  Don't make them think too hard.  Too many acronyms they may or may not understand can cause problems. 
Your Pitch Project Can Make All the Difference
If you need angel investors or venture capitalists on your side, the pitch deck is where you start. It is even more important during a time of economic recession.  Investors are going to be extra picky about where they put their funds, and you need to convince them to choose your business to support. 
Don't forget to explore other ideas for funding during these trying times as well.  Crowdfunding, grants, loans, and the credit line hybrid are all viable options. Get expert help to guide you through finding the best funding types for your business with Credit Suite. 
The post Prepare a Pitch Project Despite the Recession appeared first on Credit Suite.
No doubt this is a hard time to grow a local business. Coronavirus has likely forced you to make big changes to the way you operate. It's almost certainly hit your bottom line too.
However, it's still absolutely possible to grow your local business at a time like this. You just have to be smart about it. In this article, I'll talk you through how to do that. First, though, here's a bit of detail on why this is such a challenging time for businesses like yours.
The Effects of the COVID-19 Pandemic on Local Businesses
You're probably sick of reading and hearing the word "unprecedented." I know I am. Unfortunately, it's just the best word to describe the current climate for local businesses.
By the end of March, 32 states had locked down in response to the pandemic. Two in five small businesses across the US had temporarily closed by this point, with nearly all of those closures due to COVID-19.
Closing your doors has big financial implications. It is concerning that the vast majority of local businesses aren't in a position to handle even short-term pressure on their earnings, with around four-fifths only having up to two months of cash available to pay their expenses.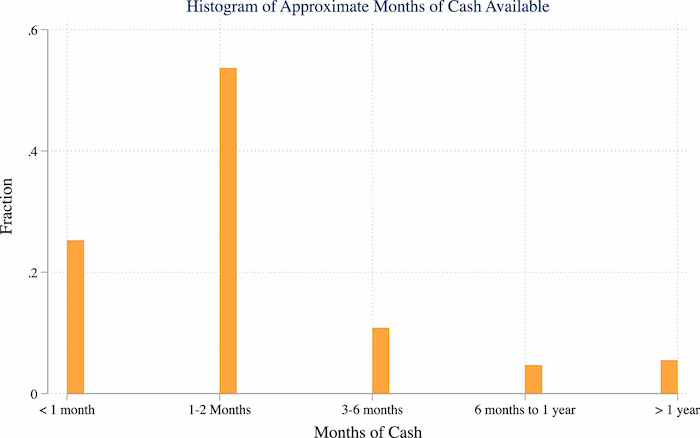 Because of this, it's hardly surprising that the number of active business owners in the US plummeted by 3.3 million (or 22%) in the two months from February to April alone. That's the largest drop on record, and it affected practically every industry.
Luckily, if you have access to the right strategies (like local promotions) and tools (such as messaging services like Podium), you may still be able to grow your business even in these uncertain times.
Six Strategies to Grow Your Business During the Age of Coronavirus
The pandemic might have affected your business growth in any number of ways. Maybe you've been forced to shutter your store(s) for a certain amount of time. Maybe your customers are buying less at the moment. Or maybe the industry you're in means you've barely even got a "product" to sell, like cinemas and travel companies.
Whatever the case, if you're going to grow your local business in the current climate, you need to adapt. Here are tips on how to do it:
1. Use the Right Tools
I know what you're thinking: "I'm already worried about cash flow, now this guy's telling me to invest in a bunch of tools!" Well, what if I told you that by choosing the right tools (some of which are free, by the way), you massively increase your chances of growing your local business?
You likely know that there are thousands of tools designed to drive small business growth, but I've focused on the areas where you can really shift the dial:
Issue: Customer Messaging
There are so many benefits to improving your communications with existing and potential customers.
You can generate more reviews, which act as a trust factor and make your business more credible. You can collect payments faster and with less hassle. You can issue more timely (and more effective) reminders, reducing the chances of no-shows.
To solve your customer messaging you can use a tool like Podium. Here's how I use it:
Set up one inbox to rule them all: What's the biggest barrier to better communications? Trying to keep track of all your different platforms. Customers could be messaging you via Facebook, Twitter, phone, and your website (and maybe a bunch of others, too). Podium brings all those communications together in one place, ensuring you never miss a message.
Connect remotely with website visitors: Ever wish you could get closer to the people on your website? Find out what stops them from buying or converting there and then? With Podium, you can. Add live chat to your site and every time they ask a question, they'll automatically move to a text conversation, so you're no longer tied to your computer (and nor are they).
Enable on-the-go customer service: You likely don't have a dedicated customer service team. In fact, you might be your whole customer service team. So what happens when you're not at your desk or in the store? Stuff gets missed! Podium allows you to text quick responses when you're out and about, so you never leave anyone hanging.
Chat face-to-face: Texting is great. But sometimes it's just not the best way to respond to a customer or prospect. Maybe they've got a complex question or require a nuanced response that's hard to tap out on your phone's keypad. Podium offers video chat software that makes connecting remotely with customers as easy as sending a text. Send your customers a link and you can be video chatting in seconds, making it super simple to show details, answer questions, and share your screen.
Create tailored promotions: Say you own a coffee shop. You run a loyalty program and you've captured your best customers' email addresses and phone numbers. Wouldn't it be great if you could quickly send those customers targeted promotions? Maybe offer them a deal on a new single-origin coffee you've just started stocking? You can do that as well.
Provide to-the-minute advice and updates: There are a lot of variables in the world right now. Customers might want to know how busy you are at a certain time, or what measures you've put in place during the pandemic. Or they might have product-specific questions. A customer messaging platform makes it easier for you to respond in real-time.
Oh and an easy way to get started is to just sign up for a free Podium account.
Issue: Scheduling Meetings
No one likes scheduling meetings at the best of times. Throw coronavirus into the mix and it becomes even more of a challenge. Should it be in-person or remote? Which platform should we use? What date and time work best?
Meeting schedulers are designed to handle the legwork for you. One of the best is Arrangr, which reserves tentative meeting times, automatically frees up untaken slots, and can even suggest the ideal location for all parties.
Another great option is Calendly. Integrating directly with your Google or Office 365 calendar, it gives you a personalized URL that allows customers to see your availability and schedule their preferred meeting time. Best of all, there's a basic free plan available.
Issue: Email Automation
You can't grow a local business at a time like this without doing some marketing.
Unfortunately, you likely don't have time to build and execute complex campaigns.
That's why you need email automation software! One of the most popular tools, Mailchimp, helps you send effective email marketing communications at scale. In fact, Mailchimp claims to boost open rates by 93% and click rates by 174% compared to the average bulk email.
Customer Relationship Management
Your customer relationships have never been more valuable than they are right now, so you need to manage them effectively. To do that, you need to invest in a customer relationship management (CRM) tool.
There are a bunch of CRMs aimed at local businesses, but HubSpot Sales Hub is one of the most popular. It's loaded with sales engagement tools, pricing functionality to help you deliver complex quotes, and analytics software to measure what's working (and what isn't).
2. Improve Your Digital Marketing Strategy
In more "normal" times, you might not put a lot of thought into your marketing. Maybe you just write the occasional social post or send a couple of email promotions a month.
During times of uncertainty, that just won't cut it. People have a lot on their minds right now, so that one baseball gif you tweeted isn't going to have much impact.
You need a proper digital marketing strategy.
Let me give you an example: you sell business supplies to other local businesses.
Because you're small and local, your big differentiator is your flexibility and bespoke approach. You can source whatever product your customer needs, your delivery times are rapid, and you're easy to reach. That's the sort of stuff you talk about in your marketing emails.
Well, wouldn't it be good if you made that the foundation for a whole campaign?
Maybe you create a bunch of case studies and testimonials that show your unique selling point, (USPs), in action. You build a mailing list of local firms you'd love to do business with, and drip-feed your content to those prospects. Because you've built a whole strategy, you know the best times to reach those prospects, the platforms they use, and the sort of messaging that resonates with them.
That approach helps you strike up a conversation, which ultimately means you may close more deals.
3. Make Your Google My Business Profile Shine
Want people to see your name when they search on Google for businesses like yours? If you're reading this article, I'm guessing you do, and that means you need a (good) Google My Business profile.
Setting up a free profile makes it more likely that your business shows up in relevant searches, along with useful information like:
The type of service you offer
Your opening times
Your address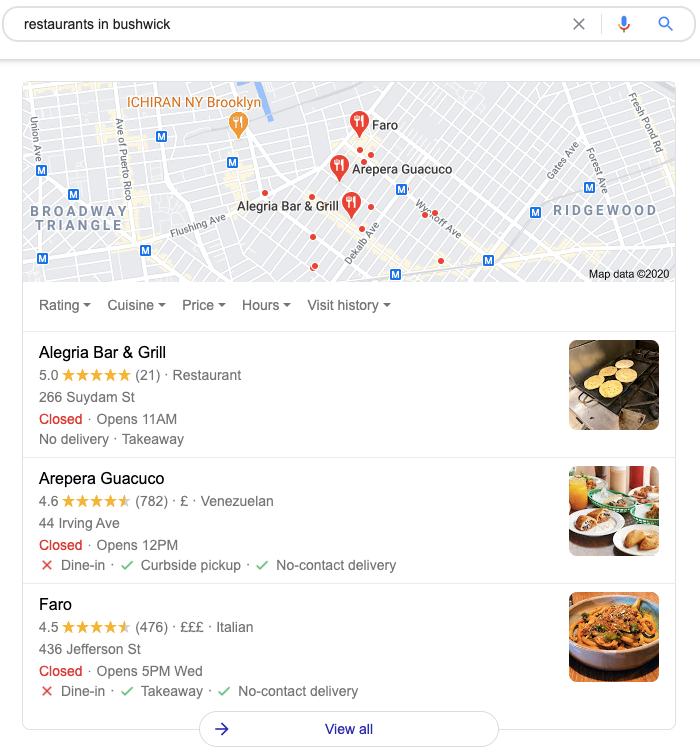 Once you've set it up, optimize your Google My Business profile by:
Ensuring your information is accurate and comprehensive
Sharing business updates, like new opening hours or product launches
Asking customers for Google reviews (and responding to them)
On that last point, I know it can be hard persuading customers to review your business. They're busy. They don't want to spend their valuable time seeking out your Google My Business profile or Facebook Business Page.
Podium makes it a lot easier, helping you provide social proof that demonstrates your brand can be trusted. Text customers asking them for a review and they'll be linked straight to your Facebook, Google, and Tripadvisor pages, so there's hardly any clicks (and hardly any work) for them. That's why Podium has powered more than 15 million business reviews for its users.
4. Create and Execute a Local Paid Marketing Strategy
Sometimes it takes money to make money. If you're serious about growing your local business right now, you'll want to consider investing in some sort of paid activity.
Google Ads can be super effective for smaller firms, especially web-based businesses targeting online traffic and/or conversions. Local keyword phrases like "lawyers near me," or "realtor in Denver," are typically a lot less competitive than broader, non-geographic terms like "realtor." That means you could get a lot of visibility and clicks with a relatively small outlay.
In addition to Google Ads, consider advertising on social platforms like Facebook and LinkedIn. Social ads are less intention-based than paid search because your audience isn't actively looking for the thing you're advertising.
However, ads on social media often cost less than Google Ads. For instance, if you're a law firm, you're paying on average $10.96 per click on Google Ads, but on Facebook, that figure drops to just $1.32.
5. Use Analytics to Track and Improve Site Performance
When times are hard, you need to squeeze every last dollar from your potential customers. Analytics software (like Google Analytics) can help you do that by allowing you to identify trends, plan new strategies, and measure the results of your current efforts.
Let's say you're a mechanic. You've just added a page to your site to promote a special offer on new tires. A month later, you click into Google Analytics and see that a bunch of people have landed on that page, but your conversion rate is low.
You compare it to other, similar pages on your site. They're performing much better. Now you know there's a problem, such as:
Your current offer is priced too high
Your new page isn't engaging or persuasive enough
You don't make it easy enough for customers to convert, so they leave
You don't provide enough detail about the offer
By comparing against better-performing pages, you can tweak your approach and improve results.
6. Conduct Local Community Promotions
Now isn't a good time to invite hundreds of people to a big party. But there are definitely opportunities for community engagement. You just need to get a little creative.
Say you've opened a new store in a location you haven't served before. Maybe you target properties within a certain zip code, or on certain streets, with a special offer that encourages customers to visit your store.
Perhaps in the age of social distancing, you've introduced a new takeout service. Why not give customers in your area 10% off their first promotion, or combine it with a loyalty scheme? Tailor your offer to what your customers want right now, then promote it on Facebook, in the local press, via email marketing, or through direct mail.
7. Optimize Your Social Media Accounts
There are dozens of social platforms out there, but when it comes to growing a local business, you want to focus on those that give you the best reach, like:
Facebook
Twitter
Instagram
LinkedIn
Pinterest
YouTube
Tumblr
Finding the right platform will depend on the type of business you run. On a basic level, if you're B2B, LinkedIn's likely your best channel. Otherwise, almost everyone is on Facebook, but if your product is highly visual you might see more success on Instagram, Pinterest, or YouTube.
Whichever platform(s) you choose, you need to identify some tactics that ultimately help you sell more, like:
Showcasing and/or auctioning your products on Facebook Live
Starting conversations with new prospects in LinkedIn Groups
Setting up Instagram Shopping so people can browse your products in photos and videos while in-app
Conclusion
Growing a local business is never easy, and it's certainly a whole lot harder right now.
However, if you've set up your own business, you're likely comfortable with hustling for results. You're naturally entrepreneurial and you're driven to make this work.
Combine that attitude with the right growth strategies, and execute them effectively, and there's no reason why you can't come out of the pandemic in a stronger position.
What plans have you put in place to grow your business? How's it going for you so far?
The post How to Grow Your Local Business During Uncertain Times appeared first on Neil Patel.
Get the Best Fair Credit Business Credit Cards in a Recession
Are you looking for fair credit business credit cards in a recession? We checked out a ton of company credit cards, and did the research for you.
COViD-19, Economic Downturns, and Getting Fair Credit Business Credit Cards in a Recession
The USA's economic climate has been through any variety of changes throughout the years. Our financial fortunes can depend on developments in modern technology, diplomatic ties (or cutting those ties), the weather, and much more. COVID-19 in particular is hitting our economy hard, with some 22 million initial claims for unemployment benefits in four weeks.
Business credit, thankfully, is an asset which you can build even during economic slumps. However, you might need to get a little imaginative with it, as well as with various other kinds of financing.
Was an Economic Decline Predicted Before COVID-19 Hit?
Yes, actually. While nobody has a crystal ball, one thing is for certain. Whenever you start to see a bubble, it will at some point burst. Which is true whether the bubble is in the stock exchange, or S&L loans, or real estate.
Economic slumps additionally, certainly, imply financial institutions get even more cautious. Given that bailout money is finite, it would appear that banks will get more cautious very soon.
And because people may have much less discretionary cash money to spend, crowdfunding may become a less feasible funding option. The same may end up being true for angel investing as well as venture capital.
What Does this Mean to You?
Small business loans may be tightening up. However business credit is still a fantastic way to get business funding. By bypassing loan providers, you raise your chances for business financing, specifically if your company is new.
Business credit links to your EIN and not your SSN, as well as is available without a personal guarantee. It is available regardless of individual credit.
Business credit building is an outstanding selection in an economic downturn, as it is not based on how well the economy is doing. It also establishes an asset which will retain its value as long as your ratings remain high.
You can still get fair credit business credit cards in a recession. But note some of our choices need better credit. So take the opportunity as we take a breather to improve your credit scores.
Fair Credit Business Credit Cards in a Recession: Advantages
Per the SBA, small business credit card limits are a whopping 10 – 100 times that of personal cards!
This demonstrates you can get a lot more money with business credit. And it also shows you can have personal credit cards at retailers. So you would now have an added card at the same stores for your company.
And you will not need collateral, cash flow, or financials in order to get small business credit. Fair credit does not have to be an obstacle!
Benefits vary, so make certain to choose the reward you prefer from this assortment of alternatives.
Fair Credit Business Credit Cards in a Recession
Brex Card for Startups
Look into the Brex Card for Startups. It has no annual fee.
You will not need to supply your Social Security number to apply. And you will not need to provide a personal guarantee. They will take your EIN.
Nevertheless, they do not accept every industry.
Also, there are some industries they will not work with, and others where they want added documentation. For a list, go here: https://brex.com/legal/prohibited_activities/.
To determine creditworthiness, Brex checks a company's cash balance, spending patterns, and investors.
You can get 7x points on rideshare. Get 4x on Brex Travel. Also, get triple points on restaurants. And get double points on recurring software payments. Get 1x points on everything else.
You can have bad credit scores (even a 300 FICO) to qualify.
Find it here: https://brex.com/lp/startups-higher-limits/
Establish business credit fast with our research-backed guide to 12 business credit cards and lines, and get fair credit business credit cards in a recession.
Secure Fair Credit Business Credit Cards in a Recession
Capital One® Spark® Classic for Business
Check out the Capital One® Spark® Classic for Business. It has no annual fee. There is no introductory APR offer. The regular APR is a variable 24.49%. You can earn unlimited 1% cash back on every purchase for your business, with no minimum to redeem.
While this card is within reach if you have average credit scores, beware of the APR. Yet if you can pay promptly, and in full, then it is a bargain.
Find it here: https://www.capitalone.com/small-business/credit-cards/spark-classic/
Terrific Cards for Cash Back
Flat-Rate Rewards
Capital One ® Spark® Cash for Business
Check out the Capital One® Spark® Cash for Business. It has an introductory $0 annual fee for the initial year. After that, this card costs $95 per year. There is no introductory APR offer. The regular APR is a variable 18.49%.
You can get a $500 one-time cash bonus after spending $4,000 in the initial 3 months from account opening. Get unlimited 2% cash back. Redeem any time without minimums.
You will need great to outstanding credit to qualify.
Find it here: https://www.capitalone.com/small-business/credit-cards/spark-cash/
Flat-Rate Rewards and No Annual Cost
Discover it® Business Card
Check out the Discover it® Business Card. It has no yearly fee. There is an introductory APR of 0% on purchases for year. Then the regular APR is a variable 14.49 – 22.49%.
Get unlimited 1.5% cash back on all purchases, with no category restrictions or bonuses. They double the 1.5% Cashback Match™ at the end of the first year. There is no minimum spend requirement.
You can download transactions| quickly to Quicken, QuickBooks, and Excel. Note: you will need good to exceptional credit scores to get approval for this card.
Get it here: https://www.discover.com/credit-cards/business/
Irresistible Cards for Jackpot Rewards That Never Expire
Capital One® Spark® Cash Select for Business
Check out the Capital One® Spark® Cash Select for Business. It has no annual fee. You can get 1.5% cash back on every purchase. There is no limit on the cash back you can get. And get a one-time $200 cash bonus as soon as you spend $3,000 on purchases in the first 3 months. Rewards never expire.
Pay a 0% introductory APR for 9 months. Then pay 14.49% – 22.49% variable APR afterwards.
You will need good to excellent credit to qualify.
Find it here: https://www.capitalone.com/small-business/credit-cards/spark-cash-select/
Business Credit Cards for Extravagant Travel Points
Flat-rate Travel Rewards
Capital One® Spark® Miles for Business
Have a look at the Capital One® Spark® Miles for Business. It has an introductory yearly fee of $0 for the first year, which after that rises to $95. The regular APR is 18.49%, variable due to the prime rate. There is no introductory annual percentage rate. Pay no transfer fees. Late fees go up to $39.
This card is excellent for travel if your expenses do not come under basic bonus categories. You can get unlimited double miles on all purchases, without any limits. Get 5x miles on rental cars and hotels if you book with Capital One Travel.
Get an introductory bonus of 50,000 miles. That is the same as $500 in travel. Yet you just get it if you spend $4,500 in the first 3 months from account opening. There is no foreign transaction fee. You will need a great to outstanding FICO rating to qualify.
Find it here: https://www.capitalone.com/small-business/credit-cards/spark-miles/
Bonus Travel Categories with a Sign-Up Offer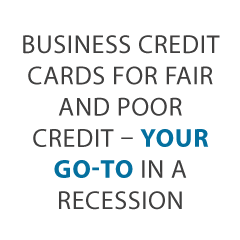 Ink Business Preferred℠ Credit Card
For a great sign-up offer and bonus categories, check out the Ink Business Preferred℠ Credit Card.
Pay a yearly fee of $95. Regular APR is 17.49 – 22.49%, variable. There is no introductory APR offer.
Get 100,000 bonus points after spending $15,000 in the first three months after account opening. This works out to $1,250 towards travel rewards if you redeem using Chase Ultimate Rewards.
Get three points per dollar of the first $150,000 you spend with this card. So this is for purchases on travel, shipping, internet, cable, and phone services. Plus it includes advertising purchases made with social media sites and search engines each account anniversary year.
You can get 25% more in travel redemption when you redeem for travel through Chase Ultimate Rewards. You will need a great to excellent FICO score to qualify.
Find it here: https://creditcards.chase.com/business-credit-cards/ink/business-preferred
Establish business credit fast with our research-backed guide to 12 business credit cards and lines, and get fair credit business credit cards in a recession.
Hotel Credit Card
Marriott Bonvoy Business™ American Express® Card
Check out the Marriott Bonvoy Business™ Card from American Express. It has a yearly fee of $125. There is no introductory APR offer. The regular APR is a variable 17.24 – 26.24%. You will need great to outstanding credit scores to get this card.
Points
You can earn 75,000 Marriott Bonvoy points after using your card to make purchases of $3,000 in the first three months. Get 6x the points for eligible purchases at participating Marriott Bonvoy hotels. You can get 4x the points at United States restaurants and filling stations. And you can get 4x the points on wireless telephone services purchased directly from US service providers and on US purchases for shipping.
Get double points on all other eligible purchases.
Rewards
Also, you get a free night each year after your card anniversary. And you can get one more free night after you spend $60,000 on your card in a calendar year.
You get free Marriott Bonvoy Silver Elite status with your Card. Also, spend $35,000 on eligible purchases in a calendar year and get an upgrade to Marriott Bonvoy Gold Elite status through the end of the next calendar year.
Plus, each calendar year you can get credit for 15 nights towards the next level of Marriott Bonvoy Elite status.
Find it here: https://creditcard.americanexpress.com/d/bonvoy-business/
Establish business credit fast with our research-backed guide to 12 business credit cards and lines, and get fair credit business credit cards in a recession.
Perfect Fair Credit Business Credit Cards in a Recession
Your outright best fair credit business credit cards in a recession will hinge on your credit history and scores.
Only you can pick which features you want and need. So be sure to do your homework. What is outstanding for you could be disastrous for someone else.
And, as always, make certain to develop credit in the recommended order for the best, speediest benefits. The COVID-19 situation will not last forever.
The post Fair Credit Business Credit Cards in a Recession appeared first on Credit Suite.