Business News
now browsing by category
Disclosure: This content is reader-supported, which means if you click on some of our links that we may earn a commission.
Whether you want to become a blogger for a big-time news publication, share your independent thoughts online, make millions as a blogger, or something in between, it all starts with a blogging platform.
And choosing the right one sets precedence for everything else you do.
But with so many options to choose from, picking the best blogging platform can feel overwhelming.
So to help you out, I created a list of considerations to think about as you go through the process and reviewed the top five blogging platforms on the market today.
By the end of this article, you'll be well on your way to starting your own blog.
The top 6 options for blogging platforms:
How to choose the best blogging platform for you
Choosing a blogging platform is an important decision. And the one you choose depends on what you hope to do with your new blog and how much control you want to have.
So, let's walk through what to consider as you make your final decision.
Do you want to make money?
This is probably the most crucial question to ask yourself.
If you want to start a personal blog to share your thoughts and experiences, you're completely fine going with a free blogging platform, like Medium or Blogger.
However, if you want to make money blogging, you have to be careful. Most free platforms don't let you monetize your blog. So, you need to choose a premium blogging platform that gives you more control, like Wix, WordPress.org, or Squarespace.
Do you already have a website?
If you want to add a blog to a website you already have, I highly recommend looking into your website platform's blogging capabilities.
This is the easiest way to add a blog to a website that already exists.
Alternatively, you can look into migrating your website to Wix, WordPress.org, or Squarespace. However, I recommend staying with the platform you're already using if you can.
Customization capabilities
Paid blogging platforms give you more control and design flexibility, allowing you to build a complete website and brand around your blog. And you can customize the look and feel of nearly every aspect of your website.
If you're serious about blogging as a business, you need that level of control.
For complete flexibility and customization options, go with WordPress.org. And if you want something easier than WordPress, yet still flexible, Wix and Squarespace are great drag-and-drop options.
On the other hand, free blogging platforms don't give you the ability to customize to that extent. You may be able to change the colors and pick between a few different layouts.
But, you can't do much aside from that.
With that said, if you're interested in personal or hobby blogging, you don't need anything fancy. Free blogging platforms offer everything you need to quickly write content and share it online in just a few clicks.
The different types of blogging platforms
There are several different types of blogging platforms.
And the right one for you depends on what you want to do with your blog.
So, before we dive into my top recommendations, let's walk through the different types and what they're used for.
Free
Free blogging platforms come in a variety of shapes and sizes.
They're perfect for anyone interested in personal or hobby blogging. And it's the easiest way to write and publish content online quickly.
However, free blogging platforms usually don't let you make money with your content. You can't make money with ads, use affiliate marketing, or sell your own products.
Furthermore, they're very limited in design flexibility and customization capabilities.
You may even be stuck with random ads placed on your blog. And migrating your content from a free platform to another isn't an easy process. So, they're not suitable for business bloggers or anyone interested in making money blogging at any point in the future.
Website builders
Website builders are all-inclusive, drag-and-drop design tools that let you quickly build an entire website without touching any code. They're easy to set up, simple to use, and include a full suite of blogging tools.
However, they're not free. But web hosting is included with your subscription, and some even offer a free custom domain name for the first year.
Furthermore, you get a significant level of flexibility and customization. But some areas may be limited depending on the blogging platform you choose.
This is a great place to start if you want to make money, but you've never built a website before. Just keep in mind that you sacrifice some flexibility in exchange for ease of use.
Open-source
Open-source blogging platforms are free to download and install. They're completely customizable from the inside out, making them perfect for serious bloggers and business owners interested in building a full-fledged custom website.
However, there's a steeper learning curve.
But once you get the hang of it, you'll realize how flexible and customizable this type of blogging platform really is. You can create ecommerce stores, business websites, portfolios, service-based websites, interactive blogs, and more.
With that said, you have to buy web hosting before you can install an open-source software.
But most web hosts make this type of software easy to install with one-click installation.
#1 – Wix Review — The best drag-and-drop blogging platform
If you're looking for the easiest premium blogging platform, you should go with Wix.
It's an all-in-one website builder with more than 100 million users worldwide, making it one of the most popular options on the market.
Furthermore, it's excellent for beginners interested in creating a full-fledged website with a blog included. And Wix's intuitive drag-and-drop builder makes creating engaging blog content a breeze.
Plus, it includes everything you need to make money with your new blog.
With Wix, you get premium blogging features, including:
500 professional design templates
Industry-leading SEO tools
Rich-text editor
Embed HTML codes
Categories and hashtags
Advanced search capabilities
Writer and editor user roles
Easy image editing
Social media tools
Visitor analytics
Wix is arguably the easiest and fastest way to get your professional website and blog running.
You can also take advantage of their ADI (advanced design intelligence) tool, which creates everything you need to get started in a matter of minutes.
Simply answer a few questions, customize the design, add your website copy, update your images, and you're ready to start blogging.
Wix offers a free plan, which is excellent for building your site and getting everything ready to go. However, I highly recommend upgrading to a paid plan so you can remove Wix ads and connect a custom domain name.
Paid plans start at $13/mo and increase depending on the features you need.
#2 – WordPress.org Review — The best open-source blogging platform
WordPress.org is an open-source blogging platform with complete design flexibility.
It also powers 38% of the entire internet, including the blog you're reading right now, making it the most popular blogging platform on the market.
And the best part? It's free to download and install.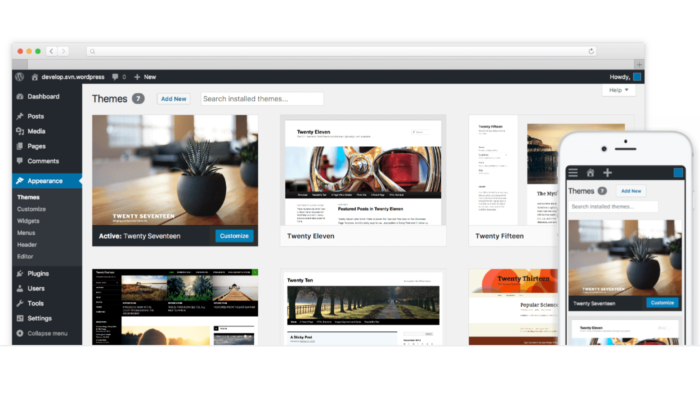 However, you do need web hosting to be able to use it. This usually costs around $3 – $10 per month, so it's the most affordable option on this list. 
With that said, it's not as easy as Wix. There are a few more steps to get started, but the extra work is well worth it if you're looking for complete design control and flexibility.
With WordPress.org, you also get:
55,000+ plugins to extend the functionality of your site
Thousands of free and premium themes
The Gutenburg block editor
Advanced user roles and permissions
Powerful media management
A massive community of experts
Infinite design control
The best part is that you have 100% control over your website and blog. Plus, you aren't tied down by rules and regulations. You can decide what to display, what you don't reveal, and how you make money.
There are countless ways to get started with WordPress.org. But I highly recommend starting with Bluehost.
It's the easiest way to get everything you need.
They also include a free domain name for the first year. So, all you have to do is pick a hosting plan, snag your free domain, and use their one-click WordPress installation feature.
#3 – Squarespace Review — The best blogging platform for visual-based businesses
Squarespace is an all-in-one website builder, like Wix. However, it's famous for aesthetically pleasing templates, making it perfect for visual-based businesses like photographers, designers, and artists.
It's also straightforward to use. Plus, it includes web hosting services and a free domain for the first year (if you choose an annual premium plan).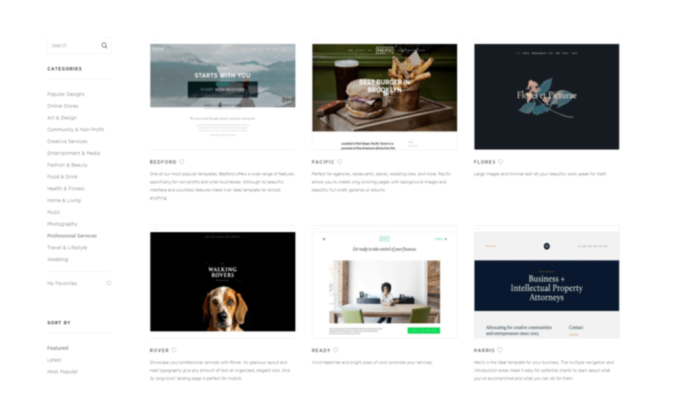 It's perfect for bloggers who want an easy, aesthetic way to share images, videos, and portfolio pieces, along with long-form and short-form blog posts.
And with Squarespace, you create blog posts the same way you create pages.
So, once you learn how the drag-and-drop editor works, you know how to use the entire platform. You also get access to powerful blogging features, including:
Free blogging templates to help you get started
Five unique post layouts for your home and archive pages
Categories, tags, and featured posts
Built-in post scheduler
Contributor permissions
In-depth analytics
SEO and social media tools
Email marketing (additional fees)
Expert customer service
Mobile app
Squarespace isn't as customizable as Wix or WordPress.org, but it's perfect for creative bloggers and visual-based businesses looking for something captivating and easy to use.
Paid plans start at $12 per month and increase depending on the features you need.
#4 – Medium Review — The best traditional blogging platform
Medium is a platform that helps readers and writers find new ideas, knowledge, and perspectives. It's unique because there are no ads present on the platform.
To date, they have over 120 million readers, making this an excellent way to get your content in front of more people. It's also great if you want to share personal stories and perspectives to get your thoughts out to the world.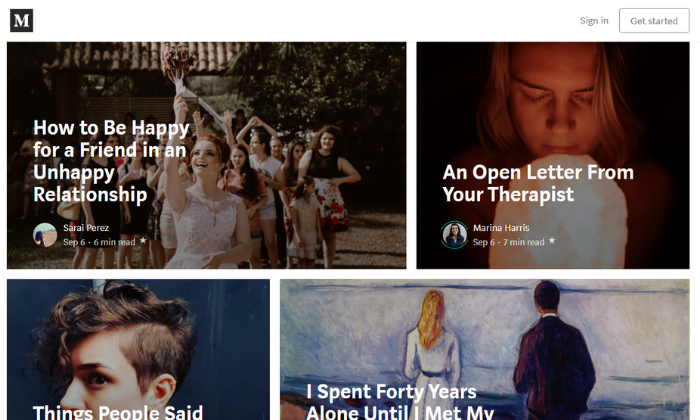 However, it's not a great platform for making money as a blogger. Medium does have a partner program that rewards writers for the amount of time paying members spend reading their content.
But you'll have a hard time making a decent amount of money on Medium alone.
And you can't include your own call-to-actions in partner posts. So, you have to choose between making money and growing your email list.
It's not a flawed model. However, I highly recommend treating Medium as an extension of your Wix, Squarespace, or WordPress.org blog.
To get started, you can create a profile or a publication. Publications look more aesthetically pleasing, and you get more organization and display features. With publications, you can also send newsletters to your followers.
However, it doesn't really matter which one you choose.
Note: if you use Medium as an extension of your blog, make sure you use their import feature to add existing blog posts. This way, you can add content from your blog to Medium without creating duplicate content for SEO purposes.
#5 – Blogger Review – The best for personal blogs
Blogger is one of the original blogging platforms. It's been around since 1999.
It's completely free to use with no paid plans, upsells, or anything like that. And it's incredibly easy to use. This makes it perfect for personal or hobby bloggers looking to share their thoughts and ideas with the world.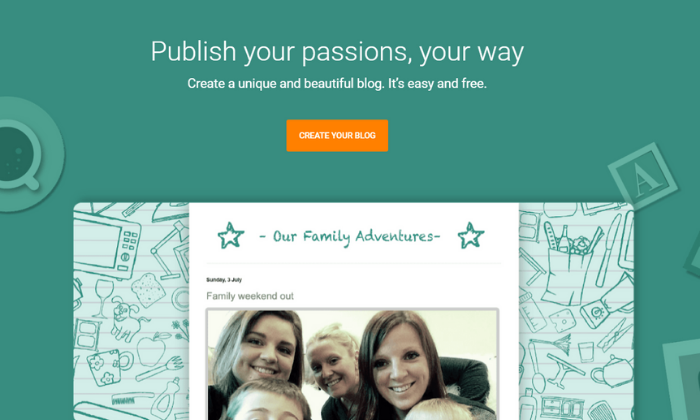 They have several free templates to choose from that govern how your blog looks. However, they're not very customizable.
You can change the colors and the layout of a few things, but that's about it.
The platform focuses solely on blogging, so that's where the majority of their features lie. With Blogger, you get free access to essential features, including:
A free SSL certificate and free domain mapping
Google integrations
Image storage with Google Photos
Integrated ad campaigns
Simple text editor
And while those features are great, the platform is seriously lacking in other departments, including customization, custom post types, and overall design.
Essentially, it's an old-school blogging platform. It works well for simple blogging, but you can't create a full-fledged website, so I don't recommend it if you want to build a brand and make money blogging.
However, since Google's acquisition in 2003, you can display Google Ads on your blog to make a little extra money on the side.
But, it's not a sustainable or long-term way to make a full-time income with your blog.
Summary
The best blogging platform for you depends on where you want to take your blog. For personal and hobby bloggers, a free platform like Blogger or Medium is the perfect place to start.
They're easy to set up, incredibly simple, and the fastest way to start publishing online. Plus, you don't have to pay anything to share your thoughts and ideas.
However, if you want to make money and turn your blog into a business, free platforms won't cut it. The easiest premium blogging platforms are Wix and Squarespace, making them perfect for beginners.
However, if you want the ultimate level of control, go with WordPress.org hosted by Bluehost.
The post The Best Blogging Platforms (In-Depth Review) appeared first on Neil Patel.
According to Smart Insights, 49 percent of organizations don't have a clearly defined digital strategy.
Choosing the right digital strategy for your business is essential. Experience helps you sift through what to do differently, what not to do, and where to focus your energy. Having a fresh perspective from an outside eye can make all the difference. What's more important is choosing a company that can execute that strategy.
When you need to choose the best digital strategy company, you may be wondering where to start. Here's a list of our picks for the best digital strategy companies in the world.
1. Neil Patel Digital — Best For Content Marketing & Digital Strategy
I've written more than 4,294 blog posts in 10 years. I've created millions of words and I've used content marketing to build three companies of my own. I used content marketing to generate 195,013 visitors a month and I've done the same things for my fortune 500 clients. When it comes to digital strategy and content marketing I've shown it can work.
I do the same thing for clients with my agency, NP Digital. We help our clients develop a digital strategy that maximizes the results they achieve with their content marketing, advertising, and SEO campaigns.
The focus with our digital strategy is revenue. Everything we do is focused on producing real results for businesses whether that's more traffic, leads, or revenue.
NP Digital's client list includes:
Facebook
Viacom
Google
GM
eBay
NBC
Thomson Reuters foundation
TechCrunch
Cheezburger
American Greetings
2. REQ – Best for Enterprise Business Strategy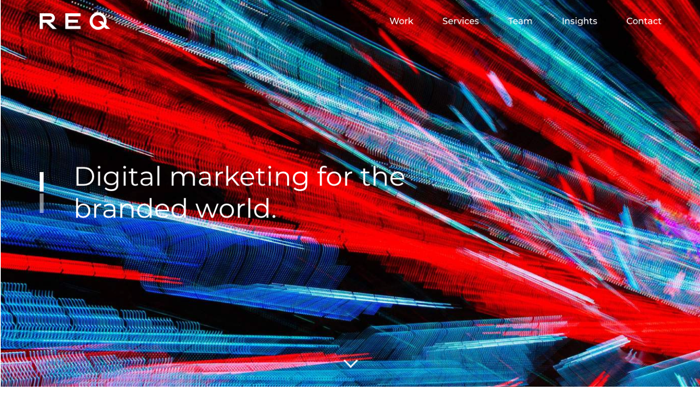 REQ is a Washington DC based, award-winning agency with enterprise-level experience. They're industry veterans with some of the best talent in the business.
Projects start at $50,000. They offer a comprehensive suite of solutions for your marketing and digital strategy needs. Including:
Advertising & Media
Digital Advocacy
Brand Strategy
Reputation Management
Public Relations
Data & Analytics
They've been named to both the Inc.500 and Deloitte Fast 500 lists – they're one of the fastest growing companies in America. They have offices in Washington, DC, New York, Boston, San Diego, Las Vegas, and San Francisco.
REQ's client list includes:
eBay
Amazon
StubHub
Sweet Green
Mastercard
Empire State Building
Constellation Energy
3. Usman Group – Best for Mid-market Business Strategy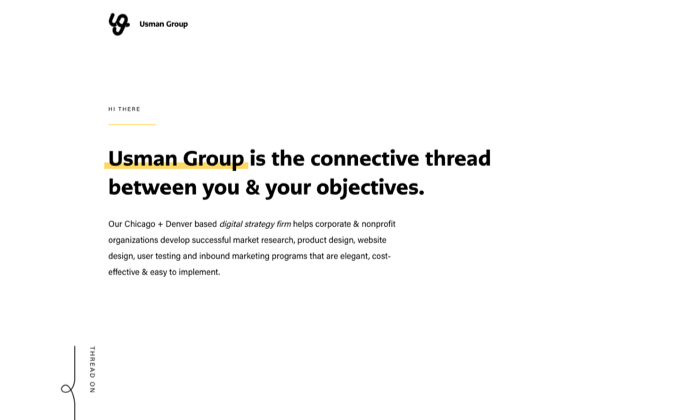 With 80% of its clients in mid-market range, earning between 10M – 1B, the Usman Group specializes in digital strategy and market research. They provide analysis, strategy, execution, and measurement to help clients deploy successful campaigns.
They apply the four key principles of design thinking, learn from people, identify patterns, make solutions tangible, iterate continuously, in all of their client engagements.
Projects start at $10,000. You get a hand-picked team that will provide evidence-based, practical strategy and recommendations.
Usman Group's client list includes:
Red Prairie
University of Chicago
National Safety Council
Chicago Sun Times
Priceline
Baird
4. DeSantis Breindel – Best for Branding Strategy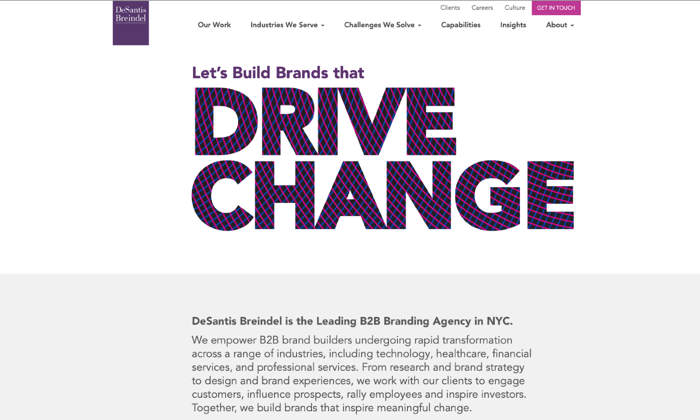 DeSantis Breindel is a New York City based digital strategy company that specializes in end-to-end branding strategy. They help businesses with brand differentiation, customer experience, merger & acquisition branding, brand valuation, brand launch, and employee engagement.
Projects start at $75,000. They offer thorough research and measurement for your digital branding, brand identity and strategy, content marketing, customer experience design, and film production services.
DeSantis Breindel's client list includes:
Verifone
Lathrop Gage
OneSpan
SailPoint
Lincoln International
Lewis Roca
5. Mabbly – Best for Data Analysis, Channel Strategy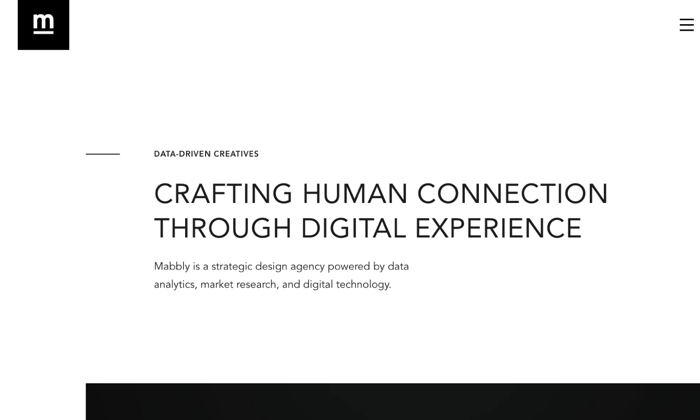 Mabbly is a Chicago based strategic design agency that relies on digital strategy, market research, and data analytics. They focus on turning complex problems into growth opportunities. Supporting human connection with digital experiences, via sophisticated design and data-backed digital strategy.
Mabbly's team of digital and brand strategists work together to curate a channel strategy that combines the message along with the medium that's right for your business opportunity. Projects start at $25,000.
Mabbly's client list includes:
Edelman
Microsoft
Berkshire Group
Griffith Foods
21st Century Fox
Limitless Coffee & Tea
ShopRunner
6. Ironpaper – Best for Small Business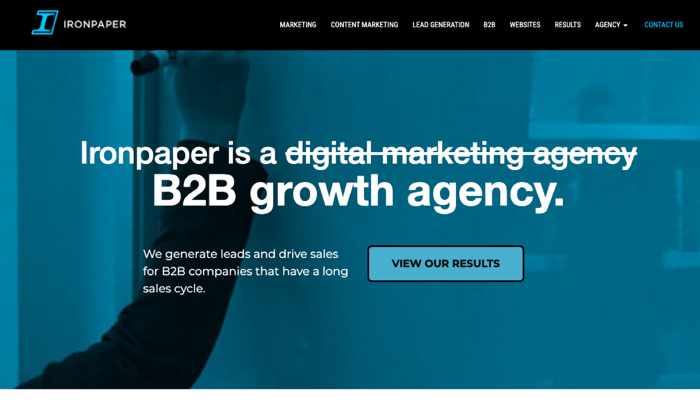 Ironpaper bills itself as a B2B growth agency. Their conversion growth strategy is focused on gaining traction with growth up to 1 percent. The growth phase is set at 1 to 3 percent, with anything above 3 percent listed as scaling.
What's interesting about Ironpaper is the fact that they discuss the elephant in the room.
"Oftentimes, enterprises try to answer the question, 'What is a good conversion rate?'' without any context. What is a good conversion rate? When establishing conversion rates, context is everything.
A lack of context can actually do harm to a marketing team, because it causes teams to make the wrong assumptions."
This tells you that Ironpaper isn't focused on vanity metrics or conversion manipulation. They know the difference between high and low value conversions. Their projects start at $10,000 and are focused on small businesses.
Iron Paper's client list includes:
Nokia
Echo226
Telmar
Mformation
Arago
3 Characteristics That Make a Great Digital Strategy Company
Your digital strategy company should be able to provide you with specifics ahead of time. While many companies are able to provide you with amazing strategies, many are unwilling to demonstrate this ahead of time.
1. Your agency asks the right questions
Creating an exceptional digital strategy begins with your agency asking the right questions. These questions determine what will be answered and where your answers will go. Here's a small sample of the questions your agency should be asking.
How is our business currently performing?
Which parts of your business are underperforming?
What's our goal for each area of our business?
What do customers expect from our product and our business?
Which marketing channels are our customers active on?
Which marketing channels should we use to accomplish our goals?
Which metrics and KPIs will we use to evaluate performance?
How should we promote our products and services in the market to achieve our goals?
These questions inform your digital strategy.
Why are we in business?
Where are we right now?
Where do we want to go?
How will we get there?
Your digital strategy framework should answer four high-level questions. Good digital marketing agencies should be asking these questions at the beginning of the engagement process.
2. Your agency is willing to share strategy
The agency you choose should be willing to share sample strategies with you. This doesn't mean that you should expect your agency to provide the entire strategy upfront, for free. Spec work isn't ideal and that's not what you're looking for.
You're looking for one example.
They can share this with you over the phone, in your proposal or quote, or in a sample report. You're looking for them to share a small snippet, a piece of their proposed digital strategy. This is important for several reasons. With sample data you can:
Evaluate your agency's competence
Use sample data to evaluate potential performance
Assess their digital strategy or marketing priorities
Outline knowledge gaps and weak points in their process
You're not asking for a comprehensive strategy document, you're simply asking your agency to pick one part of your business and create a strategy around that; ask your agency a question (e.g., how would you increase sales for one of my products?).
3. Your agency can implement Strategy
Venture Capitalist Arthur Rock, believes strategy is important, but not as important as people who can execute that strategy.
"Over the past 30 years, I estimate that I've looked at an average of one business plan per day, or about 300 a year, in addition to the large numbers of phone calls and business plans that simply are not appropriate. Of the 300 likely plans, I may invest in only one or two a year; and even among those carefully chosen few, I'd say that a good half fail to perform up to expectations.
The problem with those companies (and with the ventures I choose not to take part in) is rarely one of strategy. Good ideas and good products are a dime a dozen. Good execution and good management in a word, good people are rare."
A great strategy isn't enough. You need amazing people who can implement your digital strategy and produce the results you need to grow.
Your agency should have two things:
A team that can implement your digital strategy
A proven track record showing that they've achieved this consistently in the past
If they can provide you with both or they're willing to provide you with a trial period where you're able to test their ability to execute your digital strategy, then it may be a good fit.
What To Expect From a Great Digital Strategy Company
Your agency should provide you with detailed specifics for each of these points. If you have more questions or concerns, you'll want to bring those up with your agency.
A clear track record: Your agency should be able to show you samples, references, case studies, and reviews showing that they've achieved results for other clients.
Clear milestones: You're looking for clear milestones, timelines, and deliverables that show you're able to create and implement a plan successfully. Your agency should be able to provide you with a timeline, explaining how long everything will take to implement, and when they anticipate you'll begin seeing results.
Agency procedures: You'll want to see how your agency plans on approaching your campaign or project. They should be able to break down the approach that goes into their strategy document; this document should clarify how they'll approach your campaign, what you should expect, what their goals are and more.
The digital strategy company you choose should provide you with the options you need to implement the plan successfully.
Conclusion
Choosing the right digital strategy for your business is essential. You need a plan to guide you, outlining where you are, where you want to go, and how to get there. Having a fresh perspective from an outside eye can mean the difference between success and failure.
Remember, executing your digital strategy plan is even more important than simply having a plan. Use this pool to choose a digital strategy company that will partner with you to achieve your business goals.
The post The 6 Best Digital Strategy Companies of 2020 appeared first on Neil Patel.
Disclosure: This content is reader-supported, which means if you click on some of our links that we may earn a commission.
Every business needs insurance. Depending on your business type and industry, some of you will need more protection than others.
Without insurance, you could be liable for potentially hundreds of thousands or even millions of dollars.
What happens if one of your vehicles is involved in an accident? How will you pay for the damages of a fire or flood in your office? What if an employee or customer slips and falls on your property?
You need to have insurance, or you'll be paying these costs out of pocket.
But finding the best business insurance package for your organization can be tricky. On the one hand, you want to make sure that you're covered, but on the other, you don't want to overpay on premiums.
The best way to start your search is by choosing a reputable business insurance provider—I've narrowed down the top business insurance companies in this guide.
The Top 6 Options For Business Insurance
How to Choose the Best Business Insurance For You
There is no "one-size-fits-all" plan for business insurance. Every organization is unique, so you'll need custom protection based on your needs. Certain insurance providers are definitely better for specific types of insurance, as well as other factors.
As you're browsing and getting quotes from different providers, make sure you keep the following considerations in mind:
Industry
Some insurance providers have more experience covering businesses within certain industries.
For example, a restaurant would have very different insurance needs from a construction company. A dental practice won't have the same needs as an ecommerce website. You get the idea.
So as you're evaluating a potential provider, take a look at their existing clients and industries served. Do they have experience covering businesses in your industry? If not, look elsewhere.
Customer Service
If you have to submit a claim, you want to make sure that your insurance provider has your back. When you pick up the phone, will someone answer?
Any delay in the claims process will cost your business money. Let's say there is a flood at your retail storefront. If your insurance company drags their feet, you might not be able to re-open. How soon will someone come to evaluate the property? How quickly can they approve a contractor to repair the damages?
Choose an insurance company that will go the extra mile to serve your business in times when you need their help the most—that's what you're paying them for.
Reputation of Provider
There are literally thousands of insurance companies in the United States. Some are brand new, some have been around since the inception of insurance, and many fall somewhere in between.
In most cases, I prefer to go with an older insurance company with a long-standing reputation. These providers have seen it all, and they've survived the test of time. You run some risk if you go with a newer company. Let's say you have some obscure or rare situation with a claim. It could be a first for a new company, and they might not know how to handle it.
Coverage Options
We'll talk about the different types of business insurance in greater detail shortly. But in a perfect world, you'd like to get all of your business insurance coverage under one roof.
Getting property insurance from one provider, vehicle insurance from another, and general liability from a third company is just too confusing. So look for an insurance company that has a wide array of coverage options that accommodate your needs.
Premiums
Getting proper coverage is obviously important, but how much is this going to cost you?
If you choose the cheapest plan you can find, you'll probably be exposed to some more out of pocket costs. But if you choose the most expensive plan on the market, do you actually need all of that coverage?
Look for a balance between these two extremes. When it comes to insurance, I typically like to be a bit more conservative. I'd rather overpay a little bit than risk not being fully covered. But this all depends on your individual risk tolerance.
The Different Types of Business Insurance
There are dozens of different business insurance types. But for the purposes of this guide, I'm going to focus on the ones that are the most common and applicable to the masses.
General Liability Insurance
General liability coverage protects you from risks like bodily injuries and property damage. This typically includes medical payments if someone is hurt on your company's property. General liability can also protect you from lawsuits related to things like libel, slander, privacy violations, copyright infringement, wrongful evictions, and more.
Most businesses will need some type of general liability coverage.
Professional Liability Insurance
Professional liability and general liability are often confused with each other, although the two are not one in the same.
Professional liability insurance is also referred to as errors and omissions (E&O) insurance. This protects businesses sued by clients claiming damages for professional services that you provide. Things like an accountant making a mistake on a tax return or a web developer making mistakes on a site that they manage would be examples where professional liability insurance is necessary.
BOP Insurance
Business owners insurance (better known as BOP) is a policy that combines liability and property into one package. It's very common for small and mid-sized business owners across a wide range of industries. Most contractors will carry some form of BOP insurance as well.
BOP packages do not cover your employees—it's specific to business owners.
Workers' Compensation Insurance
Once you hire your first employee, workers' compensation should be immediately added to your business insurance policy. Most states require workers' comp insurance by law.
The coverage pays for things like medical expenses and disability for employees who were injured on the job. This could include minor slip and fall injuries to long-term conditions (like carpal tunnel) or even death.
Business Interruption Insurance
This type of insurance will protect your company if your operations are interrupted during some type of disaster or catastrophic event. Organizations with physical locations that could lose income due to these types of interruptions can benefit from a business interruption policy.
Your business can be compensated for lost income in these types of scenarios.
Vehicle Insurance
This type of business insurance policy is pretty-self explanatory. Just like you need insurance for your personal vehicle, you'll need to cover any vehicles used for business purposes. If an accident occurs with one of your vehicles (whether you're driving or not), you'll need this type of coverage.
Property Insurance
Whether you own or lease physical space, you need to have property insurance. Again, it's similar to the type of insurance you'd have to protect your home or apartment.
This type of insurance will protect your business from events like fires or theft. Your equipment, inventory, furniture, etc. should all be covered in this policy. However, it's worth noting that some types of natural disasters, like earthquakes, aren't always covered in a standard property insurance policy. You might have to pay extra for this type of coverage, depending on your area and the insurance provider.
Product Liability Insurance
If your company manufactures products that are sold to the general public, you must have product liability insurance. This coverage will protect your company from lawsuits related to damages caused by your products.
For example, if someone is injured using one of your products, they could sue your company directly for their medical expenses. That's when product liability insurance would kick in.
#1 – Chubb Review — Most Versatile Business Insurance Packages
Chubb is one of the most reputable business insurance providers on the market today. They are known for exceptional customer service.
This provider has a wide range of plans for small businesses, commercial insurance, industry-specific policies, and more.
Compared to other insurance providers on the market, Chubb has one of the most extensive coverage portfolios that you can find. Some examples of these policy categories include:
Accident and health
General liability
Cyber insurance
Environmental packages (premises pollution liability and contractor pollution liability)
International insurance packages
Management liability
Inland and ocean marine
Product recall liability
Professional liability
Workers' compensation
Chubb has over 200 years of experience in the business insurance space. Just be aware that their premiums tend to be a bit higher than other options—but you're paying for the best.
#2 – CNA Review — The Best Custom Business Insurance Plans
CNA is another reputable provider in the business insurance world. They have 120+ years of expertise in this field.
With CNA, you'll benefit from a custom insurance package to help manage your risks and liabilities.
There are certain industries that CNA has the most experience working with; these include construction, education, manufacturing, healthcare, real estate, wholesale, technology, professional services, finance, and more.
Here's a quick glance at some of the types of business insurance offered by CNA:
Workers' compensation insurance
Professional liability insurance (errors and omissions)
Property insurance
Commercial auto insurance
Business interruption insurance
General liability insurance
Equipment breakdown insurance
I like CNA because you can pick and choose which types of coverage you need, and get them bundled into a single policy that's custom fit to your needs.
#3 – Hiscox Review — Best For Small Business Insurance
Hiscox is my top recommendation for small business owners. Their policies are affordable, while still providing you with enough coverage to protect your organization from a wide range of potential scenarios.
When I say that Hiscox is great for small businesses, I mean ALL small businesses. They're currently providing protection to organizations in 180+ different industries.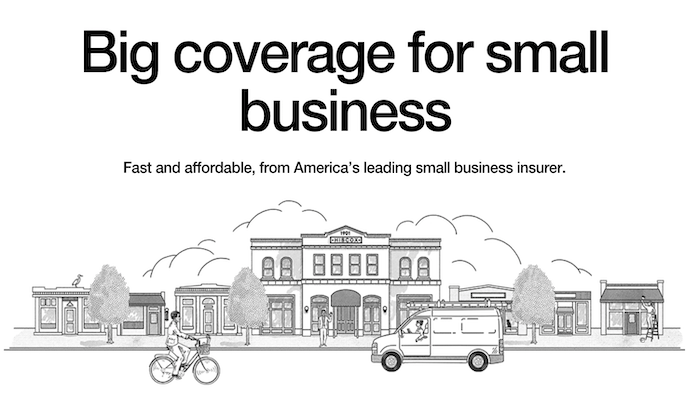 The list of coverage types offered by Hiscox isn't quite as extensive as some of the other options on the market today. But they still have more than enough options to accommodate the needs of most businesses.
General liability insurance for small business
Professional liability (E&O) insurance for small business
Business owners policy (BOP) for small business
Short-term liability insurance for small business
Cyber insurance for small business
Workers' comp for small business
Commercial auto insurance for small business
Umbrella insurance for small business
Employment practices liability insurance for small business
Hiscox is an established name in the business insurance world. They've been around since 1901 and insure 300,000+ small businesses across the US.
#4 – Insureon Review — Best Business Insurance Marketplace
Technically speaking, Insureon isn't actually an insurance provider; it's an online marketplace for business insurance.
But this robust platform definitely deserves a spot on my list. Insureon is super easy to use, and it's the best way to compare coverage options from different providers in a single place.
If you're looking to get the best possible rate, I strongly recommend Insureon. Otherwise, you'd have to get quotes from different providers individually, which is much more of a hassle.
Insureon allows you to compare free quotes from some of the top-rated and well-known business insurance providers on the market today (including some of the options on our list).
Travelers
Chubb
Hiscox
Hannover
The Hartford
Liberty Mutual
AmTrust Financial
The list goes on and on. You can browse policies for professional liability insurance, cyber liability insurance, BOP policies, general liability insurance, commercial property insurance, workers' compensation insurance, and more.
Insureon is typically geared toward smaller businesses. But it's used across a wide range of different industries.
#5 – Progressive Review — The Best For Commercial Auto Insurance
Progressive is an industry leader in the commercial auto coverage space.
With 45+ years of experience, they aren't quite as old as some other players in the industry. However, Progressive is definitely a well-established and trustworthy provider for commercial auto policies.
Here's a list of some common types of business vehicles insured by Progressive:
Buses
Limousines
Trucks
Vans
Landscaping vehicles
Tow trucks
Box trucks
Snow plows
Sports utility vehicles (for hauling cargo and transporting products)
Pickup trucks
Trailers
It's worth noting that there are certain types of vehicles that Progressive will NOT insure. This includes emergency vehicles (like fire trucks and ambulances), golf carts, double-decker buses, monster trucks, race cars, wheelchair buses, and a few others.
In addition to the commercial policies, Progressive also has coverage for general liability, BOP, professional liability, workers' comp, and more.
#6 – The Hartford Review — The Best For Workers' Comp
For those of you who don't know, Hartford, Connecticut is known as the "insurance capital of the world." So it's no surprise to see The Hartford (named for its headquarters' namesake) on our list.
This company was founded more than two centuries ago, back in 1810. To say they are a well-established name in the business insurance industry would be a drastic understatement.
The Hartford has an extensive list of product offerings for business insurance. Some of their most popular policies include:
Business owners' policy (BOP) insurance
General liability insurance
Workers' compensation insurance
Business income insurance
Commercial auto insurance
Commercial property insurance
Commercial flood insurance
Home-based business insurance
Professional liability insurance
Multinational business insurance
Overall, the workers' comp coverages provided by The Hartford are second to none. If you want to give your employees the very best protection, look no further than The Hartford.
Summary
In a market saturated with business insurance options, there are really only six choices that I'd consider.
If you choose one of the names reviewed above, you can rest easy knowing that your business is being protected from a well-established and reputable provider.
Be sure to use the methodology I described earlier as you're shopping around and evaluating different options. That's the only way to get the best possible business insurance policy for your company.
The post Best Business Insurance appeared first on Neil Patel.
Disclosure: This content is reader-supported, which means if you click on some of our links that we may earn a commission.
In a world filled with different web hosting options, VPS hosting has become a popular choice for websites in various categories.
Upgrading to a virtual private server (VPS for short) will drastically improve your site performance if you're currently on a shared hosting plan.
For those of you who are starting a new site from scratch and expecting tons of traffic from the beginning, getting a VPS hosting plan out of the gate is a viable option as well.
There are literally hundreds of thousands of web hosting providers on the market today. That's why finding the right web hosting plan for your site can be such a tough decision. Fortunately, you've come to the right place—this guide will provide you with everything you need to know about VPS hosting.
The Top 5 Options For VPS Web Hosting
How to Choose the Best VPS Hosting Plan For You
As previously stated, the list of web hosting providers is seemingly a mile long. But in terms of actual contenders, there are a couple dozen at most. When it comes to VPS hosting, specifically, the list is even shorter.
But as you're shopping around and evaluating different VPS hosting providers, these are the factors that you've got to take into consideration:
Site Performance Metrics
Site performance needs to be the top priority for everyone seeking a VPS plan. The term "performance" can be pretty subjective, but there are two metrics that matter the most:
Uptime
Speed
Most people searching for a VPS are upgrading from a shared hosting plan that they've outgrown. Uptime and speed are the first two things to be affected when you're sharing server resources with other sites.
You want to make sure that your VPS plan can accommodate your traffic needs. If performance is affected at scale, then you need to look elsewhere. Lots of web hosting providers will give you a guaranteed uptime rate. However, those offers typically come with some contingencies (like planned outages).
Some sites can't afford any downtime or slow loading times. If you fall into that category, make sure you get a premium VPS plan. For those of you who would rather save some money, just know that your site performance might be affected.
Dedicated Resources
Technically speaking, you're still sharing server resources with other websites on a VPS hosting plan. However, the number of sites on the same main server is much lower compared to shared hosting. Plus, each virtual server will have its own dedicated resources.
As you're evaluating plans, consider the following:
RAM
Storage
Bandwidth
CPUs
These resources will have a direct impact on your site speed and uptime (mentioned previously). If you're maxing out your resources, you can't expect your site to run at peak performance.
Optional Root Access
Not everyone needs root access. This feature only really matters if you're a developer or need the ability to make custom changes to your virtual server at an advanced level.
If that's the case, then you should be looking for a self-managed VPS plan. Most people will be better off with a fully managed plan (no need for root access here). It's also worth noting that you can find fully managed VPS plans with optional root access, but that feature won't really be utilized by the average user.
Operating System
On the technical side, there are two main options for VPS hosting—Windows VPS and Linux VPS.
A Windows-based platform will provide you with access levels and performance that's similar to a dedicated server. If you're on a self-managed plan, you would be able to install common windows databases and applications like Microsoft SQL, ASP, SharePoint, and ASP.NET.
With a Linux VPS, your virtual servers will support web features like PHP, MySQL, and POP3. Since Linux is an open-source OS, these hosting plans are usually more cost-effective. You could eventually convert your Linux server into a Windows server, but doing the opposite would be much more complex.
Customer Service
Customer support piggybacks on our last point, especially true if you're on a fully managed plan.
You want to make sure that your web hosting provider has your back. What happens if something goes wrong? Who do you contact if you have a problem or question? How do you resolve a time-sensitive issue?
If your site crashes at 10:00 PM on Friday night, waiting to contact a customer support representative at 9:00 AM Monday morning isn't going to cut it. Look for a VPS provider with 24/7/365 support via phone and live chat.
Features like free migrations from another provider or hosting type to your new VPS plan would also fall into the support category. Some hosting providers are undoubtedly better than others when it comes to customer service.
Budget
The price for VPS web hosting varies significantly from provider to provider and plan to plan. We've seen VPS hosting plans starting as low as $6 per month. Other plans start at $250+ per month. Most of you will likely fall somewhere between these two extremes.
In many cases, you can expect to get what you pay for.
If you're signing up for the cheapest VPS hosting plan that you can find, don't expect to have extremely high uptime rates and fast page loading speeds. For those of you who want as many dedicated resources as possible, just know that they come at higher price points.
So you'll have to weigh your performance and resource needs against your budget.
The Different Types of VPS Web Hosting
There are essentially two different types of VPS hosting—managed and unmanaged plans. I'll explain the differences between these choices below, and I'll also provide you with more information on alternative options for web hosting (to make sure a VPS plan is right for you).
Managed VPS
If you're not very technically inclined and don't have a dedicated IT team, a managed VPS plan is definitely the best option for you. In short, you won't have to really handle anything on your own. You'll be able to just focus on running your website while the hosting provider takes care of the server behind the scenes.
Here are a handful of examples of what most VPS hosting providers will do for you on a fully managed plan:
Set up the server from the start
Install your control panel, applications, and OS
Handle all application updates and OS updates
Server monitoring and maintenance
Automated backups
Security patches
Some providers will offer a little more or maybe even a little less, but this is generally what you should expect if you choose this type of VPS plan.
Unmanaged VPS
An unmanaged, or self-managed VPS, is just the opposite of a managed plan. You'll be completely on your own when it comes to installing your software, control panel, security, maintenance, updates, and everything else listed above.
If you experience a hardware failure or an outage, don't expect a ton of support from your hosting provider either. This type of VPS plan is really intended for those of you who need complete customization at the server level.
Self-managed plans are usually cheaper as well since the hosting provider doesn't have to do nearly as much.
Other Types of Web Hosting
VPS hosting isn't for everyone. So if you're new to the world of web hosting, I want to quickly take a moment to explain your other options.
Shared Hosting — Shared web hosting is the best option for new websites that aren't expecting a ton of traffic. You'll be sharing resources with other sites on the same server. These plans are cheap, but performance can be an issue. If another site on your shared server has a traffic spike and uses up the shared resources, it can impact the uptime and loading speeds on your site.
Cloud Hosting — Cloud hosting is pretty similar to VPS hosting. Think of this as a hybrid version of a virtual private server. Cloud plans come with several remote servers, each one with different responsibilities. If something goes wrong with one of those servers, the others will pick up the slack and keep your site running smoothly. Cloud hosting is generally cheaper than VPS hosting, and it's easier to scale resources on-demand. However, customization is limited with cloud plans.
Dedicated Hosting — Dedicated hosting is the top of the line in the world of web hosting. It's designed for large sites with tons of traffic. As the name implies, you'll have one server completely dedicated to your website. This also gives you ultimate control in terms of customizations at the server level. Dedicated hosting comes at a higher price point, but the performance is second to none.
With all of this in mind, let's dive into the top VPS hosting plans on the market today:
#1 – HostGator Review — The Best For Reliable VPS Hosting
HostGator has been around for roughly two decades. The hosting provider powers 2+ million websites worldwide.
As one of the most trusted names in the web hosting industry, you really can't go wrong with a HostGator VPS plan. Here's a look at the different plans and price points: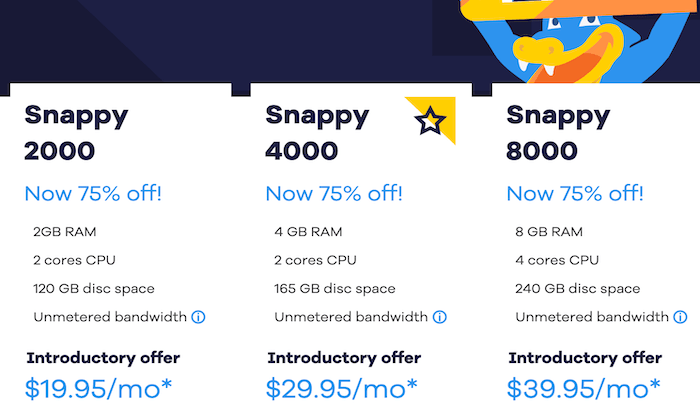 The VPS hosting plans from HostGator come with full root access and dedicated resources. You'll also benefit from features like:
Complete customization and total control of your virtual server
Free off-site backups of your server data every week
Script installers, site templates, and development tools
Unlimited domains, databases, email addresses, and FTP accounts
Ability to scale CPUs, RAM, and disk space
Exceptional customer support, 24/7/365
In addition to traditional web hosting, HostGator's virtual private servers are commonly used for ecommerce sites, testing environments, gaming, and heavy application use.
All plans are backed by a 45-day money-back guarantee.
#2 – InMotion Review — Best VPS Plans For Ecommerce Sites
InMotion has a wide range of VPS hosting plans for you to choose from. They offer managed VPS hosting and self-managed cloud VPS hosting, both powered by Linux SSD servers.
Managed plans start at $29.99 per month, and the entry-level self-managed VPS starts at $5 per month.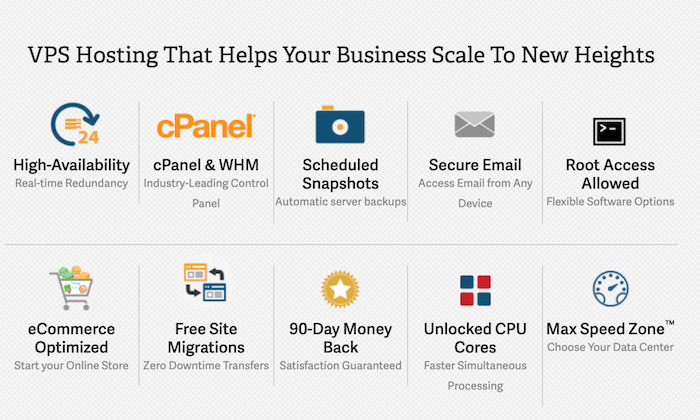 Most of you will benefit from the managed plans, as these virtual servers are optimized for ecommerce out of the box. These plans are configured for speed and reliability with ecommerce platforms like WooCommerce, Magento, Prestashop, and more.
Other advantages of using InMotion for VPS hosting include:
Free private SSLs and scheduled snapshots
Update databases, email, and domain settings with cPanel
Security updates and server management (with a managed plan)
DDoS protection and secure SSH keys (with a self-managed plan)
Fast and automatic software installs, like NGINX
Overall, InMotion's virtual private servers are fast and reliable. Even the managed plans come with full root access. InMotion's 90-day money-back guarantee is arguably the best in the hosting industry.
#3 – GoDaddy Review — Best Self-Managed VPS Hosting
GoDaddy is a name that's usually synonymous with domain registration and controversial marketing strategies.
But if you're in the market for a self-managed VPS plan, this will be a top option for you to consider.
Standard RAM VPS plans from GoDaddy start as low as $4.99 per month. The high RAM plans start at $9.99.
The self-managed plans are perfect for developers and system admins. Features and benefits of using GoDaddy's virtual private servers include:
Full root access with SSH keys
Command line for complete power and flexibility
Scalable performance options and a wide range of custom server configurations
Unlimited hosting accounts with easy administration
Easy monitoring and alert notifications
DDoS protection and free SSL certificate
Ability to choose your data center (North America, Asia-Pacific, EMEA)
Backups and recovery console
These plans are great for testing environments, database servers, resource-heavy apps, email servers, and admins running multiple websites.
GoDaddy does have fully-managed VPS plans starting at $99.99, but the self-managed option is definitely the standout from this provider.
#4 – Media Temple Review — Best Managed VPS Hosting Plans
For businesses, ecommerce websites, agencies, and resellers, Media Temple is my top recommendation for managed VPS hosting.
The pros at Media Temple will handle all of the technical aspects of managing your server. So you can spend more time focusing on your website and business.
In addition to the best customer support team in the world of web hosting, your managed VPS plan comes with benefits like:
Ability to choose your control panel (cPanel or Plesk) and version
MySQL, PHP, Python, and Perl come pre-installed
Customize your virtual server with any Linux-based app, software, or OS component
Easily resell your hosting to clients with built-in reseller tools
99.99% uptime guaranteed
Scale your server resources on-demand with just a few clicks
Media Temple's servers are fast and reliable. These managed VPS hosting plans start as low as $55 per month.
#5 – InterServer Review — The Best Cheap VPS Hosting Plans
InterServer definitely isn't the most well-recognized name in web hosting. But for those of you who want a cost-effective VPS plan, InterServer is worth taking a closer look at.
This hosting provider offers managed and unmanaged VPS hosting, starting at just $6 per month.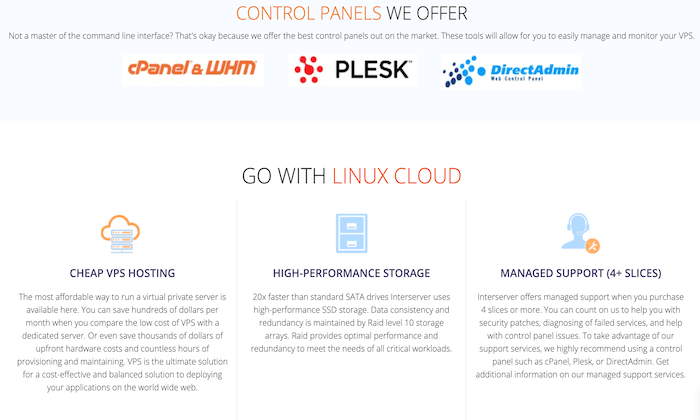 Let's takes a closer look at some of the features, benefits, and highlights of using InterServer for VPS hosting:
450+ cloud apps supported with one-click installs
No limits on accessing or updating data
Full root access with total control of your OS and control panel
Automatically redirect server issues to another node
99.9% uptime guarantee
No fees for incoming or outgoing site transfers
Remote backup service to keep data safe and secure
Unlike other hosting providers on the market today, InterServer doesn't offer a free trial or any money-back guarantees. However, they do offer month-to-month pricing, so you can cancel at any time.
The performance of these servers won't be as high as some of the other plans on our list. But when you're paying rock bottom rates, top of the line performance probably isn't your first priority.
Summary
VPS (virtual private server) hosting is an excellent option for sites that have outgrown a shared hosting plan.
Which VPS is the best? Naming just one as the top pick is a tough call. But you'll be happy with any of the options on this list. Just make sure you follow the methodology described earlier in this guide for choosing the best VPS plan.
For self-managed and managed plans alike, there's something for everyone on my list.
The post Best VPS Hosting Plans appeared first on Neil Patel.
Disclosure: This content is reader-supported, which means if you click on some of our links that we may earn a commission.
The best VoIP phone services create exceptional customer experiences. And exceptional customer experiences work wonders for your bottom line.
Imagine this: a potential customer calls the sales number listed on your website. Six states away, a personal cell phone rings. Your sales person picks it up, answers a few questions, and closes the sale.
Within a matter of seconds, that potential customer turns into a paying customer rather than being transferred from employee to employee, wasting their time and testing their patience.
With the right VoIP service, you can streamline and automate the customer journey, resulting in more money for less work. Furthermore, these services are easy to set up, easy to use, and most of the leg work happens behind the scenes.
But choosing the right service feels like a daunting task. With countless options out there, how do you decide which one's right for you?
If you're not sure how to answer that question, you're in the right place. In this article, I cover how to choose the right service for your needs, the different types of VoIP services, and my top recommendations.
Let's dive in!
The top 6 options for VoIP phone service:
How to choose the best VoIP phone services for you
With countless VoIP service providers to choose from, finding the perfect solution for your business isn't always easy. To make things easier, I want to share the criteria I considered when making this list and some must-haves regardless of the company you choose.
You can use these to help narrow things down as you go through the process.
Deployment options
Some VoIP phone services work with the hardware you already have, while others require proper installation. In some cases, you may need to buy an adapter or something else to enable the system.
But others are as simple as a mobile app you download on your phone.
So, carefully consider the amount of time and the level of support you have when making a decision. The simpler the system, the easier it is, and the less support you need to get things up and running.
The size of your business
Most VoIP phone service providers charge per user per month.
And while some offer discounts if you have a large team, those prices can quickly add up and get expensive.
So it's essential to understand how many users you have and how to get the best deal with the features you need at a reasonable price point.
Phone call capabilities
It's important to consider the phone call capabilities you need because each provider offers different capabilities at different price points.
Do you need automatic call rejection, call forwarding, or caller ID? What about voicemail, voicemail transcription, and hold music?
You may also want to consider other capabilities like:
Call forwarding and routing
Automatic attendants
Phone number types
Extensions
Blocking and auto rejections
Voicemail to text
Call recording
Call history
Instant responding
Custom greetings
Make a list of everything you need so you can choose the right provider and the right plan.
Other forms of communication
Most VoIP providers also offer other forms of communication like SMS messaging, document sharing, online faxing, and video conferencing.
However, they may not all be available on basic plans.
With that said, you may not need all of them, either. So, carefully consider the additional forms of communication you need your team to have.
Reliability
Your internet, VoIP provider's uptime, and power source affect the quality of your phone calls.
With reliable, high-speed internet, you probably won't have any issues. But what happens if the power goes out?
If you use your mobile device, you're probably fine.
But desk phones aren't. However, some come with battery backups that may last up to a few hours. So, make sure this is an option if you rent or buy hardware from your VoIP service provider.
Furthermore, some VoIP providers offer network monitoring that lets them switch to wireless backups if wired data links fail. And you should also expect nothing less than 99.99% uptime, as well.
The different types of VoIP phone service
Device-based
For this type of service, you need to buy an adapter from the service provider and connect it to an existing phone (or a phone they provide).
Software-based
These services are desktop programs. Skype and Google Talk are two good examples. You have to install the program and connect to the internet to use them.
However, most providers offer cloud-hosted and software-based systems.
Cloud-hosted
Cloud-hosted VoIP, or "virtual private-branch-exchange" (PBX), services are available as well. The only hardware you need is a networking router or switch and the provider handles the rest
This includes mobile VoIP services, too. These mobile apps run on Android and Apple devices through cellular internet or a local Wi-Fi network.
All of the options on this list are a combination of cloud-hosted and software-based, with most offering both types of systems.
#1 – Ooma Review — The best VoIP phone service for small businesses
If you're a small business looking for a reliable, no-contract VoIP phone service, Ooma is a great choice. They provide everything you need (i.e. hardware, software, and know-how) so you can start using their services in as little as 15 minutes.
Everything is ready to go straight out of the box. And you can keep your existing phone number or swap it out for a new one — for free.
Ooma offers 35 powerful features, including:
A mobile app
Virtual receptionist
SMS messaging
Call blocking
Voicemail and caller ID
Unlimited calls in North America
One complimentary toll-free number
One direct-dial number per user
Furthermore, Ooma has an excellent customer service team ready to help you get up and running, navigate snags, and create a seamless experience for your customers.
However, the service is missing more advanced features. But it's incredibly affordable and accessible for small businesses with a tight budget.
Plus, you don't have to worry about complicated contracts. Ooma's pricing is simple and straightforward with two business plans, including:
Ooma Office — $19.95 per user per month
Ooma Office Pro — $24.95 per user per month
Ooma Office is suitable for most users. But you can upgrade to the Pro plan if you need a desktop application, call recording, or higher usage limits.
#2 – Nextiva Review — The best VoIP phone service for remote teams
Remote teams face unique challenges. And they need a VoIP provider equipped with the tools and features required to conquer those challenges.
Nextiva is "made for business owners, not IT wizards" and built with remote teams of all sizes in mind. They offer solutions for small businesses, midsize businesses, and large enterprise companies alike.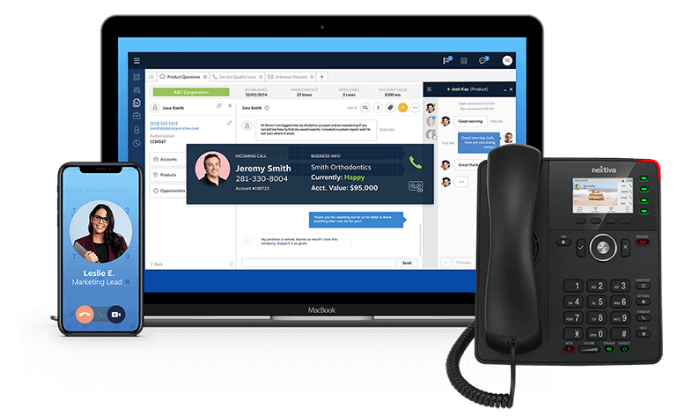 Plus, their in-house customer service team is ready to help every step of the way.
Nextiva includes a wide variety of VoIP features, including:
Android and iOS applications
Unlimited text messaging
Customizable hold music
Multi-level auto attendant
Unlimited calls in the US and Canada
Free local OR toll-free number
Video and audio meetings
Internet faxing
Furthermore, you can make and receive business phone calls straight from your desktop, laptop, or mobile device. This service completely replaces an in-office phone system, empowering your remote team to stay connected.
Alternatively, you can use it in conjunction with your current phone system. So, it's also a great fit for call centers and non-remote teams, as well.
Nextiva offers simple and affordable pricing. Their plans include:
Essential — $19.95 per user per month
Professional — $20.95 per user per month
Enterprise — $27.95 per line per month
Nextiva boasts an "ultra-high uptime of 99.999%," with around-the-clock network monitoring and zero outages in 2019. With relatively reliable service, various essential features, and reasonable prices, their service is among the best.
#3 – RingCentral Review — The best VoIP phone service for fast-growth businesses
RingCentral is an excellent option for fast-growth businesses. They're the world's #1 business communications platform with plans and features for business communications as well as customer support.
Plus, RingCentral offers discounts depending on the size of your team. So, as your team grows (regardless of how fast), your phone service affordably scales to match your needs.
They promise 99.99% uptime, and they maintain countless global data centers. This means you get excellent coverage and phone quality wherever you are on the globe.
Furthermore, installation and setup are a breeze, thanks to RingCentral's step-by-step installation and intuitive admin panel.
You can set up new users from the admin panel, monitor service quality, and view your analytics all in one centralized place. Plus, you can even access it on the go.
Their services include features like:
Unlimited calls in the US and Canada
Voicemail to text
Team messaging
Document sharing
Unlimited text messaging
Unlimited faxing and conferencing
Call recording
Developer platform
Custom integrations
RingCentral's most affordable plan starts at $19.99 per user per month, making them a top contender for affordability.
Their paid plans include:
Essentials — $19.99 per user per month
Standard — $24.99 per user per month
Premium — $34.99 per user per month
Ultimate — $49.99 per user per month
While their basic plans are suitable for smaller teams, their Premium and Ultimate plans allow teams to create custom-fit solutions, regardless of how fast they grow.
#4 – Grasshopper Review — The best VoIP phone service for mobile teams
If your team works in the field, works from home, or works from anywhere in the world, Grasshopper is a smart choice.
It's a mobile (or desktop) app that adds a business line and an integrated phone system to your employee's phones. So, they don't need to carry around two phones or be present in the office to message customers and accept business calls.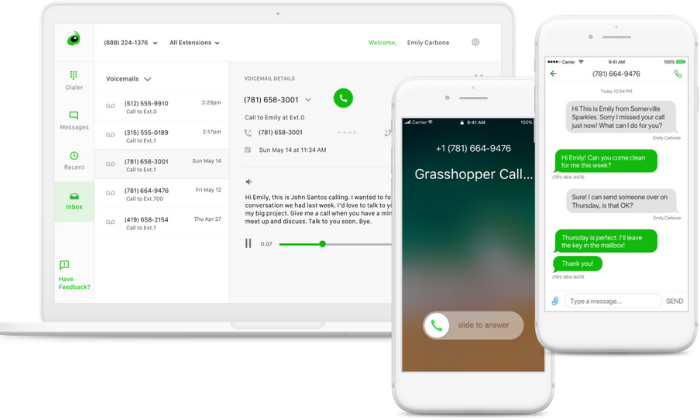 Plus, you can access and manage your entire phone system with mobile and desktop apps anywhere with an internet connection.
The best part is that Grasshopper integrates seamlessly with the phones you already have.
There's no need to buy any fancy equipment or go through the hassle of messy and time-consuming installations. It's as easy as picking a number and a plan, downloading the app, and configuring your settings.
Plus, with Grasshopper, you get access to intuitive, yet powerful, features like:
Business text messaging
Call forwarding
Voicemail transcription
Phone extensions
Online faxing
Custom greetings
Instant responses
Ruby Receptionist
And while Grasshopper doesn't automatically enable VoIP calling, you can quickly turn it on for free using the mobile app if you have poor cell service or prefer internet calling instead.
Their paid plans include:
Solo — $26/mo for one number and three extensions
Partner — $44/mo for three numbers and six extensions
Small Business — $80/mo for five numbers and unlimited extensions
Extensions can forward to any number you want. So, you can operate with three employees using Grasshopper's solo plan.
This is a breath of fresh air instead of per-user pricing with the other services on this list.
#5 – Verizon Review — The best VoIP phone service for large businesses
Known for the stability of its network, Verizon provides VoIP business features for medium and large-scale businesses. However, it's overkill for most small companies and very expensive compared to other options on this list.
Furthermore, it's most suitable for businesses that need to be available for customer calls, route calls to the right teams/people, or respond quickly to customer requests.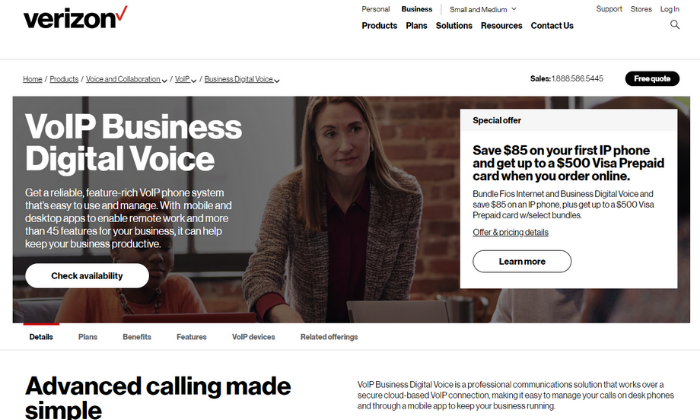 Verizon's VoIP phone service includes 45 features, including:
Customized hold announcements/music
A virtual receptionist
Complete call history
Administration web portal
Make and receive calls on your phone
Visual voicemail features
Call transfers
Do not disturb mode
Inbound caller ID
Selective call rejection
Instant messaging
You can purchase or rent desk phones through Verizon or purchase a converter to continue using your current equipment.
Furthermore, you get free access to mobile and desktop apps to access or manage your phone system from anywhere in the world. However, Verizon's services aren't available everywhere, so you may not be able to use their services.
Verizon business phone plans start at $35 per user per month plus any additional fees, taxes, or equipment charges. However, their pricing is confusing when you start reading the fine print. And you have to commit to a two-year contract, as well.
So, keep that in mind as you're making your final decisions.
#6 – 8×8 Review — The most affordable VoIP phone service
If you're looking for a basic, affordable VoIP phone service, 8×8 is a smart choice.
Their 8×8 Express Business Phone System plan starts at $12 per user per month (with a free trial). This low pricing makes it the most affordable option on this list.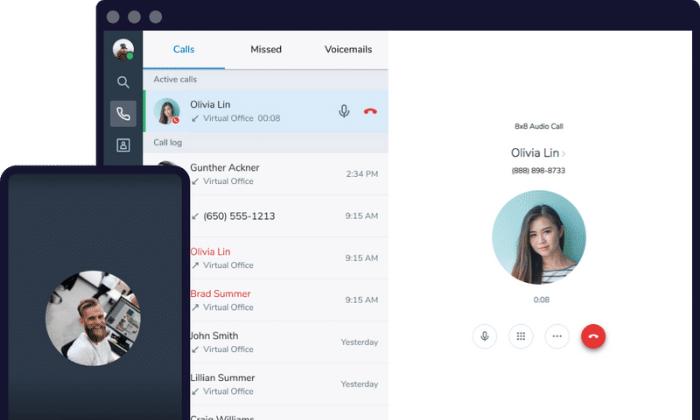 However, with that low price point comes limited features. The Express plan includes:
Unlimited calling in the US and Canada
Global and direct toll-free numbers
Basic auto attendant
Ring groups
Call routing
Business SMS
And to access their more advanced features, you have to pay between $25 – $45 per user per month. Which… is more expensive than some of the other options listed here.
So I don't recommend it unless you go with the Express Plan.
Summary
My #1 recommendation for most small businesses is Ooma. It's affordable, reliable, and easy to set up in about 15 minutes. However, if you're looking for a large-scale solution, Verizon is your best bet.
Furthermore, Nextiva is perfect for remote teams, and Grasshopper is a simple, yet powerful, mobile app for small teams who are frequently out of the office.
If you're on a tight budget, 8×8 is the cheapest VoIP phone service, starting at $12 per user per month. However, it's features are limited.
Regardless of the route you go, don't forget to consider your requirements, budget, and the criteria we talked about as you go through the process of choosing the best VoIP phone service for your business.
Have you used a VoIP service provider in the past? What was your experience like?
The post The Best VoIP Phone Services (In-Depth Review) appeared first on Neil Patel.
Disclosure: This content is reader-supported, which means if you click on some of our links that we may earn a commission.
Phone communication plays a critical role in today's business landscape. Practically every business, regardless of size or industry, needs to have a business phone system.
This statement holds true for freelancers and single-member LLCs to Fortune 500 enterprises with thousands of employees across multiple locations.
There's just one problem—finding the best option for your business. With hundreds, if not thousands, of choices to consider, narrowing down the top pick for your business can feel like a daunting task.
Fortunately, I've handled all the heavy lifting for you. After spending countless hours researching and testing different business phone systems, I've picked the top six that I can recommend with conviction.
The Top 6 Options For Business Phone Systems
How to Choose the Best Business Phone System For You
Before we get into the specifics of reviewing each business phone system, you need to understand the methodology behind my research. There are certain feature sets and considerations that must be evaluated as you're shopping around for different plans.
Keep these factors in mind as you continue through this guide and read my reviews.
Deployment Method
Generally speaking, there are two main ways to deploy a phone system for your business—cloud or on-premises. Historically speaking, most business phone systems have been on-site. However, cloud systems and VoIP technology have been growing in popularity.
If you don't want your phone system tied to physical landlines, offices, and specific devices, then cloud deployment is definitely your best option. But if you prefer a more traditional phone line, then on-premises will work just fine for your situation.
Physical Phone Systems
Do you need to purchase physical hardware for your phone system?
Again, if you're looking for a traditional office phone that's sitting on a specific desk with a hardwire connection, then you'll need to buy those phones. In this scenario, it's usually in your best interest to buy hardware directly from the phone system provider. Hardware is rarely packaged into your plan, so keep that in mind as you're shopping around. Actual phones, headsets, etc. will cost extra.
The beauty of cloud phone systems is that you can make and receive calls from anywhere. You and your staff can leverage your existing devices for this (laptops, desktops, smartphones, etc.).
Not only will this make your business phone system easily accessible, but it's also more cost-effective.
User Size and Scalability
How many people will be using your business phone system?
Is it just you? Is it 5-10 people? 500? 5,000? The answer to this question will definitely have an impact on your decision. Certain systems are designed for individuals, while others are made for small teams and small businesses. Alternatively, there are business phone systems designed for huge organizations with thousands of users across multiple locations.
Primary Communication Needs
There are plenty of general-purpose business phone systems. But some are designed with specific use cases in mind.
For example, there are business phone systems for customer support centers, outbound sales, and inbound phone orders. There are even solutions built for internal communication, such as conference calling and video chat.
So determine your primary communication need, then start your search from there.
Plan Features
Lots of business phone systems try to improve their market position by giving you lots of "extras" and features included free in your plan. But these are kind of useless if you're never actually going to use them.
I'm referring to things like visual voicemail, hold music, automated answering, call forwarding, call attendants, texting, etc. The list goes on and on. These features are either provided all-inclusive with your plan or get offered at tiered pricing levels.
My recommendation is this—don't pay extra for features you didn't know existed five minutes ago. Stick to the features you know you'll use. If you get a few bonus ones, that's great. But don't fall victim to great marketing by these providers.
Phone Numbers
Do you want to keep your existing phone number? Are you looking for an 800 number? Vanity number? Toll-free numbers?
Some of you will be looking for all of these; others just want a single line for basic use. Most business phone systems will offer a wide range of different phone number options. But the pricing and offerings vary from provider to provider.
Just know that you might have to pay extra for things like toll-free calling and international phone numbers.
The Different Types of Business Phone Systems
Business phone systems aren't really a one-size-fits-all product. Most people don't realize it, but there are actually several different types of phone systems out there. I'll explain each one in greater detail below to give you a better understanding as you're shopping around and evaluating plans.
VoIP Phone Systems
Voice over Internet Protocol (VoIP for short) has quickly become one of the most popular types of phone systems for business users. As the name implies, the system is based on an IP connection. Rather than setting up complicated wires and landlines, a VoIP system just uses the same Internet connection that your organization already has.
VoIP systems are generally cost-effective and easy to set up. However, they rely on a strong Internet connection. So if you have spotty service, this won't really work for your business.
Analog Phone Systems
Analog systems use POTS—plain old telephone service.
Think of a traditional landline phone system. That's an analog service. It uses copper lines and connections between your system and carrier. As a result, analog phones have exceptional call quality and reliability.
However, analog phones lack the features associated with newer types of phone systems. They'll still offer basic phone features (hold, mute, call waiting, speaker, speed dial, redial, etc.), but you won't get too much more. Overall, analog technology is pretty dated.
PBX Phone Systems
PBX stands for "private branch exchange." This is also referred to as a digital phone system.
It's common for PBX systems to have an extensive feature list with lots of applications. These solutions are great for businesses that want to customize their phone system with various add-ons and upgrades.
Hybrid Phone Systems
Hybrid phones offer digital and IP functionality. These solutions have been growing in popularity because of their versatility.
Most business owners that purchase a digital phone system lean towards hybrid options. This will give them the opportunity to expand and scale in the future using IP protocols. It's also common for hybrid systems to include features like fax and email integrations.
To ensure high-quality voice, the hybrid phone system must have a strong network connection. The quality is limited to the type of phone service that's delivering it. A robust Internet connection is the best way to ensure call quality.
Cloud Phone Systems
The terms "cloud" and "hosted" are often used interchangeably in the world of business phone services. With a cloud system, you likely won't need any on-site hardware (aside from your existing routers and data switches).
It's easy for anyone to manage a cloud phone system, including your staff. All of the customization and management can be handled directly from a simple interface offered by your system provider.
The communication on a cloud phone system relies on a third-party data center (from the company you purchased from) and a stable Internet connection.
#1 – Ooma Review — Best Phone Systems For Small Businesses
Ooma offers VoIP phone systems specifically designed for small businesses. The system is easy to set up, and you can make calls from anywhere using the Ooma mobile app or desktop computer app.
You can completely customize your Ooma phone system based on factors like how many employees need a phone, fax connection, conference calling, physical hardware, and more.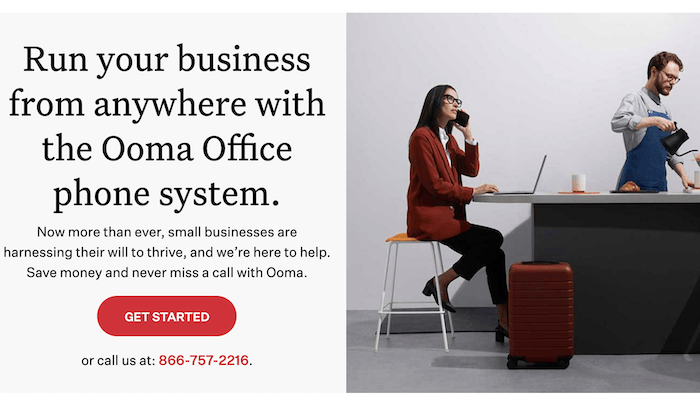 Here's what I like the most about Ooma's business phone system:
Get the system up and running in less than 15 minutes
Keep your existing number or pick a new one
Easy to set up a 1-800 or toll-free phone number
Features like call recording, virtual extensions, overhead paging, and more
Create "ring groups" (like sales or customer service)
Ooma's phone system starts at $19.95 per user per month. There are no contracts or hidden fees. You can even get a new phone number for free.
#2 – Freshcaller Review — The Best Business Phone System For Contact Centers
Freshcaller is a bit unique compared to other business phone systems on the market today. This solution is designed specifically for customer support teams.
There are no hardware or download requirements to run Freshcaller. As a cloud-based PBX system, your customer service reps can access the software from anywhere.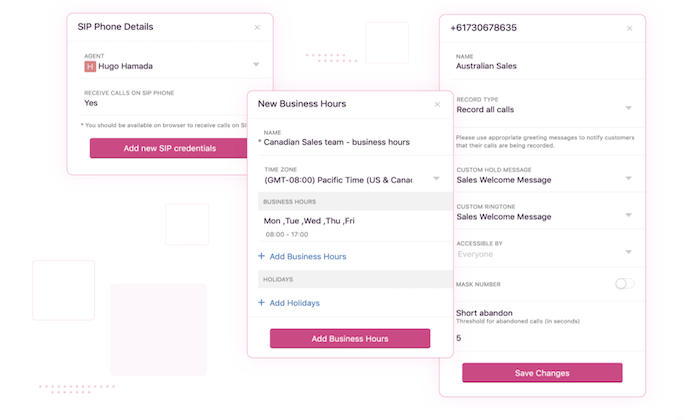 40,000+ businesses worldwide trust Freshcaller. If their reputation isn't enough to convince you, here's a quick overview of the top features:
Ability to port your numbers or purchase new numbers from 90+ countries
Advanced inbound call routing capabilities
Supervisor controls for conversation monitoring, call queues, and more
Easy to use for remote customer service teams
Smart escalations, call transfers, agent notes, and conferences
Use AI voice bots to engage with your customers
While Freshcaller is definitely geared towards support teams, the phone service could double as a solution for sales representatives as well.
Local phone numbers start at $1 per month, and incoming calls start at $0.016 per minute. You can try Freshcaller free for 21 days.
#3 – Dialpad Review — Best Business Phone System For Remote Teams
Dialpad is another modern business phone solution. This provider leverages cloud technology and VoIP for their phone systems.
Plans start at $15 per user per month, and you can try it free for 14 days.
Dialpad has carved out a niche in the remote work space. A quick visit to their website, and you'll see #WorkFromAnywhere plastered in big letters on the homepage.
These are some of the reasons why I recommend Dialpad:
Easy to deploy, add users, and change numbers in real-time
Seamless integrations with tools like Zendesk, Salesforce, G Suite, and more
SMS, MMS, and group chat business messaging
Create smart call routing paths to the right sales rep, agent, or operator
Tools for sales, contact centers, and conference calling
More than 70,000 organizations across the globe use Dialpad. So you know that it's a trustworthy and reliable business phone system.
#4 – RingCentral Review — The Best Business Phone System For Larger Organizations
RingCentral has quickly become one of the most popular service providers in the business communications space. They have a wide range of solutions based on company size, industry, and business needs.
You can use RingCentral for cloud phone systems, video conferencing, remote customer service, contact centers, global expansion, and more.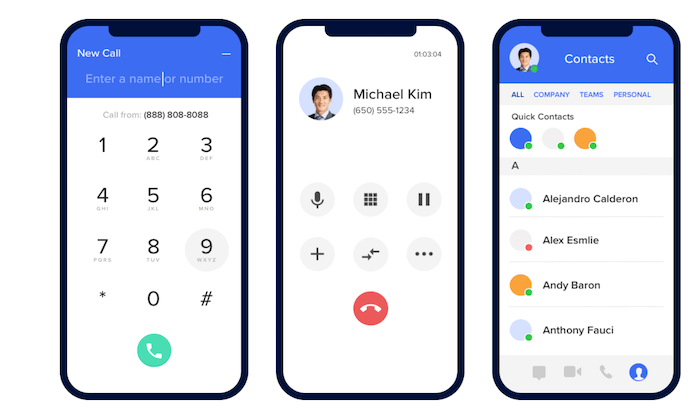 Used by 400,000+ businesses in nearly every category you can imagine, RingCentral is an industry leader in this space.
Popularity aside, these are some of the other reasons why I like RingCentral so much:
Deploy new users and start scaling in minutes
Auto-receptionist, shared lines, and extensions to ensure you never miss a call
High-quality audio
Ability to switch live calls between mobile and desktop with just one click
Automated visual voicemails
Set up local phone numbers from 200+ area codes
Robust admin portal for dynamic call routing, usage monitoring, and quality control
24/7 customer service from RingCentral's friendly team of experts
Overall, RingCentral's extensive feature set is definitely designed for larger teams. They do have plans for small businesses, but most smaller teams don't need these extra features.
RingCentral starts at $19.99 per user per month. Try before you buy with a 15-day free trial.
#5 – Line2 Review — Best For Individuals and Small Teams
Line2 is exactly what it sounds like. This business phone system makes it easy for anyone to add a second line to their existing phone.
Your new business phone number can easily be managed directly from the Line2 mobile app.
The entire process is as simple as 1, 2, 3—sign up, choose a number, and download the app. That's it! Now you'll be able to make and receive business calls from your smartphone without giving away your personal phone number.
Other features worth mentioning include:
In addition to smartphones, Line2 works on Macs, PCs, and tablets
You can continue to add multiple lines as you scale your business
It's easy to deploy with no hardware or IT requirements
Line2 is always coming out with new calling and messaging features
Overall, the concept behind Line2 is pretty straightforward. It's perfect for individual users, freelancers, and small business owners.
Plans start at just $9.95 per month with a 30-day money-back guarantee.
#6 – Intermedia Unite Review — The Best All-in-One Business Communication Platform
Intermedia Unite is more than just a PBX business phone system. You'll also get tools for video conferencing, live chat, file management, and screen sharing.
All of these features are bundled into a fully integrated unified communication and collaboration platform.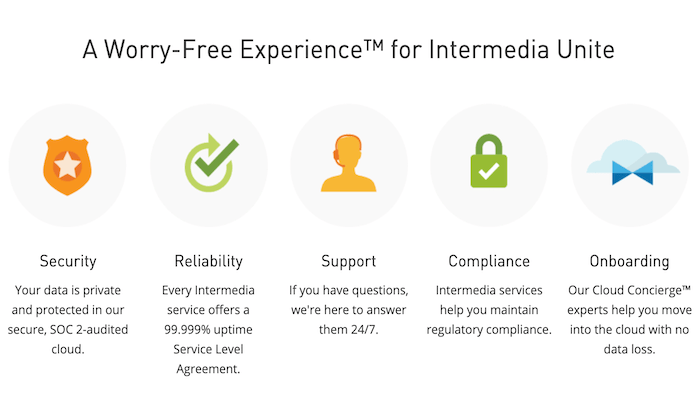 If you're just looking for a basic business phone system, this option probably isn't for you. But for businesses seeking an all-in-one solution, I can't really name a better option than Intermedia Unite.
Auto attendant for connecting customers with the right person
Wide range of integrations for building efficient interactions
The system works from the Intermedia Unite mobile app and desktop app
Phone support on pre-configured desk phone devices
Award-winning customer service, 24/7
Admins benefit from custom management tools and actionable analytics
Intermedia Unite pricing starts at $27.99 per month per user. It's a bargain, considering all of the features you're getting in this package.
Summary
To say you have lots of options to consider for a business phone system would be a drastic understatement. But by using this guide, you'll be equipped to make the right decision based on your needs.
In a market that's saturated with phone systems for businesses, I really only like the six options reviewed above.
So start your search there, and use the buying guide outlined earlier in my guide. This will steer you in the right direction.
The post Best Business Phone Systems appeared first on Neil Patel.
Although Pinterest is often regarded as the go-to platform for pinning recipes and home décor ideas, it's also a powerful digital marketing tool.
More than 416 million people visited Pinterest each month to explore and categorize ideas they love. While you may think of Pinterest as being in the social media family, it's also a powerful search engine.
Pinterest has become a leading source of social revenue for many companies, especially e-commerce. You'd be remiss to not take advantage of this platform to expand your web of influence and turn fans into customers.
Pinterest recently surveyed pinners to learn how they use the site for shopping. The results show that Pinterest influences what people buy, which brands they choose, and how much they spend. Noteworthy stats include:
72% say Pinterest inspires them to shop when they aren't looking for anything.
70% discover new products on Pinterest.
90% say Pinterest helps them decide what to buy.
78% say it's useful to see content from brands on Pinterest.
66% buy something after seeing a brand's pins.
59% use Pinterest to find more information about their purchases.
With these stats in mind, let's dive into how people search on Pinterest, how the Pinterest search algorithm works, and how to leverage Pinterest SEO.
How Does Pinterest's Search Algorithm Work?
Let's get back to the basics. As a Pinterest user, you can save or "pin" any image you find online. By creating different boards and categorizing your collections, you can compile and streamline the topics you care about. Most images, when pinned, are linked to the original websites they're from.
Say you're looking for a new pizza recipe. You can easily search for that phrase on Pinterest and sort through many pizza recipe images and options. Once you select the one you want, you can save it to your own board, making it visible to your followers.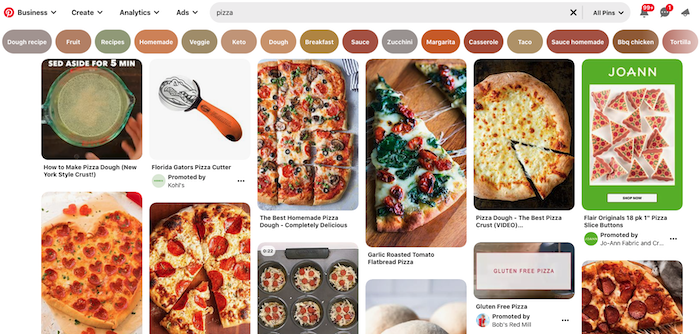 How does Pinterest know what content to serve up when you search for something? There are four main factors that influence search results:
domain quality
pin quality
pinner quality
topic relevance
What does each of these mean? Domain quality refers to what Pinterest deems to be your website's quality. Pinterest knows how many items were pinned from your site. Be sure to pin consistently, enable rich pins on your account, and create high-quality content that garners engagement.
Pinterest determines pin quality by its freshness, popularity, and the amount of engagement it receives. Pinterest tracks all instances of your pin. For example, if a pin is on your board and someone else shares it to theirs, Pinterest will measure the engagement from every instance of the pin. Improve pin quality by creating enticing graphics and stimulating content people will want to share.
Pinterest assesses how active you are and whether your content is well received to assess your overall quality as a content creator and pinner. Enhance your pinner quality by being active, sharing popular content, increasing saves, and engaging with followers.
Topic relevance refers to keywords. Similar to the way Google functions, keywords affect what appears in Pinterest search.
Pinterest as a Search Engine
You are using the Pinterest search engine to drive traffic to your own website. Pinterest debuted The Taste Graph in 2017 to enhance targeting. They said:
By understanding people's evolving tastes, preferences, and interests, the Pinterest Taste Graph connects the millions of people on Pinterest to hundreds of billions of fresh ideas that are just right for them. It's how we surface the perfect ideas for each Pinner, helping them find fresh ideas to love as they move through the various stages of planning their lives.
Pinterest spent years refining their understanding of user behavior and turning it into an actionable resource for businesses.
Several businesses have been able to leverage Pinterest for website traffic. Ben Silbermann, Pinterest's co-founder and CEO, had this to say about how the search engine functions:
We often talk about Pinterest as like a human indexing machine. Google built these crawlers that would go out, and these amazing algorithms. We give people tools that let them organize in a way that makes sense to them, and in doing that they organize in a way that makes sense to other people.
You must show Pinterest that your pins are relevant to the terms users search for. Relevance refers to how closely your pin fits your audience's interests, recent search history, and distinct searches.
Pinterest's engineering team shared an overview of how they extract and assign keywords to pin images. Pinterest assigns pins keywords called annotations that are between one and six words long. They then assess your pin's relevance to these keywords with a confidence score based on the quality of the information extracted (text-based keywords are more highly rated) and how many times that keyword appears.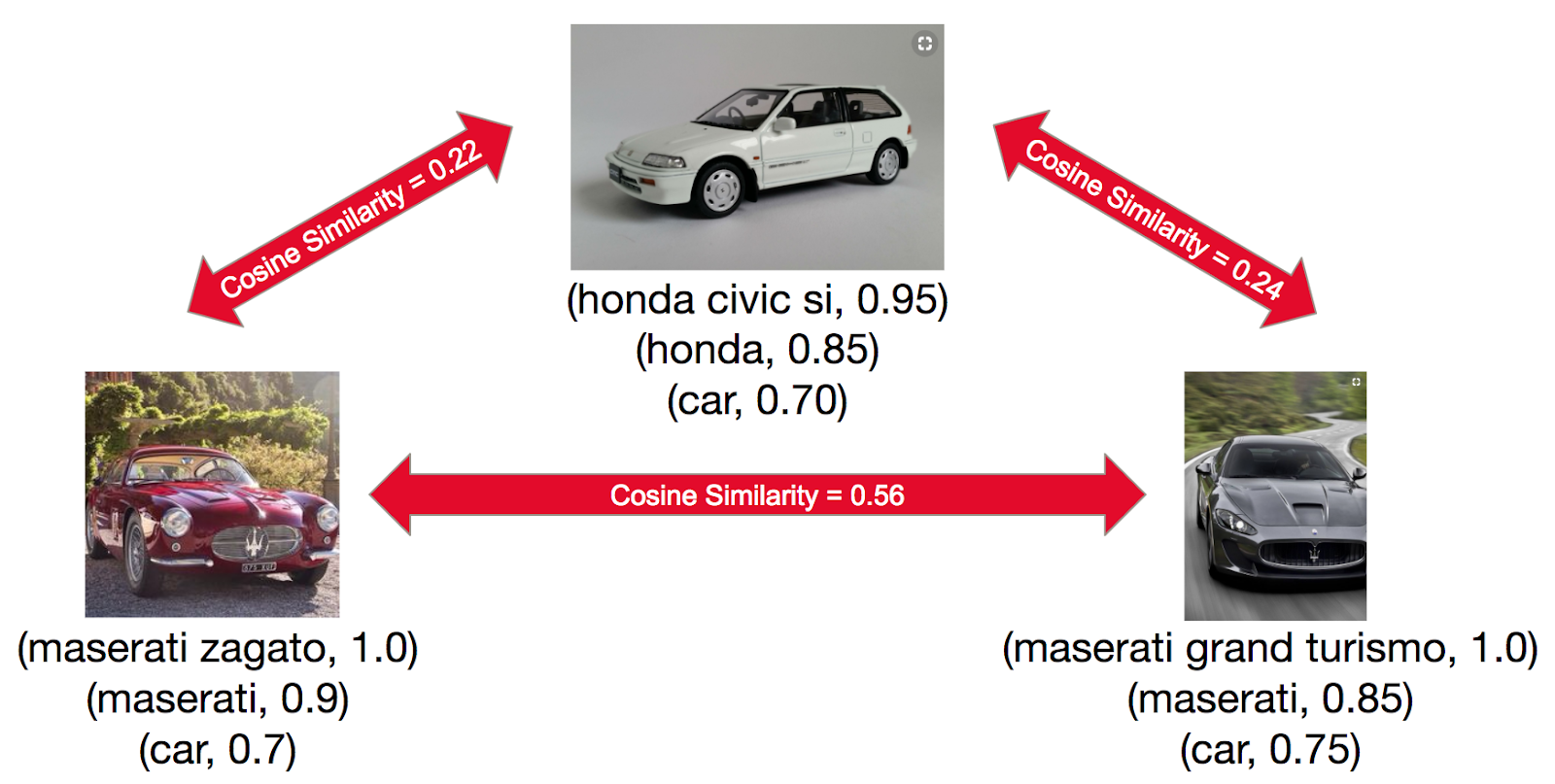 In this graphic, the two Maseratis are more like one another than they are to the Honda. This is reflected in the cosine similarity scores.
How to Optimize Your Pinterest Boards
Create Pinterest boards strategically, and pin and repin relevant content to build a strong presence.
How does Pinterest know which cars to compare? By keywords. You should include keywords in your board names, board descriptions, and in the descriptions of each photo you pin. This tells Pinterest how to categorize your pins and content. To optimize your content, start by doing keyword research. Search Pinterest for terms that correlate to your audience and industry.
As you type, Pinterest auto-suggests a variety of terms to help you narrow down your search. Make note of these terms.
Add them to your pin descriptions, board titles, image text, and profiles. You should also integrate relevant hashtags with corresponding phrases.
For example, CaféPress has Pinterest boards for various product segments. Clicking on their pin highlighting masks for kids showed a thorough description comprising a variety of relevant keywords.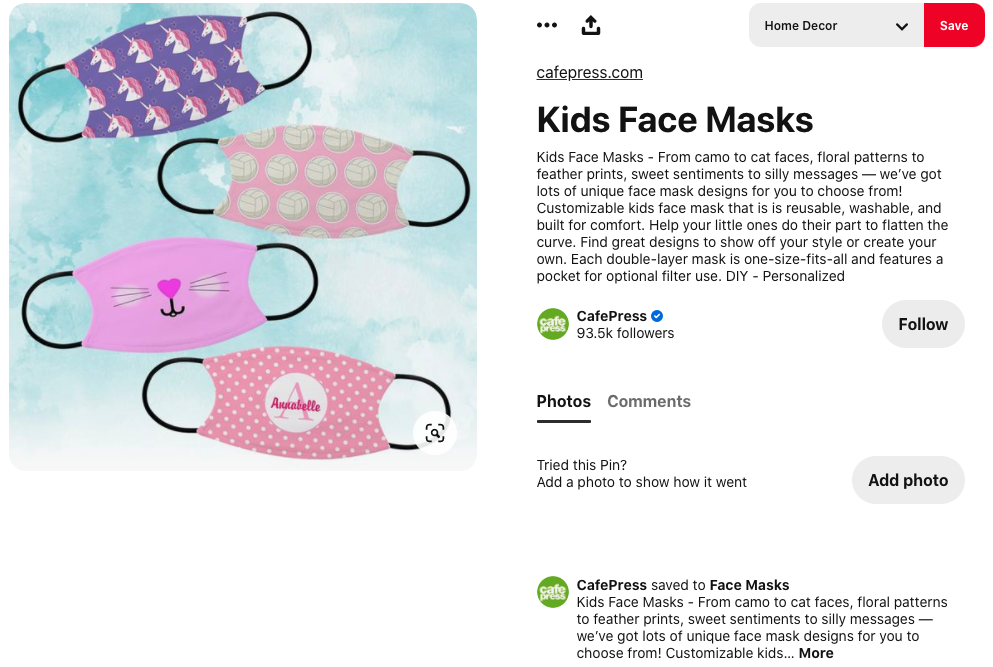 Note that they integrated "Kids Face Masks" into both the title and description. They included a variety of adjectives people may use when searching for masks: reusable, washable, and comfort.
The image is appealing for kids too. By using effective pin images and optimizing pin designs with a consistent look and feel across all the pins on their board, CaféPress tailored their content to how people search on Pinterest.
Pinterest for E-commerce
Pinterest simplifies the online shopping experience by making it easy to search for products. If your goal is to sell on Pinterest, set up a Pinterest Business Account, which comes with an array of personalized support, creative strategies, and campaign guidance.
A business account also gives you access to analytics and ads. As you add more content to your account, you'll be able to collect data on views and engagement.
It's critical to optimize your website for Pinterest users. Consider people who may want to pin items from your site to their boards.
Start by adding the Pinterest tag to your website to track conversions.
Also, add share buttons to your product pages. This encourages visitors to follow you on Pinterest and share your products with their networks.
Sellbrite points out that Forever 21, a women's clothing brand, does a great job of this.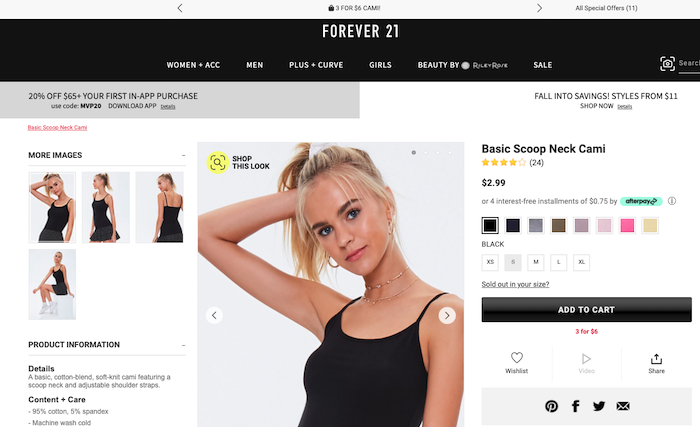 Clicking the share button takes visitors to Pinterest. There, they can pin the products they like.
This can encourage interactivity on your website, and keep your customers engaged with your brand across the digital landscape. Plus, when you have the Pinterest tag in place, you can leverage the data to create targeted advertising campaigns.
The Ultimate Pinterest Marketing Guide provides more explanation and case studies. It dives into a variety of tools, settings, categories, and other elements that can make or break your approach to Pinterest SEO.
Which Pinterest Ad Formats Should You Explore?
Pinterest offers a variety of ad format options for every goal. Here are some worth exploring:
Standard: Vertical or square image
Video
Shopping: Buyable pins allow users to buy instantly
Carousel: Users can swipe through multiple images in one pin
Collections: Mix lifestyle photos with product images in this ad format
Select the ad type that makes the most sense for your brand. For example, if you have a more visual-oriented product, a video or carousel ad may be the best fit. If your company offers a service or experience, collections would likely be best suited.
Pinterest user Jess Bahr compiled a Pinterest board of Pinterest ad examples. The board features numerous businesses and ad types.
One Pinterest success story is BlendJet, which saw 2x better sales. The company turned to Pinterest for a highly visual campaign highlighting the blender's portability, versatility, and design, and saw its sales double as a result.
Video ads acted like product demos, showing how the blender works. Meanwhile, standard ads depicted scenarios for using the BlendJet One, from in the car to on the trail. The company's campaigns have now offered an 8x return on investment (ROI).
Conclusion
While Pinterest SEO may seem intimidating at first, it's simple to navigate once you get the hang of it. If you're looking for a proven method of driving brand awareness as well as website traffic, Pinterest is worth exploring.
Remember, over 400 million people visit Pinterest each month, and 90% of those users make buying decisions on the platform.
Have you had success with Pinterest SEO?
The post A Comprehensive Guide to Pinterest SEO appeared first on Neil Patel.
Disclosure: This content is reader-supported, which means if you click on some of our links that we may earn a commission.
Human resources can be a tough department to manage. From hiring to onboarding, employee scheduling, and HR compliance, there are dozens of responsibilities being juggled.
What if an employee wants to view an old paystub? How does someone access information about their vacation days or benefits?
Without the right technology, it's a hassle for everyone involved.
That's why HR software has become so popular over the years. Businesses of all sizes across every industry are leveraging these tools to reduce bottlenecks and improve workflows in their HR departments while simultaneously improving the employee experience.
Interested in getting HR software, but don't know where to start? You've come to the right place.
The Top 5 Options For HR Software
How to Choose the Best HR Software For You
There are hundreds of different HR software options on the market today. But these solutions are definitely not created equally, so you can't just blindly pick one and assume it's going to be the right fit for your business.
As you're shopping around, these are the features and considerations that must be evaluated:
Employee Self-Service
HR software with an employee self-service portal is a must-have in today's day and age. This portal will give your staff access to crucial information, without having to call, email, or physically visit the HR department.
Want to access the employee handbook? Log in and look it up. Have questions about your benefits? It's available in the portal. Need to request a day off? Just a few clicks away.
All of this information, and more, is available 24/7. So if one of your employees is sitting home on a Saturday night and wants to look at an old paystub, they don't have to wait until 9:00 AM Monday morning to call HR.
As a result, everyone on your team will be more productive, and your HR staff won't be wasting time answering questions all day.
Mobile Access
The best HR software will have a free mobile app.
This app can be used on the employee side for the self-service tools mentioned above, but it's also helpful from an administrative perspective. HR managers and other admins can complete tasks and view important information in real-time from anywhere. HR responsibilities won't be tied to a physical office.
In some cases, you can even use these apps to communicate with your employees. They can opt-in for notifications delivered straight to their devices, which can reach them faster than an email.
Payroll and Benefits Administration
The vast majority of HR solutions will allow you to run payroll directly through the platform. This isn't necessarily a make or break feature; it depends on your personal needs.
But since HR and payroll typically go hand-in-hand, lots of businesses look for an all-in-one solution for the two.
If you're happy with your current payroll solution and don't want to switch, that's fine too. See if you can find an HR software that integrates with whatever you're using for payroll. Your HR team and employees will like having access to everything from a single place.
Automation
Efficiency is the main concept behind using HR software. Nothing is more efficient than automating repetitive tasks.
Look for software that eliminates manual labor. For example, some HR tools will automatically track and calculate time-off requests, taxes, government filings, and more. Think about how much money you'll save in labor hours if you can eliminate even just 5-10 hours per week on these types of tasks. At scale, the savings are astronomical.
Company Size
Another way to narrow down your choices is by looking for software that fits the needs of your business size.
A small business with 15 employees won't have the same HR needs as an SME with 150 employees or an enterprise with 1,500 employees. It sounds simple, but so many companies overlook this aspect.
Larger organizations will have more complex HR needs that some software just won't accommodate. On the flip side, small businesses usually won't need all of the features offered by certain HR solutions.
The Different Types of HR Software
HR software is actually a pretty broad term. As you know, there are so many different aspects and components of human resources. Here's a brief overview of the main types of HR software available on the market today.
HCM Software
HCM stands for "human capital management."
This type of HR software primarily focuses on how individuals are managed within a company in terms of systems and HR policies. Talent management is a large component of HCM software. It's common for HCM tools to have features for onboarding, performance management, salary planning, training, succession planning, benefits administration, and more.
Lots of HR professionals consider HCM software to be an advanced version of HR software.
HRMS Software
HRMS stands for "human resource management system."
In most cases, HRMS software will include lots of the HCM software features. But there are two characteristics that all true HRMS solutions have in common—payroll and TLM (time & labor management).
Not every HRMS software will have employee scheduling features, but many do. There are standalone software products for time & labor management that are commonly referred to as "workforce management" software. But these typically fall under the umbrella of HRMS.
HRIS Software
Human resource information system—or HRIS for short—is a tool built for managing people, policies, and procedures.
HRIS software typically includes all core HR features. But this type of software will usually have solutions for absence management, benefits administration, recruiting, compensation management, workflows, self-service portals, training, employee development, and reporting.
Lots of this can be open for interpretation from software to software, but these are the core components you'll likely find in an HRIS solution.
ATS Software
ATS software is an "applicant tracking system."
This is a very specific type of HR software. In many cases, ATS software gets branded as a standalone product without core HR features. But with that said, lots of all-in-one HR solutions have features for applicant tracking.
ATS software is highly beneficial for companies who are recruiting and onboarding at scale. The software makes it easier for you to find top-level talent, qualify them, schedule interviews, and onboard new hires.
Payroll Software
Larger businesses may have separate departments for HR and payroll. But in most cases, the two go hand-in-hand. Payroll is typically considered to be a component of HR. Some of you might already be using an online payroll provider.
Not every HR software has payroll features (although many do). And not every payroll software has every core HR feature. This is another scenario where lots of payroll solutions are branded as standalone products from HR. But there are plenty of all-in-one HR solutions that include payroll processing capabilities. However, this is usually an add-on package.
#1 – Namely Review — Best HR Software For Employee Self-Service
Namely is an all-in-one solution for HR, talent management, payroll, and benefits. The platform makes it easy for businesses to improve their HR processes while remaining compliant. It's trusted by 1,400+ organizations worldwide.
The software is actually branded as a "people operations platform." It includes features for employee management, onboarding, talent management, recruiting, time and attendance, analytics, and more.
I'd say that Namely definitely falls into the HRIS category.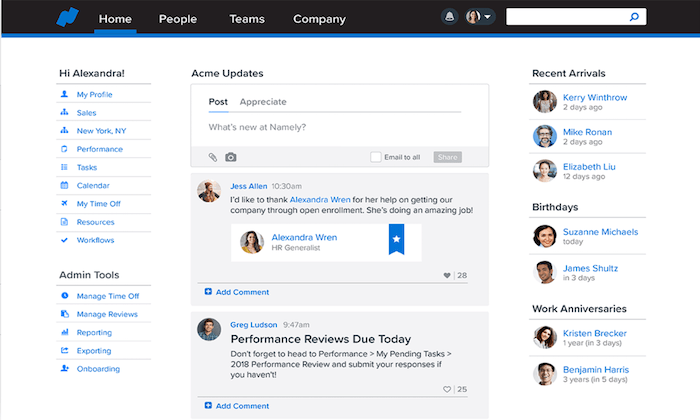 I like Namely because the software is designed to improve employee engagement. It gives your staff access to all of the HR information they could possibly need from an easy-to-use employee portal.
The software can be accessed from anywhere from the Namely mobile app. You can even use Namely to share company news, improve communication, and set up a company directory.
Namely's core HR package comes with tools and features like:
Onboarding
Performance and goal tracking
Task lists
Time off management
Compliance database
E-signature
Employee self-service and workflows
Custom fields
Then there are add-ons and extensions for things like payroll, benefits administration, recruiting, time & attendance, and managed services.
Overall, Namely is a good fit for midsize organizations.
#2 – APS Review — The Best HR Software For Payroll
The acronym "APS" actually stands for "Automatic Payroll Systems." As this name clearly implies, payroll is their specialty.
But with that said, APS is not a standalone payroll software; it's an all-in-one solution for HR and payroll alike.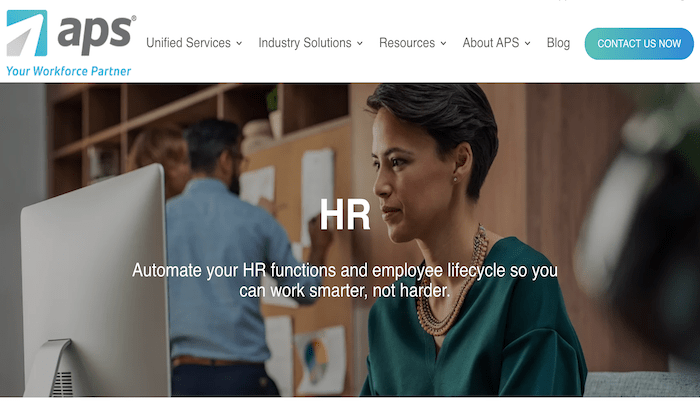 In addition to payroll, APS has HR features for benefits administration, performance management, employee scheduling, recruiting, onboarding, compliance, employee self-service, and more. They also have industry-specific solutions for healthcare, restaurants, wholesalers, nonprofits, manufacturing, hospitality, financial services, and other unique categories.
Let's take a closer look at some of the top benefits of using APS for payroll:
Streamline tax compliance with accuracy, timeliness, and wage garnishment
Automate your tax system to reduce your burden and risk
Reduce time spent processing payroll with paycheck reconciliation
Automate federal, state, and local tax filings
Improve your efficiencies and reduce costs with paperless payroll processing
The self-service tools provided by APS are outstanding; on the employee end and administrative sides alike.
More than 2,000 businesses across different industries rely on APS. For those of you looking for an all-in-one solution for HR and payroll, APS should be at the top of your list.
#3 – BerniePortal Review — The Best HRIS Software
BerniePortal isn't as well-known as some of the other HR solutions available on the market today. But that shouldn't be a reason for you to pass up on considering it. In terms of HRIS software, BerniePortal really has everything you could possibly need.
For those of you who want to use technology to improve the total lifecycle management of your employees, BerniePortal should be at the top of your list.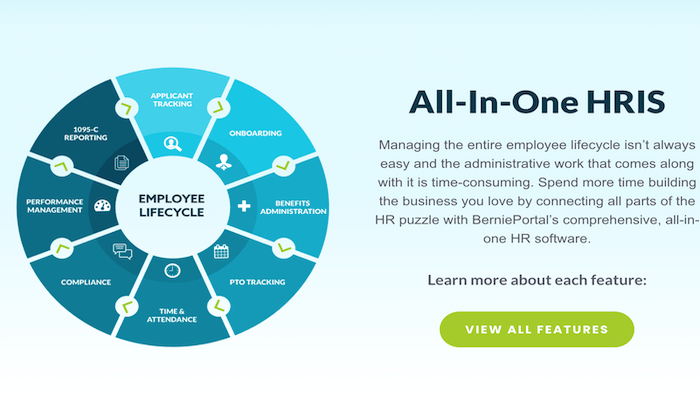 BerniePortal was founded back in 2008, so they have over a decade of experience in the HR software space. The software has been deployed in 5,000+ HR departments in all 50 states, and it has 210,000+ active users.
Why BerniePortal? Let's take a closer look at what this HRIS software has to offer.
Attract and retain top-level talent with benefits administration
Compliance, custom enrollment, and payroll reporting
Improve productivity and engagement with seamless employee onboarding
Collaborative hiring decisions with built-in applicant tracking features
PTO tracking, time-off management, and custom policies
Tools for time and attendance tracking with detailed reporting
Mobile access with employee self-service tools
Performance management and compliance features
You can even use BerniePortal for things like IRS filings. While the software doesn't have built-in payroll features, it can seamlessly integrate with your existing payroll system.
Most of the BerniePortal features start at $5 per employee per month, with a $15 base fee.
#4 – Workday Review — Best For Human Capital Management (HCM)
Workday is a popular HR software with a unique twist. Every component of the tool is focused on finance. It helps you manage your HR processes while always keeping your bottom line in mind—all from a single platform.
The software is used by industry leaders in a wide range of categories. Some of the well-known companies that rely on Workday include Visa, Toyota, Salesforce, CE, Target, Charles Schwab, and Adobe.
Overall, Workday is pretty versatile. The software has solutions for human capital management, talent management, enterprise planning, payroll and workforce management, spend management, and more.
Workday is robust, but also really easy to use. You'll benefit from features like:
Automation to eliminate manual work and improve productivity
Advanced analytics to guide decision making
Improve communication and engagement
Machine learning to identify employees' skills
Time tracking tools
Compensation, payroll, and benefits administration
Employee directories and self-service tools
The software can also adapt as your HCM needs evolve over time.
Another reason why Workday ranks so high on our list is because of its industry-specific HR solutions across a wide range of categories. Some of these include healthcare, government, hospitality, insurance, manufacturing, professional services, energy, and more.
#5 – Kissflow Review — Best HR Software For Onboarding and Applicant Tracking
Kissflow is one of my favorite tools for managing HR processes. It's a top choice for businesses that want to improve the talent management aspect of human resources.
The software comes with features for applicant tracking, employee onboarding, attendance management, absence management, leave management, and employee offboarding.
With Kissflow, you'll benefit from features and functionality like:
Get open jobs in front of top-level talent at the perfect time
Improve employee engagement
Employee self-service tools
360-degree feedback and evaluations
Customizable HR solutions
Kissflow is definitely designed for larger teams. Pricing starts at $690 per month, which includes 100 users. Enterprise rates with unlimited users start at $1,290 per month.
The downside of Kissflow is that it's not a true all-in-one HR solution. It focuses on certain areas but lacks functionality for things like payroll. With that said, Kissflow does have a wide range of integrations, so you can sync it with your existing tools.
Summary
Every business can benefit from HR software. This statement holds true regardless of your company size or industry.
But before you finalize a decision, make sure you go through the process explained in this guide. Figure out what type of HR software fits your needs the best, then follow the methodology that I explained earlier.
The five solutions recommended in this guide will be the best place for you to start your search.
The post Best HR Software appeared first on Neil Patel.
Did you know Google Shopping listings are free for most merchants to use?
Google has also dropped commissions for its Buy on Google program. This means nearly any retailer can sign up for Google Shopping Actions and link their products without paying the 12% commission Google formerly collected on each sale.
Retailers and advertisers have a unique opportunity to get incredible exposure for their products. Almost half of users turn to Google to find or discover new products. This means even small businesses can put themselves in front of millions of new potential customers with just a few clicks.
What Is Google Shopping Actions?
Google Shopping Actions partners with several retailers to create a shopping experience in direct competition with Amazon. Today, this program allows retailers to upload products that appear in organic search across Google platforms. In turn, shoppers can find, compare, and buy products without ever having to leave Google.
The user-facing side is called "Google Shopping." When a user searches for a product, it places relevant items in the Shopping tab of their results page, alongside a number of options regarding how to buy them. It gives customers access to a universal shopping cart, shareable lists, and instant checkout with saved payment credentials.
So if you burn a pan while you're cooking, you can use Google Home to buy a new one, add it to your shopping cart to buy later, or browse and compare new pans on your phone and buy it immediately.
Just like Amazon, when users start using Google Shopping for purchases, they'll begin seeing personalized recommendations across platforms.
It all makes for a seamless shopping experience that may increase conversions and decrease abandoned carts.
Note: Google Shopping Actions isn't the same as Google Shopping Ads. Retailers pay for their results to appear as featured Google Shopping Ads, while organic Shopping Actions are free. The organic search element makes it different from Google Shopping Ads, where retailers pay for placement.
What Does the Order Process Look Like on Google Shopping Actions?
Let's go back to the burnt skillet example to walk through the customer buying process. After you enter "skillet" and get a results page, click on the "Shopping" tab at the top of the first SERP. You'll get a list of skillet options, as well as filters on the left to narrow your search.
If you choose "Buy on Google," you'll only get options you can buy directly from Google. You'll know which ones are part of the Buy on Google Program by the little shopping cart icon at the top left of each result:
Let's say you chose to look at this Lodge skillet that ships from Target. You'll see product descriptions and reviews, plus the average price of similar items to help you compare.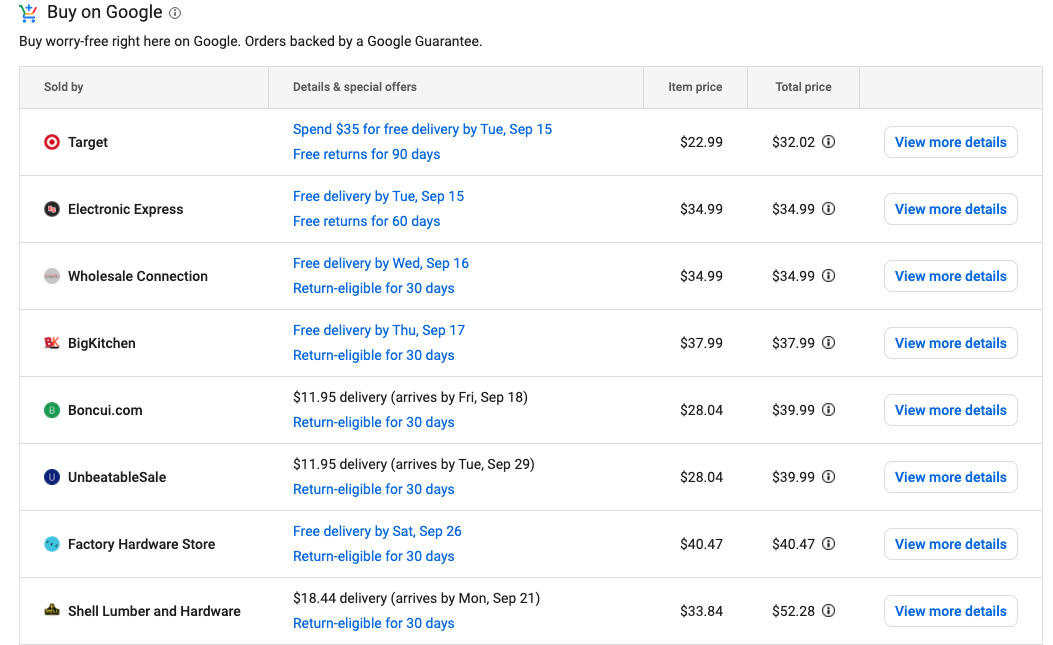 If this is what you want to purchase, you can add the item to your cart or buy it instantly.
You never had to go to the Target site, and you never had to search multiple sites to compare.
How to Get Started With Google Shopping Actions
The Google Merchant Center and Google Shopping Actions are very flexible. You can connect third-party platforms you're already using, such as Shopify and SureDone, and even link your Amazon feed, to reduce work redundancy.
To set up Shopping Actions, you first need to sign up for a free account on Google's Merchant Center. It's basically your Google Shopping dashboard. You then select Shopping Actions as part of the Merchant Center sign-up process.
Once you're signed up, you will be prompted to do the following:
List products
Add branding
Select tax and shipping preferences
Choose return preferences
Establish user roles
Provide customer service contact information
Decide whether customers will be invited to sign up for a newsletter at checkout
Include promotional information
That last one is optional, but Google recommends running promotions to attract more customers.
In order to use Google Shopping Actions, you have to implement the Orders API. This allows you to use the Google Merchant Center to manage your orders.
Of course, one of the really attractive features of Google Shopping Actions is you don't have to manage your orders yourself. Google can handle shipping and returns and provide customer service if you choose. It's entirely up to you.
Once a user purchases something through Google Shopping, the order shows up in your API as "in progress" for about 30 minutes. This half-hour window allows shoppers to cancel all or part of their order, if they need to. Google recommends you don't ship anything until the status changes to "Pending Shipment."
Things to Look Out for With Google Shopping Actions
First of all, it's important to note that free Google shopping listings are for organic search only. If you want to place your products on specific SERPs, you have to pay through Google's Shopping Ads program.
If you're running Google Ads already, it's worth setting up those same products in Google Shopping Actions, too. That way, you're getting double the exposure for the same price.
Additionally, Google Shopping Actions is currently only available in the U.S. and France. If you're going to sign up, you have to be a legally registered business in one of those countries and accept payment, make deliveries, and handle returns in those places.
Google Shopping Actions policies also include the following:
Your Inventory can't include restricted products and services. A list is available through Google Support.
You need a valid ID from the country where your business is registered.
You must meet all of Google's returns and customer support standards.
Listing Your Products on Google Shopping Actions
To get your products listed on Google Shopping, you have to set up a product feed. For your product feed, Google needs the following information:
A product ID number (id)
Product title, such as cast iron pan (title)
A product description (description)
A link to your product page (link)
A link to your image (image_link)
Product availability (availability)
Product price (price)
Google product category, such as kitchenware or cooking (google_product_category)
Product brand name (brand)
Global Trade Item Number (GTIN)
Google can crawl your site if you already have this information set up, or you can do a fetch from your servers. If you don't have this information set up, you can create a Google Sheet or Excel spreadsheet to upload to your merchant account. Use the names in the parentheses to label your categories.
A very basic product data spreadsheet would look something like this: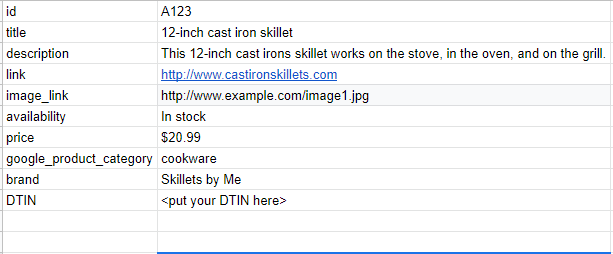 Now, this information is for your primary feed. You can set up supplemental feeds as well, which can cover sales, limited edition products, or special offers.
Optimizing Your Google Shopping Listings
Like you would for your site, you want to make sure your listings are optimized for organic search.
First of all, make sure all of your information is accurate, from your description to your price. If appropriate, use geotags to make sure you pop up in local searches.
Verify your title, description, and images are optimized, as well.
Product Titles
Use strong keywords that reflect user search queries in your title. Do keyword research to see what users are searching for when they look for products similar to yours. You can use a keyword tool or simply look at the "People also ask" and "Searches related to" sections of a Google results page.
Remember, using strong keywords in your product title not only lets users find you, but it also helps Google place your products on the right results pages. Google crawls both product titles and descriptions for detailed keywords to place products.
So, instead of using "skillet" alone as your title, try something more detailed, such as "12-inch cast iron skillet."
Product Descriptions
Make your product descriptions detailed and pragmatic. Phrases such as "amazing skillet" aren't going to win you any organic search points. But, "Our 12-inch cast-iron skillet is seasoned with olive oil and holds heat well" tells both the user and Google precisely what your product is.
Remember to keep it short and sweet. Only 70 words show up on product pages in Google.
Product Images
According to a Weebly survey, 75% of online shoppers said product images are very influential in their decision process. That means your images should make your products look as appealing as possible.
Images should be clear, well-lit, and professional. And your products should be front and center.
Choose multiple images that give your product scale, display it from different angles, and show it in use so users can get a sense of how it will work for them.
For the cast iron skillet, Lodge shows their product served up with chicken and sizzling away on a grill with vegetables.
Monitor Your Product Listings
Finally, keep a constant eye on your product listings. Compare them to similar listings that are doing well to determine how to improve your own. Watch for rises or dips in visibility and clicks to see if you can attribute them to search trends.
Keep abreast of Google's algorithm changes. A change in the way Google places organic search content could affect your listings.
What's Changing With Google Shopping Actions?
Aside from free listings and no commissions, Google is making a few other changes to the Google Shopping experience:
Starting with PayPal, Google is now allowing direct linking of merchants' payment accounts to Google Merchant Center.
Merchants can handle customer service directly, but they still have Google customer service to back them up.
Google allows merchants to handle their own returns or choose to let Google manage them.
The Google Merchant Center is compatible with your Amazon feed.
Google Shopping Actions vs. Amazon
Amazon is still the leader in online shopping. But, Google is beginning to give the e-commerce giant a run for its money, particularly now that listings are free. Google has a few other advantages over Amazon as well.
To begin with, unlike Amazon, Google gives shoppers more than one buying option for products. They can buy from a retailer's site or from their brick-and-mortar locations. Many products are even available to buy right through Google.
Because Google Shopping is available across all of its platforms, users can browse shopping results and add products to their universal shopping cart wherever they are, even YouTube: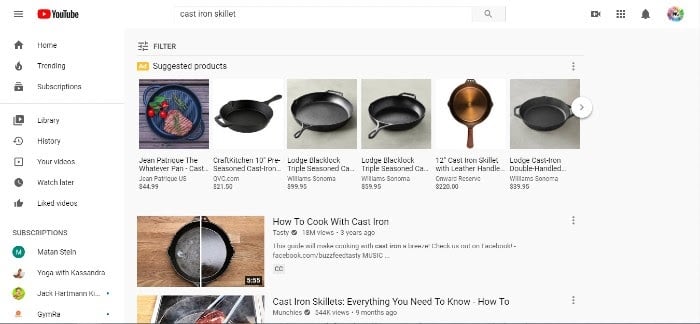 Google Shopping Actions gives you access to customer data, where Amazon doesn't. You can track purchasing habits and trends to build stronger relationships with your customers.
Now that you can upload your Amazon feed to Google Merchant Center, it's easier to run both programs for your products, potentially doubling their exposure.
Conclusion
With free Google Shopping, merchants have an incredible opportunity to increase their revenue through e-commerce. By optimizing your product listings through Google Shopping Actions, you can get your products in front of users and potentially help increase your conversions.
Consider running paid campaigns or just utilizing the free listings to grow your customer base and allow users to compare prices.
Have you tried Google Shopping Actions for your e-commerce store?
The post Google Shopping Actions: How to Increase Product Visibility for Free appeared first on Neil Patel.