Business News
now browsing by category
Every Amazon seller knows how difficult it is to track and measure the impact of external advertising channels on sales. It doesn't matter how you are driving clicks to your Amazon page; once consumers land on the website, it's anyone's guess what happens.
Thankfully, that's not the case anymore. Amazon Attribution makes it possible for certain sellers to track what happens to every user they send to the platform. In this post, I'll explain everything you need to know about Amazon Attribution, including:
who can use Amazon Attribution
the benefits of using Amazon Attribution
how to set up Amazon Attribution
what you can track using Amazon Attribution
What Is Amazon Attribution?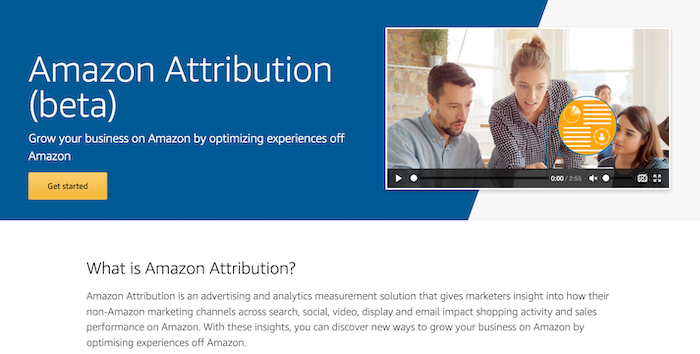 Amazon Attribution is a new tool that promises to grow your Amazon business by improving experiences away from the Amazon platform.
Specifically, the tool provides analytics insight into how non-Amazon marketing channels like search, social media, display, PPC, and email marketing impact sales on Amazon. It can also track traffic sent to a different website that ultimately converts on Amazon.
Access to Amazon Attribution is available through either the platform's self-service console or through tools that already integrate with the Amazon Advertising API.
What Does Amazon Attribution Cost?
Amazon Attribution is currently available for free, which is great news for e-commerce owners.
Who Can Use Amazon Attribution?
Amazon Attribution is currently only available to sellers enrolled in Amazon Brand Registry and Vendors in the U.S., Canada, the U.K., Germany, Spain, France, and Italy. That may change in the future, so keep your eyes peeled if you are in other locations.
What Can You Track Using Amazon Attribution?
Amazon Attribution lets you track a range of metrics that can impact e-commerce sales, including:
click-throughs
impressions
detailed page views
purchase rate
add to cart
total sales
How Does Amazon Attribution Work?
Amazon Attribution uses parameterized URLs—essentially a tracking URL. When users click on the link and go to your store, Amazon can track precisely what they do.
It's a bit like a combination of Facebook's Pixel and Google Analytics. Everything users do once they click on your ad is tracked, and you can see it all in an easy-to-use dashboard.
4 Amazon Attribution Features You'll Want to Try
Amazon Attribution isn't just a URL tracking tool. It has several key features marketers will want to leverage.
1. Full-Funnel Amazon Analytics
Amazon Attribution significantly increases the number of sales funnel data brands have access to. You're not just limited to conversion data. Instead, Amazon lifts the curtain on how consumers interact with your product on their platform, providing metrics like clicks, detailed page views, and how many times customers add your product to their basket.
2. On-Demand Amazon Conversion Metrics
You can see campaign performance as and when it happens. Real-time reporting means marketers can optimize their marketing campaigns faster than ever before.
3. Customer Insights
Because of the wealth of metrics Amazon Attributes provides, marketers can understand how the users they send to their store behave once they get there. Do they add the product to their basket as soon as they land on a page? Do they find a different product they prefer? Do they not buy anything at all? Amazon Attribution lets you answer all those questions and more.
4. Separate Tracking for Each Advertising Channel
Amazon Attribution lets marketers create different tags for every marketing channel. Facebook Ads, Google AdWords, blog posts, social media posts, it doesn't matter. You can make hundreds of tags so you always get granular detail on the performance of every channel.
Why Is Amazon Attribution Such a Big Deal?
It's not an overstatement to say Amazon Attribution could be a transformational tool for sellers and vendors. Before the tool was created, tracking off-Amazon marketing campaigns was an absolute nightmare.
There was simply no way to differentiate traffic from separate marketing channels. It was all dumped together.
Let's say you made 500 sales, and you know that your own Amazon ads generated 100 of them. That leaves 400 sales that could have come from any marketing channel or even through an organic Amazon listing.
Do you see what a problem that is for marketers trying to find the best channel? There's no way they can tell.
Amazon Attribution changes everything completely. Now marketers and brands will be able to see precisely where each sale comes from, and that comes with a bunch of benefits.
3 Benefits of Using Amazon Attribution
"Why use Amazon Attribution in the first place?" I hear some of you ask. There are several reasons eligible brands should start using Amazon Attribution immediately. Here's my top three.
1. It Identifies the Most Valuable Marketing Channels
It's not always easy to calculate the ROI of your non-Amazon marketing efforts, especially if you use multiple channels. Amazon Attribution allows sellers to see exactly which advertising efforts drive the most sales and provide the highest ROI. With a clear picture of what's working and what's not, store owners can focus on their most profitable channels.
2. It Optimizes Existing Campaigns
Amazon Attribution lets you understand how users interact with your store and the broader Amazon ecosystem. If traffic from one demographic converts better than others, you can optimize your existing campaigns to drive more users that do convert and fewer of those that don't.
3. It Can Drive More Sales
Some sellers may find the concept of sending external traffic to Amazon strange, but it's becoming increasingly important. Amazon is becoming increasingly dominant in e-commerce. At the same time, the price of sponsored ads on the platform continues to rise.
Why Drive Traffic to Amazon in the First Place?
When you understand which marketing channels are most effective and how consumers interact with your products on Amazon, you can start to make real, data-backed decisions. The kind of decisions that will help you sell more on Amazon For some that could be investing more in a specific marketing channel. For others, it could be adjusting the price of their products.
What's more, new sellers are signing up to Amazon every day. Oberlo recently reported that a million new sellers are joining Amazon every year. With so much competition, external traffic can be a vital lifeline to help sellers survive.
Reduce Amazon Advertising Costs
External traffic helps you sidestep the competition for listings on Amazon and drive traffic directly to your storefront. There's no need to pay for sponsored ads on Amazon when you drive traffic directly to your products.
Boost Your Seller Rank
External traffic can seriously increase the number of sales your store makes. This can have a huge impact on your overall sales. Sales velocity is one of the ranking factors Amazon uses in its A9 algorithm, so the more sales you're making, the higher your products will rank in the future.
Better Understand Your Amazon Customers
The insights from Amazon Attribution can help you learn more about your customers than ever before. You may find that one product doesn't convert as well as you thought it did, for instance. Or that customers prefer one product over another.
You won't just be improving your Amazon store's performance, either. These kinds of insights can improve your business outside of the Amazon platform, too.
How to Set Up Amazon Attribution
The first step to getting started with Amazon Attribution is filling out a signup form and logging in to your account.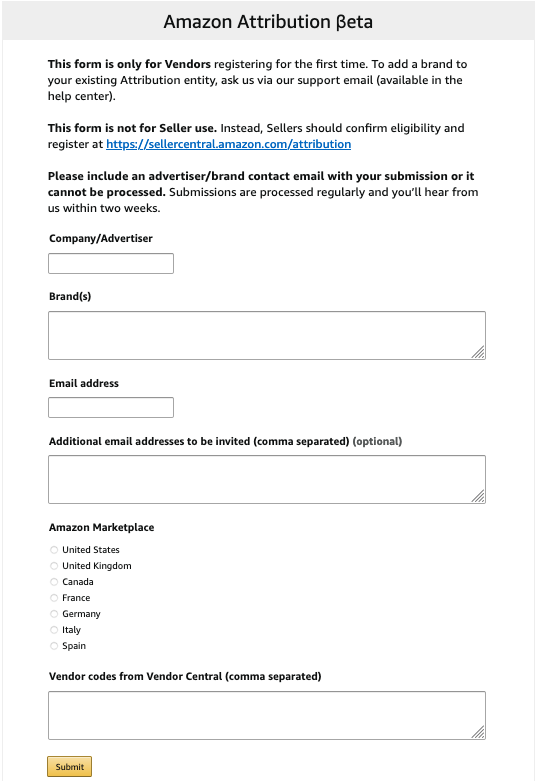 Once your account has been approved and set up, you can start matching products to the campaigns you're tracking:
Create a tag by clicking on the relevant advertiser's name.
Click "New order."
Select the "Set up an order" parameter.
Choose the product you want to link to by searching for your products and clicking "Add."
Give a name and external ID to your attribution tag. I recommend being as obvious as possible with your name, so you know which link is which (Don't forget you'll have a separate tag for each of your products).
Choose where you're going to place this link: Facebook, AdWords, etc.
The clickthrough URL is the URL of your product. Find your product on Amazon, copy the URL and paste it here.
Click "Create," and you're done. You can now copy the Amazon Attribution tag and start using it in the wild.
Alternatives to Amazon Attribution
Amazon Attribution is an incredible tool, but unfortunately, it's not available to everyone who sells on the platform. Luckily, there are several alternatives you can use instead.
Amazon Associates Tracking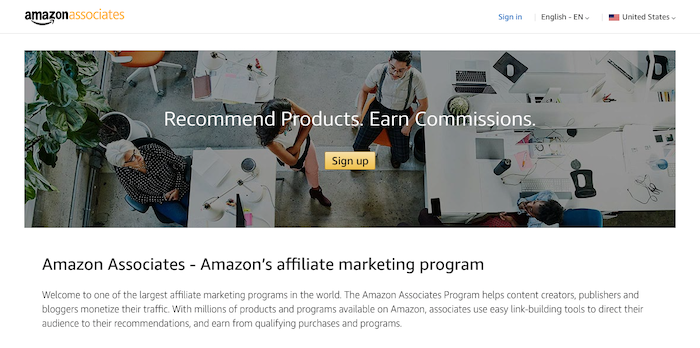 Amazon Associates tracking links were the most popular way to track external traffic to the store platform before Amazon Attribution. With Associates tracking links, you get paid a commission every time a customer converts.
Unfortunately, this tracking solution is nowhere near as in-depth as Amazon Attribution. You'll only be able to see which items users bought, not their behavior on the site before conversion. Plus, Amazon Associates only get one tag. That means it can be hard to differentiate between traffic sources.
Pixelfy.me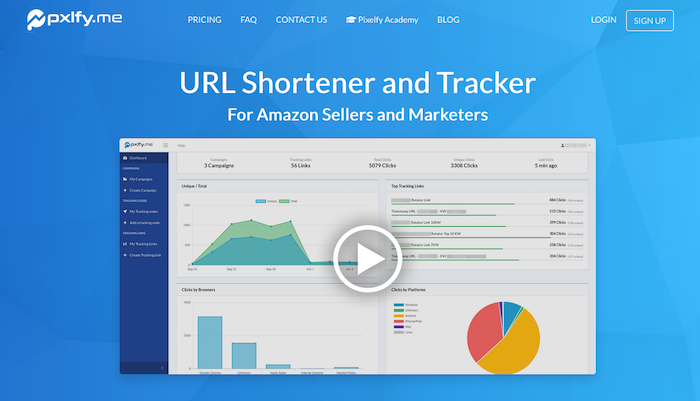 Pixelfy.me is a URL shortener and tracker built specifically for Amazon sellers. You can create and track every kind of Amazon link, including Supreme, Brand, Canonical, Store Front, Add-to-Cart URLs, and many more.
Pixelfy.me can track almost everything apart from conversions. While that's not as comprehensive as Amazon Attribution, Pixelfy.me does let you pixel users to retarget them in the future.
Amazon Super URL Tool

The Amazon Super URL Tool is part of the AMZ Tracker suite of tools. It does not offer sellers more insight into the way users shop their store, but it can significantly improve the quality of inbound traffic and boost sales as a result.
The platform's special URL shortener makes Amazon believe visitors have searched for specific keywords on Amazon instead of going directly to the listing. Amazon should rank your products higher for these keywords, as a result, which can lead to more sales.
Conclusion
Amazon Attribution is the best way to track how off-site traffic performs on the Amazon platform. If you run external marketing campaigns for your Amazon store and are serious about optimizing your Amazon store, then Amazon Attribution is a must.
Not only can you optimize your marketing campaigns, but you can also increase conversions, too.
Creating Attribution tags is easy. Just follow my advice above or contact my team if you want an Amazon marketing agency to do the work for you.
How many external marketing campaigns are you currently running to Amazon?
It doesn't matter if you run a tiny mom-and-pop shop or a mega-billion dollar corporation; content marketing works.
Just look at the way the content marketing industry has exploded in recent years.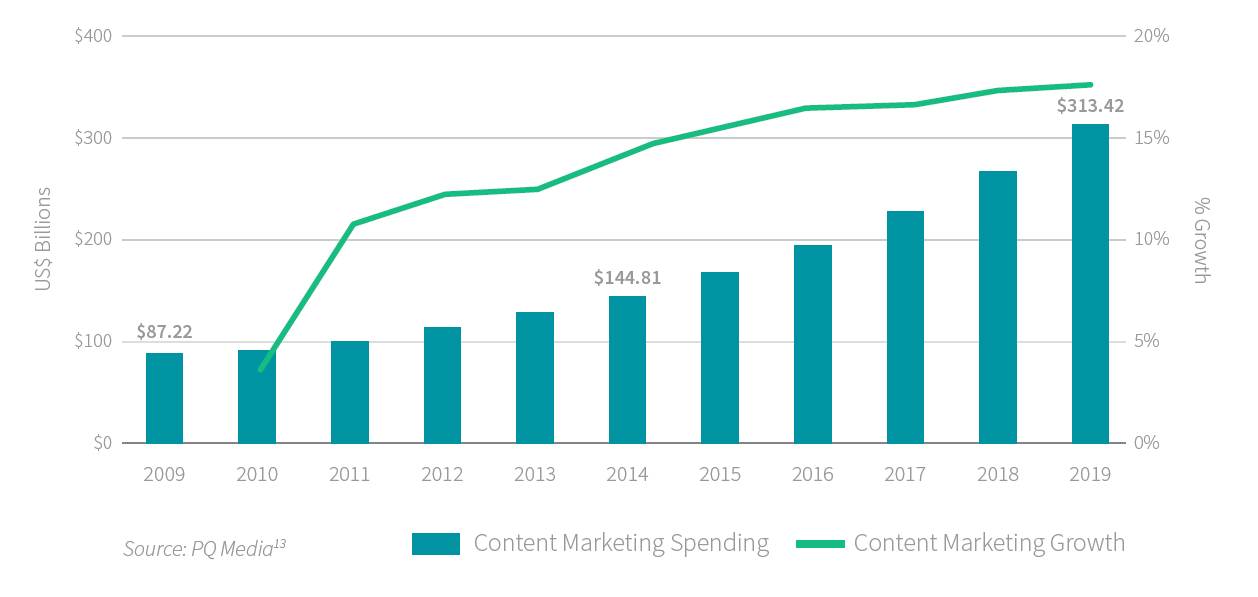 In this article, I'm not just going to sing the praises of content marketing. Instead, I'm going to take a deep dive into something that most people don't talk about: a tiny slice of content marketing called H1 tags.
Truth be told, most SEOs, content marketers, web developers, and marketers know a little bit about H1s. That can be a problem though; we're so used to hearing about H1s, using H1s, and talking about H1s, that we don't stop and think about how to write them in a way that appeals to users and search engines.
You're different though. You're reading this article, and are going to learn the exact method for producing great H1s that will take your content marketing to the next level.
What Is an H1?
The H1 is an HTML tag that indicates a heading on a website.
Let me unpack that.
HTML: This stands for Hypertext Markup Language. Most websites use this language to create web pages.
Tag: An HTML tag is a snippet of code that tells your web browser how to display the content.
Heading: HTML has six different heading tags: H1, H2, and so on. The H1 is considered the most important tag, and the H6 is the least important. The tags are often formatted from large (or most important) to smallest (or least important).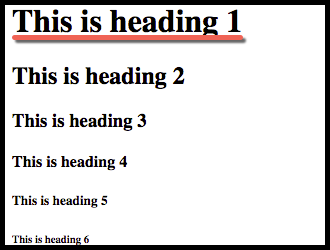 If you were to create an H1 in HTML, it would look like this:
<h1> Hi, My Name is Header One! </h1>
You can take a look at this yourself. Open up any web page (preferably a good quality blog) and follow these instructions.
First, make sure you're on a web page.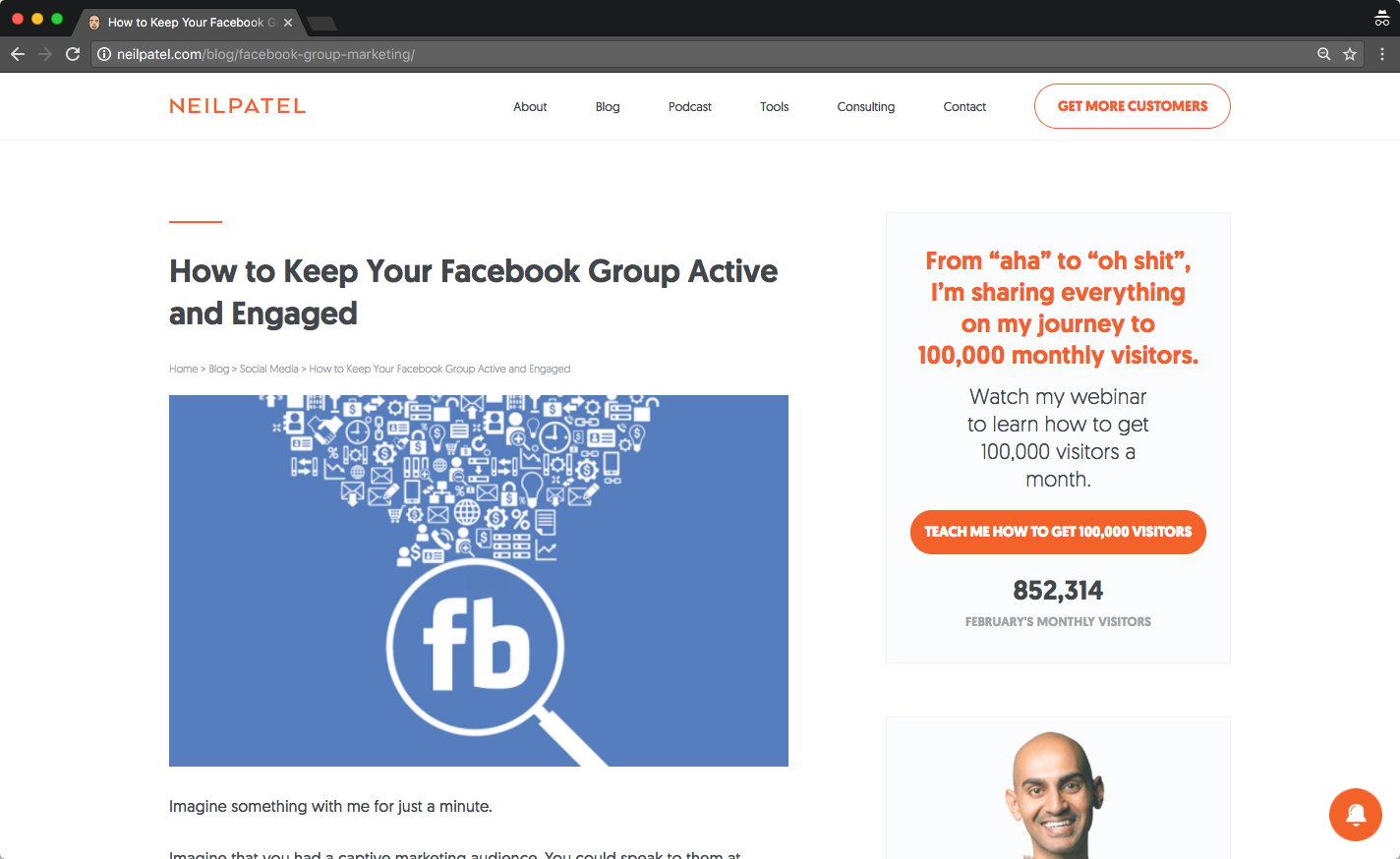 Next, view the source code.
To do this, I use a keyboard shortcut for Chrome (Mac): command + Option + u (do not press the plus sign, you just hold command, option, and u at the same time).
The commands you use to open source code will vary depending on the browser and processor you use.
You can also click View → Developer → View Source (in Chrome):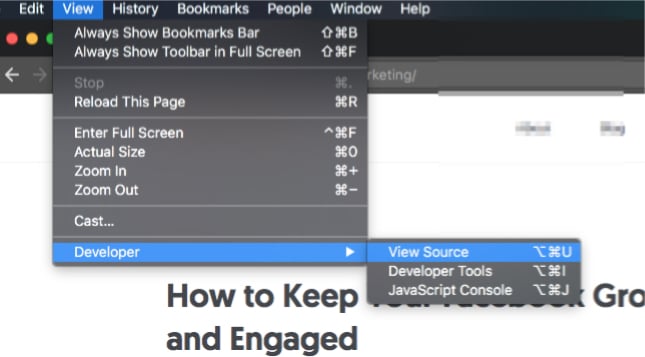 This is what you'll see when you view the source code: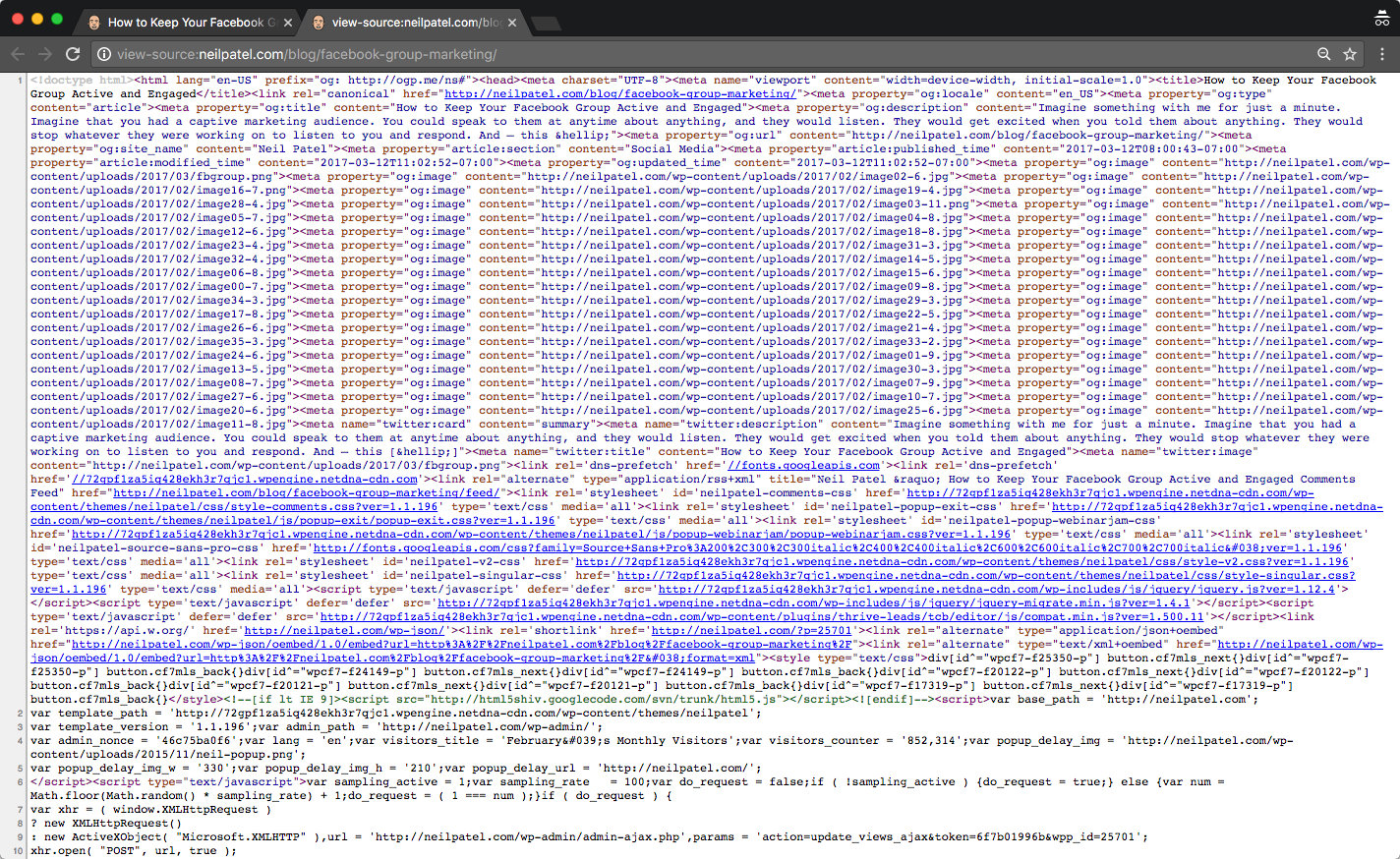 Next, search for the h1 tag.
Press CTRL + F to open the search feature on your browser. Again, I'm using Chrome, but most browsers use this function.
When I press CTRL + F, I see a small search bar in the upper-right corner of the browser window.
Type "h1."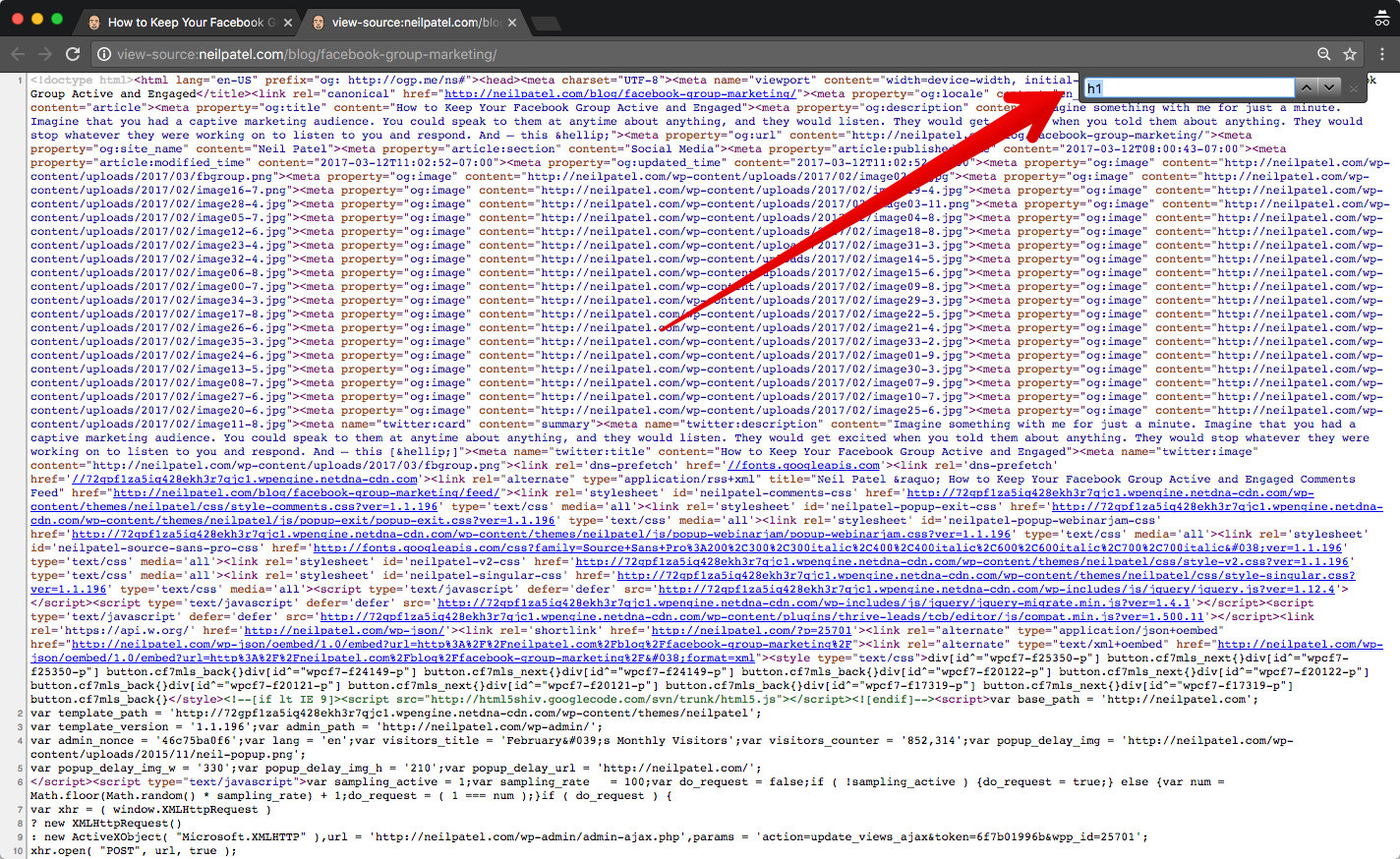 Then, press Enter.
Chrome highlights the h1 on this page.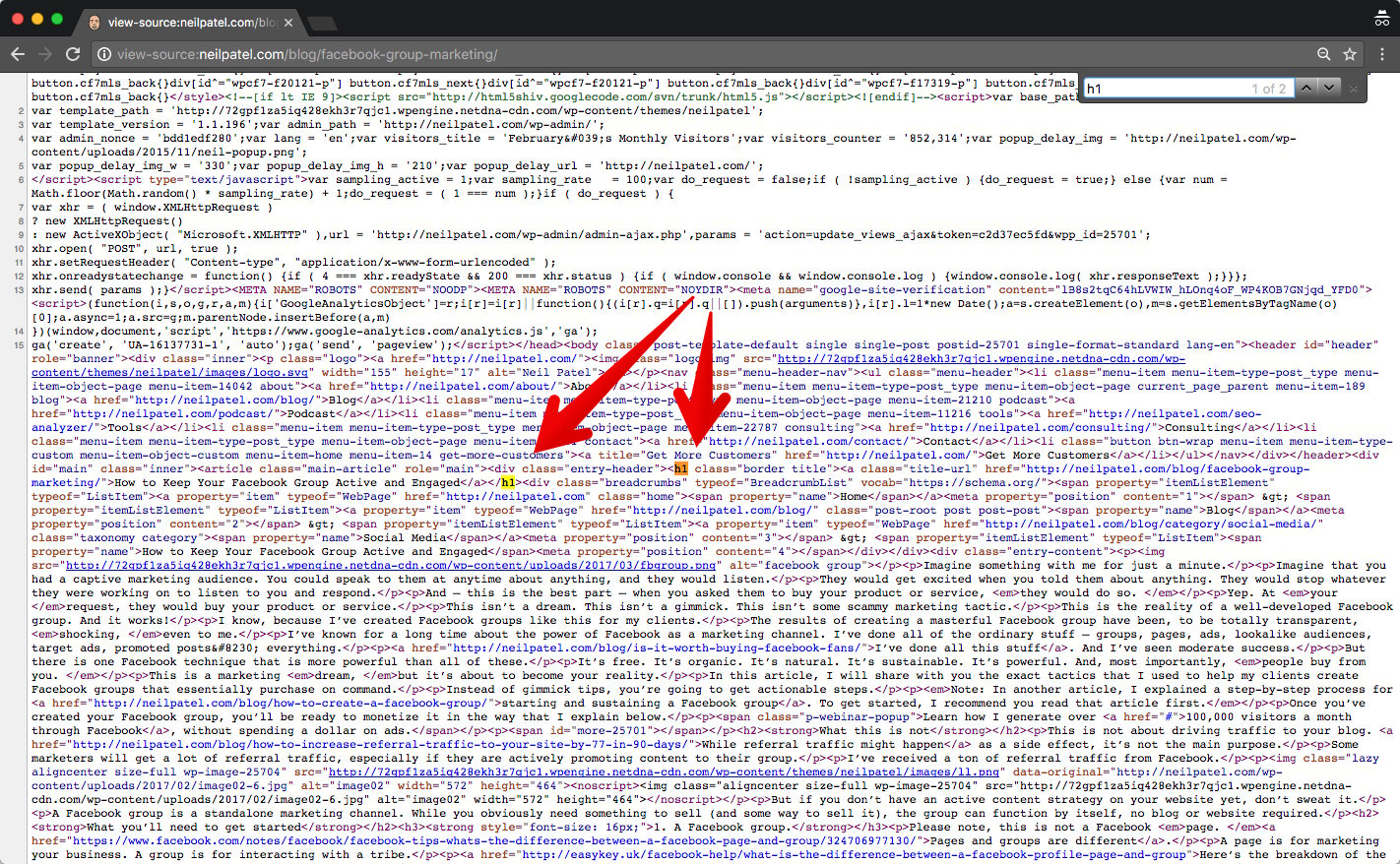 There's a bit of intervening code between the start tag and the end tag, but the tag is there.
The copy within the h1 tag is "How to Keep Your Facebook Group Active and Engaged."
That's it. It seems pretty simple, but the h1 has a big impact, as you'll find out in the next section.
Why Are H1s so Important?
First, I'll tell you a story. A little while back, business was humming along as usual. I was doing my thing, running my blog, and writing my articles.
My blog traffic had been pretty good overall, but I decided to get another set of eyeballs on it to help identify improvements. One of these improvements was to update an H1 on one of my articles. Within three days, the page had 85% more organic traffic. Plus, it had gone from page 3 of the SERPs to page 1, position eight!
All because I changed the H1.
I'm not the only one who's experienced such a dramatic change. In fact, my bump in search traffic is nothing compared to a local car parts store in Houston, TX, who changed their page titles and H1s. The result?

I don't want to sound like a snake-oil salesman with a bunch of anecdotes, so let me give you the cold, hard facts about h1s and SEO.
H1s have always been a major ranking factor.
There have been plenty of trends in SEO that have come and gone, but H1s have never lost their significance.
In Moz's most recent search ranking factors survey, title tags are listed as the second most important ranking factor. Although it's not always the case, many use the same title tag. and H1.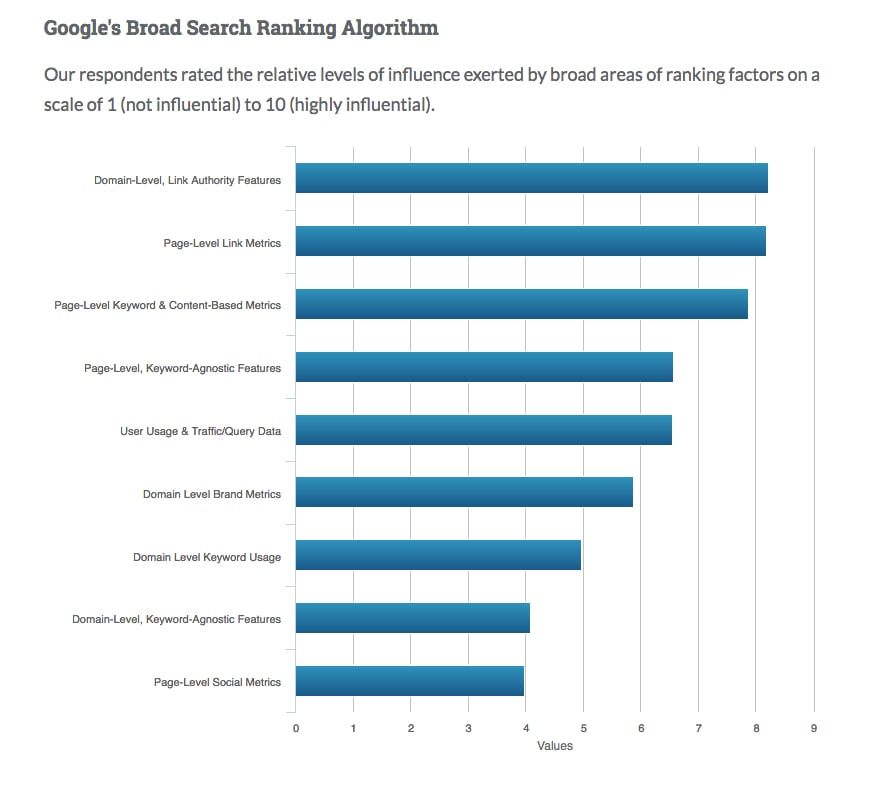 H1s are usually the most visually notable content on the page and are probably the most important SEO feature.
And at first, it might not seem like H1s are an "SEO" feature at all, because it's more about the user than about the technical optimization of the page, right?
Right! That's the direction that SEO has taken in recent years. SEO is more about user optimization than it is about search engine optimization.
Don't skip over this idea of users noticing the H1. It matters.
H1s are one of the most potent on-page SEO and UX elements that you have in your arsenal.
Now, let's figure out how to use them.
How Do I Create Killer H1s?
H1s aren't a big secret. The fact is, just about anyone who knows anything about SEO or HTML uses them.
So why did I even write this article? It's because most people use them incorrectly.
Until recently, even I didn't realize just how wrong I had been when I was writing H1s. After turning the corner and making a discovery, my knowledge of H1s hit the roof, and my website traffic changed as a result.
Here are the rules of H1 creation.
1. Use Only One H1
Every page needs only one H1 tag. There is no reason to use more than a single H1 tag.
Why not? If one is good, wouldn't two or sixteen be even better?
Search engines will crawl multiple H1s on a page, sure, but the logical priority of an H1 semantic tag means that you're focusing your SEO efforts on one keyword phrase or sentence, as opposed to many.
The presence of more than one H1 won't necessarily confuse the search engine, but it could dilute the SEO power of a single H1.
Google may also consider your page over-optimized if you use more than one H1, and may penalize you as a result.
2. Your H1 Should Describe the Topic of Your Page
At the most basic level, the H1 should describe what the content is all about.
Often, the H1 tag will be similar or the same as your title tag.
Usually, the H1 tag will be the title of your blog post or article.
Normally, the H1 tag gives the reader a strong sense of what he or she is going to read.
3. The H1 Should Be Between 20 and 70 Characters
If your H1 is too short, you're wasting valuable space; if it's too long, you're diluting the power of the tag.
However, if you're using the same H1 and title tag for a page, you should pay more attention. Best practices say titles should be between 40 to 60 characters so you can fit in the most keywords. However, when you start to reach the 50-60 keyword range, your click-through rate can start to decrease. As a result, try to stick to the 30-40 character range.
4. Make Your H1 Tag Stand Out
Your H1 should be the most important visual element on the page.
it should be big
it should be strong
it should be noticeable
you should use whatever visual, formatting, and style elements are necessary to make that thing stand out
Why is this important?
Keep in mind that an H1 is a semantic element, not a visual element, and it's important to keep this distinction. Web designers don't need to add style elements by using semantic tags such as the H1, H2, etc.
However, in the real world, style and semantic elements do mix. Following design and development best practice mean the most significant semantic tags are also the most important visual elements.
Size matters in web design, and semantic tags matter in web development. Conjoining them in SEO makes sense.
For a good example of this formatting, check out the blog at Smart Passive Income. Pat Flynn's H1 is definitely strong.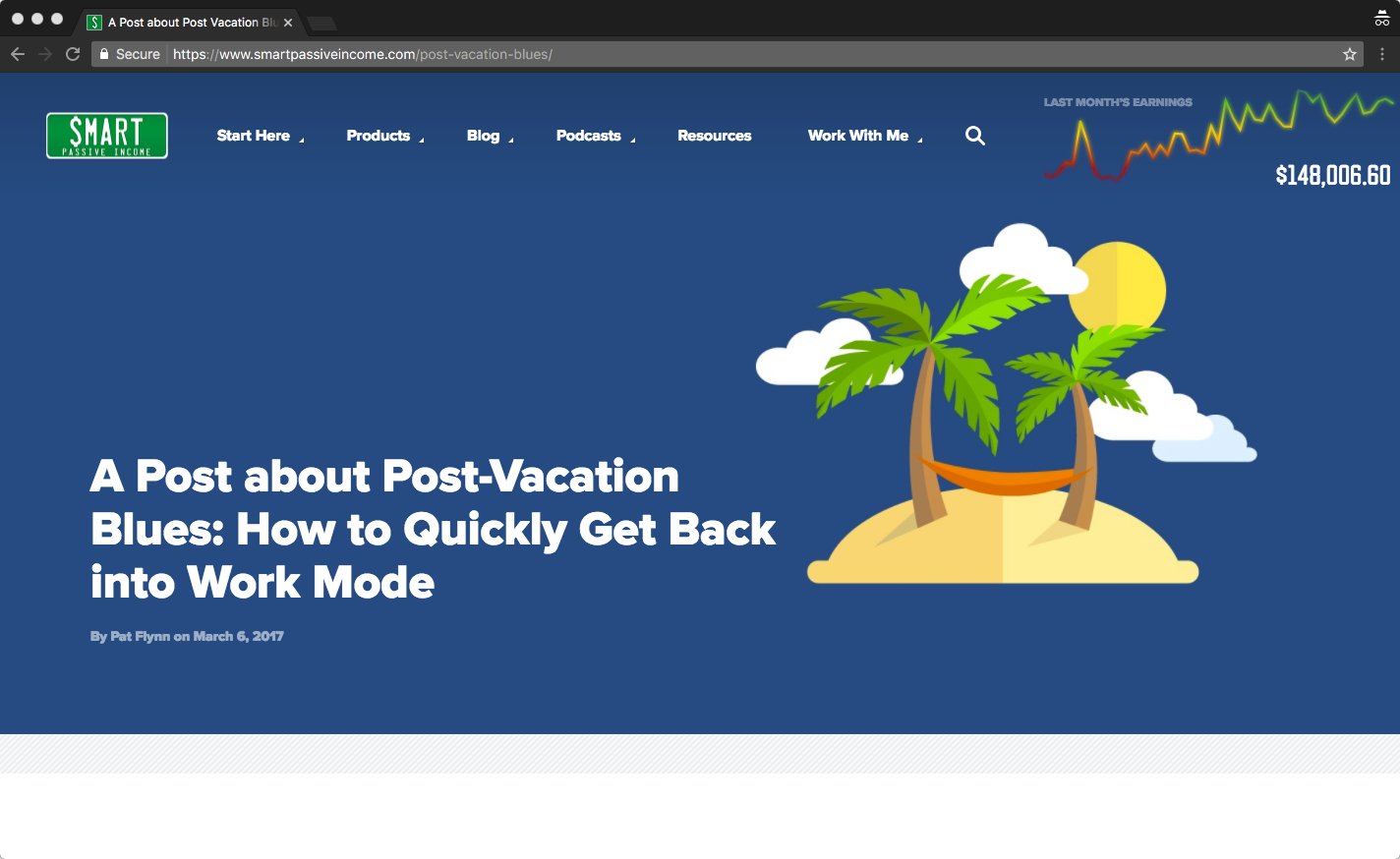 When I check out the source code, this is what I see:

Here's another good example from Ramit Sethi.
Can you guess what his H1 is?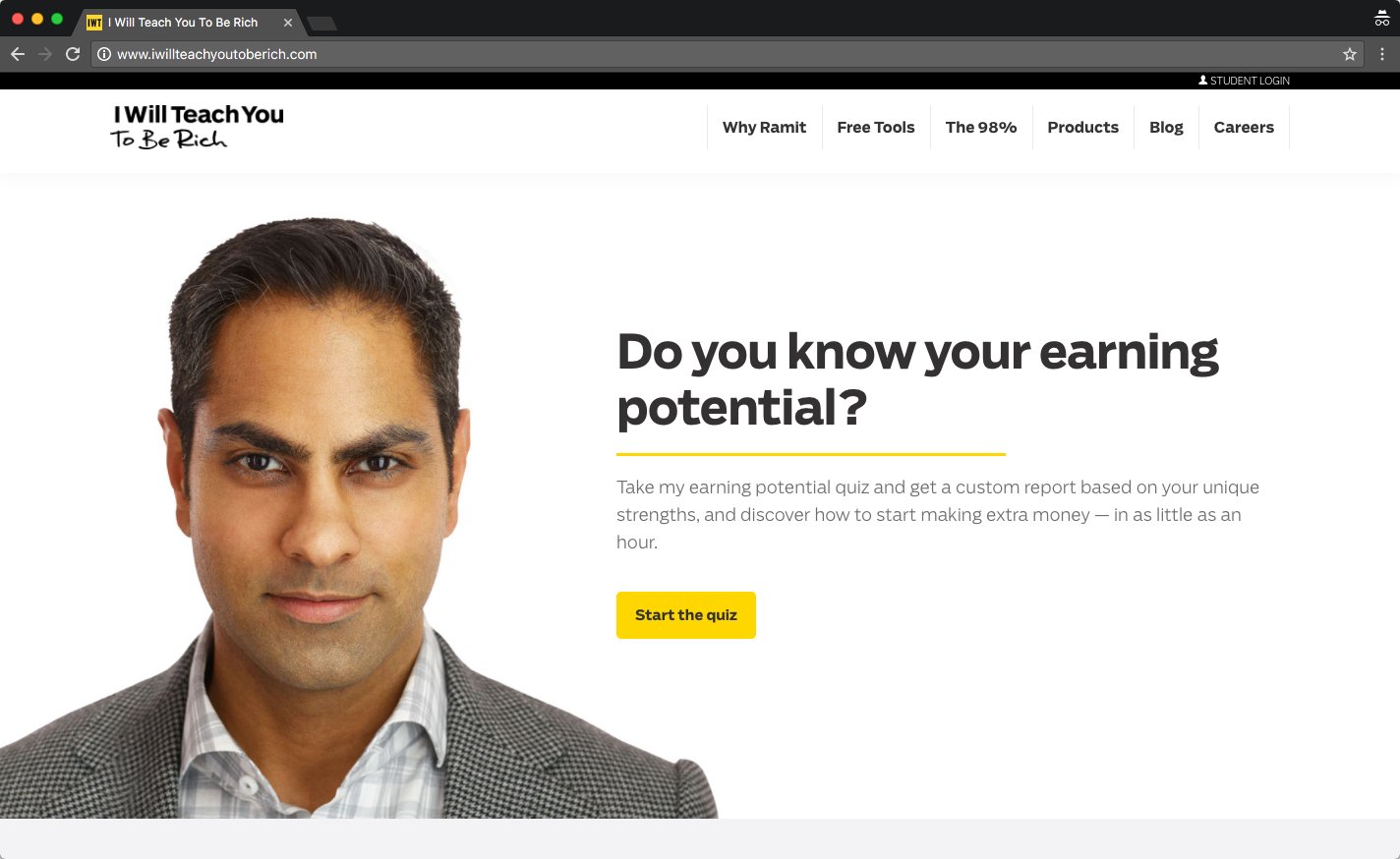 The H1 is "Do you know your earning potential."

5. Create H1s That Provide a Good User Experience
SEO changed massively over the past few years. The biggest change by far has been the influence of user experience (or UX) on SEO.
The best way to consider SEO and UX is with this Venn diagram (to access link, you must download a chrome extension).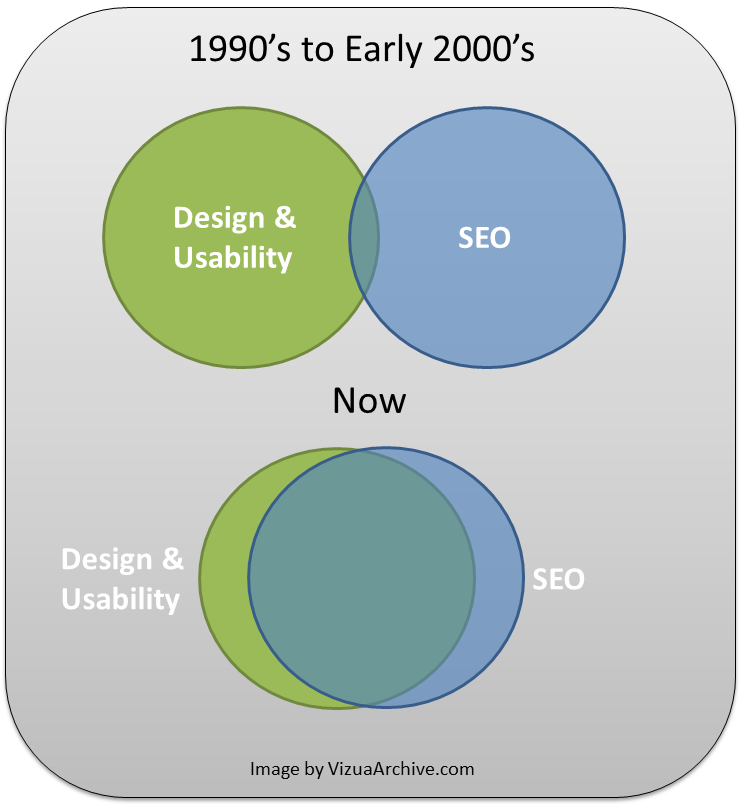 That diagram was published in 2012.
Nearly a decade later, the SEO circle would be a smaller circle within an even bigger Design & Usability circle.
Part of the reason for this is search engines have evolved to such a high degree they can intuit what users want, even as users are searching and browsing.
Keep in mind that due to machine learning, search engines are constantly changing. There are no longer massive SERP upsets due to algorithm shifts.
Instead, there is the continual nuanced adjustment of search ranking factors based on the search and browsing habits of the search engine's millions of users. In other words, how users interact with your page has a lot to do with how your page will rank; and the H1 is one of the most important elements on your page that influences their interaction.
This is because it's noticeable. It sends a message. It communicates a sentiment. It makes a promise.
Your H1 should speak to the user in an overt way. It should be formatted and placed carefully so your user understands that it is the title of the page, and explains what the page is about.
6. Use a Focused Long-Tail Keyword in Your H1
Believe it or not, some SEOs used to not recommend using keywords in your H1s. They thought it could be considered keyword stuffing, which Google penalized a long time ago.
Luckily, there's nothing keyword-stuffing at all about using a keyword in an H1. On the contrary, Google wants you to use a keyword in the H1. It helps their crawlers better understand what your page is all about.
If you don't use a strong keyword in your H1 tag, then Google can still find out what the page is about, index it appropriately, and give you a nice rank. Why leave out the opportunity to give Google all of the information it needs and wants right in your website source code, though?
It's better to use a keyword; sometimes a long-tail keyword specifically.
Let me show you a clear example of how this works using a simple keyword, "bandit testing."
Even though this keyword is not technically long tail, it works well for our purposes, because it's clear, concise, noticeable, and easy to use in an H1 tag.
This is a page from the Crazy Egg blog.
The article is about bandit testing.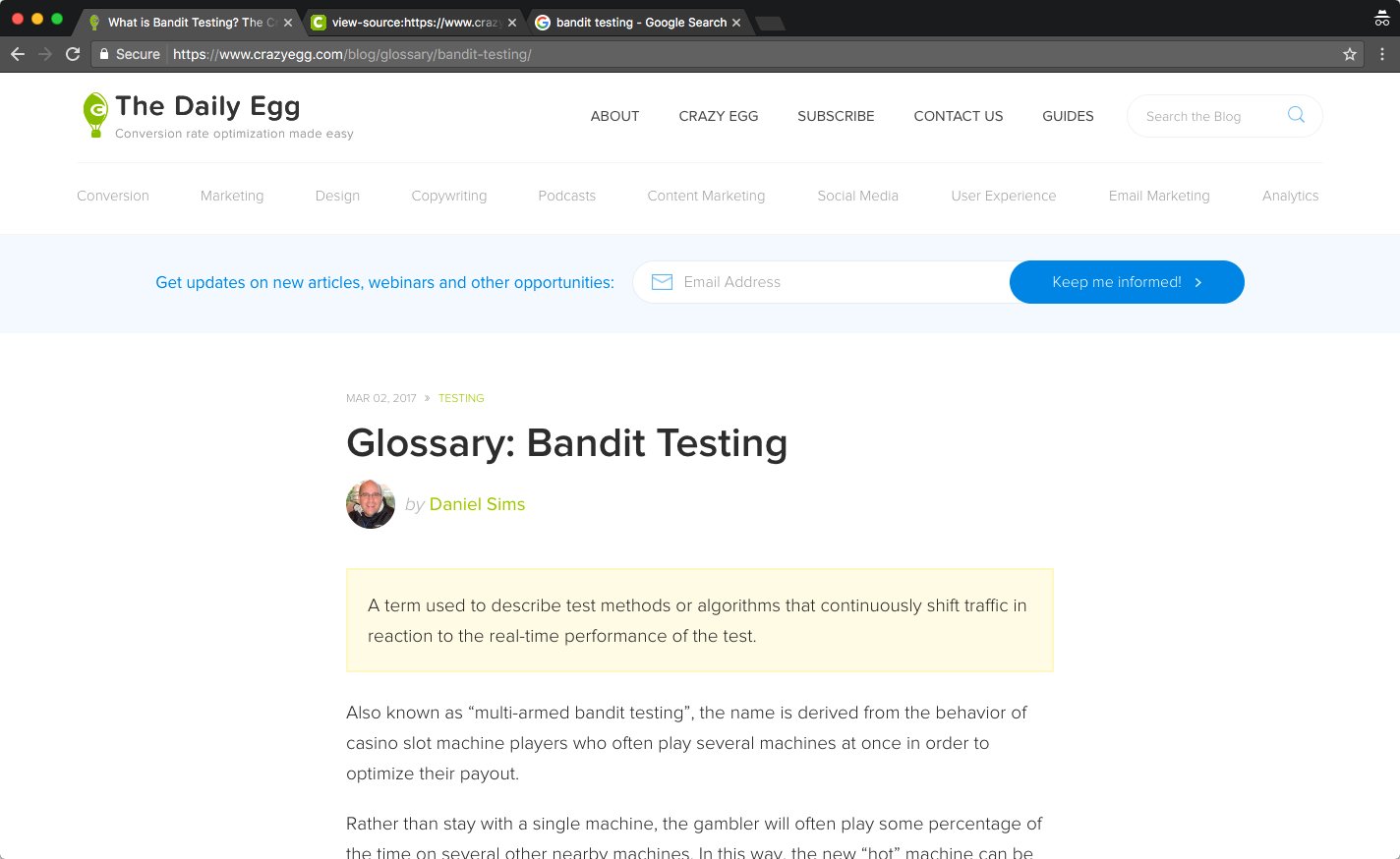 The most noticeable visual element on the page is "Glossary: Bandit Testing." That's also the h1.

Here are the facts about this page:
The title: What is Bandit Testing? The Crazy Egg Glossary
The H1: Glossary: Bandit Testing
The keyword: bandit testing
Their rank at the time this page was originally published (it has subsequently been updated)? Google page 1, position five! That position was earned only two weeks after publishing the article.
This article takes a more long-tail approach. The keyword in this scenario is "Facebook Video Ad Hacks."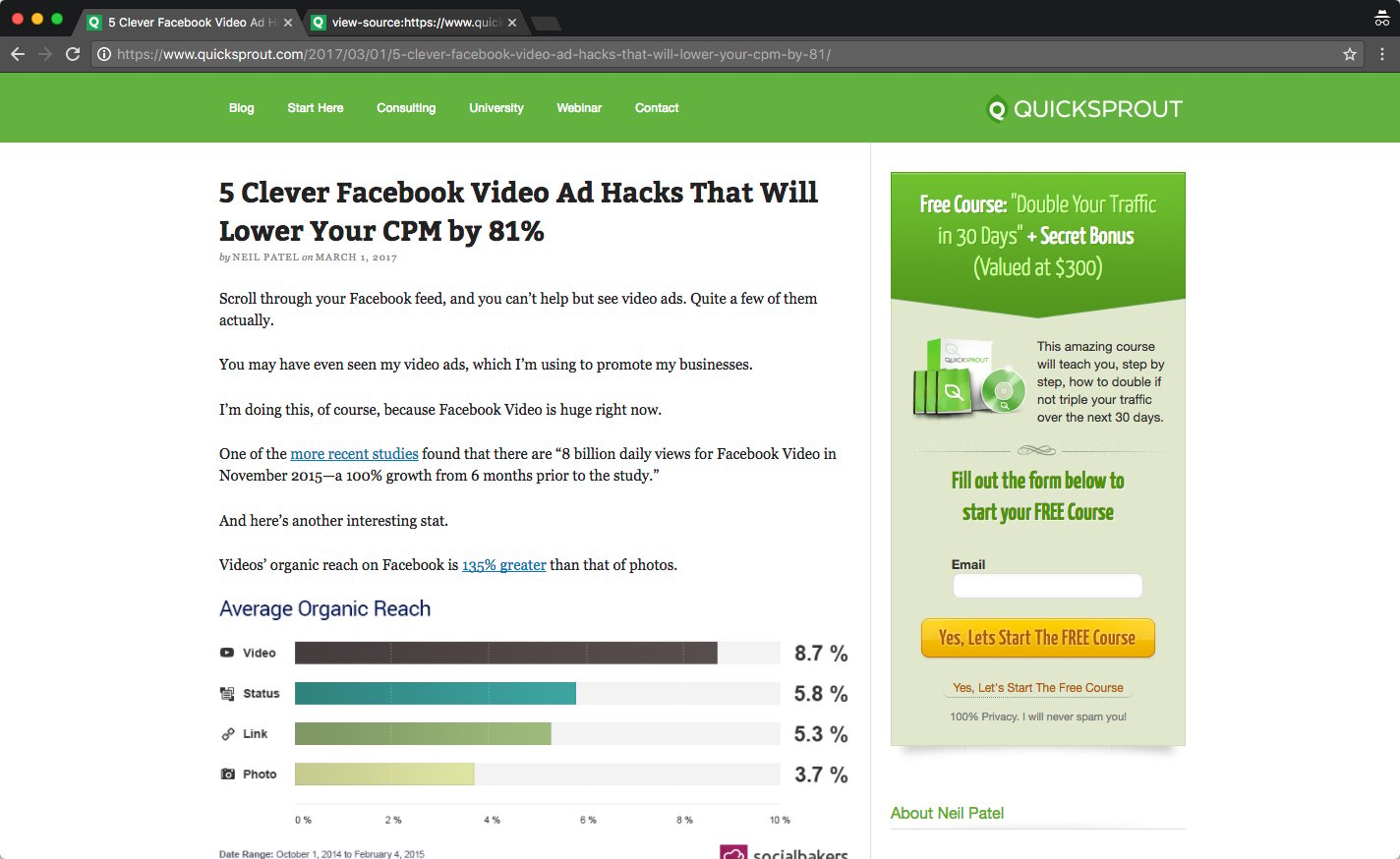 That keyword is included in the blog title, and it is also the H1 tag.

Just two weeks after publishing, the article was on page one, position 5 of Google.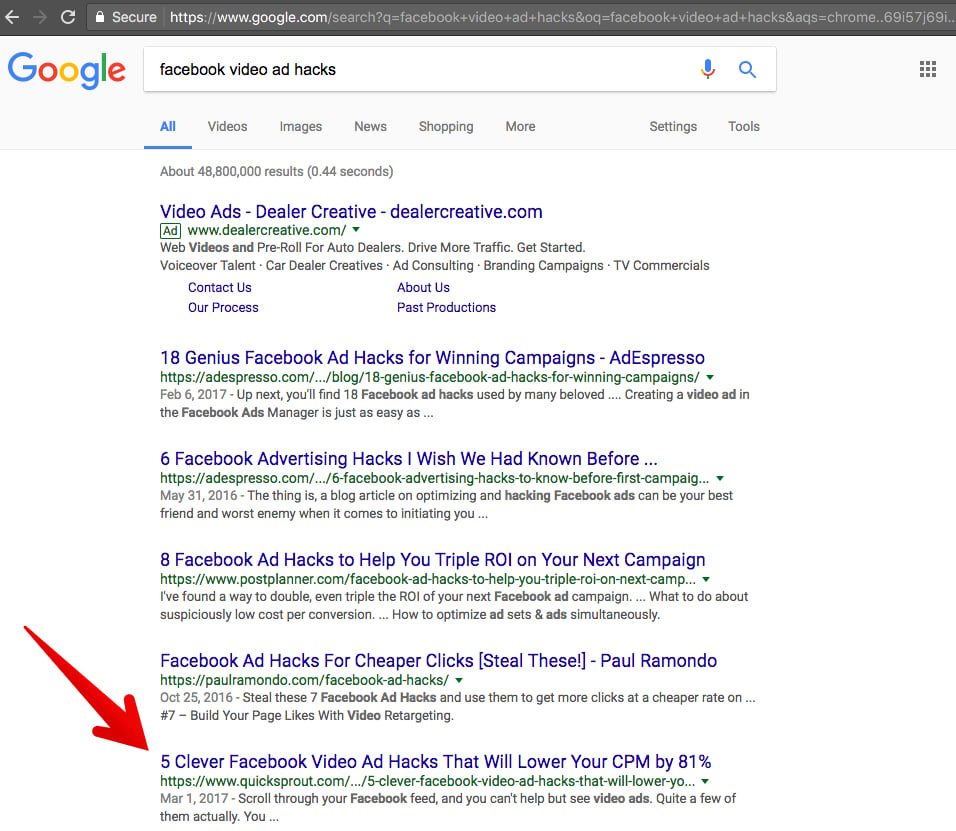 To summarize: yes, I'm recommending that you use a long-tail keyword in your H1 tag.
Follow a few simple rules though:
don't force it
make it natural
don't keyword stuff!
7. Answer User Intent With Your H1
The phrase "user intent" seems to confuse some people, but it's really quite simple.
Whenever you write a piece of content, you want to be asking questions like:
What does the user want when they open my article?

What's their intent?
Your H1 should satisfy that intent.
If someone is googling "risky SEO tactics," I can probably assume that they are looking for some quick search engine optimization techniques that will boost their rankings.
If I were to write an article on that topic (oh wait, I did!) then I want to answer their intent with my H1.
Here's how the journey of intent works.
First, the user gets an idea. Then, they search Google for it.
They see this promising result in the SERP.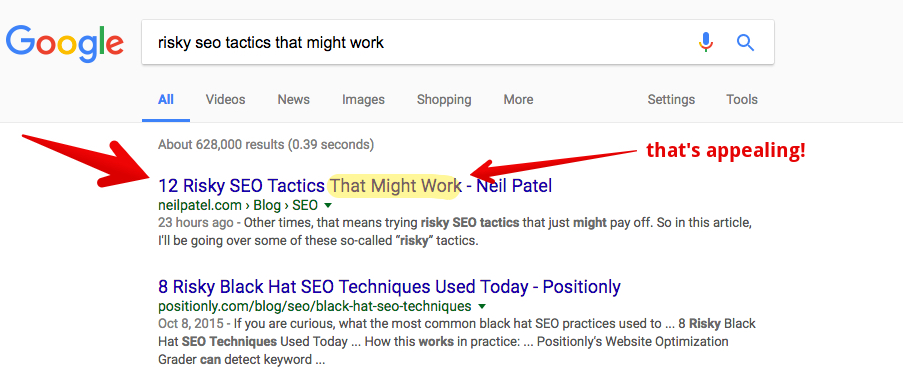 If they click it, they see my blog article on the topic.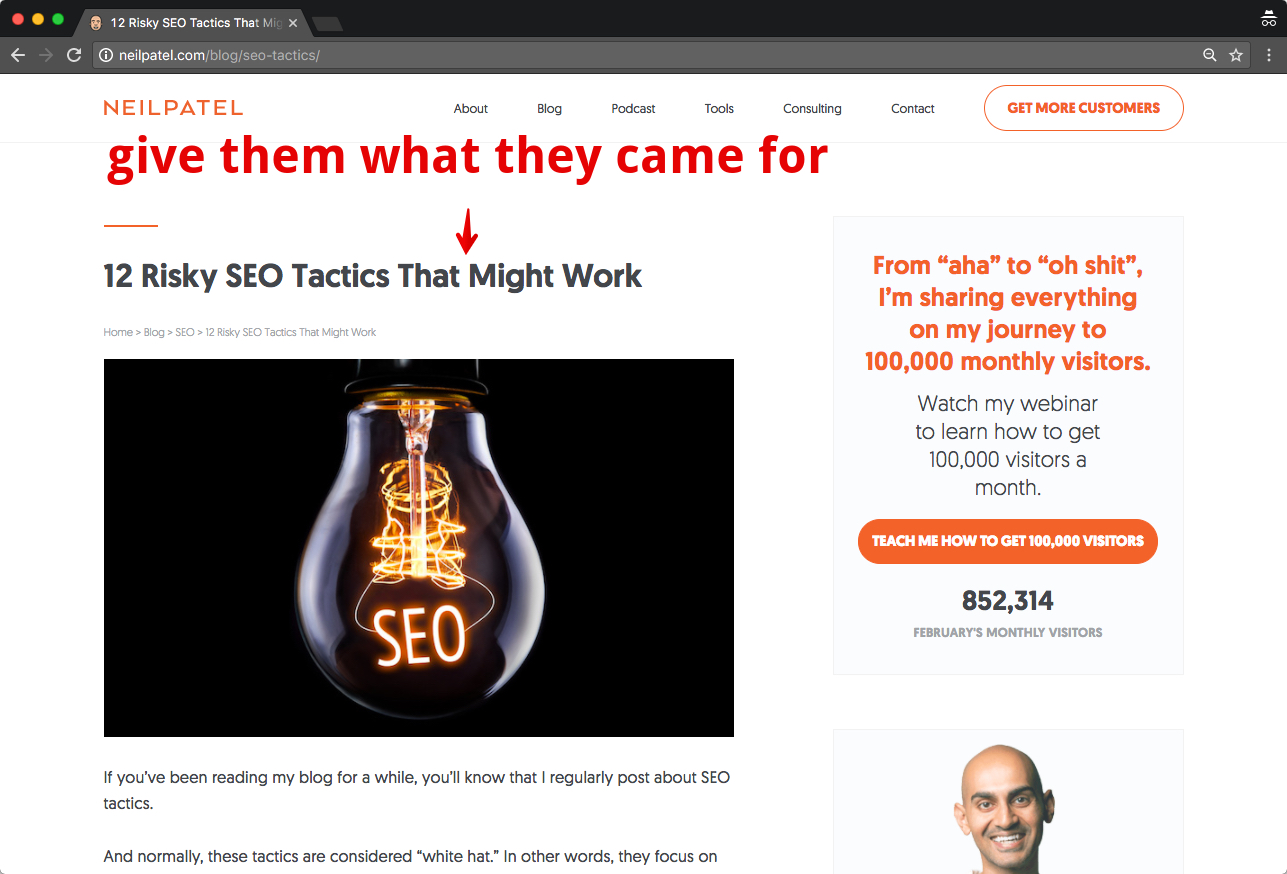 My goal with that H1 tag is to promise them what they came looking for: some straightforward but risky SEO tactics that could boost their traffic.
This is how Marc Purtell explains it in SEJ:
In order to have some great, Hummingbird-optimized h1 tags, try to understand what a user may be asking when they are searching for a keyword the page is targeting and format that question on the page with h1 tags.
Let me summarize the rules for creating amazing h1s.
Use only one h1
Your h1 should describe the topic of your page
Make your h1 stand out
Create h1s that provide a good user experience
Use a focused long-tail keyword in your h1
Answer user intent with your h1
Transform Your Website in 1 Week with an H1 Tag Audit
As a bonus, I want to give you an actionable way to put these lessons into practice. I'm going to give you a homework assignment that may boost your organic traffic by 50%. Most can carry out this task in a few days.
I see a lot of people waste a lot of time doing "content audits" on their websites. I'm not against content audits; but instead of doing a full-fledged content audit on your website, I suggest that you do an H1 tag audit first.
H1 audits are quick and easy and have the potential to produce successful results in record times.
1. Download Screaming Frog
You can do this from the Screaming Frog website.
Click "SEO Spider Tool."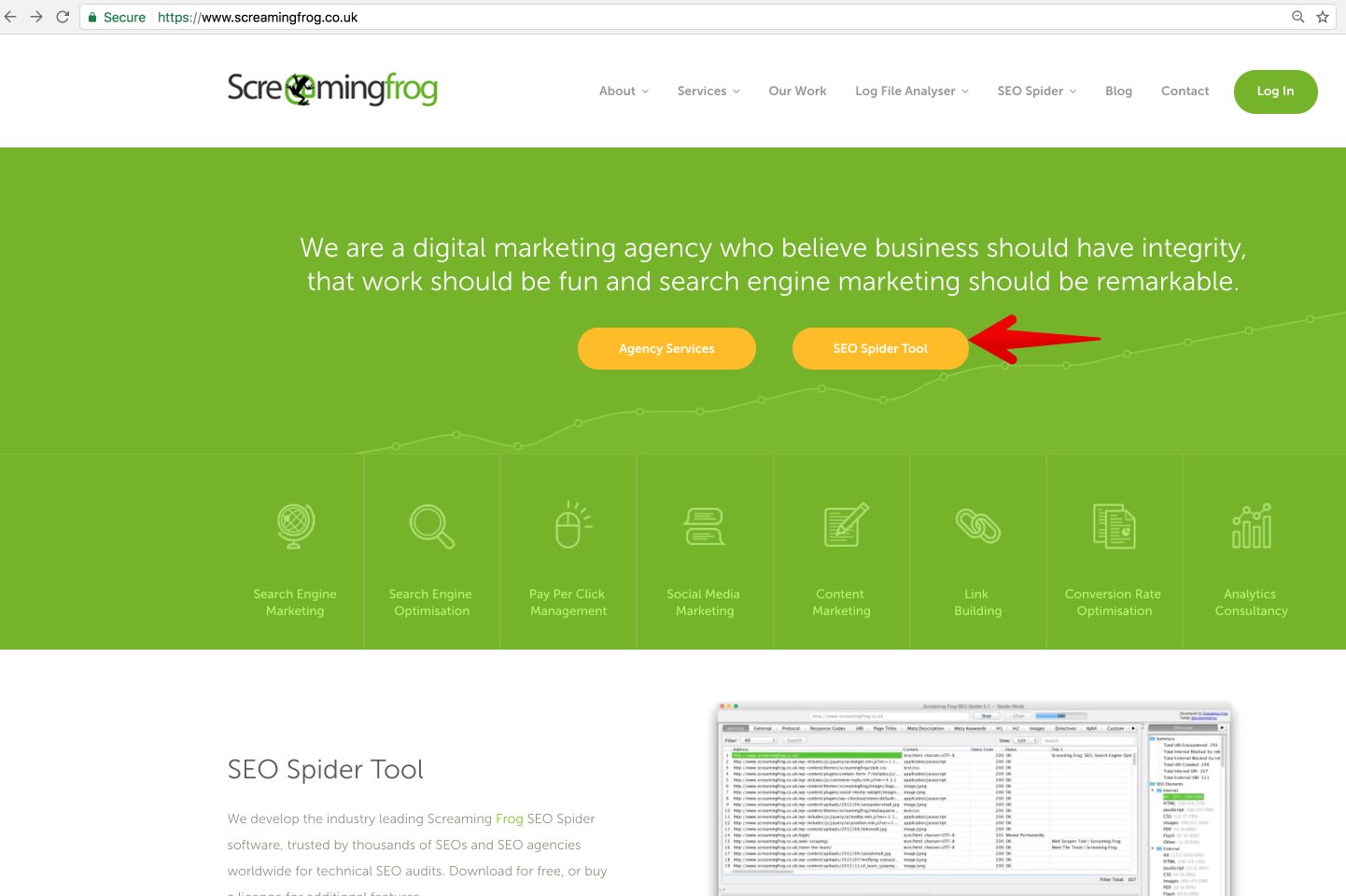 Then click "Download."
You do not need to purchase a license to use the software. If your website is more than 500 pages, however, it's a good idea to purchase a license.
2. Open Screaming Frog
When you've successfully downloaded Screaming Frog, go ahead and open it.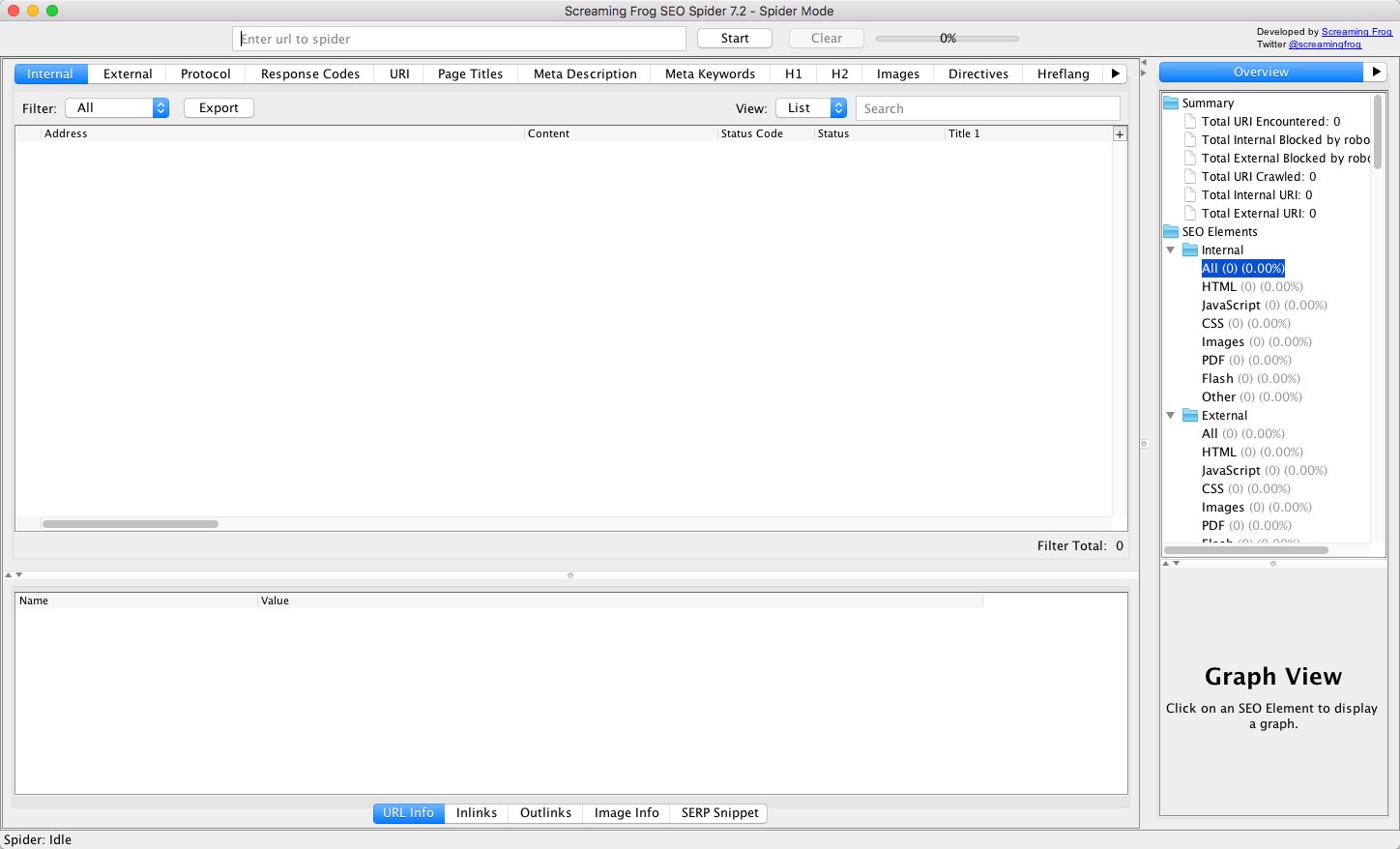 3. Type in Your URL

4. Click Start, and Wait for the Crawl Process to Complete
Depending on the size of your site, this could take a couple minutes or a few hours.

It usually takes less than a minute for Screaming Frog to crawl 500 pages.
5. Click H1 in the Menu Bar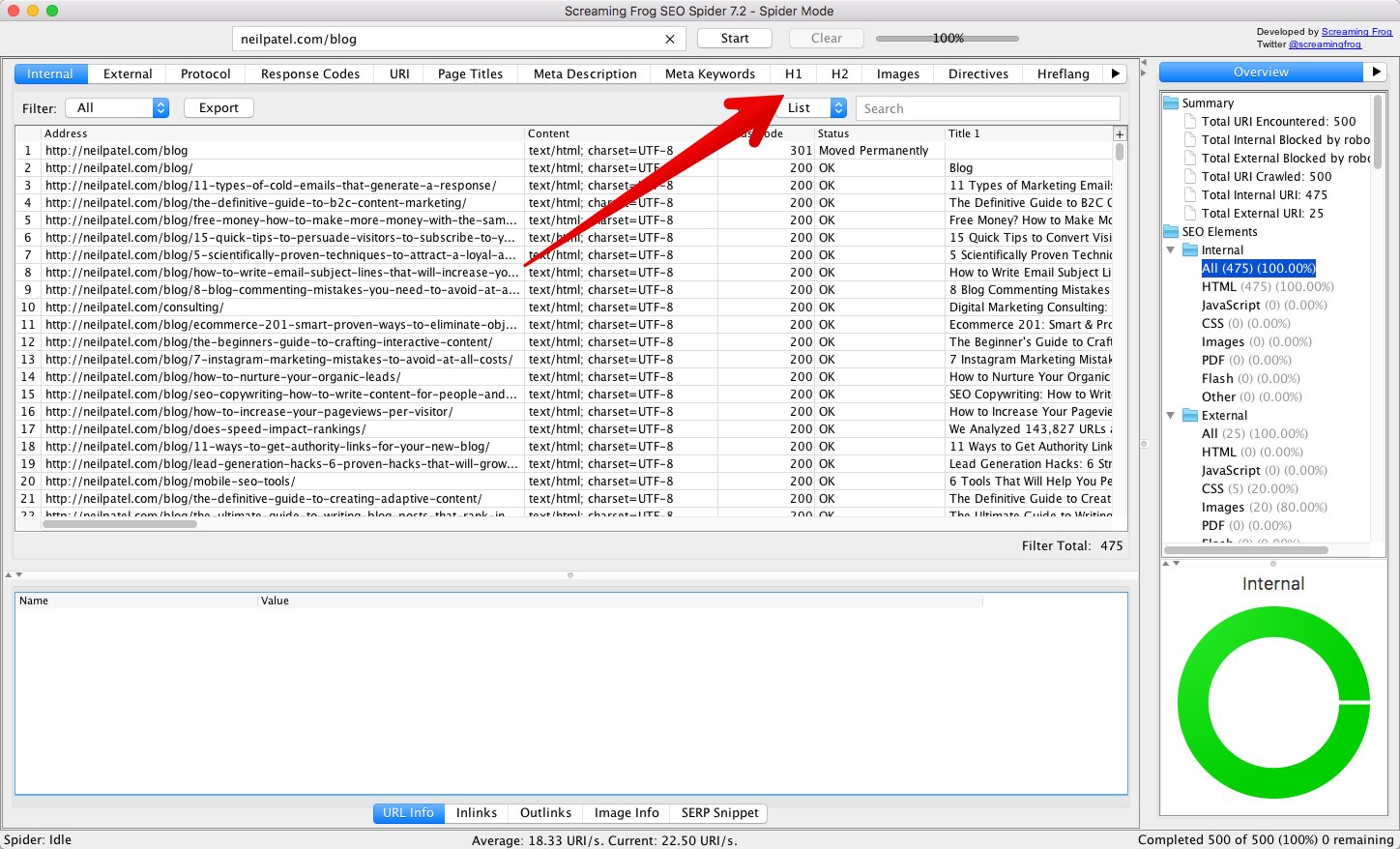 Here, you'll see a list of all the H1 tags on your website.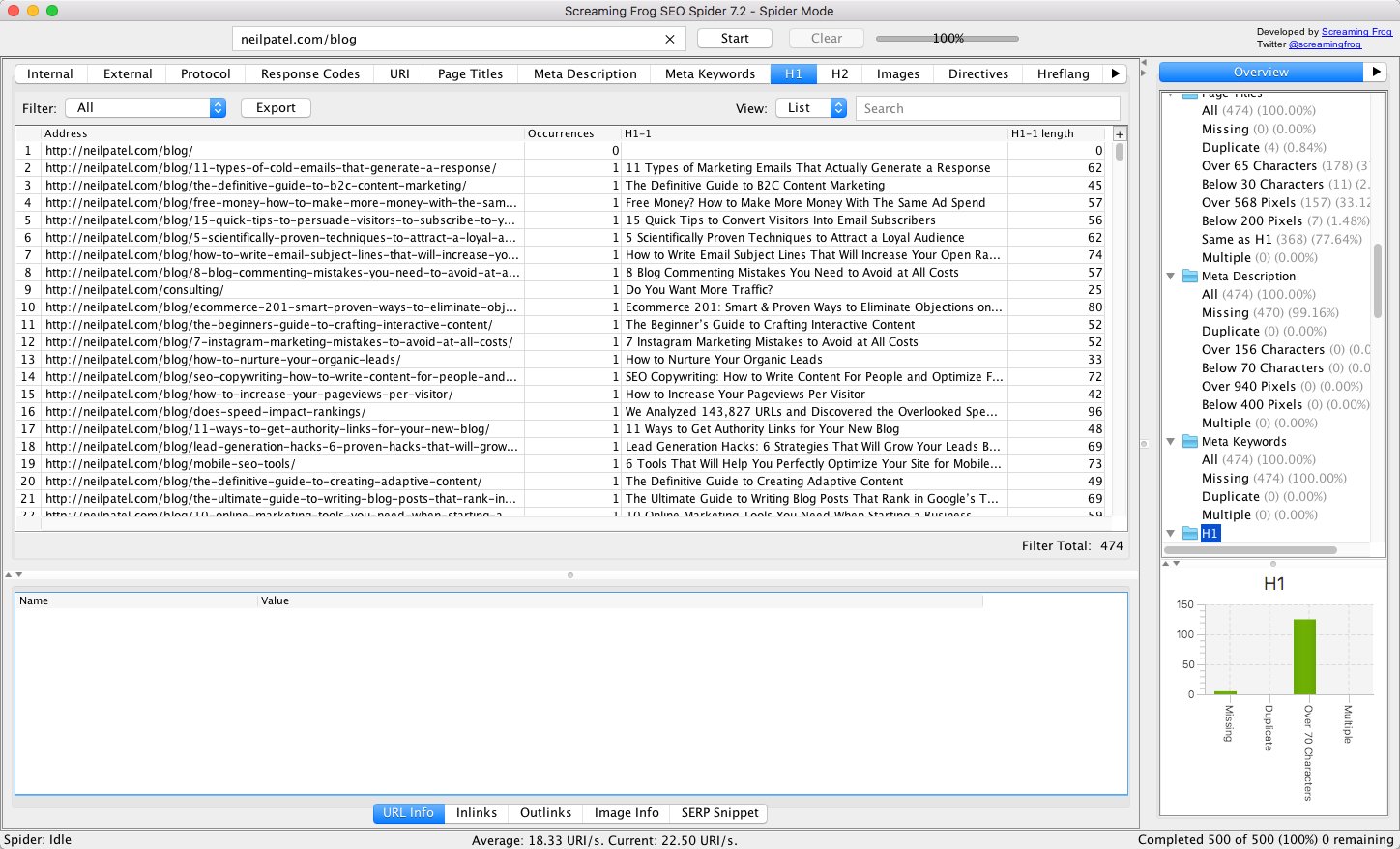 6. Check H1 Tags
Click the filter menu.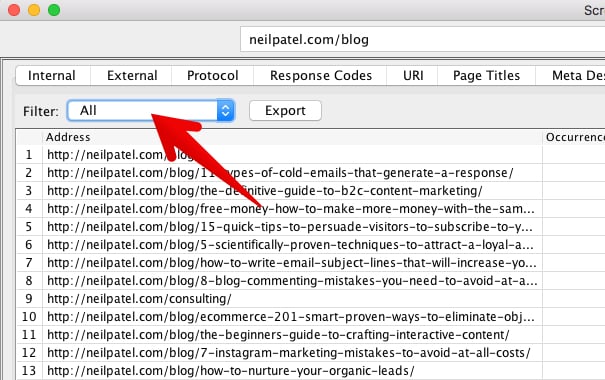 First, search for H1s that are missing by simply selecting "Missing" in the filter field.
You'll see a list of all the pages on your site that lack an h1 tag.

Your first task is to create an h1 for each of these pages.
(Unless, of course, you have a reason not to. My /blog page is a menu page to select the articles that I'm regularly adding and updating there, so I've chosen not to include an h1).
Click "Export."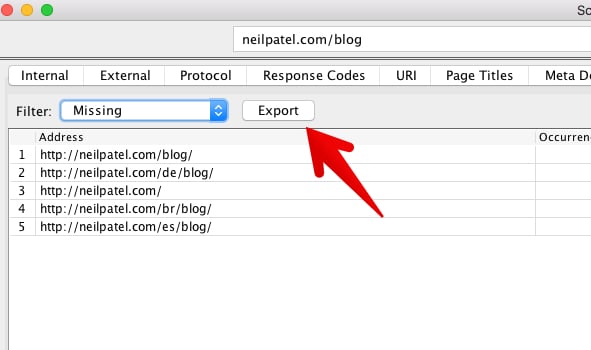 Find a good place to save the file.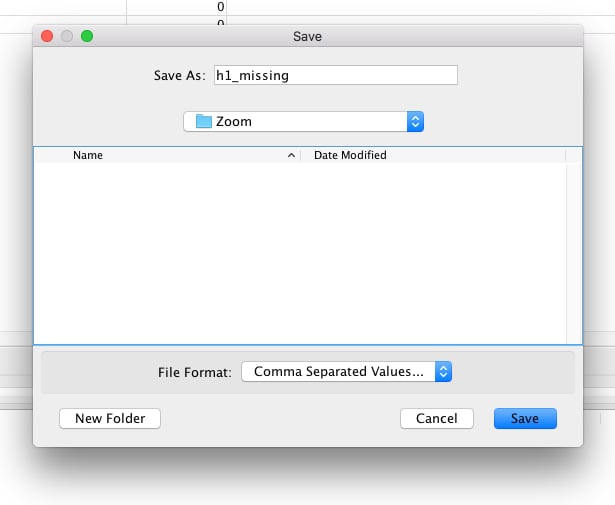 It's a CSV, so you can open it up in Excel.
Next, filter all the "duplicate" h1s. You can do this by clicking "duplicate" on the filter menu. Again, save this list in a CSV for future reference.
Finally, add a filter all the "multiple" h1s. Again, save the list
Now, go back to the filter menu, and select "All." Export the list. At this point, you should have four CSV files.
7. Create New H1 Tags
Your task now is to create new h1 tags for each of the categories. Start with the missing ones, move on to duplicate, next multiple, and finally rework all h1s.
If your website is tens of thousands of pages, you may only be able to work on the highest-priority h1 tag project: the missing ones.
However, if you have the time, update all of your h1s to align with the rules that I provided above.
I think you'll see a big difference in your traffic, your rankings, and your overall site performance.
Conclusion
If you've read this article, you know more about h1 tags than most people. More importantly, you know exactly how to use h1s for maximum SEO impact.
If you want help creating better H1s, title tags, content, or even SEO in general, reach out to our agency so we can help.
What are some of your h1 best practice tips?
Pages on the internet don't last forever.
Some disappear overnight without warning. Other times, servers go down, or maybe you're simply curious what your website or someone else's looked like ten years ago.
So how do you re-access this information?
You need a web cache viewer.
It's a tool that helps you recover backups or snapshots of websites.
In this guide, we'll go through some of the best web cache viewer tools to help you turn back time to find missing information or even spy on your competitors.
What Is a Web Cache Viewer?
A web cache viewer lets you see the older version or snapshot of any website, called a cache page. A cached page is a snapshot of the raw HTML and content of a page.
For example, when Google indexes your website, it takes a screenshot of what it looks like at the time and indexes it.
There are several tools to view an archived page, such as Google's cache feature on search results and websites like the Wayback Machine dedicated to saving the internet's history.
When to Use a Web Cache Viewer
A web cache viewer is a valuable tool to have in your back pocket. Here are a few times you might want to use this handy tool.
A Website Is No Longer Available
Need to get information from a page with a pesky 404 error? A web cache viewer can help you see the last archived version before it went offline.
A Page You Want to View Has Changed
If a website went through a major makeover, you could use the cached version to revert the site to what it used to look like. This is particularly helpful for doing competitor analysis. For example, if a competitor suddenly overtook your site in the search results, you can look at older versions of their site to see what they changed.
Improve Your SEO
Not seeing the SEO results you want? Did you know page caching can improve your site speed by reducing server load time by up to 80 percent? Viewing the cached version shows you what Google sees when it crawls your page. If your website is not cached, it can increase your page load times and drastically affect your bounce rate.
View a Page Faster
If the web page is slow or unresponsive, you can use the cached version to see a snapshot of the site the last time Google indexed the page. Although a cached page won't always have up-to-date information, it can help you save time.
Check When Google Last Indexed a Page
It's helpful to know when the last time Google bots successfully visited your page, especially if you're making changes to your site.
By viewing the cached version, you can see if a page is unresponsive, how it is being cached, and if there is anything you need to un-do.
Web Cache Viewer Tools and Tricks
While viewing cached versions sounds like an admin nightmare, several tools make the process easy, simple, and fast.
1. Use a Chrome Extension
Not using Chrome extensions? You're missing out.
Google's Chrome extensions are programs you can install to your browser to change its functionality.
For example, you can add extensions that:
Block ads from displaying on any site you visit.
Pin any image to your Pinterest boards.
View the DA of any website.
Quickly access any of your passwords with a password manager.
The Web Cache Viewer Chrome extension makes it easy for you to view a snapshot of the page you're visiting. This is useful if you come across a 404 error and want to revert to the older version to see the information.
Wayback Machine Vs. Google Cache on the Chrome Extension
The Web Cache Viewer extension will:
Let you view the Google Cache or Wayback Machine versions.
Intelligently redirect you to the archived page instead of taking you to the archive selection screen on the Wayback Machine website.
Which option should you use? The Wayback Machine or Google Cache?
It comes down to what result you want from the tool.
For example, if you want to check Google is caching your site, or you need to view the last cached page of a site, Google Cache is the best option for you.
However, if you want to turn back the wheels of time and dig through a website's past, you'll want to use the Wayback Machine.
How to Use the Chrome Extension's Web Cache Viewer With Wayback Machine or Google Cache
Got five minutes? That's all you need to set up the extension and start using its caching functionalities.
Here's what you need to do.
Step 1: Install the Web Cache Viewer onto your Chrome and activate the extension.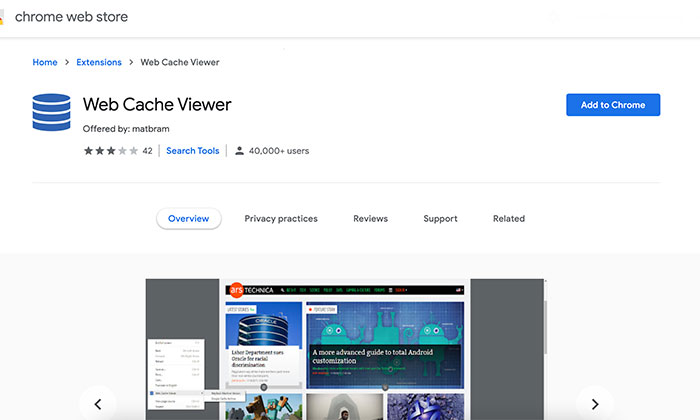 Step 2: Go to the target URL of your choice, right-click on the page, and scroll down to "View Cached Version."
Step 3: Select either the Google Cache or Wayback Machine option.
After choosing, the extension will show you the Wayback Machine URL for the page or show you the last Google cached version.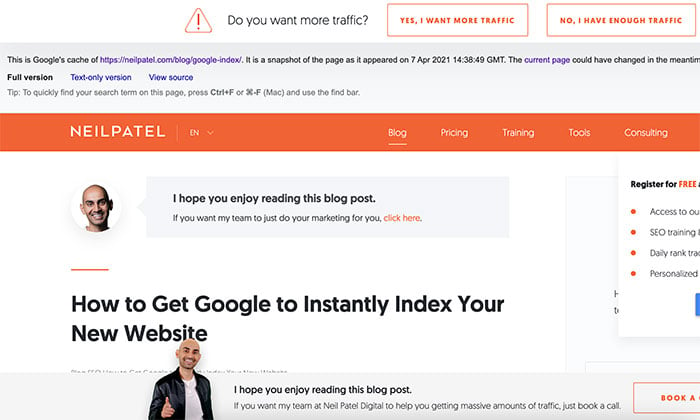 2. Use Google Search to Find Cached Pages
Each time Google crawls a web page, it creates a backup, which becomes part of Google's cache.
How to Get a Cached Link With Google Search
Step 1: Do a Google search on your computer for the page you want to find.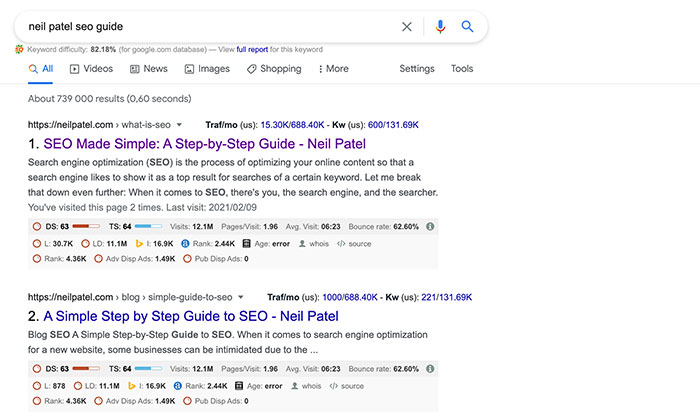 Step 2: When the search results load, click on the down arrow next to the site's URL and select "Cached."
Step 3: The cached version of the page will load. You can view the "Full Version," "Text-Only Version," or "View Source."
Keep in mind that you won't be able to navigate to other pages on the site. If you do, it will take you to the live version. You can also access the live page by clicking on the "Current Page" link at the top of the page.
3. Use the Address Bar in Chrome to Find Cached Pages
Struggling to find the page you want via search results? If you have the Chrome browser, you can use the address bar to get the cached version of any URL.
How to Get a Cached Link With The Address Bar in Chrome
Step 1: Open the Chrome browser.
Step 2: Type "cache" in the address bar followed by the URL. For example, "cache:https://neilpatel.com"
Step 3: The cached version will load, and you'll have the same three version formats to choose from with the Google search method.
4. Use the Archive Today Web Cache Viewer
Wish you could travel back in time? Well, you can with Archive.Today.
The website is a time capsule for the internet. It takes a snapshot of a page and stores it forever, even if the original disappears.
The site saves text and graphics and will give you a link to the unalterable record of the web page.
The only catch?
You need to manually submit web pages and can only view entries that have previously been saved.
How to Get a Cached Page With Archive.Today
Step 1: Go to Archive.Today and scroll down to "I want to search the archive for saved snapshots."
Step 2: Enter the URL you want to search.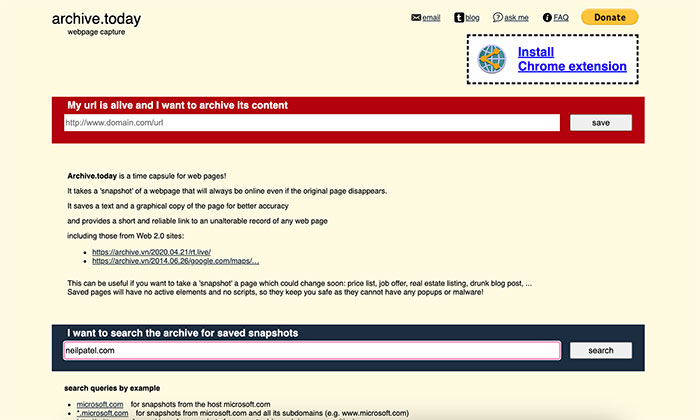 Step 3: A new page will load, and you'll see snapshots listed from oldest to newest. Click on the one you want to view.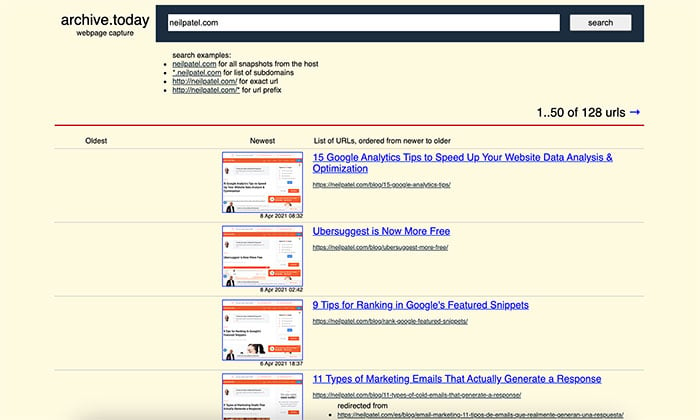 A secure, non-editable version of the page will load. You have the option to download the zip file, share the link, and view the webpage or screenshot.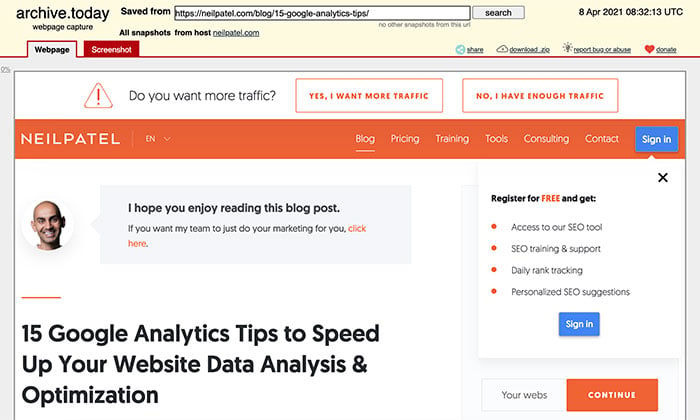 5. Use Wayback Machine's Desktop Web Cache Viewer
The Internet Archives runs the Wayback Machine. It's a non-profit building a digital library of the internet's history.
You can explore more than 553 billion cached web pages, and the site hosts an archive of text, video, audio, software, and images.
How to View a Cached Page With The Wayback Machine
Step 1: Go to Archive.org and enter the URL or keyword you want to view in the Wayback Machine search bar.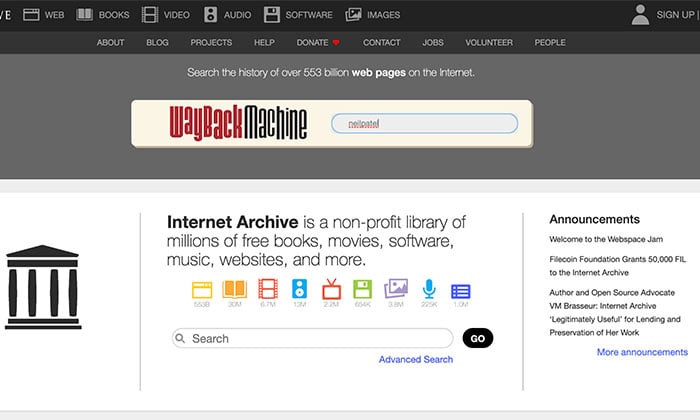 Step 2: A search results page will load. Click on the URL of the page you want to view.
Step 3: Use the calendar at the top of the page to see what the website looked like during a specific time period.
For example, if you search neilpatel.com, you can see what my blog was like in 2013!
Don't want to log onto the Wayback Machine every time you want to view a cached page? Download the Chrome extension.
If your site is not on the Wayback Machine, you can manually submit your URL, and it will automatically create a snapshot for you. This is useful if you want to track how your site evolves through the years.
6. Use Cached Page Web Cache Viewer
Cachedpage.co is a website that consolidates a few of the tools I've mentioned already.
Once you type the URL of the page you want to view, you have three options to choose from:
Google Web Cache
Internet Archive
Website
Select the one you want to use, and Cached Page will redirect you to those respective sites.
It doesn't do any caching itself, so this site is only useful if you want to save time hopping between caching tools.
Conclusion
As you can see, a web cache viewer is an important SEO and marketing tool to have in your online arsenal.
It can quickly help you find information removed from the internet, see how your site has changed over the years, and tell you if Google isn't indexing your site correctly.
While there are many tools available, remember to keep intent in mind. Do you only want to view the last cached version of a page, or do you need to go further back into time?
Your answer will help you find the right solution to your caching problem.
What's your favorite web cache viewer tool, and how to use it?
With over 55 million listeners, Amazon Music is one of the leading music streaming platforms out there. Wouldn't it be great if you could find a way to reach these subscribers and share your products with them.
Well, you can, and it's all thanks to Amazon audio ads. Through Amazon's free, ad-supported tier, you can create short, engaging audio ads to reach a whole new audience base. Let me walk you through how it works.
What Are Amazon Audio Ads?
Think of Amazon audio ads like radio ads.
They're commercials between 10 and 30 seconds long, and you can use them for any marketing campaign, from promoting brand awareness to hyping up a new product.
You don't need to sell products on Amazon to use this service, either, which makes it accessible for more businesses.
The ads themselves play between songs. You can't choose your slot preference, but there's great reach available anyway. Listeners can tune in through their Echo devices, or they'll hear your ad when they use the Amazon Music app on Android, FireTV, and iOS.
How much do these ads cost? Well, Amazon charges for audio ads on a cost-per-thousand-impressions (CPM) basis, so you pay each time a thousand people see your ad.
You need to spend at least $15,000 per month on Amazon audio ads to use the service. However, according to Amazon, the average minimum budget is about $25,000 per month, so you might want to bear this in mind.
Why Should You Use Amazon Audio Ads?
Audio ads are nothing new, but there are two main reasons why Amazon's audio ads may be worth a try.
First, think about the potential reach. The Amazon Echo is America's most popular smart speaker, for one thing, and as I've mentioned, there are over 55 million Amazon music subscribers and counting!
Secondly, ad-supported streaming subscriptions aren't going anywhere any time soon. According to Amazon, 68 percent of Americans rely on free streaming subscriptions, so there's surely an audience for your campaigns.
The best part, though? You're engaging with audiences in a creative, exciting new way. In a hugely competitive marketplace, Amazon audio ads may give you an edge over your rivals.
Who Should Use Amazon Audio Ads?
Can any business use Amazon audio ads? Sure.
Are these ads suitable for every business, though? No.
For starters, consider your budget. $15,000 per month is pretty steep, so small or niche businesses might find the cost isn't justified.
Next, think about your overall marketing strategy. Do you plan on using any other Amazon advertising product? The ads might work best when used alongside other Amazon marketing tools to build a stronger, more cohesive presence on the platform.
Finally, think about your brand. Although you don't need to sell through Amazon to create an ad, you might find Amazon audio ads make more sense if you're already an Amazon seller and want to direct people to buy from your store.
3 Steps to Set Up Amazon Audio Ads
Ready to try Amazon audio ads? Great! Let's break down the steps involved.
1. Understand Your Own Goals
Before you sign up, set out your goals. Why? Because it gives you some creative direction, which you'll need to write a great script and create compelling visuals to accompany it.
Remember, no two campaigns are alike. Be clear on what you need from your Amazon audio ad before you go live.
2. Contact an Amazon Ad Consultant
Next, reach out to an Amazon ad consultant. They can help you plan, optimize, and launch your audio ad campaigns based on your budget and marketing goals.
To get going, simply click the "Get Started" link on the audio ads page.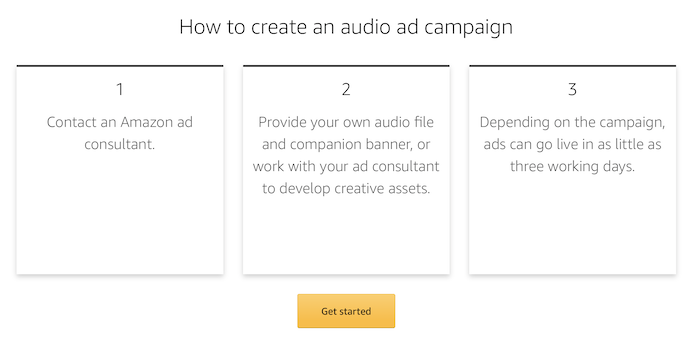 Select which country you want to advertise in and choose your monthly budget. Remember, if you want to spend less than $15,000 per month, you can't launch a custom audio ad campaign.
If you're OK with the budget requirements, input your company contact details and provide a summary of your marketing needs. A consultant will be in touch to discuss your campaign in more detail.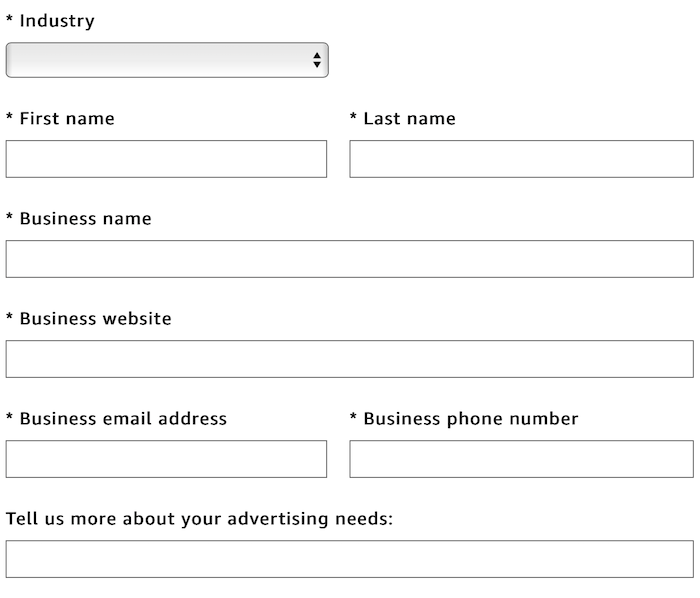 Even if you can't access Amazon audio ads for your marketing right now, there's always a chance that Amazon will introduce a more flexible pricing structure in the future.
3. Provide an Audio File and Companion Banner
Your Amazon audio ad needs both an audio file and a companion banner for when your ads run on devices like FireTV.
Audio File
The audio file contains the ad itself. Remember, it must be somewhere between 10 and 30 seconds long, and the file size can't exceed 1 MB.
In terms of format, you can submit either a WAV, OGG, or MP3 file, and the volume should be at least 192 kbps so it's easily audible.
To be clear, you shouldn't use suggestive, provocative, or offensive language. It must be suited for a general audience.
Companion Banner
Your companion banner (or graphic) shows up while the ad plays. Here are some guidelines for it:
The file must be a JPEG sized to 1024 x 1024 px.
It can't be more than 750 KB.
The headline can't be more than 19 characters. In other words, keep it short and sweet.
There are some visual guidelines, too.
For starters, you can't use style tools that make it look like any particular part of the ad is clickable. Here's an example from Amazon: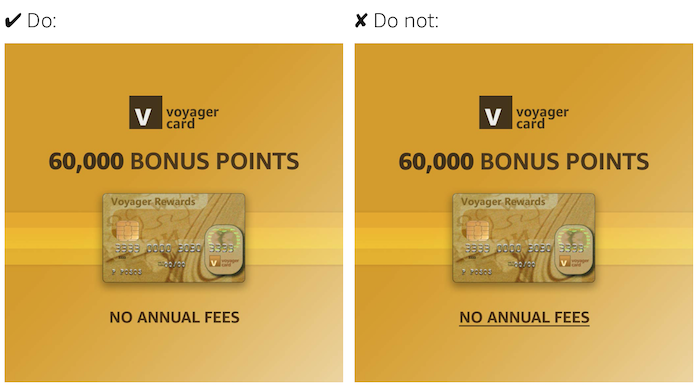 A banner along these lines may be more appropriate because there's nothing to suggest it's clickable:

You can also include a URL if you want, but it should be something compact so it doesn't take over the whole graphic. "Shop now at Amazon.com" or some variation of this is OK.
Finally, make sure the text is clear and legible.
Struggling to put a companion banner together? Don't worry. Your ad consultant can help you design it, and they'll offer feedback if something's not working.
Once you've submitted your banner and audio file to your consultant, your ad could go live within three working days.
How to Add a CTA to Your Amazon Audio Ads
A call to action (CTA) encourages people to do something after listening to your ad, such as buy your product. Unsurprisingly, every Amazon audio ad should have one! Where should your CTA go, though, and what should it include? Let's take a look.
First, since you want people to take action after hearing your ad, it's usually best to place your CTA at the end. Ensure you include your brand name and a specific action for people to take.
Next, keep your CTA short and specific. Don't leave listeners in any doubt over what they should do and how they can do it.
Finally, avoid using sound effects. You don't want to lose the message in your CTA behind a jingle!
Let's say your company's called Coffee King, and you want people to buy your new Regular Roast. Here are some CTAs you could use.
"To buy our Regular Roast, go to CoffeeKing.com."
"To start shopping, ask your device to search for Coffee King's Regular Roast."
Remember, if you don't ask a consumer to do something, how will they know what you want them to do?
6 Tips to Create Great Amazon Audio Ads
Remember, your audio ad can't be more than 30 seconds long, so every second counts. Here are some tips for making the most of the time you have.
1. Write a Great Script
OK, so there's an art to writing a great script. The good news? It's something you can learn. Here are some tips:
Use short and simple statements to make your point.
Ensure your language and tone resonates with your audience. For example, teens may not go for highly formal language, and so on.
Focus on one core concept per ad campaign. Don't confuse your listeners.
2. Promote the Product Benefits
What's so great about your product, and why should consumers buy it? Make this the focus of your ad. If you're running any promotions or exclusive offers, be sure to mention them, too.
You might want to avoid testimonials, though. Too many voices can muddle your recording and distract from your message.
3. Provide a High-Quality Recording
It sounds obvious, but ensure your recording sounds professional.
Speak in a crisp, clear voice.
Make sure the recording is free from interference.
Avoid talking too fast. You're trying to form a connection with your listener.
4. Avoid Sound Effects
Does your ad need dramatic sound effects like sirens or horns? Probably not. Jarring sounds can annoy your listener, which isn't great when you're trying to nurture them into buying your products.
If you really must use sound effects, use them sparingly, and only if they're necessary to drive your message home.
5. Use Smooth Transitions
Remember, your ad doesn't play in isolation. It's playing between songs or other audio ads. Don't begin with a long pause, and don't "apologize" for interrupting someone's music. Since you don't know when your ad will play, a statement like this could be irrelevant.
Avoid long fade-outs, too. Simply end with your CTA.
6. Spread a Consistent Brand Message
Consistency is key. According to Forbes, cross-platform consistency can boost your revenue by 23 percent.
The takeaway? Ensure you're using consistent language, visuals, and brand messaging across all your marketing campaigns. If your audio ad sounds off-brand, it could deter listeners from shopping with you.
How to Track the Success of Your Amazon Audio Ad Campaigns
Once your ad campaign is up and running, you need to monitor your key performance indicators (KPIs) to ensure it's working for you. For audio ads, here are the metrics you should track:
impressions: how many times the ad plays or people hear it
listen through rate (LTR): how many times someone listens through to the end
reach: who listens to your ad
purchase intent: how likely a customer is to buy your product after hearing the ad
Amazon offers tools to help you track these metrics, but you can also use your own tracking tools.
Examples of Great Amazon Audio Ads
Want to learn more about Amazon audio ads in action? Here are two great success stories to inspire you.
Samsung
Samsung, the tech industry giant, needed help marketing its Galaxy S10 Lite handset. They opted for audio ads to reach young listeners tuning in to Amazon Music.
According to stats compiled by Amazon, these audio ads generated a 64 percent increase in organic impressions for Samsung and an 18 percent jump in overall product awareness.
All in all, I call this a successful campaign.
Berocca
This brand took Amazon audio ads to a whole new level.
Berocca is a popular vitamin company with customers around the world. They wanted to identify new ways to reach their diverse audience base and sell their Berocca Boost tablets.
How did they achieve their goal? They used actionable audio ads powered by Amazon Alexa.
The ad includes a clear and effective CTA, inviting people to try Berocca Boost if they feel lethargic.
If interested, the listener gives the voice command to try Berocca Boost.
Listeners can then either hear more about the product or use another voice command to buy the energy tablets directly through the ad.
What's great about this campaign is how easy it is for listeners to engage with the audio ad and actually purchase the product.
Conclusion
Amazon audio ads can help you increase your reach, sell more products, and ultimately grow your business. They're simple to set up, and you can go live in as little as three working days.
That said, Amazon audio ads are not for everyone. If you're in any doubt as to whether this campaign's right for you or if you need help with audio marketing more generally, let me help you.
What do you think of Amazon audio ads? How are they helping your business?
Deepfakes are receiving a lot of bad press.
U.S. Sen. Marco Rubio (R-Fla.) called the technology a propaganda weapon.
Facebook's COO Sheryl Sandberg said deepfakes raise the issue of not believing what you see.
Investigative journalist Rana Ayyub was targeted with a deepfake pornography video to discredit and silence her.
With so much negativity around the tech, is there any chance of it bringing good into the world?
Yes! The possibilities when you combine AI technology with marketing are exciting and can change how we speak with our customers forever.
When used with positive intent, they are a potent marketing tool.
Below, I'm breaking down exactly what these videos are, the drawbacks of using them, and the different ways marketers are currently using deepfakes to create stronger campaigns.
What Are Deepfakes?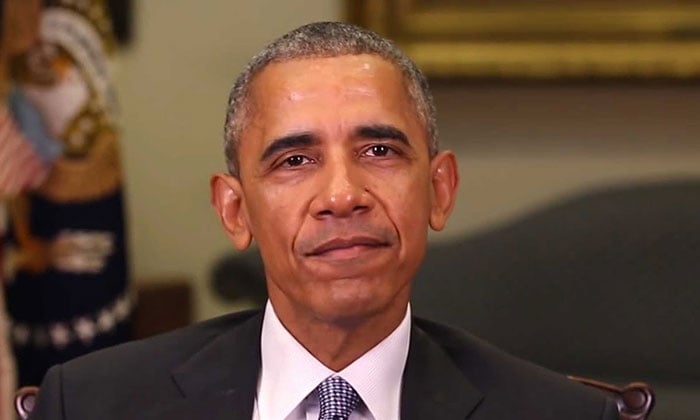 Have you seen a YouTube video of Barack Obama calling Donald Trump a "complete dipshit?" What about Jon Snow apologizing for the disastrous season finale of Game of Thrones?
If you answered yes, you've seen a deepfake video.
The term "deepfake" was coined in 2017 and is a combination of "deep learning" and "fakes." It uses deep learning technology (a branch of machine learning) to create the dupe.
Artificial Intelligence (AI) learns what the source face looks like at different angles and then superimposes it onto an actor's face, essentially creating a mask.
For example, let's say you have a database of audio clips or video files of a person. You could create a hyper-realistic fake video of celebrities discussing the future of cinema or revenge porn.
Hollywood has already taken advantage of deepfakes by transposing real faces onto other actors. The most notable example is bringing Carrie Fisher back to life for a short scene in Rogue One: A Star Wars Story.
While many fear the technology being used for nefarious ends (more on this below), deepfakes offer a range of intriguing possibilities. You can create apps to try a new hairstyle or use it to help doctors with medical diagnosis.
The Drawbacks of Using Deepfake Technology
With the rise of deepfake technology, it's not hard to understand why some people are skeptical and even terrified of it becoming widely adopted.
After all, the advances in this technology make it harder to distinguish what is real and fake.
It can lead to serious dangers like fake news, putting words in politicians' or celebrities' mouths, and ruining someone's life with fake pornography.
Lack of Trust
Deepfakes can breed a culture of mistrust and not knowing what to trust. If the president holds a press conference inciting violence, but it's a deepfake, how do you know what to believe?
For example, a deepfake of Mark Zuckerberg made the rounds on the internet. The video shows Facebook's CEO giving a speech about how the platform "owns" its users and crediting an organization called Spectre for Facebook's success.
Increase in Scams
Another con is the opportunity it provides for scammers. Audio deepfakes have already been used to defraud people out of money.
For example, a German energy firm's U.K. subsidiary paid nearly $243,000 into a Hungarian bank account after a scammer mimicked the German CEO's voice.
The core message for both examples is not knowing what is real.
Consumers are already doubting what they are reading online with social media sites like Facebook, Twitter, and Instagram, adding fact-checking processes to content. Deepfakes can create more distrust of everyone around us and make us question everything we are seeing and hearing.
7 Ways Marketers Can Use Deepfakes
With all the backlash and potential pitfalls of deepfake technology, can marketers use it for good?
The answer is yes!
Some of the world's biggest brands are already experimenting with deepfakes and using them to create unique and engaging content.
As long as you're transparent about using the technology, you can create a more dynamic consumer journey.
1. Dynamic Campaigns With Influencers to Increase Reach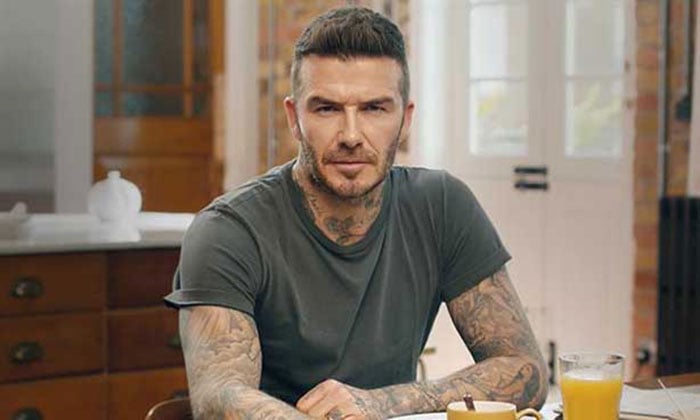 Imagine having an influencer agree to an ad campaign and only provide you with 20 minutes of audio content and a few video shots.
No lengthy photo shoot or filming days required.
Not only does it help you save time, but it opens the door to creating dynamic campaigns, a.k.a. microtargeted ads at scale.
Case in point: David Beckham's 2019 malaria awareness ad. The deepfake had the soccer star speaking in nine languages and is an excellent example of how this technology can increase a campaign's reach.
Translating an ad into multiple languages also allows brands to enter new markets seamlessly and speak to consumers in their native tongue while still benefiting from the influencer or celebrity's likeness.
2. Hyper-Personalized Campaigns for Your Audience
While some people want to ban deepfakes because of how they can be used to deceive people, it's a creative and groundbreaking technology for marketers when used for good.
If you're in the fashion industry, you could easily show models with different skin tones, heights, and weights.
With the average person seeing thousands of ads per day, using this tech to create psychological ownership and see the product as an extension of themselves is vital to cut through the noise.
It also helps marketers create hyper-personalized ads. The benefits of creating a shopping experience catered to multiple segments mean you can reap the rewards of personalized marketing.
3. Product Ownership to Increase Sales
Another way to create ownership with deepfakes is using the technology to create personalized videos of your clients using or wearing your products.
For example, Reface AI lets users virtually try on the new Gucci Ace sneaker as part of a virtual try-on haul. Users can browse through the footwear options and view it on foot by pointing the phone at their feet.
Savvy marketers know the likelihood of a sale increases if people feel like they own the product. It doubles down on the sensory experience where the longer someone spends looking and holding a product, the more likely they will buy it.
Deep learning can help stimulate the same experience with a deepfake of the customer behind the wheel of the latest BMW or a makeup look with the newest MAC eyeshadow palette.
4. Host Exhibitions and Events Anywhere in the World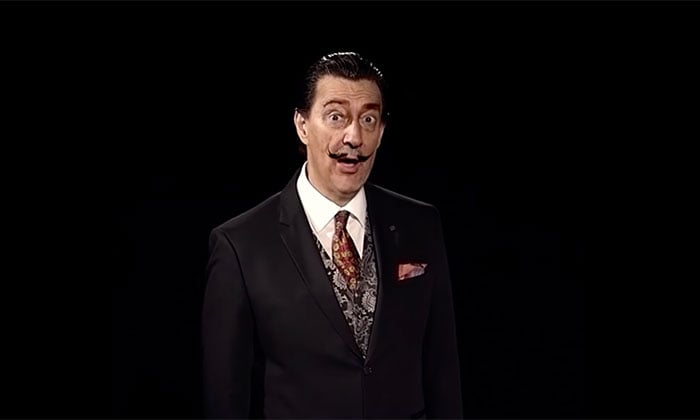 For the events and art industries, deepfakes open up a world of exciting possibilities. The technology can help you recreate objects or people anywhere in the world at the same time.
An example is the Dalí Museum in St. Petersburg, Fla., which uses a deepfake of Salvador Dalí to greet guests. It creates a more engaging experience for visitors and brings the surrealism master back to life.
Dalí's video was created by using over 6,000 frames of video footage from past interviews and 1,000 hours of machine learning to overlay it onto an actor's face. What makes the deepfake even more impressive is that Dalí is interactive. The video has more than 190,000 possible combinations depending on a person's answers.
While we already have holographic concerts for iconic musicians like Michael Jackson, deepfakes would create a more hyper-real experience for attendees. Art exhibitions can use the technology to display artworks around the world simultaneously.
Marketers can take it one step further and create deepfakes of products prelaunch (like the new iPhone) to generate buzz and create an interactive Steve Jobs to answer questions about the latest device.
5. Use Deepfakes to Entertain Your Audience
Marketers can use deep learning to create ad campaigns we would have never been able to do 20 years ago.
State Farm is leading the pack with its ad for The Last Dance, an ESPN documentary on Michael Jordan and the Chicago Bulls.
Using deepfake technology, State Farm superimposed 1998 SportsCenter footage to make it look like Kenny Mayne predicted the documentary.
The ad's success led to a follow-up ad with Keith Olbermann and Linda Cohn "predicting" Phil Jackson's success when he left Chicago to lead the Lakers.
These deepfakes serve to purely delight audiences and create a viral piece of content for the brand.
6. Market Segmentation and Personalization
One of the most successful deepfake examples using market segmentation is the 2018 Zalando campaign with Cara Delevingne.
The campaign's concept was to create awareness around Zalando now delivering Top Shop fashion to people in the most remote parts of Europe.
With a single video shoot, they created 60,000 bespoke video messages for every tiny town and village in Europe using deepfake technology to produce alternative shots and voice fonts. Then using Facebook's ad targeting, they showed users the specific video which mentioned their hometown.
The campaign received more than 180 million impressions, and Top Shop sales increased by 54 percent.
This can help marketers eliminate further customer generalizations or affinity grouping and create content that speaks to people on a more individual level.
7. Educating Consumers With Deepfakes
Do you have a product with a learning curve? You can use deepfake technology to educate your customers on how to use it and improve their skills.
For example, if you're a camera brand like Canon, you can use an AI instructor to help novice photographers learn faster. The technology can point out compositional mistakes, advise on camera settings, and help them slowly master their device.
At trade shows, you could have potential customers practice taking photos, learning from the AI, or testing their skills against the deepfake. It can help create an interactive experience, put the product in the person's hands, and start building brand loyalty.
Conclusion
Of course, there's always going to be a few bad apples. While some people are causing mayhem with deepfakes, there are plenty of golden opportunities for marketers.
This technology allows you to create hyper-personalization, duplicate your marketing efforts instantly, increase brand loyalty, and use product ownership to increase sales.
What are your thoughts on using deepfakes in marketing? Do you think its potential to do good outweighs the bad?
If a company counted roughly half of the U.S. population as customers, you'd be pretty eager to use that platform to advertise your business, right?
Well, that's exactly what Walmart Marketplace allows you to do. It gives you the ability to reach a huge market of highly targeted, engaged consumers, so why doesn't it get as much attention as other platforms such as Amazon?
If you're not on Walmart Marketplace already, then chances are you should be. Here's how you can use advertising to get the most out of it.
What Is Walmart Marketplace?
Walmart Marketplace is where third-party sellers can upload, manage, and sell their products on Walmart's website.
As the largest retailer in the world, it was only a matter of time before Walmart started to flex its muscles in e-commerce, and in recent years, it's seen tremendous growth thanks in part to Walmart Marketplace. With a large audience and millions of engaged shoppers, Walmart Marketplace could be a necessity for any online retailer in the same way that Amazon is.
Getting your products on Walmart Marketplace is a great step to take, but to maximize your sales, you should consider how you advertise. Marketplace offers lots of useful ways to reach your target customer, and you may find they can provide a very good return on ad spend (ROAS.)
Why You Should Advertise on Walmart Marketplace
Understanding your customers is the only marketing strategy you need. A big part of this is reaching your customers where they hang out. For 150 million Americans a week, that's at Walmart.
The stats behind Walmart are significant, and just by looking at the numbers, you can get a sense of why it's important to be on Walmart Marketplace:
the largest retailer in the United States
90 percent of Americans shopped at Walmart in the past year
150 million customers visit Walmart in-store or online each week
90 percent of Americans live less than 10 miles away from a Walmart store
Walmart isn't just about its physical stores, though. It's also got a large e-commerce presence, and many of its shoppers are engaging with it. The buyer journey is truly omnichannel in the modern world, with 35 percent of Walmart shoppers researching products on Walmart.com before they go to a physical store.
Amazon might have a bigger profile in the online world, but this doesn't mean Walmart Marketplace is some hidden gem where you can achieve easy success. There's a huge amount of competition on Marketplace, and while growing your profile organically is important, you've also got to make the most of the advertising options available to you.
These options may look very similar to other large online marketplaces, but there are some unique features on Walmart Marketplace you can use to your advantage.
Walmart Marketplace Features
In recent years, Walmart Marketplace has been rapidly growing and improving the seller experience. If you're familiar with Amazon Seller Central, then you will notice a lot of similarities, but some features differ slightly.
On Walmart Marketplace, you can:
upload your products
optimize your listings
choose your pricing
decide on your fulfillment method
assess your advertising
Every step in this process is important, so your Marketplace account is a key place you will visit regularly. Small details make a big difference when it comes to selling online, so it's important you write great product descriptions, choose the right price points (Walmart is quite sensitive about this, so be sure to read all the terms and conditions), and come up with an effective fulfillment plan.
Like with Amazon, you can send your products to a Walmart fulfillment center, but this feature works very differently, with sellers having a lot more control over the shipping process.
To get the most out of these features, you must understand your own business well and create a business plan for how you're going to maximize your sales on Walmart Marketplace.
Walmart Advertising: Sponsored Products
Advertising isn't one-size-fits-all. People go through a complicated customer journey when buying your products, so you need to be able to reach them in a variety of different ways.
Walmart advertising is particularly good at this, offering advertisers many different tools to help them reach their target audience.
With six different ad types, it allows you to reach customers at the awareness, consideration, and decision stages of the buyer process, establishing your brand in people's minds and driving sales.
To set up each type of ad, simply:
Log in to your Walmart Ad Center account.
Select "Create New Campaign" from the "Campaigns" tab.
Choose manual or automatic targeting.
Set your budget.
Choose your placement type (if you selected manual targeting).
Select bid multipliers (this gives you extra control over which ad formats you use).
Create an ad group and add the products you want to advertise.
Enter your keywords (for manual campaigns only; if you choose automatic, Walmart will do this for you).
Walmart Advertising Ad Type 1: Search In Grid
When we think of search engines, we think of Google, Bing, and Duck Duck Go. We don't think of social media platforms or big e-commerce platforms like Walmart Marketplace or Amazon.
That's exactly what these platforms are, though. They're search engines that allow people to find and buy products. This means the types of Walmart advertising you use probably look very similar to the PPC ads you run on Google.
Search in grid Walmart ads allow your products to be featured when a customer types a certain query into the search bar. For example, if your keyword is "nuts," your product will show in the search grid when people type that query.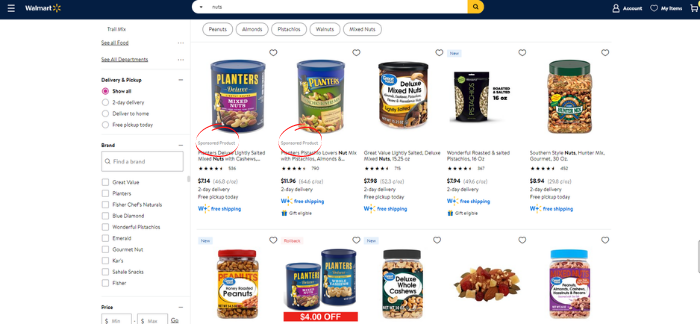 Like with traditional search engines, it takes time to build your organic presence on Marketplace, so search in grid Walmart advertising gives you the ability to feature at the top of the results more quickly.
To set one of these ads, your products must fulfill several requirements:
be in stock
win the buy box
be in the top 128 organic search results (top 3 pages)
same category as the search query
same product type as at least one top 20 organic result
Once you meet all these requirements, then search in grid ads are an ideal way to get your products in front of your target audience.
Walmart Advertising Ad Type 2: Brand Amplifier
Whereas search in grid ads are all about getting a certain product in front of your audience, brand amplifier ads are about showcasing your brand.
You might have a whole range of exciting products that people want to try, and in this case, a brand amplifier may be the right form of Walmart advertising for you. Rather than your product appearing in the search results, a brand amplifier shows a banner with your brand name and a selection of your products above the results.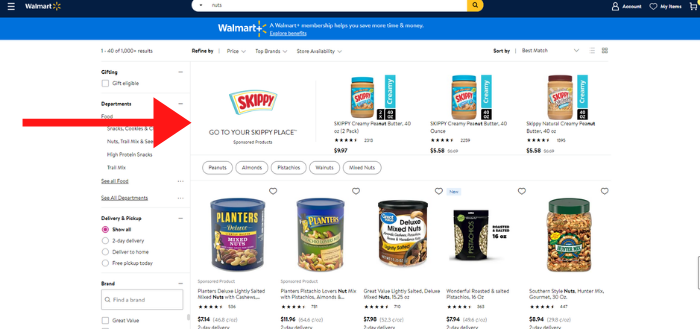 This is a great way to boost brand recognition and get people to engage with your products.
With an eye-catching logo, a customizable headline, and up to three of your products shown, this can help you grab people's attention and encourage them to explore your brand further.
Walmart Advertising Ad Type 3: Product Carousel
Sometimes people shop online and know exactly what they want, but in many cases, they want to compare products to find the best one. To help people do this, Walmart places product carousels that show customers different product options on search, category, and product pages.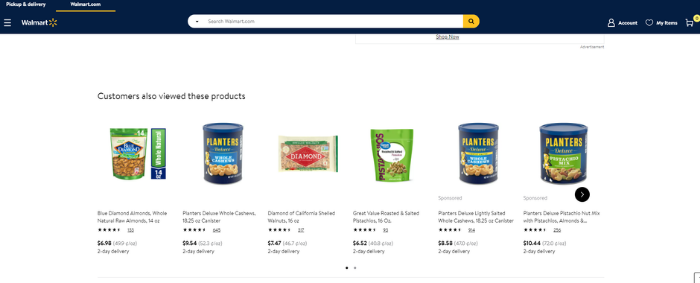 Some of the results on the product carousel appear organically, but some are paid ads.
This is another opportunity to reach a targeted audience with your products. If someone is already looking at a product page and comparing their options, chances are they're motivated to buy, and this is an excellent time to bring them to your product pages.
Walmart Advertising Ad Type 4: Buy Box
These different forms of Walmart advertising might seem very similar, but they each have their benefits. Another great option is the Buy Box.
The Buy Box appears on product pages and offers your product as an alternative to the one they're looking at, which makes it a great place for your product to appear. If the customer has any issues with the product they're considering, then the next option they're presented with is to check out your product.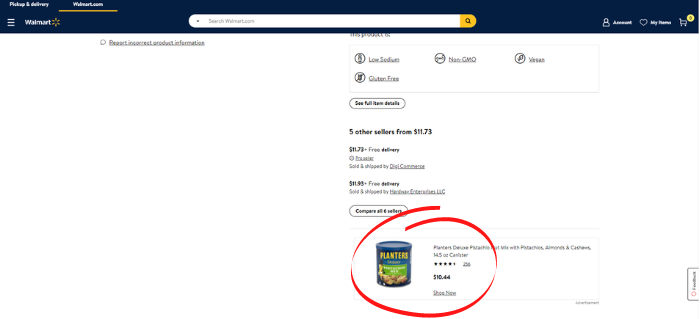 With the Buy Box, customers can quickly compare two products, so it's a perfect place for your ad to appear. It puts your product in the mind of the buyer and establishes it as a viable alternative.
Getting your product noticed at this late stage in the buyer's journey is a great tool to have.
Walmart Advertising Display Ads
Walmart advertising isn't limited to result-based product ads; it also offers options for more content-based advertising through its display ads.
Just as Google allows advertisers to display ads that pop up on websites across the internet, Walmart offers a similar feature. They allow you to reach customers at many different stages of the customer journey, whether they're on Walmart-owned properties or third-party websites.
Walmart Display Ad Type 1: Onsite Display
Onsite display ads are content-based ads that allow you to advertise across all of Walmart's platforms, including Walmart.com and Walmart apps.
Display ads are prominent features across the web, and they're a chance to grab people's attention and earn their clicks. To do this, you've got to be creative with your ads, and it's no different on Walmart.
One advantage you have with Walmart is that you benefit from the huge amount of data it has on people's shopping habits. This enables you to choose your ideal Walmart customer to target and make sure you're getting your ads in front of the right people.
With onsite display, your ads become truly omnichannel, reaching people however they interact with Walmart and allowing you to see your results all in one place.
Walmart Display Ad Type 2: Offsite Display
Just because someone has clicked away from your product page doesn't mean they won't purchase in the future.
They may have been doing some initial research and are thinking about coming back to your product later. When someone leaves your product page, you want to make sure your brand remains fresh in their mind.
Offsite display ads can be the perfect way to make sure people don't forget about your products.
Through retargeting, you can reach targeted Walmart customers across the internet. These display ads can show on social media platforms and third-party websites, making sure your product stays in the mind of your audience, and they're able to quickly go back and make a purchase.
Retargeting can be an extremely efficient use of your budget if you're using the right strategies, and Walmart gives you all the tools you need to do this.
Conclusion
To succeed in marketing, you need to make sure you're advertising on the platforms your customers are using. For 150 million Americans, Walmart is that platform. Of course, to make the most of your audience, you also need the right tools. With a rapidly growing online presence, that's precisely what Walmart can offer you.
Boosting your organic presence is a crucial part of being on any marketplace, but Walmart advertising also offers you an excellent platform to sell more products. If you can be targeted and creative with your use of Walmart advertising, you could expand your reach and boost sales quickly.
As ever with advertising, it's about finding the strategies that work best for you, and Walmart gives you more than enough tools to do this. Your customers are spending money at Walmart every week, so when are you going to start taking a piece of the pie?
Have you advertised on Walmart Marketplace? What was your experience?
Annually, 59 million Americans take on freelance projects, making up 36 percent of the workforce.
This trend shows no signs of stopping.
73 percent of hiring managers plan to continue or boost their reliance on freelancers.
Historically, freelancers have had a number of platforms to connect with potential employers, including Upwork and Fiverr.
As the demand for freelance work increases, it stands to reason that the number of platforms mirrors this growth.
What Is LinkedIn Marketplace?
Given this new dependency on freelance laborers, it makes sense that LinkedIn, the most successful professional social networking site, would set its sights on creating a marketplace that allows freelancers to connect with companies searching for contract talent.
While LinkedIn is no stranger to connecting individuals with available job openings, LinkedIn Marketplace aims to connect freelancers with contract opportunities.
Work on this initiative allegedly began in October of 2019, with a tentative launch date of September 2021.
While the social media giant has made no official announcement of this marketplace, indications of its development aren't scarce.
In fact, a spokesperson recently commented in Fortune:
In the future, we'll be building new ways to share more about the services you [could] offer directly through your LinkedIn profile.
With the looming advent of LinkedIn Marketplace, LinkedIn is now in direct competition with both Upwork and Fiverr, publicly-traded online freelance job boards.
Marketplace is anticipated to have similar features of both competitors, but with a LinkedIn spin: Businesses can both seek out freelancers, compare rates, and share posts for freelancers to respond to. Post-project, businesses can leave reviews about individual freelancers.
How Does LinkedIn Marketplace Work?
While LinkedIn Marketplace is still in development, we know a few key factors that will be helpful as you gear up your strategy for the new platform.
The platform will focus on work like consulting, writing, marketing, and graphic design.
The platform will be similar to Fiverr and Upwork, platforms that host freelance work and take a cut of each job.
It will support payment via a digital wallet offered by Microsoft.
The digital wallet will expand LinkedIn's paid content Network.
LinkedIn Marketplace will mimic much of LinkedIn ProFinder.
While we assume much of the functionality will be similar to that of its predecessor, ProFinder, with its upcoming release, the defining details of LinkedIn Marketplace have yet to be identified.
LinkedIn Marketplace vs LinkedIn ProFinder
Marketplace isn't LinkedIn's first foray into the freelance marketplace.
LinkedIn ProFinder allows users to search for suitable applicants for jobs. On the other side of the coin, ProFinder enables users to advertise their services to businesses and share that they are "open for business."
Marketplace will build on this functionality, allowing businesses to compare freelance rates and post reviews, as well as make connections and deals on the platform.
This expanded functionality grows opportunities for the platform's hundreds of millions of users while simultaneously increasing advertising opportunities for freelancers by providing them with paid options to promote their experience and offerings on the marketplace.
How to Prepare For LinkedIn Marketplace
Whether you're looking to expand your portfolio or are a first-time freelancer, we want to help you succeed in the newest marketplace for contract workers.
Below, we break down four steps to ensuring that you're set up for success in LinkedIn Marketplace.
1. Create a Portfolio of Work
While your resume talks, a tangible work portfolio shouts. If you don't have a highlight reel of your greatest projects, now is a great time to gather those documents. Whether you're a graphic designer or a writer, having tangible assets go a long way in the digital freelance marketplace.
Here are three tips for making your portfolio stand out from the crowd.
Put your best work forward: When selecting the work to include in your portfolio, you might be inclined to include every project you're ever worked on. Don't do this. Somewhere between seven and 10 examples is the sweet spot for your portfolio.
It's all in the details: Include a detailed caption with every piece you include in your portfolio. This should include:

positive outcomes
your role
brief description of scope
client name and industry

User experience: Wouldn't it be nice if your standard cover letter was appropriate for all potential employers? Same thing goes for your digital portfolio; tailor content to each individual job posting to create the most streamlined user experience.
While these tips are perfect for a freelancer looking to build a portfolio, for those looking to revitalize or reimagine an existing portfolio, we suggest:
Rearrange: Without adding any new content to your existing portfolio, you can give your portfolio a new lease on life by rearranging order of samples. See if you can tell a new narrative with a different beginning and ending.
Reduce: Does your portfolio feel a little on the hefty side? Reduce it by 10 to 20 percent for a leaner, meaner representation of your work.
Quotes: Have glowing reviews about your work or the success of a project? Add these testimonials to your portfolio pages to set yourself apart from the crowd.
2. Set Competitive Prices
If you're just starting out, setting a rate for your freelance work can feel overwhelming. Are you charging too much or too little?
However, with these four steps, you can set a rate that works for your wallet and your work.
How much money do you want to make? By establishing your desired annual income, you can guide your freelance fee to fit within this parameter.
Business costs: Freelancers need to prepare for the cost of doing business. You should not only account for things like laptops and software, but also health insurance and taxes, both of which can be exceedingly expensive.
Working hours: Don't forget to consider time off and sick days when calculating your rates.
Value of your Work: Your work is valuable; don't forget that. If you've gone through the above steps, calculated expenses and time off, and your hourly rate still comes in well under industry standards, you need to reassess how much value you're affording your work.
3. Optimize Your Website
When potential employers view your LinkedIn Marketplace profile, it's unlikely they'll stop there. To ensure you're best-positioned to score that high-paying freelancing gig, be sure to optimize your personal website.
While there are many ways you can improve your existing content, copy, and images, here are our 10 tips for making your website as appealing to potential employers as possible:
Create a headline that lets visitors know what you're about as soon as they land on your site.
Include a photo of yourself so visitors see you as a real person, rather than a resume in a pile.
Start a blog to showcase your varied strengths and industry awareness.
Use strategic keywords in copy and your accompanying blog posts.
Conduct A/B tests on all elements of your pages.
Eliminate complex paths by ensuring visitors can get to their desired location in three clicks or less.
Keep your design elements consistent.
Include client testimonials.
Post your rates.
Showcase your personality in your website copy.
While optimizing your personal website is an ongoing process, starting with these tips, can build a strong foundation that you can iterate on as you grow your portfolio and your voice as a freelancer.
4. Market Yourself
You can earn some bonus client quotes and testimonials by marketing yourself.
These tips can help you score jobs and gain references that will boost your credibility when it's time to build your LinkedIn Marketplace profile.
Social Media
Just because LinkedIn's new platform isn't up and running doesn't mean you can't use other social channels to connect. Consider making how-to videos or sharing tips of your trade to increase your followers, and close any information gaps within your industry.
While this may not directly lead to paid gigs, this strategy can increase your exposure and grow your audience, completing an important step for increasing your reach.
Ask
Have you worked for a company that was exceedingly pleased with your work? Ask them if they have any other projects you can undertake.
See a company desperately in need of your skill set? Reach out. The worst response will be a simple "No, thank you."
Affiliate Marketing
Are you a graphic designer and your friend is a writer and she's freelancing for a company in need of design work? Perfect. Take this same approach with other freelancers and monetize the outcome through an affiliate marketing strategy: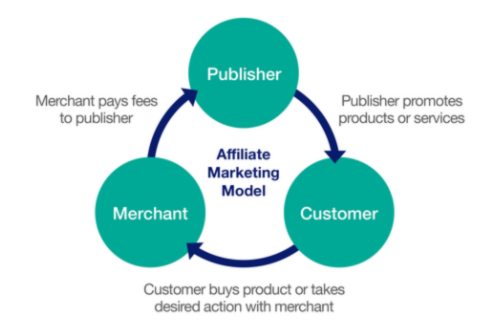 Conclusion
Whether you're a professional freelancer or just getting started, LinkedIn Marketplace offers new opportunities for nontraditional workers to connect with potential clients.
As you take advantage of LinkedIn Marketplace, remember to take all the necessary steps to stand out from the crowd. Be sure to update your portfolio, optimize your website (without over-optimizing), and gather as many client testimonials as you can.
Don't forget to continue traditional self-marketing activities to acquire clients in the interim.
By preparing your freelance business for this new platform, you are exponentially more likely to find success on LinkedIn Marketplace.
What's your best strategy for scoring freelance work?
The growth in podcasts is significant for listeners looking for a show that appeals to their individual interests. Plus, it's great for marketers and business owners looking for new platforms to advertise on and new audiences to reach.
While you won't find any lack of podcasts, the sheer volume out there makes it time-consuming to slim down your choices and find appealing podcasts.
In this guide, we explore both how to find podcasts as well as how to get your own podcast discovered.
How to Find Podcasts That Interest You
If you're overwhelmed by the number of podcasts out there, it's not surprising. How many podcasts are there exactly? The latest research shows there are over 47 million episodes available, and the number is growing.
As an article on Pacific Content states, there are "Too many podcasts. Not enough time."
Keeping up with new episodes and freshly-launched podcasts are tough enough, and that's before finding time to read the backlog of podcasts we've got lined up.
Even if we don't listen to a podcast, 75 percent of U.S. adults are at least aware of them, and with mobile devices, I think it's safe to assume this number will keep growing.
With so many podcasts available, how do you find the ones you want to listen to?
1: How to Find Podcasts by Performing a Discovery Google Search
The quickest and easiest way to find podcasts is Google. Just choose your niche, and type in "business podcasts," "health podcasts," "relationship podcasts," or whichever topic interests you the most. Google isn't your only choice, though.
2: How to Find Podcasts Using the Search Bar in the Main Podcast Host Sites
There's no shortage of podcast hosting sites. With a quick search on Google, you'll find:
Buzzsprout
Podbean
Anchor
Riverside
Spreaker
There isn't space to talk you through all of them, so I'll use Spreaker as an example.
On Spreaker, go to the "listen" option at the top of the page and click. You'll then get a list of subheads, including "staff picks," "crime," and "featured," where you'll find plenty of podcasts to browse through.
3: How to Find Podcasts Using New and Emerging Podcast Discovery Tools
Regular podcast listeners may well be familiar with some of the newer discovery tools. These tools take the effort out of finding podcasts.
Below, I will outline some of the most prominent tools, explain how to use them, their advantages, and their main features, starting with Listen Notes.
Listen Notes
If you're trying to find a podcast, Listen Notes calls itself "the best podcast search engine," but it does a lot more than purely serve as a discovery tool.
To give you a better idea, you could:
spot cross-promotion opportunities with other podcasters and use them for networking
build podcast apps with Listen Notes API
find information about topics for content ideas
The site is packed with features, too:
"listen later," where you create your playlists
a "submit your podcast" option
a discover tab for finding new podcasts
the podcast academy, which provides tutorials and articles
hot, best, curated, and "find similar podcasts" search functions
classified ads, where you'll find guest spots and cross-promotion opportunities
Listennotes.com takes you straight to the main search engine, so you can just type in "business growth" or "digital marketing," or whatever interests you. Doing this will bring up a list of podcasts so you can dive in and see which ones appeal to you most.
It's also worth typing in "trending" to see what's happening and what's capturing other users' imaginations.
Another way to find podcasts is to go to the "discover" link at the top of the page. Here, you'll find a drop-down list to select from.
Listen Notes is free, but you can sign up for a paid membership to access the "super" search engine and other features.
The site's main advantages are its ease of use and navigation, and if you're just looking for podcasts in your niche, you shouldn't find any real disadvantages.
Pod Hunt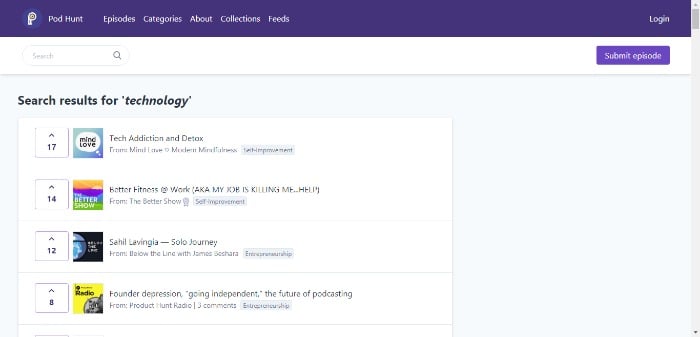 Pod Hunt promises "the best podcasts daily." When you visit the site, you'll go straight to the main search engine, where you can start your search.
In the example above, the search term is "technolog." Once you've got a list of podcasts, you can click through to whichever one grabs your attention.
Along the top of the page, you'll also find:
episodes, for a list of recent episodes
categories, which show an extensive range of A-Z topics
collections, where you'll discover curated podcasts
feeds, where you can find the top podcast episodes
You can also sign up for the site's newsletter or submit an episode from the main search engine page.
You might find Pod Hunt is not quite as sophisticated as Listen Notes, and there are fewer features. However, it's a good site if you want to do a quick search.
Podchaser
Podchaser lets you find podcasts, curated lists, ratings, reviews, and guest appearances. The search page brings up a list of the latest episodes, or you can use the white search box at the top of the page to find podcasts in your preferred niche.
The right side of the page shows you the most popular categories, where you'll find easy access to business, comedy, true crime, and news podcasts, among others. You'll also find trending creators with well-known names like Barack Obama, Trevor Noah, and Joe Rogan.
It's free, but if you want to "supercharge your broadcast planning and outreach," you can request further details.
There are no apparent drawbacks. It's a simply structured, easy-to-use search site.
Spreaker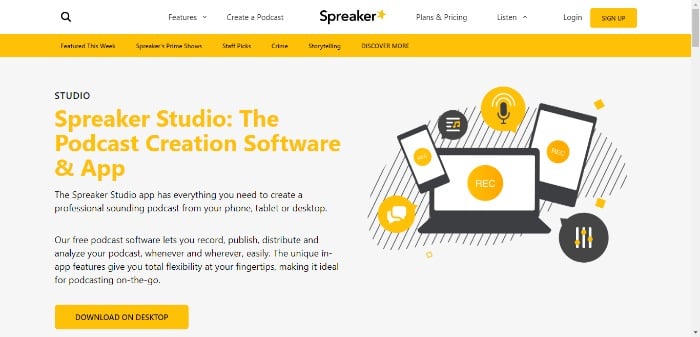 Spreaker is podcast creation software and app. It organizes, curates, and delivers content through live audio feeds, simplifying everything and making it straightforward to find podcasts and import your podcast library.
Spreaker is also favorable to creators by using RSS feeds for direct distribution and monetization. It's compatible with the iPhone and the iPad, and you just need to download the app to begin.
Its key features include:
short-form audio highlights, enabling you to find podcasts of interest for you
a personalized audio feed, which features recommendations
a live playlist showing you the latest content
nine categories, including "true crime" and "self-improvement"
The app's biggest advantages are the time it saves looking for the content you want and how easy it is to find podcasts.
Castro
Castro is another podcast app you can download from the Apple App Store. It provides a single playlist known as the "Queue."
Through Castro, you can manage large numbers of podcasts and choose whether you want to listen to the podcasts straight away or if you want them sent to your inbox for later.
Main features include:
enhanced audio options
push notifications for immediate listening
customized playback speeds and reduced listening times
podcast sharing
To use it, just download the app for free, or pay $18.99 a year to unlock advanced features.
Podible
Podible promises "more time listening and less time digging." Download the free app from the iTunes store, and you'll find podcasts and discover similar shows.
Other features include:
listening to classics
podcast recommendations
playlist creation
Using the app needs little description: Just install it, and you'll soon find your way around.
The most significant advantage is the ease of finding podcasts that match your niche, and it gets positive feedback for its user interface.
The recommendations feature needs some work on the downside, and it's been some time since Podible has updated its social media content.
4: How to Find Podcasts Using Niche Podcast Discovery Apps
Another way to find podcasts is through niche apps. These further refine your search by narrowing it down to niche topics it's true crime, business, comedy, or tech.
These apps are growing in popularity due to their time-saving abilities. To give you an idea of what's offered, I've highlighted a few below.
Laughable
You've probably guessed the Laughable app is the place to go to find comedy shows, but it acts as a gateway to other genres as well. For example, you can discover Oprah's and Barack Obama's podcast through the app.
It's regularly updated, so there's always fresh podcast content available. Other features worth exploring are:
curated episodes and download options for offline listening
finding comedians when they're hosting or appearing as a guest.
different playback speeds and the "subscribe" button for listening to actors, musicians, and athletes
Laughable is extremely popular and often rated among the best. Its top feature is the easy search function, where you'll find podcasts, episodes, and series.
As for negatives, some users would like to see a playlist, and a reviewer felt downloading podcasts was more complicated than necessary.
Pinna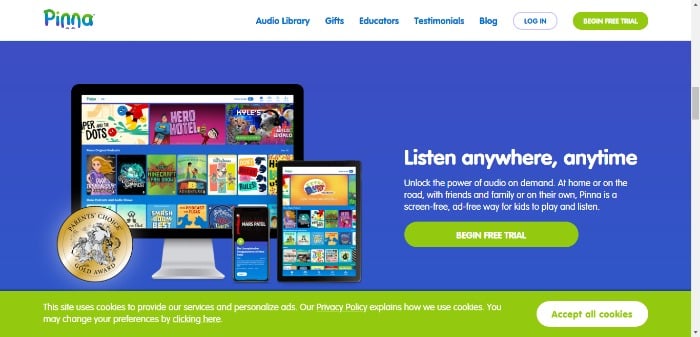 On Pinna, you'll find a host of resources to keep children entertained. Pinna doesn't just limit its content to apps. It's an ad-free service that offers audiobooks and music.
A yearly fee gives you yearlong access to the shows, and Pinna provides a month's free trial to begin with.
Once you get on the Pinna website, choose the subheading that most interests you and get exploring.
You'll find shows like:
Hero Hotel
The Totally Unauthorized Minecraft Fan Show
Opal Watson: Private Eye
Click on whichever show grabs your attention or your child's imagination, and sign up for the free trial to start listening.
They have various categories of content for different age groups, where you'll find:
bedtime stories
car trip stories
play along with content
learning content
Leela Kids
Leela Kids searches the internet for audio content suitable for children. You can download the app from the App Store or Google Play, and there are three steps to accessing content:
Choose the age group and area of interest.
Check through the results to find suitable content.
Then, click and listen.
You can also opt into emails to get recommendations a couple of times a month.
Like other niche-specific sites, Leela Kids takes the effort to find podcasts online, and its ease of use is by far its biggest advantage.
How to Get Your Podcast Discovered
Maybe you're a podcaster trying to get your show discovered, or perhaps you're just thinking about starting one up, and you want to make it easier for others to find your podcast.
It might seem intimidating if you're not sure where to start, but don't worry. These next steps will help you promote your show.
Use keywords: You use SEO to get your other content discovered, and there's no reason you shouldn't make your podcasts SEO-friendly as well. You can research keywords with free tools like Ubersuggest, the Ubersuggest Chrome Extension, or Google Keyword planner.
When you've got your list of keywords ready, include them in titles and descriptions and add them to podcast directories for organic traffic.
Get social: That doesn't mean just using prominent platforms like Facebook and Twitter. Instead, take advantage of the networking opportunities you'll find on podcast directories.
Some directories listed in the article have a networking section so you can build relationships with fellow podcasters and get the word out.
Use your mailing list: Existing marketers have a ready audience thanks to their mailing lists. Share snippets and links in your newsletters and other marketing materials to help them find your podcasts.
Start marketing: Don't just use your existing customer base. Start marketing to a broader audience. Finding guest post opportunities, issuing press releases when you're doing something newsworthy, and writing guest blogs for your niche are a few ways you can spread the word.
Repurpose your content: The more places you share your podcast content, the better chance people will find the content you've created. For example, you could:
share part of a transcript in your newsletter with a link to the whole show
create short YouTube videos or get your podcast listed on apps
make an infographic or meme to share on social media
Conclusion
Podcasts are growing in popularity, and successful shows like the Marketing School give absorbable content for listeners on the move.
However, the sheer volume of podcasts can sometimes make it hard to find the podcasts you're searching for, which is where podcast directories and niche apps come in; they simplify your search to make it easier to find podcasts that match your interests. You can use similar methods to get your own podcast discovered.
If you want to advertise on podcasts or make one of your own but aren't sure how. to get started, reach out to our agency. We can help!
Do you listen to podcasts? How do you find podcasts that capture your attention? Tell us below.
When you think of SEO, you probably think of Google.
It's easy to understand why–Google is the most powerful search engine, period.
However, Google isn't the only search engine, not by a long shot.
I'll even go on record saying that some search engines can be more powerful than Google. (Gasp!) Not as big, no. Not as popular. But if you tap into other search engines, you can boost your search presence and conversions.
Here's the thing: less popular search engines fill specific roles. For example, if you do Bing SEO, you can reach an audience you can't reach on Google.
If you ignore other search engines, you're doing your business a disservice.
Today, I want to talk about YouTube, and more specifically, YouTube SEO.
It might seem weird to think of YouTube as a search engine, but that's exactly what it is.
Specifically, it's a search engine for videos.
The entire site is driven by a search bar that's smack dab in the middle of the page. It's similar to Google's video search results.
Because YouTube is its own search engine, it has its own SEO best practices.
Just like you want to get your site high up on the SERPs, you want to get your videos high up on the YouTube SERPs.
YouTube SEO is a bit different from regular SEO, and it might take a little while to get used to.
To help make it easy for you, I've created a list of techniques that will provide you with the visibility you need on YouTube.
1. Find Video Keywords to Improve YouTube SEO
Keywords for YouTube are a bit different from keywords that appear on search engines like Google or Bing.
For example, you'll often see YouTube keywords that start with "how to."
Brian Dean recommends using Google to search for different keywords in your niche. Then, see if any keywords bring up video results.
For example, if you search for "how to make apple pie," you'll see a ton of video results, and at least one is from YouTube.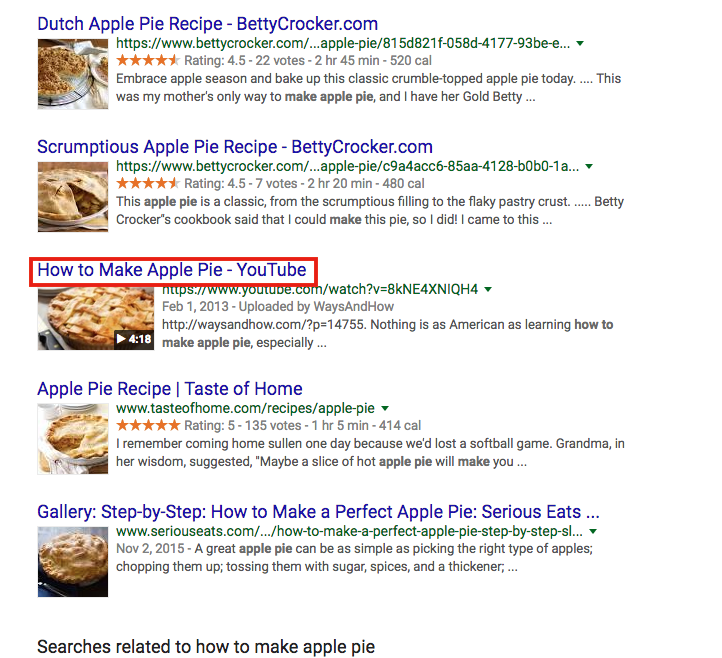 You can use Ubersuggest to check how many monthly searches those keywords get.
Step #1: Enter Your Keyword and Click Search

Step #2: Click Keyword Ideas in the Left Sidebar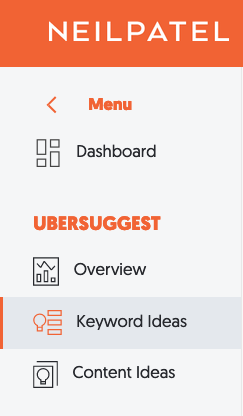 Step #3: Review Keyword Results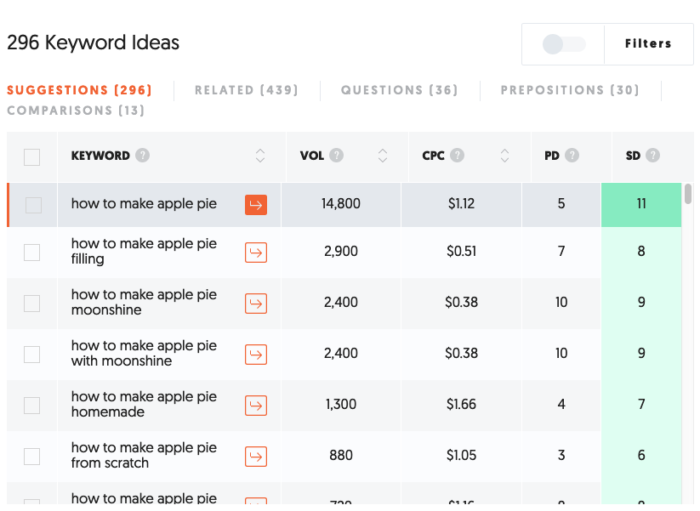 For this particular search, you're given 296 keywords, one of which is the term you searched. Along with a keyword list, there is data for:
Volume: Number of searches the keyword gets on Google each month.
Cost per click: Average cost per click for the term on Google Ads.
PD: Paid difficulty, which is the estimated competition in paid search.
SD: Search difficulty, which is the estimated competition in organic search.
As a general rule of thumb, your selected video keywords should get several hundred monthly searches. For example, if you decide that you want keywords with no less than 800 searches, you can use the filter function to narrow your results: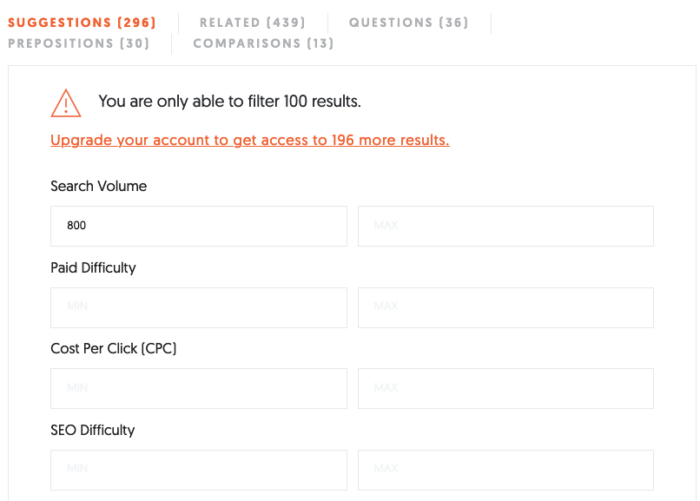 Even though you're left with only six keywords, you know you're focusing on those that have a meaningful number of searches each month.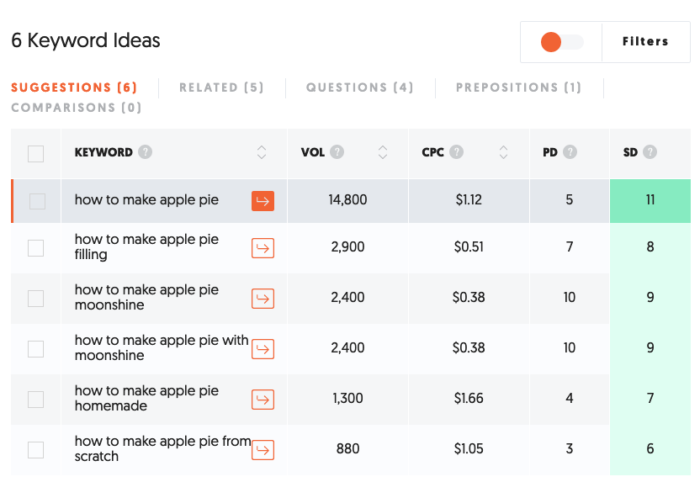 Just like you'd do keyword research for normal SEO, you should also do keyword research for YouTube SEO.
2. Optimize Your Video Title
Do you know how you always optimize your headlines for written content? The same goes for YouTube.
You want to include your focus keyword in your video title, and you should also solve a problem with your title.
When you read Roberto Blake's video title, you immediately know what benefits you'll get: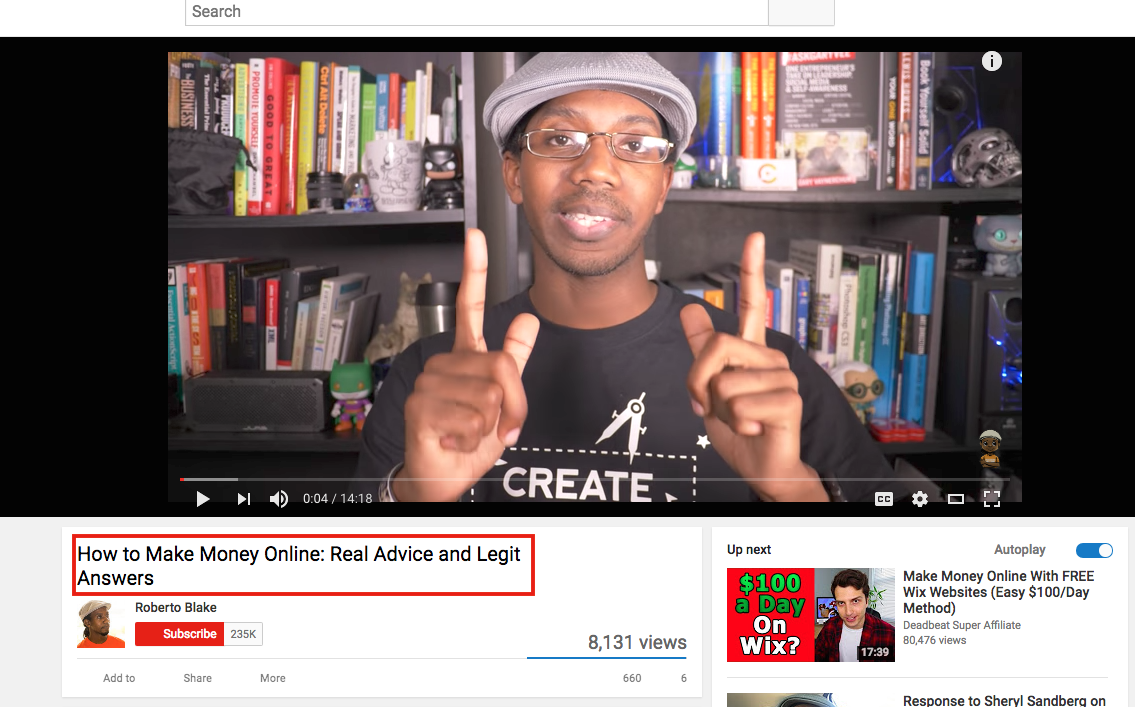 Aim to use clear titles and your YouTube SEO will thank you!
3. Optimize Your YouTube Tags
Tagging is one of the best SEO features that YouTube provides.
Tagging allows you to enter relevant keywords that help your videos get more views.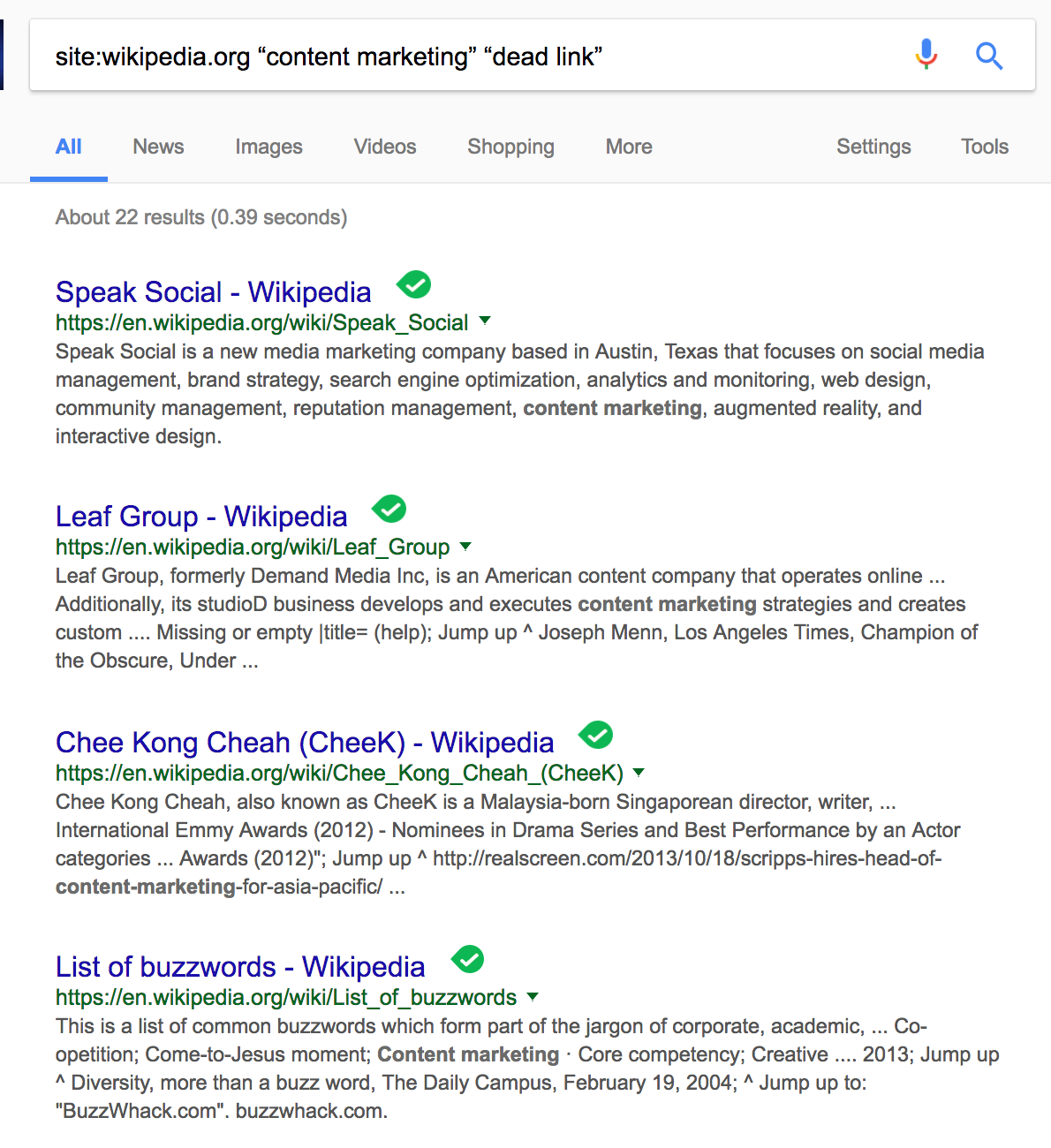 Use tags that are super relevant to your topic.
This is a perfect opportunity to use LSI keywords that are related to your focus keyword.
Don't use too many tags. Around 10 to 12 are enough.
4. Ask People to Leave Comments
If your videos get a lot of comments, that tells YouTube your videos are popular.
Just like Google, YouTube prioritizes content that's popular. Comments are one of the metrics YouTube uses to decide what people like the most.
It's a good idea to end your video with a question to get a discussion started.
5. Encourage People to Subscribe
Subscribing is a big deal on YouTube.
It's one of the factors YouTube's algorithms use to rank videos.
Liking or commenting on a video is a one-time action, but subscribing means that people will see your content on a regular basis.
For YouTube, that's a giant factor that reflects the amount of value you provide.
Pro tip: Many YouTubers ask people to like, comment, and subscribe all at once. However, if you prioritize one of those metrics, focus on encouraging subscriptions.
6. Step Up the Production Value
This article is about YouTube SEO. But like any SEO method, there's a huge quality component to it.
I've said before that SEO is essentially user optimization. So, I want to give you a few pointers on increasing video quality which will in turn increase search performance.
I get that not everyone can afford a pro-level studio setup, but that doesn't mean your video quality has to take a hit.
Most of us have smartphones that are capable of recording video, and that's good enough to get started.
Seriously, your iPhone and Android devices are pretty much all you need.
There are a few small investments and changes you can make if you want to increase the quality of your videos:
Get a Tripod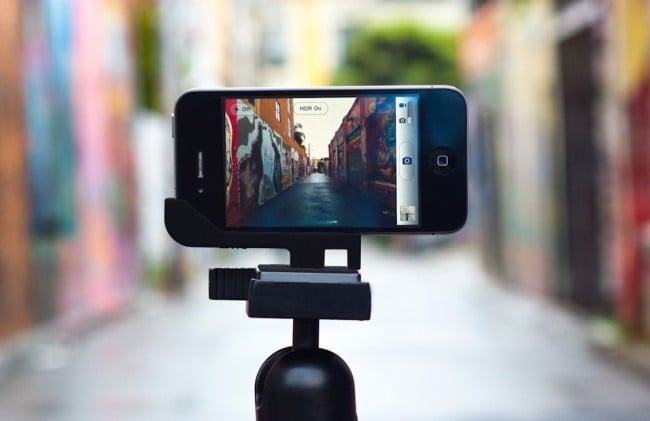 A little stability goes a long way to creating a more professional video.
Add a Backdrop
If draping your bedsheets on a bookshelf is the best you can do, no problem.
Or, you can buy one of these off Amazon for less than $50.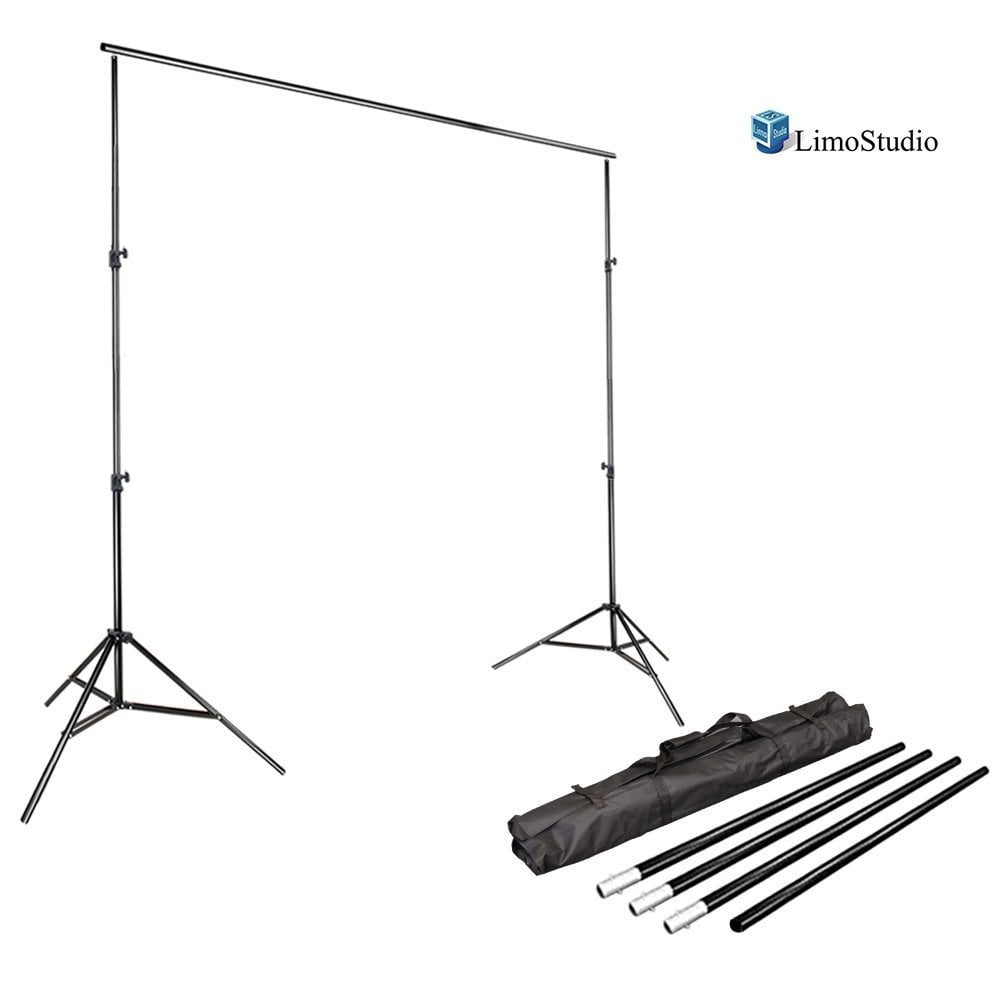 Get the Lighting Right
You don't need fancy spots or anything. All you need is a few lamps or lights trained directly on the subject of the video.
If you do have a small budget, $50-$75, you can purchase some nice lights.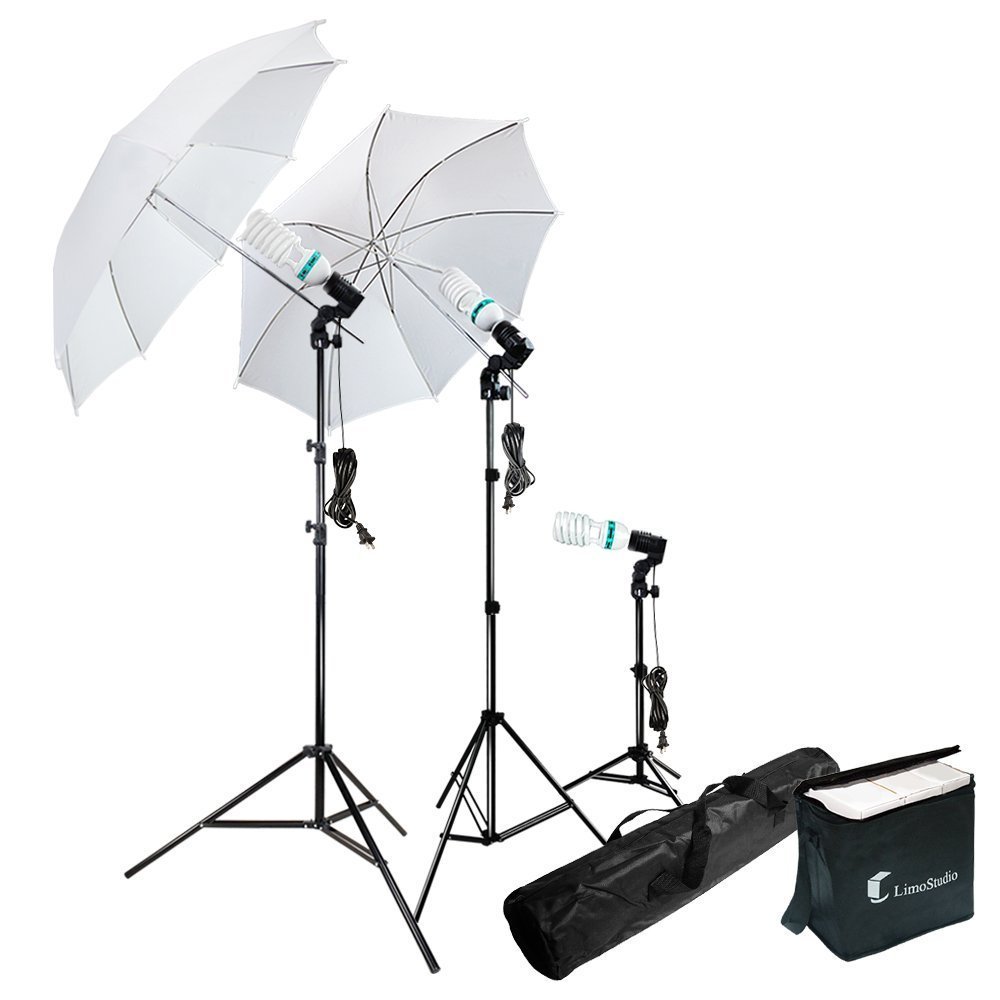 But like I said, if you have some ordinary house lamps lying around, you can use those, too.
Get a Microphone
Again, you don't have to get a huge budget.
Not everyone needs to purchase this $900 microphone.
But you might be able to afford a $5 or $10 microphone.
Even an inexpensive microphone will give you far better audio quality than your phone's built-in microphone.
With an investment of $100-$150, you can be rolling with great quality videos that rival some of the biggest YouTube channels.
Your search traffic will show improvement.
7. Create an Eye-Catching Thumbnail
Your video thumbnail isn't a ranking factor that YouTube uses directly, but it still has a huge impact on your SEO.
A good thumbnail means more clicks, and that means better SEO.
Make sure your thumbnail stands out and tells viewers what your video is all about.
Many people will view videos just from looking at the thumbnails, so don't skip this step.
8. Add Closed Captions
Here's a cool YouTube SEO hack that will give you a big edge.
You might know that YouTube videos support closed captions.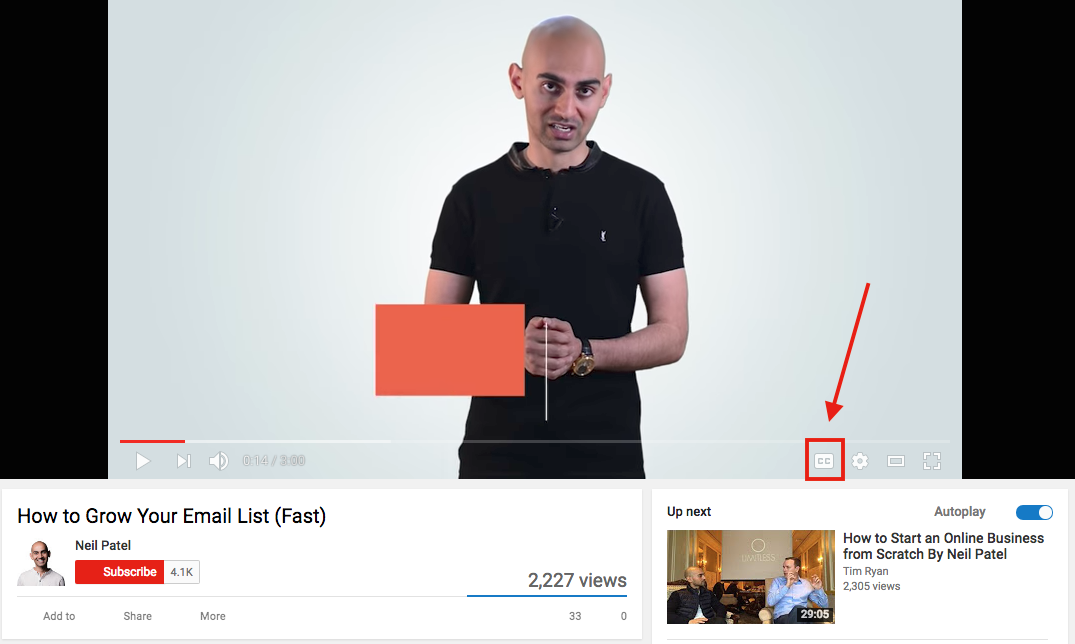 When you toggle this option, the captions appear: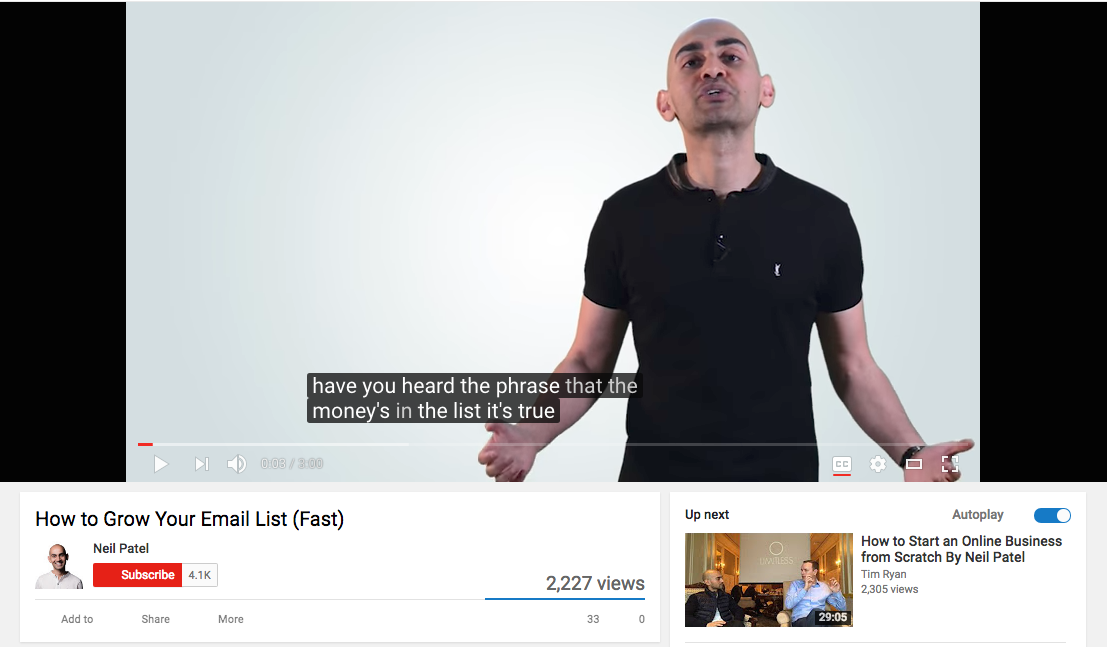 These are meant for people who are deaf or hard of hearing, but they have an unexpected SEO benefit.
Closed captions are crawlable by search engines!
That means you'll get a nice SEO boost if you enable closed captions.
YouTube does support automatic captioning, but it's not perfect.
You can edit those captions, or you can add your own. Whatever you do, make sure the captions are accurate.
9. Edit Your Filename to Improve YouTube SEO
This is one of those tricks that may or may not dramatically impact your SEO, but it's nevertheless important to do.
The idea is to rename your raw file so that it reflects your title or your focus keyword.
So for example, your file may default to a name like "20170613.mp4."
But if you rename it and use your focus keyword (e.g., "how_to_use_hello_bar.mp4"), you'll tell YouTube what your video is about.
10. Build Links to Your YouTube Channel, Not Just Your Videos
For the best YouTube SEO, you want links to both your channel and your videos.
These inbound channel links basically tell YouTube that you're an authority in your niche.
Keep this point in mind as I show you how to get links in the next few steps.
11. Share on Social Media
Here, the concept is simple, and probably a bit obvious.
But it's an important point.
Today's web is social. YouTube is a social channel, so to maximize YouTube visibility and SEO, you need to share your videos on every social channel available.
Share on Facebook
This one's obvious, but I have to include it.
One of the first things you should do is to share your video on Facebook.
Facebook can drive tons of traffic, especially if you include an engaging description.
Here's the important thing to know about YouTube videos on Facebook.
According to research from Moz, "Facebook may be your best video advertising option."
Why is this? It's a simple numbers game.
Facebook native videos have more impressions than YouTube videos shared on Facebook.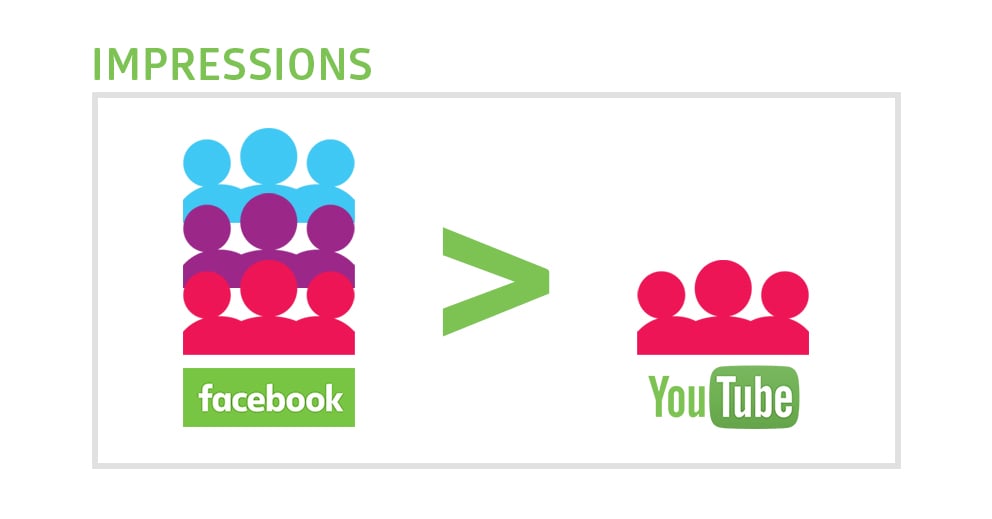 They also have higher watched times.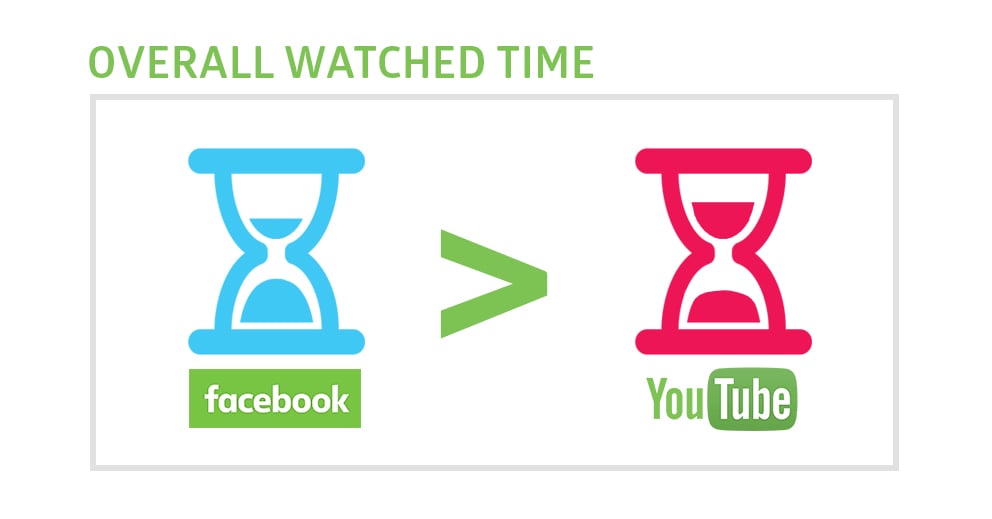 But does this mean you shouldn't share YouTube videos to Facebook?
Obviously not.
YouTube still remains the biggest video platform on the planet.
Cross-posting your YouTube videos wherever possible remains the strongest and most viable strategy for maximum visibility.
Share on Twitter
Same idea here––spread the word and get more eyeballs on your videos.
Twitter research asserts, "Video on Twitter drives engagement."
Twitter native videos are strong, yes. But YouTube shares on Twitter are far higher than the number of uploaded native Twitter videos.
Videos shared on Twitter will get high engagement rates and views.

So tweet those videos!
Share on LinkedIn
I've found that people tend to be more engaged on LinkedIn than on other social media sites.
And if your video content revolves around business, that's even better.
Using video on LinkedIn is a strong way to make your company page or personal page more built-out and robust.
Shama Hyder, for example, has a video on her Linkedin profile.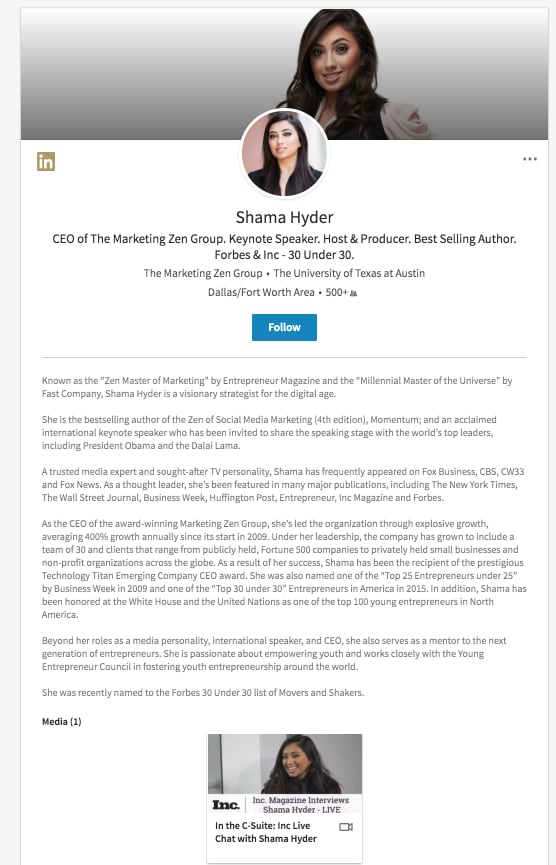 The video, obviously a YouTube one, increases LinkedIn engagement and YouTube view improvement.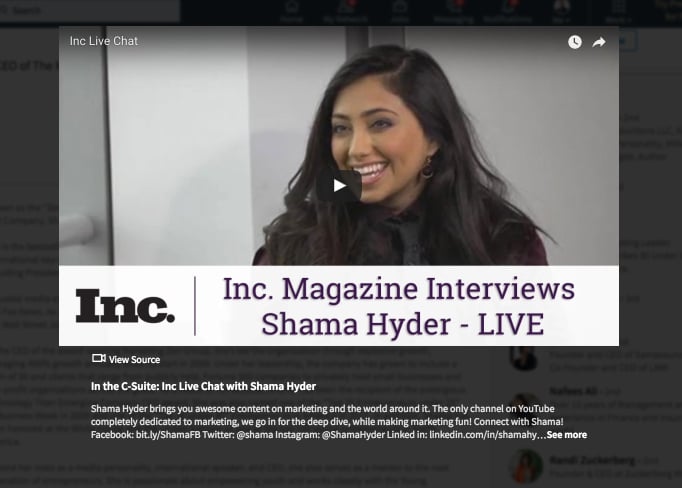 LinkedIn is the only major social platform that hasn't introduced a native video feature (not counting SlideShare).
For this reason, you're left with one good option for video sharing on LinkedIn: YouTube.
Share on Quora
Quora is one of the best places to share your videos.
Why? People on Quora are looking specifically for in-depth information that solves their problems.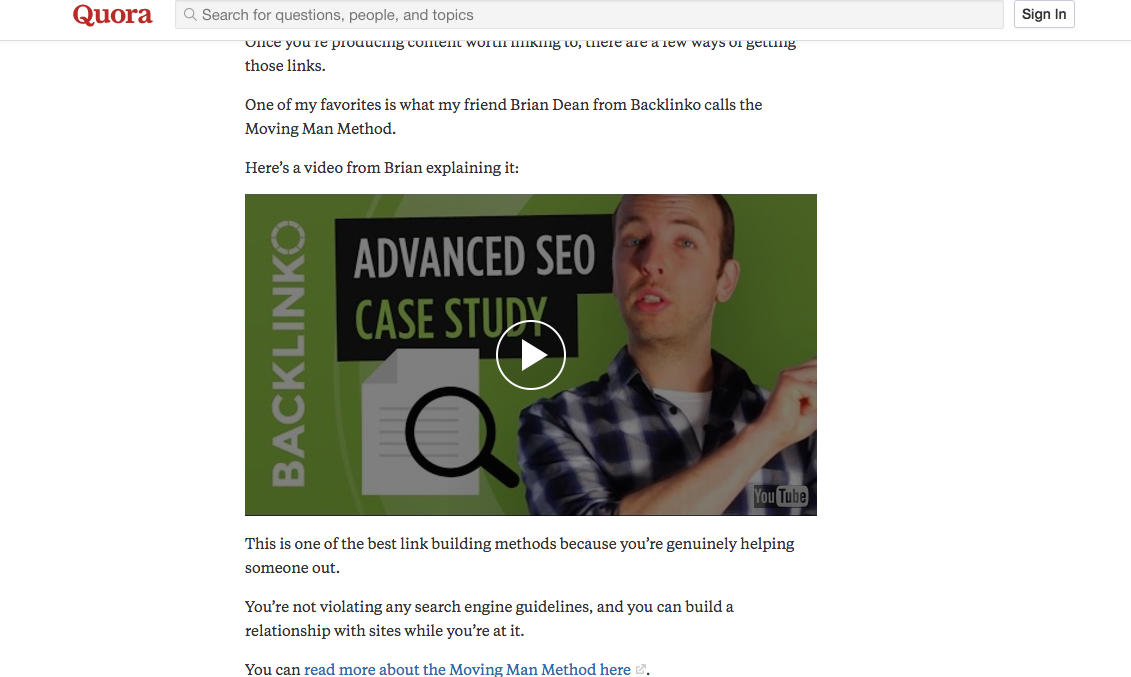 While you shouldn't get spammy with your linking, don't be afraid to plug your videos and/or your channel.
The overall value of sharing on social is greater than just the views you will get on those platforms.
When you share on social, you'll also be working to build links to your channel and grow your social presence. It's a win-win.
12. Send an Email to Your List
The email list is one of the most effective forms of marketing.
You can send out an email to thousands of people in the blink of an eye, and in a few hours, you can get countless eyes on your content.
This will increase the number of views you get, which is crucial for good YouTube SEO.
13. Embed Your Video for Better YouTube SEO
Embedding your videos has two purposes.
First, it gets your video in front of more people. You can embed your video anywhere, but I recommend blog posts.
Second, it will increase your user engagement. This is a direct result of getting more people to watch your video.
14. Steal Keyword Ideas to Improve YouTube SEO
You're not going to be an expert at SEO for YouTube right from the start.
That's why it's wise to see what your competitors are doing.
You might find that other businesses in your niche are using certain keywords.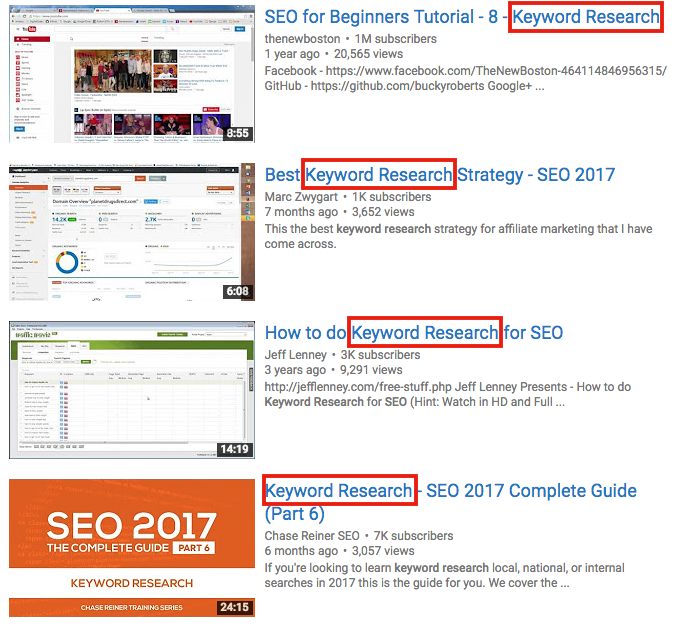 Try using those keywords in your own videos and track the changes in performance. Your videos might get a lot more shares using this one simple technique.
15. Start Your Description With Your Focus Keyword
Here's a tip straight from YouTube.
When you write your video descriptions, use your focus keyword as early on as you can without sounding forced.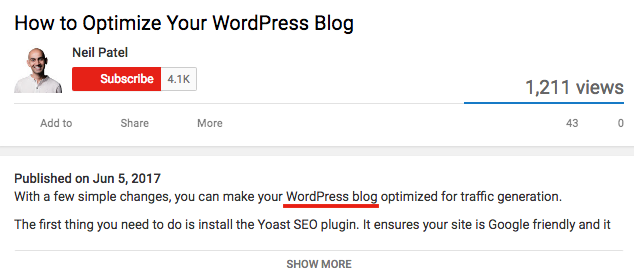 YouTube's bot will see your keyword almost immediately and crawl it. That could result in a higher ranking for your keyword.
16. Use YouTube for Keyword Research
Let's talk a little more about video keywords for a second.
Earlier, I mentioned using Google to find video keywords.
That's a good method, but using YouTube itself is another way to find great keywords.
In particular, I like to use YouTube's search bar to autogenerate popular keywords.
I can start typing in a phrase like "content marketing" and the search box will make several suggestions:

How's that for video keyword research?
These are actual phrases that people are searching, so it makes complete sense to use them for your own videos.
17. Increase Your Watch Time
What's "watch time?"
It's the amount of time people spend actually watching your videos.
This is an important YouTube ranking metric. If people spend a lot of time watching your videos, they obviously like what you're doing.
There are several ways to increase your watch time, and I'll touch on a few of these in the points below.
18. Review Your Watch Time Report
YouTube provides a bunch of handy reports you can use to analyze how your videos are performing.
There's the watch time report, which helps you see how many minutes people are spending on your videos.
To see the report, go YouTube Studio.
In the menu on the left side, navigate to Analytics, then look for Watch Time."

This report is useful for tracking changes in your user engagement. If your watch time spikes or drops, you should investigate why that might have happened.
19. Look at your Audience Returning Visitors Report
You should also know how much of your audience actually loves your content enough to stick around for a while.
The audience returning viewer report shows you a handful of helpful metrics, including average view duration and your top-performing videos.
You can find the report by going to Analytics > Audience within Studio.

You can also see audience retention data for specific videos by clicking the name of the video.
You can also play the video and track your performance by the second.
20. Use Engagement Reports to Drive YouTube SEO
Need more reports? I've got just the thing for you: engagement reports.
YouTube offers several engagement reports to help you measure your overall performance.
Each report is valuable in its own way, and I recommend you take a look at each of them on a regular basis.
For example, the Subscribers report shows you how many subscribers you've gained or lost.
The Average Percentage Viewed shows how much of each video your viewers watch.
These metrics are perfect for improving your YouTube SEO and observing even the finest details of your performance.
21. Add Some Suspense to Improve YouTube SEO
If you're still having trouble increasing your watch time and maintaining user engagement, you may need to rethink how you're making your videos.
One successful technique is to start off your video with a bit of suspense.
You don't have to create dramatic cliffhangers, but something has to be at stake.
I often do this by stating a statistic that grabs your attention.
Another option is to ask a question. The popular channel Vsauce does this regularly.
Check out the beginning of this video:
You can't help but continue watching the video to learn more.
It doesn't matter too much how you do it, but you want your viewers to keep watching. Creating a bit of suspense is one of the best ways to accomplish that.
22. Create YouTube Playlists
Your viewers aren't the only ones who can use the power of playlists.
Building keyword-rich playlists can strengthen your YouTube SEO, and you can also get more search traffic.
Take a look at this playlist. Handy, right?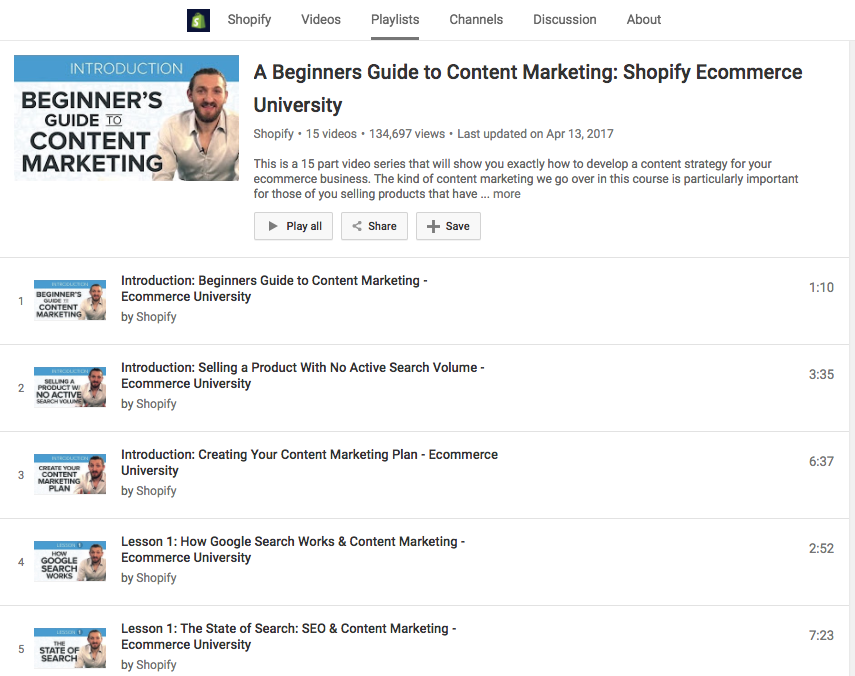 Using playlists is one of those small but mighty tactics that can increase view time and retention.
23. Get Featured on Another Channel
This is a tricky tactic, but if you do it right, it can give you some big results.
It's tricky because you ideally want to team up with YouTube channels that complement but don't necessarily compete with your channel.
If you pick a channel in the exact same niche as yours, you could find yourself losing viewers to the other channel.
So if you have a YouTube channel about food, find a channel that's all about beverages. If you have a marketing channel, find a sales channel.
You get the idea.
Send out some requests and see if other channels are willing to feature you. As long as you give away something valuable, you should have no problem getting featured.
Oh, and make sure you get a link to your channel! You can even ask for an annotation.
24. Get Interviewed
Landing an interview on a YouTube channel is another excellent method of getting featured.
Some YouTube channels specialize in interviews, while others conduct them regularly.
The channel Growth Everywhere (where I host Marketing School with Eric Siu) often features influencers: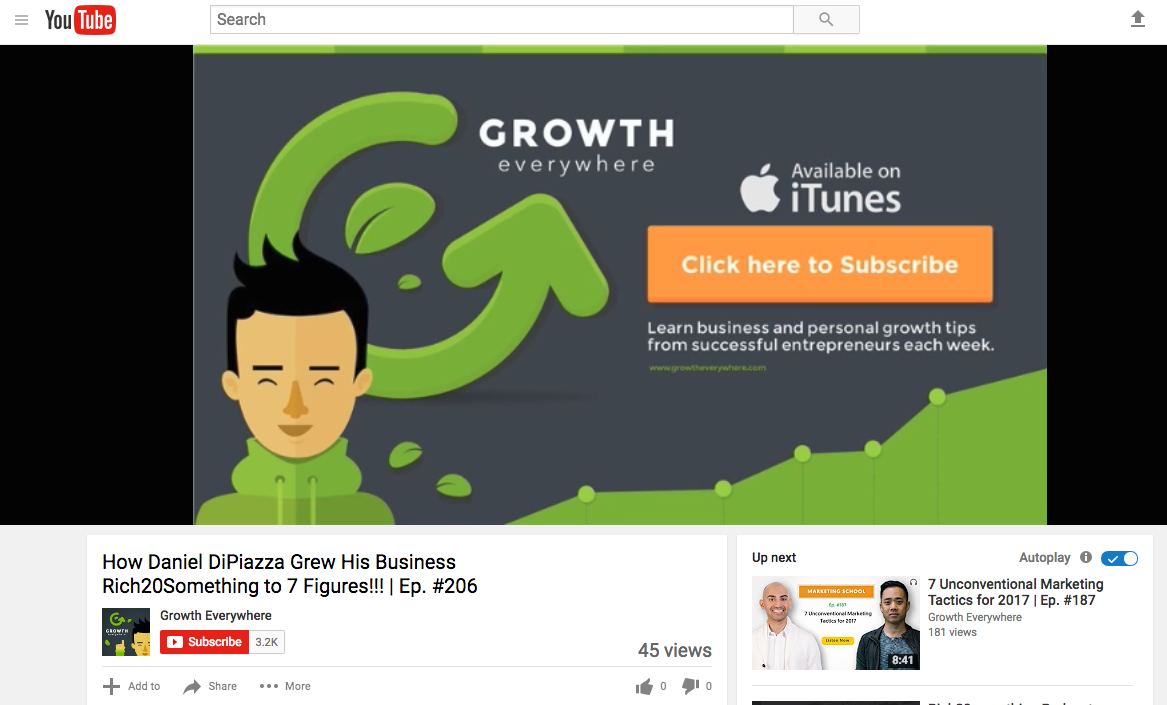 One of the things that have helped fuel my personal brand growth is doing interviews, like this one on Evan Carmichael's channel.
Since Evan has 726k subscribers to his channel, it gives me visibility in front of an audience that I may not have.
25. Find Your Optimal Video Length
You've probably asked yourself this at some point: "What's the perfect length for a YouTube video?"
There's no single right answer here.
Minimatters found that the average length of the top ten most popular YouTube videos is 4 minutes and 20 seconds.
However, that might not be best for the type of videos you're making. Even more importantly, you should focus on what users want, not just YouTube SEO best practices.
If TED talks were that short, viewers would feel ripped off.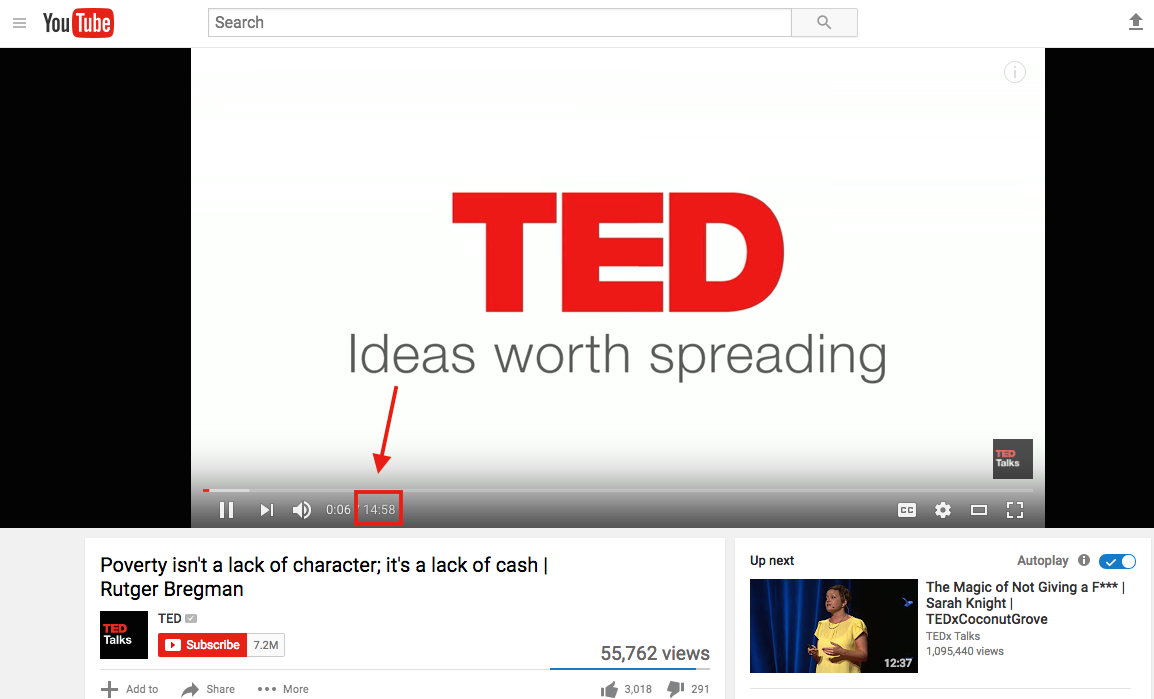 So it depends on the kind of content you're making. If it deserves depth, go with a longer video.
At the same time, don't make super long (or super short) videos just because.
26. Improve Your YouTube Content
I have to finish the list with this piece of advice.
No amount of SEO hacks will keep people coming back for more. That responsibility rests solely on your content.
At the end of the day, your content is the foundation of all your YouTube SEO, so make sure it's better than everyone else's. For tips on improving your content, check out this guide to video marketing.
Conclusion
YouTube isn't just for uber-famous superstars.
You can get in on the action too.
Surprisingly, it is not that difficult. If you work hard to make videos that really help people, you'll watch the views roll in.
Then you can send that traffic to your website, or you can ask people to subscribe to your list for more content.
Every other business in the world is running Facebook and AdWords ads, and as a result, it's hard to stand out on those platforms.
YouTube is a different story. It's surprisingly easy to generate lots of views using the YouTube SEO tips I've shared with you.
You don't need a huge budget to start making great videos. You can produce a viral video using just the phone in your pocket and a free video editor.
The best channels stand out because they have something unique to offer.
If you have a unique value proposition of your own, and if you go the extra mile to create videos people love, you can become very successful on YouTube.
What's your best tip for standing out on YouTube?
Influencers are everywhere.
There are roughly 37 million influencers on Instagram, and around 1.5 million of them work on YouTube.
Every day, these creators promote brands across social media, talk up great products, and directly influence how people spend their hard-earned money.
Sounds great, right? There's just one problem.
It's really hard to actually find a great influencer to grow your business.
Whether you're digging through social media platforms for ideas, or spending hours pitching creators, it's a time-consuming process. In fact, according to Mediakix, 61 percent of marketers struggle to find the best influencers for their campaigns.
What's the answer?
You need a more effective means of sourcing influencer talent and making connections. Influencer marketplaces can help you do just that, so let me show you how they work.
Why You Should Use Influencers in Your Marketing Strategy
Before we get started, let's touch on influencer marketing more generally. Is it worth your time, or should you leave the influencer trend behind?
While influencer marketing isn't for everyone, I think you should give it a go if it makes sense for your business.
Why? Because influencer marketing works.
While I'm not suggesting you should rely solely on influencer-based marketing, the trend is here to stay, and it's worth trying.
If you're still not convinced, here's another way to think of it. Around 26 percent of consumers use ad blockers to hide ads and improve their browsing experience.
There's a high chance those ads you're paying for won't reach their intended audience! For sales-based companies, influencer marketing could be a promising alternative.
Ready to find influencers for marketing campaigns? Let's explore the mysteries of the influencer marketplace.
How Businesses Find Influencers
You can find influencers online in four major ways:
Social media platforms: There's no shortage of social media platforms to browse for influencer talent, albeit this is a time-consuming process.
Search engines: Google is a great way to find competitors and identify which influencers they use for their campaigns.
Influencer marketplaces: These marketplaces help you match with various influencers in your niche.
Influencer agencies: You can hire an agency to match you directly with the influencer they think suits you best.
Although we're focusing on influencer marketplaces, remember it's not the only strategy for finding influencers to market your business.
What Are Influencer Marketplaces?
Influencer marketplaces match businesses with influencers working in their niche, whether it's beauty, fitness, food, and so on.
It's a simple premise. You sign up and post a brief describing the services you're looking for and wait for influencers to respond. If you find an influencer you're happy with, you can hire them to create content, promote your brand and, well, influence people to buy your products.
You're not limited to one influencer, either. You can work with multiple influencers across the platform, and you can recruit more talent as you go.
The upshot? Whether you're running a one-off product campaign or you're looking for a more stable relationship, influencer marketplaces could work for you.
Some of the more popular influencer marketing platforms include:
Influence
Intellifluence
AspireIQ
Webfluential
Famebit
Influencity
It's common for influencers listed on marketplaces to work across two or more social media platforms. For businesses, this is great news because you can use one or two trusted influencers for all your content marketing.
Upfluence, for example, primarily pairs businesses with Instagram influencers, but there's some scope to access influencers working on TikTok and Facebook, too: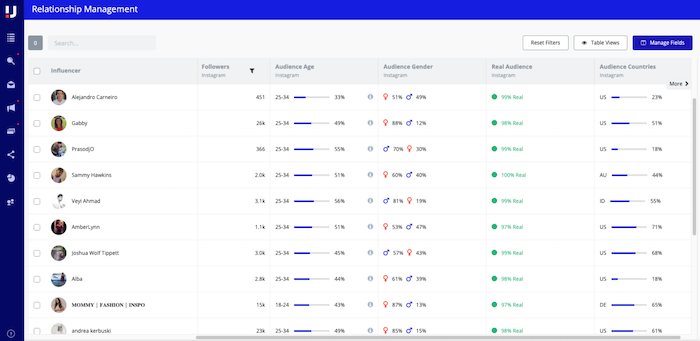 While HypeAuditor matches you with influencers working across the likes of Twitch and YouTube: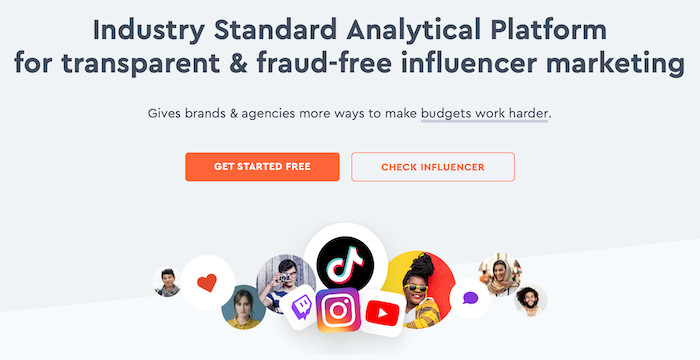 There's a huge range of marketplaces out there, so be sure to explore your options. Here are a few things to consider:
Platform Fees
Whichever marketplace you choose, you'll usually pay a fee for signing up and using their services, so be sure to factor in the cost before you join.
Some platforms, though, like Influence, let you set up a basic account for free. The problem? You're limited in terms of how many messages you can exchange each month, and how many profiles you can see in the search results. While this might work for one-off campaigns, it may be less sustainable for long-term influencer marketing.
Weigh up the pros and cons of the different fee structures before you commit.
Influencer Marketplaces Vs. Influencer Agencies
We touched on this earlier, but to be clear, influencer marketplaces and influencer agencies are totally different things.
Influencer marketplaces allow you to work directly with your chosen influencer. You put your brief out there and look for talent.
Influencer agencies, on the other hand, do some of this work for you. They vet their influencers against your brief and select the ones they think are best suited to your needs.
You can use both marketplaces and agencies if it suits your marketing strategy. Just bear in mind that they're not the same thing.
In short, think of influencer marketplaces like a matchmaking service. While there's no guarantee you'll find the right influencer to collaborate with, there is a chance you'll find a long-term creative partnership.
How to Use Influencer Engagement Marketplaces
Are you excited to give influencer marketplaces a try? Great! Before you jump into a subscription, though, here are some steps I suggest you work through.
Identify Your Goals
Before you even join an influencer marketplace, be clear on what you're trying to achieve. For example, are you trying to increase sales, generate hype around your brand, or boost your engagement levels?
Jot all your goals down and try to identify which one is your priority.
Next, clarify your target audience and how they best respond to influencer marketing. That way, you can figure out precisely what role the influencer will play in your campaign.
As an example, say you're a brand looking to launch a new product aimed at millennials on Instagram. You want to build hype and increase sales. Your main goal is to sell the product, so you're looking for influencers who can not only help you but who can speak your target audience's language.
Determine Your Budget
Once you know what you need from an influencer marketplace, it's time to set your budget. How do you know what's a "fair" amount to pay your influencer, though? Unfortunately, there's no right answer, but asking yourself the following questions can serve as a guide.
First, what kind of content do you need? You might, for example, pay more for an in-depth product review video than a few short posts on Instagram.
Next, which platform are you targeting? Each platform requires different creator resources, so they command different rates. On average, you might pay an influencer $10 per 1000 followers for an Instagram post, but that goes up to $25 for a Facebook post.
How big is the influencer's audience? The bigger the influencer, the more they can charge for their time.
Finally, is it a one-off or long-term campaign? You could potentially get better rates if the influencer knows they'll get steady work from you. Seasonal campaigns could cost you more, since there's higher demand around this time.
Don't forget you'll need to budget for a monthly or annual marketplace subscription, too. Be sure you can afford the fee before you sign up.
Research Influencer Marketplaces
Should you join every influencer marketplace out there? No.
Instead, research your options and choose one or two platforms to start out with. Here are some tips for moving forward.
Ensure the marketplace is focused on your industry. For example, if you're a fitness brand, don't join a marketplace with only culinary influencers, and so on.
Make sure the influencers on the marketplace actually work on your chosen social media platforms. Why join a YouTube marketplace if you're only marketing on TikTok?
Check the marketplace hosts influencers in your price range. There's no point opting for a platform where you'll only find hugely popular influencers, i.e., those with a million or more followers, if your budget doesn't allow for this.
My suggestion? Look to see if a marketplace offers a free trial, or at least a free membership option, before you commit to a paid plan. This lets you test out the platform without putting a dent in your marketing budget.
Remember, if you're unhappy with the results, you can always review your strategy and try out different marketplaces. Influencer marketing is flexible like that.
Find Influencers Who Fit Your Business
You've set a goal, determined your budget, and signed up with a marketplace. Next comes the hardest part: finding the best influencer for your needs.
Honestly, there's no "right" way to go about this. However, here's what is most important to consider when shopping for an influencer.
Engagement
If followers engage with an influencer, for example, by leaving comments or sharing their content, there's a good chance you'll see better engagement on your content. Influencers with large follower counts but low engagement levels may not be the best fit.
Authenticity
Authenticity matters. In fact, according to Stackla, 90 percent of customers value authenticity when choosing which brands to buy from, so any influencer you work with must come across as "real" and authentic.
Reach
To be clear, you don't need influencers with millions of followers. For some niches, it's even better to target influencers with much smaller audiences, but higher engagement levels.
As a general guide, reach matters, but it may be less important than engagement.
Resonance
Does the influencer resonate with your brand identity? If not, it doesn't matter how impressive the influencer's follower count is: they won't help your marketing strategy in the long run, and they may actually deter your target audience from shopping with you.
Determine Performance Metrics
You need to find a way to track your marketing campaign to ensure it's working for you. How do you do this? By tracking key performance indicators, or KPIs.
The KPIs depend on your overall goal, but common metrics worth tracking include your impressions, engagement levels, follower count, and conversions.
Ultimately, it's an influencer's job to leverage their followers to your advantage, so if you're not getting more traffic than usual, there could be a problem with your strategy.
Here's the bottom line, though. You'll know if your influencer marketing is working if you achieve your goal. In other words, if you set out to sell more products, the campaign most likely worked if you sold more products!
Unsure how to measure your performance? Be sure to check out our consulting services.
Review Your Partnerships Regularly
Just because an influencer comes across well on a marketplace doesn't mean they're the best fit for your business. Maybe their communication style doesn't mesh well with yours, or you just find them difficult to work with.
Whatever the reason, it's okay to cut ties. Just remember that if you do end your contract with an influencer, do it professionally. Influencers talk, and you don't want a reputation as a difficult client!
Conclusion
Influencer marketplaces make it easy to match influencers and promoters who can help grow your business and generate hype around your products. That said, these marketplaces aren't for everyone, and you might prefer curating your list of influencers and reaching out to them directly.
My suggestion? Spend some time researching the different marketplaces before you commit to a subscription, and remember to keep a close eye on your metrics to ensure your influencer partnership is working for you.
Have you tried an influencer marketplace yet?