Business News
now browsing by category
Your bounce rate can be such a scary number, right?
It's common knowledge that a high bounce rate is bad, and a low rate is good.
Every time you log into your Google Analytics account, it's right there waiting for you.
I understand the feeling when you see that number creeping up.
But the problem is that numbers can be misleading.
After all, how high is too high, really?
In this post, I'll show you how to fully measure and assess your bounce rate. That way, you'll know if it's actually too high for your industry or if it's perfectly normal.
I'll share tips and tricks on how to audit your bounce rate and understand what's driving it up.
I'll also tell you some of my secrets for lowering your bounce rate.
But first, let's talk about exactly what a bounce rate is and why you should care.
What is a Bounce Rate and Why Does it Matter?
A "bounce" occurs when someone visits your website and leaves without interacting further with your site. Your bounce rate shows you the percentage of your visitors who bounce off of your site.
By default, Google Analytics considers a visitor to have interacted with your site if they visited at least one additional page.
The bounce rate you see in your overview report on Google Analytics is your site-wide bounce rate.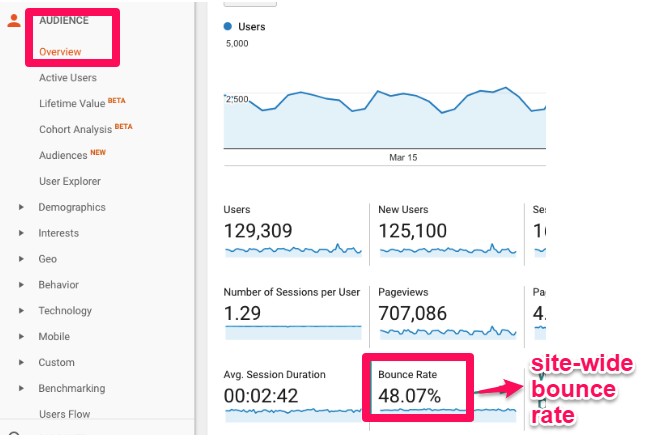 It's the average number of bounces across all of your pages divided by the total number of visits across all of those pages within the same period.
You can also track the bounce rate of a single page or a segment or section of your site.
I'll show you how once we start looking at the different segment reports.
The bounce rate of a single page is exactly what it sounds like. It's the total number of bounces divided by the total number of visits on a page. 
Inspired by common questions that we've heard, this infographic provides answers to the most asked questions about bounce rate and provides tips to help you improve your bounce rate.

If you run an e-commerce site with a blog, you may want to implement a segmented bounce rate.
Why?
Your blog posts may have a very different average bounce rate than your product pages.
We'll get into the exact details later, but segmenting the two can make your numbers more meaningful when you're looking at the data.
So, why is bounce rate important?
According to SEMrush, bounce rate is the 4th most important ranking factor on SERPs.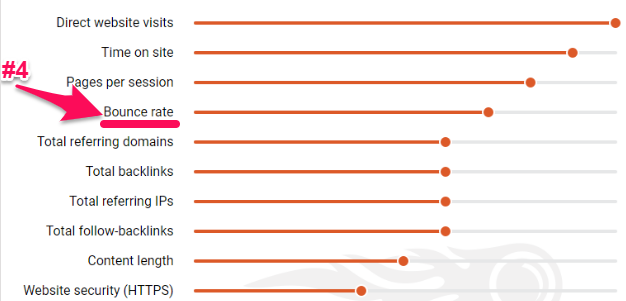 However, Google does not use bounce rate in its algorithm metrics, according to Google's Gary Illyes: 
We don't use *anything* from Google analytics in the "algo".

— Gary 鯨理/경리 Illyes (@methode) June 26, 2017
Can they both be right?
Yes, and I'll tell you why.
Google's algorithm may not directly take bounce rate into account, but what it signifies is very important to it.
As of 2016, RankBrain was the third-most important ranking factor of Google's algorithm.
If you're not familiar with RankBrain, its main purpose is to improve users' search results by better understanding their search intent.
If a user clicks on your page and leaves without any interaction, that could signal to RankBrain that your site isn't what they're looking for.
It makes it look like your result doesn't match the searcher intent well. As a result, RankBrain says, "Maybe this page shouldn't be so high in the results."
Can you see how these connect?
If you understand bounce rate properly, it can tell you if your marketing strategy is effective and if your visitors are engaging with your content.
The key is to understand what your "target" is and break down your bounce rate in a way that provides meaning.
What is a Good Bounce Rate? 
Many different variables determine what a "good" bounce rate is.
Things like your business type, industry, country, and the types of devices your visitors are using all influence what a good average bounce rate would be for your site.
For instance, Brafton found that the average bounce rate is 58.18%. However, their research shows that bounce rates are higher for B2B businesses than B2C businesses.
These benchmarks show a wide range of average bounce rates across industries:
If you're still unsure about the bounce rate you should be targeting, Google Analytics can help you figure it out.
Google Analytics provides a quick visualization of the average bounce rate for what it believes is your industry. It does this by benchmarking.
First, you need to set up benchmarking in Google Analytics.
Under the admin section, click on "Account Settings" and then check the "Benchmarking" box.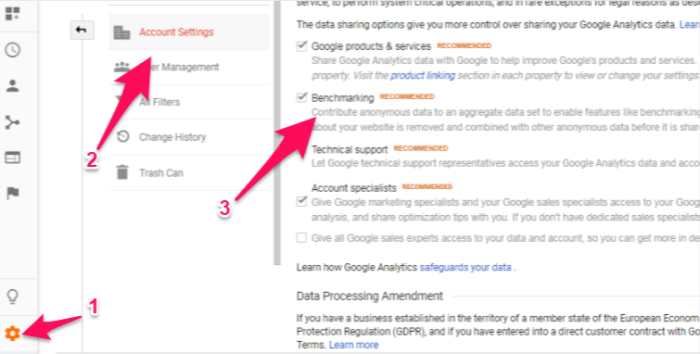 Now you can compare industry averages.
Just navigate to your behavior reports. Click on "Site Content" and then "Landing Pages."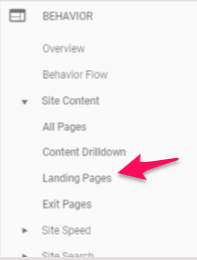 You'll immediately see the average, site-wide bounce rate.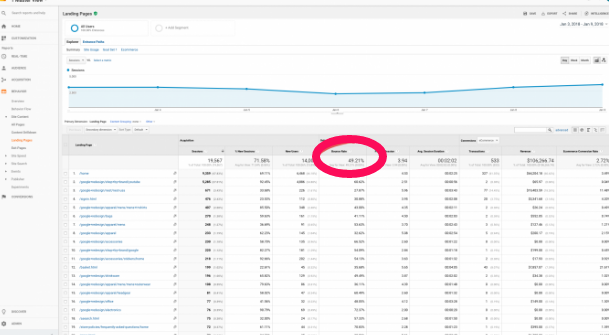 Of course, a site-wide average can be too broad to be a valuable benchmark.
You can drill down further to view section-specific bounce rates.
With either the Content Drilldown Report or the advanced filter feature, you can see the average bounce rates for your site sections.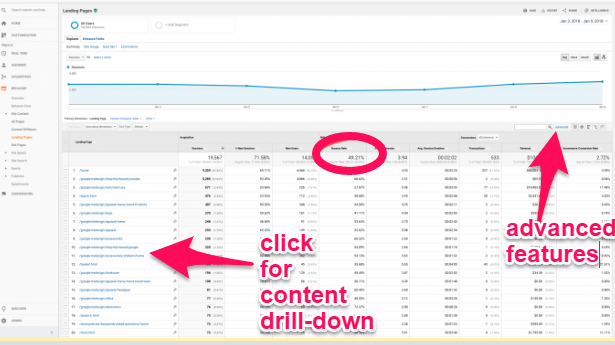 For example, now you can compare the industry average for just your blog or product pages.
In the "Audience" section of Google Analytics, go under "Behavior" then "Benchmarking." Then, select "Channels."
Now you can choose your vertical and compare whichever time period you want to review.
This should give you a better idea of your website's bounce rate performance compared to the average by channel.
The chart above compares your channel bounce rate against other Google Analytics accounts or properties in your industry.
If you want to look deeper, you can do so by going into "Acquisition," then "All Traffic," and then "Channels."
Then click the "Comparison" button on the right and filter by "Bounce Rate" to see which channels are above or below average.

You can then dig even deeper into each one for further analysis.
Ultimately, a "good" bounce rate will be different for every site. It may even be different for every page on your site.
I suggest you focus on your bounce rate trends over time and how you can improve the highest ones to boost conversions.
The focus should be on using this metric to find weaknesses in your site. Don't worry about hitting a magic number.
Now, let's look at how you can improve your bounce rates.
Modifying Bounce Rates
Your site-wide bounce rate is too broad to be anything but a vanity metric.
It's too shallow to provide meaning.
To measure and assess your bounce rate, you need to narrow it down and group it by different variables.
You won't be able to start lowering your bounce rate until you really understand what's causing it to be high.
You can modify the bounce rate metric you see in Google Analytics in a couple of ways.
As I already mentioned above, the first way is by segmenting your bounce rate.
We'll look at nine different segment options that will help you assess and improve your bounce rate.
Segment Bounce Rate by Age
There are plenty of different demographics that Google Analytics tracks, which allows you to better segment and analyze your site traffic.
One of these is the age range of your visitors.
To look at bounce rate by age range, look under "Audience" and then "Demographics" on the left-hand sidebar. Then, click the "Age" option.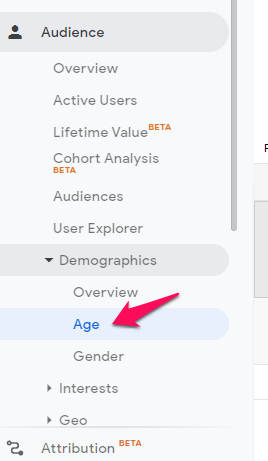 .
The resulting report should look something like this.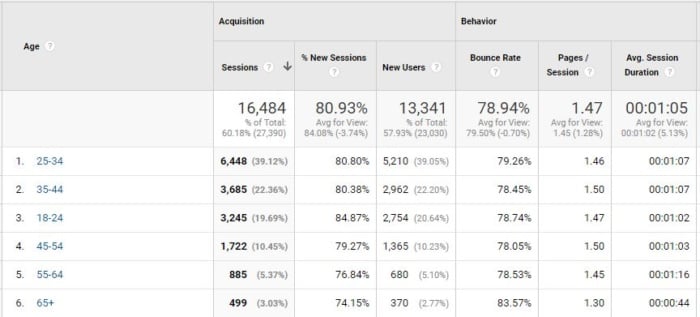 Now you can easily see if your bounce rate is higher with a certain age range.
You can see in the example above that seniors (65+) have a much higher bounce rate than the rest of this site's visitors.
If seniors are part of your ideal target market, make sure that you structure your web pages properly for marketing to them.
For example, avoid using jargon, trendy language, and slang.
Segment Bounce Rate by Gender
The "Gender" option is just below "Age" on that left-hand menu.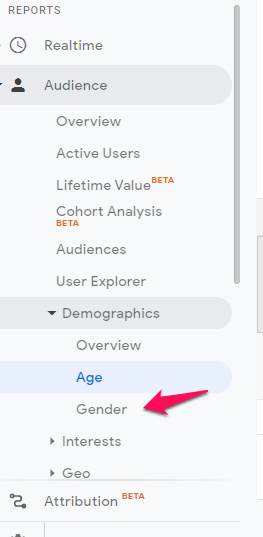 This report tells you your bounce rate for males and females.

You can now easily see if your site is better at retaining one gender over the other.
Gender targeting with tactics such as different language and colors can impact viewing and purchasing behavior.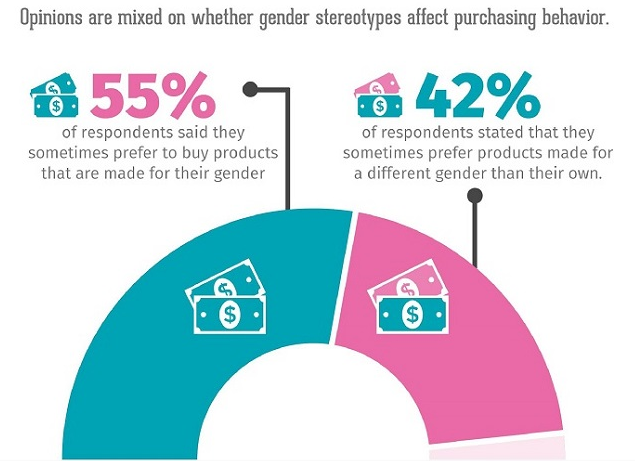 If you have a higher bounce rate with one gender, make sure you're not accidentally creating the perception that you're only targeting the other sex.
Segment Bounce Rate by Affinity
The next option in the "Audience" section is under "Interests" and then "Affinity Categories."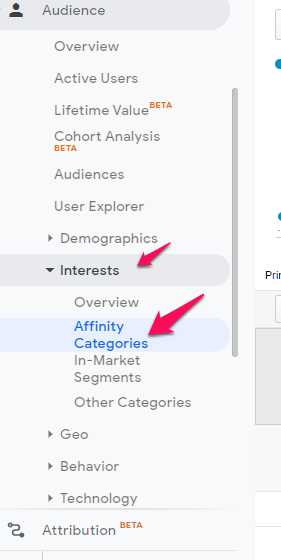 This groups bounce rate based on visitor interests.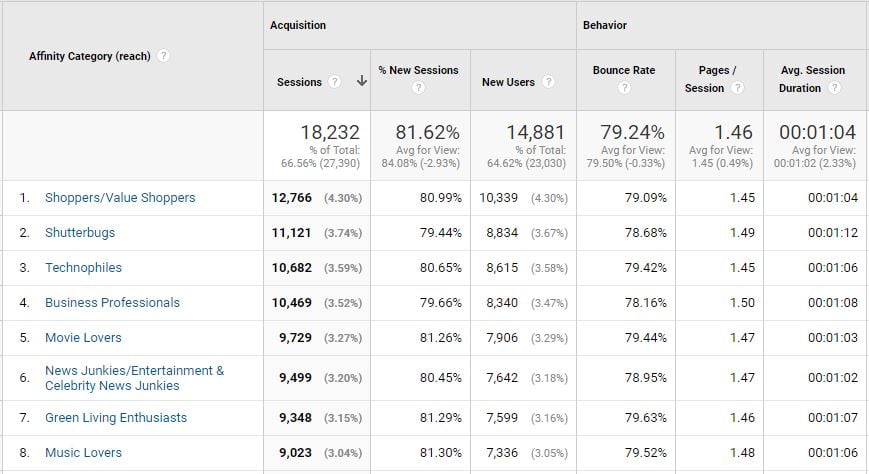 Check out which affinity categories have the highest bounce rates to see if you're losing out on key marketing groups.
You can see in the example above that this site is engaging best with business professionals and shutterbugs.
Engagement with music lovers, movie lovers, and green living enthusiasts is the poorest.
This knowledge can now help you better target those groups with your imagery and content.
Segment Bounce Rate by Location
Still in "Audience," just under "Interests," you'll find the "Geo" section. Within that, you can click on "Location" for another segment report.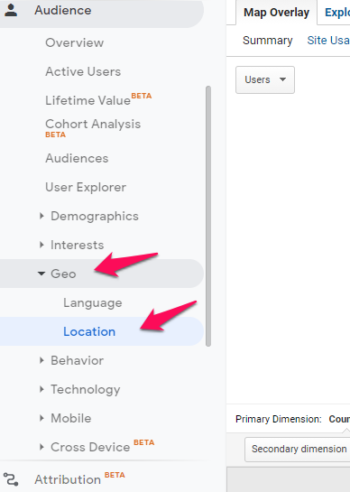 First, you'll see a color-coded map that shows you where most of your visitors come from.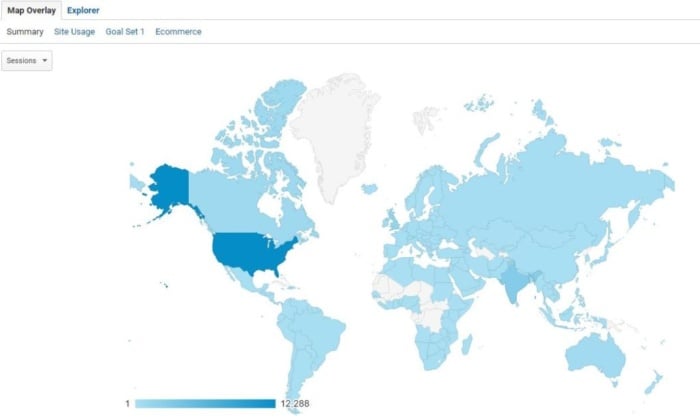 Below that, you'll see the table version breaking down your visitors by geographic region.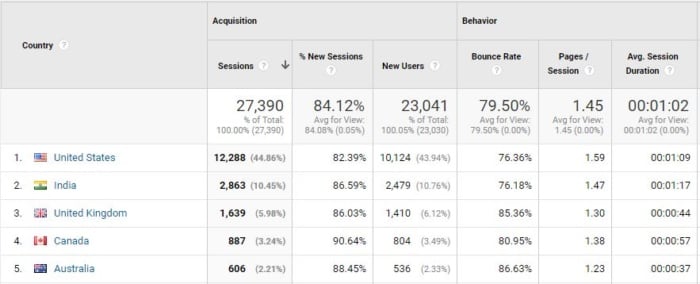 This gives you your bounce rate by country.
In the example above, you can see that Australia and the UK have much higher bounce rates than the other countries.
You can drill further into it to see if certain provinces are engaging worse than others. Then, you can adapt your marketing strategy to target areas where you want to see improvement.
Segment Bounce Rate for New Visitors
A good segment to check out is the "New Vs. Returning" breakdown. It's also in the "Audience" section under "Behavior."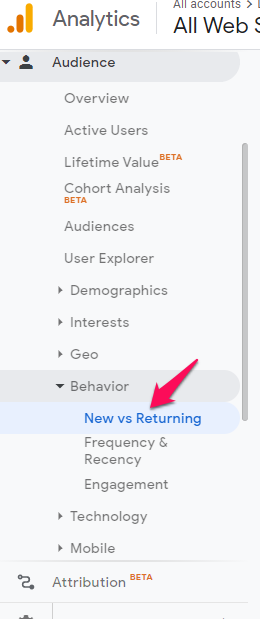 Now you can see if your new visitors are bouncing at a higher rate than your returning visitors.

I would expect your new visitors to have a higher rate.
To get more value out of this segment, you can view the acquisition source as a secondary dimension.
Just click on the "Secondary Dimension" drop-down list at the top of the table and select "Source" from the list that appears below.
We'll talk more about acquisition in a minute.
Segment Bounce Rate by Browser
The browser breakdown report is a good way to see if you have any technical issues causing your visitors to bounce.
In the "Audience" section under "Technology," select "Browser & OS."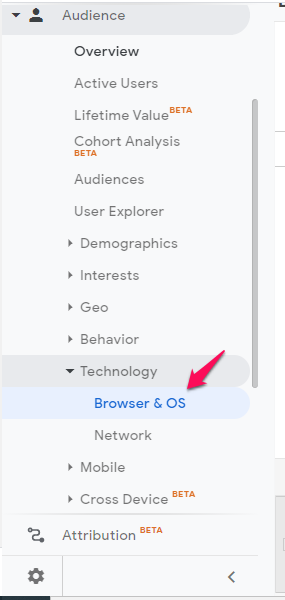 The report should look like this:

If one browser has a higher bounce rate than the others, that might indicate that you haven't configured your site well for that browser.
You also need to consider versions of browsers. For example, don't just check Internet Explorer. Check across versions 8.0, 9.0, and 11.0.

If one has a noticeably higher bounce rate, your site might have bugs or UX issues with that browser.
Even if it's an outdated browser, you will want to fix the issue if the browser is still bringing you traffic.
Segment Bounce Rate by Device
Underneath the "Technology" section, (still under Audience), you will see the "Mobile" section. Select "Overview" to see your bounce rate across devices.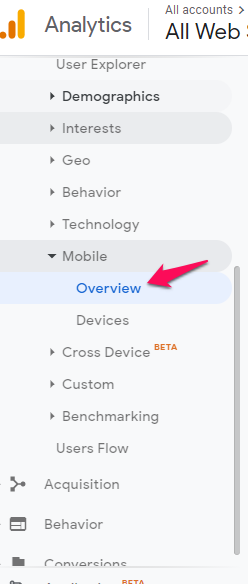 This will give you a bounce rate comparison between desktop, mobile, and tablet.

If you find out that your bounce rate is significantly higher on mobile or tablet, it may indicate that you haven't properly optimized your site for those devices.
You can also view the "Devices" report. This further breaks it down by mobile brand and operating system.

For example, if you find that Apple users are bouncing at a higher rate than Android users, you might have some design issues.
Pay attention to individual device models as well.
Focus on trends and device release dates. For example, you might discover that your bounce rate is fine for Apple devices in general, but it's too high for the latest models.
This may indicate that your website isn't compatible with the newest Apple OS.
Segment Bounce Rate by Acquisition
Now, let's look at segmentation by acquisition rather than by audience.
Go to "Acquisition," then "All Traffic," and then "Source/Medium" in the left-hand menu.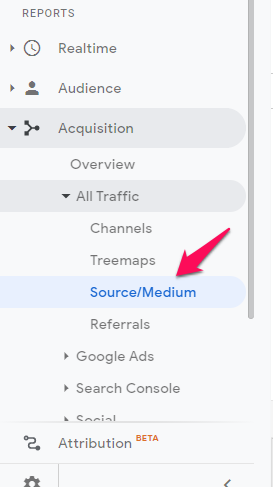 The table at the bottom of your screen should look like this.

It will show you a breakdown of where your traffic is coming from and the associated bounce rates.
Take a look at the sources with the highest bounce rates to see if there's a trend.
Here's an example where you can see that the paid advertising campaigns have a much higher bounce rate: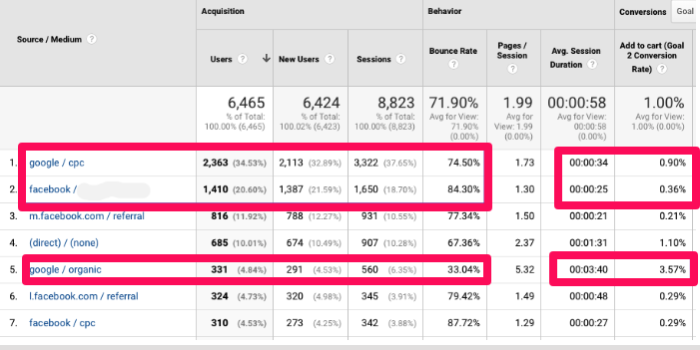 Either your advertising targeting is too broad, or your landing pages are not lining up very well with your ads, resulting in a higher bounce rate.
Segment Bounce Rate by Landing Page
The final option we'll discuss is segmentation by landing pages.
In the left-hand menu under "Behavior," click on "Site Content" and then "Landing Pages."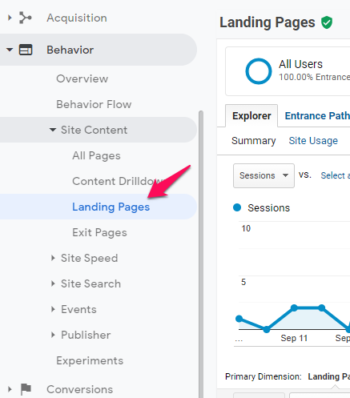 The resulting table shows you a breakdown of your landing pages and their average bounce rates.
You might find that one page has a much higher bounce rate than the others.
Visit that page and look for any design problems or issues that might be making it less effective than the others.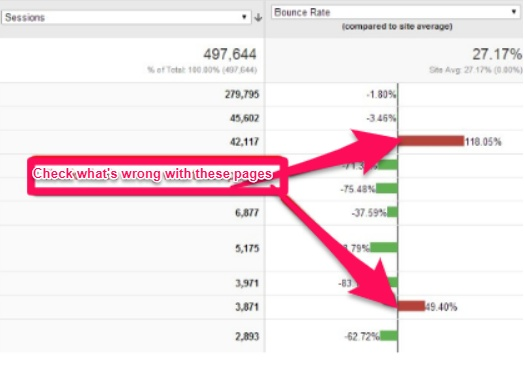 Make sure you haven't forgotten any key steps to optimize your landing pages for conversions.
Now that you know the different ways that you can segment your site traffic, I'll show you how you can create adjusted bounce rates.
How To Create Adjusted Bounce Rates in Google Analytics 
You can adjust what Google Analytics considers an interaction. This will directly impact your bounce rate.
For example, you might feel that a visitor has interacted on your site if they watched a video.
In Google Analytics, you have the option to set an event like playing a video, clicking a button, or completing a download as an interaction.
Then, users who complete these "events" will no longer count toward your bounce rate.
However, you need to careful with this. Make sure that automated events don't skew your results.
If you've set up your videos to play automatically, you don't want to count video views as interactions.
The simple way to modify how Google records interactions is by sending events into your Google Analytics that tell you when a user spends a certain amount of time on a page scrolls through a certain percentage of a page, or sees a specific element on the page.
You can send events from Google Tag Manager:
1. Adjust Your Bounce Rate Through Scroll Percentage Events
The "Scroll Depth" trigger allows you to create custom events based on how far a visitor scrolls down a page.
First, you need to create a new tag.
Then, name your tag, select "Universal Analytics" for tag type and choose "Event" for the track type.
Next, you need to type in the event category and event action.
To get the action, simply click the small plus sign beside the field and select "Page Path."
For the event label, pick "Scroll Depth Threshold."
If you don't see this option available, go to your "Built-In Variables" screen and enable the scrolling variables: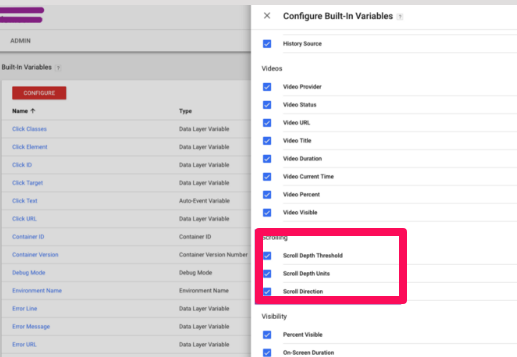 Now, select "Non-interaction Event" as "False," and add in your UA tracking ID.
If you've completed all of those fields, it should look like this:
For this tag, I recommend setting the scroll to 75% of the page. That means that Google will consider a visitor to have interacted on your site if they scroll 75% of the way through the page.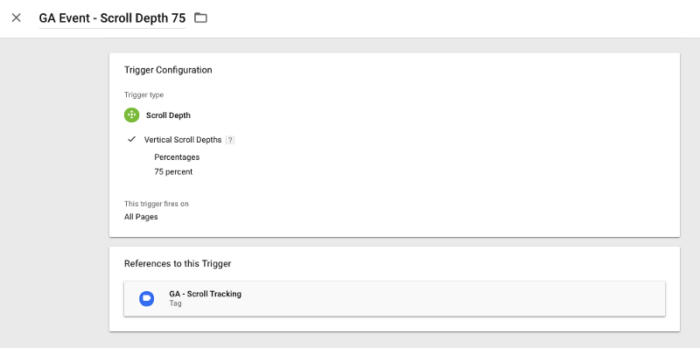 Make sure you've selected "Scroll Depth" as the trigger type. Then, in percentages, put down "75 percent".
Once done, you can save, preview, debug, and then publish.
2. Adjust Your Bounce Rate Through the Timer Function
You can also decide that Google should consider a visitor to have interacted on a page if they spend a minimum amount of time on the page. 
Create a new tag and give it a name, such as "UA — Adjusted Bounce Rate — Timer."
You can choose the length of time that you want to start with. I suggest starting with 30 seconds.
To do this, add a new trigger and name it "Timer — 30 seconds".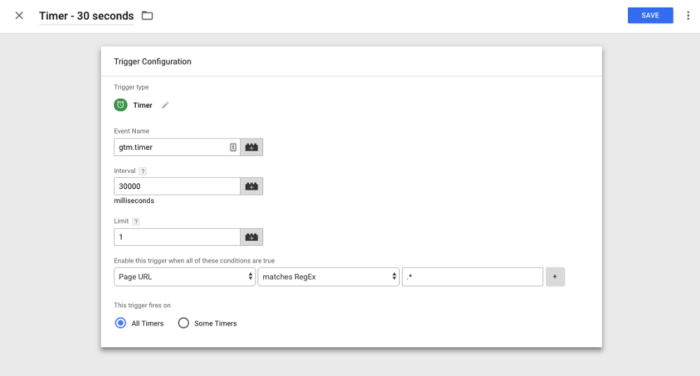 The interval is in milliseconds. So, for 30 seconds, you need to put enter "30000."
Select a limit of one. Then, in the conditions section, set it for "Page URL matches RegEx*."
This will make it so that Google Analytics includes all of your pages in the tracking.
Make sure you save, preview, and debug before publishing.
Other Methods for Decreasing Bounce Rate
Here are some more ways to see where visitors are bouncing and how you can use that information to boost conversions.
Review Top Exit Pages
Another report you should check out is your top exit page report.
You can find it right below the landing pages report on the left-hand menu.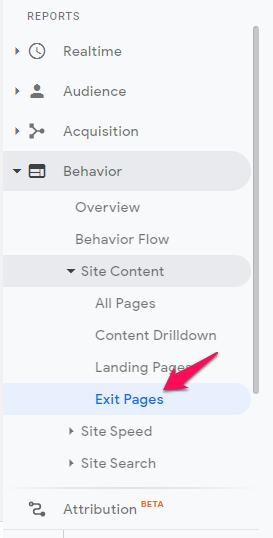 This report will show you what pages people most often abandon your website from.
Take a look at your top traffic pages and compare your bounce rate and your exit rate.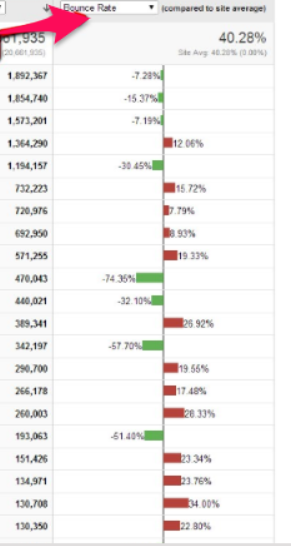 This will show you who's landing directly on that page and bouncing versus who's arriving there from an internal link and exiting.
It can help you narrow down where you should spend your time testing and making improvements on your site.
Review In-Page Analytics
Another great report within Google Analytics is the in-page analytics report.
This is only available now via a Chrome plugin, but it is still beneficial.
As you can see below, the report allows you to see the click-through rate for every link on a web page.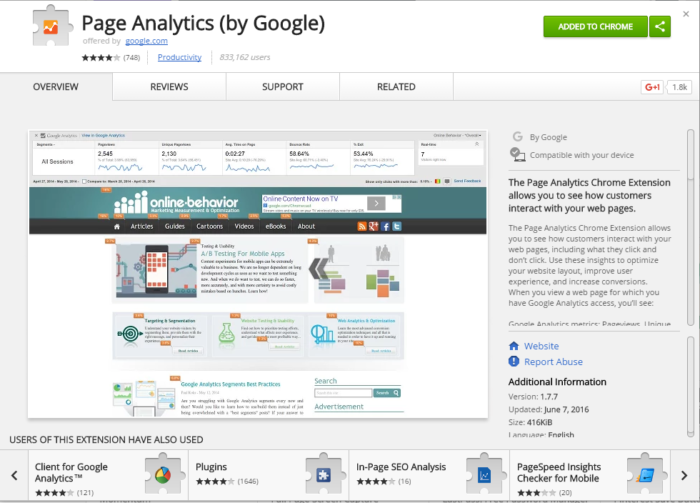 This is a great way to evaluate a landing page, but it can be useful for any content on your site, including your homepage.
It will allow you to see which links in your content people are clicking on and which ones they skip right over.
This will help you determine which anchor texts you should reword or which calls-to-action you need to improve.
View Page Timings
Your pages may have high abandonment because they're too slow.
You can check this with the Page Timings report.
In the "Behavior" section of the left-hand menu, click "Site Speed" and then "Page Timings."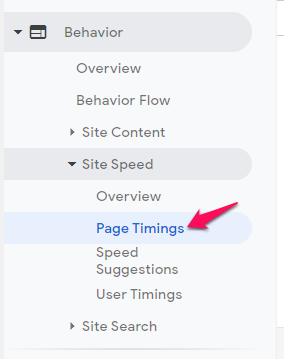 The report will tell you how fast each page on your site is loading.

You can sort by number of page views and average page speed. That way, you can start improving your pages with the highest traffic yet slowest load times first.
It also shows you your overall site average speed.

In light of Google's Speed Update, site speed is becoming increasingly important. But even apart from that, it's critical for improving bounce rates.
For example, the average page speed above means that our bounce rate is 123% higher than it could be.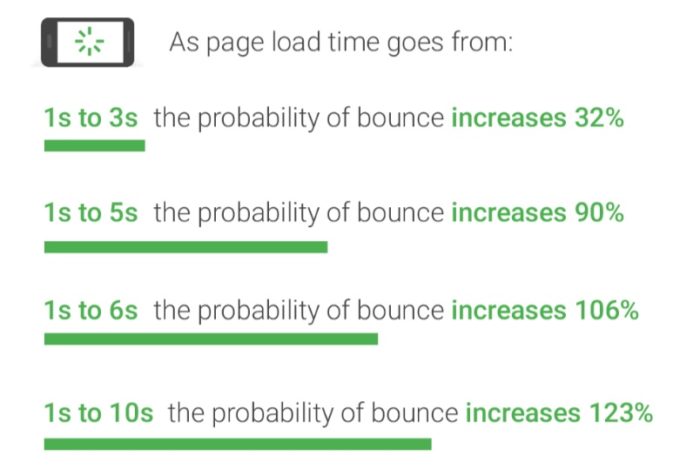 Google Analytics Site Speed Reports
You can check out the other Site Speed reports for further analysis and options for improving your site speed.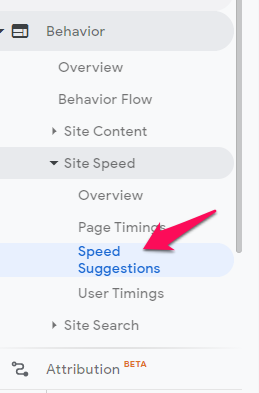 The Speed Suggestions report will indicate potential issues and give you useful advice on how to resolve them, such as prioritizing visible content.
You can also use Google's PageSpeed Insight for more strategies for improving site speed. 
Utilize A/B Testing
Throughout all of these report checks, you are hopefully pinpointing some specific areas you need to target for improvements.
It's difficult to guarantee which changes will improve your bounce rate the most.
For instance, you may have identified a weak landing page. But what do you need to do to improve it?
Do you need to make it longer? Do you need a different call-to-action? What will increase your conversion rate?
A/B testing is a great way to test your improvement strategies.
It allows you to test things like different call-to-action wording, different landing page designs, and different target audiences.
A/B testing will make it easy to see what's working and what isn't since it allows you to show one version of your website to half of your visitors and another version to the other half.
Just make sure you set a clear goal for your testing and follow the correct steps.
To better understand your A/B test results, you can also use a significance calculator.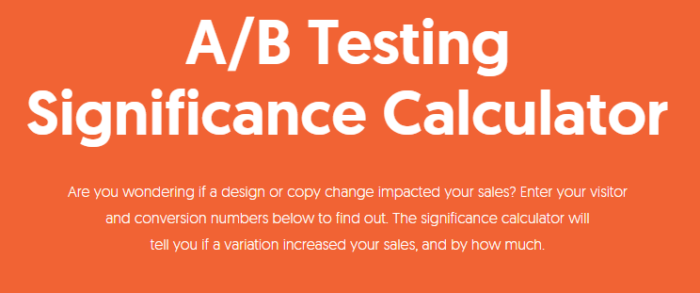 Make Your Pages Easy to Read
It's easy to forget such a simple aspect of your pages, but readability is important.
There are lots of free tools that allow you to check your content's readability and your website, like the Yoast plugin for WordPress.
Make sure the headline is big and bold. Then, use subheadings stand bullet points to make the article easier to read. 
Here are a few tips to help you format your content and make it more readable:
Use subheadings to throw more light on your topic.
Use bullet points to explain benefits or points worth noting.
Use plenty of charts, images, screenshots, and quotes from industry experts, where appropriate.
Bold keywords a few times (don't overdo this).
Ask a lot of questions in your content, to give readers an invitation to participate, instead of just read.
End your content with a subheading entitled "conclusion." This tells the reader to read the last few words and take action quickly. Make your conclusion actionable.
You can test how readable your site is with WebFX's free readability tool. 
Also, be mindful of your font size and type, your sentence and paragraph length, and the amount of white space on the page.
Consider other elements on your page that might be distracting, like your color choices and ad placements.
Include Clear CTAs and Consider Their Placements
A great way to get people to engage and convert is by using compelling calls-to-action.
A call-to-action should compel someone to do something, such as sign up for a newsletter or purchase a product.
There are many ways to improve your call-to-action buttons. Consider your copy, color, button size, placement on the page, and so much more.
Apple suggests making sure that all CTA buttons are at least 44 pixels tall.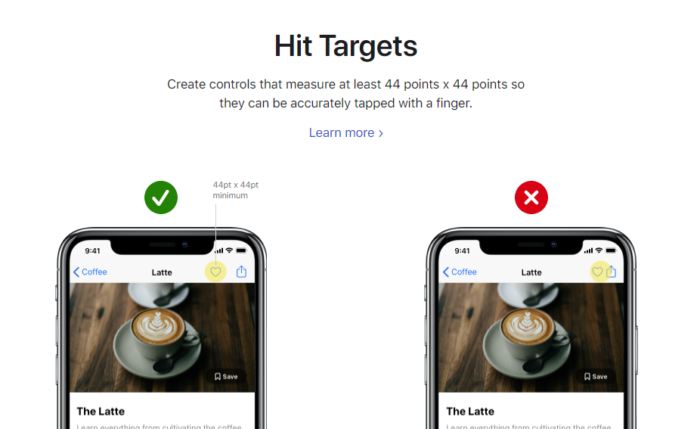 Sprout Social, a social media management software business, understands that giving users a free trial period and educating them along the way is a surefire way to convert more users into customers.
You can get buy-in without getting a buy from a client with a CTA for a free trial. This will help you achieve a good bounce rate. Review your landing page, whether a WordPress theme or not, to see how you can offer something with urgency and get a site visitor to take positive action.
If you're in the SaaS business, offering free trials truly works. Your free trial should be made plain in your CTA.
Use Videos and Images to Engage Your Audience
Humans are visual creatures.
We love imagery. We also retain information better from images. 
If you hear something or read something, the chances are good that you'll only remember 10% of it three days later. However, if you see a picture, you're likely to remember 65% of it.
Adding images and videos is a great way to get your audience engaged with your content.
Short, catchy videos are increasing in popularity, and they can boost engagement.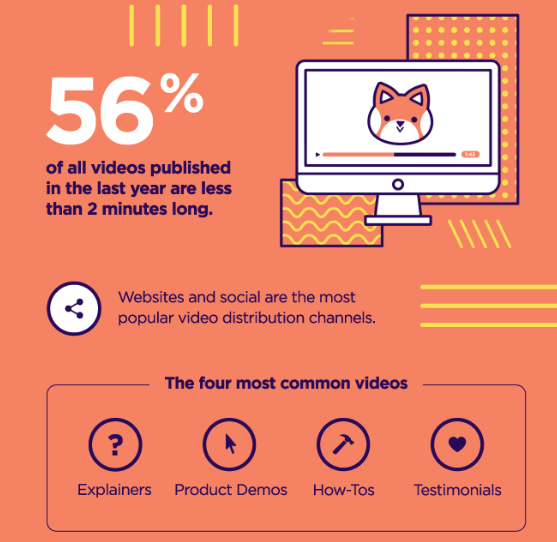 Infographics are also effective at drawing your visitors in.
In fact, over 41% of marketers say infographics were their most engaging form of visual content.
If you find that your audience isn't engaging with a certain page, you may simply need to add more images, videos, and infographics.
Offer Live Chat Support
Live chat is the fastest method for offering customer service support.
If people come to your page and don't immediately find exactly what they want, live chat can help engage them before they give up and try the next site.
There are lots of platforms out there today that can help you set up live chat services, such as Intercom.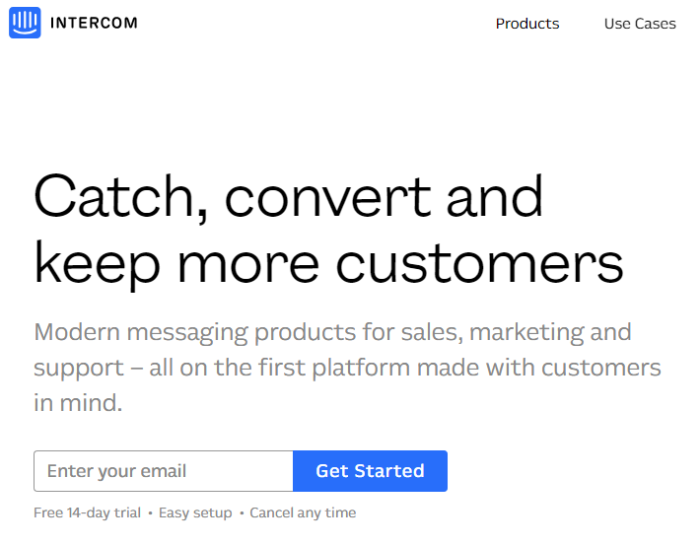 Live chat is one of the best tools you can implement on your website this year to decrease bounce and boost conversions.
Target Keywords With High-Value Traffic
Keywords can make or break your bounce rate. If you want to improve bounce rate, start targeting high-value keywords, because that's where the high-value traffic is.
According to LinchPin SEO, a perfect high-value keyword sits at the intersection of four important metrics:
Traffic value
Conversion value
Persona value
Brand value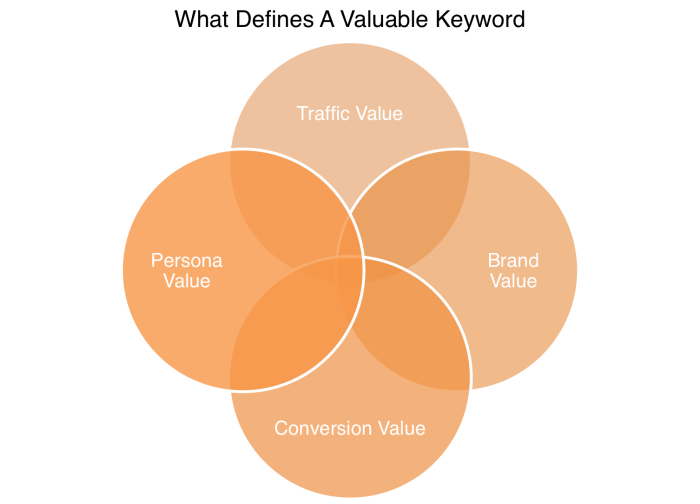 Did you know that 97% of Google's revenue is from advertising? The bulk of their revenue comes from targeting expensive keywords.
All keywords are not created equal. Some are going to bring you valuable traffic, while others will only keep you waiting by the side of the road for a ride that probably isn't going to come.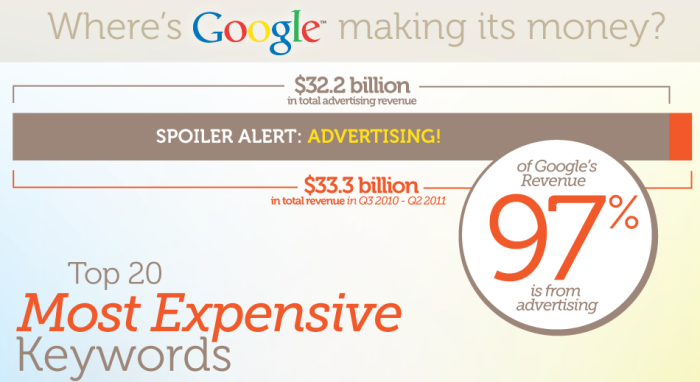 Simply writing content for your blog will not adequately reduce your bounce rate or improve conversions. 
You've also got to target keywords with high-value traffic.  These keywords, in turn, will send high-value customers to you.
Attract the Right Visitors
In her book Content Strategy for the Web, Christina Halvorson wrote that "Better content means better business for you."
A higher bounce happens when you're getting the wrong website visitor from the start. This is a targeting problem.
If your content strategy isn't yielding the right visitors and increased sales for you, it's time to improve. 
There's nothing as powerful as publishing custom content that's "right" for your market, using a content strategy that takes each stage of the buying cycle into account.
Brian Dean boosted his conversions by 785% in one day, with A/B split testing, because he recognized that the traditional ebook giveaway is no longer effective for building a massive list. He created the "content upgrade" strategy, which has now become a marketing standard.
The mistake that a lot of content marketers make is attributing a high bounce rate to a lack of quality content. But, the term "quality" is relative. Your definition of "quality" may not be the same as mine. A higher bounce might be better attributed to the wrong content.
For example, in the internet marketing world, lengthy articles (usually 2000+ words) are considered high quality, because they tend to address every question or concern of the target audience.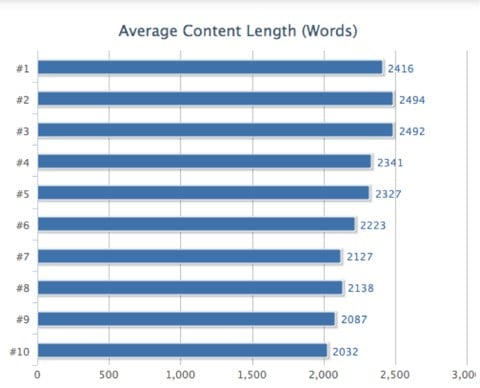 On the other hand, this is not true in non-internet-related industries, like health, entertainment, and finance. In these industries, shorter, informative articles tend to perform better on social media platforms.
This is a lesson for you when building a campaign or creating content: Always target the right visitors. If you run a Facebook Ads campaign, drill down into your campaign and get to the right people.
The value of the right audience can't be overemphasized. In an interview with Forbes, Robert Kiyosaki said that the key to his success in building a multimillion-dollar brand around financial literacy is "simplicity."
This is truly striking because I've often advocated the KISS (keep it simple stupid) concept.
It's a chain reaction. When you create the right content and use the right channels to distribute it, you'll ultimately reach the right audience that will be interested in your offer. You'll develop a good bounce rate.
This is the easiest way to make marketing work for you. For example, if you sell information products (such as ebooks or software) and services, you'll double or triple your sales conversion rate just by attracting the right prospects.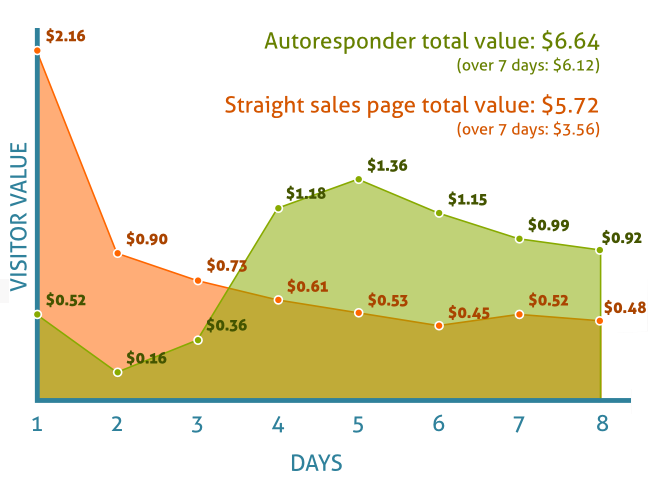 Further, HubSpot's research data shows us that 50% of consumer time on the web is spent engaging with custom content that's tailored to them.
Write Attractive Meta Descriptions  
A lot of companies don't optimize their meta descriptions for search users. As a result, their click-through rate continues to decline.
Maybe they didn't think that it was that important – but it is. 
When users type a keyword into Google search, any word that matches the search term is bolded, to differentiate it from the rest and tell the searcher to consider that result.
Meta descriptions are HTML attributes that describe what a particular web page is about. Search engines use meta descriptions to display a snippet of your web page, so that users can determine whether a particular search result is right for them, just by reading the description.

The optimal length for a meta description is 155 characters. If a web page description is longer, the remaining characters will not show in the search results pages. Instead, you'll see an ellipsis (…) at the end. This may cause a higher bounce rate because people felt misled about your website.
Before you can successfully write an attractive meta description, you've got to understand the anatomy of a search result and where the meta tag fits in.
One of the tactics that I employed to grow Gawker Media's traffic by 5,000,000 visitors was creating a unique meta description for each page, instead of allowing Google to automatically pull the site's slogan or initial copy.
So, how do you write an attractive meta description?
If you've got the All In One SEO pack installed on your WordPress blog, this is easy to do. For every post that you publish (each of which is a separate web page on your site), you can provide a unique meta description. Use these tips:
Include the Target Keyword
Since a meta description is basically targeted at search users, make sure that the keyword they're searching for is present in your description. However, this doesn't mean that you should go stuffing keywords into descriptions. 
On the contrary, you should absolutely continue to write naturally.
For example, let's say that your main keyword is best plumber in NY. Here's how to include it in your description naturally:

You can see that I mentioned the keyword just once in the description – not more. Also, notice how the keyword flows into the rest of the copy, so it doesn't appear manipulative. This helps achieve a good bounce rate where a site visitor will see what the site is about and hopefully be enticed by the CTA.
Use A Call-to-Action in Your Meta
Search users – all users, really – need you to tell them what to do next.
Still using the above keyword (best plumber in NY) as our example, here's how to use it as a call-to-action in your meta description:

Conclusion
Analyzing and improving your bounce rate can be intimidating. But improving your bounce rate means a more engaged audience and more conversions.
If you follow the steps I've outlined in this post, you should see your bounce rate decrease in no time.
First, understand what a "good" bounce rate really is and narrow down your analysis to pinpoint exactly what your bounce rate metrics are telling you.
Remember that a site-wide bounce rate is simply a vanity metric. It's too broad to provide actionable information.
Focus on the different segment reports and your other analytics tools to dive into the data.
Check out your top exit pages, page timings, and speed reports to understand what might be causing your bounce rates to be high.
To help people engage with your content, be sure to improve your site's readability, add imagery, optimize your CTAs, and use live chat.
Do some A/B testing to see what works best for you and your audience.
Monitor your reports with each change to see where and how you're improving
Remember: There is no magic number that you're trying to hit.
Aim to keep improving and offering your customers a better, more engaging experience.
What tools and tricks do you use to monitor and improve your bounce rate?
The post Bounce Rate Analytics: How to Measure, Assess, and Audit to Increase Conversions appeared first on Neil Patel.
Why aren't more companies using marketing automation?
A recent survey from Liana Technologies found that 60 percent of respondents said they didn't know how to use marketing automation. They listed a lack of know-how as the main reason they weren't adopting marketing automation campaigns.
Half of those surveyed also listed a lack of strategy or personnel as yet another reason they weren't moving forward with marketing automation.
As you can see from the research, these companies need marketing automation consulting.
10 Ways a Marketing Automation Consultant Can Help Grow Your Business
Marketing automation is often viewed as a nice-to-have option, something that could be helpful but really isn't all that necessary for companies looking to grow. Marketing automation isn't an extra; it's a component that's an essential part of your marketing.
This isn't always as clear until you breakdown the benefits that come with marketing automation.
Here are ten ways a marketing automation consultant can help you grow your business.
More targeted marketing: Many companies force their customers into the same marketing funnel. They're not focused on optimizing their funnel based on the buyer's journey, so most of their prospects fall out of their marketing funnel. A marketing automation consultant helps you segment and target your customers properly. A good consultant will help you identify customers who are ready to buy, leads that need to be nurtured, and leads you can disqualify.
Improve customer experiences: According to Salesforce, 76 percent of consumers expect you to understand their needs and expectations. Another 84 percent said, "being treated like a person, not a number" is essential to earning their business. Marketing automation helps you achieve this at scale, so you're able to provide the one-on-one attention and personalization customers expect.
Increased traffic: Big companies have embraced analytics, but most don't know how to use their data. Most don't have a data-driven culture, so it's difficult for many organizations to have confidence in their marketing decisions. This isn't just big companies, though; it's most companies in general. This means it's harder for companies to identify the traffic sources working well versus those that aren't. With marketing automation tools like lead scoring and lead nurturing, you can identify your best performing traffic sources.
Higher quality leads: When customers go through the same funnels, without segmentation, lead quality suffers. Your marketing automation consultant should help you outline the buyer's journey and segment customers based on their place in the funnel. Doing this increases lead quality as customers are pre-qualified before and after they convert. This keeps the quality of the leads sent to sales high.
More leads: Once you've identified the list of marketing automation tools and workflows you need to generate high-quality leads, you can use those same automation tools to scale your lead generation campaigns. Your marketing automation consultant will help you increase lead production, using the lessons learned from your smaller campaigns. You'll know which traffic sources perform best, how to improve lead quality,
Increased conversion rates: One of the hidden benefits of marketing automation is that the benefits are cumulative. Your marketing automation consultant will show you how to combine the strategy, tactics, workflows, and tools you've put together into a single system. Each component, when optimized, should produce increased conversion rates consistently in your campaigns over time.
Increased ROI: As your conversion rates increase, your ROI will continue to grow. A great marketing automation consultant will show you how to maintain your ROI as you continue to scale. You should see more revenue with less spend consistently over time.
Reduced expenses: As metrics like your return on ad spend (ROAS) and your conversion rate improves, you should see a decrease in costs (e.g., cost per lead, cost per action, customer acquisition costs). Your marketing automation consultant should monitor your returns and expenses, ensuring that both are moving in the right direction.
Data sharing between marketing channels: Your marketing automation stack should provide your team with the right data analysis tools. If you use analysis tools like Cyfe or Power BI, you'll want to make sure that your team has access to data across marketing channels; your consultant should help you set this up, so your team has need-to-know access to data. Doing this will reduce operational silos, keeping everyone in your team on the same page; no more fights between sales and marketing for control.
Shorter sales cycles: Let's say you've received two sets of leads. Set A has customers who are ready to buy now. They've done their homework, and they've decided your company is the best fit. Set B has interested customers; they won't be ready to decide for another three to six months. Set A has a shorter sales cycle — your consultant helps you find and segment these customers as they come into your funnel.
These benefits aren't random one-offs; they're outcomes your business needs to grow. The problem with growth is scaling. As you grow, it gets harder to manage all of this manually.
How to Get Started With a Marketing Automation Consultant
Your marketing automation consultant should be a specialist with deep expertise in automation. They should also have experience across a broad range of marketing disciplines and channels, including:
Advertising (display, content,
Analytics
Branding
Content
Direct response
Email
Market research
Mobile
Sales
Search (organic and paid)
Websites (e.g., conversion rate optimization, usability, etc.)
If you're ready to get started with a marketing automation consultant, there are a few things you'll need to prepare ahead of time. Upfront preparation makes it easier to get started; your consultant doesn't have to waste a lot of time (and your money) getting you up to speed.
Both of you will be able to jump in right away.
You'll want to make sure that you have a list of:
Goals, KPIs, and objectives: For example, this could include a list of tools you'd like to integrate in your technology stack, as well as how you'd like these tools to perform. This could also provide your consultant with information on the specific outcomes you'd like to see due to automation (e.g., a 7 percent increase in productivity, shorter sales cycles, less double entry, improved utilization rates, etc.).
The tools and resources you're using: You'll want to make a list of the tools and resources you're already using. Collect additional information on the number of users for each software, tool, or subscription. Make note of any API keys and special instructions. Also include a list of the software, tools, and resources you'd like to use.
Decision-makers and influencers: If you're part of a team, you may find that some people aren't all that excited to share their data. Others are interested in working with your consultant to automate essential marketing tasks. Sharing a list of decision-makers and influencers with your consultant makes their job easier. Right from the beginning, they know where everyone stands and who to talk to if they need help getting everyone on the same page.
Obstacles and challenges: You'll want to outline the list of barriers and challenges that may prevent you from achieving the goals and objectives you've listed above. Maybe some of the services you use don't offer an API or integrate with third-party services like Zapier. Maybe some of the tools in your list are outdated, or they're unsupported legacy options (i.e., legacy software running on Windows XP).
Policies and procedures: If your company has specific policies, procedures, or guidelines for software purchases, you'll want to share that with your consultant as well. You want to let your consultant know what's allowed, required, forbidden, and unacceptable. You want to set your consultant up for success by giving them a clear set of guidelines to follow; this helps your company grow.
Strengths and weaknesses: This step is uncomfortable but it's also important; if your team, division, or company has problems in a specific area, spell that out for your consultant as clearly as possible. Does it take your company a long time to make important decisions? Is your organization good at finding great employees and contractors? Give your consultant a brief overview of your strengths and weaknesses. Getting people on board is easier when you know what you're working with.
Sharing this information upfront makes automation smooth and efficient.
If you've already answered these questions for your consultant, they're able to focus their attention on helping you automate your marketing campaigns, projects, and tasks.
Measuring the ROI of Marketing Automation Consulting Services
In general, consultants aren't big on measuring ROI, but they should be. It's reasonable to expect the same from your marketing automation consultant. If you've done the upfront work I've mentioned already, you should have everything you need to measure the ROI ahead of time.
Remember the list of goals, KPIs, and objectives you wrote down earlier?
Your consultant should be able to help you refine your goals and objectives. If you haven't already, you want to add some specificity to these goals. You'll want to add specific numbers, facts. or figures to these goals. Use these figures as a general guide — you want to discuss these with your consultant making sure they're realistic and achievable.
Here are a few examples you can use:
Increase productivity becomes — Increase our marketing team's productivity by 16 percent
Improve lead quality becomes — Use lead scoring to achieve a 6 percent lift in marketing qualified lead volume
Identify top-performing marketing channels becomes — Identify top performing marketing channels by automating URL tagging for all current and future marketing campaigns
decrease customer acquisition costs becomes — Reduce customer acquisition costs on Google ads by a minimum of 11 percent
Measuring your ROI is pretty straightforward if you have a clear idea of your campaign goals and objectives. The easier it is for you to list a starting point, the easier it will be for your consultant to help you reach your goals and objectives.
4 Point Checklist For Finding the Right Marketing Automation Consultant
Choosing the right marketing automation consultant is simple if you've prepared ahead of time. From there, you can screen consultants the same way you would for any other consultant or professional. First, you outline your process, listing your goals and objectives, your current technology stack, decision-makers, influencers, etc. Second, you filter your providers through your process, ensuring each candidate meets the criteria you've set.
Here's a shortlist of the criteria you can use to evaluate your consultants.
They understand digital marketing. The best marketing automation consultants are marketers themselves. The ideal candidate is a marketing veteran who's managed marketing campaigns from beginning to end throughout their career. You're looking for someone who got their start as a marketer.
They understand your business. Your marketing automation consultant should have an in-depth knowledge of your business — how it works, what you need, mistakes to avoid, etc. If you're managing a retail or ecommerce company, your consultant should have experience managing marketing campaigns for retail or e-commerce companies. You're looking for someone who has a native understanding of your business.
They're data-driven. Marketing automation requires a mix of art and science. You'll need someone who loves to read through data but is skilled enough to explain it to the people on your team who aren't data-driven. The ideal consultant can tell stories with data and helping your team make important decisions.
They're proactive and knowledgeable. When it comes to automation, you shouldn't be as knowledgeable as your consultant. They should be able to make recommendations and connections you weren't even thinking of. They should be able to help you automate your campaigns in new ways; to increase your productivity by customizing your marketing stack.
This checklist is pretty simple.
A great marketing automation consultant should be able to handle everything we've covered so far comfortably. They should be able to break things down for you, showing you how to improve your plan, refine your goals and objectives, and add to your technology stack.
They should be asking questions.
If they're good at what they do, they'll have some questions and requirements of their own.
Conclusion
While many organizations are switching to marketing automation, most don't have a clear plan they can follow. Companies list a lack of know-how, strategy, or personnel as the reasons why they weren't completely on board with marketing automation.
That's changing fast, though.
More companies are investing in marketing automation. They're taking the time to implement a strategy for their business. Marketing automation isn't an extra; it's a component that's an essential part of your marketing, especially as your company grows.
With the right consultant and a clear strategy, you'll have the people, process, and technology you need to grow your business quickly.
The post Marketing Automation Consulting appeared first on Neil Patel.
Your analytics should tell you everything.
Tools like Google Analytics are incredibly valuable for businesses. Once you're setup, you'll have everything you need to analyze your performance data properly. Instead, many companies have realized that their analytics tools have introduced a lot of unexpected problems.
They're not getting the kind of value they need.
That's the good news. Most companies think their data is clean; that they're making good decisions with the data they have. Most of these companies are wrong; they just don't know it yet. This is why companies need analytics consulting. They don't know what they don't know.
Today, I'll show you how to find the right analytics consultant for your business.
4 Ways an Analytics Consultant Can Help Grow Your Business
Many companies make the wrong assumptions. Using a tool like Google Analytics, clients think all they have to do is drop the tracking code into their web pages, log into their account, and begin analyzing their data. It sounds easy, but it often isn't.
There's more to it than that.
This is why you need an analytics consultant. With the right consultant, you'll have the education you need to grow your business. You'll be able to pull insights out of your data using a variety of methods. Each of these strategies is important because they have a cumulative effect on your business.
Here are four ways analytics consulting can help you grow your business.
1. Exclude spam traffic via bots, scrapers, and spiders
How much of your traffic comes from real visitors? How much of it comes from bots, scrapers, and spiders? According to Imperva, almost half of all internet traffic is non-human. In 2014, Google introduced an obscure setting that enables you to filter out bots and spiders listed in IAB's Interactional Spiders and Bots list. This low-key setting is buried in Google Analytics, but it's incredibly important; many small businesses still aren't aware of this setting.
You'll also need help to filter out referral spam.
Referral spam is basically fake website hits; these bots, scrapers, and spiders land in your site. Site owners send their spam to your site. They hope you'll see these referrals in your Google Analytics account, clickthrough, and visit their site.
This junk traffic poisons your data.
It gives you false readings based on inaccurate data. Your site may be more or less profitable, depending on your visits-to-spam ratio on your site. This isn't something many businesses watch for in their analytics reports.
A good analytics consultant will consistently filter the variations of spam traffic (e.g., direct spam traffic, referral spam traffic, etc.) out of your reports, so you get a clear picture of your marketing performance.
2. Help you analyze your data properly
A lot of companies don't know how to analyze their data properly. According to Forrester, between 60 and 73 percent of a company's analytics data goes unused. Companies collect lots of data on customer activity, but they aren't using it, why?
There are lots of reasons.
Companies don't know what they have
Companies aren't aware of the value of their data
They don't know how to evaluate or analyze their data
Their data isn't available to those who can use it
There's too much data to go through and not enough time to use it
Think about it.
Right now, your company has valuable data about your customers. This is data you can use to attract more customers, lower expenses, grow faster, jump ahead of competitors, etc.
If you're unaware of the data, you can't use it.
A good analytics consultant will help you analyze your data properly, showing you what you have and how you can use it to grow your business.
3. Identify the list of problems you're trying to fix
Your data isn't as valuable without context.
If you know the problem you're trying to solve, you have a pretty good idea of the answers you're looking for in your data.
That's the problem though.
A lot of companies treat their analytics tools as a technology issue. They focus their attention on the obvious issues like hardware or software. They rarely treat their analytics as a question and answer tool. That's exactly what it is, though.
Target had the right idea when they started their analysis with a problem/question.
Remember the story?
"If we wanted to figure out if a customer is pregnant, even if she didn't want us to know, can you do that?" It's a creepy story that shows the power of questions and problems. A great analytics consultant will help you discover the issues you're trying to solve and the questions that need answers.
4. Focus your attention on the metrics that explain why
Analytics tells you what happened — what visitors did when they arrived on your site, the ads they responded to, what they read most often, etc. It doesn't tell you why visitors do the things they do. Understanding what is important, but it's more important to understand why something happens.
Focusing on the right metrics is the answer.
The right analytics consultant will help you answer the "what" — basically looking in the rearview mirror. But they'll also help you look ahead; They'll dig deeper, showing you the why behind visitor and customer behaviors.
Your analytics consultant should provide you with the education and support you need to squeeze more value out of your data.
How to Get Started With an Analytics Consultant
Avinash Kaushik has a three-step framework he uses to help analytics consultants support their clients. He calls it Data Capture. Data Reporting. Data Analysis. The nice part about this framework is the fact that it's easy for both clients and consultants.
Consultants can use each of these buckets to analyze your goals, objectives, and the results they want to accomplish with each.
You're basically goal setting with this framework.
Here's a closer look at each of these three buckets and the goals for each of these.
Data Capture: Work in this bucket is focused on audits or updating data capture methods (e.g., updating, editing, or customizing tags). This step is especially important because it determines the quality of what comes afterward. If you've done a good job with your data capture methods, you'll have accurate data and reporting you can use for your analysis.
Data Reporting: Your consultant sets up the reports you need on the intervals required. Your consultants help you identify the reports you'll need, and they provide you with the reports you need regularly.
Data Analysis: This is what Avinash calls an open-ended assignment, but it's one you've provided to your consultant. You're asking them to answer specific questions for you — your consultant should be able to show you what to measure, what your data is saying, what to do based on your data, and why you should do it.
Here's what this means for you.
You'll want to find an analytics consultant or agency that can handle all three steps in this framework. This also means you'll need a clear idea of problems you're dealing with ahead of time.
Measuring the ROI of Analytics Consulting Services
Many companies don't understand analytics.
If you don't understand analytics, that's okay; you just need to know whether you're generating a return on your analytics investment. According to Nucleus Research, analytics returns $13.01 for every $1 invested.
Your consultant should be able to calculate your return on analytics investment.
This obviously much easier if your consultant is focused on the data analysis bucket. Suppose they've made several data-driven improvements to your site over three to six months. Their recommendations have lead to an increase in revenue, profit, or a return on investment for you. They should be able to verify your return on investment using the worksheet I've linked above.
The good news is the fact that analytics, as a discipline, is data-driven.
Checklist For Finding the Right Analytics Consultant
Choosing the right analytics consultant requires a very different set of skills. If you're working with an independent analytics consultant, you'll need to approach this in one of two ways.
Choose a consultant with all of the skills needed to perform across all three buckets (data capture, reporting, analysis).
Choose an agency with analysts and implementation specialists needed to generate the results you need.
Here's a list of the skills needed for each of the three roles in your buckets. Avinash breaks these skills down in detail in his web analytics consulting framework post.
Here's a quick summary.
For the data capture bucket, your consultant should have the skills of an implementation specialist. They're experienced with tag managers; they understand data dimensioning and working knowledge of tracking variables.
With the data reporting bucket, your consultant should be familiar with report creation in your analytics platform; they should also have a master list of the custom reports you'll need for various options. It's also ideal if your consultant has a working knowledge of his own set of customizations.
For the data analysis bucket, your consultant should be a web analyst. Your consultant should be comfortable with advanced statistics and analytical techniques. They should be experienced in descriptive, diagnostic, predictive, and prescriptive analytics.
If you're working with an independent consultant, they should be an industry veteran with the skills I've listed above. If you're working with an agency, they should have employees with the skills for each bucket. If you have implementation specialists, you can handle data capture and possibly reporting.
Just make sure they're a fit for that role.
Conclusion
Many companies aren't familiar with analytics consulting. They're not entirely sure how analytics impacts their organization. That's okay, as long as the ROI is there.
Using a tool like Google Analytics, many companies assume that all they need to do is customize the tracking code, drop it onto their web pages, log into their account, and begin analyzing their data. It should be that easy, but it isn't.
There's more to it than that.
With most companies, their analytics data goes unused, they collect lots of data on customer activity, but they don't know how to squeeze value out of their data. Analytics consulting can help you evaluate your performance data properly. Choose the right team, and your data will tell you what you need to know.
The post Analytics Consulting appeared first on Neil Patel.
Disclosure: This content is reader-supported, which means if you click on some of our links that we may earn a commission.
Merchant services exist to help businesses process credit card payments. You might know them by the name "credit card processors."
Regardless of what you call them, choosing the best merchant service isn't easy. The "best" one is the one that is right for your specific business, and each of the following services offers particular features that may work for one company, but not for yours.
That's why, in this guide, I'm catering to each type of business and finding the right merchant service for your needs.
The Top 6 Merchant Services:
How to Choose The Best Merchant Services For You
Before we get into the best merchant services, we need to understand the criteria used to make these decisions. Keep all of the following factors in mind as you read through the reviews.
Processing Rates/Monthly Fees
It's all about the money, and credit card processing is not as simple as you think. You have to weigh the pros and cons with each gateway; otherwise, you can end up paying way more than you planned.
We need to look at the processing rates first. To get a lower processing rate, you usually have to pay a higher monthly fee. If you're processing payments at high volume, it's worth it for you to pay the higher fee because your volume will make up for it.
On the other side, if you're not processing a lot of payments, having a higher transaction fee won't hurt you as much as a high monthly fee would.
Flat-rate processing is a simple solution for small businesses, but interchange pricing is generally more affordable.
Services
You want to look at what the payment processor offers in addition to credit card processing. Do they offer free POS systems, hardware, mobile payments, integrations, etc? Some merchant services even offer consulting, customer loyalty features, and invoicing tools.
Sometimes the "extra benefits" you get from a merchant service provider can outweigh some of the negatives.
The Type of Merchant Service Account
There are two primary types of accounts, one is an aggregator (or middleman), and one is an ISO (or independent sales organization). Let's compare the two and see why it's important to understand the difference.
Aggregators
These are middlemen working in between the business and the bank, offering an easy payment processing solution for businesses. Square is an example of this, and while they make it easier, they usually have higher fees and transaction costs.
ISOs
Payment Depot is an example of an ISO, and while they usually have a more strict acceptance policy, they offer lower rates and user-friendly software compared to a direct processor.
Integration
One of the most important factors to consider is, "how will this integrate with my current systems"?
Your payment processor should never get in the way or cause your conversion rates to decrease; it should complement your current process or even enhance it. Make sure you choose something that will easily integrate into your business without requiring too many changes or adjustments.
The Different Types of Merchant Services
After much research and careful consideration, these are my top six merchant services for both in-person and online sales.
#1. Square – The Best For Transparent Pricing/Fees
Pros:
No monthly fee
Transparent processing
Free card reader
Great added features
Cons:
No ACH payment processing
Higher fees than desired
Square is popular for its credit card processing and POS systems, but it offers much more. It hosts features such as the "Card on File" feature, allowing users to store customer card information that works great for repeat customers trying to accumulate loyalty points and rewards of that nature.
The processor also doesn't have a monthly fee, and while Square's features might not be as advanced as some of the other payment processors we're talking about, for a POS without a monthly fee, you can't beat the value.
The one thing that stands out most to me is the transaction costs and how they vary whether you're doing business in person or online.
For in-person sales, expect to pay 2.6% and $0.10 per transaction. For online transactions, it'll cost you 2.9% and $0.30 per transaction. There are other instances, such as:
Virtual terminal transactions
Card-on-file transactions
And card-not-present transactions
These will cost 3.5% and $0.15 per transaction.
Based on these numbers, Square is not the most affordable flat-rate processor, but the transparency makes it easier for you to understand what the rates are and how they'll impact your processing based on volume and price.
Pros:
Dedicated account manager
Free account setup
Free card terminal (with fees)
Cons:
Confusing ownership
Little information regarding price
Flagship Merchant Services cut the tape in 2001 and was acquired by iPayment in 2012. Now, they primarily resell iPayment, so keep that in mind.
This company was one of the first to offer free account setup without any application or fees and real month-to-month contracts. They operate tens of thousands of merchants, and they have a strong reputation.
Since they're not a direct processor, most of their merchant accounts are set up through iPayment. iPayment uses First Data as their processor, and it can get confusing trying to figure out who is processing what through what service.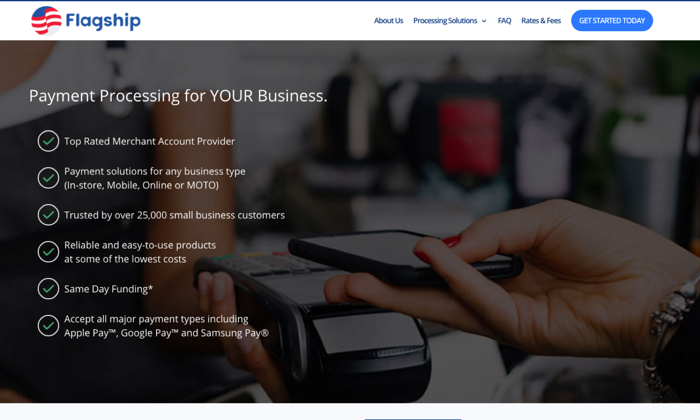 For retailers, Flagship does offer a free credit card terminal, but you're responsible for paying account fees and insurance on that terminal to keep it up and running.
For ecommerce, they offer either Authorize.net for processing and integration of an online cart onto your site.
One thing that was a little frustrating about Flagship is trying to find information on their rates. If you go to their website, you'll see that you need to fill out a form to get any info about what they charge.
I'd like to see more transparency, but you may end up with a more catered package deal with this strategy.
My favorite feature is that you get a single line of contact with the company when you purchase a gateway; they act as account managers. If you ever have a problem, you contact that specific person, and this isn't a feature I've ever seen with any other merchant service.
#3. Helcim – The Best For Small Business
Pros:
Limited fees
Fees based on volume
Free online store software
Cons:
Limited integrations
$199 for the card reader
If you're a small business owner, Helcim might appeal to you. With this service, you're able to process credit and debit cards online and in person. You can also do some of the following:
Set up recurring payments
Send invoices
Collect payments
With a Helcim card reader, you can accept all major cards, including Amex plus Google Pay, Apple Pay, and JCB.
Helcim charges $20 per month with transaction fees based on volume. They don't have any contracts or cancellation fees, and they'll wave your monthly fee if you don't process any payments.
Overall, Helcim is affordable but much more for in-person payments than they are online. Here's a quick breakdown of their pricing structure:
Monthly Volume: $0 – $25,000
In-Person: 0.3% + 8 cents (+ interchange)
Online: 0.5% + 25 cents (+ interchange)
Monthly Volume: $25,001 – $50,000
In-Person: 0.25% + 7 cents (+ interchange)
Online: 0.45% + 20 cents (+ interchange)
Monthly Volume: $50,001 – $100,000
In-Person: 0.2% + 7 cents (+ interchange)
Online: 0.4% + 20 cents (+ interchange)
Monthly Volume: $100,001 – $250,000
In-Person: 0.18% + 6 cents (+ interchange)
Online: 0.35% + 15 cents (+ interchange)
Helcim offers nice features for those of you looking to integrate this payment gateway into your online store. You can add a checkout to your site for invoicing and customer registration while also accepting recurring subscriptions.
#4. Payment Depot – The Best For Established Businesses
Pros:
No contract processing
Competitive rates
Easy to integrate online
Cons:
Best for high-volume business
Application process
Payment Depot uses a membership pricing model, making it simpler to understand but can sometimes result in you paying higher fees. Thankfully, Payment Depot's rates are pretty competitive, and they include interchange-plus pricing for both online, in-person, and mobile payments.
This strategy actually makes Payment Depot one of the most affordable payment processors for established businesses that are doing a certain amount of volume.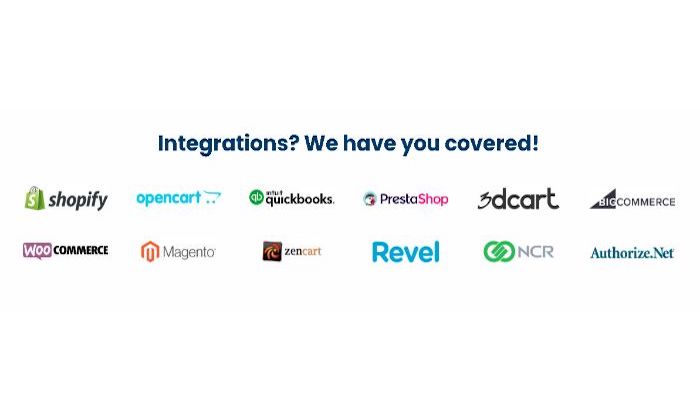 Payment Depot accepts all major cards and contactless Apple Pay and Google Pay as well. You get next-day funding and integration with POS systems as well as ecommerce platforms such as:
Shopify
Revel
QuickBooks
PrestaShop
BigComemrce
WooCommerce
And more…
I don't think this is one of the best merchant services for small businesses because of how they structure their pricing. The transaction fees go down as you pay a higher monthly fee, and they seemingly force you to increase your plan because of strict processing limits.
Here's a breakdown of their pricing:
Basic Plan
Fee: $49
Transaction Fee: $0.15
Monthly Limit: $25,000
Popular Plan
Fee: $79
Transaction Fee: $0.10
Monthly Limit: $75,000
Premier
Fee: $99
Transaction Fee: $0.07
Monthly Limit: $150,000
Unlimited
Fee: $199
Transaction Fee: $0.05
Monthly Limit: Unlimited
So, as you can see – if you're doing high volume, it would make the most sense to upgrade to the most expensive plan for the lowest transaction fees.
#5. Fattmerchant – Best For Subscription-Based Businesses
Pros:
Simple pricing
Omni software
A solid choice for subscription businesses
Cons:
Higher monthly fees
Transaction fees are relatively standard
Fattmerchant is set up a lot like many of the payment processors. As you increase your monthly fee, your transaction fees go down. They offer Omni, which is where you'll do your invoicing, payments, and reporting. The service is incredibly user-friendly, great for beginners, and it comes included with your monthly fee.
While Fattmerchant is a great choice for budget-conscious business owners, it's also a great option for subscription-based businesses. If you're selling monthly coaching packages, agency services, or counseling, you'll benefit from Fattmerchant's structure.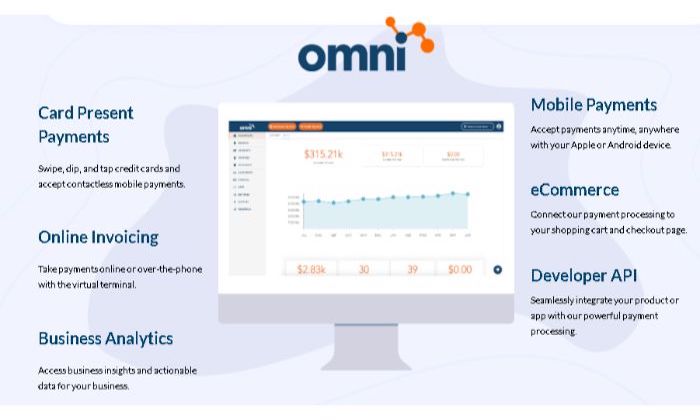 The processor accepts all major cards, including ACH, invoicing, Text2Pay, and more. Same day funding is available, and you get a free iOS and Android POS app and Bluetooth card readers that you can use on the go.
They have two pricing plans:
Fee: $99
Annual Limit: $500,000
Card-Present Fee: $0.08 + Interchange
Card-Not-Present: $0.15 + Interchange
ACH Transaction Fee: $0.25
Fee: $199
Annual Limit: $5,000,000
Card-Present Fee: $0.06 + Interchange
Card-Not-Present: $0.12 + Interchange
ACH Transaction Fee: $0.25
Fattmerchant has a higher monthly fee than some others, but the company says that is how they keep their transaction fees down.
#6. Stripe – Best For Online Payment Processing
Pros:
Allows you to grow
Reasonable pricing
Great solution for online businesses
Cons:
Complicated setup
May require developers
If your business runs entirely online, Stripe is your best choice. It's made specifically for ecommerce and internet business, and tons of startups and Fortune 500 companies trust Stripe.
The company offers sophisticated software and APIs that allow online store owners to customize their checkout experience. You can use the pre-built integrations to connect a Stripe checkout right away and then customize it as you go along.
That's one of the main reasons why I love Stripe; it's a payment processor that grows with you and allows you to change it as your business needs change.
With all of these features and moving parts comes complications. It's not the easiest to set up, and if you plan on utilizing the many benefits of Stripe, you'll likely need a developer to handle it for you.
Stripe offers a "pay as you go" strategy without monthly fees and transparent transaction fees across the board.
Online: 2.9% and $0.30
In-Person: 2.7% and $0.05
International: Add 1% per transaction
ACH Direct: 0.8% maxed at $5.00 per transaction
ACH Credit: $1.00 per transaction
You can use all major credit and debit cards plus ACH, WeChat Pay, Apple Pay, Google Pay, and much more. Expect to wait two business days for deposits or pay a one percent fee to get instant deposits.
Stripe integrates with WordPress, Magento, Squarespace, 3DCart, Zoho, Big Cartel, and more.
So, by this point, you should know which of these merchant services is right for you. They all have their pros and cons, and you should choose according to the type of business you own.
Square is an overall solid solution for all businesses, but the transaction fees are a bit high, and scalability is lacking.
I'm also a big fan of Helcim because they allow you to grow with your processor by increasing the monthly payment as your volume needs increase.
Regardless of which choice you make, keep the important factors in mind and choose carefully, so you don't regret your decision down the road.
The post Best Merchant Services appeared first on Neil Patel.
LinkedIn's 690 million members include 180 million senior-level influencers, 63 million decision-makers and 10 million C-level executives.
Hence, there are a lot of influential people on LinkedIn that have hiring power and purchase power. Whatever you hope to achieve from using the network, you'll want to make a good impression.
Your headline is the first thing that people see aside from your profile picture. It's how decision-makers will find you. It's how you get people to notice you and what will make them want to visit your profile to learn more. Thus, it's safe to say your headline is pretty important.
So, I thought I'd share my top tips for creating an effective headline with you. But, first, let's look at the basics:
What is Your LinkedIn Headline?
Your headline is the tagline that appears under your name on LinkedIn and at the top of your profile page. The headline used to be limited to 120 characters. But, here's some good news, LinkedIn extended the headline to 220 characters in 2020. So, you have a little more space to sell yourself, share your vision or whatever it is you'd like to express via your headline.
What Makes a Winning LinkedIn Headline
There are some important criteria for creating an impactful headline. The best LinkedIn headlines do the following:
Make Use of Keywords
Keywords aren't the only thing your headline should include. But they are key to helping the right people find your profile. Keywords can include your job title, skills and areas you specialize in. Place keywords towards the beginning of your headline and then expand with further information.
Express Your Value
Expressing you or your company's value means sharing more than the tasks you carry out. Your headline should be driven by the benefits of the services you provide and the kind of results you achieve. For example, rather than saying you do tax planning, you'd say you help businesses to save money.
Are Unique
A winning LinkedIn headline is one that stands out from the crowd. Think about how many people do the exact same job as you or offer similar services. You can give yourself a competitive edge and encourage more people to visit your profile by making your headline different.
Help You Meet Your Goals
You need to think carefully about why you're on LinkedIn and what you hope to achieve. This should inform what you include in your headline (and the rest of your profile). If you're not sure about what you can accomplish on LinkedIn or how to go about it, you may wish to speak with a social media consultant.
Now let's look in more detail at exactly how you can create a winning headline:
1. Get Inspiration
By default, LinkedIn uses your job title and employer as your headline. What a snooze fest. If you want to do better, the first step is to get inspired.
Search for people in your field or who have similar roles to you. Take a look at how they've formulated their headlines. See what appeals to you and what doesn't. Of course, you shouldn't just nab somebody else's headline. But, doing this will help you come up with ideas for how you want your headline to appear.
Also, pay attention to those who appear at the top of the search results for your industry. What keywords do they use? Note these keywords as they likely contribute to why these pros are doing so well in the search results.
2. Ask Yourself These Questions
When you decide to upgrade your LinkedIn headline to maximize its impact, it's a good idea to have a little brainstorming sesh. Here are some questions that will guide you when you're coming up with ideas:
How would you describe yourself to a new colleague if you only had five seconds?
What makes you different from others with the same job title?
Why should users click on your profile?
What are your most in-demand skills?
What are your biggest accomplishments?
What makes you unique?
3. Choose the Right Keywords
Include relevant keywords in your headline so that you appear in more search results.
To do this, you'll first need to think about who you want to find your profile on LinkedIn. A recruiter? A potential lead? Influencers you hope to connect with? And so on…
This will guide you in figuring out the right keywords to use. For example, you may include your specific skills or specialisms to get found by recruiters with the most relevant job opportunities.
In this example, we don't just have a "developer", nor do we just have a "chatbot developer", the user goes even more specific with the terms "Facebook Messenger Marketing" and "Automation Practitioner":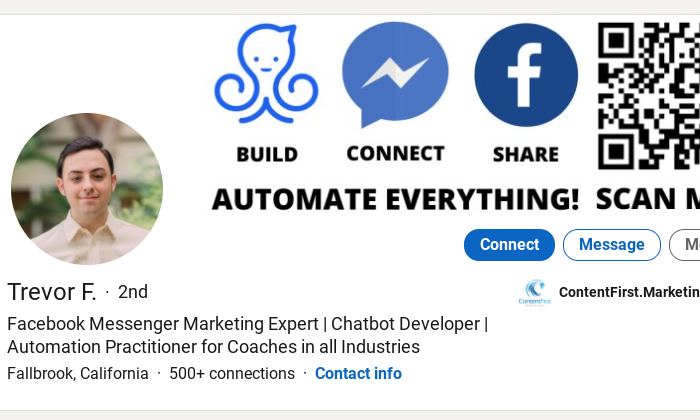 Whereas, if you're using LinkedIn to network and boost your authority, you may want to use broader terms. Your job role might be "Artworker" but in order to be found by more people, it'd be a very good idea to include the term "Graphic Design".
4. Include Your Unique Selling Proposition
Keywords alone aren't enticing enough to get users to visit your profile. State the value that you provide by doing what you do, in particular something that makes you stand out from the crowd.
There's a simple formula you can use to express this: I help X do Y by doing Z. Here's an example from an accounting consultant: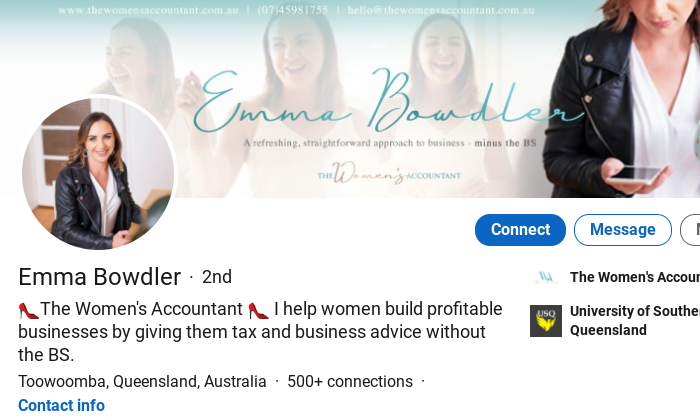 When she says "I help women build profitable businesses", she outlines the beneficial results of her work, not just the tasks that she performs. You should do something similar.
You can also use data to drive your point home. Here an email marketer shares the average results he achieves: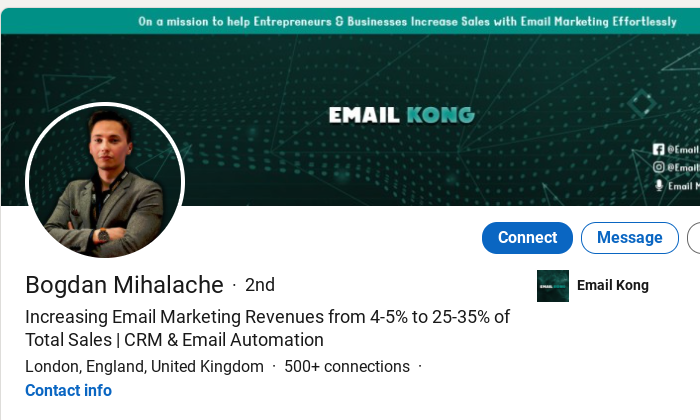 There are tons of relevant data points you could include to prove your value, such as the number of customers you've helped achieve a particular outcome or the results of an impressive case study.
5. Share Your Achievements/Credentials
When you make self-aggrandizing claims on LinkedIn, people will either think you're arrogant or full of it. Instead, you should go by the old adage, "Show don't tell". Show that you're great at what you do via your achievements or credentials.
What's your most impressive achievement? Have you won an award perhaps? Been featured on top media outlets? Sold a bunch of books? Grew a well-known company? Those are the kind of things you'll want to share.
This professional shares the fact that he's been a LinkedIn Top Voice honoree four times and sprinkles in some serious social proof by mentioning his work with Mark Cuban: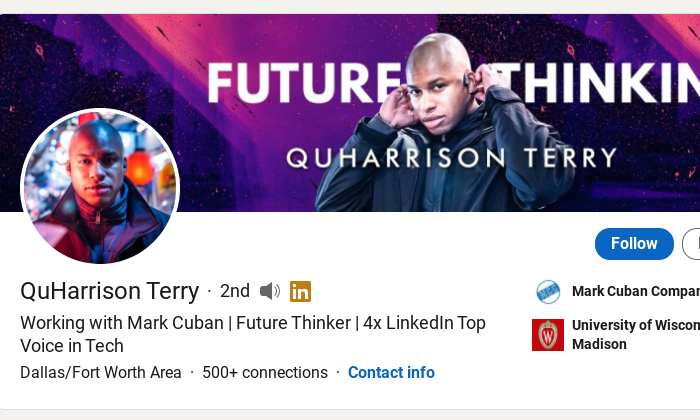 Furthermore, certain credentials that are recognized by people in your industry will give you clout. For example, in the marketing world it's good to be Google-certified, like this pro: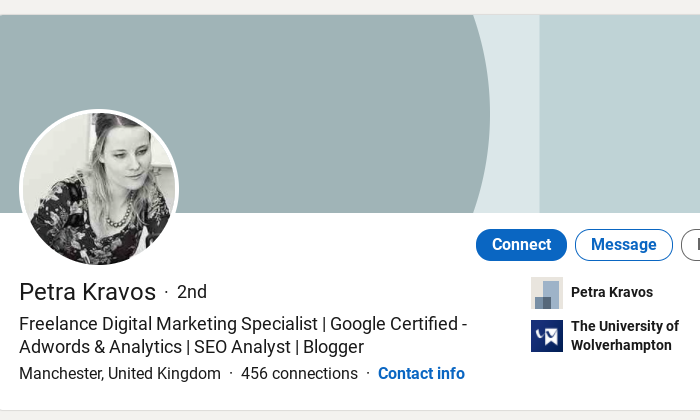 Share credentials relevant to your position to show that you're not just messing around, you really know what you're doing.
6. Use Natural Language
Keep your headline free of jargon, particularly if you're using LinkedIn for sales or lead generation. If a prospect doesn't understand what you're selling, you won't have much luck.
Similarly, make your job title clear and simple unless you're seeking a specific job role. Again, users you want to connect with may not understand what you do. Even if you think the term "Business Development Manager" is clear, trust me, simplifying it to "Sales Manager" is much more transparent.
Also, avoid buzzwords. After a time, every Tom, Dick and Harry will be using the same trendy terminology to describe their services. Thus, your words become meaningless.
And saying that you're a "Guru", "Ninja" or "Wizard" is a bit cheesy and old-fashioned. It won't help you in the search results either. When was the last time you searched for a ninja on LinkedIn or anywhere for that matter?
Try to use simple, everyday language to explain your role or value proposition. Here's an excellent example from a marketing professional: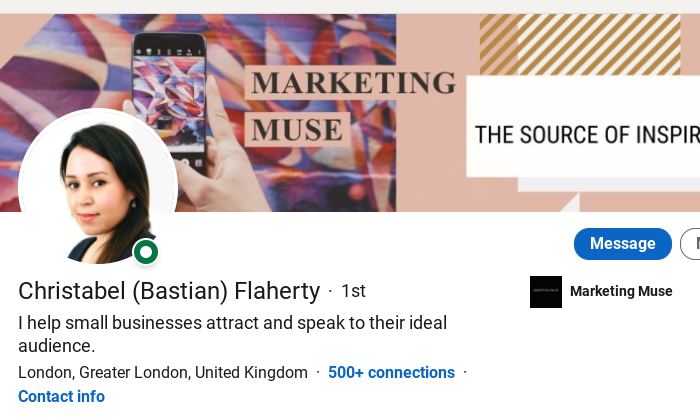 Her target audience, small businesses, may not be familiar with or fully understand industry terms so she offers a straightforward, benefit-driven value proposition.
7. Don't Put "Unemployed"
Even if you're currently looking for a job, you shouldn't put "Unemployed", "Seeking New Opportunities" or similar in your headline.
The thing is, recruiters or companies aren't searching for the term "Unemployed" on LinkedIn. You only get a couple hundred characters for your headline, so it would be better to utilize that space for keywords that they are likely to search for, and your experience, specialisms, credentials etc.
You can show that you're looking for work on your profile instead. At the top of your profile, you'll see a section that says, "Show recruiters you're open to work".
Simply, fill in details about the type of role you're looking for and the location. You can even change the settings so that your current employers won't see that you're seeking work.
8. Share Your Mission
Maybe you're not looking to promote yourself. Perhaps, you're in the process of growing a startup or maybe you or your company are trying to achieve a wider goal that you want people to know about.
If this sounds like you, then you should definitely share your vision in your headline. In this example, the professional shares what he does "mass transit" but also why he does it "to reduce our carbon footprint and create a more connected community":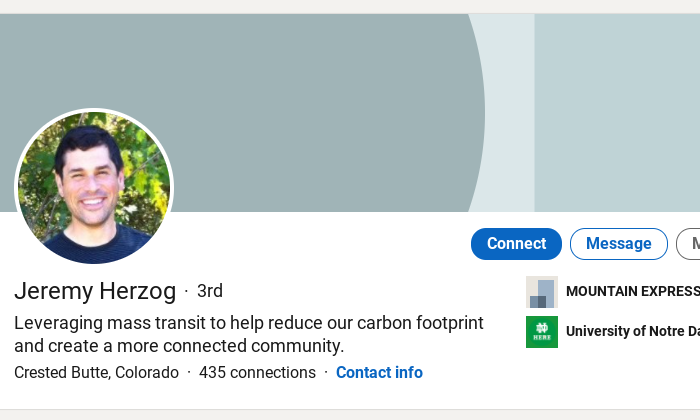 You could use a similar formula. Start with the what and then go into the why. If you're unsure about how to phrase your goals, you can always take inspiration from your company's mission statement.
9. Show Your Personality
Like with any other social media platform, users skim through their LinkedIn feed, groups and even search results at speed. So, you need a headline that's going to make somebody stop and take notice.
Get creative and use your headline to express your personality. Not only will it make you stand out but it'll also make your profile memorable.
Here's an example from an SEO manager with a quirky sense of humor:
Don't worry, though. You don't have to be the Kevin Hart of LinkedIn. There are other ways to express your personality via your headline. Perhaps, you want to project positive vibes or enthusiasm.
You could even share a little personal tidbit about yourself. Maybe you do PR during the day and rule at Settlers of Catan by night… This kind of thing will also help start conversations between you and new connections.
10. Keep Your Headline Updated
It's easy to set and forget your headline. But to get the most from it you need to keep it up to date.
Firstly, be sure to add new skills, achievements, career developments and so on when they arise. Your skillset will develop over time and your headline should reflect this.
Moreover, you may wish to test the impact of your headline and update it accordingly. When you make an alteration, keep an eye on the number of people who have viewed your profile.
With LinkedIn Premium, you can also see who has viewed your profile. Therefore, you can discover if your headline is attracting who you want to attract or your target audience.
Conclusion
You can use your LinkedIn headline to get noticed by influential professionals and encourage more people to visit your profile. A winning headline combines relevant keywords and your unique value proposition.
Don't forget to think carefully about who you hope to attract with your headline. And don't be afraid to sell yourself as long as it doesn't come across as too boastful.
Take the first step towards creating a great LinkedIn headline. Do some research to see what works well in your industry and brainstorm ideas for your own headline.
The post 10 Tips For Writing a Winning LinkedIn Headline appeared first on Neil Patel.
Disclosure: This content is reader-supported, which means if you click on some of our links that we may earn a commission.
Think back to the last time you saw one of those giant, clunky fax machines sitting around.
It's probably been a while, right? While that old-school hardware is undoubtedly outdated, faxing isn't dead by any means.
It's actually very much alive. But thankfully, we have better technology.
The best online fax services make sending secure communications via fax a breeze for individuals and businesses of all sizes with no ugly, expensive, or finicky hardware required.
However, there are dozens of providers to choose from, which is why making the right choice is often more challenging than actually using the service. So to help make your decision easier, I narrowed it down to my top six recommendations—and reviewed them.
The top 6 options for online fax services
How to choose the best online fax service for you
There are dozens of online fax service providers to choose from. This makes it challenging to know which one's perfect for your business, especially if you're not quite sure what to look for.
All of the options on this list are excellent. However, they may not work for everyone.
So, don't forget to use the following factors as you go through the decision-making process to help you narrow things down and find the perfect fit.
Number of users
As a business, you probably need multiple user accounts. Different services have different pricing plans, so it's essential to consider the number of accounts you need.
Some options may limit the number of users with no way around it. Others may offer extra user accounts with an additional monthly fee. So, this plays a massive role in how much you can expect to pay every month.
With that said, most smaller businesses won't have problems with account limitations.
But large corporations with multiple departments who need faxing capabilities may run into problems with low-limit plans.
Cloud-storage integrations
Most businesses rely on cloud storage tools. Whether you depend on Microsoft 365 or Google's G Suite, your employees probably use these tools daily to create and archive documents.
So, it's important to consider these integrations if you and your team need to store documents you send or receive via online fax.
This can help streamline your document management processes.
Page limits
Most providers charge an extra fee if you go over the number of pages your plan includes. So, you need to consider your business's needs when it comes to monthly fax volume.
A lot of providers place low limits on this to encourage you to upgrade to a better plan.
So it's critical to choose a plan that offers enough pages per month along with a fair page overage fee (just in case). However, online fax services with unlimited plans are a better option for businesses that expect to send and receive high volumes every month.
Document archiving
If you're using an online fax service to send and automatically digitize documents, it should come with document archiving as well. This can significantly streamline and automate your document management processes.
Some online fax services provide online databases so users can easily store faxed documents. However, some don't, and others don't provide archiving features at all. Without this, you have to print, scan, and store everything by hand.
Which… can be an incredibly time-consuming process.
So, pay close attention to this as you decide, especially if it's something you need now or may need in the future.
Industry-specific use
There are lots of different all-purpose online fax services out there. However, sometimes particular providers are more suited to specific industries.
Healthcare is an excellent example of this because you're dealing with sensitive information and legal regulations regarding how you handle it. So, you need a service that's secure and compliant with those requirements.
However, healthcare isn't the only industry like this. As such, it's critical to consider your industry's requirements and regulations before making your final decision.
The different types of online fax services
Not all online fax services are the same.
So, before we dive into the reviews, let's talk about the different types of online fax services so you know exactly what to look for as you go through the process.
Web or cloud-based services
The most common online fax services are cloud or browser-based. All you have to do to get started is create an account, and you're ready to go.
Web-based fax services are known for high-quality faxes as well as ease of use.
And they often offer a wide range of cloud-based integrations with platforms like G Suite and Dropbox, making life easier if you want to archive your communications on the cloud.
Mobile fax services
Mobile fax services allow users to fax directly from their smartphones. Essentially, mobile faxing is as convenient and as easy as snapping a photo.
Plus, you don't have to wait until you're at your computer or rely on team members sitting in front of a desktop to send and receive communications.
Some providers may also support desktop or web-based use, while others are exclusively mobile.
So, keep this in mind as you decide which provider is best for you and your team.
#1 – mFax Review – Best online fax services for multiple users
mFax is one of the most flexible and adaptable online fax services for businesses with numerous team members. Their flexible monthly plans allow up to 50 individuals to use the service.
Operating as cloud software, there's no need to install or download any programs. And you can easily access the mFax interface from any web browser on any device.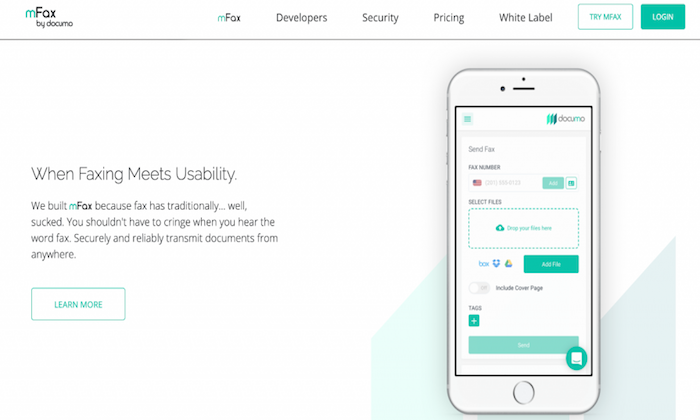 With an easy-to-use interface and intuitive setup, it's an excellent option for those looking to get started with their first online fax service.
mFax comes with various features and benefits, including:
Automatic cloud storage for sent and received faxes
Works from any device
Send and receive faxes from email
Multi-layered encryption for documents in transit and rest
Plans for small businesses and large enterprises
Easy to create and manage users and set account-level permissions
Print to Fax driver allows you to send a fax from a desktop to print
mFax also has a beta version of international outbound fax for 24 countries. So, you're not limited to one particular country.
Plans start at $7 per month for one user, making it super affordable for businesses of all sizes. Plus, you can try mFax for free or sign up for a product demo to learn more about it.
#2 – RingCentral Fax Review – Best all-in-one online fax service
RingCentral Fax is another popular online fax service. With a solid feature list, flexible user numbers, and robust security suite, it's my #1 all-in-one online fax service recommendation.
Their unique fax scheduling feature makes it easy to send faxes for future delivery. This is particularly useful if you need to send international faxes to users in other timezones or have employees who don't work standard operating hours.
On top of that, you also get access to a ton of powerful features and benefits, including:
Groups of up to 50 email addresses to send faxes in one message
Choose from toll-free or local fax numbers
IOS and Android mobile applications
Up to 200 faxes in an online account
Create an electronic signature and add it to documents
View received and sent faxes online via a web browser
Securely transmit faxes over an encrypted internet connection
Send and receive faxes from any device
Block faxes without a caller ID
RingCentral Fax is a great all-around option for small and large businesses who won't mind the slightly limited online fax storage (you can always store them elsewhere).
Plans start at $17.99 a month, and there's an unlimited plan for just $24.99 a month.
#3 – HelloFax Review – Best online fax services for cloud-storage integration
HelloFax is the best online fax service for integrated cloud storage.
The service seamlessly syncs with G Suite, OneDrive, Dropbox, and Box. Users can also access their faxes directly on the HelloFax's service from any web browser on any device.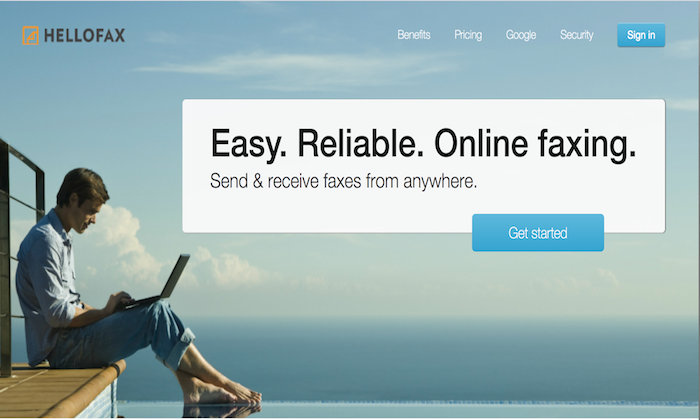 Plus, it's super easy to use. Faxes arrive directly to inboxes as a PDF where they are easily viewable, downloadable, and shareable.
There's also unlimited storage for businesses that prefer not to use other cloud storage providers for their faxes.
With HelloFax, you can:
Send up to five pages for free by signing up
Quickly fax to previously entered fax numbers
Additional faxes that go over the monthly limit are just 5 cents per page
Send faxes by email
Add and remove users at no extra cost
Send faxes to multiple recipients
Receive faxes with a paid plan
Sign in using your Google credentials
Despite having cloud integration with multiple platforms, HelloFax still offers unlimited storage, which is excellent for businesses planning on sending or receiving high-volume communications.
There's a free plan for up to 5 faxes per month, so you can try it free before you invest. However, most businesses need more than that, and you'll need to upgrade once you reach that limit.
But their paid plans are affordable, starting at $9.99 per month.
#4 – SRFax Review – Most secure online fax services
SRFax is a great option for businesses that have high-security concerns. Transferring information over the internet always comes with the risk of interception.
And for specific industries like healthcare, security is even more paramount.
Healthcare providers rely on faxing to transfer sensitive patient data. So, the fax services they use must comply with the Health Insurance Portability and Accountability Act (HIPAA).
SRFax provides multiple layers of data encryption while maintaining a user-friendly interface, making it an excellent choice for high-security industries.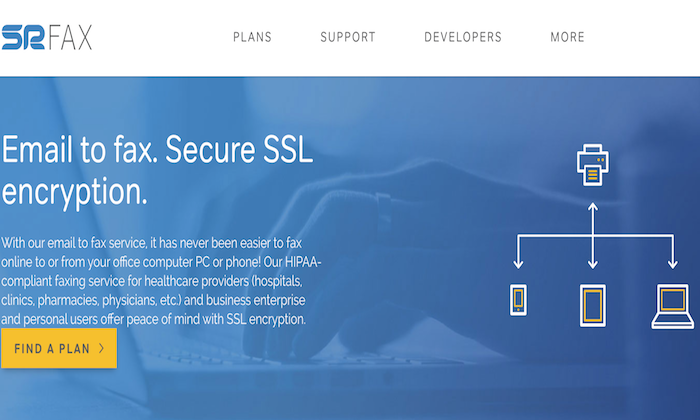 In addition to HIPAA compliant fax services, SRFax has multiple tiers and plans suited to all security levels and sizes of businesses.
They also offer a variety of features and benefits to make your life easier, including:
2048-bit SSL Certification, 2048-bit RSA public keys, and PGP encryption
24-hour customer support hotline
Plans come with unlimited authorized email addresses
Automatically download incoming faxes
Send faxes through an email account
Intuitive dashboard for viewing existing faxes, sending faxes, and changing settings
Send faxes through the online dashboard
For any company that prioritizes high-level security, SRFax is an excellent choice.
Pricing is affordable, with monthly plans starting at $3.29 per month. Or you can sign up for a non-healthcare specific 60-day trial to test it out before you commit.
#5 – FaxBurner Review – Best mobile online faxing service
FaxBurner stands out from other online fax services for its well-designed, user-friendly IOS and Android apps. With FaxBurner, sending faxes is as easy as taking a picture, and you can receive them straight into your inbox.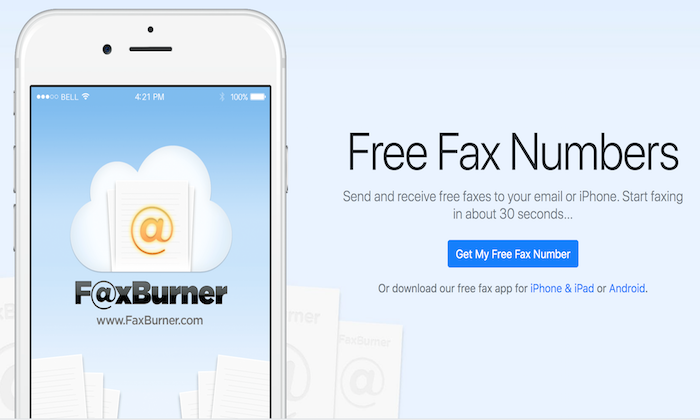 Set up is quick and easy. Plus, the platform gives users a temporary fax number that expires after 24 hours without upgrading to a paid plan.
On top of that, you also get various features and benefits, including:
No unprofessional looking ads or watermarks on free faxes
Digitally document signatures
Create cover letters within the app
Integration with cloud storage apps like DropBox
Email to fax option
Phone scanning capabilities
For users who need the convenience and flexibility of a mobile-first fax application, FaxBurner is my number top recommendation.
Free packages provide up to 25 inbound faxes and five outbound faxes a month. And their paid plans start at just $12.95 a month, making it incredibly affordable for most users.
#6 – Biscom 123 Review — Most affordable online faxing services
If your business is just looking to send the occasional fax, Biscom 123 is an incredibly affordable option. As a leading telecommunications enterprise, Biscom makes online faxing simple for both businesses and individuals with a straightforward interface.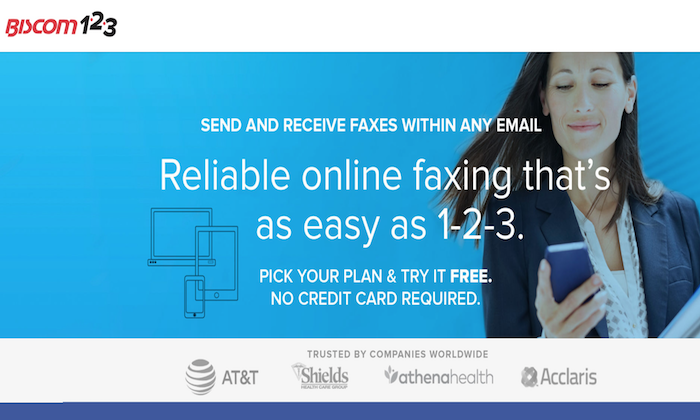 You can also try it free for 30 days to see if it's a good fit for your business, with no credit card required. However, it doesn't maintain archival records of your communications. So, keep that in mind.
Depending on your faxing needs, Biscom 123 offers various plans that allow you to send up to 300 pages with support for multiple team members.
Plus, you can also:
Easily add up to four users in addition to the primary account holder
Send email faxes in just a few clicks
Fax from Android and IOS mobile applications
Integrate with Google Drive
Send multiple file formats and rich text formats for text faxes
Saves inbound PDF files in your email inbox
No limitation on file size or number of documents
Pricing starts at $7.99 per month. This entry-level plan includes 30 pages per month with a charge of 7 cents per additional page. So, it certainly won't break the bank.
Summary
mFax and RingCentral are my top choices for most users. They're incredibly affordable and accessible for most businesses. Plus, they come with a ton of features to make your life easier.
However, that doesn't mean they're suitable for everyone in every situation.
So, don't forget to consider the factors we talked about and take advantage of free trials as you go through the process of picking the best online fax services for you and your team.
What company do you use to send online faxes?
The post Best Online Fax Services appeared first on Neil Patel.
Google AdWords can be both exciting and terrifying.
If you get it right, AdWords could totally transform your business by driving high traffic, generating more leads and revenue, and boosting sales.
But if you get it wrong, you'll end up spending thousands of dollars and get absolutely nothing in return.
Let's consider the following statistics:
However, the tantalizing world of advertisements isn't as straightforward as it seems.
You see, neither the promises nor problems that come with Google AdWords can fully describe the dynamic mechanism of a marketing platform and how it works.
Additionally, you may not have the time or may not be able to give the required attention to understand the intricacies related to it.
Have no doubt though – it is possible to make money on AdWords, but you need to have the right guidance.
So if you want to use your Google ads account to its full potential, you should definitely consider hiring an AdWords consultant.
Our team at Neil Patel Digital will help you through the process of hiring a suitable consultant for your business that can help you grow and prosper, along with getting other benefits.
4 Ways an Adwords Consultant Can Help Grow Your Business
45%.
That's the number of small businesses that have already started using pay-per-click or PPC advertising to reach customers.
So if you find your sales dwindling, you now know the reason why.
Incorporating Google AdWords into your marketing strategy is the only way you won't fall behind. Instead, you can boost your brand awareness, get more leads, and increase sales – all at the same time!
However, without an AdWords consultant, the whole process can become time-consuming, costly, and of course, prone to errors.
Here are our top four reasons why you should take the plunge and get yourself a consultant.
Manage and Improve Quality Score
Google wants to connect searchers with organic content and advertisements that most closely align with what they're looking for.
And let us tell you beforehand that things haven't been easy.
For years, Google had a problem with companies using and bidding on keywords that were unrelated to the actual keyboard they bid.
End results? Aggravated and confused users.
Precisely why the Quality Score system was created.
It's a dynamic variable that looks at different aspects of your ad and campaign, with each keyword having its own score that affects your ad rank and cost per click.
Hence, it becomes crucial to know whether or not a specific keyword or campaign can be profitable for your company.
Plus, if you have a higher Quality Score, you'll get a discounted price on each click. So a Quality Score of 10 provides a discount of 30% on every click – this gives you plenty of wiggle room for your advertising campaign.
A Google AdWords consultant can improve the Quality Score for any campaigns by doing the following:
Segmenting campaigns around smaller targeted ad groups to increase the relevance of ads.
Since ads that contain keywords of the search are more relevant than ads that don't, a consultant optimizes AdWords ad copy to increase click-through rates of the ads.
Creating laser-targeted landing pages.
Decreasing website load times to provide better experiences to users.
Ultimately, improving your Quality Score can have a positive effect on your AdWords campaign's profitability, allowing you to reach more customers and improve your ROI.
Staying Ahead in the Competition
If your competitors are already using PPC advertising, there is a higher possibility for you to fall behind.
But utilizing Google ads can level the playing field even if you have a limited advertising budget – just use the expertise of your ads specialist to get ahead.
A consultant can ensure you use the right ad tools and strategies without maximizing your budget. Plus, they think of intelligent tactics to make you closer to your end goals.
This will enable you to attract high-quality leads to your business without wasting money, while your competitors still dig through low-quality prospects.
Deliver Fast Results
Visitors who land on your website through Google ads are 50% more likely to purchase than organic visitors.
Hence, if you get your campaigns right – something that an experienced consultant can ascertain – you're assured faster and immediate results.
In fact, you can have your campaigns up and running within days if you contact an experienced team who is well-versed in Google ads.
This is due to several factors.
Firstly, the consultant has access to expert Google ad tools, so you don't have to waste money paying for these tools yourself. Moreover, they can develop a list of target keywords and provide key insights into your target audience and competitors.
All these efforts will help develop a stronger campaign for your company, ensuring better customer targeting.
The best part here is that unlike search engine optimization, AdWords work immediately.
You won't have to wait to see results. Instead, you can generate and start nurturing leads immediately.
Write Convincing Copy and Design Effective Landing Pages
Landing pages play a crucial role in the success of your campaign.
While some consultants offer an in-house solution for landing page design, others might contract out to a designer or company to help them.
Either way, you need an excellent landing page since your campaign's conversion rate and Quality Score are dependent on it.
Additionally, these specialists are well-versed in the art of copywriting, which helps convey your value and offer better to your audience. They can make the copy persuasive too by including the following key components:
An attention-grabbing headline
A compelling story
Social proof in the form of case studies, testimonials, and so on
Adding a personalized touch
Making customer-focused copy
Adding a call to action
How to Get Started With an Adwords Consultant
Hiring a consultant can be the first step to make your Google AdWords campaign a success, but you shouldn't bring just anybody onboard – you need to do your homework.
Getting the Hiring Right
The first you should do is make sure your consultant is Google AdWords-certified.
The individual should've passed exams, undergone quarterly training to refresh their skills and knowledge, and be familiar with the technical side of AdWords.
Eventually, all this knowledge and expertise can help them realize profits from your website or blog.
It would be even better if they are a Google Ads partner.
You see, Google Partners is a special certification from Google that shows a Google ad manager who has experience managing campaigns, along with a Google certification in at least one specialized area of Google ads.
Use this list of questions to find the right AdWords consultant:
How many years of experience do you have in PPC management?
What kinds of PPC campaigns have you managed? Who are your past clients?
Have you ever maintained internal lists of negative keywords?
Can you explain your campaign optimization process?
Do you offer search engine optimization services and paid search? Will you be willing to do social media advertising if I want to expand?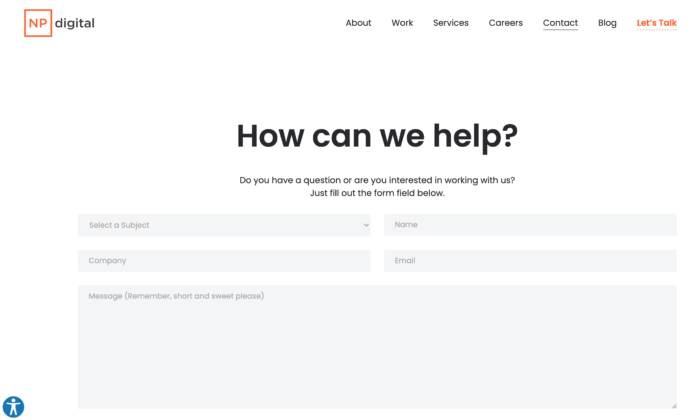 You can ask these questions whether you hire the freelancers on platforms, such as Reddit or Upwork, or opt for a team of seasoned consultants by filling out an inquiry form.
Holding Discovery Sessions for Efficient Goal-Setting
After choosing a consultant, you should hold frequent meetings to make sure everybody is on the same page and clear out any doubts about your business goals and budget.
Discovery sessions can be an excellent opportunity to communicate your expectations from the ad campaigns, whether it involves increasing brand awareness and reach, sales, leads, or website traffic.
If you want to establish a loyal customer base and want your target audience to consider your company's products and brands before your competitors, you'll have to let the consultant know.
Review the Campaign Strategy
This stage is where your chosen consultant should shine.
They should use their expertise and knowledge to chalk out a draft of the marketing campaign and help you develop SMART goals.
These are goals that are Specific, Measurable, Attainable, Relevant, and Time-Based. In other words, goals that can help you grow your business in the longer run.
For instance, you may want to increase your sales of Product A by 25% before the end of the first quarter – the framework should reflect on how to achieve it.
Review the whole plan and suggest changes if needed. If you aren't happy with anything, make sure you let the AdWords consultant know.
Launch the Campaign
A learning curve is involved whenever you launch an ad campaign.
Setting unrealistic expectations will always leave you disappointed, so you need to have an open mind.
The first few weeks after your campaign goes live, your consultant will get an idea about the preferences of your target audience and the type of content that creates better engagement. They can then use these insights to come up with better strategies to boost Google ad's appeal.
The main thing here is to get the ball rolling. After all, it's the only way to get access to first-hand data to ensure future success.
Monitoring and Reporting
Most consultants will provide you monthly reports to keep you in the loop throughout the lifetime of your AdWords campaign.
Make sure the reports cover crucial data points as total ad spend, number of clicks, click-through rate, and number of conversions. You can also ask the consultant to calculate important KPIs like cost per acquisition, to determine the overall ROI.
Continued monitoring will help smoothen the whole process and allow you to make adjustments to improve campaign performance.
Measuring the ROI of Adwords Consulting Services
How do you measure and define success?
Along with having a vision for your campaigns, a consultant worth their salt should help you define the best metrics to gauge the success of every campaign.
The best way to do so is to determine which key performance indicators (KPIs) are best to keep track of your campaigns and make sure that they are working as intended.
Accurate Conversion Tracking
Setting a conversion tracking should be given top priority.
Website clicks don't always translate to sales. Hence, it's crucial to track the click from the ad to the completion of the sale.
This can be done through phone call leads, call tracking, or until the visitor sees the final "Thank You" page.
Targeting the Right Search Terms
Another crucial aspect for measuring ROI for Google ads, you should ensure all your ads are targeting buying-intent keywords rather than research-intent keywords.
In the end, ROI is determined by the overall sales resulting from ad clicks.
Distinguishing between keywords is the expert's job, so it's better to leave that to your consultant. Moreover, the consultant should keep testing your keywords over time and measure the results to make smarter decisions about keyboard biddings.
Considering Bid Price
Your ROI will be positive when your sales revenue exceeds ad cost.
That's the easy part.
However, understanding what bids to use for every keyword to generate the desired ROI is incredibly tricky.
To determine this, you need to first calculate earnings per click, which is the total amount of revenue you generate per click on your ads. This will always vary from keyword to keyword.
Let's take an example to understand earnings per click better:
Suppose you generate $200 for conversion, and the conversion rate is 2%. In this case, your earnings per click will be $4, or in other words, you're generating $4 in revenue for every click.
This also means if you bid and pay more than $4, you'll end up making a loss, and your ROI will be negative.
The next step here is to measure the cost per click or CPC. Now that you know your earnings per click, you can calculate your bid price to generate your desired ROI.
Let's continue with the above example.
If your desired ROI is 50% and your earnings per click are $4. then your target CPC will be $4 / (ROI + 1), which is $2.67.
Other KPIs
In addition to the above, you can consider the following KPIs for improving your campaigns:
Impressions
Impression rate
Click-through rates
Clicks
Quality Score
4 Point Checklist For Finding the Right AdWords Consultant
The following is a quick checklist to hire the best AdWords consultant for your brand who can successfully deliver results and understands the required know-how:
Expertise to Deliver What You Want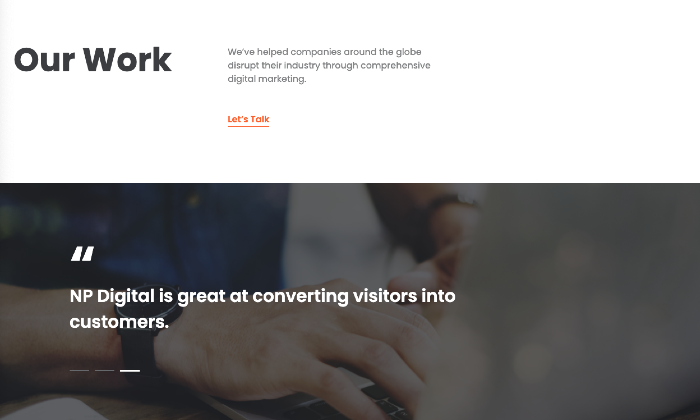 You've used the help of an AdWords consultant and have finally launched a campaign, but is it successful?
The only way that the campaign will be deemed successful if the outcome is aligned with your marketing goals. Whether it's getting more leads, boosting sales, establishing a loyal buyer base – whatever you want.
Once you figure out your objectives, make sure that you clearly communicate it with the prospects.
The candidate should assure you they have the necessary expertise to get the job done.
They should be able to create excellent landing pages, write attention-grabbing and persuasive copy, and employ expert tools for better performances and get insights about your target audience.
Team Makeup
Find out whether the consultancy is a one-man show or is really a proper agency.
It's better to opt for a company that comprises several experienced and expert team members. This will give you access to lots of experience, lots of resources, and of course, more man power.
Ask yourself: Would you want your AdWords account to be neglected just because your lone consultant has come down with the flu?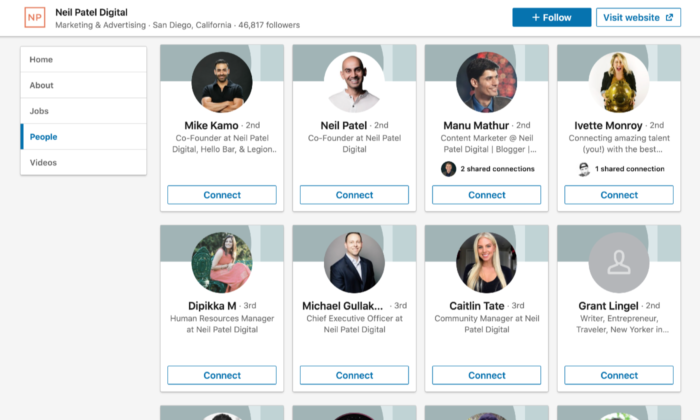 Having a full-fledged team facilitates better strategic decisions and a higher profitability possibility as well.
Now, we aren't saying you won't find solo experts who know AdWords inside and out despite not having any staff to support them. They are mostly exceptions, though, and limited in number.
An Exemplary Portfolio of Clients
Experience is important.
The consultant should be able to show you tangible proof about past clients and not just hear-say. Make sure they have previous experience in your industry and can work with your budget.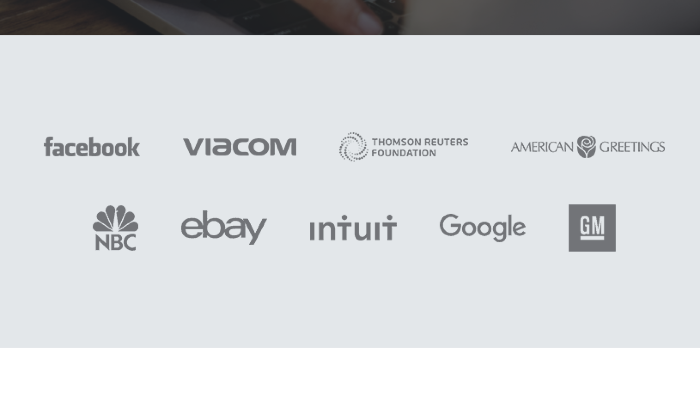 Familiarity with your industry will give them a better idea of the kind of keywords to start targeting, and having worked with budgets similar to yours will help them effectively manage money every month.
So it'll be a win-win situation for you either way.
Ability to Create a Winning AdWords Strategy
Whether you opt for a full-fledged company or a freelancer, AdWords consultancy will have unique processes depending on who you choose?
Regardless of the process, your main priority should be to make every campaign as exclusive and appealing as possible. The consultant must have an innovative thought process backed by technical know-how and a persuasive style of doing things.
Wrapping Up
Choosing an AdWords consultant should give you a higher ROI, either in the long-run or short run.
They should know the right search terms to target, choose the best bid price, and measure the overall revenue correctly to determine the level of success of every campaign.
At Neil Patel Digital, we have a superb team with years of experience and knowledge. We're well-versed in the best AdWords practices, and also offer additional programs like SEO and content creation to maximize performance and results.
Get the ball rolling by contacting us here.
The post Adwords Consulting appeared first on Neil Patel.
Disclosure: This content is reader-supported, which means if you click on some of our links that we may earn a commission.
Marketing campaigns get more complex by the day.
Which… is great news for the consumer experience but a nightmare for you as a marketing manager handling thousands of moving parts (and countless employees) on a daily basis.
To put it lightly, there's a lot going on behind the scenes.
Especially complex technical challenges that most consumers and employees will never see or fully understand.
But thankfully more and more automation tools are popping up to make your life a bit easier.
However, that means choosing the best marketing automation software for your business and team is harder than its ever been.
From enterprise-grade solutions to the most affordable options, my team and I have researched, tested, and used just about every software you can imagine. And I can honestly say… that's not an exaggeration.
But the good news is that I narrowed it down to my top six recommendations, reviewed them, and developed an all-inclusive list of what to consider when making your final decision.
The top 6 options for marketing automation software
How to choose the best marketing automation software for you
I stand behind all of my top recommendations. However, choosing the right one for you isn't always easy because it depends on various factors.
So, before we dive in, let's talk about how to narrow things down and find the best marketing automation software for your business.
Type of business
B2B businesses have different marketing needs than D2C companies.
Furthermore, marketing agencies present a new set of marketing automation challenges. Because of that, specialized software may be necessary to meet your specific needs at a reasonable price point.
The size of your business matters too. Large companies run complex, massive-scale campaigns and have bigger pockets. So, small business tools aren't a good match.
However, smaller companies will probably find enterprise-grade features confusing and wildly out of budget, which is why those small business tools exist in the first place.
So, pay attention to who the software is built for when making your final decision.
Number of contacts
Most pricing plans depend on the number of contacts or leads you have. The larger your list, the more you need to pay to maintain it and stay in touch with them.
If you have tens or hundreds of thousands of contacts, enterprise-grade solutions are probably more cost-effective. However, that's not the case if you have a few hundred or even a few thousand leads on your list.
Just be sure to keep this in mind and remember that specific plans may limit the maximum number of contacts you can have.
And if you hit those limits, you'll need to upgrade to a higher plan or pay an extra fee.
Your marketing channels
Different marketing automation software supports various marketing channels.
And there's no one-size-fits-all solution.
From SMS and email marketing to social media and push notifications, it's crucial to choose a software that handles everything you need.
Smaller businesses with simple campaigns may not utilize a wide range of channels and can get away using a more affordable tool.
However, large businesses with complex campaigns spanning numerous channels need something more robust to manage all the moving parts.
Furthermore, some software includes varying channels in different pricing tiers. So, you may start on one level and need to move up to gain access to more marketing channels. Or you may need to move to (or integrate) a new tool altogether.
It may help to map out your upcoming campaigns and decide which channels you plan to use.
Automation features
Automation is at the heart of every tool on this list. But some offer more advanced automation features than others.
Do you need to score leads and prospects? Maybe you want to combine SMS, email marketing, and Facebook ads in the same customer journey. Or perhaps you need the ability to send hyper-targeted emails on autopilot.
Regardless of the complexity of your campaigns, don't forget to consider:
Split A/B testing
Automated email campaigns
Event and website tracking
Contact management
Visual customer journey mapping
Automated segmentation and personalization
Prospect and lead scoring
Dynamic content
Transactional emails
AI-powered recommendations
Action and logic-based triggers
Reporting and analytics
You may not need all of them, and some tools don't include them. So it's critical to understand what you need (and don't need) before making your decision.
Additional features
It's not uncommon for marketing automation software to include a handful of features typically found in a CRM tool, like live chat or customer support capabilities.
Before making a final decision, it's essential to understand which additional features you need to fill the gap between marketing and sales or customer service.
You may already have these systems in place. So, you won't need these additional features. But if you don't, you might be able to save money, hassle, and time by choosing a software that includes everything you're missing under one roof.
Hubspot is an excellent example of this.
It includes customer service, sales, and marketing automation tools in a centralized location to streamline data movement and foster automation across your entire business.
The different types of marketing automation software
Marketing comes in all shapes, sizes, and complexities.
From physical mailers and print campaigns to social media and email marketing, the best marketing automation software helps you build, automate, and optimize all types of marketing campaigns.
Marketing automation software is often confused with customer relationship management (CRM). However, the two aren't the same or interchangeable.
CRM software focuses on sales activities, while marketing automation software focuses on marketing tasks. Going further, marketing automation software is for generating, nurturing, and qualifying leads.
On the other hand, CRM software is to close the sale and foster communications or relationships after the sale.
In a perfect world, the two systems play well together and create a seamless flow of data from your marketing team to your sales team.
Taking things further, there are numerous subsets of marketing automation software, including:
Email marketing
Social media marketing
Advertising management
SMS marketing
Live chat
Each different tool is powerful on its own. But true marketing automation software lets you create and optimize customer journeys across marketing platforms for varying complexity campaigns.
#1 – Freshmarketer Review — The best marketing automation software for small to midsize businesses
Around here, we're big fans of Freshworks (if you couldn't tell).
Freshmarketer is their intelligent marketing automation platform built to help small to midsize businesses save time, attract the right people, nurture their audiences, and make more money.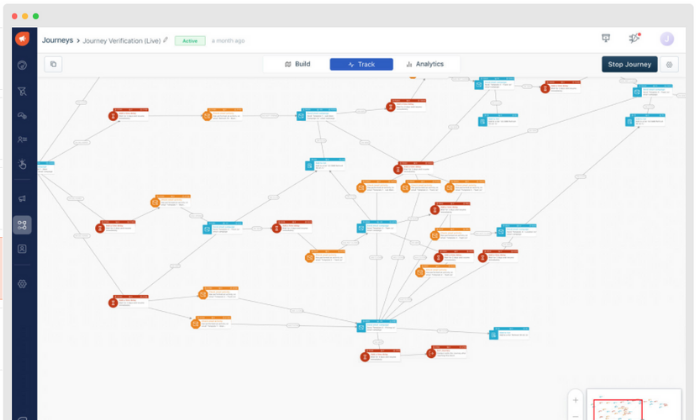 It's my #1 recommendation for most users—and for a good reason.
From awareness to retention, you get all the automation features you need to gain more leads, turn those leads into customers, and keep those customers around for life. All while doing less work with better results.
Plus, you don't need any technical skills or a dedicated support team to get started. And it takes about a minute to get up and running.
You also get access to incredible features like:
Email campaigns and contact management
Visual drag and drop customer journey builder
Website, form, and offline event tracking
Conversion rate optimization tools
A/B and split testing
Advanced personalization
Dynamic heat maps
Audience segmentation
Real-time funnel analytics
Furthermore, the software seamlessly integrates with Freshworks' other tools, so it's an excellent choice if you currently use or plan to use any of their business software.
You can try Freshmarketer on their limited free forever plan or a 21-day free trial of their paid plans, which are incredibly affordable and accessible for businesses of all sizes. However, they depend on the number of contacts you have, so keep that in mind.
Their plans include:
Sprout — Free for up to 500 contacts with limited features
Garden — $49 per month for 1,000 contacts (ideal for growing teams)
Estate — $99 per month for 1,000 contacts (best for large teams)
Just remember the cost for each plan goes up after you max out your 1,000 contacts.
#2 – Pardot by Salesforce Review — The best marketing automation software for B2B businesses
As a B2B business, you market to other companies, which presents a unique set of marketing challenges. As such, you need a marketing automation tool built for the job.
Pardot exists to help B2B companies build relationships and turn those relationships into revenue. Plus, it's a fantastic marketing automation software built around the world's #1 CRM.
So, you know you're in good hands.
From lead generation to sales alignment, the software offers a wide range of features, including:
Dynamic content and data-based personalization
Lead-nurturing email automations
Prospect and lead scoring
Visual multi-part automation creator
Advanced segmentation
Landing page builder
Smart forms + drag and drop builder
Social media scheduling, profiling, and analytics
Lead activity tracking
Campaign performance reporting
Lifecycle and funnel reporting
Pardot Einstein for lead and behavior scoring
Furthermore, over 2.8+ million worldwide users rely on Pardot for their marketing automation needs, making it one of the most popular platforms on this list.
But it is a bit expensive, so it's best suited for larger businesses. Their paid plans include:
Growth — $1,250/month for up to 10,000 contacts and basic features
Plus — $2,500/month for up to 10,000 contacts with deeper automation + analytics
Advanced — $4,000/month for up to 10,000 contacts with AI and all features
Premium — $15,000/month for up to 75,000 contacts with supercharge features
They also offer a few add-ons that come free in the Premium plan. Those add-ons include Salesforce Engage ($50/user per month), Analytics Plus ($3,000/month), and Engagement History ($300/year).
All plans and add-ons are billed on an annual basis.
#3 – ActiveCampaign Review — The best for email marketing automations
Email is one of the most important aspects of digital marketing. All the tools on this list include email marketing in one form or another, but ActiveCampaign specializes in it.
So, it's an excellent option if you want to hone in and focus on improving your email marketing strategy. It's also a super affordable tool that includes numerous automation features for leads anywhere in your funnel.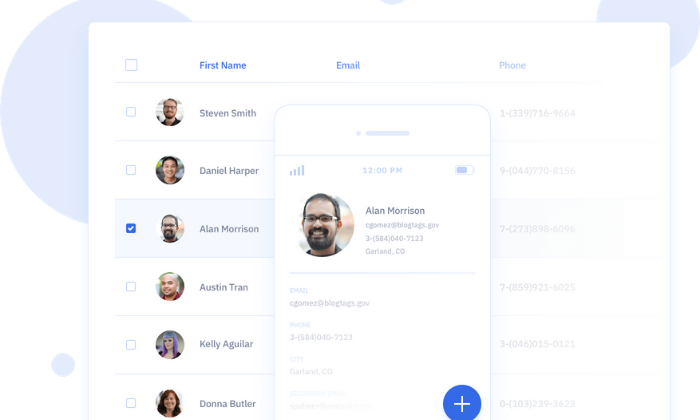 With that said, they also offer omnichannel automation, including instant messaging and SMS, live chat, and Facebook.
So, you're not limited to just email marketing automation with ActiveCampaign.
Their most popular features cover leads at every point in the funnel, including:
Engage – Automation maps, site tracking, and subscription forms
Nurture – List segmenting, dynamic/predictive content, and event tracking
Convert – Contact and lead scoring, split actions, and win probabilities
Support – Predictive sending, SMS, A/B split testing, and ecommerce
You can also set up numerous types of emails like autoresponders, targeted or triggered emails, broadcasts, scheduled emails, and automated funnels.
And you can design those emails using their intuitive drag and drop designer, or start from one of their 25+ pre-made mobile-responsive design templates.
Whether you're just getting started or interested in scaling and optimizing your email marketing strategy, ActiveCampaign is an excellent choice. They offer everything you need to capture, nurture, and close leads at scale.
ActiveCampaign offers four plans, with the price of each starting at:
Lite — $9 per month with up to three users
Plus — $49 per month with up to 25 users
Professional — $129 per month with up to 50 users
Enterprise — $229 per month with unlimited users
Each tier includes more advanced features, and pricing is based on the size of your list, starting for up to 500 contacts.
So, keep in mind that you will have to pay more than the prices above as your list grows.
#4 – Acoustic Review — The best enterprise-grade multi-channel marketing automation software
Acoustic offers an array of marketing automation products for centralized cross-platform multi-channel marketing. From personalization and email campaigns to web content management and experience management, they offer something for everyone.
Acoustic Campaign is their marketing automation tool, encompassing mobile apps, push notifications, SMS, group chats, social media, ads, email, print campaigns, and more.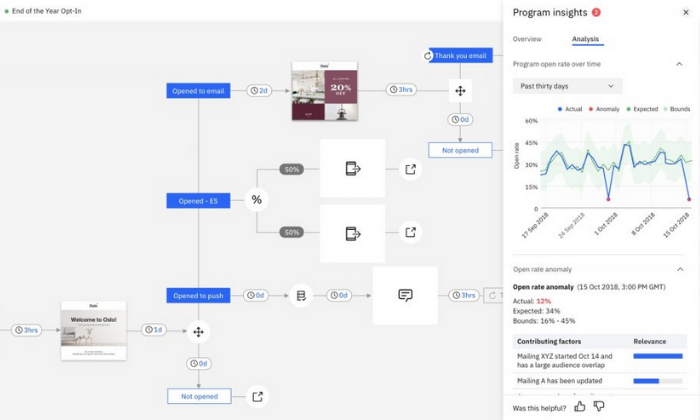 You can also combine this with Acoustic Personalization and Acoustic Analytics for a powerful combination of campaign management, data, and using that data to deliver the right message at the right time.
With Acoustic Campaign, you get access to powerful features, including:
Drag and drop campaign builder
Action, logic, and AI-recommended triggers
Seamless mobile and digital channel campaigns
Lead management and scoring
Split A/B testing
Customer journey mapping
Planning and budgeting
One-to-one ads and lookalike audiences
Advanced personalization
Reporting and analytics
Furthermore, they have a community forum where you can publicly ask questions. They also provide an online academy packed full of educational videos and training so you can get the most of your custom automation package.
Note: Acoustic is built for moderate to large volume campaigns with countless moving parts. So, it's perfect for businesses managing complicated campaigns across numerous channels.
But it's overkill for a lot of businesses and anyone running single-channel campaigns.
Pricing isn't available online, and you have to schedule a consultation to learn more. So, keep in mind that you won't be able to sign up and get started immediately.
#5 – Hubspot Review — The best sales, customer service, and marketing automation software
If you're looking for an easy way to automate your sales, customer service, and marketing processes, Hubspot Growth Suite is an excellent and affordable solution.
And the best part? Hubspot goes beyond automating your business processes. It also helps integrate and optimize different departments in one centralized location, thus streamlining your entire business's workflow.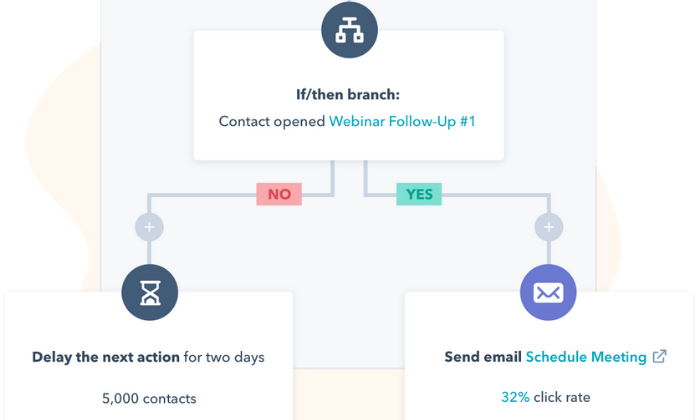 This means teams don't have to jump from software to software to get the information they need, and you can automate the data transfer process from one team to the next.
However, their marketing automation capabilities are powerful on their own, with features like:
Blog post and SEO planning
Ad tracking and management
Social media management
AI-powered live chat
Email marketing
Forms and landing pages
Revenue attribution reporting
Visual workflow builder
Account-based marketing
A/B split testing
Predictive lead scoring
Hubspot offers basic features, like emails, landing pages, forms, and live chat capabilities for unlimited users absolutely free. So, you can try it out without spending a penny.
Alternatively, you can sign up for a free demo to see all of their advanced features in action.
The Growth Suite (sales, marketing, CRM, and customer service) starts at $50 per month for two users and up to 1,000 contacts, making it extremely affordable for most businesses.
But they also have advanced plans for larger and more complex campaigns, including:
Professional — $1,275 per month for advanced features
Enterprise — $4,200 per month for all features
Each 1,000 contacts after your initial 1,000 cost $16.67 per month. And you can add more users to your sales and service hubs for $8.33 per user/month.
Plus, if you're a current member or alumni of Hubspot's approved incubator, accelerator, or Venture Capital partners with a round of Series A funding under your belt, you can get up to 90% off your first year.
#6 – Act-On Review — The best marketing automation software for marketing agencies
As a marketing agency, you handle marketing campaigns for several clients (if not hundreds of them) at any given time. As such, you need marketing automation software with the ability to manage everything, including your own marketing campaigns, in one place.
And Act-On offers the perfect solution.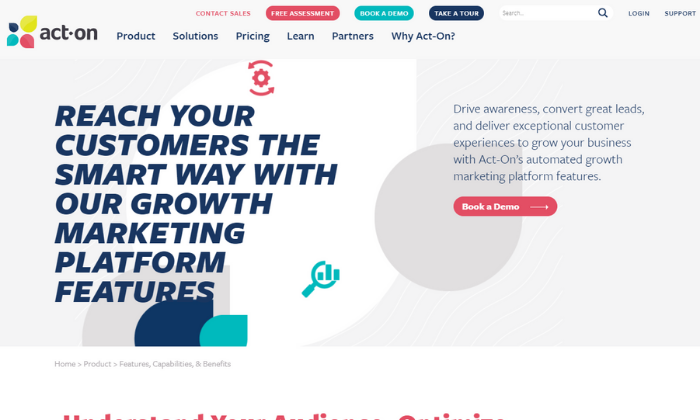 Their scalable software features unique child and parent campaign capabilities, meaning you can easily manage and handle all of your client accounts from a single Act-On login.
Plus, you can completely brand and customize everything to deliver custom reports to clients in just a few clicks.
With Act-On, you can learn more about your clients' audiences to personalize and tailor their message to match. Not only does this make their life easier, but it also means your team can work less to produce better results.
When you sign up, you get access to powerful marketing features, including:
Automated engagement programs
Website and landing page tracking
Customer/prospect scoring
Behavior and demographic segmentation
Pre-built email, form, and landing page templates
Interactive reporting dashboards
Plus, you can build custom real-time analytic dashboards for internal and external use, so you and your clients always know what's going on.
Furthermore, you can use this information to improve customer ROI, build better technology stacks, and optimize entire marketing campaigns on behalf of your clients. From lead gathering and nurturing to transferring contact information to sales, you're in good hands.
Sign up for a free demo to learn more and get started today!
Wrapping things up
Freshmarketer is my top recommendation for most businesses. It's built for small to midsize companies interested in automating their marketing processes to grow their businesses and save time.
Plus, it's affordable, easy to use, and packed full of powerful automation features.
However, it's not the perfect solution for everyone. So, don't forget to use the criteria we talked about as you sort through finding the best marketing automation software for you and your team.
What are your favorite marketing automation tools?
The post Best Marketing Automation Software appeared first on Neil Patel.
Instagram, Facebook, and Snapchat tend to dominate the social media marketing discussion. Pinterest, it seems, is tired of being underestimated.
They've recently launched a new feature that has the opportunity to change the world of Pinterest marketing. So, what is it, and what do you need to know about the latest Pinterest feature?
Whether you're a seasoned Pinterest veteran or new to the social media platform, Pinterest Story Pins offer an exciting opportunity to interact with your audience and gain more exposure for your brand.
Story Pins allow you to offer more value to your followers, inspire action, and, more importantly, drive traffic to your website.
This new feature will soon be commonplace on the platform, so here are some tips to help you get the most out of Pinterest Story Pins.
What Are Pinterest Story Pins?
Story Pins are the latest feature from Pinterest that allows brands to create the "inspirational" content your followers want. As opposed to a regular pin, which is just the one image or video with a description and link, Story Pins allow you to incorporate multiple pages of images, videos, text, and links.
Made up of between five and 20 slides, Pinterest Story Pins give you the chance to tell a story and engage your audience in much greater depth. Unlike Instagram and Facebook stories, they don't expire after a set period of time.
Story Pins also allow users to publish unique content directly in Pinterest, rather than just distribute content published elsewhere.
This provides the perfect platform to showcase content that's longer and more in-depth than your regular pins and leads people to your website content.
Here's an example of a Story Pin for a luggage review:
They can also be used for travel guides, like this one from Edinburgh Insider Guide:
For businesses, Story Pins represent an excellent opportunity to showcase expertise and engage people with valuable content.
With the ability to include more multimedia, more text, and more links, you can grab people's attention, get them engaged, and then get them clicking to your website.
Who Can Use Pinterest Story Pins?
Pinterest Story Pins are still gradually rolling out, so it's not available in all countries yet.
Many creators in the US were invited to get an early look at the Story Pin feature, but if you don't have access yet, you can submit a request on the Pinterest website.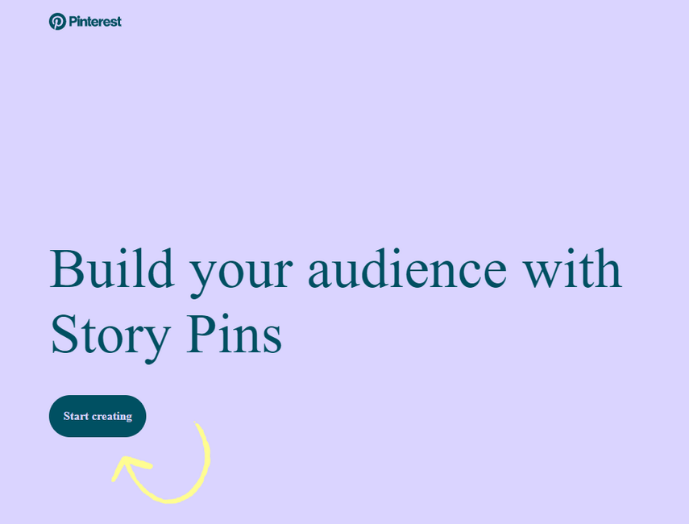 The request takes a few seconds to fill out, and you will find out if you can get access to Pinterest Story Pins in five to seven working days.
Early access will allow you to look at this exciting new feature and understand how it can work for your business before everyone else starts seeing the benefits, so it's well worth the effort.
Once you've been granted access to Story Pins on Pinterest, then you're free to get your creative juices flowing and see just what great content you can fit into 20 pages!
How to Prepare Your Business for the Rollout of Pinterest Story Pins
While you're waiting to hear back from your request to unlock the Story Pins feature, there are plenty of things you can be doing to get ready. Story Pins might be a new feature to Pinterest, but at the end of the day, it's still Pinterest, so you have a good idea of what works and what doesn't.
Before you jump headfirst into Story Pins for Pinterest, make sure you've got a clear plan of how you will use them. Here's how to get started.
Understand Your Audience
Pinterest allows you to reach a vast audience, but this is only valuable if you're reaching the right people with the right message. If you're going to engage the right people, you need to understand what your audience looks like, and what kind of content they want.
If you have an established business, you already have access to a massive audience data, so make the most of your analytics. Use your Pinterest analytics, other social analytics, and your website data to better understand your audience and the content they're looking for.
Before you get started with your Pinterest Story Pins, make sure you can answer these six questions about your audience:
Who are they?
What are their greatest difficulties/problems/desires?
Where do they find the information they need?
What are the benefits of your product for them?
What negatively draws their attention?
Who do they trust?
Get Your Multimedia Ready
With Story Pins, Pinterest actively encourages fresh new content, so give them what they're looking for by getting all your images and videos ready. Low-quality multimedia doesn't do well on Pinterest (or any social platform,) so make sure you're investing in high-quality photos and videos.
Keep your audience in mind when you're shooting your images and video and giving them something that will inspire them into action.
You've got so much freedom now that you can use up to 20 slides, so use your creativity to make your new Story Pins stand out.
Make Use of Pinterest Analytics
Pinterest has ramped up their analytics in recent years, and you can find extremely helpful insights here. Story Pins might be a new feature, but the things that made your old pins successful in the past are still working today.
Use Pinterest Analytics to find out which pins have been successful for you in the past.
To view analytics, sign in to your Pinterest Business account, and click on Analytics.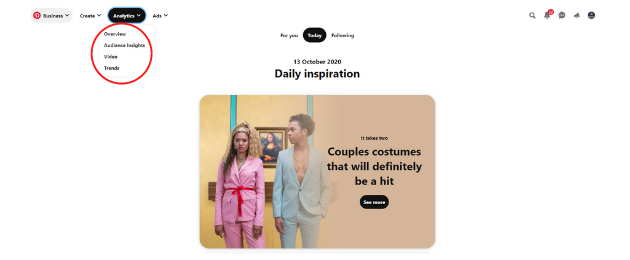 From there, you'll be able to see which Pins get the most views and engagement.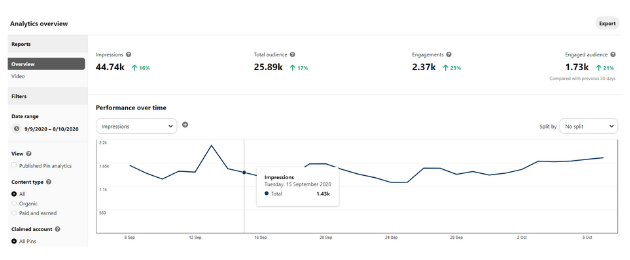 Once you see what Pins are most popular, think of ways to successfully transition them into Story Pins. For example, can you turn a DIY post into a Story Pin with detailed instructions?
This is a great way to expand on some of your most popular content and give it a chance to reach a broader audience.
It might be your first time using Pinterest Story Pins, but you can make sure you hit the ground running by leveraging content that is already working well.
Why Should Your Business Use Pinterest Story Pins?
Pinterest Story Pins are still in their infancy, which means there's not a great deal of data to act upon at the moment.
However, similar features have been a huge hit on other social media platforms such as Facebook and Instagram, with millions of active daily users. Pinterest has put a lot of effort into creating its own version.
This suggests Pinterest will push the story feature (like Instagram did) and ensure Story Pins get a lot of attention.
Aside from the fact that Pinterest is invested in Story Pins — they've been trialing them in different markets for over a year now — these new pins seem to have plenty of business benefits.
With regular pins, you don't have much time to earn someone's click – your image, video, or a short piece of text have to do all the hard work for you. However, with a story pin, you've got so much to keep your audience engaged with.
You can also include multiple links, which gives you a much better chance of driving your audience to your website. From here, you control the customer journey, and you're in an excellent position to achieve your goals.
Long story short: You want to get clicks to your website, and to do this, you need to engage your followers with valuable content; Story Pins are an excellent opportunity to do this.
When Should You Use Pinterest Story Pins?
Regular Pinterest pins are ideal for traditional Pinterest content like recipes and DIY tips. However, Story Pins are a brilliant resource for "how-to guides," which you can do in any niche.
For example, a story on "How to Create Perfect Pinterest Story Pins" is ideal, with videos and text showing the steps to create engaging Story Pins.
This is an excellent opportunity to rework some of your blog posts and turn them into easy to consume social posts. If you've got how-to guides, recipes, list posts, longer DIY guides, travel tips, or even detailed reviews, then you have the makings of a great Pinterest Story Pin.
You're still going to want to produce regular pins, with short, snappy, actionable messages, but use Story Pins to go into more detail.
Story Pins are like a bridge between your regular pins and your full-blown content, and it's a great way to push your audience over to your website to consume more content.
How to Create a Pinterest Story Pin
You're all ready for Pinterest Story Pins, you've narrowed down your audience, got your creatives ready, and you've just been granted access, so how do you create your first story pin?
From your Pinterest business account, you can create Story Pins on desktop or mobile.
Create Pinterest Story Pins On Desktop
Click the Create button in the top left-hand corner and select Create Story Pin.
Add up to 20 images or videos.
Design your pages. You can change the layout, add text overlay, adjust/resize your image, and add more pages.
Add extra text to help inspire your audience.
Select your story pin title, choose which board you're going to pin to, and add tags to help people find your pin.
Click publish.
Create Pinterest Story Pins On Mobile
Click the + button at the bottom of the screen and select Story Pin.
Decide what your pin is about; choose from "recipe," "crafts + DIY," or "something else."
Select your photos and videos from your library.
Get creative with your design by selecting your cover photo, resizing images, and adding text overlay to bring your Story Pin to life.
Add the finishing touches by coming up with a title for your Story Pin, choosing which board to pin to, adding extra details, and making your story pin discoverable with tags.
Click publish.
What Makes a Successful Pinterest Story Pin?
A successful Pinterest Story Pin is all about engagement. Pinterest stories give you the ability to hold people's attention for longer, giving you more time to inspire them to take the action you want them to take.
Your Pinterest analytics will give you a lot of insights into how your Story Pins are performing, but so can your website. You want your pins to do well on Pinterest and get lots of impressions and link clicks, but we can track this further and see how people interact with our website when they come from Pinterest.
If you're creating amazing Story Pins that inspire people with your message, it should result in people clicking to your site and spending a good amount of time engaging with the content.
Track this in your Google Analytics by going to Acquisitions, then Social Channels, and Clicking on Pinterest.
Through a combination of your Pinterest analytics and your website data, you can get a good feel for how well your new Story Pins are performing.
Tips on Creating Pinterest Story Pins
The big aim with Story Pins is engagement, but how exactly can you go about achieving this? You have the opportunity to grab people's attention and hold it, but there are several things your Story Pins need to accomplish this:
Have high-quality visuals
Draw people in with catchy titles
Deliver on people's expectations
Go more in-depth than the average pin
Supplement visuals with helpful text
Ooze creativity
Inspire action
You're telling a story through your Story Pins, and like any good story, there are lots of different aspects that need to come together. By combining great visuals with catchy titles, informative text, and plenty of creativity, your pins are going to stand out and encourage your audience to take the actions you want them to take.
Conclusion
Pinterest Story Pins are a great new feature to help businesses engage better with their target audience. Although the new feature is still rolling out, you can request access and get ahead of the competition.
With Story Pins, you have another way to grab people's attention and get them engaging with your content. In many ways, they're even more effective at doing this than regular pins, so make sure you're taking advantage of it.
Pinterest is the latest social media platform to bring out a story feature, and the chances are this format is very much here to stay. Story pins will become a big part of the Pinterest platform, so you might as well start mastering them now by giving your followers the fantastic, in-depth content they're looking for.
Have you started to use Pinterest Story Pins yet?
The post How Pinterest Story Pins Can Improve Your Marketing appeared first on Neil Patel.