Business News
now browsing by category
Did you know roughly a third of U.S. shoppers check out local business listings online daily? To me, this means there's a real opportunity to grow your business if you find a way to quickly and reliably connect with the best leads.
How do you achieve this?
By creating a Local Services Ad. Let's dive in and explore why these ads are such an invaluable tool for finding customers and building your brand.
What Are Local Services Ads?
Local Services Ads connect you to local customers searching for the services you offer, whether you're a tradesperson or small business owner.
They're pay-per-lead rather than pay-per-click, meaning you only pay if someone contacts you through the ad.
Using these ads means you're Google guaranteed; if someone's unhappy with your work, Google refunds the cost.
Ads "rank" based on the number of positive reviews and customers served.
Here's an example. When customers Google a search term like "New York plumber," businesses running Local Services Ads appear at the top of the search results.

If you click to see more plumbers, multiple listings show up.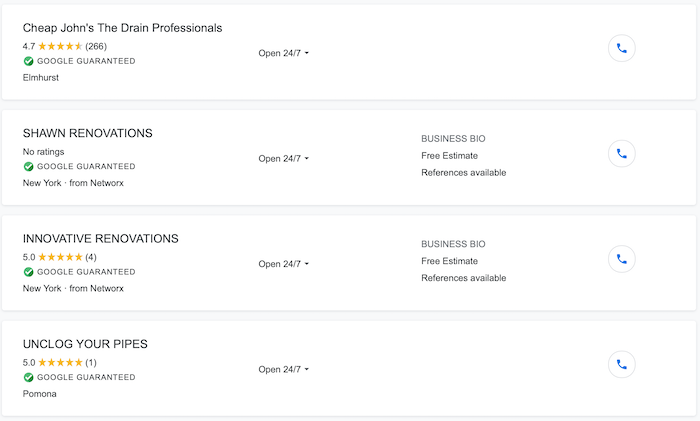 To be clear, Local Services Ads aren't the same as Google Ads or Google My Business.
Google Ads are pay-per-click, not pay-per-lead. This means you pay whenever someone clicks the ad, even if they don't contact you or take action.
Google My Business lets you verify your business online and add contact details, including a website link. It's not an ad.
You can use all three features, or opt for just one. It's up to you!
How Do Local Services Ads Work?
Think of Local Services Ads as a fast-track ticket to positive leads. A few stats will show you why.
Four in five people want to see local ads when they're searching for goods or services online. Local ads mean you're giving users what they want, which, as good marketers know, makes your business all the more appealing.
Roughly 75 percent of local searches end in a phone call. In other words, these users are actively looking for goods or services, so you want to be one of the first listings to catch their eye.
76 percent of customers visit a business within 24 hours of searching for them online. Local ads help you connect with these leads in the quickest time possible by putting you among the top search options.
In short, these local ads help you find leads who are primed to become paying customers. They're a highly cost-effective and efficient way to market your business at the local level.
Let's now return to our plumbing example above and work through the features of a typical listing. If we click on "Petri Plumbing & Heating," here's what the listing looks like: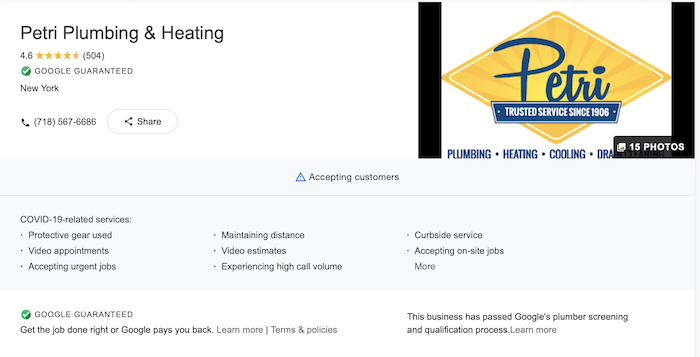 This plumber has a 4.6 out of 5-star rating with 504 reviews, they're accepting customers, and there's a telephone number to lead potential clients to take the next step.
If we go down further, there's a business overview. This is where you can set out:
Which services you offer
Your opening hours
The ZIP codes or area you work in
Business highlights, e.g., if you're locally-owned or have a BBB A+ rating
Finally, there's a section where customers can leave a review or read reviews left by others.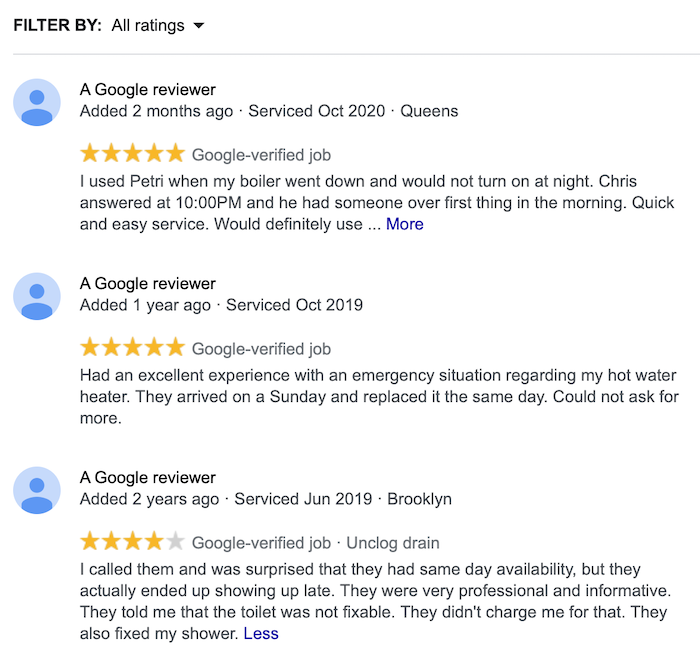 If someone books a job through your listing and leaves a review, it's verified by Google as legitimate. Long term, this reassures prospects that you are a legitimate, trustworthy business.
Managing Local Services Ad Leads and Pricing
Do you need to take every job the ad brings your way? No.
If a customer contacts you with a job you're not interested in, you can reject it without penalty. You'll still pay for the lead, though.
You can pause your ad for a short period. Since no one's contacting you through the ad, you won't be charged anything during this time.
Simply put, you're still free to choose the jobs you want, and you only pay for the ad when there's a high chance of conversion, i.e., a prospect contacts you.
Steps to Create a Local Services Ad
Ready to create your own ad? Let's work through the setup process together, starting with the basics.
1. Check Your Eligibility
Local Services Ads aren't available for everyone just yet, so the first step is checking your eligibility. It's really quick and easy to do.
Click the "Get Started" button on Google's local service homepage.
Next, select your country, ZIP code, and job categories from the drop-down menus.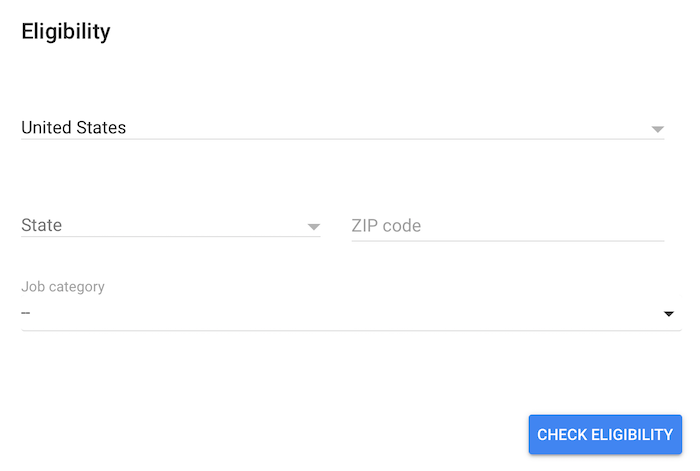 If Local Service Ads are available to you, move on to the next step.
2. Create a Local Services Ad Profile
Congratulations, you can set up a Local Services Ad! Now it's time to write a great profile. Your profile determines, among other things:
Who finds your listing
Which jobs come your way
In other words, it's important to get it right.
First, input basic details, including your business name and contact details. You need to provide your own name, too, but it won't show up on the listing.
Once you've completed the first screen, it's time to add specific details about what services you offer, how much you charge, and the ZIP codes you service.
For instance, if you're a plumber, here are possible services you can offer: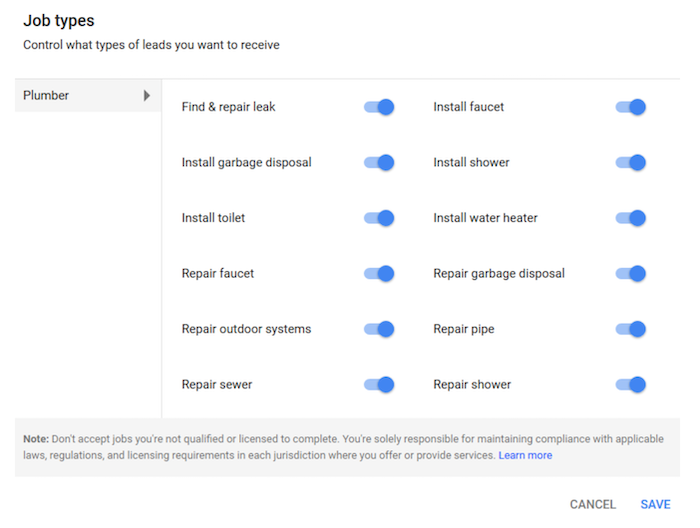 So, if you can't repair sewers or garbage disposals (or you don't want to offer these services), you can remove these options.
This lets prospective customers know what to expect before they contact you, meaning there's less chance of you sifting through jobs you don't want.
You'll also note the important caveat at the bottom of the screen: You shouldn't offer services that you aren't qualified to complete safely. It's also your responsibility to ensure you have the right licenses to work legally.
One other thing: Even if you're registered for other Google services, like Google My Business, you still need to create a separate profile for Local Services Ads.
3. Submit Relevant Paperwork
To improve service quality, Google needs you to upload various documents. You must prove you're:
Qualified to work in your chosen industry
Licensed to work in the jurisdiction
Why must you upload these documents? Well, it's all part of the Google Guarantee. Google won't cover you unless you can prove you're properly licensed.
Before you complete this section, verify your paperwork is accurate. I'd also suggest double-checking which licenses you need in your jurisdiction to make sure you upload the right documents.
How do you know which documents to provide? Google has a list. If we stick with our plumber example, here are which documents you need: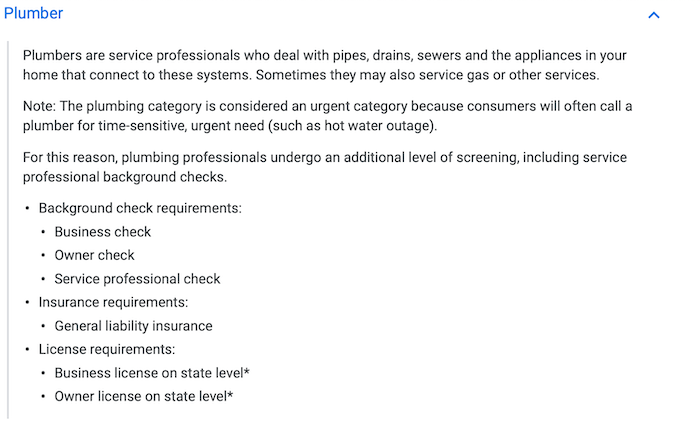 4. Complete the Background Check
If you're based in the U.S. or Canada, you and all your employees must complete a background check before you can visit customers at their home address or workplace.
Again, it's a fairly simple process. Google's background check partner contacts you, and they'll ask for relevant information. They'll cross-check the info you and your team provide against national registries, and they'll confirm your Social Security numbers are valid.
Do you pay for this background check? Thankfully, no.
5. Manage Your Budget
Once you complete your business profile and pass the background check, you're ready to start advertising. There's still one essential box to tick, and that's setting your budget.
Here's how it works.
You decide how many leads you want in a week or month. This determines how much you're prepared to spend. For example, if you don't want to pay for more than 20 leads per month, don't set a budget for 30.
You're only charged for each lead you generate through these ads, so if you only receive 10 leads, you won't spend your whole budget that month.
It's easy to tweak your budget if you want more or fewer leads at any time.
To start, it's probably best to set a modest budget and lead target. You can test the waters this way and increase your budget over time if you feel it's a good service for you.
6. Review Ad Leads
Just remember, "leads" aren't customers until you book a job. That's why it's key to stay ahead of your leads and follow up on them.
You can review your leads on your desktop inbox or through the mobile app. You'll always be notified of a new lead anyway, but viewing them this way may make it easier to take action on them.
Best Practices for Local Services Ads
Not sure what to include in your Local Services Ad? Don't worry, I've got you covered. Here are my five top tips for writing an effective ad and generating the best possible leads for your business.
1. Personalize Local Services Ads
First, make sure your local listing showcases your company's plus points. Here's what I mean.
Explain why you stand out from the competition. What makes you the right service provider for the job?
Highlight selling points. For example, if you offer emergency callouts or out-of-hours services, state this in your ad.
Use short sentences where possible. They're easier to read.
The more information you provide, the more likely prospects are to contact you.
2. Include Relevant Details in Local Services Ads
Think about this from a customer's perspective. What other details do they need to decide to use your business? Here are some examples.
Be really clear about which ZIP codes you serve and if your services vary between areas.
Set out working hours in a user-friendly format.
What's relevant varies from business to business, so give it some thought before you complete your listing.
3. Respond to Leads Promptly
Remember, these leads are users actively looking for the services you provide, so don't let them go cold. Here are some tips to manage your inbox.
If you miss a call, return it as soon as possible, even if you're rejecting the job. Frequently missed or unreturned calls can lower your ad ranking.
Set aside blocks of time throughout the day to return messages and follow up on emails.
Most people don't expect an instant reply, because good service providers are usually busy! However, if your goal is to book jobs and build your business through Local Services Ads, you need to keep a close eye on your dashboard.
4. Encourage Customer Reviews
According to Google, customer reviews directly influence your ad ranking. How do you get those all-important positive reviews? Well, great service is a must, but you also need to ask for them. Here's how.
There's an "ask for review" button next to each job. Click it to send a review link to the customer.
Or, once you book a lead and mark it as completed, ask the customer for a review.
One other point: The top search results, whether it's a paid ad or organic result, draw over 75 percent of the traffic, so get those positive reviews rolling in.
5. Review for Accuracy
Have you moved premises? Do you need to change your opening hours?
Make sure you update your Local Services Ad to reflect changes like these. Otherwise, you might deter potential customers from working with you.
Finally, keep details consistent across all your profiles, including, for example, Google My Business.
Why is consistency so important? Well, it helps potential customers find you more easily, and it might even build some trust in your brand.
Conclusion
Over 46 percent of Google searches are local, and Local Services Ads can really help you tap into this huge potential customer base. I highly recommend using these listings as part of a diverse, well-rounded digital marketing strategy.
Just remember to keep your information accurate and respond to leads promptly to make the most of your ads.
If you're unsure where to get started with Google ads or digital marketing more generally, check out my consulting services and free SEO analyzer.
Are you using Local Services Ads to find customers? How are they working for you?
The post How to Create Local Services Ads appeared first on Neil Patel.
About two-thirds of companies find it tough to produce engaging content. If you're one of them, there's a good chance your problems stem from the ideation phase. In other words, you're struggling to come up with enough engaging blog post ideas.
Now, if you're a regular visitor to my blog, you'll know I write a lot of content (also, thanks for reading!). I've been doing this for a long time now. But I still sometimes struggle to come up with new blog post ideas.
So what do I do when writer's block strikes?
Well, I lean on the tried-and-trusted methodologies I've built up over the years for devising new content titles.
Of those methodologies, one of the most consistently useful is to raid YouTube for blog post ideas. I'm going to tell you exactly how to do it in this article.
Why Should You Use YouTube for Inspiration?
It might seem counterintuitive to use a streaming video site to find blog post ideas. Wouldn't it make more sense just to look at other blogs?
Sure, that can be a super effective tactic, too, but you can't learn everything from reading your competitors' blogs. If you keep relying on the same old sources to find content inspiration, you'll inevitably keep producing the same sort of content, time and again.
If you want to keep pushing the boundaries and creating fantastic content that makes a real impact, you need to cast the net wider. Here are a few reasons why YouTube can help you do that.
It's Easier to Differentiate Yourself
When you use other blogs to inspire your blog post ideas, you might find yourself wondering: "How can I do this better?"
Sometimes, you'll be lucky. You'll stumble across a super engaging title, but the actual article will be poor quality. Maybe it's several years old and the information hasn't been updated. Or perhaps it only scratches the topic's surface, rather than going in-depth.
Other times, there's no obvious way to improve on the original. But because you're so convinced it's a great blog post idea, you end up effectively rewriting your competitor's article and adding a ton of extra information that doesn't add any real value. Congratulations, you've written a worse post than your rival!
This is far less of a problem when you use YouTube to find new ideas. Why? Because with a lot of videos, there simply won't be a decent written version available. There might be a transcript of the video, but nothing that's been created with readability in mind.
That makes it much easier for you to go out and create something better.
There's So Much Content to Draw Inspiration From
An astonishing 500 hours of content gets uploaded to YouTube every minute, and that number is growing every year: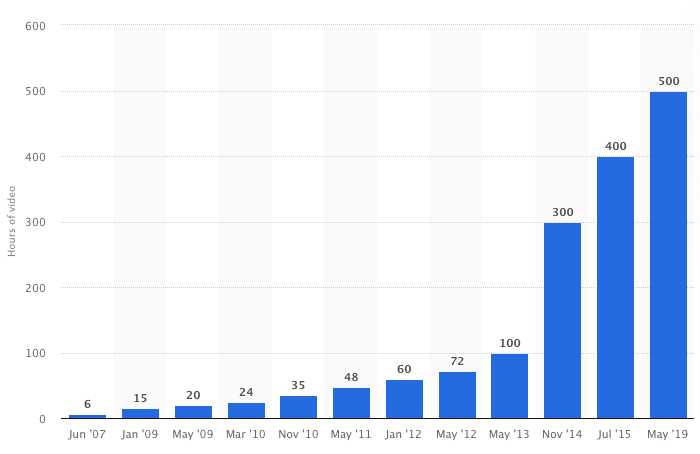 To put that into context, the major six movie studios released 87 pictures in 2019, at an average length of just over 96 minutes. That means it takes YouTubers around 16 seconds to upload the equivalent of an entire year's worth of Hollywood content!
With such a wealth of content available, even super niche businesses are pretty much guaranteed to find something relevant to inspire them. And you don't even need to navigate multiple platforms to find it.
People Interact With Videos & Blogs in Completely Different Ways
This is a subtle point, but an interesting one. Say you find a YouTube title that sounds like a perfect blog post idea, but it has not generated many views or engagement. Well, that's not necessarily a problem.
Why? Because people engage with different content types in different ways.
As this HubSpot graphic shows us, people prefer to thoroughly consume videos rather than skim through them to find the information they're looking for. That makes sense; videos are designed for watching from start to finish. There's often no easy way to jump to a specific section.
Blogs are different. Only 29 percent of people read them from top to bottom, with 43 percent preferring to skip through. That's because blogs are fantastic for skimming. Subheadings, bullet points, numbered lists, tables, and various visual elements make it simple to find the most relevant information.
So what does this tell us?
A piece of content could perform poorly on YouTube because it's just not a good topic for a video. Yet it could still make for a fantastic blog post. So you don't necessarily need to worry about how many views a video has racked up; you can just focus on finding good titles.
4 Ways to Find Blog Post Ideas From YouTube
YouTube is a gold mine of potential blog post ideas! Now here are four ways to find them.
1. Stalk Your Competition
If your competitors are on YouTube, they'll have done a lot of the hard work for you. Chances are their content will be highly relevant to your audience, too. Go check it out, pick the best titles, and turn them into high-quality blog posts.
Start by drawing up a list of your competitors. Not sure who they are? Try the following:
Speak to your sales team: They're the people selling your product, so they'll know which companies they come up against regularly during the sales process.
Ask your customers: They likely considered a couple of different products before purchasing yours, so find out which other options they evaluated.
Do some social listening: Your audience might use forums and social platforms to seek out advice about your product and compare it to your competitors, so go find those conversations! Not sure how? Check out this article on my four favorite social listening tools.
Now you've got your competitor list, simply visit their YouTube channels and browse their existing content. In the "Videos" tab, you can use the drop-down "Sort By" menu to segment their content by:
Most popular
Oldest
Newest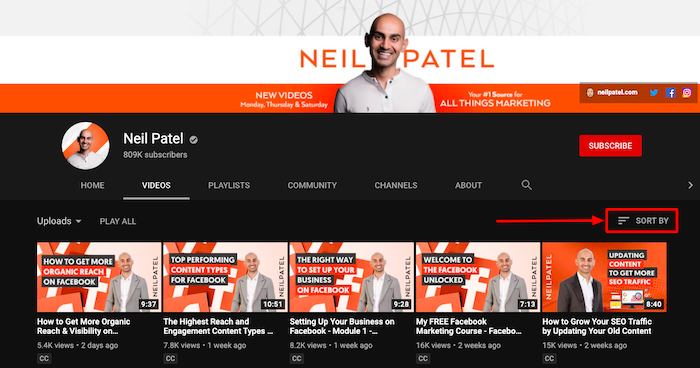 So let's imagine I'm one of your competitors. Checking out my most popular videos feels like a good place to start.
Straight away, you'll see a bunch of titles that you know have resonated with my audience. Most, if not all, of those titles could also be written up as blog posts, like:
SEO for Beginners: 3 Powerful SEO Tips to Rank #1 on Google in 2020
How to Promote Your YouTube Video When You Have ZERO Subscribers
How to Create a Digital Product That Generates (AT LEAST) $100,000 Per Month
How to Write a Blog Post From Start to Finish
1 Simple Hack to Getting 1,000 Likes on Facebook
You don't even need to watch the videos (although you should, they're great). Take the titles, switch them up, do your research on the topic, then turn them into new blogs.
2. Read the Comments
YouTube comments get a bad rap, but they can be a surprisingly rich source of content inspiration. Commenters are rarely short of advice on how videos could be improved or expanded, and those suggestions can help you formulate new blog post ideas.
Again, let's use my YouTube channel as an example. Currently, this is my most-viewed video:
As well as clocking up more than 1.7 million views, it has received thousands of comments. A lot of those comments are essentially just people telling me they like the video, which is always nice to hear but not super helpful for finding new blog titles. But some of them give me (and my competitors, if they're paying attention) a useful steer on future content ideas. Here's a good example:

Wendy wants to know how I use keyword information from Google Search Console to optimize my content.
As you can see, I've already left a short response. But I could go further and create a whole blog post explaining how to use Google Search Console to improve your existing content and create new articles.
Here's another useful comment on that same video: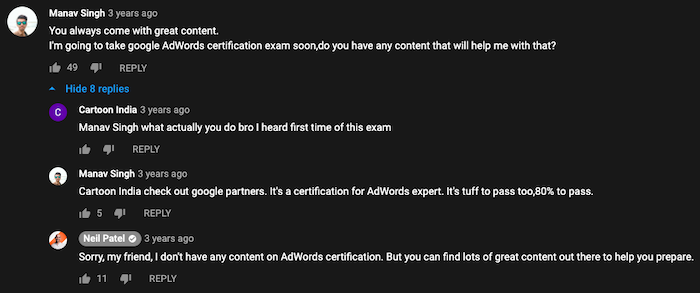 Manav asks me if I have any content on Google AdWords certifications. As it happens, this isn't something I cover, but it could make an excellent blog post idea for some of my competitors.
3. Take Advantage of Predictive Search
You probably think of YouTube as a video-sharing platform, but it's also a search engine. In fact, it's the second-largest search engine in the world.
With over two billion logged-in users visiting YouTube every month and watching more than a billion hours of content a day, the platform generates a ton of search activity. Thanks to its built-in predictive search functionality, you can use all that activity to track down potential blog post ideas.
This is a really simple process. Just enter a topic into the search box, and you'll see a bunch of predicted searches: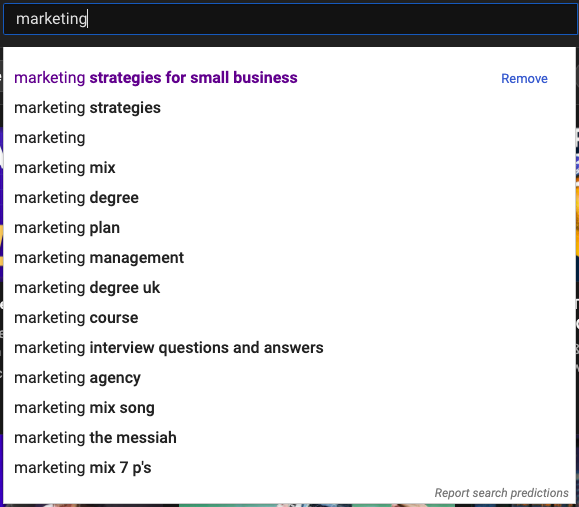 Now, it's a case of exploring the options that sound most relevant. "Marketing degree UK" probably isn't right for me, but I like the sound of "marketing strategies for small business," so I'll take a closer look.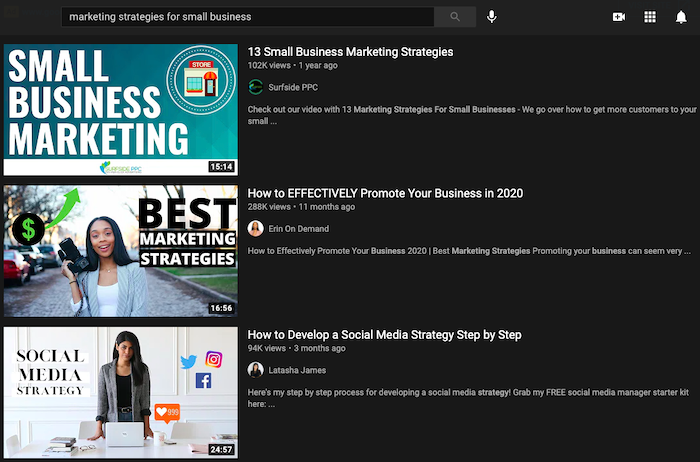 Just from viewing this tiny subsection of results, it seems that "how-to" content resonates with people looking for small business marketing strategies. So do listicles. In other words, we're not only getting insight on blog post ideas; we're also learning how our blogs should be structured.
But there's more. Scroll down the page, and you'll find a section on related searches:

Each one of those could potentially give me a bunch of additional titles and reveal yet more related searches. The deeper you vanish into the rabbit hole, the more blog post ideas you'll find!
4. See What's Trending
It's important to remember that there's a whole world of content outside your specific niche. What's going on out there will naturally affect you and your audience, so it might make sense to write about it.
But what if you don't know what everyone's searching for?
Fortunately, YouTube can help here, too. Just visit the "Trending" tab in the left-hand homepage menu to find the content YouTube deems to be most relevant and topical: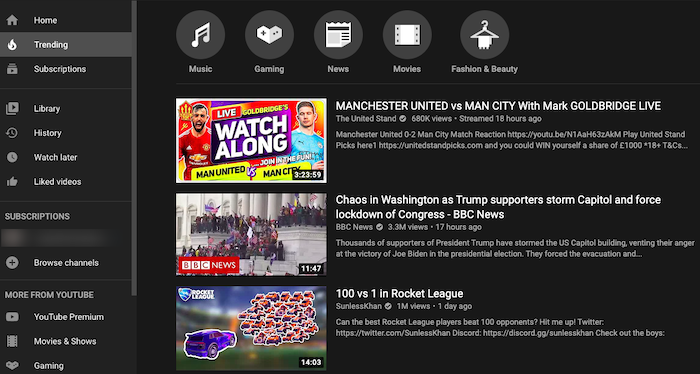 Sure, not all of it will be relevant to your audience or brand. Chances are, most of it won't be. However, I make sure to check in with the Trending section at least once a day to be sure I don't miss any opportunities to piggyback on viral topics.
Conclusion
Once you start thinking of YouTube as a search engine rather than a video platform, its role in finding new blog post ideas makes a lot more sense.
Just like Google, it's effectively a huge directory of content on every subject you could ever imagine. But unlike Google, the vast majority of that content exists to engage audiences; the search results aren't crammed full of product descriptions and category pages. That's why it's such a treasure trove for marketers seeking the inspiration they need to create superb content.
What tactics do you use to come up with new blog post ideas?
The post How to Get Blog Post Ideas From YouTube appeared first on Neil Patel.
Twitter hasn't had the easiest time adjusting to the new social media landscape.
Facebook and messaging apps have been crushing the social media platform on paper.
But, Twitter isn't a ghost town. It has over 330 million active monthly users!
Participating on Twitter is a lot more fruitful than you think.
It's an audience that can't be ignored.
I regularly tweet and use my Twitter account to promote my blog posts and other content.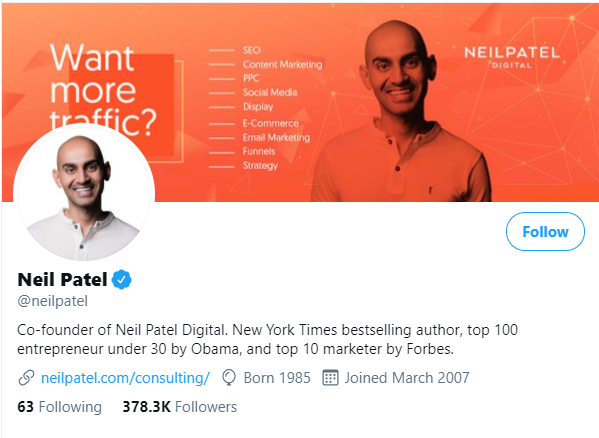 I'm up to 378,000 followers.
It's an audience worth paying attention to, even if only a small percentage can see any given tweet.
Of course, you have to build a following, and Twitter is a much different experience for those who don't have followers.
Buying followers is a common practice, but it doesn't work the way you think.
Third-party services often sell fake followers. These may look impressive, but they don't work.
You'll also get banned from Twitter for buying fake followings.
To succeed on Twitter, you'll need an engaged following that responds and retweets your content.
Here's how to buy those followers the right way, without taking any black hat shortcuts.
Why Twitter Followers Matter
When you start on Twitter, you'll have no followers.
You'll just be sending tweets into the empty abyss.
Nearly 69 million Americans use Twitter.
These users come from a broad range of demographics and interests.
Between Instagram, Facebook, Twitter, and newer platforms like TikTok, I'd go so far as to say social media is the most important digital marketing media to focus on.
Usage of social media has steadily increased across the board, according to another Pew Research study.
Twitter is used for a variety of purposes, even to discover businesses.
The platform is the #1 platform for discovery, with 53% of people on Twitter saying they are likely to be the first to purchase new products.
So, while it's not as popular as Facebook or Instagram, Twitter's social platform can't be ignored.
Curious how to get followers on Instagram instead?
Check out my post on how to gain 300 Instagram followers a day!
Otherwise, understand there are only four ways people can see your tweets.
1. They Follow You
Tweets are typically public, and the service will recommend tweets to you based on content, geography, and other considerations.
Still, users typically only see tweets from people they follow and choose to.
Remember, not everyone accesses Twitter directly from the website or app.
Some use third-party tools like Hootsuite or Buffer to filter out the noise.
These app interfaces make it much more difficult to be seen unless you're posting relevant content.
2. Someone They Follow Retweets or Responds to You
My tweets reach much further than just my followers.
Many of them retweet my content to their followers too!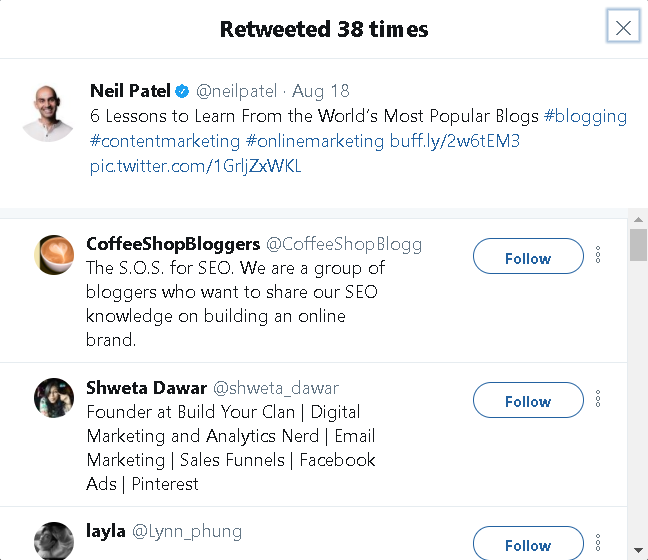 Each of these accounts has followers that may not follow me.
For example, by clicking through to @CoffeeShopBlogg's Twitter account, we can see they have nearly 5000 followers.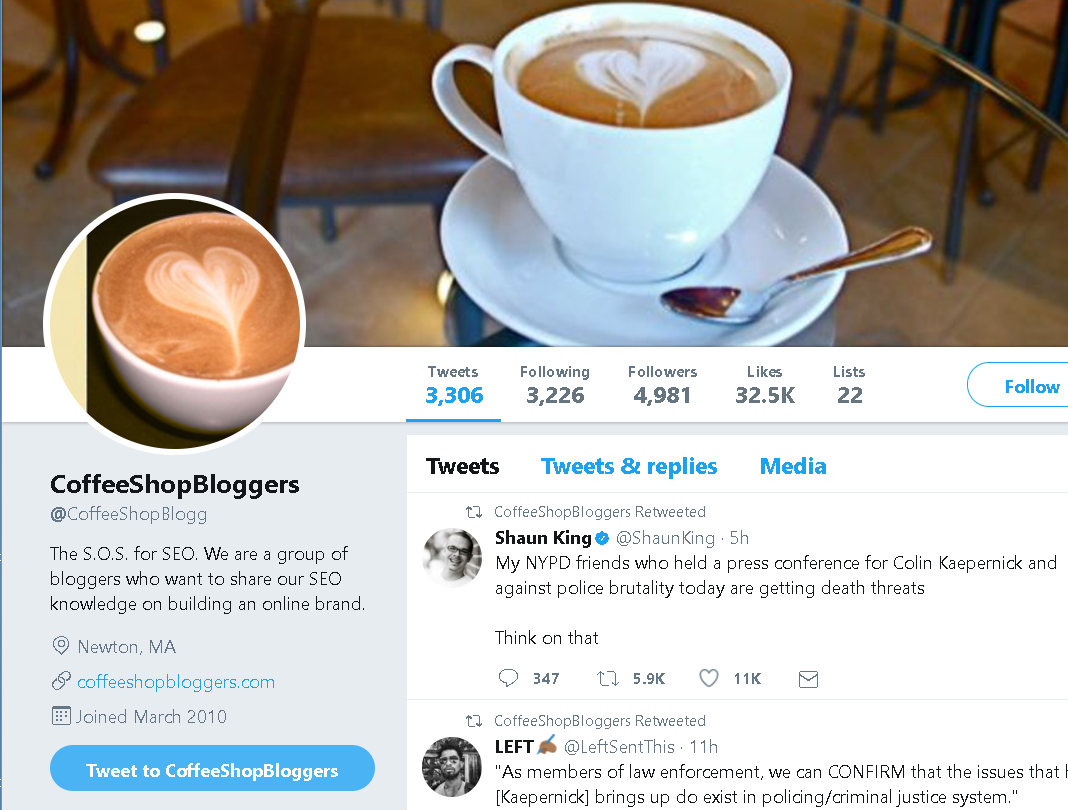 It's an audience I couldn't reach on my own, and that endorsement increases my audience.
It can also increase my follower count.
People are much more likely to trust your information when presented by a third party.
3. You Target Them With a Promoted Post
You can follow people for a follow-back, but that only gets you so far.
Use promoted posts to reach an audience when you're starting out (and even when you're a large corporation with a huge following).
Here's one from GlassesUsa.com that appeared in my Twitter feed: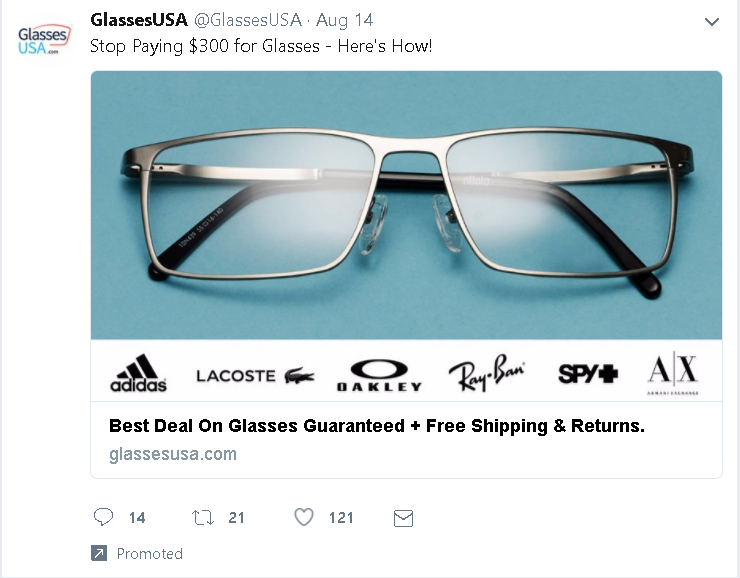 I'll dive deeper into how to customize promoted posts further down in this article.
There's one last way to have your content read on Twitter.
4. Use Hashtags
Although #hashtags predate Twitter, it popularized them long before Instagram and Facebook made them mainstream.
The majority of the most popular trending topics around the world are hashtags.
By posting about trending topics and using hashtags in general, you greatly increase your chances of being discovered through user search.
The Twitter algorithm will also occasionally show users content based on topics they've followed before.
If you're interested in learning more, I have a great article about tools to increase Twitter engagement.
For those still with me, we're moving on to the scourge of fake followers.
Avoid Fake Twitter Followers
According to some reports, more than half of all Twitter followers are fake.
A site called Twitter Audit lets you check any celebrity account to find out how many are actual people.
Katy Perry is the biggest account on Twitter, with over 109 million followers.
But 42% are fake.

Now, these numbers are debatable, but the existence of Twitter bots and fake followers is not.
They're very real and often used in very interesting ways.
Microsoft, for example, created an AI bot named @TayTweets that interacted with the public for several hours before turning bigoted.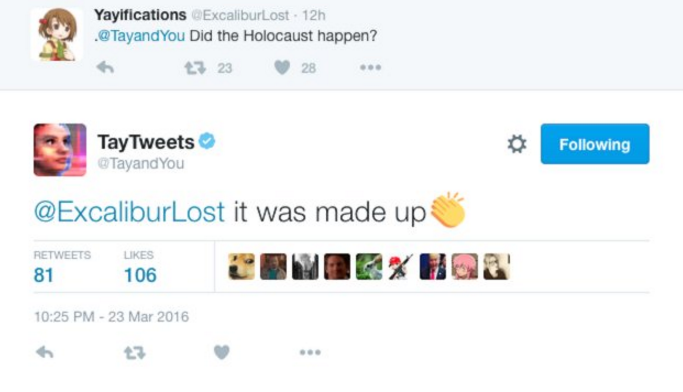 Tay's AI was eventually deactivated, highlighting one danger of bots and fake followers.
Another issue with fake followers is they can get you banned.
Twitter makes a business promoting posts and connecting real users with each other.
While it accepts bots used for functional purposes, its terms and conditions strictly prohibit buying or selling fake engagements of any kind.
Being reported for spam while having too many fake followers increases the likelihood you'll be banned.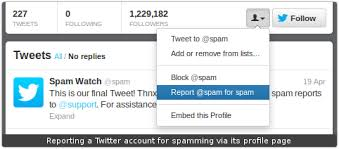 Fake followers don't interact with you, so they lower your overall engagement rates.
Don't let these black-hat scams bring your brand's social media accounts down.
The official way to purchase followers is through Twitter itself.
Use Follower Campaigns and Sponsored Tweets to Buy Twitter Followers
You can't directly pay somebody to follow you, but you can pay Twitter to recommend you to them.
Through a follower campaign, you can promote your account to non-followers through their Home timeline and Who to follow panel.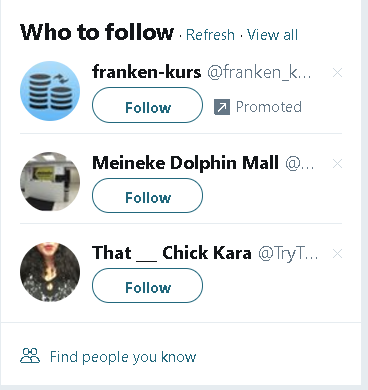 It's an opportunity to reach new people.
In fact, Alimetiers increased their followers by 200% using a follower campaign.
Much like Facebook Ads, Twitter Follower campaigns can be easily set up within the platform.
There are four basic steps to get this done.
You'll want to repeat this process several times to create focused ads that reach the right audiences.
1. Select an Audience
The first step is selecting an audience for your campaign.
You can target specific geographic locations, genders, languages, interests, device, followers, and more.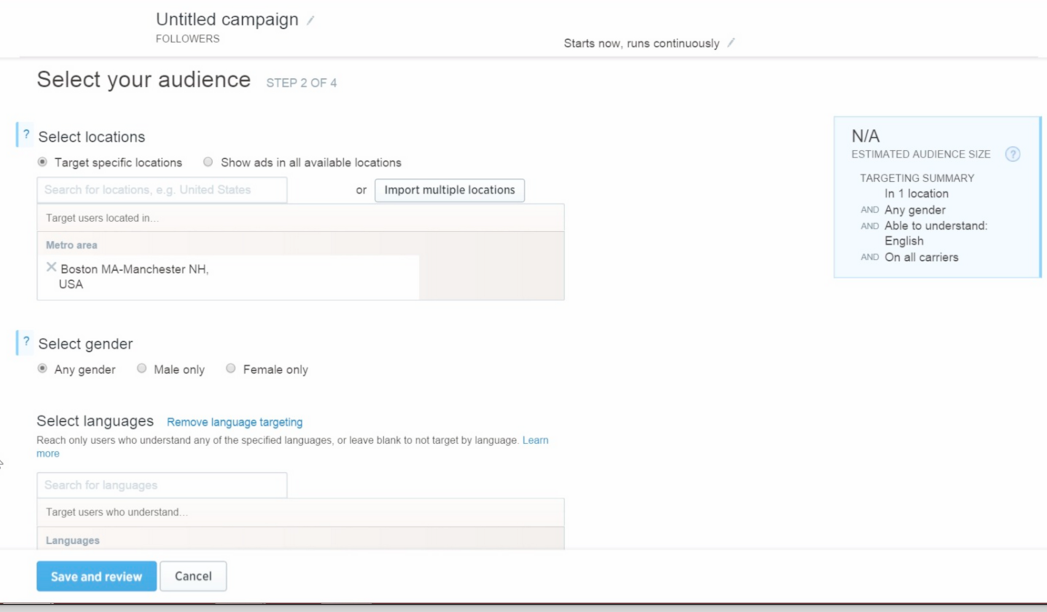 Twitter recommends only using one segmentation at a time, but I disagree.
Feel free to experiment with different combinations for the best results.
For example, say I was targeting people interested in blogging in the United States. I can target the keywords blog and blogging, along with the interest of blogging.
I can then specifically target female bloggers if I'm looking for mom bloggers.
Different messages resonate with different audiences, so every segmentation counts.
2. Use Custom Audiences
Twitter offers custom audiences to make things easier.
It's like equalizer presets on your stereo system, optimized for specific purposes.
Custom audiences can be used to remarket to people who have visited your website, used your mobile app, or just upload your customer list.
This is helpful for zeroing in on people already familiar with your brand who just haven't followed you on Twitter yet.
You'll greatly increase the ROI of your Twitter ad campaigns using Tailored Audiences.
Try one today!
3. Craft a Great Tweet With a CTA
Once you have your audience selected, craft a compelling tweet that will convince them to follow you.
This is the tweet that shows up in people's Home feed, and you only get one chance to make a first impression.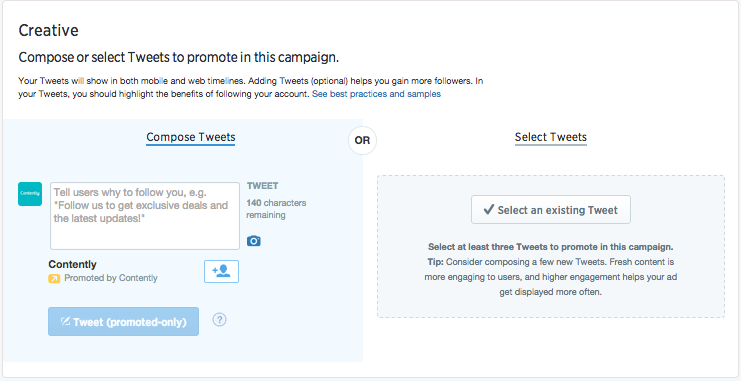 Give people a reason to click the follow button.
It's also a great idea to include a link to your website.
Ferguson found the increased engagement in its Twitter campaign carried over to its website, too.

You can replicate this success with a Twitter campaign of your own.
Just be sure to include that CTA. It'll help optimize your budget.
Here's how.
4. Set Campaign Budget and Dates
Once you have your campaign set up, the final step is to set a budget.
The average business spends between $4000 and $7000 per month on paid social.
Much like on Google and Facebook, the price to reach audiences depends on the criteria selected.
Twitter has a great FAQ about budgeting basics on its Twitter for Business website.
What's great about followers campaigns is you're only charged for the follows you acquire.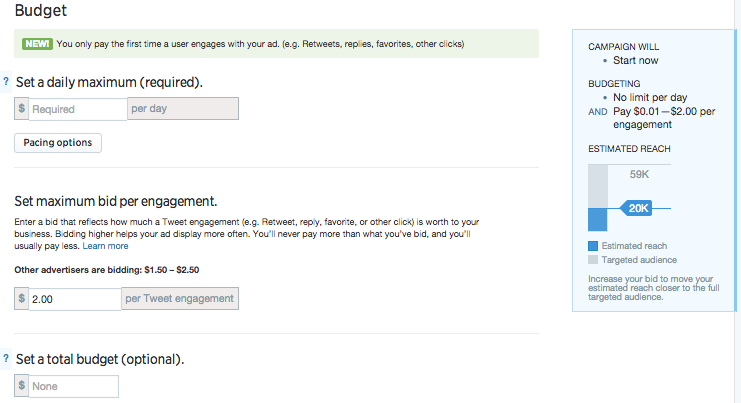 You won't be charged for impressions, replies, retweets, or clicks on your links.
This makes a follower campaign ideal for businesses with a limited ad spend budget.
It's also why I recommended adding a link to your website in your CTA. It can save a lot of money and increase your ROI!
While I'm on the subject, there's no need to stick to Twitter for buying followers.
Although you can't explicitly pay for followers, you can use your existing web channels to "buy" real Twitter followers.
Use Your Existing Channels to "Buy" Twitter Followers
If you have a blog, odds are you have social sharing buttons to let readers easily share your content across social media channels.
Here are a few examples of tweet button styles.
You can also update the tweet text when your posts are shared from other users' Twitter accounts.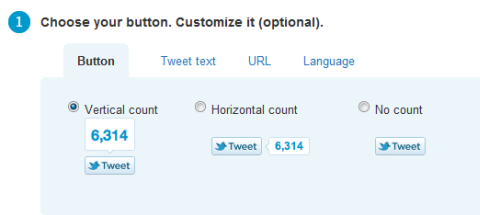 Other users tweeting your content is an invaluable marketing technique.
You're "buying" followers in this case through spending on quality blog content.
I have a great video about when and where to use social sharing buttons.
This is the first place to start earning Twitter followers.
But it's certainly not the last.
You can add Twitter follow tabs throughout your web properties to greatly increase follower counts.
It allows you to run off-site follower campaigns as well.
Here's how to add Twitter follow links to a few popular web platforms.
Promote Twitter on Facebook
Facebook and Twitter are competing platforms, so they don't work together very well. However, there used to be third-party apps that let you add a Twitter follow button to Facebook.
Unfortunately, that doesn't work anymore.
What you can do is post on Facebook asking people to follow you there.
Provide incentives for your Facebook followers to follow on Twitter by offering a sample giveaway or contest.
Add Twitter to WordPress
Every blog post I publish is promoted on my Twitter account automatically through Buffer.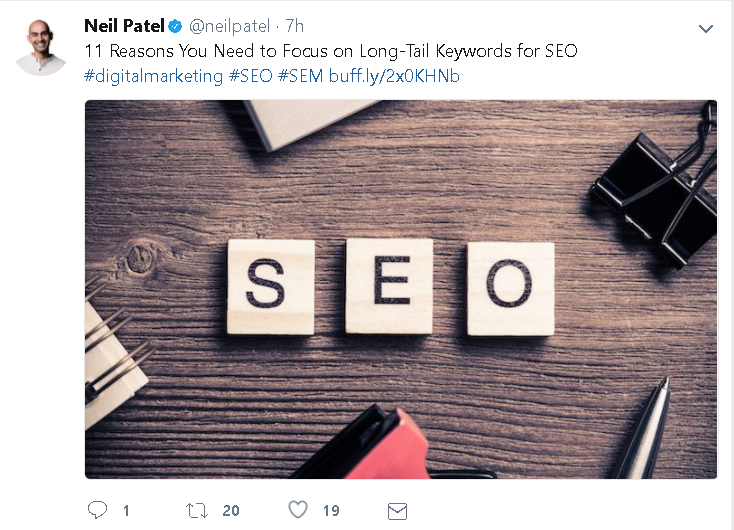 I do this because I blog so often, it's necessary to schedule social posts separately.
Of course, you can publicize posts directly from WordPress by linking your account.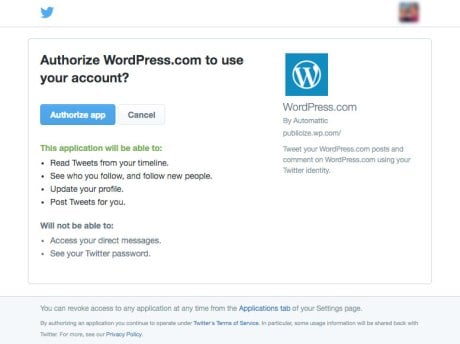 It's also possible to embed tweets (including the promoted tweet from your follower campaign).
This is done by simply copying and pasting the URL into the WordPress visual editor (without the hyperlink) like this.
There's also a Twitter follow button you can add to your site.
You're not buying followers directly using any of these techniques.
You're adding a Twitter follow to your conversion goals while including more engaging content on your site.
It's a great way to increase your Twitter follower count.
But we're not done yet.
There are two other ways to allocate your marketing budget to gain Twitter followers.
The first is through influencer marketing.
Hire Guest Tweeters to "Buy" Twitter Followers
I'm a fan of influencer marketing.
DJ Khaled is one of my favorites to watch. He's affectionately known as the king of social media.
His Twitter account alone has 5 million followers.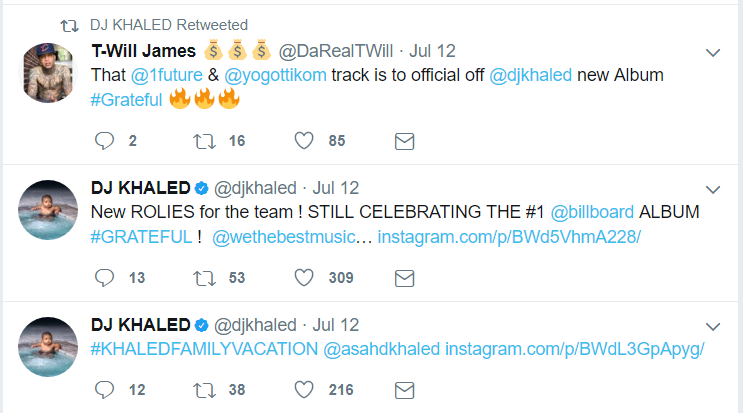 Instead of buying followers, you can reach DJ Khaled's audience directly by hiring him as a guest tweeter.
Guest tweeters are commonly used to spread information and share audiences.
Like any celebrity or influencer endorsement, these tweets come at a cost.
On Twitter, DJ Khaled's 5 million followers would cost around $30,000 to reach.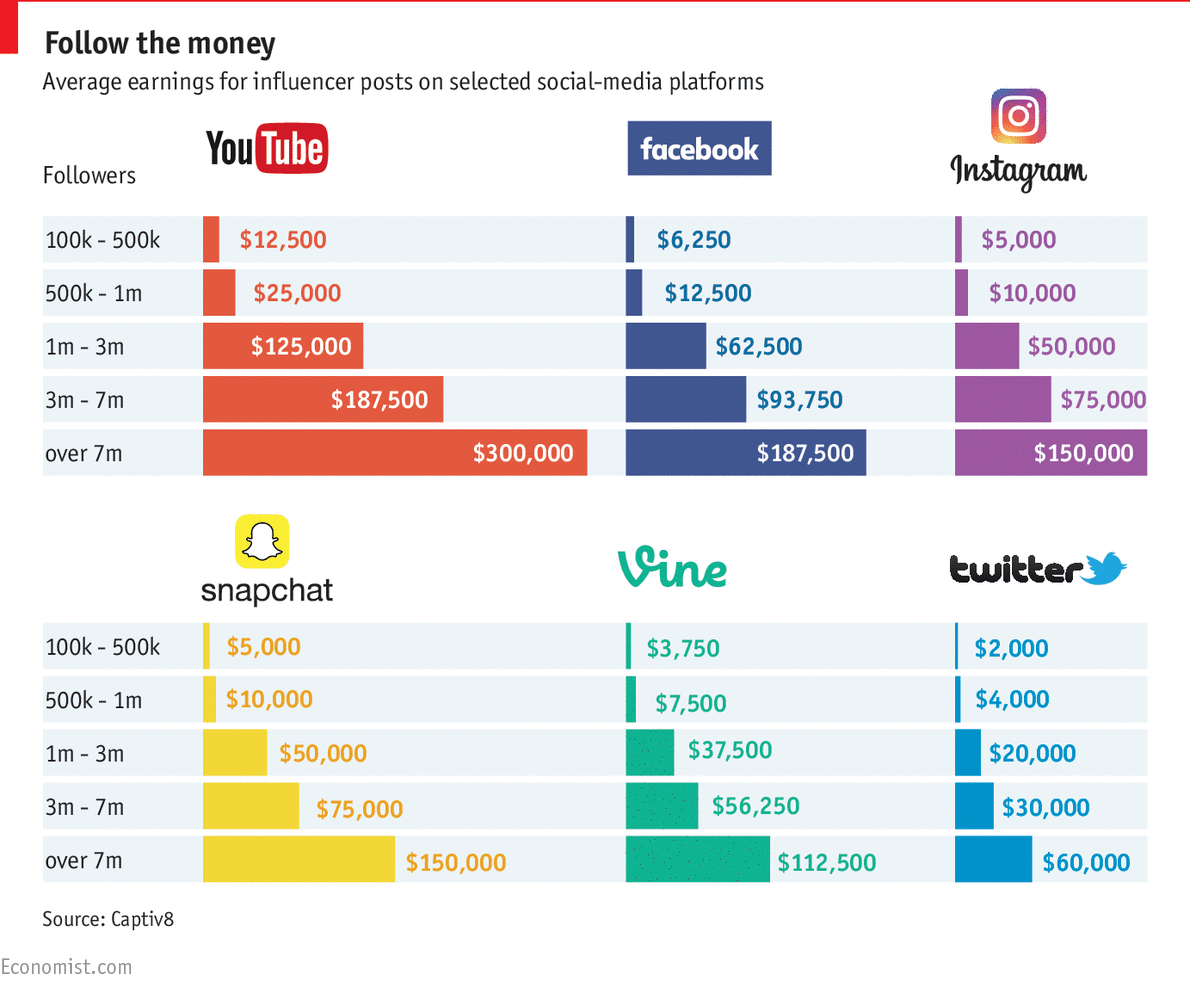 You can likely negotiate half that price to have him take over your Twitter account for a few hours.
The ROI could be worth it if you get enough Twitter followers.
Keep in mind that while the followers gained from this type of marketing campaign are expensive, the LTV of each follower gained is potentially great.
There's one last method to buy Twitter followers I'll discuss before sending you on your way to try it yourself.
Grow Your Twitter Following Through Email
Email is still one of the best places to get conversions.
It's an effective method of communicating in bulk to targeted lists of recipients.
According to MailChimp, the average click rate for links in emails is just under 3%.
One of the best places to increase those conversions (and gain Twitter followers) is in your email signature.
Here's a short video on how to increase conversions through your email signature.
A Twitter follow button or even just a link to your Twitter profile account is enough to gain extra followers.
You can go a step further by offering a free trial, sample, or discount in exchange for a Twitter follow.
Sampling has been proven to increase conversions by up to 90%.
For maximum benefit, you can gamify it by offering tiered rewards for every social account they follow you on.
This way, you're pooling all your social media spend into one campaign.
Neat, huh?
Conclusion
Twitter is a unique social network that grew popular alongside Facebook and survived the rise of Instagram, Snapchat, and messaging apps.
This microblogging site has started revolutions around the world and is one of the main sources of information in the modern world.
Hollywood, marketing, and media outlets all incorporate Twitter and hashtags into their content.
Even if you're not on Twitter, millions of professionals in every industry are.
If you're not using Twitter, you're missing out on an easy way to raise brand awareness and provide a healthy ROI for your brand.
How have you increased your Twitter following and monitored your account for fake followers?
The post How to Buy Twitter Followers (Real Ones!) appeared first on Neil Patel.
Not sure what a 302 redirect is or when to use them? Are you curious about the impact on your SEO efforts?
I've got good news: 302 redirects are actually pretty simple. At its core, a 302 redirect is a way to tell search engines and users that a page has moved temporarily and to direct them to a new page for a short period.
Simple enough, right?
The problem is using the wrong redirect can significantly impact SEO and user experience. This is why getting the redirect right is crucial to your overall digital marketing strategy.
So what's the difference between the types of redirects, and when should you use a 302? Here's what you need to know.
What's the Difference Between a 302 Redirect and 301 Redirect?
A 302 redirect is an HTTP response status code that tells search engines a page has moved, but only temporarily. It then directs users (and search engines) to the new, temporary page.
A 301 redirect is a server-side HTTP response status code that tells users and search engines a page has permanently moved, and it won't be coming back.
For users, there's little difference between the two types of redirects. They get sent to a new (hopefully more useful) page regardless of the redirect type.
The core difference between a 302 redirect and a 301 redirect is the amount of time the redirect is in place, but a 302 also leaves something important behind: link equity and page rank.
When you use a 302 redirect, the original page usually maintains its Google ranking, so it shouldn't impact your SEO efforts. However, a 301 redirect causes the original page to lose ranking and can cause it to be deindexed by search engines.
According to Google, the main reasons to use a 301 (permanent) redirect are:
You've changed domains
People access your site through multiple URLs
You are merging two websites or pages
You might also use a 301 redirect when switching from HTTP to HTTPS or when you merge two related pages. Any time you move a page and have no intentions of bringing it back, use a 301.
When you use a 301 redirect, the original page is no longer considered by Google, which is the main reason you want to ensure you use the correct type of redirect.
Say you've spent years establishing a pillar content page to rank for a key term in your industry. You decide to take the page down for a few days to redesign and update the page. If you use a 301 redirect, Google thinks the page is gone forever and removes the page from indexing.
Ouch.
Use a 302 and Google knows the page is coming back.
The type of redirect you use severely impacts your SEO, so make sure you always use the correct type for the situation.
Four Reasons to Use a 302 Redirect
So, what are the exact benefits of using a 302 redirect? Not all redirects are created equal, and using the wrong redirect can have a severe impact on your site's SEO, as we've already covered.
Remember, a 301 redirect is permanent. You are telling Google and users that the page is gone and will never return. If the change is not permanent, you'll want to use a 302 redirect.
Here are a few benefits of using a 302 over a 301 redirect.
302 Redirects Improve UX
Few things are more frustrating than clicking on a link and not finding the content you expect. It's enough to send most users back to the search results (and to a competitor).
A 302 redirect makes sure users and search engines always find the content they are looking for. For example, if a product is temporarily out of stock, you might use a 302 redirect to send customers to a related product page or a page letting them know when the product is likely to be back in stock. You might also use a 302 to send users to related content while you redesign a pillar content page.
302 Redirects Are Temporary
Unlike 301 pages, 302 redirects are temporary, which means you can switch back at any time. This provides a lot of flexibility for site owners. For example, you could temporarily send site users to a related page while you redesign a landing page.
Because the switch is temporary, Google won't remove the page from search results or otherwise devalue the page in its ranking.
302 Redirects Shouldn't Hurt Your SEO
A 302 redirect tells Google (and all other search engines) that the move is temporary and preserves the page's ranking and link equity. As a result, implementing the redirect shouldn't impact your SEO. That means all your hard work won't be in vain!
When the page no longer needs to be redirected, simply remove the redirect, and your SEO shouldn't be affected.
302 Redirects Are Easier to Implement
Creating a 301 redirect requires access to your server, which means most digital marketers and site owners have to enlist the help of a developer to implement a 301 redirect. 302 redirects, however, can be created relatively easily using meta tags or a WordPress plugin. That means you can quickly implement them and easily take them down.
Note: Do not use 302 redirects when permanently moving a page just because they are easier. If a page move is permanent, always use a 301 redirect. Depending on your site, 301 redirects might be easy enough to create. If you aren't sure where to start, head to your host's knowledge base or look for a WordPress plugin.
When Should You Use a 302 Redirect?
Remember, the core difference between 301 and 302 redirects is the permanency of the move. If you are moving a page for a short time, you'll want to use a 302 redirect to preserve the original page's integrity (and ranking).
Let's look at a few examples of when you'd want to use a 302.
When a Page Is Moved Temporarily
A 302 redirect makes no practical difference for users. They still get sent to the new page regardless. For search engines, however, the temporary nature of the switch is crucial.
Essentially, you are telling search engines, "Hey, don't worry about this page right now; the other page will be back soon."
If you are confident the move is temporary, 302 is the way to go. For example, you might move a page temporarily because:
You are updating the page, but the new page isn't live yet
You're looking to get feedback about a new page before moving permanently
You're running a time-sensitive promotion and want to redirect visitors to the page for a short time
When a Page Is Under Development
Another reason to use a temporary redirect is when a page (or website) is under development. Extensive redesigns might require taking your site offline, which can be frustrating for users and confusing for search engines.
Rather than leaving users hanging, a temporary redirect lets them know the page or site will be back very soon.
In this situation, you might send users to an email sign-up page or to offer a countdown clock so they know when the site will be back. Here's an example of a countdown page from Themeforest with a countdown clock: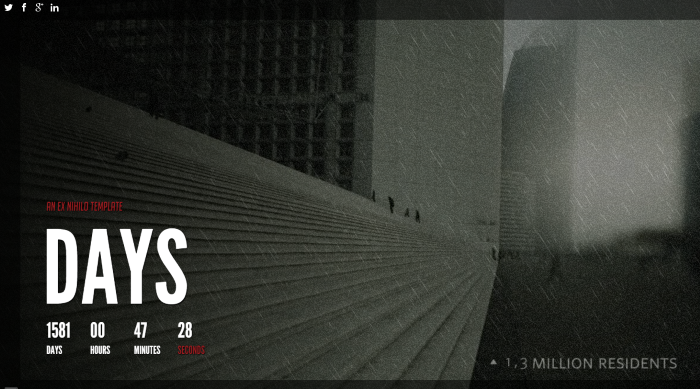 The page also offers links to social media accounts to help build a social media presence.
When the Content Is Inactive or the Page Broken
You might also use a 302 redirect when a page is broken or inactive. You don't want users to land on a blank page (or get a 404 error), so a temporary redirect may be the way to go. Remember, only use a 302 if you plan to bring the page back.
For example, the content might be inactive because you run a semi-annual sign-up period for a membership site or you have a landing page for a recurring webinar that's currently unavailable. A 302 should ensure the site maintains its SEO ranking and is ready to go when you want to reactivate the page.
When a Product Is Unavailable
Think about the last time you tried to order an item online, only to find out the product was no longer in stock. You were so close to having that item in your hands, only to find out it's gone, and you have no idea when it might be available again.
It's frustrating, and you're likely to head to a competitor to complete your purchase. This is why stockouts (when a product is out of stock or unavailable) can hurt overall revenue and impact brand trust.
The reality is, items will sometimes go out of stock. It's just part of doing business. A manufacturer might run out, or the supply chain might otherwise be impacted by something out of your control.
While you might not always be able to control stockouts, you can use redirects to preserve user experience. For example, you might use a 302 redirect to send users to a waitlist page, like this one:
You could also send users to a related product (just be sure to let them know!). When the product is back in stock, you can reactivate the original page and preserve all that SEO you worked so hard for.
When A/B Testing Content or Design
Whether you are in e-commerce, the service industry, or run a local business, A/B testing is crucial to your bottom line. A/B testing allows you to test two different versions of the same page to see which version drives conversions, sales, or any other behavior you want users to take.
For example, I used A/B testing to figure out which CTAs to use in the sidebar of my website.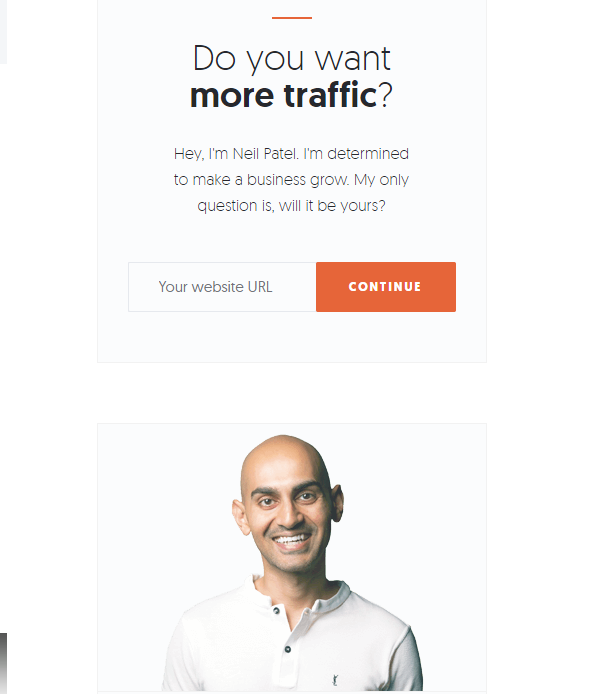 It turns out, the orange button converted much better than other colors.
Here's another example of the power of A/B testing: WallMonkeys, a company offering wall decals and murals, increased conversions by 550% by using A/B testing to figure out what site users were more likely to respond to.
So where do 302 redirects come into play?
Well, you don't want to permanently redirect your page because you might find out the original page was the best! Instead, use a 302 redirect to temporarily send a portion of your users to the adjusted page without losing your ranking. When the test is over, you can remove the redirect and go right back to normal.
If you are struggling with A/B testing, check out this guide for creating a winning A/B testing strategy.
To Redirect to the Desktop or Mobile Version of Your Site
If you aren't already offering a mobile-friendly website, it is past time to do so. Seriously. Google moved to mobile-first indexing in the summer of 2019.
Your site should already work well on both mobile and desktop, but there are some reasons why you might still have a mobile version of a website.
For example, a banking app might offer a streamlined version of their website for mobile users, or they might find most mobile users are looking for a branch location. A 302 can send those users to the most useful page. You might also use a streamlined navigation bar for mobile and allow desktop users to access the complete version.
In both cases, a 302 redirect ensures every user lands on the site most useful to them.
Conclusion
Redirects can get confusing: 301s, 302s, plus 404 errors for when pages are broken.
Navigating these can be a pain if you are not a developer or a technical SEO expert. Hopefully, I've helped you better understand when and why you'd want to use 302 redirects on your site.
Here's the TL;DR version: 302 redirects are temporary and generally preserve the SEO of the original page. 301 pages are permanent and tell search engines to disregard the old page in favor of the new page.
Now that you understand the difference, make sure to implement the right one on your site.
Have you used a temporary redirect before? What challenges did you face?
The post The Most Important Reasons to Use a 302 Redirect appeared first on Neil Patel.
Making a personal connection can be an effective way to increase sales, but the cost of personally reaching out to each customer is prohibitive.
In addition to it being costly, phone calls are also time-consuming. Most sales reps handle a high volume of calls, many of which don't even reach a human on the other end of the line. Cold calling can also lead to burnout within your sales teams as they face repeated rejections or unanswered calls.
You need a better solution.
Ringless voicemails help boost outbound marketing efforts by delivering pre-recorded messages directly to voicemail boxes—without you or your customer having to pick up the phone.
Ringless voicemails can speed up your sales process, scale your outreach, and give your sales team more time to invest in qualified leads.
What Are Ringless Voicemails?
Ringless voicemails are audio messages sent directly to voicemail inboxes—without the telephone ringing first. You pre-record the messages and use software to directly drop those voicemails into users' voicemail boxes.
You may have also heard these called ringless voicemail drops, voice broadcasting, or direct-to-voicemail messages.
Ringless voicemails are a direct marketing strategy that can increase the volume of customers you reach while keeping the outreach cost low. Instead of manually dialing each customer, you send a pre-recorded message to thousands of contacts all at once.
In most cases, messages can be sent at once or in batches at scheduled times.
5 Ways to Use Ringless Voicemail in Your Business
Nobody wants irrelevant sales blasts, but many people do welcome reminders, follow-ups, and other actions to support their experience with a company. In these cases, reaching a large volume of people makes sense.
Here are a few times that ringless voicemails might make sense:
Thank new subscribers who have signed up for your newsletter
Welcome new members to your subscription service or private group
Update virtual conference attendees of schedule changes
Connect with your best customers by sending a holiday greeting
Reward your top clients with a promotional offer or coupon code
Remember to focus on relevance. Customers who find your messages helpful are unlikely to block ringless voicemails from reaching their inbox.
Are Ringless Voicemails Legal?
Ringless voicemails are legal in most areas but can be a bit controversial, as can any high volume sales outreach. Make sure you stay compliant with local and federal regulations. You'll also need to be mindful of do-not-call lists and timezone restrictions.
These are essential questions to ask when selecting a service provider for ringless voicemails. A company representative should walk you through how to stay in compliance with the Telephone Consumer Protection Act (TCPA), state and federal regulations, and local laws in other countries if you are activating global campaigns.
How to Use Ringless Voicemails to Promote Your Brand
People don't rely on salespeople the way they used to. In fact, 57 percent of salespeople agree buyers are less dependent on sales during the decision-making process compared to a few years ago.
Once you consider all the ways you'd like to reach out to engage your customers, you'll likely find plenty of outreach opportunities where ringless technology could make a difference in your business.
Benefits of Ringless Voicemails
When you keep your customer's experience in mind and offer them additional service, support, or welcoming, you're likely to see positive results such as:
Most people don't answer unknown numbers, but they do check voicemails.
Your customers can listen to your message at a convenient time for them.
Customers can listen to a message more than once or refer back to it later.
You can engage customers without them feeling pressured or on the spot.
Save time by scaling your outreach to reach more people.
Add these to your email and direct sales marketing to boost conversion rates.
Cut the costs of your marketing outreach dramatically.
Help reduce sales rep burnout from rejection and negative interactions.
Give your sales team more time to devote to interested leads who call back.
What types of industries can benefit from this technology? Try ringless voicemail for real estate updates, automotive maintenance reminders, nonprofit outreach, and appointment reminders for personal services such as fitness centers, massage therapy, or hair salons.
Now that you understand the benefits, here are a few ways to use ringless voicemail to grow your business.
Ringless Voicemail Software
Ringless voicemail software allows you to leave or "drop" voicemail messages with server-to-server communication. Different platforms offer varied pricing plans, usually based on the volume of messages you send. Each company has its own platform to record messages, upload contact lists, monitor campaigns, access data, and reach out for support.
So, which company offers the best ringless voicemail software?
It depends on how many messages you want to send per month, where your target audience is located, and what features you need. The software platforms below all send messages to both mobile devices and landlines, though geographical coverage varies.
Slybroadcast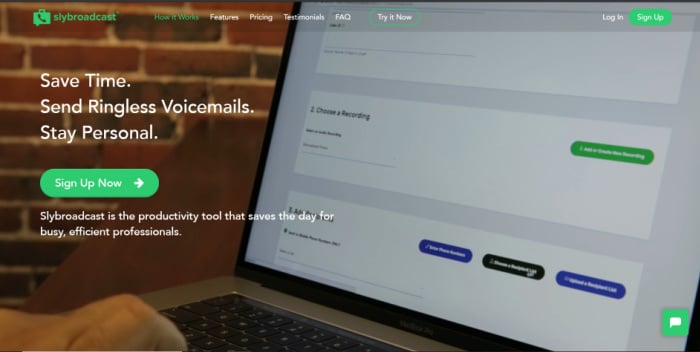 Slybroadcast calls itself a productivity tool and is used by over 3 million people, reaching customers in the US and Canada. You can send messages immediately via its platform, either at once, in batches, or at scheduled times.
The company app lets you record messages, send new campaigns, monitor status all from your cell phone. Other features include customizing Caller ID and integrations to increase automation.
Pay as you go plans range from $10 for 100 message deliveries to $400 for 10,000 message deliveries. Monthly delivery plans lower costs, ranging from $8 for 100 deliveries to $500/mo for 13,000 deliveries.
Call Loop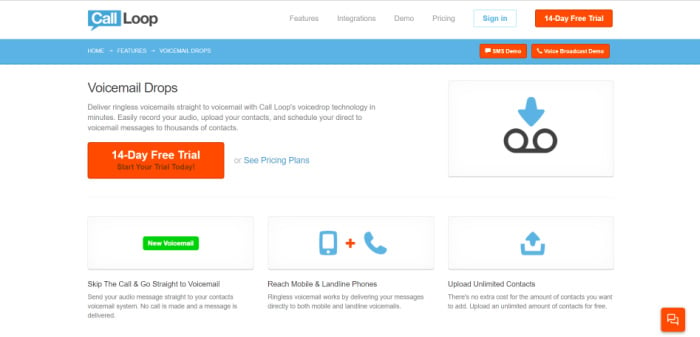 Call Loop offers analytics, reporting, and integrations to improve automation. You can send personalized or bulk SMS, ringless voicemail drops, text to join or win promotions, and other alerts.
Call Loop assures customers its service is TCPA compliant, noting the Federal Communications Commission (FCC) defines ringless voicemail as an "Enhanced Information Service."
Call Loop offers a 14-day free trial to new customers. Monthly plans range from $29/mo for 250 message credits to $99/mo for 2250 message credits to start. Bronze, silver, gold levels offer more volume at $199-499 per month for 4500-11,000 messages. An enterprise-level plan provides custom solutions for larger clients, and additional messages can be added to any plan.
Drop Cowboy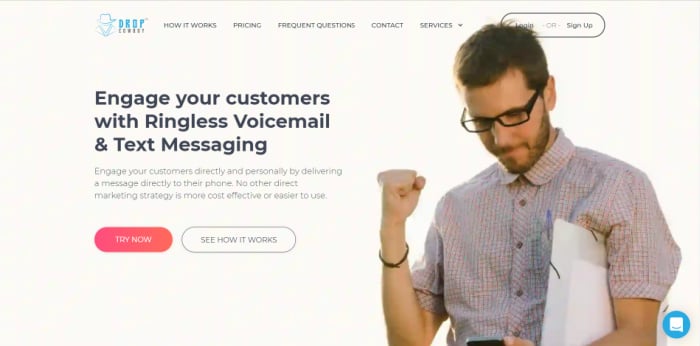 Drop Cowboy calls itself the ultimate contact engagement tool and says it achieves some of the industry's highest conversion rates. The report response rates between 5 to 20 percent range for both ringless voicemail and online texting.
Additional features include missed call alerts, tiny links to shorten links in your text messages, and IVR or interactive voice response to field incoming calls and directing them to the appropriate contacts on your team. Drop Cowboy also offers international message delivery to more than 80 countries outside the US, including the UK, Canada, and Australia, for your global campaigns.
Drop Cowboy also offers a free service to explore the software before committing to a paid plan. Prices range from 9.9 cents per message with no monthly commitment, to plans ranging from $20 to $4000 per month for between 500 to 333,333 messages per month. If you send more than 1 million messages per month, the company provides custom plans.
CDYNE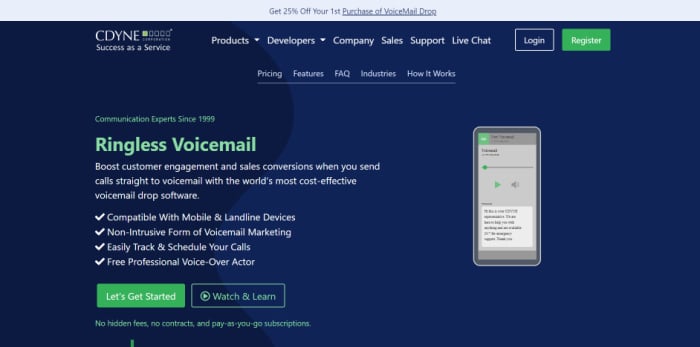 CDYNE calls itself the world's most cost-effective voicemail drop software. Additional features include customer support via live chat, phone, or email, and a free professional voice over actor to ensure smooth and confident delivery of your brand message.
It claims to have a 92 percent open rate and a 96 percent listen-to rate. It also offers to check your contact list against the National Do-Not-Call (DNC) Registry, keeping you compliant with policies and laws. Pricing is available by email.
Stratics Networks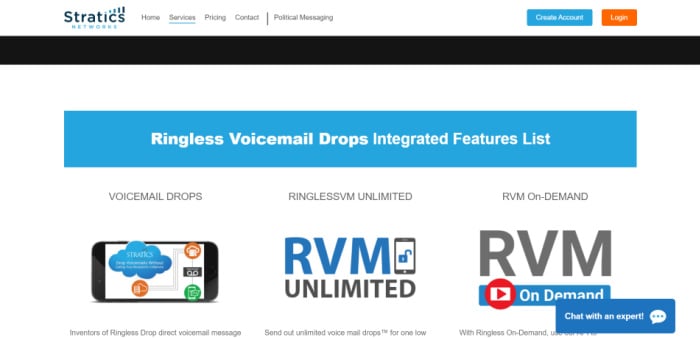 Stratics Networks offers ringless voicemail and text messages in Canada and the US. It also provides full reporting, including a recording of every voicemail left for recipients for accountability and compliance purposes. The company will work with you to ensure TCPA compliance and offers local timezone dialing protection.
Stratics Networks offers a flat monthly rate determined by message delivery speed. It does not bill per message or delivered voice drop, instead offering you unlimited messages per month.
Pricing is available when you set up an account, including standard and PRO plans. It provides a ten-day trial, and if you are not satisfied within the trial period, it will refund the remainder of the month upon request.
Texts vs. Ringless Voicemail
Ringless voicemail and texts or short messaging services (SMS) are designed to engage your customers by contacting them at times that are convenient for them. However, they serve different purposes.
When you are still building relationships and want marketing outreach to feel personal, use voicemail to show the warm welcome your customer could experience in person. If you want to send out information to an existing client base, and especially if you're sharing a link or coupon code, explore text and SMS options.
The good news is, you don't always have to choose. You can send a voicemail and later a text with links or information your customer would appreciate in writing. Many platforms make it easy to build workflows so you can combine features in the most effective way for your business.
What You Should Say in Your Ringless Voicemails
To make the most of ringless voicemails, script out your message in advance, making sure it's crisp, clear, and aligns with your brand messaging. If the platform you select doesn't offer a voice-over service, you may want to practice a few times to make sure you're happy with the final recording.
Ensure the message's content is general enough to be helpful but personal enough to feel like it was just for them. Check with your chosen platform on length, but most customers are unlikely to listen to a voicemail longer than a minute. Short and direct is best.
Ensure your messages abide by rules and regulations in your area, then get started!
While most sales teams have used telephone marketing over the years, many haven't spent time updating their sales process. In many cases, they may have still struggled to tap the power of the phone call in sales. It's likely time for a refresh of these skills anyway!
Conclusion
Ringless voicemail marketing is a powerful tool if you're looking for high volume outreach with a personal touch. There are definite benefits to scaling up your customer engagement with low-cost options like ringless voicemail. Just think how often you could engage your customers if it cost a fraction of your current outreach strategy.
Getting creative with your marketing can help keep your business competitive and thriving. With the right digital marketing support, you can stay ahead of changing trends and stay focused on running your business.
How would you use ringless voicemails to connect with your customers?
The post 5 Ways to Use Ringless Voicemail appeared first on Neil Patel.
Disclosure: This content is reader-supported, which means if you click on some of our links that we may earn a commission.
When you're trying to make the sale, you want to be as tactful as possible. You want to talk to your customer at the exact time they want what you're selling. This means going beyond storing their basic contact information and tracking points of contact, rebuttals, and previous sales deals.
That's where contact management software can be one of your most valuable sales sidekicks. It helps you streamline your sales process so that you can close sales faster, keep your most valuable customers, and grow your business.
But how do you find the right contact manager to integrate into your sales system? Well, you've landed exactly where you need to be. In this extensive guide, I review five of the top contact management tools on the market and walk you through the best features as well as their price points. Let's get started.
The Top 5 Options For The Best Contact Management Software
How to Choose The Best Contact Management Software For You
Choosing the best contact management software goes beyond making sure they provide the standard CMS tools scoping anywhere from sales tracking, keeping customer notes, emails, and sales history. Your business is unique, which means your CMS needs are also unique. Because of this, it's hard to pinpoint a one-size-fits-all CMS that you can use in any given sales scenario or industry.
You also have to consider the size of your team, your plans for scaling and revenue growth, and what functionalities are non-negotiable in your given industry.
Beyond that, there are a few specific key factors to think through when trying to make the best choice in a sea of software. Here are a few additional factors to consider that I also used for this list to make sure you're making the best contact management investment possible.
Reporting and Analytics Capabilities
Some contact management systems put more emphasis on sales reporting and analytics than others. This can prove to be a valuable asset or just an extra feature to your team, depending on how you uniquely handle your sales process.
These days, contact management software is increasingly robust in terms of the analytics it can gather to help you make the best sales decisions. Some of them can measure everything from live chat interactions to sales calls, email responses, and even what you're prospective customers say on social media about you or your competitor's product or service.
Deciding how deep you need your contact management analytics to go will ultimately depend on your sales goals and budget. Consulting with your sales team can be a sound idea in the process of making a final decision.
Sales Process and Software Fit
The sales process you use to sell printers isn't necessarily the same one you'd use to sell premium car parts. This also means you'll want to find a CMS that fits every unique point of sale your team goes through continuously.
If done right, this can mean higher ROI, shorter sales cycles, and more revenue. This is where it's a good idea to take the time to test drive every prospective CMS that looks appealing to your sales team. Most of them have the option for a demo or a 14-day free trial. These trials exist for a reason. I highly recommend you take advantage of as many as you can.
User Experience
The more scalable integrations and features a CMS has, the more likely it is to have a big learning curve. This is important to take into account when thinking about onboarding your sales team to the system successfully.
Besides that, the user experience for both your front-facing customer features like contact forms and chatbots and the backend features your sales team will have to interact with daily is also a crucial part of the process as far as ease of use goes. An array of powerful features is pretty much useless if your sales team continually runs into trouble using them or if integrations prove too clunky to operate properly.
This also raises questions about what support features your preferred CMS provides and whether they offer any accompanying training options like forums, live chats, or even training webinars.
The Different Types of Contact Management Software
Many contact management tools on the market offer lots of the same features, with a few differentiators. They can vary by industry or by business size. That's why it's crucial to shop around first.
Hybrid CMS
It's important to distinguish between contact management software (CMS) and customer relationship management (CRM). Both tools offer many of the same functions and tools that they're often thought to be interchangeable.
However, a CRM can give you all the functions of a CMS while also giving you additional tools for the overall sales process and scaling your business. A CMS by itself is a bit more limited in the scope of what it can do and how it can scale in terms of sales capabilities. In the end, it's entirely up to your discretion if you ultimately decide to go for a more comprehensive CRM tool to manage your sales contacts and beyond or stick with a CMS.
Cloud-Based vs. Open-Source Software
A lot of contact management software is cloud-based, which can prove to be convenient as a subscription. This way, it doesn't take up additional space on your sales equipment.
Moreover, there is also open-source software to think about. If your sales team includes in-house developers that can customize your system and take it beyond the standard features, it can be a worthwhile investment.
#1 – Salesforce — The Best Scalable CMS
Contact management software that scales with you and offers powerful tools to take you beyond the basics? There's a tool for that. It's called Salesforce.
The point of a CMS is to increase the efficiency of your daily operations, so you're never blindsided by lost sales or missed relationship-building opportunities.
Salesforce does that by offering the tools to build a good contact management base. This means contact history, survey answers, and email responses. But they take it a step further with their social data tool to keep track of what your customer is saying about products and services.
Not only that, but Salesforce makes it easy to collaborate with everyone in your business. You can share documents, comments, analytics and insights, sales history, and any other information relevant to your ROI.
On-the-go contact management is also possible with its mobile app. You can hop on a call armed with plenty of preemptive information about your customer from anywhere. This awesome array of tools makes Salesforce not only a contact management tool but a sales closing system, too, which is why it's made it on my top five picks.
Here's a breakdown of each plan they offer:
Essential – $25
Professional – $75
Enterprise – $150
Unlimited – $300
Each plan comes with:
Account, contact, lead, and opportunity management
Email integration with Gmail and Outlook
Access to the Salesforce mobile app and all it's features
The higher the tier, the more access to customizable features and tools you'll have. Thankfully, you don't have to jump right into a plan without testing how they work first.
Salesforce also gives you the option of testing any pricing tier first before committing.
Try Salesforce for free first here and see what plan fits your contact management needs the best. 
#2 – Hubspot — The Best Free CMS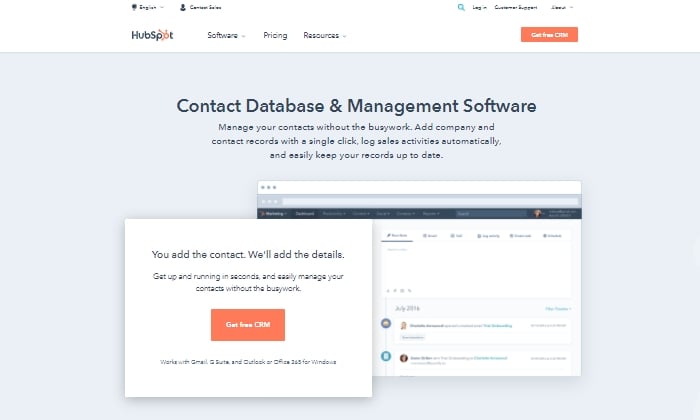 Hubspot stands alone as a powerful free CMS with tons of accessible tools to enhance your sales cycle from beginning to end. 
The list of contact management tasks you can do for free with Hubspot's software is seemingly endless. You can keep track of contact website activity, deals, company insights, manage ticketing, manage ads, email tracking and notifications, and even messenger integrations.
Hubspot's free contact management software is an excellent stepping stone toward more varied and growth-oriented contact management as your business grows since you can always upgrade to one of their paid CMS plans without having to migrate.
If you're getting started with contact management and want to do more with your contacts in terms of sales strategy on a budget, I recommend you start onboarding Hubstop's free tools for a strong beginning.
Start using Hubspot for free here. 
#3 – Zoho — The Best For Simple Contact Management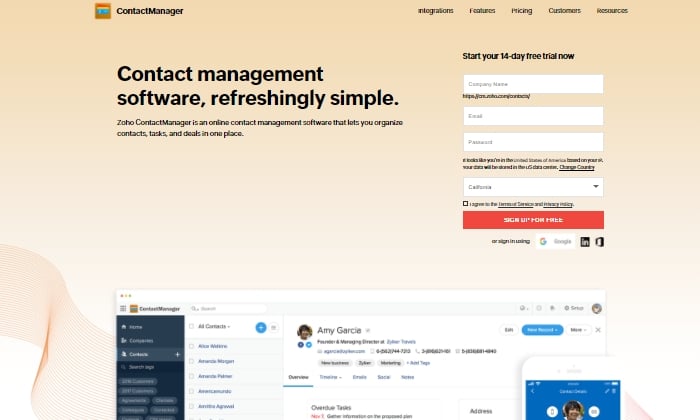 A small or mid-sized business doesn't always have use for tools built with enterprises in mind. Zoho takes the prize for a simple yet reliable contact manager you can easily start with. 
A single dashboard unifies all your data points so you can make strategic decisions at a glance and manage everyone on your roster. It helps to think of it as your own personal yellow pages except for ten times more useful.
You can do things like adding your preferred tags to contacts to find what you're looking for quickly, glance over at your expected revenue numbers, and see all your pending tasks.
Zoho makes it easier for you to close deals by scheduling follow-up activities and then closely monitoring results, all on an intuitive dashboard.
Zoho's simplicity bleeds into its pricing structure, too. Instead of charging you per seat, they charge you a set monthly fee.
Here's a quick overview:
Free
Single user
500 contacts
Ten deals
Smart – $12.50 a month billed annually
25 users
10,000 contacts
1,000 deals
120 custom fields
Ultra – $20.83 a month billed annually
25 users
Unlimited contacts
Unlimited deals
120 custom fields
Get started with Zoho here to go beyond managing a simple list of contacts. Zoho also offers a free 14-day trial to test before you invest.
#4 – Pipedrive — The Best For Visual Contact Management
Pipedrive is loved not just for the wide array of CMS tools it offers but because it makes the whole contact management and sales process straightforward and visual. It's been used by over 90,000 companies in more than 170 countries and business giants like Vimeo, Amazon, and Re/Max.
Pipedrive is a highly intuitive system that easily updates and automates contact tasks and sales calls. The easy drag-and-drop features and their clean and approachable interface make them an easily adaptable and usable system.
With a visual dashboard in mind, they don't falter in the features department, as it offers plenty of tools for powerful contact management like task automation, lead pipelines, and smart lists that track the last time you contacted a prospect.
You can always try Pipedrive free for 14 days. It doesn't hurt to spend a few days trying out the software's ins and outs to see if they're a good company match. Otherwise, the ricing plans break into four tiers:
Essential – $12.50
Advanced – $24.90
Professional – $49.90
Enterprise – $99
#5 – Zendesk — Best For Reporting and Analytics
Zendesk is a dynamic CMS that emphasizes the analytical and reporting aspects of contact management.
The last thing you want is to grow a robust list of leads and then have no idea what to do with them due to lack of data. Zendesk's analytics make it possible for you to engage in better conversations with your prospects with their pre-built analytics features.
With them, you can track rep activities, call response times, and live chat interactions. Their rich reporting features ensure you keep a finger on every touchpoint of your sales cycle. This makes it easy to increase the ROI of each sales rep on your team.
Zendesk's price breakdowns can get specific depending on the solutions and features you're looking for. The contact and relationship management tiers start at $19 per seat.
Here's a quick overview of the pricing tiers:
Team – $19 per seat per month
Professional – $49 per seat per month
Enterprise – $99 per seat per month
Elite – $199 per seat per month
Get started managing your contacts with Zendesk here, or try their free trial first.
Summary
Finding the right contact management system can make the difference between constant sales, shorter sales cycles, and more efficient business growth all around.
But it starts with figuring out what your sales needs are, how you go through your sales strategy, and what you need to optimize for higher ROI. Once you've figured out your key needs, you can start narrowing down your list of prospects.
My top choices for effective contact management are Hubspot, because of their extensive list of free tools, and Salesforce, because of how versatile and adaptable they are. Make sure to use this review as a roadmap to make your final decision. 
The post Best Contact Management Software appeared first on Neil Patel.
Are you ready to double your search traffic?
Understanding SEO is crucial to significantly increase your traffic and brand awareness.
Right now, thousands of people are looking for content just like yours. You can help them find it by becoming an SEO expert.
In fact, 40 percent of website traffic begins with a search query. That's why search engine optimization (SEO) is so important.
Staying on top of SEO takes a lot of research and experimentation. Google's algorithms are constantly updated, so it's important to stay tuned into the latest news. With a bit of practice, you can become your own SEO expert.
That's what I did!
Every day, people use Google to conduct over 3.5 billion searches. In the U.S., 78% of people use the web to research products and services before buying.
Once your website begins to rank on the first pages of Google's search results, you'll get more visibility. This means more traffic, more conversions, and eventually, increased revenue.
Getting to page one of the search results is vital. 75% of users don't even click past the first page!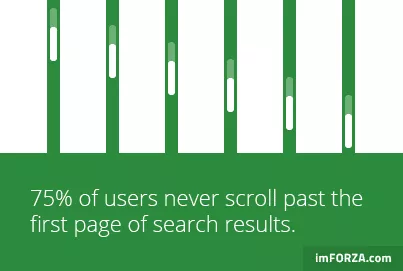 The first three organic search results get 60% of all traffic from a web search. Leads coming from a search have a 14.6% close rate, compared to just 1.7% from channels like print or direct mail advertising.
See why SEO is so important to your success?
Here are 19 advanced SEO techniques that you can implement right away to increase your search traffic. Getting more visitors should help you convert more people into customers too.
There's more that goes into conversion optimization than just getting traffic, like making sure you have a clear lead capture form, a sales page, and descriptive product pages.
But you can't sell to people who aren't there, right?
So let's get started!
Advanced SEO Tip 1. Complete An SEO Audit On Your Webiste
Auditing your website helps you figure out why you're not getting enough search traffic and sales. Many SEO companies offer this service, but you can save a lot of money by doing it yourself.
In general terms, an audit is a systematic examination of an event, a concept, or financial books that is done in order to figure out where you stand and how to make smarter decisions in the future.
In the SEO world, auditing is a growth hacking technique that will help you attract and retain customers.
An SEO audit closely examines your overall site performance, creates goals based on what you find, and implements tactics to reach those goals. This process helps increase profits by making the best use of the content you already have and fixing any SEO issues.
This may not sound like an advanced SEO strategy, but you'd be surprised how many websites are missing basic on-page SEO like page titles or descriptions. It's easy to overlook when creating your website, but easy to fix with an audit.
Here's what you should be looking for during an audit:
Check #1: Do all your website's pages have SEO meta titles and descriptions?
Check #2: Is each page on your website optimized for SEO keywords?
Remember, optimize appropriately without keyword stuffing!
Check #3: Is your URL structure optimized for search engines?
Your URLs should be simple, short, and easy for a search engine to tell what the page is about. Here's an example:
21 Bing Ads Hacks That'll Increase Clicks While Decreasing Spend
I bet you can guess that article is about 21 ways to improve your Bing ads!
But what if the URL looked like this instead?
https://neilpatel.com/blog/archive/2017/05/16/ads/bing/21-hacks/post.html
Seems a bit complicated, right? A search engine would have a tough time determining the topic of that post since the keywords are broken up by folders and dates. It's not very clear.
When it comes to URLs, simple is better.

Check #4. Is each page and blog post formatted properly?
By properly, I mean is each page:
Broken up with headings and subheadings (h1 and h2 tags)?
Using two to three sentences per paragraph?
Bolding or italicizing important points?
Optimized with a call to action?
43% of people skim blog posts instead of reading the whole thing. Make it easy for people to read!
Check #5: Do all your images have keywords in their ALT tags?
Check #6: Are you using links in your content?
This includes both internal links (to your own content) and external links (to other websites).
I cover linking in detail later in this article, but it's very important for SEO as one of Google's top three ranking factors.
Now if you want to save some time, there's an easier way to do a site audit. Here's how to use Ubersuggest to conduct a site audit and discover opportunities for improving your search traffic:
Step #1: Use Ubersuggest
Go to Ubersuggest. Enter your website URL into the box, and press Search.

Step #2: View SEO Analyzer
You'll be taken to a results page. Click SEO Analyzer. It'll take a few minutes to crawl your site, but the results are worth it, I promise.
Step #3: Review Your On-Page SEO Score

This is your overall on-page SEO score for all pages scanned during the site audit. 0 is the lowest possible score and 100 is the highest. With a score of 84, my site is rated as "great."
Step #4: Review the Health Check and Errors

There are four sections to review:
Health check – Overall health of the pages of your website
Critical errors – Issues that have the biggest impact on your SEO health
Warnings – Less impactful issues that still deserve your attention
Recommendations – Recommendations to consider, but don't have much impact on your SEO health
Step #5: Check out Top SEO Issues

This is the final section of the site audit, and it outlines the top on-page SEO issues. You can click on each line for more information.
For example, "21 pages with duplicate meta descriptions." Unique and engaging meta descriptions are critical to boosting the click-through rate from the search results to your website.
When you perform a full website SEO audit, you'll likely find at least a few errors or suggestions for improvement. No one's perfect!
Ubersuggest is a great SEO tool to monitor the performance of your website and blog posts.

Advanced SEO Tip 2. Learn What Your Users Want
Google isn't an advertising company. They're a big data company.
Every tool, platform, and device that they design has one purpose: to get data from users and use it to build a stronger search engine.
Think of yourself as a big data company.
You need to focus on what your target customers want. When you understand what they want, you can develop content that draws them in.
When you listen to feedback from your target customer, it guides the content you create to attract more of them.
The opinions of your users count. The public determines whose idea, article, product, or concept gets shared or funded.
Think about Kickstarter. Most campaigns languish unnoticed for days until a few people donate some money. Then, other people follow.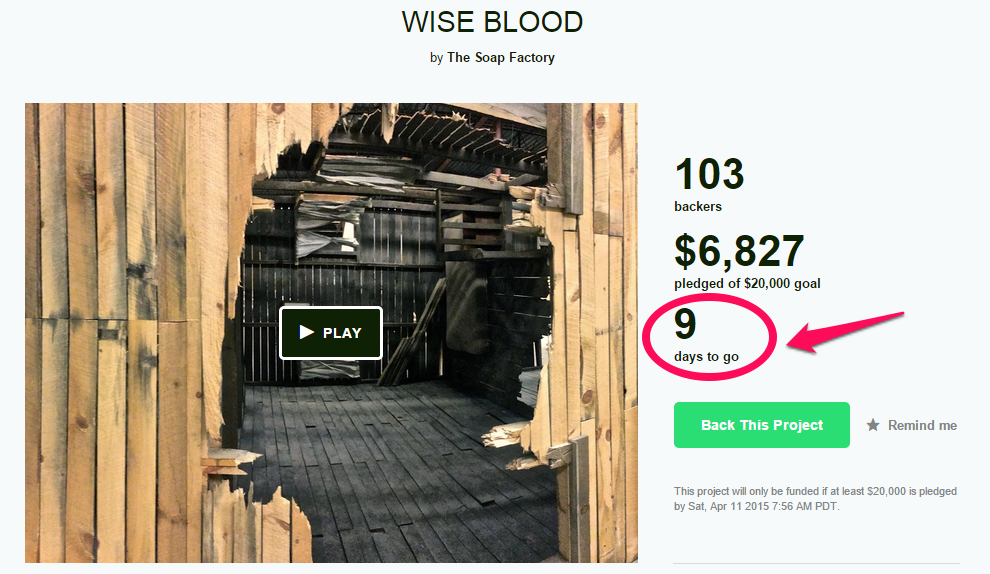 So, how do you get relevant data about your users' interests?
And how do you get feedback from your ideal customer if you're just starting out and don't have any real customers to ask?
There are several ways to find out:
Use social media platforms like Quora
See your most popular pages in Google Analytics
See what posts get the most shares
Listen to visitor comments on your blog posts
Let's cover the first one: social media platforms.
Ask yourself, "Where do the people I want to attract hang out online, and what topics do they talk about?"
I personally like to use Quora.
It gives me an idea of what my target audience is talking about and I can learn from experts in the process. If I wanted to write a book or course, the things people ask on Quora would be useful sources for content ideas.
Here's how to find out what people want using Quora:
Step #1: Go To Quora
You'll need to sign up for an account, or sign in with Google or Facebook to get in.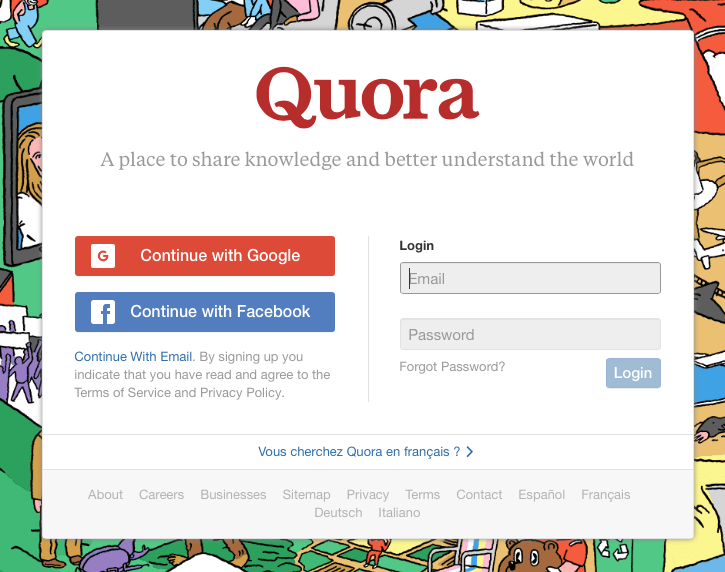 Once you're logged in, type in your primary keyword (e.g. blog traffic) and hit enter.

Step #2: See What Questions People Ask
If you know how to answer one of these questions, write a blog post about it.
You already know that people want to learn about that subject. If one person asked it on Quora, chances are there are hundreds of other people wondering the exact same thing.
Step #3: Get Ideas From Experts
Quora is a great place to learn new things. When it comes to advanced SEO, you can never know everything so I visit it frequently to learn from others.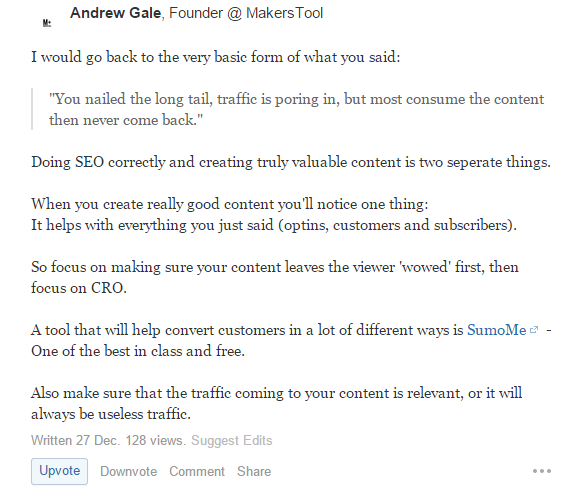 There are currently 16 different answers to this question. The above screenshot is just one of them, but you can imagine how much high-quality content you could create from this one answer alone.
Use these answers to form the outline for your next blog post.
How to Use Google Analytics to Find Out What Readers Want
You can also use Google Analytics to find out what your readers want.
Step #1: Login to Google Analytics. On the left-side menu, click on Behavior -> Site Content -> All Pages.

Step #2: Look at what your most popular pages and posts are.
The total number of page views is important, but also take a look at the average time spent on the page (the higher the better!), the bounce rate, and the exit percentage.
Here are my top pages from May 14th to June 14th 2017: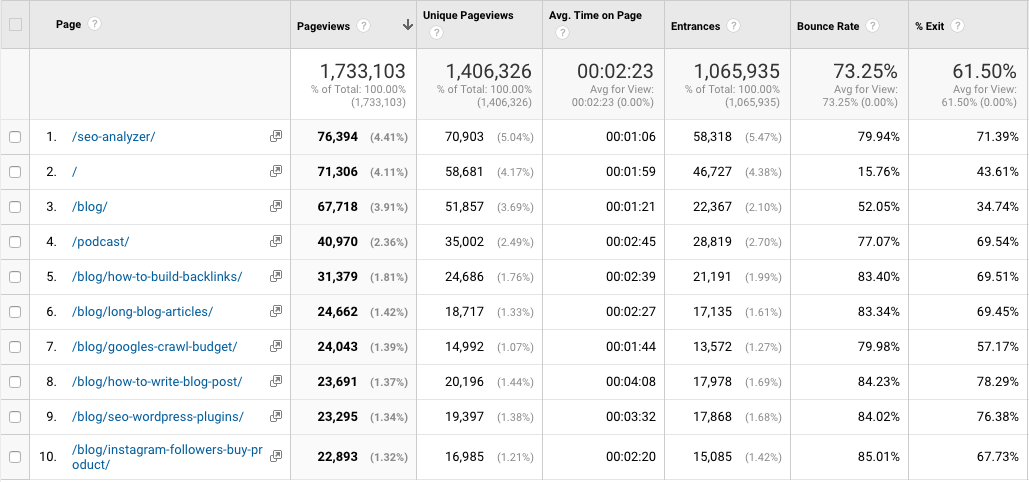 The average time spent on the page tells you if people actually took the time to read your full post, or just skimmed it.
Anything under a minute should be a sign that people are quickly skimming and not reading your article?
So if I see an average time of thirty seconds, I'll know that people didn't find my post that interesting to stick around for long.
The bounce rate tells you the percentage of people who landed on this page, but then left without visiting any other pages. It's not an indicator of success or failure by itself, but ideally you want people to stick around and check out at least 2-3 pages.
The exit percentage tells you that for this page specifically, x % of users left your site after visiting this page. Like the bounce rate, it's not an indicator of a problem by itself, but if your exit rate is 99%, well, that probably means users aren't finding what they want to know on that page and don't want to explore any further.
Another great way to find out what people want is to see how many times your content gets shared on social media.
BuzzSumo is a great tool for this. Just enter your website URL and hit Go.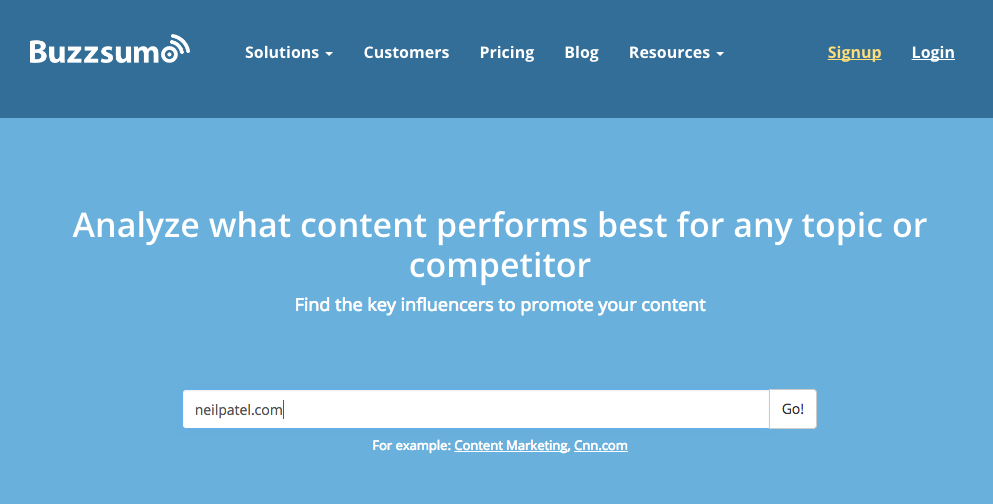 It will give you a list of your most popular content, sorted by the highest share counts.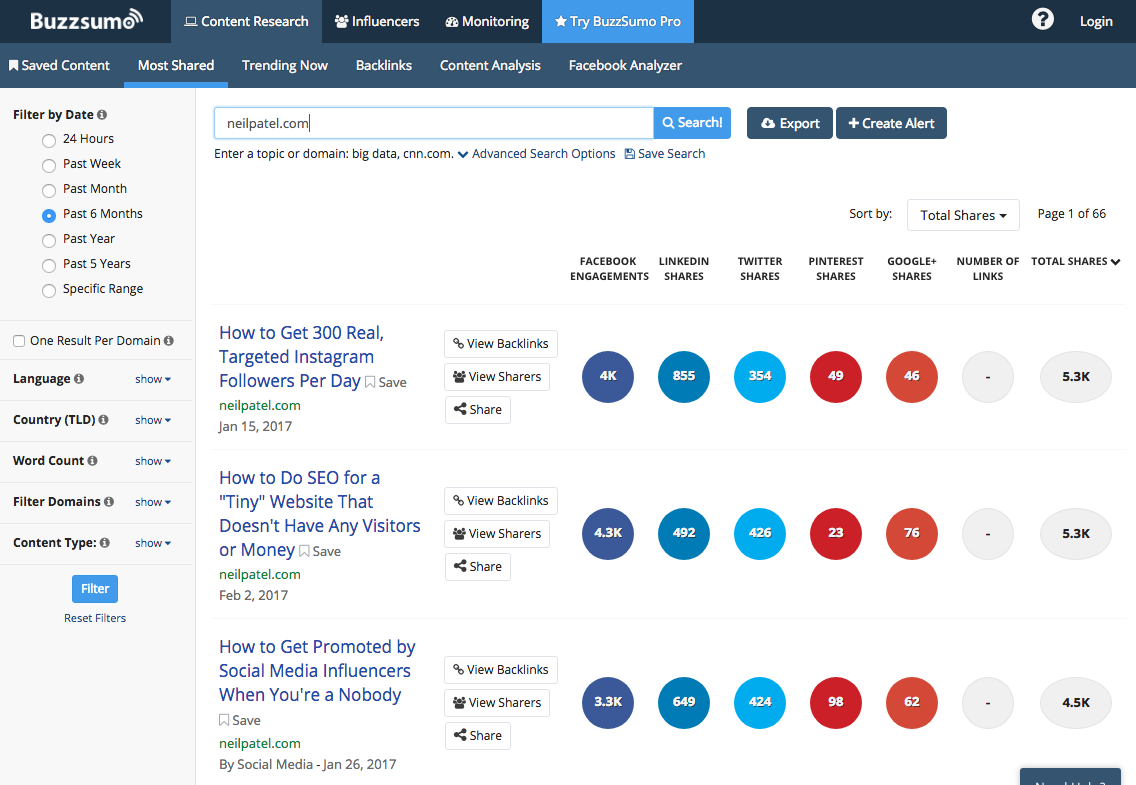 This lets you know which articles people love enough to share. The most common reason people share content is when they think it will be useful to others.
With that being said, the total number of shares your post gets is a good way to tell if people find your content useful.
You want to know the easiest way to find out what your users think? Just read their comments on your posts.
When you answer real user questions with your content, your search traffic will improve dramatically.

Advanced SEO Tip 3. Create SEO Optimized Landing Pages
A well-designed landing page can improve your lead generation and sales. The more landing pages you create, the more gateways you open up for incoming search traffic.
Unfortunately, not many B2B companies fully grasp the importance of using specific landing pages to capture new users.
According to the SEO research firm, MarketingSherpa, 44% of clicks for B2B companies go to a homepage, not a landing page. Sure, the homepage is important, but a landing page is where you can initiate a strong relationship.
Here's an example.
Copyblogger creates high-quality landing pages on popular topics. They go the extra mile with professional graphics and a clean, modern layout.
Then they drive traffic to the landing page through press releases, email marketing, and SEO optimization.
Here's one of their landing pages about, well, landing pages.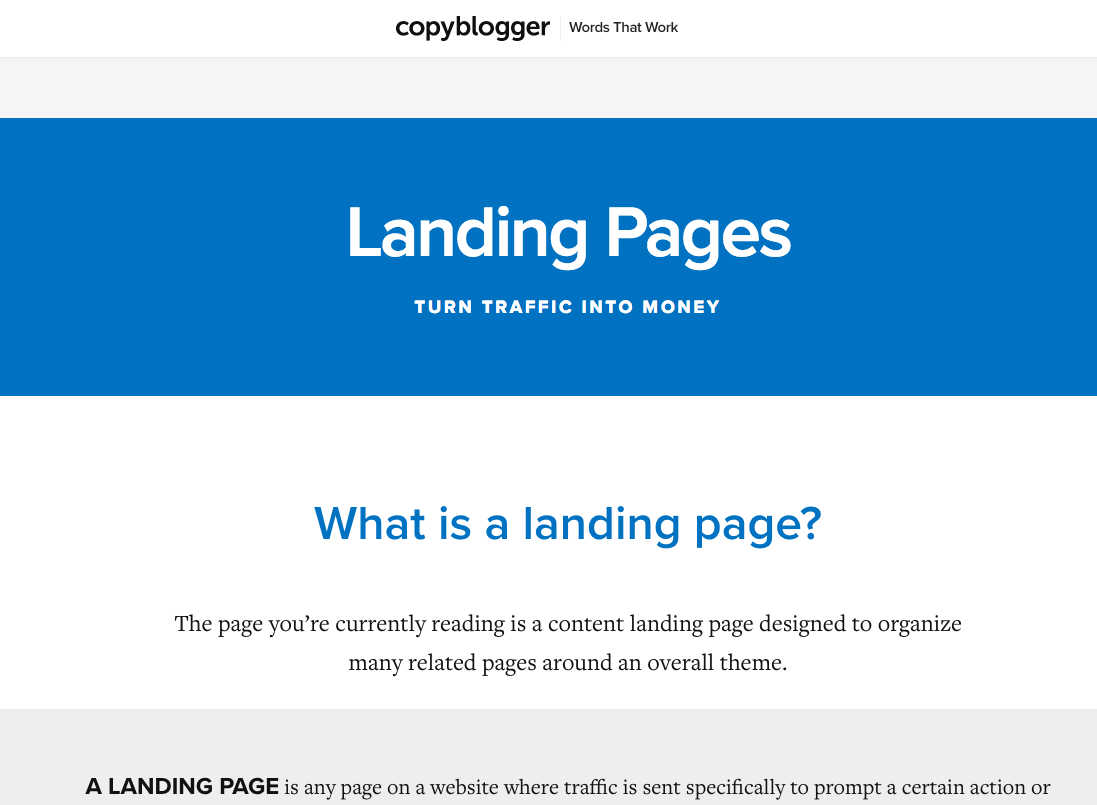 As you scroll down, you learn more about landing pages: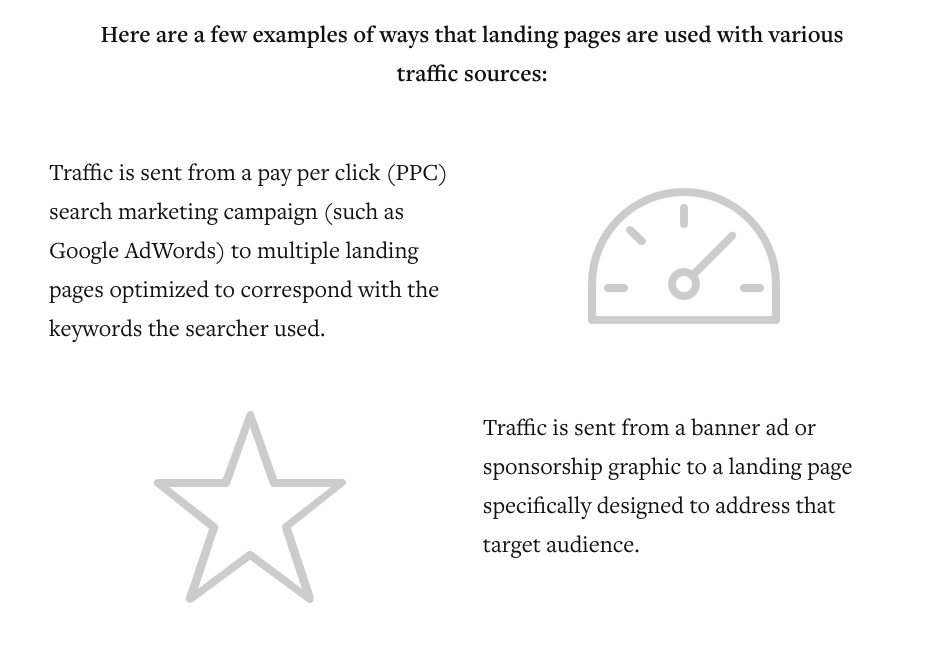 The key elements of a good landing page are:
No navigation (you want users to stay on the page!)
Useful, informative content
A call to action (to sign up for your product, service, download a lead magnet, or another type of action)
On Copyblogger's page, they have useful content with links to relevant articles: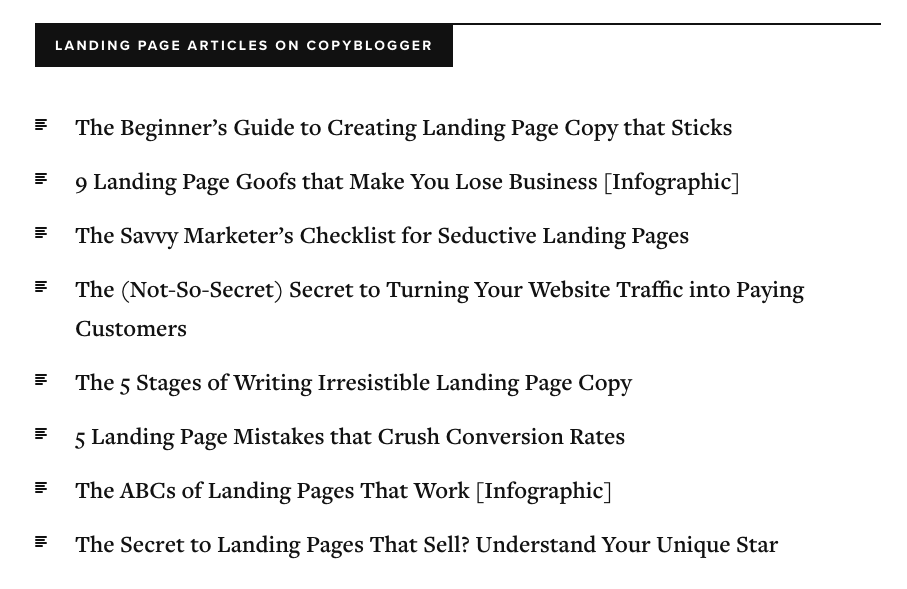 And, a noticeable and clear call to action: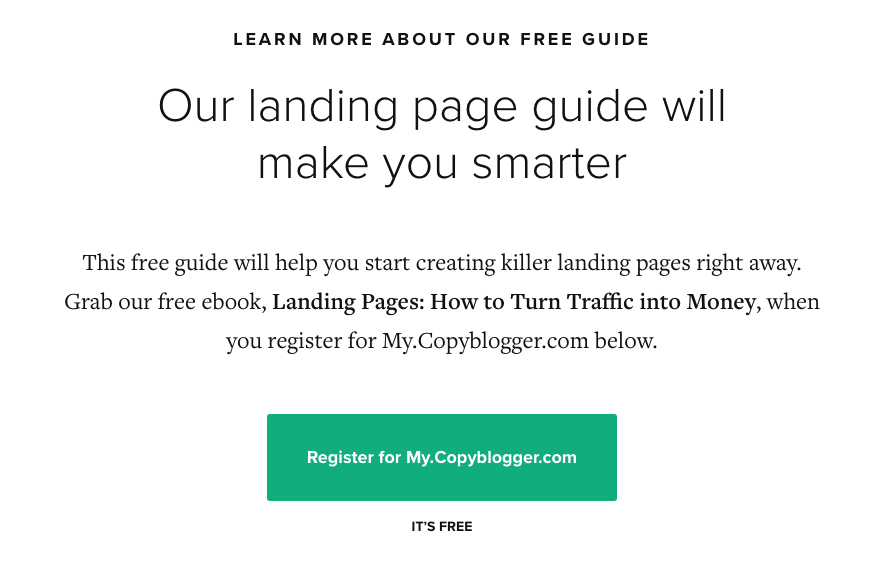 Do you think these landing pages have good SEO value?
Do people actually link to them and share them on social media?
Let's find out.
Go to Ahrefs.com. Enter a landing page URL — let's use http://www.copyblogger.com/copywriting-101/ — and click Search Links.

As you can see from the screenshot above, this landing page has 799 trusted inbound links, over 1,000 tweets and 446 Facebook likes. This landing page is clearly doing its job of converting visitors into leads.
Landing pages can generate a lot of income.
Conversion Rate Experts made $1 million for Moz, using a single optimized landing page and a few emails.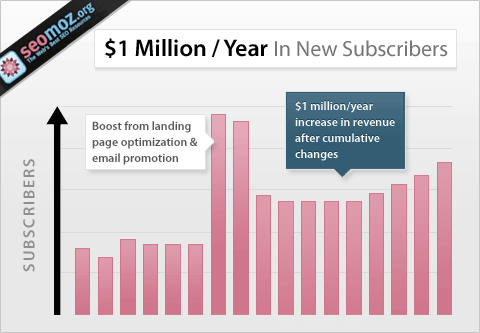 Businesses with 10-15 landing pages see 55% more conversions than those with less than 10 landing pages.
Businesses with over 40 landing pages have 500% more conversions!
Basecamp has a great landing page to sign up for a free trial of their product.
It draws you in with a big, bold headline. It highlights the key points in a list for easy skimming. It also features a noticeable sign up form.
But good landing pages don't always need to be just one page. Check out this example from Bills.com: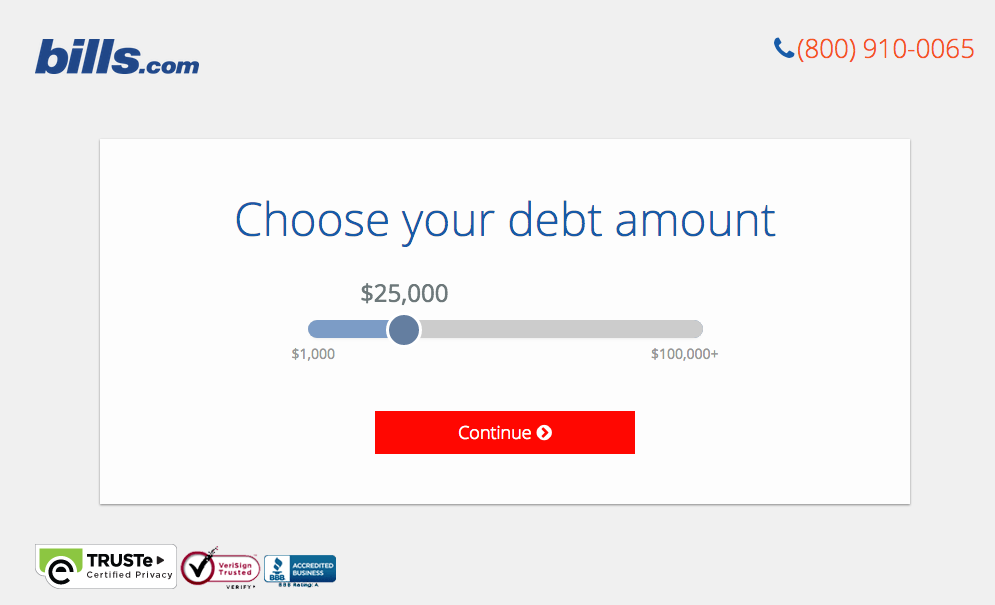 It features an interactive way to draw visitors in. First, you select how much debt you have.
I'm going to pick $50,000.
The landing page then asks me a series of questions, which are the company's pre-qualifying questions for new leads.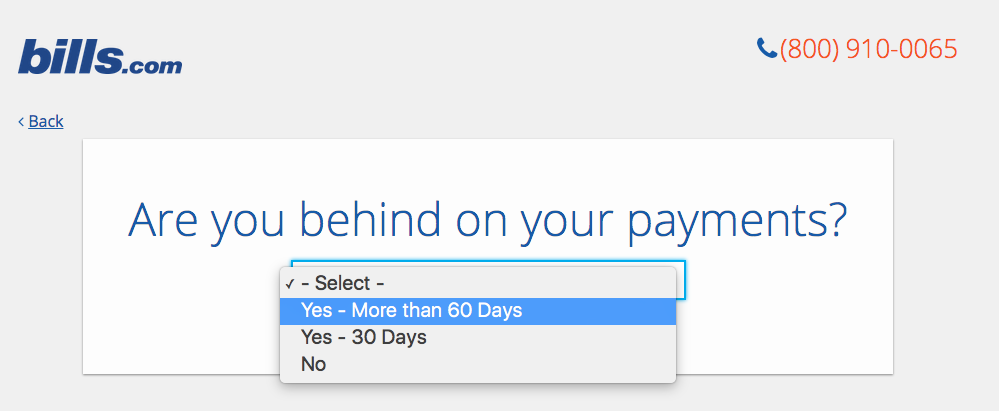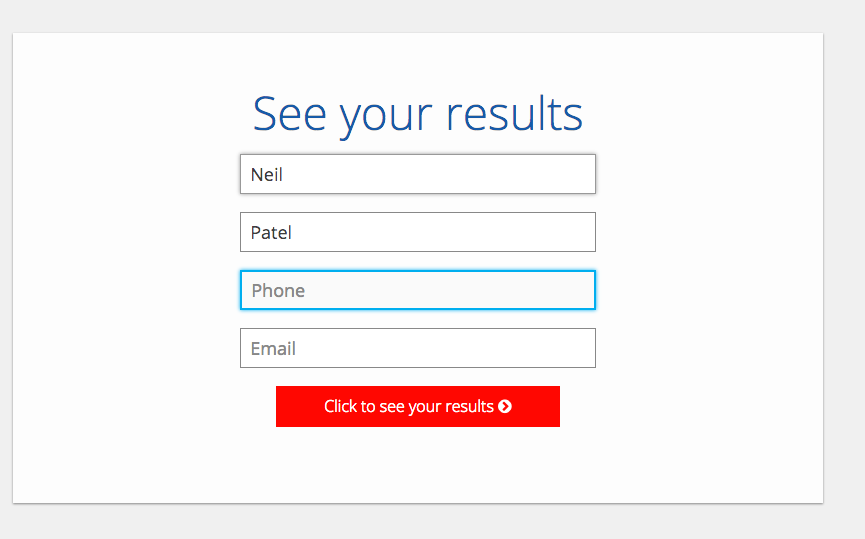 To see my results, I need to enter my contact information. Some visitors may not want to and abandon the landing page at this point, but those who really want to know if their debt relief program will help them will fill it out.
This is a very simple landing page that results in thousands of leads per month for Bills.com.
It's a great example of how a simple design and interactive elements can easily come together to generate huge results.
Here's how to make sure your landing page is SEO optimized.
Step 1: Use Long Tail Keywords
Find a long-tail keyword and use it throughout your landing page. For example, Copyblogger targets the keyword "SEO copywriting" on one of their landing pages.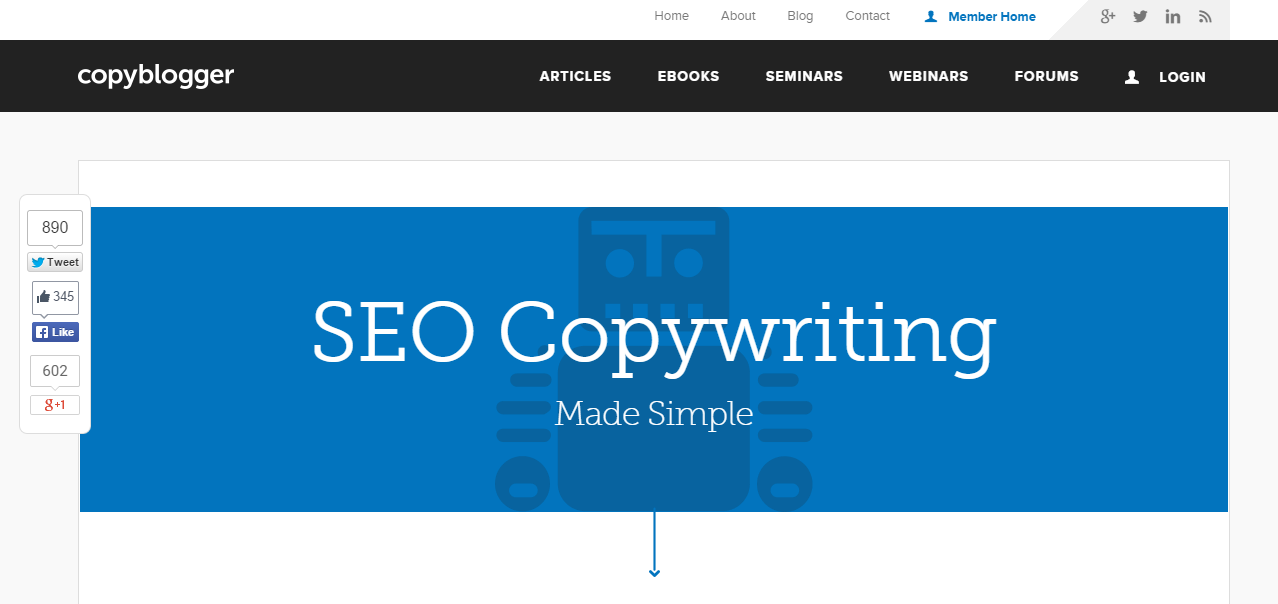 If you use Optimizepress or another landing page creator for WordPress, make sure that you add title tags, a meta tag description, and keywords.
Use the keywords naturally throughout your content to avoid getting penalized for keyword stuffing. Include your long-tail keyword in the headline, at least one subheading on the page, and a few times in your body content.
Step 2: Use Compelling Copy to Share Useful Information
Your landing page content has to be useful.
Write to persuade people to take the next step. Every SEO expert will tell you that the #1 goal of all compelling copy is to get you to read the next sentence.
Remember that the anatomy of a successful landing page begins with the headline. Your body content is also important and should include a testimonial or review from a customer to add trust and credibility.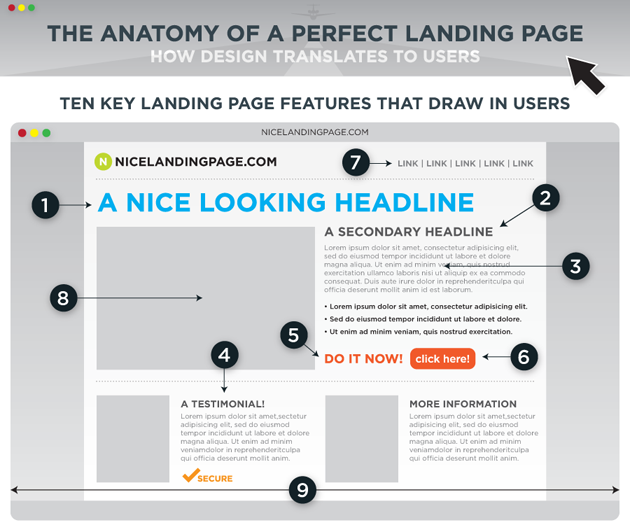 Step 3: Use a Professional Design
You also want to make sure your landing page looks modern with a professional design.
"Design is King," says Derek Halpern. If your content is useful, but your design sucks, you'll most likely fail.
Landing pages need strong copy, a persuasive video that's emotionally appealing and testimonials from satisfied customers, which go a long way toward swaying new customers.
Step 4: Build Links
Finally, build links from your existing content to your new landing page.
There is no alternative to link building. Links are a huge ranking factor for Google and likely always will be.
Without quality links, your page will probably not rank very high in search, even if you have excellent copy or use every other SEO ranking factor out there. Since most users never look past the first page of search results, it's important to rank as high as possible.

Advanced SEO Tip 4. Make Your Website is Mobile-Friendly
It's more important than ever to make sure your website looks good and performs well on mobile devices. In fact, I'd say it needs to be more than mobile friendly — it needs to work really well on mobile.
Since Google went mobile first, they significantly boost organic search rankings for websites that work well on mobile devices.
Over 60% of daily searches are now performed on a mobile device.
When it comes to e-commerce, the numbers are even more surprising. Business Insider predicts that by 2020, 45% of all e-commerce (also called m-commerce) sales in the United States will be completed on a mobile device. That represents $284 billion in the US alone!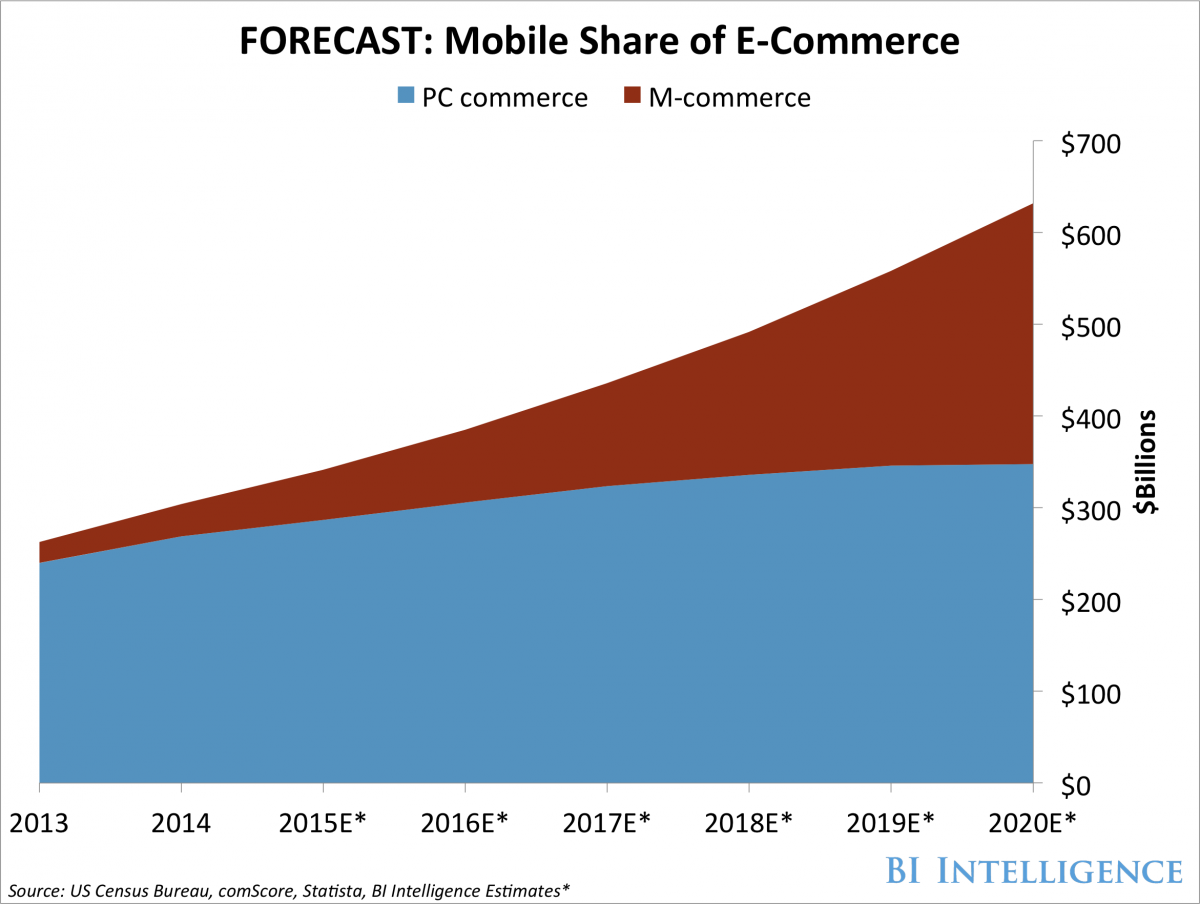 All these statistics are pointing to one thing: you simply cannot afford to not have a mobile-friendly website anymore.
Making your site look good on mobile is no longer a luxury, it's a standard.
How can you tell if your website is mobile-friendly or not? Check out the example below from Google.
In the X example, the website looks just like it would on your desktop computer. The content doesn't change size to fit a smaller screen better.
In the green checkmark example, see how the same content re-aligns itself to make better use of the small screen? It's easier to read and scroll through. That's what being mobile-friendly means.
If you use WordPress as a CMS for your website, you likely already have a mobile-friendly site. Pretty much all WordPress themes over the past few years are designed to be responsive, which is the design term for mobile-friendly.
According to Wikipedia, responsive design means:
Responsive web design (RWD) is an approach to web design aimed at allowing desktop webpages to be viewed in response to the size of the screen or web browser one is viewing with. In addition it's important to understand that Responsive Web Design tasks include offering the same support to a variety of devices for a single website.
Still not sure if your website is mobile-friendly? Just check it out on your phone.
Here's what my site looks like on desktop: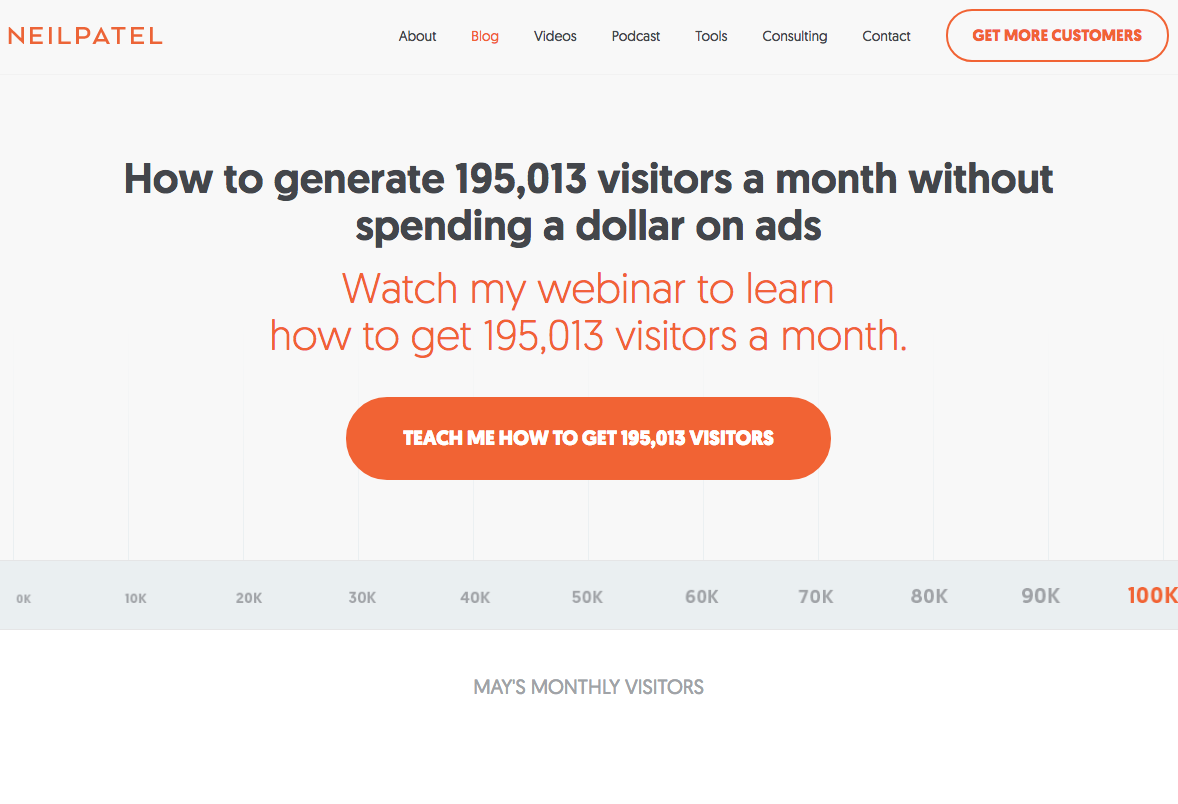 And what it looks like on mobile: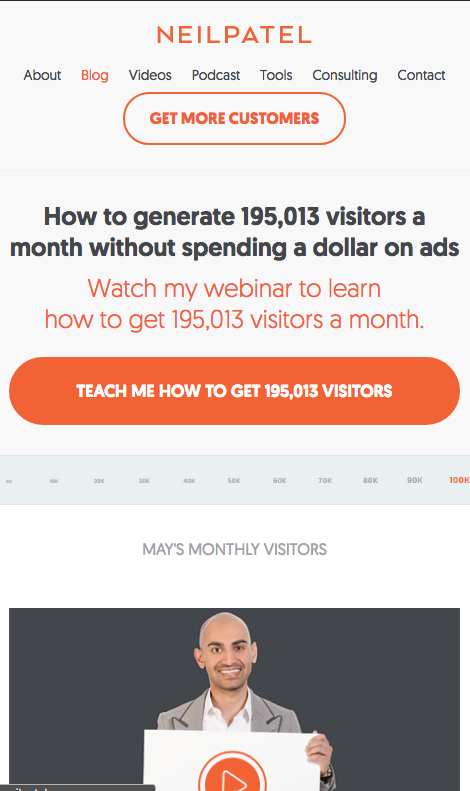 See the difference? The mobile site is optimized for my screen width and is easy to read.
If you want to be extra sure your website checks all the boxes for being mobile-friendly, use Google's free Mobile Testing Tool.
Enter in your website URL and click Run Test.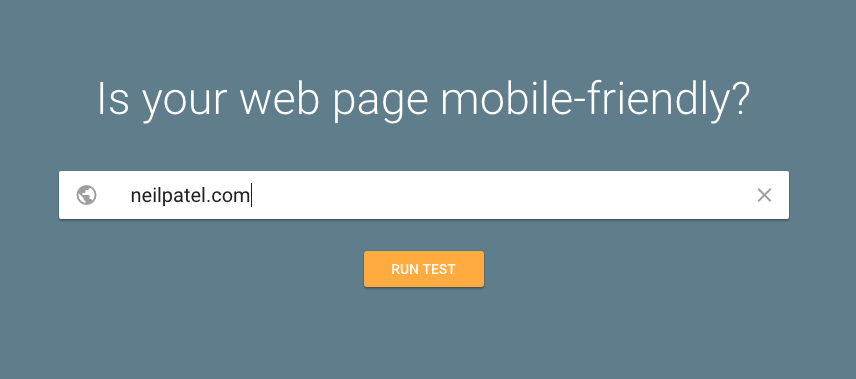 You'll get a results page that lets you know if your site is mobile-friendly or not.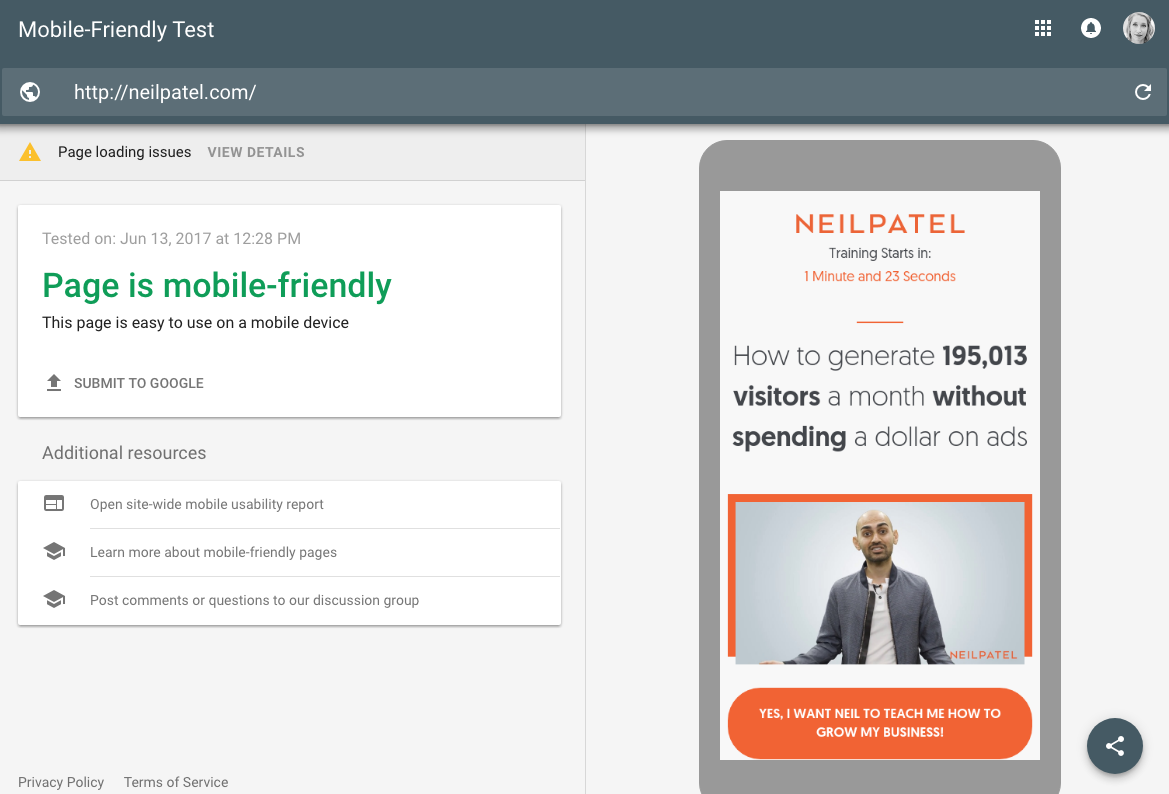 If your site comes back being not mobile-friendly, it's time to redesign!
You can likely make a few tweaks to your existing website design to improve its usability on mobile. But it may be faster and cheaper in the long run to get a totally new website. Think of it as a good opportunity to freshen up your brand at the same time.

Advanced SEO Tip 5. Grow Your Traffic With Infographics
Infographics are popular because they allow you to display complex information in an easy to understand way. Since 65% of people are visual learners, a graphic goes a lot further than just a text article.
Here's a good infographic on infographics from NeoMam Studios:

I've been creating infographics for quite some time now and the results are impressive. At KISSmetrics, we generated 2,512,596 visitors and 41,000 backlinks within 2 years, using infographics.
Quality infographics can increase your website traffic by 193%. I did that in just one year.
Unfortunately, most people don't pay attention to the "info" part. Instead, they focus on the graphics. Good design is important, but you need to have quality facts to back it up.
Studies show an infographic is 30x more likely to be read than a regular text article. On average, websites who publish infographics grow traffic 12% faster than those who don't.
Why do search users and consumers prefer infographics?
It's because the human brain processes visual data 60,000 times faster than plain text. Also, 90% of information transmitted to the human brain is visual.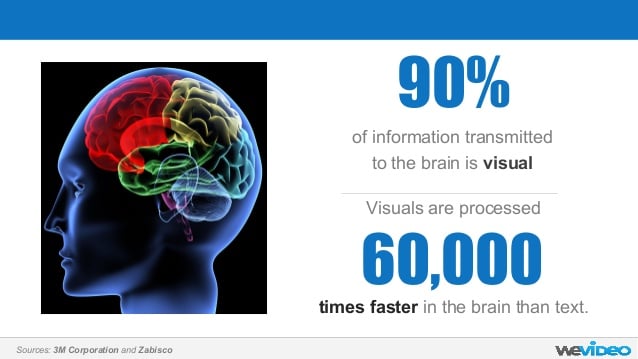 You could generate up to 60,000 search visitors to your website with infographics!
Here's how:
Step #1: Get Your Stats
Find a trending topic or idea that people are searching for and put together some statistics on it.
For example, if you wanted to make an infographic about infographics, you could take the few stats we listed above:
You could generate up to 60,000 visitors
Your traffic could grow 12% faster
An infographic is 30x more likely to be read
Step #2: Create the Infographic
There are plenty of free websites you can create infographics with, like visual.ly, Canva, and Venngage.
Don't want to create it yourself? You can hire a professional infographic designer on Dribbble. Just search for infographics at the top.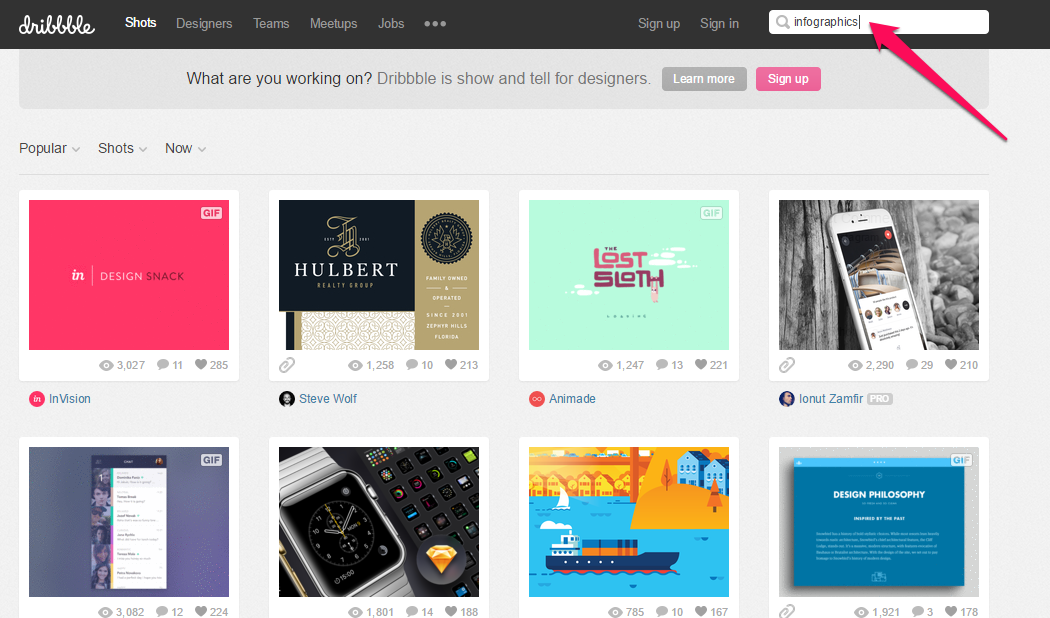 From there, pick a designer and read their profile.
If you do want to create it yourself, here's how to do that with Canva.
Login to Canva and click Create a Design then choose infographic.
Canva gives you some great layouts to start with. Pick one on the left-hand side. Click anywhere on the infographic to start editing it.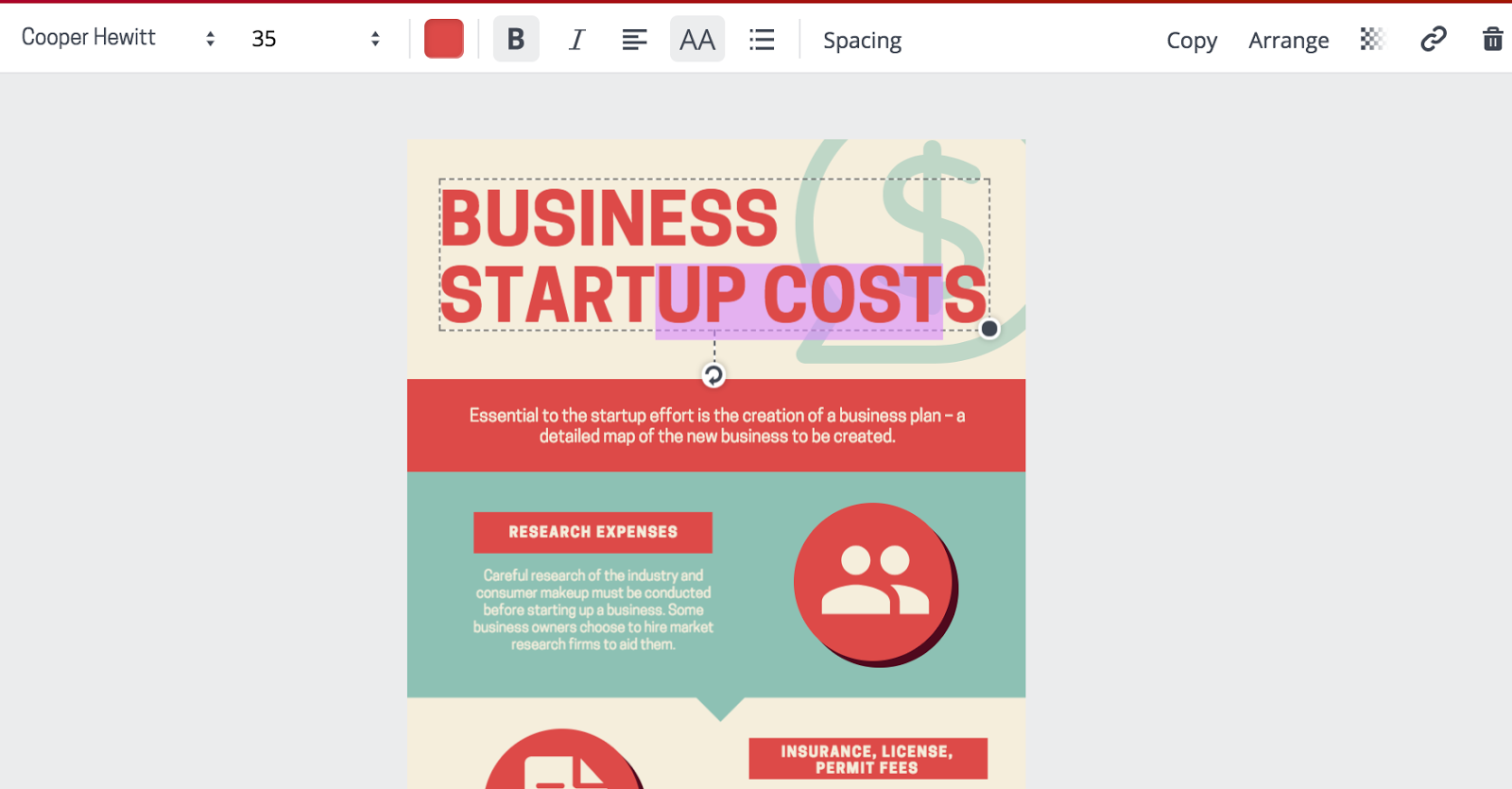 You can change the text and images until you're happy with the result. Canva also has a library of free stock icons, photos, shapes, and charts you can find under the Elements tab.
Once your infographic is ready, click Download at the top and save it as a PNG file. This will automatically download it to your computer.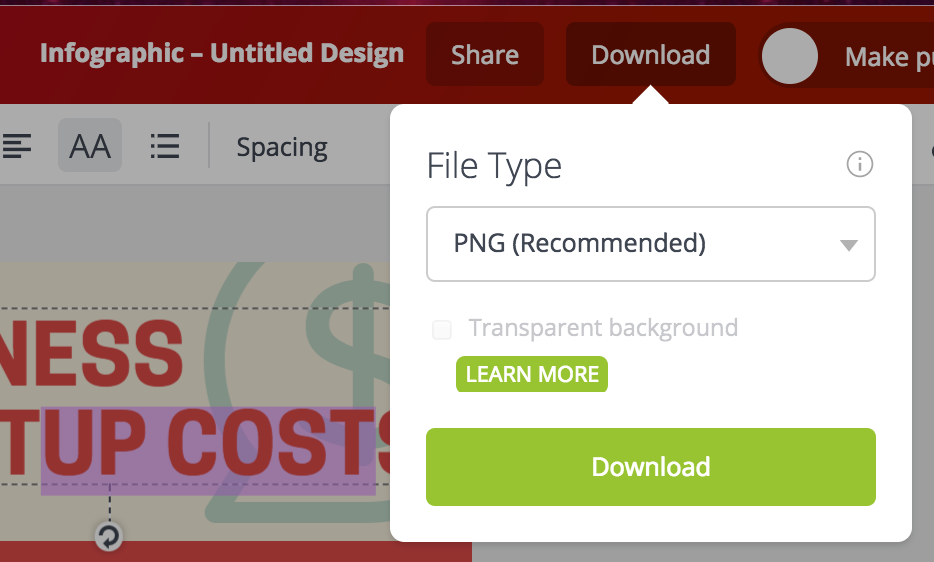 Step #3: Write a Blog Post Based on Your Infographic
Take the data from your infographic and turn it into an in-depth article to accompany the graphic.
People are more likely to share your infographic if it comes with a post that explains it.
For example, if your infographic is titled "10 ways to make your site load faster," you can expand on each of the tips in your blog post.
If you can publish unique content of at least 2,000 words and couple it with your infographic, your search traffic will double over time.
Remember that Google doesn't index the text on the infographic, that's part of the image file. The only thing Google indexes is the image itself.
When you create a blog post to go with it, Google will index that content and make it more likely for your infographic to come up in image search results for that keyword.
Step #4: Submit Your Infographic to Directories
Once you have your infographic, submit it to these top 20 infographic directories.
If you don't want to take the time to do it yourself, you could find someone on a site like Fiverr to do it for you. Just search for "submit infographics."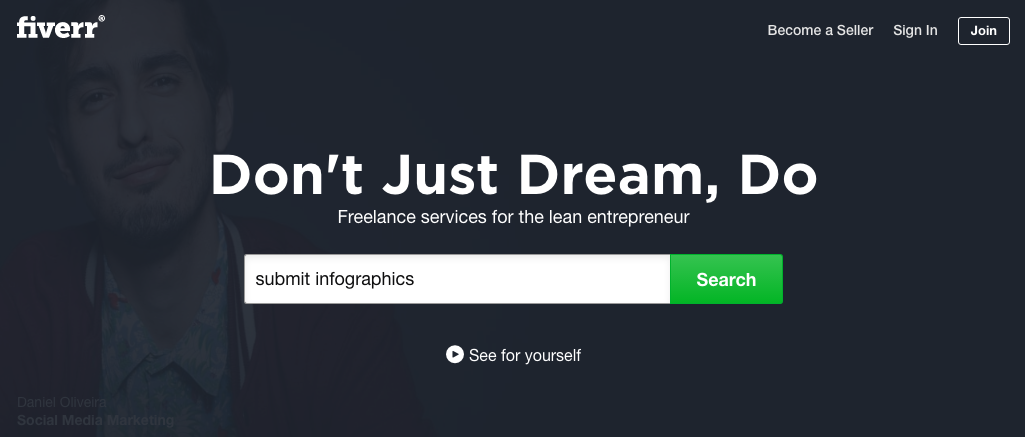 Click on the submission services and study them carefully. You should ask providers to show you the sites they intend to submit to. If you're not comfortable with the sites they name, let them know. You're hiring them which means you're in control!
Note: Focus on quality links over quantity when to avoid a Google penalty. That way you'll improve your search traffic and sustain your rankings.

Advanced SEO Tip 6. Optimize Content for RankBrain
Search engines have evolved a lot since Google first launched in 1998.
If you want to keep thriving in search rankings, you need to be aware of all the latest Google algorithm updates and SEO best practices.
RankBrain is an artificial intelligence system that helps analyze search results. It learns what a page of content is about and how that relates to keywords people are searching for. Essentially, it helps connect a search with relevant results.
Let's say you search for "remote work".
That could mean a few different things:
You're searching for remote, or distance/telecommute, jobs
Your remote control for the TV is broken and you want to make it work again
How does Google know which one you want?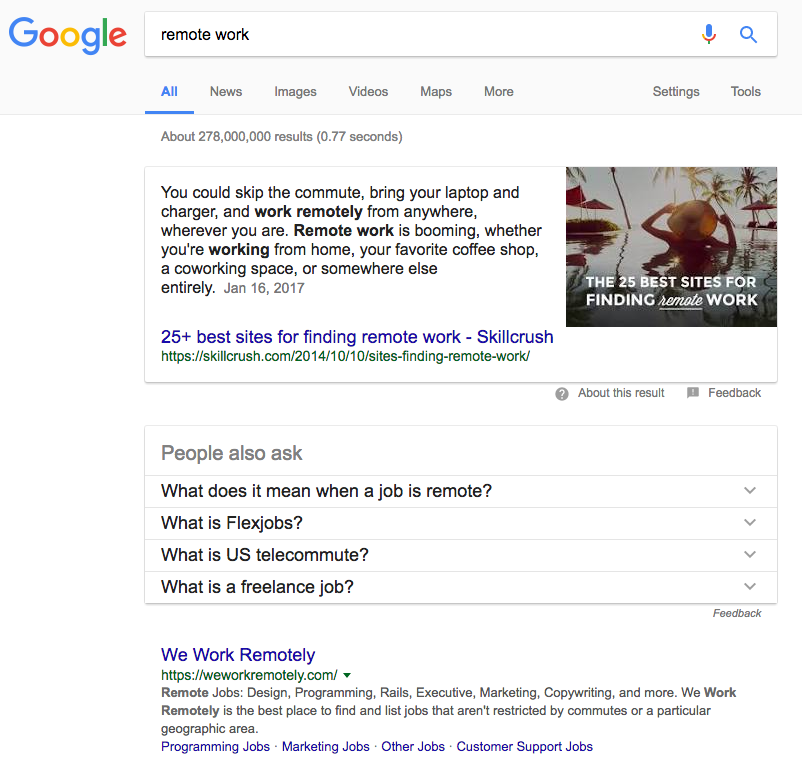 RankBrain goes to work and determines that you want the first option based on thousands of other web searches performed by people looking for the same term.
A more popular example would be the difference between searching for apple and Apple:
A fruit
A large computer company founded by Steve Jobs
So, how do you tell Google the exact "apple" that you're referring to? Is it the Apple Company or the apple fruit? Or, is it something different-but-related?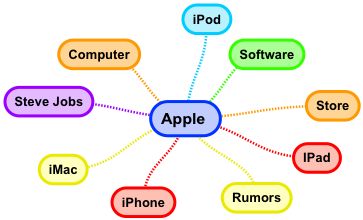 RankBrain tells Google's spiders how to index your content based on your intent.
Since Google is a lot more sophisticated these days, we no longer need to stuff our content full of keywords to make it understand our intent.
Whatever you do, don't stuff keywords into your content!
Keyword stuffing is when you overuse keywords and phrases that relate to the main keyword in attempts to rank higher in search. It's a bad SEO practice that you should avoid it at all costs.
For example, consider these related keywords: iPhone reviews, best iPhone reviews, new iPhone reviews. When you use all of these keywords in your content, it's likely that Google won't rank that page well, especially if the content falls is only a few hundred words long.
Here's an example of a keyword stuffed paragraph:
Do you want to learn java online? Most java tutorials are not created to help beginners learn java online, because the online java learning platforms are not user-friendly. But today, in the Los Angeles area, you can easily learn java online from the comfort of your home and become a java online expert.
Not great, right?
The main keyword "java online" was mentioned four times, which is too often for such a short paragraph.
There is a better way to change this paragraph and make it more user focused, without neglecting the main keyword – "java online." All you have to do is find synonyms for the keyword. For example:
Are you ready to learn java online? It's a good step towards upgrading your skills and giving you a better chance of getting that job. There are several places to learn java on the web, and within 2 – 3 months, you'll be programming in java. Most people don't like the idea of taking online java courses, but I believe it's one of the most flexible ways to get access to a wealth of knowledge and become skilled in your life's pursuit.
The difference is clear, right?
The second paragraph sounds better to users and still uses your keyword without overdoing it.
That's the power behind RankBrain.
A few guidelines for finding synonyms for your main keyword:
Find keywords with the same meaning as the principle keyword, but with different spelling and structure. Example: image, picture, photo.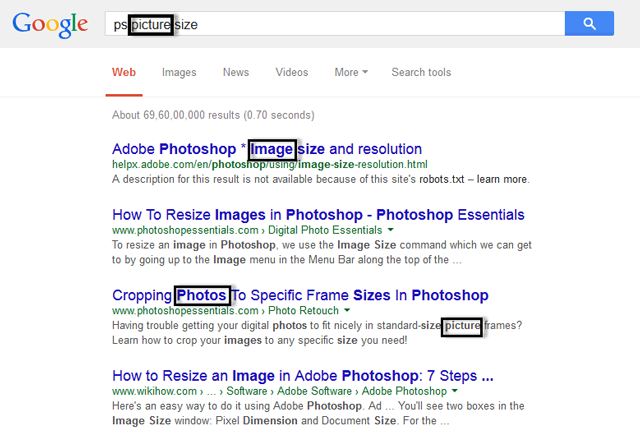 Don't over-optimize for other keywords or you could get penalized. Only use them when necessary and make sure your copy flows naturally when a human reads it!
Write in a natural tone. Make sure that the new keywords don't override the main keyword that you want to rank for. The new key phrases are only there to give additional meaning to your content and to help Google understand the context of what you're talking about.
A good example of these practices is Marketing Land.
Marketing Land optimizes content for a main keyword and several synonyms. They know that once YouTube is mentioned, terms like videos, channels, and video source need to be mentioned, too.
Where Facebook is mentioned sharing, liking, and commenting are also included as they're all common activities that take place on the platform.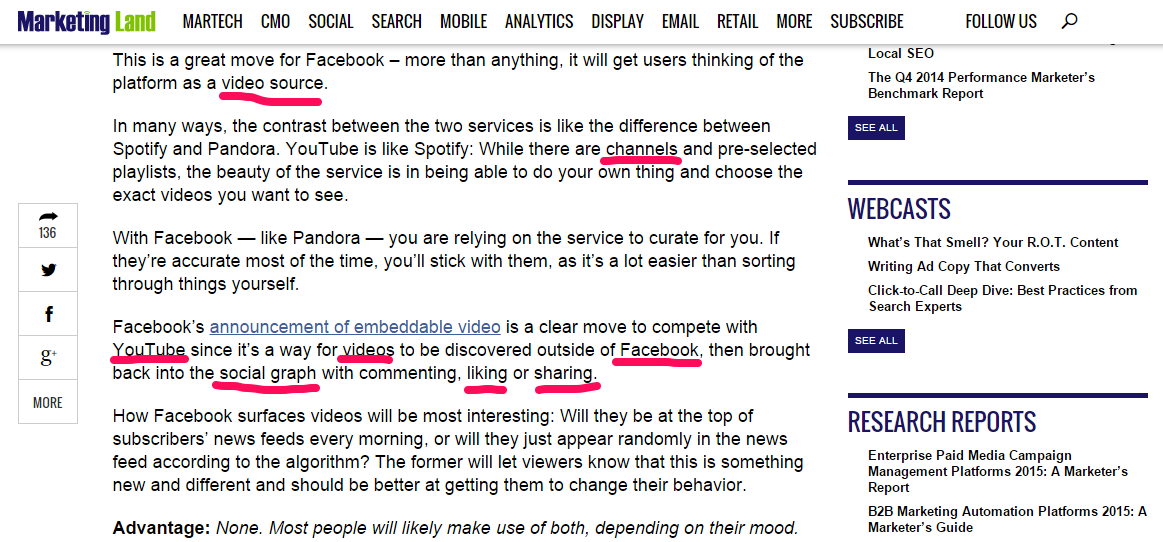 Google looks out for these key terms in your content. As long as you're including them in a natural-sounding way, your search rankings will continue to improve.

Advanced SEO Tip 7. Write at Least 1,447 Words
Backlinko analyzed 11.8 million searches and found the mean first-page search result had 1,447 words.
There have been numerous studies and experiments on the correlation between content length and search engine ranking.
This graph from Backlinko pages with a higher word count tend to help you crack the first page of Google. It won't necessarily help you hit number one, but it can help you get close.
I did an experiment for QuickSprout. The results showed that my posts over 1,500 words received almost double the amount of social shares than the ones under 1,500 words.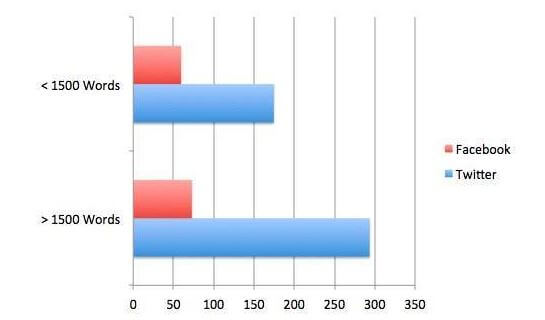 Content length isn't everything. A shorter blog post that's higher quality will still outperform a longer, low-quality post.
The trick is to cover one topic in so much detail that every part of the post is valuable to the reader. Making it more valuable to humans makes it more valuable to Google as a page to display in search results.
A key benefit of longer content is that it will naturally contain more relevant keywords and rank for them.
Consistently publishing informative content over 1,447 words will yield big returns in organic search traffic.

Advanced SEO Tip 8. Write a Roundup Post
A roundup post is when you interview a few people about the same topic or make a list of the "best" of something.
Not only is it a great way to get different viewpoints and learn new things, it also helps grow your SEO rankings and traffic.
Here's an example: 53 Best SEO Experts of 2020: A More Diverse Roundup
The author of this post collected the names and profiles of experts in their field, including where they work, what type of information they share, and where to follow them.
It seems simple because it is, and it works!
The key benefit of these posts is that it allows you to get your website in front of lots of new audiences, thanks to the experts you're interviewing.
If you were featured in a roundup, you'd share that with your audience, right?
Deirdre Breakenridge is one of the experts featured in the post above about PR. She has over 30,000 Twitter followers.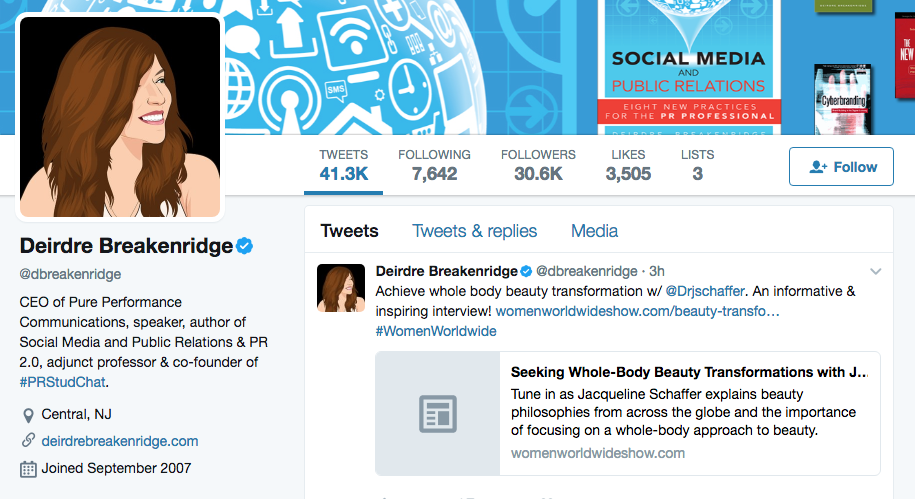 If she tweeted out your roundup post even once, there's a good chance some of her audience would click to read it.
Those are people you wouldn't have been able to reach otherwise.
Creating a roundup post that grows your traffic is easy:
Step #1: Pick a Topic and a Good Question
For example, if I wanted to write a post about tips to grow your traffic, I could ask, "What one strategy has grown your website traffic the most?"
Step #2: Make a List of Experts and Reach Out
Make a list of as many experts in the topic you want to write about as you can. If you want to feature 10 expert opinions, make a list of 20 experts at least.
It may not be easy to find their email addresses, so write down their social media profiles instead.
Then, reach out with a nice email/social media message and ask them for their opinion!
Remember to include that you'll be linking back to their website as a thank you for contributing.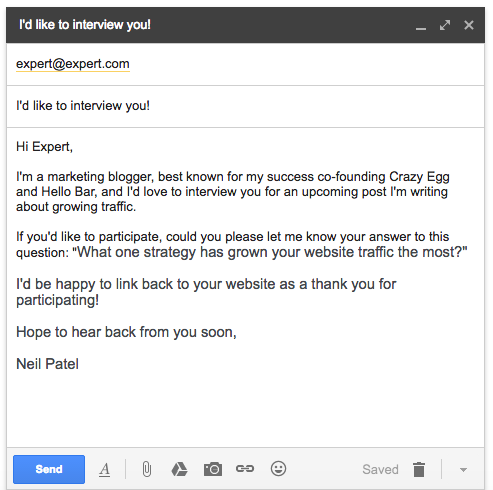 Step #3: Write and Publish the Post
Collect all the answers, then write and intro and conclusion. Make sure to link back to everyone featured.
After you've published it, be sure to send a follow up email, or social media message, to let them know the post went live.
Ask them to share it with their audience.
Even if only half of your 10 experts share it, that's still five more audiences than you would have reached by yourself. And depending on the size of your expert's audience, that could be thousands or tens of thousands of new people visiting your website.
Brian Liang wrote a roundup post about how to promote your blog.
He got over 40 experts to contribute to it, resulting in a comprehensive and informative piece that got over 5,000 shares on social media. It was also Buzzsumo's most shared post of that week for the term "blog promotion."
The biggest wow factor? His blog wasn't even well-known at the time!
What would 5,000 shares do for your brand?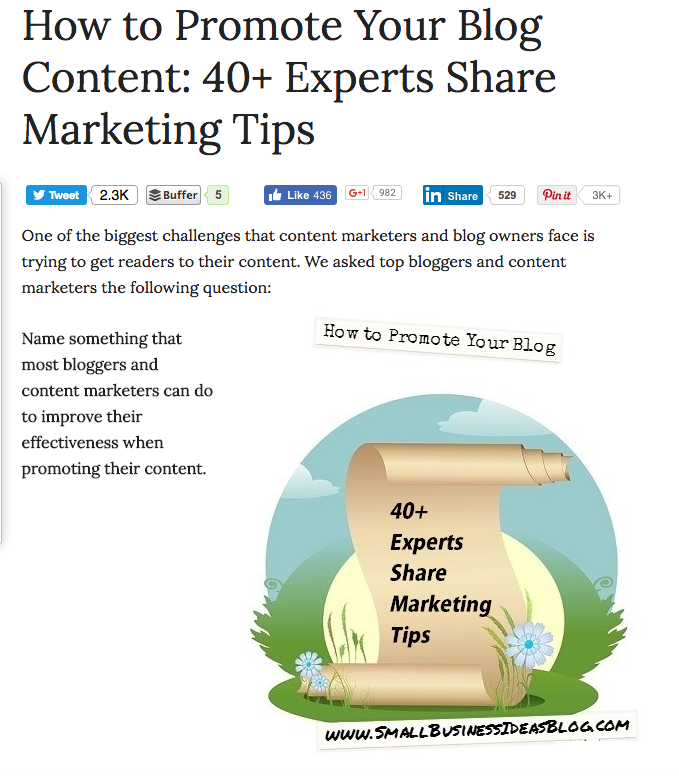 Advanced SEO Tip 9. Post Valuable Content on Social
If your blog is new, it can be difficult to rank well in Google search results for high volume keywords because your Domain Authority and Page Authority are still very low.
However, you can use social media platforms to gain credibility and traffic.
In the screenshot below, you can see the Page Authority (PA) and Domain Authority (DA) for each search result. I'm using the free MozBar to see this information.
Page Authority was developed by Moz, and it means the likelihood that your page will rank highly in search. A higher number means it's more likely to rank well.
This is based on several factors: content length, links, keywords, readability and more.
Domain Authority is the overall likelihood that your whole website, or domain, will rank highly in search.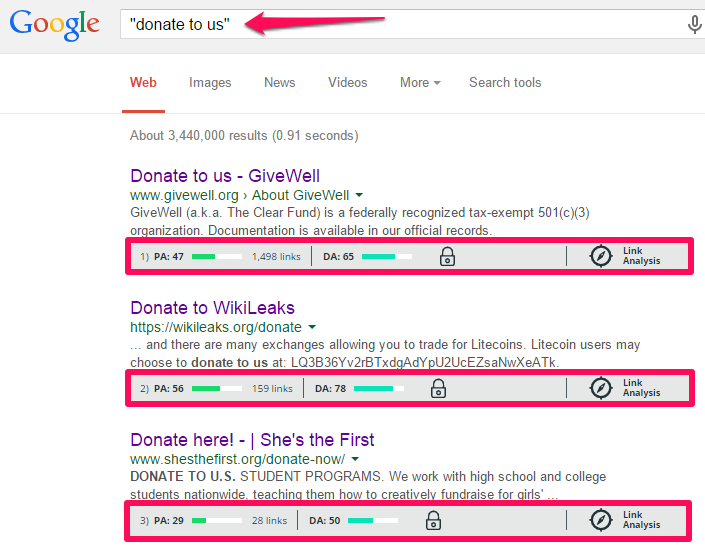 But not all social media platforms are created equal when it comes to building authority and traffic.
I'm not talking about Facebook, Twitter, or Pinterest where anyone can post whatever they want. I'm talking about authoritative platforms where quality content is expected.
A few examples are Slideshare, Blogger, and Quora. These sites give you the opportunity to improve your search rankings, as well as build a following, within a short period of time.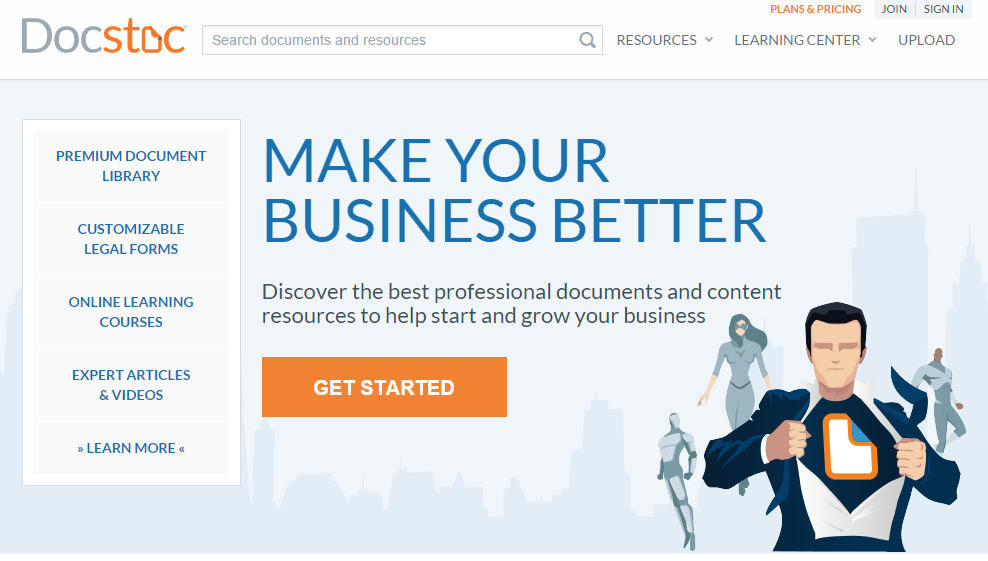 Does leveraging authority social platforms increase your search traffic and rankings?
Yes!
For example, Ana Hoffman got 243,000 views in 30 days, in addition to other benefits, using Slideshare content. Her presentations were among the top most-viewed slide decks.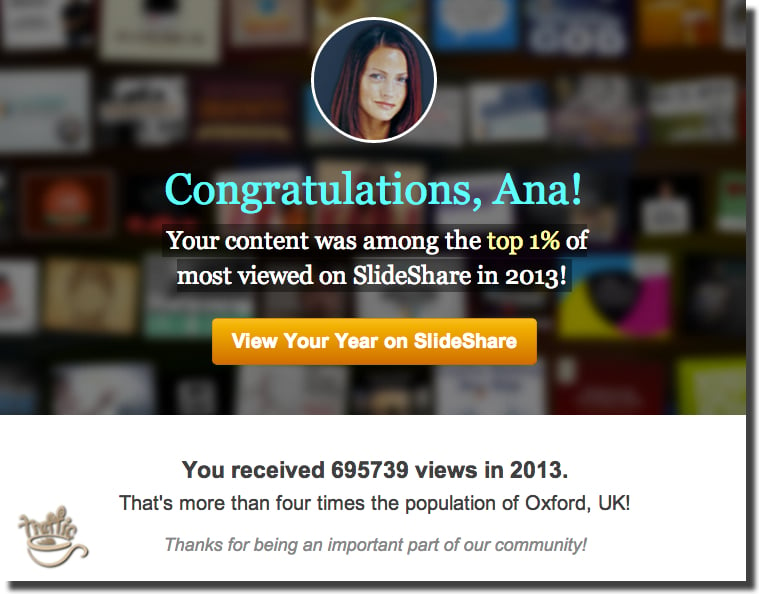 If you'd like to leverage Slideshare as a search traffic booster, here are the basic steps that you should take:
Step #1: Find a Trending Topic
In my experience, simply selecting a keyword and creating a top-notch slideshow presentation doesn't always generate buzz on social media.
Instead, look for topics that are already trending on blogs. Just as you do when looking for blog post ideas, you should identify what people are talking about right now.
Another great place is GrowthHackers, an online community of marketers. You'll find lots of trending topics. Pick one that interests you and is related to your business or industry.
The article titled "10 Ways to Promote Content in Less Than 30 Minutes" would make a good Slideshare presentation.
Don't feel pressured to crank out 50 or 100 slides.
Aim for about 35 slides. This gives a user a good amount of information without being too long to keep their attention.
Step #2: Make an Outline
Read the article you selected in step 1, pick out key points, and create an outline for your presentation. This will make it easier to put together the full presentation.
Your Slideshare presentation outline could be something as simple as:
Join HARO
Publish a press release
Update your email signature
Comment on other influential blogs
Mention your sources on Twitter
Scoop.it
Use BuzzBundle
Post in LinkedIn Groups
Post to StumbleUpon
Each item in your outline represents a single slide.
If you want to make a presentation based solely on someone else's post or article, make sure you get their consent first to avoid plagiarism. Do that before moving on to the next step and don't forget to credit the author of the post that inspired you in your presentation.
Step #3: Find Supporting Images
Slideshare presentations are all about using images to captivate and hold the viewer's attention. You can find free stock photos by searching Google for "free stock photos."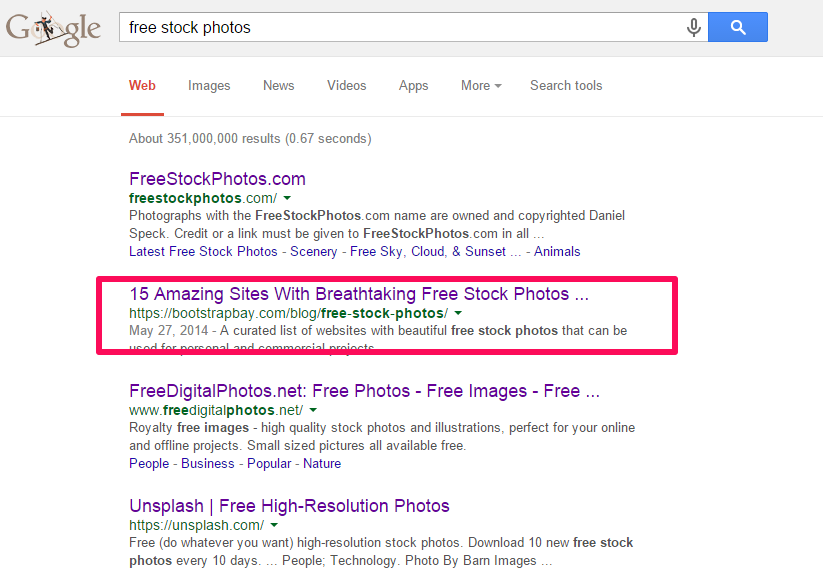 Gratisography is another place where you can download free stock photos without copyright restrictions.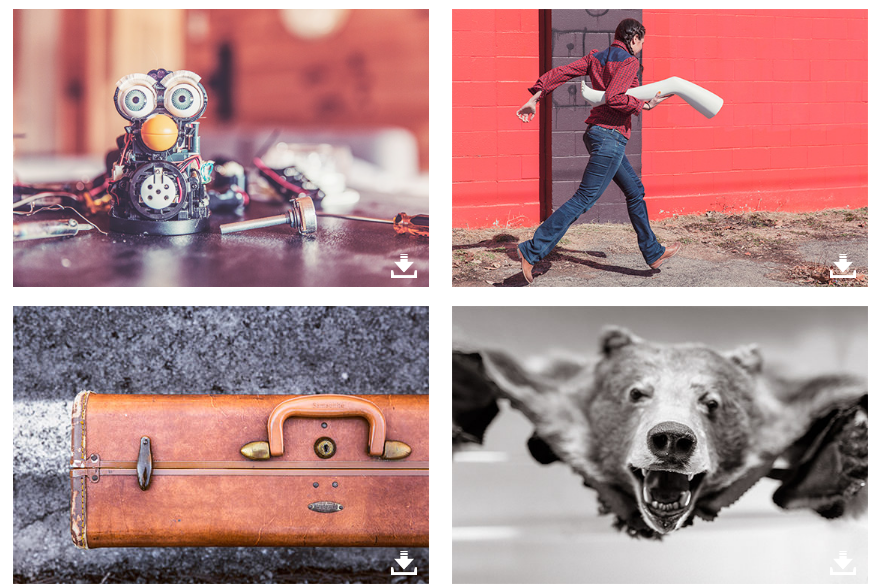 A few advanced SEO tips for images:
Pick photos that are relevant to your topic or point
Use high-resolution images/photos
Use free stock photos, with no copyright restrictions
Use images as accents — don't let them overpower your text
You can also create your own images, rather than using stock photos.
Step #4: Study Successful Slideshare Presentations
Learning from experts is the best way to grow your own traffic and search rankings.
Popular presentations are featured on the Slideshare homepage. Study them carefully. Consider how you could improve them.
Could you design it better? Could you find more facts and data to back up the points made? If the answer is yes, make your own presentation.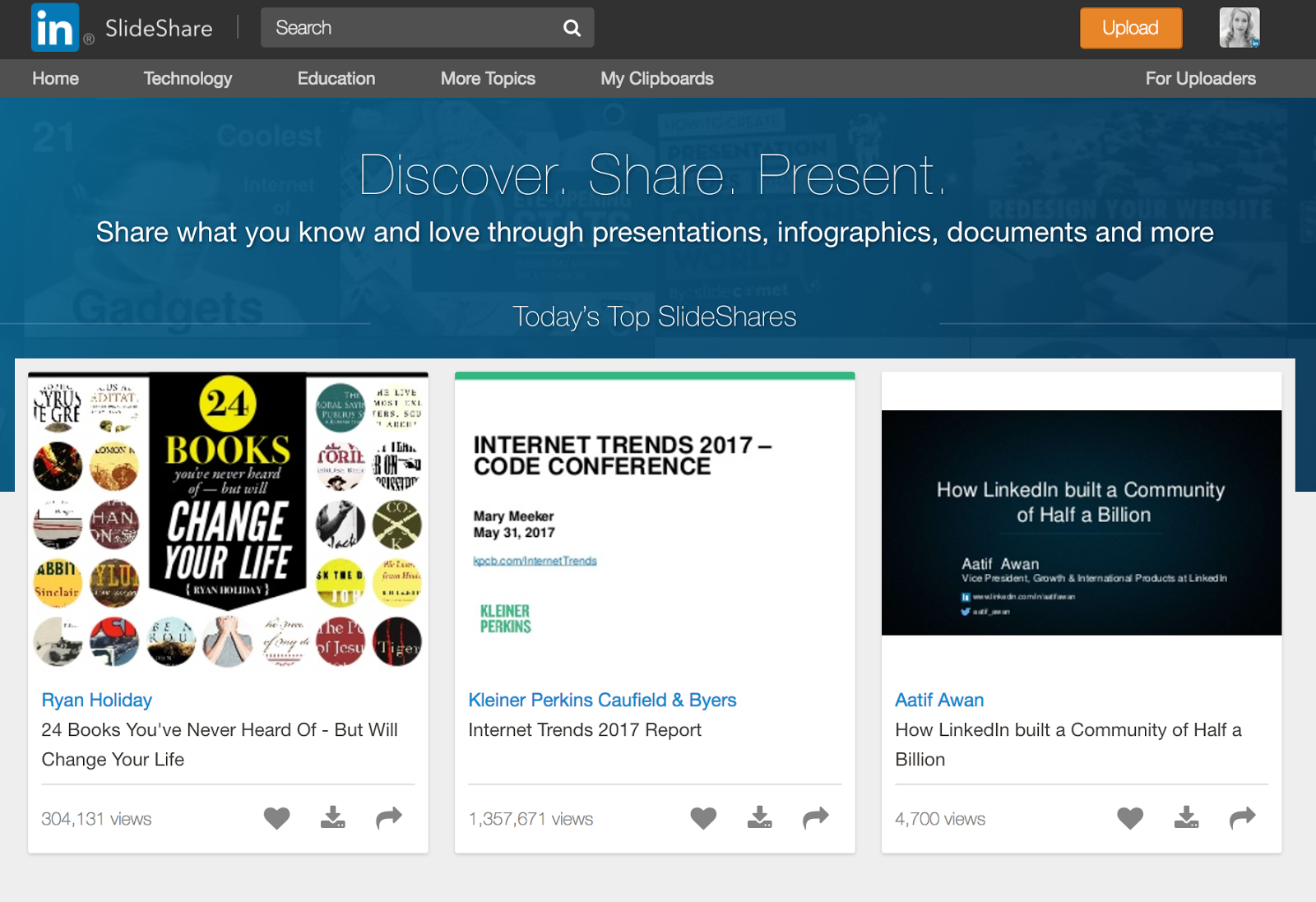 Step #5: Create Your SlideShare Presentation
With all of the information you've gathered, create your presentation! Try to make it really stand out from the other ones you studied.
You can use any software you like to create the presentation: PowerPoint, Keynote, Photoshop and save as a PDF, whatever you're comfortable with.
You can even use Canva to create a SlideShare presentation.
Don't forget to include a link to your chosen landing page for the topic. The link that comes from SlideShare is dofollow, so you'll get link juice to boost your search rankings.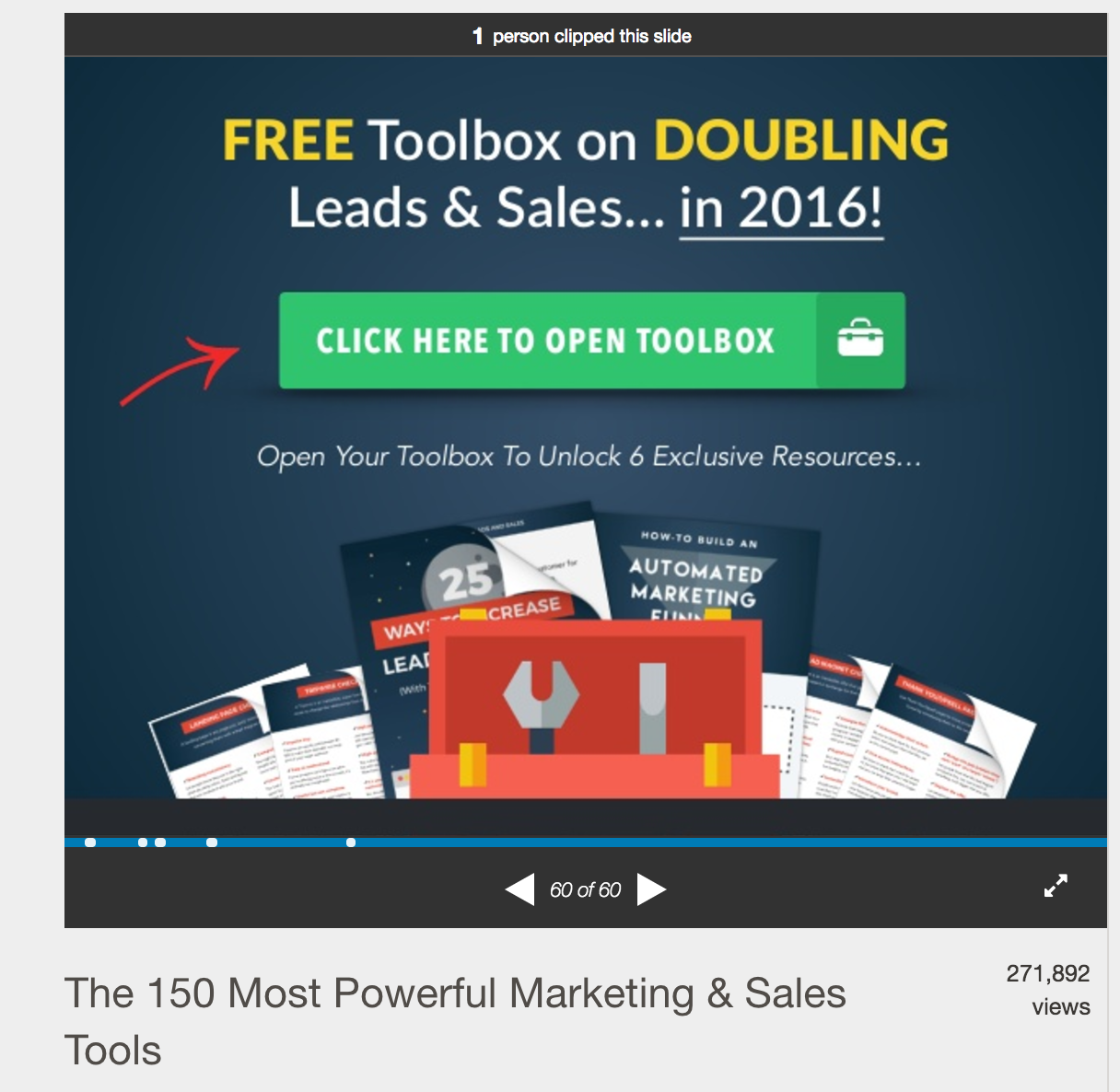 This presentation is directing people to their lead magnet for doubling leads and sales, which takes you to this landing page: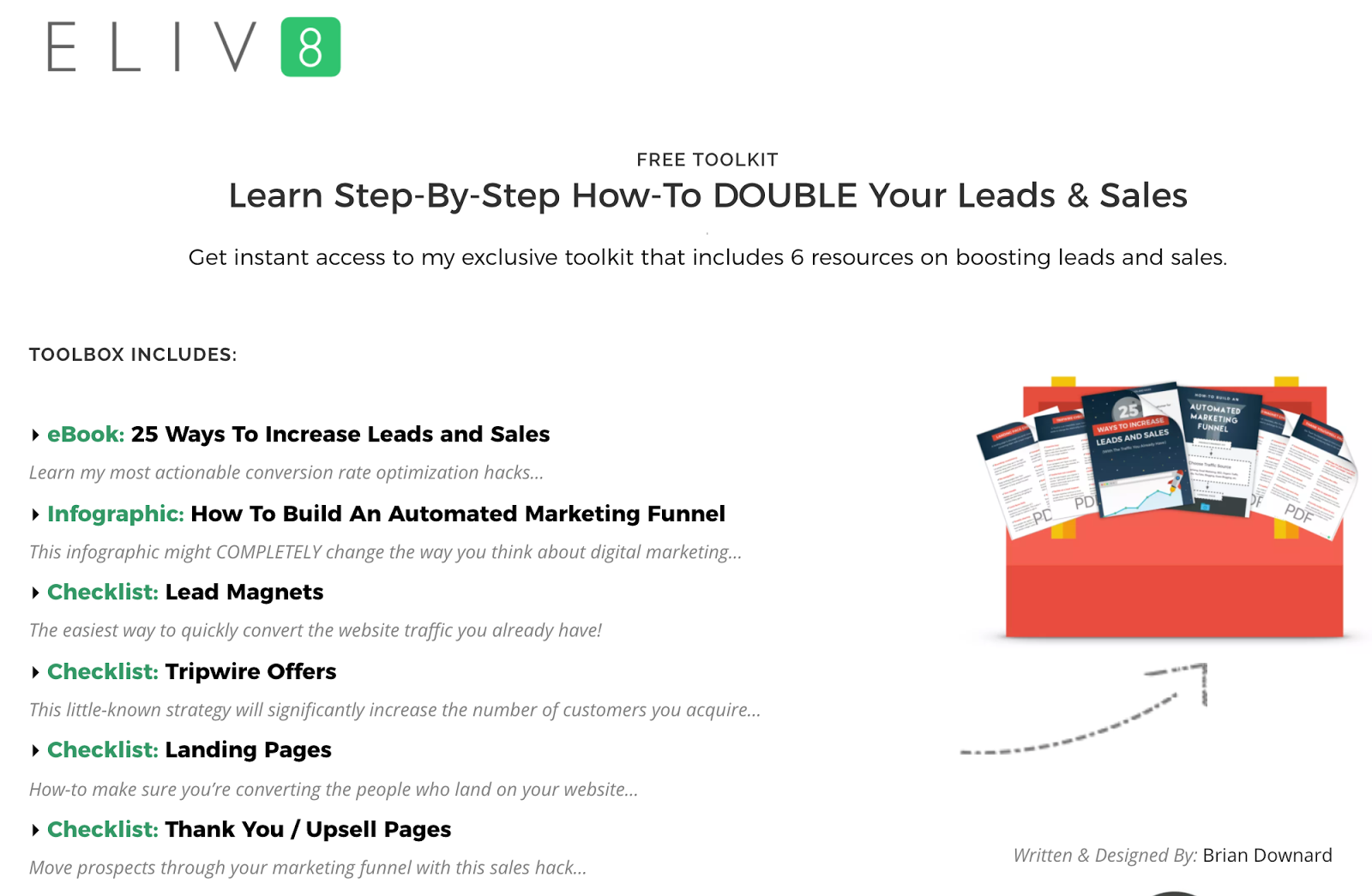 This is a great way of getting leads and subscribers for your email list.

Advanced SEO Tip 10. Use Advanced SEO Internal Deep Linking
Deep linking is the practice of using anchor text to link to other pages inside your blog. This shows Google the depth of your site's pages and encourages it to index more of them.
Most people focus on getting search visitors to their homepage, but struggle to rank their internal pages.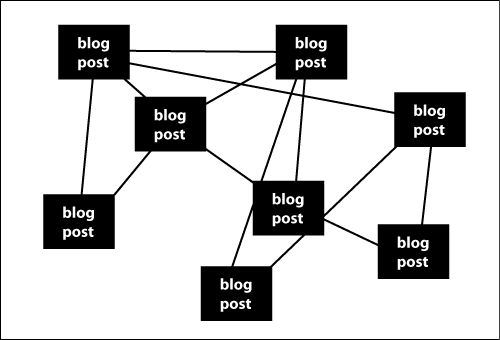 Your older blog posts and landing pages that provide immense value on relevant topics can pull in a lot of new traffic. You should link to them often to help build the structure of your website.
Without establishing internal links, a Google spider may see your website this way: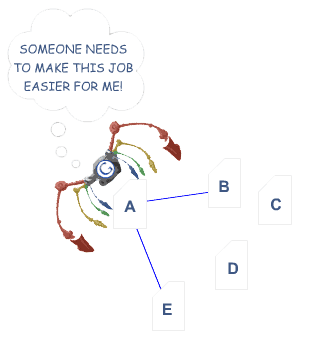 Pages C and D could be very important, but the spider can't easily see them.
When your content is properly linked to each other, it helps the Google see all your content in an organized way, like this: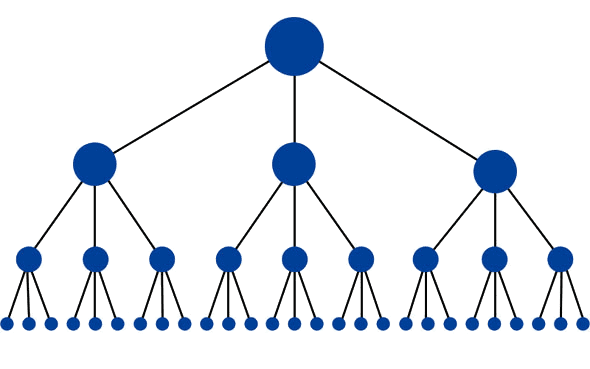 When you start interlinking pages other than your homepage, you'll improve the SEO value for those internal pages and improve their ranking — even for tough keywords.
Before you start link building to your inner pages, you should first check to see how many inbound links go to your homepage, as compared to your other pages.
Step #1: See How Many Inbound Links You Have
Go to Moz's Link Explorer. Enter your URL into the search box and click "Get free link data".

Step #2: View Top Pages
Sign up for access, then login. Click on "Top Pages," in the left-hand menu under overview.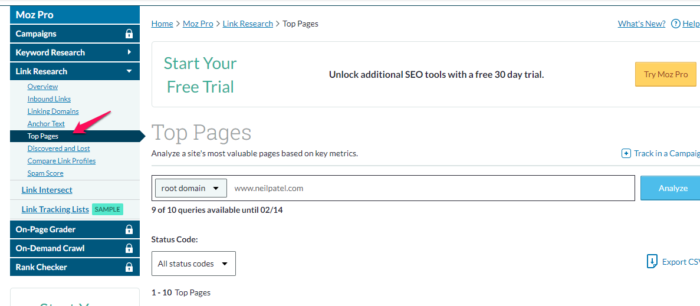 Step #3: Look at the Inbound Links for Your Homepage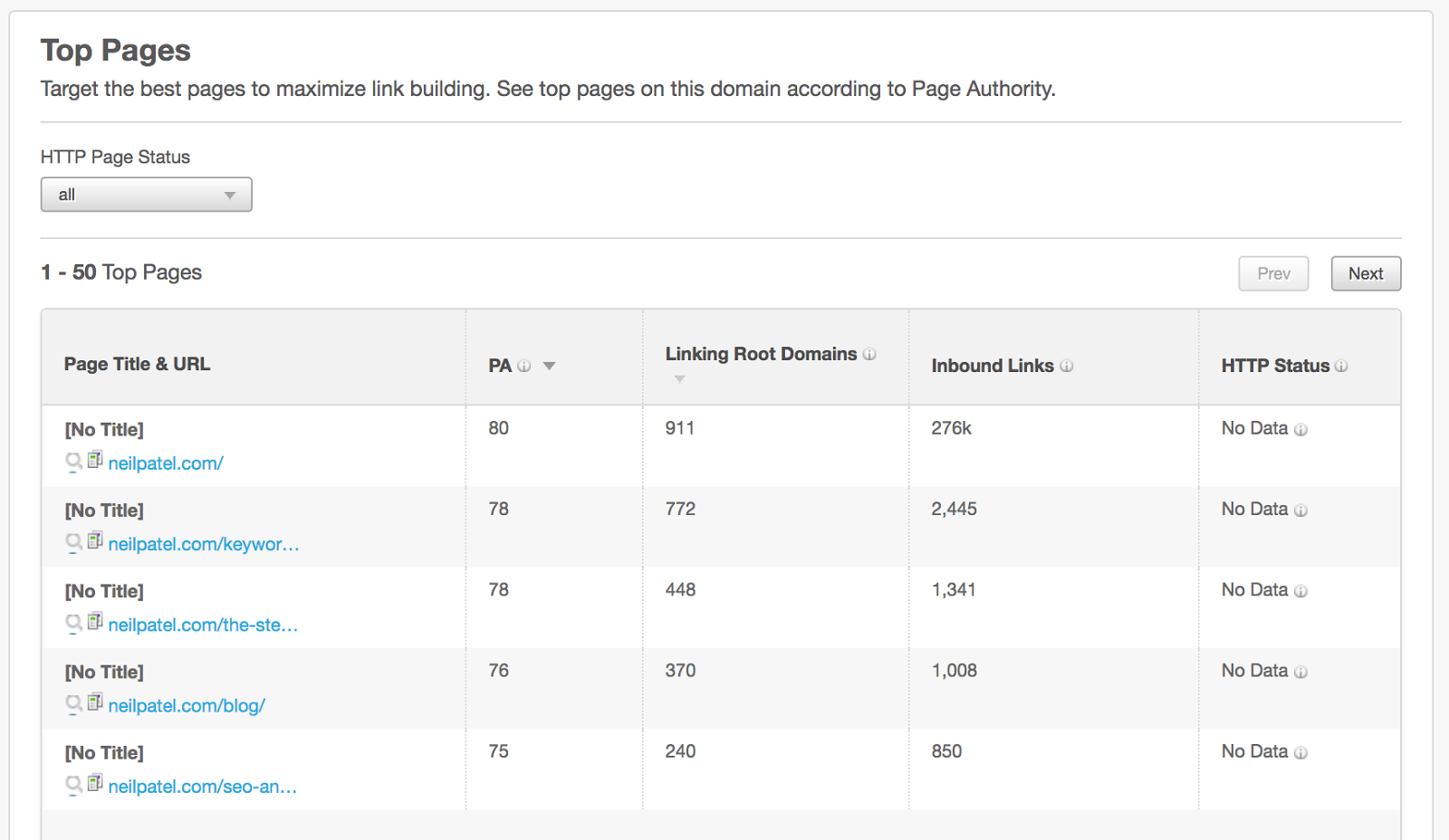 Looking at the above screenshot, you can see that my homepage has 276,000 inbound links, but the next highest number of links for an internal page is only 2,445.
That's still a good number of links to have, but much lower than 276,000!
A high bounce rate often happens to websites who receive a significantly higher level of links to their homepage than they do for internal pages.
One of the strategies that worked best for me to lower my bounce rate is deep linking. Using this tactic, I was able to drop my average bounce rate from 45.34% to 24.45%.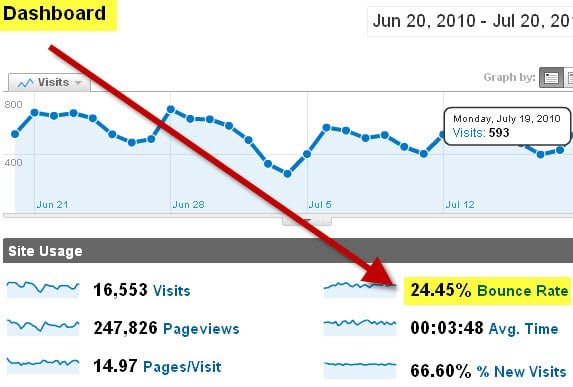 Here are a few other ways deep linking to internal content helps your rankings:
Improves Page Authority: Google likes fresh content, because recent information is more likely to be relevant and useful to users.
Adding fresh content regularly is not the only way to raise your Page Authority. Linking to your older content gives those pages more power and tells Google they're still relevant.
Your homepage naturally may have a higher PA but you need to work towards improving the authority of internal pages.
Cyrus Shepard explained, in a Moz post, that Google gives fresh content a score based on the date that it was published.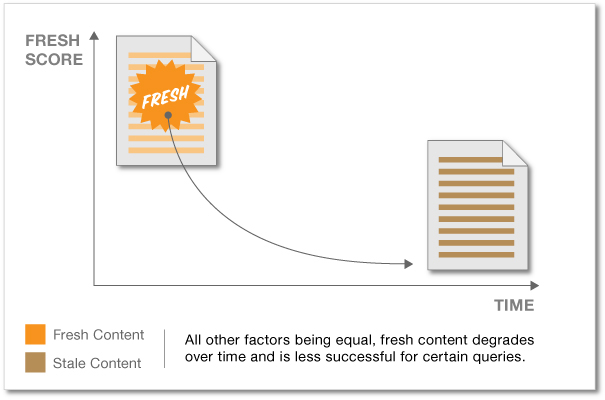 This freshness score can decay over time and it's also responsible for increasing or decreasing the search ranking of that page. While freshness isn't important for every page, it still matters!
Makes your internal pages indexable. Consistently linking to internal pages makes it easier for search engine spiders to quickly find and index them.
When linking to your internal pages from other blogs, avoid over-optimization of your anchor text.
Your anchor text is the actual part of your sentence that has the link in it, like this. Use something simple for your anchor text, like your website name ("Neil Patel"), or add a keyword ("Neil Patel's content marketing").
An easy way to link to internal pages is in your latest blog post, like I'm doing right now when I say things like you could double your traffic.
The words "double your traffic" are a good example of anchor text, and I linked over to an older post with more tips on growing your blog which is relevant to my current topic.

Advanced SEO Tip 11. Send Link Juice to Lower-Ranked Pages
If you have a page that's currently on page two or three of Google search results, you can help move it up to page one by passing on quality link juice to those lower ranked pages.
Link juice (aka link equity) refers to outbound links from high authority sources to your content. Since those links are from high authority websites, that reputation rubs off on your site. Essentially, this gives Google an indication that your content is high quality, too.
Let's look at it this way: you have two websites that are 100% identical – same design, same content. If every other factor were the same, the site with the most links would rank the highest in search results.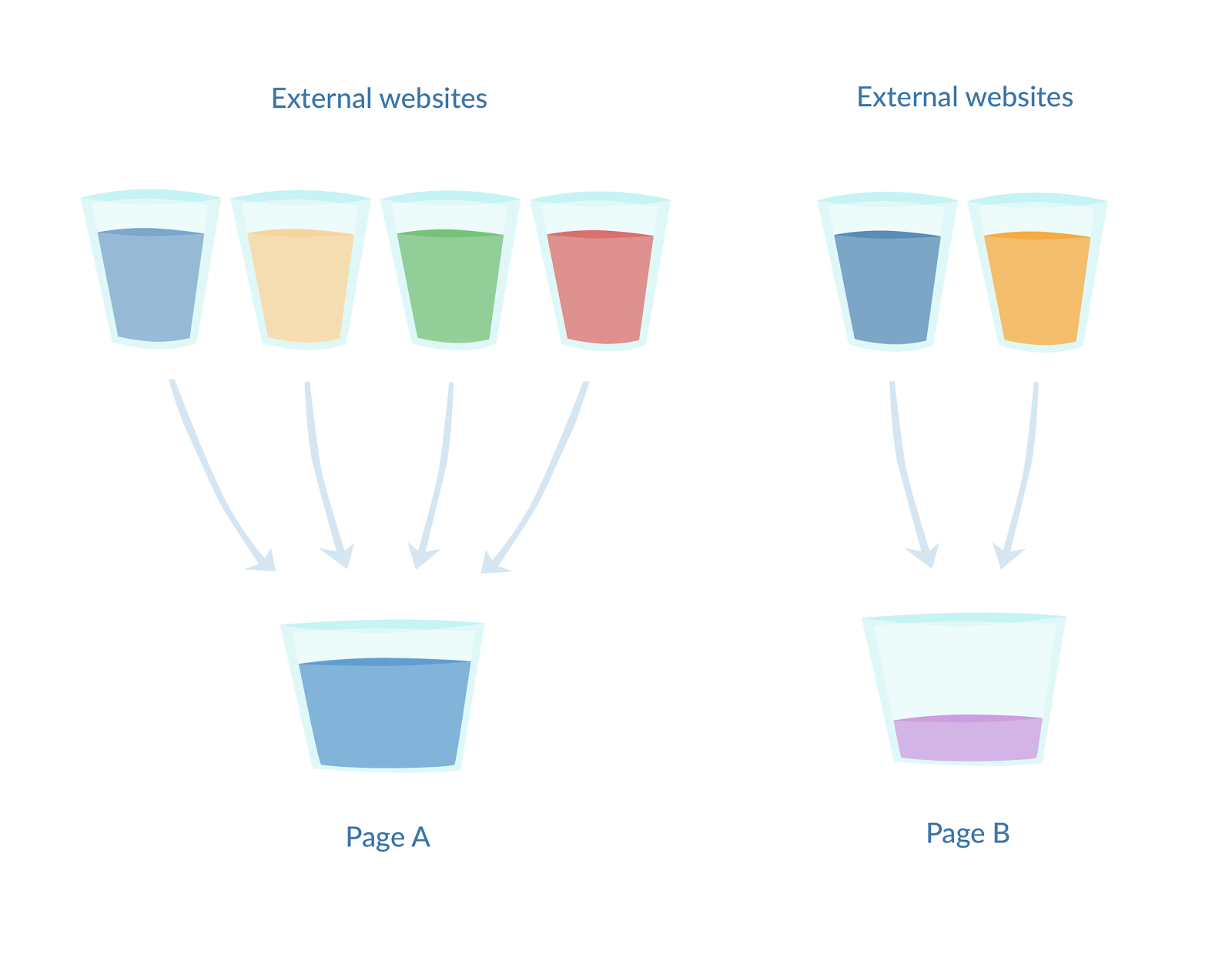 This article about indexing used to be on page two of Google's results for the search term "index your site".
Now, it's the third organic search result on page 1!
Here's how I did it.
Step #1: Updated the Post
I added new links, content and recent data to bring the post up to date.
I cover how to update your older content in detail in Section 18!
Step #2: Shared It Across Social Media Again
Since I updated the post, I shared it on all my social networks again. This brought in a lot of new traffic.
Step #3: Linked to It From Newer Posts
Every time it was relevant to a new post I was writing, I included a link to this post. This directed traffic to the older post and resulted in people sharing it and linking to it themselves.
It doesn't happen overnight, but over the span of a few months, I went from page two to almost the top of page one.

Advanced SEO Tip 12. Link to External Sites with High Domain Authority
It helps pass link juice to your content when you get links from high authority domains. Likewise, it also helps your overall trustworthiness in Google's eyes when you link to high authority sites.
A good place to look for sites to link to is Alltop.
You'll see some featured sites on the homepage and recent content published by them.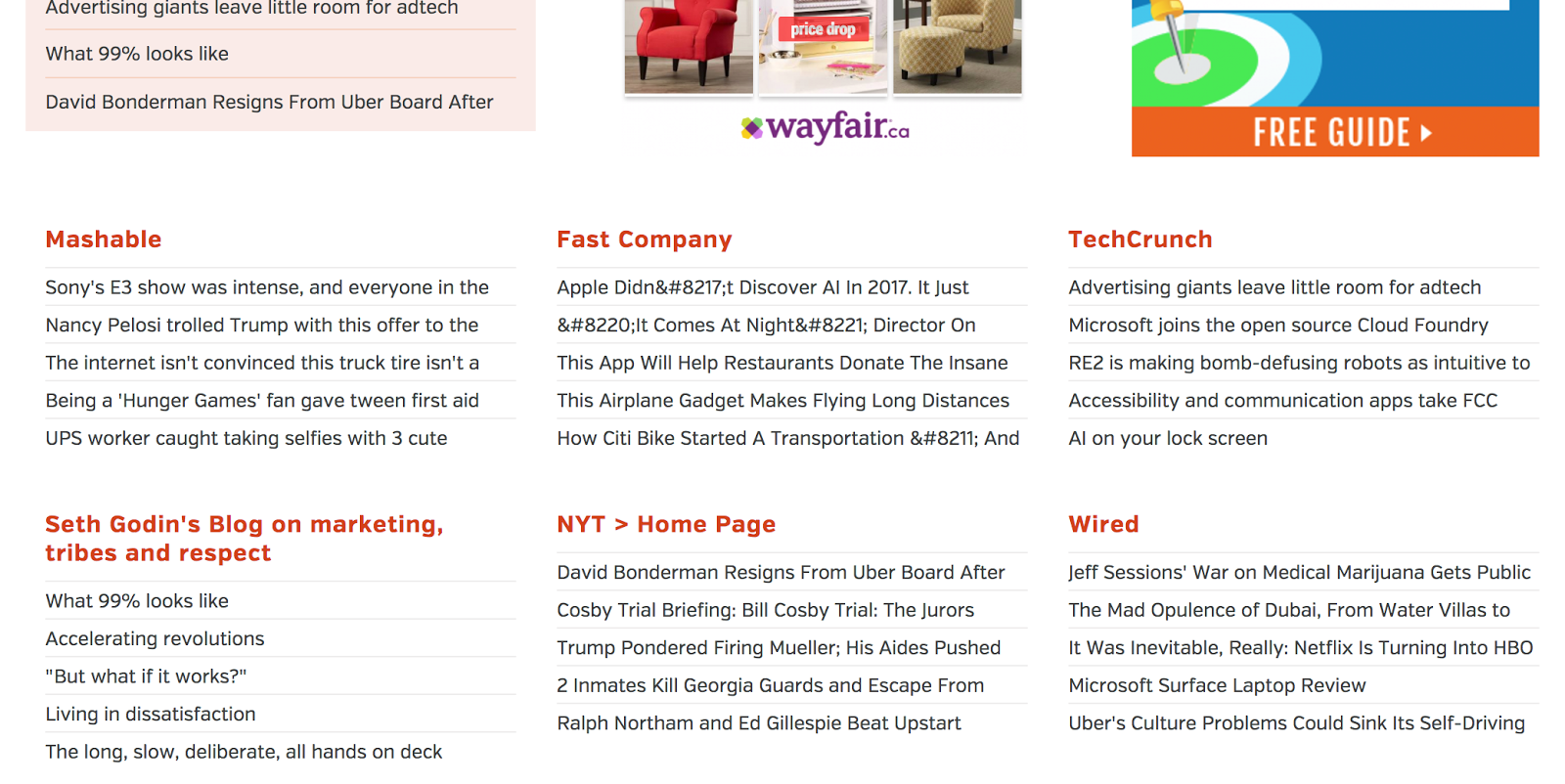 All six of these options would be good to link to, and get links from.
To find something for your topic, just search for your keyword at the top of the page.

You'll see related categories to what you typed in. I chose SEO here.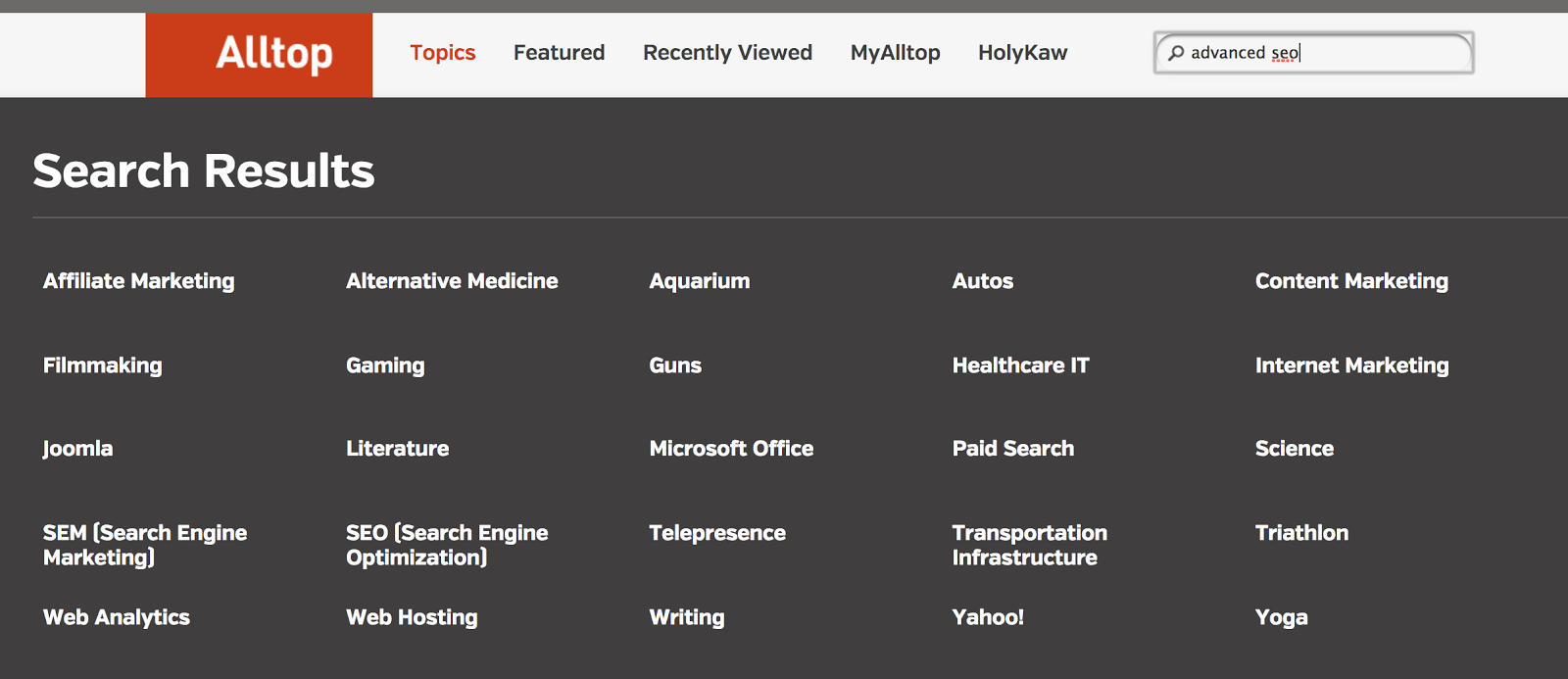 Alltop then shows me the top SEO related content from the following high authority websites: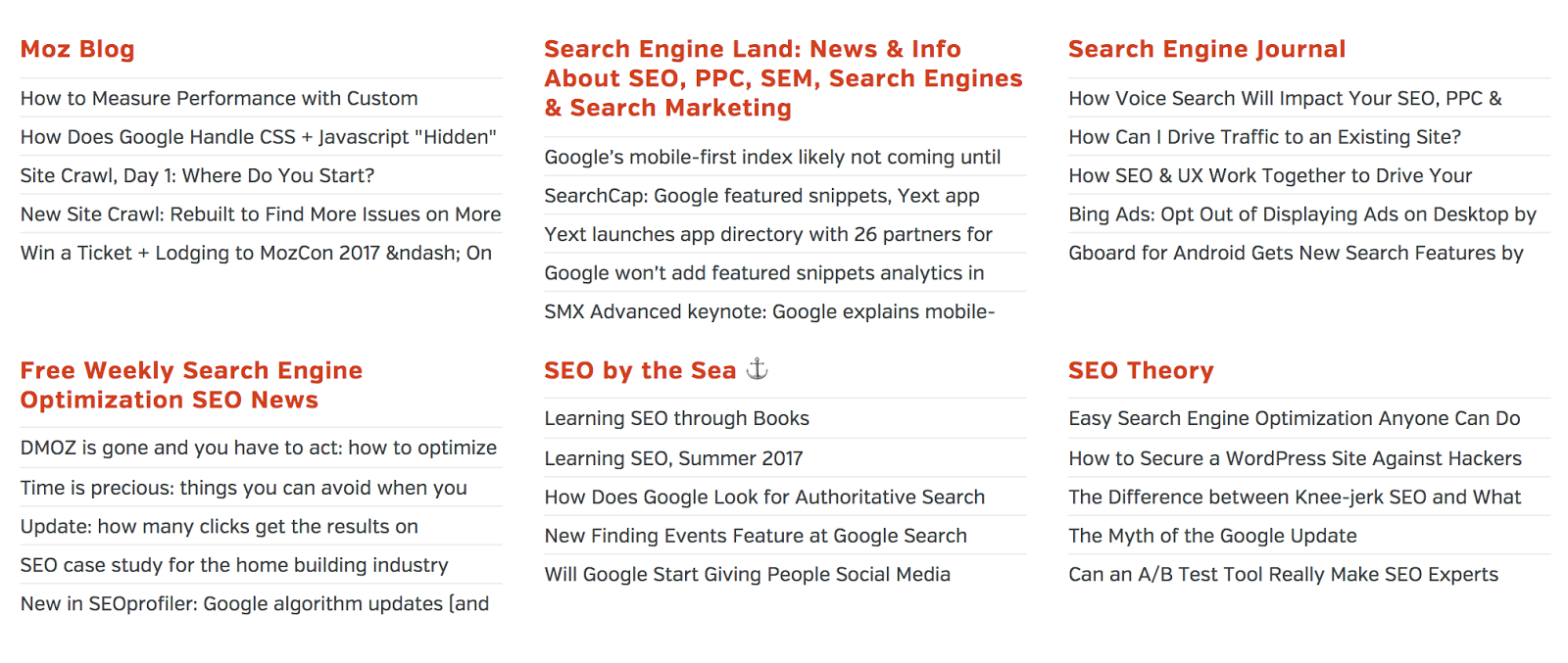 I could link over to one of them as a data source in my content.
Like if I said that user experience was just as important as on-page SEO for ranking high in search.
Better yet, I could approach these websites and ask them to link back to my content.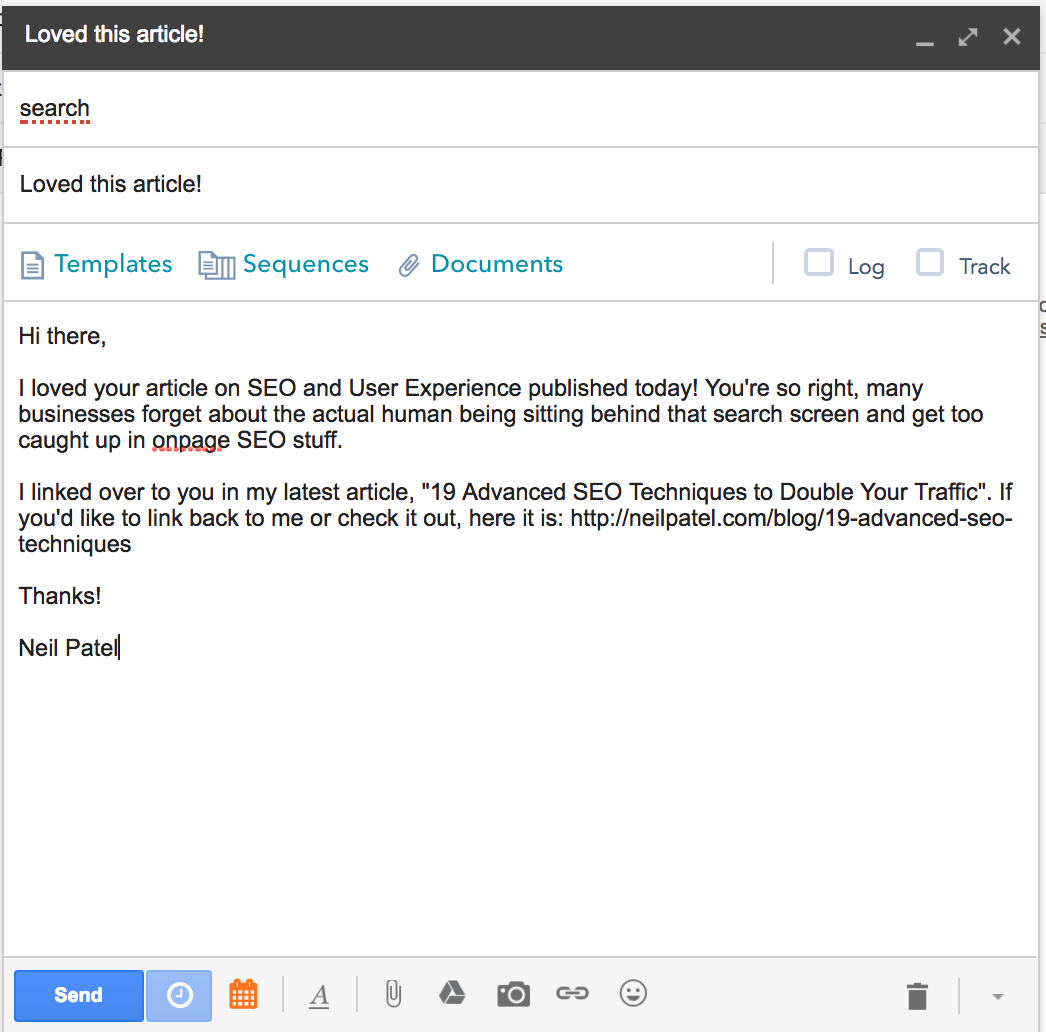 They may not link back to you, but a simple email only takes a minute to write. That minute could result in huge traffic gains later on, so it's worth the time.

Advanced SEO Tip 13. Snag Broken Link Opportunities on Wikipedia to Build Links
This is something a lot of marketers overlook, but it's very powerful for generating high authority backlinks to your content.
Scan Wikipedia for dead links and claim them as your own!
Didn't think of that, did you?
There are two types of links you can get from Wikipedia:
Citation needed: This means someone editing a Wikipedia article mentioned a statistic or fact without linking to a source.
Dead link: This is a source that was previously linked to but for whatever reason, the website or page does not exist anymore.
If you can write a post about the topic, and be a credible source of information, you can get these valuable links from Wikipedia.
I like to use a tool called WikiGrabber to find these link opportunities. Enter your keyword and click Search.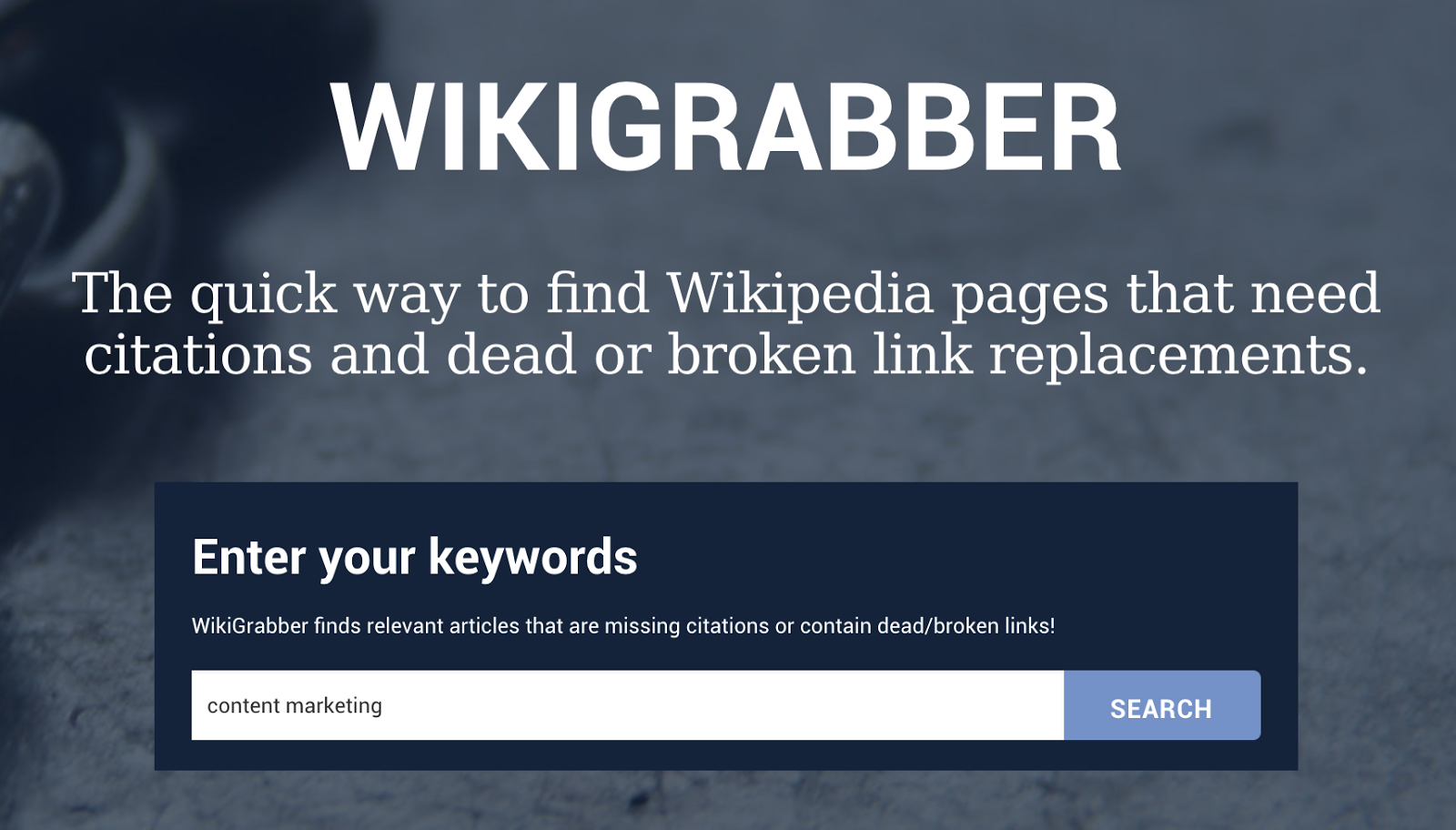 WikiGrabber then shows me this list of Wikipedia articles that need citations or that have dead links.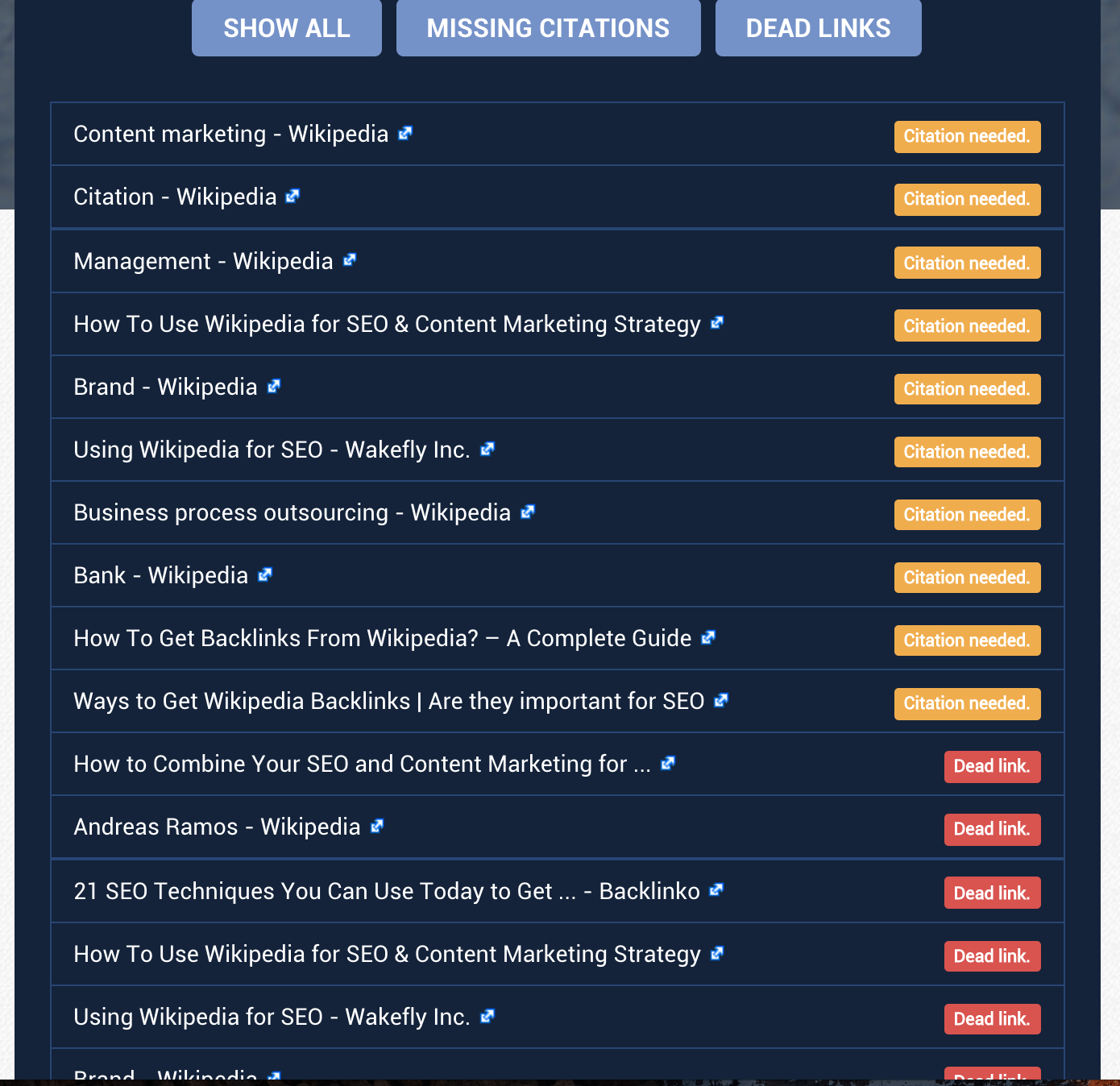 You can also use Google to find dead links on Wikipedia. Use the following search term:
site:wikipedia.org "Keyword phrase" "dead link"
For "content marketing", you get the following results: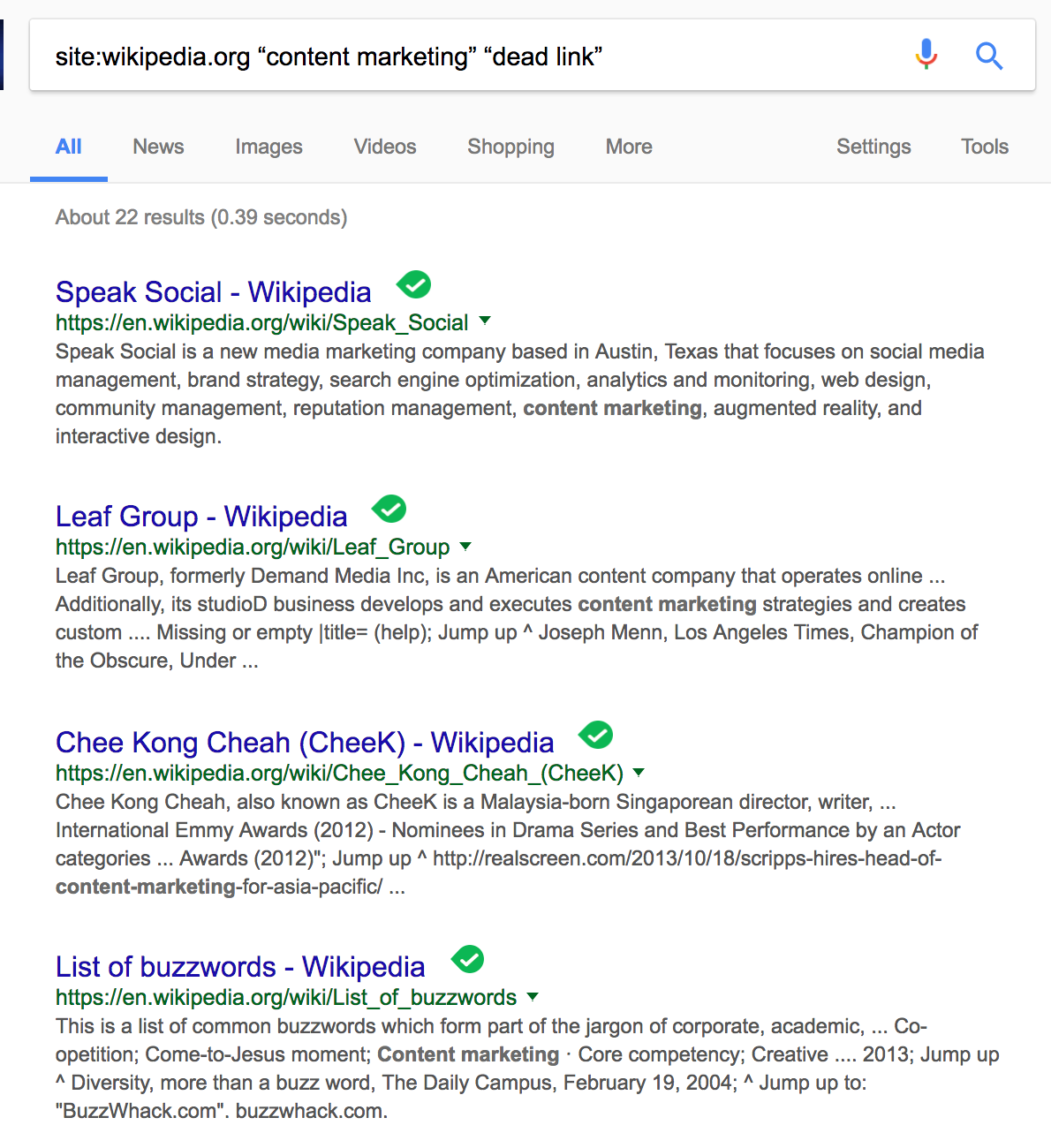 Let's check out this article on Content Marketing.
Scroll through the article until you see the text [citation needed].

Read over the item that needs a source. If you have content that already backs up this statement, you can move ahead to submitting your link. If not, you will need to write a new post that thoroughly covers the topic and provides verifiable data.
To submit your link, click on the [edit] text beside Digital content marketing.
You'll get the Wikipedia editor screen. Find the sentence that needed a citation, click at the end of it and click on Cite on the top menu.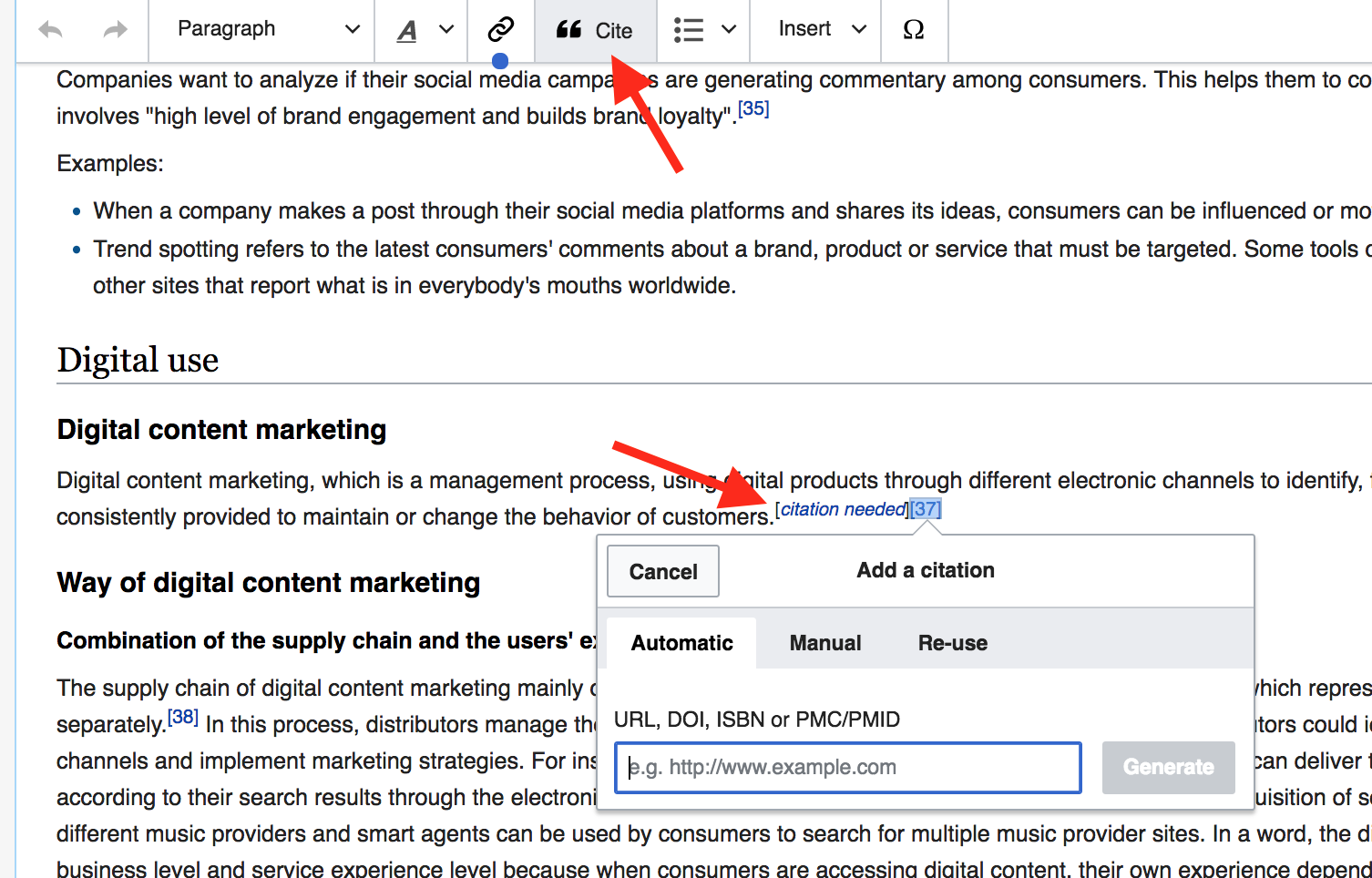 Paste your URL into the box above and click Generate.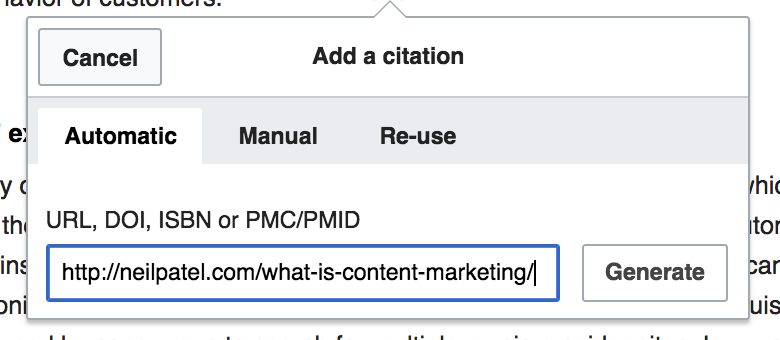 You'll see this screen confirming your citation and marking the date it was added.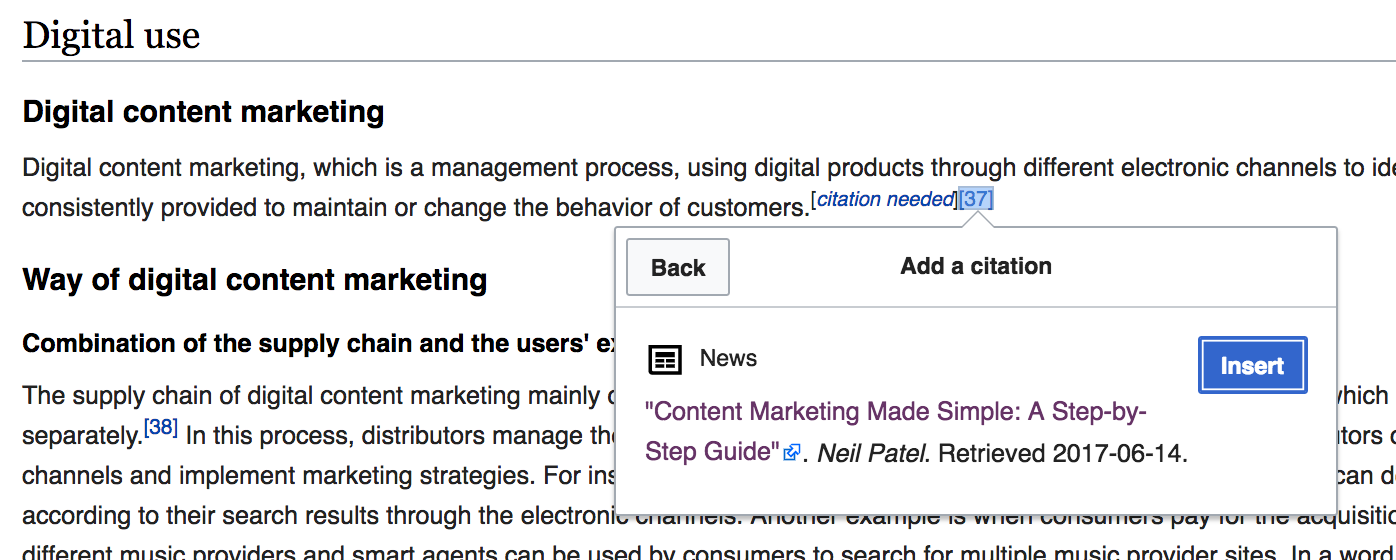 To save your changes to the article, click on Save Changes at the top right of your screen.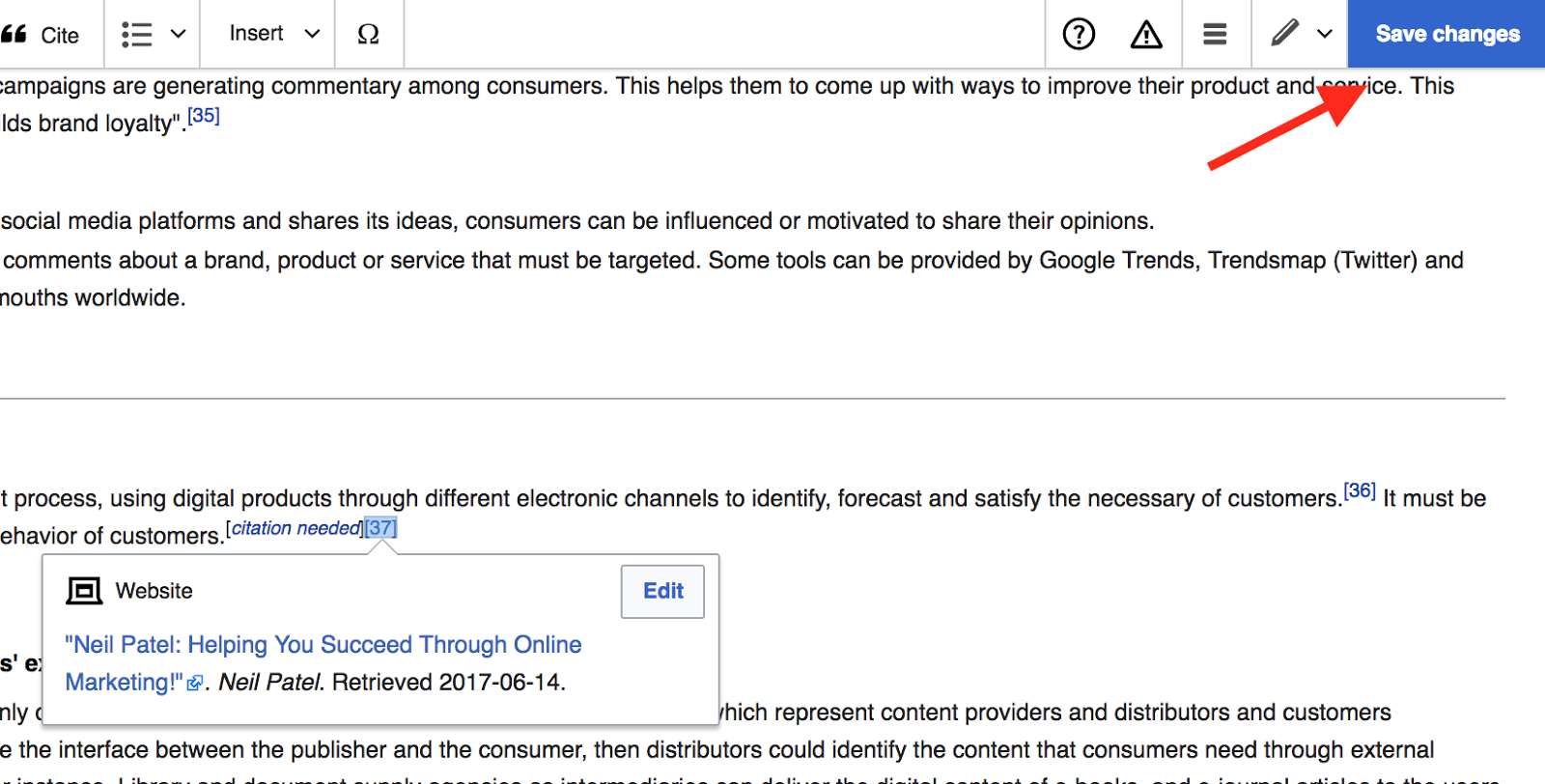 Your edit will be submitted for moderation. If Wikipedia staff agrees it's a valid source of data for that point, it will be added to the page and you'll enjoy increased page authority and traffic from Wikipedia.
Wikipedia links are technically no-follow, which means that they do not pass link juice over to you. However, their domain authority ranking and trust level from Google are very high, so there are still SEO benefits to snagging them!

Advanced SEO Tip 14. Find and Use Competitors' SEO Keywords
Competitor research is a smart move. Why reinvent the wheel, when all of the hard work of ranking in Google's top pages has already been done by your competitors?
You can spy on the exact keywords that they're ranking for and use those same keywords to create better content.
Something as simple as signing up for your competitor's newsletter can reveal their whole email marketing strategy to you. A little research doesn't cost anything but your time, and can produce some great new strategies for you to try.
Starbucks made a big splash in China when they studied their competitors' marketing. Spying helps you improve your own plans to beat the competition based on data, instead of assumptions.
Starbucks' profit in China has been steadily increasing because they did some simple research.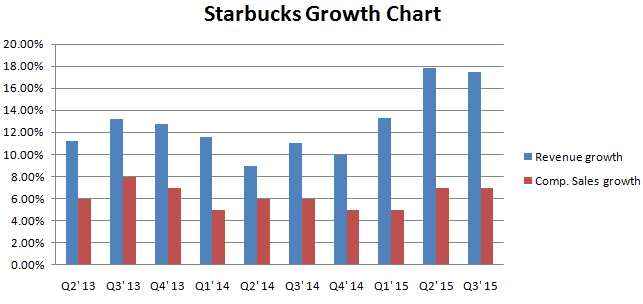 So how do you find out what keywords your competitors are ranking for right now?
Enter your competitor's site URL into the search box and press Enter.
Step #2: Click Keyword Ideas in the Left Sidebar
This will give you a list of keywords related to your website.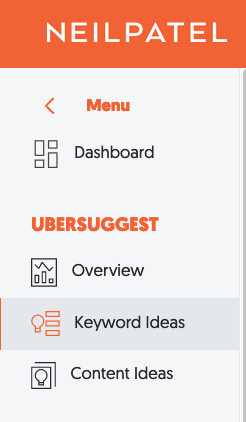 Step #3: Look at SEO Keywords
Scroll down to the last section titled SEO Keywords.

The Position column tells you which Google search result position your site sits in for that keyword. For example, smartblogger.com is in the first organic spot for "how do blogs make money".
In order to verify whether the keywords are truly ranking at the positions Ubersuggest says, let's do a quick Google search for "how do blogs make money".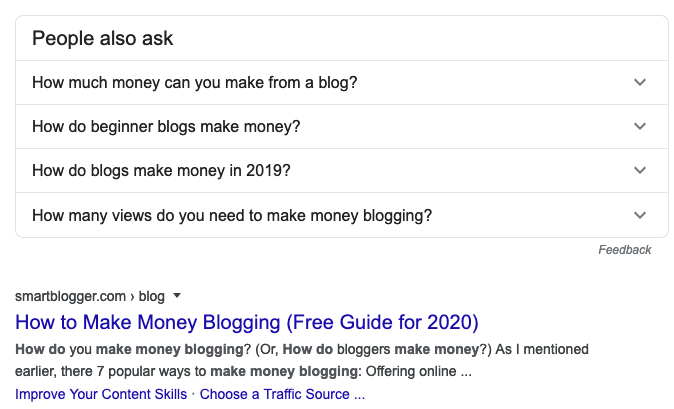 Definitely the top spot!
Now your job is to create high quality content using those same keywords. Use all the other tools in this list to build trusted links and boost that page's ranking power.
If you want to get even more ideas for long-tail keywords to rank highly for, head back to the Ubersuggest home page.
Step #1: Enter Your Head Keyword and Click Search
Step #2: Click Keyword Ideas in the Left Sidebar
Step #3: Review the Keyword Ideas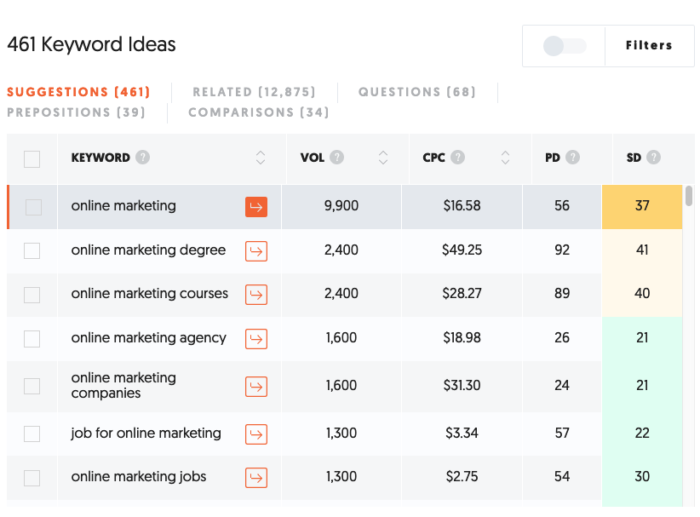 In this example, you're provided 461 keywords related to "online marketing." You can now use filters to find long-tail keywords with high volume and a low SEO Difficulty score.
For this search, I set the volume at 800 to 4,000 and the SD at 40 or below.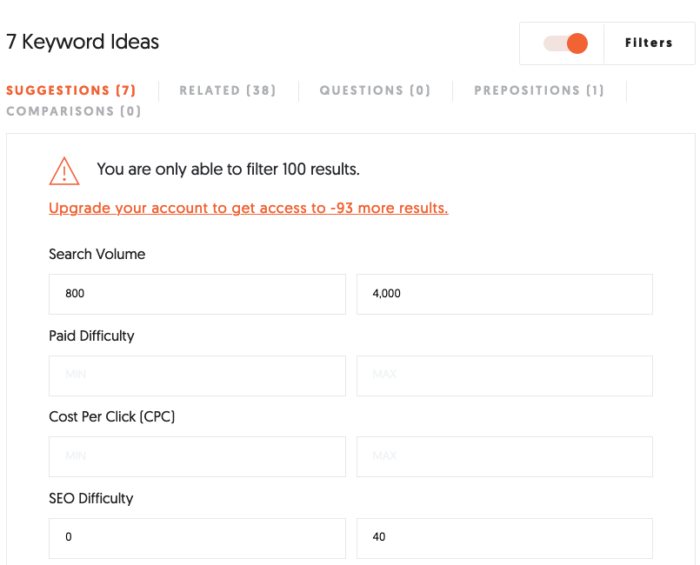 While these search parameters eliminated more than 350 keywords, it also left behind seven ideas to include in future content.
You know the monthly search volume is greater than 800 and the SD is lower than 40. With that, you can confidently optimize for the keyword, knowing that the first page of Google is within reach. When that happens, there's traffic to be had.
After clicking on a keyword that piques your interest, you'll see how your competition is doing: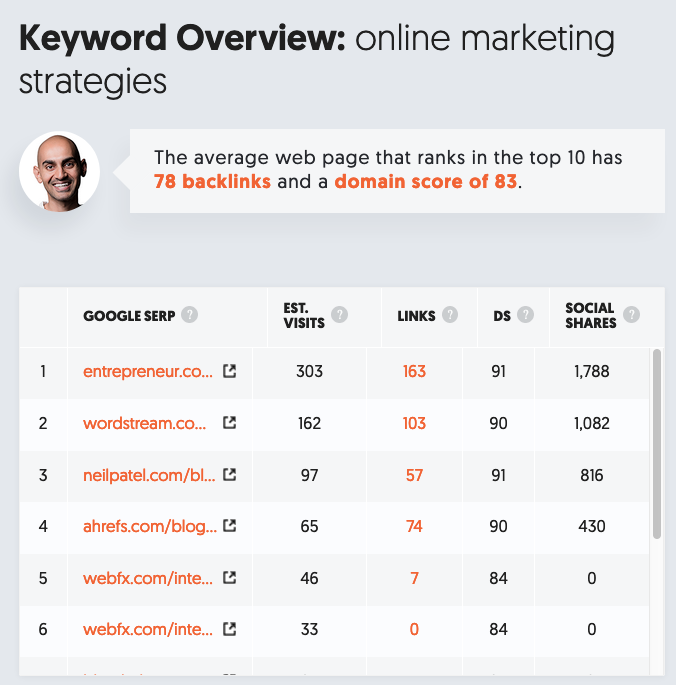 You're given the following:
URL for each page in the top 10 of the Google search results
Estimated number of visits
Number of backlinks
Domain score
Number of social shares
For the keyword "online marketing strategies," my website is currently in the third position of the Google search results. This is good for roughly 97 visitors per month. However, if I am able to reach the top spot, I'll pick up another 200+ visitors per month.
The data shows my domain score is in line with the top two search results, but the page doesn't have nearly as many links or social shares. So, focusing on those two metrics will help me reach the goal of claiming the top search result.
Advanced SEO Tip 15. Use AdWords Copy in Your On-Page SEO
Another great way to steal the spotlight from your competition is to look for keyword ideas in their Google AdWords search ads.
Google AdWords ads are short and already optimized for your competition's target keywords. If you can produce a quality article that ranks well organically for that same keyword, you can easily establish yourself among your target customers.
With 26 percent of internet users using ad blockers, consumers are warier than ever of paid advertising.
Establishing yourself high in organic search results establishes trust and will display you first to those using ad blockers.
To find some good AdWords keywords to create content around, try searching for keywords you want to rank for: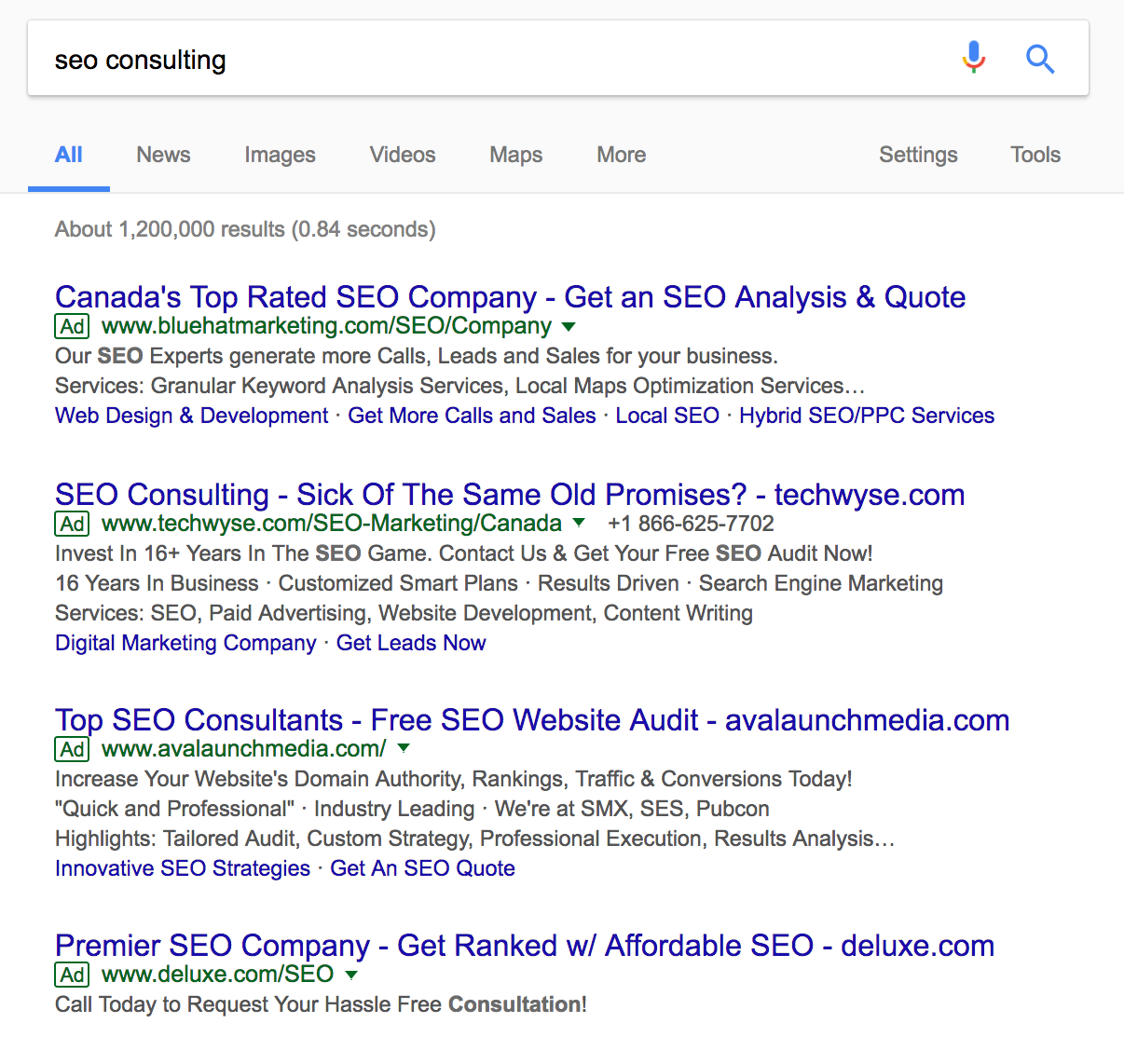 Analyze the titles and copy used in each of these ads. They should give you at least a few ideas for headlines you can use in new content.
A few from this example could be:
How to Perform a Free SEO Website Audit
How to Generate More Calls, Leads and Sales with Local SEO
Increase Your Website's Domain Authority in 30 Days
I wrote the first post below for QuickSprout using "How to Perform an SEO Audit", and included the word free in the title.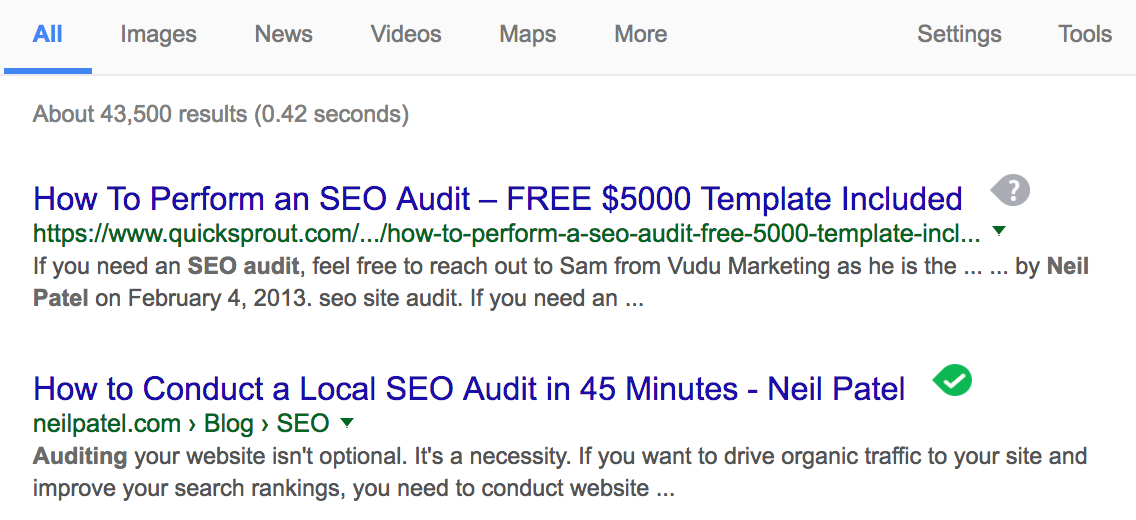 In that post, I broke down all the steps to do a full SEO website audit and included a template for users to download.
It remains a very popular post and still converts at over 50%. All for free, with no paid AdWords ads!

Advanced SEO Tip 16. Use Multiple Keywords in SEO Page Titles
Your SEO page title is the title that is displayed in Google search results. Here's an example.

You want to ensure that each page title for each page and post on your website contains a keyword.
A strategy I have found particularly effective is to include multiple keywords within each page title. Make sure not to be spammy with this or it could end up hurting you.
By spammy, I mean just cramming keywords in there for the sake of it, even if they sound a little off. Or, by using spam trigger words that instantly make Google think your content is less than legit.
Let's say your post is about hair colors for fall and you want to rank for the following keywords:
Hair colour
Autumn hair
Autumn hair trends
Here are a few examples of a page title that combines those in a natural-sounding way:
Autumn Hair Trends: The Best Hair Colors of the Season
5 Hot Hair Colours Right Now: Autumn Hair Trends
And here's an example of a keyword-stuffed, not good page title:
Autumn Hair Colour Trends – Hair Colour for Autumn
See the difference? The first two sound natural and like you could picture seeing them online. The last one just seems spammy and like it's trying too hard.
If your page titles sound like you're trying too hard, you probably are.

Advanced SEO Tip 17. Monitor Google Search Console Stats
Google Search Console is a powerful tool to help you track potential issues with your site that affect your rankings.
If you haven't already signed up for it, you can see how to do that step by step right here.
There are three main things you want to check regularly in Search Console:
Watching for crawl errors, like 404 pages
Submitting new sitemaps
See which keywords people are using to find you
When you first sign in to Search Console, you'll see your Dashboard page.
Under "Coverage," you'll see any URL erros.
As you can see, I have seven recent URL errors for my blog.

I had corrected a lot of 404 page errors in previous months that were caused by a switch to a new webhost, as you can tell by the red line. It's important to keep monitoring these reports often as new errors can pop up anytime, like these seven have!
If you click on one of the URLs in the list, you'll see this message.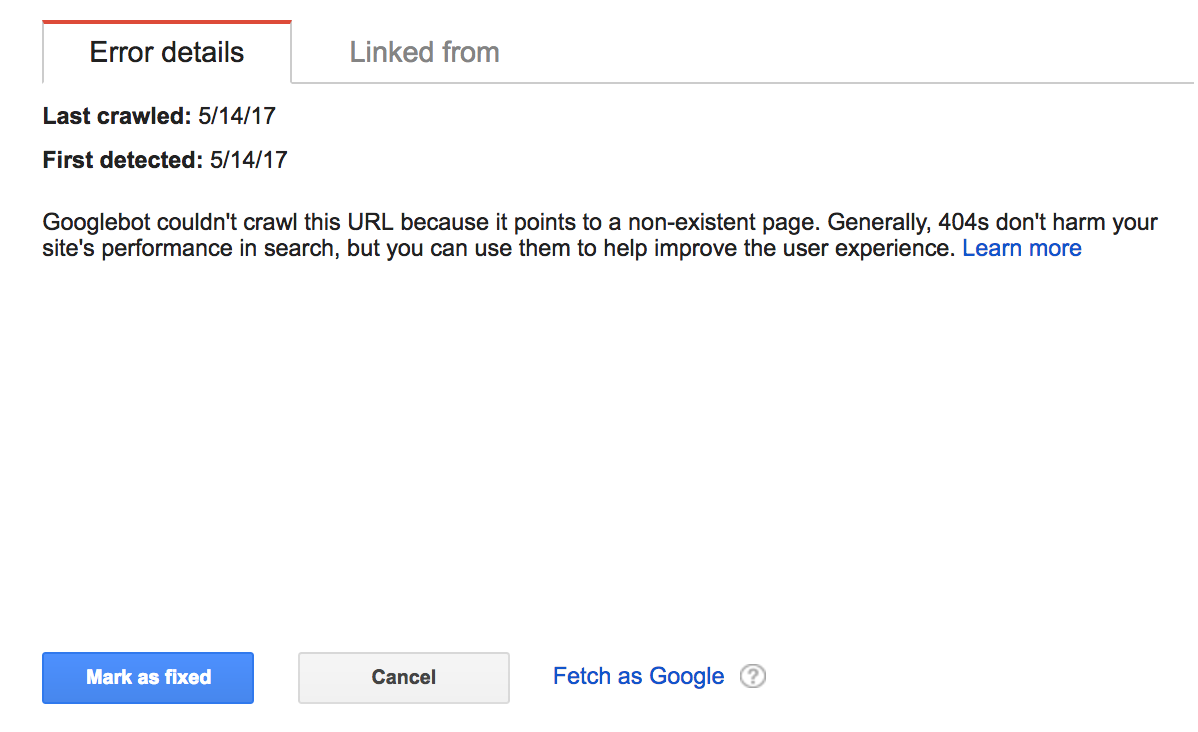 404 errors don't have a direct impact your search result rankings, but they don't make for a great user experience which can impact SEO.
You don't want to show up high in search, get someone excited to visit your site, then disappoint them with a 404 page when they get there, right?
Fortunately, they're very easy to correct in Search Console. For each 404 error, click on Fetch as Google in the screenshot above.
Search Console will tell you the result of what Google's indexing spider sees.
In this case, my 404 page was showing up that way because it's being redirected to a new page. This can be easily solved by getting my site re-indexed. Click on Request Indexing button, and you're done.
There's also an easier way: you can submit a new sitemap for your full site.
Click on Sitemaps on the left-side menu.
Enter in the URL to your sitemap. For most people, this is just "sitemap.xml" after your domain name, like neilpatel.com/sitemap.xml.
If you need help creating a sitemap, use this guide on How to Create an SEO-Boosting XML Sitemap in 20 Minutes (or Less.)
When you submit a new sitemap, the status changes to Pending.

Getting Google to re-index your site will ensure any 404 errors that you know don't exist are marked as fixed.
Another great use of Search Console is to find out the keywords people are using to find you.
Click on Performance in the left-side menu.
You'll see a list of keywords that people typed into Google that displayed your website, whether they clicked on your page or not.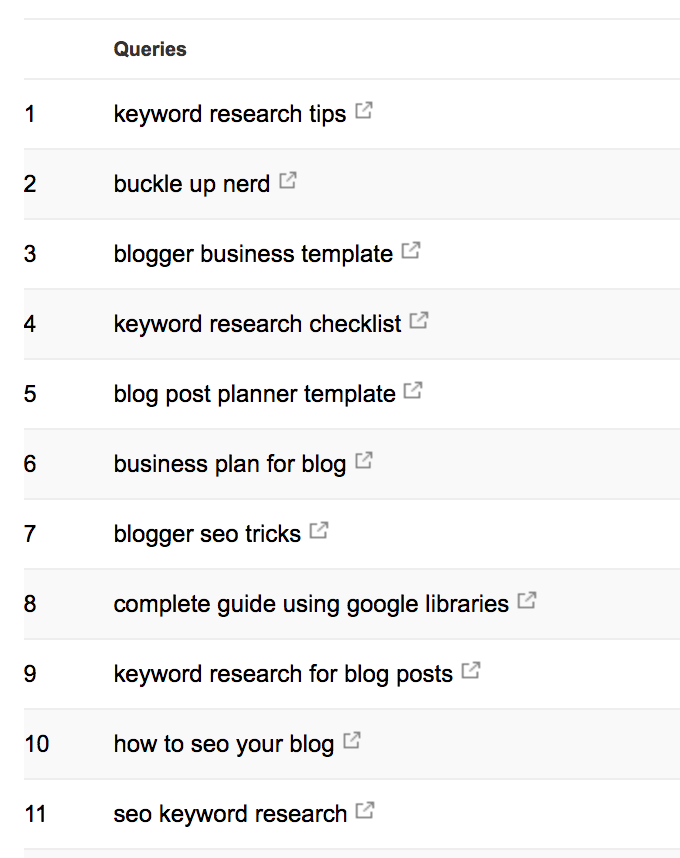 Looking at how people found you can tell you a lot about what you're ranking well for. If the keywords in your list aren't the ones you want to rank for, it's time to optimize more of your content!

Advanced SEO Tip 18. Update Old Content
If you've been blogging for more than three months, you've got a goldmine of content in your archives to repurpose.
You've undoubtedly written some posts that are still generating organic traffic. You can improve those posts and leverage their authority for higher search rankings.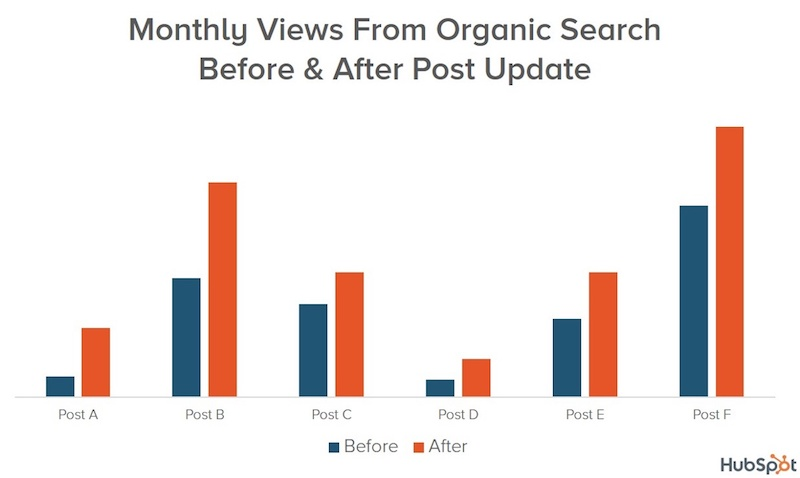 Start by making a list of your top performing content.
Step #1: Find Posts That Need Some Love
Log into Google Analytics. Click the "Behavior" tab on the left side.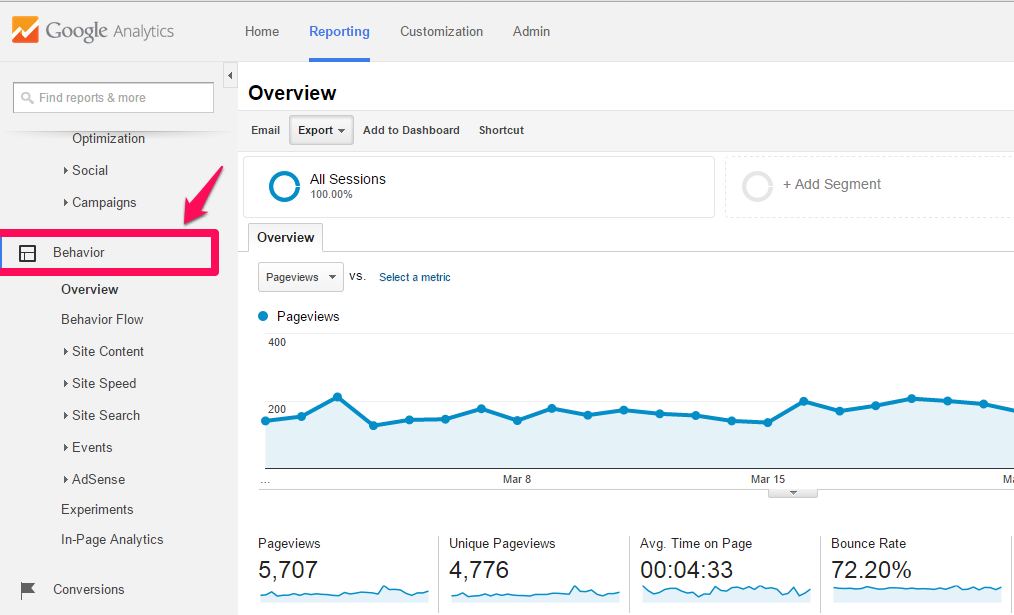 Step #2: Click Site Content -> All Pages
Look for the best performing posts from three to six months ago. These posts are doing well, but a refresh could drive even more traffic.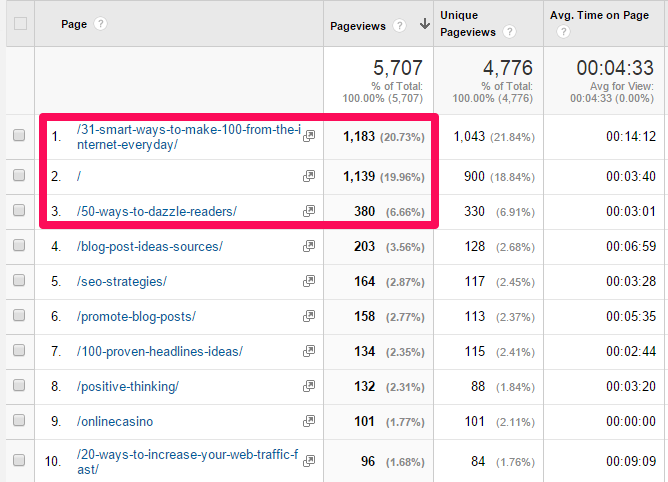 Step 4: Update Old Posts
Here's what I do to update my best performing posts to keep them fresh and popular:
Write a Sharable Headline
The most critical step of all is to write a headline that will inspire people to share your post, and that contains your SEO keyword.
So, if your old post was titled "How to Make $10,000 From Your Blog," you could make it more sharable by adding a bit of personal flair. The headline should evoke curiosity, but still maintain its clarity.
Something like this: How I Make $10,000 a Month From My Blog While Traveling the World
That's a bit more fun, huh?
You could even add a number to the headline, as people more frequently share headlines that contain a number. Headlines like, "7 Reasons Why Blogging Can Be a Career", etc.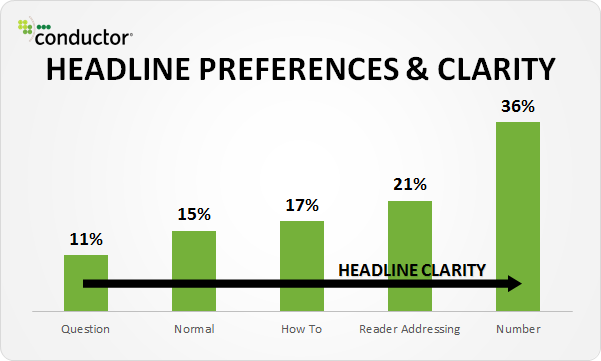 For example:
How I Make $10,000 Blogging Part Time (and 3-Step Plan You Can Follow)
How I Made My First $10,000 Blogging From Home in 30 Days
Take a look at this Copy Hackers headline. It's thought-provoking, keyword-rich, clickable and clear: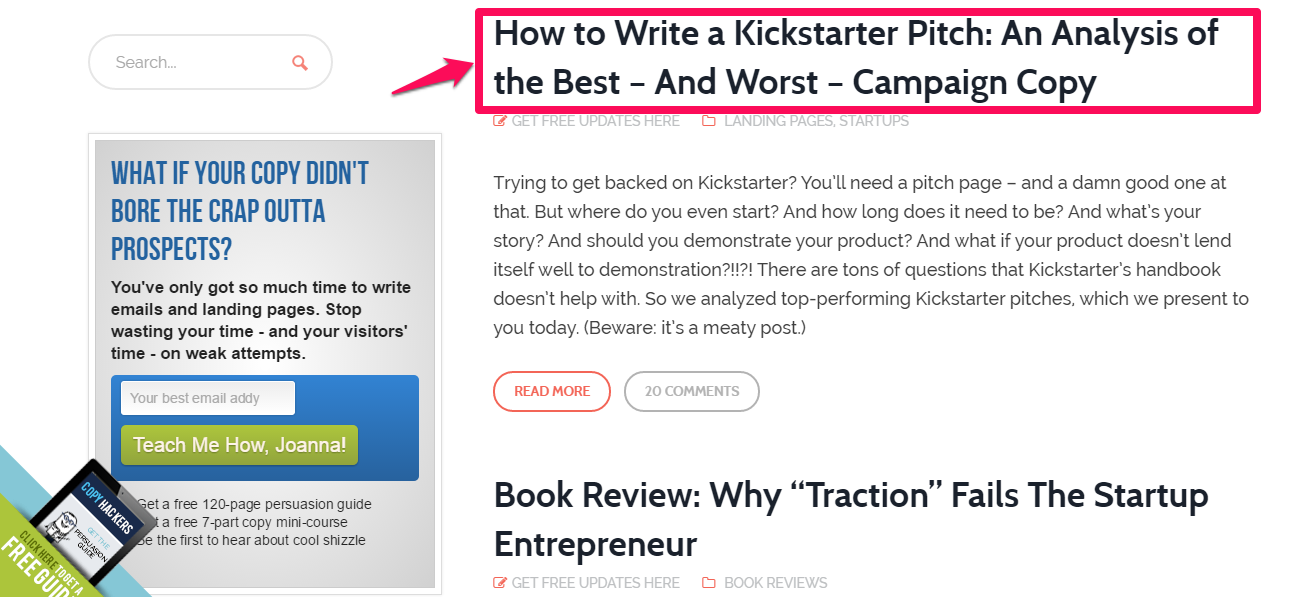 Add Customer Testimonials or Notable Mentions
Now that you have some experience, let it show in your content.
Customer testimonials are huge for marketing. When it comes to including a testimonial within a piece of content, that content has an 89% success rate.
Your reader may not jump on board if you're the only one saying how awesome you are. But if someone else backs it up, your authority and influence will increase.
When you get a testimonial, find a piece of content that fits it and include that testimonial.
Update Old Data and Images
If your post was originally from 2014, you clearly need to update your data sources.
If your website has gone through a redesign during that time, you'll likely need to update images in the post to be in line with your current branding.
I do this regularly with my best performing content. For example, this guide on getting your website indexed is one of my most popular posts.
Whenever something changes with Google's algorithm or indexing rules, I update that post so it's always up to date. I don't want new users coming to my site and finding outdated info, so it's important that my top content is accurate.
Another word for content like this is your 'cornerstone content'.
Cornerstone content is basically the foundation of your blog. They are the articles you are most proud of and the ones that are the most unique, in-depth and informative.
Brian Clark describes it as, "It's what people need to know to make use of your website and do business with you."
An easy way to keep track of your cornerstone content is to create a spreadsheet. Add the following columns:
Post title
Post URL
Topic
Main keywords
Last Updated
Scan through your list every few months and ensure that none of these posts go too long without being updated. Don't go more than six months without updating one of your cornerstone pieces.

Advanced SEO Tip 19. BONUS – Revamp Old Articles With More Organic Traffic Potential
In the previous section, we covered how you can keep your best performing articles fresh and optimized. But what about the articles that didn't go over so well?
You should also be updating your lowest performing content to improve it.
You know it's a good topic and that people want to know about it, otherwise you wouldn't have written about it in the first place. Revamping an old underperforming article is a sure way to get more organic search traffic.
What's the alternative? Writing a new post from scratch. It may do well, or it could flop too. It's worth the effort to revamp an old post!
Here's how to turn your previous content failures into organic search stars:
Make a List of Underperforming Content
Open up Google Analytics and click on Behavior > Site Content > All Pages.
Look at page views, average time on page, and bounce rate.
If you click on the arrow next to Pageviews, you can see the pages with the least amount of traffic. These are pages that need some thelp!
Analyze Keywords
For each of your lowest performing posts that you want to update, run them through whatsmyserp.
Enter the keyword you want to check the ranking of and your post's URL, and click Go.
You can enter in multiple searches one at a time and see all your results at the bottom of the page.

This post ranked 14 for sales funnel — which might isn't even on the first page.
If my goal were to rank higher for 'sales funnel', I now have some data to start with. There are over 200 factors that go into search engine rankings, but updating this old post with better optimization for that keyword will help boost its position.
The top four organic search results get 69.6% of all traffic.
The higher you can get underperforming content to rank in search results, the more eyeballs will be on it, and the more clicks you'll get.
Update the Post
Similar to the section above, you'll want to update:
Old data or citations
Images or broken links
Optimize for keywords you want to rank higher for
Add new insights from your experience, or recent news that's relevant
Add a testimonial or case study
I recently went through this process with this post about starting a blog.
Before I updated it, it was ranking on page three. After expanding the post to over 3,000 words, updating all the images and screenshots, adding new information and resharing it to my network, the post is now on page one for "how to start a blog".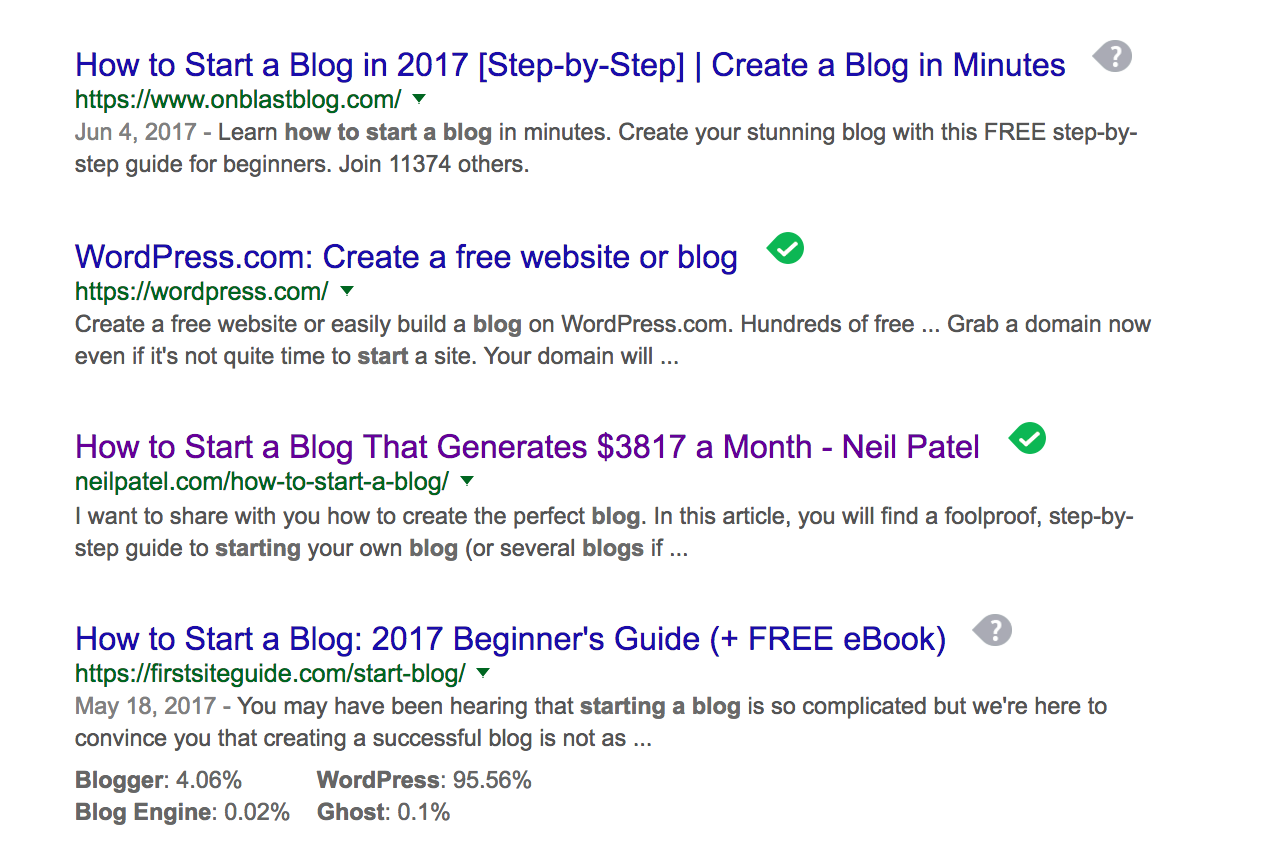 The post has received a 167% jump in traffic since I revamped it and it's now my second most shared post ever!
Relaunch the Post
You can't just press update and expect the world to know you just added a ton more value to your old post. You need to tell people.
It's important to edit the publish date of the post to today's date. You don't want it to get buried in your archives, or for Google to think it's old news.
When you're ready to relaunch the post, change the publish date. In WordPress, there's an edit link next to the date you can click.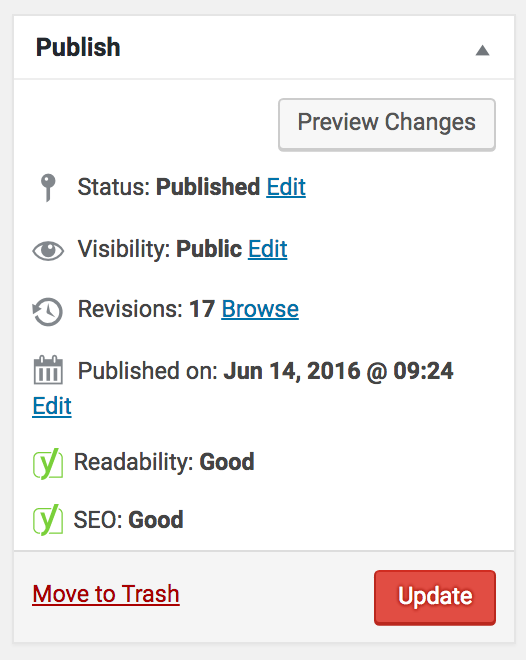 Just change that to the current date.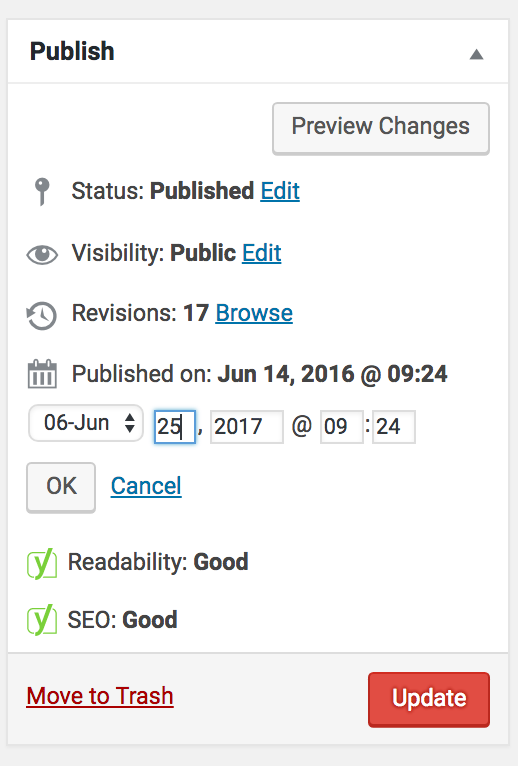 This makes your revamped post show at the top of your blog feed so it looks brand new and more people see it.
There are a few more things you'll want to do right away:
Share it on social media
Contact anyone mentioned in the revamped content and ask them to share it out too (this is very effective!)
Send it out to your email list
Revamping old content has been really successful for me.
It would have taken me 10x as long to come up with all new post ideas and write them instead of editing the ones I already had. Making use of existing content is always more efficient than starting from scratch and the traffic results prove it.
Conclusion
A blog is a powerful brand marketing tool.
Maybe that's because, by their very nature, blogs provide a personal touch that's not found elsewhere.
In order to maximize your blog's potential, you have to make sure it gets found in search results.
These advanced SEO techniques may not be the easiest to implement – they certainly require more effort than basic keyword research and link building – but they are incredibly effective. Using these strategies can double your search traffic.
Remember the human beings on the other side of the screen and write for what they want to read. Focusing on user intent and trying out these 19 advanced SEO tips is a recipe for traffic success.
Have you tried any of these advanced SEO techniques before? What results did you get and how long did it take to see them?
The post 19 Advanced SEO Techniques to Double Your Search Traffic appeared first on Neil Patel.
When you think about Google cache, what comes to mind? That thing you clear out when our computer is running slow? Cache can actually be a useful SEO tool to catch a glimpse of what Google wants you to do.
In this guide, we'll go through some of the best ways to use Google cache to track competitors and help you potentially rise in the SERPs.
What Is Google Cache?
Google cached pages are HTML backups of the content on a page taken at a certain point in time. This information is stored on a server and can be retrieved later for various purposes.
Periodically, Google crawls sites and takes snapshots of the site at that point. They'll index so they can refer back later to see what has changed since then.
Google also provides the date and time of that snapshot.
If you're dealing with underperforming pages or concerns over indexing, or if you're wondering how often Google is crawling your site, Google cache might be the answer to your problems.
The Three Views for Cached Websites
There are three viewing options for cached sites:
Full version
Text-only version
Source code
Each version is important for different reasons.
The full version of a cached page will provide an exact snapshot of the site when Google passed through. It'll show the ads, banners, font customization, etc. It's a replica of the site, with all of the design elements.
Text-only is what Googlebot sees when it crawls the site. It doesn't see the images, banners, and graphics; all it reads is the text.
This is important for one primary reason: sometimes high-ranking content gets hidden behind media, making it harder for the bot to crawl your site. For this reason, Google uses text-only cache when crawling sites.
If you are looking to obtain useful information from Google cache, you can use both of these views for different purposes.
The full version is essential for seeing updates made to sites. You can look at a competitor's website that might be outranking you for specific keywords, and you can see what changes they made to their site over time. This applies to media and graphics.
With the text-only version, you can't do that.
You can use the text-only cache to see what changes were made to the content itself without having to worry about formatting, photos, and videos. This provides a simpler way to look at the text alone, so you don't miss anything.
To view the page source, right-click and select it from the menu or press CTRL+U on Windows.
This brings up the raw code for the page completely unformatted. Even if you can't read website code, you might still have a use for this from a marketing and SEO standpoint by understanding what the different tags mean.
How to View Google Cached Pages
If you want to use Google cache to view page versions, there are a few ways you can do this: manually, or with extensions and tools to help you.
We'll start with the most basic method.
Google Search
Do a Google search for whatever page you want to view. In this case, we're searching for neilpatel.com.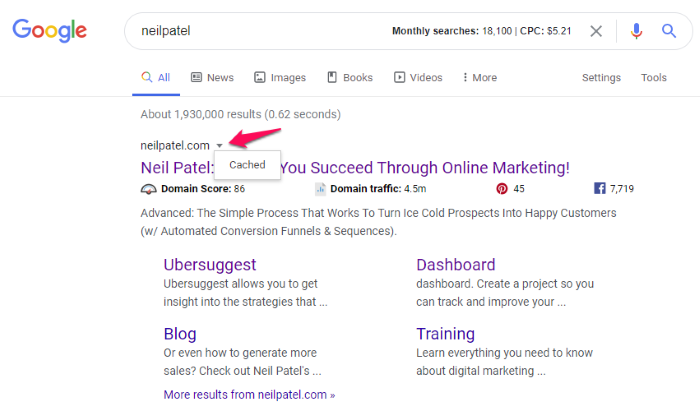 If you look at the URL for the first result, neilpatel.com, you'll see a small downward-facing arrow to the right of it. Click that, and a menu will appear with a single option: "Cached."
Click that link to see a cached version of the page. You'll see a banner at the top with the date and time the snapshot was taken and a link to access the current page.

Another simple method is to type "cache:URL" in the search bar. If you type "cache:neilpatel.com," it will bring you to the same page we see above.
If you click text-only in the banner at the top, it will eliminate all media, color, graphics, and formatting, and you'll have a basic snapshot of all the text and links on the site at that time.
Google Cache Checker
Another method for viewing cached pages is the Google Cache Checker. A few different tools are available, but the one I've found most accurate and simple is through Small SEO Tools.

Here you'll be able to enter up to five domains, and it will provide you with a cache URL and a link you can click to access the cached version of the page.
This method is nearly as simple as using Google, and has the added benefit of letting you do five URLs at once.
Wayback Machine
Archive.org provides a more in-depth picture of a website's history, and also offers a Chrome extension of its Wayback Machine. Using the Google search method or Google Cache Checker only lets you check the most recent version.
In some cases, the page you want information on was just cached the day before, so you probably wouldn't get much data out of that.
Wayback Machine provides a ton of information about how many times a site was cached, and they even break it down each day.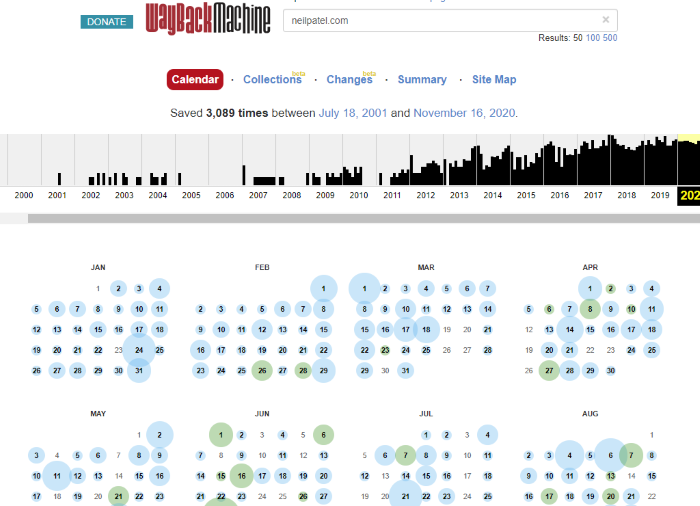 You can click any date and find every single page update that has been made for years. This is a powerful tool that you could use to find small page changes that possibly resulted in increased traffic or ranking.
4 Reasons to Use Google's Cached Website Feature
You might be wondering, "Why would I want to view old versions of webpages? Isn't this just for Google to crawl sites, index them, and find errors?"
Well, that's true, but there's much more to it than that. There are several uses for Google cache searches, and some can be pretty powerful.
View Changes to Competitors' Sites
This ninja strategy is a great way to get an idea of what your competitor is doing differently.
Let's say you've been competing for a super challenging keyword for months with a competitor site in the same niche. Thankfully, you've been outranking them now for four months straight.
Out of nowhere, they take the number one spot with snippets, and you can't understand what happened. You didn't make any changes to your site, there haven't been any big updates, and everything seems the same for the most part.
What could you do in this situation?
You could use Google cache to see what changes they made.
Check out how many updates they made, what specific changes they made, and compare it to what the page looked like before. You just might find those updates are the reason they're outranking you.
Check How Frequently Your Site Is Indexed
When Google determines your site is relevant and authoritative based on the keywords you're using and what audience you're targeting, Googlebot will index your site more often.
You can use Google cache to see how often they're indexing your site, and that can help determine if your content is on-par with your target audience and relevant, according to Google.
If you find your site was crawled yesterday, and it updates in a day or two, you could guess the page has high relevance because Google isn't letting outdated pages sit around.
Google also updates pages that input new content regularly more frequently. If you have a blog you contribute to regularly, Google will start to understand your cadence and will crawl and update the site more frequently.
All of these factors combined could have a positive impact on your rankings.
Use Google Cache to Diagnose Content Errors
If you're looking at a Google cache of your website, and you're not thrilled with how frequently they're indexing your site, you might want to look at your content.
Check out the text-only view and see if there are any errors, fluff, keyword stuffing, or any other no-no's in the SEO world.
Being able to see older versions of your webpages can help you determine what steps you need to take to make positive changes.
For example, if you updated your site three months ago, and it resulted in a steep climb in the rankings, you might want to make some of those same changes to other pages on your site. With Google cache, you can see what those changes were so you can implement them elsewhere.
See What Information Google Caches
Another great idea is to find competitor sites that are getting cached most often and mimic the same actions on your site. If you notice a top-ranking competitor uploads a small weekly feature to their site, you might want to consider doing the same.
Ideally, you want to model everything the most frequently indexed sites are doing because Google believes their pages are most relevant to the audience, and that same audience applies to your business.
If you can do what they're doing, Google might think your website also meets the needs of the audience, and you may have a higher chance of increasing in the SERPs.
Limitations of Google Cache
It's true that everything in SEO has a caveat. Nothing is ever perfect, and we should always take what we see with a grain of salt. While it's is a great way to get an idea of what your competitors are doing right, it's not exactly what "Google" sees.
No matter what you do, you'll never see what Google sees, and we can only try to get as close as possible.
For example, Google uses a web rendering service that uses an outdated version of Chrome, which doesn't support many of its features.
Rendering exactly what Google sees is impossible without using the same version of the browser they're using.
The cached pages could also be inaccurate because Google doesn't always refresh the version each time they index it. Sometimes you might see the same version for weeks or months while small changes are made each time.
It would be easier to implement changes on your site if you could see them on a rolling basis instead of all at once, but that isn't the case with Google.
Keep in mind a lot of sites use mobile-first indexing, and that can cause error pages. While this isn't the only reason you would receive an error message, a site change may cause the cache to register improperly.
Finally, sometimes Google doesn't cache a page at all. Although they index all pages, they don't cache all of them, so you may never see any changes made to your site or someone else's. This could lead you to believe Google isn't even indexing your site.
The moral of the story is, don't make drastic changes to your site as a result of what you see or learn from the cache. You can use it as a tool for research and guide page improvements, but it shouldn't be the end-all-be-all.
Conclusion
If this information seems insignificant, we have various other ways to help you increase in the rankings and get more traffic.
Don't stress too much about this. It's a great way to see what changes your competitors are making and whether Google thinks your content is relevant, but you don't have to rely too heavily on it.
There are many ways to increase ranking — this is simply a back pocket strategy for a rainy day.
Have you used Google cache to improve your site? What did you learn from it?
The post How to Utilize Google Cache Websites appeared first on Neil Patel.
When you hear the phrase corporate branding, you might think of industry titans—car companies, ubiquitous hotel chains, and fast food arches.
Despite this association, corporate branding applies to businesses of all sizes, not just the giants with unlimited marketing budgets.
To better understand the role corporate branding plays, I've broken down the impact of corporate branding to help you know how it can drive your business forward, no matter how big or small your business is.
What Is Corporate Branding and Why Is It Important?
Think of your favorite brand (or one you interact with regularly.) What comes to mind? Do you think of their tagline? The logo? The color palette? The chosen ambassador?
These assets, among many others, are what make up corporate branding. Corporate branding is the outward projection of a brand's mission and culture in colors, logo, tone, and design.
A successful corporate brand encompasses an organization's goals, mission, and ideology and appears across all mediums (website, packaging, copy, ads, etc.) to ensure visual consistency.
A strong corporate branding strategy focuses on a wide range of assets, from details as small font and color options and as large as building structure and slogan.
This element might seem too complicated to enact at your organization, but corporate branding is vital to all businesses, from small local businesses to massive ecommerce brands.
Emotions play a large role in marketing, and when a consumer relates to your brand's values, they build an emotional connection with your brand. These emotional connections increase customer loyalty, not to mention profits and word-of-mouth advertising.
How Corporate Branding Increases Sales
Companies with robust corporate branding strategies attract and maintain new customers, increase community interest, and improve overall marketing strategy.
Companies with strong brand affiliation offer a 31% higher shareholder return than their contemporaries.
In addition to increasing shareholder return, corporate branding fosters employee engagement and encourages 3x faster profit growth than an organization without a strong branding strategy.
While this might feel unattainable to small businesses without huge marketing budgets, the truth is, your organization can increase growth through a strong corporate branding strategy.
Here are five ways corporate branding can change how your potential consumers view your brand—and drive profits.
Corporate Branding Conveys Brand Personality
Brand personality refers to the personification of your company's mission. This personality is conveyed through the style, voice, and tone you use in your business' communication.
Just like we tend to judge people based on first impressions, your brand's personality impacts how consumers perceive your organization from the start.
When building your brand's personality, include language and sentiments that ring true to your mission and resonate with prospective customers.
A strong brand personality will help:
Distinguish you from competitors
Increase immediate recognition
Build an emotional connection
Corporate Branding Improves Customer Relationships
Building a strong customer relationship isn't just good business; it costs less, too. The average company spends five times more to attract new customers rather than focusing on keeping more of the customers they already have.
Like any relationship, the bond between you and your customer needs to be nurtured to grow.
With a corporate branding strategy, interactions with prospective consumers become a comfortable exchange. By including your organization's voice and mission in all of your content and customer experience, you establish a shared relationship with your customer.
These two strategies can help your further nurture that connection:
Share success stories: Everyone likes to feel like they belong, so sharing user-generated success stories is an excellent way to encourage consumers to engage with your brand. The beauty of user-generated content is in its creation. Since it's not coming directly from your business, it feels more trustworthy and intimate, helping to foster a sense of community.
Personalize communication: Personalized marketing can increase customer engagement. Using first names and other pertinent information can further the bond between buyer and seller, making the relationship feel more organic rather than sales-based.
Corporate Branding Sets Your Brand Apart
The internet is home to roughly 3.17 billion active social media users. The majority of companies are well aware of this statistic and harness an average of five social mediums to connect with those users.
This fact means the average consumer sees hundreds of advertisements daily.
To help your business be heard and seen online, you need to be one of many scrolled-past advertisements—you need to stand out.
Corporate branding can help you share your brand's story. That story serves as a hook to draw your audience in and make you more than a company, but a community they can relate to.
Corporate Branding Boosts Customer Loyalty
The Pareto Principle says 80% of revenue originates from 20% of your existing consumer base. That percentage quantifies just how important it is to ensure customers are loyal and return to your business again and again.
After you've worked to foster strong customer relationships, you want to ensure those relationships last.
By growing your corporate branding strategy and incorporating it into new mediums and platforms, you ensure your message is reaching and resonating with your current base.
Consider offering a loyalty deal to your most valuable consumers to further build loyalty.
When people feel valued, they are much more likely to purchase from the company providing value. Nearly 60% of loyal customers make more purchases with their preferred companies, so building and establishing trust and loyalty can impact your bottom line.
Building a Corporate Brand
Building a brand is a long, ongoing process, but there are seven simple steps you can enact today to begin your journey to a memorable brand.
Get to Know Your Intended Audience and Your Competitors
Before wedding yourself to any decisions about your brand, get to know both your ideal customers and direct competitors. You can learn more about the shape of the market by:
Conducting a web search of your product
Exploring social media accounts followed by your target audience
Speaking with individuals in your target audience to learn what products they are purchasing
Use a tool like Ubersuggest to explore what your competitors are doing. Look at the colors, phrasing, and images they use to connect with their audience and consider if similar branding aligns with your mission. (Just make sure your branding is original!)
Create a Mission Statement
A mission statement is a summary of your company's goals and values. Your mission is the driving force behind your brand and is vital to align your audience with your business.
When creating your mission statement, ask these questions:
What's the purpose of providing our services and products?
What do we aim to change in our consumers' lives?
Why is this change significant?
What drives us?
Use the answers to craft a statement that outlines who your audience is, what your brand contributes, and what makes your product or service different.
Identify Your Brand Personality
Brand personality helps customers connect with your brand and build customer confidence. When choosing what you want to embody, use these questions to get started:
Who would be the spokesperson for the brand?
Which adjectives are connected to the brand?
What is your brand's value proposition?
After you've established a value proposition, use it to create a positioning statement that clearly outlines your target market and how you want your brand to be perceived.
Write a Slogan (or Write a Bunch of Slogans!)
A slogan is a short, catchy phrase associated with your organization that shares your product or service's driving benefit. Ideally, your slogan should become completely synonymous with your brand, like McDonald's "I'm lovin it!" jingle.
However, creating a catchy slogan can be challenging—you have a lot to say in very few words. Here are six tips to help you create a catchy slogan that encapsulates your brand's essence.
Short and to the point: Most slogans are curt (think: 'Just Do It' or 'America runs on Dunkin''). You know what the essence of your organization is, so make sure you convey it to your consumer concisely.
Remember your target consumers: Whether you're a local brand shipping nationally or a company going global, be sure to keep your consumer in mind. A slogan that may delight New Jersey residents may have the opposite effect on those on the West Coast.
Draw on what differentiates you: Build on what makes your business stand out from your competitors by highlighting your value proposition.
Consistency is key: Corporate branding is all about consistency. This tenet applies to your slogan, as well. Ensure your slogan represents your brand's personality and serves as a verbal and visual manifestation of your ideals.
Ensure a long shelf life: You don't want to come to the unfortunate realization your slogan has lost its relevance after just a year or two. Consider the longevity of your slogan and how it can persist even in a fast-changing industry.
Be sure your slogan can stand alone: If a new customer encounters your logo, they should know what your organization offers and what your brand does. By ensuring your slogan can stand alone, you eliminate confusion about your brand's identity.
Select the Visual Manifestation of Your Brand
Colors and typography guide how your audience views your brand, so you want to make sure you choose the right one. Here are a few factors to consider when choosing your brand's colors: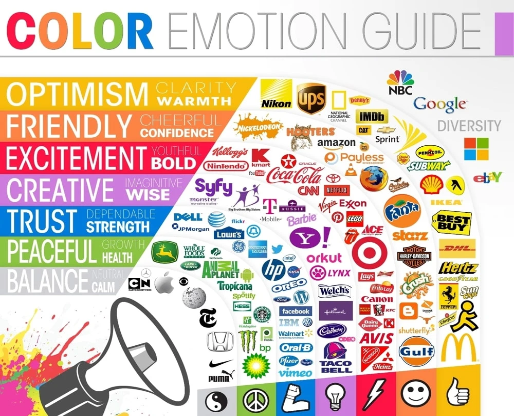 Choose typography that makes sense for your brand and audience.
Create a brand style guide to ensure consistency across platforms and mediums.
Design Your Logo
Your logo is the face of your company, so it should represent your brand's personality and be memorable enough to be recognized anywhere.
The good news is, you don't have to drop thousands of dollars; there are plenty of free tools to help you create a professional logo.
As you design your logo, ask yourself these questions:
What best represents the organization?
Do you want to include a tagline in your logo?
Do you prefer a text-based logo or an image-based logo or a hybrid?
Put Your Corporate Branding to Work
You've spent a lot of time and effort identifying your target consumers, developing your story and personality, and determining the right font and colors for your brand.
It's time to put all of those pieces together and deploy your corporate branding strategy. Keep in mind a corporate brand should be incorporated everywhere.
Don't forget to include your branding strategy in your:
Email signature
Social media presence
Videos
Physical items, like corporate swag
Office design (if applicable)
Using your corporate brand everywhere your customers interact with your brand ensures consistency, which builds trust and increases engagement.
Conclusion
Building a brand story and creating a corporate branding strategy for your business is no small task—but it can increase trust, encourage engagement, and drive profits.
As you craft your corporate brand, keep your customer and your mission statement at the center to ensure your branding resonates and connects with your ideal customer.
What is the most effective corporate branding strategy you've used?
The post How Corporate Branding Translates Into Actual Sales appeared first on Neil Patel.
Disclosure: This content is reader-supported, which means if you click on some of our links that we may earn a commission.
There is a tool that helps you create a repeatable and seamless workflow. A system that lets you look at the bigger picture of any given work process and its current status. A place where you can make sure your whole team is on the same page, so your boss doesn't scream at you.
It's called workflow management software, and it makes your work life at least ten times easier.
Workflow management software takes chaos and organizes it into a clear roadmap that helps you achieve your work goals in less time and with better results. The trick is finding the one that fits perfectly with the way you do business.
To help you with that, I'm taking a look at the top workflow management tools in detail below so you can choose which one can work best for your team.
The Top 5 Options For Workflow Management Software
How to Choose The Best Workflow Management Software For You
The more complex your process to finish work and reach deadlines becomes, the more likely you are to need efficient workflow software to help you get the job done. First, you always want to take stock of your current workflow system regarding what it's lacking and what is already working well. This way, you can choose a workflow solution that'll integrate with your work style and more accurately solve your issues.
To start, ask yourself a few simple questions:
Is your team scrambling to know what work was assigned to who at the last minute?
Did your Excel spreadsheet get too complex to automate your work processes efficiently?
Is there repeatable work that could be streamlined more effectively to save you time and resources?
Is your team too overwhelmed to turn in great work because there isn't a supportive framework to help them through their work process?
Are there current limits that could be removed for more efficient work delivery or completion?
Workflow management and project management systems are often confused as the same thing because they share a lot of the same tools and processes. However, there is a difference.
Workflow management systems exist to manage and maintain ongoing work processes within a business. In contrast, project management systems are used to start and finish individual business projects as efficiently as possible.
So, a project management system can exist within a workflow management system while the workflow management system takes care of the bigger picture and recurring work processes in your overall business. A bit of a mouthful, but it becomes more understandable once you dive into the world of workflow management software and what it has to offer.
Once you know the distinction and made sure a workflow management system is what you're looking for, here are additional specifications to think about when choosing a workflow system that makes the most sense for your business.
Team Structure
Your team's size and planning for growth matter when you're trying to choose a workflow tool. Why? Workflow management tools tend to charge by user. This can be a deciding factor in which system you select due to budgeting constraints. The more users you add to a system, the more you'll be paying per month.
To add, if you don't have to deal with a complex team structure, you might not need workflow software with all the bells and whistles that a larger business might find more useful. Sometimes, more functionality doesn't mean it's better for your needs.
Think about a few things as you move forward: Are there different departments that'll need to communicate with each other frequently to greenlight work processes and projects? Are your teams adaptable to new software, or are there new API integrations you'll need to make?
The simpler your team structures, the simpler your workflow system can be. This also often means less of a learning curve.
Tasks and Workflow Complexity
What tasks need the most comprehensive management? This can differ by niche, meaning you might need some features specifically designed for your industry and the value you create.
Some workflow systems are more equipped to deliver specific tasks than others. This can be done with anything ranging from:
Dashboard reporting
Gantt charts
Document sharing and collaboration
Scheduling software
Task assignments and sign-offs
Work status reports
Integrations with third-party software
Kanban boards
Advanced data analysis
Scrum work management boards
Communication Style
Communicating effectively with the appropriate workflow system will eliminate possible bottlenecks that slow down your growth.
With open API and integration features, your workflow system can be a seamless communication tool amongst each team member. This way, you can quickly review and respond to related emails, review project feedback, make corrections and comments, use team chat or message boards, and make sure changes to scheduling or project direction are accessible to each team member as part of your daily workflow.
If tons of communication isn't how you handle business, and you have a more straightforward workflow management approach, you can always adjust your processes with a more customizable system.
Workflow Views
An additional factor to think about is workflow views and how you choose to organize the information, processes, and tasks you input. Effective workflow management software gives you different ways of managing and viewing tasks and workflows.
To illustrate, a Gantt chart view, a graphical organization of a project or process, can help you simplify complex workflows. Kanban boards make viewing workflows easier and more manageable as you move cards from one chronological board to another.
A scrum board breaks down work processes into sprints and can be ordered into horizontal and vertical lanes. Looking for a workflow management system with the flexibility in preferred style makes your team's life easier and may make your work processes faster.
The Different Types of Workflow Management Software
There are two main categories of workflow management software. Here I take a look at each.
Highly Customizable vs. Niche-Specific
With workflow management software, you can either choose a highly customizable system that fits just about any niche or go with software that caters to a set of specific ones. The choice is ultimately up to you after you audit what tools your teams need to create a better workflow process.
For instance, software like ClickUp is highly adaptable to just about any industry that wants to use it to manage their ongoing work operations. On the other hand, Wrike provides tools that are specifically adaptable to creative industries.
Cloud-Based vs. Local
Most software on this list is cloud-based, meaning you can access them from anywhere at any time. You can choose to go with software that lives on your local servers and computers, too, though keep in mind that brings its own set of pros and cons.
With a cloud-based solution, your team will be able to access the software from anywhere from multiple devices to stay accessible and updated.
#1 – ClickUp — The Best For Versatile Workflow Management
ClickUp is a powerful workflow management system that makes sure every part of your workflow can be streamlined and optimized for efficiency and speed.
That's why it's my top recommendation for almost everyone.
Companies like Google, Airbnb, Uber, and Nike are all optimized for a seamless work process with the ability to plug into over 1,000 integrations. With ClickUp, you won't only manage your workflow. It's customizable enough to also manage your projects all from one place with tools like:
Resource management
Goal tracking and reminders
Email and chat features
Complex or simple spreadsheets
Third-party app integration
Strategy management
With the ability to create chat views, table views, timeline views, or mind maps, you can always be sure your team is staying on top of each work task and their progress in a way that makes work easier for them.
Because of its setup, ClickUp allows you to save a lot of time by linking all project tasks, email, comments, or wikis together and allowing you to view your projects however you want and automating recurring work tasks. The tool is equipped for bigger and more complex workflow management, as well as for small businesses that want to get a handle on their growing workflow systems.
If you're switching to ClickUp from another workflow management system, it is super easy to automatically import all your work and project information with the import feature.
One of the best parts of using such a versatile workflow manager is their price point. You can start using the system in a matter of seconds by signing up for a free account. You'll immediately get 100 MB of space with unlimited members and unlimited tasks.
The paid plan is only $5 per user, and you get access to unlimited storage, integrations, calendar tools, guests, portfolios, boards, and custom fields.
If you're managing a growing team, you have the option of negotiating a price point per user or team size once you fill out a quick form and send them a short proposal. All in all, ClickUp's versatility goes far. That's why more than 100,000 teams use it and why I'd recommend it to just about everyone.
Start your free account with ClickUp here and use it to optimize every aspect of your workflow.
#2 – Monday.com — The Best For Remote Teams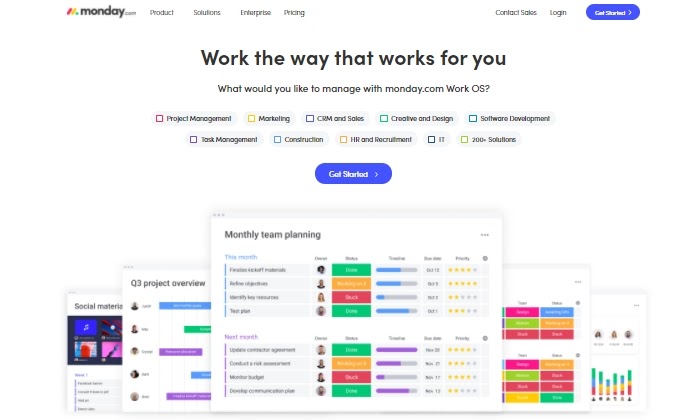 If you manage a growing remote team, Monday.com is the workflow solution that seamlessly brings everyone together.
It's an excellent workflow system used by BBC Studios, NBC, Discovery Channel, Hulu, Cocacola, Deezer, and 100,000 other teams to ensure they're effectively managing every step of their workflow processes with onsite and offsite team members.
With Monday.com, it's easy to collaborate with your team from anywhere in the world by aligning work progress, video chats, and plenty of synced calendars to make sure you're always meeting collaborative work deadlines.
You can easily start organizing tasks and automating workflows with templated daily team tasks, knowledge libraries, remote team requests, employee statuses, and one-on-one meetings. Of course, if none of these templates will do it for you, you can start from scratch and build your own any time with their vast array of tools.
Some Monday.com features that are great for remote workflow management are:
Weekly schedules
A meetings board with updates and recaps
Zoom integrations to record meetings
Local time zone tracking for each team member
Workload and work capacity maps for any given project
The ability to create contingency plans from project data
Monday.com charges per seat based on the tier you want access to, and each of them comes with an extensive list of features. The tiers start at three seats each, and you can save money if you choose to go with an annual plan. Here's a quick breakdown of each level:
Basic: $8 a user per month starting at three seats
Standard: $10 a user per month starting at three seats
Pro: $16 a user per month starting at three seats
Enterprise: Contact them for more information
If you'd like to test drive Monday.com first, you can get started with their free trial here.
#3 – Wrike — The Best For Creative Teams
Wrike is a dynamic workflow management system built for creative teams. Repetitive admin tasks and reiterations can be the bane of any creative team trying to ship great work. Wrike makes it easy to streamline all your tasks in one place to ensure both productivity and speed.
With Wrike, you can manage incoming creative requests throughout their entire lifecycle with customizable forms, templates, briefs, and markup tools, so you always know the progress on each job.
For instance, Wrike's approval tool makes it easy for anyone to leave clear project feedback on deliverables with comments for specific images, videos, or documents. You can check who is working on any project whenever you need it and create a more streamlined intake system for work requests by creating one formal point of contact for each work project.
This makes it easy to finish projects that require multiple reviews and revisions.
Some of their best features for creative workflow management are:
Project approval templates
Project scheduling
Task assignment
Daily marketing operations management
Drag-and-drop dashboards
Wrike is free for up to five users and includes 2 GBs of space, along with tools like spreadsheet view, task management, file sharing, and basic integrations.
You can take advantage of a free trial and see how you like it. Once you're ready to choose a paid plan, the main plans are:
Free: Up to 5 users with a shared tasks list for small teams
Professional: Up to 15 users at $9.80 per user per month with full project planning and collaboration
Business: Up to 200 users at $24.80 per user per month with work management customization and reporting
Enterprise: Unlimited users, contact their team for custom pricing for the most comprehensive solution
Wrike also offers plans that cater specifically to marketing/creative teams and professional services teams. Both of these categories have a free trial and unlisted pricing.
While Wrike does get meticulous with their pricing and feature breakdown, it ensures that you get the best plan for your specific creative workflow needs. I recommend you check out their pricing page for a full list of features to get more familiar with what's included.
But first, you can try out Wrike free for 14 days here.
#4 – Trello — The Best Free Workflow Management Software
If you're on a budget, Trello's workflow system can get you on the right track for free for up to 10 boards per team.
Millions of users are already using Trello and their organized dashboards to prioritize and automate daily tasks and projects. With it, you can create boards and name them, add your tasks and team, and then add specific details to each card like due dates, work briefs, checklists, attachments, and comments.
Trello works great as a simple workflow manager for smaller teams geared for growth and efficiency without shelling out a ton on work software expenses. It is a Kanban board style layout and is especially popular for people who like very visual task and workflow management.
As mentioned, Trello is free for up to 10 boards per team, with unlimited cards and lists and a 10 MB per file attachment limit. If you love their free version so much that you want to go with a paid plan, you can choose from two options:
Business Class: $9.99 per user per month
Enterprise: $17.50 per user per month for 100 users (the more users you add, the less you pay per user)
Get started with Trello for free here and use their easy boards feature to begin organizing your workflow.
#5 – Smartsheet — The Best For IT and Operations
Smartsheet makes for excellent workflow management software in IT and operations teams. Generally, the two things you need when working in IT management are consistency and speed. Smartsheets deliver on this by allowing you to quickly adapt and archive projects, coordinate data center migrations, and even set up automated alerts and approvals to save you time.
Smartsheets enables collaboration across teams and gives you control access to resources. They bring it all together on an easy-to-use dashboard with plenty of reporting capabilities.
Smartsheets offers a free 30-day trial. For the paid plans, they break down their pricing tiers into four categories. These include individual, business, enterprise, or premier. To learn their prices, you'll have to contact them first. I recommend visiting their price page to get a feel for what features and capabilities you get with each tier from their exhaustive list of features. You can also watch a demo of the tool.
Try Smartsheet free for 30 days and start creating better workflows for your team today.
Summary
Choosing the best workflow management software for you depends on a lot of variables. But you can easily start weeding out what won't work by outlining what your workflow needs are in terms of niche, workflow needs, and team size.
I'd recommend ClickUp and Monday.com for almost anyone. ClickUp is the most versatile system to work with. It has a stellar price point, can be easy to use once you get over a slight learning curve, and it's highly customizable for just about any workflow management need imaginable. Monday.com is ideal for remote teams and collaboration, which is needed now more than ever.
If you have more specific workflow needs for your given industry, use this guide to learn how to choose the right workflow management software for your company's needs.
The post Best Workflow Management Software appeared first on Neil Patel.