Wednesday, April 7th, 2021
now browsing by day
No matter how creative and convincing your marketing can get, when you are trying to sell to someone, they sense they are being sold to. Maybe they are primed for that sale and ready to buy, or maybe not.
On the flip side, someone telling a story about their experience with a brand and recommending it is a lot more convincing, especially when they aren't paid to do it.
Testimonial examples can boost the social proof in your paid ad campaigns, adding authenticity to your online marketing. Adding recommendations from your customers or clients into your digital ads can help them stand out from the competition, stop people from scrolling by, and encourage users to click through to learn more about your brand.
Why Are Testimonial Examples Important in Paid Ad Campaigns?
There are many considerations when you are building paid ad campaigns: images, text on the images and in the copy, calls to action (CTAs), URL, click-through landing page, and more.
With all these constraints and necessities, you may be tempted to lean into the direct sell as you build your paid ad campaign. You may want to get to the heart of things and tell people why you are amazing and why they should buy (and where).
There are also a lot of reasons to slow down and think about incorporating testimonial examples into your paid ads.
Below are four reasons to incorporate customer reviews in your paid campaigns.
1. Testimonial Examples Improve Credibility
Whether your product works better than anyone else's, or your prices just can't be beaten, a skeptical customer is always going to wonder if it's too good to be true when they see your ad. If they haven't heard of you, they may wonder what you're all about.
They might click to read more and explore, but maybe they'll just assume you aren't legit and keep scrolling past your ad.
Testimonial examples can change all that by adding credibility to your ad and your brand. Suddenly, there's some proof you're worth it.
2. Testimonial Examples Set the Stage for Great Customer Relationships
Customer service is a critical element for many buyers. In fact, Microsoft reports that as many as 90 percent of consumers consider customer service when thinking about working with a company.
It's not just about a good product at a reasonable price; customers want to know they will be supported if they have questions about your product or service.
Testimonial examples give you a chance to share happy customers' best experiences. They can speak to the customer service they interacted with or the overall experience working with your brand. This can help make potential customers feel more confident in their decision to use your brand.
3. Testimonial Examples Show Authenticity
People feel sold to all day and are always on the lookout for real authenticity. An Edelman report shows that nearly three-quarters of consumers actively try to avoid ads.
Testimonial examples give you the chance to tell real stories about real experiences. People love hearing stories, and when they feel connected to them, they may be more emotionally inclined to work with you.
4. Testimonial Examples Increase Conversions
While all the above reasons are great psychological reasons for using testimonials in your paid campaigns, at the end of the day, your marketing is about making more sales for your brand. Your paid ads should be designed to convert.
When people feel more confident about your offerings and feel an authentic connection with your brand, they are more likely to click through your ad and get to your landing page or website. From there, they are more likely to learn more and eventually make that sale. In fact, a VWO study found that using testimonials increased sales by 34 percent.
When it comes down to it, one of the best reasons to add testimonial examples to your ads is to make more sales.
How to Use Testimonial Examples in Paid Ads
Is it time to start incorporating testimonial examples into your paid ads? There are different ways to do this, but let's talk about the high-level considerations for getting those testimonials into your ads.
1. Incorporate High-Quality Images
A photo of your product or people interacting with your product (with a quote incorporated in it) is a great way to get started with testimonials in your ads.
Make sure you use a high-quality image with a testimonial quote that is short and easy to read and grabs a buyer's attention quickly. You want people to "get it" immediately.
Another way to use images to showcase your testimonials is a screenshot of reviews or star ratings from your website. Again, make sure you have the highest quality image you can so buyers don't strain to read or struggle to understand what you're trying to convey. Keep it simple.
More about this below, but remember to make sure you have legal rights to the reviews you are sharing. You can't just go and copy them from anywhere without the consent of the reviewer.
2. Experiment With Different Formats
Testimonials from your happy customers can come in a lot of different formats. They might be text quotes, full case studies, or video testimonials.
As you build your marketing campaign funnel, you can experiment with different formats and integrate different types of testimonial examples throughout the various touchpoints of your ads.
For instance, you can use a simple, short quote in the images or text of your digital ads. That introductory text should really deliver a punch such as "This product changed my life" or "I couldn't do my work without this service."
You may want it to be pithy and draw the readers' attention so they are interested in reading more.
You could also use video interviews or testimonials from customers or clients who love what you do. Even as these are more interactive and engaging, they should still be short and sweet, grabbing the viewers' attention quickly.
3. Decide What Narrative You Want to Share
Carefully consider what kind of story you want your testimonial examples to share. Of course, they should be positive endorsements, but you will want to figure out the angle you want your testimonials to take.
They should be more nuanced than just "it's a great product" or "you should buy it."
Make sure your testimonial examples are framed around a compelling reason. Why is your product different from others? Why are your happy customers actually happy? Why would they want to tell others?
Imagine your customers talking to their best friends. What's the reason they endorse your product? What brought it up in their conversation in the first place, and why are they excited to talk about it?
Especially if you decide to try some A/B testing or a variety of ad types to see what works best, building all your ads around a single narrative can help keep everything cohesive, improving the chances you connect with and convert your customers.
4. Make It Conversational
Testimonial examples in your ads can be a way to engage with your customers rather than just speaking at them. Keeping the tone of the ad approachable and conversational can add to the authentic nature of your message.
Maintaining a human touch is the key to this kind of message. Make sure it sounds like friends talking together, not a keynote presentation or a car salesperson.
One way to do this is to incorporate user-generated content, such as videos or photos. This kind of content brings honesty and a genuine feel to your ads.
Be careful to watch that narrative, as we discussed above, to ensure your message isn't muddled. By setting those parameters for the message you are trying to convey, you can filter which user-generated content will be best for your paid ads.
5. Lead From the Ad to the Page
Keep the whole customer journey in mind as you put together your paid campaign using your testimonial examples. Remember that it's not just about the ad; it's about where they go next and what they will do once they get there.
You can use your ad to build intrigue and interest, then continue that story on the page you send them to.
Start with a short testimonial quote, an image of the customer sharing the testimonial, a quick video clip, or another snapshot that is going to get people interested.
Maybe it starts with a question such as, "How did this product change my life?" Perhaps it contains the first part of a testimonial and includes a CTA to tell the reader to click to hear the rest.
Your next step is to deliver. On the page, make sure you tell the next part in written text, graphics, a longer video, or a case study.
Don't forget to make it easy to close the sale by including a buy link or another way to capture their information.
6. Don't Overlook the Legalities
There are a lot of legal regulations surrounding how you use testimonials. This isn't legal advice, and you should consult an attorney if you have specific questions. However, there are a few things to consider as you use testimonials in your ads.
Make sure you have permission from the people whose testimonials you are using. Don't just cut and paste a great review you find out there.
Reach out and make sure the customer gives you written permission to use the review for marketing purposes. You can also include this information on your website or other places you are collecting reviews so customers aren't surprised, but you should still get that permission.
Ensure your testimonials are accurate and typical for most buyers. In other words, don't exaggerate or oversell using testimonials. Let's be honest: this isn't just about the legalities. It's also the right thing to do. Your testimonials should be about honesty and authenticity.
2 Great Testimonial Examples
Are you still wondering what testimonial examples look like in a paid campaign? Here are a couple of examples to get you started:
Peet's Coffee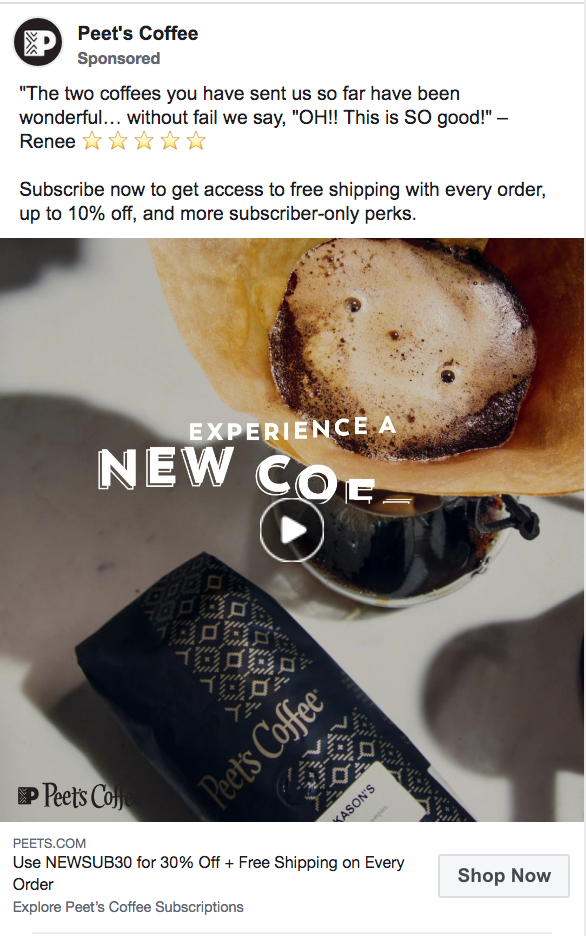 Using a real review from a user of their coffee subscription services, this Peet's Coffee Facebook ad catches your eye with its simplicity and the star bar.
It puts a positive review of the subscription service right in front of you. The review retains a bit of authenticity as well with the exclamations and random capitalizations. It isn't "cleaned up," so to speak.
The rest of the ad continues with specifics about the services and a quick video overview. Starting with the review, it draws you in to learn more about what makes Renee so happy.
Fabletics
This Fabletics Facebook ad showcases a series of quick testimonial video snippets from happy wearers of their products. It's instant proof these pants do what they're advertised to do. They also show people actually wearing the pants, which is an added layer of authenticity.
You'll notice the line on the bottom of the video that reminds people these people were compensated for the use of their reviews.
Conclusions
As you gather reviews from your customers, it may be time to start thinking about how you can incorporate them into your paid ad campaigns. Paid internet advertising can help you find your ideal audience and connect your brand with what your audience is looking for.
By setting up testimonial ads, you can bring social proof and realness to your brand, encouraging your audience to click to learn more and convert to customers.
Creating and maintaining your paid campaigns may be overwhelming to some. If that's true for you, we can help. Our team of experts specializes in paid ads, as well as SEO and content marketing.
How will you be using testimonial examples in your next paid ad campaign?
If your business has complex advertising needs, there's a good chance Google Ads Manager can help.
Rather than having your PPC spread out across several separate Google Ads accounts, Google Ads Manager brings all of your paid ads together in one place. This makes managing your campaigns much more efficient and allows you to maximize return on ad spend.
Setting up a Google Ads Manager account is simple and can quickly change the way you run your paid ads. Ready to give it a try? Here's how to get started.
What Are Google Ads Manager Accounts?
Google Ads Manager accounts are dashboards that allow you to manage multiple Google Ad accounts all in one place.
Rather than logging in to lots of different ad accounts with separate usernames and passwords, Google Ads Manager puts everything in one place, making it more convenient to manage your ads.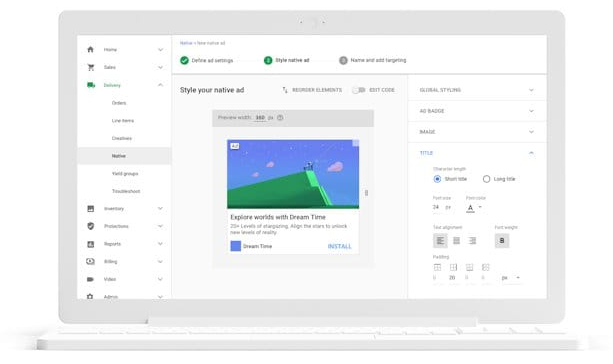 Originally called My Client Center, Google Ads Manager provides many benefits to organizations with complex marketing needs. You can:
Manage all your ads in one place
Access campaigns across different accounts
Control who has access to different accounts
Quickly monitor and compare performance across separate accounts
Consolidate billing to better understand your costs
If your business needs to access many different Google Ad accounts, then a Manager account might save you a ton of time and allow you to work far more efficiently.
Why You Should Use Google Ads Manager Accounts
If your business requires access to multiple Google Ad accounts, then a Google Ads Manager account can significantly boost your efficiency. Here's a few benefits of using this tool:
Save Time
Logging in and out of accounts takes time and it also means you don't get a complete picture of the data. The more information you have at your disposal, the easier it is to optimize your ads, and with a Google Ads Manager account, you bring all of this data together in one central place.
Improve ROI
Running paid ads is all about return on investment. If you're not getting the right return, then there are other digital marketing strategies you could be focusing on. According to WebFX, the average small and medium-sized business spends between $108,000 and $120,000 per year on PPC. Google Ads Manager can ensure you're making the most of your ad dollars.
Who Should Use Google Ads Manager Accounts?
Google Ads Manager accounts are ideal for businesses that run multiple ad accounts. The most obvious example is advertising agencies, but this also applies to businesses of all sizes that do a lot of PPC.
Ads Manager Accounts are particularly useful for marketing agencies because you can seamlessly integrate with client's accounts.
For example, my agency works with clients from all over the world, so it's just not feasible to log in to each client's account with a separate username and password. Instead, through Google Ads Manager Accounts, we can manage up to 85,000 accounts (depending on ad spend) all in one place.
This makes life easier, but it also makes the data much more powerful. If you have all the insights from 100 clients in the same industry all together in one place, it's much easier to identify where campaigns are going well or where there's room for improvement.
Plus, this type of account enables clients to share access to their Ad accounts securely. The client doesn't have to share their passwords or bank details, and they're still able to make changes to the account or unlink from the manager account if they wish.
While marketing agencies are most likely to be running paid ads on a scale where they benefit from Google Ads Manager Accounts, there are also plenty of other companies that run multiple ad accounts.
Large companies with multiple departments may have separate marketing teams running their own Google Ad Accounts. Although it's important to make your marketing specific and targeted, which the multiple ad accounts allow for, you also need to have a clear view of the big picture.
Bringing your accounts together under Google Ads Manager allows you to combine the individuality of segmented marketing with the benefits of greater oversight and analysis.
How Many Ad Campaigns Can Be Used in Google Ads Manager Accounts?
The more Google Ad accounts you need to manage, the more Google Ads Manager becomes beneficial. While you can have up to 20 Ad accounts on one email, Google Ads Manager makes them much easier to manage, and beyond 20 accounts is almost a necessity.
No matter what type of campaigns you're running, you need to have oversight, so Google Ads Manager can be beneficial.
Here are some campaigns where Google Ads Manager can make a difference:
Google Ad Campaigns With Multiple Collaborators
Large paid advertising campaigns often have multiple collaborators, including managers, paid ad experts, and team leads. All of these people need access to the account, but you don't want to share passwords and grant unlimited access.
If you've got hundreds of campaigns, you want people to have easy access to the parts they need without having to share sensitive non-essential details.
While a regular Google Ads account allows you to do this, it's very time-consuming to update permissions on multiple accounts constantly. Instead, Google Ad Manager will enable you to share access securely from a central point.
When you manage multiple ad campaigns and have multiple stakeholders, Google Ads Manager is a great way to smooth out the process.
Google Ad Campaigns Targeting People at Different Points in the Sales Funnel
One of the main benefits of paid ads is the ability to target very specific groups of people. When you run an ad on Google, you're not just putting it out there and hoping the right people find it; you set specific parameters that ensure your message reaches the right people.
For example, you might segment your audience based on where they are in the sales funnel. When you do this, though, you've got to be highly organized to optimize each stage of the funnel.
When data is spread out across lots of different accounts, it's almost impossible to keep track of performance across segments. You need to quickly access all your campaign data and make changes based on specific insights. To do this, you need everything to be in one place.
This offers a huge opportunity to stand out as 76% of marketers aren't using behavioral data to target customers with relevant ads.
Google Ad Campaigns Where Analytics Overlap
The key to optimization is in the analytics, and when you have the data from hundreds of campaigns all in one place, you're much more likely to get those crucial insights you need.
Most of your ad campaigns will have some similarities. Maybe they target the same audience, they're in the same niche, or they target the same point in the sales funnel.
While every campaign should be unique, there's also a lot you can learn from comparing similar campaigns.
When you have all your analytics in one place, you can use them to spot trends you otherwise wouldn't be able to see.
For example, you might have 20 different campaigns all targeting people at the decision stage of the sales funnel, and one is performing particularly well. Even if your campaigns are in completely different industries, you can use the data to isolate why that one campaign is doing so well and find ways to implement it in other markets.
The more data you have, the more useful it becomes, and Google Ads Manager allows you to bring all your analytics together in one place.
Google Retargeting Ad Campaigns
Retargeting is an incredibly useful tool for marketers, and Google Ads Manager makes retargeting even more powerful.
When people click on your ads and visit your website, they're added to your remarketing audience through browser cookies, allowing you to target them with very precise ads. People who have already visited your site are more likely to become customers, which might be a great way of boosting your ROAS (return on ad spend).
Need help setting up retargeting ads? Here's my A to Z on setting up your retargeting with Google.
Google Ads Manager helps you better use retargeting data by allowing you to piggyback off all the hard work you've done on other campaigns. For example, if one specific type of audience or ad works well in one vertical, you can test it in others.
How to Set Up and Use Google Ads Manager Accounts
Setting up a Google Ads Manager account and linking all your ad accounts is simple, and it might make your life a lot easier.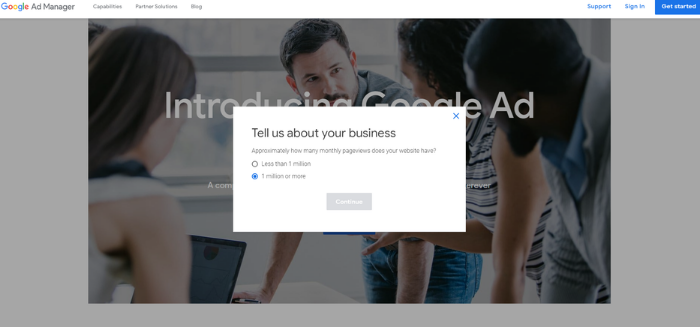 head to the main Google Ads Manager page and click "Get Started"
answer a couple of quick questions about the number of page views your website gets and whether or not you have an AdSense account
If your website has more than one million page views per month, you'll be directed to get in touch.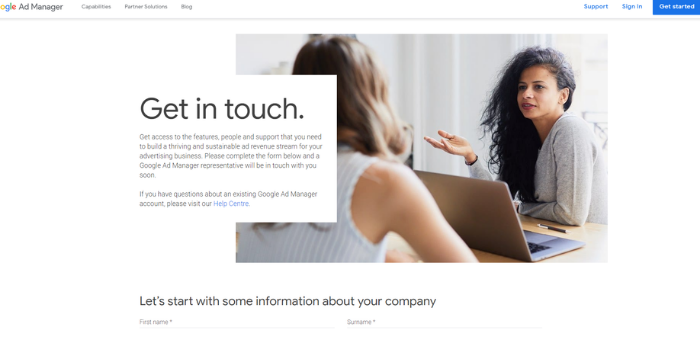 Fill out the contact form with information about your business.
A Google representative will contact you and help you with your setup.
If your website has less than one million page views per month:
Create a new AdSense account or sign in to your existing one
Name your account
Select what you're using your account for
Choose a timezone
Select the currency you want to use for your campaigns
Accept the terms and conditions
Click on save, and you're ready to go
Once your Google Ads Manager account is ready, you can start to link your ad accounts or those of your clients:
Click link existing account (next to create an account).
Enter the client account's Google Ads ID (this is the ten-digit number in the top-right corner).
The client account will receive a request to link to the Ads Manager in its account.
The client account needs to accept the request.
The client account chooses the level of access it grants: administrative, edit, or view.
Once the client accepts the request and grants you administrative access, you can manage that Google Ad account.
It only takes a few minutes to set up a Google Ads Manager account and link as many Google Ad accounts as you wish, but it can save you a whole lot of time when it comes to managing your paid ads.
Conclusion
If you have complex PPC campaigns spread out over several Google Ads accounts, then Google Ads Manager could make a huge difference to your operations.
To maximize your return, all your campaigns should work in unison, allowing you to target particular groups and make use of all the data available to you. This is very difficult to do if you're running campaigns through different accounts.
When you create a Google Ads Manager, you bring all your pay-per-click advertising together in one place, improving efficiency. Rather than logging into multiple different accounts and trying to piece together lots of different analytics, set up your Ads Manager account and get more out of your PPC.
Are you set up with Google Ads Manager yet?