Thursday, April 1st, 2021
now browsing by day
Instagram is extremely popular. The image-heavy platform is the fifth most-used social media network in the world, with over 1.2 billion users.
If you don't have a presence on Instagram, you're missing out on building an audience and increasing your sales.
To get the most out of Instagram, you should create a solid Instagram bio so users can get a clear, concise idea of who you are, what you're about, and, most importantly, what you can offer them.
Here are ten of the best Instagram bios for small businesses and explain why they're excellent. We'll also include tips for crafting a strong bio and what must-haves to include on your company account.
10 of the Best Instagram Bios for Small Businesses
Here are several small-business Instagram bios that hit the mark and why. We've also included takeaways you can use for your own company.
1. Ellevest

Ellevest is a digital investing platform. CEO Sallie Lee Krawcheck co-founded the company to empower women to take greater control over their financial future.
Why This Instagram Bio Is Great
The Ellevest Instagram bio works because it clearly states who the business is for (by women, for women), the industry it's in (financial services), and the type of business model it uses (membership-based). This gives the reader a good idea of the target audience and what they'll achieve through the service.
The company also includes a Linktree link in its bio, a platform allowing you to showcase additional links to content you want to share with your followers. This link points users to multiple brand blog posts and membership webpages.
You can borrow this for your own small business. After all, a Linktree link isn't just a content-sharing opportunity: You can walk people directly to your landing pages via Instagram, cutting through the noise so they can more easily buy from you.
2. Pura Vida Bracelets

Pura Vida, which translates to "Pure Life," is more than just a bracelet retailer. The company has a community of over 800 artisans in countries such as Costa Rica, El Salvador, and India who earn money crafting homemade jewelry.
Why This Instagram Bio Is Great
First off, the Pura Vida Bracelets Instagram bio is structured with various emojis, which saves space and gives off a fun vibe. "Fun" works here because the company features tons of colorful images of smiling people modeling the products—it's on-brand.
Second, the emojis-as-bullet-points help clearly state the bio's main areas of focus, particularly "FREE SHIPPING." This is good for small businesses to highlight, especially if your main competitors don't offer it.
Lastly, the branded hashtag, #PuraVidaBracelets, is a nice touch. Small-business retailers should consider implementing a personalized hashtag as a way to social-listen and reshare UGC across social while getting their brands' names out there.
3. The Freckled Hen Farmhouse

Created by lifestyle blogger Natalie Freeman and her husband Luke, The Freckled Hen Farmhouse is both a brick-and-mortar and online shopping destination. This general store has everything from home goods to local products to garden supplies.
Why This Instagram Bio Is Great
The Freckled Hen Farmhouse Instagram bio doesn't cater to one audience over the other. Instead, it caters to both in-person and online shoppers.
The bio includes its store hours, local delivery options, and phone number. Additionally, the company plugs its rental cottage in the bio, adding more opportunities for loyal customers to spend money on the brand. Finally, it includes a Linktree link leading to its store website, newsletter sign-up page, and seasonal and year-round category pages.
If you're a small business with an online and offline space, it's a smart idea to speak to all your customers in your Instagram bio.
4. Lush Cosmetics

Lush is a values-driven brand. Founded in London, the cosmetics company prides itself on fresh products, no unnecessary ingredients, and cruelty-free testing.
Why This Instagram Bio Is Great
Unlike our other examples, the Lush Cosmetics Instagram bio keeps it short and sweet, saying, "We're creating a cosmetics revolution to save the planet," followed by two emojis, its branded hashtag, and a Linktree link.
The message is direct, and words and phrases like "revolution" and "save the planet" feel bold and exciting coming from a makeup brand. Similarly, small brands can, and should, experiment with how they describe their company, as long as it feels relevant—otherwise, it will come off as confusing, or worse, inauthentic.
This bio is a good reminder, too, that just because you have more space doesn't mean you need to use it. That in itself is a departure from jam-packed bios and even a bit surprising. Our brains like novelty, so don't be afraid to do things a little differently for your business.
5. Later

Later is a leading Instagram marketing platform. The company boasts millions of users, and social media professionals, brands, and influencers can use the tool to manage content across Instagram, Pinterest, and even TikTok.
Why This Instagram Bio Is Great
There are a lot of things working for the Later Instagram bio. First, the company does a great job expanding the copy beyond its name to better reach users on the platform who may be looking for this type of service (social marketing platform).
By improving its Instagram SEO with relevant keywords, the brand increases its chances of being found. Plus, "Later" is a common word, so it's good to add more context for searchers.
Next, the company states it's the "#1 Marketing Platform for Instagram." Piggy-backing off SEO, this is good to market to potential users.
Small businesses can optimize their bios with applicable keywords and feature brag-worthy accomplishments to get readers' attention.
6. ALOHA

ALOHA produces USDA organic, vegan, and gluten-free protein powders, drinks, and foods. The brand shares plenty of recipes and UGC on its site and social media platforms.
Why This Instagram Bio Is Great
Taking a page out of Later's book, the ALOHA Instagram bio asserts the company as its industry's leader. While the brand keeps the copy to a minimum, it focuses on the keywords its customers care about, like "organic" and "plant-based."
ALOHA also changed its profile picture to showcase it was named a Certified B Corporation. These companies must meet strict social and environmental standards, among others. If your small business has a prestigious distinction or won a big award, it's worth highlighting it in this space.
7. Lokal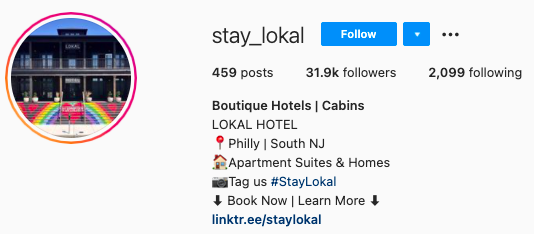 A husband-and-wife duo created the Lokal Hotel after dreaming up ways they could improve the Airbnbs where they'd stayed and the hospitality experience in general. This home-away-from-home brand offers hyper-local lodging in the Philadelphia and Southern New Jersey regions.
Why This Instagram Bio Is Great
The Lokal Hotel Instagram bio covers a lot of ground. It includes a specific category, "boutique hotels | cabins" instead of just "hotel," so those seeking this particular experience can find it, and expands on this with "apartment suites & homes."
On top of the location and branded hashtag, the bio points out the Linktree where guests can book their stay, sign up for its newsletter, and more.
Other small businesses, especially those in this space, can take a few cues from this bio. By keeping all this information centralized, you could keep potential guests engaged and on your page longer.
8. GOODEE

GOODEE is a top online marketplace. Designers and entrepreneurs Byron and Dexter Peart founded the company to curate brands that not only looked good but sparked good too. As such, they only work with artisans who prioritize positive environmental or social impact.
Why This Instagram Bio Is Great
The GOODEE Instagram bio lays out what the business is (a curated marketplace) and its focus (good design meets good purpose). Like ALOHA, pointing to the company's B Corp designation and 1% for the Planet certification aligns with its mission and signals to consumers what's important to the business.
This is both sincere and savvy: 72 percent of U.S. consumers believe it's important "to buy from companies that reflect their values," according to Retail TouchPoints.
So, if your small business is values-driven, don't shy away from including that in your marketing and messaging. After all, the customers you seek are also seeking you.
9. Rumpl
Rumpl operates in the outdoor-industry space and helps keep campers and adventurers warm. After a successful Kickstarter launch, the company continues to grow and expand its inventory.
Why This Instagram Bio Is Great
There's beauty in the simplicity of the Rumpl Instagram bio. It mentions its best-known item—blankets— and gives a brief, relatable description of the materials in them. The company also mentions its "Shark Tank" appearance and includes a branded hashtag and link to a current giveaway.
Instagram contests are popular and can help accelerate your brand growth. This is especially true if you partner with another company and can leverage each other's audiences. It's something your small business should consider (and then promote in your Instagram bio, of course!).
10. Letterfolk

This home-decor biz produces letter boards, tile sets, paper goods, and more. A married couple founded Letterfolk, and the company has developed a big following thanks to its thoughtfully designed products and national press hits.
Why This Instagram Bio Is Great
Instead of using the company's Instagram bio to direct followers to use certain hashtags, Letterfolk invites its followers to check them out, saying, "See LF products in the wild," followed by relevant hashtags. Using this hashtag, consumers can view how other people use and display their products. By making this tweak, it feels more community-oriented right away.
Another notable distinction: It's stated in the bio that Joanna and Johnny are not only a husband-and-wife team but also a small business.
Since some shoppers specifically look to buy from smaller companies, this is an excellent way to get in front of potential shoppers. If you don't call-out your small-biz standing in your bio, consider adding it and see if there's an increase in engagement.
5 Tips for Creating the Best Instagram Bio for Your Small Business
Now that you've seen examples of some of the best Instagram bios for businesses, let's recap the top ways to make yours stand out.
1. Use Creative Elements
Some brands add emojis to the mix in their Instagram bios. Aside from highlighting your brand's personality, these icons can help influence readability. This could help your messaging stand out. So, you might want to try cutting back on copy and increasing white space by including emojis.
Brands can also change up font styles in their Instagram bios. This adds variety. However, be careful to make sure the script is readable, and don't overuse it.
2. Show Your Brand's Personality
You want to capture your brand's personality in your Instagram bio. Experiment with copy, emojis, and other creative ways to show it off.
Don't be afraid to play around a bit and have fun with your followers, either. Drizly's Instagram bio comes to mind:

Be careful not to mistake "social media" as an excuse to depart from your familiar brand voice, though. For example, a hospital using laughing emojis in its bio wouldn't be a fit—and might even make patients nervous! Alternatively, seeing emojis on the BarkBox Instagram bio feels completely in-line with the company's fun reputation.
Bottom line: Know your brand and know your audience.
3. Share User-Generated Content
You don't need to develop a campaign to create a hashtag—though it doesn't hurt. Creating a hashtag unique to your small business is a good way to create brand awareness and help build your community.
Craft a hashtag that includes your company name or captures your ethos. For instance, if you think #JustDoIt, chances are, your brain goes to Nike.
From there, you can encourage your customers to include your hashtag in their social posts and reshare that user-generated content (UGC) on your channels.
You can also repurpose UGC for stories and other content. Incentivize users to share posts with your hashtag for discounts, contests, or just the opportunity of possibly featuring them on your platforms.
4. Clearly State Your Brand's Purpose
You only have so many characters to work with in your Instagram bio. Use this space to clearly state what your small company does and be direct in your ask. For example:
Do you want to build a community? Include your branded hashtag and ask followers to use it.
Are you looking for newsletter subscribers? Include a link in your bio.
Are you looking to increase sales? Add a Linktree pointing to multiple product pages so users can find what they're looking for.
Whatever your goal, be clear about it.
5. Include Links, Hashtags, and More
You have a hard stop when it comes to characters within the bio itself. However, there are options to expand on more details about your business and even cross-promote your other companies or personal pages. Consider including the following:
Instagram handles for your other related brands
your location and hours of operation if you own a physical store
your contact information
your branded hashtag
links to current promotions or contests
a Linktree (or similar) link leading readers to other content
Conclusion
The best Instagram bios authentically match your brand and serves your users.
Checking out the bios of the pages we've listed can help you get a feel for what's working across the board. Also, see what your competitors are doing, and don't be afraid to experiment with different formats.
Social media is an important aspect of digital marketing. Our agency can help if you are having trouble developing a social media strategy. We also offer assistance with content marketing and SEO.
Once you've polished your page, Instagram can be a powerful marketing tool for your business. So don't skimp on putting the work into it.
What do you like about your favorite brands' Instagram bios?
Technology has been advancing at warp speed in the past few years.
One area that has been enjoying some of the most rapid advancements is blockchain.
That doesn't mean solely cryptocurrencies like Bitcoin, Ethereum, and the slew of other cryptos being peddled on the crypto market.
Let's look at non-fungible tokens (NFTs) and how brands can use NFTs in their marketing campaigns.
What Are NFTs?
While they've been around for a couple of years, NFTs have recently become a hot topic (and even hotter investment).
What are they, and how do they work?
To understand non-fungible tokens (NFTs), we must first define the word "fungible."
If something is fungible, it can be exchanged for something of equal or similar value. A typical example would be fiat currency (and even cryptocurrency). It's fungible because you can trade it for goods of an equal value. You can also trade it for another currency if need be.
On the other hand, something that's non-fungible is unique and therefore can't be exchanged at equivalency. For example, a diamond is non-fungible as no two diamonds in the world are alike, and thus each has its unique value. You can't trade one for another at equivalency.
A non-fungible token is a cryptographic asset created using blockchain technology.
What sets NFTs apart from cryptocurrencies (which are fungible tokens as they are identical to each other) is that they have unique identification codes and metadata to distinguish one NFT from another.
Because each NFT is unique, it cannot be traded or exchanged at equivalency with another NFT. The result is that each NFT is a digital collectible, a one-of-a-kind asset that can't be replicated.
That's where the craze for NFTs started. In 2017, CryptoKitties, a blend between Tamagotchi and trading cards, exploded onto the scene. Each kitten is unique and can be raised, reproduced, be traded— some for as much as $140,000.
NFT mania was born, and today, the interest in NFTs is only increasing.
Why Are Non-Fungible Tokens (NFTs) Important to Brands?
One of the main reasons NFTs are important to brands is that they can be used to represent digital files, such as art, audio, and video. They are so versatile, they can be used to represent other forms of creative work like virtual real estate, virtual worlds, fashion, and much more.
What does this have to with your brand and marketing strategy?
Thanks to the global interest they've generated, NFTs have opened up new ways of brand storytelling and consumer interaction, which, as you know, are the two main pillars of an effective marketing strategy.
With NFTs, you can:
create unique brand experiences
increase brand awareness
encourage interaction
create interest in your brand and product
Ultimately, NFTs can help you increase conversions and drive revenue.
Here are ways brands are using NFTs to power their marketing.
6 Ways Brands Are Using NFTs
The concept of NFTs in marketing may be a bit difficult to grasp. Like most things that are difficult to understand, the best way is to look at examples.
Here are some nifty ways brands are using NFTs. Hopefully, you'll get some inspiration from them.
1. Taco Bell GIFs
Research shows that 83 percent of millennials prefer to do business with brands that align with their values. That's why brands need to support causes they believe in openly (and genuinely).
While Taco Bell has been doing this for years through their foundation, they took it to a whole new level by selling taco-themed NFT GIFs to support the Live Más Scholarship.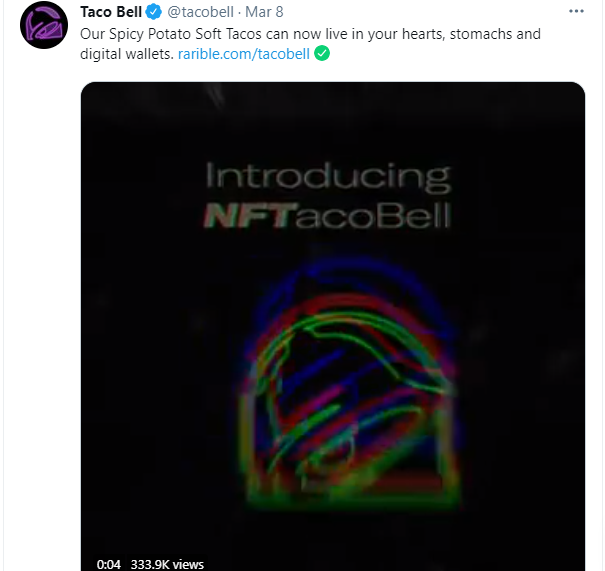 Within 30 minutes of putting their 25 NFTs (dubbed NFTacoBells) up for sale on Rarible (an NFT marketplace), all the GIFs were gone. Each GIF started at a bidding price of $1. However, they all sold for thousands of dollars each, with one going for as much as $3,646.
Creating and selling NFTs was a clever move on Taco Bell's part as it generated a lot of buzz on mainstream media and social media; that's always good for business.
Like Taco Bell, you can use NFTs to kill two birds with one stone:
drive brand awareness
support a good cause
Both are potent factors that can help drum up business for your brand.
2. RTFKT Digital Sneakers
Looking for a way to disrupt the market and make a name for yourself?
NFTs can help you do that.
That's what happened when a little-known Chinese virtual sneaker brand called RTFKT designed an NFT sneaker for the Chinese New Year and put it up for auction.
The sneaker sold for a whopping $28,000.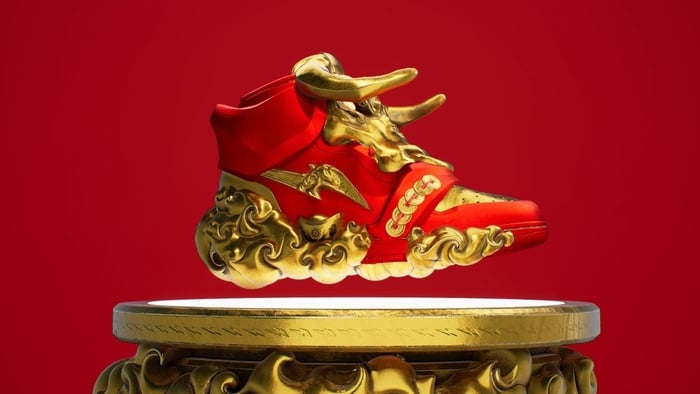 That's quite impressive for a brand that's barely two years old, especially considering they sold a sneaker that can't be touched, let alone worn. Impressive as this was, it was still way behind the $3 million they generated from another NFT sneaker they designed in collaboration with the 18-year-old artist, FEWOCiOUS.
With NFTs still in their infancy, this is the right time for marketers to join the bandwagon. It's a great way to grab attention and build a tribe of followers.
As a marketer thinking of ways to leverage NFT technology, you can take a cue from RTFKT. Create limited memorabilia to celebrate special milestones and holidays, and use them in your marketing campaigns around those holiday seasons. You can give them away to the first X number of customers or even auction them off as stand-alone products.
3. Grimes Videos
Six million dollars in 20 minutes.
That's how much Grimes made from a collection of 10 NFTs auctioned on Nifty Gateway.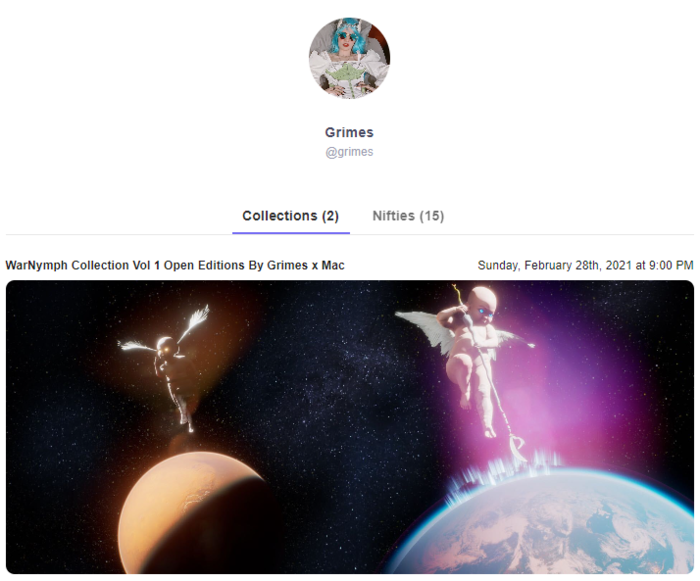 It's clear that people are interested in NFTs, and brands can leverage that interest to market their products. For example, you can:
Partner with artists or auction sites and have your brand present in the auction.
Create an NFT and auction it for charity.
Run a contest (for lead generation) with NFTs being the prize.
Marketing is all about riding current trends and using your creativity to harness the excitement around them to draw attention to your brand.
4. Kings of Leon 'When You See Yourself' Album Launch
With so many musicians and bands around, the music industry has become very competitive. Building and keeping a loyal fanbase isn't as easy as it used to be.
The Kings of Leon found a way to get around that.
They released their album, "When You See Yourself" in the form of an NFT.
The Kings of Leon are using three types of tokens for this first-of-its-kind album release. One type features a special album package, while the second offers live show perks. The third type of token features exclusive audiovisual art.
While the album is available on all music platforms, the NFT version was only available on YellowHeart, priced at $50.

The sale of the NFTs was only open for two weeks, after which no more album tokens were created. This move made the tokens a tradeable collectible.
Being the first band to release an NFT version of an album put the Kings of Leon in the history books.
More than that, it put them in the hearts of their fans by allowing them to own a digital collectible. Now that's an excellent way of fostering brand loyalty.
5. Beeple Artwork
Virtually unknown in mainstream art circles, Mike Winkelmann has become something of a legend.
He sold a JPG file for $69.3 million, making him the third-most-expensive living artist at the time of the auction.
The file is a piece of art sold as a non-fungible token and is the first digital-only NFT auctioned by Christie's.

The two-week timed auction had to be extended by 90 seconds as a flurry of bids came in when the auction was about to close.
What lessons can brands learn from this?
Be quick to embrace new technologies and ideas. With the competition becoming more fierce with each passing day, you must be willing to take risks and be disruptive to outperform.
6. Nyan Cat GIF
A decade ago, the Nyan Cat GIF burst onto the digital scene with a colorful bang. Creator Chris Torres made an NFT version of the GIF that sold for over $500,000 on the crypto auction site, Foundation.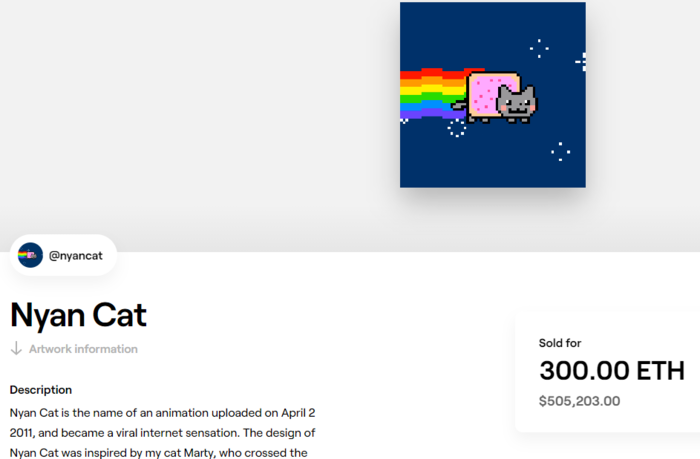 That's right. An animated GIF from the past sold for over half a million dollars.
Chris, however, didn't stop there. He organized an auction where classic memes are being auctioned off as NFTs. One of the memes, Bad Luck Brian, sold for over $34,000 on Foundation.
What can brands take away from this?
The lesson here is that your customers are willing to pay for great experiences. Capitalize on this by turning some of your best ads into NFTs. Create an event where you auction them off and make sure to publicize the event well.
Not only will this boost your brand awareness, but it will also help you reach new audiences in the tech space.
The Future of NFTs
Sure, NFTs are still relatively new, and their practical use is still limited. However, people love them and are willing to spend on them. These are sure indicators that they're here to stay.
Like blockchain technology powering them, NFTs could play a significant role in the digital landscape of the future. That's particularly true for marketers as non-fungible tokens have opened up new avenues for interacting with your audience and creating memorable experiences for them.
Remember, most common technologies we use today (like social media) seemed like fads when they started.
Yet today, we depend on them for so many things in life. NFTs may seem like a craze today, but they bring to the table a lot of beneficial features (like transparency coupled with security) that break the limitations of current technologies we're using.
Conclusion
NFTs are fantastic in creating memorable experiences for your customers. They're also an excellent way of engaging with and interacting with your target audience.
While the technology is still in its infancy, brands need to pay close attention to it. More specifically, you need to research ways you can leverage NFTs in your marketing strategies. For example, you can mint luxury designs of your product, create memorable ad campaigns, or collaborate with NFT creators.
The bottom line is that NFT technology is here to stay, and it's undoubtedly set to be a part of digital marketing.
Are NFTs a fad? Or are they here to stay?