Saturday, March 6th, 2021
now browsing by day
Every now and then Google and YouTube provide us with a little insight into what they're thinking. This small glimmer of hope shows us that we, too, can have success on the platform with the right steps. The YouTube Measurement Program is one of these little glimmers.
YTMP provides a clear list of all the approved partners that YouTube recommends we use in conjunction with the video platform. Software for metrics, data management, influencer marketing, security, and video insights are all present on the list.
In this article, we'll cover what YTMP is and see if it's worth a deeper look.
What Is the YouTube Measurement Program (YTMP)?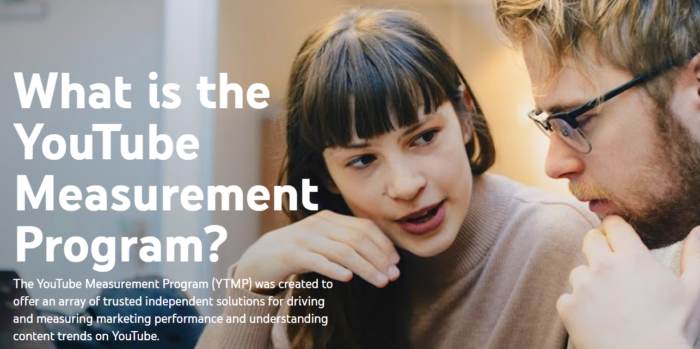 As marketers, we spend a lot of money on measurement tools, software, advertising, and analysis; but how can you be sure the tools you use provide the most up-to-date and accurate data?
Unfortunately, you can't. When you spend time and money creating content, investing in ads, and uploading videos to YouTube, you want to be sure the analytics and metrics you receive are an actual reflection of how well you perform.
That's why YouTube created the YouTube Measurement Program (YTMP). It provides trusted and approved independent companies recommended by YouTube. Now, when you're choosing a new tool or software, you can choose from a variety of companies recommended by YouTube.
Why Is YTMP Important?
It's important because all the companies have been personally vetted by YouTube, which means they meet their requirements regarding service and standards. It also means these companies provide the most accurate and up-to-date information on your performance on YouTube.
Tools use different methods to store, gather, and interpret data. We can't trust everyone with our information, especially when it pertains to our business.
If you're trying to find success on YouTube, you want a trusted company with a track record of proven success.
The YouTube Measurement Program takes care of this for you by personally vetting all the companies and offering a YTMP certification. By partnering with these companies, you're setting yourself up for success.
What About Other Service Providers?
As we look at the approved companies, you'll see it is a short list, and there are dozens, if not hundreds, of other businesses offering similar services.
Are all of these companies providing a sub-par service? Is their data inaccurate? Do they all have a poor reputation?
Let's take two popular tools like VidIQ and TubeBuddy, for example.
Both help you choose keywords, tags, write descriptions, and come up with ideas for content. They help you to gauge competition and see what's trending on YouTube.
But, they're not part of the YouTube Measurement Program. Why is that?
It doesn't necessarily mean there's something wrong with these tools or that they're going to steal your information. It just means they were not able to meet the program's strict requirements. Perhaps they never even tried to work up an agreement with YouTube; we don't know.
The bottom line is, it's best to always go with what the platform itself recommends. If YouTube tells you that you should use a certain set of services, they are your best shot at success.
YTMP Partners
Let's look at some of the YouTube Measurement Program partners to see what sets them apart.
Channel Factory
This global technology and data platform helps improve video performance while increasing contextual suitability and delivering highly targeted content to the right audience. Their flagship product, ViewIQ, analyzes every channel to ensure that you're only running your ads on videos that are relevant to your goals.
How many times have you been on YouTube and had an ad pop up that has absolutely nothing to do with the content you're watching? If an ad for Budweiser is displaying on a video intended for kids under 12, you've got a problem.
Channel Factory specializes in brand suitability and amplification. By ensuring your ads display to only the most relevant viewers, you can amplify your brand and generate a higher ROI.
Integral Ad Science (IAS)
IAS is the global leader in digital ad verification. They help advertisers and content creators receive the insight and technology necessary to protect themselves from fraud.
The end goal is to help create a profitable campaign by targeting the right audience, zeroing in on every impression, and ensuring your ads are displayed where they should.
This sounds a lot like what Channel Factory does, but they have one primary difference.
IAS focuses on "Quality Impressions." They've even trademarked the phrase.
This metric determines what an impression really means. Essentially, they verify the impressions YouTube says you get are eyeballs from real people who are prepared to buy something, in the right environment, and correct geographical location.
Interesting…
Getting thousands of impressions on an ad doesn't matter if your ad wasn't displayed to the right audience. Integral Ad Science helps ensure the impressions you get actually make a difference with your brand.
CreatorIQ
CreatorIQ helps find influencers for endorsement and brand deals. If you want to leverage influencer marketing, CreatorIQ will help you find the right.
They have five primary product offerings, Creator Core, Creator Connect, Creator Pay, Creator Boost, and Creator Hubs. I'll break some of them down.
Creator Core is a tremendous database of all the most popular influencers on YouTube. It even uses Google AI image recognition to connect you with the right person and prevent fraud.
Once you connect with an influencer and your content hits the masses, you'll also receive reporting and analytics showing how many posts you made, impressions, engagement, and total reach.
Creator Connect allows you to build a network of content creators so you can spread your reach in a safe and encrypted environment.
Creator Pay is a way for you to make and accept payments in a systematized and scalable way.
CreatorIQ is an all-in-one solution for influencer marketing. If you're looking for an easy way to find influencers safely, without having to DM hundreds of creators, CreatorIQ seems like a great choice.
How Do You Know If a Company Is Part of the YTMP?
There are two ways to find this out. The first way is to check the YouTube measurement program page. Here you'll find a list of all the companies within each niche and a brief explanation of what they do and what sets them apart.
You can also find out if a tool is part of the program by looking at their website.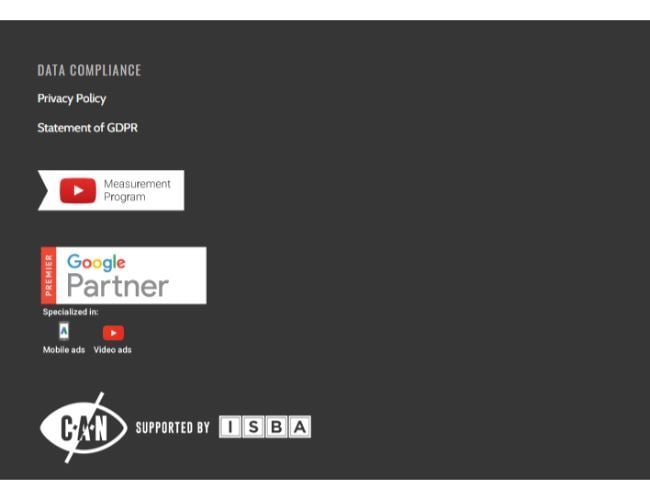 The image above is from the footer on ChannelFactory.com. Every company that is verified by the YouTube Measurement Program will receive this seal of approval. You can use this to help determine if you plan to work with this company or not.
YTMP Certifications

When it comes down to specific requirements, there are three. To become YTMP verified, members must show the following:
proof of strong demand in the market
proof of a strong and successful industry track record
continued compliance with Google and YouTube policies
All the companies you see on YouTube's list meet these requirements. That makes finding the right platform much easier.
What Are the Vetting Standards for the YouTube Measurement Program?
I mentioned the three certifications YouTube presents to their partners, but how do they get those certifications? There is a strict vetting process to weed out less ideal tools. Here are the standards all YTMP partners must follow.
Strong market demand: YouTube expects its partners to have a certain level of demand in the industry. They want the companies they recommend to be popular and well-received by their niche. This is usually a tell-tale sign that they're providing top-notch service.
Successful track record: YouTube wants the best partners with long-term track records of success. Many companies on the list have been in business for 10+ years, so the chances are they're doing something right.
Policy compliance: We all know that Google is serious about its policies and they expect creators and advertisers to follow the rules. The same goes for service providers. YouTube will only recommend companies with a proven track record for following the guidelines.
Accurate and up-to-date information: The goal of YTMP is to help provide creators and advertisers with only the most accurate data. To become part of the program, service providers need to prove that their data aligns with YouTube. If they can do that, it's a gold star for them.
Actionable and insightful metrics: YouTube wants to ensure that the data these service providers offer is actionable, insightful, and has the potential to actually make a difference.
Security and safety: Security and safety are critically important and that's why YouTube requires all members to comply with proper data handling, encryption, and other security measures. You can trust that if you choose a YTMP partner that they're properly handling your private information.
What Does the YTMP Mean for Content Creators?
This leaves us with one final thought, how can YTMP make a difference in your business?
YouTube, Google, Facebook, Instagram, and all these platforms are constantly trying to figure out new ways to get advertisers to choose them. How can this new measurement program help your company? Here are a few ways.
1. Ensures Data Accuracy
Probably the biggest plus is data accuracy. We use so many tools and frankly, they all tell us different things. If you're in SEO, you probably use SEMrush and Ahrefs; but have you ever compared them? The data is completely different, so who do we trust?
The goal of the YTMP is to provide the most accurate data across the board so you get a direct representation of how your money is being spent.
2. Easy Competition Analysis
YouTube lays it all out and shows you each company that they partner with. This makes it much easier to choose a service because you can compare them easily without having to randomly crawl the SERPs looking to solve your problems.
It's a lot like walking down the cereal aisle in the grocery store. You have a much better chance of enjoying your cereal when you're choosing between the five best in the world versus 100 random kinds of cereal.
3. Match With The Right Company
Companies are changing the way they provide services and attempting to provide more of an in-store experience. When you go with a vetted partner you're ensuring that you get a company that aligns with your goals and objectives.
4. Trust, Safety, and Security
Last but certainly not least, security and safety are everything. We have tons of data, and if the wrong person gets access it could cause huge problems. Knowing how companies handle your information is so important, and the YTMP ensures you're only trusting your valuable data with companies that know how to handle it properly.
Conclusion
Do you think the YouTube Measurement Partner Program could make a difference with your content creation? You are much more likely to find a solid tool that serves your needs. If you need additional help these tools don't provide, we can help.
Remember that in the game of marketing, YouTube and Google sometimes give us a little glimpse into how they work and what we can do to succeed. That is exactly what YTMP does. They're telling you that these companies might give you a little advantage.
Do you use any of the companies on the YouTube Measurement Program approved list? If so, let us know which one in the comments and what your experience is/was?
The post What Is the YouTube Measurement Program (YTMP)? appeared first on Neil Patel.
Have you heard of data visualization? Even if you don't know the term, you've probably seen some examples.
Data visualization refers to graphical images that represent and explain data trends or other numerical information, such as charts, maps, scatter plots, or graphs.
You can use data visualization in articles or on web pages to make numbers and data easily digestible to the reader. Especially when you are trying to distill down complex topics to convert more readers, data can add value and help you make your case.
The Benefits of Data Visualization
Visuals are a powerful addition to your articles and presentations.
Our brains process images at a rapid pace, according to an MIT study. Including visuals in your article not only breaks up the text and gives your reader something else to look at, but also may help them process the information more quickly.
Think about it: we've been communicating visually from the cave painting days. Data visualization just takes image communication to the next level, integrating stats and data into compelling visuals that your brain can absorb faster than just scanning numbers.
Plus, it's more than just laying out the numbers. Data visualization is about presenting data in a very specific way to back up your claims or illustrate your point. It's more than just a table of statistics the reader has to work through to figure out for themselves.
Numbers can often be the "proof" you need to convince your reader to take the next step or to make a purchase, but many people don't want to take the time to read through all the data.
According to the Nielsen Norman Group, people don't read word-for-word online, going back to the internet's earliest days. Instead, they scan, looking for stand-out headlines and images that grab them. Data visualization gives you that opportunity to capture their interest and get important stats in front of their eyes.
Examples of Data Visualization
Are you inspired to start creating data visualization images for your content, or are you still needing some examples? Here are a few ideas to get you thinking.
1. USA Today Housing Bubble Graphic
Using an interactive map, USA Today created this graphic to help readers understand the data behind current housing sales trends. The simple color palette makes it visually appealing, and the ability to scroll over each state to learn more means readers may spend more time on the page, interacting with the data.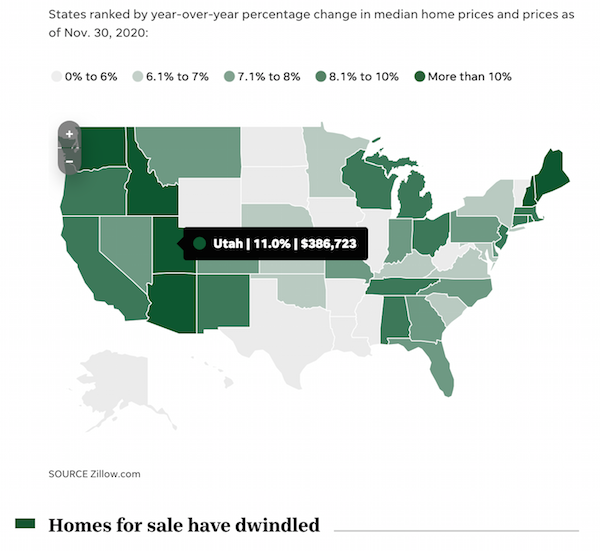 2. CNBC Job Change Graph
This visual from CNBC is an example of using a bar graph in a visually compelling way. At a quick glance, you can see what's growing and decreasing. As you look closer, you can check out more detail about the numbers and specifics.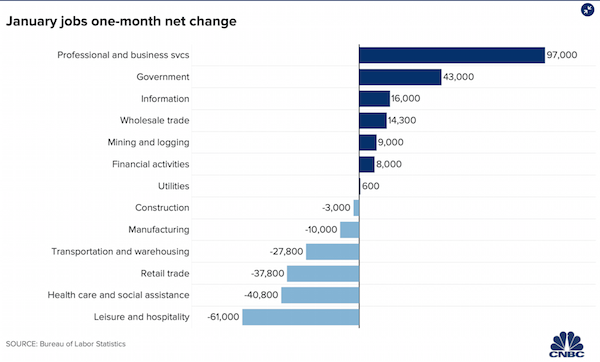 3. NY Times Nutrition Scatter Plot
Scatter plots can get complex, which is why this graphic from the NY Times uses images to help make the point. It also explains the XY axes, so readers understand what they're looking at.
Types of Data Visualization
When it comes to creating unique images, the only limit is your imagination, but here are a few common types to get you started.
Bar Graphs
Bar graphs are a simple option. Think back to your school days and science projects. Bar graphs can be vertical or horizontal, with each bar representing the values of each category.
Bar graphs can represent any set of numbers you need to compare side-by-side, and you can use colors to reflect different categories. For example, you could compare salaries for different jobs, prices for different products, or populations of different groups.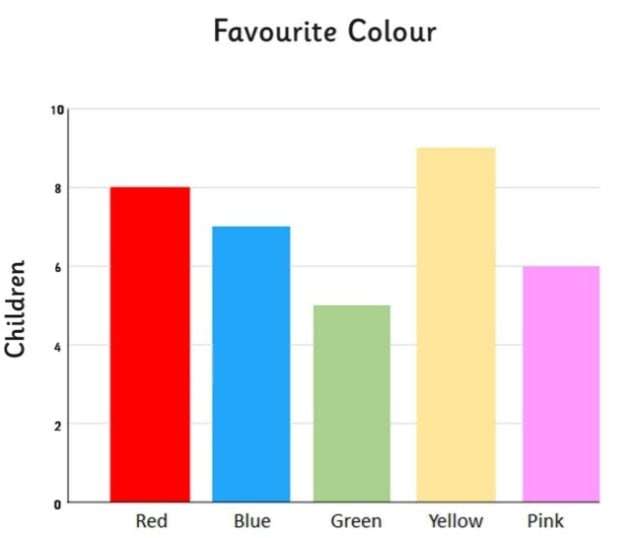 Pie Charts
Pie charts consist of circles representing 100% of something, broken into "slices" of ratios or percentages.
They are a great way to illustrate how various categories compare to their larger context. For instance, you can show how many people of a certain group have different behaviors, habits, or preferences.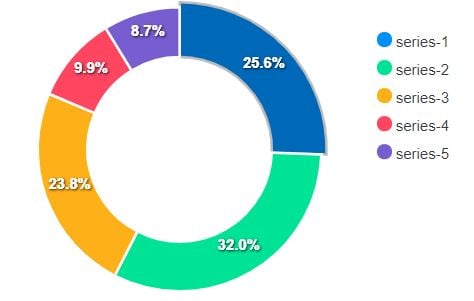 Tables
While not always the most visually compelling, tables can allow you to provide multiple data points or categories to help people understand the relationships among items.
On a table, you can lay out in rows the main categories you're comparing. Along each column, you can include as many different topics as you need to.
Tables are simple and useful but can easily get cluttered. Make sure to highlight the sections that need your attention and use colors to make things stand out. Keep everything lined up and clear to make it easily scannable for your readers.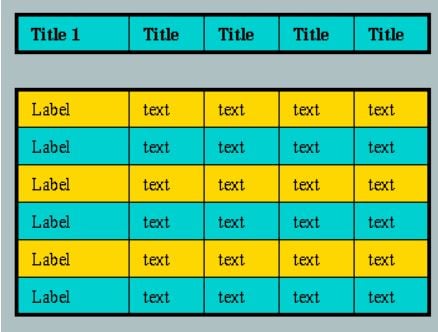 Infographics
A power horse of online images, infographics can mean almost anything. However, an infographic typically acts as a curated collection of charts, graphs, icons, and short text to share high-level information about a topic or tell a narrative.
They are usually vertically designed, with strong headlines and numbers. Its power comes in combining various elements to tell a story. Infographics are great for an overview, such as a brief history behind a topic or a quick lesson.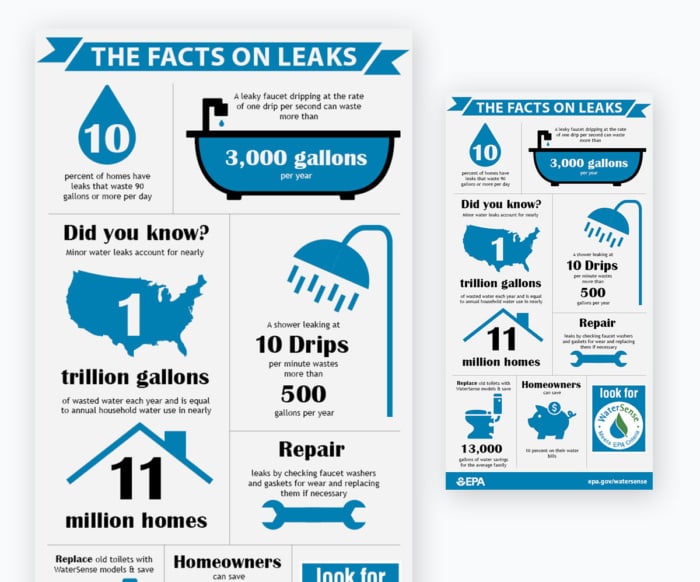 GIFs
What's more visual than a GIF? Functioning as a quick video, a GIF can allow you to show growth, movement, regression, or progress. GIFs often involve an animated graph or chart that shows demographics or change over time.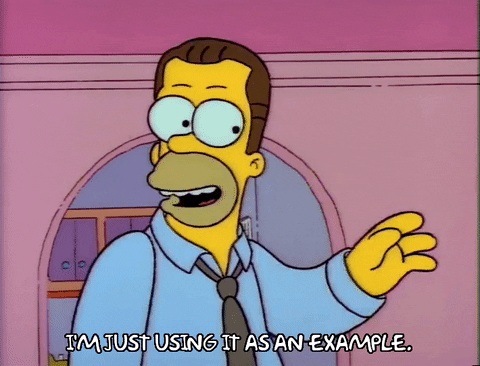 Maps
When the information you present is demographically or locally focused, maps can help tell that story visually. You can connect readers with information relating to specific areas or groups of people in those locations.
Color-coding different areas of your maps can give your readers a quick visual of exactly which areas relate to which topics in your content. For instance, you can shade areas red or blue depending on how that region voted on a particular topic or election.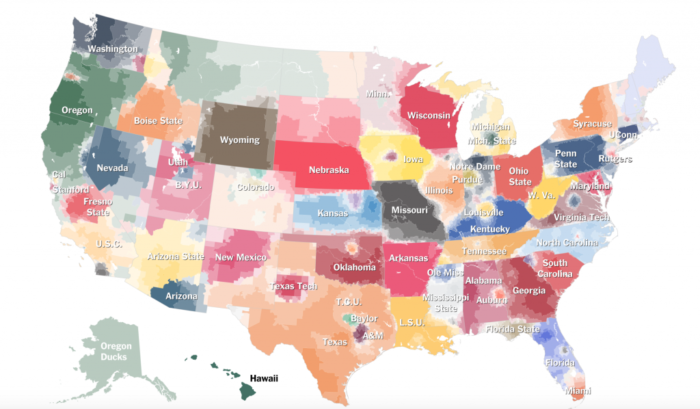 Heat Maps
A heat map can show areas of concentration or intensity. You can use this for actual temperatures, such as climate or record temperatures in certain areas, or you could use it for proverbial heat, showing intensity or even popularity.
Sometimes heat maps illustrate population density, for instance, or the behavior of users on a website, such as how often they interact with a certain area.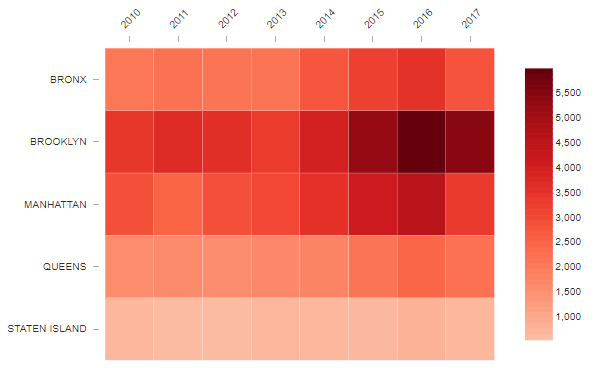 Scatter Plots
A scatter plot is a type of graph that shows the correlation or relationship between two topics on a horizontal and vertical axis, with dots scattered throughout to represent examples of that relationship.
You can draw a line through the area where the dots are concentrated to see trends. Your reader can see that as one factor changes, such as increases or heats up, the other factor tends to respond in some way.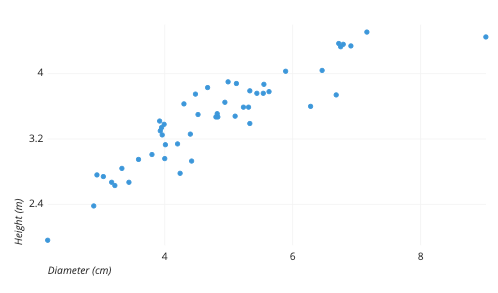 Pair Up Simple Data Visualization Types
The above are just a few of the simple elements you can use to illustrate your data. The options are almost innumerable. Just about any kind of chart, graph, or map can be employed.
However, some of the best data visualizations integrate multiple types or pair up more than one element. For instance, you can use a series of pie charts to show how trends have changed over time.
Sometimes, matching up multiple elements can illustrate your point more fully or allow you to describe various points of your narrative better. You could even use a chart within a chart or lay them out in an infographic style to tell a story.
Make Data Visualizations Interactive
To make your data visualization work hard for you, you may want to consider interactive options.
Interactivity allows readers to scroll over or click on various parts of your charts or graphics to learn more about each section. Maybe each bar on your graph or each area on your map has more specific information that your viewers can read.
This not only provides more powerful data points to your image, but it also allows it to be a more relevant and customizable experience for more users.
Data Visualization Tools
You can create data visualization images for your content from scratch using design software or an online option like Canva. However, data visualization tools can give you a leg up by allowing you to create truly stand-out projects.
These tools can take the guesswork out of the process and let you focus on plugging in the data and cranking out designs that reflect your brand and convey your message.
The great thing about these tools is that they are made for the casual creator. You don't need to be a developer or coder to get into making great charts or graphs. Here are a few of the plug-and-play options that can get your idea off the ground.
Flourish
Flourish advertises an easy option for creating and sharing data visualization. You can upload spreadsheets directly to the platform or create your images from scratch. It has a number of animated or interactive templates, which you can update with your brand graphics and elements.
Flourish has a free option that allows you to explore and create public data visualization. If you want to interact with your team or create private projects, it offers a few levels of paid options.
Datawrapper
Datawrapper promises to be easy to use, with no coding experience required. It provides several intuitive options, with tools such as a color-blind check that remind you of colors that are color-blind friendly.
With a variety of defaults in its templates, Datawrapper brings the details of each data visualization that newbies may not have thought through.
Infogram
This tool allows you to create charts and graphs that have the animation and customization you need to wow your audience. You can also use Infogram's drag-and-drop feature to drag the images around and combine elements into a single, highly-effective visual.
Tracking the Success of Your Data Visualization Elements
The time and effort it takes to create data visualization and work it into your content can pay off if it helps drive people to your goals, like increasing readerships or leads. However, you'll only know if they're successful if you track the metrics.
Consider the Big Picture
As you start incorporating data visualization into your content, one of the easiest ways to track their success is to see how well your content is doing. The most basic questions to ask are: is the content with data visualization more popular? Do those pieces get more readers and more shares?
Dive Into the Data
One way to get a little geeky with your data is to set up a heat map tool, such as Hotjar. This can give you more data about how people behave on your page, such as how and where they scroll or click. This is especially useful for a landing page where you're trying to convert people to sales.
Help Them Act
The only way to know if your data visualization is actually converting is to give readers a way to be converted. Once they have been convinced by the data you are sharing, what do you want them to do next? Make sure you keep clear CTAs near the data visualization. Clicks or email sign-ups can help you track the effectiveness of that image.
Conclusion
Data visualization can help you drive readership and more leads by engaging with them from the start. People come back to your online hub when they find quality content there. They're also more likely to share your content with others when they find it interesting and engaging.
Data visualization can help you take complex or dry concepts and make them more compelling, helping drive home your point and increase sales along the way.
If it feels daunting to create and manage your data visualization elements, we are here to help out. We also offer services like SEO, content marketing, and paid media.
What kind of data visualization are you going to use in your content?
The post How to Use Data Visualization in Your Content to Increase Readers and Leads appeared first on Neil Patel.