Monday, March 1st, 2021
now browsing by day
In an ideal world, sales teams and business leaders would have crystal balls to help them predict accurate sales forecasts.
With these predictions, it would be easier to create budgets, set goals, know when you'll need to hire more people, and so much more.
Unfortunately, crystal balls belong in the movies, and predicting anything in business, especially revenue, can be challenging.
Then what's the best way to go about creating sales forecasts for your business?
Firstly, you need to understand what forecasting is.
In a nutshell, a sales forecast is your predictions of what you will sell weekly, monthly, quarterly, or annually.
An important element for forecasting is to be more realistic than hopeful. Too often, sales teams will be overly optimistic when setting goals.
This, unfortunately, leads to disappointment when you're halfway through the year and your team starts realizing that you're still far from reaching your goals.
I want better for you. I want you to set goals that you can reach. Goals that will help keep you and your team motivated.
Here's my detailed breakdown of how to predict your business's future revenue.
Pros and Cons of Doing Your Own Sales Forecasting to Predict Revenue
Some business leaders and sales teams decide to create their own forecasts. Is this a good idea?
Well, let's have a look at some of the advantages and disadvantages of this.
Pro 1: You'll Gain Valuable Insight
Since forecasting involves looking into historical and real-time data, you are forced to gain insight into your business's health and overall growth. This information can help you set better future goals for your business.
Pro 2: You Can Decrease Costs
If you have a small business or startup, you're likely trying to cut costs any way you can. Doing some essential tasks on your own, like revenue predictions, will help you save costs that you can channel into other areas of your business.
Pro 3: You'll Know What to Focus On
There are many moving parts to a growing business. Understanding each component helps you achieve your overall business goals.
When you do your own sales forecasts, you'll know what you need to focus more on to help your business continue growing.
For instance, if you predict that your sales will increase by 5 percent in the next three months, you can then allocate the necessary resources to help your sales team achieve this goal.
Con 1: Sales Forecasting Takes Time
As highlighted above, you'll need to create revenue predictions that may be weekly, monthly, quarterly, or annually.
To create these forecasts and make an informed decision, you'll have to look into historical data. This can be time-consuming to do on your own.
Con 2: Lack of Input From Outside the Company
Sometimes, it's challenging to see the whole picture when you're in the frame. Employing a team of planners from outside the organization can help you get someone else's informed decision on your company. This can give you valuable insight into the health of your company.
If you're the business owner, it's challenging to be subjective and remove all emotions when creating forecasts. Your business means a lot to you.
You're working hard to ensure that it's a success. If you're not careful, your projections have the potential of being more optimistic than realistic. An outsider will be more objective and base each decision on real data.
If you've weighed up your pros and cons and feel that you would like to create your own forecasts, it's now time to understand how these can benefit you.
Why Use Sales Forecasts?
Before we get to how we first need to understand why we need sales forecasts in the first place. What value do they add to your business?
When you build a solid sales forecast, you can foresee potential issues and work on fixing them.
For instance, if you're halfway through the year and see that your sales are trending 20 percent below quota, you can quickly assess the situation to figure out what is preventing you from achieving your goals.
Figuring out potential problems right away, instead of waiting until the end of the year or the quarter, can make a huge difference in any business.
Having you and your sales team be aware of the sales forecast can work as a great motivation tool. You can have weekly or monthly sales updates to let the team know how far you are from reaching your goals.
An important thing to remember when building sales forecasts is that they won't be perfect. By the end of the quarter or financial year, you might be below your goals, or you might have surpassed them.
Whatever the case may be, creating forecasts is still a necessary part of your business plan as they help you and your team stay on the same page and work toward common goals.
Instructions for Creating a Sales Forecast to Predict Revenue
Now that you understand the value of building a solid sales forecast, let's get into how to get it done.
1. Pick or Create a Sales Forecast Template
What specific information do you want to get out of your sales forecast? This is an important question as the answer will help you decide on the template that makes the most sense for you and your business.
You may want to look at information like:
How much revenue you currently earn in a quarter, and how much you predict to make in the next quarter.
Are you introducing a new product? How much revenue should you expect to generate from the product, considering past and current market trends?
You may be able to find a template for what you're looking for, or you can create a unique template that includes all the metrics you're interested in tracking and makes the most sense for your business.
2. Select the Products Included in Your Sales Forecast
The products you include in your sales forecast will depend on what you're specifically forecasting. For instance, if you decide to create a quarterly sales forecast, you may include all your sales for that period.
On the other hand, if you want to forecast sales for specific verticals or products, you'll probably only have those products.
It's essential to be as specific as possible and also be clear on how you would like to incorporate the products you've selected for consideration in your forecast.
For instance, if you'll be forecasting sales across a quarter, you need to decide how to set your actual forecast.
You can include a line prediction for each product you sell, and you can include another line item for how much you expect to sell in your different product lines or categories.
If you would like to create a medium- to long-term forecast (e.g., over a 12-month period), you can develop monthly forecasts leading up to that period.
These forecasts can include the price per unit and units sold for each product.

3. Calculate Predicted Revenue
Now's the fun part: calculating your predicted revenue. There are multiple ways you can predict future revenue.
You Can Use Historical Data
If you've been selling your products or services for a while, looking into your historical data to give you an idea of a realistic revenue you can expect to achieve is essential.
While considering historical data can help, it's not always an accurate predictor of future sales. For instance, you might have been a newcomer in the past, but now you may be well-established in your industry.
The sales you received in your first year won't match the sales you'll receive in this coming year.
While this is true, it's always important to consider historical data as this is your foundation. You can use this information as a baseline for your sales goals.
You Can Consider the Season
Some products are seasonal, while others sell at a consistent rate all year long. There are also certain times of the year (e.g., Black Friday, Cyber Monday, and Christmas season) where consumers generally spend a lot of money. These factors will affect your revenue during these periods.
You Can Consider the Market
No matter how amazing your product or service is, sometimes there's a ceiling regarding how much you can realistically sell at certain times. For instance, if you sell gadgets, what used to be "cool" five years ago may not be today.
The tech space is constantly evolving, and if your products or services don't get updated to meet consumer demands, your revenue might tend toward a downward trend.
After considering all these factors, you can look at the best-case scenario and then predict sales based on that number.
Again, it's essential to be realistic here. If you own a pizza place and your only competitor from across the street sells an average of 50 pizzas per day, predicting to sell 1,000 pizzas per day is more hopeful than realistic.
Many professionals use scenario analysis to help them understand what the best- and worst-case scenarios may be for their predicted revenue.
4. Create a Tracking System
Creating a tracking system is one of the most crucial elements to successfully forecasting.
If, for instance, you find that you've made predictions that are way off when you're in the middle of the sales cycle, referring to your tracking system will help you immediately see this. You can then quickly update or adjust your sales forecast.
The tracking system you use doesn't need to be complicated. For example, you can create an Excel spreadsheet and even create graphs, like this one from SmartSheet, to help you see whether your sales are reaching, below, or surpassing your predicted revenue.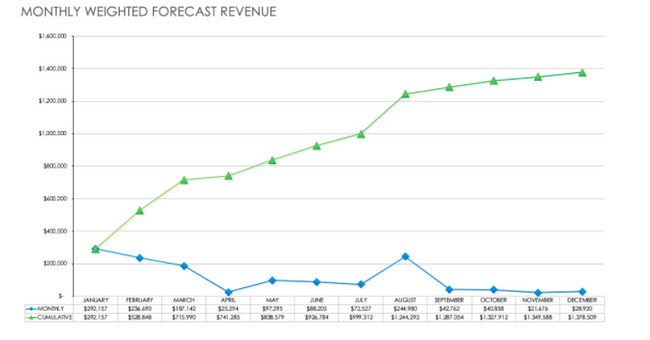 5. Ensure Your Team Is Aligned
The value of having a team that's working toward the same goals can't be overstated. That's why it's essential to ensure that every team member is aware of the sales forecasts and, more importantly, that they agree with them.
Why?
While you may be the leader, you can't achieve your predicted sales on your own. You need everyone to work toward reaching those goals and also believe in them.
Sharing with your team can also help you get their valuable opinions on the predictions you made.
Maybe you missed an important factor that might affect sales for that period. Or maybe there's a new trend in the market that your sales team recently discovered. Their input is essential before the stakeholders sign off on the sales forecasts.
6. Use Tools to Make Your Sales Forecast Process Easier
We're well into the digital age, and there are various tools that can help make your life a little easier.
For instance, you can use Google Sheets to create your forecasts in a neat spreadsheet. Furthermore, you will be able to access them from any device with internet access.
To keep in touch with your team and share regular updates on forecasts, you can use online collaboration tools, such as Asana, Trello, or Slack.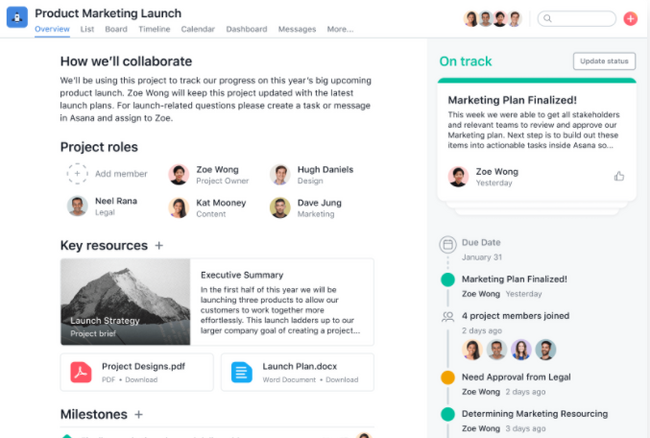 All these tools allow you to share links and documents with your team members so that they can access valuable information at any time.
When choosing tools, look for options that are easy for you and your team to use and integrate. It's also important to pay close attention to the privacy policies of the organizations. In addition, consider tools with multiple features to make organization a little easier.
Conclusion
Sales forecasting is an essential part of your business, but sometimes generic templates aren't relevant. Use the above tips to create an informed sales forecast that will work for your needs.
Have you created a sales forecast model before? What interesting tips can you share?
The post How to Build a Sales Forecast Model appeared first on Neil Patel.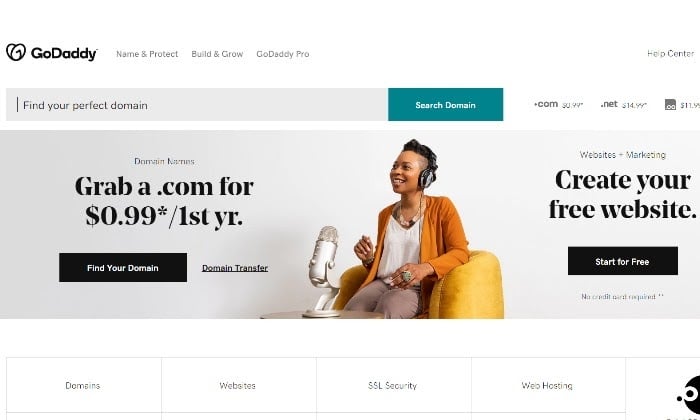 Disclosure: This content is reader-supported, which means if you click on some of our links that we may earn a commission.
GoDaddy hosts millions of websites all over the world as a giant in the hosting and domain name selling game. Its long list of products offers just about anything you might need to get a website up and running on a shoestring budget, at least for the first year.
After lots of research, comparison, and consideration, it's safe to say GoDaddy satisfies most of your website needs, especially if it's your first time building a site and you want affordable VPS hosting.
Beyond that, and as with any other web hosting and domain name provider, there are solid pros and cons to its plans and packages.
GoDaddy Compared to The Best Cheap Web Hosting
I curated a top list of affordable web hosting providers, so you know your options if you need to start a website on a budget. GoDaddy is one of the best choices if you want hosting that's a step above shared hosting with its affordable VPS hosting plan. For the price that some hosting providers would charge for shared hosting, you can get VPS hosting through GoDaddy.
But, if you're trying to find a more robust web hosting solution for your web project, GoDaddy does start to get expensive quickly. That's why I deem it a great option for starter sites that can do with either shared or dedicated hosting and that don't need tons of server power to run well.
You don't have to make a hosting decision in a hurry, though. See all of my top picks to make a more informed decision. 
Who is GoDaddy Best For?
GoDaddy is great for beginner website owners that want an affordable and convenient start for their websites with generous storage. GoDaddy also does well with around-the-clock site security monitoring, but perks like SSL certificates are add-ons you'll have to purchase as extras.
This is why it's a great hosting option for smaller and beginner websites working with a budget and don't need too many robust website solutions.
GoDaddy: The Pros and Cons
There's no question GoDaddy is one of the biggest names out there as far as how recognizable it is. It also houses the most domains globally, with over 17 million domain names on its roster.
Still, there are pros and cons to choosing GoDaddy as your web hosting provider. Here are the more prominent ones to take into account.
Pros
24/7 support: GoDaddy ensures it's always within reach if you ever need a hand or run into trouble with your site. You can either reach them by phone or use its handy chat support option.
Lots of storage: When you look through and compare GoDaddy's hosting plans, it's generous with its unmetered bandwidth feature for all tiers.
Affordable .com domain: GoDaddy offers you the chance to snag a domain for only 99 cents for the first year, which can save you money as you begin.
Unlimited site hosting: Most GoDaddy plans let you host an unlimited number of websites except for its cheapest Economy plan.
Convenience: Since you can manage your domain and website in one place, GoDaddy offers convenience in managing both from one dashboard.
Cons
Constant upsells: GoDaddy is notorious when it comes to its upsells through every step of the checkout process. While it does honor the prices for each tier if that's all you're going for, it's quick to suggest add-ons and extra features you might not need.
Expensive renewal rate: This is one of the reasons why I think GoDaddy is great for beginner sites that just want to get their foot in the door with hosting. Once that initial year is up, GoDaddy's renewal rates can start to get costly for what you get.
Charges for add-ons: Other hosting providers throw in free first-year domain registration, for example, or include free SSL certification as part of its plans. GoDaddy does not always include these features depending on the plan you choose and can charge extra for them.
Inconsistent customer support: Support for GoDaddy isn't always top-notch as convenience and reliability are concerned. There is always the possibility of long wait times to be connected to the right person.
GoDaddy Pricing
GoDaddy's prices can be broken down into two main categories: Domain name purchases and hosting plans.
Domain Names
One of GoDaddy's strengths is its huge list of domain name extensions. Its cheapest .com option, which is also one of the most popular extensions, is affordable for only 99 cents for the first year.
If you happen to choose a hosting plan that doesn't include a free domain name, a 99-cent .com extension isn't a terrible price to pay.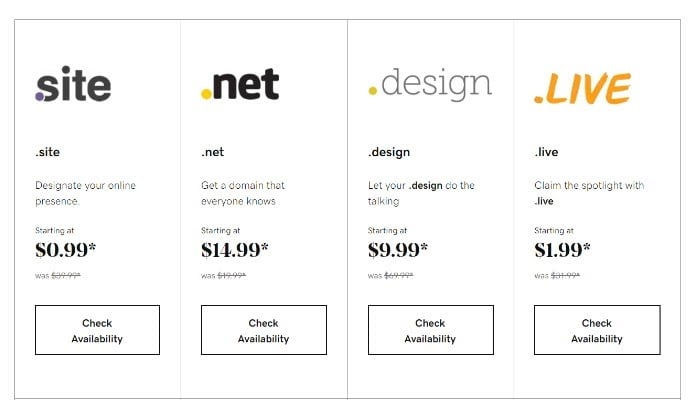 GoDaddy makes it easy to create, search for, or check on your domain name's availability. GoDaddy offers some of the most affordable domain name plans out there as far as introductory pricing goes.
Hosting Plans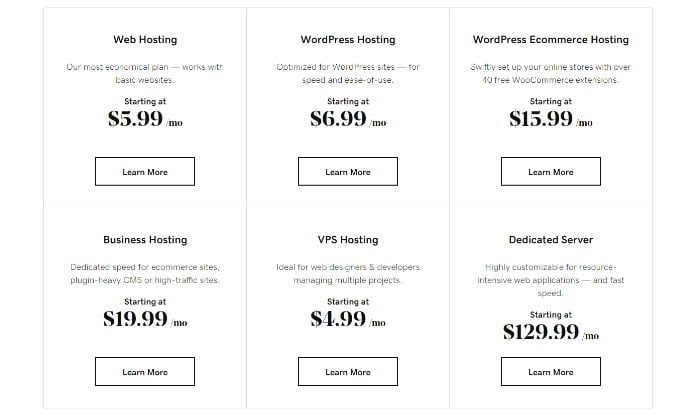 Here's a closer look at each of GoDaddy's hosting plans:
Web Hosting
Economy – $5.99 a month
Deluxe – $7.99 a month
Ultimate – $12.99 a month
Maximum – $19.99 a month
WordPress Hosting
Basic – $6.99 a month
Deluxe – $9.99 a month
Ultimate – $12.99 a month
Ecommerce – $15.99 a month
WordPress Ecommerce Hosting – Starting at $15.99 a month
Business Hosting
Shared Hosting – $5.99 a month
Business Hosting – $19.99 a month
VPS Hosting – $4.99 a month
VPS Hosting
1 vCPU – $4.99 a month
2 vCPU – $19.99 a month
4 vCPU – $39.99 a month
8 v CPU – $69.99 a month
Dedicated Server
DS 32 – $129.99 a month
DS 64 – $169.99 a month
DS 128 – $299.99 a month
DS 256 – $399.99 a month
Windows Hosting – Starting at $5.99 a month
Economy – $5.99
Deluxe – $7.99
Ultimate – $12.99
Reseller Hosting – Starting at $39.99 a month
Enhanced – $39.99
Grow – $49.99
Expand – $64.99
Established – $89.99
It's safe to say GoDaddy offers a ton of hosting plans that cover anything you might need. A giant list of 27 different hosting plans leaves little to be desired.
I highly recommend you spend the time carefully walking through each hosting option and its corresponding tier according to your site's needs.
If you know you're going to be using WordPress as your CMS, then you'll want to pay special attention to its WordPress solutions. They're geared for SEO compatibility, speed, and ease of use once you sign up for a hosting account.
I'd like to highlight GoDaddy's VPS hosting plan, as it's one of the most affordable on the market. Other big-name hosting providers don't even come close to how affordable GoDaddy's VPS hosting plans are. You can't beat a $4.99 price point for a self-managed virtual private server plan.
GoDaddy Offerings
GoDaddy hasn't gotten as big as it has without offering an extensive list of website building and hosting options. Once you land on the homepage, it can be overwhelming and hard to know where to start.
To simplify its long list of plans and tools, there are three main categories its product offerings fall under. Let's take a closer look at each one and how they stack up.
GoDaddy Name & Protect
GoDaddy Name & Protect offers some useful domain tools:
Domain name transfers
Domain name generator
Domain name search and WHOIS tools
SSL Certification
Website backup tools
Protect against malware and site attacks
If you're starting a website, you know you'll need a domain name, and this is where GoDaddy shines. It's the biggest repository of domain names, and it's sure to have the domain name you're looking for.
If you happen to want a domain name that's taken, you can try out its domain brokerage services or try the domain name generator to come up with a new site name.
Like any other reputable hosting provider, GoDaddy also offers SSL certification, website backup tools, and your standard protection against malicious cyber attacks.
Because GoDaddy offers plenty of usable domain tools, it's frequently rated as one of the most popular hosting providers out there.
But the fun doesn't stop there. GoDaddy also offers plenty of website building and growth tools.
Go Daddy Build & Grow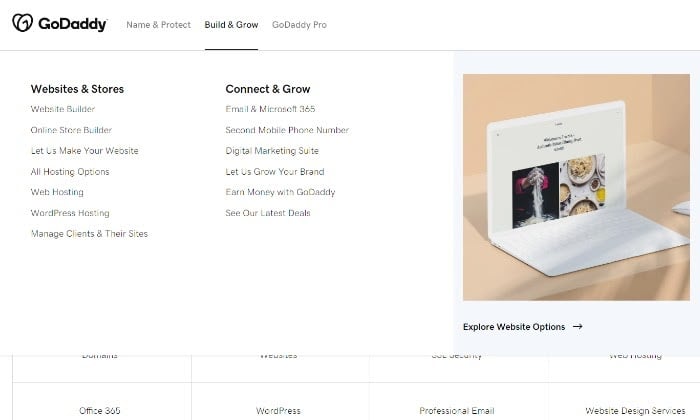 GoDaddy's Build & Grow product offerings include:
Website builder
Online store builder for ecommerce sites
An extensive array of hosting options
Email and Microsoft 365 tools
Second mobile phone number
Digital marketing suite
GoDaddy marketing services
If I were to list every single tool GoDaddy offered its customers, we'd be here forever. As a web host and domain name registrar, GoDaddy seems to have taken the route of going wide instead of going deep with its key features and offerings.
This can either appeal to you as a customer or turn you off and onto other hosting providers. It all comes down to what you value in a web host and what you're willing to invest or need to manage your site successfully.
The most important feature in GoDaddy's Build & Grow product offering is its buffet of web hosting options. Here's a more in-depth look at each.
Web Hosting: GoDaddy's most basic hosting plan starts at $5.99 a month. Not quite as cheap as other beginner-friendly hosts, but still considerably affordable and great for starter sites that want to build their online presence.
WordPress Hosting: WordPress hosting is specifically optimized for WordPress users in terms of speed and accessibility. WordPress plans start at $6.99 for basic hosting perks, including 30 GB of storage along with a free domain, free business email, and free SSL certificate. This plan works for you if your site hoovers around the 25,000 visitor mark. With three additional WordPress tiers, the deal only gets sweeter the more you pay per month.
WordPress Ecommerce Hosting: GoDaddy has solutions for ecommerce hosting as well, with plans starting at $15.99 a month along with free WooCommerce extensions. Once you sign up to one of its WooCommerce tiers, you'll easily be able to download and install WordPress and WooCommerce together to get up and running in no time.
Business Hosting: A business hosting plan comes with more dedicated resources, but with a simplified control panel, so you don't need a full IT team to manage your site. Plans start at $5.99 a month for shared hosting, which you can eventually upgrade as your site grows.
VPS Hosting: GoDaddy's self-managed virtual private hosting plan is definitely one of its redeeming offers because of how affordable it is for developers and system administrators that want a more hands-on approach to their websites with plenty of customizable options. Plans start at just $4.99 a month, and it comes with one CPU Core, one GB RAM, and 100 GB SSD Storage. This is a steal when compared to what other websites charge for similar VPS hosting packages.
Windows Hosting: Yet another solid GoDaddy option for Windows fans that starts at just $5.99 a month and comes with a free domain, 100 GB of storage, and a free Office365 email for your first year. If you're already using Windows products, this can be a great plan to integrate into what's already working.
Reseller Hosting: Are you a reseller looking for reliable hosting resale options? GoDaddy lets you use its servers to build your own hosting business, starting at just $39.99 a month. If you're in a unique position where you need more hosting options, you'll have to give them a call to strike a deal with its sales team.
Dedicated Server: GoDaddy has over eight powerful dedicated server plans you can choose from, each with its own set of isolated resources at your disposal. This is perfect for system developers and agencies looking for fast and reliable server capabilities.
Plans can start as low as $129.99 a month. If you're a beginner building a website for the first time, plans like these aren't necessary to successfully build and grow your site. But it's still good to know you have the option of powerful dedicated servers if you were to need it in the future.
GoDaddy doesn't hold back in giving you plenty of customized web hosting options. But it's up to you to decide which tiers are right for you according to your website goals.
This is what makes GoDaddy so beginner-friendly. It caters to basic hosting needs as well as more advanced options with specific server needs.
GoDaddy Pro
The GoDaddy Pro dashboard is where developers and resellers can manage client projects. A hub where you can manage all your tools, content, support, and discounts, as well as get in touch with GoDaddy support.
Since I'm recommending GoDaddy as a great host provider for beginners, the GoDaddy Pro dashboard might not be a necessary tool for you if you aren't a webmaster or reseller. But it's a free option if you're interested in signing up for it. And it's another way to get in touch with support.
The Best Cheap Web Hosting Provider
My team and I have created an in-depth review for the best cheap web hosting providers on the market you'll want to read before making any real hosting decisions that you can see here. Here's a quick recap:
Hostinger — Best Web Hosting Plan Under $1
Bluehost — The Best Value in Web Hosting
A2 Hosting — The Best Customer Service
HostGator — The Best Cheap Cloud Hosting
iPage — Best Cheap Web Hosting Features
GoDaddy — The Best Cheap Hosting for Beginners
Overall, GoDaddy is a great cheap hosting provider for beginner websites who'd like affordable VPS hosting, especially in their first year. It's a more budget-conscious option than others out there, and it offers plenty of add-ons you can choose to include in your plan, so you're never left without the hosting tools you need to succeed.
Once you've made up your mind on a hosting plan, you can get started with GoDaddy here.
The post GoDaddy Review appeared first on Neil Patel.