Saturday, February 27th, 2021
now browsing by day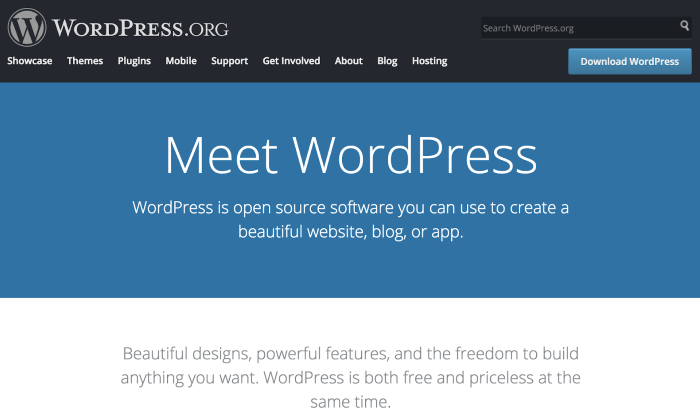 Disclosure: This content is reader-supported, which means if you click on some of our links that we may earn a commission.
WordPress has officially passed the 39% mark and powers over one-third of the entire web.
It's like the Oprah Winfrey of the web hosting world—reliable, has a loyal user base, an excellent reputation, and is super popular worldwide. Therefore, it makes perfect sense to build a website on WordPress.
Creating a website may seem scary if you aren't a "techie" type of person, but trust me when I tell you that times have changed. It's now faster, cheaper, and easier than ever.
In this guide, I'll tell you how to build a WordPress site in under 60 minutes.
Ready?
Your Two-Minute Cheat Sheet
Don't have enough time to go through the whole article? Here's your quick cheat sheet.
Disclaimer: This is just the gist of the whole shebang. So, don't go looking for too many details here. Those are further below.
While you have several web hosting provider options available, I recommend starting your WordPress website journey with Bluehost. It's super dependable, offers fast loading times, and is good for your budget.
The first step is to set up your account with Bluehost. The whole thing is pretty simple and only involves choosing a subscription plan, registering your domain name, and finalizing the deal. That's it!
Next, you have to install WordPress (Bluehost does it for you) and familiarize yourself with its UI. Then you'll have to pick a theme for your website that suits your brand best and also makes things functional. My favorite is ThemeForest, but you can also stick to WordPress's official directory. 
Make sure you set your permalink structure to make your links more readable and optimized for the SERPs. This is super important, so please don't skip it. You can also install plugins to extend your website's abilities, but it's strictly optional.
Finally, all that's left to do is create fantastic content that makes visitors flock to your website.
Voila! You now have a WordPress website that looks beautiful, has amazing content, and is ready to handle the traffic.
Let's now see how the whole thing works in more detail.
Step 1: Choose a Domain Name
Your domain name is your identity on the internet. It's how your audience will find you and identify your brand. Precisely why you should choose something that reflects your brand and is easier for people to type into their browser and find you.
You have complete freedom to choose your domain name, though. You can choose any name you want—provided it is available and not registered by other companies.
Here are a few tips for selecting a great domain name for your website:
Make it brandable and unique-sounding
Make sure it's memorable
Keep it short
Keep it easy to spell, pronounce, and type
Include niche-related words. For instance, if you plan on selling pizza, it would make sense to add pizza somewhere in the domain.
Think about it: Doesn't www.pizzahut.com sound better than pizzasellingplace.com? Exactly.
You can use Domain Wheel, a free website name generator, to develop more ideas if you're looking for some inspiration. Simply put in a keyword related to your niche, and the tool will give you tons of suggestions to inspire you.
Now that you have a prospective domain name, you have to check for its availability. Considering there are about 1.8 million websites online, staying original can be a little challenging, but it's definitely worth the effort.
Since we all love free things, you can register your domain free of cost when subscribing to a web hosting service.
Speaking of domain registration…
Step 2: Choose a Web Hosting Provider and Register a Domain Name
There are hundreds of companies that sell web hosting services and tons of companies that allow you to register a new domain name. But wouldn't it be more convenient to choose a company that offers you both services?
Case in point: Bluehost.
This web hosting provider is reliable, beginner-friendly, cheap, AND gives you a domain name for free—take it from someone who has created many websites for his clients in his career.
Let's also not forget that Bluehost is one of the few companies recommended on the official WordPress.org web page.
Sold on Bluehost? Great!
Here's how to proceed next:
Visit Bluehost's Website
Go to Bluehost in your web browser.
Select Your Hosting Plan
You'll see three hosting plan options displayed on your screen:
Basic – Starting at $2.95 per month
Plus – Starting at $4.95 per month
Choice Plus – Starting at $5.45 per month
As you're just launching your website, you can choose the cheapest plan—Basic—and get yourself a piece of the internet. Remember, you'll get the $2.95 price tag only if you choose the three-year subscription plan.
Register Your Domain
Once you select your subscription plan, Bluehost will ask you to set up and register your domain.
You will see two options here:
Create a new domain
Use a domain you own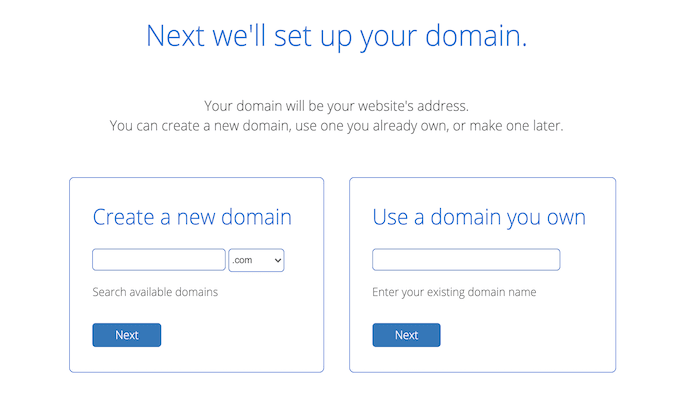 Select the Create a new domain option and enter your chosen name from Step 1. I'll also recommend selecting a .com extension to add a more professional touch to your website.
Fill In Your Personal Information and Account Details
Next, you have to provide your personal data to set up your account.
When you scroll down, you'll see the Package Extras section. Take care to check only those fields that you think are worthwhile for your website.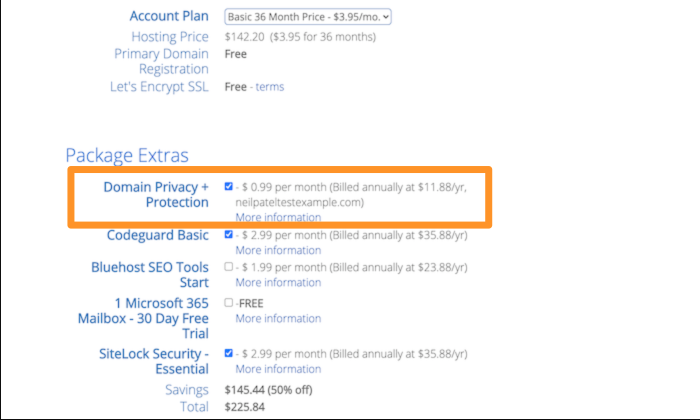 For me, selecting Domain Privacy + Protection is a must as it conceals personal information like name, email, and phone number from appearing in public databases. After all, spending a few extra cents is nothing when it comes to security.
Once you're done, click on Submit to finalize your purchase.
Step 3: Get Bluehost to Install WordPress for You
At this point, you have a hosting service provider and a domain name. Congratulations!
The only thing missing is WordPress.
Sure, you can install WordPress manually. But why should you do it if you can get Bluehost to do it for you—for free?
After completing the signup process, check your inbox for an email from Bluehost. It'll contain details showing you how to log in to your customer profile and start work on your site.
Once you log in, Bluehost will show you an easy-to-use wizard that will guide you through the process of installing WordPress on your hosting set up.
Alternative Option:
You can also install WordPress by going to the My Sites section. Click on the Create Site button, and the installation will begin automatically. Enter your new site's name and the username/password, and your WordPress website will be ready to go.
Step 4: Choose a Theme or Design for Your Website
One of the biggest USPs of WordPress is it supports themes.
Themes are interchangeable designs that allow you to change how your WordPress website looks at the touch of a button. For example, this is what your website will look like by default:
You can change your website's appearance by choosing another popular free theme (I chose Hestia). It'll now look like this:
See why theme compatibility is WordPress's biggest USP?
Choose a Theme You Like
There are hundreds—if not thousands—of WordPress themes out there.
You can start by looking at the official directory at WordPress.org. But other than that, there are several other theme stores and marketplaces, such as ThemeForest. These are third-party sites that offer free and premium themes to alter the website's presentation without changing the contents.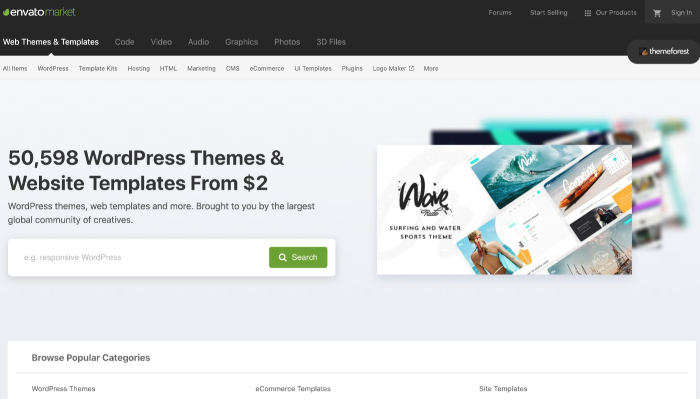 You can go through all the different sites and select a theme that you like best.
Install Your Chosen Theme
If you select a theme from the official directory at WordPress.org, all you have to do is hit Install right away. Here's how to go about it:
Go to Appearance, followed by Themes, and then click on Add New. Enter the name of the theme you want to install in the search bar, and then click on the Install button under your desired theme.
After the installation, click on Activate to enable the thing on your website.
If you want to use a theme bought from a trusted third-party, the steps will differ slightly.
Here's how you can install a premium theme on your site:
Start by downloading the .zip file of the new theme.
Log in to your WordPress dashboard, and go to Appearance, and then Themes.
Click on the Add New option. You'll then be directed to the WordPress theme dashboard.
Select the blue button at the top of the screen that says Upload Theme. Choose the .zip file from your computer after the prompt.
You'll see a link to activate your team after a success message. That's it!
While some themes are free, premium themes vary in price. There are options starting at $10 and ones going all the way up to $200. You can choose an option that fits your budget and preferences best.
Step 5: Install Plugins (Optional)
You can consider installing plugins to boost the functionality of your website. Think of them as applications for your mobile phone.
You can refer to our best WordPress plugins guide to zero down options, but you have free reign to choose the ones that appeal to you most. From optimization to website traffic analysis to security, you'll find tons of options for every category.
That said, don't go overboard when installing plugins. It ends up slowing down your website, which, in turn, might result in traffic loss.
As they say, there is too much of a good thing.
Step 6: Configure Important Site Settings
Setting up permalinks is very, very important! Precisely why you should do this immediately after starting your WordPress website.
Permalink structure decides how your website links look. Think of it as a representation of your site structure. For NeilPatel.com, it looks something like this:
A good permalink structure tells your visitor exactly where they are on your website (in our example, they are in our blog section), while a bad structure does the opposite. Getting the permalink structure right is also crucial for boosting your SEO ranking.
There are many ways to do it wrong, which is why I've compiled a three-step guide to help you get it right:
In your WordPress dashboard, click on Settings from the side menu and go to Permalinks.
Under the Common Settings field, click on Custom Structure.
It makes zero sense to go for Numeric as it'll only confuse your visitor. Plus, it doesn't serve much for SEO purposes.
Enter the tag string "/blog/%postname%/"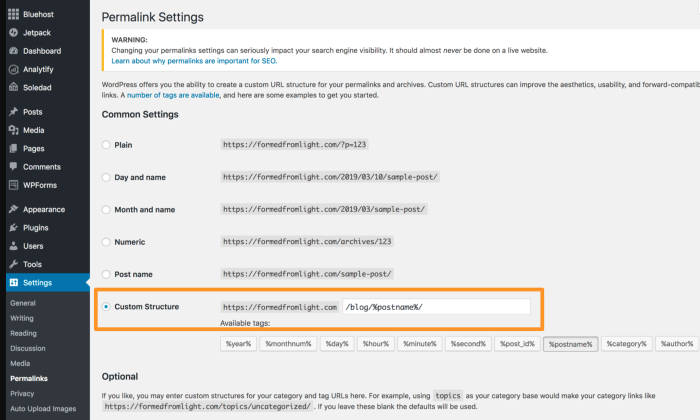 Once you're done, click on Save to save the changes.
Step 7: Set up Important Webpages and Promote Your Site
With your website ready, you can now focus on creating high-quality content that helps you boost your traffic and conversions. Start by creating essential webpages like About, Contact Form, Privacy Policy, Portfolio, and Store (if applicable).
Want more information and a step-by-step walkthrough? Head over to my guides on how to start a blog and how to make money from blogging.
I really cannot emphasize enough the importance of having optimized content on your website that is relevant to your niche. So make sure you do thorough research to get all the nitty-gritty right.
Conclusion
That was all you needed to build a WordPress website.
At the end of it all, you'll have a domain name, a web hosting provider, and an up and running website. Keep experimenting in your niche, and you'll soon establish a loyal fan base that values your opinion or love your products/service.
Have you launched your website yet? Who is your all-time favorite web hosting provider, if yes?
The post How To Build a WordPress Website appeared first on Neil Patel.
Disclosure: This content is reader-supported, which means if you click on some of our links that we may earn a commission.
Three seconds.
That's all your visitors give you when they come to your website. If your website takes any longer to upload, 40% of people will abandon it.
What's worse, a one-second delay in page response can cause a 7% reduction in conversions. You'll end up losing 40% of your website traffic, out of which 80% of these people won't return—ever.
I could continue talking about these scary loading time statistics, but the bottom line is your website needs to be fast if you want to boost your traffic and conversions. If you don't work on improving loading times, you'll end up losing hundreds of thousands of dollars every single year.
Luckily, there is a solution: Installing a WordPress cache plugin.
These plugins are designed to improve your website's speed by instructing the server to store some files to disk or RAM, depending on the configuration. After that, the plugin remembers and duplicates the content it's served in the past.
The result? Faster web page loading.
#1 – WP Rocket – The Best for Speed Optimization
WP Rocket is a premium WordPress caching plugin that many agree is the best in the market.
It's simple and beginner-friendly, which helps users who aren't familiar with the typical jargon associated with different caching options. It has been specially designed to boost your website's speed and performance.
Instead of waiting for someone to request a page to save it to cache, WP Rocket builds the website cache automatically. It also turns on recommended WordPress caching settings like cache pre-loading, page cache, and gzip compression by itself.
Precisely why you see an instant boost in your website's performance after installing this plugin.
You can also activate other features offered by WP Rocket, such as DNS prefetching, lazy loading images, minification, and CDN support. They can help improve your web page's loading time while simultaneously reducing bounce rates.
Plugin Features
Cache preloading (two methods)
Browser caching
GZIP compression
Database optimization
Minification and concatenation
Defer JavaScript loading
DNS prefetching
Lazy loading
Pricing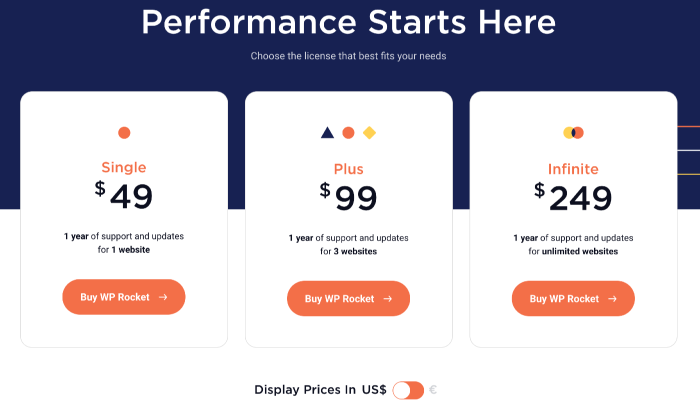 WP Rocket offers three subscription plans:
Single – $49 annually for one website
Plus – $99 annually for three websites
Infinite – $249 annually for unlimited websites
Learn more and get WP Rocket today.
#2 – Swift Performance – The Best for Multi-Site Compatibility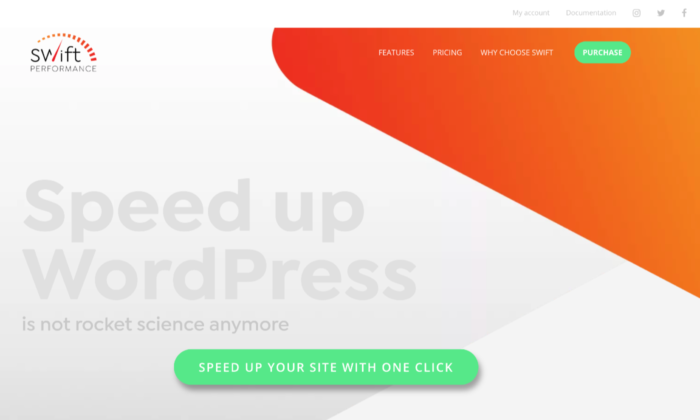 Swift Performance is a WordPress caching plugin with excellent performance-optimizing capabilities that transforms caching as you know it. Although it's a relatively new WordPress plugin, it has gained tremendous popularity among users in a short span of time.
It has all the necessary features to take your website performance and speed to the next level without breaking a sweat. The plugin has a unique database optimizer that cleans duplicated metadata, expired transients, and spam comments.
Additionally, you can optimize the delivery of static resources via its minification feature that lets you combine or minify CSS and JavaScript—all with a single click. It's compatible with bbPress, Cloudflare, WooCommerce, and Varnish, among several other platforms too.
I also like its Async Execute feature that allows users to run scripts individually as they upload. It's super helpful to improve speed sites, deliver a better user experience, and boost SEO scores.
Swift Performance's schedule database optimization is another time-saving feature—provided you use the pro version. Lastly, you can also enable/disable plugins on certain pages thanks to its plugin organizer.
Plugin Features
Page caching
Pre-set optimization templates that you can quickly apply
Code optimization, including minification and combination.
Browser caching
Database optimization
Plugin organizer to disable plugins on certain pages
Pricing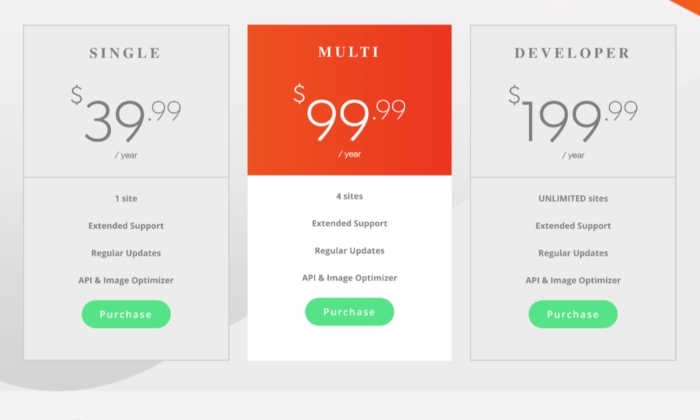 Swift Performance offers three subscription plans:
Single – $39.99 per year for one site
Multi – $99.99 per year for four sites
Developer – $199.99 per year for unlimited sites
#3 – W3 Total Cache – The Best for Experienced Developers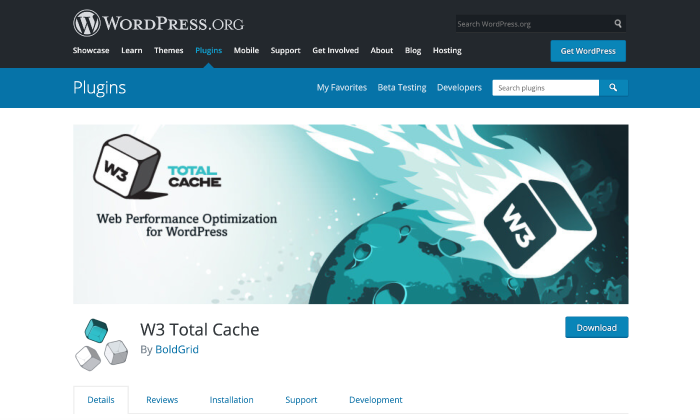 W3 Total Cache is hands down one of the best open-source WordPress caching plugins that offers an out-of-the-box and advanced caching mechanism. While it's packed with features, it's also slightly complicated, especially for users who lack technical skills.
The plugin is compatible with most hosting plans, including shared, dedicated, and VPS server hosting. Since it's free, you can use all of its features after installing the plugin—no upsells for you to worry about.
It can improve your server performance by caching every aspect of your site and integrating with several content delivery networks.
Developers, in particular, like this plugin as it can offer up to 80% bandwidth savings thanks to its minification feature that reduces the size of your HTML, JavaScript, CSS, and feeds without compromising other website elements.
What's more, this cache plugin works for both mobile and desktop versions of your website. I'd recommend W3 Total Cache for WordPress ecommerce sites as it has tons of features that make it useful for sites with SSL certificates—something that most ecommerce sites have.
Plugin Features
Minification
Opcode cache
Database cache
Object cache
Browser cache
CDN integration
Fragment cache
Pricing
W3 Total Cache is an open-source plugin, and it's available free of charge.
#4 – WP Super Cache – The Best for Customization
When a plugin has more than two million active installations, you know the developers are doing something right.
Developed by Automattic, the same people who gave you Jetpack, Akismet, and WordPress.com, WP Super Cache is as popular as a plugin can get, and not without reason.
The plugin generates static HTML files from your dynamic WordPress content. Plus, it saves you a ton of bandwidth and decreases page load times since it makes the web server serve the lighter HTML files instead of the heavy PHP scripts.
You also get three caching modes with WP Super Cache: Simple, Expert, and WP-cache caching.
Out of the three, the Expert mode is the fastest, but you have to modify the .htaccess file, which requires coding and web development experience. But if you do have the technical know-how, you can customize the plugin settings to make it more functional.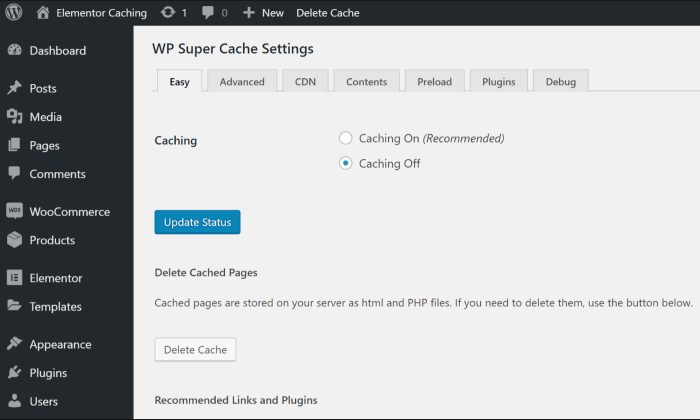 You can use the WP-cache caching mode to cache content for known website visitors. Due to this, the caching mode is ideal for websites whose users are typically logged in, can leave comments, or see customized content.
Don't have web development experience? No worries, you can use the Simple mode, where all you need is a custom permalink. As the setting is easier to configure, you won't have to change your .htaccess file.
Plugin Features
Page caching
Support for content delivery networks (CDN)
Caching for visitors using a mobile device
Browser caching
Scheduler to manage deletion and re-caching at given intervals
GZIP compression
Pricing
WP Super Cache is available free of cost.
#5 – WP Fastest Cache – The Best for Access to a Wide Range of Tools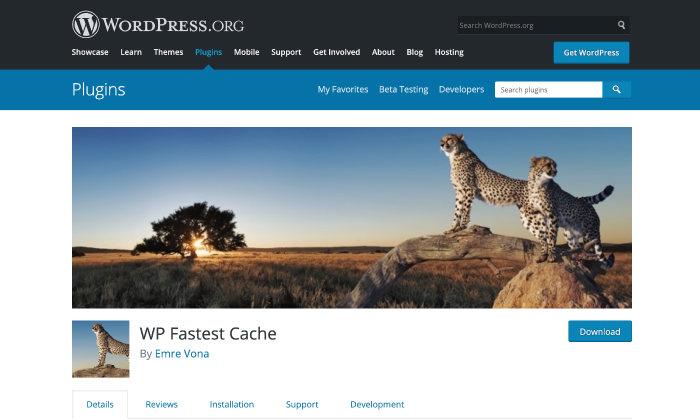 According to the official WordPress directory, WP Fastest Cache is the highest-rated cache plugin. It has limited configuration settings, which makes it user-friendly and appropriate for beginners.
This plugin can create static HTML files from your dynamic WordPress site and also minify HTML and CSS files, which, in turn, reduces file sizes. What's more, it combines these files to make your code cleaner and web pages leaner.
You can schedule to delete the CSS and JS files at a specific time later.
WP Fastest Cache implements WordPress broader caching effectively to reduce page load time for repeat visitors. It also combines several CSS files into one in a bid to reduce the number of HTTP round-trips. If needed, you can also disable emojis on your website.
The premium version of this WordPress cache plugin offers tons of unique features that boost your page speed by optimizing images, cleaning up databases, caching mobile devices, among several other features. You can purchase the premium version directly from your WordPress dashboard after installing the free plugin.
Plugin Features
Auto-deletion of cache files whenever a post or page is published
Supports CDN
Enable/Disable cache option for mobile devices and logged-in users
Block cache for specific page or post
Code minification
GZIP compression
Pricing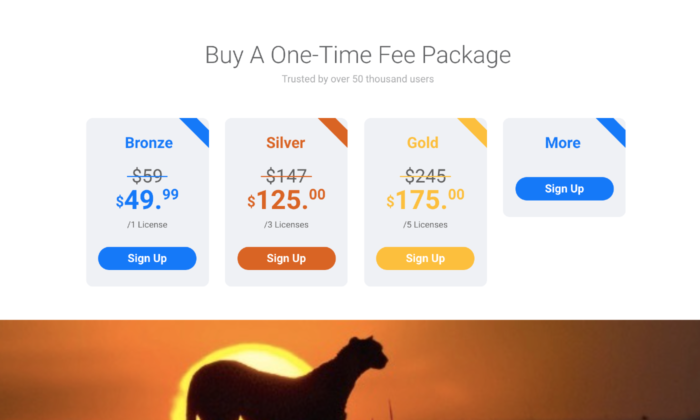 While there is a freemium version available, you can upgrade to the premium packages too. There are four subscription options:
Freemium
Bronze – $49.99 per license
Silver – $125 per three licenses
Gold – $175 per five licenses
What I Looked at to Find the Best WordPress Cache Plugin
I'm not going to sugarcoat it: Choosing the best WordPress caching plugin won't be the most straightforward task on your list.
In addition to similar-sounding names, you'll find most of them offer similar features in different ways, which is why they may end up conflicting if you use two or more at once. The fact that caching is technical also means you practically need to be an expert to make the right choice.
I've already listed my top five picks for the best WordPress caching plugins, but I want you to know how I reached this decision.
Let's take a look at the factors worth considering when researching caching plugins for WordPress.
CDN Support
CDN stands for content delivery network, a network of data servers that renders cache data to web users from a server nearest to them.
Whenever there is an increase in traffic on your website, there is also a simultaneous increase in your web hosting server's processing activity. This causes a decrease in your website's page loading speed.
This is the exact point where CDN comes into the picture.
Hold on. Things are about to get a bit technical here.
If you're using a CDN, then static data from your website will get cached on every server in the CDN. As a result, whenever a user requests a page on your website, they'll receive a cached copy from a server nearest to the user, preventing any delay.
This is why you should ensure your prospective caching plugin supports the CDN you use. If not, you might end up losing visitors.
Browser Caching Ability
Browser caching means saving your CSS, logo, and other resources that would typically download whenever a visitor opens your webpage. This feature lets you decide how much of your webpage would be cached on the user's device, which, in turn, makes you independent of the user's browser cache settings.
Look for options that allow you to set the time period for which you want the downloaded content to be saved on the user's system.
That said, I wouldn't recommend setting the time for the content to be cached for more than six months as it may result in the user getting web pages that aren't updated.
Asset and Page Exclusion
While many WordPress websites are purely static content, some also include dynamic content. This can include a membership website, an ecommerce site with WooCommerce, a website selling courses, and so on.
The catch is that dynamic content doesn't play well with browser caching and page caching. Therefore, it's wiser to look for a caching plugin that enables you to exclude specific pages and assets from being cached to prevent glitches.
Customer Support
If you're new to the world of caching, chances are you might be hearing most of the terms we explained above for the first time.
That's why you should make sure the plugin developers offer efficient customer support that can help you whenever you get stuck with the daunting caching setup. If you find that a premium caching plugin offers better support, I'd recommend choosing that over a free option.
After all, your peace of mind should always have top priority.
Conclusion
Site speed is incredibly important for your website's success. So if you aren't using a caching plugin now, you're already a step behind your competitors.
Go over customer reviews and do thorough research before choosing a plugin for your website. I've done my best to include options that come packed with features and ensure optimal results, but you can always opt for other caching plugins that you think will deliver better results.
In the end, the aim is to get those loading times short and your website super fast.
The post Best WordPress Cache Plugin appeared first on Neil Patel.