Thursday, February 25th, 2021
now browsing by day
Disclosure: This content is reader-supported, which means if you click on some of our links that we may earn a commission.
A functional online directory plugin will help you deliver business or personal information by location or category for internal or external use.
Whether you want to build a glossary of names and terms for your employees or a comprehensive business index, a good directory plugin for your WordPress website will help you do just that.
Directory plugins serve a simple purpose: to create a user-friendly database with up-to-date details for both your customers and internal team. Your plugin of choice will give you access to this information along with pictures, location information, and contact details.
As there are many directory plugin options out there, I'm here to make it easier for you by narrowing it down to the top five best directory plugins for your WordPress website—so you won't have trouble finding the right one for you.
The Top 5 Options for Directory Plugins
#1 – Business Directory – The Best for Extensive Directory Categories
If you're looking for a wide variety of directory categories to choose from, the Business Directory plugin is an excellent option.
This plugin allows you to easily build the directory you want by seamlessly pairing it with any WordPress website.
It doesn't matter what type of directory you wish to build because the Business Directory plugin has it all. The plugin covers the basic local business directories as well as employee, member, restaurant, medical, tour and travel, hotel, software review sites, and book review site directories.
Along with its extensive category list, Business Directory offers a simple installation process that WordPress users can rely on.
With its easy directory templates, you can change the style and layouts to suit your preferences. This plugin also lets you have full-field control to create your own custom fields for simple list navigation.
Some other helpful features include:
Free and paid submissions for extra traffic or revenue
Mobile-friendly listings
Google maps
PayPal and Stripe integration
Full image support
Rating module
Business Directory offers three pricing plans, including:
Basic: $199 per year for one site, unlimited listings, and one year of support
Pro: $399 per year for up to five sites with all basic features and priority support (most popular)
Elite: $599 per year for unlimited sites with all pro features and all directory themes
These pricing plans may be quite expensive for some, so I recommend the Business Directory plugin for those who need a diverse range of categories for their directory. All pricing plans come with a 14-day money-back guarantee. Try it today.
#2 – GeoDirectory – The Best Customizable Directory Plugin for WordPress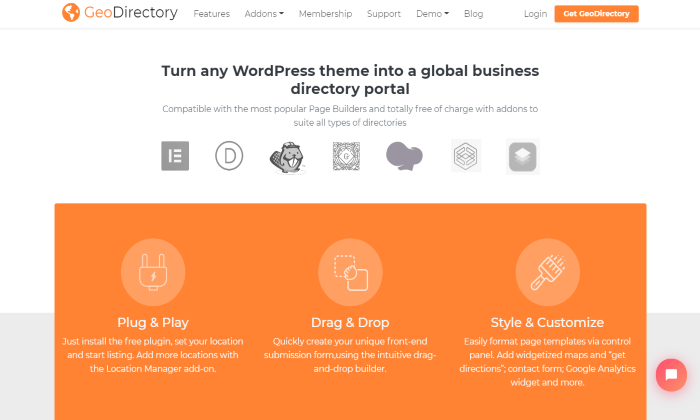 Customization is important for directory plugins, which is where GeoDirectory comes in. GeoDirectory is an excellent option for website owners who are looking for ultimate flexibility and customization options.
With its incredible compatibility, this plugin works with any WordPress theme and allows you to easily customize your page the same way you do for your actual website and theme. GeoDirectory also lets you customize 40+ widgets, shortcodes, and blocks, and all features are available in any format.
This plugin offers an intuitive drag-and-drop tool that helps you organize and reorder listing pages while easily adding customized tabs, fields, and content.
Custom fields also come with a fully customizable and unique badge system that you can include in your listings. These badges include terms such as new, featured, and recently updated. You can also add badges with counts, video icons, and social links.
By using GeoDirectory, your WordPress website will benefit from multiple advanced features, including:
Add business hours to any listing
Ratings and reviews
Developer-friendly system
Pre-built templates
Advanced integrations
As one of the most comprehensive directory plugins on the web, GeoDirectory offers four different pricing plans:
Four Months: $99 paid every four months
Six Months: $129 paid every six months
One Year: $199 paid every 12 months (most popular)
Lifetime: $995 paid once
Every plan includes all products, add-ons, and premium support for the corresponding period. If recurring subscriptions aren't your thing, GeoDirectory offers single four, six, and 12-month plans. A 30-day money-back guarantee covers all plans, except for the Lifetime tier. Learn more.
#3 – Connections Business Directory – The Best Free WordPress Directory Plugin
With its high-quality and supportive features, Connections Business Directory is a great free option for those looking for a starter plugin. With over 900,000 downloads, this plugin will help you seamlessly integrate your customized directory with your WordPress website.
The Connections Business Directory system and database have been carefully crafted for maximum compatibility with WordPress, so your installation experience is smooth and simple—especially for website owners with little technical knowledge.
The plugin is also completely scalable and gives you the option to manage hundreds of entries within your directory.
Another outstanding feature of Connections Business Directory is the robust templates. For a free plugin, it offers you a decent range of templates to get you started—with a template pro package available for an additional cost.
Apart from it being free, which is a huge bonus, Connections Business Directory has prominent features, such as:
30+ languages are translation ready
Many free and premium extensions
Repeatable fields
Free support forum
Developer-friendly with open APIs
As you can install Connections Business Directory for free, they don't have any pricing plans. However, you can purchase premium add-ons and extensions for an affordable price. Some of the most popular add-ons include the Widget Pack for $9.99 and the Custom Category Order for $4.99.
Template bundles include:
Extension Pro Pack: $29.99 for one site
Template Pro Pack: $59.99 for one site
Pro Pack: $74.99 for one site
Although these prices are very affordable, it's also important to create a budget not to overspend on the extras. In that case, you may find a different directory plugin with additional features for around the same price.
#4 – Advanced Classifieds and Directory Pro – The Best WordPress Plugin with Multifunctional Features
Create a powerful business directory using the Advanced Classifieds and Directory Pro (ACADP) plugin. With its unique unlimited features, you can build an advanced directory from scratch with little to no effort.
Even though this plugin offers customizable settings and layouts for an easy view of your listings, the multifunctional widgets are by far the best feature to take advantage of.
ACADP has a wide variety of WordPress-compatible widgets that offer a more convenient way for you to add and manage content on your website without complex code, making it a perfect tool for beginners.
ACADP specifically designs the widgets to showcase listing-related information and tools for easy navigation. The widgets include ACADP search/filter, categories, locations, listings, listing address, listing contact, and listing video.
Your website will easily support these widgets and all users need to do is hover and click on the widget they need for extra information.
Being quite a comprehensive plugin, you will benefit from many features, including:
Advertiser and user panel functions
Backend management
Email notifications
Bookmark tools with advanced search and filtering
Unlimited listings, categories, locations, and custom fields
ACADP has two pricing plans you can pay for monthly, yearly, or with a one-time life fee, which includes:
Starter: Free and includes one site with unlimited listings, categories, locations, and custom fields plus email templates.
Professional: $9.99 per month, $95.98 per year, or $289.99 lifetime and includes one site with all starter features and payment gateways.
ACADP offers between three and five sites on the Professional plan, but you will have to pay additional costs according to how many sites you want. They also offer a 30-day money-back guarantee for all plans and a 20% discount on the lifetime plan.
#5 – Name Directory – The Best Directory Plugin for an Online Glossary Builder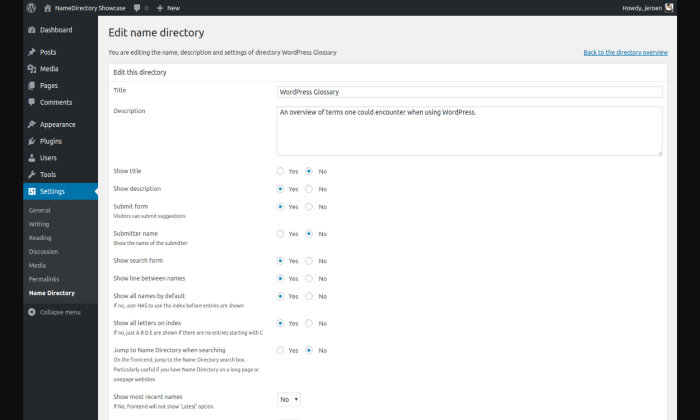 Name Directory is another free plugin, however, it's a little different from the other options on this list as it isn't a standard business index plugin. If you are a beginner looking for a more basic database that can build online glossaries for your WordPress website, Name Directory is an excellent option.
With a similar control panel view to the WordPress administration panel, you will have a simple time adding to, navigating, and managing your online glossaries through Name Directory. You can add multiple directories with this plugin with simple shortcodes to copy and paste into the database.
Every online glossary you build also has a few customization options to alter the directory's layout and functionality.
Even though this is a basic directory, there are still a wide variety of configuration options you can choose from to help maintain your online glossaries.
Some of these include the option to show/hide title, description, and search function, select the number of columns to display, enter the subject of the directory, and limit the number of words in your description with a 'read more' link.
Because it is an entirely free plugin, there are limited features, but Name Directory includes:
An in-depth support forum with the developers
Import CSV files
Customization for listings
Language support
Name Directory is free to download and install. However, the developer team offers paid customization for anyone looking at a more extensive plugin at a low price.
What I Looked at To Find The Best Directory Plugin for WordPress
Now that you know my top five recommendations for the best directory plugin for WordPress, it's time for you to look for the right product for your website.
To make it easier for you, I narrowed down the top three criteria that helped me find the best options above. All you have to do is weigh up these criteria against your personal needs to find the perfect plugin for you.
Not every plugin will have all three criteria, but it's important to find a plugin with at least one or two of these for you to use your website to its maximum potential.
Customization for Listings
Being able to customize your old and new listings is paramount to the success of your business index.
Having a flexible and customizable plugin like GeoDirectory will make sure your listings are up-to-date for your users.
Not being able to customize your directory will heavily impact your business due to lack of functionality, so it's imperative to find a plugin that offers at least some customizing options.
Rating and Review System
A rating and review system is paramount for letting your users express their opinions about your listed businesses.
Just like the Business Directory Plugin that offers a rating module, it helps to bring more inclusivity to your website by allowing users to rate businesses on a scale of one to five.
Plus, ratings and reviews help users decide on the most trusted service, and you can risk losing business without it.
Bookmarking Tools
A plugin that offers any sort of bookmarking tool will help transform your website.
ACADP is one of the directory plugins that have this tool alongside advanced searching and filtering features.
This tool will allow your users to bookmark individual listings for future reference, making it incredibly convenient while saving time.
Your business index won't completely suffer without it, but it's a handy tool that will increase consistent traffic for your website.
Conclusion
Finding the best directory plugin for your WordPress website depends on a few factors like customization, a rating and review systems, and bookmarking tools, among other features.
Looking for these elements is a great place to start, as it will ensure you get the maximum support from your desired plugin.
I'd recommend the GeoDirectory and Business Directory Plugin to anyone looking for extensive and highly customizable directory plugins for your WordPress website.
GeoDirectory is the most customizable option on the list, with excellent WordPress compatibility and an intuitive interface. As a developer-friendly system, anyone can transform and customize the pre-existing databases to suit your every need.
Business Directory Plugin is also great for extensive categories. If you have multiple niches and locations you wish to cater to, this plugin has it all in terms of options. It's also mobile-friendly and has great payment integration options if you want to earn as you go.
That being said, the other three directory plugins are excellent options that highly suit beginners.
Here's a quick recap:
The post Best WordPress Directory Plugins appeared first on Neil Patel.
Chances are, your brand has data scientists and operations professionals on the team, and while they do their best to collaborate, they each have their own areas of expertise.
This could lead to miscommunications and misunderstandings. The data scientists can interpret the data, but they likely don't have the background to manage business operations. Likewise, the business team can make their side of things work, but they don't fully know how to interpret and implement data.
Here is where machine learning operations (MLOps) come in.
In this article, we'll discuss how MLOps can help with collaboration between your data and business teams, as well as additional immediate and future benefits of implementing it.
What is MLOps?
MLOps, in simple terms, is a set of best practices for improving communication and collaboration between your employees on the data science and operations sides of your brand.
In less simple terms, it's a combination of machine learning, data engineering, and development operations. The goal is to provide a more streamlined process for developing and creating machine learning systems, allowing business administrators, data scientists, marketers, and IT engineers to cooperate on the same level.
It is an extension of what we know as DevOps. DevOps is the process of organizing cooperation between everyone involved in the design and building of big data. This process has been around for a while, but MLOps is still in its youth.
MLOps creates a lifecycle and a set of practices that apply to the development of machine learning systems. This includes research, development, operations, and implementation.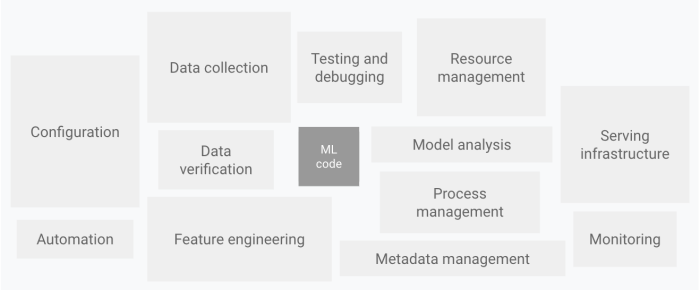 The process of brainstorming, developing, and implementing machine learning is extensive. Having a set of duplicatable processes to guide each project helps in many ways.
5 Benefits of MLOps
Now that we have a general understanding of MLOps, let's look at how it can impact our businesses. All new technology has either a positive or negative effect on the digital marketing industry, so it's crucial we understand what we're getting.
1. MLOps Can Increase Efficiency and Automation
Making the most of our time is something most of us strive to do.
Ironically, we spend a lot of time figuring out how to do this.
We may look into all different kinds of apps and books. We could spend days reading articles or even attending seminars on efficiency and time management.
But, perhaps automating would be simpler for many people.
Automation, by definition, should increase efficiency. Once minute tasks are out of people's hands, they can focus on big picture issues.
An essential but draining task many folks on data science teams spend time doing is data entry. That's time they could spend focusing on the science rather than passively improving their typing skills (and, we all know, a typo in data entry can bring disaster!).
MLOps gives options for automating tasks like data entry. It takes some work upfront, but once things are going, the data scientists can get back to what they do best.
2. MLOps Eliminates Waste
MLOps helps businesses improve communication and avoid bottlenecks and costly errors.
How much time have you wasted answering the same questions, reiterating a previous point, or working extra hours to clean up an error because someone simply didn't know what to do—or what someone else was supposed to be doing?
If you had a set of operations for each employee or contractor to follow, there would be no need to answer the same question continually. You could send them an operations checklist, and they work through it until completion.
The best thing about this is it's highly duplicatable. I'll use the example of a content marketing company creating content for its clients.
Let's say you run a site reviewing camping products. Every page should follow the same basic format so your readers can easily compare products or skim to the parts they care about most.
Suppose you give your reviewers and editors a template to follow, step-by-step instructions, and information about what the others are doing. In that case, confusion can be lessened, and you can focus on which hiking boots are best in winter weather.
MLOps does this, not for content, but for communication. It allows leaders to share "templates" of what should be done on a given day and, after any frontloading, questions should lessen and related waste eliminated.
3. MLOps Focuses on Collaboration
As mentioned, a lack of communication can kill a business quickly. Collaboration between departments is so crucial. Otherwise, work gets lost, notes aren't passed on, things get missed—and tempers may flare.
MLOps creates procedures for passing one task on to another department. The word "lifecycle" is often used to describe this process.
As a project moves through the lifecycle, workers should be able to see what has happened, what should be happening now, and what will happen next.
This is where we put on our marketer hat and look towards tools like ClickUp and Trello. These are useful for managing large numbers of tasks at the same time.
People involved in the project can access things like checklists and previous conversations at all points in the pipeline, eliminating the wait for responses on work chats or dealing with the dreaded group email.
Communications come in order, everyone who needs to be in on the conversation can be, and they're unlikely to get lost in dozens of messages.
This process also allows for documentation. Not only does this create a paper trail of who did what so the right people can be given feedback, but it also eliminates miscommunication because it's all outlined already.
4. MLOps Supports Machine Learning Models

Reducing the amount of variation from one project to another is an important key to scaling any business. MLOps help do this by creating reproducible models you can use as a benchmark at the beginning of each new project.
These data set registries help track resources, project data, logs, and metrics. These factors combined eliminate bottlenecks, reduce wasted time, and help move projects through the pipeline faster.
Essentially what you're doing is creating a template that can be used over and over. These machine learning "templates" or "models" help reduce production time and produce a better product by having a benchmark to follow each time a new machine learning model comes out.
Having a duplicatable model is vital in marketing because it allows you to input any variable and experience the same result. SEO is an exceptional example of this.
Once you have a proven strategy to create content, upload it, optimize it, drive links to it, and re-optimize, you'll never have to worry about variables because the steps are the same.
It wouldn't matter if you were ranking an article about ergonomic keyboards or funeral home carpeting because the bones are the same.
It starts with providing those in need with the resources they want on their own time. We live in a 24-7 connected world where people work all different kinds of hours.
Gone are the days of working 9-5 and leaving all your work behind. Every employee or contractor you have should be able to receive an answer to any question when they need it.
If they have to sit around and wait for you to come back into the office in the morning, it's creating a bottleneck, slowing down your process, and ultimately costing you money.
5. MLOps Makes Deployment and Implementation Easier
MLOps' ability to improve communication, create processes, and automate things can make deployment and implementation easier because of the inherently reduced chances of errors.
With MLOps at their fingertips, developers can pack models much faster while still maintaining quality control with profiling and model validation.
It provides a way for data scientists and administrators to perform at a higher level with confidence in knowing each step was followed and validated for consistency.
What is the Future of MLOps in Business and Marketing?
MLOps is a new but colossal industry expected to hit $4 billion by 2025. The most significant impact it may have relates to how we manage data.
Data is meaningless if you don't have an understandable way to translate it.
Machine learning operations allow you to take that data and turn it into something tangible. For example, if you made some changes to a specific business model and you notice worsening results after six months, you may want to circle back to the original model.
Plus, MLOps provides consistency. Producing a consistent product is a tall order because each scenario is different, and you'll likely run into unique issues each time. Businesses all over the world struggle to put out a consistent product/service time and time again.
MLOps helps data scientists and operations managers work together to produce consistent results across a considerable time frame. As the project moves from one end of the pipeline to another, all the people involved need to have a way to ensure quality is maintained. MLOps can even automate the process of quality assurance with routine scans.
Conclusion
MLOps helps create lines of communication between everyone involved in the process of developing machine learning technology. As marketers, we can learn something from this and implement the same principles in our businesses.
Every business can benefit from clear guidelines and processes to follow. If you're experiencing bottlenecks, slow production times, and a large number of errors, you might want to pull back the curtain and take a look at your procedures as a whole.
If that sounds like a lot of work, we can help!
How do you think MLOps will impact business and marketing?
The post How is MLOps Used in Business and Marketing? appeared first on Neil Patel.