Monday, February 8th, 2021
now browsing by day
We live in a world inundated with advanced data. We're tracking clicks, views, impressions, form completions, chatbot responses…the list goes on. One unique and often neglected area is call tracking metrics.
By implementing a standard call tracking protocol, you'll be able to learn more about your audience and maximize the profitability of every call.
Call Tracking Metrics for Inbound vs. Outbound Calls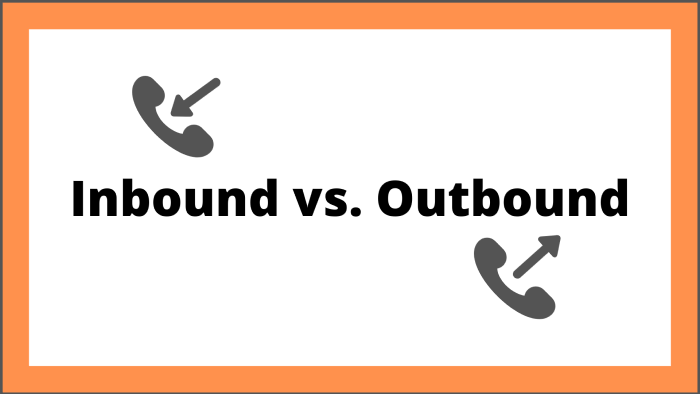 If someone picks up the phone to call you, chances are you have a decent campaign on your hands. However, not all calls are equal.
One crucial factor to consider before deciding on metrics is the difference between inbound and outbound call tracking metrics. You can't measure the same data for inbound as you do for outbound.
Inbound calls refer to all the calls an individual makes to your business. For example, if someone sees an ad you're running on Google, finds the phone number, and calls you, that's an inbound call.
Outbound calls refer to the calls your business makes to potential customers. An example of this would be someone completing a form on your landing page and entering their phone number for you to call them. You're making an outbound call in this case.
As you can tell, the metrics you would measure for both call types are very different. You'll want to create a unique strategy and approach for each.
Let's take a look at the most effective metrics for each type of call.
Call Tracking Metrics for Outbound Calls
If you're making outbound calls in your business, you're likely getting leads from somewhere. Whether it's your landing page, PPC, or social media, you'll want to track the success of your efforts.
Here are the most important outbound call metrics to track.
Volume
Call volume tells you which advertisements are generating the most calls so you can track the ROI of your marketing efforts.
If your business call volume is high, this information will be even more critical. When you have multiple salespeople calling out to customers, you'll want to keep track of who makes which calls and how many calls they're making on a workday.
Don't assume this data is better left to the big businesses, though. Even if you have one or two salespeople making outbound calls, you should track the calls they make.
Lead Source
Few factors are as important as the source of leads. These call tracking metrics are crucial to your success because they tell you where your best leads come from. For example, if you have two different landing pages each asking leads for their phone number, you'll want to keep track of which landing page drives more leads.
Even if one page is outperforming the other in terms of CTR, the page with fewer numbers might be better targeted if it yields a higher close rate from your phone calls.
You'll never know if you're not tracking.
Call Duration
Call duration might not seem like a critical factor, but lasting conversations generally lead to sales. If you're continually dialing out calls that last less than 30 seconds, you might want to reconsider the source of those leads.
The ad might not be targeted properly, the text may be misleading, or you may want to consider adding negative keywords.
If you find certain campaigns yield longer conversations, callbacks, and more closes, you'll want to pump more money into that campaign. Keep track of how long each call lasts and see if you can find any correlation between that and over or underperforming campaigns.
But don't look at call duration alone—the length of the call is an indicator, not proof of good or bad ROI.
Time/Date
The time of day can have an enormous impact on conversions, and this information is valuable no matter what type of campaign you're running.
With this data, you can track what time of day people are more receptive to outbound calling. Track how many voicemail boxes you get, how many callbacks you get, and the success rate of getting through based on the time you're calling.
Over time, that data will clearly show the exact time of day and week you should call prospects for a specific campaign. If you have the data, you can even narrow it down by demographic.
Triggers/Objections
Outbound calling is all about mastering objections and figuring out how to overcome them. What phrases make people want to buy, and what phrases turn people away? If you're not tracking this, you're missing out.
Whether you make all the calls yourself or have salespeople, you need to keep a running tab of every objection someone throws at you.
It's too much money.
We don't have the budget right now.
I'm in the middle of a meeting.
My boss is on vacation.
Call back in the new year.
No objection is too big or small for you to keep track of it. Take note and supply responses for each one. This can increase your conversions and make conversations easier because you'll have a response ready for whatever they throw your way.
Call Tracking Metrics for Inbound Calls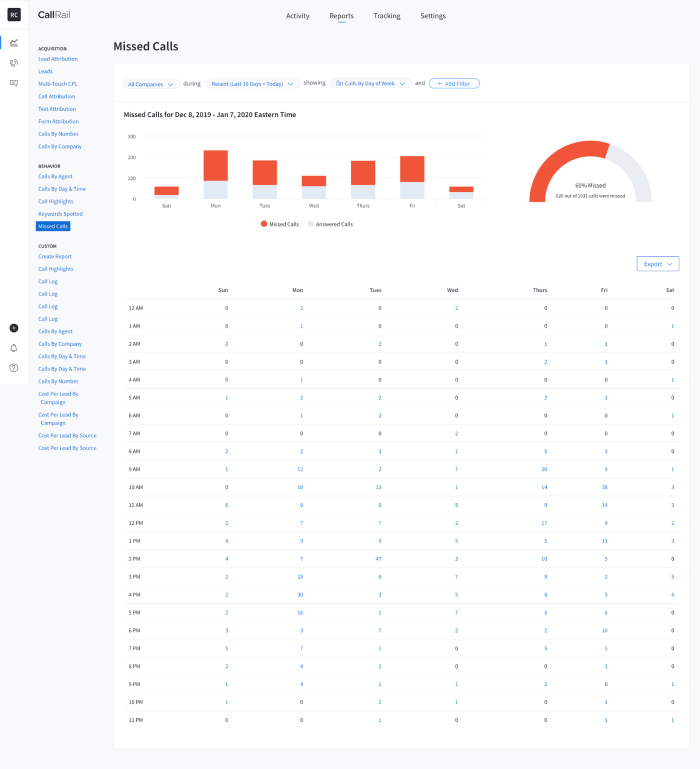 You've put together a successful campaign, and people are picking up the phone to call. That's great. Now that you have a decent volume of calls, you need to track them to know where they're coming from, which campaigns are performing, and who they are.
Using call tracking metrics for inbound is just as important as outbound. Here are the top inbound call metrics to track.
Lead Source
Just like you wanted to know the source of the outbound lead, you'll want to know where inbound leads come from as well. How did they find out about you, where did they get your number, and what made them want to call?
For example, did they see a specific ad or search for a specific key term?
Knowing where they're coming from tells you where to allocate your marketing budget. Even if you're getting a ton of phone calls, they could all be coming from the same campaign while you have four others running at a loss.
Using Dynamic Number Insertion is a great way to do this. This strategy allows you to track each number independently so you can tell the source of a campaign right away.
PPC/Landing Page Performance
Every time someone hits your landing page, they're likely greeted with several contact methods. They could fill out a form, use an on-site chatbot, or pick up the phone and dial. If you are tracking forms and chatbots but not phone calls, you could be missing the mark on campaign ROI.
Having different phone numbers on each landing page helps determine which one brings in the most calls. But, as I mentioned before, more calls is not always better.
Make sure you also track the success of each call, because some campaigns might bring in fewer calls but more qualified prospects that close at a higher rate.
Missed Calls
A missed call could be a missed sale. How often do callers dial your number only to get a voicemail box? Understanding how often you miss calls can give insight into staffing issues so you can adjust your staff or consider other options like educational resources on your website or a live chat feature.
First-Time Caller
If someone has never called you before, you'll want to know what made them pick up the phone today. Keeping tabs on all the phone numbers that call you will help make this easier. When someone calls you for the first time, you can take a unique approach that caters to this potential new customer.
You'll also want to take a deep dive into what brought them to you. What keyword did they use, what landing page did they hit, what phone number did they dial? What is their intent? How can you use this information to get more first-time callers?
Use all this data to put together a "first-time caller" action plan. Keep track of new leads and create specific sales call templates for them.
Previous Interactions
If a prospect has reached the point where they decided to call you, chances are they've known about you for a while and have interacted in some other way. They might have visited a landing page, clicked an ad, or interacted with you on social media.
You need to track this to determine what finally drove them over the edge. What finally got them to reach out?
Advanced marketing systems like KissMetrics provide you with data about every interaction a prospect has with you.
Call Metric Tracking Tools
As you can see, there are tons of data points you should be tracking. Tracking all of this information manually is impossible, so you'll need a call metric tracking tool to help.
Luckily, there are plenty of call tracking metrics apps out there to help you keep an eye on what works and what doesn't. Here are a few to consider.
CallRail
CallRail is the most popular tool for tracking call-related data. It racks phone calls from online and offline marketing, keywords, PPC, and more.
You'll have access to information about which campaigns are performing, what time of day is best to call, and even which staff member should make the call based on their performance and the recipient's potential demographic.
PhoneWagon
PhoneWagon is a great tool for tracking calls and gathering information on a more granular level. If you're collecting information and you're concerned about the performance of your employees who are making the calls, PhoneWagon can help you with that.
When you pair this type of "in-call" data with the analytics that CallRail provides, your team should have an easier time closing prospects.
WhatConverts
WhatConverts does it all, and that's part of the reason it's so popular. It tracks your calls, manages your leads, and provides complex data for each call.
If you have multiple points of contact such as forms, live chat, email, and phone, you can track everything on this platform. Their reporting features make them stand out, because it makes it easy to gain insights from all that data.
Conclusion
Whether you're managing all inbound and outbound calls yourself or have a team of 80 salespeople, tracking call metrics is crucial to business success. This information provides opportunities to learn about your audience, understand your prospects, and determine what makes them act.
This information will help narrow down your marketing campaigns so you can focus on the strategies that work. Overwhelmed? Consider hiring a digital marketing expert to do it for you.
Just remember, there is no such a thing as too much data. Use one of the tools discussed above to help turn pages of data into actionable steps that will help drive your business forward.
What are the most important call tracking metrics for you?
The post Which Call Tracking Metrics Are Important? appeared first on Neil Patel.
Disclosure: This content is reader-supported, which means if you click on some of our links that we may earn a commission.
WordPress is the most widely-used CMS platform, and according to a web survey, 39.6% of the world uses WordPress to manage their content.
I am part of that nearly 40%. WordPress is my go-to for managing my NeilPatel.com blog as well as my other websites.
However, several other options are growing in popularity that prove to be worthy opponents for WordPress. One such competitor is Squarespace. This beginner-friendly content management system is a favorite amongst many, but how does it hold up against the trusted WordPress?
I've been building websites for years, so I have gathered knowledge and experience in both WordPress and Squarespace.
If you're looking to build a new website and are not sure which platform is best, check out my comparison of WordPress vs. Squarespace.
WordPress or Squarespace: Which is Better?
WordPress is best for customization. With this platform, the options seem unlimited. WordPress offers thousands of templates that serve as a starting point for your website. These templates can be greatly modified to best fit your needs. WordPress also offers tens of thousands of plugins to add to your site to further improve its design and function.
Squarespace is best for beginners. The steps to creating a website on this platform are simple and easy for people just starting out. Squarespace does not require signing up for hosting or purchasing a domain separately, and the templates give you options for customization that don't feel overwhelming.
A Review of The Best Website Builders
We reviewed dozens of website builders and narrowed them down to the four best options. Check out our top picks and get the information you need to pick the best builder for you.
With my years of experience building websites, I have done extensive research on which ones work best in specific situations and specific people. My list of top picks reflects this work and the ones that shine the brightest for those looking to build a website.
Though Squarespace did not make the Best Website Builders list, it is still very popular and, as you'll see in this review, has some great qualities. WordPress made our top list for several different reasons that we cover in the article, including its thousands of template options, the plethora of extensions/plugins, the amount of control you have over your website, and more.
With the right website builder, it won't take a great deal of technical experience to get a website up and running that looks professional and has excellent functionality.
WordPress Wins
WordPress is the chosen winner. This website builder offers several different benefits that other platforms do not.
Control: WordPress allows for a great deal of control over how your website looks and works. With thousands of different templates to choose from, you have more options than necessary to get your website's basic outline up and running. Add to that the tens of thousands of plugins available, and you can personalize your WordPress website in nearly every way imaginable.
Templates: While Squarespace offers templates, WordPress offers many more. On top of that, WordPress templates are easier for the average person to personalize even more. Many websites use WordPress templates without anyone ever knowing.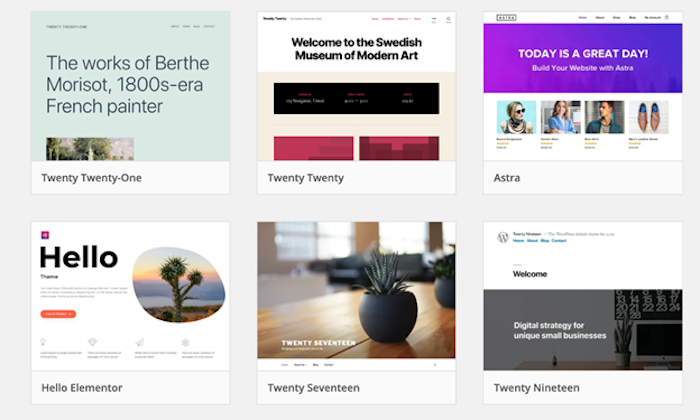 Added Functionality. WordPress is known for its plugins. Need something on your website? It's almost a guarantee that there is a plugin for that. WordPress currently offers nearly 60,000 different plugins, some of which are free. Plugins have the power to do a variety of things, including help you with your website's SEO, set up a contact form, track your site's analytics, and much more.
Built-In Blog. WordPress was created as software for content management, so all of its sites have a built-in blog feature that makes adding a blog to your website easy. There is no need to create a separate blog for your WordPress site. Simply add blog content to your existing website to share information and updates with your readers.
Community Support. WordPress is open-source and free, so people who contribute to the platform have built a great community to support each other. Though WordPress itself doesn't offer a great deal of online or phone support, the forums created by the community of users has answers to all kinds of WordPress questions.
There are also events called WordCamps that exist all over the world put on by WordPress to help people learn how to better use and develop the platform. Ticket prices are affordable and open to all WordPress users, developers, designers, and fans.
Cost. Because WordPress is open-source, it is free to download. Templates and plugins are not always free, but the ability to download and use the platform is. Hosting as well is something that does not come free, but that is typically done through an external site such as Bluehost.
Easy to Manage. While many companies offer expensive packages to manage WordPress sites, it can be done easily on your own. Updating plugins is a regular occurrence but requires minimal effort. And you get reminders when updates are available. Management also includes ensuring backups are in place (which happens through plugins or your hosting plan).
SEO Help. Since SEO is a must for your website, it's great to have tools to help you get there. WordPress has SEO built into it via its automatic generation of both meta descriptions and title tags. The popular Yoast SEO plugin on WordPress is free and a must-have tool for your website.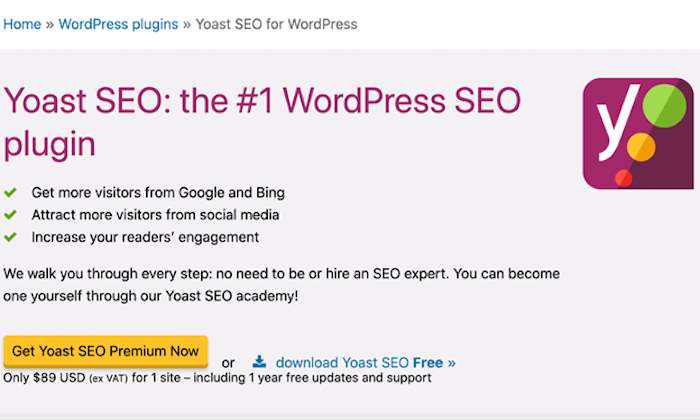 Every page and blog post you create can utilize SEO to boost it and let search engines know what you're doing. Yoast SEO has you do things such as:
● Create a focus keyphrase
● Write a more detailed meta description
● Create an SEO title
● Create a slug
Yoast also features a readability analysis area where it determines how easily people will be able to read your content and provide suggestions on making it better.
WordPress Losses
Steep Learning Curve. WordPress is not an intuitive platform. There is information to help you learn it, but you have to be willing to put in the time to do so. The layout of the dashboard is something that takes getting used to and learning how to navigate the editing. Since templates on WordPress are created by users, they work differently, and that means adjusting each time you use a new template.
Lack of Hosting. To run your WordPress site, you need to purchase hosting through a third-party such as Bluehost. This adds an extra step to the building of your website and is a step that can be confusing to people new to website building.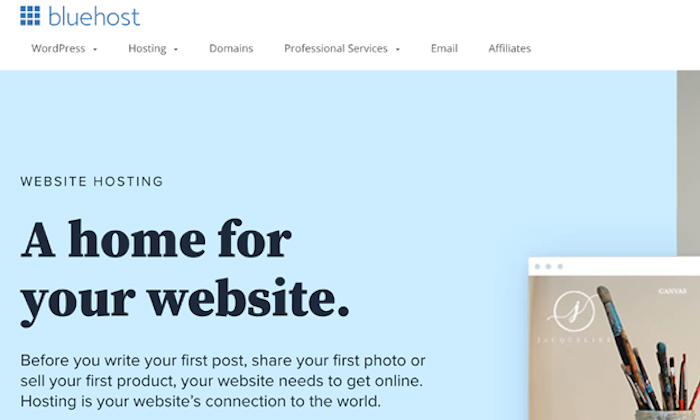 Speed Issues. Some of the WordPress themes are built with a lot of code, which can cause the load time of the site to slow down. If you are new to WordPress, you likely won't know that some of the code is unnecessary and can be erased. Ridding of the excess code helps speed the site up but shouldn't be done unless you know what you're doing.
Hidden Costs. Though the platform itself is free, a WordPress website's functionality and success depend on customizable themes and plugins. And most of these come at a price. Though it may not seem like much at first, each new paid plugin adds to the site's overall cost.
Site Vulnerability. Because WordPress is open-source, it is at higher risk for hackers. It is also the most widely-used content management system, so the volume of hackers increases with the platform's increased use. WordPress plugins are also developed by different people not affiliated with the WordPress company itself, so it is possible that bad code could get into your site.
Squarespace Wins
Though not as strong of a contender as WordPress, Squarespace does still offer some great things.
Ease of Use. It doesn't get more straightforward than drag-and-drop, and Squarespace allows you to do just that. Squarespace templates are ready for you to use with little to no previous experience and almost no learning curve.
Simple Editing. Changing your Squarespace website is a zero-stress task thanks to its user-friendly backend. It does not require knowledge of web design or development.
Marketing Tools Included. While you have to pay for and individually download and install every plugin with WordPress, the marketing tools you need are included with Squarespace. This means things such as analytics, contact forms, SEO, and more.
All-in-One. Squarespace is everything. It is your website builder, your design hub, and your host. You don't have to hop to other sites to get what you need and then figure out how to connect it to your Squarespace site. It's a one-stop-shop for all you need to get your website up and running.
Very Responsive. All templates on Squarespace are responsive and built to work on all computers, phones, and tablets. You can even see while building your website how it looks on each of the different devices, as they can vary greatly.
Excellent Support. The customer care team at Squarespace is available 24/7 to troubleshoot any issues you may be having. The platform also has community forums that connect you with other Squarespace users to answer questions and get information.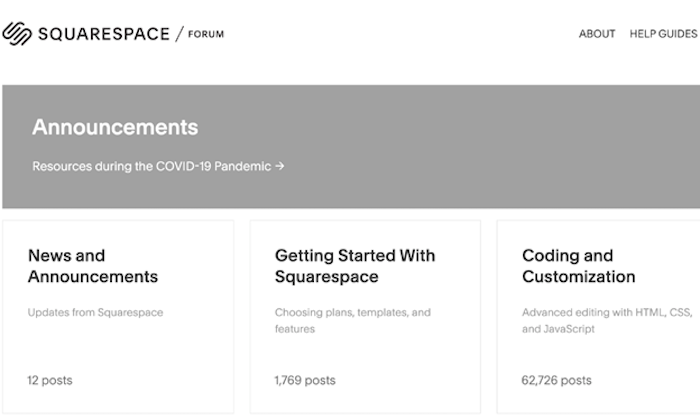 Social Integration. Squarespace offers customized widgets that allow you to integrate your social media handles easily. And they can look like they were part of the original design.
Automatic Updates. Any new features rolled out by Squarespace automatically show up on your page or allow you to simply opt-in on them.
Squarespace Losses
Lack of Customization Options. While I love how user-friendly Squarespace is, there is not nearly the level of customization as WordPress offers. And changes to the coding of your Squarespace website is not as easy as WordPress.
Fewer Templates. The number of templates available on Squarespace is merely a fraction of what's available on WordPress. If you're looking to build an ecommerce site, Squarespace only has 14 to choose from.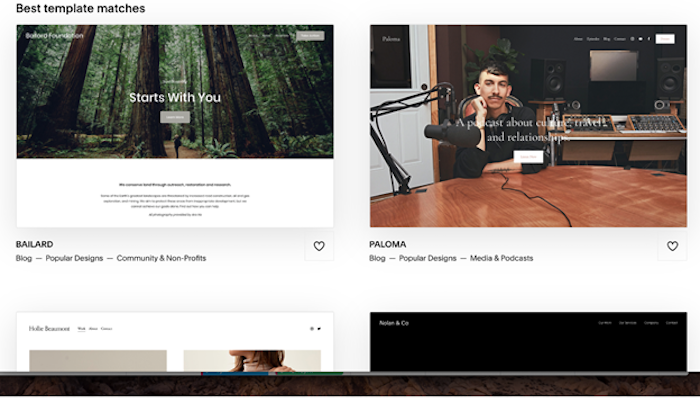 Basic SEO. Squarespace offers some basic SEO tools such as HTML markup and automatic sitemaps but does not allow for the level of SEO optimization that WordPress does.
Lack of Ownership. When you purchase a domain through Squarespace, you don't legally own it. When you get a free domain through Squarespace, it applies WHOIS privacy, which means it is owned by Tucows Inc. Tucows is the primary contact of the registered domain, and since WHOIS privacy is applied to all Squarespace domains, you technically don't own it.
Limited Number of Sites. With one Squarespace subscription plan, you are only able to have one website. Adding another one necessitates an additional subscription.
Limited Number of Contributors. Squarespace limits you to two contributors with its personal plan. To add more, you must upgrade. WordPress allows for an unlimited number of contributors.
Comparing The Top Website Builders
Finding the best website builder is a challenge. There are great options out there for platforms to build your website, and it is not a decision to be taken lightly. Whether it is for your small business, a personal blog, or a life-changing non-profit, your website plays a major role in your business's success.
That's why you need to take the time and read up on the top website builders. Here are my top picks from my research and experience:
After reviewing the numerous website builders out there, I have found different options work best for different people.
If you are choosing between WordPress and Squarespace to build a great website, WordPress is our top pick. 
The post Squarespace Vs. WordPress appeared first on Neil Patel.
Legalist, Inc. (fintech) | First product hire | Full-time | Remote (US based) | Full-time
Legalist is hiring its first product hire (product lead). We're looking for somebody who is comfortable wearing many hats; has a data science/data analysis background; and who wants to help build products that support Legalist, a multi-hundred million dollar fintech startup, across a number of esoteric investment strategies. An interest in law and/or finance is preferred, and a curiosity and interest in working creatively with data is essential.
This is a US-based remote team, and post-covid it will continue to be remote.
Link: https://boards.greenhouse.io/legalist/jobs/4000419004
The post New comment by chaigh in "Ask HN: Who is hiring? (February 2021)" appeared first on ROI Credit Builders.