Wednesday, January 20th, 2021
now browsing by day
With roughly 350,000 new tweets appearing on the platform every minute, building engagement via Twitter can feel like an uphill struggle.
To increase engagement on the platform, Twitter rolled out voice tweets, which let users share snippets of audio to their profile.
Learn more about voice tweet options and how it's transforming the ways digital marketers can use Twitter to their best advantage.
What Is a Voice Tweet?
Voice Tweets allow you to record your voice as an audio clip and send it in a tweet. Here's a rundown of how it works.
You can record up to 140 seconds of audio.
If you need longer, that's OK. Keep talking, and a new voice tweet starts recording automatically.
Click or tap the "done" button to finish recording.
Send your voice tweet(s) from the composer screen, just like you'd send out regular tweets.
Twitter uses your current profile picture as the placeholder image for the audio. Users click on this image to hear the audio attachment.
Users can then listen to what you've got to say and engage in their preferred way, whether it's typing out a reply, sharing your message, or clicking through to your website. Think of voice tweets as your opportunity to stand up and make sure you're heard among a sea of 280-character tweets.
There's one thing to bear in mind before you start voice tweeting, though. The picture attached to a voice tweet won't change, even if you later change your profile picture.
Ensure you're happy with your photo before you start voice tweeting. This keeps your messaging consistent and makes it easier for users to find you again in the future.
Can Everyone Use Voice Tweets?
Not yet, no. It's only available through the OS app for Twitter, but if you're running Android or desktop Twitter, don't worry. Voice tweets are coming your way.

You can't quote or reply to tweets using voice yet. It's only available for original tweets.
If you have a lot to say, you'll need more than one thread. Threads are limited to 25 voice tweets.
Need more space than 25 tweets? You might be better off making a short YouTube video and linking to it through a tweet.
Voice tweet transcripts aren't available yet, either, but Twitter plans on rolling out this feature to ensure more people can enjoy voice tweets going forward.
Can you use voice tweets for DMs? Not right now, though if voice tweets prove popular, we can probably expect a rollout in the future.
15 Ways to Use Voice Tweets
Ready to use voice tweets but not sure how to get started? Here are 15 ways you can use the Twitter voice feature and tips for creating effective voice tweets.
1. Improve Brand Personality
How would you describe your business in three words? I ask because these three words are key to defining your brand's personality.
Your brand personality matters. It defines how people perceive your company, and it influences which words come to mind when someone describes your business.
Can voice tweets help you build the right personality online? Yes, because it all comes down to authenticity. Eighty-six percent of customers opt for companies with an honest, upfront, and authentic identity, and voice tweets instantly make your brand feel more real and sincere.
Here's how to improve your brand personality using voice tweets.
Appoint one or two team members to record voice tweets. Ensure their tone matches your goals. For example, if you're a B2B company, choose an eloquent speaker.
Review your voice tweet engagement. Are people sharing your tweets or responding to them? If not, consider reevaluating what you're tweeting.
How do you want people to describe your brand? Use voice tweets to reinforce this message.
2. Advertise Your Business
If you don't use Twitter, you're missing out on a significant marketing opportunity.
Twitter has over 330 million active users and counting. That's a massive number of people logging in every day, and there's no limit on who you can reach if you target your ads effectively.
Once they follow a brand on Twitter, around 50 percent of users complete a purchase.
Since you don't pay anything to tweet, it's free advertising.
Here are some suggestions for incorporating voice tweets into your strategy.
You need to make your point quickly, so keep messages short and simple.
Include sound effects or slogans to reinforce your brand message. There's no need to limit yourself!
Finish with a call-to-action (CTA) e.g., directing users to your website.
Want to upgrade your Twitter profile? Consider "pinning" a tweet to the top of your page. With one click, users can instantly discover your brand and build a connection to your business.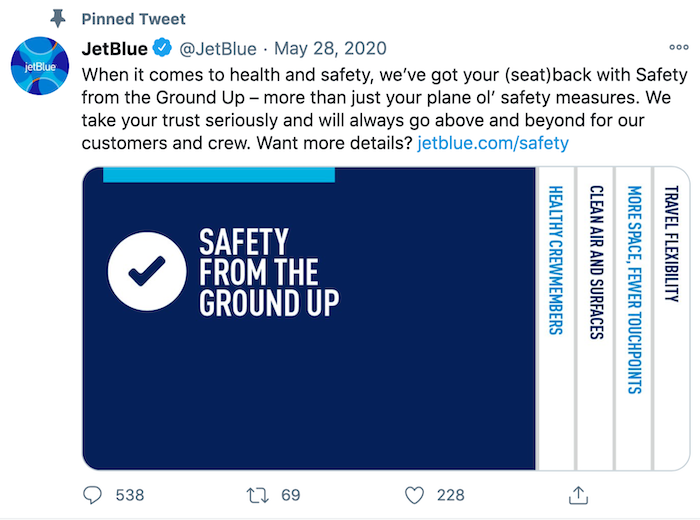 3. Promote Your Product
Roughly 54 percent of millennials turn to social media platforms for product research, so voice tweets provide a great opportunity to shout about your core products.
How do you get the most from promotional tweets? Well, it's not just about your actual voice. It comes back to your brand's voice, too, which is why it's so important to build a clear, unique, and consistent personality.
Take MoonPie, for example. They're successful on Twitter thanks to their distinctive quirky, witty vibe.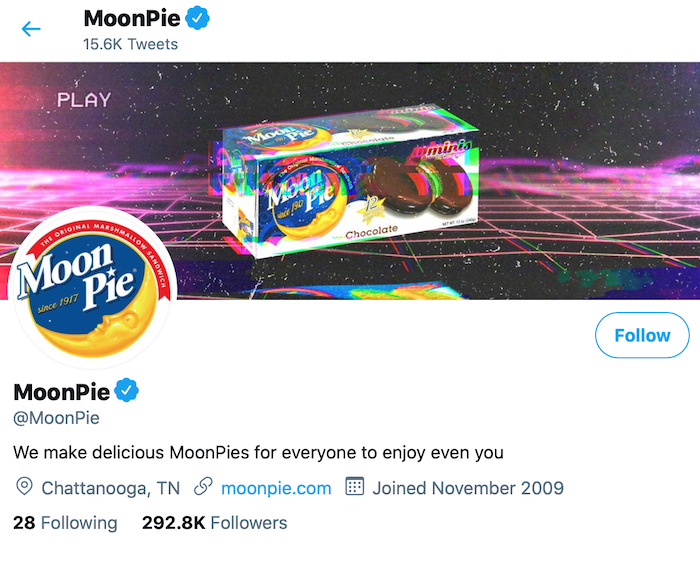 Their tweets catch your attention because they're unexpected. For example, tweets like this one would translate equally well into a promotional voice tweet because it's funny and understated:

Take a lesson from MoonPie. Avoid sounding like every other promotional tweet on the platform by building a distinctive voice, and watch your product engagement grow as a result.
A final tip. You can also use voice tweets to promote underselling products and services by linking to them in the same thread!
4. Reveal New Features or Products
Marketers already rely on Twitter to launch their new products and services. However, good marketers know how important it is to stand out from the noise and find new ways to attract attention.
Again, voice tweets can definitely help you out here, because they're an opportunity to showcase what's unique about you and your product.
Consider using voice tweets alongside other media, like YouTube videos, to boost the overall user experience. Users are over 80 percent more likely to buy a product after watching a video, so it's always worth including video tools in your marketing strategy.
Also, according to Hubspot, it's best to tweet between 8 a.m. and 10 a.m., then between 6 p.m. and 9 p.m. These are "peak" hours, which means there's a better chance you'll generate some user engagement than if you voice tweet at, say, midnight.
5. Announce Brand Giveaways
What's not to love about free stuff? Everyone loves a good giveaway, so consider using the power of the voice tweet to shout out your latest contest.
Once you've picked the prize, here's how to talk it up on Twitter.
Set a giveaway goal. Are you aiming for more followers, or are you focused on growing your subscriber list?
Turn your goal into a CTA. For example, maybe users must retweet your giveaway tweet to enter, or they get extra entries if they follow you on another social media platform, too. It all depends on your goal.
6. Interact With Customers
Did you know that 64 percent of customers expect companies to interact with them on social media? Personalize the user experience and answer via voice tweets.
If you make individual users feel like they matter to your company, they're more likely to choose you over competitors.
Here's an example of an engaging post you could turn into a voice tweet.

7. Act as Customer Service
Dealing with customer service queries? Over 70 percent of users expect companies to respond within an hour. Here's how to use voice tweets to help.
Give your customer service the personal touch by including someone's name in the reply.
If you're only online during certain hours, pin a voice tweet to the top of your profile with a rundown of how quickly you can respond to messages and where else customers can turn to in the meantime.
8. Clarify Company Policies
Although you have 140 seconds to play with, voice tweets should be short, sharp, and memorable. In other words, they're an excellent tool for quickly clarifying company policies.
Reinforce key policies through voice tweets e.g., shipping policies, customer service hours.
Include links to more detailed social media posts or pages on your website.
9. Answer FAQs
If voice tweets work for company policies, they work for FAQs, too.
Run a series of voice tweets answering 10-15 FAQs in the one thread.
Pin the thread to the top of your Twitter page so it's easy for people to find.
End the conversation with another CTA inviting people to respond with questions you'll answer in the same thread.
10. Increase Customer Loyalty
I'll keep this one short and sweet.
All those questions you answer? Those replies you send? They add up. In time, they build trust in your brand, and customer loyalty grows as a result.
Put simply, your voice can really grow your business over time.
11. Invite Customer Feedback
Why not invite customers to share feedback via voice tweet? You can retweet or quote positive reviews and share them with your followers.
Voice tweets "humanize" product and service reviews for your target audience, which may increase conversion rates in the long run.
Do you use customer feedback to improve your products or launch new lines? Tell them! You'll likely boost engagement this way.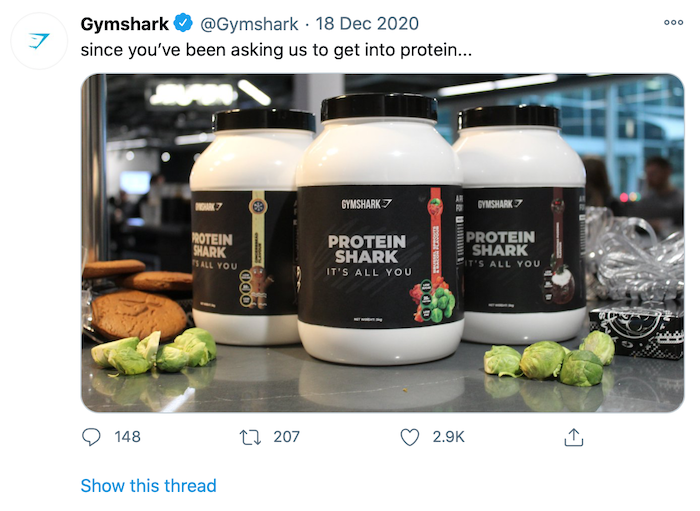 12. Share Stories
There's power in storytelling. Here's why you should use voice tweets to build your brand, increase engagement, and even grow your follower count.
Great stories encourage sharing, liking, and retweeting, which boosts your followers and brand exposure.
Stories are an opportunity to stand up for what you believe in and showcase matters to you as a company. This may impress users and encourage them to check out your page.
13. Collaborate With Influencers
Influencers are, well, influential. Users typically respond well to them. With that in mind, why not hire a social media influencer to "take over" your Twitter feed for the day? They might, for example:
Engage with followers
Talk about giveaways
Run contests
Send them your product and ask for voice feedback. Just make sure you choose an influencer with the same "vibe" as your brand!
14. Entertain Audience
At least 60 percent of social media users want entertaining content, which is why it's so important to bring your tweets to life. Voice tweets can, of course, help you do this.
Choose a speaker with a dynamic and engaging voice.
Focus on short, surprising anecdotes. Remember, there's no need to use the 140-second limit for each voice tweet.
Pop-Tarts hits the right note here. Could this post work equally well as a voice tweet? I think so.

15. Humanize Your Brand
What's the No. 1 way to build a rapport with your followers? Humanize your brand. Use your voice to show users the real people behind your company.
Voice tweets add another dimension to your brand's identity.
Talking allows you to showcase your passion, expertise, and creativity online.
If you answer questions or interact via voice tweet, you instantly make your followers feel valued.
Voice tweets help users feel like they're engaging with more than just a machine. This personal touch could be why people choose your brand over another similar company.
Conclusion
It's absolutely still worth using Twitter for digital marketing, and voice tweets make it a whole lot easier to define your brand and find your audience.
Before you start tweeting, choose a strong, distinctive profile picture and decide your brand voice. Once you've got this part down, use voice tweets to encourage engagement and humanize your business across social media.
Need help optimizing your social media platforms? Check out my consulting services to see how I can help.
Have you used voice tweets yet? How are users engaging with them?
The post 15 Ways to Use Voice Tweets appeared first on Neil Patel.
Whether you are thinking of starting a business in recession chaos or during economic Shangri-La, an SBA startup loan could be just what you need to get up and going.
All You Need to Know About Getting an SBA Startup Loan, and Other Options for Right Now
The Small Business Administration is in the news big time right now in relation to COVID-19 relief for businesses.  However, if you are looking to start a business, their SBA startup loan programs are still available.
SBA Startup Loans: Why SBA Loans?
SBA loans are small-business loans guaranteed by the Small Business Administration.  The loans are issued by participating lenders, mostly banks. The  guarantee can go up to 85% of a loan of $150,000 or less, and loans that are more than $150,000 they will guarantee up to 75%.
Find out why so many companies use our proven methods to get business loans, even during a recession.
Who Qualifies for an SBA Startup Loan?
To be eligible for SBA Loans, you must meet certain qualifications. These include:
Your business must be for profit.
Your business must be inside the US.
Business owners must invest equity.
You must have exhausted all other financing options.
Your business must qualify as a small business.
Your business must be in an eligible industry.
Repaying an SBA Startup Loan
One perk of an SBA loan is that you get more time to pay it back than you would otherwise. According to the SBA, the terms depend on how you intend to use the funds.
For example, working capital loans, or funds you intend to use for daily operation, have a repayment term of seven years. However, funds for new equipment purchase have a term of 10 years, and real estate loan terms extend even longer to 25 years. Of course, the longer the term the lower the interest, which means lower regular payments.
How to Apply for an SBA Startup Loan
One of the downsides to SBA government loans is that they have a lengthy and somewhat complicated application process. There is a lot of red tape involved, but understandably so considering it is the federal government and they are guaranteeing a huge chunk of the loan.
Get Your Eggs in a Row
The first thing you have to do is gather the information you will need. This includes:
The SBA borrower loan information form
Statement of personal history
Personal financial statement
Personal income tax returns for the previous 3 years
Tax returns for the business for the previous 3 years
Business certificate or license
Business lease
Loan application history
This list, along with links to forms and templates, is available at SBA.gov. Once you have this information, you can start looking for a lender.
There may be more requirements based on your specific lender and what they deem necessary for your individual case. However, this is a general list to get you started.
Find out why so many companies use our proven methods to get business loans, even during a recession.
Find an SBA Partner Lender
There is more than one way to go about this. The first way is to contact your SBA district office. You can find contact information through the website. Another option is to use the SBA lender match option on the website.
All you have to do is enter some basic information about your business and how you plan to use the funds.  The tool then matches you with a list of potential lenders that could meet your needs.
Which Program Works Best for an SBA Startup Loan
Not all SBA loan programs work for startups.  These are your best options.
SBA Startup Loan: 7(a) Loans
This is a cornerstone program for the SBA.   It offers federally funded term loans of up to $5 million. Funds can be used for expansion, purchasing equipment, and  working capital in addition to startup. Banks, credit unions, and other specialized institutions in partnership with the SBA process these loans and disburse the funds.
The minimum credit score to qualify is 680.  There is also a required down payment of at least 10% for the purchase of a business, commercial real estate, or equipment. The minimum time in business is 2 years. If you are a startup, business experience equivalent to two years will serve this purpose.
SBA Startup Loan: 504 Loans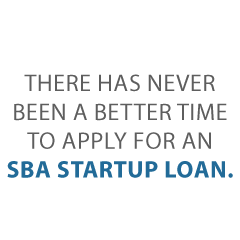 These loans are also available up to $5 million.  Funds can be used to purchase machinery, facilities, or land. They are generally used for expansion.  Private sector lenders or nonprofits process and disburse funds. They work well for commercial real estate purchases especially.
Terms for 504 Loans range from 10 to 20 years, and funding can take from 30 to 90 days. They require a minimum credit score of 680.  Collateral is the asset the funds are financing. There is also a down payment requirement of 10%, which can increase to 15% for a new business.
There is also a requirement you be in business at least 2 years, or that management has equivalent experience if the business is a startup.
SBA Startup Loan: Microloans
Microloans are available in amounts up to $50,000. They work for starting a business purchasing equipment, buying inventory, or for working capital. Community based non-profits administer microloan programs as intermediaries, with financing coming directly from the Small Business Administration.
Interest rates on these loans are 7.75% to 8% above the lender's cost to fund, and the terms go up to 6 years. They can take upwards of 90 days to fund. The minimum credit score is 640, and the collateral and down payment requirements vary by lender.
What If an SBA Startup Loan will Not Work?
What if, for some reason, an SBA startup loan will not work.  Maybe you need collateral and do not have it? Perhaps you would rather not deal with down payment requirements.  What if you need more funding? Here are some other options.
Alternative loans
These are loans that come through private lenders rather than banks.  Most  of these lenders operate online.  The process is fast and simple. Typically, borrowers fill out an application online.  Generally, they receive approval in as little as a few hours.  Once approved, funds are often in the borrower's account in as little as a day or two.
This fast, easy process makes these alternative loans attractive for business funding.
Is There a Catch to Alternative Small Business Loans?
If these alternative loans are so fast and easy, why even bother with traditional loans or even an SBA startup loan?  There has to be some catch, right?.  The catch is, interest rates and terms are considerably less favorable than those you may get with a traditional lender.
That's because, in an effort to extend credit to those that do not qualify with a bank, alternative lenders have to be a little more relaxed with their eligibility requirements. As a result, they are taking on significantly more risk with their loans.  To make up for this, they increase interest rates and loan terms to balance things out.
How do I Choose the Right Alternative Loan for Me?
Once you know you are in a position to need alternative small business loans, you can start looking for the right one for your situation. How do you do this?  The key is to research, research, research.  Extensive research is absolutely necessary to ensure you find the best fit for your business.
While many of them function the same with similar requirements, there are some vastly different and innovative platforms for these types of loans as well.  Read all the reviews, but don't forget to look at the actual lender websites too.  Only you know your specific situation. Your credit score, how long you have been in business, and how much debt you can handle is information that you have at your disposal to help you make an informed decision..
How to Start Finding the Right Alternative Small Business Loans
Start by determining your eligibility factors.  You may not be able to anticipate what every single lender will require.  However, there are a few things that most lenders will want to know before approving a loan.  Things such as credit score, annual revenue, and length of time in business are pretty common.
If you know your score and what your annual revenue is before you begin looking for alternative small business loans, you will be able to weed out the ones you do not qualify for from the beginning. There are so many that you will definitely see the need to do this.
Find out why so many companies use our proven methods to get business loans, even during a recession.
Credit Line Hybrid
What if there were an option that allowed you to have an even better interest rate than a secured loan, and yet get the money faster and easier than any type of traditional funding.  What if you could get business funding without having to supply any bank statements or credit stubs? Imagine that you could get funding in a few days rather than weeks without supplying any collateral or documents? This is exactly the credit line hybrid allows you to do.
What is a Credit Line Hybrid?
A credit line hybrid is basically revolving, unsecured financing.  It allows you to fund your business without putting up collateral, and you only pay back what you use.
What are the Qualifications?
How hard is it to qualify?  Not as hard as you may think.  You do need good personal credit.  That is, your personal credit score should be at least 685.  In addition, you can't have any liens, judgments, bankruptcies or late payments.  Also, in the past 6 months, you should have less than 5 credit inquiries, and you should have less than a 45% balance on all business and personal credit cards.  It's also preferred that you have established business credit as well as personal credit.
If you do not meet all of the requirements, all is not lost. You can take on a credit partner that meets each of these requirements.  Many business owners work with a friend or relative to fund their business.  If a relative or a friend meets all of these requirements, they can partner with you to allow you to tap into their credit to access funding.
What are the Benefits of a Credit Line Hybrid?
There are many benefits to using a credit line hybrid.  First, it is unsecured, meaning you do not have to have any collateral to put up.  Next, the funding is "no-doc."  This means you do not have to provide any bank statements or financials.
Not only that, but typically approval is up to 5x that of the highest credit limit on the personal credit report. Additionally, often you can get interest rates as low as 0% for the first few months, allowing you to put that savings back into your business.
The process is pretty fast, especially with a qualified expert to walk you through it.  One other benefit is this.  With the approval for multiple credit cards, competition is created.  This makes it easier, and likely even if you handle the credit responsibly, that you can get interest rates lowered and limits raised every few months.
Make Sure You're Eligible for SBA Startup Loans and All Other Financing Options
The key to ensuring you can get the funding you need for your business when you need it is to make sure your business is fundable.  Most people think of credit score when they think of fundability, but there is so much more to it than that. Fundability is made of many pieces, and they all have to be in place for things to work the way you need them too.  If your fundability is in order, getting an SBA startup loan, or any other kind of loan, will likely never be a problem.
The post Is an SBA Startup Loan Right for You? appeared first on Credit Suite.
There are a ton of myths out there related to both personal credit and business credit.  Credit myths have been around for as long as the idea of credit itself.  Knowing what's real and what's not can make all the difference in how you are able to run your business. 
These Credit Myths Aren't What They Appear
We've all heard these credit myths.  Even if we haven't, it's likely we've believed them without knowing why.  While there are plenty more out there, here are some of the most common, and the truth about what you really need to know. 
Credit Myths Debunked: Personal Credit Is All You Need to Run a Business
The smidge of truth behind this is, you actually can run a business on your personal credit alone.  Many a business owner has done it.  Most, however, would agree it isn't ideal.  In fact, I'd say it's likely if they had known about business credit earlier, they wouldn't even have attempted it. If your business goes bankrupt you could lose your house and your car.   Since, according to Forbes, at least 70% of small businesses do not make it even 10 years, it's a terrible idea to fund your business with your personal credit only. 
Is There Even Such a Thing as Business Credit? 
 The answer is, yes.  There is absolutely such a thing as business credit.   It is credit based solely on the merits of your business's ability to repay business debt.  It is totally separate from personal credit. When set up properly, the accounts that report to your business credit do not affect your personal credit, and vice versa. 
Check out our best webinar with its trustworthy list of seven vendors to help you build business credit.
Why Do You Need Business Credit? 
First, if your business goes south and you are not able to make good on your business accounts, your personal credit will not suffer.  You will still be able to buy a home or car without the fear of your business troubles affecting it. 
Consequently, if your personal credit takes a dive, you will still be able to get the funding you need for your business.   That's not all though.  Even if you make your payments as you should, running a business on personal credit can cause problems. 
Part of what makes up your personal credit score is the debt-to-credit ratio.  This is how much of your available credit you are using versus how much total credit you have available to you.  The higher this ratio is, the lower your credit score.  So, if you have $10,000 in available credit, but you have a balance on your cards totaling $8,000, your debt to credit ratio is .8.  However, if your total balance is $2,000, your debt to credit ratio is .2.  That looks a lot better to lenders. 
Now, considering that business accounts are typically much larger than personal accounts, if you are funding them with personal credit you are much more likely to stay at or near your total credit limit.  That means, even if you are regularly paying off your balance, you are likely going to keep a debt to credit ratio near 1, resulting in a lower personal credit score. 
How Does Business Credit Help?
Business credit limits are typically much higher than personal credit limits.  In addition, the debt to credit ratio does not really affect business credit scores the same way it does personal credit scores.  Therefore, if you establish separate business credit for your business, you can protect your personal credit from your business expenses and more efficiently fund your business. 
Credit Myths Debunked: Personal Credit Doesn't Affect Your Ability to Get Business Funding
On the flip side, you shouldn't think that your personal credit cannot affect your ability to get business funding at all.  While, in the strictest sense it does not affect your business credit report or score, it can still have an impact on your lender's overall funding decision.  
ome business credit reporting agencies use your personal credit in the calculation of your business credit score.  Sometimes, if a business hasn't been around long enough, a combined personal and business credit report will be issued. 
For many lenders, personal credit score is a key piece of overall fundability. This is the total ability of a business to handle all debts.  It is a puzzle made of many pieces, and while business credit is the largest piece, personal credit still has its place.  So, don't think if you have business credit that personal credit doesn't matter.  You can't just ignore it. 
Credit Myths Debunked: Business Credit is All that Matters When Funding a Business
Not only does personal credit have an impact on overall fundability, but so do a number of other things.  In addition to business credit and personal credit, your business's overall fundability is affected by the following things. 
How Your Business is Set Up
The way your business is set up can affect fundability.  Consider the following: 
Does your business have its own phone number and address?  It should. 
Do you have an EIN for your business?   This is an identifying number for your business that works in a way similar to how your SSN works for you personally.  You can get one for free from the IRS.
Incorporating your business as an LLC, S-corp, or corporation is necessary to fundability.  It lends credence to your business as one that is legitimate. It also offers some protection from liability. It also truly separates your business from you and your personal assets.
You have to open a separate, dedicated business bank account.  There are many reasons for this, but for fundability you need to know two things.  First, it helps establish your business as an entity separate from you the owner.  Next, time in business matters to lenders.  Many lenders consider the date the business bank account was opened to be the start of business. 
Another thing to consider is, you cannot get a merchant account without a business bank account.  Without a merchant account you cannot accept credit card payments.  Since studies show people are much more likely to spend if they can use a credit card, you need to be able to accept them as a form of payment. 
Check out our best webinar with its trustworthy list of seven vendors to help you build business credit. 
For a business to be legitimate it has to have all of the necessary licenses it needs to run.  If it doesn't, red flags are going to fly up all over the place.  Do the research you need to do to ensure you have all of the licenses necessary to legitimately run your business at the federal, state, and local levels. 
These days, you do not exist if you do not have a website.  However, having a poorly put together website can be even worse.  It is the first impression you make on many. If it appears to be unprofessional, it will not bode well for you with consumers or potential lenders. 
Business Information
On the surface, it seems obvious that all of your business information should be the same across the board everywhere you use it.  However, when you start changing things up like adding a business phone number and address or incorporating, you may find that some things slip through the cracks. Non-uniform business information can cause fraud concerns. 
Other Business Data Agencies 
In addition to the business credit reporting agencies that directly calculate and issue credit reports, there are other business data agencies that affect those reports indirectly.  Two examples of this are LexisNexis and The Small Business Finance Exchange. These two agencies gather data from a variety of sources, including public records.  
The Application Process
Even the application process can affect overall fundability.  First, consider the timing of the application.  Is your business currently fundable?  If not, do some work first to increase fundability.  Next, ensure that your business name, business address, and ownership status are all verifiable.  Lenders will check into it.  Lastly, make sure you choose the right lending product for your business and your needs.  Do you need a traditional loan or a line of credit?  Would a working capital loan or expansion loan work best for your needs?  Choosing the right product to apply for can make all the difference. 
So, while it is true that business credit is a big part of what lenders look at when it comes to approving funding, maybe even the biggest part, there is more to it. 
Check out our best webinar with its trustworthy list of seven vendors to help you build business credit.
Credit Myths Debunked: You Must Have Credit to Get Credit
This is true in a sense.  We've all heard and even seen it. You apply for financing but are turned down because you don't have any credit.  But, how do you ever build credit without getting credit?  There's a trick that few know, and it's called starter vendors. 
These are vendors that will issue net terms on invoices without a credit check. Then, they will report your payments on those invoices to the business credit reporting agencies.  As a result, your business credit score starts to grow and you can eventually apply for types of financing. 
Credit Myths Debunked: Making Payments on Time is All that Matters
Of course, making payments on time definitely matters.  If you do not make payments on-time, there isn't much you can do other than to start making them on time.  However, you can make every payment on time, and if your overall fundability isn't in order you may still get denied. 
For example, if all of your business information isn't uniform across the board, a lender may deny your application due to fraud concerns.  If your business doesn't have its own contact information or separate bank account, a lender may not take it seriously as a legitimate business.  When it comes to fundability and getting approval for financing, everything counts. 
Don't Let These Credit Myths Keep You from Getting Funding for Your Business
There are other credit score myths out there, but these seem to be some of the most common misconceptions about credit.  Don't let them keep you from getting the funding you need to run and grow your business.  Do your own research. Understand where you are in terms of fundability. Then, you can give yourself the best chance as approval for whatever type of funding you need. 
The post 5 Credit Myths Debunked appeared first on Credit Suite.