Monday, January 4th, 2021
now browsing by day
Games as a Service (GaaS) was introduced as a barrier between consumer cost concerns and user engagement. It offers a way to bring down customer acquisition costs and has been proven to keep users in a game for far longer than the pay-to-play method. EA Games, for example, increased its market value from $4 billion to $33 billion in just six years after introducing GaaS content.
Games as a Service acts as a continuous revenue service for developers, allowing them to break their reliance on the one-time purchase. With more games being developed every year, GaaS gives them a competitive advantage in the fight for user attention. It also allows advertisers to get exposure in some of the most popular games played in today's market.
What Is Games as a Service (GaaS)?
Games as a Service refers to games that operate without initial purchasing costs and instead, make their profits on subscriptions or in-game purchases.
Games as a Service allows video games to be monetized even after they are released and it has been proven to keep players more engaged longer. Instead of beating a level, losing interest, and forgetting the game in the back of their closet, players are constantly brought back in with the promise of new and upgraded content.
GaaS games can often be streamed directly from the cloud to a user's device, which allows them to be accessed from anywhere, anytime. It also allows for better cross-platform functionality, a crucial part of staying competitive in the gaming industry.
This strategy allows games to be updated weekly, monthly, or sometimes even daily to keep users engaged. New content often comes in the form of "drops" or "releases" when announcing new content—a technique that echoes Supreme's luxury marketing strategy.
Games as a Service has also been referred to as "cloud gaming," "gaming on-demand," "live service games," or "game streaming." Some popular Games as a Service games include Candy Crush, Fortnite, Destiny, and Overwatch.
Features like unique billing and subscription services have completely shifted the gaming business model. In a Games as a Service environment, payments are unique and personalized, offering a wide range of accessibility to incoming gamers.
Games as a Service Payment Options
Flat billing, where a user is charged the same amount weekly, monthly, or annually
Volume-based billing, which changes the charge based on consumption
Tiered model, where a customer is charged based on a unit range
In addition to these updated payment options, Games as a Service players have the ability to pay via cryptocurrencies, in smaller payments, and with more frequency.
This new business model is certainly changing the landscape of gaming by offering accessibility, usability, and big profits all around.
Games as a Service Microtransactions
A microtransaction is a business model in which customers pay a low fee for a quick transaction, usually to purchase virtual items or unlock new features.
An example of this would be a player paying $2 to buy a new horse for their character to ride, or $1 for a new hat.
Microtransactions allow developers to monetize their games in a number of ways, far beyond the initial purchase point. Some games will require a small fee to unlock the next level or to access new features. These transitions are often referred to as "in-game purchases."
On their own, these transactions may seem insignificant. Can a developer really profit when every player is only spending a dollar?
Think about it this way.
The online game League of Legends (LoL) is played by 115 million people, worldwide.
If each of those players spends even $5 while in the game, then they've made just over half a billion dollars.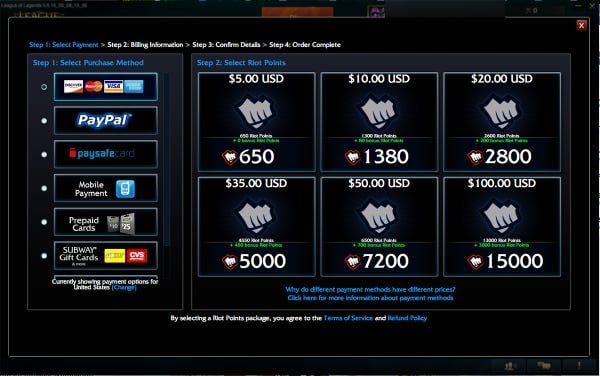 Virtual Currency
Virtual currency is used in many games, either as a trade-in value for real funds or to purchase features while playing. These currencies can come in the form of jewels, gold coins, tokens, and more. They can also be collected by completing quests, slaying monsters, and other such in-game activities.
Popular cryptocurrencies, like Bitcoin and Litecoin, can also be used in certain games. In games such as Lordmancer II by Active Games, gamers can even earn cryptocurrency by acquiring game assets and trading them in the in-game market.
Brands are also getting into the action by offering gamers virtual currency or exclusive game add-ons by buying their products and entering codes into their virtual storefronts. Mountain Dew and Butterfinger are two examples of brands successfully bridging the gap between physical brands and the virtual gamer environment.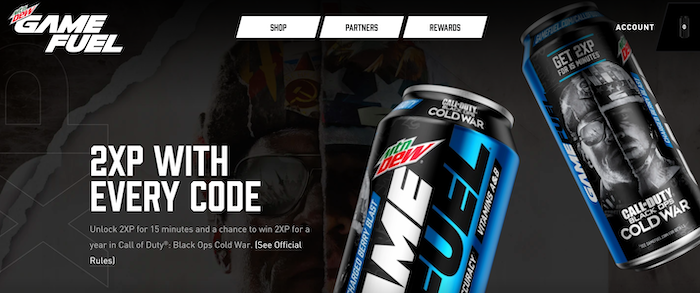 Games as a Service Business Models
There are several Games as a Service business models that offer creative, experimental, and exciting new ways of monetizing the gaming industry. It's important to note this field is still evolving and new models, regulations, and content strategies will continue to shape its growth.
Selling In-Game Content to Players
One of the most effective ways of continuing to monetize a game even after its release is to continue selling products to players in the game.
In certain Games as a Service models, players can pay to buy new equipment for their characters, unlock new levels or features, and even increase their abilities.
Loot boxes are one of the most well-known in-game content transactions, where players pay a small fee ($1-$3) to pull special items from a virtual box. This tactic has been accused of promoting gambling with children and it has been banned in some European countries. That being said, their profits are tremendous. Loot boxes are projected to earn $50 billion by 2022 and companies can often sponsor items.
The revenue from in-game purchases provides an incentive for game developers to continue updating and improving their games. For players, it brings new and exciting content more often, and in higher-quality.
Pay-to-Play
Pay-to-play refers to games that customers have to pay for to access. For many games, this means paying for a physical copy of a game and playing it as much as you want.
Certain games, such as World of Warcraft (WoW), only require you to pay-to-play after you reach a certain level, or after a predetermined amount of playtime. This way, players can explore the game, see if it piques their interest, and then invest once they know they want to commit. WoW operates on a subscription-based service, which requires a monthly fee in exchange for playtime.
Some companies who follow this model also use other Games as a Service tactics, such as selling in-game content or paying for new downloadable content (DLC). According to Newzoo, a games market insight firm, 2.7 billion people will spend around $159.3 billion on online games in 2020, so it's safe to say this method is working.
Ad Placements
With an increasing amount of users now participating in Games as a Service, it's no wonder advertisers have seen a huge market.
In-game ad placements allow developers to expand their revenue streams beyond pay-to-play models and even beyond the Games as a Service model.
Ads can be shown as videos on loading screens, or they can even be adapted into the game, such as Gatorade's advertising in NBA 2K18's "The Neighbourhood" mode.
In fact, players don't even mind seeing the ads in their games. A 2018 Ipsos study found that 47% of users can recollect an ad they saw while playing a game, meaning it was part of the experience, and not an annoyance. What's more, 50% of users found watching the ads to be "visually appealing."
Overall, Games as a Service platforms offer a wide new world of advertising possibilities.

Paying for New Content
One popular way to increase in-game revenue is to constantly add new content to a game that players need to pay for to access.
Fortnite is one of the most popular examples of this method, where players have to buy into each new "season" of content. The seasons come out four times annually, but developers also earn revenue through microtransactions between seasons.
This is a great way to keep a player base active while spending far beyond the initial release of a game. It is also a big value-add for existing users, who benefit from new and exciting content on a regular basis.
Even free-to-play platforms can benefit from this strategy as it monetizes new content instead of existing.
Game Bundles
Game bundles are a collection of multiple titles, conveniently bundled into one package that users can purchase, usually at a discount.
Bundles are often used by game developers as a way to engage new users with their existing games, by offering high-value titles along with less popular ones. This is an easy way to generate new leads on an existing, but not widely popular product.
Game bundles reduce the unit cost of games and help increase the potential reach of developer products. It's a simple and easy way to promote certain products or to increase the revenue of a normally unprofitable product. Brands have also worked with developers in the past to offer sponsored bundles with perks.

Cloud Gaming Services
Cloud gaming services offer unlimited access to a wide variety of games. These platforms usually operate on a subscription basis, where users pay a monthly or annual fee in order to get access to the library. A normal subscription is around $4.99-$19.99 a month.
Cloud gaming services focus on high-end, graphics-heavy games that usually require more sophisticated hardware to run. All games are hosted in the cloud and can be streamed to user devices.
One of the great benefits of cloud gaming services is that users can save money by not paying for each game individually.
Some examples of cloud-gaming services include Steam, Amazon Luna, Sony PlayStation Now, Google Stadia, and Microsoft Project xCloud.
Multigaming Platform Apps
Some platforms offer a large number of games that users can play by downloading an app.
Many of these platforms also let users earn money while they play, making them an exciting new trend in the gaming community.
Some of the most popular multigaming platform apps are WinZO, MPL, Coco, Hago, and BaaziNow.
Premium Memberships
Some platforms, such as Roblox, offer many games for free, but some can only be accessed by paying a premium membership. This is a strong incentive for users to become more entwined with a certain platform. It also makes their premium games more lucrative.
Premium memberships can range greatly in price and services offered. Some also offer virtual currency through purchases or discounts on future purchases. Ultimately, it's all about benefiting the buyer and increasing return on investments.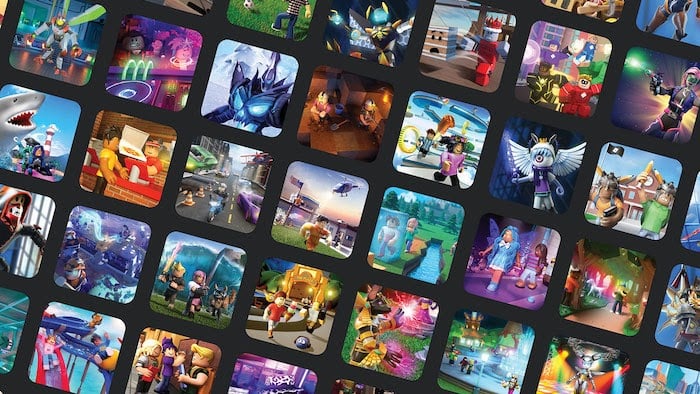 Conclusion
With the introduction of Games as a Service, the gaming industry has seen a major shift in the way it approaches consumer sales.
Now, developer goals have moved from selling as many copies of a game as possible, to maximizing recurring revenue.
The future of Games as a Service is still evolving, but we can expect to see more innovative and exciting ways of getting games and brand exposure to players in the coming years.
Do you have any products that could integrate with the Games as a Service model?
The post What is Games as a Service (GaaS) and What Does it Mean For Marketers? appeared first on Neil Patel.
Have you used shops on Instagram? With over a billion active users and growing, Instagram may already be one of your favorite places to promote your e-commerce store. However, lots of opportunities exist for marketing on the channel, so it can be a great place to build a follower base and get the word out about your products and brand.
What if you could take passive interaction to the next level and actually buy and sell directly from the platform? That's possible with Instagram shopping. This can be enticing for Instagram users and e-commerce shops who want to keep their interaction, from discovery to sale, right there on Instagram itself.
What Is an Instagram Shop?
Instagram shops are an option for Instagram account holders who have e-commerce brands to sell directly from the Instagram platform.
They provide a way for Instagram users to interact and shop with brands they love, find new brands they might like, and purchase through the Instagram app.
An Instagram shop exists like a mini e-commerce store, within Instagram, as an extension of your brand's page. As a brand owner, you can build collections that are customizable and reflective of your style and perspective.
Shops can choose to allow purchasing directly from the app, using Facebook Pay, or they use their Instagram shop to point to an off-site e-commerce store. Either way, they can build a more interactive shopping experience for their users.
How Does Instagram Shopping Work?
Instagram Shopping is a pretty simple process for Instagram users. The whole idea of this feature is to make things more enticing, so users spend more time on the app, checking out the shops they love, as well as discovering new brands.
To find shops you want to explore or buy from, go to the little shopping icon that looks like a shopping bag on the app: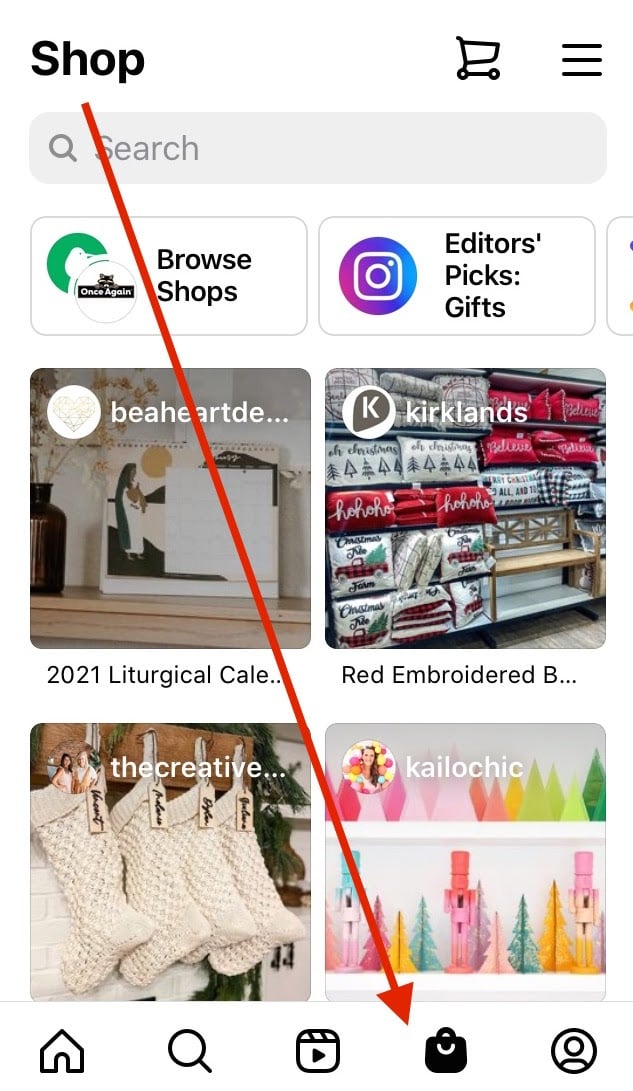 From there, you will see shops from brands you already follow, as well as some that are recommended based on your interactions on Instagram. You can also check out "Editor's Picks" to see different categories, such as Gift Guides, and to explore collections and other recommendations.
If you click "Browse Shops," you'll see a listing of brands you already follow who have shops on Instagram. This can be a great place to start when you're exploring because you probably already have an interest in the products and may have even purchased from them in the past.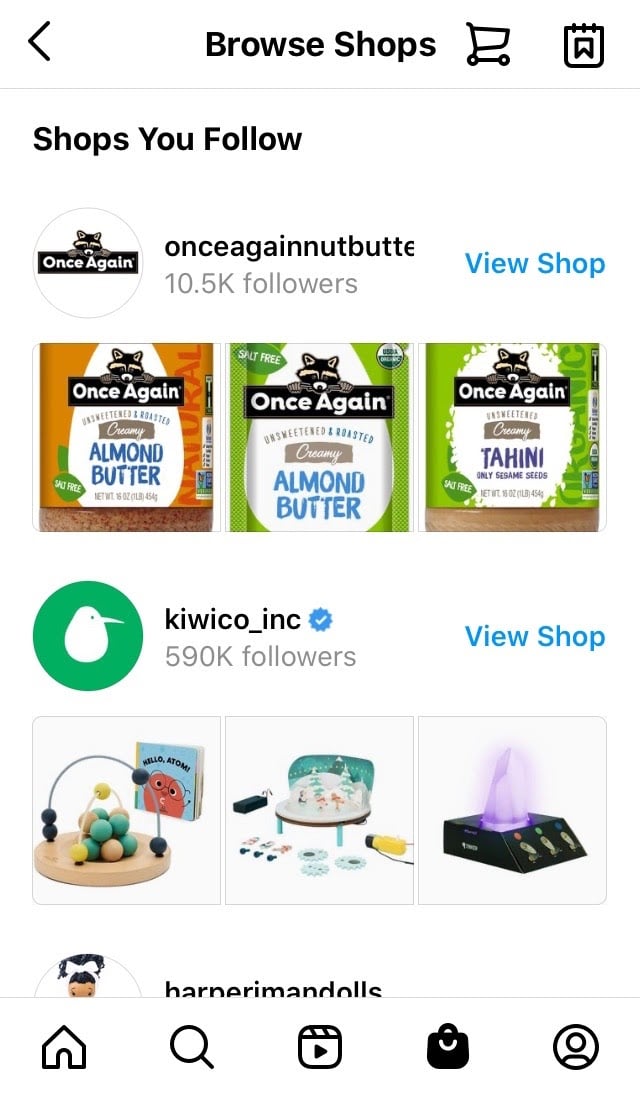 Once you click on a shop, you'll see the products and collections they have available.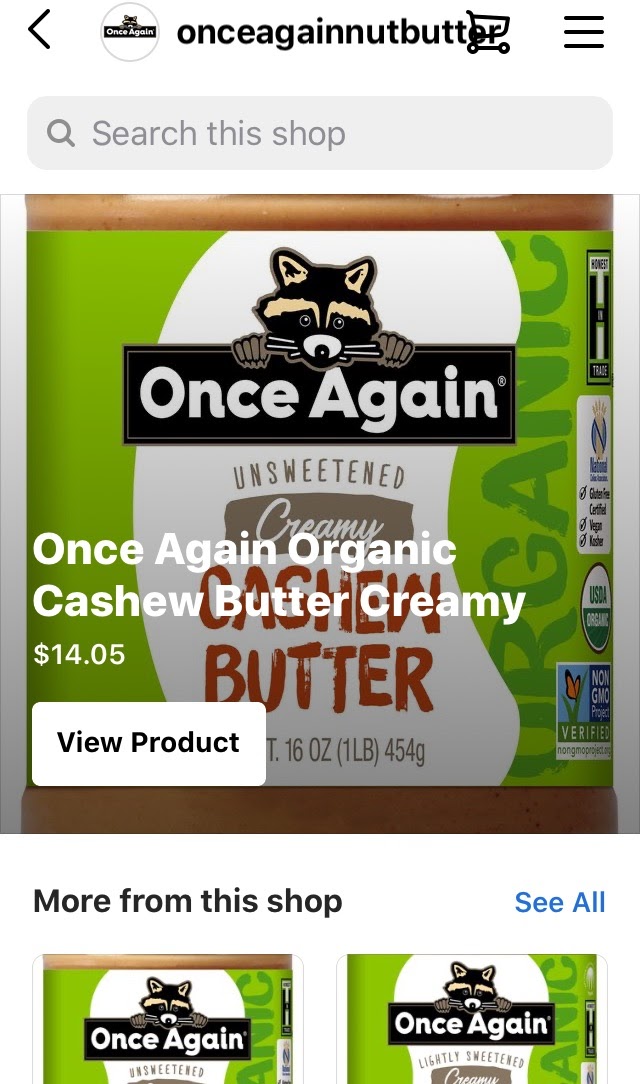 From there, you can learn more or choose to buy, just like you would at an e-commerce site.
How to Set Up an Instagram Shop
To set up a shop on Instagram for your brand, you must have an Instagram Business account, and you must be eligible. According to Instagram, eligibility includes but is not limited to:
Operating in a supported market (dependent on your location)
Having an e-commerce website from which you sell products
Remember, an Instagram shop is an extension of your e-commerce store, not necessarily a replacement for it.
You will then have to connect your Facebook account. More later on how those two are connected and why it matters for your Instagram Shopping account.
You then follow the steps to set up your account, load your product images, and "turn on shopping."
Here are a few tips to keep in mind as you go through those technical steps:
Use high-quality, editorial images for your products and collections: Think of your Instagram shop as a type of interactive catalog. Be selective about the images you are using for your products. Make sure they stand out and show lots of detail.
Have all your product information on hand: Again, thinking about this as a catalog, you will need to enter all the descriptive information about each product, including prices, colors, sizes, flavors, types, etc. You'll also need information about shipping and other details. Keep it all at the ready before you dive in.
Get ready to tag: After getting your Instagram shop set up, the last step Instagram recommends is to start tagging. When you upload an image, select "Tag Products" and type in the name of the product you want to tag to that post. You will be able to do this in Instagram Stories as well.
Benefits of Having an Instagram Shop
Why would brand managers want to take the time to set up shops on Instagram? First, let's look at some numbers. According to Instagram, 60% of people interviewed said they discover new products on the app. Facebook says 70% of people referred to as shopping enthusiasts turn to Instagram to shop, and 36% of all Instagram users consider shopping to be a hobby of theirs.
The best reason to set up shops on Instagram is to tap into that enthusiasm. Think of Instagram Shopping as the trendiest mall from back in the day, with eager buyers walking around and window shopping. You want to be there with your brand too, right?
Here are some more benefits of having a shop on Instagram:
It's free: Yes, you can set up your Instagram shop for free. The only fees associated would be a selling fee when customers place an order and the fee for any ads you use to promote your products or shop.
It's another online storefront: Don't put all your eggs in one basket, they say, and that applies to online shopping too. If a hiccup occurs with one platform, you're already set up somewhere else.
It's a mobile catalog: Instagram has designed these shops to be very clean and scannable. They are easy to peruse and to get an overall idea of a brand's look, as well as to dig in and learn more about the products. For this reason, you can think of shops on Instagram as a kind of mobile catalog. You may even find yourself sending people there to get a feel for what you sell, just because it's so easy to scroll through.
It's a way to build your following: As we talked about earlier, people are going on Instagram looking to shop. Setting up your shop there is a prime way to draw buyers who are ready to make a purchase, as well as to build a following for your Instagram account (which probably supports your overall social media marketing strategy).
Instagram Shopping vs. Facebook Shops
You may be wondering how shops on Instagram compare with shops on Facebook. While they are different platforms, they are both under the Facebook umbrella.
Remember that corporate Facebook owns Instagram, which means Facebook powers Instagram Shopping. To set up your Instagram shop, you will need to link to your Facebook account, and, as mentioned, payment is processed through Facebook Pay.
Should you set up an Instagram shop and a Facebook shop? Here are a couple of considerations to help you decide:
Link easily: Because you need Facebook to launch the Instagram shop, it may be worth having products on both platforms. You can use the same products and collections on each if that makes sense for your target market and brand.
Consider demographics: Your target market may spend more time on Instagram than on Facebook. If that's the case, you'll want to make sure you set up an Instagram shop. If your target market straddles both the demographics of Facebook and Instagram, you may want to set up a shop on each.
Submitting and Receiving Payment for Instagram Shopping Products
How do you go about actually buying and selling with Instagram Shopping? A big part of this question is how money is exchanged.
Remember you can choose to have your products point to your e-commerce site. Buyers will then be directed to your website, in a browser within the Instagram app, rather than processing the purchase through the Instagram platform.
However, if you want to save buyers that step, you can set up payment options to allow the transaction through Instagram. When you set up your shop, you'll need to link to Facebook Pay. We noted above the relationship between Facebook and Instagram. Facebook Pay is how you receive payments for purchases made.
When you purchase something from shops on Instagram, you'll need to submit your credit card, debit card, or PayPal information to use Facebook Pay to finalize the transaction.
How to Promote Your Instagram Shop
Once you have an Instagram shop up and running, you'll want to find ways to promote it and draw potential customers to your new location. Here are some tips for achieving that:
Launch timely collections: When you create collections or groupings of products to showcase in your shop, think about the browsing buyers first and what they are searching for right now. Instagram recommends thinking about seasons, holidays, or pop culture moments to create collections that connect with and attract buyers.
Make it easy for shoppers: When you create posts and stories, make sure to choose the "Tag Product" option to link directly to your shop products. Also, Facebook recommends adding calls-to-action in your captions to remind buyers of what to do. Another recommendation is to update your bio with shopping information.
Invest in ads: Want to reach even more people with your Instagram shop? You could consider launching an ad on Instagram with clickable tags that draw people to your shop.
Alternatives to Instagram Shopping
There could be a few reasons why a shop on Instagram is not the right platform for your brand, or maybe you want to explore other shop options to find a better fit. Some of those reasons may be:
It's not the right demographic: Yes, Instagram is wildly popular, but not everyone is shopping there. If the target market of your brand is not tech-savvy, doesn't tend to use Instagram, or prefers not to shop on new platforms, you may not want to set up an Instagram shop.
There aren't enough products: Shops on Instagram showcase collections of products well, allowing brands to launch or promote groups of products. If you are only selling one item, it may not be worth your time to set up a shop. However, even one product, if photographed and promoted well, could be popular there.
They aren't physical products: You do need to sell a physical product. Digital products or services are not sellable with the app.
It's not in the right location: As mentioned earlier, you do need to operate in a location where Instagram Shopping is available. If you don't, you'll need to find an alternative.
In these cases, or if you're just looking for more customization or wider tools, you may want to choose an alternative to Instagram Shopping. Examples may include:
Like2Buy: With Like2Buy, you can build shoppable solutions, as well as create other calls-to-action, such as requesting email addresses of potential customers.
Yotpo: In addition to several e-commerce marketing tools, Yotpo offers an Instagram integration tool.
FourSixty: Advertising a design-centric aesthetic, FourSixty provides Instagram marketing tools, including shoppable galleries and scheduling.
Conclusion
Shops on Instagram allow you to interact with your followers (and new buyers!), in a seamless way. You can create collections just in time for a season or holiday and promote your products to an audience that is eager to buy.
This feature allows brand owners to sell on Instagram dynamically. While it may not be the only solution you need, it can be a great addition to your Instagram sales strategy.
Will you be shopping and selling directly on the Instagram app? Or do you prefer a more traditional e-commerce platform?
The post How to Use Instagram Shopping to Drive Product Sales appeared first on Neil Patel.