Friday, January 1st, 2021
now browsing by day
The mid-aughts to early 2010s were the heyday for RSS feeds like Google Reader. It felt like everyone was using them.
Then, in 2013, Google Reader was switched off, and their popularity has dwindled.
Dwindled, but not vanished entirely. Google Trends data shows a massive dropoff since RSS hit its peak back around 2005. But interest has been pretty stable since about 2015:

What does this tell us?
While RSS feeds aren't the must-use resource they once were, there's still a dedicated base of users who aren't prepared to say goodbye.
If you're one of them, you might still be searching for the perfect alternative to your beloved Google Reader. Here are a few options, as well as some practical tips on using them to improve your content marketing strategy.
What Was Google Reader?
Google Reader was an RSS reader. RSS, which stands for "really simple syndication," is an XML-based format used to distribute and share online content. It allows users to subscribe to news feeds from their favorite website and receive updates every time they post new content.
Google launched Google Reader in 2005 and quickly built up a loyal following because it was simple, efficient, and free. But as online habits changed, usage declined, prompting the search giant to permanently retire Google Reader back in July 2013.
10 Alternative RSS Readers to Google Reader
While Google no longer saw the value in RSS readers, lots of people still find them useful. Presumably, if you're reading this article, you're one of them, so here are ten Google Reader alternatives to try out.
Feedly
Priced from: Free
Best for: Cutting through the noise
RSS readers can become victims of their own effectiveness. Say you want to curate all the latest news on a topic like blockchain, or a keyword like Microsoft. Pretty soon, you'll have more relevant content than you could ever read.
Feedly is all about providing a decluttered RSS experience. Its free tier allows you to follow up to 100 sources, from news sites to YouTube channels. But the real value comes from its AI assistant, Leo.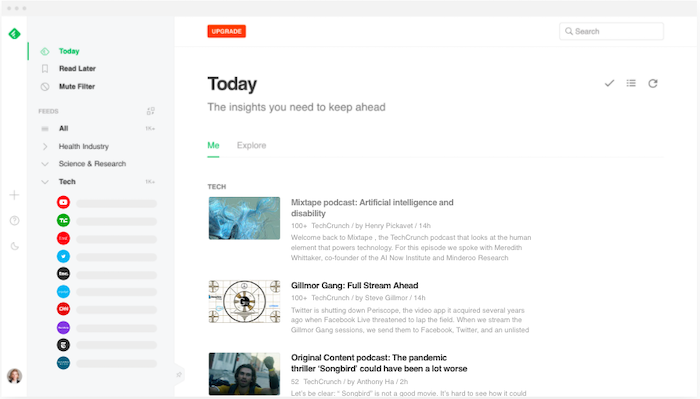 Leo allows users to define what content is most relevant to them. You can prioritize by keywords, trends, topics, similar articles, and even critical software vulnerabilities. Then teach Leo what's useful to you by upvoting or downvoting its recommendations.
Inoreader
Priced from: Free
Best for: Saving the content you love long-term
Inoreader has one feature that sets it apart from all the other Google Reader alternatives: the ability to build long-term archives of content.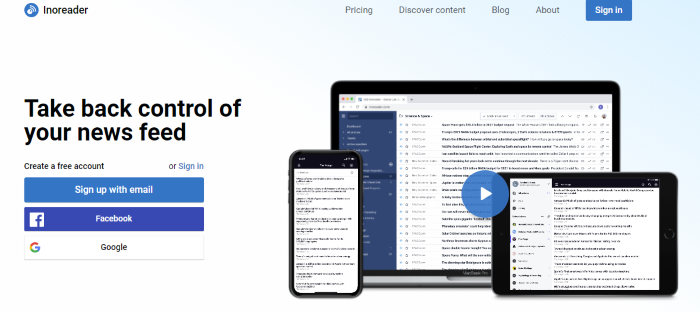 Most RSS readers only store content for a short period. But with Inoreader, limited-time archives aren't a thing. The content you've already read is stored permanently, so you can access it at any time.
To stop things from getting unmanageable, Inoreader allows you to categorize your feeds into folders and add tags to individual articles.
Bloglovin'
Priced from: Free
Best for: Lifestyle content curation
Unlike most Google Reader alternatives, Bloglovin' focuses on a single niche: lifestyle content. That means everything from fashion and beauty, to travel and interior design. Its colorful, image-heavy interface feels more like a social media site than an RSS reader.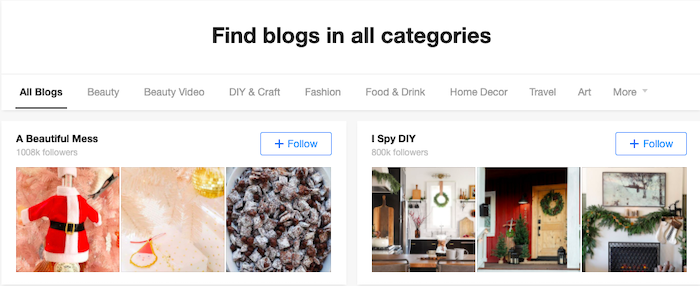 Similar to Pinterest, Bloglovin' lets you curate content around the lifestyle topics and themes most helpful to you. So if you're planning a wedding or a big DIY project, you can start a new collection and expand it with relevant content.
Flowreader
Priced from: Free
Best for: Combining RSS and social feeds
Flowreader is an easy-to-use tool that acts as a one-stop-shop for content from all your favorite websites, plus your most-loved accounts on Twitter, YouTube, Reddit, and Pinterest. It saves you a lot of time navigating between multiple sites to access the content you most want to see.
Because it posts content in chronological order, Flowreader effectively lets you bypass Twitter's recommendations algorithm, which means you can read tweets in the order they were posted.
Feedreader
Priced from: Free
Best for: Doing the basics
There's nothing too complex about Feedreader; it just works. Basic and ad-free, this web-based RSS reader lets you subscribe to your favorite feeds and star items to view later. Your subscriptions can be categorized for easier navigation, while a bunch of keyboard shortcuts makes it simple to expand articles, mark items as starred, or refresh the results.
NewsBlur
Priced from: Free
Best for: Filtering what you don't like
It may not have the slickest interface, but NewsBlur is deceptively sophisticated. For one thing, it allows you to access the full text from each source right there in the RSS reader, which keeps your browser clean and uncluttered, while the free product tier lets you subscribe to up to 64 feeds.

NewsBlur's most interesting feature is its filtering. Select a piece of content, then tell the app what you like or dislike about it, including:
Key phrases in the headline or body copy
The author
The publication
The categories that are relevant to that piece of content
Spend some time selecting your preferences and NewsBlur becomes a super helpful tool for accessing only the types of content you find most valuable.
Feedspot
Priced from: Free
Best for: Advanced filtering
While it does all the things you'd expect a Google Reader alternative to do, Feedspot goes a step further with its advanced filtering functionality. This allows you to:
Make searches within all the feeds you follow, including blogs, news sites, RSS feeds, YouTube channels and social sites
Filter results from one or more specific feeds
Search phrases within the title only
Browse by exact phrase matches
All of which makes it easier to track down the content you most want to see, right now, from the sites and platforms that are most relevant to you.
The Old Reader
Priced from: Free
Best for: Finding recommendations from people you trust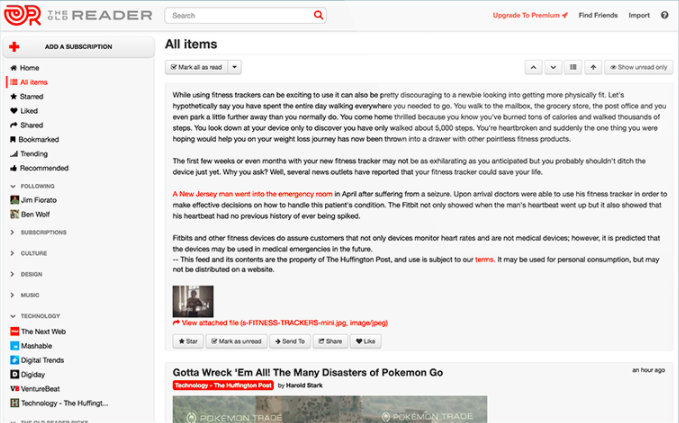 The Old Reader works best when used in groups. Connect with your Facebook or Google account to follow people in your network who also use The Old Reader, then you'll be able to see the content they recommend. That way, you'll never miss a piece of content they find useful or interesting.
Feeder
Priced from: Free
Best for: RSS on the go
Feeder offers Chrome, Firefox, Safari, and Yandex extensions, making it easy to view your RSS feeds on desktop. But perhaps its most useful feature is the dedicated Android and iOS apps, which allow you to see all the headlines from your favorite sites, plus a simple view of the full content, on mobile. Great for when you absolutely need to keep up with the news but aren't at your computer.
Netvibes
Priced from: Free
Best for: Social media monitoring
While Netvibes works great as a traditional RSS reader, its real strength lies in its ability to automate interactions between multiple platforms, apps, and devices. Think of it as like the Zapier of RSS readers.
So how does that work in practice?
Well, Netvibes currently integrates with 43 apps, including Gmail, Google Drive, LinkedIn, and Twitter. It also does a ton of stuff, from monitoring stocks to tracking your health. From a marketing perspective, the biggest "win" is as a social media monitoring tool.
Rather than presenting you with a feed of new social posts from people you follow, Netvibes allows you to dig deeper. For example, you can create a feed for @mentions of your brand on Twitter, or one dedicated to a certain hashtag.
That makes it easy for you to keep updated on what people are saying about you or follow topics relevant to your business.
How to Use RSS Readers to Benefit Your Content Marketing
Google Reader alternatives aren't purely for finding content. They can be a vital part of your content marketing efforts, too.
Create Your Own RSS Feed
You've got a blog or resource hub, and you're producing fantastic content. But you're struggling to bring people back to your site.
Setting up your own RSS feed can be a big help. That way, subscribers will see all your latest content every time they access their favored RSS reader. It's a great way to amplify your content, and best of all it's completely passive. Once you've implemented your RSS feed, it'll do all the hard work.
Be sure to compel readers to subscribe to your feed by incorporating clear calls-to-action (CTAs) throughout your content. Consider adding an RSS button to your content hub landing page, too:
Keep on Top of Industry News & Thought Leadership
Does your audience come to you for your take on the latest news impacting your industry? Then an RSS reader can ensure you'll always be one of the first to know about any new developments and key announcements.
Let's say you're in the marketing niche. You want to keep up to date with what's going on, so you can react to it fast by creating your own content. Consider adding the following types of accounts to your favorite Google Reader alternative:
The Twitter accounts of thought leaders like Rand Fishkin, Jeff Bullas, and Mari Smith (and me!)
Marketing blogs and social feeds from big industry players like Google and Facebook
Industry news sites like NeilPatel.com, Search Engine Journal, and Digiday
Your biggest competitors' blogs (it pays to be aware of the content they're creating, too)
Segment all of those feeds into categories so they're easy to browse. Then get into the habit of spending five minutes at the start of every day, or on your lunch or coffee break, reading through all the latest news.
Curate Your Own Newsletter
Why do people subscribe to newsletters? Well, according to one study, about three-quarters of people subscribe to learn more about topics they find interesting, or to keep abreast of content from their favorite websites.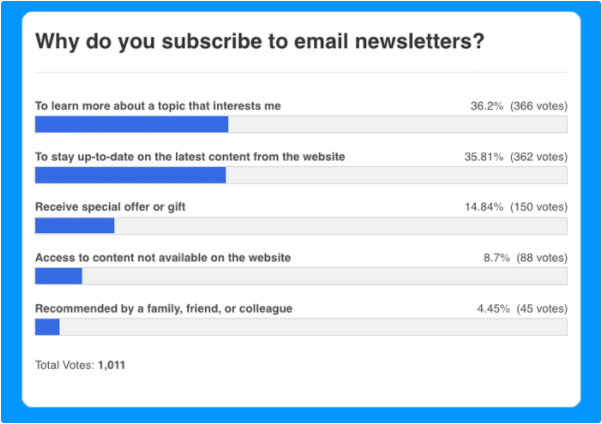 With that in mind, you can quickly and easily create your own newsletter featuring all the biggest developments in your industry, simply by curating all the top content pulled in by your RSS reader.
Include a couple of CTAs to sign up in prominent spots on your website, and you've got yourself a low-effort way to build up a mailing list and generate a bunch of leads.
Inspire Your Content Creation
Sure, I create a lot of content, but even I get writer's block sometimes! If you're struggling to come up with new topics for your blog, or podcast, or YouTube channel, your RSS reader can help.
Check out what other people in your niche are discussing. Look out for trends, breaking news, or subjects you feel passionately about and have an opinion on. And presto, there's all the content inspiration you need.
Conclusion
RSS feeds may have gone out of fashion in the last few years, but that doesn't mean they're not worth your time. While everyone else gets their news from the cluttered, algorithm-influenced world of social media, you can use a Google Reader alternative to cut through all the noise and find the most relevant content.
That means you'll never miss an important piece of news ever again. Use my tips to drive your content marketing plans, or even help you with lead generation. What's not to like?
What's your favorite Google Reader alternative and why?
The post 10 Alternative RSS Readers if You Still Miss Google Reader appeared first on Neil Patel.
Disclosure: This content is reader-supported, which means if you click on some of our links that we may earn a commission.
Being on top of work feels so much better than the reverse.
A stakeholder asks you a third-decimal-place question about a future project. You nail it. The answer is ready and the evidence is two clicks away.
With the right project management software, it's easier to operate at a high level.
It's like wearing the right pair of shoes.
If you've never tried project management software, these free options are a great place to start.
And if you are using a frustrating tool, struggle no more.
These are the best free project management software options available right now.
Seriously, all of these products are free to use forever.
The Top 4 Free Options for Project Management Software
How to Choose the Best Free Project Management Software for You
This stuff isn't magic. You get out what you put in.
I like to think of project management software as a blank workspace waiting for a business to move in.
It gives every task a home so projects aren't just roaming free-range across email chains, chat threads, post-it notes, and casual conversation.
One of the best parts about a free forever platform is that you actually have the chance to see what happens once you plug your business in.
Work with it for months and try a few different types of projects out.
I know freelancers and even small companies that have been able to get along just fine for years on a freemium plan.
So which one is for you?
Let's walk through the core aspects of project management software and how they can have an impact.
Basic Structure
Every good project management tool is stupid simple. This is especially true for freemium plans.
But they're not all organized in the same way. Some use traditional folders and lists, whereas others track tasks entirely on boards.
How will your team's work fit into each space?
The better the fit between a platform's basic structure and your team's projects , the better they can use the software to get to where they want to go.
After all, with free project management software, you want it to fit your organizational processes, not change those to fit the freemium platform you choose.
Ideally, project management software will help evolve your business processes in a positive direction. But not overnight.
Collaboration
These platforms enable people to work together better by making business workflows transparent. Everyone can see the status of projects and tasks.
This puts people on the same page, all the time. And when changes need to be made, users can alert one another with comments or by tagging teammates. This draws the right attention to the exact point of the issue.
With less uncertainty, people are free to act instead of waiting on a long email chain to finally arrive at an answer.
Some platforms will keep a comment history associated with each individual task. Others will have an activity feed that logs updates made to the task.
These capabilities make it much easier for teams to know when a task is 100% done.
Scheduling
The tools I like let you assign users and due dates to tasks. Very simple, very helpful.
Whether you are building out on a board or a list, you can toggle views to see tasks displayed on a calendar.
Updating the task due date will update the calendar as well, keeping everyone on the same page.
With some of the more robust free options, like ClickUp, you can set dependencies to govern the schedule.
Reporting
Because it's loaded with information about what teams are doing, reports generated by project management software provide a lot of insight.
I'm talking about measuring productivity, identifying trends, and staying under budget. This information can really help managers steer their teams productively.
Some of the options on this list, like Jira, have pre-built reports that are ready to go for any project.
Not all free project management software comes with reporting features.
Trello, for example, doesn't provide anything out of the box. That said, you can tie in a third-party analytics platform to do the heavy lifting.
Automation
Automation in free project management software is limited, no doubt. But anyone can use it.
It's just a taste of what these platforms can do, but the early exposure can pay dividends in the long run.
When it comes time to bump up into a higher tier, users are ready to take advantage of automation instead of being intimidated by these power features.
This isn't a make-or-break it criteria, but if users find they can eliminate some busywork from their day, it might increase buy-in to the platform.
The Different Types of Free Project Management Software
There's a stunning array of diversity to think about when you are looking at the straight-up best project management software out there.
When it comes to free forever plans, the field narrows.
There are really two types of free project management software out there:
You'll find some overlap, but understanding the differences between these types will help you find a solution built to fit your needs.
Free Board-Based Project Management Software
These products have an organizational hierarchy that goes something like this:
Team→Board→List→Card
Here's a screenshot from Trello, one of the most popular board-based options in the world: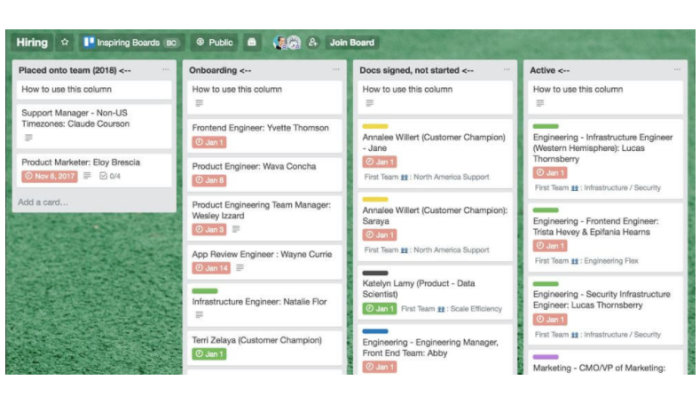 This is the board, which all members of the team can see. Each card is a task, and it is under the appropriate list.
With Trello and other board-based software, teams spend most of their time on the board. This involves going into tasks to add detail and check off complete tasks and potentially switching to calendar view to check bandwidth.
Does your current workflow map well to this cards-and-boards layout?
Free List-based Project Management Software
These products have an organizational hierarchy that goes something like this:
Team→Folder→List→Task
ClickUp is a great example of how a list-based product helps teams stay on track: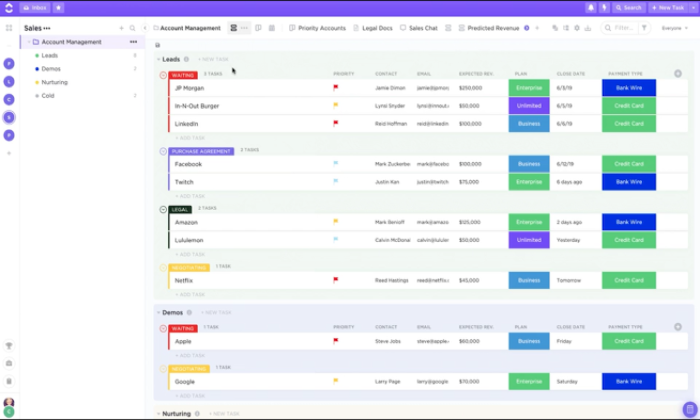 The team has their folders listed on the left. Very traditional. Each folder contains lists, which are broken down into tasks.
List-based software can make it easier for teams to stay organized than a board that gets cluttered. In ClickUp and other good options, the list is drag and drop, so it's not any harder to use.
In Wrike, another list-based project management solution, you can even view your projects as a spreadsheet.
Looking at both types, there's a lot of flexibility to view projects in different forms, like list, board, calendar, or table.
Because of this, it might seem like the boundary between these two is a little fuzzy.
From my perspective, though, flexible viewing does not always equal flexible managing.
Trello works great when you are building on a board. ClickUp works great when you are building on a list.
Sure, they can also do what the other does to some extent. I just think they work best when you are using them as designed.
And, since all of these products are free forever, it's not going to break the bank to pilot one of each type and see what you and your team think.
#1 – Trello — Best For Lightweight Project Management
Trello is one of the most user-friendly project management options on the market. Maybe that's why more than 1 million teams are using Trello around the world.
When I say user-friendly, I mean there is virtually zero learning curve to engaging with the product.
Drag. Drop. Click. Done.
Boards are made up of cards and lists. Clicking on any card brings up all of the relevant details, such as who's responsible, what needs to get done, and when it must be done by.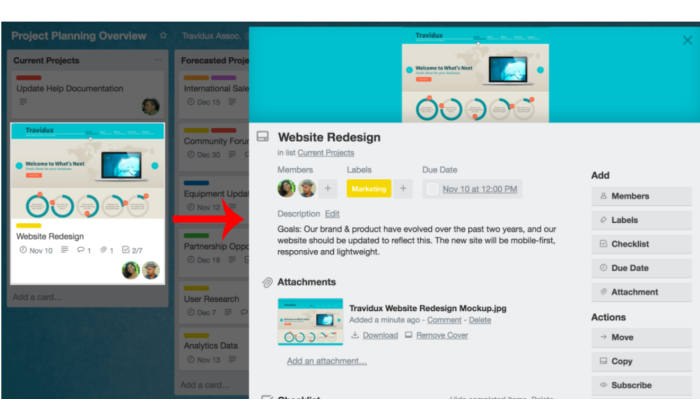 Obviously agile teams will dig the Kanban-style setup, but Trello is so basic (in a good way) that people can build out boards within whatever framework suits them best.
Staying on track in Trello is so easy, it's almost fun.
Assign people to tasks and they're notified instantly when changes are made. There's a comment feed built into every task and team members can use @mentions to call out specific issues.
Users can switch from board to calendar view to see their tasks spread out week to week. They can also "watch" cards to which they are not assigned, something that is great for managers.
The Trello platform has two main power features.
There are Power-Ups, which let you tie in a third-party service. It could be a time tracker, a Gantt chart creator, or a collaboration tool like Slack.
And then there is Butler, an AI-service that finds repetitive tasks and helps you automate them. You can create buttons that kick off simple workflows, or schedule tasks to be created.
With Trello's free version, you get:
10 boards per team
Unlimited cards and lists
The ability to add attachments to cards, up to 10 MB each
Two-factor authentication
One Power-Up per board
50 Butler commands per month
It's incredibly easy to build what you need in Trello. There is still a lot of freedom to create the structure you need, but they also offer a range of templates for project management: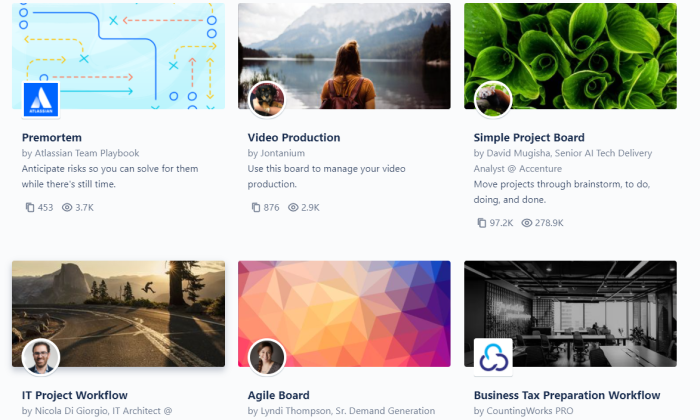 There's also templates ready to go for HR, sales, support, and other departments.
Trello's got you covered for lightweight project management. There's definitely a ceiling when it comes down to what you can track on each board, even compared to other free project management software.
For a single team, though, managing a sales pipeline, content calendar, or something of similar scope is going to be a breeze.
#2 – Wrike– Best For Marketing Teams
Wrike is a really versatile project management platform with a free forever version for teams of up to five.
There are a few reasons why it works so well for marketing teams compared to some of the other best free project management software.
First off, the collaborative features are really well-developed.
You can store tasks within projects or folders. Teammates can add comments, tag colleagues with @mentions, and attach files directly to any task, folder, or project.
Okay, I hear you saying, "It sounds like some of the other free project management software."
But, what makes Wrike so effective out-of-the-box for marketing teams is that email integration is included. Users can update, create, and prioritize tasks directly from their email.
It's great for your team, but you can also invite clients and contractors. These users are designated as Collaborators. Basically, you can share projects and plans without having to worry that external users will make serious changes.
Another useful feature for keeping track of marketing campaigns at scale is the Table View, which breaks out all tasks into a spreadsheet view: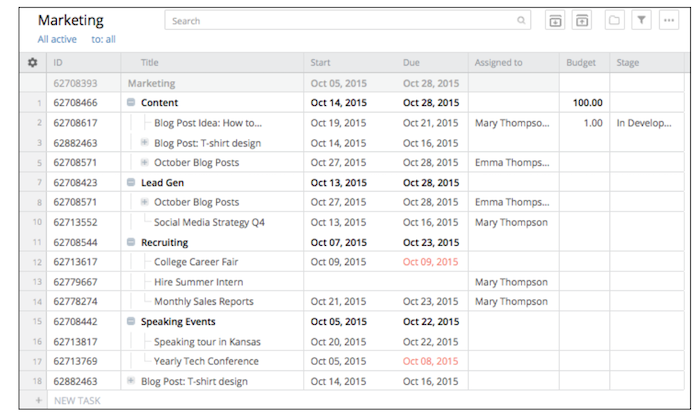 These and other time-saving features help marketing teams stay on track and save time.
The Real-time Activity Stream, for instance, provides users with a feed of all the updates and comments on projects they're assigned. Users can quickly filter the activity stream to see the updates that matter most.
Some of the other nifty features included with the free version of Wrike include:
Board view
Drag-and-drop task management
Mass edits
Cloud storage integrations
Microsoft 365 integration
2GB storage
Mobile App
If Wrike ends up being a good solution, they've got paid plans that are tailor-made for marketing and creative teams.
Wrike for Marketers is a business-level project management software dedicated to helping teams across the company create on-brand experiences at scale. They offer a 14-day free trial so teams can get a sense of everything that comes with the premium platform.
Wrike for Marketers Performance takes the analytics and workflow automation to another level.
There are pre-built dashboards, advanced reporting features, data visualization tools, and integrations with an additional 400 apps.
For marketing teams, Wrike is an excellent choice. Their free project management software is enough for a team to get started, and their paid plans will take a company to the next level.
#3 – Jira — Best for Agile Teams
Jira is built from the ground up to serve teams that work within an agile framework.
The customizable task boards are ideal for Scrum and Kanban, but so is Trello.
What separates Jira in terms of working well for agile teams are the baked-in reporting and roadmap features.
For managing a single team, both these features are huge time-savers. They work behind the scenes to turn all the information on your boards into visual intelligence.
Roadmaps help you track the bigger picture by placing work on a timeline that clearly maps project dependencies.
Rather than a Gantt chart, which tracks outputs, a roadmap tracks outcomes, like solving customer problems. Work feedback, product vision, and goals into your roadmap, not just the deliverables, to get a better picture of long-term strategy.
Whether it's a new product or sprint increment, roadmaps help teams connect their daily work to the team's progress toward the overall goal.
There are also 12 standard agile reports available for any Jira project.
There's nothing users have to do to configure these. Jira automatically takes your boards and cranks out really helpful reports for agile project management, like burndown charts, velocity charts, and sprint reports.
The free version of Jira comes with other helpful features for agile teams like:
10 users for one site
Customizable workflows
Automation
Backlogs
Apps and integrations
2GB file storage
File sharing
Business continuity and disaster recovery
A word about a few of these features. Since Jira is an Atlassian product (like Trello), there's a really long list of apps and integrations that are going to work.
The customizable workflows and automation are definitely limited with the free version of Jira, but you can work many third-party tools into your processes.
With Jira, the deliberately agile design means that teams and leaders have to do less finagling to get the tools they need.
Backlogs, for instance, can be set up with other free project management software. In Jira, however, they are a dedicated feature that has been designed for backlog grooming and sprint planning.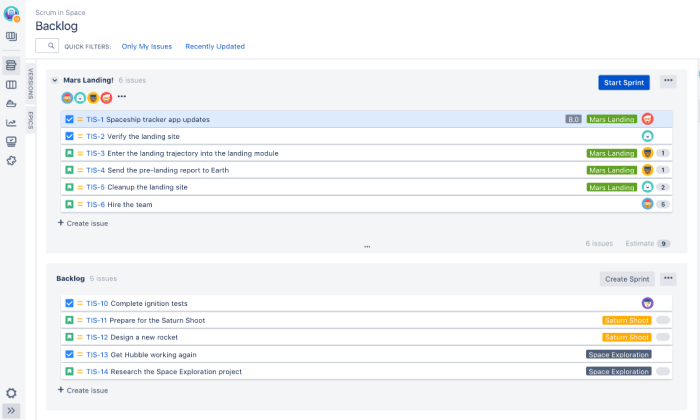 Instead of spending time to configure the system, teams can start using Jira on day one.
Another helpful feature is that each task is assigned a unique key and ID. This is great for ticketing and bug-tracking.
Give their free forever version a shot and find out why so many agile teams depend on Jira.
#4 – ClickUp — Best For Large Organizations
ClickUp offers the most control and functionality in the free project management software category. It's my pick for larger organizations for two reasons.
One, the free platform is generous enough to accommodate multiple teams. More than that, the simple structure is built to scale.
The number two reason is customizability. Each team can configure their workspace to suit their specific needs.
Let's dig a little deeper into both these reasons.
The free version allows for five Spaces, each of which is enough to support an individual team. Spaces can hold up to 400 folders, which can in turn hold up to 100 lists.
Lists are where tasks live and ClickUp allows for unlimited tasks in every list. You can also create up to 100 custom fields for lists to track whatever is most important about each task.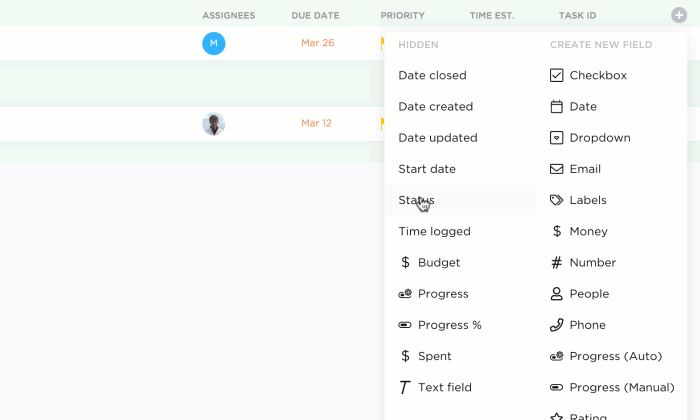 And it's still super intuitive.
Everything is drag and drop and you can toggle between list, board, and calendar views. There's even a "me" view that shows only tasks assigned to the user.
When it comes to tasks, this is where ClickUp's customizability really shines.
Here's a list of some of the things you can do within tasks
Assign members to task
Comment thread with @mentions
Assign comments to members
View activity feed
Track time
Add due dates
Create checklists for sub-tasks
Change status
Set dependencies
Move tasks to different folders
Draft rich text task description
Add attachments: docs, images, videos
Yes. I'm still talking about the free forever ClickUp plan. It's almost like they are too generous.
To set dependencies, for example, users simply indicate that a task should wait on another task to start or block another task in the workflow from starting.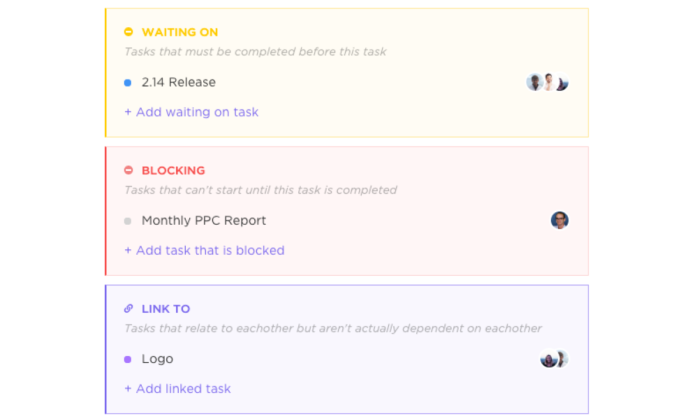 And because you can track dependencies and due dates, ClickUp's free version provides 100 uses of their Gantt chart feature.
Honestly, I've barely covered half of what ClickUp can do.
It's my top pick for larger organizations that want free project management software they can actually use.
Little things—like how every task in ClickUp has a unique ID—make staying organized at scale possible.
Plus, the hierarchy of spaces, folders, lists, and tasks is simple and flexible enough to work for just about any use case.
In the end, ClickUp really forces teams to stay organized as they build out. You can't put a price on that.
Summary
If we take all the frosting off the cake, what we really have left is a simple real-time system that captures a team's workflow.
Finding the right free project management software is about understanding how each platform accommodates the local needs of each team.
If you are just starting to explore project management software, the free version of Trello is a great place to begin. It takes no time to master and has enough functionality for teams to tackle lightweight projects.
For companies that need a little more power out of their project management solution, ClickUp is the best bet. The feature set is robust compared to other tools and it will work well across multiple teams.
On the marketing side, Wrike provides email integration, which I think is essential. That's something that only comes with paid versions from other vendors.
In addition to that, both the internal and external collaborative features are rich. This makes it easier to interface with customers and coordinate behind the scenes.
Workplaces that subscribe to an agile methodology will find that Jira has been hand-crafted to suit their needs. The out-of-the-box reporting and deliberate design make it very attractive.
The post Best Free Project Management Software appeared first on Neil Patel.