Tuesday, November 24th, 2020
now browsing by day
Inventory loans are short term loans that business owners can use to purchase inventory.  The inventory is the security for the loan.  By taking out this type of loan, a business can stay ahead of demand.  It also allows for taking advantage of special pricing, thus increasing profit. 
Inventory Loans are Not Always a Sure Thing
 Investopedia defines inventory financing as: 
"… a revolving line of credit or a short-term loan that is acquired by a company so it can purchase products for sale later. The products serve as the collateral for the loan."
These types of loans are a type of inventory financing.  Seeing as these are, at their core, secured loans, it stands to reason that they are easier to get than unsecured loans.  However, that is not always the case. 
Why Inventory Loans are Hard to Get
The idea of inventory as collateral for the financing used to buy it sounds simple enough.  However, after the hard economic downturn of 2008, lenders are much stingier with this type of small business financing.  During that time, it was painfully evident that, if your loan was secured by non-staple items, there was about to be trouble.  
Non-necessities do not sell well in a recession.  If you can't sell, the bank cannot either. That means the security is pretty much worthless. 
Another issue is that inventory depreciates.  As security, it's basically on the clock.  If it depreciates to the point of not being worth the amount of the loan, it is worthless as security.  There is also the idea that it may be a fad that is going to quickly go out of style, also not selling. 
These are just a few of the reasons lenders are reluctant to approve loans secured by inventory. Typically, they approve these types of loans on a case by case basis, taking all of these factors into account. Even when they grant approval, it is typically for only around 50% of the cost.

Learn more here and get started with building business credit with your company's EIN and not your SSN.
Ways to Use Inventory Loans
There are some things you can purchase with inventory loans that may surprise you.  For example: 
If you run a dining establishment, you can use inventory loans to buy flatware and linens in addition to food supplies. 

If you run a salon, you can use this type of financing for towels and supplies as well as items to sell. 

A clothing store may use the funds for shoes, accessories, and other items. 
The point is, funds for these loans can purchase items that are not specifically inventory in terms of things that you sell to the public.  They can also purchase supplies for any services you may offer. 
Other Options for Inventory Loans
How do you fill in the gap for the other 50% of inventory costs? Further, how can you finance inventory if you cannot get any type of funding at all?  There are some other options. 
Inventory Loans: Credit Line Hybrid
A credit line hybrid is essentially an unsecured line of credit.  It allows you to fund your business without putting up collateral, and you only pay back what you use.  The funds can be used for many things, including inventory financing. 
 It's super easy to qualify.  You need a personal credit score of at least 680, and you can't have any liens, judgments, bankruptcies or late payments.  Furthermore, in the past 6 months you should have less than 4 credit inquiries, and you should have less than a 45% balance on all business and personal credit cards.  It's also preferred that you have established business credit as well as personal credit.
I know, that doesn't sound all that easy.  Here's the catch.  If you do not meet all of the requirements, it's okay. You can take on a credit partner that meets each of these requirements.  Many business owners work with a friend or relative to fund their business.  If a relative or a friend meets all of these requirements, they can partner with you to allow you to tap into their credit to access funding. 
Credit Line Hybrid vs. Inventory Loans
There are many benefits to using a credit line hybrid.  First, it is unsecured, meaning you do not have to have any collateral to put up.  Next, this is no-doc funding.  That means you do not have to provide any bank statements or financials.  
In addition, typical approval is up to 5x that of the highest credit limit on the personal credit report. Often, you can get interest rates as low as 0% for the first few months, allowing you to put that savings back into your business. 
Here is another benefit of the credit line hybrid.  With the approval for multiple credit cards, competition is created.  This makes it easier, and likely even if you handle the credit responsibly, that you can get interest rates lowered and limits raised every few months. The process is generally quick, especially with a qualified expert to walk you through it. 
Inventory Loans: Alternative Lending
Alternative lenders generally operate online.  They tend to reduce risk by increasing interest rates rather than relying completely on credit information.  This means that they can be an option for those businesses and owners that either have bad credit or have not yet built strong enough credit to qualify for financing with traditional lenders. Here are a few options. 
Fundbox offers a line of credit rather than a loan, but it is a great funding option because there is no minimum credit score requirement. 
They offer an automated process that is super-fast. Repayments are automatic, meaning they draft them electronically, and they occur on a weekly basis.  One thing to remember is that you could have a repayment as high as 5 to 7% of the amount you have drawn currently, as the repayment period is comparatively short.  This means you need to be sure you have enough funds in whatever account you connect them to so that it can cover your payment each week.

Learn more here and get started with building business credit with your company's EIN and not your SSN.
Upstart
Upstart is an online lender that uses a completely innovative platform for loans.  The company itself questions the ability of financial information and FICO on their own to truly determine the risk of lending to a specific borrower.  They choose to use a combination of artificial intelligence (AI) and machine learning to gather alternative data instead.  They then use this data to help them make credit decisions.
This alternative data can include such things as mobile phone bills, rent, deposits, withdrawals, and even other information less directly tied to finances.  The software they use learns and improves on its own. You can use their online quote tool to play with different amounts and terms to see the various interest rate possibilities.  Typically, business loans are available up to $50,000.  Interest rates vary greatly, ranging from 7.5% to 35.99%.  Repayment terms can be either 3 -year or 5-year. 
Fora Financial
Founded in 2008 by college roommates, online lender Fora Financial now funds more than $1.3 million in working capital around the United States. There is no minimum credit score, and there is an early repayment discount if you qualify.
OnDeck
Obtaining financing from OnDeck is quick and easy. First, you apply online and receive your decision once application processing is complete. If you receive approval, your loan funds will go directly to your bank account. 
Bond Street
Offering term loans of up to $1 million, Bond Street terms are for up to 1 to 3 years. They will ask for both EIN and SSN.
Lending Club
Popular online lender Lending Club offers term loans. Business loans go up to $300,000 and terms from 1 to 5 years are available.
Quarter Spot
Quarter Spot is an online lender that offers short term loans up to $150,000. The terms are 9 to 18 months. 
Rapid Advance
Rapid Advance offers standard, select, and preferred loans. For standard loans, amounts up to $1 million are available. Their terms are 4 to 12 months.
Kiva 
Kiva is an online lender that is a little different. For example, the interest rate is 0%, so even though you have to pay it back it is absolutely free money. They don't even check your credit. However, there is one catch.  You have to get at least 5 family members or friends to invest in your business. In addition, you have to give a $25 loan to another business on the platform. It's like a crowdfunding, 0% interest loan.
Accion 
If your personal credit is okay, Accion may be a good fit for inventory financing. It is a microlender, a nonprofit, that offers installment loans to both startups and already existing businesses. You don't have to already be in business, but if you are not, you must have less than $500 in past due debt. In addition, your business needs to be home or incubator based. 
Credibly 
Credibly is also a good option if you are already generating some revenue. They offer short term loans for both business expansion and working capital. 
Details related to loan amounts, eligibility requirements, and interest rates change frequently, so it's best to get that information from the lender's website directly.  However, many of these either do not check credit or will work with a credit score of less than 600.  Though interest rates are higher than with traditional lenders, they often offer options where there seem to be none. 
Inventory Loans: Credit Cards
In a pinch, you can handle inventory financing with credit cards.  If you pay attention, you can get good introductory rates and rewards.  However, you have to pay attention so you don't get stuck with high rates once the introductory rates are over.  A better bet is the credit line hybrid, because you can take advantage of all the benefits with an expert to walk you through the process and make sure nothing is missed. 
Inventory Loans: Merchant Cash Advance
In some situations, this can be an option for inventory financing.   This is how it works.  If you take credit card payments, you can get financing based on the average of daily credit cards sales.  Then, payment is taken from future sales.  
The thing is, if you are in a recession, credit cards sales may not be that great, and future sales may not be solid.  However, it is an option that bears mentioning.

Learn more here and get started with building business credit with your company's EIN and not your SSN.
Inventory Loans: Are They Right for Your Business? 
The fact is, every business is likely to need some type of inventory financing in the course of their business. The problem comes when lenders envision large amounts of inventory sitting in a warehouse not selling.  If it's not selling, then the business isn't making money and the lender is not getting paid.  
If you sell staples that are needed in most any type of economy, inventory loans can be a good option.  With strong fundability, you may not have any issue getting loans secured by inventory.  However, this is not the case with many businesses.  A lot of business owners find their fundability is not up to par, and they didn't even realize it.  Couple that with the already unsure nature of getting approved for business loans, and it may be best to go with an alternative. 
While alternative loans are a viable option, the first stop for most business owners should be the credit line hybrid.  It is available to absolutely anyone.  Even if your own credit is not great, the option to take on a credit partner can make this funding source an option for almost anyone.  
The best part is, using the credit line hybrid helps to build the fundability of your business.  This is because the experts that walk you through the process help ensure that, not only get the funds you need right now, but also that your business is set up and prepared to qualify for any type of funding you may need in the future. 
All businesses need inventory funding.  If inventory loans won't work, there are other options.
The post What Are Inventory Loans and How are They Affected by the Recession appeared first on Credit Suite.
No doubt this is a hard time to grow a local business. Coronavirus has likely forced you to make big changes to the way you operate. It's almost certainly hit your bottom line too.
However, it's still absolutely possible to grow your local business at a time like this. You just have to be smart about it. In this article, I'll talk you through how to do that. First, though, here's a bit of detail on why this is such a challenging time for businesses like yours.
The Effects of the COVID-19 Pandemic on Local Businesses
You're probably sick of reading and hearing the word "unprecedented." I know I am. Unfortunately, it's just the best word to describe the current climate for local businesses.
By the end of March, 32 states had locked down in response to the pandemic. Two in five small businesses across the US had temporarily closed by this point, with nearly all of those closures due to COVID-19.
Closing your doors has big financial implications. It is concerning that the vast majority of local businesses aren't in a position to handle even short-term pressure on their earnings, with around four-fifths only having up to two months of cash available to pay their expenses.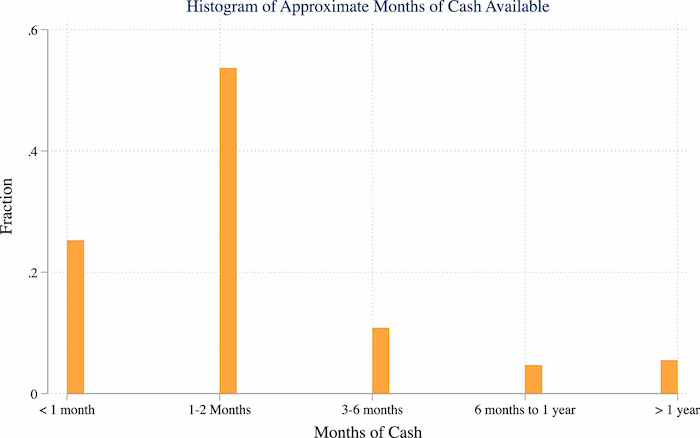 Because of this, it's hardly surprising that the number of active business owners in the US plummeted by 3.3 million (or 22%) in the two months from February to April alone. That's the largest drop on record, and it affected practically every industry.
Luckily, if you have access to the right strategies (like local promotions) and tools (such as messaging services like Podium), you may still be able to grow your business even in these uncertain times.
Six Strategies to Grow Your Business During the Age of Coronavirus
The pandemic might have affected your business growth in any number of ways. Maybe you've been forced to shutter your store(s) for a certain amount of time. Maybe your customers are buying less at the moment. Or maybe the industry you're in means you've barely even got a "product" to sell, like cinemas and travel companies.
Whatever the case, if you're going to grow your local business in the current climate, you need to adapt. Here are tips on how to do it:
1. Use the Right Tools
I know what you're thinking: "I'm already worried about cash flow, now this guy's telling me to invest in a bunch of tools!" Well, what if I told you that by choosing the right tools (some of which are free, by the way), you massively increase your chances of growing your local business?
You likely know that there are thousands of tools designed to drive small business growth, but I've focused on the areas where you can really shift the dial:
Issue: Customer Messaging
There are so many benefits to improving your communications with existing and potential customers.
You can generate more reviews, which act as a trust factor and make your business more credible. You can collect payments faster and with less hassle. You can issue more timely (and more effective) reminders, reducing the chances of no-shows.
To solve your customer messaging you can use a tool like Podium. Here's how I use it:
Set up one inbox to rule them all: What's the biggest barrier to better communications? Trying to keep track of all your different platforms. Customers could be messaging you via Facebook, Twitter, phone, and your website (and maybe a bunch of others, too). Podium brings all those communications together in one place, ensuring you never miss a message.
Connect remotely with website visitors: Ever wish you could get closer to the people on your website? Find out what stops them from buying or converting there and then? With Podium, you can. Add live chat to your site and every time they ask a question, they'll automatically move to a text conversation, so you're no longer tied to your computer (and nor are they).
Enable on-the-go customer service: You likely don't have a dedicated customer service team. In fact, you might be your whole customer service team. So what happens when you're not at your desk or in the store? Stuff gets missed! Podium allows you to text quick responses when you're out and about, so you never leave anyone hanging.
Chat face-to-face: Texting is great. But sometimes it's just not the best way to respond to a customer or prospect. Maybe they've got a complex question or require a nuanced response that's hard to tap out on your phone's keypad. Podium offers video chat software that makes connecting remotely with customers as easy as sending a text. Send your customers a link and you can be video chatting in seconds, making it super simple to show details, answer questions, and share your screen.
Create tailored promotions: Say you own a coffee shop. You run a loyalty program and you've captured your best customers' email addresses and phone numbers. Wouldn't it be great if you could quickly send those customers targeted promotions? Maybe offer them a deal on a new single-origin coffee you've just started stocking? You can do that as well.
Provide to-the-minute advice and updates: There are a lot of variables in the world right now. Customers might want to know how busy you are at a certain time, or what measures you've put in place during the pandemic. Or they might have product-specific questions. A customer messaging platform makes it easier for you to respond in real-time.
Oh and an easy way to get started is to just sign up for a free Podium account.
Issue: Scheduling Meetings
No one likes scheduling meetings at the best of times. Throw coronavirus into the mix and it becomes even more of a challenge. Should it be in-person or remote? Which platform should we use? What date and time work best?
Meeting schedulers are designed to handle the legwork for you. One of the best is Arrangr, which reserves tentative meeting times, automatically frees up untaken slots, and can even suggest the ideal location for all parties.
Another great option is Calendly. Integrating directly with your Google or Office 365 calendar, it gives you a personalized URL that allows customers to see your availability and schedule their preferred meeting time. Best of all, there's a basic free plan available.
Issue: Email Automation
You can't grow a local business at a time like this without doing some marketing.
Unfortunately, you likely don't have time to build and execute complex campaigns.
That's why you need email automation software! One of the most popular tools, Mailchimp, helps you send effective email marketing communications at scale. In fact, Mailchimp claims to boost open rates by 93% and click rates by 174% compared to the average bulk email.
Customer Relationship Management
Your customer relationships have never been more valuable than they are right now, so you need to manage them effectively. To do that, you need to invest in a customer relationship management (CRM) tool.
There are a bunch of CRMs aimed at local businesses, but HubSpot Sales Hub is one of the most popular. It's loaded with sales engagement tools, pricing functionality to help you deliver complex quotes, and analytics software to measure what's working (and what isn't).
2. Improve Your Digital Marketing Strategy
In more "normal" times, you might not put a lot of thought into your marketing. Maybe you just write the occasional social post or send a couple of email promotions a month.
During times of uncertainty, that just won't cut it. People have a lot on their minds right now, so that one baseball gif you tweeted isn't going to have much impact.
You need a proper digital marketing strategy.
Let me give you an example: you sell business supplies to other local businesses.
Because you're small and local, your big differentiator is your flexibility and bespoke approach. You can source whatever product your customer needs, your delivery times are rapid, and you're easy to reach. That's the sort of stuff you talk about in your marketing emails.
Well, wouldn't it be good if you made that the foundation for a whole campaign?
Maybe you create a bunch of case studies and testimonials that show your unique selling point, (USPs), in action. You build a mailing list of local firms you'd love to do business with, and drip-feed your content to those prospects. Because you've built a whole strategy, you know the best times to reach those prospects, the platforms they use, and the sort of messaging that resonates with them.
That approach helps you strike up a conversation, which ultimately means you may close more deals.
3. Make Your Google My Business Profile Shine
Want people to see your name when they search on Google for businesses like yours? If you're reading this article, I'm guessing you do, and that means you need a (good) Google My Business profile.
Setting up a free profile makes it more likely that your business shows up in relevant searches, along with useful information like:
The type of service you offer
Your opening times
Your address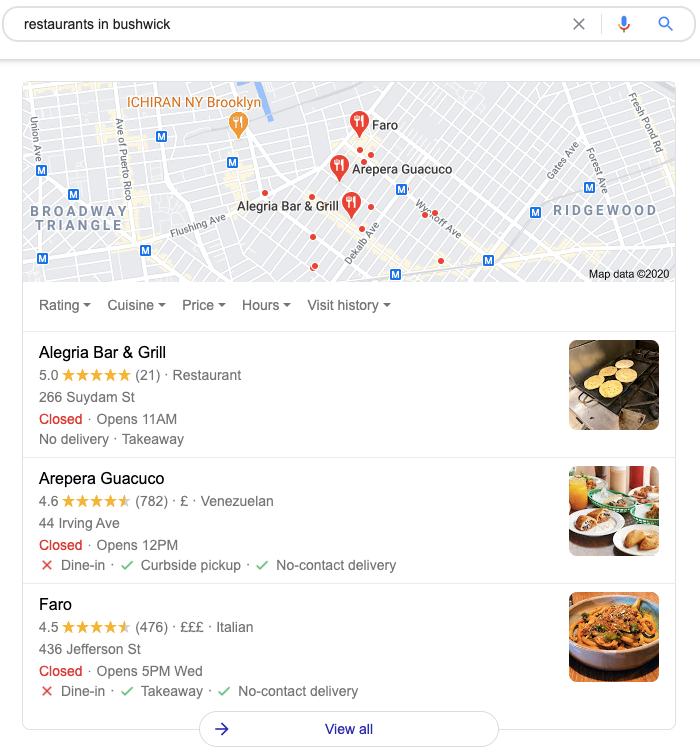 Once you've set it up, optimize your Google My Business profile by:
Ensuring your information is accurate and comprehensive
Sharing business updates, like new opening hours or product launches
Asking customers for Google reviews (and responding to them)
On that last point, I know it can be hard persuading customers to review your business. They're busy. They don't want to spend their valuable time seeking out your Google My Business profile or Facebook Business Page.
Podium makes it a lot easier, helping you provide social proof that demonstrates your brand can be trusted. Text customers asking them for a review and they'll be linked straight to your Facebook, Google, and Tripadvisor pages, so there's hardly any clicks (and hardly any work) for them. That's why Podium has powered more than 15 million business reviews for its users.
4. Create and Execute a Local Paid Marketing Strategy
Sometimes it takes money to make money. If you're serious about growing your local business right now, you'll want to consider investing in some sort of paid activity.
Google Ads can be super effective for smaller firms, especially web-based businesses targeting online traffic and/or conversions. Local keyword phrases like "lawyers near me," or "realtor in Denver," are typically a lot less competitive than broader, non-geographic terms like "realtor." That means you could get a lot of visibility and clicks with a relatively small outlay.
In addition to Google Ads, consider advertising on social platforms like Facebook and LinkedIn. Social ads are less intention-based than paid search because your audience isn't actively looking for the thing you're advertising.
However, ads on social media often cost less than Google Ads. For instance, if you're a law firm, you're paying on average $10.96 per click on Google Ads, but on Facebook, that figure drops to just $1.32.
5. Use Analytics to Track and Improve Site Performance
When times are hard, you need to squeeze every last dollar from your potential customers. Analytics software (like Google Analytics) can help you do that by allowing you to identify trends, plan new strategies, and measure the results of your current efforts.
Let's say you're a mechanic. You've just added a page to your site to promote a special offer on new tires. A month later, you click into Google Analytics and see that a bunch of people have landed on that page, but your conversion rate is low.
You compare it to other, similar pages on your site. They're performing much better. Now you know there's a problem, such as:
Your current offer is priced too high
Your new page isn't engaging or persuasive enough
You don't make it easy enough for customers to convert, so they leave
You don't provide enough detail about the offer
By comparing against better-performing pages, you can tweak your approach and improve results.
6. Conduct Local Community Promotions
Now isn't a good time to invite hundreds of people to a big party. But there are definitely opportunities for community engagement. You just need to get a little creative.
Say you've opened a new store in a location you haven't served before. Maybe you target properties within a certain zip code, or on certain streets, with a special offer that encourages customers to visit your store.
Perhaps in the age of social distancing, you've introduced a new takeout service. Why not give customers in your area 10% off their first promotion, or combine it with a loyalty scheme? Tailor your offer to what your customers want right now, then promote it on Facebook, in the local press, via email marketing, or through direct mail.
7. Optimize Your Social Media Accounts
There are dozens of social platforms out there, but when it comes to growing a local business, you want to focus on those that give you the best reach, like:
Facebook
Twitter
Instagram
LinkedIn
Pinterest
YouTube
Tumblr
Finding the right platform will depend on the type of business you run. On a basic level, if you're B2B, LinkedIn's likely your best channel. Otherwise, almost everyone is on Facebook, but if your product is highly visual you might see more success on Instagram, Pinterest, or YouTube.
Whichever platform(s) you choose, you need to identify some tactics that ultimately help you sell more, like:
Showcasing and/or auctioning your products on Facebook Live
Starting conversations with new prospects in LinkedIn Groups
Setting up Instagram Shopping so people can browse your products in photos and videos while in-app
Conclusion
Growing a local business is never easy, and it's certainly a whole lot harder right now.
However, if you've set up your own business, you're likely comfortable with hustling for results. You're naturally entrepreneurial and you're driven to make this work.
Combine that attitude with the right growth strategies, and execute them effectively, and there's no reason why you can't come out of the pandemic in a stronger position.
What plans have you put in place to grow your business? How's it going for you so far?
The post How to Grow Your Local Business During Uncertain Times appeared first on Neil Patel.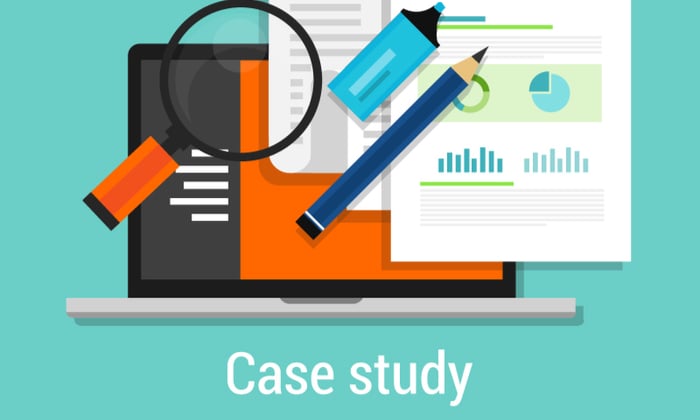 Case studies go beyond simple testimonials by providing real-life examples of how your brand satisfied your customer's needs and helped them accomplish their goals.
An in-depth case study helps you highlight your successes in a way that will help your ideal potential customer become your next customer. They help you show rather than tell prospective customers how you can help them reach their goals.
But, creating a solid case study can be a challenge. Today, I'll provide actionable tips to help you write a case study, provide background information, and identify key metrics that will help your case study drive conversions.
1. Write About Someone Your Ideal Customer Can Relate To
Do you know who your ideal customer is? If it's someone in the education industry, then make your case studies about your university customers. If it's someone in the automobile industry, then make your case studies about auto parts and accessories manufacturers.
The goal is to ensure that your case study will show prospective customers that you are:
Comfortable in their industry.
Undertand their industry's specific needs.
Know how to give their industry targeted results.
Think about it on a smaller level, such as when you're reading a how-to blog post. Most of of these posts are geared toward average readers.
But when you come across a post designed specifically for your needs (such as online marketing for the healthcare industry), you are more likely to understand and apply the information.
The same goes with case studies – people who read about results in their industry will feel like the same approach will work for them.
2. Tell the Story from Start to Finish
Storytelling is a powerful marketing strategy. A great case study will allow someone to really get to know the customer in the case study including:
Who is the sample customer and what do they do?
What were the customer's goals?
What were the customer's needs?
How did you satisfy those needs and help the customer meet their goals?
But don't stop a month or two out. Follow up with the customer in the case study and update your case study a few months down the road to show how your solutions continue to provide long term benefits.
This gives readers the opportunity to see that your goal is not only to help with immediate needs, but also to ensure long term results.
3. Make Your Case Study Easy to Read
No one likes to read one huge chunk of text, no matter how interesting and informative it might be. Case studies, like blog posts, should be scannable and easy to read.
Be sure to use good content formatting elements as you would with articles, blog posts, and copywriting on your website, including:
Headers
Images
Bulleted lists
Bolded & italicized text
In addition to providing great SEO value for your case studies page, these formatting elements will help your readers (especially those that like to skim) find the most important parts of your case study and get a great impression about what your business could do for them.
Consider adding multi-media elements in addition to written content, such as videos, PDFs, and images to mix it up and make the content more engaging.
4. Include Real Numbers
Have you ever read case studies where a business states they "doubled traffic" for the customer in their case study and wondered if that meant they went from 100 to 200 visits or 10,000 to 20,000 visits?
Avoid using broad statements by using clear, direct numbers. This makes your case study more believable and helps build trust in your brand.
You want your case study to be as precise as possible. Instead of saying you doubled their traffic, provide specific, accurate numbers and (if possible) real proof in the form of charts, graphs, or analytics data.
Remember that not everyone is as familiar with analtyics technology as you are, so highlight the most importnat pieces of data and provide context to why it matters.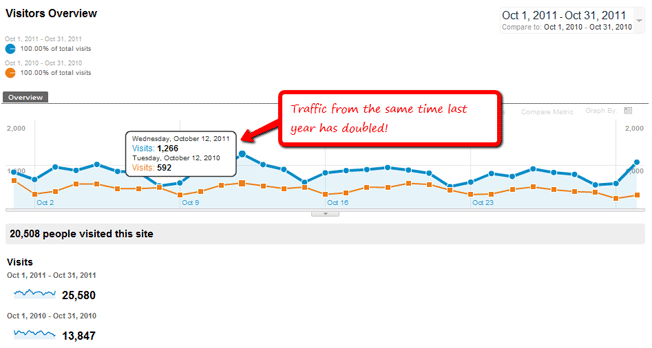 This way, the reader can see where the customer began and where the customer ended up with your help.
Plus having the picture proof can help the reader envision exactly what you might do for them, making your case study that much more powerful.
5. Talk About Specific Strategies in Your Case Study
So you doubled a website's traffic or sales, right? How did you do it? This is where you sell your products or services simply by saying which ones you used and how they led to the desired result.
Don't just say "our online marketing services led to these results." Instead, say something like, " A three-month social media campaign focusing on Facebook & YouTube and five-month of link building campaign led to an increase in rankings, plus brand exposure led to these results."
Don't worry about giving away your secrets — the goal is to establish your brand as an industry leader and you need to show you know your stuff.
6. Try Different Content Formats
Case studies do not have to be fit into a story form every time. Try different types of case studies, such as an interview format where you have your clients answer the same questions mentioned earlier about what they do, their needs, their goals, and how you met them.
Quoting your customer in their own words will make the case study even more relatable to your ideal customer than you telling the story.
Infographics, webinars, and even podcasts can also be used to highlight case studies. Don't get stuck in the same old text-only format — get creative and see what type of content your users respond to.
Here's a case study example from Venngage that uses a brochure-style case study to highlight how Vortex was able to grow conversion. (Notice the results section that highlights specific gains.)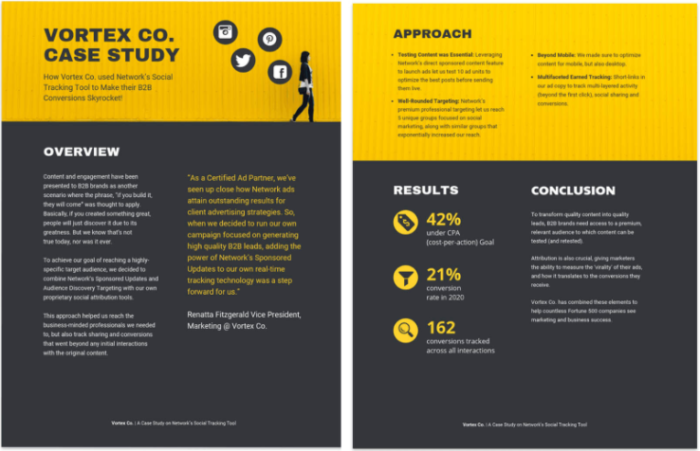 7. Appeal to Different Types of Learners
While some people enjoy reading, others may prefer audio, video, or visual representation of your case study. So consider taking your text-based case studies and re-purposing the content as:
The bonus with YouTube videos and infographics is that they are easy to share. This means that your case study may go further than just your own site, leading to more of your potential customers finding out how they could benefit from your products or services.
Case studies can also be embeded in other types of content — such as an ebook, how-to blog post, or resource guide.
8. Make Your Case Studies Easy to Find
What's the point of having great case studies if no one will ever read them? Be sure that your case studies are organized and easy to find.
Here's a few examples of good case studies that are easy to find — and therefore, much more powerful.
AWS provides case studies right on their homepage. They also make it easy to look for an-industry specific case study in manufacturing, financial services, fitness, and more.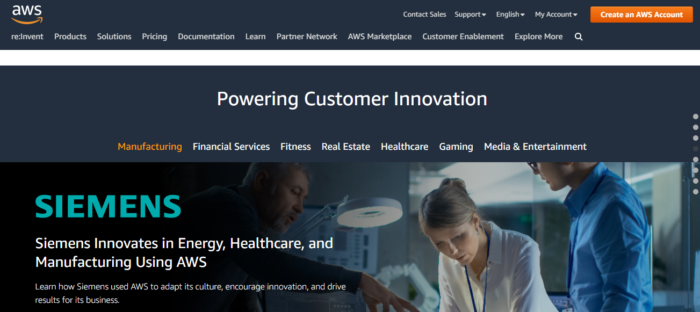 Drupal provides case studies right in their hero image. Users considering using their solution don't have to look far at all to see how other brands are finding success with Drupal.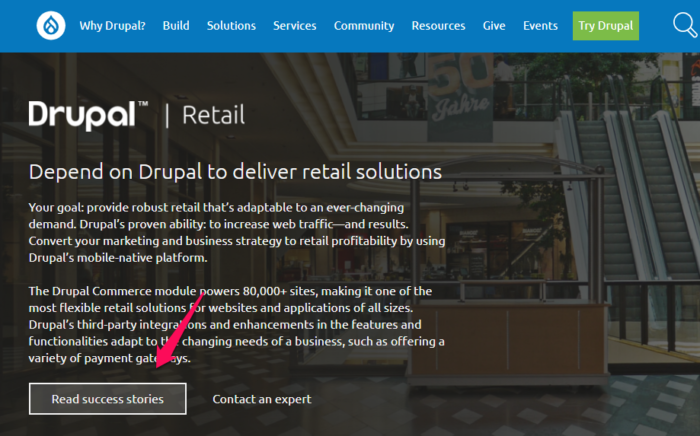 Conclusion
A great case study starts with case study research. Ask your customers to fill out a short form that highlights how you helped them reach their goals — be sure to ask for specific results.
Explain how the case study will help them by increasing brand awareness and link opportunities. Remember, a highly effective case study helps both you and your client build trust and reach a wider audience.
Have any case study best practice tips or examples of case studies you have enjoyed? Please share them in the comments!
The post 8 Tips For Creating a More Effective Case Study – With Examples appeared first on Neil Patel.