Friday, November 20th, 2020
now browsing by day
High-quality video content is a great way to showcase products professionally in an e-commerce store. AI Multiple, a digital B2B research firm, found that video content makes website visitors 64-85% more likely to buy a product, compared to static images.
There are many ways to edit your videos for free. Free video editing software has become increasingly popular in recent years, and the perks of the programs are always evolving.
These days, you can create high-quality, engaging video content that converts without paying the high sticker price of big-name software. If you're not sure about product videos for e-commerce, or you don't know where to invest your money, then free video editing software is a great place to start experimenting.
Is Free Video Editing Software as Effective as Paid Tools?
Paid doesn't always mean better. Free video editing software has come a long way since its inception, and the latest platforms are incredibly versatile.
Many paid tools have impressive free versions, so you can use your favorite software without paying a subscription fee. This is a great way to test out content types and figure out the design direction for your videos.
Paid Tools with Free Subscriptions
These free versions allow you to test out paid products and see how they work. If you're a beginner, there are tutorials and walkthroughs that can get you started.
That being said, there are many free tools with equal or greater editing options as paid tools. It's important to figure out what kind of features you're looking for, whether that be short-form, DIY social videos, product testimonials, online ads, or animated clips. Once you know what you need, it will be much easier to find the tool that suits your verticals.
How to Use Free Video Editing Software to Help Your E-Commerce Site
Video content can help you display your products in new and inventive ways. Customers appreciate being able to see a product in action. They also want to know what other people think of it, so posting reviews and demos can be a great way to target those audiences.
Youtube is the second-most trafficked site on the internet, coming in right after Google. This tells us the public is interested in video content and is searching for it every day. In fact, it's estimated that users spend almost 100 minutes a day watching online video content.
So, what are these consumers looking for?
The CMO Council, a marketing research firm, found 48% of consumers want to see content that reflects products or services they are already interested in. Likewise, 43% of consumers want to see content that gives them clear information on the next steps they need to take in order to purchase.
Free video editing software can help you speak to this growing demographic and introduce your products to their vast sales funnel.
With well-edited videos, you can showcase the way your products move, answer FAQs, make your own promotional videos, highlight customer reviews, and give live product demos. This offers new value to your consumers that static content misses.
Want to find out how to get started with video marketing? With just a few simple tools you can maximize your conversions and extend your reach online.
What Features to Look For in Free Video Editing Software
Free video editing software can help you to create stand-out video content for your e-commerce platform.
There are so many different programs to choose from and even more features to consider.
But don't get overwhelmed!
The first step is to figure out what you want your content to look like. Are you making short-form ads for Instagram Stories? Are you creating Google ads, Facebook banners, or on-site product pieces? Different content requires different features, so make sure you know what you're looking for.
Once you know what you want to create, sorting through the noise is easier. Here are some features to consider when choosing your free video editing software.
Choose Your Video Editing Skill Level
If you're brand new to video editing, it's best to start simple. Choose video editing software that doesn't have too many complex features and one that will give you a tutorial. You can also find an online walkthrough to explain the best ways to use the software.
Give yourself enough time to play around with software before your project deadline. These tools can have a learning curve depending on which software you choose, so keep that in mind before you commit.
Video Editing Supported Formats
Some platforms, such as Youtube, require specific formats in order to upload content. It's important to research what your format requirements are before diving into the new software.
If you want to publish your content in 4K, or maybe convert it to 720p, it's a good idea to factor that into your content creation planning.
Some free video editing software platforms have a range of compatibility options, while others are very limited. Be sure to read the fine print before downloading anything.
Audio Video Editing Tools
Depending on what kind of content you're producing, you may want to add audio tracks or musical elements to your videos.
Some free video editing software support audio mastering, while others don't have those options. You may be able to add audio in through a secondary program if you want to, but it's probably better to find software that does everything you need it to from the start.
Likewise, the audio tools may be limited to in-program purchases or pre-determined tracks. So be sure to choose software that will allow you to upload outside media if that's what your content needs.
Titles and Subtitles
Titles and subtitles are a great way to overlay branding or text. You can also increase accessibility and speak to consumers who may have their volume turned off as they scroll.
Many free video editing software platforms have title and subtitle options. That being said, not all of them allow you to export or import these and you may need to do a bit of extra research to find a platform that supports more advanced text options.
Collaboration
If you're looking to involve your team members in the editing process, then choosing a tool that supports collaboration will be important.
Many of these tools have limits on how many collaborators can participate, so make sure you know how many people will be logging onto the software and in what capacity they will be contributing.
Best Free Video Editing Software
No matter what kind of content you want to create, there is a free video editing software out there that can make your e-commerce dreams come true.
Remember, there are different apps for mobile, desktop, and even Instagram-specific editing tools. Read the software details to ensure you'll be able to use your video on your desired platform.
Adobe Spark
Adobe Spark is one of the most approachable free video editing software platforms. You can add images, soundtracks, and animations directly into your uploaded videos. You can also edit and share your videos from the app, so you don't have to spend time waiting for lengthy uploads.
Adobe Spark features:
Seamless social sharing options
Variety of typography, animations, imagery, and themes to choose from
Metric tracking for content
The free version gives you access to most of their basic editing software. You can also go premium for $9.99 per month.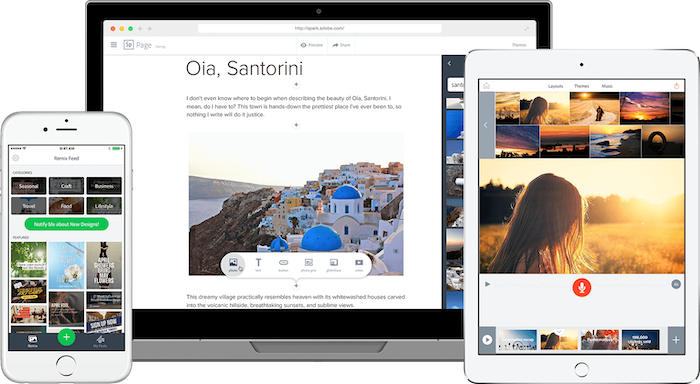 Avidemux
Avidemux is a great beginner video editing software. It can be used on Windows, Mac, or Linux operating systems and boasts a clear, simple, easy-to-navigate interface.
The downside is there aren't as many features as some of the other software platforms we've discussed. That said, if you're just getting into video editing, this is a great place to start.
Avidemux features:
Cutting
Encoding
Filtering
Audio integration
Avidemux is 100% free.
Clipchamp
Clipchamp lets you edit clips directly in your browser without having to upload anything. It's compatible with all file sizes and offers a range of customizable video templates curated by industry professionals.
Clipchamp features:
Video editing
Compression
Converting
Add audio
Add text
Clipchamp is a great option for those looking to do some quick and easy editing. Although it lacks some of the in-depth, professional features that can be useful, it makes up for it by being easy to navigate and learn.
The basic platform is free for up to 5-minute pieces. Premium plans begin at $14 per month.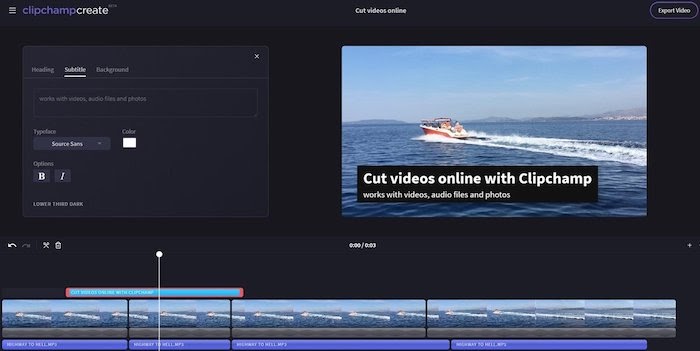 HitFilm Express
HitFilm Express is a professional-grade free video editing software that can be used on either Mac or Windows systems.
HitFilm offers advanced and beginner features that rival some of the best paid platforms out there. The catch? You have to post about them on social media before you can start editing.
HitFilm Express features:
Green screen effects
Advanced cutting tools
Video and audio filters
Layers and masking
3D video support
If you're a beginner, factor in some extra time to learn the interface. Don't worry too much, there are a range of tutorial videos to get you started which are based on popular Hollywood franchises like Star Wars and Marvel. The videos are fun to watch and you might even learn something!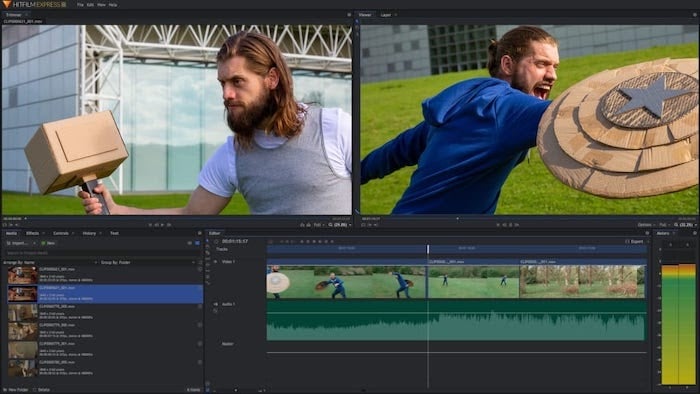 Wave.video
Wave.video is free video editing software for creating branded content. They have a huge stock video and image library and an array of different templates you can add to your video.
Wave.video features:
Free library of image and video clips
Voiceover recording
Audio library of 300,000 royalty-free audio tracks
Ad-free video hosting
Wave.video is free for up to 15-second videos. Paid subscriptions start at $8.25 per minute.
Looking for more video editing software options? Check out these 5 video editing tools.
Next Steps After Choosing the Best Free Video Editing Software Tool
Once you've chosen your software, it's time to get to work!
Depending on the software you pick, your next steps will look a little different.
If you choose a professional video editing software such as Avidemux or HitFilm Express, then you'll need to upload some content of your own before you get started.
If you have some product shots or e-commerce reels, you can upload them into these platforms to cut them into shorter clips, add in text overlays or branded content, or add in audio tracks or music.
If you chose a more simple software like Adobe Spark or Wave.video, you could start by choosing a template and editing it to make it your own. You can also upload product images or videos and then utilize some of the free, in-app features like typography or animations to enhance your video.
To maximize your content for e-commerce conversions, make sure you tailor your content for your platform. If you're trying to showcase how your product works, a product video is a good place to start. If you want to advertise a sale or discount on a Facebook ad, be sure to pay attention to sizing requirements and formatting options.
Conclusion
We know how important video content is for e-commerce conversions, but making video content doesn't have to come with a hefty price tag.
If you're looking to drive more e-commerce store traffic or maximize audience engagement with fun and creative video content, then using free video editing software is a great place to start.
Who knows, maybe with a little practice, you'll be the next Spielberg of e-commerce.
What are some ways you can use video content to strengthen your e-commerce sales?
The post Free Video Editing Software For E-commerce Videos appeared first on Neil Patel.
Rock Your Business Bank Credit Score in a Recession
What's your business bank credit score in a recession?
Before going any further, do you know the difference between bank credit and business credit? Business credit is the full and complete amount of money that your small business can get from all manner of creditors. That means the credit unions,  credit card companies, and leasing companies. And it means any credit your small business can get from suppliers, under what is called trade credit or vendor credit or trade lines. Your bank credit score, though, is a touch different.
Bank credit, on the other hand, is the full amount of borrowing capacity which a small business can get from the banking system only. Hence your bank credit score, of course, is the measurement of this capacity to borrow.
Your Business Bank Credit Score in a Recession, Explained
A small business can get more business credit rapidly, so long as it has at least one bank reference and an average daily account balance of at least $10,000 for the most recent three month time period. This set up will yield a bank rating of a Low-5. So this means it is an Adjusted Debt Balance of from $5,000 to $30,000.
A lower rating, like a High-4, or balance of $7,000 to $9,999 will not automatically reject the small business's loan application. However, it will slow down the approval process.
Your Business Bank Credit Score in a Recession, Defined
A bank credit rating is the average minimum balance as maintained in a business bank account over a three month long period. Hence a $10,000 balance will rate as a Low-5, a $5,000 balance will rate as a Mid-4, and a $999 balance will rate as a High-3, etc.
Goals for Your Business Bank Credit Score in a Recession
A small business's chief goal should always be to maintain a minimum Low-5 bank rating for at least three months. Hence that means  an average $10,000 balance.
This is because, without at least a Low-5 rating, the majority of banks will operate under the assumption that the business has little to no ability to repay a loan or a business line of credit.
One thing to keep in mind – you will never actually see this number. The bank will just keep this number in its back pocket.
Check out our professional research on bank ratings, the little-known reason why you will – or won't – get a bank loan for your business during a recession.
The Bank Credit Score Rating Ranges
The numbers work out to the following ranges:
High-5 – account balance of $70,000-99,999
Mid-5 – account balance of $40,000-69,999
Low-5 – balance of $10,000-39,000
High-4 – 7,000-9,999
Mid-4 – $4,000-6,999
Low-4 – $1,000-3,999
Do not forget, your small business needs to be at the Low-5 level bank score or better.
Rocking Your Business Bank Credit Score in a Recession
It should be clear that the thrust behind bank credit scores is to show proof that your small business can pay back its financial obligations in an expeditious manner. Therefore, yes, you will need to maintain a minimum balance for at least three months. Every cycle is based on the balance rating during the previous three month period.
Congruency
It is also vital that the business owner ensures that their business bank accounts are reported exactly the same way all of their business records are, and with the exact same physical address and phone number. And it cannot be a post office box!
It is imperative that each and every credit agency and trade credit vendor, every record keeper also lists the business name and address the exact same way. No lender is going to stop to consider all of the ways that a business might be listed, when they look into the business's creditworthiness. Therefore, if they are unable to find what they need easily, they will just deny the application.
Note: these are record keepers of financial records, income tax, web addresses and e-mail addresses, directory assistance, etc.
Congruency also matters in the event you use a fictitious name or DBA, AKA a 'doing business as' status.
Responsible Account Management
Plus the business must manage its bank account responsibly. This means that the small business should avoid writing non-sufficient funds (NSF) checks at all costs, because that decimates bank ratings. Non-sufficient-funds checks are something which no business can afford to let happen. It is even a good idea for the business to add overdraft protection to their bank account as soon as possible, in order to avoid NSFs.
Positive Cash Flow
Your business must show a positive cash flow. The cash coming in and leaving a company's bank account should reflect a positive free cash flow. A positive free cash flow is the amount of revenue left over after a company has paid all of its expenses. When an account shows a positive cash flow it indicates that the business is generating more revenue than is used to run the company. That means the bank will feel that the business can pay its bills.
Consistent Deposits
Finally, understand that banks are highly motivated to lend to a business with consistent deposits. A business owner must also make regular deposits in order to maintain a positive bank rating. The business owner must make a lot of consistent deposits. And they need to be more than the withdrawals they are making, in order to have and maintain a good bank rating. If they can do that, then they will have a good bank credit score.
Check out our professional research on bank ratings, the little-known reason why you will – or won't – get a bank loan for your business during a recession.
An Alternative to Jacking Up Your Business Bank Credit Score in a Recession
Of course we are talking about business credit building here. Business credit is an asset which can help your company in years to come.
Small business credit is credit in a small business's name. It doesn't tie to a business owner's consumer credit, not even if the owner is a sole proprietor and the solitary employee of the company.
As a result, a business owner's business and consumer credit scores can be very different.
The Benefits
Due to the fact that small business credit is distinct from consumer, it helps to protect an entrepreneur's personal assets, in the event of a lawsuit or business insolvency.
Also, with two distinct credit scores, a business owner can get two separate cards from the same vendor. This effectively doubles buying power.
Another benefit is that even startups can do this. Heading to a bank for a business loan can be a formula for frustration. But building small business credit, when done the right way, is a plan for success.
Consumer credit scores depend on payments but also various other elements like credit use percentages.
But for small business credit, the scores truly just hinge on whether a business pays its invoices punctually.
The Process
Building business credit is a process, and it does not occur without effort. A business has to actively work to build company credit.
That being said, it can be done easily and quickly, and it is much faster than establishing consumer credit scores.
Merchants are a big component of this process.
Doing the steps out of sequence will result in repetitive denials. Nobody can start at the top with small business credit. For instance, you can't start with retail or cash credit from your bank. If you do, you'll get a denial 100% of the time.
Company Fundability
A small business has to be fundable to lenders and merchants.
For this reason, a small business will need a professional-looking web site and e-mail address. And it needs to have website hosting bought from a merchant such as GoDaddy.
In addition, business telephone and fax numbers must have a listing on ListYourself.net.
Additionally, the company phone number should be toll-free (800 exchange or the like).
A business will also need a bank account dedicated solely to it, and it needs to have every one of the licenses necessary for operation.
Licenses
These licenses all have to be in the perfect, correct name of the business. And they need to have the same company address and phone numbers.
So note, that this means not just state licenses, but possibly also city licenses.
Check out our professional research on bank ratings, the little-known reason why you will – or won't – get a bank loan for your business during a recession.
Dealing with the IRS
Visit the IRS website and acquire an EIN for the business. They're totally free. Select a business entity like corporation, LLC, etc.
A small business can get started as a sole proprietor. But they will most likely want to change to a variety of corporation or an LLC.
This is in order to minimize risk. And it will optimize tax benefits.
A business entity will matter when it pertains to taxes and liability in case of a lawsuit. A sole proprietorship means the entrepreneur is it when it comes to liability and tax obligations. No one else is responsible.
Sole Proprietors Take Note
If you run a company as a sole proprietor, then at least be sure to file for a DBA. This is 'doing business as' status.
If you do not, then your personal name is the same as the company name. Consequently, you can end up being directly liable for all company debts.
Additionally, per the IRS, with this arrangement there is a 1 in 7 possibility of an IRS audit. There is a 1 in 50 chance for corporations! Prevent confusion and substantially decrease the odds of an IRS audit simultaneously.
But treat any DBA filing as a steppingstone to incorporating.
Monitor Your Business Credit
Know what is happening with your credit. Make sure it is being reported and deal with any errors ASAP. Get in the habit of checking credit reports. Dig into the particulars, not just the scores.
We can help you monitor business credit at Experian and D&B for 90% less than it would cost you at the CRAs.
Update Your Data
Update the information if there are inaccuracies or the info is incomplete.
Fix Your Business Credit
So, what's all this monitoring for? It's to contest any inaccuracies in your records. Errors in your credit report(s) can be corrected. But the CRAs often want you to dispute in a particular way.
Disputes
Disputing credit report mistakes commonly means you mail a paper letter with copies of any proofs of payment with it. These are documents like receipts and cancelled checks. Never send the original copies. Always mail copies and keep the original copies.
Fixing credit report errors also means you precisely spell out any charges you contest. Make your dispute letter as crystal clear as possible. Be specific about the concerns with your report. Use certified mail so that you will have proof that you sent in your dispute.
A Word about Building Business Credit
Always use credit responsibly! Never borrow more than what you can pay off. Keep track of balances and deadlines for payments. Paying off promptly and in full will do more to raise business credit scores than just about anything else.
Building company credit pays. Excellent business credit scores help a company get loans. Your lending institution knows the small business can pay its debts. They understand the company is authentic.
The company's EIN links to high scores and your business bank credit score in a recession will not matter quite so much.
Takeaways for How to Rock Your Business Bank Credit Score in a Recession
Start with consistent deposits, even if you cannot make terribly high ones. Just, start to become dependable in how you add money to your business's bank account. Whether you deposit every week or every other week, etc. is your own choice. Opt for whatever you are most likely to be able to do.
This can also help you with both positive cash flow and responsible account management. Hence you get a lot of bang for your buck here – quite literally.
The other fairly simple task you can undertake is to make sure your business address and other particulars are perfectly congruent across the board. This means, for example, that if you wrote Ltd. on your D&B D-U-N-S number application, but Limited when you applied for a business bank account, you will need to take measures to get these two areas in sync.
Generally, the easiest way to do this is by going through everything and simply copying and pasting your information.
The post How to Rock your Business Bank Credit Score in a Recession appeared first on Credit Suite.