Saturday, October 31st, 2020
now browsing by day
It's that time of year when you're thinking about spooky things lurking behind every corner.  But your business credit score doesn't have to be one of those things that goes bump in the night. You can call on these bad small business credit score busters to rescue you.
5 Bad Small Business Credit Score Busters
When it comes to a small business credit score, no score is the same as a bad score.  So, whether you actually have bad small business credit, or you don't have a small business credit score at all, you are in the same boat.  The best place to start is at the beginning.
Bad Small Business Credit Score Buster #1: A Properly Established Business Credit File
No business credit is the same as bad business credit.   The trick is, most people miss out on all the treats credit in the name of their business has to offer because they think they have a business credit score.  They think that if they have a business and pay all the business bills on time, they're golden. This is a trick indeed.
The truth is, while you do need to know how to build your business credit score, you have to do some pre-work, so to speak.  The problem is, business credit does not develop the same way personal credit does.  You have to actively establish business credit before you can build a small business score.
How to Establish Business Credit
The key to establishing business credit is to set up your business to be a separate, fundable entity apart from you the owner. This ensures that payments on business accounts are on your business credit rather than your personal credit.  Here's how.
Check out our trustworthy list of seven vendors to help you build business credit. Conquer any recession!
Contact Information
You need separate business contact information.  That doesn't mean you have to get a separate phone line or a separate location.  You can run your business from your home or on your computer.  
Actually, you can get a business phone number easily that works over the internet instead of phone lines ( this is called VOIP, or voice over internet protocol).  Even better, it will forward to any phone you want it to so you can use your personal cell phone or landline.  Calls to your business number will ring straight to you. 
In addition, you can use a virtual office for a business address. This is a business that offers a physical address for a fee, and sometimes they even offer mail service and live receptionist services.  Furthermore, some offer meeting spaces for those times you may need to meet a client or customer in person. 
EIN
You also need an EIN. This is an identifying number for your business that is similar to your personal SSN.  You can get one for free from the IRS.
Incorporate
Incorporating your business as an LLC, S-corp, or corporation is necessary to fundability.  It not only offers liability protection, but it is vital in separating a business from its owner. 
Business Bank Account
You have to open a separate, dedicated business bank account.  First, it will help you keep track of business finances.  It will also help you keep them separate from personal finances for tax purposes. 
Also, several types of funding are not available without a business bank account.  Many lenders and credit cards want to see one with a minimum average balance.  Another reason is, you cannot get a merchant account without a business account at a bank. That means, you cannot take credit card payments.  Even more important, a lot of lenders consider the date a business starts to be the date the business bank account opens.  Time in business is an important factor in business credit.   
Best Bank Accounts for Small Businesses
So, what are the best bank accounts for small businesses? There are tons out there, and each business's needs are different.  However, there are a few things you should consider when trying to find the best bank account for your business.
Fees
This is first because it's the most obvious, but it isn't necessarily the most important, at least not in the way you may think.  You do not necessarily want the account with the lowest fee.  While there are probably free bank accounts out there, those may not actually be the best bank accounts for small businesses. Why? Sometimes you really do get what you pay for. Which leads to the next thing you need to consider.
Number of Allowed Transactions
You need to consider the number of transactions allowed per month before you are charged additional fees.  Many free accounts allow a very small number of transactions.  This is fine for some small businesses, but you also need to consider growth when determining how many transactions per month you need.
Even business bank accounts that are not free do not usually offer an unlimited number of transactions. Many have a transaction limit, and if you go over, will they charge additional fees. The key is to figure out not only how many transactions you need currently, but how many you may need as you grow. 
Also, make sure you can upgrade your account if you see you are consistently going over the allowed number of transactions. Find out what is entailed in doing so.  You don't want to be in a situation where you have to get a whole new account if you can help it.  That's a pain.  Just be sure to keep an eye on how many transactions you do each month.
Required Cash Deposits
Take a look at the deposit amounts allowed or required each month.  Make sure you can meet them.
Minimum Balance Requirements
Are you required to keep a minimum balance in the account to avoid additional fees?  If so, make sure you can meet that requirement.
Extras
If you find more than one account that is perfect for your business, take a look at the extras to break the tie.  Do they offer mobile banking? Will they waive fees if you hit a certain number of a specific type of transaction? Do they offer an app or text banking?
Finding the best bank accounts for small businesses takes a little finesse, because what works best for one business may not be what's best for yours.  This should get you started.
Licenses
For a business to be legitimate it has to have all of the necessary licenses it needs to run.  If it doesn't, red flags are going to fly up all over the place.  Do the research you need to do to ensure you have all of the licenses necessary to legitimately run your business at the federal, state, and local levels. 
D-U-N-S Number
This is a number issued by Dun & Bradstreet.  They are the largest and most commonly used business credit reporting agency.  You cannot be in their system without this number. Get one for free on their website.
Check out our trustworthy list of seven vendors to help you build business credit. Conquer any recession!
Bad Small Business Credit Score Buster #2: Continuity in Business Information
While this buster does not directly affect your business credit score, a lack of it can definitely get you denied, even with a stellar credit score. Here's the deal.  Fraud is rampant, and lenders do not like to take chances. If they see one document with your business name that has an ampersand and one that uses the word "and" in place of the ampersand, it will set off fraud concerns and they will deny the loan.  This can happen even if you have a good business credit score. Your business name has to be exactly the same everywhere.
The same is true for addresses and phone numbers.  If you have one address on your website and a different one on insurance papers, it's going to be a problem. All information related to your business has to be the same on all documents across the board.
Bad Small Business Credit Score Buster #3: Credit Line Hybrid
A credit line hybrid allows you to fund your business without putting up collateral, and you only pay back what you use. Qualifying is not as hard as you may think.   You do need good personal credit, at least 685.  In addition, you can't have any liens, judgments, bankruptcies or late payments.  Also, in the past 6 months you should have fewer than 5 credit inquiries, and you should have less than a 45% balance on all business and personal credit cards.  It's also preferred that you have established business credit as well as personal credit.  
But how is it a bad business credit score buster? Here's how. If you do not meet the qualifications, you can take on a credit partner that does meet them.  Since it reports to the business credit reporting agencies in the business's name, you can build credit for your business without having good credit to begin with.
Bad Small Business Credit Score Buster #3: Vendor Credit
Obviously small business lenders are not going to approve applications for loans based on a business credit score if there is no business credit score. Thus, you need a way to build a score without already having a score. This is the time when you need to know how to build your business credit score. Vendor credit is where you start after your business is set up properly.
Vendor credit is offered by what we like to refer to as "starter vendors."  These are companies that will extend net terms on invoices without a credit check.  Then, when you pay the invoice, they report your payment to the business credit reporting agencies.
This helps you build business credit without already having business credit.  However, for it to work, you have to have your business set up as outlined above.  Also, since they do not check credit, they do have other ways of reducing risk.  These vary by vendor, but some general things they look at include:
 

Length of time in business

 

Average balance in business bank account

 

Revenues
Usually it is some combination of these factors and others that starter vendors are looking for when it comes to extending net terms.
Bad Small Business Credit Score Buster #3: Responsible Use of Store Credit and Fleet Credit
Once you have some starter vendors reporting your payments, you will start to build a small business credit score. At that point, you will be eligible to get approval from some store credit cards.  These are cards from retailers that are meant to be used at their store only.  Apply with your business name, EIN, and contact information so they will report to your business credit report and not your personal credit report, thus building strong business credit.
As they report payments, your business credit score will continue to grow, and you can apply for fleet credit.  These cards are meant to be used for auto repair and maintenance and fuel costs. However, after you get enough of them reporting payments, your score will grow to the point you can apply for cash credit, meaning cards that can be used anywhere on anything, in your business name.
The key to this is, you have to handle the credit responsibly.  If you do not make consistent, on-time payments, you will achieve the opposite effect.
Call on These Bad Small Business Credit Score Busters and Never be Haunted Again
Whether you need to establish a small business credit score or annihilate a bad one, at least one of these tips should help.  If your business isn't already set up properly, do that now.  Even if you do know how to build your business credit score, it will not matter if your business is not set up properly. The longer you wait the harder it gets. 
After that, be sure anytime you make changes you make them everywhere, and start working on vendor credit.  Small business lenders take all of this into account, so starting as soon as possible to get everything in line is vital. 
Check out our trustworthy list of seven vendors to help you build business credit. Conquer any recession!
The post Who Ya Gonna Call? Don't Let a Bad Small Business Credit Score Haunt You appeared first on Credit Suite.
The internet has become the go-to source for everything from trivia about celebrities to fixing our kitchen sinks. But AI SEO may be changing the way marketers help their sites rank high on search engine results pages (SERPs).
Failure to rank may result in your business missing out on valuable search traffic. Which means far less revenue for your business.
For a long time, you could get by with basic SEO strategies.
But not anymore.
With artificial intelligence (AI) taking over the world, you need to up your game.
What does that mean for your SEO strategy?
What is AI?
Artificial intelligence (AI) is an umbrella term that covers several different technologies, including machine learning (ML), computer vision, natural language processing (NLP), deep learning, and other, still emerging technologies.
What's the point of AI?
AI has one principal goal – to perform (often laborious and mundane) cognitive tasks better and faster than humans. It is a technology designed to make our work and life easier.
In business, AI has already proven to be effective in increasing revenue.
In sales and marketing, 30% of AI adopters cited a 6-10% increase in revenue after implementing the technology.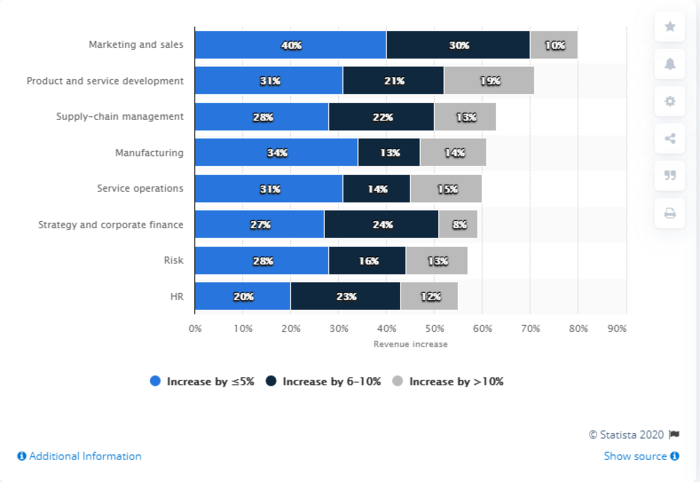 These are pretty impressive results.
And yes, AI can also be beneficial to your SEO.
But, will AI replace SEO?
Emphatically – no!
Let's talk about how AI is impacting SEO and why it won't be taking over.
What is AI SEO?
AI has become a core component of major search engine algorithms, including Google's Rankbrain and BERT.
This factor means if you understand AI and how it impacts search engines, you can boost your SEO using AI.
But that's not all.
AI is also an excellent tool for data analysis, which is a significant part of designing an effective SEO strategy.
From helping you spot trending topics to discovering content gaps, you can do tasks faster and more efficiently with AI-powered SEO software.
AI and SEO are a match made in digital heaven.
Why is AI SEO Important?
Although both AI and SEO are complex disciplines, used together, they make it easier for you to boost your website's rankings.
One thing to keep in mind about search engines is they always put the user first. They aim to deliver content that's as relevant as possible.
Because of this, SEO is not just about keywords anymore. It's about:
Concepts: What is the idea behind the searchers' query?
Context: What is the intent behind the searchers' query?
Customer satisfaction: What are the most relevant answers to the user's query?
So, keyword stuffing doesn't work anymore (and hasn't since Hummingbird). For your content to rank, you need a great link building strategy and to optimize for AI-powered search engines.
Today (and in the future), one of the main factors that impact ranking is user experience. And AI is one of the best ways to provide website visitors with a positive experience.
Let's quickly look at six ways it can help boost your SEO.
AI SEO: 6 Ways to Use AI to Improve Your Website
Now that you understand what AI is and how AI SEO can impact your site, let's look at a few ways you can use AI SEO to keep up with modern SEO tactics.
Opportunity Discovery With AI SEO
One of the most important aspects of SEO is discovering hidden ranking opportunities that haven't been exploited.
That's one of the areas artificial intelligence SEO is proving to be effective in helping boost your website's rankings. Powerful AI-powered SEO tools have emerged in the last couple of years, giving you more in-depth insight into:
Keywords you should be targeting
Link building opportunities
These and other insights that you can get from AI-powered SEO software are crucial to crafting a content strategy that will exponentially boost your website's SEO.
With the competition to rank becoming fiercer by the day, you need to find keywords, topic ideas, and other SEO opportunities that aren't too common.
Find opportunities that your competition is not exploiting, and you'll have a much better chance at ranking.
Granted, finding these opportunities manually takes a lot of creativity, time, and hard work.
However, with the help of AI-powered SEO software, like BrightEdge, you can uncover golden SEO opportunities faster.
This is one of the main reasons AI must be a part of your SEO strategy.
Content Creation With AI SEO
Discovering content opportunities is only a small part of the battle to dominate the SERPs.
You also have to create content that hits the mark.
This is where AI can help improve your SEO.
How?
Once you've used a tool like BrightEdge to find keywords, you can use AI to help you know what kind of content you should create.
Once fed with your target keyword, AI-powered tools scour the web for content created around that keyword. In a few seconds, you'll find:
Content gaps to exploit
Trending topics
The average number of sections to include
With insights like these, it becomes easier to create content tailored to solve specific problems for your audience, in short, personalized content that satisfies user intent.
Not only that, but AI can help you ensure that the content you create is relevant for each stage of your funnel.
Content creation is no longer just about creating poor quality content that ranks. It's about creating content that users will find helpful.
And that's exactly what AI will help you do.
Content Optimization With AI SEO
For a long time, content optimization has been about keywords, internal links, backlinks, and other on-page SEO tactics.
Those things still matter.
But search engines now look at more than just those indicators. Search engines are getting better at figuring out precisely what searcher's intent is while searching.
How can you optimize your content for user intent?
You guessed it – with the help of AI.
AI SEO tools help you:
Create topic clusters that answer user questions and rank
Know the optimum length of content on your given topic
Use keywords and LSI keywords correctly
With AI, you can optimize your content to meet Google's E.A.T standards found in their search quality raters, guidelines. You can create content that expertly answers user queries authoritatively. And that's the kind of content Google loves to serve its users.
But AI doesn't end at helping optimize content for search engines. AI-powered writing tools like Atomic Reach and Grammarly (among a slew of others) also help ensure your writing makes for a pleasant read.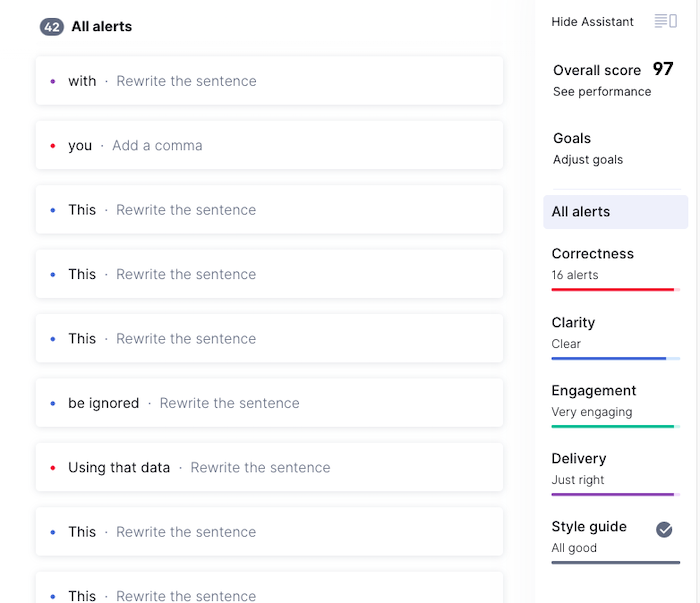 This also helps increase dwell time, another factor that indicates to search engines that your content is useful.
The bottom line is AI can help you create better optimized content that your readers will love and engage with.
Optimizing for Voice Search
One of the fastest evolving areas of search is voice search.
With more people relying on their voice-activated devices to search the internet, voice SEO (VSEO) has become an aspect of SEO you can't ignore anymore.
Just take a look at how fast the number of voice-activated assistants is rising: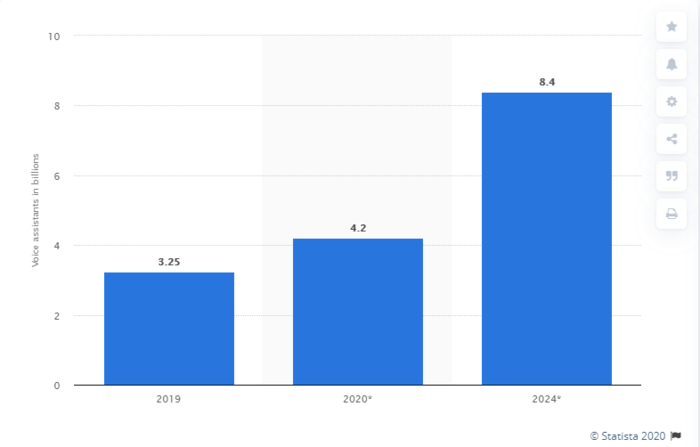 Statista forecasts that the number of voice assistants globally will reach 8.4 billion in the next few years — which is more than the world's population.
Most voice searches are in the form of questions, so one of the main ways to optimize for VSEO is by answering the questions people are asking.
This is where AI tools come into play.
For example, tools like Frase help you create VSEO optimized content by showing you the questions searchers are asking. You can then create content around these questions.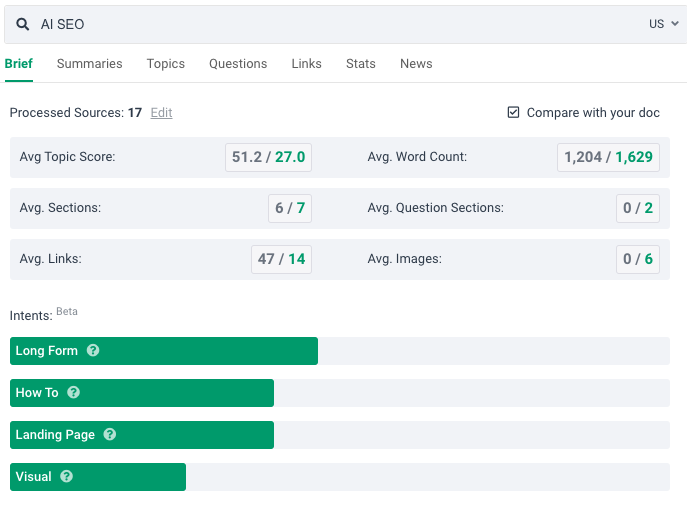 Another aspect of voice search is that it's conversational. This is where AI principles like NLP come into play.
AI-powered content tools like Grammarly and Hemmingway can help you create more conversational content by recommending tone changes and highlighting hard to read passages.
One thing to note about VSEO is that it is hyper-competitive. That's because voice assistants only give one answer – the one right at the top of the SERPs.
This means you have to pull out all the stops to ensure you rank well for VSEO.
Scale Your SEO
A significant part of SEO is tedious manual labor that has made it difficult for marketers to achieve results quickly.
AI has changed that.
AI-powered tools have taken a lot of the grunt work out of SEO by gathering data, analyzing it, and translating it into actionable steps,
More than that, however, you'll find that artificial intelligence SEO software, like Alli AI, can help with your technical SEO as well. For example, it can help you:
Conduct website audits
Automatically optimize content
Fix duplicate content issues
On the on-page SEO front, AI SEO software can help you scale your content creation by analyzing top-performing content. The software can then help you create content strategies and briefs for optimized content.
As a result, you can quickly scale your SEO efforts — without overworking your team.
AI can take over the laborious, mundane, and time-consuming (and sometimes soul-sucking) aspects of SEO. This will free up your team to do other things that need human attention.
User Experience
Remember – Google's (and other search engines) primary focus is the user.
This means user experience (UX) is a crucial element of SEO.
That's probably why, in a rare announcement, Google let people know that page experience will be a significant ranking factor starting from the year 2021.
But what is page experience?
According to Google, page experience is a set of signals that measure a user's satisfaction (or lack of it) when interacting with a web page. This goes beyond the page's informational value.
It takes into account the overall UX the page provides.
Of course, pages with negative user experience won't rank and those that offer users a positive user experience.
Where does AI come into play here?
With search engines thinking more like real human users, they can determine whether your page will provide users a positive UX or not.
This means when a user inputs a search query, search engines want to make sure they serve up:
Relevant and authoritative content
Pages with proper structure
Pages with easy navigation
Pages that load fast
Mobile-friendly websites
If users can enjoy a personalized experience on your website, this will increase dwell time and encourage sharing your content. Both are signals to search engines that your content is worth ranking higher on SERPs.
Today's AI-powered SEO tools, like Market Brew, can mimic search engines and give recommendations on what you can do to improve your website's UX.
As a result, you don't have to guess whether the SEO gods will smile on your website with favor or not. You can know what pleases them (to a greater degree) and implement that on your website.
Conclusion
Ready or not, the future of SEO is here.
And it's just two words – artificial intelligence.
By marrying these two disciplines, you can create a robust SEO strategy that's bound to get you noticed. More than that, it will help you build a loyal audience.
Of course, for every business, that translates to a healthier bottom line.
Have you embraced the power of AI SEO yet?
The post How to Use AI SEO to Improve Your Website appeared first on Neil Patel.