Thursday, October 22nd, 2020
now browsing by day
Let me ask you a question…
Would you rather have a beautiful website or a website your customers love?
From a business perspective, you shouldn't go for either.
Your answer must be 100% I want a high-converting website.
Because if people buy, then they both like it and you can safely and predictably scale your business.
Many people get in the trap of creating designs they like while their perfect client avatar is so much different than what they would imagine.
And that can be easily noticed when you click on ads you see on social media.
You might like the ad itself but most times the landing page on the other side is not what you want to see.
The connection between your traffic and your landing page is called an accurate message to market fit.
You want your message to perfectly fit your market so you can start with a winning funnel that's only bound to go up from there.
Because if you mess up there, you would be optimizing and tweaking little components that will barely get you to break even.
But if you nail your message you would be getting customers left and right without even knowing why or how they came to you.
It's your most powerful weapon and most businesses do it completely wrong.
So to help you out and guarantee your immediate success, we'll be going over the best 12 landing page examples that you should use to scale your business.
We'll go over each one's strengths and weaknesses while making sure you find one that fits your exact business.
After this post, you'll be able to come up with high-converting landing pages like magic.
But before we do that, we must go over…
What Makes a Great Landing Page
That question solely depends on your needs.
So let me ask you a couple of questions that will help you clear your mind and think in the right direction.
#1 What do you want to accomplish with your landing page?
Your most common options are:
Getting people to opt-in in exchange for Free value on a subject
Directly selling a low-ticket product like a book or a mini-course
Free Trial offer for a monthly service or software
Free + Shipping offer where you count on upsells to make a profit
You've got to know exactly what offer you want to present in your landing page before creating it.
And of course, there are other offers you can make but the idea here is to clarify what is the one that you want to use for your business.
If you're not sure, there would be multiple examples further down the post.
Now for the next question, you need to ask yourself…
#2 Are you committed to this project or are you just trying out an offer?
Building a high-converting landing page is not an overnight hustle.
You might find yourself optimizing a non-profitable landing page for months before it starts generating real returns.
And if you're not ready for that, then I recommend you quit before you even start.
Yes, you can get a lucky shot and hit a homerun from your first try but counting on it is delusional.
Be ready for the long game so you catch the long-term gains that are so much sweeter than the momentary satisfaction.
And for the final question…
#3 What's your budget?
Before you begin designing your high-converting landing page, you need to prepare a solid budget.
You can't expect everything to go smoothly throughout the process.
Problems are going to occur and most times the easiest and fastest way to solve them is to pay someone who is an expert in the field.
That can be a developer, a Funnel designer/builder, an Ad specialist, or a CRO consultant.
Either way, you should be ready to pay someone to do it right so you don't face the same problems over and over.
In marketing and life, there's a rule of thumb that suggests you should finish your work and then let someone else judge it.
Obviously, for landing pages, the way is to run some ads and see if the traffic converts.
If it does, you raise your ad budget and try to scale.
If it doesn't convert initially then you should let a professional take a look at it.
And even if you already hired someone to build it for you, don't expect him to help you here.
Yes, he can optimize your page but you've got to keep in mind that people have an emotional attachment to their work.
That's why you need a third party to help you out.
And especially when it comes to optimizing a landing page for conversions, you must consider the idea of hiring an agency.
Big marketing agencies nowadays have had hundreds if not thousands of clients who had been in your exact situation.
That's why hiring a marketing agency to help you increase your conversion is the best bet.
And talking about CRO (conversion rate optimization) there's no better choice than NP Digital.
It is simply the best marketing agency for both SEO and CRO.
If you're at the stage where you want to optimize your existing landing page but you don't know exactly how to do it…
Then you should book a quick call with a professional where you'll unravel the secret conversion optimization methods your business needs.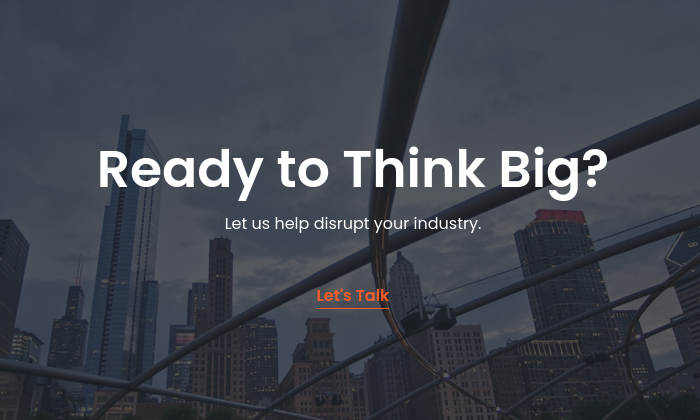 And now for the main event…
The Best 12 Landing Page Examples
These are the 12 Best Landing Page Examples we could find.
We'll be judging them for conversions, offer, design, and customer experience.
#1 Get Response
Get Response is an example of a simple yet interactive landing page example.
You can see the Get Response team are bold as they're the only software in the industry that uses an interactive headline.
The yellow sign you see on the image below changes between the words growing, leads, and sales.
That makes it for a great attention-grabbing headline that just makes you read on.
Also, they use a friendly, positive face which is something we don't see very often in business that is not centered around a personal brand.
That of course is not a bad thing. It automatically builds trust and makes it easier for people to sign up for their software.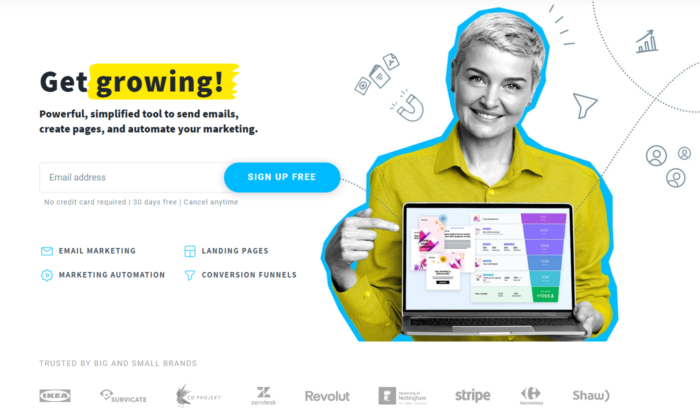 #2 Slack
Slack is always on the top of its game when it comes to landing pages.
They are constantly optimizing for conversions and that's the best way to find your winning landing page.
Their current one is once again, extremely interactive, has a big eye-popping headline, and also shows how easy it is to use the software with a quick 5-second giff.
Straight from the get-go, you can see they value customer satisfaction and if you're still not sure, scrolling down will lead to non-stop credibility and results that prove their authority in the marketplace.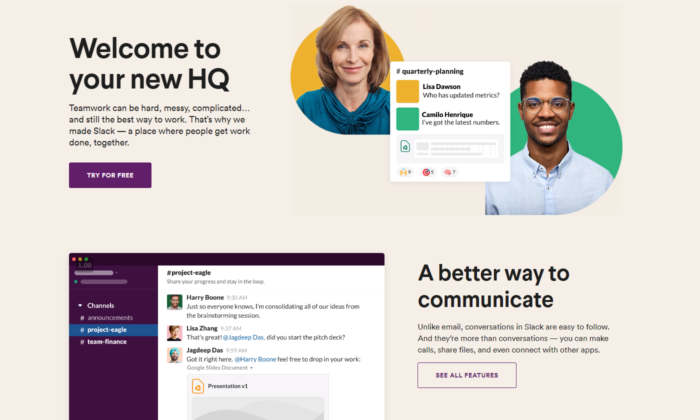 #3 Intercom
Intercom's main objective on this landing page is to get you to opt-in with your email.
Keeping it to email only is a great way to increase your opt-in rate.
A big, positive headline that puts you in the right state of mind to act now.
The images they use perfectly represent the headline's main USP.
You can see an overall friendly environment and you just have to opt-in if you got to this page.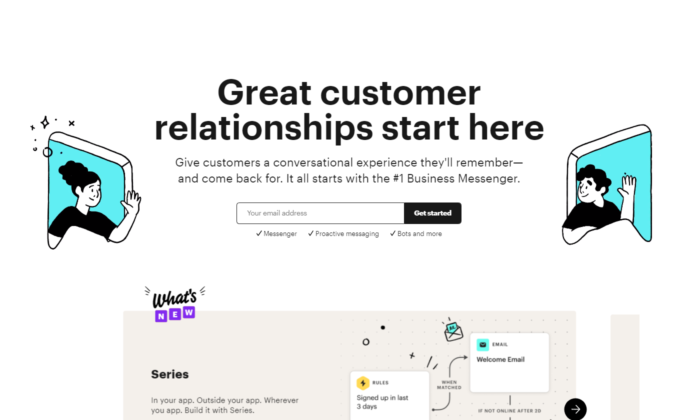 #4 Lyft
Lyft has been riding up the charts in the past years and their website, landing page, and their overall online funnel is not lacking behind.
They focus on attracting new drivers that want to control their own life.
And promising your employees freedom while working for you is the best way to snap the best candidates from your competitors.
We know Lyft has used multiple landing pages in the past but their current one shows real professionalism.
Once again, we see a giant, attention-grabbing headline. This time with a question to anticipate curiosity and thought process in their prospects.
And check out the button "APPLY TO DRIVE". It implies that it's not 100% sure you'll be able to get the position.
Making it so your clients have to compete to get a hold of your attention makes it so they try harder in the job itself.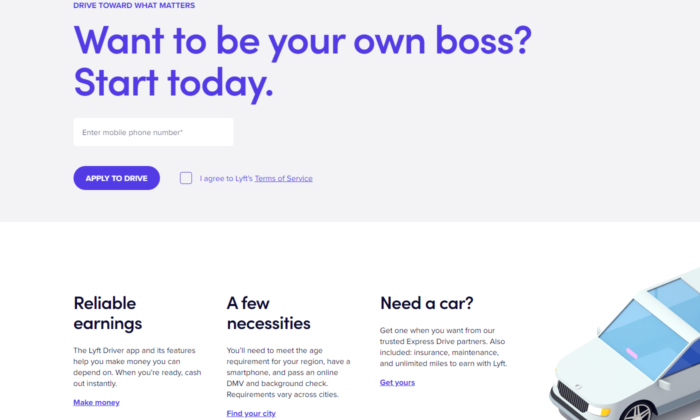 #5 Zoho
Zoho's landing page is a great example of a more complicated but still extremely powerful messaging.
They use more text than the average software in the industry but that's not necessarily bad.
For their specific case, they need to convert the prospect to begin a free trial which automatically builds tension in a prospect because he knows it will come a time he'd have to pay.
And converting someone to pay is way harder than just getting their email.
That's why using more text in their messaging makes it for a powerful copywriting punch that maximizes free-trial registrations.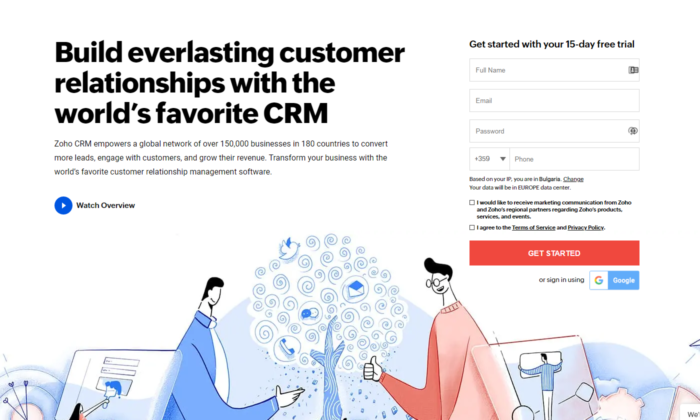 #6 Squarespace
Squarespace tops the list for the least amount of text in their landing page design.
At first, you may think that is not enough to convert someone.
But once you see that they're a website builder you can see how the design and the quick and powerful messaging are all you need to sign-up.
They know their prospects mainly struggle with complicated codes and want to show a safe space where they can relax and drag and drop their winning website design.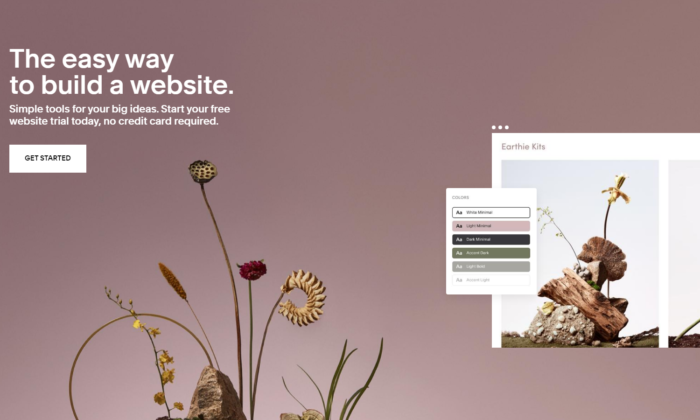 #7 ActiveCampaign
ActiveCampaign solely focuses on showing you how their software brings the best customer experience possible.
And if you're a business owner, you both want to be treated well and want to help your customers in tough times.
Their headline hits 2 birds with one stone and once again there's no useless text or design.
Everything leads to the big green button and you starting your free trial.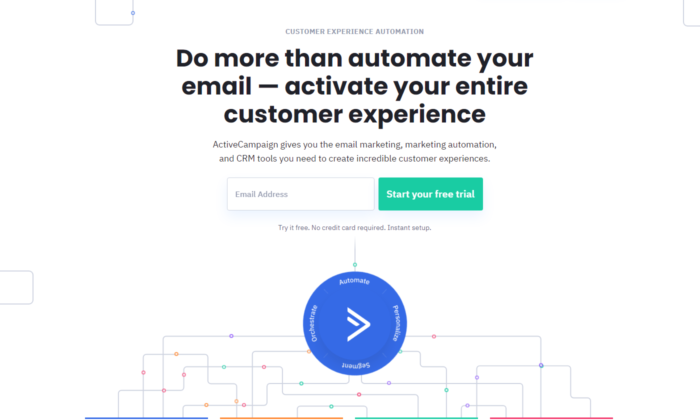 #8 Hubspot
Hubspot is one more CRM that tops out the list today.
They, just like ActiveCampaign, show you that using their software will both help you and your customers feel better throughout the process.
Knowing that their ideal customer's main objection is that learning a whole new CRM from scratch might be hard, tedious, and maybe even impossible, helps them narrow their message straight to the point.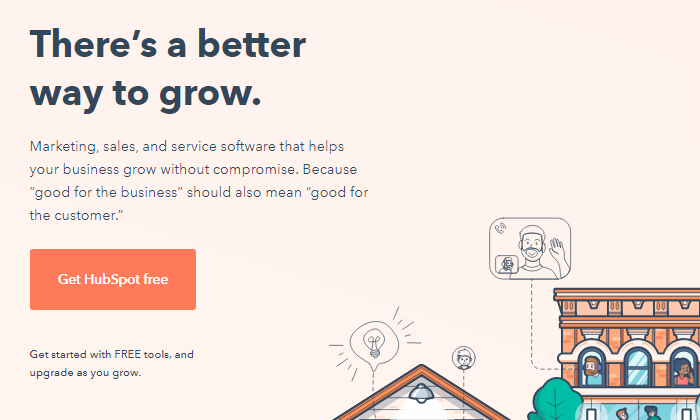 #9 Shopify Plus
Shopify is one of the most well-known platforms in today's online space and they know it.
As they've been rapidly growing throughout the years, they've been able to test out multiple landing page designs to find one that converts.
And the Shopify Plus's landing page shows for it.
Their main goal is to book a consultation call with their prospects which takes more than just a couple of words.
They have the budget to shoot professional videos for all of their products and services which helps transfer valuable information to their prospects in the fastest possible way — video.
Down below you see powerful credibility and if you take the time to watch the video, you're most likely going to book a call with them.
Videos are a deadly weapon in the right business's hands and Shopify proves that here and pretty much with anything they do.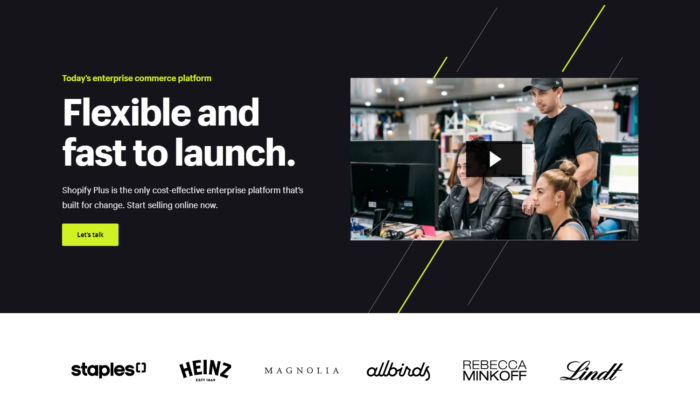 #10 Webflow
Webflow shows the insights of the software immediately when you land on their landing page.
You can see instant credibility from big websites that have used their services and also you can begin for free.
That breaks any tension the prospect might have.
On top of that, you can see that their software is similar to Photoshop.
So if you've ever used Adobe's products, you immediately know this work will be a piece of cake for you.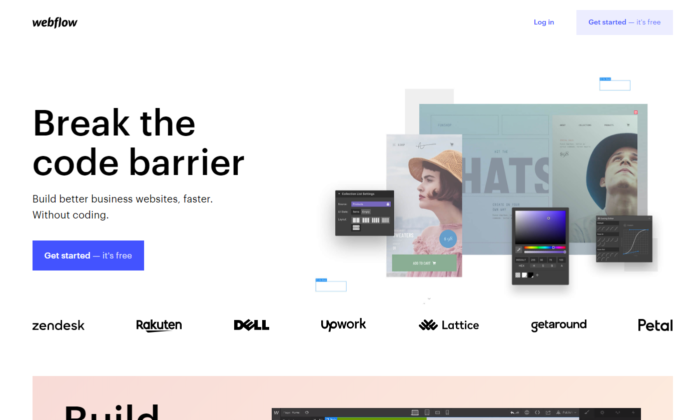 #11 ClickFunnels
ClickFunnels uses its software to convert you for a free trial.
And even if you have any skepticism you can play around with the funnel pages and buttons to see the responsiveness of nowadays funnels.
You can see that they use more text than the average website/funnel builder.
But once again they're trying to convert people to start a 14-day free trial which is not an easy task.
They also use powerful videos that sell directly to their ideal customers.
And the best part is the analytics they've slapped on their landing page.
It's a bold and powerful move if done correctly.
The way these analytics are crafted makes it so they are constantly being updated and it's not just 100K+ users as you might see on other platforms.
ClickFunnels values its customer's success stories and is always there to record each result.
It's one of the harder landing page designs to pull off but if you do it, your conversions will skyrocket.
#12 Conversion Lab
Conversion Lab has been using this landing page design for years now.
We've noticed they split test different button CTA-s like book a call, get a free consult, and many more.
Keeping their Founder on the main page of the website builds a long-term relationship many businesses nowadays miss out on.
They clearly state their services through their persuasive headline and even if you're not ready to book a consultation call with them, a pop-up will appear collecting your email.
Email follow-up is a great way to ensure that a high percentage of prospects that land on your website will end up booking a call with you.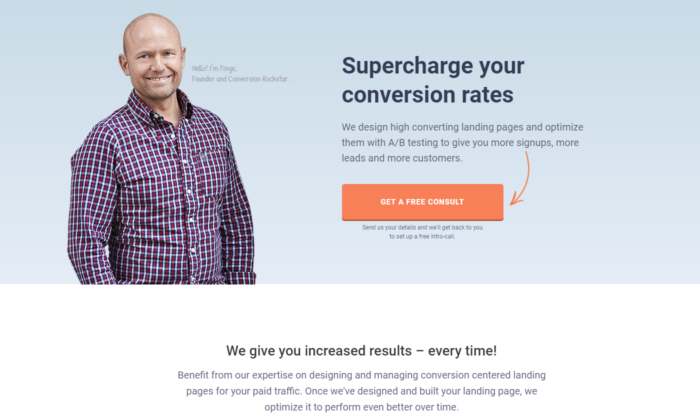 That is all for our list today.
To conclude what you need to know when building your landing page…
Find what your best customers struggle the most with and then directly destroy this objection with a short and punchy headline.
Use credibility and videos if possible.
Know your goals — Is it to get their email, phone, ook a call, start a free/paid trial, or something else?
Clear and easy to follow Call to Action
And always, always optimize in the process.
You can NOT be perfect from day one. Every business on this list tests their pages dozens if not hundreds of times before concluding a winner.
And even then, they still optimize.
Have you tried building a landing page before? How'd it go — did it convert well and what were your biggest breakthroughs when doing it?
The post 12 Best Landing Page Examples appeared first on Neil Patel.
Your business credit isn't the only thing that affects your ability to get funding.  Still, it is a huge piece of the pie. One way to see your business credit and get a feel for where you stand is to get a credit report sample.
A Free Credit Report Sample Can Help You Know Where to Start with Funding and Fundability
Unlike your personal credit report, you can't really get a free copy of a business credit report.  However, you can get a sneak peak in some cases with these options. 
Nav
So, Nav is a service that will let you see a credit report sample from all three of the major credit reporting agencies.  But these are only summaries, not full reports.  Generally, that means you can see your score, and maybe the accounts you have listed.  While this will help you get your bearings, it will not suffice for the purpose of correcting mistakes or even to show you what you need to do to improve your score. You do have the option to pay for more information though.
Keep your business protected with our professional business credit monitoring. 
Credit.net
Similarly, Credit.net will let you see a credit report sample with their free trial.  There is no credit card required.  Also, after you pull the report, you have 30 days to check it out. As a result, at least once you can get a totally free look at your report.  Since there is no fear of missing a cancelation deadline and having to pay anyway, it's a great option. 
Scorely 
Scorely offers you a credit report sample before you pay for an ongoing subscription.  In contrast to Nav or Credit.net, they actually calculate their own score similar to the big 3:  Experian, Equifax, and Dun & Bradstreet. They strive to be totally transparent and to make their reports easy to understand. 
CreditSafe
You do have to pay for an ongoing subscription to CreditSafe.  However, they will give you a credit report sample to get you started.  Also, they have a number of reports that are unique to them.  This means you are getting something that you may not get with the other monitoring services or even the standard reports from Dun & Bradstreet, Experian, or Equifax. 
How To Read Your Credit Report Sample
In truth, each reporting agency offers different types of reports and information. Similarly, they all contain the same general data.  You need to understand what your credit report sample says, whichever agency it is from, about your business.
Dun & Bradstreet
Dun & Bradstreet offers several different types of business credit reports.  In fact, there are six different reporting options in all.  They all offer different information related to credit worthiness, and it takes all of them to get the whole picture.  The price range listed above is dependent on which reports you want to order. 
The report most use is the PAYDEX.   This is likely because it is the easiest to understand, due to it being the most like the consumer FICO score.  It measures how quickly a customer makes payments and ranges from 1 to 100.  Scores of 70 or higher are acceptable.   For example, a score of 100 shows payments are made in advance, and a score of 1 indicates that they are 120 days late, or more. 
The other Dun & Bradstreet Credit Reports include:
Dun and Bradstreet

Delinquency Predictor Score
The delinquency predictor score measures how likely it is that the company will not pay, will be late paying, or will fall into bankruptcy.  The scale is 1 to 5, and a 2 is good.
The financial stress score measures pressure on the balance sheet.  It shows how likely the company is to shut down within a year.  These scores range from 5 to 1, with a score of 2 being a good thing. 
Supplier Evaluation Risk Rating
This rating ranks the odds of a company surviving 12 months.  The minimum score is a 9 and the maximum is 1.  A "good" score is 5. 
Credit Limit Recommendation
The credit limit recommendation reflects a business's borrowing capacity.  It is a recommendation for how much debt a company can handle. Typically, creditors use this to determine how much credit to extend. 
This one ranks overall business risk on a scale of one to four.  A score of 2 is good.  The rating is given in conjunction with letters, the combination of which indicates a company's net worth. 
Even if there isn't enough information on a business to assign a regular rating, Dun and Bradstreet will assign what they call a Credit Appraisal Score.  This is based on the number of employees. Another option is an alternative rating based on what data is actually available.
Keep your business protected with our professional business credit monitoring. 
Experian
Experian's uses what it calls Intelliscore as its credit ranking.  There are more than 800 different factors that they use to predict a company's credit risk. With Intelliscore, a score of 76 or higher indicates a low risk of default or late payment. If a score falls between 51 to 75, it indicates a low to medium risk.  Scores from 26 to 50 are medium risk, and from 25 down to 1 is medium high to high risk. 
Here is where Experian gets tricky. Intelliscore is a blended score of both the business and business owner's personal information.  That means it offers insights into a business's public record findings, collections, and payment trends, as well as overall business background. Experian is also unique in that it does not ask businesses to self-report.  Instead, they collect all the information themselves. You will have to give permission for a lender to view this report, due to it containing personal information.
Equifax
Equifax collects information similar to Dun and Bradstreet, including: information from public records, financial data from the business, and payment history from creditors.  Credit utilization is also a factor, which accounts for how much credit you are using versus the amount of credit you have available to use.
The information is used to calculate various scores, including the business credit risk score and the business failure score. The first measures how likely it is that a business will become 90 days or more delinquent on bills over the next year.  The score ranges from 101 to 992.  The second ranges from 1,000 to 1610 and predicts how likely it is that the business will file for bankruptcy over the next 12-month period.  A lower score indicates higher risk. 
They also calculate what they call the business payment index.  This is the Equifax version of Dun & Bradstreet's PAYDEX.  It even runs on the same scale of 0 to 100.  This is an indicator of payment history over the past year. It is different from the PAYDEX, however, in that you must reach a score of 90 or higher for it to be a good score.  
In addition, Equifax offers business identity reports to confirm a company actually exists. It verifies details such as the company's tax ID, number of employees, and yearly sales. 
Equifax does not allow business owners to request reports on their own company.  They decide themselves when to start a credit file on a specific company.
Keep your business protected with our professional business credit monitoring.
A Note on CreditSafe
If you want to subscribe with them after you see your credit report sample, they offer 3 packages, Standard, Plus, and Premier.  The problem is, they do not list their prices on their website.  You have to request a quote to determine what your pricing would be.  They allow you to purchase individual products as well. 
CreditSafe is quickly growing in popularity. No doubt that is partly due to the subscription service it offers, which allows easy insight into your own company's credit report. The free trial allows for test driving, which sweetens the deal even more. 
Their main score, the CreditSafe rating, works on a scale of 1-100.  It predicts the likelihood that payment performance will become 90 plus days beyond terms within the next 12 months or that the business will go bankrupt.  They offer a variety of other scores and reports that provide a ton of information however.
They collect data from over 8,000 sources including: 
FTSE Stock

Telephone research

Local Agents

Companies House

Gazettes

Branches

News

Trade Payment Data

Banks

Courts

Registry Offices
Of course, this is far less than 8,000, but it gives an idea of the sources they use to gather their information.
CreditSafe Business Credit Reports
This score is derived from the Creditsafe rating. It allows for a comparison of credit risk between companies that are registered in different countries.
The Creditsafe recommended credit limit uses information from the business payment records and those of similar companies to calculate a dollar amount recommendation of the maximum amount of credit a company should receive at any one time.
Compares how many days late a business pays its bills in comparison to other companies in the industry.
This is a report on the number and value of tax liens and judgements that have been filed in the past 6 years and 9 months.  It also includes bankruptcies filed in the last 9 years and 9 months
A report designed to highlight at a glance substantial changes in how a company is paying its bills. 
Lets you know whether the total annual business spending is going up or down when compared to the previous year. 
Subscription packages come in levels, and the prices depend on your business's individual needs.  You will have to speak to a consultant to get a quote. 
How To Use the Information on Your Credit Report Sample
Honestly, it's a great idea to get a credit report sample.  But, what do you do with the information that is on it? Here's what.  You use it to figure out where you need to start with building stronger fundability.  Truly, your business credit score isn't the only thing that affects fundability.  In fact, there are many other factors that come into play as well. However, if you have a problem with any of these other factors, it will often be detectable on your credit report sample.  Once you see it, you will know what you need to work on, including business credit. 
What Affects Fundability? 
What are some of these other factors you can use your credit report sample to check? Here are just a few.
Other Business Data Agencies 
In addition to the business credit reporting agencies that directly calculate and issue credit reports, there are other business data agencies that affect those reports indirectly.  Two examples of this are LexisNexis and The Small Business Finance Exchange. These two agencies gather data from a variety of sources, including public records.  This means they could even have access to information relating to automobile accidents and liens. While you may not be able to access or change the data the agencies have on your business, you can ensure that any new information they receive is positive.  Enough positive information can help counteract any negative information from the past. If you see something on your credit report you did not expect, it may have come from one or both of these agencies.
Business Information
On the surface, it seems obvious that all of your business information should be the same everywhere it may show up.  However, when you start changing things up like adding a business phone number and address or incorporating, you may find that some things slip through the cracks. If you see accounts missing from your credit report sample, or accounts on it that should not be, you may have a problem with this.
The Application Process
Consider the timing of the application.  Does your credit report make it seem as if your business is currently fundable?  If not, get to work.  
Use Your Credit Report Sample to Build Fundability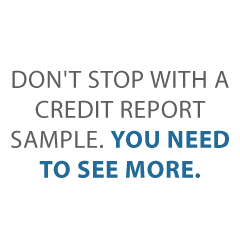 Of course, there are a lot of factors that affect fundability that you may not be able to use your credit report sample to check on.  Still, getting a peek at what is on your business credit report is a fabulous start.
With the information you see, you can start making some decisions about how to create stronger business fundability.  If you see an issue with any of these factors you need to work on it. Seeing a credit report sample is the first step toward detection and correction. Also, I would encourage you, don't stop with a credit report sample.  You need to see more. Regular monitoring of your business credit is vital.
The post How to Get a Free Credit Report Sample appeared first on Credit Suite.