Saturday, October 17th, 2020
now browsing by day
COVID-19 threw our country into a recession that no one really saw coming.  The drastic turn in the economy was jarring to say the least.  Starting a business now can be scary.  Here's what you need to know about recession startup business loans and other funding options. 
How to Find Other Funding Options Besides Recession Startup Loans
Small businesses continue to report problems finding credit. About 45% do not apply, most likely due to the fact that they do not need to. Another 20% don't apply because they are discouraged from doing so. They either feel they will not qualify or they believe the process is too hard, and therefore not worth the time.
Small business owners report that competition among banks for their business came to a head from 2001 to 2006, and that this competition has declined from 2006 to the present.
But Wait, There's More to Recession Startup Business Loans and the Economy

Even more concerning, according to one report, the number of American banks and thrifts has been decreasing slowly for 25 years. This is coming from consolidation in the marketplace in addition to deregulation in the 1990s, reducing barriers to interstate banking.  What does that mean in layman's terms?  In short, recession is coming. Will you be able to find funding? 
Assets focused in ever‐larger financial institutions is a problem for small business owners. Big banks are a lot less likely to make small loans. Economic declines usually mean financial institutions will become more mindful with financing. 
The good thing for small businesses is, business credit does not rely on traditional financial institutions. What about recession startup business loans? How do you find them? Does such a thing even exist?
Hit the jackpot and weather any recession with our best webinar and its trustworthy list of seven vendors who can help you build business credit.
In the strictest sense, yes.  I mean, startup business loans do not just disappear during a recession.  They are just harder to get.  Startups are a big risk, and few lenders are willing to take such risks, especially during a recession.
That doesn't mean you should lose all hope however. There are options that can make it easier for you to qualify, and if you are still not able to get startup business loans, other types of funding do exist.  
The Credit Game? 
Lenders check credit to help determine whether or not a borrower is likely to repay the loan. It is an effort to reduce risk. If you have great personal credit, you are home free. No need to hunt, the loans will come to you whether there is a recession or not.
While credit is a good indicator of likelihood to repay, it is far from perfect. The problem is, for business loans, most owners have to rely exclusively on their personal credit.  This is because, as a startup, they likely do not have any business credit yet.  It is possible to have not so great personal credit and still be able to meet business obligations.
What Else Can Lenders Use besides Credit to Approve Recession Startup Business Loans?
There are a ton of potential borrowers out there that could be great for lenders. Unfortunately, they will never get a second look because of a poor personal credit score or non-existent business credit score. 
Some lenders are willing to take other factors into consideration when they determine whether to approve business loans. They may look at credit, but they look at income, current debt, and length of time in business as well. 
Often a business can get approval based on length of time in business and annual revenue. It is important to remember that startups can be as young as a couple of years. It does not have to be a brand-new business to qualify as a startup.
Most loans that do not require a great credit score do require at least 6 months in business. Some will go with 3 months. Few and far between are the loans that do not have a minimum time in business requirement. 
Some lenders will get as personal as to ask why your personal credit score is low. If there is a personal situation that caused a decline in credit, telling them about it may help. In addition, if your score is low but has increased significantly, you should bring that to their attention as well.
For example, if you can show them that your score went low as a result of a health problem, but has increased 100 points since that problem was resolved, it can only help. 
What Exactly Are You Hunting For?
Loans are hard to come by in a recession, period.  Recession startup business loans may be some of the hardest to find.  The key is to remember you are hunting more for the right lender, rather than the right loans. Not only that, but you may be better off looking for another type of funding all together.  Here are some surprising alternatives to traditional lenders and loans.
Hit the jackpot and weather any recession with our best webinar and its trustworthy list of seven vendors who can help you build business credit.
Alternative Lenders
Alternative lenders are likely the best option when it comes to business loans in a recession.  They are alternatives to the standard banks and credit unions. Many operate solely online. They often process applications in just a few days, and borrowers receive funds quickly. 
The main difference in alternative and traditional lenders is that there are many occasions where they may not even do a credit check. Often, if you can show that you are generating sufficient revenue to repay the loan and interest, you are golden.
You do have to do your research still.  Do not assume every loan an alternative lender offers is what you are looking for. 
The interest rates with alternative lenders are generally higher, and the repayment terms are less liberal. They may also require a personal guarantee or collateral of some sort. 
Despite the often less favorable interest rates and terms, these are a great option for those looking for recession startup business loans. 
Crowdfunding as an Alternative to Recession Startup Business Loans

Crowdfunding is not technically a loan, though some crowdfunding sites offer a lending option. These are more in line with investments. This means you do not have to pay them back. 
It won't work for everyone.  You have to set a goal for the amount of investment you want. With some sites, if you do not reach that amount, you do not get your funds. Other crowdfunding sites are more flexible, allowing you to take whatever you can get. 
The main reason this doesn't technically fall into the category of business loans is that the main product is not a loan. You do have to provide in depth information however, and most sites require you to offer backers an incentive for their investment. It is only fair to mention, also, that it may be harder to find those willing to participate in crowdfunding during a recession.
Angel Investors
Again, this isn't a loan, but it is an option if finding recession startup business loans is proving difficult. The idea is very similar to that of crowdfunding, except you replace the crowd with one investor.  Sometimes it is two or three investors. It is a few, and not a crowd, that provide the bulk of the funding. 
It's important to note that angel investing in your endeavor can be really informal.  Even your mother can be an angel investor. 
Invoice Factoring
If you have been in business long enough to have open invoices, invoice factoring could be an option. The lender is not concerned with your credit, because they will not be collecting from you.
They will pay you a discounted value for your open invoices and then attempt to collect the full amount from your customers. This is an excellent funding option, but it does not operate exactly the same as traditional loans.
Credit Line Hybrid
A credit line hybrid is the funding option many do not know about, and it is perfectly suited for business funding during an economic downturn. It allows you to fund your business without putting up collateral, and you only pay back what you use.  
How hard is it to qualify?  Not as hard as you may think.  You do need good personal credit.  That is, your personal credit score should be at least 685.  In addition, you can't have any liens, judgments, bankruptcies or late payments.  Furthermore, in the past 6 months you should have less than 5 credit inquiries, and you should have less than a 45% balance on all business and personal credit cards.  It's also preferred that you have established business credit as well as personal credit. 
If you do not meet all of the requirements, it's okay. You can take on a credit partner that meets each of these requirements.  Many business owners work with a friend or relative to fund their business.  If a relative or a friend meets all of these requirements, they can partner with you to allow you to tap into their credit to access funding. 
What are the Benefits of a Credit Line Hybrid? 
There are many benefits to using a credit line hybrid.  First, it is unsecured, meaning you do not have to have any collateral to put up.  Next, the funding is "no-doc."  This means you do not have to provide any bank statements or financials.  
Not only that, but typically approval is up to 5x that of the highest credit limit on the personal credit report. Additionally, often you can get interest rates as low as 0% for the first few months, allowing you to put that savings back into your business. 
The process is pretty fast, especially with a qualified expert to walk you through it.  One other benefit is this.  With the approval for multiple credit cards, competition is created.  This makes it easier, and likely even if you handle the credit responsibly, that you can get interest rates lowered and limits raised every few months. 
Hit the jackpot and weather any recession with our best webinar and its trustworthy list of seven vendors who can help you build business credit.
Self-Funding with Friends and Family During a Recession
Your friends and family are often your best source of recession startup business loans.  If they believe in your cause and have the funds, they may be willing. They may also be more flexible and generous in terms of interest rates and repayment terms. It never hurts to ask. 
If you have savings or retirement funds available, there is no doubt you will have guaranteed approval with what's called securities-based financing. An added bonus is that you can repay yourself, and if you choose to do so with interest, even a little, you could end up better off. If you need to take it more slowly, you can do that too. You can be as flexible as you want with yourself. 
Avoid the Hunt for Recession Startup Business Loans
If you are weary of the hunt, start now working to establish and build business credit. Many times, this is an issue for the simple reason that business owners do not understand business credit and personal credit are not the same thing. 
By working to establish a credit score for your business separate from your own, you make it easier to fund your business endeavors in the future. 
First Things First
If you do not currently have business credit and need to get it established, there are some simple steps you can take to get started. 
Incorporate your business as a corporation, S-corp, or LLC.
Get your business its own phone number and address separate from your own.  
List this information under your business name in all the directories. 
These steps establish your business as its own entity separate from you and your finances. This is the essential first step to establishing business credit. 
Build Strong Business Credit
This should be the ultimate goal.  Once your business is its own entity, you can work on building, or repairing, bad credit. When that part is complete, you no longer have to worry about finding funding based on your personal credit alone. You will just be able to apply for a loan and negotiate for the best terms and rates. 
How do you get there? First, make sure you are doing business with vendors that report to the credit agencies. Then, get whatever credit you are eligible for. 
Even if you don't need credit at the moment, get something. Make your payments on time, consistently. This builds a credit score where there was none before, and it can begin to repair a poor credit score. 
A Successful Hunt Many Not Even Include Recession Startup Business Loans
There is always an obstacle to overcome. There is always a problem of some sort. Don't let the finding recession startup business loans be the thing that keeps you from starting and running a successful business.   
You may be able to find a loan, but if you can't, there is more than one way to bag the prize. The alternatives to business loans for startup funding are numerous. If the regular weapons are not available for whatever reason, find another way. Take a look at alternative lenders, invoice factoring, merchant cash advance options, Crowdfunding, Angel Investors, or even friends and family.
Recessions come and go.  It is the nature of the economy.  No matter what, it just happens.  It can be counted on the same way as the sunrise and sunset.  Thankfully, it doesn't have to bring success or progress to a halt.  Explore your options and be diligent to find the funding you need for your business. You have to get creative and seek out alternative methods, and that is okay.  Having a strong business credit score can definitely help also.  Find out more about that here.  
Just don't give up.  Remember, the key is to put yourself in a better situation so that once you survive the battle, you can win the war. 
The post On the Hunt: Finding Elusive Recession Startup Business Loans appeared first on Credit Suite.
Google AdWords can be both exciting and terrifying.
If you get it right, AdWords could totally transform your business by driving high traffic, generating more leads and revenue, and boosting sales.
But if you get it wrong, you'll end up spending thousands of dollars and get absolutely nothing in return.
Let's consider the following statistics:
However, the tantalizing world of advertisements isn't as straightforward as it seems.
You see, neither the promises nor problems that come with Google AdWords can fully describe the dynamic mechanism of a marketing platform and how it works.
Additionally, you may not have the time or may not be able to give the required attention to understand the intricacies related to it.
Have no doubt though – it is possible to make money on AdWords, but you need to have the right guidance.
So if you want to use your Google ads account to its full potential, you should definitely consider hiring an AdWords consultant.
Our team at Neil Patel Digital will help you through the process of hiring a suitable consultant for your business that can help you grow and prosper, along with getting other benefits.
4 Ways an Adwords Consultant Can Help Grow Your Business
45%.
That's the number of small businesses that have already started using pay-per-click or PPC advertising to reach customers.
So if you find your sales dwindling, you now know the reason why.
Incorporating Google AdWords into your marketing strategy is the only way you won't fall behind. Instead, you can boost your brand awareness, get more leads, and increase sales – all at the same time!
However, without an AdWords consultant, the whole process can become time-consuming, costly, and of course, prone to errors.
Here are our top four reasons why you should take the plunge and get yourself a consultant.
Manage and Improve Quality Score
Google wants to connect searchers with organic content and advertisements that most closely align with what they're looking for.
And let us tell you beforehand that things haven't been easy.
For years, Google had a problem with companies using and bidding on keywords that were unrelated to the actual keyboard they bid.
End results? Aggravated and confused users.
Precisely why the Quality Score system was created.
It's a dynamic variable that looks at different aspects of your ad and campaign, with each keyword having its own score that affects your ad rank and cost per click.
Hence, it becomes crucial to know whether or not a specific keyword or campaign can be profitable for your company.
Plus, if you have a higher Quality Score, you'll get a discounted price on each click. So a Quality Score of 10 provides a discount of 30% on every click – this gives you plenty of wiggle room for your advertising campaign.
A Google AdWords consultant can improve the Quality Score for any campaigns by doing the following:
Segmenting campaigns around smaller targeted ad groups to increase the relevance of ads.
Since ads that contain keywords of the search are more relevant than ads that don't, a consultant optimizes AdWords ad copy to increase click-through rates of the ads.
Creating laser-targeted landing pages.
Decreasing website load times to provide better experiences to users.
Ultimately, improving your Quality Score can have a positive effect on your AdWords campaign's profitability, allowing you to reach more customers and improve your ROI.
Staying Ahead in the Competition
If your competitors are already using PPC advertising, there is a higher possibility for you to fall behind.
But utilizing Google ads can level the playing field even if you have a limited advertising budget – just use the expertise of your ads specialist to get ahead.
A consultant can ensure you use the right ad tools and strategies without maximizing your budget. Plus, they think of intelligent tactics to make you closer to your end goals.
This will enable you to attract high-quality leads to your business without wasting money, while your competitors still dig through low-quality prospects.
Deliver Fast Results
Visitors who land on your website through Google ads are 50% more likely to purchase than organic visitors.
Hence, if you get your campaigns right – something that an experienced consultant can ascertain – you're assured faster and immediate results.
In fact, you can have your campaigns up and running within days if you contact an experienced team who is well-versed in Google ads.
This is due to several factors.
Firstly, the consultant has access to expert Google ad tools, so you don't have to waste money paying for these tools yourself. Moreover, they can develop a list of target keywords and provide key insights into your target audience and competitors.
All these efforts will help develop a stronger campaign for your company, ensuring better customer targeting.
The best part here is that unlike search engine optimization, AdWords work immediately.
You won't have to wait to see results. Instead, you can generate and start nurturing leads immediately.
Write Convincing Copy and Design Effective Landing Pages
Landing pages play a crucial role in the success of your campaign.
While some consultants offer an in-house solution for landing page design, others might contract out to a designer or company to help them.
Either way, you need an excellent landing page since your campaign's conversion rate and Quality Score are dependent on it.
Additionally, these specialists are well-versed in the art of copywriting, which helps convey your value and offer better to your audience. They can make the copy persuasive too by including the following key components:
An attention-grabbing headline
A compelling story
Social proof in the form of case studies, testimonials, and so on
Adding a personalized touch
Making customer-focused copy
Adding a call to action
How to Get Started With an Adwords Consultant
Hiring a consultant can be the first step to make your Google AdWords campaign a success, but you shouldn't bring just anybody onboard – you need to do your homework.
Getting the Hiring Right
The first you should do is make sure your consultant is Google AdWords-certified.
The individual should've passed exams, undergone quarterly training to refresh their skills and knowledge, and be familiar with the technical side of AdWords.
Eventually, all this knowledge and expertise can help them realize profits from your website or blog.
It would be even better if they are a Google Ads partner.
You see, Google Partners is a special certification from Google that shows a Google ad manager who has experience managing campaigns, along with a Google certification in at least one specialized area of Google ads.
Use this list of questions to find the right AdWords consultant:
How many years of experience do you have in PPC management?
What kinds of PPC campaigns have you managed? Who are your past clients?
Have you ever maintained internal lists of negative keywords?
Can you explain your campaign optimization process?
Do you offer search engine optimization services and paid search? Will you be willing to do social media advertising if I want to expand?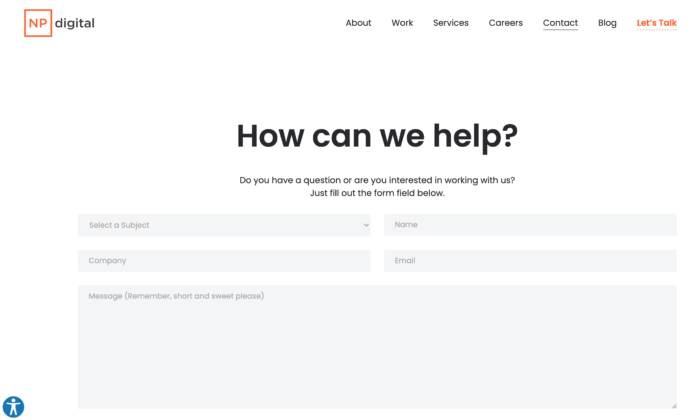 You can ask these questions whether you hire the freelancers on platforms, such as Reddit or Upwork, or opt for a team of seasoned consultants by filling out an inquiry form.
Holding Discovery Sessions for Efficient Goal-Setting
After choosing a consultant, you should hold frequent meetings to make sure everybody is on the same page and clear out any doubts about your business goals and budget.
Discovery sessions can be an excellent opportunity to communicate your expectations from the ad campaigns, whether it involves increasing brand awareness and reach, sales, leads, or website traffic.
If you want to establish a loyal customer base and want your target audience to consider your company's products and brands before your competitors, you'll have to let the consultant know.
Review the Campaign Strategy
This stage is where your chosen consultant should shine.
They should use their expertise and knowledge to chalk out a draft of the marketing campaign and help you develop SMART goals.
These are goals that are Specific, Measurable, Attainable, Relevant, and Time-Based. In other words, goals that can help you grow your business in the longer run.
For instance, you may want to increase your sales of Product A by 25% before the end of the first quarter – the framework should reflect on how to achieve it.
Review the whole plan and suggest changes if needed. If you aren't happy with anything, make sure you let the AdWords consultant know.
Launch the Campaign
A learning curve is involved whenever you launch an ad campaign.
Setting unrealistic expectations will always leave you disappointed, so you need to have an open mind.
The first few weeks after your campaign goes live, your consultant will get an idea about the preferences of your target audience and the type of content that creates better engagement. They can then use these insights to come up with better strategies to boost Google ad's appeal.
The main thing here is to get the ball rolling. After all, it's the only way to get access to first-hand data to ensure future success.
Monitoring and Reporting
Most consultants will provide you monthly reports to keep you in the loop throughout the lifetime of your AdWords campaign.
Make sure the reports cover crucial data points as total ad spend, number of clicks, click-through rate, and number of conversions. You can also ask the consultant to calculate important KPIs like cost per acquisition, to determine the overall ROI.
Continued monitoring will help smoothen the whole process and allow you to make adjustments to improve campaign performance.
Measuring the ROI of Adwords Consulting Services
How do you measure and define success?
Along with having a vision for your campaigns, a consultant worth their salt should help you define the best metrics to gauge the success of every campaign.
The best way to do so is to determine which key performance indicators (KPIs) are best to keep track of your campaigns and make sure that they are working as intended.
Accurate Conversion Tracking
Setting a conversion tracking should be given top priority.
Website clicks don't always translate to sales. Hence, it's crucial to track the click from the ad to the completion of the sale.
This can be done through phone call leads, call tracking, or until the visitor sees the final "Thank You" page.
Targeting the Right Search Terms
Another crucial aspect for measuring ROI for Google ads, you should ensure all your ads are targeting buying-intent keywords rather than research-intent keywords.
In the end, ROI is determined by the overall sales resulting from ad clicks.
Distinguishing between keywords is the expert's job, so it's better to leave that to your consultant. Moreover, the consultant should keep testing your keywords over time and measure the results to make smarter decisions about keyboard biddings.
Considering Bid Price
Your ROI will be positive when your sales revenue exceeds ad cost.
That's the easy part.
However, understanding what bids to use for every keyword to generate the desired ROI is incredibly tricky.
To determine this, you need to first calculate earnings per click, which is the total amount of revenue you generate per click on your ads. This will always vary from keyword to keyword.
Let's take an example to understand earnings per click better:
Suppose you generate $200 for conversion, and the conversion rate is 2%. In this case, your earnings per click will be $4, or in other words, you're generating $4 in revenue for every click.
This also means if you bid and pay more than $4, you'll end up making a loss, and your ROI will be negative.
The next step here is to measure the cost per click or CPC. Now that you know your earnings per click, you can calculate your bid price to generate your desired ROI.
Let's continue with the above example.
If your desired ROI is 50% and your earnings per click are $4. then your target CPC will be $4 / (ROI + 1), which is $2.67.
Other KPIs
In addition to the above, you can consider the following KPIs for improving your campaigns:
Impressions
Impression rate
Click-through rates
Clicks
Quality Score
4 Point Checklist For Finding the Right AdWords Consultant
The following is a quick checklist to hire the best AdWords consultant for your brand who can successfully deliver results and understands the required know-how:
Expertise to Deliver What You Want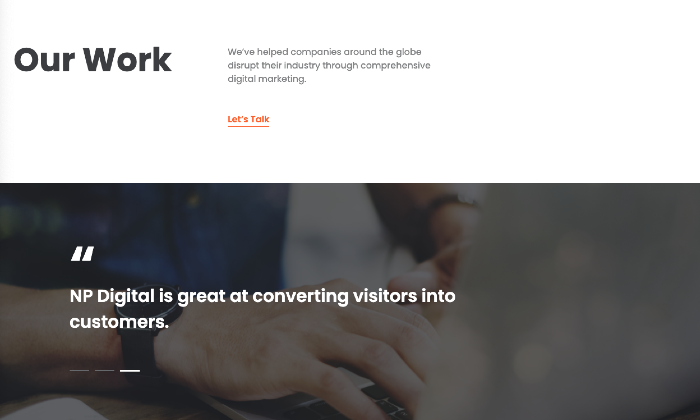 You've used the help of an AdWords consultant and have finally launched a campaign, but is it successful?
The only way that the campaign will be deemed successful if the outcome is aligned with your marketing goals. Whether it's getting more leads, boosting sales, establishing a loyal buyer base – whatever you want.
Once you figure out your objectives, make sure that you clearly communicate it with the prospects.
The candidate should assure you they have the necessary expertise to get the job done.
They should be able to create excellent landing pages, write attention-grabbing and persuasive copy, and employ expert tools for better performances and get insights about your target audience.
Team Makeup
Find out whether the consultancy is a one-man show or is really a proper agency.
It's better to opt for a company that comprises several experienced and expert team members. This will give you access to lots of experience, lots of resources, and of course, more man power.
Ask yourself: Would you want your AdWords account to be neglected just because your lone consultant has come down with the flu?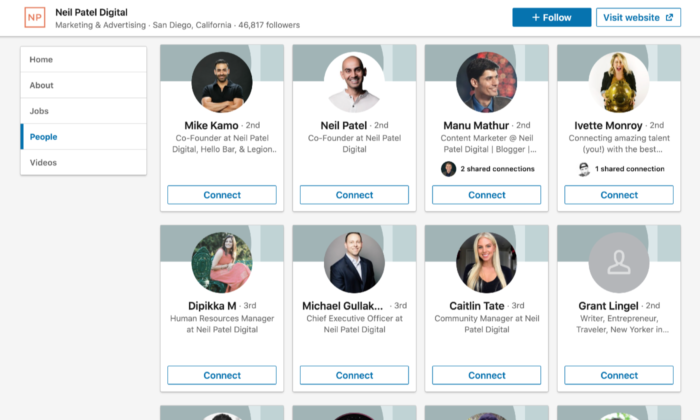 Having a full-fledged team facilitates better strategic decisions and a higher profitability possibility as well.
Now, we aren't saying you won't find solo experts who know AdWords inside and out despite not having any staff to support them. They are mostly exceptions, though, and limited in number.
An Exemplary Portfolio of Clients
Experience is important.
The consultant should be able to show you tangible proof about past clients and not just hear-say. Make sure they have previous experience in your industry and can work with your budget.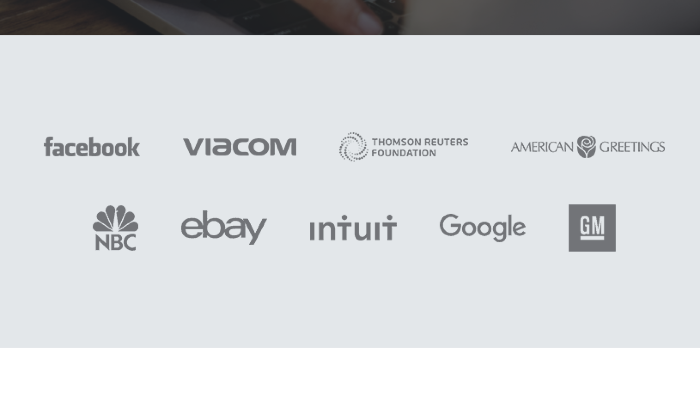 Familiarity with your industry will give them a better idea of the kind of keywords to start targeting, and having worked with budgets similar to yours will help them effectively manage money every month.
So it'll be a win-win situation for you either way.
Ability to Create a Winning AdWords Strategy
Whether you opt for a full-fledged company or a freelancer, AdWords consultancy will have unique processes depending on who you choose?
Regardless of the process, your main priority should be to make every campaign as exclusive and appealing as possible. The consultant must have an innovative thought process backed by technical know-how and a persuasive style of doing things.
Wrapping Up
Choosing an AdWords consultant should give you a higher ROI, either in the long-run or short run.
They should know the right search terms to target, choose the best bid price, and measure the overall revenue correctly to determine the level of success of every campaign.
At Neil Patel Digital, we have a superb team with years of experience and knowledge. We're well-versed in the best AdWords practices, and also offer additional programs like SEO and content creation to maximize performance and results.
Get the ball rolling by contacting us here.
The post Adwords Consulting appeared first on Neil Patel.
Disclosure: This content is reader-supported, which means if you click on some of our links that we may earn a commission.
Marketing campaigns get more complex by the day.
Which… is great news for the consumer experience but a nightmare for you as a marketing manager handling thousands of moving parts (and countless employees) on a daily basis.
To put it lightly, there's a lot going on behind the scenes.
Especially complex technical challenges that most consumers and employees will never see or fully understand.
But thankfully more and more automation tools are popping up to make your life a bit easier.
However, that means choosing the best marketing automation software for your business and team is harder than its ever been.
From enterprise-grade solutions to the most affordable options, my team and I have researched, tested, and used just about every software you can imagine. And I can honestly say… that's not an exaggeration.
But the good news is that I narrowed it down to my top six recommendations, reviewed them, and developed an all-inclusive list of what to consider when making your final decision.
The top 6 options for marketing automation software
How to choose the best marketing automation software for you
I stand behind all of my top recommendations. However, choosing the right one for you isn't always easy because it depends on various factors.
So, before we dive in, let's talk about how to narrow things down and find the best marketing automation software for your business.
Type of business
B2B businesses have different marketing needs than D2C companies.
Furthermore, marketing agencies present a new set of marketing automation challenges. Because of that, specialized software may be necessary to meet your specific needs at a reasonable price point.
The size of your business matters too. Large companies run complex, massive-scale campaigns and have bigger pockets. So, small business tools aren't a good match.
However, smaller companies will probably find enterprise-grade features confusing and wildly out of budget, which is why those small business tools exist in the first place.
So, pay attention to who the software is built for when making your final decision.
Number of contacts
Most pricing plans depend on the number of contacts or leads you have. The larger your list, the more you need to pay to maintain it and stay in touch with them.
If you have tens or hundreds of thousands of contacts, enterprise-grade solutions are probably more cost-effective. However, that's not the case if you have a few hundred or even a few thousand leads on your list.
Just be sure to keep this in mind and remember that specific plans may limit the maximum number of contacts you can have.
And if you hit those limits, you'll need to upgrade to a higher plan or pay an extra fee.
Your marketing channels
Different marketing automation software supports various marketing channels.
And there's no one-size-fits-all solution.
From SMS and email marketing to social media and push notifications, it's crucial to choose a software that handles everything you need.
Smaller businesses with simple campaigns may not utilize a wide range of channels and can get away using a more affordable tool.
However, large businesses with complex campaigns spanning numerous channels need something more robust to manage all the moving parts.
Furthermore, some software includes varying channels in different pricing tiers. So, you may start on one level and need to move up to gain access to more marketing channels. Or you may need to move to (or integrate) a new tool altogether.
It may help to map out your upcoming campaigns and decide which channels you plan to use.
Automation features
Automation is at the heart of every tool on this list. But some offer more advanced automation features than others.
Do you need to score leads and prospects? Maybe you want to combine SMS, email marketing, and Facebook ads in the same customer journey. Or perhaps you need the ability to send hyper-targeted emails on autopilot.
Regardless of the complexity of your campaigns, don't forget to consider:
Split A/B testing
Automated email campaigns
Event and website tracking
Contact management
Visual customer journey mapping
Automated segmentation and personalization
Prospect and lead scoring
Dynamic content
Transactional emails
AI-powered recommendations
Action and logic-based triggers
Reporting and analytics
You may not need all of them, and some tools don't include them. So it's critical to understand what you need (and don't need) before making your decision.
Additional features
It's not uncommon for marketing automation software to include a handful of features typically found in a CRM tool, like live chat or customer support capabilities.
Before making a final decision, it's essential to understand which additional features you need to fill the gap between marketing and sales or customer service.
You may already have these systems in place. So, you won't need these additional features. But if you don't, you might be able to save money, hassle, and time by choosing a software that includes everything you're missing under one roof.
Hubspot is an excellent example of this.
It includes customer service, sales, and marketing automation tools in a centralized location to streamline data movement and foster automation across your entire business.
The different types of marketing automation software
Marketing comes in all shapes, sizes, and complexities.
From physical mailers and print campaigns to social media and email marketing, the best marketing automation software helps you build, automate, and optimize all types of marketing campaigns.
Marketing automation software is often confused with customer relationship management (CRM). However, the two aren't the same or interchangeable.
CRM software focuses on sales activities, while marketing automation software focuses on marketing tasks. Going further, marketing automation software is for generating, nurturing, and qualifying leads.
On the other hand, CRM software is to close the sale and foster communications or relationships after the sale.
In a perfect world, the two systems play well together and create a seamless flow of data from your marketing team to your sales team.
Taking things further, there are numerous subsets of marketing automation software, including:
Email marketing
Social media marketing
Advertising management
SMS marketing
Live chat
Each different tool is powerful on its own. But true marketing automation software lets you create and optimize customer journeys across marketing platforms for varying complexity campaigns.
#1 – Freshmarketer Review — The best marketing automation software for small to midsize businesses
Around here, we're big fans of Freshworks (if you couldn't tell).
Freshmarketer is their intelligent marketing automation platform built to help small to midsize businesses save time, attract the right people, nurture their audiences, and make more money.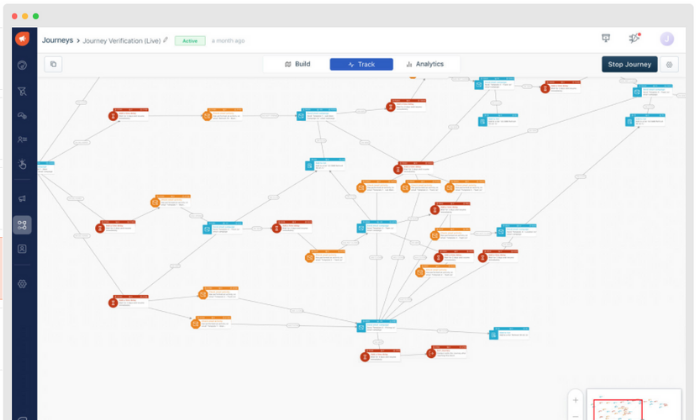 It's my #1 recommendation for most users—and for a good reason.
From awareness to retention, you get all the automation features you need to gain more leads, turn those leads into customers, and keep those customers around for life. All while doing less work with better results.
Plus, you don't need any technical skills or a dedicated support team to get started. And it takes about a minute to get up and running.
You also get access to incredible features like:
Email campaigns and contact management
Visual drag and drop customer journey builder
Website, form, and offline event tracking
Conversion rate optimization tools
A/B and split testing
Advanced personalization
Dynamic heat maps
Audience segmentation
Real-time funnel analytics
Furthermore, the software seamlessly integrates with Freshworks' other tools, so it's an excellent choice if you currently use or plan to use any of their business software.
You can try Freshmarketer on their limited free forever plan or a 21-day free trial of their paid plans, which are incredibly affordable and accessible for businesses of all sizes. However, they depend on the number of contacts you have, so keep that in mind.
Their plans include:
Sprout — Free for up to 500 contacts with limited features
Garden — $49 per month for 1,000 contacts (ideal for growing teams)
Estate — $99 per month for 1,000 contacts (best for large teams)
Just remember the cost for each plan goes up after you max out your 1,000 contacts.
#2 – Pardot by Salesforce Review — The best marketing automation software for B2B businesses
As a B2B business, you market to other companies, which presents a unique set of marketing challenges. As such, you need a marketing automation tool built for the job.
Pardot exists to help B2B companies build relationships and turn those relationships into revenue. Plus, it's a fantastic marketing automation software built around the world's #1 CRM.
So, you know you're in good hands.
From lead generation to sales alignment, the software offers a wide range of features, including:
Dynamic content and data-based personalization
Lead-nurturing email automations
Prospect and lead scoring
Visual multi-part automation creator
Advanced segmentation
Landing page builder
Smart forms + drag and drop builder
Social media scheduling, profiling, and analytics
Lead activity tracking
Campaign performance reporting
Lifecycle and funnel reporting
Pardot Einstein for lead and behavior scoring
Furthermore, over 2.8+ million worldwide users rely on Pardot for their marketing automation needs, making it one of the most popular platforms on this list.
But it is a bit expensive, so it's best suited for larger businesses. Their paid plans include:
Growth — $1,250/month for up to 10,000 contacts and basic features
Plus — $2,500/month for up to 10,000 contacts with deeper automation + analytics
Advanced — $4,000/month for up to 10,000 contacts with AI and all features
Premium — $15,000/month for up to 75,000 contacts with supercharge features
They also offer a few add-ons that come free in the Premium plan. Those add-ons include Salesforce Engage ($50/user per month), Analytics Plus ($3,000/month), and Engagement History ($300/year).
All plans and add-ons are billed on an annual basis.
#3 – ActiveCampaign Review — The best for email marketing automations
Email is one of the most important aspects of digital marketing. All the tools on this list include email marketing in one form or another, but ActiveCampaign specializes in it.
So, it's an excellent option if you want to hone in and focus on improving your email marketing strategy. It's also a super affordable tool that includes numerous automation features for leads anywhere in your funnel.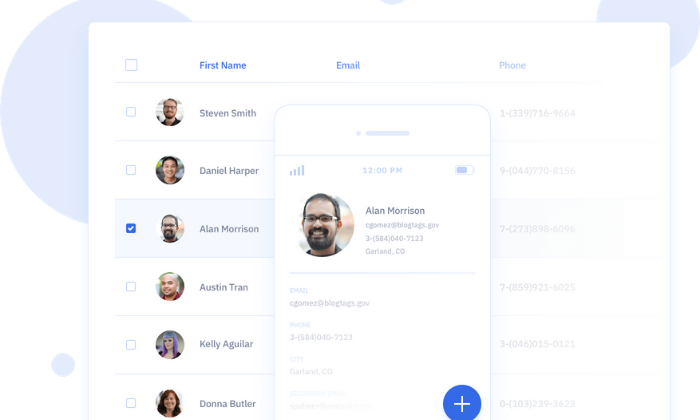 With that said, they also offer omnichannel automation, including instant messaging and SMS, live chat, and Facebook.
So, you're not limited to just email marketing automation with ActiveCampaign.
Their most popular features cover leads at every point in the funnel, including:
Engage – Automation maps, site tracking, and subscription forms
Nurture – List segmenting, dynamic/predictive content, and event tracking
Convert – Contact and lead scoring, split actions, and win probabilities
Support – Predictive sending, SMS, A/B split testing, and ecommerce
You can also set up numerous types of emails like autoresponders, targeted or triggered emails, broadcasts, scheduled emails, and automated funnels.
And you can design those emails using their intuitive drag and drop designer, or start from one of their 25+ pre-made mobile-responsive design templates.
Whether you're just getting started or interested in scaling and optimizing your email marketing strategy, ActiveCampaign is an excellent choice. They offer everything you need to capture, nurture, and close leads at scale.
ActiveCampaign offers four plans, with the price of each starting at:
Lite — $9 per month with up to three users
Plus — $49 per month with up to 25 users
Professional — $129 per month with up to 50 users
Enterprise — $229 per month with unlimited users
Each tier includes more advanced features, and pricing is based on the size of your list, starting for up to 500 contacts.
So, keep in mind that you will have to pay more than the prices above as your list grows.
#4 – Acoustic Review — The best enterprise-grade multi-channel marketing automation software
Acoustic offers an array of marketing automation products for centralized cross-platform multi-channel marketing. From personalization and email campaigns to web content management and experience management, they offer something for everyone.
Acoustic Campaign is their marketing automation tool, encompassing mobile apps, push notifications, SMS, group chats, social media, ads, email, print campaigns, and more.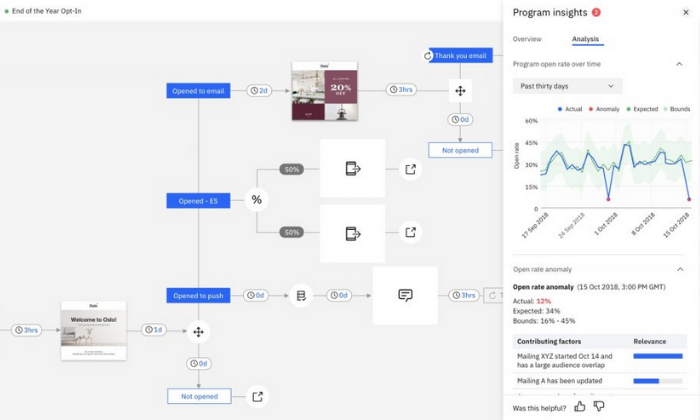 You can also combine this with Acoustic Personalization and Acoustic Analytics for a powerful combination of campaign management, data, and using that data to deliver the right message at the right time.
With Acoustic Campaign, you get access to powerful features, including:
Drag and drop campaign builder
Action, logic, and AI-recommended triggers
Seamless mobile and digital channel campaigns
Lead management and scoring
Split A/B testing
Customer journey mapping
Planning and budgeting
One-to-one ads and lookalike audiences
Advanced personalization
Reporting and analytics
Furthermore, they have a community forum where you can publicly ask questions. They also provide an online academy packed full of educational videos and training so you can get the most of your custom automation package.
Note: Acoustic is built for moderate to large volume campaigns with countless moving parts. So, it's perfect for businesses managing complicated campaigns across numerous channels.
But it's overkill for a lot of businesses and anyone running single-channel campaigns.
Pricing isn't available online, and you have to schedule a consultation to learn more. So, keep in mind that you won't be able to sign up and get started immediately.
#5 – Hubspot Review — The best sales, customer service, and marketing automation software
If you're looking for an easy way to automate your sales, customer service, and marketing processes, Hubspot Growth Suite is an excellent and affordable solution.
And the best part? Hubspot goes beyond automating your business processes. It also helps integrate and optimize different departments in one centralized location, thus streamlining your entire business's workflow.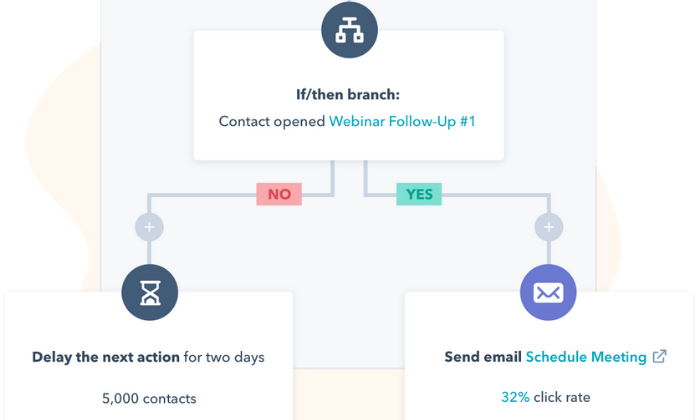 This means teams don't have to jump from software to software to get the information they need, and you can automate the data transfer process from one team to the next.
However, their marketing automation capabilities are powerful on their own, with features like:
Blog post and SEO planning
Ad tracking and management
Social media management
AI-powered live chat
Email marketing
Forms and landing pages
Revenue attribution reporting
Visual workflow builder
Account-based marketing
A/B split testing
Predictive lead scoring
Hubspot offers basic features, like emails, landing pages, forms, and live chat capabilities for unlimited users absolutely free. So, you can try it out without spending a penny.
Alternatively, you can sign up for a free demo to see all of their advanced features in action.
The Growth Suite (sales, marketing, CRM, and customer service) starts at $50 per month for two users and up to 1,000 contacts, making it extremely affordable for most businesses.
But they also have advanced plans for larger and more complex campaigns, including:
Professional — $1,275 per month for advanced features
Enterprise — $4,200 per month for all features
Each 1,000 contacts after your initial 1,000 cost $16.67 per month. And you can add more users to your sales and service hubs for $8.33 per user/month.
Plus, if you're a current member or alumni of Hubspot's approved incubator, accelerator, or Venture Capital partners with a round of Series A funding under your belt, you can get up to 90% off your first year.
#6 – Act-On Review — The best marketing automation software for marketing agencies
As a marketing agency, you handle marketing campaigns for several clients (if not hundreds of them) at any given time. As such, you need marketing automation software with the ability to manage everything, including your own marketing campaigns, in one place.
And Act-On offers the perfect solution.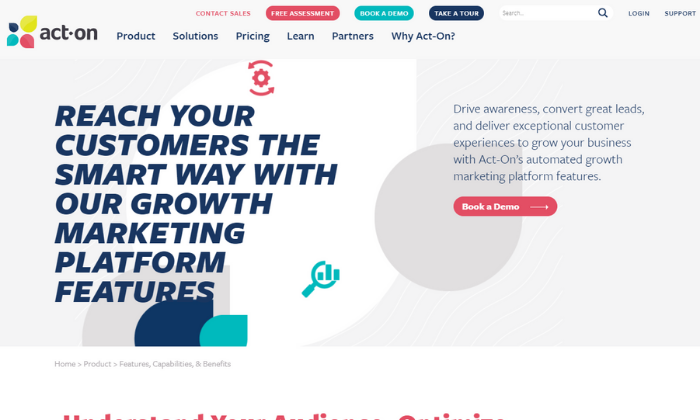 Their scalable software features unique child and parent campaign capabilities, meaning you can easily manage and handle all of your client accounts from a single Act-On login.
Plus, you can completely brand and customize everything to deliver custom reports to clients in just a few clicks.
With Act-On, you can learn more about your clients' audiences to personalize and tailor their message to match. Not only does this make their life easier, but it also means your team can work less to produce better results.
When you sign up, you get access to powerful marketing features, including:
Automated engagement programs
Website and landing page tracking
Customer/prospect scoring
Behavior and demographic segmentation
Pre-built email, form, and landing page templates
Interactive reporting dashboards
Plus, you can build custom real-time analytic dashboards for internal and external use, so you and your clients always know what's going on.
Furthermore, you can use this information to improve customer ROI, build better technology stacks, and optimize entire marketing campaigns on behalf of your clients. From lead gathering and nurturing to transferring contact information to sales, you're in good hands.
Sign up for a free demo to learn more and get started today!
Wrapping things up
Freshmarketer is my top recommendation for most businesses. It's built for small to midsize companies interested in automating their marketing processes to grow their businesses and save time.
Plus, it's affordable, easy to use, and packed full of powerful automation features.
However, it's not the perfect solution for everyone. So, don't forget to use the criteria we talked about as you sort through finding the best marketing automation software for you and your team.
What are your favorite marketing automation tools?
The post Best Marketing Automation Software appeared first on Neil Patel.