Monday, October 12th, 2020
now browsing by day
If you've ever led a marketing team, you know it's easy to get overwhelmed by tasks and plans.
Numerous blog posts, social media marketing campaigns, and emails crowd your pipeline. But distractions and urgent issues get in the way, and when you check the clock, several hours have passed.
It happens all the time: you miss one deadline and end up missing more. The result is a half-baked campaign that fails to hit your goals.
Without a concrete schedule, this becomes an inevitable cycle.
To solve this problem, consider using a marketing calendar.
Why Use a Marketing Calendar?
In my experience, you need a marketing calendar to get a full overview of your team's deliverables, deadlines, and tasks.
Recent research in an article by Evinex states that marketers who record their strategies are 538% more likely to complete tasks on time. Consider goal-setting as well, as 81% of people who set goals do achieve them.
I've worked on plenty of marketing campaigns, and I can tell you that it's easier to hit your goals when you can streamline your tasks and manage deadlines.
So today, I'll show you how to create your marketing calendar.
Step 1: Understand Your Customers
Every task in your marketing calendar should revolve around attracting your target audience. Your marketing efforts' ultimate purpose is to reach the most customers and get them past the sales funnel.
For example, if you're offering video games to students, you'll want to launch aggressive marketing campaigns during school breaks. Similarly, if you're targeting employed adults, you'll want to post content during normal break times, after work hours, and or weekends.
Here are questions to consider when planning the activities in your marketing calendar:
What does my audience need?
What are their interests?
When is the best time to engage with them?
How will they interact with my content?
Are they more likely to sign-up for your program or service during a specific period or season of the year?
You have to think long term to reach the most number of consumers for your marketing campaigns.
Step 2: Identify Marketing Calendar Responsibilities
Every member of your marketing team has a role to fill. Their responsibilities are often based on their skills, which will determine their tasks in your marketing calendar.
Here are some typical marketing roles:
Marketing Specialist
Social Media Manager
Search Engine Optimization Specialist
Email Marketing Manager
Web Content Writer
Web Producer
Product Manager
Marketing Analyst
Advertising Coordinator
Here an example of how to make it work for you.
Web Content writer: works on blog posts, guest posts, social media copy, and landing pages.
Social Media Manager: responds to social media messages, schedules posts, and plans social media marketing campaigns.
Email Marketing Manager: builds customer segments, oversees email marketing campaigns, and develops contact strategies.
Since most marketers on your team work on different content types or areas, you may want to organize their tasks through other marketing calendars and templates.
Here are common types of marketing calendars to consider:
Content marketing calendar: With this all-purpose calendar, you get full visibility of your entire marketing strategy. This calendar includes your team's marketing functions, content marketing campaigns, podcast series, SEO tasks, etc.
Editorial calendar: Use this to streamline the production and publication schedule of blogs or articles.
Social media calendar: If your business is active in several social media platforms, you'll want to plan posts and organize tasks. This calendar lets you track high-performing posts and determine the best times to post throughout the week.
Email marketing calendar: Use this to plan, organize, and schedule the content you'll share with your subscribers.
The specific goal of each calendar is to organize and schedule your marketing initiatives.
Unlike your marketing plan, which lists down your deliverables, a marketing calendar shows when your team can expect to work on a task. Marketers may use several types of calendars to track related activities in one document.
Step 3: Determine Marketing Calendar Content Quantity and Publication Frequency
Most successful websites have a specific quantity and frequency for publishing content.
It would be best to plot out the content you must create per week or month. Then, once you've determined how often you will promote, consider your marketing budget and your team's capabilities.
The types of content which you can publish per week include:
Blog posts
Case studies
Videos
Podcasts
Social media posts
A good tip is to finish a consistent number of deliverables each week.
For instance, you can host a podcast episode on Tuesdays and post a long-form blog post every Thursday. Meanwhile, you may aggregate the results of your social media campaigns every Friday.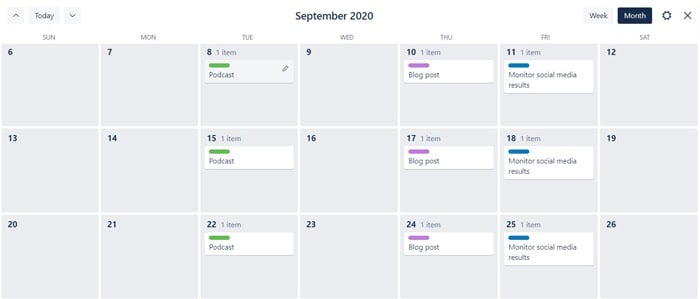 Yes, it can be challenging to plan and fulfill different types of marketing content. But a consistent weekly plan enables your team to establish a routine and consistently finish their tasks.
Step 4: Identify Marketing Calendar Themes
For B2C retailers, core themes of marketing campaigns revolve around specific seasons or dates. A millennial fashion brand could regularly promote back-to-school outfits near the end of the summer.
In contrast, B2B brands could focus on their industry's opportunities and challenges. Due to the pandemic, some businesses may want to cover topics such as "digital transformation," "future of work," and "long-term impacts of a recession."
Now get a spreadsheet and list potential themes that are specific to your industry. Set a meeting and invite your team to brainstorm topics relevant to your target market.
Now use Ubersuggest to find out the search volume of each keyword. Themes with a high search volume are likely to be relevant topics that your target audience searches for.
For this example, I used Ubersuggest to research the phrase "digital transformation."

I discovered the topic has a pretty high search volume and a moderate SEO difficulty, so it is a good theme to keep in mind.

I highly recommend having various themes and topics to cover each month, especially for brands catering to different buyer personas.
In the long-run, this will help you establish a variety and keep posts fresh.
Step 5: Creating a Marketing Calendar Backlog
Next, it's time to create a marketing calendar backlog.
Think of content projects and marketing deliverables. During the process, you may discover some tasks are better suited for execution at a later date.
Having a content backlog ensures you can document all the ideas for your next campaigns, podcasts, or blog posts.
Here's an example in Google Sheets to create a content backlog, but you can use other software and apps too.
The document should include the type of content, topic or headline, priority level, and deadline for each content idea.

Coschedule has a useful marketing project prioritization matrix for identifying tasks with the most significant impact on your marketing goals.
They suggest using a "10x versus 10% framework," which goes like this:
10x ideas are relevant to a significant portion of your target consumers. These ideas are likely to increase your results by at least 10x.
10% of ideas refer to projects with minimal or almost no impact on your marketing results.
Let's see how you can put this theory into action:
Step 1: Create an X/Y chart and place "Value" in the vertical Y-axis and "Target Audience" in the horizontal X-axis.
Step 2: List down each idea in a sticky note and place them on the X/Y chart. The most valuable projects are placed on the top, while projects relevant to most people are on the right side.
The most prioritized content should be situated on the top right corner of the chart.
Step 6: Create a Marketing Calendar
While there are many calendar tools and software in the market, we'll use Trello for this article as an example.
A Trello kanban board usually consists of tasks that are organized into lists.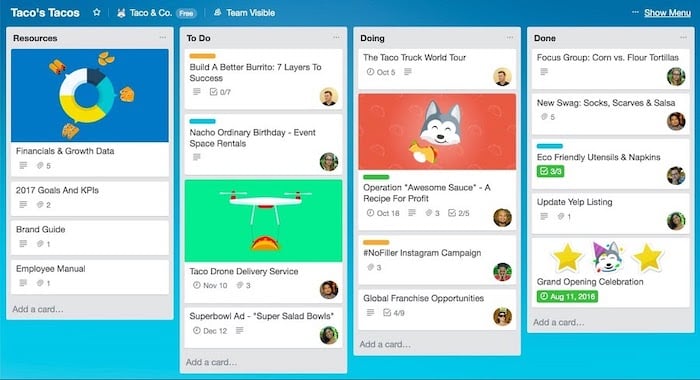 However, Trello also has a calendar view that gives users a complete overview of their tasks and deadlines per month.
Here's how it's done:
First, create a Trello board.
Hover to the Menu Bar and click "Power-Ups."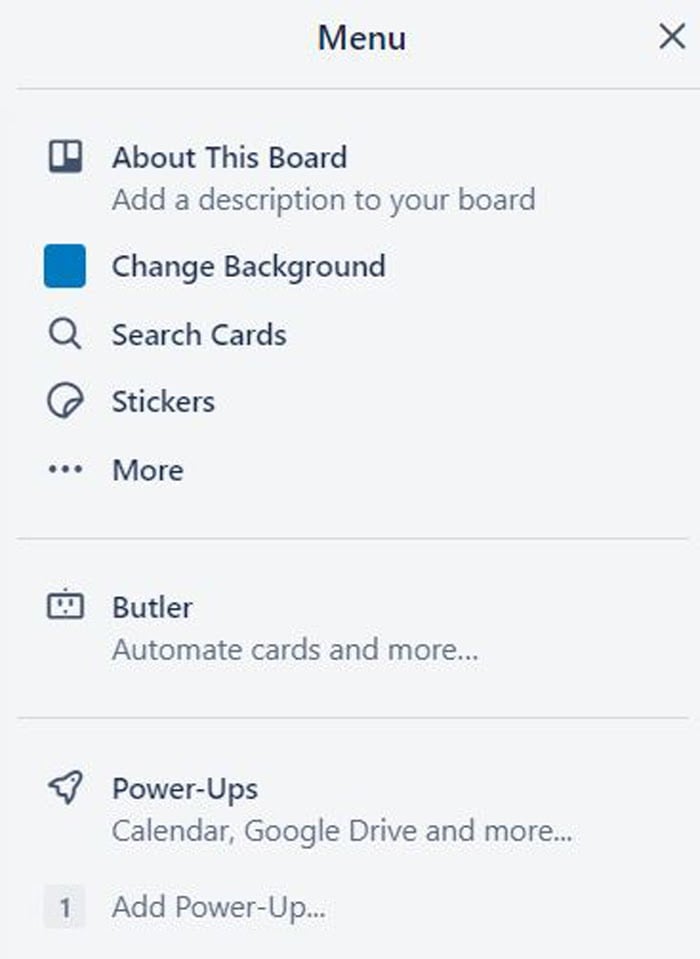 On the "Essential Power-Ups" section, add the "Calendar" to visualize Trello cards in a calendar format.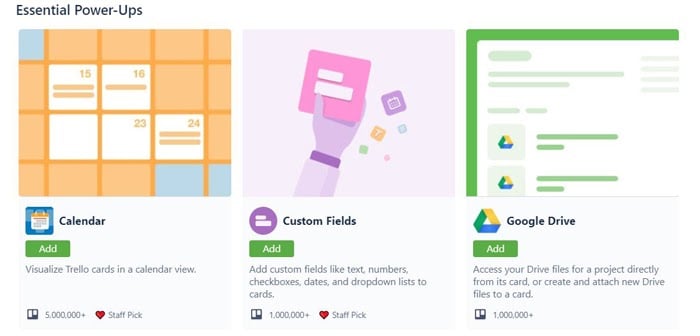 To create a task, click a date, and choose the "Add Card" button.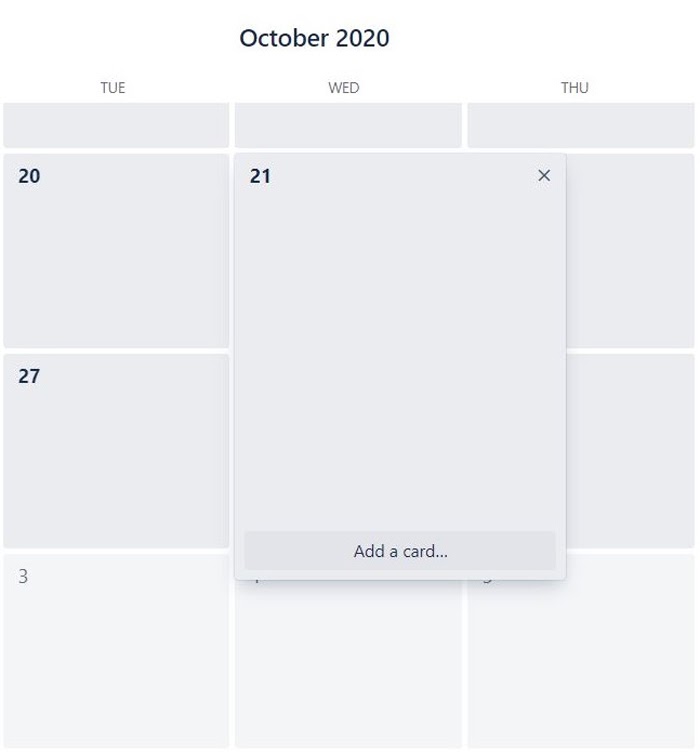 Then type the name, deadline, and task description.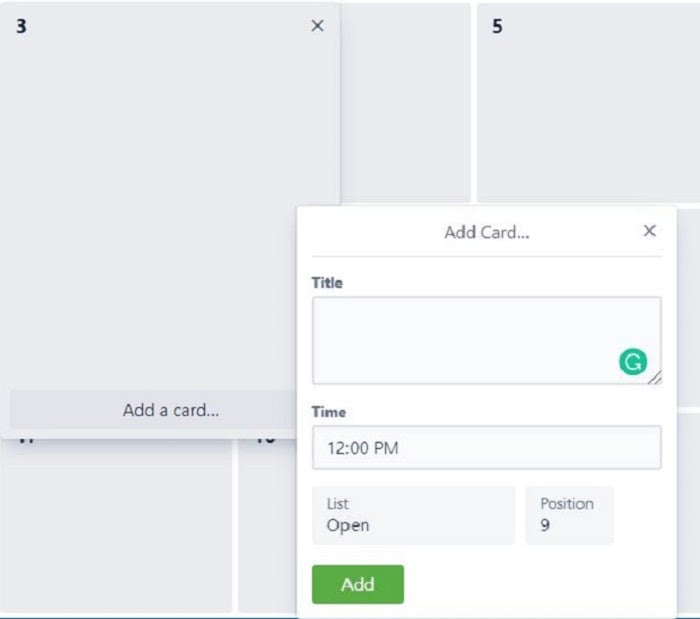 You can open up the tool again and complete the following fields: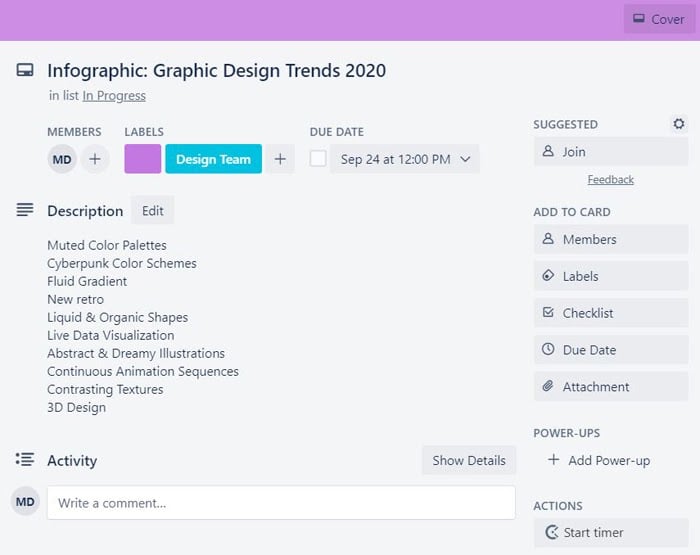 Card description: provides more in-depth information about the task.
Comments: gives feedback to team members. You can @mention your team member so they will receive a notification.
Add members: lets users assign tasks to members of the Trello board.
Add checklist: adds subtasks for activities that require several stages to accomplish.
Add due date: adds deadlines to cards.
Add attachments: attaches files from Google Drive, Dropbox, OneDrive, and Box.
Trello calendars provide a complete overview of your marketing team's activities and deadlines. By monitoring deadlines, marketers can set priorities and accurately determine the time it takes to complete each task.
Note: Mark vacations and holidays. These events could impact the schedule for your marketing content.
Step 7: Updating Your Marketing Calendar
Planning your marketing initiatives often involve a multi-step process. Prior to publication, most marketing content starts with a draft and requires reviews from superiors.
Here's how it's done in Trello with a sample account.
First, a deliverable gets written on the Content Backlog of your Google Sheet. Content with a high level of priority is the first one to get assigned to an author. When a content creator claims a task, the status of the deliverable becomes "In Progress."

Next, return to Trello and create a card for the task. Add a due date, description, comments, and assign it to a member of your team.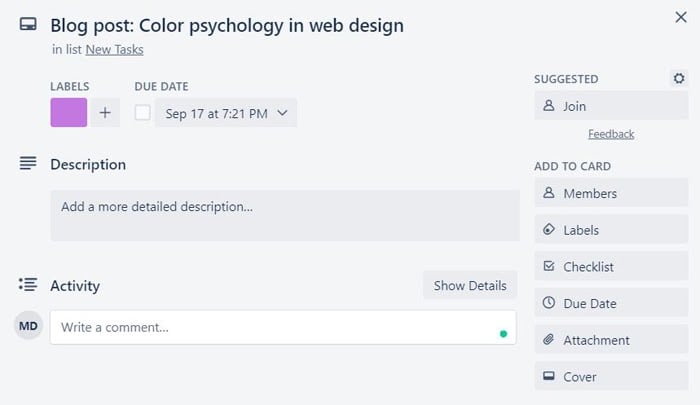 Trello lets you sort cards into "Lists." The title of each list can be based on the current status of the task, which includes:
Open: a task still needs a deadline, description, due date, and other additional information before it gets assigned.
In Progress: a task has been assigned, and your colleague is working on it.
In Review: a task has been completed, but it still needs to be reviewed by your organization's superiors.
Completed: the task is done.
If your colleague is working on the task, set the status to "In Progress."
After submitting the draft, you can classify it as "In Review."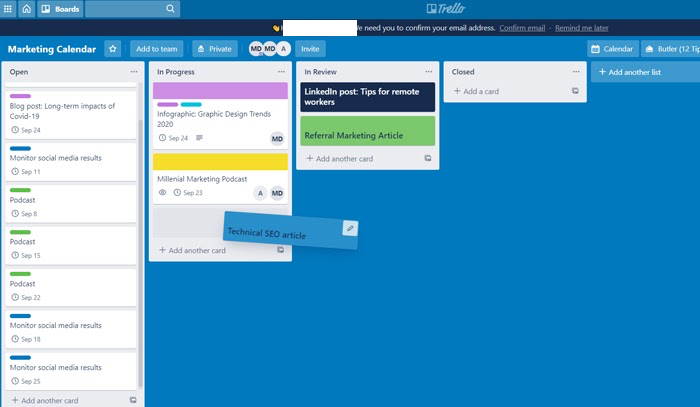 In this phase, a superior will check the article to make edits or ask revisions. If there are significant changes, the card returns to the "In Progress" column with a new due date.
Once the task receives approval, then the card can be transferred to the "Closed" column.
You can also de-clutter the Trello board by archiving cards upon publication of the post. This removes them from the list.
Step 8: Plan Ahead
Now that you've launched a marketing calendar, you're ready to plan your projects for the upcoming weeks or months.
Holiday marketing campaigns take months or weeks to plan.
For instance, the entire bundle of holidays for the end of the year include Hanukkah, Thanksgiving, Cyber Monday, Black Friday, and Christmas. Many marketers may begin holiday planning as early as August to prepare for the influx of customers during their busiest time.
There's no need to come up with specific content to publish yet. Just be aware of the main marketing campaigns and tweak the plan as you see fit.
Aside from preparing for upcoming campaigns, a calendar will help you set a realistic amount of projects. You can create content weeks in advance to hit your marketing goals during peak sales time. Your team won't be stressed out with a practical schedule or be forced to downsize the campaign due to missed deadlines.
Conclusion
If you want to build a marketing campaign, you need an elaborate plan to succeed.
A marketing calendar lets you determine how far in advance you need to begin your marketing campaigns and the amount of time you have to fulfill them. Setting up tasks and deadlines is the only way to streamline your campaigns and make sure your team is on track to hit their goals.
How will you use your marketing calendar?
The post How To Create A Marketing Calendar That Will Streamline Your Campaigns appeared first on Neil Patel.
What if I told you there was a way to reach an audience larger than the one Netflix has through YouTube analytics?
It's possible!
YouTube videos reach more than 2 billion users a month—about one-third of the entire internet's traffic.
However, if you want to use YouTube videos to drive traffic and revenue, you need to deep into the data.
How do you know whether your video has impacted your business?
Through the effective use of YouTube analytics!
In the next few sections, I'll explain what YouTube analytics is all about, how to access it, what metrics you need to track, and how to leverage this information for better ROI.
What Is YouTube Analytics?
YouTube analytics is the native analytics platform on the site, providing access to vital metrics about video performance including watch time, viewer demographics, traffic sources, impressions, and more.
What is the point of all this information?
This data is here to help you understand what type of content your audience is interested in so you can improve your YouTube strategy.
If you hate wading through data, you'll be happy to know YouTube analytics is pretty straightforward.
Instead of overwhelming yourself with a ton of information, you can choose to focus on the data that matters most to your brand.
Why Is YouTube Analytics Important?
Simply put, knowing about your YouTube videos' performance levels is vital to understanding how effective your efforts have been. When you know that, you can create more of the content your viewers love.
Why does YouTube Analytics matter so much?
For starters, YouTube is the second most popular website online. Period.
Further underlining YouTube's popularity is that teens spend much more time watching YouTube than live TV—or even Netflix or Hulu.
This fact is of particular importance if your products appeal to this demographic.
But YouTube isn't just for teens—people of all ages and demographics watch more than a billion hours of YouTube videos every day.
How to Access YouTube Analytics
Ready to dig into the data? Here's how to access YouTube analytics.
From the YouTube homepage, navigate to the top right corner, where you see your account's avatar.
Click on the image, and you'll see a drop-down list of account options.
Select "YouTube Studio."
On the next page, you'll see the Studio dashboard.
There's a sidebar on the left, which allows you to access different parts of your account.
Click "Analytics," which takes you to an overview of your YouTube channel's performance.

The overview page provides details like views, watch time, subscribers, estimated revenue, and real-time reporting.
You'll also see four primary analytics tabs:
Reach
Engagement
Audience
Revenue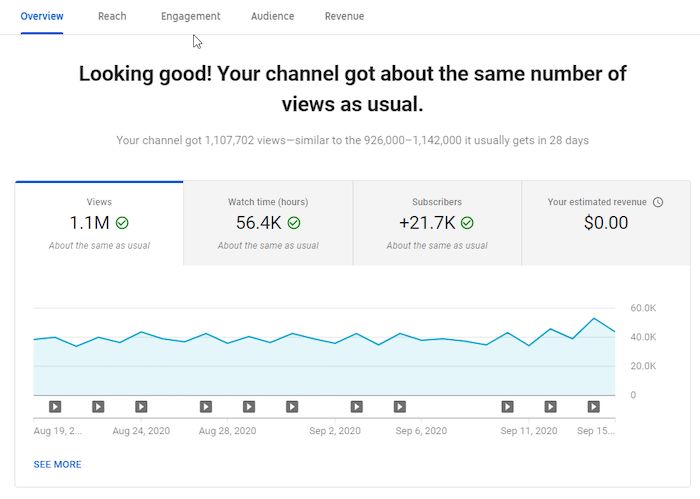 The statistics you see here are for the last 28 days. That's YouTube's default setting.
However, you can view metrics for a different period by clicking on the drop-down on your screen's top right corner.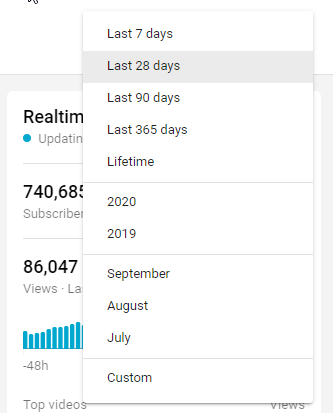 What if you want to see how well your videos have performed within 60 minutes or 48 hours of hitting the publish button?
The real-time report provides these details.
YouTube has information in place to help you understand the metrics, even if you're a beginner.
All you have to do is hover over your chosen metric or click the "i" in a circle appearing near the metric's name.
Here's an example: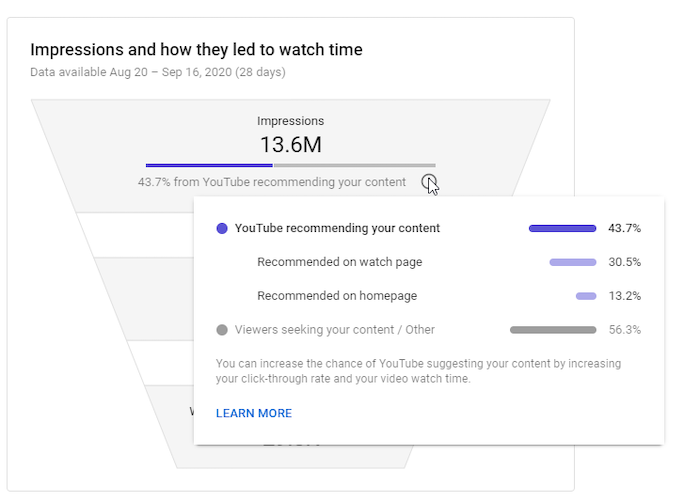 If you want to understand the metrics further, the "Learn More" link at the bottom of the box comes in handy.
In addition to overall channel metrics, you can also view individual videos' metrics.
To access video metrics, click on any video from the overview page.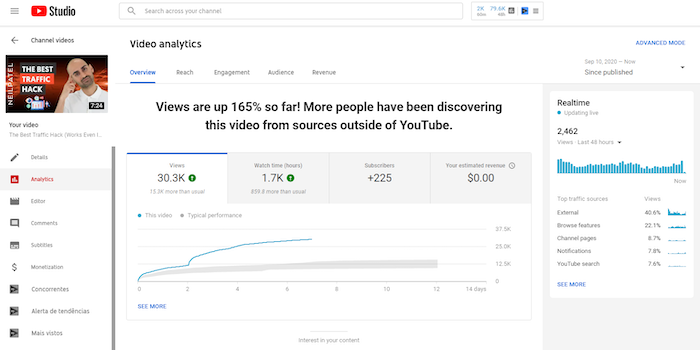 Click on "See More" to dive deeper into the analytics of a specific video.
Alternatively, you could click "Advanced Mode" at the top right corner.
Want to see how two videos performed against each other?
The comparison feature allows you to compare two videos, one video against itself over different periods, or a video with a group of other videos.
If the video is part of a series, you can discover how it compares to the others.
Additionally, you can discover if there is a difference in seasonal video performance.
To access this feature, click "Compare to" at the top right corner of the page.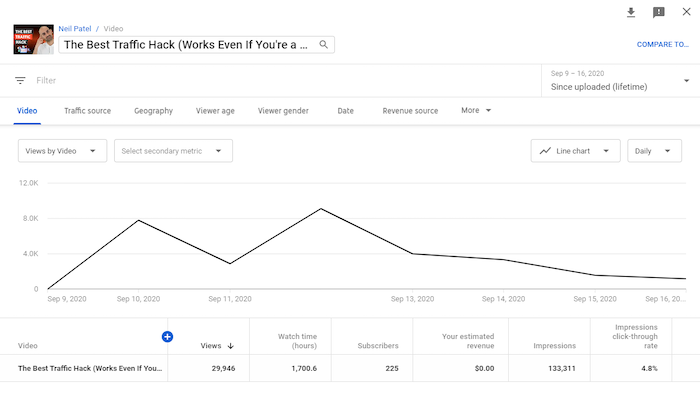 Here, you can select the periods, video, or group to compare.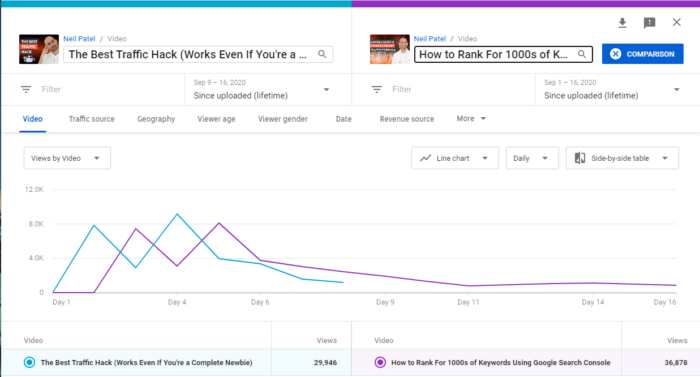 Another useful option is to add filters to your metrics.
You can find the filter option beneath the video's title in the upper left, underneath the image from your video.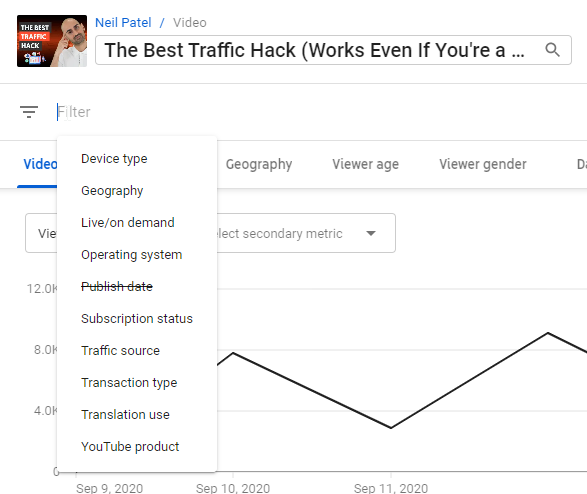 Clicking the "+" icon at the top of the table of metrics brings up a big list of metrics you can check out.
Want to save or share your data? You can easily export it for further analysis.
To do this, navigate to the top right corner of the page you want to export and click the download icon—a downward-facing arrow with a line beneath it.

This will bring up two options—Google Sheets and .csv—so you can choose the format you prefer.
Vital Metrics to Track on YouTube Analytics
It's easy to get lost in the sea of data on various marketing platforms. There's so much information, and it's understandable if you get overwhelmed by all the filters, options, and tools.
And the same applies to YouTube analytics.
Don't worry, though: YouTube analytics is comparatively easy to use.
Keep in mind you only need to view metrics answering a specific question you have.
These questions might include:
How do viewers engage with our videos?
When do they exit the videos?
Which videos convert the most viewers to subscribers?
Do our YouTube audience demographics match with our buyer personas?
With these and more questions in mind, it should become easier to view the metrics you need.
Below, I'll share seven essential metrics in YouTube Analytics and insights you may derive from them.
1. Demographics
When creating a video, you need to know who you're targeting—and who's watching.
YouTube's demographics data reveals details like the top countries and cities your viewers are watching from, viewers' ages and genders, the times and days they most often watch videos, and more.
Location
If you have many viewers from a particular country or city, and your brand allows for this, you could tailor content to those locations. If you're advertising a local product, but your videos aren't generally being viewed locally, it may be time to investigate your keywords.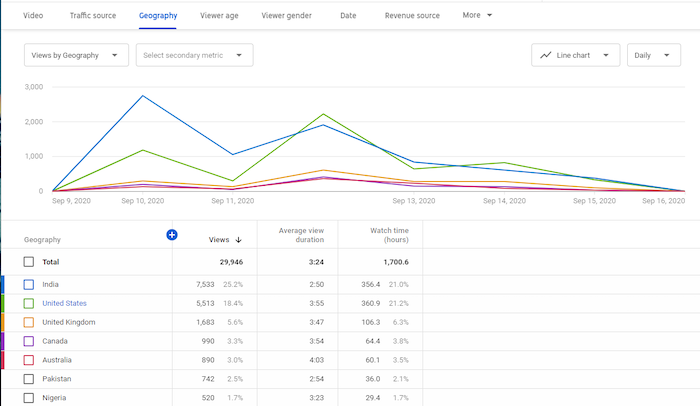 Age and Gender
Knowing who your audience is can help you create relevant and appropriate content. After all, you wouldn't want to produce R-rated content if your viewers are typically 13-17!
Furthermore, the times and days viewers are on YouTube provides insights into when you should publish new videos.
If you run YouTube ads, having demographics information can also improve your ability to target content accordingly.
Finally, you can compare your demographics data to your buyer persona.
Do they match?
If so, great! If not, will you change your buyer persona or your content?
2. Traffic Source Types
Traffic source types indicate where viewers find your videos, such as YouTube search, Suggested videos, Channel pages, direct visits, views from external sources, and others.
In addition, you'll see how viewers from each source behave.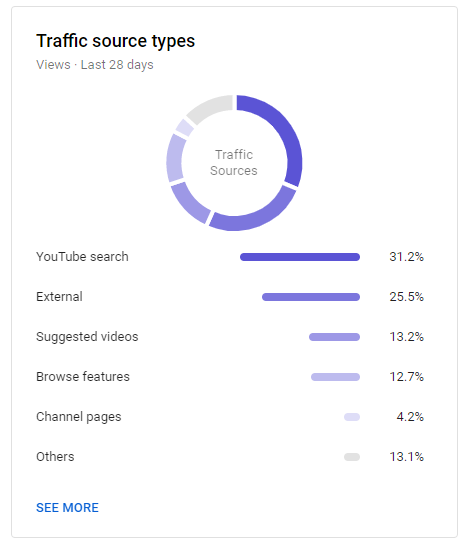 These metrics provide information about the sources responsible for your video views. For example, you might find your blog drives a ton of traffic to YouTube, which means you may want to embed more videos in blog posts.
For more details about how people found you, you can click on each source. For instance, clicking on "YouTube search" will show you what keywords led users to your videos.
You can also see which sources contributed little to your views and try to figure out how to boost those areas.
For example, a low number of views from YouTube search might mean you need to improve your YouTube SEO.
Or, a small number of views from Suggested videos might indicate you need to engage your audience better. Higher engagement means YouTube may see your videos as valuable and suggest them to people viewing similar content.
There are even more insights to uncover once you dig into the data.
3. Watch Time
Getting a lot of YouTube views is good, but getting a high watch time is even better. "Watch time" is how long users spend watching your videos.
YouTube's algorithm uses this metric to help it understand your content's quality. This means a long watch time improves your chances of showing up as suggested videos and on search pages.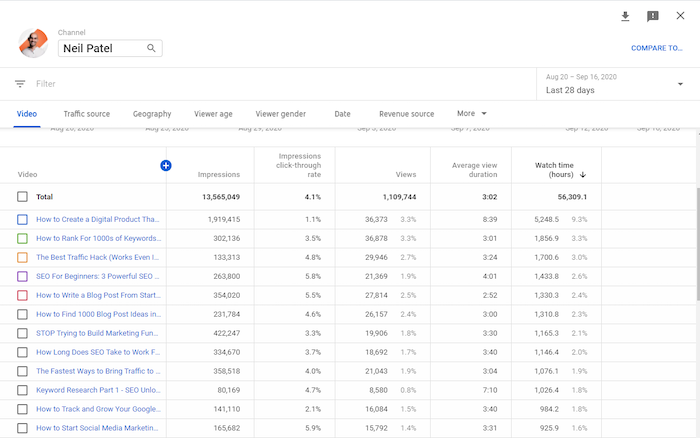 You can analyze each video's watch time and compare it to the video's length.
What types of videos have high watch times? What types have low watch times? Why do you think that is?
Considering the differences between videos with high and low watch times can help you create better content in the future.
You should also examine videos with a high watch time at a particular time of year. This could be a seasonal video—and if it did well, consider creating a similar video next year.
4. Subscribers
When a viewer clicks the "Subscribe" button, they're confirming their interest in your content. They're then more likely to see when you post new videos—and watch them.
YouTube Analytics displays the number of subscribers you've gained and lost during a given period.
You'll also see which videos contributed to your subscribers count.
Which videos are responsible for a high number of subscribers gained? Which ones are responsible for subscribers lost?
Analyzing these changes can help you improve the content you create. For example, if longer videos tend to drive more subscribers, then you should focus on longer videos
You can also view subscription sources, which tells you where subscribers found your content.
There's another way to understand what drives subscribers—comparing them with non-subscribers.
For example, you can compare these two audiences on metrics such as watch time, including the time spent viewing and what percentage of the video they watched.
Thirty seconds means something very different on a 45-second video than it does on a 45-minute video!
In the image above, there's an anomaly. You see, non-subscribers are outnumbering subscribers significantly. This data indicates a need for further investigation—perhaps check their traffic sources.
5. Top Videos By End Screen
If you've ever watched YouTube, you know many videos end with images of other videos to watch. Those images are there to entice users to keep watching.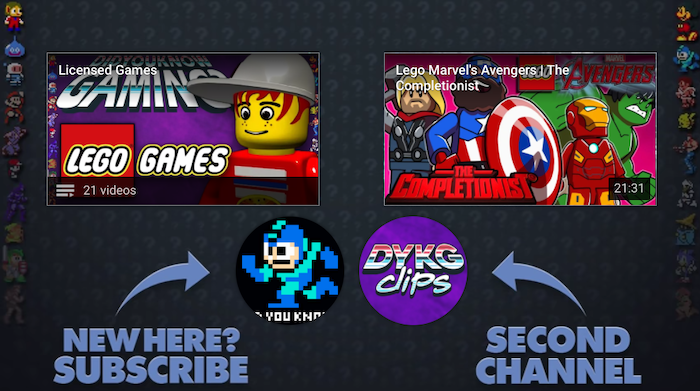 The metric related to this tells you which end screens accounted for the most clicks.
By clicking on "See More" in the engagement tab, you'll see details such as end screen elements shown, end screen element clicks, and clicks per end screen element.
As a result, you can identify videos that keep viewers watching.
Why is a specific end screen more effective than another? Once you figure this out, apply the insights to other videos.
6. Top Cards
Card elements are interactive and allow you to promote other YouTube videos or links to your website. You can see an example in the image below—the "Suggested" bar is a card element.
Card element metrics show you details such as card clicks, cards shown, clicks per card, and more.
From these numbers, you'll discover which cards were most effective at converting viewers.
Ask these questions:
What makes these cards effective?
Are cards more effective on some videos than others?
At what time are cards most effective in a video?
What makes some card teasers effective?
By diving deeper into these metrics, you can find answers to these critical questions.
7. Revenue
YouTube ads are essential to revenue. However, to run YouTube ads, you need at least 1,000 subscribers and 4,000 hours of watch time. Focus on making great content using your metrics as a guide to get to these numbers.
You can see an example of an ad overlaying a YouTube video below.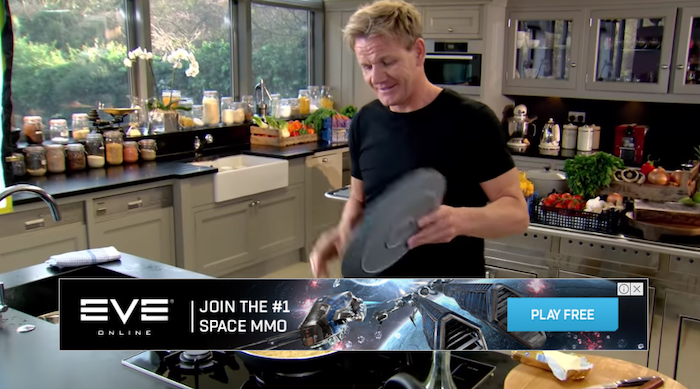 If you're running ads as part of the YouTube Partners Program already—or when you get to that point—the revenue section of analytics is crucial.
Here, you'll find details such as your revenue sources, top-earning videos, ad types, monthly estimated revenue, YouTube Premium revenue, and more.
What are the top-earning videos? How are they different from the low earners?
You may get answers to these questions and more by diving deeply into revenue analytics.
All that said, you don't have to monetize your channel through ads—I don't do this myself. Instead, I use YouTube for branding, education, and to drive traffic to other resources.
Other YouTube Analytics Tools
YouTube analytics provides a ton of metrics about your channel performance, but it's not the only source of data available.
That's why you should use other analytics tools to gain more insight into your YouTube campaigns.
Using these tools, you can obtain analytics for other channels in your industry, enhance YouTube SEO, and get recommendations to improve.
Here are three other tools to better understand your YouTube video performance.
Vidooly
Using your YouTube analytics information, Vidooly provides suggestions about how to improve your videos.
They also grant access to video tag analysis—meaning the words in your video's metadata—so you can discover high-performing tags.
To help you rank higher in YouTube keyword searches, Vidooly also has a keyword tool that may boost your videos' SEO.
If you run influencer marketing campaigns, Vidooly can help you figure out which influencers may help grow your channel.
ChannelMeter
ChannelMeter provides access to extremely detailed audience insights.
Beyond that, you can monitor how videos from influencers perform. This is handy if you run YouTube influencer marketing campaigns—or if you want to emulate some of their ideas.
ChannelMeter also allows you to check on your benchmarks and follow trends among similar videos so you can adapt accordingly.
Unmetric
One of Unmetric's most significant features is the benchmarking tools. These tools allow you to compare your strategy against your competitors.
For example, you can look at your competitor's click-through rate, engagement rate, and video completions. This tool can help you develop campaign goals and identify new trends.
Furthermore, you can see how you fare against your competitors and obtain insights that may boost your campaigns. They even provide ideas for content creation.
Conclusion
YouTube Analytics is essential to running any successful YouTube campaign.
You can learn about your audience, what you're doing well, and where you can improve—without being bogged down by unnecessary data, thanks to YouTube Analytics' helpful filters.
What aspects of your videos do you think YouTube analytics can improve?
The post How to Optimize Your Videos Through YouTube Analytics Data appeared first on Neil Patel.