Tuesday, September 29th, 2020
now browsing by day
According to a recent survey from the DMEXCO, 70 percent of executives worldwide expect the pandemic to accelerate the pace of digital strategy. In the past, businesses had more time to plan and prepare.
That's no longer the case.
Today, businesses are expected to outline, plan, implement the digital strategy in a matter of days or weeks. The market is moving at an accelerated pace; many businesses find they're unable to keep up. If you can't keep up, does that mean you'll be left behind?
Not if you have the right digital strategy agency.
With the right agency, you'll be able to adapt to rapidly changing circumstances and events. Here are some steps you can take to find and vet the right agency.
Know your goals and desired outcomes
Identifying your digital strategy is the key to long-term growth.
Your digital strategy is about setting goals and objectives. It's a high-level overview that defines where you are now, outlines where you'd like to go (as an organization), and how you'll get there. It's a long(er) term plan that sets a course or destination for you to follow before starting your journey.
You're going to need a list of:
Goals, KPIs, and objectives: For example, you could focus your attention on generating a specific number of leads, customers, or revenue. You're running a SaaS business, focus your attention on reducing churn and increasing MRR.
Target audience members: It would be best if you had a clear idea of the specific customer segments you're looking to target. Your agency should help you with the demographics, psychographics, and ethnographics if you need help clarifying your audience.
Customer hangouts: You'll want to identify your customer hangouts and the places online where your customers spend their time. This will help you identify potential partners, advertising opportunities, and strategic alliances you can use to grow.
Obstacles and challenges: You'll want to outline the list of barriers and challenges that may prevent you from achieving the goals and objectives you've listed above.
Competitors and key players: You'll want to identify your competitors and their strengths and weaknesses. This reduces direct competition, making it easier for you to attract customers based on your strengths and the areas you perform best.
Strengths and weaknesses: Point out the areas where you have an advantage in your market or where you're most vulnerable. Your agency should be able to provide you with options to address each of these, so you're able to outperform your competitors.
If you have clear answers to these questions, it's easier for your agency to supply you with the strategy you need to be effective.
3 Characteristics That Make a Great Agency
Great agencies have a few characteristics in common. They're able to focus their attention on the details that matter to your company and your customers.
1. They ask probing questions
Your agency can't create the right digital strategy for your company if they don't have the answers they need. A great agency asks probing questions that may seem simple, dumb, or unimportant at first. You want your agency to ask these questions because these questions help them to develop an in-depth understanding of your business.
Here are a few examples.
What are your current benchmarks?
What are your goals and objectives for your business overall? For each segment?
Which KPIs or metrics are you using to measure performance?
What do customers expect from your business?
Where do your customers spend their time online?
Which marketing channels work best to attract customers?
What tactics should we use to achieve our goals and objectives?
Questions form the basis of your digital strategy; your digital strategy shows you where you are now, tells you where you're going, and how to get there. Good digital marketing agencies should be asking these questions at the beginning of the engagement process.
2. Ask your agency to give their strategy away
Your agency should be willing to share bits and pieces, showing you what a cohesive strategy could look like for you. This is important because it gives you several data points you can use to evaluate their work. This doesn't mean that you should expect your agency to work for free; it just means they're willing to demonstrate their skills.
Your agency can share this with you in several ways, over the phone, in your proposal or quote, or a case study. You're looking for them to share pieces of their proposed digital strategy or examples from previous campaigns they've implemented for other clients.
Request performance data from your agency
Use performance data to evaluate their performance
Pay attention to the campaign elements they prioritize consistently
Look for knowledge gaps, holes in their strategy, or weak points
Discuss the details you've noticed with them during the interview process
Another option would be to pick one part of your business (e.g., content or advertising) and ask your agency how they'd build a strategy to accommodate one specific goal (i.e., how would you increase sales for my worst performing products using content marketing?).
3. Your agency knows how to implement
Digital strategy is important, but it's not as important as the ability to execute that strategy. A great strategy isn't enough. Your agency should have the experience, skill sets, and team you need to implement your digital strategy and produce the results you need to grow.
You're looking for three things.
An agency that can create a comprehensive digital strategy that works with your existing marketing plan
An agency that knows how to implement your digital strategy successfully
A proven track record showing that they've achieved this for other clients in the past
Your agency should provide you all three of these, and they should be able to provide you with evidence showing that they offered other clients these as well.
How to Work with a Digital Strategy Agency
As you'd expect with any other agency, you'll want to see a list of samples, references, case studies, and reviews showing that they're legitimate and competent.
Ask your clients to provide you with a list of milestones and campaign deliverables. You're looking for a clear timeline that projects how long everything will take to implement, and when they anticipate, you'll begin seeing results. Your plan should include details on:
Media advertising: This includes commercials on tv or streaming services, as well as app, radio, podcasting, and sponsorship spots. This won't be relevant for some, but it's still something your agency should be able to support if you need it.
Public relations: What will your agency do to generate press for your business? What strategies will they use to increase visibility and publicity for your business?
Digital marketing: This encompasses everything from local search, organic search engine optimization, content marketing, advertising,
Direct response: This can include tactics like geofencing or hyperlocal print advertising; it's a direct response option that's designed to integrate with your overall strategy. This is especially important for local businesses that operate in a specific market.
Partnerships: These partnerships can include tactics like JV partnerships, strategic alliances, or channel partnerships. These pieces are essential and should be an important part of your digital strategy.
Your agency should be able to show you how they plan on approaching your campaign or project. Ask them to break down the approach that goes into their strategy documents; this document should clarify how they'll approach your campaign, what you should expect, what their goals are, and more.
You'll want to provide your agency with the following:
Agreements. It's common sense, but it's also something many clients ignore. Take some time to look over their agreement; look for red flags and trouble spots with legal before you sign.
Brand content. Gather all of your content, brochures, flyers, guides, promos, images, logos, style guides, and marketing materials for your agency.
Photos. Give your agency access to all relevant photography — company photos, portraits/photos of key people, office space, location, general and event photos, etc.).
Accolades. Make a list of the social proof your company has — awards, recognition, testimonials, praise, positive reviews, or feedback you've received. Give your agency with the assets and resources needed if they ask.
The digital strategy company you choose will provide you with a list of items they need and the options you need to implement their plan successfully.
How to Find the Right Digital Strategy Agency For You
You can use directories like Clutch.co, HubSpot Agency Directory, or Sortlist to find the right digital strategy agency that's best for you. Here's a list of some of the best in the industry. You can go through the traditional RFP process or you can simply request a quote.
The 6 Top Digital Strategy Agencies
Here's a list of six of the top digital strategy agencies online.
1. Neil Patel Digital — Best For Content Marketing & Digital Strategy
I've created more than 4,294 blog posts in 10 years. I've written millions of words, and I've used content marketing to build three companies of my own generating 195,013 visitors a month. I did the same things for large fortune 500 clients; now I can do that for your business too.
2. REQ – Best for Enterprise Business Strategy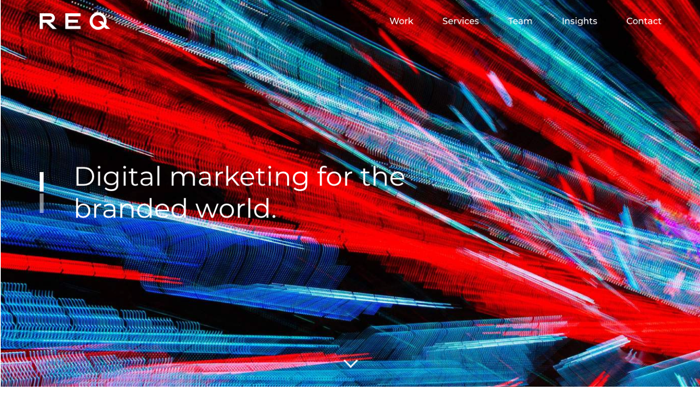 REQ is an award-winning agency with enterprise-level expertise. They're industry veterans with some of the best talents in the business. They're part of the Inc.500 and Deloitte Fast 500 lists – they're one of the fastest-growing companies in America.
3. Usman Group – Best for Mid-market Business Strategy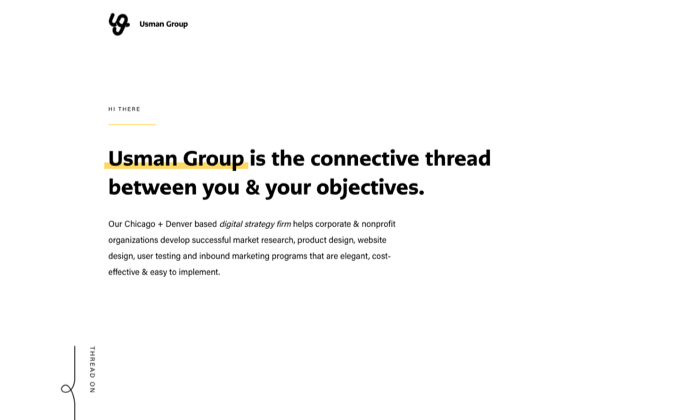 With 80% of its clients in the mid-market range, earning between 10M – 1B, the Usman Group, specializes in digital strategy and market research. Their agency is oriented around design thinking; they produce projects that are evidence-driven, practical, and focused on research.
4. DeSantis Breindel – Best for Branding Strategy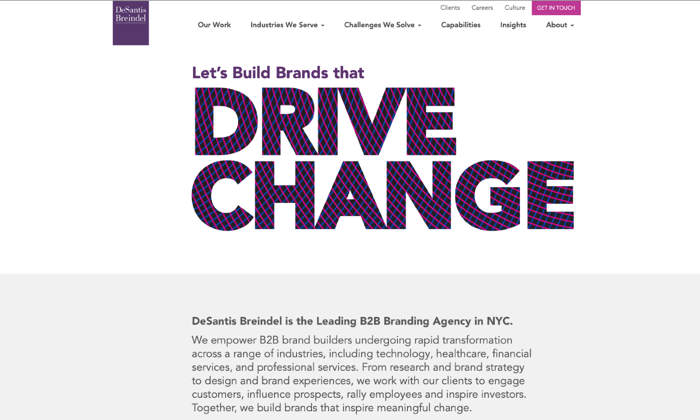 DeSantis Breindel is a digital strategy company that specializes in end-to-end branding strategy. They're focused on all things branding — they serve businesses via brand differentiation, brand valuation, brand launches, and employee engagement and more.
If your company relies on image and brand reputation, DeSantis may be a good fit.
5. Mabbly – Best for Data Analysis, Channel Strategy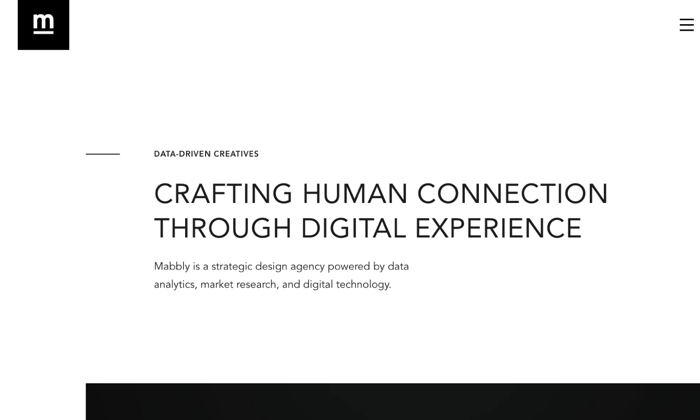 As a digital strategy firm, Mabbly emphasizes market research and data analytics. They specialize in converting large and complex problems into growth opportunities for established and up and coming brands. Their starting price is slightly higher but worth the investment if you're looking for a data-driven approach.
6. Ironpaper – Best for Small Business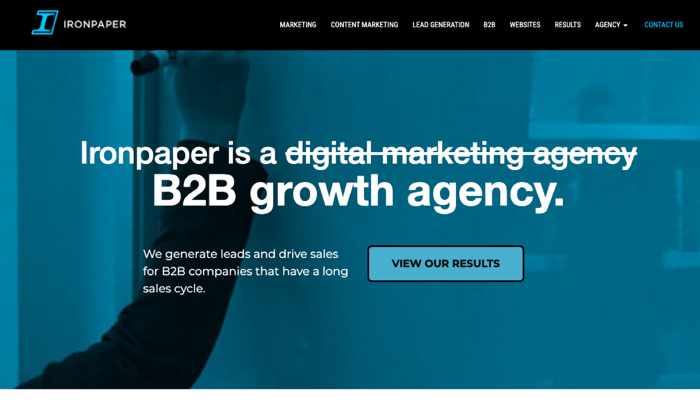 Ironpaper bills itself as a B2B growth agency. As a digital strategy firm, their conversion growth strategy focuses on gaining traction with growth up to 1 percent. The growth phase starts at 1 to 3 percent, with anything above 3 percent listed as scaling.
Conclusion
Businesses have less time to adjust; now, more than ever before, customers are expecting companies to meet their expectations and needs immediately. Digital strategies that played out over the course of one to three-year cycle now finish in a matter of days or weeks. Business is accelerating as customers move more of their business online.
Most companies will need help to keep up.
If you have the right digital strategy agency, you'll have the support you need to adapt to a rapidly changing market and events. Use this guide to find and vet the right agency for your business.
The post How to Choose The Right Digital Strategy Agency appeared first on Neil Patel.
You likely already know how important creativity is when it comes to digital marketing.
However, coming up with great ideas – be that through content or ads – is only part of the story when it comes to driving results online.
Another significant factor that will amplify your marketing efforts is the collection and leveraging of data.
In other words, to truly succeed with your digital marketing campaigns, you must utilize the best of the machine and human worlds.
But perhaps you're not a data kind of person, which is where hiring an analytics company comes into play – an option you may already be considering.
Before you make this important decision, equip yourself with the information we've outlined in this article so that you can make the best choice for your needs.
The 6 Characteristics That Make a Great Analytics Company
When choosing the right analytics company to work with, there are certain characteristics you need to take into consideration.
Not all agencies are built the same. It is safe to assume that most companies put their best foot forward for their clients, but there will always be variance in terms of what results you will get from each one.
Consider the following factors.
They offer a full suite of marketing services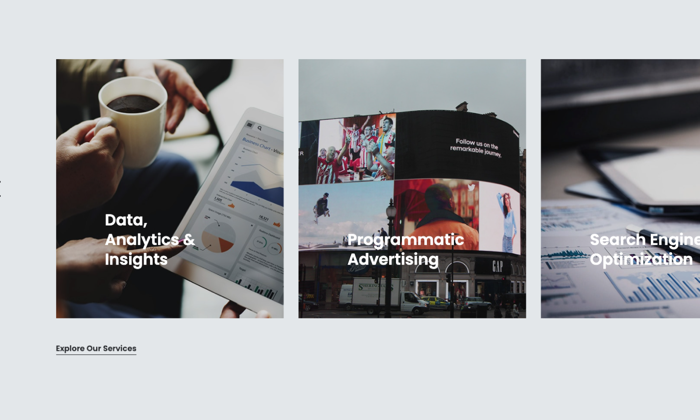 You may already have your marketing strategy under control and may only need help to understand and leverage your data.
But how can a company help you leverage your data if they have no experience in what the data should be used for?
The point of data and analytics is to improve your decision making and inform your strategy. So, if you're working with an agency to help you do so, they need to have some actual marketing chops.
Make sure that the agency you want to work with offers other services besides analytics. This is a good indicator that the insights they produce from your data will actually mean something.
They have a strong technology stack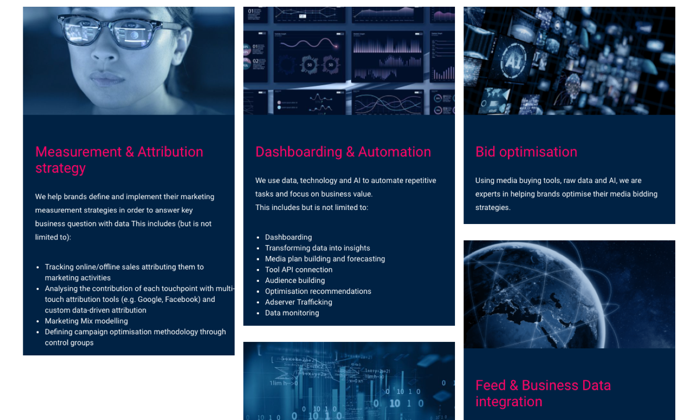 It goes without saying, but if a company is promising to help you leverage data (technology), they will likely have the technology to do so.
At the very minimum, your analytics partner should have their own proprietary platform that will be used as the central point for your data.
But in the best case, the partners will leverage more advanced technologies, such as machine learning, that can help make better sense of the vast amount of data that you will have.
You will find that the best insights from your data come after the raw data is analyzed by a machine, and then made sense of by a human.
The quality of that initial analysis, however, will depend on the quality of the technology that your agency partner has built.
They have an all-star team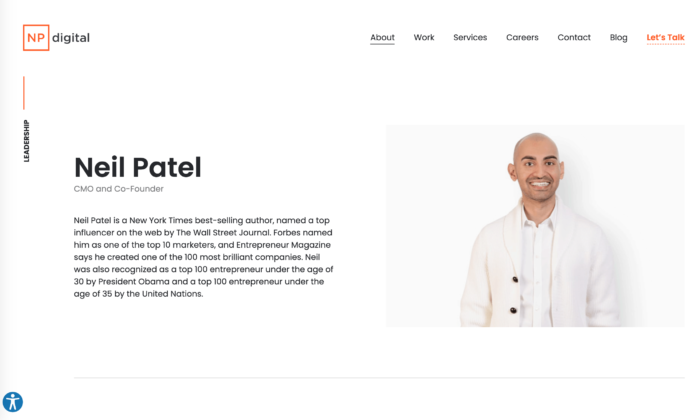 Making sense of your marketing data is no easy task. It requires breadth and depth of skills as well as experience, all working together in a harmonious way.
Make sure you check out the team on the about page and on LinkedIn, taking into consideration these factors:
Skills diversity – Making sense of data requires a symbiosis between the human and machine side of business. A good agency will have social scientists (or marketing experts), data scientists, and statisticians.
Years of experience – How long has the team been operating? What are their backgrounds? The more industries and businesses they've seen, the higher the chance their insights will be valuable.
Founders – The founders set the tone for the culture of the company. Try to find information on the background of the founder to get a better understanding of how they conduct their operations.
They have a strong roster of clients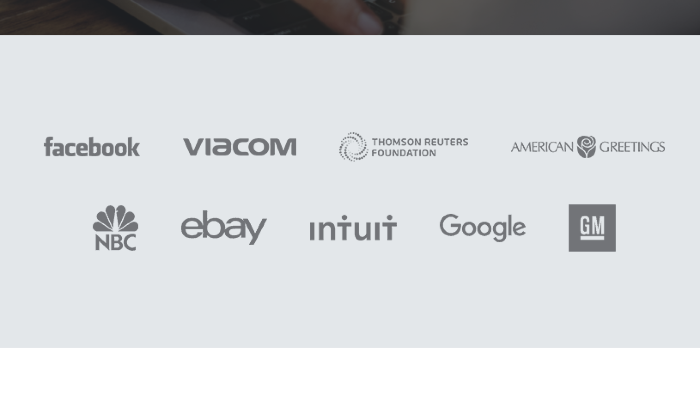 One of the most objective ways to evaluate a company is to take a look at the clients they've worked with – and, most importantly, what results they've gotten for them.
Keep these things in mind:
Similar clients – If an agency mostly works with Fortune 100 clients and you're a small startup, they probably won't be a good fit. They likely will have their processes and expertise optimized for analyzing data at scale.
Transparent results – Can the analytics agency demonstrate the results they've gotten in the past?
Experience with your channels – It's no use to you if the analytics company you want to work with specializes in advertising analytics and you have a content-focused strategy. Check to see if they have demonstratable results and insights into your specific channels.
They have a great communication style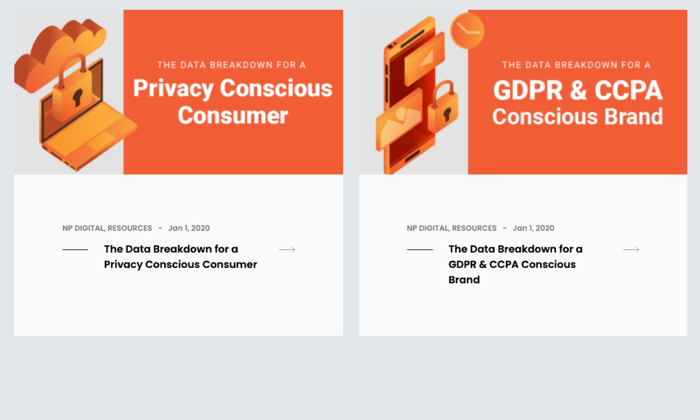 If you're a marketing leader or business owner, chances are you aren't well trained in understanding and interpreting data.
In this case, the analytics company you work with has to be able to make sense of your data and also deliver it in a way that you can actually use.
To get an idea of this, take a look at how the company communicates with its audiences.
Blog posts – Is the agency creating content and educating their customers? Do they do so in a clear and simple, yet value-driven way?
Visualizations – Does the agency value data visualizations? Do they have any examples of how they visualize data in a user-friendly way?
They take a holistic approach to analytics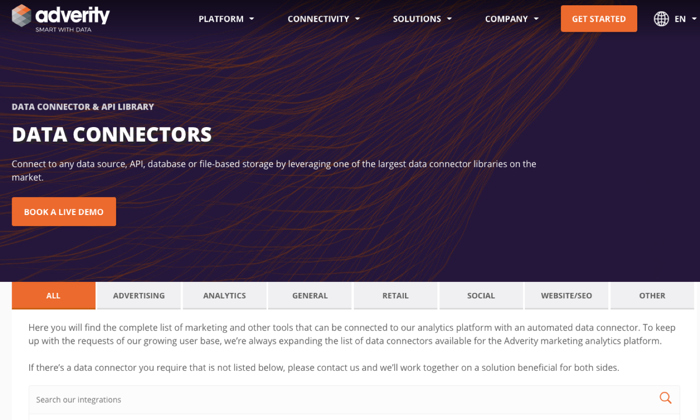 It is likely your business has a lot of data to work with. Oftentimes, insights come from unlikely places, such as comparisons between seemingly unrelated data sets.
To get the most out of your data, your analytics agency will need to map out and architect your entire data ecosystem.
They will need to consider aspects of your business such as:
Customer profiles – Your customers will have data points in common, such as demographic information, which can then be used to inform PPC targeting, for instance.
Marketing channels – Each marketing channel has its own set of data to be analyzed. Social media, for instance, has metrics such as engagement and likes, whereas email marketing focuses more on open rates and click-throughs.
Website analytics – Your website will have metrics that can inform on everything from design to marketing. Data points such as website dwell time, page conversions, and heat map analytics come into play here.
What To Expect From a Great Analytics Company
Each analytics company has their own unique process when working with clients.
The best analytics companies, however, will ensure their process is tailored to your specific needs.
They will also go to great lengths to ensure that you are kept in the loop as much as possible.
Here's what you can expect when working with a great analytics company.
Onboarding and integration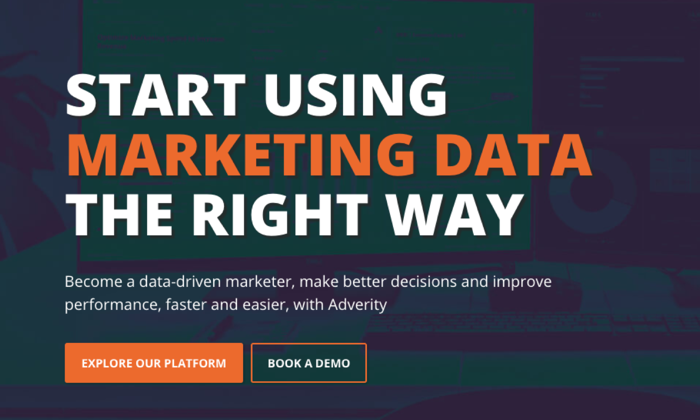 At the beginning of your working relationship, your analytics partner should guide you through an onboarding process.
Great onboarding sets the stage for future success, as it creates a solid foundation for your working relationship.
Manage expectations – Both you and your analytics partner should clearly outline the roles and responsibilities of your relationship at the offset. Make sure you flesh out all the details, such as communication hours.
Integrations and set up – Depending on your marketing channels, there may be different assets your analytics partner may need to access, such as your Facebook Pixel. You will also need to be onboarded to their analytics platform.
Goal setting – If you haven't already, you should have a strategy call with your partner and decide on a strategy and timeline for results.
Auditing of processes and assets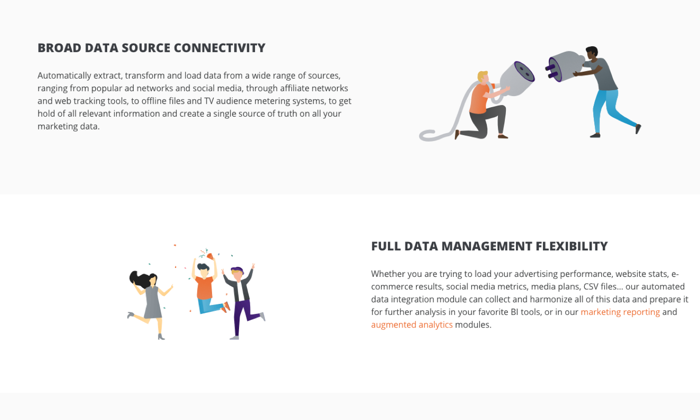 Before you start moving forward, the first thing your analytics partner should do is conduct an audit of your existing processes and data assets.
Depending on your company stage, it is likely that you already have existing data that could serve as a starting point.
Existing data across all channels – Your analytics agency partner will consolidate all of your data across all channels, bringing them into a single platform.
Setting up tracking – In some instances, you may not have been tracking certain things. For instance, if you did not have Google Analytics installed on your site, your partner will help you set this up.
Problem solving – You may have attempted to leverage data and analytics before with limited effect. This could have occurred through your own means or another partner. A complete analysis of your previous attempts would need to be conducted to figure out what went wrong and how to get better results in the future.
Setting up marketing channels
The best analytics company will be able to offer you additional marketing services such as PPC, content and SEO.
The reason for this is simple: to better understand how to interpret the data and inform your strategy, your agency needs to have actual experience executing a marketing strategy.
Elements of your marketing strategy that your analytics partner should help on include:
PPC – Performance advertising, such as Google or Facebook ads, requires a combination of analytics and creativity. Your partner will help you come up with winning ad ideas that are rooted in data.
SEO – Analyzing the best keywords to target, as well as writing great pieces of content to rank in search engines, similarly reflects the importance of a holistic analytics partner.
Data management and reporting
Once your marketing campaigns are in full swing – and the appropriate tracking tools are in place – the fun part begins.
Now is the time to take a look at all the data you have been collecting.
If your agency partner is worth their salt, you should be looking at this data through their own proprietary software.
How this data is organized, analyzed and communicated is where you will really begin to see the difference in quality between different analytic agencies.
Dashboard – When logging into your partner's platform, you should be able to organize and navigate the different data sets for your marketing channels.
Analysis – Depending on the technology used, you may be able to get instant insight into what your data means, or even compare it to other data sets in your industry.
Visualization – A powerful way to understand data is when it is visualized. Charts, graphs and potentially even custom infographics should be provided by your partner.
Actionable Insights and Results
However, collecting raw data isn't enough.
You need to make sense of that data so that it becomes useful.
Although your analytics partner may have sophisticated number-crunching technologies, there is still a need for a human to look over everything and create real insights.
At the end-stage of the process, your analytics partner will need to communicate to you the real meaning behind the numbers.
Storytelling – Together, you will need to figure out what the data is really telling you. It is easy to point out that one advert is performing better than the other, but why? How do you find the logic behind the data?
Strategy – Once you really understand the data, you will need to turn those insights into a strategy. You may realize, for instance, that your entire approach has been wrong, or that there is an opportunity for a new product offering.
Execution – Finally, you need to put your new data-driven strategy into action – either through your own team or with the help of your analytics partner.
The Top 3 Analytics Companies in The World
With so many service providers to choose from, it can be difficult to narrow them down and finally choose one to go with.
We've broken down the criteria that makes a great analytics company and combed through dozens of companies to find the best agencies today.
Each have their strengths and weaknesses, but regardless of whoever you choose to work with, you will be in good hands.
#1 NP Digital – The Best for Marketing Execution
NP Digital is a marketing and analytics company founded by Neil Patel, and it is arguably the most recognizable and influential figure in the digital marketing space.
The company was founded in 2017 and has over 44,000 followers on LinkedIn and over 100 employees. NP digital offers a full range of digital marketing services in addition to analytics.
Here's what makes NP Digital one of the best analytic companies in 2020:
Founder expertise – Neil Patel is a rockstar in the digital marketing world, having started out in the space in 2001 as a teenager. The agency he founded has his fingerprints all over it, which means that you will be working with world class marketers and analysts.
Marketing execution – NP Digital doesn't just help you make sense of your data. They offer a complete suite of marketing services, from PPC to SEO. As digital marketing is the foundation of their operations, you can expect great results when combined with their analytics services.
Great case studies – NP Digital often receives great reviews and has retained big clients as proof of their success. One client, for instance, has said that "NP Digital is one of the few consultant companies worth their fee".
Press coverage – Neil Patel himself has been recognized by Forbes, The Wall Street Journal and the United Nations as one of the most influential marketers of our generation.
Education – NP Digital regularly produces educational content about all things digital marketing. This carries over to their customer relationships, where they position themselves as a teacher as opposed to just a partner.
Who should work with NP Digital?
If you need help with marketing execution in addition to data analytics, then you can't go wrong with Neil Patel Digital.
The company was founded by one of the most reputable figures in the digital marketing world, so when you work with his agency, you're tapping into his years of insight.
There is, of course, a cost to this, however, so Neil Patel Digital is best suited for clients with a larger marketing budget.
Some of their clients include companies such as Viacom, Facebook and even Google.
So, if you head up a marketing team at a large organization and need an end to end marketing and analytics partner, look into Neil Patel Digital.
#2 Artefact – The Best for Technology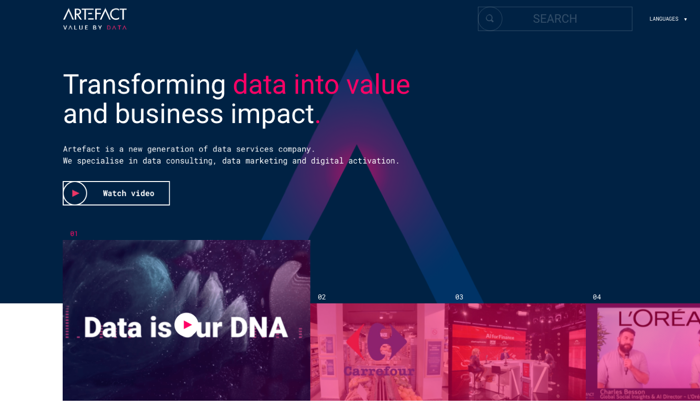 Artefact describes themselves as "marketing engineers" and puts particular emphasis on the technology behind digital marketing.
In line with this identity, they have gone on to build a powerful suite of technologies, which they use to help their clients transform their data into business value.
Artefact's works across the entire organization to leverage data, tapping into the entire value chain of operations, IT, and marketing.
Here's what makes Artefact one of the best analytic companies in 2020:
Technology stack – Artefact utilizes some of the latest advances in AI and machine learning to create custom algorithms that help businesses accelerate data transformation and optimize their business processes. Known as their "AI Factory", Artefact also works with cloud service providers like Azure to ensure they have a robust infrastructure.
Big, diverse team – Artefact lists over 1000 employees on LinkedIn, which are composed of data scientists, software engineers, and business consultants. This allows Artefact to solve a wide range of needs across different industries.
Solid case studies – Artefact has worked with clients such as FMCG to improve their digital processes. In this particular case, they received an "extremely positive response from [the] client, internal stakeholders, Amazon and even the industry and other vendors on Amazon NL".
Who should work with Artefact:
If you are a part of a large organization that is undergoing a digital transformation, then you should strongly consider Artefact.
The approach and technologies that Artefact uses are also beneficial for organizations that have a lot of data that needs to be optimized across the board.
For instance, companies that need to optimize their manufacturing processes or who need to react to market information.
#3 Adverity – The Best for Small Businesses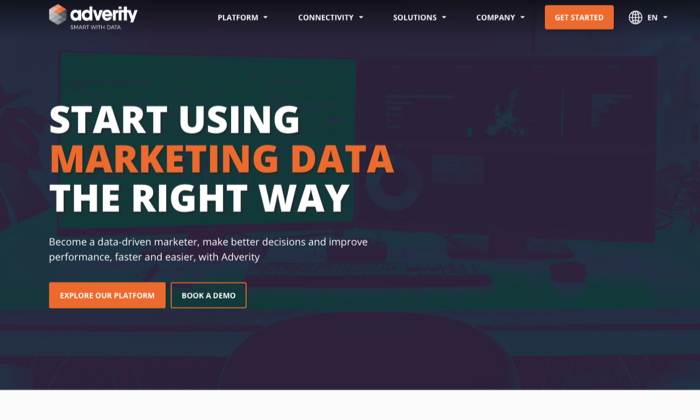 In some cases, you may not want to work with an agency partner. Particularly for small businesses that don't have large marketing budgets, analytics software can bridge the divide.
Adverity is a platform that allows you to collect all your marketing data into a single place. Their analytics tools allow you to break down silos in your organization and uncover new insights so that you can improve your decision making.
Although the Adverity team will help onboard you onto their platform, you won't get the tailored and guided expertise that you would get from an agency such as NP Digital.
Here's what makes Adverity one of the best analytic companies in 2020:
Cost – If you want to delve into the world of analytics but don't have a significant budget, Adverity will have you covered (to an extent). Their pricing works on a custom quote which is influenced by your industry, the size of your business, and what data sources you want to tap into. Keep in mind however that you won't be getting the expert guidance of an agency partner like NP Digital or Artefact.
Holistic data analysis – Adverity has one of the largest data connector libraries on the market. You will be able to connect all of your data sources including your CRM, backend database, website analytics, and advertising. They're always adding new integrations, so if you have a specific need they may be able to customize that for you.
Great reviews – On the software review platform G2, Adverity currently has a 4.5/5 star rating, with over 100 reviews. The reviews reflect a variety of businesses and use cases – from marketing agencies to political scientists. One of the most common aspects that reviewers noted is how great the connectivity of the platform is.
Who should work with Adverity:
Adverity is best suited to small and medium-sized businesses who may not have the budget to work closely with an analytics partner.
Keep in mind that as you will not have expert guidance, your marketing team will have to figure out how to make sense of all of your data, which is no easy task.
Conclusion
If you leverage the research we've done for you in this article, you won't have much trouble finding the right analytics company to work with.
Regardless of your choice, remember that the goal of analytics is to inform your marketing strategy.
But data alone won't guarantee that your digital marketing strategy will be successful. It must always be paired with creative ideas and rigorous execution.
To ensure you can't go wrong when picking an analytics partner, always keep the end goal of increasing conversions in mind.
The post The 3 Best Analytics Companies of 2020 appeared first on Neil Patel.
So, you're finally doing it. You took the plunge and you started your own small business. But there is so much you need! Whether it is renovations for your location or payroll or the ramp-up costs for getting manufacturing started, all of those things need money. You need to get a credit line for your business, even though we're in the midst of a business contraction.
Because you are not made of money.
But your business is new, so its credit score is not so hot. As a result, you are probably wondering how to finance a business with bad credit.
But let's step back a little, because you should also be thinking about where to establish business credit.
Fight the Business Contraction and Get a Credit Line For Your Business
Recession Period Financing
The number of United States banks as well as thrifts has been decreasing progressively for a quarter of a century. This is coming from consolidation in the market along with deregulation in the 1990s, lowering obstacles to interstate banking. See: https://www.fundera.com/blog/happened-americas-small-businesses-financial-crisis-six-years-start-crisis-look-back-10-charts 
Assets focused in ever‐larger banks is problematic for local business owners. Big banks are much less likely to make small loans. Economic downturns indicate banks end up being a lot more mindful with financing. Luckily, business credit does not depend on banks. And it doesn't matter what happens with COVID-19.
Get a Credit Line for Your Business: What a Credit Line Is
A credit line, or line of credit (LOC), is an arrangement between a borrower and a financial institution or private investor which sets a maximum loan balance that a borrower can access.
A borrower can access funds from their line of credit anytime, so long as they don't go over the maximum set in the agreement, and as long as they meet any other requirements of the financial institution or investor for example, making on time payments. This is the same whether the economy is going through a business contraction or not.
The Advantages
Credit lines offer many unique benefits to borrowers including convenience. Borrowers can use their line of credit and only pay interest on what they use, unlike loans where they pay interest on the total amount borrowed. Credit lines can be reused, so as you acquire a balance and pay that balance off, you can use that accessible credit again, and again.
Details
Credit lines are revolving accounts similar to credit cards, and compare to other kinds of financing such as installment loans. In many cases, lines of credit are not secured, much the same as credit cards are. There are some credit lines which are secured, and thus easier to qualify for.
Credit lines are the most routinely requested loan type in the business world even though they are preferred, true credit lines are uncommon, and hard to find. Many are also very hard to qualify for, requiring good credit, good time in business, and good financials. But there are other credit cards and lines that few people know about that are available for start-ups, poor credit, as well as if you have absolutely no financials.
Try the SBA During a Business Contraction
A lot of credit line types that most business owners imagine come from conventional banks and traditional banks use SBA loans as their prime loan product for small business owners. This is because SBA guarantees as much as 90% of the loan in the event of a default. These credit lines are the most difficult to qualify for because you must qualify with SBA and the bank.
Get a Credit Line for Your Business with SBA Loans and CAPLines, Even During a Business Contraction
There are two fundamental sorts of SBA loans you can normally get. One form is CAPLines. There are actually 4 types of CAPLines that can work for your small business.
You can also get a lower loan amount more rapidly using the SBA Express program. A lot of these programs offer BOTH loans and revolving lines of credit. 
From the SBA … "CAPLines is the umbrella program under which SBA helps business owners meet short-term and cyclical working capital needs". Loan amounts are offered up to and including $5 million. Loan qualification prerequisites are the same as with other SBA programs.
Seasonal Line
This one advances against expected inventory and accounts receivables. It was developed in order to help seasonal businesses. Loan or revolving are available. 
Contract Line
This one finances the direct labor and material costs of executing assignable contracts. Loan or revolving types are offered.
Builders Line
This one was made for general contractors or builders constructing or renovating commercial or residential buildings. This line is for finance direct labor-and material costs, where the building project serves as the collateral. Loan or revolving kinds are available.
Working Capital
Borrowers must use the loan proceeds for short term working capital/operating needs. If the proceeds are used to acquire fixed assets, lender must refinance the portion of the line used to acquire the fixed asset into an appropriate term facility no later than 90 days after lender discovers the line was used to finance a fixed asset.
SBA Express
You can get approval for as much as $350,000. Interest rates differ, with SBA enabling banks to charge as high as 6.5% over their base rate. Loans above $25,000 will need collateral.
Approval Details
To get approval you'll need good personal and business credit. Plus the SBA states you should not have any blemishes on your report. An acceptable bank score requires you have at least $10,000 in your account over the very last 90 days. 
You'll likewise need a resume showing you have industry experience and a well put together business plan. You will need three years of business and personal tax returns, and your business returns should show a profit. And, you'll need a recent balance sheet and income statement, therefore showing you have the cash to repay the loan.
Collateral
To get approval you'll need account receivables, but only if you have them. As for the collateral to counterbalance the risk, usually all business assets will function as collateral, and some personal assets including your home. It's not unusual to need collateral equivalent to 50% or more of the loan amount. You also need articles of incorporation, business licenses, and contracts with all third parties, and your lease.
Get a Credit Line for Your Business from Private Investors and Alternative Lenders During a Business Contraction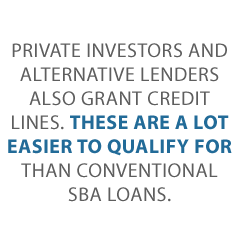 Private investors and alternative lenders also grant credit lines. These are a lot easier to qualify for than conventional SBA loans. They also call for much less documentation for approval. These alternative SBA credit lines ordinarily demand good personal credit for approval.
Unlike with SBA, many of them don't demand good bank or business credit approval. Almost all of these types of programs call for two years' of tax returns. Tax returns have to show a profit. Rates can vary from 7% or greater and loan amounts range from $25,000 into the millions. Loan amounts are generally based upon the revenues and/or profits on tax returns. At times lenders may ask for other financials including a profit and loss statement, balance sheets, and income statements.

Check out how our reliable process will help your business get the best business credit cards and lines, even during a recession.
Merchant Cash Advances in a Business Contraction
Merchant cash advances have quickly become the most popular way to get financing, in large part because of the effortless qualification process. Businesses with $10,000 in profits can get approval, with the business owner having scores as low as 500. 
Some sources have now even begun to offer credit lines that accompany their loans. You must have at least $10,000 in revenue for approval. You ought to be in business for at minimum one year, however three years is better. Lenders commonly want to see a credit score of 650 or higher for approval.
Loan amounts are ordinarily around $20,000. Lenders frequently do pull your business credit, so you must have some credit already and sometimes lenders will want to see tax returns. 
Rates vary, due to the risk for this program, and there aren't a lot of funding sources who offer it.
Securities as Collateral for Financing
You can get financing regardless of personal credit if you have some type of stocks or bonds. You can also get approval if you have someone wishing to use their stocks or bonds as collateral for financing. 
Personal credit quality doesn't matter as there are no consumer credit criteria for approval. You can get approval for as much as 90% of the value of your stocks or bonds. Rates are commonly below 2%, making this one of the lowest rate credit lines you'll ever see. You can still earn interest as you typically do on your stocks and bonds.
Credit Cards and Lines are Very Similar
Credit cards often offer 0% intro rates for up to two years. This is also extremely valuable for startups in particular. And credit lines let you take out more cash at a much cheaper rate than do cards. These are the main two differences that will affect you between credit cards and credit line. 
Investopedia even says that "lines of credit are potentially useful hybrids of credit cards."
Both cards and lines are revolving credit. Credit lines are harder to qualify for as card approvals are generally very quick, many times automated, while line require an in-depth underwriting review. Lines usually offer lower rates, per Bankrate card rates average 13% while lines average 4%.

Check out how our reliable process will help your business get the best business credit cards and lines, even during a recession.
Unsecured Business Credit Cards During a Business Contraction
A lot of these cards report to the consumer credit reporting agencies. They all call for a personal guarantee from you. You can get approval typically for one card max as they discontinue approving you when you have two or more inquiries on your report.
Most credit card companies furnish business credit cards including Capital One, Chase, and American Express. These have rates similar to consumer rates and limits are also similar. 
Some of them report to the consumer reporting agencies, some report to the business bureaus. Approval requirements resemble consumer credit card accounts.
Inquiries
Typically, when you apply for a credit card you put an inquiry on your consumer report. When other lenders see these, they will not approve you for more credit since they have no idea how much other new credit you have recently obtained. 
So they'll only approve you if you have no more than two inquiries on your report within the most recent six months. Any more will get you declined.
Grab Our Hybrid Credit Line During a Business Contraction
Check out our credit line hybrid. It's available for all business owners. Get the benefit of 0% rates cards offer, and the cash out capability of a credit line. Get approvals to $150,000. Pay 0% rates for 6 – 18 months, with normal card rates afterwards. No documentation, no tax returns or bank statements are necessary. This program is ideal for startups, high-risk industries, and those who desire low payments. It also works if you don't want to supply financials.
Our credit line hybrid is a superb choice during this time of economic uncertainty.
With this form of business financing, you work with a lender who concentrates on securing business credit cards. This is a very unusual, very few know about program which few lending sources offer. They can in most cases get you three to five times the approvals that you can get on your own.
This is because they are familiar with the sources to apply for, the order to apply, and can time their applications so the card issuers won't decline you for the other card inquiries. Individual approvals frequently range from $2,000 – 50,000.
The end result of their services is that you frequently get up to five cards that simulate the credit limits of your highest limit accounts now. Multiple cards create competition, and this means they will raise your limits, generally within 6 months or less of first approval.
Approvals
Approvals can go up to $150,000 per entity such as a corporation. They actually get you three to five business credit cards that report solely to the business credit reporting agencies. This is huge, something most lenders don't offer or advertise. Not only will you get cash, but you build your business credit as well so in three to four months, you can then use your new company credit to get even more money.
Details
You get credit with no security, assets, or collateral. Lender has no collateral to collect in case of default. Because there is no collateral, and they don't look or care about your cash flow, the only thing that matters is your personal credit.
With a 650 you will get just personal cards. But with a 680 credit score, you will get both company and personal cards.
Rates
The lender can also get you low introductory rates, usually 0% for 6-18 months. You'll then pay normal rates after that, typically 5-21% APR with 20-25% APR for cash advances. And they'll also get you the best cards for points. So this means you get the best rewards.
Like with anything, there are substantial benefits in working with a source who specializes in this area. The results will be far better than if you try to go at it on your own.

Check out how our reliable process will help your business get the best business credit cards and lines, even during a recession.
Qualifications
You need to have excellent personal credit now, ideally 685 or better scores, the same as with all business credit cards. You shouldn't have any negative credit on your report to get approval. And you must also have open revolving credit on your consumer reports right now.
Balance/Limit Ratios
They consider your balance/limit ratios on existing revolving accounts. The lower the ratio, the higher the amount of approval. A 30% ratio is a requirement. This looks at overall percentage, and individual percentage on each account.
Credit inquiries are a big factor tying into approval. More than six inquires in six months will be too much. Lenders do not want to see the person is applying for new credit, especially no other revolving accounts.
Guarantors Welcome
Use a guarantor or a credit partner to boost the numbers. Generally these people want a piece of the business in trade for their help. Creditors want to know you'll pay them back. Most sources will charge 9 to 12% success-based fees. Only pay the fee off what you secure.
Fees
All lenders in this space charge a 9-15% success based fee and you only pay the cost off of what you secure. Bear in mind, you get a number of additional benefits and about three to five times more cash using this program than you can get on your own, which is why there's a fee, the same as all other lending programs.
You can get approval using a guarantor and you can even use a number of guarantors to get even more money. There are also other cards you can get making use of this very same program but these cards only report to the consumer reporting agencies, not the business reporting agencies. They are consumer credit cards versus business credit cards.
Benefits
They furnish similar benefits including 0% intro annual percentage rates and five times the amount of approval of a single card but they're a lot easier to qualify for. 
You can get approval with a 650 score and seven inquiries (or fewer) in the most recent six months and you can have a bankruptcy on your credit and other derogatory items. These are a lot easier to get approval for than company credit cards.
With all preceding cards above, you must have good consumer credit in order to get approval but what if your personal credit is not good, and you don't have a guarantor? 
This is when building company credit makes a ton of sense even when you have good personal credit, setting up your company credit helps you get even more money, and in the absence of a personal guarantee.
Establishing Company Credit During a Business Contraction
Business credit is credit in a business name, in association with the business's EIN number, and not the owner's Social Security Number. When carried out properly, you can obtain company credit without any personal credit check and no personal guarantee. This is a thing all other cards above can't provide.
You can get three types of business credit cards. First is vendor credit, which offers net 30 terms to launch a business credit profile. Then is retail credit, where you will get credit cards with high limits at most shops. 
Next is fleet credit. It's credit to fuel, service, and maintain business vehicles. And then there's cash credit, which includes Visa, MasterCard, and American Express cards that you can use anywhere. You can obtain these without any credit check or guarantee. Limits are regularly $5,000 – $10,000 to begin, and can exceed $50,000.
Credit Lines in a Business Contraction: Takeaways
You can get a credit line for your business, if you know where to look. Learn more here and get started toward building company credit, even during a business contraction. The COVID-19 situation will not last forever.
The post Get a Credit Line for Your Business During a Business Contraction appeared first on Credit Suite.