Tuesday, September 15th, 2020
now browsing by day
Effective hiring should be on every business owner's list.
Here's What You Need to Know About Effective Hiring and Business Credit
I once spoke with a small business owner who had recently won a multi-million dollar consulting contract with the U.S. government. This contract required him to seriously ramp up his operation with more employees and the additional infrastructure that he would need to accommodate the increase in headcount. A problem most small business owners would like to face, right?
He had a lot of experience working with government contracts. And he was familiar with the payment cycle for the invoices he regularly sent for payment. He knew he would be paid. But he also knew it would take over 30 days. This made it difficult to float all the ramp-up costs with his cash flow.
This is a common challenge faced by many small businesses that need to ramp up to service a new client or meet the demands of a new contract. Fortunately, this business owner could access borrowed capital to meet this short-term need. Fueling growth is a good use case for borrowed capital. His credit profile allowed him to meet the demands of his new government contract without the insurmountable cash flow burden that would have otherwise been required.
Proactively approaching your credit profile today, to turn it into a tool that you can  strategically leverage to foster growth when needed—which often means hiring more employees—should be top of mind for every small business owner.
Learn more here and get started with building business credit with your company's EIN and not your SSN. Get money even in a recession and put it toward more effective hiring!
Building Your Credit Profile into a Strategic Tool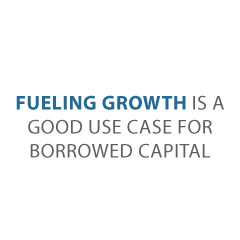 Building a strong credit profile isn't rocket science. But it isn't something that just happens either. What's more, if you have a less than perfect credit profile, it isn't going to change overnight. Slow and steady wins this race.
For most small business owners in the United States, your personal credit score will be a part of every business creditworthiness conversation so it's important to understand what lenders see when they look at your personal score. Fortunately, so far as personal credit is concerned, your score is easy to translate. Here is what it means:
Above 800 (excellent)
A credit score of 800 or better puts you in pretty elite company. Borrowers in this range are considered consistently responsible when it comes to managing debt. They have a long history of no late payments. Plus they carry low balances on their personal credit cards. They are considered at low risk of default.
740-799 (very good)
This is considered a very good score and tells lenders you are generally financially responsible when it comes to money and managing your personal credit. Although you may have an occasional late payment, most of the time you make timely payments on your personal loans, credit cards, utility payments, and mortgage. It also indicates that the balances you carry on your personal credit cards are generally low (below 30% of available credit).
670-739 (Good)
If your score falls in the upper part of this range, you are a little better than the average U.S. consumer whose FICO score is around 704. Although this borrower shouldn't have too much trouble obtaining financing, there will be some options unavailable to them. Although they are unlikely to be offered the same low rates and favorable terms of those with Very Good or Excellent credit.
580-669 (Fair)
Borrowers in this range may have a few dings on their credit history, but no serious delinquencies. It's still possible to get financing. But it will not be at very competitive rates. There will be limited options.
Under 580 (Poor)
This score represents what could be multiple defaults on different loans from different lenders. It could also represent a bankruptcy, which will remain on your credit report for 10 years. Borrowers with scores this low will have very limited business loan options. They should expect to pay some of the highest rates on business financing if approved. Borrowers with a score in this range should focus on repairing and rebuilding their score.
No Credit
Although there is a difference between Poor Credit and No Credit, the results are similar. When building a personal credit history, don't be afraid to start small. Make sure you pay your utility bills and meet your other personal financial obligations in a timely manner.
Now that you know what your personal credit score means, you need to know how it's calculated so you can take the right steps to build or improve your score.
How is My Personal Credit Score Calculated?
Most of the personal credit reporting bureaus base their credit scores on the FICO score. Although if you check your score with different reporting agencies there might be some slight differences, the basis for those scores is all the same. Here is the formula:
35% Comes from Your Payment History
In other words, the single most important thing you can do is to make each and every periodic payment in a timely fashion. Most creditors understand the difficulties people are facing right now. But that doesn't mean you'll get a pass. It's important to stay current. Do not let a debt obligation go 60-, 90-, or 120-days past due.
30% Comes from Your Debt to Credit Ratio
In other words, the ratio of debt you use compared to the amount of credit you have. The credit bureaus don't like to see maxed out credit accounts. A good rule of thumb is to keep that ratio below 30% (lower is even better). But anything over 50% is a big red flag that will keep your personal credit score in the basement.
15% Comes from the Length of Your Credit History
Lenders are trying to make decisions about what you will do in the future based on what you've done in the past. So a longer track record is better than a shorter track record. You'll probably get some allowance for the first half of 2020. But if you have chronic credit problems dating from before the crisis, you need to get to work on making improvements to your credit habits.
10% Comes from the Type of Credit You Use
For example, credit bureaus look at mortgages, auto loans, credit cards and other revolving debt through a different lens. Creditors want to see a mix of credit. So if the only credit account you have is your mortgage, a little diversification will help your credit score.
10% Comes from New Credit Inquiries
While it's true that new inquiries can impact your score, the amount of impact is relatively small. That is particularly true if you are consistently current with your payments and aren't maxing out the limit on your credit cards every month.
Before we talk about how to improve your credit to maximize your ability to access borrowed capital to hire new employees or otherwise ramp up for a new contract, we need to address business credit. What makes it different from personal credit and some of the synergies created by a strong personal credit score and a robust business credit history.
Learn more here and get started with building business credit with your company's EIN and not your SSN. Get money even in a recession and put it toward more effective hiring!
How is My Business's Credit Profile Reported?
Like the credit bureaus that report on your personal credit history, there are business credit bureaus that report on your business credit history. They consider how you pay your suppliers, your landlord, your utilities, your business credit cards, and how you may payments on any other business loan or business debt you might have.
With the exception of the FICO SBSS credit score, which is a composite of your personal and business credit used by the SBA to evaluate a loan application, you should consider your business credit as typically a collection of scores, rather than one universal score like your personal score. Every business credit bureau creates this profile differently. So no two business credit reports will look exactly the same. Regardless of how long you've been in business, you have a business credit profile that includes detailed information about your business and your business credit history.
Your Business Credit Score is Different
Although your personal score is considered private, your business profile is public to anyone who wants to see it. The basis of your business profile is whether or not the majority of your credit interactions are positive or negative. The goal here is to meet all your business obligations as agreed upon. 
Additionally, your credit history is a measurement against other businesses in your industry. And this includes if they are considered more or less risky from a credit perspective. Your history is also compared to other businesses in your region, of your size, and annual revenues. This is to make a recommendation to creditors on your business's potential creditworthiness.
Improving Your Business Credit Score
Irrespective of personal or business credit, the single most important thing you can do to build a positive profile is to make your periodic payments in a timely manner. If you want to build your credit into a strategic tool you can use to fuel growth, here are 4 things you should start doing today:
Make Sure Your Profile is Accurate
There is a lot of negative credit activity going on right now. Plus, it's easy to confuse businesses with similar names or addresses. So it's more important than ever to make sure the things reported about your business are accurate and reflect your credit practices. If you find an error, all the major business credit bureaus have mechanisms to correct the mistakes you can verify.
Keep Your Personal and Business Credit Separate
This can be hard for young businesses that don't have a lot of business credit yet. But using your personal credit for business credit purposes not only doesn't help your business profile, it could actually hurt your personal credit score. Since 30% of your personal score comes from how much credit you use compared to how much you have, the higher balances often associated with business expenses can negatively impact your ratios. If you want to keep your personal score as strong as possible, while building your business profile, avoid the temptation to use your personal credit to pay for a business expense.
Establish Trade Credit Accounts with Your Suppliers
This is one of the most underrated ways to build a strong business profile. Most vendors are willing to offer payment terms to their good customers. Although it's not a business loan, if they report your good credit behavior to the appropriate credit bureaus, this valuable credit will help you build a strong business credit history. This will enable you to borrow when you really need to.
Use the Credit You Need and Stay Current
Businesses large and small leverage borrowed capital to fuel growth and fund other business initiatives like effective hiring of new employees. The biggest thing you can do to build a strong profile is to use the credit you need and make sure you make every periodic payment. Lenders look at your history because they want some assurance that you will make timely payments to them. It helps if they can see you've done so in the past.
Learn more here and get started with building business credit with your company's EIN and not your SSN. Get money even in a recession and put it toward more effective hiring!
Effective Hiring of New Employees Can be Expensive
Effective hiring of new employees often includes expense beyond the addition of another paycheck. For some companies it might be a new computer and workstation. For others it could be something else. Most of these upfront expenses are relatively short term. So many small business owners opt to finance them with either a business credit card or even a small business loan depending on the cost. The business owner I described at the beginning of this article opted for a small business loan.
He had worked to build his credit profile so he could use business financing as a strategic tool when he needed it. So he could borrow the money he needed to ramp up employees and infrastructure to service the new contract. And he could repay the loan once he started to get regular payments from his government contract.
Effective Hiring and Business Credit: Takeaways
As a small business owner accessing borrowed capital has always required a good personal and business credit history. But especially now, many lenders are tightening their qualification requirements tighter than ever. So it will be important to make sure your profile shows you in the best light possible. Of course, it's no guarantee you'll get the financing you want. But it will give your business more options to choose from—as well as put your application on the top of the pile.
The post How Business Credit Can Help With Effective Hiring appeared first on Credit Suite.
Did you know Google Shopping listings are free for most merchants to use?
Google has also dropped commissions for its Buy on Google program. This means nearly any retailer can sign up for Google Shopping Actions and link their products without paying the 12% commission Google formerly collected on each sale.
Retailers and advertisers have a unique opportunity to get incredible exposure for their products. Almost half of users turn to Google to find or discover new products. This means even small businesses can put themselves in front of millions of new potential customers with just a few clicks.
What Is Google Shopping Actions?
Google Shopping Actions partners with several retailers to create a shopping experience in direct competition with Amazon. Today, this program allows retailers to upload products that appear in organic search across Google platforms. In turn, shoppers can find, compare, and buy products without ever having to leave Google.
The user-facing side is called "Google Shopping." When a user searches for a product, it places relevant items in the Shopping tab of their results page, alongside a number of options regarding how to buy them. It gives customers access to a universal shopping cart, shareable lists, and instant checkout with saved payment credentials.
So if you burn a pan while you're cooking, you can use Google Home to buy a new one, add it to your shopping cart to buy later, or browse and compare new pans on your phone and buy it immediately.
Just like Amazon, when users start using Google Shopping for purchases, they'll begin seeing personalized recommendations across platforms.
It all makes for a seamless shopping experience that may increase conversions and decrease abandoned carts.
Note: Google Shopping Actions isn't the same as Google Shopping Ads. Retailers pay for their results to appear as featured Google Shopping Ads, while organic Shopping Actions are free. The organic search element makes it different from Google Shopping Ads, where retailers pay for placement.
What Does the Order Process Look Like on Google Shopping Actions?
Let's go back to the burnt skillet example to walk through the customer buying process. After you enter "skillet" and get a results page, click on the "Shopping" tab at the top of the first SERP. You'll get a list of skillet options, as well as filters on the left to narrow your search.
If you choose "Buy on Google," you'll only get options you can buy directly from Google. You'll know which ones are part of the Buy on Google Program by the little shopping cart icon at the top left of each result:
Let's say you chose to look at this Lodge skillet that ships from Target. You'll see product descriptions and reviews, plus the average price of similar items to help you compare.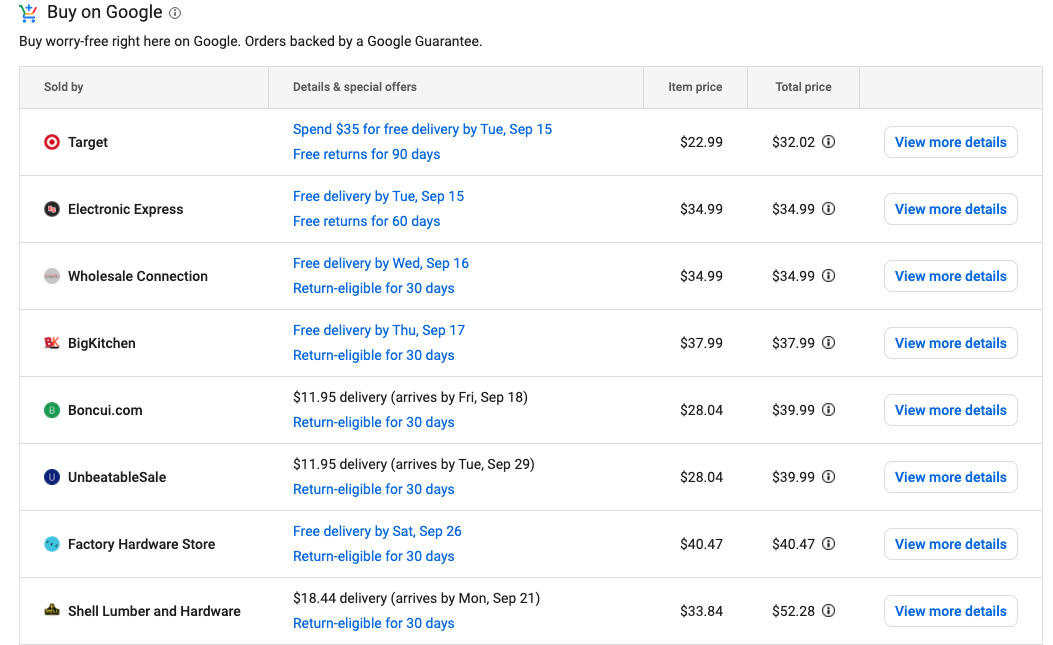 If this is what you want to purchase, you can add the item to your cart or buy it instantly.
You never had to go to the Target site, and you never had to search multiple sites to compare.
How to Get Started With Google Shopping Actions
The Google Merchant Center and Google Shopping Actions are very flexible. You can connect third-party platforms you're already using, such as Shopify and SureDone, and even link your Amazon feed, to reduce work redundancy.
To set up Shopping Actions, you first need to sign up for a free account on Google's Merchant Center. It's basically your Google Shopping dashboard. You then select Shopping Actions as part of the Merchant Center sign-up process.
Once you're signed up, you will be prompted to do the following:
List products
Add branding
Select tax and shipping preferences
Choose return preferences
Establish user roles
Provide customer service contact information
Decide whether customers will be invited to sign up for a newsletter at checkout
Include promotional information
That last one is optional, but Google recommends running promotions to attract more customers.
In order to use Google Shopping Actions, you have to implement the Orders API. This allows you to use the Google Merchant Center to manage your orders.
Of course, one of the really attractive features of Google Shopping Actions is you don't have to manage your orders yourself. Google can handle shipping and returns and provide customer service if you choose. It's entirely up to you.
Once a user purchases something through Google Shopping, the order shows up in your API as "in progress" for about 30 minutes. This half-hour window allows shoppers to cancel all or part of their order, if they need to. Google recommends you don't ship anything until the status changes to "Pending Shipment."
Things to Look Out for With Google Shopping Actions
First of all, it's important to note that free Google shopping listings are for organic search only. If you want to place your products on specific SERPs, you have to pay through Google's Shopping Ads program.
If you're running Google Ads already, it's worth setting up those same products in Google Shopping Actions, too. That way, you're getting double the exposure for the same price.
Additionally, Google Shopping Actions is currently only available in the U.S. and France. If you're going to sign up, you have to be a legally registered business in one of those countries and accept payment, make deliveries, and handle returns in those places.
Google Shopping Actions policies also include the following:
Your Inventory can't include restricted products and services. A list is available through Google Support.
You need a valid ID from the country where your business is registered.
You must meet all of Google's returns and customer support standards.
Listing Your Products on Google Shopping Actions
To get your products listed on Google Shopping, you have to set up a product feed. For your product feed, Google needs the following information:
A product ID number (id)
Product title, such as cast iron pan (title)
A product description (description)
A link to your product page (link)
A link to your image (image_link)
Product availability (availability)
Product price (price)
Google product category, such as kitchenware or cooking (google_product_category)
Product brand name (brand)
Global Trade Item Number (GTIN)
Google can crawl your site if you already have this information set up, or you can do a fetch from your servers. If you don't have this information set up, you can create a Google Sheet or Excel spreadsheet to upload to your merchant account. Use the names in the parentheses to label your categories.
A very basic product data spreadsheet would look something like this: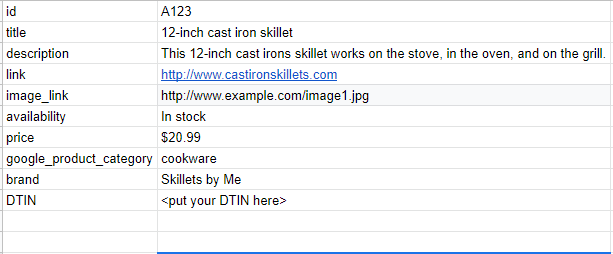 Now, this information is for your primary feed. You can set up supplemental feeds as well, which can cover sales, limited edition products, or special offers.
Optimizing Your Google Shopping Listings
Like you would for your site, you want to make sure your listings are optimized for organic search.
First of all, make sure all of your information is accurate, from your description to your price. If appropriate, use geotags to make sure you pop up in local searches.
Verify your title, description, and images are optimized, as well.
Product Titles
Use strong keywords that reflect user search queries in your title. Do keyword research to see what users are searching for when they look for products similar to yours. You can use a keyword tool or simply look at the "People also ask" and "Searches related to" sections of a Google results page.
Remember, using strong keywords in your product title not only lets users find you, but it also helps Google place your products on the right results pages. Google crawls both product titles and descriptions for detailed keywords to place products.
So, instead of using "skillet" alone as your title, try something more detailed, such as "12-inch cast iron skillet."
Product Descriptions
Make your product descriptions detailed and pragmatic. Phrases such as "amazing skillet" aren't going to win you any organic search points. But, "Our 12-inch cast-iron skillet is seasoned with olive oil and holds heat well" tells both the user and Google precisely what your product is.
Remember to keep it short and sweet. Only 70 words show up on product pages in Google.
Product Images
According to a Weebly survey, 75% of online shoppers said product images are very influential in their decision process. That means your images should make your products look as appealing as possible.
Images should be clear, well-lit, and professional. And your products should be front and center.
Choose multiple images that give your product scale, display it from different angles, and show it in use so users can get a sense of how it will work for them.
For the cast iron skillet, Lodge shows their product served up with chicken and sizzling away on a grill with vegetables.
Monitor Your Product Listings
Finally, keep a constant eye on your product listings. Compare them to similar listings that are doing well to determine how to improve your own. Watch for rises or dips in visibility and clicks to see if you can attribute them to search trends.
Keep abreast of Google's algorithm changes. A change in the way Google places organic search content could affect your listings.
What's Changing With Google Shopping Actions?
Aside from free listings and no commissions, Google is making a few other changes to the Google Shopping experience:
Starting with PayPal, Google is now allowing direct linking of merchants' payment accounts to Google Merchant Center.
Merchants can handle customer service directly, but they still have Google customer service to back them up.
Google allows merchants to handle their own returns or choose to let Google manage them.
The Google Merchant Center is compatible with your Amazon feed.
Google Shopping Actions vs. Amazon
Amazon is still the leader in online shopping. But, Google is beginning to give the e-commerce giant a run for its money, particularly now that listings are free. Google has a few other advantages over Amazon as well.
To begin with, unlike Amazon, Google gives shoppers more than one buying option for products. They can buy from a retailer's site or from their brick-and-mortar locations. Many products are even available to buy right through Google.
Because Google Shopping is available across all of its platforms, users can browse shopping results and add products to their universal shopping cart wherever they are, even YouTube: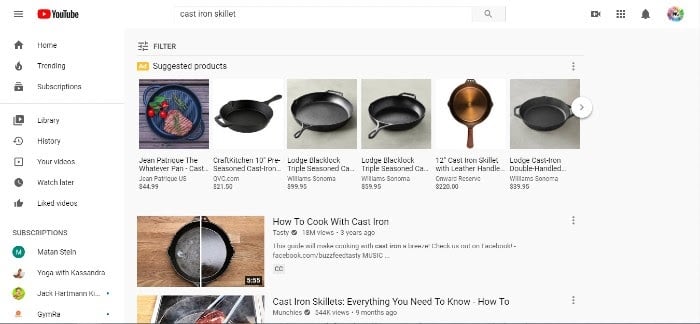 Google Shopping Actions gives you access to customer data, where Amazon doesn't. You can track purchasing habits and trends to build stronger relationships with your customers.
Now that you can upload your Amazon feed to Google Merchant Center, it's easier to run both programs for your products, potentially doubling their exposure.
Conclusion
With free Google Shopping, merchants have an incredible opportunity to increase their revenue through e-commerce. By optimizing your product listings through Google Shopping Actions, you can get your products in front of users and potentially help increase your conversions.
Consider running paid campaigns or just utilizing the free listings to grow your customer base and allow users to compare prices.
Have you tried Google Shopping Actions for your e-commerce store?
The post Google Shopping Actions: How to Increase Product Visibility for Free appeared first on Neil Patel.
Disclosure: This content is reader-supported, which means if you click on some of our links that we may earn a commission.
Without customers, your business wouldn't exist.
I guess it could… but you wouldn't last long without a stream of revenue helping you keep the lights on. Because of that, it's critical to understand how your customers behave and what they want from you.
Doing so makes their experience better. And helps you generate more money.
The best CRM software helps streamline, simplify, and improve your business processes to create better experiences for the one thing your business revolves around — your customers.
But today, your biggest challenge is choosing the right one.
With countless options to choose from, it's easy to feel paralyzed. So, to help you out, I reviewed the top CRM software available and put together an extensive list of what to consider before making your final decision.
The top 5 options for the best CRM software
How to choose the best CRM software for you
With so many options and types to choose from, finding the best CRM software for your business can feel impossible.
So, let's talk about what to consider as you go through the process.
Business size
The size of your business plays a role in which CRM software is best for you. If you have separate departments for marketing, sales, IT, and customer service, you need more advanced functions than a business with five employees.
Furthermore, you need to consider who's going to manage the software. Choosing and paying for software isn't the same as using it to its full potential.
You have to set it up and take advantage of its features for the investment to be worth it.
For small teams, it may be a collaborative effort of everyone pitching in. However, large teams may have dedicated employees to set everything up and maintain the software moving forward.
The size of your business also plays a role in how much the software is going to cost. The more user seats you need, the more expensive the software.
So, take this into consideration.
Your use cases
Before you decide, it's essential to consider what systems you want to streamline and improve. It may help to think about current inefficiencies and how a CRM can help.
Typically, CRM software helps with sales, marketing, IT, and customer service. Which of those do you want to improve, and do you have the capacity to set everything up and maintain it?
Furthermore, there are specific CRM solutions for particular industries. And you may benefit from choosing a CRM that offers something specific to your industry. But keep in mind that these may be more expensive.
Basic CRM features
Most CRMs include a basic set of standard features. And the CRM you choose should include them as well. While the specifics of each feature vary from software to software, there should be a system in place to help you handle things like:
Contact and lead management
Document sharing and storage
Workflow automation
Interaction tracking
Mobile access
Look for these core CRM features before making any final decisions.
Advanced CRM features
It's also important to consider the advanced CRM features you need. Oftentimes, these are only available on high-tier plans. So, this plays a role in which pricing plan you choose, and it can significantly impact your budget.
It may help to outline your current processes.
This can help identify areas that need improvement and the specific CRM features you need to make it happen. You can then use your list to narrow down your options.
Third-party integrations
To really streamline and automate your business processes, your CRM tool needs to play well with the tools you're already using to run your business. Make a list of the tools you use and double-check to make sure your CRM integrates with them.
Don't forget to consider your:
Email platforms
Social media tools
Internal communication software
Customer service tools
Calling/video chat software
Shopping cart (for ecommerce)
Contract/proposal software
Connectors (i.e., Zapier)
Analytics tools
Calendar
Once you have your list, you can use it to narrow down your choices to the right CRM software. You can also use it when speaking with a sales team to make sure they offer everything you need.
The different types of CRM software
There are three different types of CRM software. The most common type is operational. And thankfully, companies are integrating more features from the other types of software into operational CRM systems.
Doing so helps minimize the need for businesses to have three separate pieces of software.
Before diving into my top recommendations, let's talk about these different types and what they mean.
Operational
Operational CRMs help businesses of all sizes handle business processes and enhance the lead generation systems they have in place. The idea is that streamlining your operational processes helps your business provide better customer experiences.
There are four types of operational CRMs, including:
Marketing
Sales
Customer Service
IT
These are traditionally what people think of when they hear CRM. So, all of the recommendations on this list fall under this category.
Analytical
Analytical CRMs help businesses gather, analyze, and leverage data collected from their customers. Essentially, this type of CRM software helps turn large data sets into valuable information you can use to improve the customer experience.
The recommendations on this list include a few basic analytical features.
But there are certainly more robust CRM tools out there for collecting and analyzing customer data, especially for enterprise businesses with a lot of customer information.
Collaborative
Collaborative CRMs make it easy for businesses to share everything they learn about their customers using operational and analytical CRM software.
Essentially, this type of software lets team members quickly pass along lead, contact, and customer information from one department to another.
Doing so helps track interactions between customers and your business as well as identify your customers' preferred communication channels.
Both of those things combined help improve customer experiences.
Most of the recommendations on this list offer multiple operational CRM solutions that seamlessly integrate, making this type of collaboration easy.
However, there are better systems out there if you're looking for something more powerful.
#1 – Hubspot Review — The best free CRM software
If you're in the sales or marketing industry, you've probably read Hubspot's blog or taken one of their free certification courses. However, they also offer a robust and free CRM software to streamline your customer relationship management process.
With Hubspot, you can gain unprecedented insight into how your audience behaves.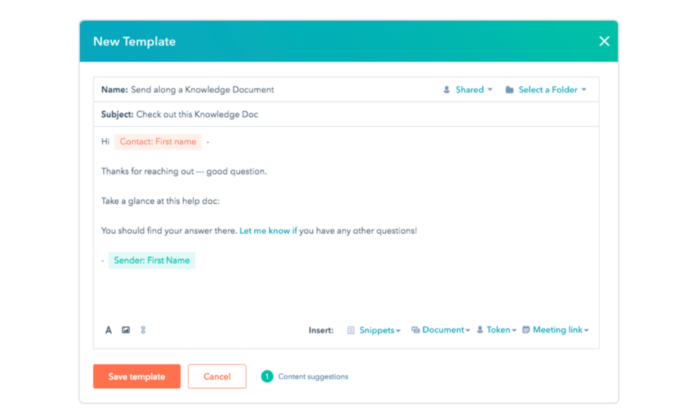 Need to monitor when contacts open your emails so you can optimize your open rates? No problem. Maybe you want to see how a contact behaves on your website. With Hubspot, it's easy.
Furthermore, they offer a wide variety of solutions, depending on your role within your company.
These position-specific solutions include sales, marketing, customer service, operations, and owners.
The free CRM plan includes a robust set of features, including:
Contact management
Email scheduling
Deal pipelines
Meeting scheduler
1-1 live chat
Contact website activity
Store, track, and manage tasks
Document sharing
VoIP calling
These features are hard to beat on any other free plans on this list. However, Hubspot's paid plans are well worth their price as well.
The Starter Plan starts at $40 per month, paid annually. However, if you want to bundle all of Hubspot's CRM software, you can get starter access to all four for $50 per month if you commit to a 12-month contract.
So, for $10 extra dollars a month, you also get software specialized for marketing, sales, and customer service.
However, keep in mind these prices are based on 1,000 contacts. The price increases for every additional 1,000 contacts you have.
Sign up for a free plan to get started with Hubspot today.
#2 – Salesforce Review — The best CRM software for versatility
Whether you're a small business owner or a sales, marketing, IT, or customer support team, Salesforce has the perfect CRM solution. Known for its versatility, they offer specialized software that adapts to meet your needs.
More than 150,000 businesses, including T Mobile, Adidas, and Yeti, rely on Salesforce to help them build strong relationships with their customers.
They also offer specialized solutions for 14 different industries, including:
Financial services
Healthcare
Manufacturing
Consumer goods
Energy
Communications
Nonprofits
The system is so versatile because you can pick and choose which apps you need to build a complete CRM solution customized to match your business.
From marketing automation and ecommerce sales to call-center software and self-service portals, Salesforce is dedicated to providing everything you need for unprecedented customer relationships.
Their business plans include:
Essentials — $25/user per month (basic sales and support)
Sales Professional — $75/user per month (complete sales solution)
Support Professional — $75/user per month (complete service solution)
Pardot Growth — $1,250 per month for up to 10,000 contacts (marketing automation)
However, you can add additional features and applications depending on what you need. They also offer other plans for sales, customer service, commerce, and marketing CRM packages with varying features.
Start your free trial to take Salesforce for a test drive today.
#3 – Zoho CRM Review — The best for small to midsize businesses
Unlike the other options on this list, Zoho CRM is an all-in-one solution. There aren't additional modules to look through for different departments or anything like that. This makes it an excellent option for small to midsize businesses.
They also have an extensive network of 40 other business tools. So, if you're using Zoho software already, integration with Zoho CRM is seamless.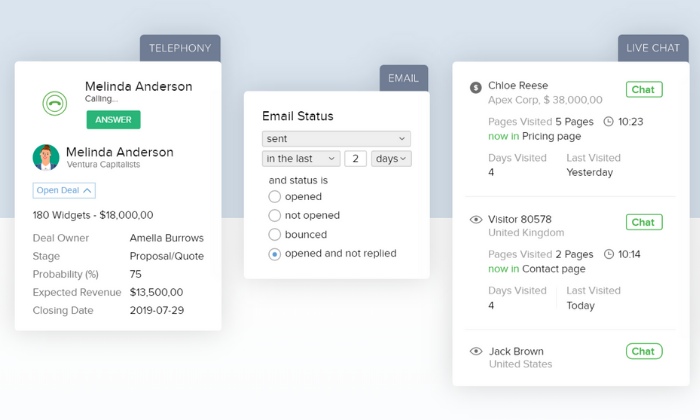 Plus, they have a worldwide network of over 150,000+ customers (including Netflix and Bose) in 180 countries, so you know you're in good hands.
Furthermore, Zoho offers a free forever plan with up to three users. It includes essential features like lead management, document sharing, task management, workflow rules, and a mobile application.
However, their paid plans are affordable as well, and they include advanced CRM features like:
Real-time sales signals and customer notifications
Blueprint business management for both on and offline processes
Prospect scoring capabilities
Unique sales pipelines
Mass emails
Inventory management
An AI assistant
Advanced customizations
The cheapest paid plan starts at $12 per user per month, making it extremely affordable for small businesses.
Sign up for a free 15-day trial to see if Zoho CRM is right for you.
Note: Zoho also recently launched a sales-centric CRM specifically for small businesses. It's called Bigin, and it includes a robust free plan if you'd like to try it out. Bigin's paid plans are $7 per user per month.
#4 – Freshsales Review — The best CRM for sales teams
Unlike the other options on this list, Freshsales is specifically built for sales teams and lead management. From cold leads to customers, Freshsales helps you make better relationships while saving time with automation.
Furthermore, this CRM helps you find the best leads, get in touch with them via their preferred method, and close the sale.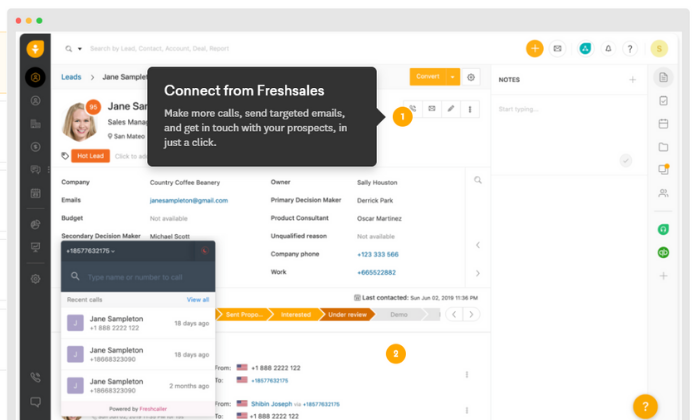 And Freshworks includes a built-in email and phone system to help simplify the process.
They have a customer base of over 40,000 businesses, including some big names like Dyson and Best Western. So, despite being newer to the industry, they're not inexperienced by any means.
With Freshworks, you get powerful sales-based features, including:
Lead, contact, account, and deal management
Tasks and appointment management
Merge or clone records
Advanced conversation views
Lead scoring
Time-based workflows
Sales pipelines
Team inboxes and email forwarding
Email scheduling, templates, and alerts
Website visitor tracking
iOS and Android mobile apps
Aside from an impressive set of features, they also offer industry-specific solutions for 15 different industries, including retail, ecommerce, manufacturing, logistics, healthcare, and more.
Their free forever plan includes access for an unlimited number of users with limited features. However, it's a great way to try it out before investing.
Freshsales' paid plans are more robust, yet still affordable for businesses of all sizes. Their premium plans include:
Blossom — $12/user per month (for small teams)
Garden — $25/user per month (for growing teams)
Estate — $45/user per month (for large teams)
Forest — $79/user per month (for enterprises)
Sign up for a free 21-day trial to see if Freshsales is right for you and your sales team today.
#5 – Creatio Review — The best enterprise-grade CRM software
While some of the other CRM software on this list includes an enterprise plan, you may find them limiting if you're managing a large operation. However, Creatio is an enterprise-grade CRM software built with businesses like yours in mind.
They offer specific CRM solutions for sales, marketing, and customer service teams.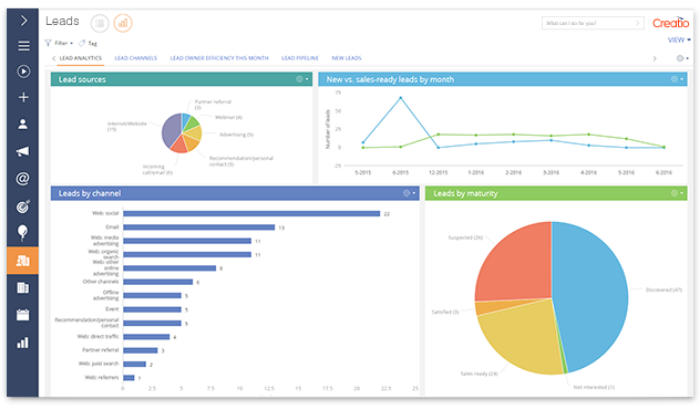 Marketing Creatio gives enterprise businesses everything they need to streamline their multichannel marketing campaigns and manage incoming leads. It includes features like:
Visual campaign designer
Website behavior tracking and segmentation
Advanced trigger campaigns
Personalized email marketing
Event tracking and response management
Pricing depends on the number of contacts and the number of emails per contact.
Sales Creatio is perfect for large sales teams taking over after marketing hands them over. It's an end-to-end sales management platform built to simplify the process and save you time.
It includes a wide range of features, including:
Opportunity management
Customer profiles and buying behavior insight
Field sales management
Performance and operations
Pricing starts at $30 per user per month.
Lastly, Service Creatio is for customer service teams interested in streamlining their processes and creating excellent customer experiences from start to finish. It includes features, like:
Account and contact management
Case and knowledge management
Omnichannel communications
Service catalog
Contact center
Pricing starts at $45 per user per month.
You can bundle all three CRM solutions if you need to. And you can use their online pricing calculator to estimate the total cost.
Get started with a free trial to see if Creatio is right for you.
Summary
Hubspot, Salesforce, and Zoho CRM are my top recommendations for most businesses. Each one offers a wide range of features suitable for teams from all departments, including sales, marketing, and customer service.
Furthermore, they're all affordable, easy to set up, and easy to use.
However, the best CRM software for you depends on your business's size and the features you need. So, use the criteria we talked about above as you go through the process of making your final decision.
Which CRM software do you use?
The post The Best CRM Software (In-Depth Review) appeared first on Neil Patel.