Thursday, August 27th, 2020
now browsing by day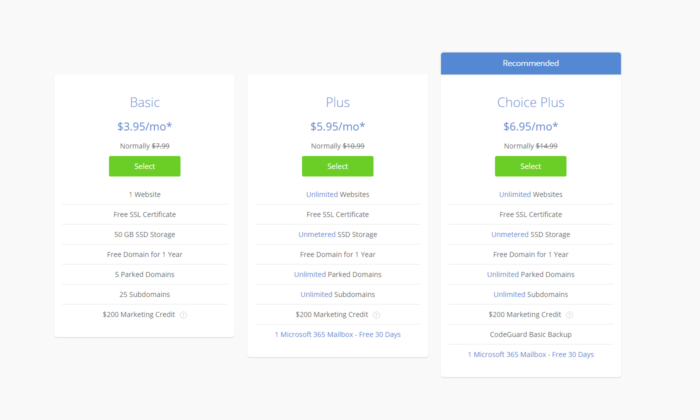 Looking for a hosting solution for your website?
You're in luck because with today's options, it has never been easier to keep your website online.
They take care of all the technical stuff and you get to enjoy casually updating your website for conversions.
And the best part is that most of them are very affordable which helps startups get a hold of their business quickly.
That's why I put together a list of the best hosting services of 2020 for you.
So without further ado…
The Top 7 Options For Hosting Your Website in 2020:
How to Choose The Best Hosting Service For Your Website:
When it comes to the best web hosting services you have to look at various important factors.
If you jump in too quick you might get into something that's not suitable for your business.
But don't let any of that doubt creep into your mind.
Instead, sit back and relax while we present to you all the factors that you need to be aware of before making a decision.
You can weigh the different web hosting services and decide which is the best solution for your specific business.
Hosting factor #1 – Uptime reliability:
If your hosting is down, no one would be able to access your website.
And obviously you want your website running 24/7.
Luckily, in 2020 this is not a huge problem since most web hosting providers offer a '99.99% network uptime guarantee'.
That means that your website would go down very rarely.
And even when it does, you can contact your hosting service and you will get compensation.
Most of the time that would be in the form of hosting credits.
If you want to prepare for the worst, you can check out our Website Downtime Survival Guide.
One of the best practices to making sure everything runs smoothly even when you're taking a break is to sign up for a tracking tool like uptime robot.
If your hosting service crosses the line, this tool will notify you that you need to find a new webserver to host.
Hosting factor #2 – Speed is key:
Website loading speed is extremely crucial when it comes to SEO optimization in 2020.
That's simply because if your pages load slowly, people will bounce out of your website and your ranking will fall down the drain.
You need a trustworthy host provider that can guarantee optimal website loading speed.
The thing is that you can't know the exact loading speed before you try the hosting service yourself.
But you can always optimize your website loading speed using free tools and effective loading speed practices.
And the best news is that even if your budget is tight, you can still get a good loading speed.
But don't expect anything spectacular for say $4/month.
Generally, the higher the price, the faster your pages will load.
Anyways, we will include our personal experience regarding loading speed for each of the options down below.
Hosting factor #3 – Customer service:
Good Customer Service will come in handy when something goes wrong.
Especially if you're new to websites, you're bound to make mistakes that may lead to your website being down for a while.
And the more time it's out, the more it will cost you.
So a good support team will help you get the issues solved in no time.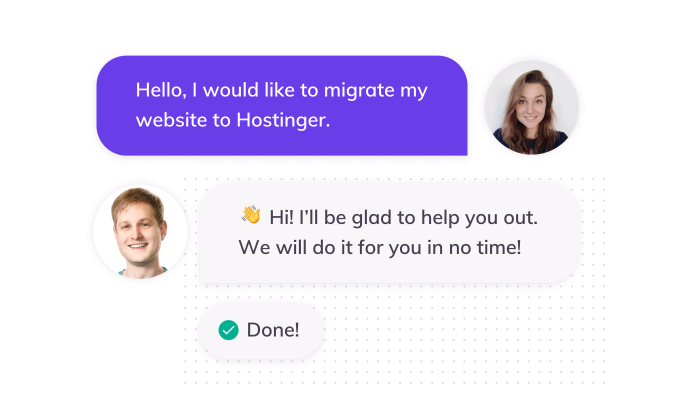 Even if you made a major mistake that's impossible to come back from…
Most support teams will have a full backup of your website so you can get back to a working version.
You always want your support team to have a live chat or a telephone you can call.
Email just doesn't make the cut if you want to resolve the issue fast, which you should want, given that your website is down.
We made sure to include only website hosting services with strong communication skills.
The Different Types of Web Hosting Services:
In 2020 there are a lot of different types of web hosting services.
The most commonly used being:
Shared Hosting
This means your website will be stored on the same server as a bunch of other websites.
It is a cheap option for startup websites.
With the right one, you can have customizable options and average loading speed.
Don't look at Shared Hosting as a long-term solution because Shared Hosting can not withstand high levels of traffic.
It's definitely a good solution for people that just want to get their website up and running fast.
VPS Hosting
The Virtual Private Server (VPS) is definitely a better option than Shared Hosting.
Each website is hosted in its own virtual space which speeds up your loading speed and also allows you to get more traffic on your website.
This option is best if you're planning to scale your website fast.
Yet again, it's not a long-term option if you want to be one of the top websites in your industry.
Simply because it still has limitations when it comes to website traffic.
Dedicated Hosting
This is considered the most reliable and overall the best option out there.
You get a dedicated server just for your website with full control over everything.
But prepare yourself for a pricey alternative.
That option is mainly for the best of the best.
If you have plans to scale your traffic to enormously high levels, this is the only option for you.
But if you're just starting out, we recommend one of the other 2 options.
Anyways, the web hosting services below give you the option to choose between different types of hosting services.
So just choose the one that fits your business and your budget best.
#1 – Dreamhost — Best option if you want quick and responsive website changes
Dreamhost has been a big player for the longest time now. 
Founded in 1996 it is one of the oldest hosting services available online.
Some people might think it must be outdated by now.
But that can't be further from the truth.
Exactly because of their ability to adapt quickly to new trends they're still considered one of the best in the business.
They don't look at your website as just another website.
They know that your website is your own vision for the future.
"We Make Sure Your Purpose, Is Our Purpose"
And that's not just words. Over 1.5 million websites host with Dreamhost.
You can expect great loading speed and friendly, helpful customer support on your side.
With incredibly adaptable services you can literally change your business in a matter of hours.
They know that things change as time passes.
Maybe you want to try out something new.
Maybe you're certain that your current business model is outdated.
With their fascinating adaptable features, they will be your best friend when making major changes in your website.
#2 – Bluehost — Best for WordPress Hosting
If you're looking to set up your website in less than a week, you're probably considering WordPress.
After all, according to NetCraft, 35% of the Internet is powered by WordPress.
And it's not a surprise. WordPress has been a leader in the industry for years now.
So if you're looking for the best hosting option for your WordPress website, you can definitely trust Bluehost.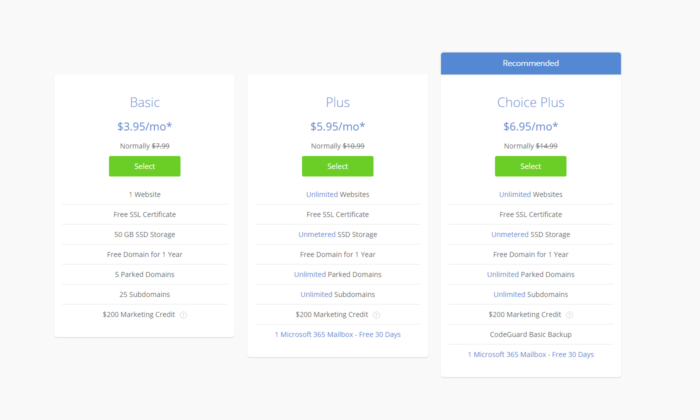 Their Pricing Options start from as low as $3.95/month and get up to $6.95/month.
Which is still not that expensive considering all the unlimited features they bring to the table.
Regarding website loading speed, as long as you don't fill your WordPress site with plugins, you should be good.
And even if you make a crucial mistake or overload your website with different plugins, you're in good hands.
Their Customer Support is extremely responsive. They have both an active telephone line and a live chat you can rely on at all times.
#3 – HostGator — The most affordable option for Startups
HostGator is one of the most preferred options when it comes to blogging.
They are perfect if you're looking for the most affordable way to begin posting online.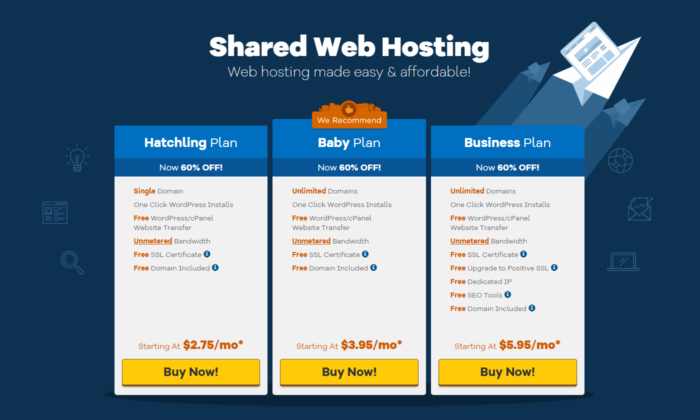 Pricing options start from the jaw-dropping $2.75/month.
Once again, you can't expect the best features for such a low price.
But it's a great alternative for startups that want to get their website up and running.
And just like Bluehost, they have a responsive telephone line with a live chat you can access at any moment.
You can also find a giant database with common questions beginners have, together with professional opinions and solutions to those problems.
Everything is explained and demonstrated step-by-step and if you're still not sure that you can do it on your own.
Just shoot them a message and start chatting with their professional customer support.
#4 – WP Engine — Best option if you know your limits
We're getting to the more advanced options now.
With WP Engine you can customize and get the exact features you need.
Of course, their services are not as cheap as some of the others on the list.
But if you're certain what are the exact characteristics you need in a website, then WP Engine got your back.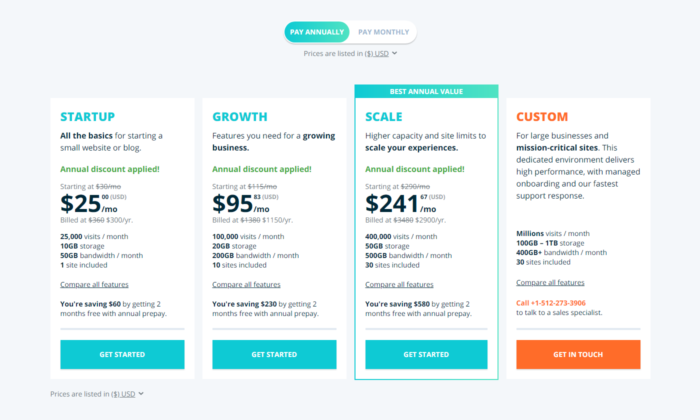 You just have to contact them and work out the best plan for your specific situation.
Of course, their experts are going to help you choose the correct option without pushing you to stuff you wouldn't need.
It's a great Hosting Service if you're looking to scale big.
Don't expect cheap services, but expect great quality and support on the way to your successful business.
#5 – Hostinger — Low-Cost Shared Hosting options for Startups
Hostinger is unique with it's Shared Hosting Services.
Their prices literally start from $0.99/month. WOW.
Of course, you'll be very limited with this option but it shows how much they are ready to do in order to satisfy their customers.
We personally recommend one of the higher tier options: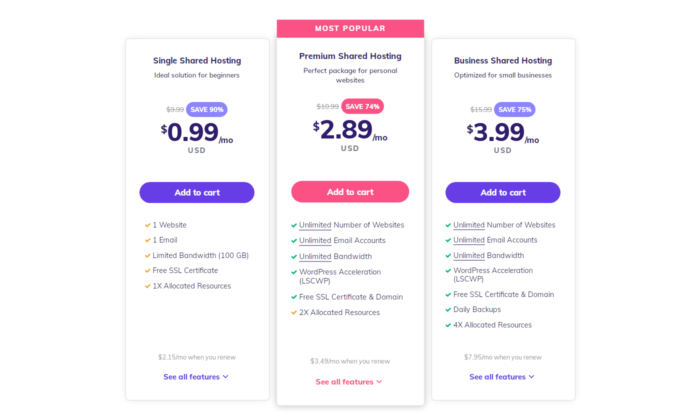 The good thing with Hostinger is that for as low as $3.99/month you can get unlimited access to everything.
With 24/7/365 support, you can expect professional assistance at any point.
For $3.99/month you get great loading speed and daily website backups.
That means even if you mess up badly, you always have access to previous versions of your website.
It is the best option if you're searching specifically for a Shared Hosting Service that's affordable and reliable.
#6 – InMotion — Best option for Scaling BIG
Are you positive that your website is going to dominate the online space?
If you're 100% sure, then you should definitely take a closer look at InMotion.
Their VPS and Dedicated hosting services are far from cheap.
But with Premium prices come Premium services. We are talking fast loading speed and devoted customer support.
Obviously there's also affordable WordPress Hosting and Shared Hosting options.
But if you've tried these before and now you're looking for the next step.
InMotion is going to overdeliver on every promise.
Check out their plans and choose the one that fits your needs best.
#7 – Siteground — Best for WooCommerce Hosting
Do you want to sell your products online?
Then you're probably in need of a good, reliable WooCommerce Hosting Service.
If that's that case, then you should take a look at Siteground.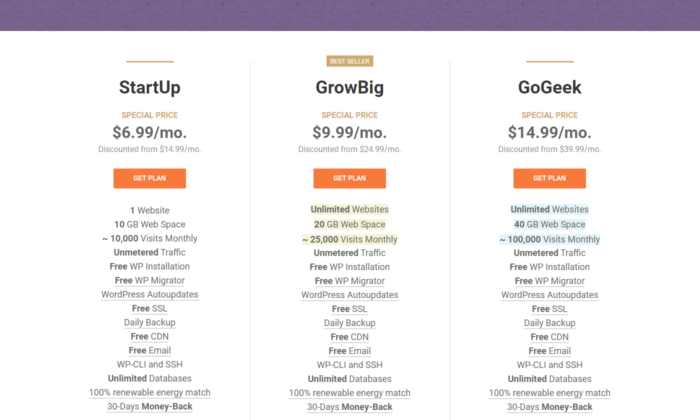 They have separated their pricing options depending on your scalability.
Most Hosting Services cut you here and there when it comes to cheaper options.
This is not the case here!
Siteground really wants to overdeliver, even if you choose their cheapest options.
Their Customer Service has a whopping 90% resolution at first contact.
That means that 90% of the time you'll chat or speak with an expert in their team and resolve your issue in no time.
So if you're looking for the best WooCommerce solution, Siteground is the hosting service for you.
Your Hosting Service Is Your Best Friend
Make sure you make a well-thought-out decision.
You're most likely going to have a long-term relationship with the hosting service you choose.
So carefully look into every option that caught your eye today and choose the one that fits your needs best.
So, whether you choose one of my top recommendations or scout out your own, use the tips and best practices we talked about to make an educated decision… like the future of your business depends on it.
Because it does!
Have you worked with any website hosting companies in the past? How did it go and did you get the results you hoped for?
The post The Best Web Hosting Services (In-Depth Review) appeared first on Neil Patel.
Do you know? How hard is it to Establish Business Credit in a Recession?
It's a brilliant question. How hard is it to establish business credit in a recession? Is business credit building impossible? Or is it just some nightmare? And what happens in an economic downturn?
I assure you it is not only possible, it is downright sure-fire. And business credit is all but recession-proof!
Business credit is credit in a business's name. It doesn't link to an owner's personal credit, not even if the owner is a sole proprietor and the solitary employee of the corporation. Because of this, an entrepreneur's business and consumer credit scores can be very different.
The Advantages
Because business credit is distinct from individual, it helps to safeguard a business owner's personal assets, in the event of court action or business insolvency. Also, with two separate credit scores, an entrepreneur can get two separate cards from the same merchant.
This effectively doubles buying power.
Another benefit is that even startups can do this. Visiting a bank for a business loan can be a formula for frustration. But building small business credit, when done right, is a plan for success.
Individual credit scores are dependent on payments but also additional considerations like credit usage percentages. But for small business credit, the scores actually merely depend on whether a corporation pays its invoices timely.
How Hard is it to Establish Business Credit in a Recession: The Process
Establishing business credit is a process, and it does not occur automatically. A corporation will need to proactively work to build business credit. Nonetheless, it can be done readily and quickly, and it is much swifter than developing individual credit scores.
Merchants are a big component of this process.
Doing the steps out of sequence will cause repetitive rejections. No one can start at the top with company credit. For instance, you can't start with store or cash credit from your bank. If you do you'll get a rejection 100% of the time.
Learn more here and get started toward building business credit attached to your company's EIN and not your SSN. Get money even in a recession!
How Hard is it to Establish Business Credit in a Recession: Company Fundability
A business has to be authentic to lenders and vendors. As a result, a company will need a professional-looking website and email address, with website hosting from a company like GoDaddy. Additionally business phone and fax numbers need to have a listing on ListYourself.net.
At the same time the company telephone number should be toll-free (800 exchange or the like).
A company will also need a bank account dedicated strictly to it, and it must have every one of the licenses essential for running. These licenses all must be in the accurate, accurate name of the company, with the same business address and phone numbers.
Keep in mind that this means not just state licenses, but potentially also city licenses.
How Hard is it to Establish Business Credit in a Recession: Dealing with the Internal Revenue Service
Visit the IRS web site and obtain an EIN for the small business. They're free of charge. Select a business entity like corporation, LLC, etc.
A small business can start off as a sole proprietor. But will most likely wish to switch to a form of corporation or partnership to decrease risk and maximize tax benefits.
A business entity will matter when it concerns tax obligations and liability in the event of litigation. A sole proprietorship means the owner is it when it comes to liability and tax obligations. No one else is responsible.
If you run a company as a sole proprietor, then at least be sure to file for a DBA ('doing business as') status.
If you do not, then your personal name is the same as the small business name. Therefore, you can find yourself being directly responsible for all company debts.
And also, per the IRS, with this structure there is a 1 in 7 probability of an IRS audit. There is a 1 in 50 chance for corporations! Prevent confusion and drastically lower the odds of an Internal Revenue Service audit as well.
Learn more here and get started toward building business credit attached to your company's EIN and not your SSN. Get money even in a recession!
How Hard is it to Establish Business Credit in a Recession: Starting off the Business Credit Reporting Process
Begin at the D&B website and obtain a cost-free DUNS number. A DUNS number is how D&B gets a corporation into their system, to produce a PAYDEX score. If there is no DUNS number, then there is no record and no PAYDEX score.
Once in D&B's system, search Equifax and Experian's websites for the company. You can do this at https://www.creditsuite.com/reports/. If there is a record with them, check it for accuracy and completeness.
If there are no records with them, go to the next step in the process. By doing this, Experian and Equifax will have something to report on.
Trade Lines
First you must build trade lines that report. This is also known as vendor accounts. Then you'll have an established credit profile, and you'll get a business credit score.
And with an established business credit profile and score you can start obtaining revolving store and cash credit.
These kinds of accounts have the tendency to be for the things bought all the time, like shipping boxes, outdoor work wear, ink and toner, and office furniture.
But first of all, what is trade credit? These trade lines are credit issuers who will give you initial credit when you have none now. Terms are oftentimes Net 30, instead of revolving.
Hence if you get approval for $1,000 in vendor credit and use all of it, you will need to pay that money back in a set term, like within 30 days on a Net 30 account.
Details
Net 30 accounts must be paid in full within 30 days. 60 accounts need to be paid in full within 60 days. Compared to with revolving accounts, you have a set time when you must pay back what you borrowed or the credit you made use of.
To begin your business credit profile the right way, you should get approval for vendor accounts that report to the business credit reporting agencies. As soon as that's done, you can then make use of the credit.
Then repay what you used, and the account is on report to Dun & Bradstreet, Experian, or Equifax.
Not every vendor can help like true starter credit can. These are vendors that will grant an approval with very little effort. You also want them to be reporting to one or more of the big three CRAs: Dun & Bradstreet, Equifax, and Experian.
And Continue…
So get 3 of these to move onto the next step, which is revolving store credit.
1. Uline Shipping Supplies
Uline Shipping Supplies is a true starter vendor. Find them online at https://www.uline.com/. They offer shipping, packing, and industrial supplies, and they report to D&B and Experian.
You need to have a DUNS number. They will ask for 2 references and a bank reference. The initial few orders may need to be paid in advance to initially get approval for Net 30 terms. Also, you may need to buy some things you do not need.
2. Crown Office Supplies
Crown Office Supplies is another true starter vendor. Find them online at https://crownofficesupplies.com.
They sell a variety of office supplies and take helping clients seriously. They say, "just starting your business, or maybe have an existing business, but you have a question regarding office supplies… we are here to help!" And they report to Dun and Bradstreet, Experian, and Equifax.
There is a $99.00 yearly fee, though they do report that fee to the business credit reporting agencies. For other purchases to report, the purchase must be at least $30.00. Terms are Net 30.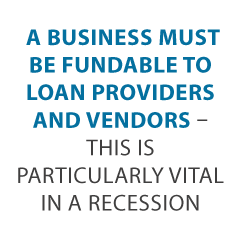 3. Grainger Industrial Supply
Grainger Industrial Supply is also a true starter vendor. Find them online at https://www.grainger.com/. They sell safety equipment, plumbing supplies, and more, and they report to D&B. You will need a business license, EIN, and a DUNS number.
For less than $1000 credit limit they will approve virtually anybody with a business license.
Accounts That Don't Report
Non-Reporting Trade Accounts can also be helpful. While you do want trade accounts to report to at the very least one of the CRAs, a trade account which does not report can yet be of some worth. You can always ask non-reporting accounts for trade references.
Also credit accounts of any sort will help you to better even out business expenditures, consequently making financial planning simpler. These are companies like PayPal Credit, T-Mobile, and Best Buy.
Revolving Store Credit
Once there are 3 or more vendor trade accounts reporting to at least one of the CRAs move to revolving store credit.
Use the corporation's EIN on these credit applications.
Fleet Credit
Are there more accounts reporting? Then progress to fleet credit. These are companies like BP and Conoco. Use this credit to buy, repair, and take care of vehicles. Make certain to apply using the business's EIN.
Cash Credit
Have you been sensibly managing the credit you've gotten up to this point? Then move onto more universal cash credit. These are service providers such as Visa and MasterCard. Keep your SSN off these applications; use your EIN instead.
These are typically MasterCard credit cards. If you have more trade accounts reporting, then these are doable.
Learn more here and get started toward building business credit attached to your company's EIN and not your SSN. Get money even in a recession!
How Hard is it to Establish Business Credit in a Recession: Monitor Your Business Credit
Know what is happening with your credit. Make sure it is being reported and fix any inaccuracies ASAP. Get in the practice of checking credit reports. Dig into the specifics, not just the scores.
We can help you monitor business credit at Experian and D&B for $90 less. Update the relevant information if there are errors or the details is incomplete.
Disputing Mistakes
So, what's all this monitoring for? It's to challenge any mistakes in your records. Errors in your credit report(s) can be taken care of. But the CRAs typically want you to dispute in a particular way.
Disputing credit report inaccuracies usually means you send a paper letter with copies of any proof of payment with it. These are documents like receipts and cancelled checks. Never mail the originals. Always send copies and retain the originals.
Disputing credit report inaccuracies also means you specifically detail any charges you challenge. Make your dispute letter as clear as possible. Be specific about the issues with your report. Use certified mail so that you will have proof that you mailed in your dispute.
How Hard is it to Establish Business Credit in a Recession: A Word about Business Credit Building
So always use credit sensibly! Don't borrow beyond what you can pay off. Monitor balances and deadlines for payments. Paying on time and fully will do more to boost business credit scores than virtually anything else.
Establishing corporate credit pays. Good business credit scores help a company get loans. Your credit issuer knows the corporation can pay its financial obligations.
They know the corporation is authentic. And the business's EIN connects to high scores, and credit issuers won't feel the need to require a personal guarantee.
How Hard is it to Establish Business Credit in a Recession: Takeaway
Business credit is an asset which can help your small business for years to come.
Obtaining merchant accounts for business credit means that you are on your way to getting good business credit.
These three should conveniently get you going. How hard is it to establish business credit in a recession? Pretty easy! So go out there and clobber it! Learn more here and get started toward establishing business credit.
The post How Hard is it to Establish Business Credit in a Recession? appeared first on Credit Suite.