Wednesday, August 5th, 2020
now browsing by day
Yellowstone Capital no longer exists! They are now Fundry Capital. We reviewed Fundry Capital, one of several lenders in the online space. They are an ISO (independent sales organization).
We look at the specifics and drill down into the details.
Fundry Capital: Background
Fundry Capital is located online here: https://fundrycap.com. Their physical address is in Jersey City, NJ. The firm's location is nowhere on their website. And it was a chore to find it on LinkedIn. 
You can call them at: (877) 237-2297. Also, you can contact them at: [email protected].
Their About page is simply a part of their home page – and it is none too informative.
In 2015, their predecessor Yellowstone Capital had in a $1.5 million deal which, at the time, was their largest ever deal.
Fundry is also related to Green Capital Credit. See: https://greencapitalcredit.com. There's not a lot of information on the Green Capital site, and their blog stopped being updated in September. Of which year? It is impossible to tell from that website. 
Fundry Capital: The Details
Fundry offers loans for what is called B-F credit. These appear to be sub-prime loans. Appear? It is frustratingly tough to find specifics on Fundry Capital's offerings. 
These are types of alternative, or non-conforming, loans, often for borrowers with poor credit. 
Non-conforming loans are more risky than conforming ones and are alphabetically classified as according to risk. So non-conforming C loans are less risky than D loans, for example.
Non-conforming Loans
There are far fewer lenders who want to make non-conforming loans. Hence there is less competition for these borrowers.
This causes interest rates to be higher. Also, most lenders view these borrowers as being riskier and more desperate.
That perception also, understandably, pushes up the interest rates.
Sometimes alternative loans can be seen as predatory. Borrowers in such a situation should always be careful that there are no significant prepayment penalties. Those are common with non-conforming loans, and they can prevent you from refinancing.
Business Capital (Merchant Cash Advances)
This online lender offers merchant cash advances – if you dig deeply into their LinkedIn profile. MCAs are not mentioned anywhere on the Fundry Capital website. They will handle high-risk borrowers. You can get same-day funding for approved merchant cash advances.
Fundry Capital Fees
Fundry's fees are nowhere to be found, either on their website or LinkedIn. In addition, the origination fee and APR are not known. This is because their website is not highly informative.

Find out why so many companies use our proven methods to get business loans.
Fundry Capital Advantages
Advantages include fast approvals and acceptance of high-risk borrowers. The company boasts that:
We fund thousands of deals for companies with B-F credit. Found a deal that others say is unfundable?  Fundry will get it done.
Fundry Capital Disadvantages
Disadvantages include a lack of transparency regarding fees, or really anything else. Their website has extraordinarily little information. However, a high-risk borrower may have few other options. Also, any borrowers in these categorizes should know the interest rates will be high.
And this is by definition. So don't blame Fundry for that.
An Alternative?
Given that corporate credit is separate from consumer, it helps to secure an entrepreneur's personal assets, in case of litigation or business insolvency. Also, with two separate credit scores, a small business owner can get two different cards from the same merchant. This effectively doubles purchasing power.
Another benefit is that even startups can do this. Visiting a bank for a business loan can be a formula for disappointment. But building corporate credit, when done properly, is a plan for success.
Personal credit scores depend on payments but also various other factors like credit utilization percentages. But for company credit, the scores truly just depend on whether a company pays its bills promptly.
The Process
Building business credit is a process, and it does not occur automatically. A small business has to actively work to develop company credit. Nevertheless, it can be done readily and quickly, and it is much faster than building individual credit scores.
Merchants are a big component of this process.
Performing the steps out of order will lead to repetitive denials. Nobody can start at the top with small business credit. For instance, you can't start with store or cash credit from your bank. If you do, you'll get a denial 100% of the time.
Corporate Fundability
A business has to be genuine to loan providers and merchants. That is why, a small business will need a professional-looking web site and email address, with website hosting from a company such as GoDaddy.
Also business telephone and fax numbers ought to have a listing on ListYourself.net.
Likewise the company phone number should be toll-free (800 exchange or similar).
A business will also need a bank account dedicated solely to it, and it has to have all of the licenses essential for running. These licenses all have to be in the perfect, appropriate name of the corporation, with the same company address and telephone numbers.
So note that this means not just state licenses, but possibly also city licenses.
Working with the Internal Revenue Service
Visit the IRS website and acquire an EIN for the corporation. They're totally free. Select a business entity like corporation, LLC, etc.
A small business can begin as a sole proprietor. But they will more than likely want to change to a variety of corporation or partnership to lessen risk and optimize tax benefits.
A business entity will matter when it pertains to taxes and liability in case of litigation. A sole proprietorship means the entrepreneur is it when it comes to liability and tax obligations. No one else is responsible.
If you run a company as a sole proprietor, then at the very least be sure to file for a DBA ('doing business as') status.
If you do not, then your personal name is the same as the small business name. Hence, you can end up being directly liable for all business debts.
Additionally, according to the IRS, by having this arrangement there is a 1 in 7 probability of an IRS audit. There is a 1 in 50 possibility for corporations! Prevent confusion and substantially reduce the odds of an IRS audit at the same time.

Find out why so many companies use our proven methods to get business loans.
Starting Off the Business Credit Reporting Process
Begin at the D&B website and get a totally free DUNS number. A DUNS number is how D&B gets a small business into their system, to produce a PAYDEX score. If there is no DUNS number, then there is no record and no PAYDEX score.
Once in D&B's system, search Equifax and Experian's websites for the company. You can do this at https://www.creditsuite.com/reports. If there is a record with them, check it for correctness and completeness. If there are no records with them, go to the next step in the process.
In this manner, Experian and Equifax will have something to report on.
Trade Lines
First you ought to build trade lines that report. This is also referred to as vendor accounts. Then you'll have an established credit profile, and you'll get a business credit score.
And with an established business credit profile and score you can begin obtaining revolving store and cash credit.
These varieties of accounts often tend to be for the things bought all the time, like shipping boxes, outdoor work wear, ink and toner, and office furniture.
But to start with, what is trade credit? These trade lines are credit issuers who will give you starter credit when you have none now. Terms are ordinarily Net 30, instead of revolving.
Hence if you get an approval for $1,000 in vendor credit and use all of it, you need to pay that money back in a set term, such as within 30 days on a Net 30 account.
Details
Net 30 accounts must be paid in full within 30 days. 60 accounts have to be paid in full within 60 days. In comparison with revolving accounts, you have a set time when you have to pay back what you borrowed or the credit you used.
To kick off your business credit profile the right way, you should get approval for vendor accounts that report to the business credit reporting bureaus. As soon as that's done, you can then make use of the credit.
Then pay back what you used, and the account is on report to Dun & Bradstreet, Experian, or Equifax.
Not every vendor can help like true starter credit can. These are vendors that will grant an approval with hardly any effort. You also want them to be reporting to one or more of the big three CRAs: Dun & Bradstreet, Equifax, and Experian.
Revolving Store Credit
Once there are 3 or more vendor trade accounts reporting to at least one of the CRAs, progress to revolving store credit. These are service providers which include Office Depot and Staples.
Use the corporation's EIN on these credit applications.
Fleet Credit
Are there more accounts reporting? Then move onto fleet credit. These are businesses such as BP and Conoco. Use this credit to purchase fuel, and repair and maintain vehicles. Make sure to apply using the small business's EIN.
Cash Credit
Have you been responsibly handling the credit you've up to this point? Then move to more universal cash credit. These are businesses such as Visa and MasterCard. Keep your SSN off these applications; use your EIN instead.
If you have more trade accounts reporting, then these are doable.
Monitor Your Business Credit
Know what is happening with your credit. Make certain it is being reported and take care of any inaccuracies as soon as possible. Get in the practice of taking a look at credit reports. Dig into the particulars, not just the scores.
We can help you monitor business credit at Experian and D&B for 90% less, here. And update the details if there are mistakes or the details is incomplete.
Challenging Inaccuracies
So, what's all this monitoring for? It's to dispute any inaccuracies in your records. Errors in your credit report(s) can be taken care of. But the CRAs generally want you to dispute in a particular way.
Disputing credit report errors normally means you mail a paper letter with duplicates of any proof of payment with it. These are documents like receipts and cancelled checks. Never mail the original copies. Always mail copies and keep the original copies.
Disputing credit report mistakes also means you precisely detail any charges you dispute. Make your dispute letter as crystal clear as possible. Be specific about the issues with your report. Use certified mail so that you will have proof that you sent in your dispute.
A Word about Business Credit Building
Always use credit smartly! Don't borrow beyond what you can pay off. Monitor balances and deadlines for repayments. Paying off in a timely manner and in full is vital. It will do more to boost business credit scores than nearly anything else.
Building corporate credit pays. Great business credit scores help a small business get loans. Your loan provider knows the business can pay its debts. They recognize the company is authentic.
The small business's EIN links to high scores. And loan providers won't feel the need to call for a personal guarantee.

Find out why so many companies use our proven methods to get business loans.
Fundry Capital Takeaways
Any business owner should always be wary of funding sources which are not transparent with their fees. Maybe Fundry Capital online lending reveals all once you apply. But why should any business owner have to wait?
Companies which will work best with Fundry are high-risk borrowers. This is because they may have few other options for any loans or other funding.
However, other borrowers should press for more transparency. Or they should be ready to look elsewhere if Fundry is not forthcoming.
Because this should always be basic and easy to find information. No prospective borrower should ever have to glean through a ton of LinkedIn profiles to find the tiniest nugget of information.
A Word to the Wise
And finally, as with every other lender, always read the fine print and do the math. Go over the details with care. Better yet, work with a financial professional with no affiliation with the lender. Decide if this option will be good for you and your company.
In addition, consider alternative financing options that go beyond lending. These are options such as building business credit.
However, only you can best decide how to get the money you need to help your business grow.
The post Fundry Capital Review appeared first on Credit Suite.
Blogging is so effective that there are over a billion blogs on the web.
Just think about that… that's roughly 1 blog for every 7 people.
Sure, we don't really need any more blogs, but people still create them because they can be such effective marketing channels.
And best of all, unlike social sites, the moment you create a blog that has an audience, you can continually reach them without having to worry about algorithm changes.
So, to help you with your content marketing efforts, I've created a free 4-week training course called Content Marketing Unlocked.
Introducing Content Marketing Unlocked
As I mentioned, over the next 4 weeks I am going to teach you all about content marketing.
Everything from the basics of content marketing and how it works to the advanced parts such as generating traffic and sales from blogging.
To get you started, make sure you watch the welcome video:
The welcome video breaks down what you'll learn over the next 4 weeks and, under the video, you'll find a goal worksheet and a course outline.
Then you'll learn about the history of content marketing:
In that lesson, you'll find 2 worksheets:
Content outline – this will show you how to outline and create content.
Content steps – this breaks down the steps you need to follow in order to write amazing content.
After you get the hang of writing content, you'll want to learn how to rank your older (existing) content on your site.
And in that lesson, you'll also get a list of tools that you should use and a master resource guide that'll help speed up the process.
From there I teach you about the different types of content you can leverage to get more traffic. Believe it or not, there are actually 18 types you should be using.
Over time I will continue to add more lessons, but I don't want to drown you in information by embedding all the lessons in this post.
So, what else will you learn?
The four lessons above are a great start, but there is much more to the content marketing course. This is what you can expect from Content Marketing Unlocked:
Week #1
Lesson #1: Getting Started
Course Introduction
Strategies You're Going to Learn
What Google Wants
Content Production Strategy Overview
Understanding the Algorithm & Updates
The Right Mindset
Lesson #2: History of Content Marketing
History of Content Marketing
Fact & Fiction About Content Marketing
Understanding Your Target Audience
How to Find Keywords That Will Make You Money
Refining Your Keyword Lists
Content Examples
Lesson #3: Optimizing Your Existing Content
How to Audit Your Existing Content
How to Optimize Your Content the Right Way
How to Re-Write Your Content So It Gets You Traffic
Step-by-Step On-Page Optimization Tactics
Content Templates to Rewrite Your Content
Week #2
Lesson #1: Major Content Types
Credibility & Trust Through Content
Types of Content
Blogs
Articles
Infographics
Videos / Visual Content
Podcasts / Radio Shows
Facebook Posts / Pages
Courses / Digital Classes / eBooks / Checklists
How-to Guides
SlideShare / PowerPoint / Webinars
Photographs / Graphics / Art
Instructional Guides
Magazines (Digital & Print)
Streaming Media (Periscope, Facebook Live, Snapchat)
Forums / Wikis / Groups / Resource Centers
Whitepapers / Case Studies
Memes (Twitter/Facebook)
Testimonials / Reviews
Content Templates for Different Content Types
Lesson #2: Pilar & Cluster Pages
Turn Your Keywords Into An Outline
How to Write Content That Gets You Traffic
Topical Clusters
Pillar Pages
Cluster Pages
Pillar & Cluster Templates
Lesson #3: Alternative Content Strategies
Building Authority Through Guest Posting
Content Production Tools
Plugins to Use
FAQ Schema
Live Case Studies, Market Data & Field Reports
Share Worthy Content
Content Outline Templates
Week #3
Lesson #1: Marketing Your Content
Site Structure
Theme & Topic
How to Rank Your Content Faster
Promote Your Content on a $0 Budget
Content Marketing Strategy
Content Promotion Workflow
Lesson #2: Link Building Tactics
What is Link Building?
External Link Building
Internal links
Your Link Profile
Advanced Linking and Off-Page Optimization Strategies
How to Build Links from Authority Sites
How to Launch Link Campaigns
Lesson #3: Tracking & Analytics
Setting Up Google Analytics / Google Tag Manager
Setting Up Google Search Console
Must Have Content Marketing Tools
Live Ranking Case Studies, Market Data & Field Reports
Determining KPI's
Budget Planning
Week #4
Lesson #1: Ranking 1 Long Term
You've Got Content & Links, What's Next?
Content Marketing in a Competitive Space
How to Get Started if You Are New & Have Little to No Budget
How to Scale if You Do Have a Budget
Build a Brand Long-Term
Lesson #2: Media Outlets
Getting on Huge Media Websites (Forbes, HuffPost, NYTimes, etc)
Guest Blogging
Podcasts
Social Media
Connecting with Influencers
Lesson #3: Omni-Channel Strategies
Going Omni-Channel
Back Office Infrastructure
Analyzing and Measuring Results
More Content Marketing Case Studies
Become A Great Content Marketer
Summary – How to Get the Most Out of This Course
How can I follow along?
You can go to the training section of this site as I keep all my courses there.
Every Monday, Thursday and Saturday I will be adding new lessons and content.
Each lesson is roughly 10 minutes in length and contains worksheets, templates, cheat sheets, checklists, spreadsheets, and more that will make your life easier.
In general, if you take the time to follow along each week and complete your homework assignments, it shouldn't take you more than two to three hours each week.
Some weeks will be less work, but because this course involves writing and promoting content, you will have to put in a little bit more effort than some of my other courses.
As a heads up, I won't be blogging about each lesson, so the easiest way to keep up is to subscribe to my YouTube channel.
Once you click the link above, you'll see a subscription box popup on YouTube. All you have to do is click the "SUBSCRIBE" button.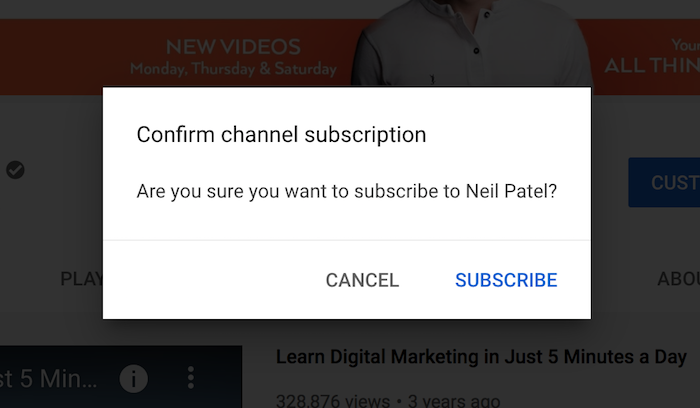 Once you click "Subscribe," you'll notice a bell image next to the subscribe button. Make sure you click that as well.

When you click on the bell, you'll be given a few options.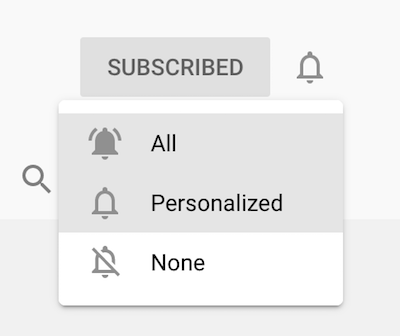 Click on the "All" option. Next to the "Subscribed" button, you should see a new bell notification:

This makes it so YouTube notifies you when I release a new Content Marketing Unlocked lesson.
Conclusion
I hope you enjoy Content Marketing Unlocked.
I created this course because content marketing is one of the best ways to market your business and compete with the large companies.
Best of all, you won't have to spend a dollar on marketing.
Let me know what you think about the course so far.
And also, what free course would you like me to create next?
The post Welcome to Content Marketing Unlocked: Your Free Blogging Course appeared first on Neil Patel.